We know adventurous travelers are looking for the best caves in North Carolina to check out during a trip to this southern state!
North Carolina is is great place for so many activities so it's no wonder you wanted to come check out all there is to offer! Maybe you were deciding between some of the best places for river tubing in North Carolina? Or maybe you planned a nice October trip to explore some of the best haunted houses in North Carolina? This state definitely has a ton to offer!
Some of these caves are located in the Appalachian Mountains, and some of these caves are located within state parks, which makes them that much more exciting to visit!
Some of these caves take a lot more planning to access just because the entrance into them is often times hidden and not easily found while hiking mountains and trails to get there! It's important that you either are familiar with the area, or make sure you book a guided tour with an expert so you don't get lost and you get the most from the experience!
But one thing people come from all over to explore is the expansive caves that North Carolina has to offer! When it comes to caving in North Carolina, you just won't want to miss out on the experience!

How Many Caves Are There In North Carolina?
When we say expansive caves in North Carolina, we mean it! There are over 900 caves and caverns located all around North Carolina, but only a few are open to the public!
This is because most of them are so tucked away, they just aren't accessible. But that makes the ones that are open to the public that much more magical!
Even though some caves and caverns simply aren't accessible, the ones that are bring some much to cave exploration. Being able to explore the open caves and caverns brings an experience that you might not find outside of North Carolina! So you definitely need to start setting up cave tours in North Carolina to get the full experience!
What Is The Difference Between A Cave And A Cavern?
Caves and Caverns are very alike, but there's one major difference. A cave has an opening that is above ground and is likely the only opening into the cave. While a cave can be thought of as an above ground structure, a cavern in not.
A cavern in an underground structure rather than above ground like a cave. A cavern is also likely to have more than one opening rather than one localized entrance.
There is also some debate that life can't be sustained in caverns the way that it can in a cave!
To determine which you'd rather visit while checking out North Carolina, just imagine whether or not you are okay with being underground or if you'd rather stay above ground! That will make your decision easy!
However, you can be an adventurer and want to experience both! All the better that way!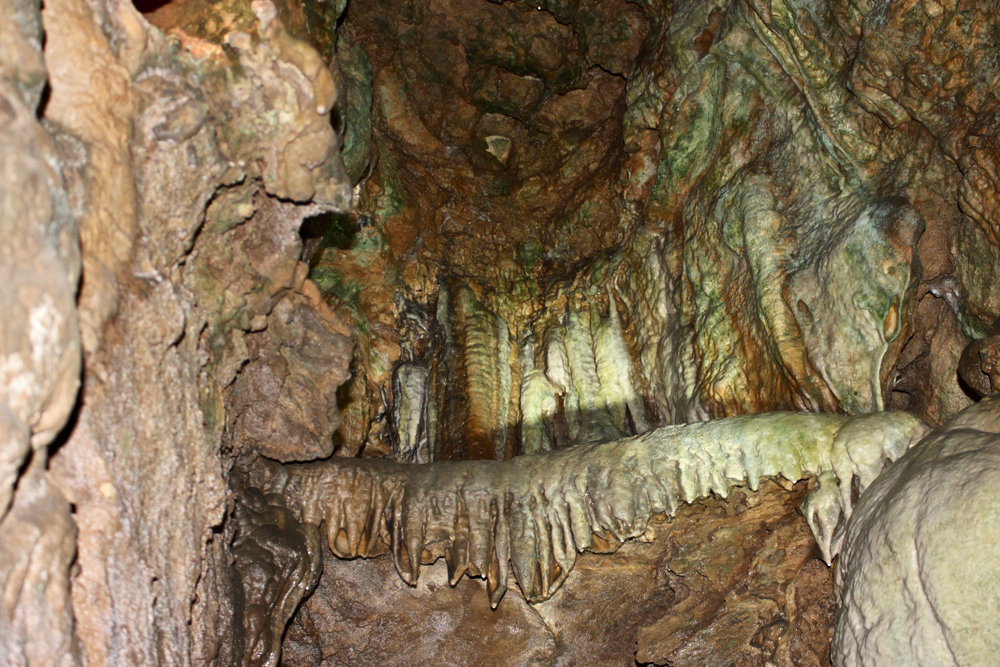 What Is The Largest Cave In North Carolina?
The largest cave in North Carolina is Bat Cave! The passages within this cave stretch over 1.4 miles and used to be home to numerous bat colonies, hence the name!
Because of the numerous bat colonies that reside in this cave, the cave received its name! So if you love bats, or maybe you just want to learn a little more about bats, then this is a great place for you to check out during a visit to North Carolina!
One of the biggest threats to the bat colonies in this cave is White-Noise Syndrome, a disease impacting hibernating bats and knocking out their colonies.
This cave is protected by the North Carolina Nature Conservancy, and will be talked about in more depth below!
Best Caverns And Caves In North Carolina
Linville Caverns
The Linville Caverns are known for being the best caverns in North Carolina, and the best caves in the Appalachian Mountains, for visitors and explorers of all ages!
This popular site is located within the Humpback Mountain. One major idea that brings people from all over to explore the Linville Caverns is the thought of exploring "inside" of the mountain!
In the 1800's, an explorer names Henry E. Colton discovered an opening into the caverns when he noticed fish swimming in and out of an opening in a rock. After looking deeper, he was able to access what he called a "hidden world" and discover what is now the most popular cavern to visit in North Carolina!
Since 1973, the Linville Caverns have been a spot for tourists to enjoy the hidden world inside the mountain. Over the years, there have been updates to the passage ways and the lighted system within the caverns to provide safe touring!
We know this is one cavern you need to check out while visiting North Carolina!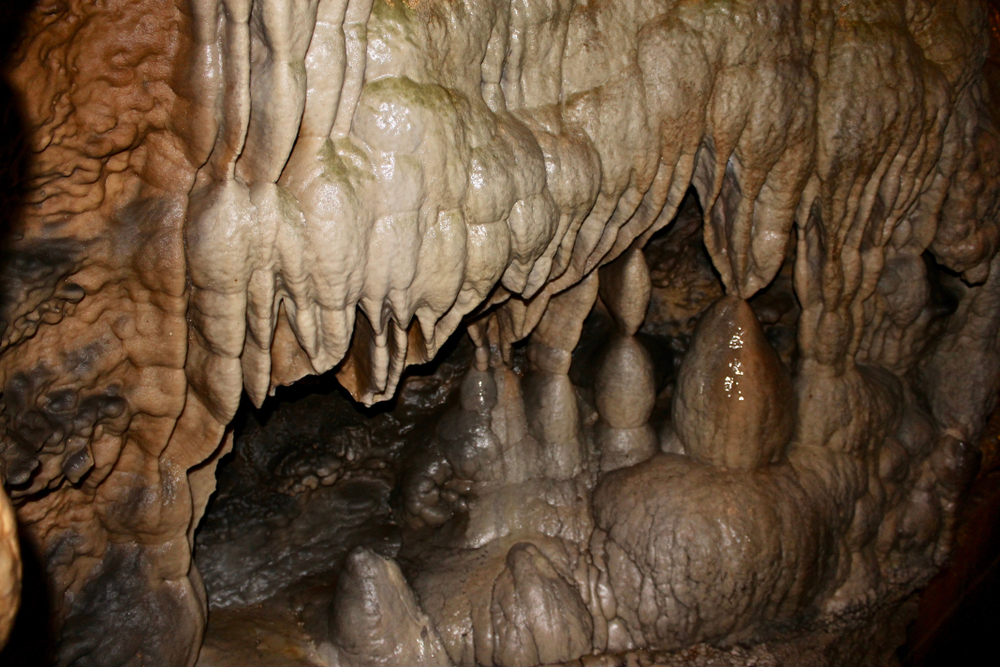 Boone's Cave
Located in Lexington, this cave is pretty hidden within Boone's Cave Park!
Lexington is known for having some of the best North Carolina barbecue restaurants, so between that barbecue tour, you may want to check out Boone's Cave Park and take a trip through Boone's Cave!
Boone's Cave is about 140 feet into the Earth and provides such a hidden gem of an experience that you will want to spend a few hours exploring!
This cave received its name from the idea that Daniel Boone and his family may have stayed during the winter months as a way to keep warm. So not only is this a great spot for cave explorers, but it is also a great location for someone that loves history! What better way to get down to the roots of history than explore it for yourself!
Here, you can also walk along the Yadkin River while making your way to the cave dwelling. Not only that, you may see a stone figure that has been present since Daniel Boone's time, which is a great way to become one with the history Boone's Cave Park!
This is one stop you will want at the top of your list!
Rumbling Bald Cave
Rumbling Bald Cave is also referred to as the cave with attic windows due to the fact that you could climb the inside of Rumbling Bald Mountain and come out to a lookout that gave you the perfect view!
This cave entrance is incredible hard to find, and because of the rock formations coming apart from the inside due to flooding, the inside has been closed off to the public for safety numerous times! However, that doesn't mean you can't make a trip to see the Rumbling Bald Mountains and glimpse the cave entrance and surroundings!
This cave is also sometimes closed in an effort to lessen White-Noise Syndrome and protect the bats that live within the cave. So it's always best practice to look ahead to make sure the area is open, and read any sign postings that may provide any information to the caves current status!
Bat Cave
Not only is this the largest cave in North Carolina, but it is also the largest granite fissure cave in North America!
Bat Cave houses the endangered Indiana Bat, and is therefore protected by The Nature Conservancy and the Bat Cave Preserve. While most of the bats that reside in the cave have been driven out by predators or have died out, the ones that are still within the cave are protected.
Because of White-Noise Syndrome, which is a disease that affects hibernating bats and is known as one of the worst wild life diseases, this area is usually closed off in an effort to lessen the disease. However, the Nature Conservancy still occasionally does guided tours, but it must be set up through them and with a guide! So make sure if you want to check out one of the best North Carolina caves, you plan ahead!
The inside of Bat Cave is what makes this cave the largest and best! The cave is roughly 300 feet long and an impressive 85 feet high! It's no wonder that bats found refuge in this cave for years and years.
This cave is also known to house rattlesnakes, so it's important that when you are able to go on a guided tour that you follow all instructions and watch where you step!
This is one cave that needs to be experienced!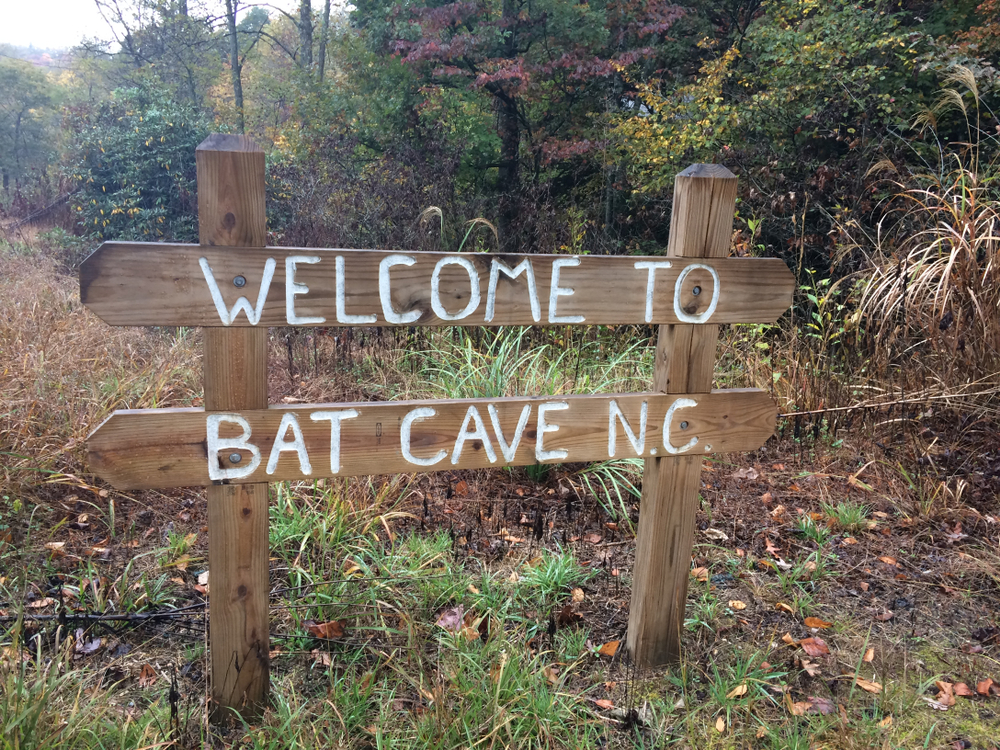 Worley's Cave
Worley's Cave is another great experience for visitors of all ages! In fact, Boy Scout and Girl Scout groups from all over travel here for their exploration experiences!
You can even book trips through this cave for a nice 3 hour trip through the cave! During a tour, you can experience all that you might experience as a cave explorer. You'll climb over boulders, crawl through openings, and even experience underground rivers!
This North Carolina cave is what experts call a "wild cave" because there are no man made ramps or lighted pathways to guide you through the cave. The only lighting you will have is what you bring, and you absolutely must watch your step because everything you step on will be natural and may not always be steady!
This cave is such a popular site that groups and schools from all over plan tours through the cave. This is a great place for a family outing! You can even bring the kids as long as they are able to walk and take direction quickly!
You won't want to skip this cave!
Indian House Cave
The Indian House Cave is one of the best caves in North Carolina!
This cave is located in Grandfather Mountain State Park, so you can take a break from checking out all the best things to do in the Blue Ridge Mountains, and spend a few hours hiking the trail to Indian House Cave!
Not only is the cave exciting, but Grandfather State Park is home to some of the most popular and beautiful summits in North Carolina. You can come here to hiking the trails until you locate the entrance into the cave!
If you don't want to hike your way to the cave, there are also numerous bike trails for you to use as a fun and exciting way to get to the caves!
As many of the other caves we've discussed, White-Noise Syndrome has been impacting the bat colonies in this North Carolina cave as well, so it's always a good idea to make sure ahead of time that the cave is open to visitors. Sometimes, the cave may be closed in an attempted to lessen the spread of the disease to the bat colonies!
While this is an exciting hike to access the cave, it has been known to be for more experienced hikers. Make sure you are prepared for tight squeezes! Beginner hikers are not recommended for this cave solely because of the work it takes to access the cave!
The trials for the state park are free, and parking in the park may require a small fee!
We know you'll love the Indian House Cave!
Now that you know some of the best caves in North Carolina, all that's left is making a plan to check them all out!
If you want to take a chance and explore the underground, the caverns will be the best bet for you! You'll get to experience some of the Earths deepest areas while also learning about the cavern life along the way.
If you are more of a typical cave person, then the caves mentioned will be great for you! Luckily, because there are so many caves in North Carolina, you have plenty to choose from, so you will always have something new to check out!
One thing to always remember while exploring these caves is to plan ahead and know how to access each cave or cavern entrance you are looking for! Also, make sure you check that the cave or cavern isn't closed to the public in an effort to lessen White-Noise Syndrome!
No matter what you choose, we know you'll have a great time exploring these caves in North Carolina!