Hunting for the best ways to celebrate Christmas in West Virginia? We have got you covered!
Christmas in West Virginia is a beautiful mix of cold weather and beautiful landscapes and you definitely cannot miss it while traveling through the state! So if you're looking to skip the crowds of West Virginia and spend a Christmas away, or are visiting family in the state and looking for things to do we have a great list of the most festive ways to celebrate Christmas in West Virginia!
West Virginia is home to some beautiful hiking trails and natural landscapes that are guaranteed to take your breath away! There's always plenty to do when exploring the best things to do in West Virginia and, of course, the best ways to experience the area is by seeing it covered in snow and making the perfect winter wonderland! So whether you're exploring on a weekend getaway in West Virginia during your holiday at Christmastime
Sit back with a mug of hot chocolate and some Christmas music playing while we walk you through some great options for celebrating Christmas in West Virginia!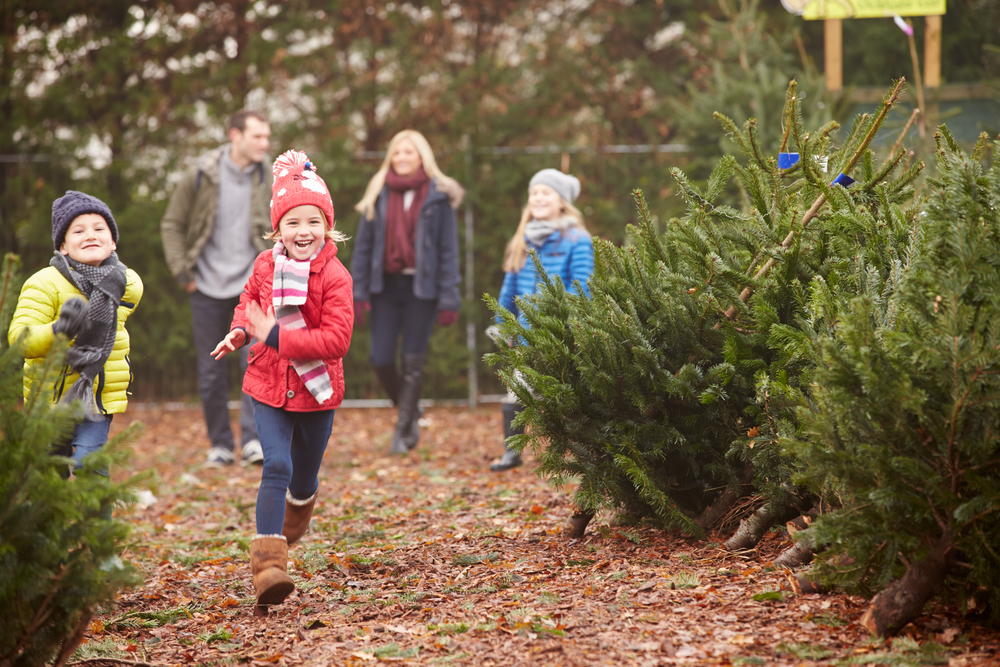 What Hallmark Movies were filmed in West Virginia?
West Virginia is filled with the cutest, best small towns that make the perfect set for Hallmark movies! With weather that fluctuates, West Virginia is home to some great spots that make for perfect home bases for movies!
Hallmark is the perfect combination of beautiful landscapes and romance, and what's more romantic than snow capped houses, bright lights, and carolling! Some recent and notable Hallmark movies are Christmas in My Heart which was filmed in Charleston, West Virginia! Another great one is Sweet Christmas Romance, filmed in Berkley Springs, West Virginia, and stars Adelaide Kane!
Most recently however, in 2022 was the release of Christmas at the Greenbrier! Greenbrier being the resort in White Sulphur Springs that is the perfect Christmas paradise! The resort even features a chandelier that was in Gone With The Wind!
West Virginia Weather in December
West Virginia in December depends on which region you're in! The Eastern and Southern parts of the state state get between 11-12 inches of snow, whereas the Northwest sees about inches. The state maintains central temperatures ranging in the Northeast from the low 20s (F), and in the South from 30s (F). It rarely drops below 14F which makes it a great spot to adventure in winter paradise!
Best Christmas Things To Do in West Virginia
Experience Christmas City
A great option for a classic West Virginia Christmas is visiting Christmas City in Bluefield, West Virginia!
Bluefield knows how to throw a holiday party and they definitely do their best during the Christmas season! They host the Holiday of Lights 5K Challenge, a Christmas Tree Lighting ceremony and of course the classic showcase of Holiday themes! This is an annual festival that Bluefield hosts and they proudly wear the distinction of West Virginia's Christmas City!
Their central park is home to 1.2 million lights and beautiful scenery, trolley rides and photo's with Santa! It's a great opportunity to walk through the park, enjoy nature, and listen to some great music!
Don;t miss out on this great option for Christmas activities in West Virginia!
Visit a Christmas Tree Farm
Christmas Tree Farm's are a great spot to go, even if you're not walking away with a tree and West Virginia is filled with them!
If you're looking for a choose-and-cut adventure, Brushy Mountain is the place to go. Located in Deer Run, West Virginia and opened in 2006, this farm has 10,000 trees with a variety ranging between fir, spruce, and pine. They also have hand-made wreaths and pre-cut trees available for purchase! December in West Virginia is made perfect with a jaunt through this Christmas tree farm!
Another fun option for Christmas trees in West Virginia is Crickmer Farms! Located in Danese, West Virginia this farm is filled with Fraser fir trees and holiday decor! It's been open since 1990 and is a family farm!
Don't skip a walk through of some beautiful Christmas tree farms when looking for things to do in West Virginia in December!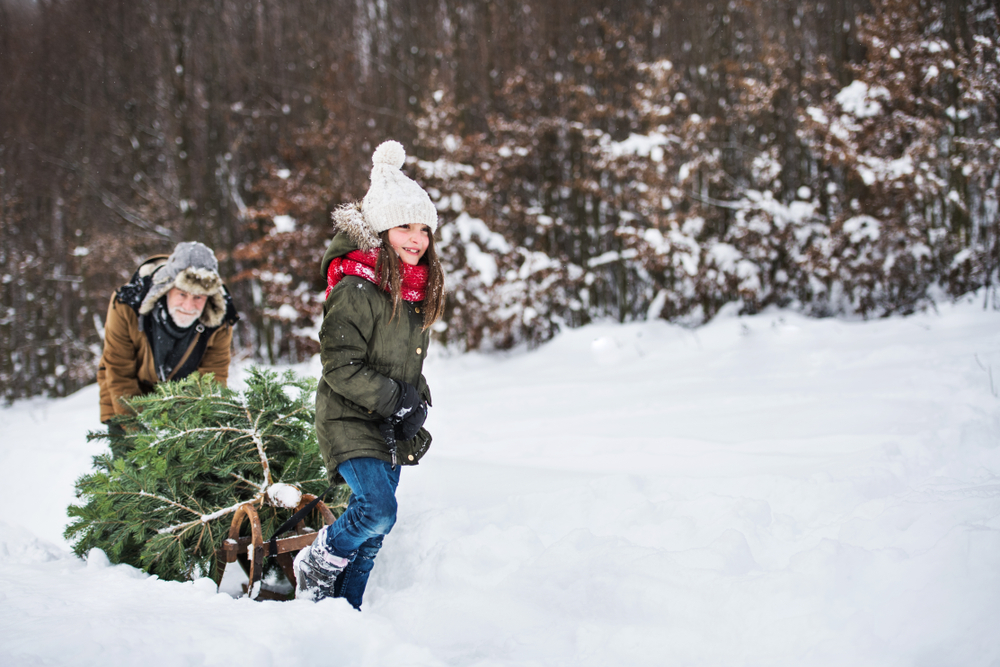 Harper's Ferry Old Thyme Christmas
Harper's Ferry is a beautiful option for Christmas towns in West Virginia!
Every year the Harper's Ferry community puts on a Christmas celebration on the second weekend in December! They have traditional festivities that bring the streets of this picturesque small mountain town to life!
With wagon rides, a chance to meet THE Santa and Mrs. Claus, and a handmade goods market, this Christmas destination is filled with fantastic ways to celebrate Christmastime in West Virginia, complete with a display lights route where you can vote online for your favorite ones!
Don't skip this awesome option for places to go in West Virginia in winter!
South Charleston Christmas Parade
The South Charleston Christmas Parade is another great spot to consider when spending Christmas in West Virginia!
This parade starts at 7 pm and features beautiful floats from local businesses as well as a visit from Santa (rumour is he comes in on a helicopter)! Grab a cup of hot chocolate and watch this parade to experience some awesome holiday cheer! This is another option for free Christmas events in West Virginia!
It goes down D Street to the Mound and has some great floats! Don't miss out on this option for Christmas things to do in West Virginia!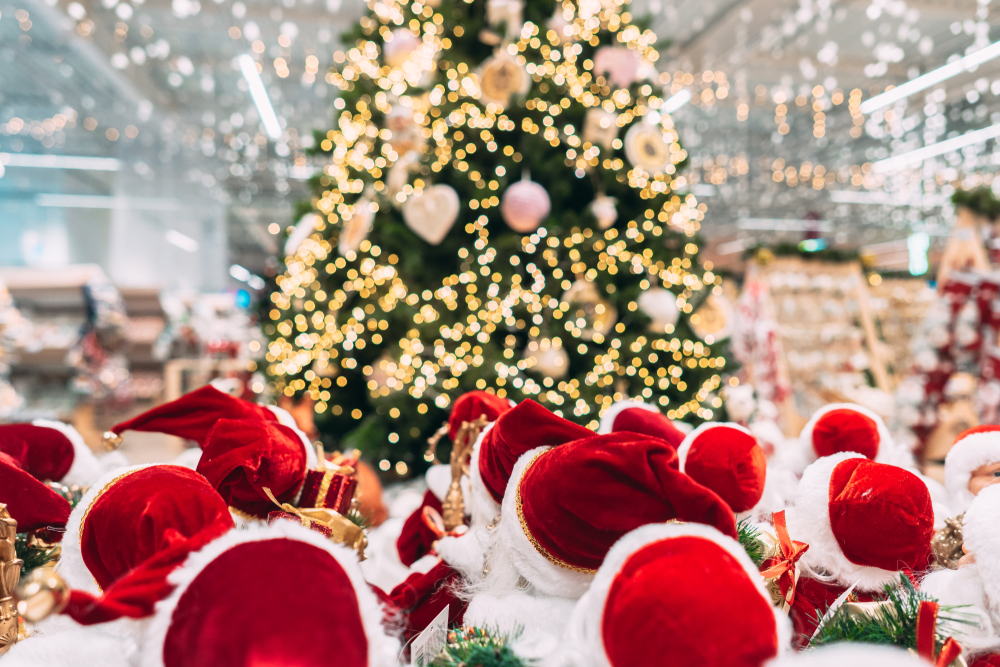 Parkersburg Christmas Winterfest
Located in Bicentennial Park in Parkersburg, West Virginia, the Parkersburg Christmas Winterfest is a Christmas extravaganza that is a can't miss when looking for West Virginia holiday events!
Winterfest is also budget-friendly, so if you're looking or an event to attend and keep the costs down this is definitely a great option for you! With shopping, dining, Christmas music and tree-lighting ceremony, this free and public event is the perfect spot to spend the evening or the whole weekend enjoying!
A West Virginia Christmas is not complete without train rides, Santa, and of course FIREWORKS! This option for Christmas events in West Virginia has a fireworks and Christmas concert to end their weekend!
Don't overlook Parkersburg Christmas Winterfest for your West Virginia Christmas!
St Alban's Festival of Lights
Of course, Christmas in West Virginia is never complete without amazing light displays and St Alban's does not disappoint! St Alban's Festival of lights is an amazing choice for those looking to enjoy the Christmas lights in West Virginia!
From November until Boxing Day (closed for Christmas Eve and Day), St Alban's offers a free option for a drive-through light display to make anyone feel the Christmas spirit! If you're going near the end of November, check their website because they do have a walk-through evening as well as a free hayride night!
It's open from 6-9pm for as long as they keep the lights up, is pet friendly as well as been running for 34 years so you know they've got a lovely show! If you want to contribute, they accept canned goods donations for entry but it is a free event!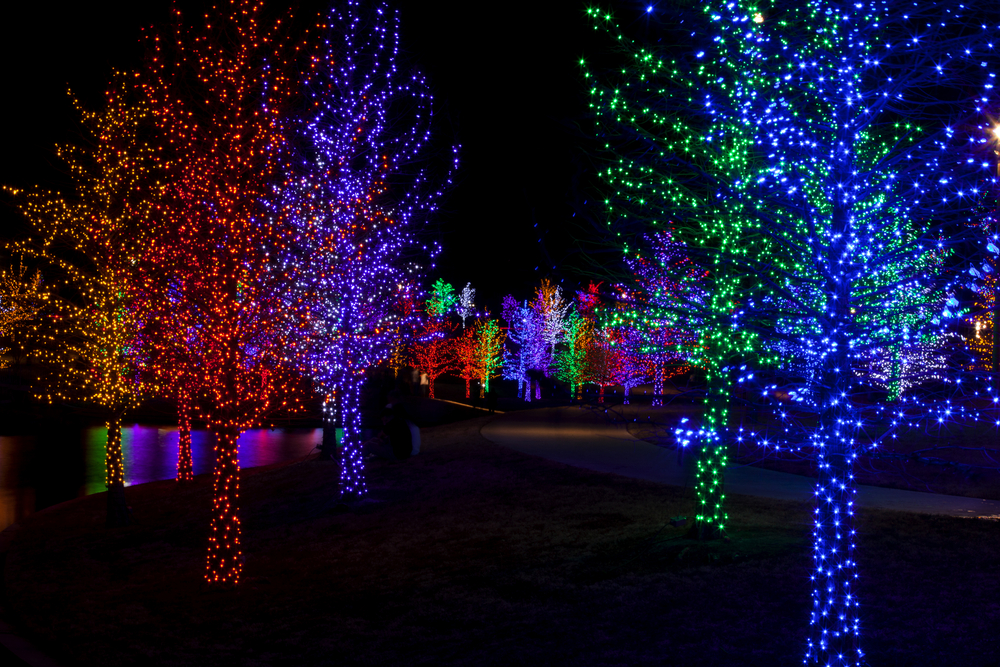 West Virginia State Farm Museum Christmas Lights
Located in Point Pleasant, West Virginia, the West Virginia State Farm Museum Christmas Lights are another amazing destination to check out!
Set up on the West Virginia State Farm Museum, these Christmas light displays are set up with and around the antique farming equipment and gas engines! This option for Christmas lights in West Virginia is a fun stop for history buffs who still want to learn about the history of the area, while also enjoying local holiday cheer!
It's rumored that Santa also visits from Thursday to Sunday! West Virginia during Christmas would not be complete without a surprise Santa sighting!
Have Breakfast with Santa
Contrary to popular belief, Santa is in Charleston, West Virginia on the first Saturday of December!
From 9 am to 12 pm, Santa has breakfast at Café Appalachia! If you've got littles who were nice during the year, consider taking them to have breakfast with Santa!
For 5.99 kids get one pancake, one egg, one sausage link, and juice or milk! They have a regular menu available for parents, as well as specialty lattes! The vibes here are complete with Christmas music, great food and holiday spirit as Santa gets to meet all the good boys and girls he'll be delivering presents to!
Don't miss out on this cute option for Christmas things to do in West Virginia!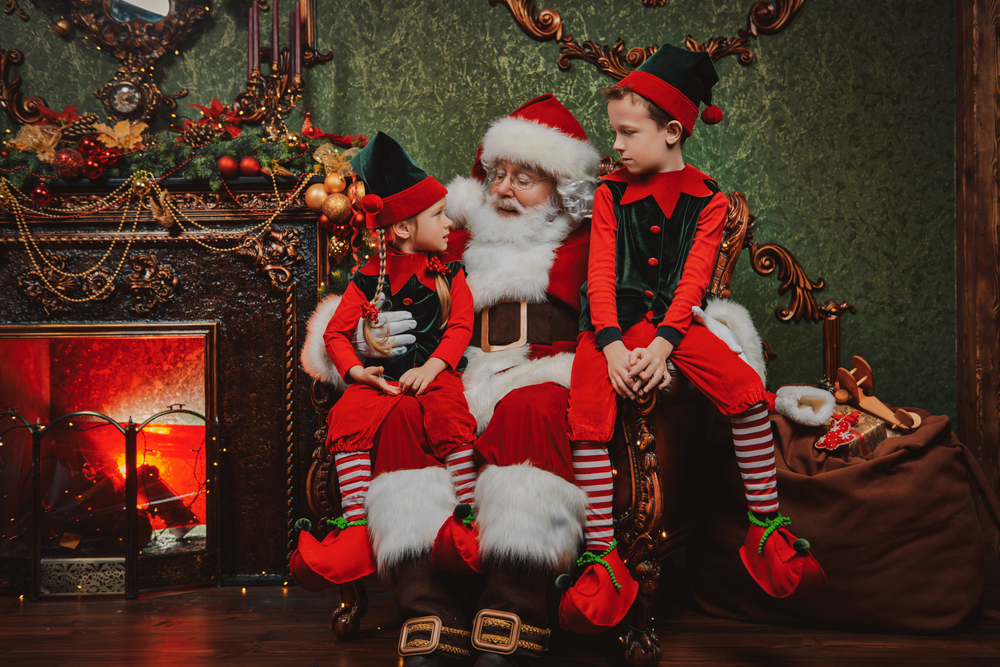 Heritage Farm Christmas Village
The Heritage Farm Christmas Village is a lovely spot to visit in West Virginia during winter!
On several weekends before Christmas Day, the Heritage Farm Christmas Village is open in the evenings and decorated for the holidays, making it a picturesque Christmas Village! They are a great option for West Virginia Christmas markets with local artisans showcasing their soaps, pottery, woodworking, and other amazing products!
This is a great location to shop around for some unique holiday gifts! Don't miss out on the Heritage Farm Christmas Village during winter in West Virginia!
Sleigh Rides at The Greenbrier Resort
West Virginia at Christmas would not be complete without a sleigh ride!
The Greenbrier Resort is an iconic West Virginia destination, located in White Sulphur Springs, and has the perfect atmosphere for a holiday winter wonderland! They offer a 20-25 minute ride through picture perfect forests! They boast old-fashioned horse-drawn sleighs with lap blankets to keep you toasty warm while you're on your ride!
They run the rides during daylight hours, look at their website for booking information, or call the Greenbrier resort! Don't miss out on this magical experience in West Virginia at Christmas!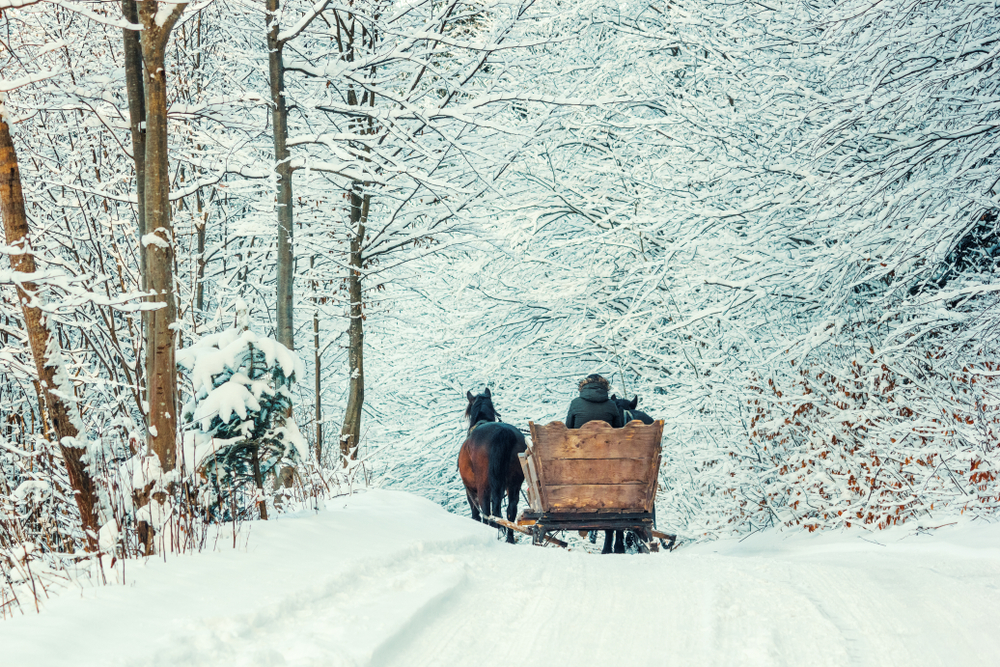 Visit Shepherdstown for that Hallmark Feel
Shepherdstown is one of those cities in WV that feels like you're walking through a Hallmark movie and is the perfect option for those looking for a quaint, history-filled destination for Christmas in WV!
With Civil War history tours and festive decorations, this town is filled with holiday magic to make you giddy with Christmas spirit! They have carriage rides, and community Christmas carolling, a tree-lighting ceremony as well as a Mrs. Claus storytime! They also have a great option for WV Christmas markets with crafts and food goodies, so don't miss out!
This little town is the perfect destination for the Hallmark vibes and definitely a "can't skip" option when considering spending time in West Virginia at Christmas!
Bramwell Christmas Home Tours
Bramwell is a coal town in West Virginia that has a unique take on the Christmas season!
While it boasts the regular Christmas activities, Bramwell also has some beautiful mansions that, with paid tickets, you can tour all dressed up in their Christmas best!
The proceeds of tickets go to the Bramwell Theatre Corporation and you can tour private Victorian mansions, walk the brick streets and dine in the area! This is definitely a unique experience, perfect for fans of architecture and history, looking to experience a Victorian Christmas! Tours take place on the second Saturday of December, so if you're in the area check out the site and get some tickets!
This is such a fun and unique option for Christmas things to do in WV!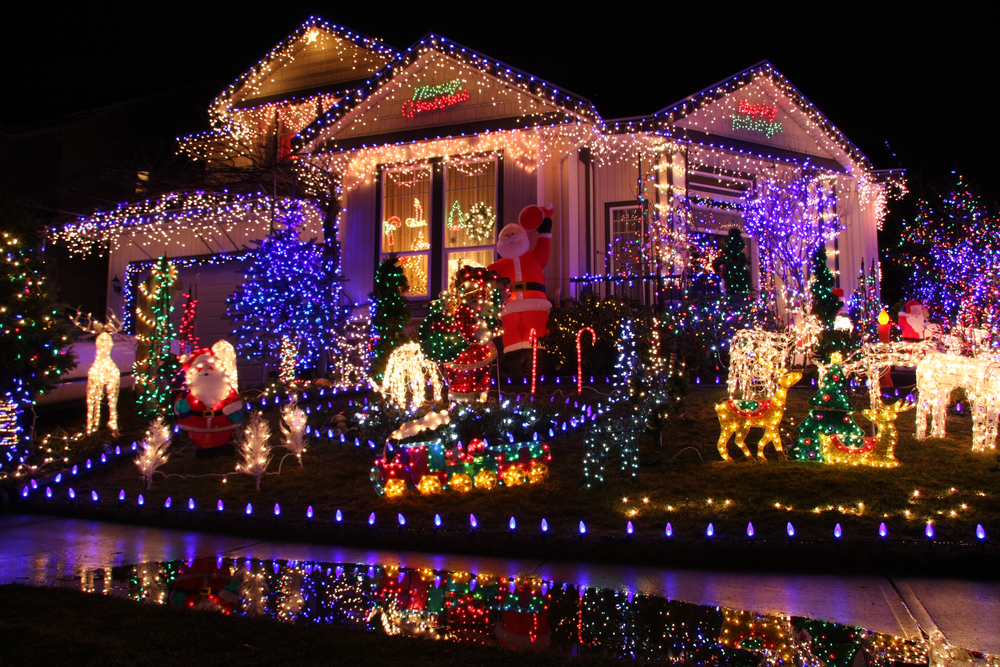 Whether you're looking to get a great cup of hot chocolate and drive through beautifully decorated Christmas neighborhoods, exploring through trees looking for that perfect one for the living room, or wanting a romantic, timeless moment, Christmas in West Virginia is guaranteed to keep everyone happy and entertained!
If you're adventuring for a short or a long time, there are plenty of things to do and see while in West Virginia! And now that you've seen our list, what will you do first?