Are you looking for the most scenic covered bridges in Georgia? You're in the right place!
Whether you're visiting one of Georgia's big cities, or taking in the countryside, there are many covered bridges just waiting for you to explore. Some were built over a hundred years ago, and some were constructed in the last decade to enhance the enjoyment of Georgia's natural landscape.
Georgia boasts some of the most beautiful and historic covered bridges in the southeast. From magnificent structures that stretch across mighty rivers, to the quiet covered bridges in North Georgia, there are excellent spots to visit no matter what corner of the state you find yourself in. You can even take a Covered Bridges Road Trip in Georgia!
This list includes historic sites and modern marvels to connect you with all of the beauty that Georgia has to offer!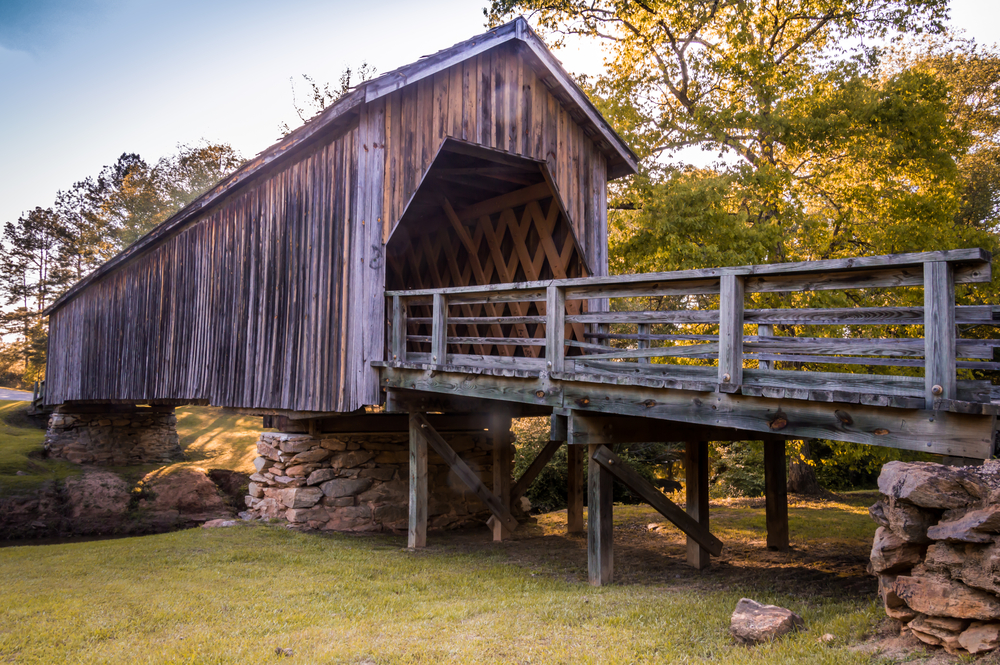 10 Prettiest Covered Bridges in Georgia
Watson Mill Bridge
Watson Mill Bridge, located in Comer, was built in 1885 by Washington King, son of famed bridge builder Horace King. It is the signature location in Watson Mill State Park, so the area is abundant with lots of natural beauty.
After you've visited the longest original-site covered bridge in Georgia (at 229 feet), you can enjoy one of the park's hiking or horseback riding trails to take in North Georgia's stunning forests and rivers. Camping and boat rentals are also available to fully experience the delightful North Georgia piedmont.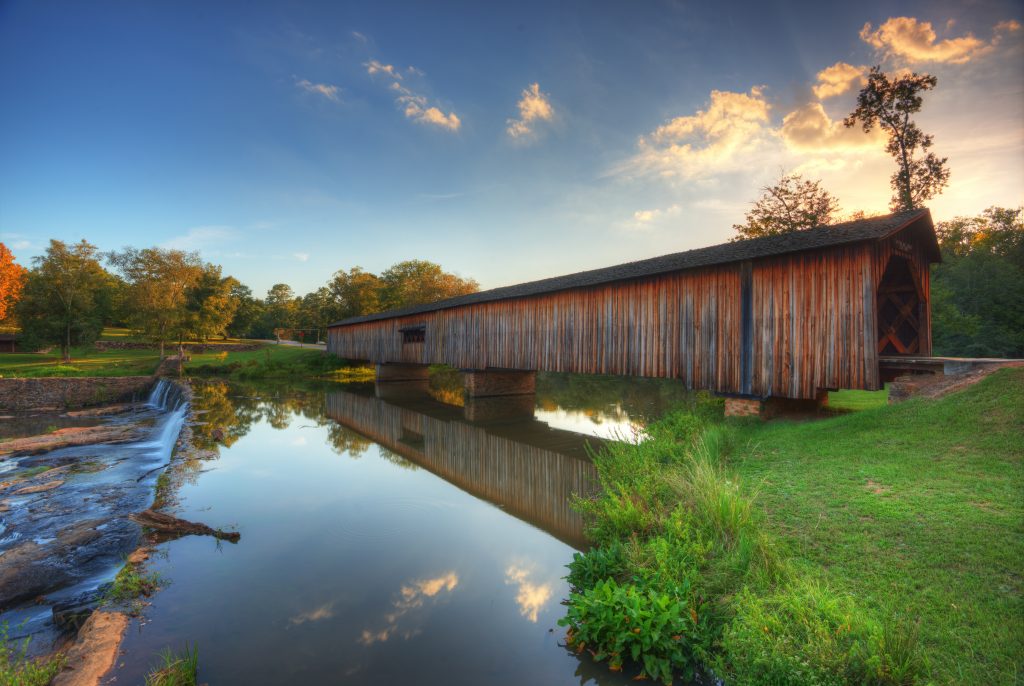 14th Street Pedestrian Bridge
On the banks of the Chattahoochee River, steps away from Alabama, lies the impressive 14th Street Pedestrian Bridge. Part of Columbus' notable Riverwalk, this modern take on a covered bridge in Georgia is not to be missed on your visit..
From the bridge, watch kayakers and rafters take on the longest urban whitewater rafting course in the world. Bring your bike along to enjoy the amazing wildlife along the river. When you're finished on the Georgia side, head across the bridge to explore the river from a different perspective – in Alabama! With zip line adventures, restaurants, shops, and theaters within walking distance, this is a must do when you're spending time in the Georgia plains.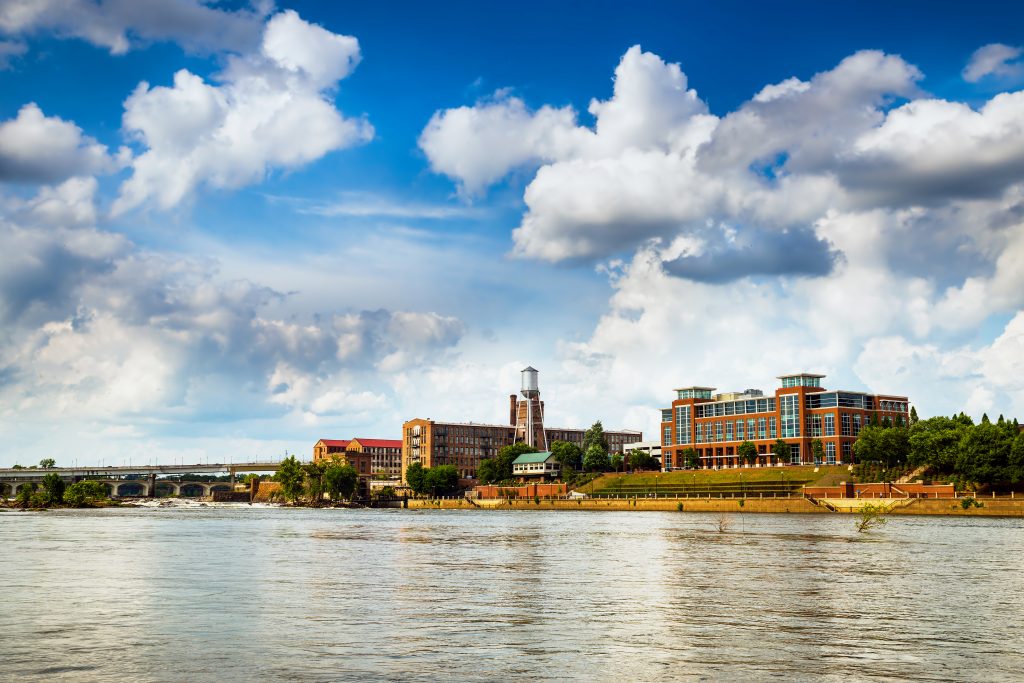 Red Oak Creek Covered Bridge
Red Oak Creek Covered Bridge in Woodbury, is the oldest covered bridge in Georgia. Built in the 1840's by renowned Georgian bridge builder Horace King, this bridge is open to the public and still in use today.
This historic covered bridge lies 12 miles away from Warm Springs, home to Franklin D. Roosevelt's Little White House – a perfect visit for history lovers. It is also 8 miles from Gay, which hosts the acclaimed Cotton Pickin' Arts and Antiques Fair, held annually in October and May, to make the most out of your visit to the area.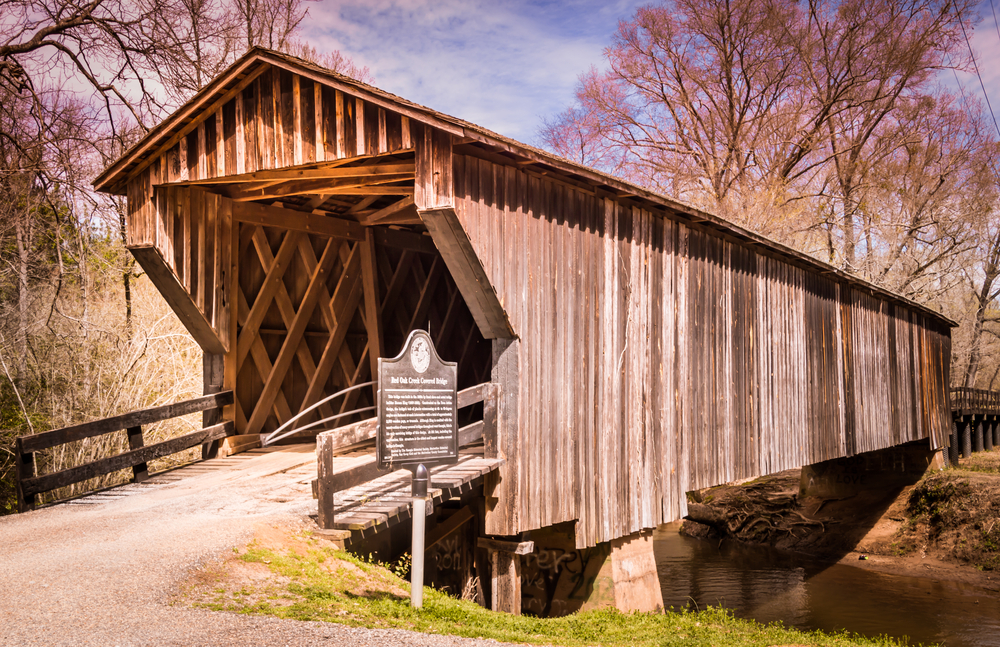 Coheelee Creek Covered Bridge
If a secluded spot is what you're after, look no further than Coheelee Creek Covered Bridge, one of the most scenic covered bridges in Georgia. Enjoy a picnic nestled under a canopy of trees, and a quiet afternoon spent amongst the babbling brooks of Blakley.
This charming bridge was built in 1891 and also has the distinction of being the southernmost covered bridge in the United States. While you're there, make sure to check out nearby Kolomoki Mounds Historic Park. An outstanding archeological site, Kolomoki Mounds gives visitors a glimpse at various burial and ceremonial mounds constructed between 250-950 CE by peoples of the Swift Creek and Weeden Island cultures.

Auchumpkee Creek Covered Bridge
Relish the most picturesque locale at the Auchumpkee Creek Covered Bridge in Thomaston. Originally built in 1898, this covered bridge in Georgia was completely rebuilt in 1997 to restore the location to its authentic beauty.
Auchumpkee Creek is listed on the National Register of Historic Places, and makes the perfect spot for a lovely family fun day. Bring a picnic to eat, and gather with friends and family for outdoor games in the open field near the bridge.
To continue your outdoor exploration of the area, make sure to stop over at Sprewell Bluff Park. Hike the miles of trails running alongside the Flint River, or take a lazy day to skip rocks on the bank.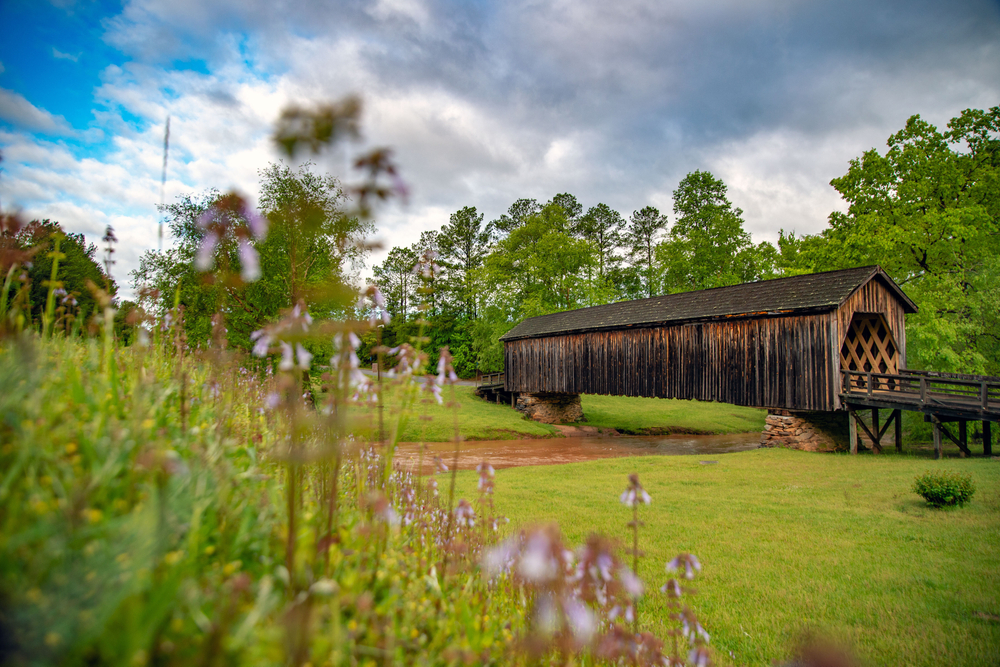 Stovall Mill Covered Bridge
Looking for the smallest covered bridge in Georgia? You've found it! At 33 feet long, running across the Chickamauga Creek, Stovall Mill Bridge has the honor of being the tiniest in the state.
Built in 1895 in Sautee Nacoochee, this covered bridge in North Georgia is also surrounded by mystery. Legend has it that the bridge is haunted. Visitors after dark have reported hearing the cries of children and the distant echo of horse drawn carriages. Stovall Mill Bridge is open 24 hours in case you're in the market for a spooky night.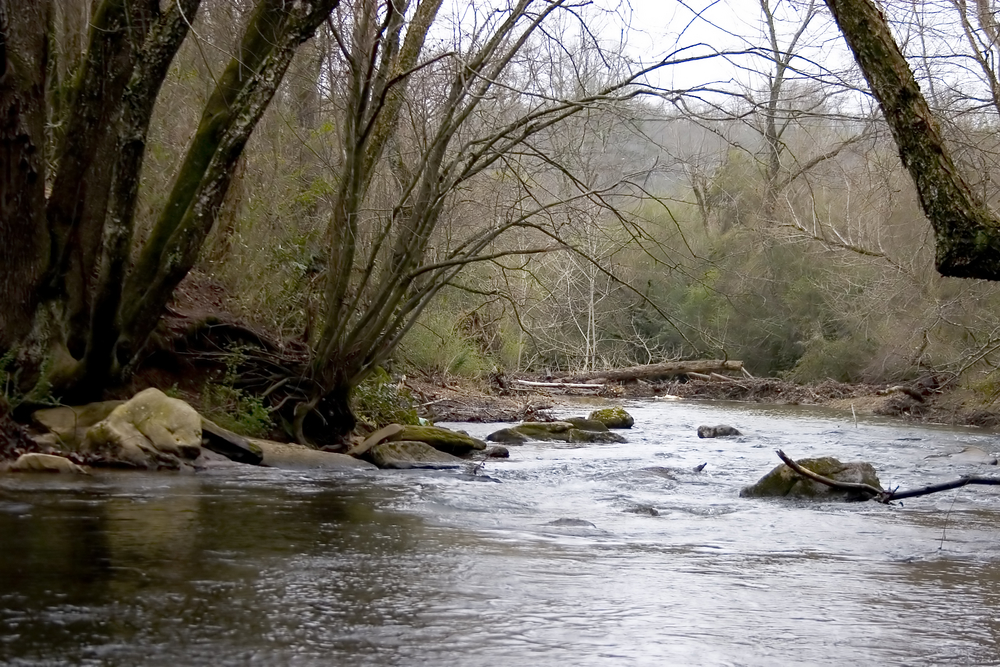 Euharlee Creek Covered Bridge
Take a step back in time at the Euharlee Creek Covered Bridge in Euharlee, Georgia. The bridge was built in 1886 by Horace King's son, Washington King – remember them? It was built to replace a former bridge that had been swept away by a raging creek. The creek has since settled down, making this an outstanding spot for an afternoon exploring history.
This covered bridge in North Georgia, is also surrounded by an 1850's era village, to give visitors a chance to experience life in a time gone by. The bridge is steps away from the Euharlee History Museum to for a fully immersive visit to the area.
Concord Bridge
The most visited of all the covered bridges in Georgia, Concord Bridge was built in 1872, overlooking the scenic Nickajack Creek. Bring your bike along for this tour. The Concord Bridge sits alongside an expanded bike trail that includes other bridges and converted railways to amplify the area's majestic beauty.
Located in Smyrna, Georgia, this is the perfect covered bridge to explore when you're making a visit to the capital city of Atlanta. The area near the bridge also includes remains of Ruff's Mill, which was the site of a Civil War battle. Ruins of Ruff's Mill dam and grist mill are just upstream of the bridge, and the nearby miller's house is still used as a residence today.
Elder Mill Covered Bridge
If you happen to make a trip to the University of Georgia in Athens, make sure to check out nearby Elder Mill Covered Bridge, one of the few functional covered bridges in Georgia – you can drive right across it! Built in 1897 to run across Calls Creek, this bridge was moved in 1924 to its present location, tucked away in the woods above Rose Creek.
Elder Mill Covered Bridge is the only covered bridge found along the Georgia Antebellum Trail, a 100 mile journey through seven historic communities that were spared from Sherman's burning march through Georgia during the Civil War.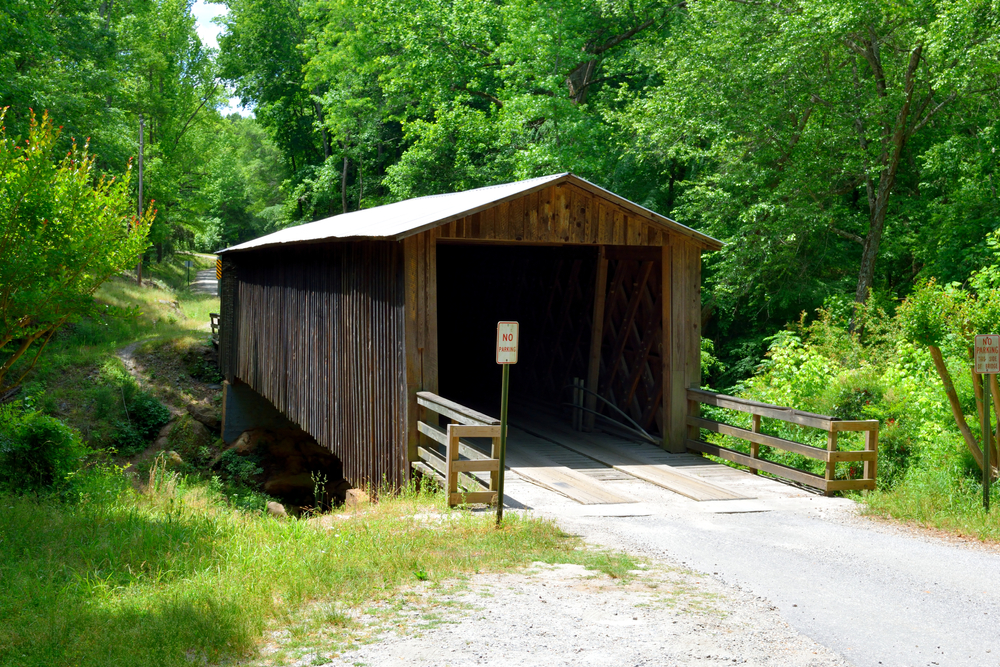 George L. Smith State Park Covered Bridge
Located in, you guessed it, George L. Smith State Park in Twin City, a visit to this covered bridge in Georgia makes for an ideal weekend getaway. Inside the park, explore the refurbished Parrish Mill and Pond, which includes a gristmill, saw mill, dam, and covered bridge all built in 1880.
Campsites and cottages abound nearby to extend your stay in the area. See this delightful Georgia covered bridge from a new angle when you canoe right by it on the water, or enjoy excellent bird watching from the bridge on land. Paddle tours are also available to engage visitors in everything from the history of the mill to the wildlife that surrounds it.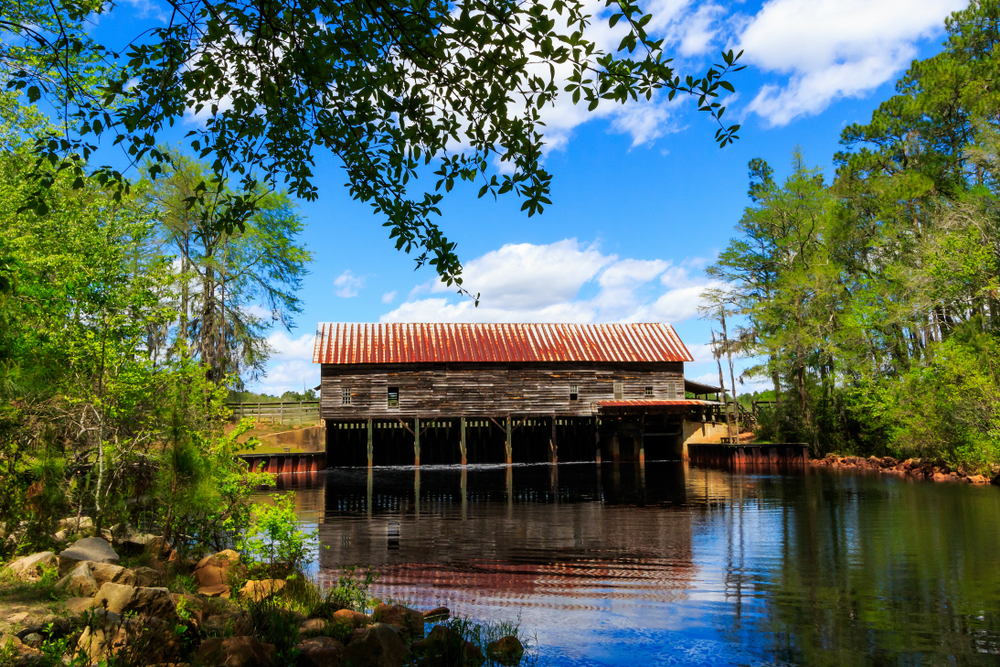 Whether you find yourself hiking in the North Georgia mountains, or visiting Georgia's bigger cities like Atlanta or Columbus, there is a covered bridge in Georgia just waiting for you to stop by and explore!
With covered bridges that appeal to outdoor enthusiasts, history buffs, and wildlife aficionados, there's sure to be a Georgia covered bridge that speaks to you. So, what are you waiting for? Grab your camera and come visit!