There are so many beautiful VRBO rentals in Georgia to make your trip to this Southern state memorable. If you are planning a trip to Georgia, renting a VRBO will give you a place of your own.
Whether you want to be near the ocean, surrounded by forests, nestled among mountains, or right in the middle of historic cities, there is a Georgia VRBO waiting for you!
The only problem is that there are too many choices on VRBO! You could easily get lost among the many awesome cabins, houses, and more. Don't worry though, we have done all the scrolling for you! Here are our selections for the best VRBO in Georgia.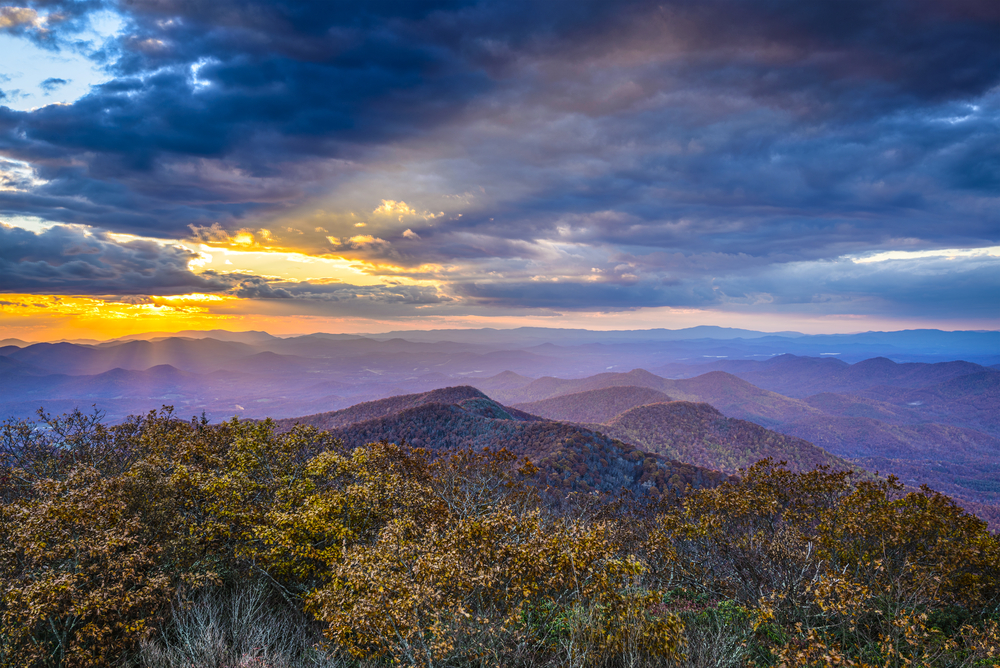 15 Gorgeous Georgia VRBO Rentals You Must Visit
Waterfront Lake Arrowhead Cabin
If you are looking for a spectacular weekend at the lake, then this waterfront cabin on Lake Arrowhead is the perfect destination. Found in the foothills of the Blue Ridge Mountains about an hour from Atlanta, this property has everything you need for a memorable time with your friends and family. Up to ten people can stay in this large home.
If you love outdoor recreation and spending relaxing time on the water, then book this place now! This house comes with access to kayaks, canoes, hydro bikes, and paddleboards. There is also a water trampoline and a big hot tub. You can also rent a pontoon
Spend your days fishing, swimming, golfing, or exploring the beautiful area. At night, settle around a calming fire on the deck or watch a movie inside. You will not be bored here!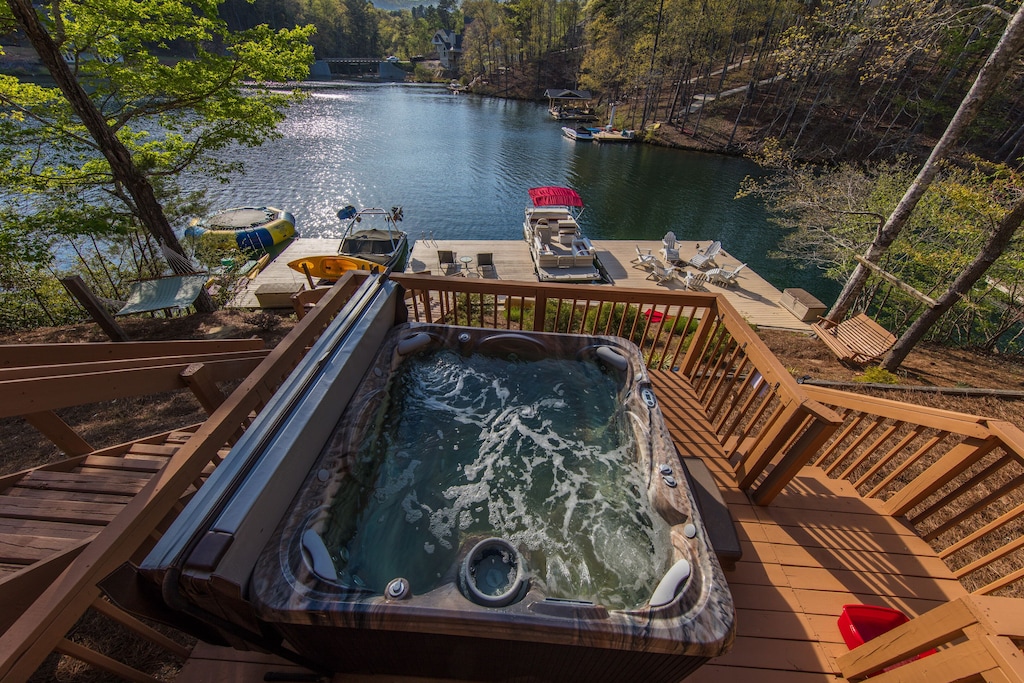 The Perch
The Perch is a secluded cabin with amazing views of mountains and Lake Chatuge. If you are looking for a peaceful VRBO in Georgia that is surrounded by nature, then this home is for you. A party of eight can stay here in the north of Georgia near Hiawassee.
You will feel right at home at the Perch with WiFi, TV, and a homey, rustic interior. The awesome wrap-around porch is a great place to sit and read or enjoy a meal at the picnic table. From here you can see Brasstown Bald, the tallest point in Georgia. There is also a patio with even more outdoor seating and a fire pit to gather around at night.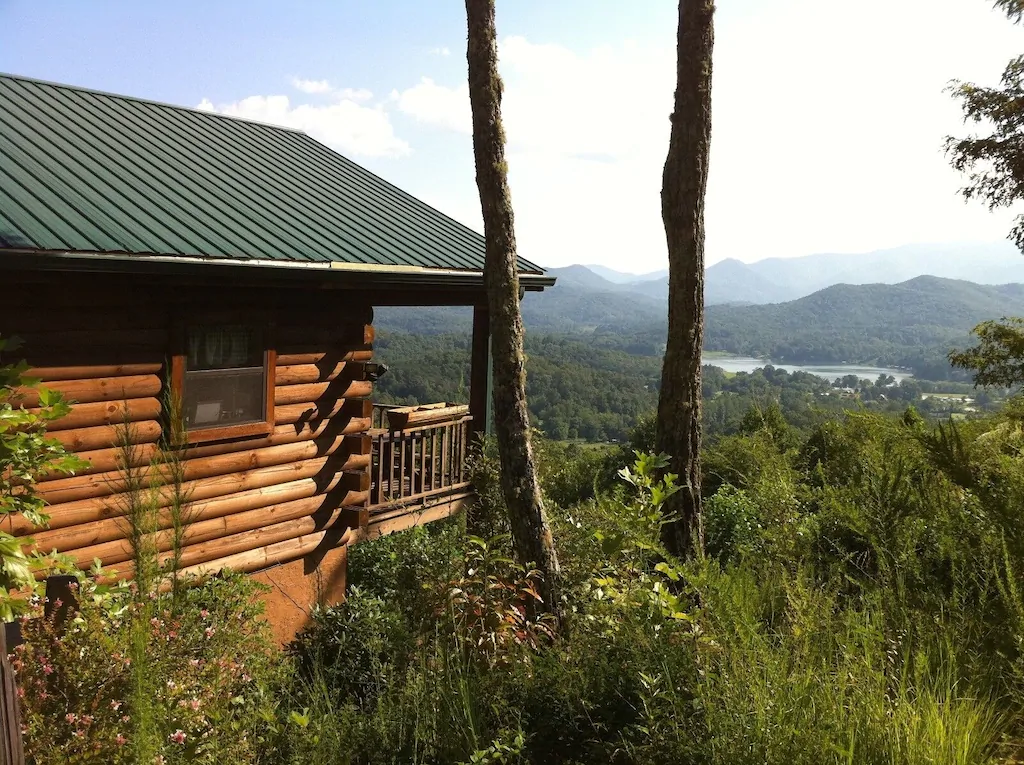 Incredible Beach and Ocean Views
If you are staying on Tybee Island and want incredible beach and ocean views, then this is the Georgia vacation home you should look into. With enough room for sixteen people, this is the best place to host a beach vacation for the whole family.
There is plenty of room to spread out so you will not feel crowded. Since there is a TV in each bedroom, there will be no fighting over what to watch.
If you like great views, you will not be disappointed here! There is a screened-in porch to escape the heat while still providing a lookout. The awesome, huge rooftop deck provides 360-degree views out to the ocean. Speaking of the ocean, it is only a short walk from this house. In just a couple of minutes, you can feel the cool water on your feet.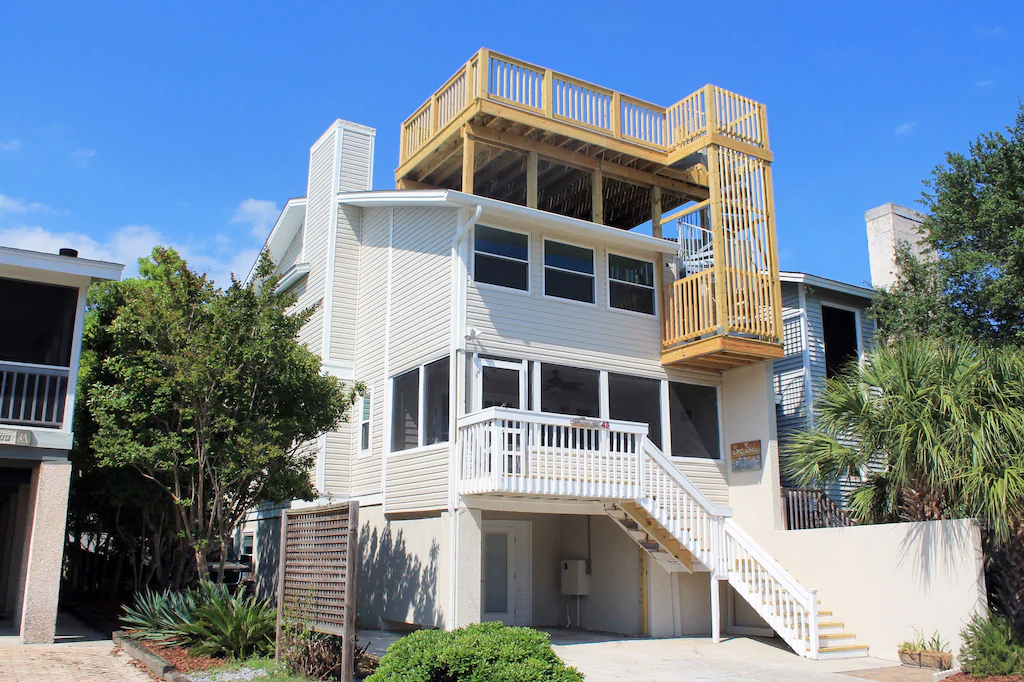 Canopy Blue Luxury Treehouse
The Canopy Blue Luxury Treehouse is gorgeous inside and out. This three-story, architectural dream is one of the most unique VRBO in Georgia perfect for adventurous travelers. Up to six people can stay here or use it as a luxury couple's retreat. With so much square footage, you will not feel cramped. You will have everything to feel at home in the trees.
This beautiful home is surrounded by forests and hiking trails. Nature lovers will never want to leave! With so many decks and porches, there are plenty of places to curl up with a good book or enjoy a mug of coffee. One of the decks even has a hot tube for extra relaxation.
At night, snuggle up around the fire pit for s'mores, ghost stories, or just a romantic atmosphere. Then head inside to watch a movie before going to sleep on the hanging, loft bed.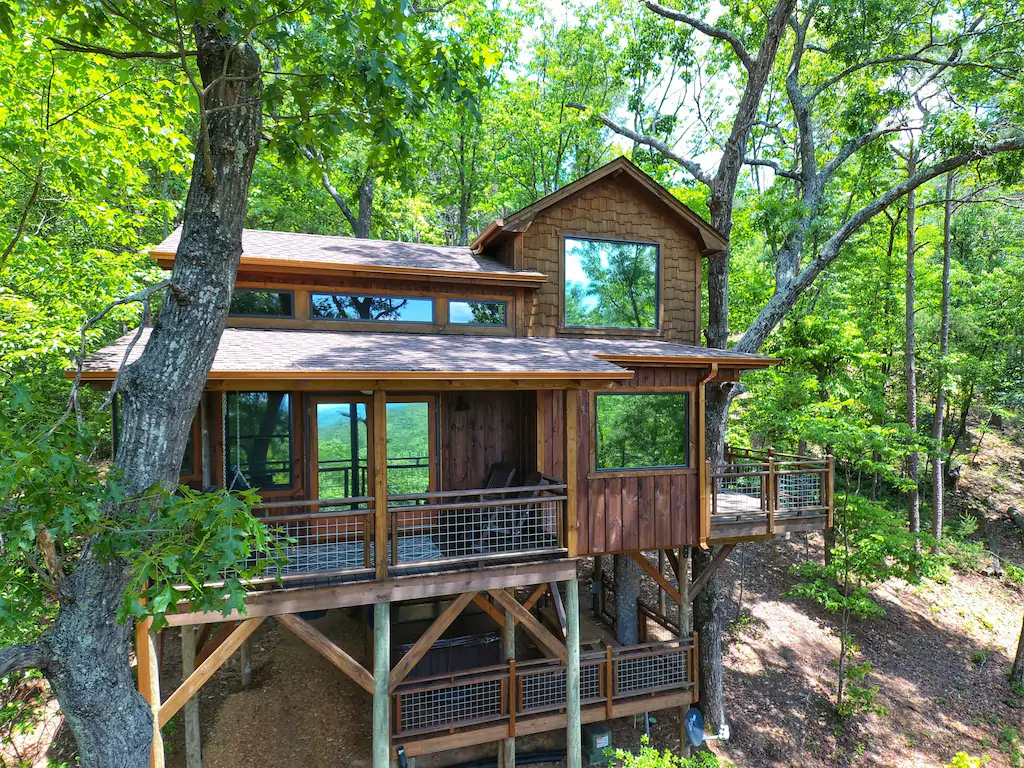 Spacious Luxury Home
This spacious luxury home found on St. Simons Island is very modern and chic with everything you would ever need to have a fantastic vacation in Georgia. With a capacity of ten people, bring the whole family here to have a great time. There are so many amenities and special touches here that bring this Georgia VRBO to the next level.
The secluded backyard with its in-ground pool, hot tub, and palm trees will make you feel as if you are staying at a resort. There are plenty of loungers and tables outside to accommodate everyone. The BBQ gives you the chance to cook outside or you can make use of the large kitchen.
The master bath has a whirlpool bathtub as well as a large walk-in shower. There is also a game room with Foosball and a big screen TV. The whole house is comfy and luxurious.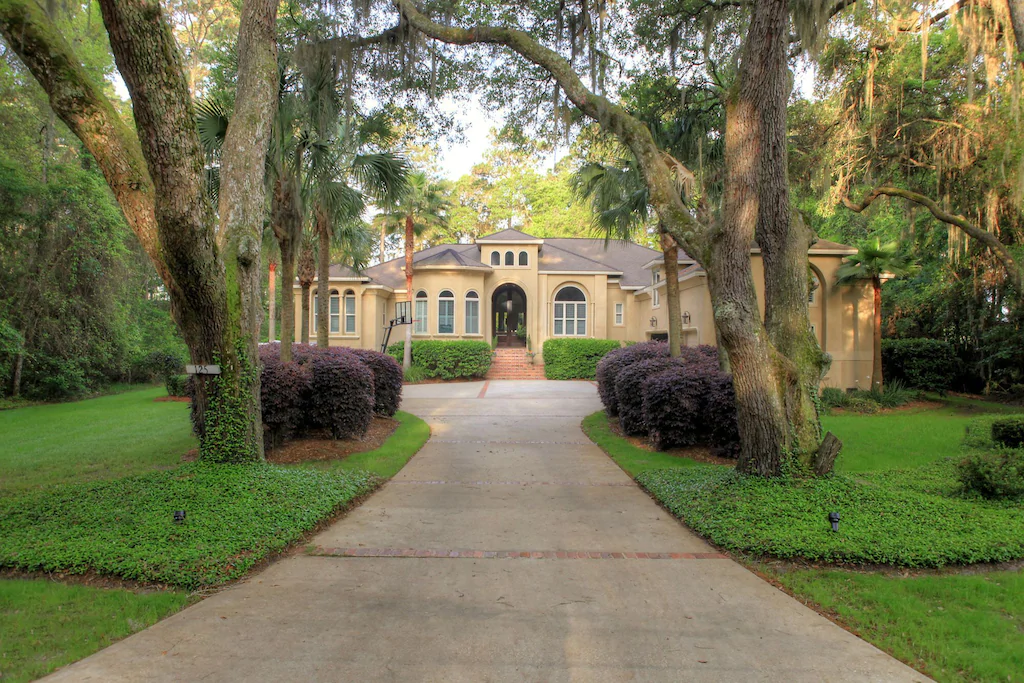 Unique Private Luxury Cottage
This private luxury cottage has a beach theme that is carried through each room. A group of four will love to stay in this quaint VRBO in Georgia. Surrounded by oak trees and near a peaceful duck pond, you will feel like you are living in a storybook.
This cottage is also not far from a couple of the St. Simons Island beaches. When you are done enjoying your beach day, come home to relax in the living room and watch some TV. There are also bikes available to use. Ride through town and enjoy the nearby restaurants, theaters, and shops.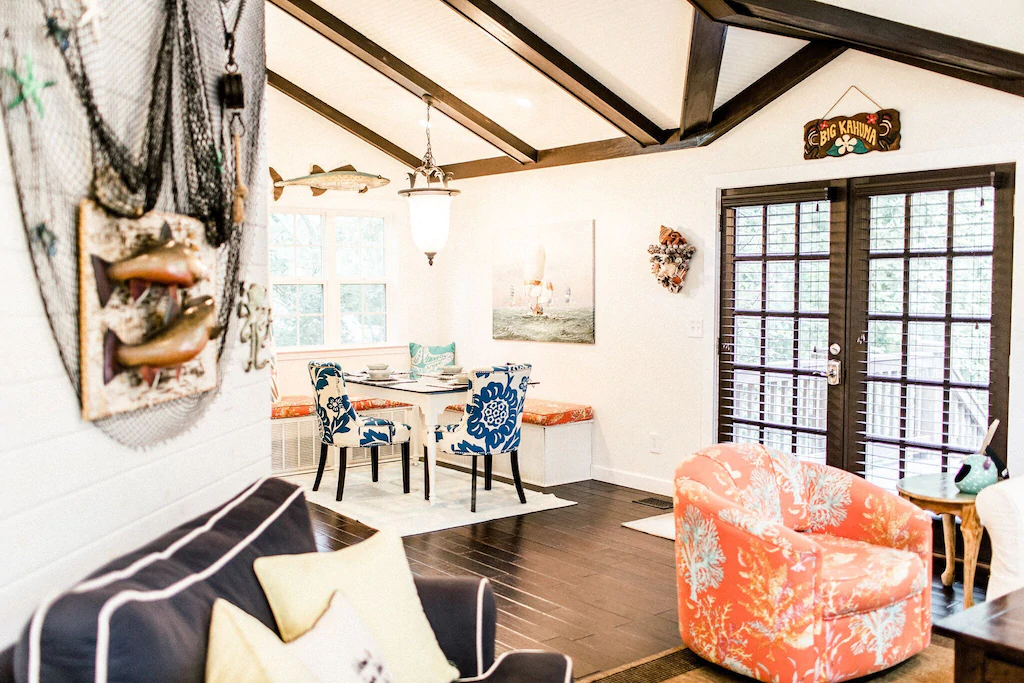 Deer River Retreat
In Ellijay, you will find the Deer River Retreat, a beautifully crafted cabin found right on the river. Up to six people can call this VRBO in Georgia home. It makes a great weekend stay or remains longer to fully enjoy all of the amenities and nearby attractions.
This cabin includes a fire pit with views of the water and a hot tub where you can soak away your worries. This cabin is found within the Coosawattee River Resort so you will also have access to many pools, an arcade, gym, tennis and basketball courts, and a mini-golf course.
Staying at the Deer River Retreat gives you the opportunity to be enveloped in nature as you put any troubles from the real world on the back burner. After a few days here, you will leave feeling refreshed.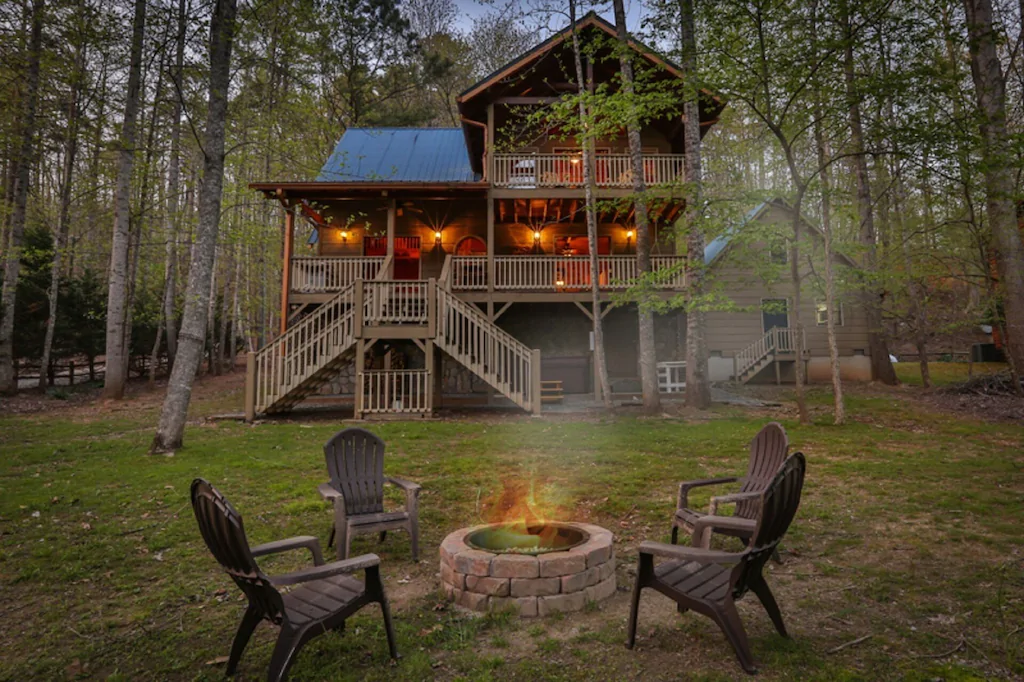 New Modern Home
If you are visiting Atlanta, you might want to rent this new modern home, especially if you are traveling with a large group since eleven people can stay here. Nestled in the heart of the city, you will be near many of the city's attractions.
The best feature of the property is the large rooftop deck. In nice weather, you can sit out here and enjoy the views of the neighborhood. The loft has a dart game where you can practice your aim. Cook in the modern kitchen or use one of the grills. In the evening, gather everyone on the big couch in the living room and settle down to a movie.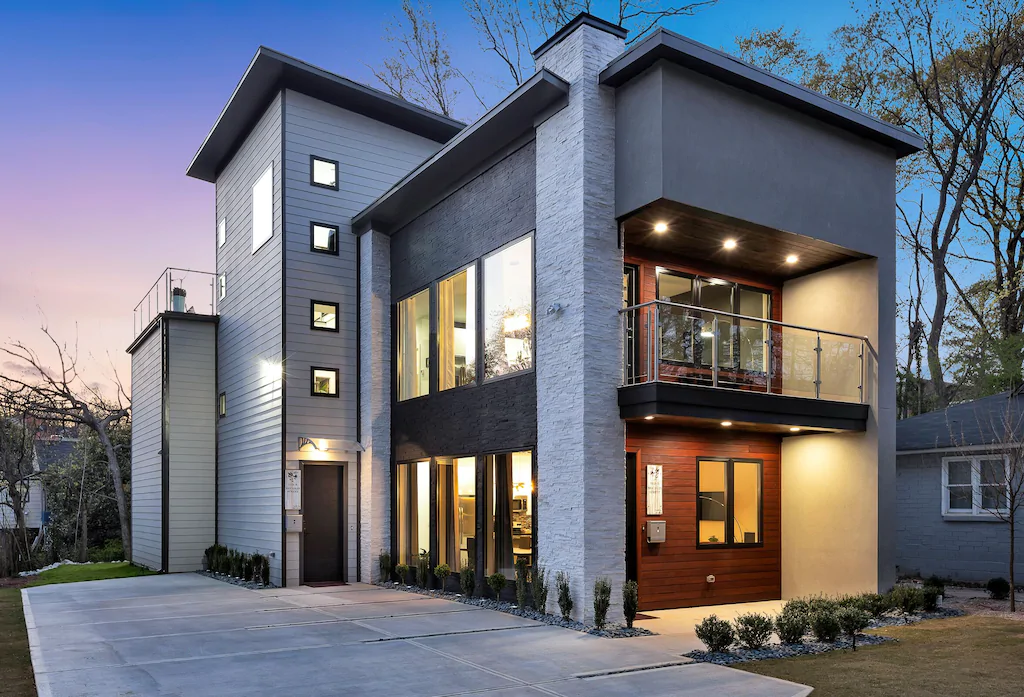 Ocean Front With Private Pool
This oceanfront home on Jekyll Island is the ideal place to stay in Georgia for a beach getaway for the whole extended family. A whopping sixteen people can stay here, so bring everyone! When you walk into the main room, you will find a large, open space with high ceilings, perfect for reducing any cramped feelings. There are seven bedrooms, all with different bed options.
Outside, you will find a large backyard with a patio, a heated pool, and gorgeous views of the ocean. The Atlantic is only a short walk away and is begging to be explored. It will be hard to come inside at the end of the day, but once you do, you can get comfy on the big couch in front of the fireplace.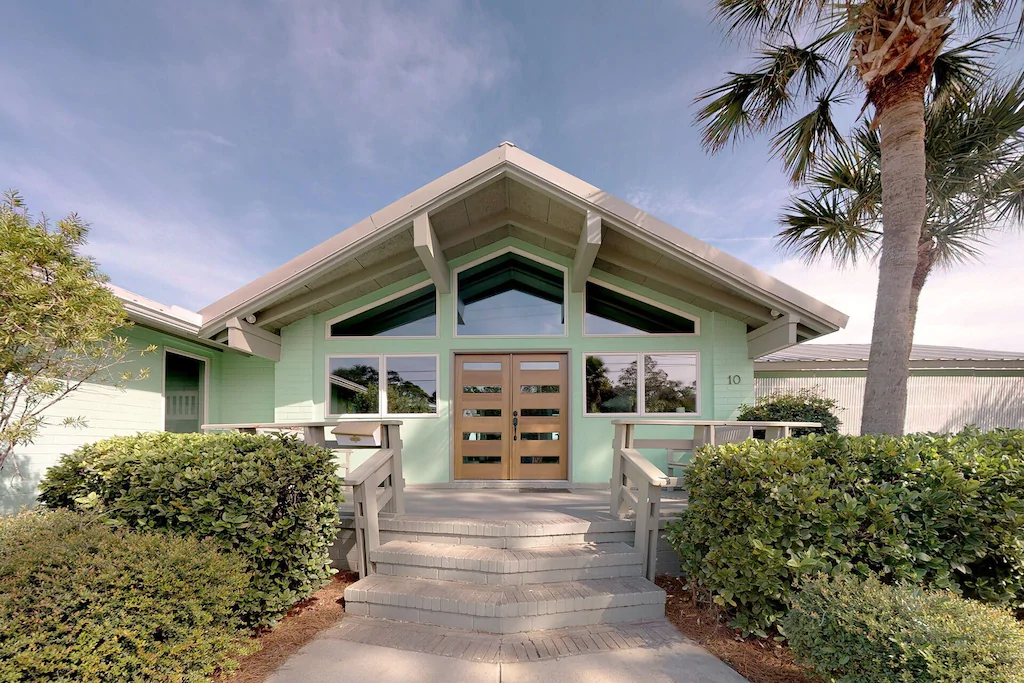 Manor on Jones
If you are coming to Savannah, you will want to stay in a beautiful, historic home, and the Manor on Jones fits the bill! This lovingly restored 1800s manor is found in a scenic location within walking distance to many of Savannah's attractions.
The home's interior is furnished in a way that will make you think you are staying in a fancy hotel suite. With antique touches and classic decor everywhere you look, you will simply fall in love with this place. There are modern amenities as well, including smart TVs, high-speed internet, and cooling AC. There is also off-street parking.
In the back is a cute, secluded garden courtyard with a table and chairs. This is the perfect place to sip your morning coffee or relax after a day of exploring the city.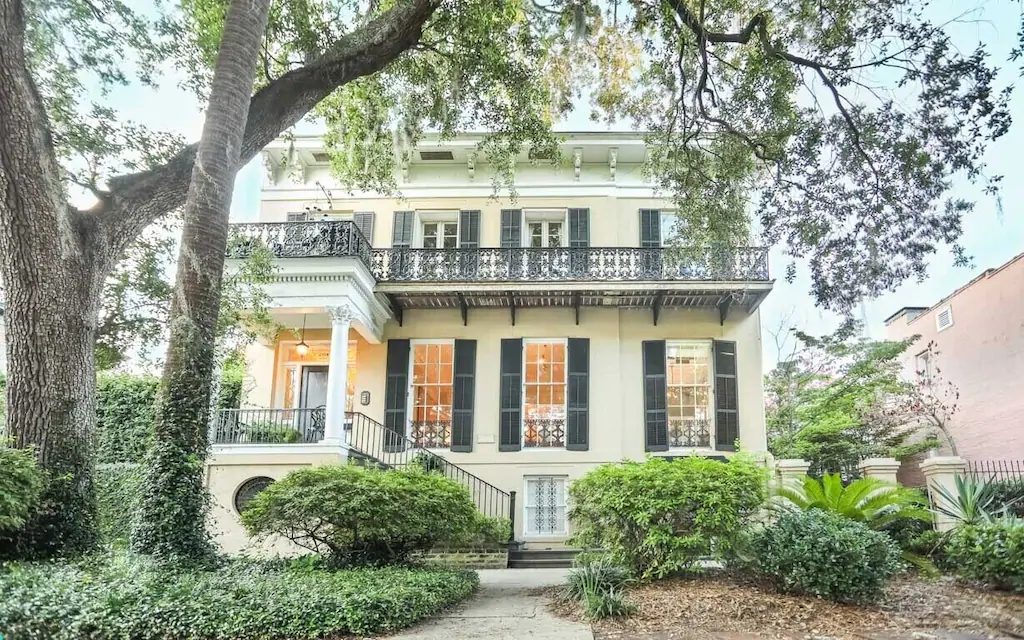 Charming Gem
This charming home is another historic place to stay in Savannah. Dating back to 1918, this pretty peach-colored house is full of Southern charm. A family of four will love to stay here and make use of its great location. Many well-known Savannah sites can easily be walked to from here. Downtown is less than two miles away.
The rental includes the second story and the owner lives downstairs, so they are nearby if you need anything. This is a great, affordable option in Savannah and shouldn't be passed up.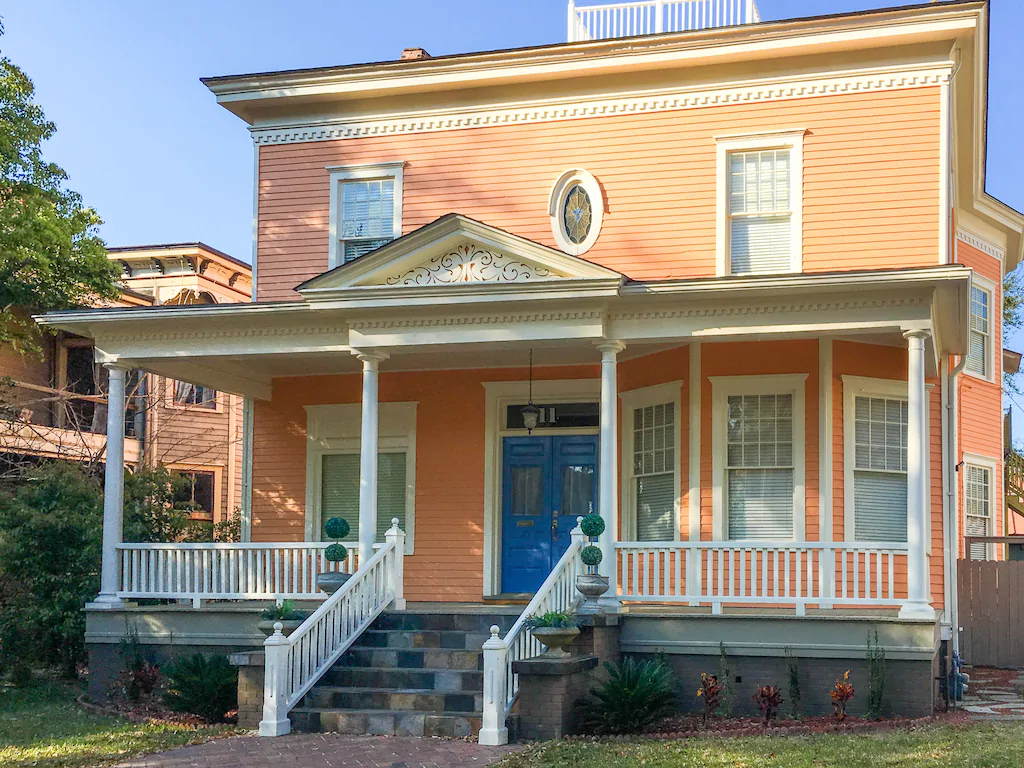 Dahlonega Luxury Cabin
If your dream vacation involves a log cabin, but you also want a good dose of luxury, then this cabin in Dahlonega is what you are looking for! This home is gorgeous! With exposed log beams and beautiful wooden furniture, you will be awed by the craftsmanship.
A party of sixteen people will have a ton of fun here playing Foosball and air hockey in the game room before heading outside to play horseshoes or badminton. In the evening, relax watching Netflix, playing video games, or using the provided coloring books.
This log cabin is in a beautiful area near many nature spots and vineyards. When you are not out exploring, take time to unwind in the hot tub.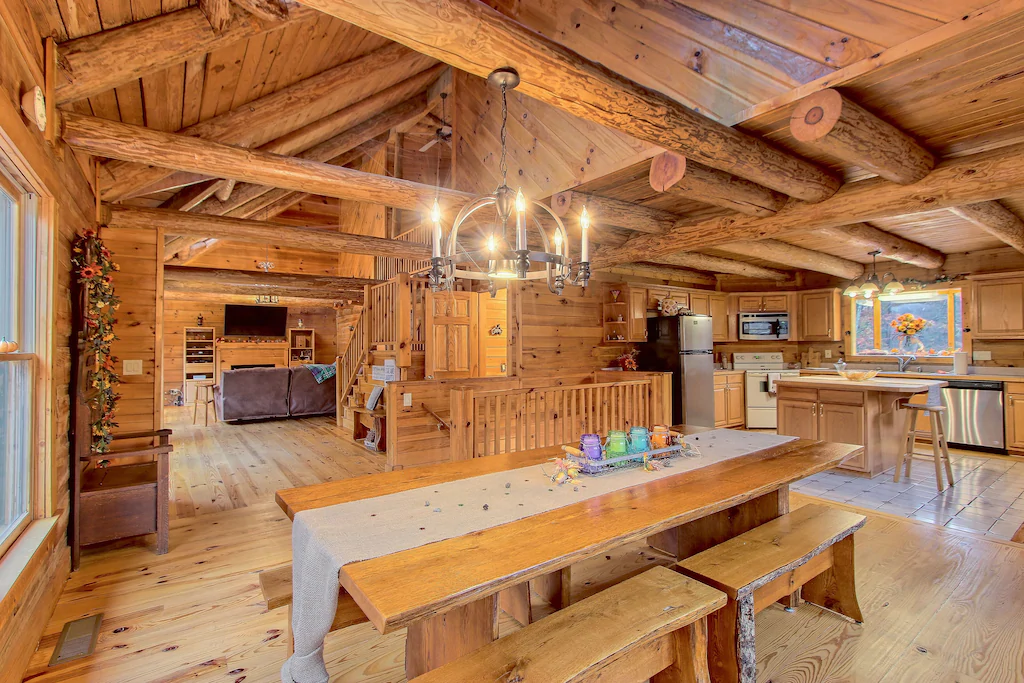 Charming Cabin
In Helen, you will find another charming cabin perfect for a nature getaway in Georgia. This one is much smaller, for a more intimate time, but it still fits six people. You can even bring your fur babies here!
Settle down among the trees in this perfectly rustic abode. When you aren't out hiking or exploring the cute small town of Helen, you will have fun here playing pool in the loft, soaking in the hot tub, or watching movies next to a roaring fire.
This is one of the best VRBO in Georgia where you can leave behind the the hustle and bustle of cities and real life. Chill around the fire pit and breathe in the mountain air as you stargaze.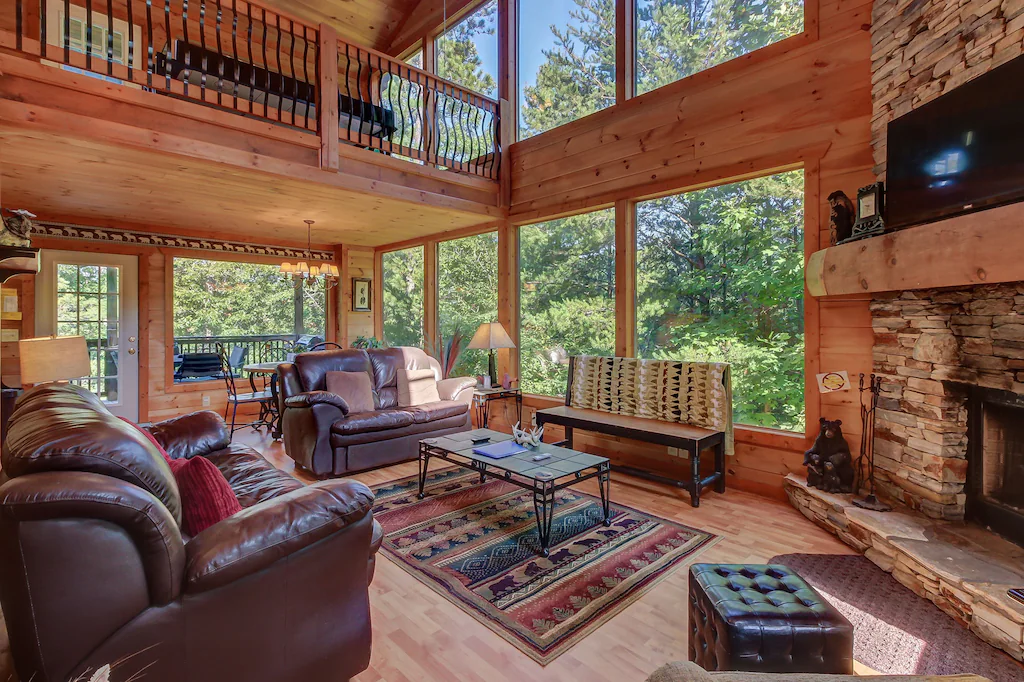 Custom-Built Cabin With Mountain Views
Another cabin option in Helen is this custom-built cabin with mountain views. If you enjoy exquisite craftsmanship paired with rustic decor and great views, then this is the ideal Georgia vacation home. Each evening, you may find yourself lounging in the hot tub or gathered around the fire with your family.
The nearby Chattahoochee River will provide fun activities, including fishing, tubing, and swimming. In the fall enjoy the bright foliage and Oktoberfest in the town of Helen. Dogs are allowed at this property as well, and they will have fun hiking with you.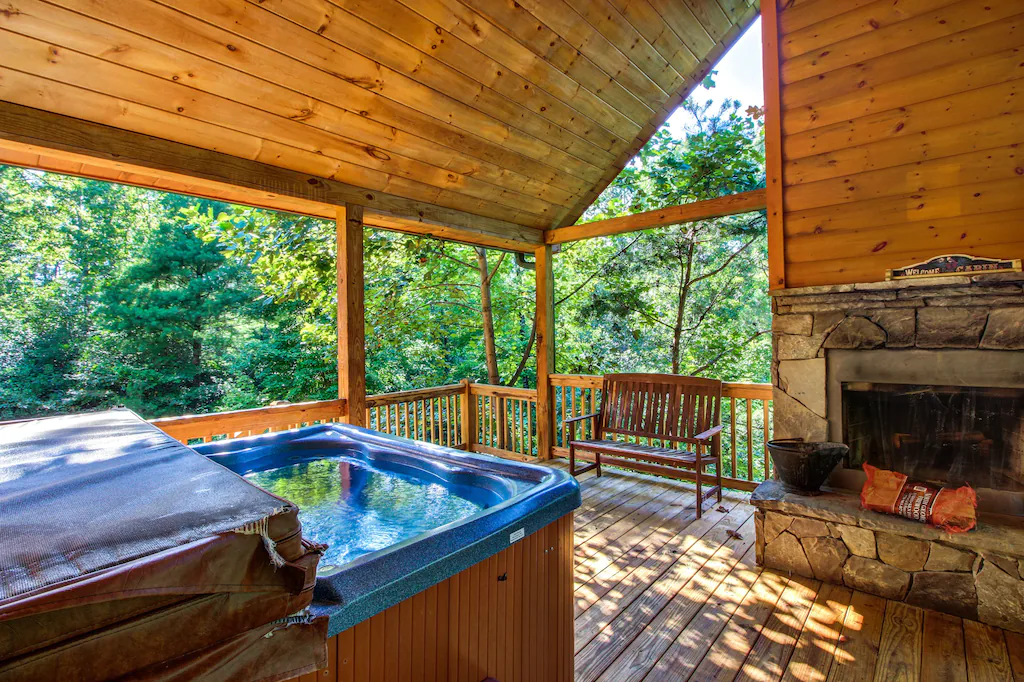 Windsong Chalet
Is there anything more adorable than an A-frame cabin in the woods? There is no better place for a romantic getaway in Northern Georgia than the colorful Windsong Chalet. Found just a few miles from the Tennessee border and the mountain town of Chattanooga, this tiny home is ideally located. You will find many beautiful nature spots nearby.
This mountain hideaway is a peaceful place to spend a few nights. Sit around a campfire while you soak in the quite of nature. The hot tub gives you a place to relax your muscles after a day of hiking. Inside, you will find a plush couch where you can watch some TV before retiring to the bedroom loft.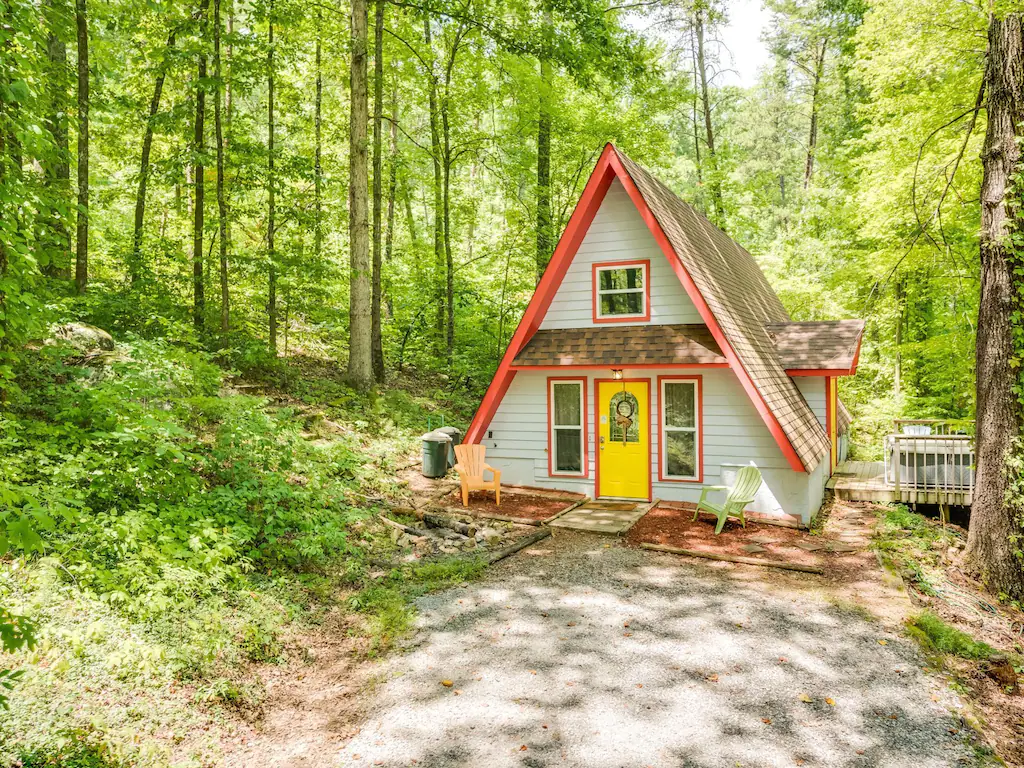 If you are headed south, consider renting a VRBO in Georgia. There are so many amazing properties to call your own. Whether you are planning a family vacation or a couple's getaway, Georgia is a great place to stay.