Are you trying to figure out what are the best weekend getaways in Arkansas? You've come to the right place! In this list, we've put together some of the most interesting Arkansas weekend trips that you'll ever see!
If you didn't know, Arkansas is know as "The Natural State", and we can see why. Between the lush forests, the rolling mountains, the healing springs, and the awe inspiring caverns, this is a nature lover's paradise!
Between the beautiful landscapes, the history galore, and the bustling cities, there's sure to be something fun for any type of traveler. Whether you're looking for a solo trip, a romantic retreat, or a vacation for the whole family, you'll find the perfect getaway here.
Which trip will you choose?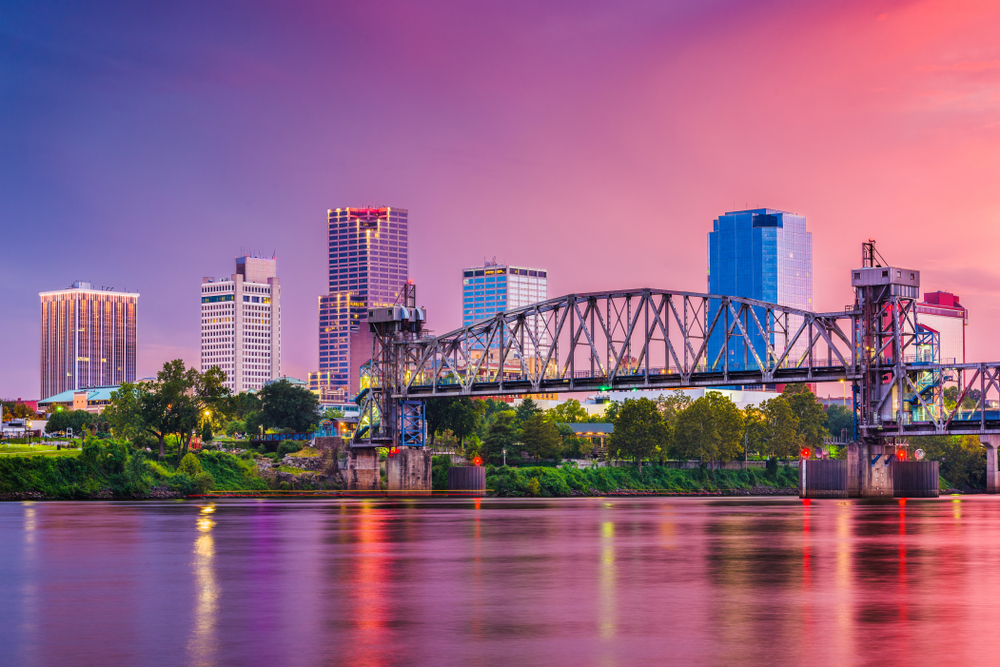 14 Interesting Weekend Getaways In Arkansas
Soak in Small City Life at Fayetteville
This cute university town in Northwestern Arkansas is exactly the getaway that you deserve. Nestled into the Ozarks, Fayetteville is full of fun things to do.
This is truly one of the Best Towns In Arkansas That You Must Visit!!
The Downtown Square and Gardens is a great place to start your trip. This cute city center is full of lush greenery and located right next to some of the best restaurants and shopping in the city. In the summer the square is home to the local farmer's market while in winter you'll find beautiful holiday lights.
The Botanic Gardens of the Ozarks is a perfect activity for the whole family. It spans over 44 acres, which includes a butterfly house (the only one in the state!). If you want to see the coolest art around, head to Terra Studios. With 6 acres full of sculptures, handmade glass, fountains, and other one of a kind items, this is a stop for the artists!
Where to stay in Fayetteville:
Luxury Art Filled Condo: check rates on Vrbo.com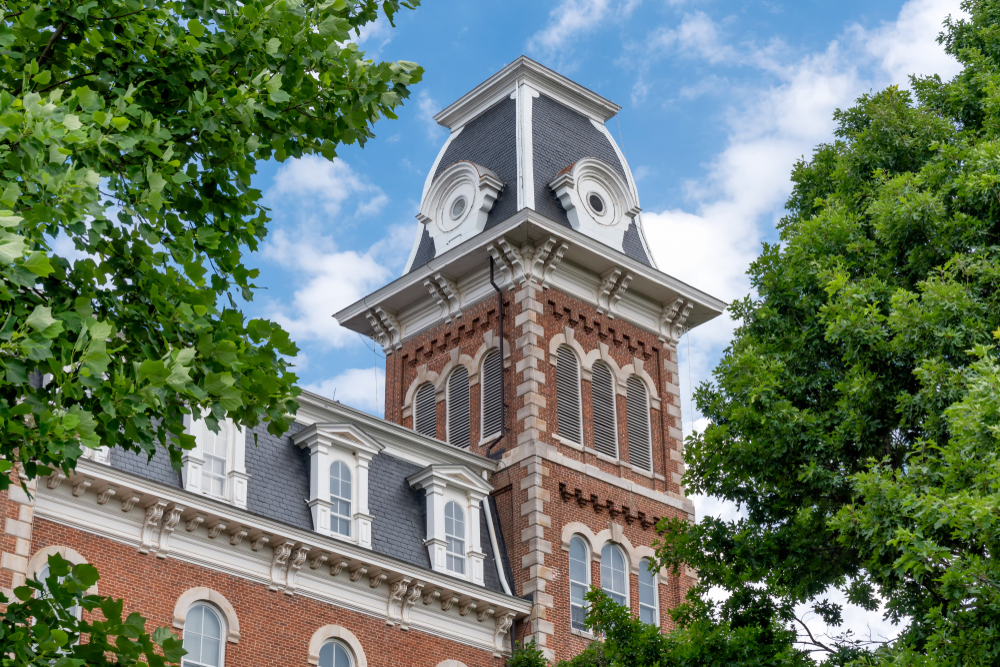 Explore War Eagle Cavern on Beaver Lake
If you're looking for an adventure, then check out this cavern and see why it's one of the best Arkansas getaways. You start with a small hike to the lake which will hugs the entrance to the cavern. The tour guides that take you into the cavern are super informative.
The insides are just so majestic, with small waterfalls and rock formations. Keep your eyes peeled for the bats that live in the caves. It can be as much as a 30 degree Fahrenheit drop in temperature inside the cave, so be prepared!
Once you finish at the cavern, there's plenty of other things to do here. There's lots of trails to hike. You can also go panning for gems, try your hand at the maze, or see the gravity house that seems to defy physics!
Where to stay near Beaver Lake:
Lake View Oasis: check rates at Vrbo.com
Relax at the 1886 Crescent Hotel and Spa
Rest and relaxation is the name of the game at this Victorian gem located in downtown Eureka Springs, within walking distance of museums, eateries, and the play house. This is truly one of the best romantic getaways in Arkansas!
Built in 1886, it was made a luxurious getaway for the tourists who flocked to the area to soak in the nearby healing springs. In modern times, it's maintained both its Victorian aesthetic and its reputation for luxury. Book a massage at New Moon Spa or grab a bite at the two fabulous restaurants onsite. The hotel is full of amazing views of the surrounding greenery.
If you're looking for something a little spookier, the hotel is also rumored to be haunted. Take a ghost tour of the hotel and learn a little more about its history.
Check rates: Booking.com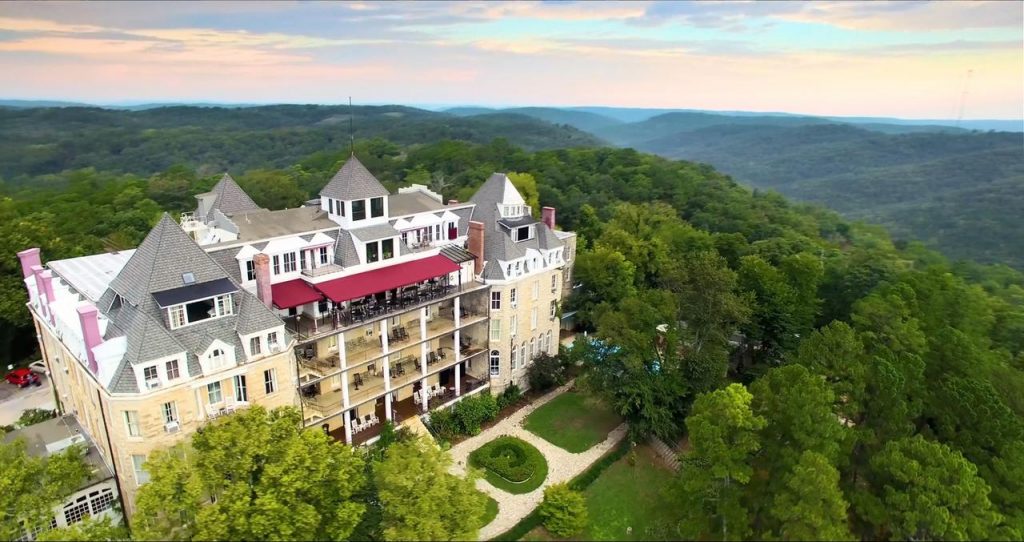 Take a Stroll Through Garvan Woodland Gardens
There is nothing like the Garvan Woodland Gardens. With over 210 acres, this botanic gardens is maintained by the University of Arkansas, and it is certainly one of our top picks for romantic weekend getaways in Arkansas.
With so much land, you could spend hours or even days wandering the grounds. One place onsite that you have to visit is Anthony Chapel. It's a stunning feat of architecture that blends nature and civilization. The building itself looks like an extension of the forest, with walls made of branches.
The Full Moon Bridge is one of the most photographed places in the garden and looks like it came directly from somewhere in Asia. If you bring kids, the Tree House cannot be missed. Within you'll find the most unique views of the Gardens along with some cool interactive exhibits.
Where to stay near Garvan Woodland Gardens:
Cozy Cottage: check rates on Vrbo.com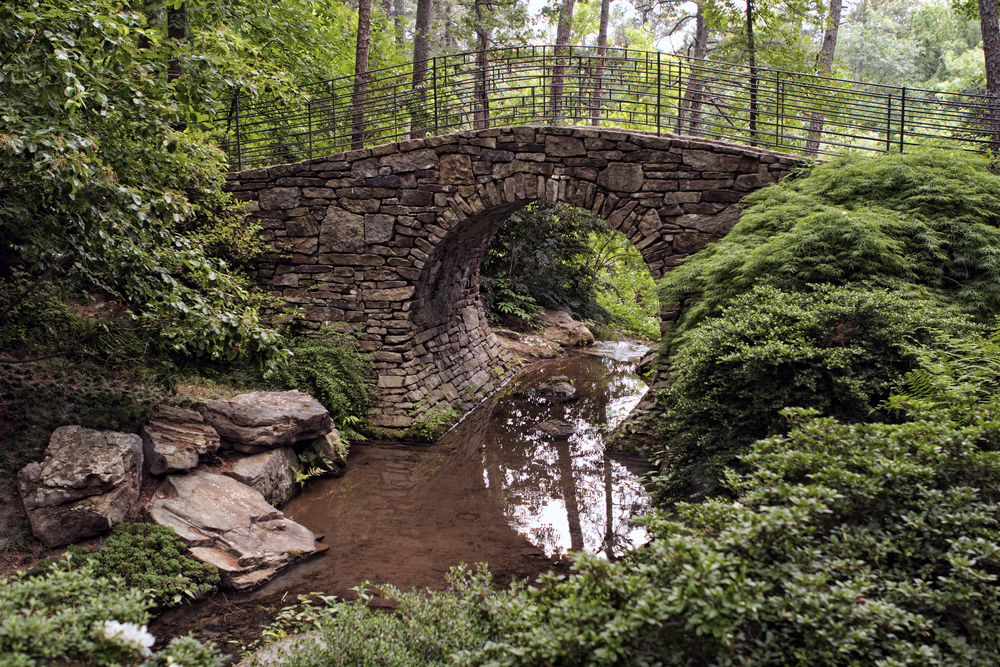 Camp at Ozarks National Forest
Head into the pristine wilderness that only Ozarks National Forest can offer! It spans over 1.6 million acres and is home to the highest mountain in Arkansas.
There are plenty of things to do at Ozarks. Enjoy the water on a kayak or canoe. Hit the well maintained hiking trails that take you along lakes, waterfalls, and breathe taking overlooks. Hunting and fishing are also allowed.
If you want to stay within the park, you have your pick of the place. There are cabins you can rent, including some historic ones. Camping is definitely popular here. Stay at a developed campsite, or rough it in a wilderness area. Fun fact: there are 65,000 acres where primitive camping is allowed. Escape into nature at this awesome forest.
Where to stay in Ozarks National Forest:
Modern High End Cabin: check rates on Vrbo.com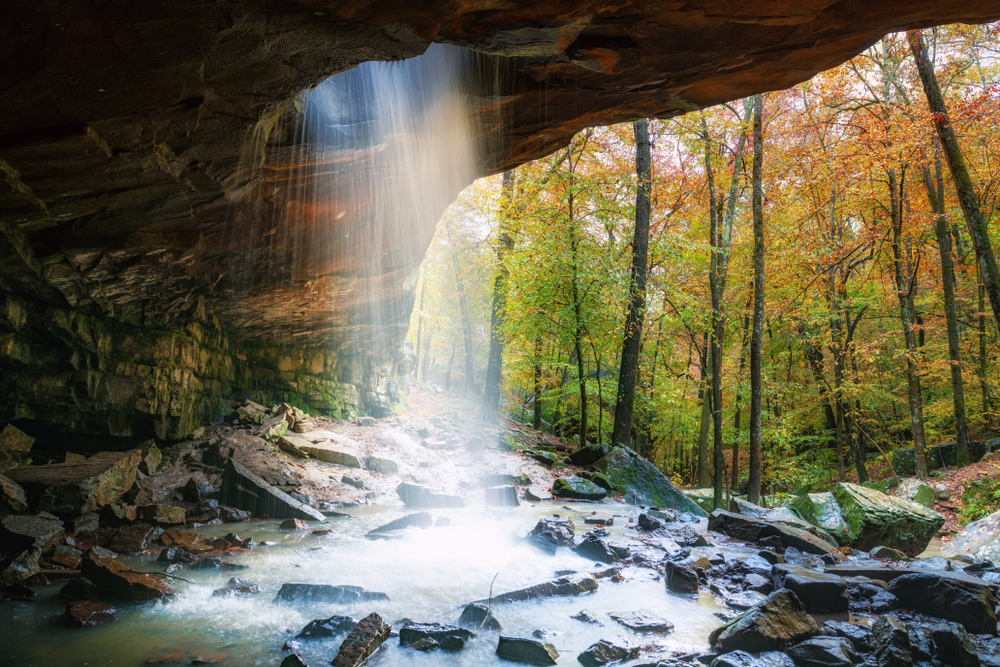 Discover The Vibrant City Of Little Rock
See where history meets modern day in Little Rock, one of the best weekend getaways in Arkansas. There are honestly too many cool things to see in Little Rock to name here, so we'll just pick some of our favorites.
The Old State House Museum is the historic and original state capitol building for the state. With its sweeping pillars, it is the epitome of Southern architecture. Another famous historic site is the Old Mill, which you might recognize from the movie Gone with the Wind. It's super quaint and free to visit.
For more modern history, check out the Little Rock Central High School National Historic Site. This is the school where the group of African American students known as the Little Rock Nine enrolled to desegregate the school system. Because it is still a working school, you'll want to book your visit ahead of time.
Where to stay in Little Rock:
Beautiful Cottage: check rates on Vrbo.com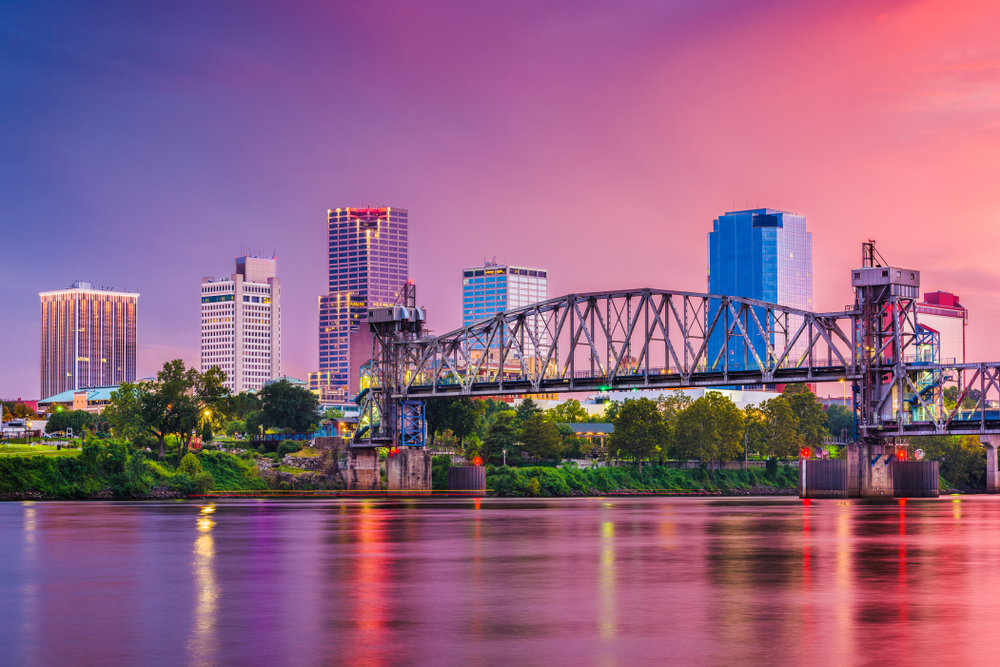 Find Your Fortune At Crater Of Diamonds State Park
A trip to this awesome state park is sure to make it the best of Arkansas vacations, and we'll tell you why! Since Crater of Diamonds State Park was established 50 years ago, visitors have unearthed over 33,000 diamonds. One was even 40 carats!
Located on an old volcano crater, this park encompasses 37 acres for you to explore. You can bring your own equipment or rent it from the park. On your way in, stop by the Discovery Center to learn more about how diamonds are formed. There's also a café and water park onsite.
Book your tickets in advanced though. It's one popular stop!
Where to stay near Crater of Diamonds State Park:
Diamond Hideaway: check rates on Vrbo.com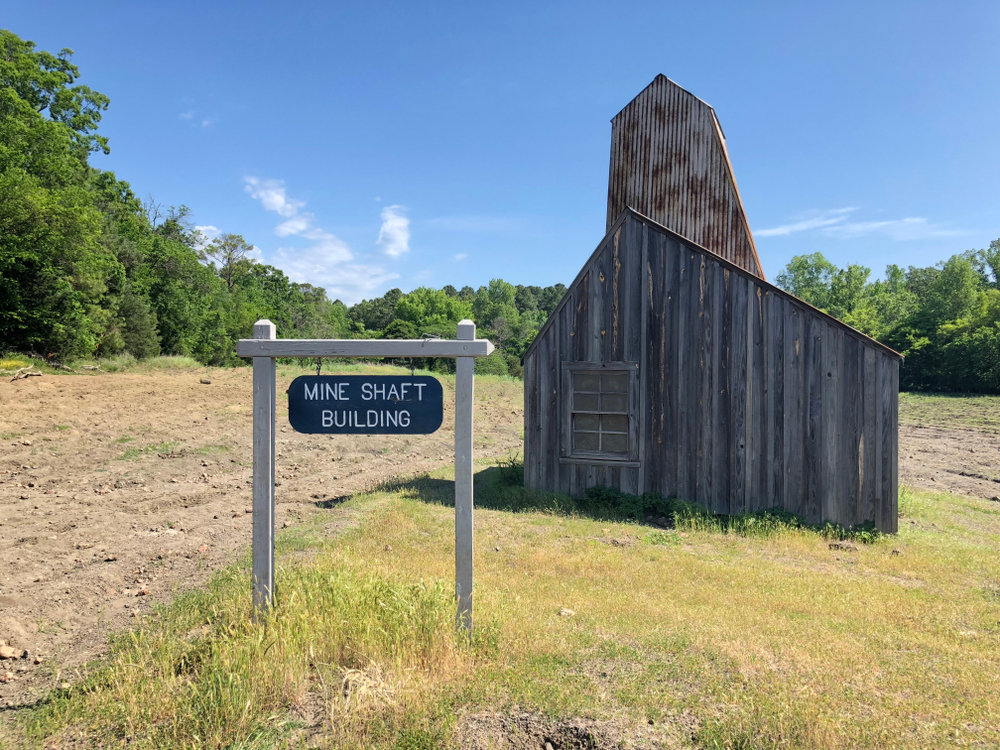 Stay at the Historical Gables Inn
If you've never stayed at a bed & breakfast, then the Gables Inn will get you hooked on them!
This historic mansion turned B&B was built in 1905 near Hot Springs, Arkansas. You can walk to the downtown area from the Inn, including plenty of museums, shops, eateries, and the national park! Although you won't want to miss the delicious breakfast served by the Inn daily!
The inside is so cozy and romantic, with historical touches throughout. The grounds themselves are show stopping. You can't help but walk through hedge gardens to the gazebo!
Check rates: Booking.com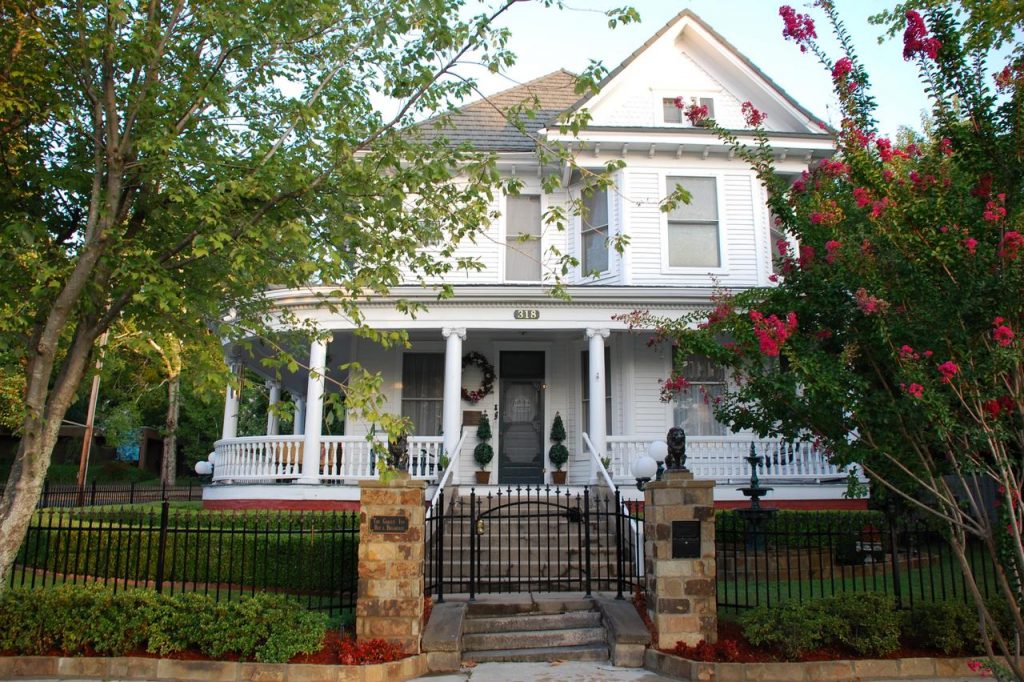 Hike at Buffalo National River
Created in 1972, Buffalo National River proudly holds the title as the first national river in the United States. This is such a unique place, which is why it's one of our picks for best Arkansas weekend trips!
Buffalo National River runs for over 135 miles, all of which is undammed river. That's surprisingly rare in the United States! You can travel on the river via canoe or kayak. Bring your own, or rent from the park! There's also plenty of hiking, including a path that takes you by the Collier Homestead. It's one of the original settlements in the area.
This National River is the perfect place to go stargazing. Their goal is to minimize light pollution, which means an unrivaled view of the night sky. Definitely try camping here too. You can rough it in a tent, or park your RV!
Where to stay near Buffalo National River:
The Hummingbird Haven: check rates on Vrbo.com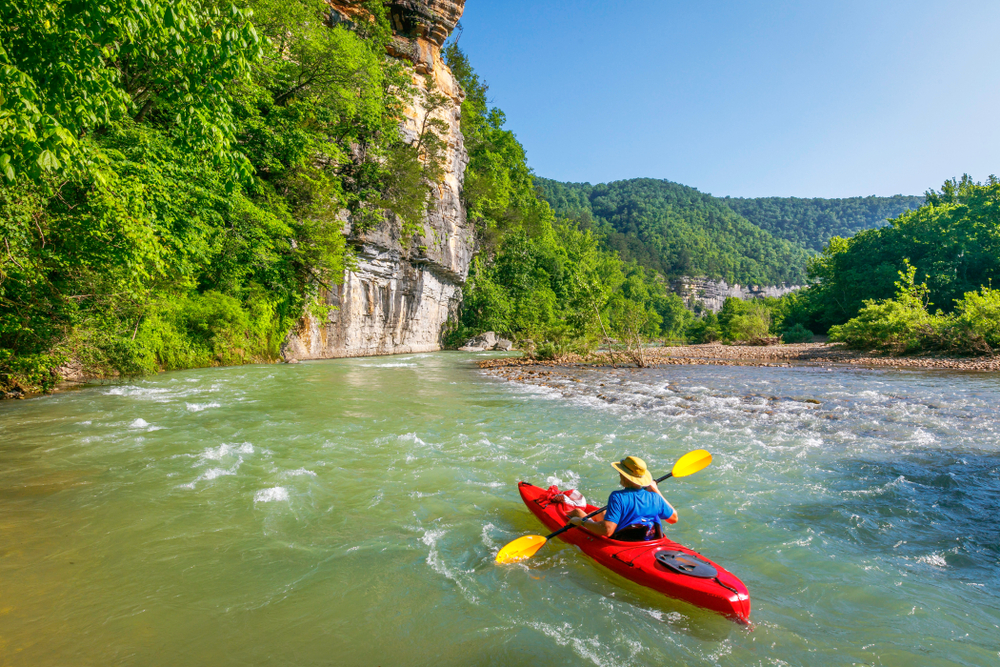 Experience Serenity at Thorncrown Chapel
Millions have flocked to the Thorncrown Chapel since its opening in 1980. This building was truly a labor of love, and it shows! You'll find it just outside of Eureka Springs. It is one of the most beautiful churches you'll ever see.
Make sure to check out our list of Best Things To Do In Eureka Springs if you are planning to visit!
The massive windows makes it hard to tell where the building ends and where nature starts. It's won countless awards for its unbelievable architecture. It brings you closer to nature and serenity. If you go to see it, make sure to check the visitor hours beforehand. It gets booked for lots of events, like weddings!
Where to stay near Thorncrown Chapel:
Mountain Top Cabin: check rates on Vrbo.com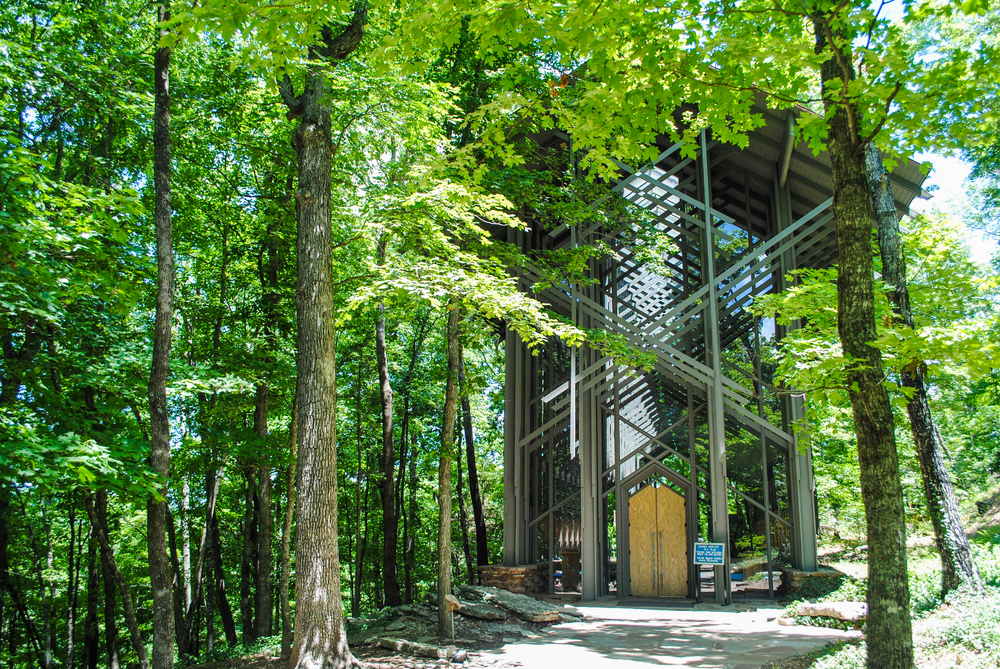 Hang Out at Siloam Springs
Did you know that the Smithsonian named Siloam Springs one of the Best Small Towns in America? It's true! No wonder it's one of our favorite weekend trips in Arkansas!
This small town is known for its pristine natural beauty and spirit of community. The Sager Creek cuts straight through downtown. There are tons of green spaces around the river to enjoy. There are so many parks around the city, like the Siloam Springs Kayak Park. The Wild Wilderness Drive Through Safari, with its 400 acres of unique animals, is another popular attraction.
This quaint town is also home to many seasonal festivals as well as a year round farmers market. Make sure to check out the cute little boutiques around too!
Where to stay near Siloam Springs:
New Town Home: check rates on Vrbo.com
Escape to New Orleans Hotel & Spa
Want to be transported back to an earlier era? Then go for a stay at the charming New Orleans Hotel & Spa!
Built in the late 1800s, this hotel has maintained its proud history within its wall. The interior is furnished with Victorian meets present-day touches, with all the modern amenities you need. It's also known for its great service!
Located in Eureka Springs, the New Orleans Hotel & Spa is in the heart of the historic district. The best restaurants, shopping, and museums are within walking distance! One thing to know about the hotel is that there is no elevator. Make sure to request a room on the lower floors if needed!
Check rates: Booking.com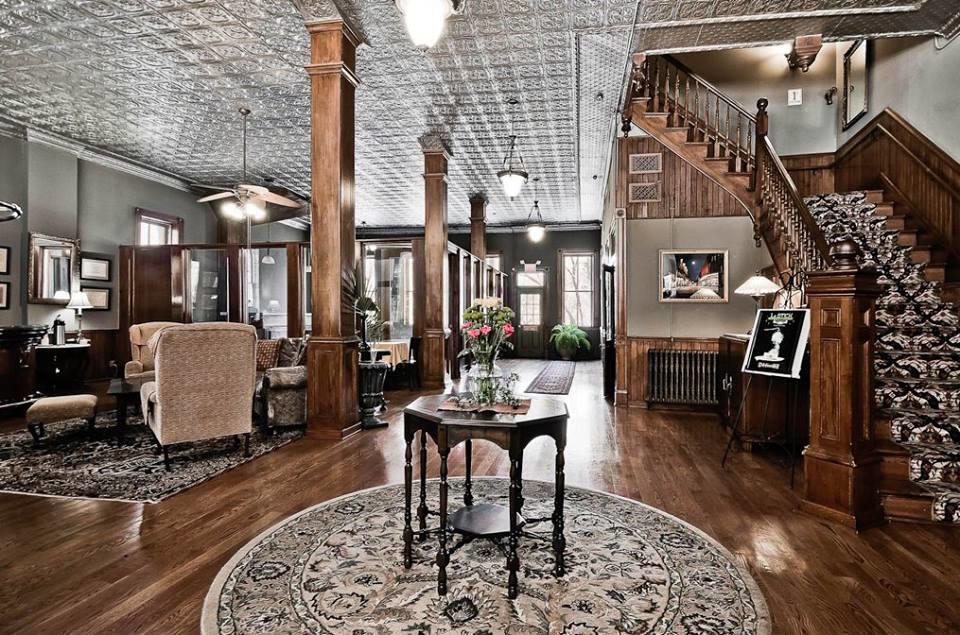 Traverse Hot Springs National Park
Hot Springs National Park is one of the most unique weekend getaways in Arkansas. The area was first designated as a reserve by the US in 1830 (that predates Yellowstone!). Now the historic city of Hot Springs is nestled into the park itself.
The area is named for the 47 natural and healing springs in the park. You can see the up close and personal with the 30 miles worth of trails in the park.
Bathhouse Row is something that cannot be missed on a visit. Within the park are 8 luxurious bathhouses built at the turn of the century. Many of the bathhouses still offer services you can book, like bathing in the healing springs or samplings at the brewery, for example. We love this unique park!
Where to stay near Hot Springs National Park:
Cozy Cottage Getaway: check rates on Vrbo.com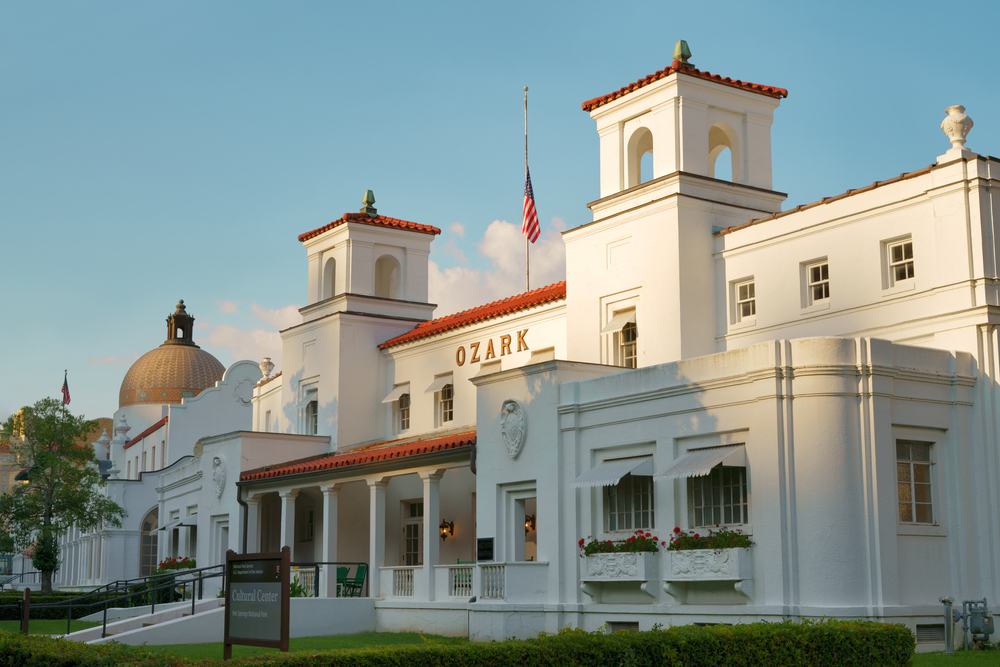 Visit the Beautiful Bull Shoals Lake
There's nothing as fun as a lakeside vacation, and do we have the spot for you! Bulls Shoals Lake is one of the pretties places in Arkansas. Even better, it's a bit of a hidden gem, so it doesn't get very crowded!
The best feature of the lake is its crystal clear water. There are over 20 parks to enjoy along the miles of lakeshore. The lake is famous for its water sports, and even more well know for its excellent trout fishing. You can also go boating, swimming, tubing, and water skiing here. No boat? Don't worry, you can rent one at the marina!
This peaceful retreat has excellent hiking and mountain biking. The wildlife are pretty friendly, especially the deer. Don't forget to check out our guide to other pretty beaches in Arkansas too, if a lakeside vacay sounds appealing to you!
Where to stay near Bull Shoals Lake:
Carriage Place: check rates on Vrbo.com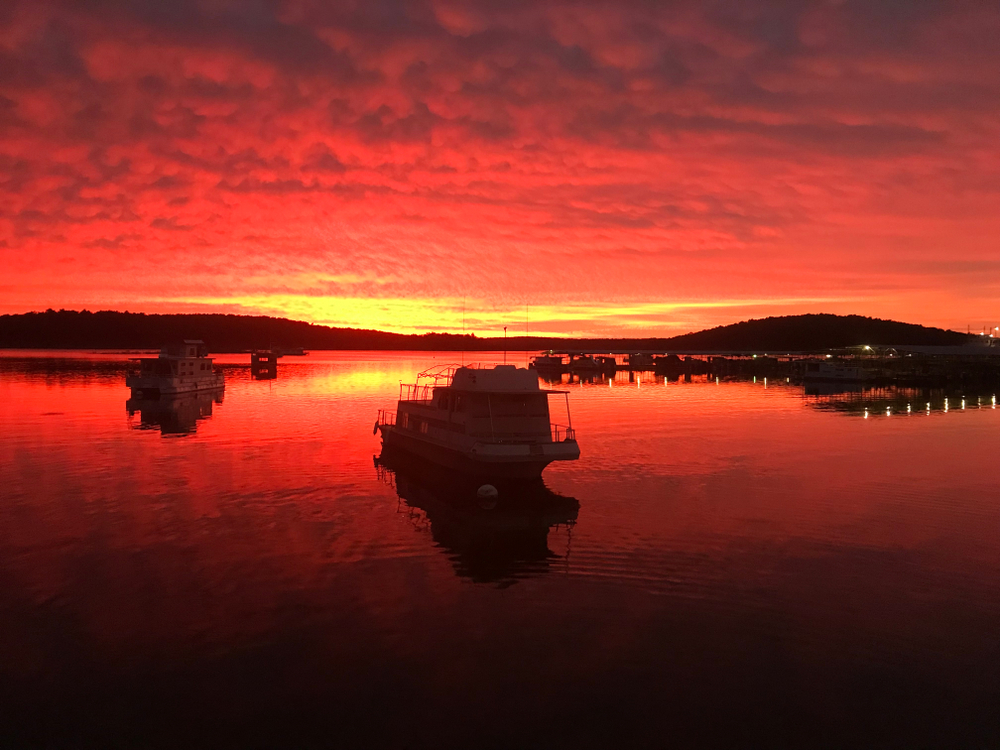 We hope that you've enjoyed our guide to some of the best Arkansas getaways. No matter where you go, you'll make memories to last a lifetime. And if you're looking for other fun Arkansas activities, head over to our top picks for things to do in Arkansas! Happy travels!