Looking to discover some of the best small towns in Arkansas along with cities you may know about?
Are you looking for a state to visit that is not the main tourist destination, but has all the benefits of a travel hotspot? If so, Arkansas is a great place to plan to visit (or move)! Bordering on the South and the Midwest, Arkansas combines the charm of both locales. Although the state is on the smaller side, the best towns in Arkansas are ones you will want to visit again and again!
The cities in Arkansas offer everything that cities in other states offer: delicious food, exciting nightlife, and lots to do. The small towns in Arkansas are just dripping with charm and things to do, while maintaining that relaxed midwest mood.
Arkansas is one of the most underrated states and we hope you check it out! From Little Rock to Eureka Springs, you are sure to fall in love with one of these lovely cities in Arkansas! Queue up your travel playlist because it is time to hit the road or catch a flight to the best towns in Arkansas!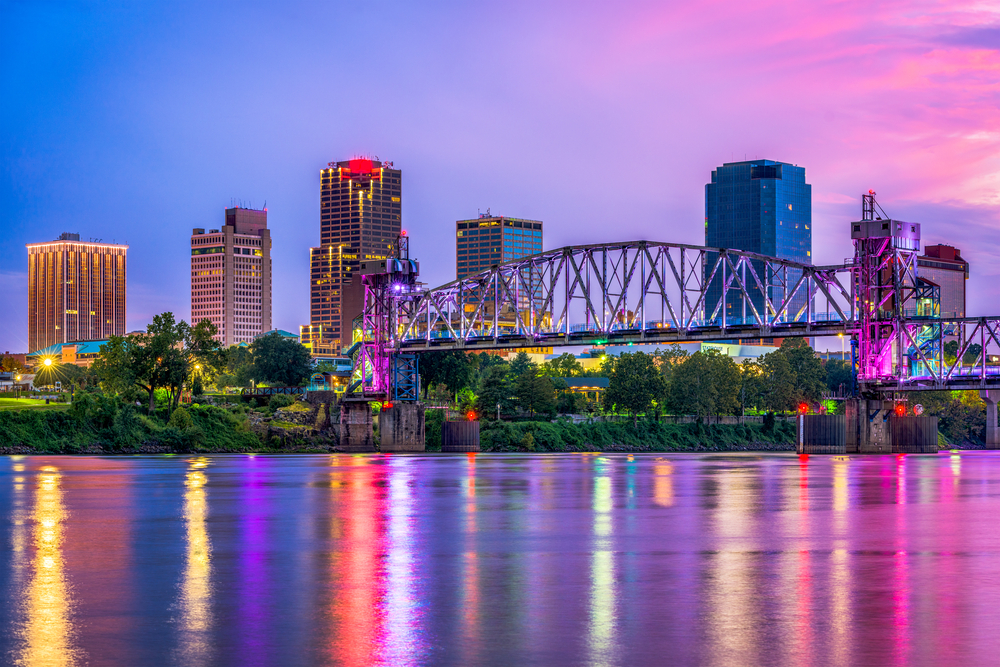 12 Best Cities And Small Towns In Arkansas You Must Visit
Bentonville
As the ninth largest city in Arkansas based on population, but with less than 60,000 people, Bentonville still maintains that small town feel. Bentonville is one of the most popular small cities in Arkansas because it marries modern progress with rich history, and innovation with community.
While in Bentonville, The Momentary is a must see! General admission is always free whether you are exploring their contemporary galleries or catching the latest show. Bentonville is one of the best Arkansas cities for mountain bikers! The Ozark Mountains' hills and valleys make for the perfect mountain biking trails. Or take to one of the beautiful hiking spots.
For those looking to relax and decompress another way, Bentonville has a wonderful restaurant scene with cuisine from all over the world. The shopping is unparalleled with boutique, bookstores, music stores, and flower shops! Check out Bentonville, one of the best towns in Arkansas!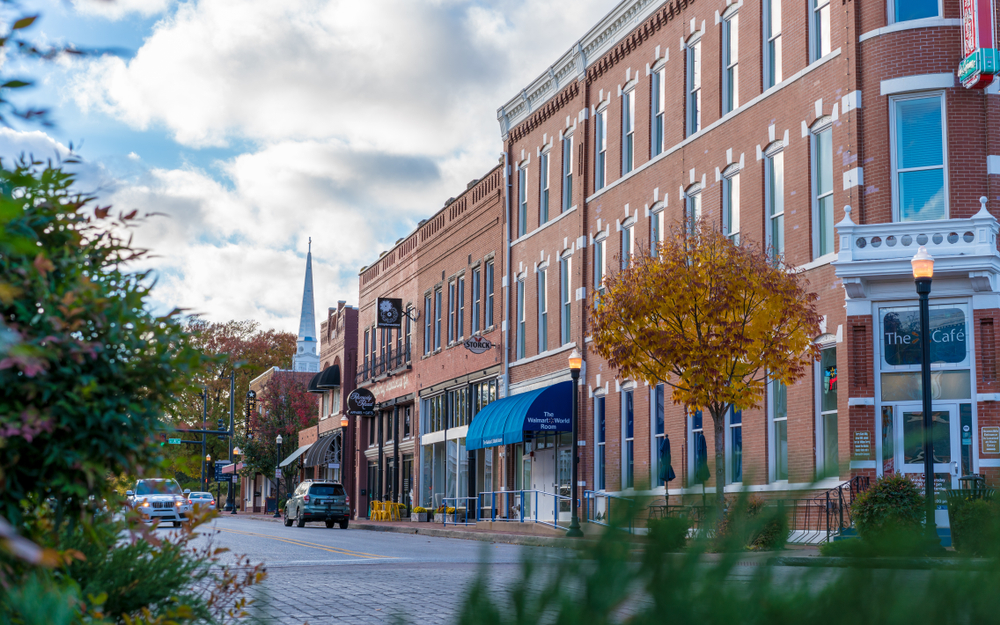 Prescott
Prescott is one of the best small towns to live in Arkansas! With a population of around 3000 and a median age of 35, Prescott is the place to be! Between Little Rock and Shreveport Louisiana, this place is close enough to the big city to get your fix!
Arkansas State Parks are some of the best in the midwest and Prescott is close to White Oak Lake State Park! This area is well known for its fishing and birding opportunities. Although not worldly, this town is classic middle America!
When it comes to quaint towns in Arkansas, Prescott fits the bill. It will make you feel like you have taken a step back in time to a simpler life where everyone knows their neighbors and pitches in when you need a hand.
Ozark
Surrounded by mountains, rivers, forests and lakes, Ozark is one of the best towns to visit in Arkansas! The town square is filled with adorable store fronts that house antique shops, gift shops and other local businesses. Ozark is a great place for a weekend trip in the summer!
Again here, murals are scattered throughout the town to both highlight local artists and add a bit of culture. On the other hand, the Arkansas River and Lake Ozark provide a plethora of fishing opportunities and time spent on the water. Aux Arc Park (pronounced Ozark) located along the river, has a playground, campsites, and boat launching ramps!
Speaking of campsites, Ozark has some of the best glamping sites in Arkansas! If you are looking for more of an elevated experiences, Ozark also has some beautiful cozy cabins! Ozark is one of the prettiest towns in Arkansas if you are looking for a lake day!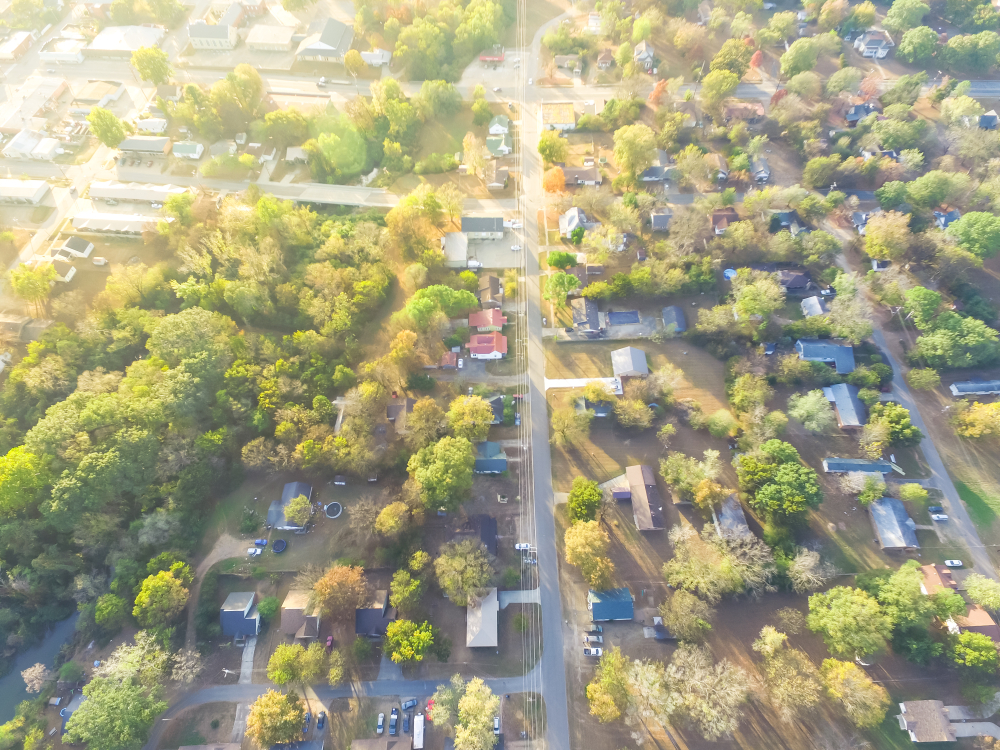 Fayetteville
Fayetteville is one of the most exciting cities in Arkansas! Known as the the entertainment capital of Northwest Arkansas, this city is very representative of the whole Northwest region! We have to begin by saying that the Fayetteville restaurants are unmatched! From Japanese steakhouses to Italian chophouses, this is just one of the cities in Arkansas that has it all!
Fayetteville has plenty of interesting things to see and do. We recommend the botanical gardens because it is a chance to be in nature while not having to make the trek outdoors. We also like exploring their trendy downtown area. From fun shops to fascinating antique stores, Fayetteville has it all. This city is also a top destination for romantic getaways in Arkansas.
Additionally the museums ,parks, and historical sites in Fayetteville are numerous and packed with a breadth of information. Fayetteville has something for everyone and that is why we had to put it on the list for best towns in Arkansas!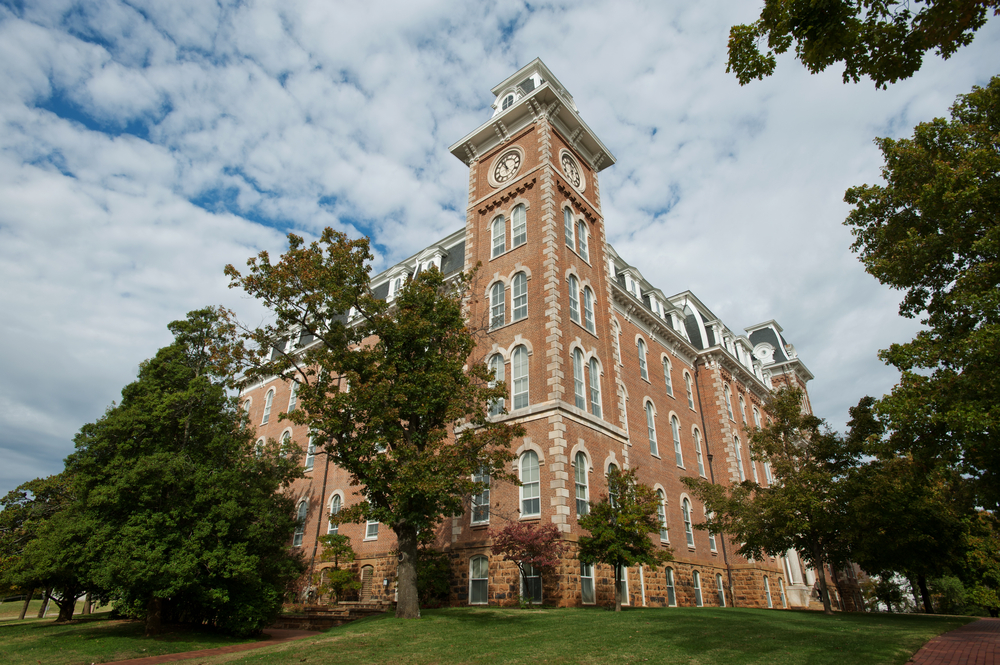 Pocahontas
Pocahontas is one of the fan favorite quaint towns in Arkansas! Home to many of Arkansas' firsts, Pocahontas saw the first post office and the territory's first federal land office in the early 1800's. Now, this small town in Arkansas has a population of less than 7000 people!
Do not let the size mislead you because there is so much to do in Pocahontas! The historic downtown provides beautiful backdrops, lots of history, and plenty of local shopping. The downtown playhouse offers dinner and a show put on by local artists! You are also close to Davidson State Park!
Buy some pottery, check out the General Store, and learn some of the local history at the Heritage Museum. Pocahontas is one of the best towns to visit in Arkansas and we can't recommend it enough!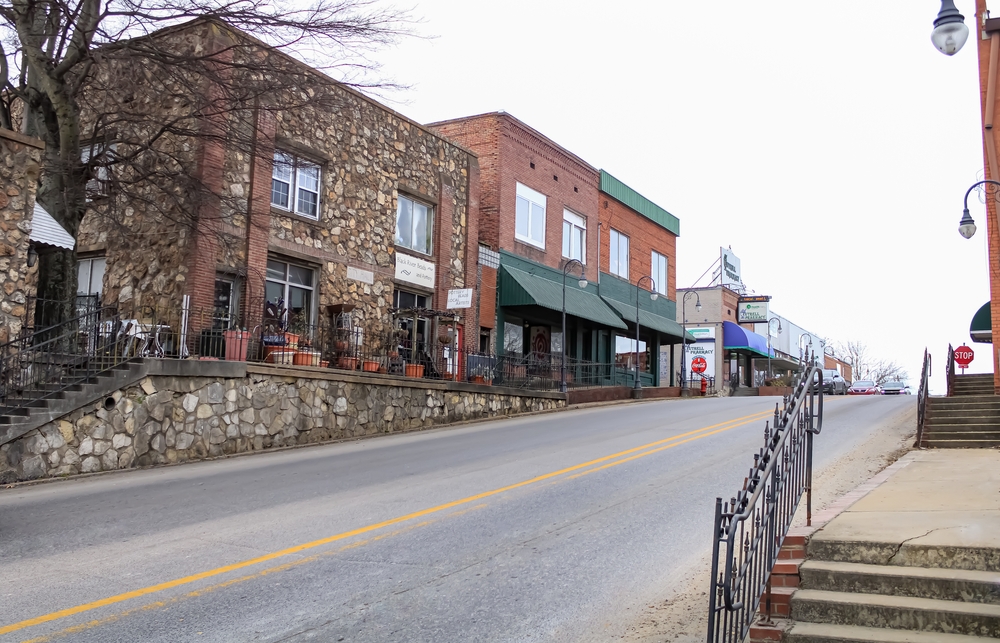 Searcy
Searcy is one of our favorite cities in Arkansas! Their main street is the heart of their community. The historic downtown and beautifully kept old buildings provide a wonderful backdrop for the modern art that is created there.
Searcy is not what you expect in middle America. There are gluten-free restaurants and places to grab dinner. The farmers market is a town staple and where many buy their fresh produce for the week. They offer unique eats as well as your southern faire of BBQ frito nachos. Their coffee shops are cute, eclectic, and delicious.
Their vinyl and bookshops are great places to acquire unique finds. The home decor shops and boutique clothing stores are sure to give your home and wardrobe a unique look! To get outside, there is forests and rivers, plenty of birds to find, and plenty of festivals and fairs to keep you busy! Searcy is one of the small cities in Arkansas that packs a punch!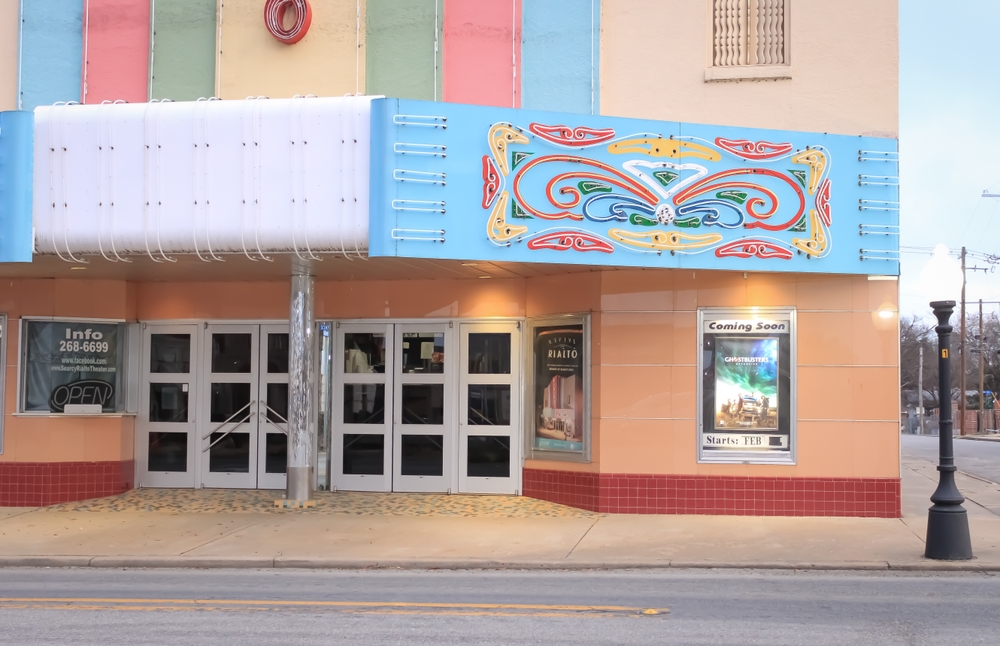 Hot Springs
Hot Springs. Need we say more? No, but we will because we love Hot Springs, one of the prettiest towns in Arkansas! Hot Springs and Hot Springs National Park are a top destination in the state of Arkansas and there is no mystery as to why!
This town and the national park owe their existence to an array of springs that still supply naturally heated water for thermal baths. The historic Fordyce Bathhouse, located on famous Bathhouse Row, serves as the park's visitor center. Hot Springs National Park was created to protect the 47 naturally flowing thermal springs.
Other than the National Park, you can visit Tiny Town if you are a model train enthusiast. The Woodland Gardens are breathtaking. For a bit of fun, you can explore the wax museum! With so much to do, but mostly soaking in thermal pools on Bathhouse Row, Hot Springs would make a wonderful weekend getaway in Arkansas! Hot Springs is one of the best Southern Arkansas cities and must be at the top of your list!
Make sure to check out our list of the best resorts in Arkansas for your trip!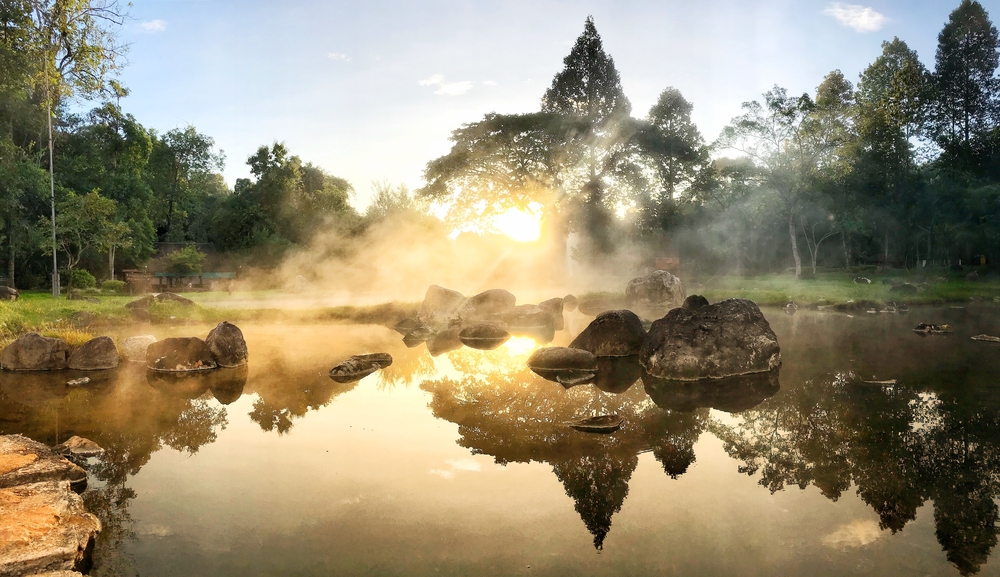 West Memphis
Just ten miles from Memphis TN, but on the Arkansas side is West Memphis, one of the best small cities in Arkansas! The city advertises itself as being the place to be sun up to sun down, but we think they are selling themselves short. This is the place to be anytime!
The Southland Casino Hotel is a big draw for tourists in West Memphis with their slots and their horse racing. Not to be pocketed in just the entertainment field, West Memphis is also located along historic trails such as the Butterfield Overland Mail Route from Memphis to Fort Smith and the Trail of Tears.
West Memphis is one of the best cities in Arkansas to bike around! They even have their own bike rental program for you to take advantage of. Being so close to Memphis, they also have their own collection of music venues and great BBQ joints. This is a must see!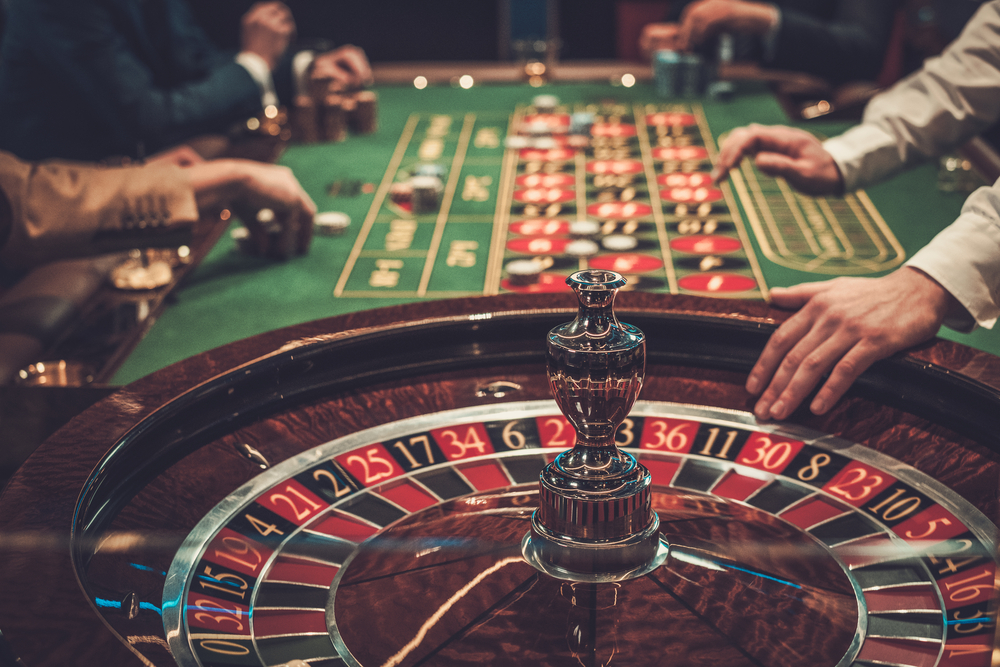 Conway
Conway is located in the central regions of the state and with 60,000 residents and climbing, it is one of the fastest growing cities in Arkansas. Known as the City of Colleges, Conway is home to the University of Central Arkansas, Hendrix College, and Central Baptist College!
Home to the largest man-made game and fish commission lake in the United States, Lake Conway is almost 7,000 acres! Many anglers call this their lucky lake! You can also visit Cadron Settlement State Park which is a National Historic Site and one of the best state parks in the south! Cadron Settlement has a Cherokee Trail of Tears memorial and a restored blockhouse.
The Baum Gallery on the UCA campus is free and open to the public. Their exhibits invite a conversation about visual art, current events, and relevant topics. Arkansas Shakespeare Theatre is the only professional Shakespeare company in the state, bringing professional performers from around the world to perform in Conway. Conway is one of the great small cities in Arkansas that perfectly embodies a small college towns in Arkansas vibe!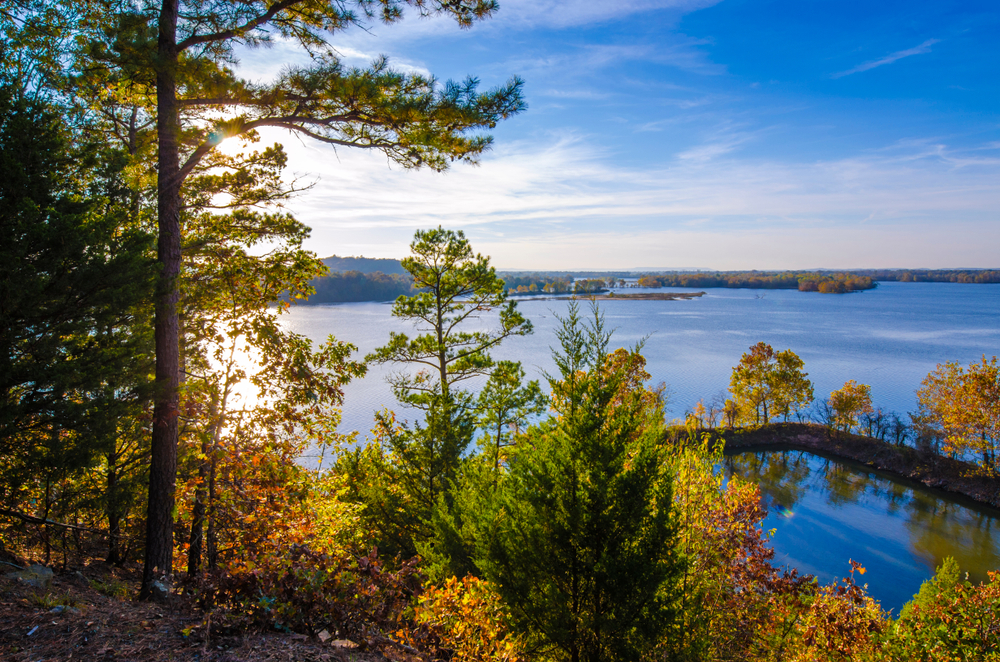 Texarcana
Texarcana is the combination of three states: Texas, Arkansas, and Louisiana. The two separate municipalities (one located in Texas and one location in Arkansas) often function as one entity. The Stateline Post Office and Federal Building is the only post office in the United States that is located in two states. Texarkana is one of the best towns in Arkansas (and Texas)!
Their auditorium was a popular stop on the Louisiana Hayride Circuit and had a profound influence on the country and rock and roll music scene. Texarkana is also home to the historic Perot Theatre where Annie Oakley and Will Rogers performed! No wonder this is one of the more popular southern Arkansas cities!
Texarcana also has many parks if you are just looking for some time in the great outdoors! This is one of our favorite towns to visit in Arkansas!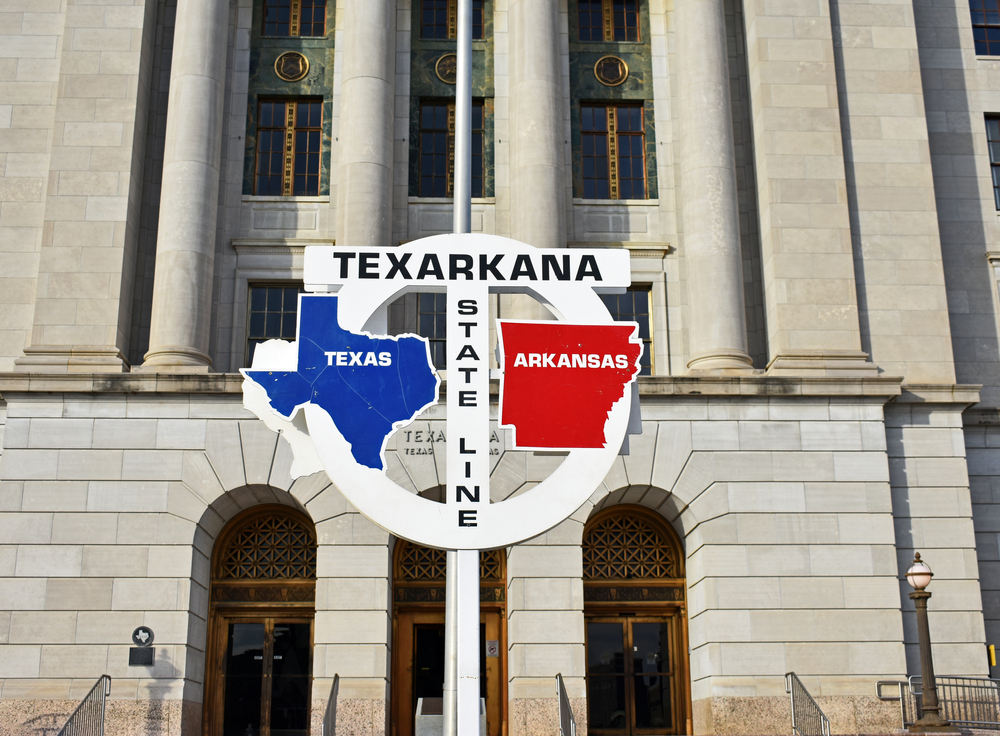 Helena
Helena, one of the cute towns in Arkansas, is located along the Mississippi River and where the Deep South made its biggest impact in Arkansas. The Delta Cultural Center has exhibits detailing the natural and human history of the Delta region and what sets this area apart from the timeline of development. The museum also details the residents contribution to the development of blues music.
Freedom Park is Arkansas's first site designated as a National Underground Railroad Network to Freedom site. The park tells the story of African Americans during the Civil War. The South is packed with tons of Black history sites, but we think this one deserves a special mention. Helena is one of the best historic towns in Arkansas and a must see.
Mountain View
Famous for the continuance and preservation of folkways and traditional music, Mountain View is one of our favorite quaint towns in Arkansas! The entirety of the town revolves around music. Because of this fact, musicians from all over the country make the journey to Mountain View for a Saturday night of picking their stringed instruments all over town.
Mountain View also has an array of music stores, antique shops, and delicious restaurants to keep things eclectic and interesting. The state's largest craft collective is also located in Mountain View. Downtown there are many galleries with local art and art from around the world on display!
All the influence of artistry makes Mountain View one of the most popular towns to visit in Arkansas for artists and art lovers alike!