Are you planning to spend a few days of Fall in Georgia? You'll definitely want to make sure that you make time in your itinerary to see the best show of the season – Georgia fall foliage! There's nothing quite like autumn in the South with the mix of bursting reds, oranges, and yellows on every tree and classic southern charm and hospitality in every city. Fall in Georgia is really a wonderful time to visit!
There's also the perk that the Fall in Georgia has perfect sweater weather that you can enjoy from your bed-and-breakfast or Georgia treehouse balcony. It's also great weather for getting out into nature and doing some leaf-peeping hikes in the many state and national parks Georgia has to offer.
Georgia fall foliage is at its peak during October and November but you can experience the leaves changing colors as early as September. We've included a wide variety of locations from cities to national parks, so you really can't go wrong when looking for a place to experience Fall in Georgia.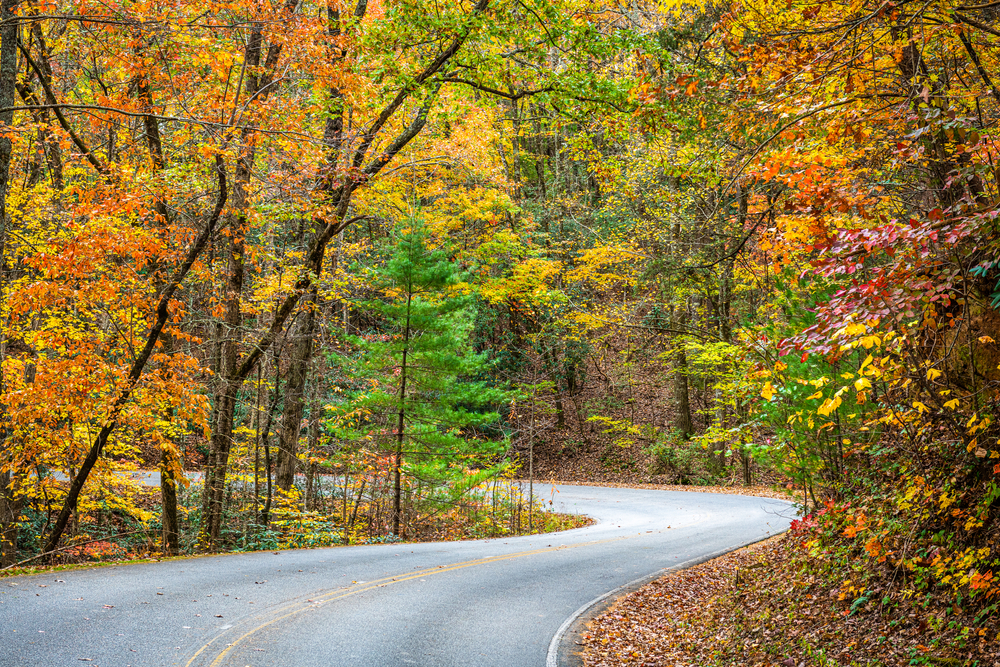 12 Best Places To Experience Fall In Georgia
Brasstown Bald
Where else can you get the best views of Fall in Georgia other than the highest peak in the state? Brasstown Bald offers a sweeping view of the Southern Appalachian Mountains. As part of the Chattahoochee-Oconee National Forests it's filled with hiking trails (including the historical Appalachian Trail) that will allow you to walk under an umbrella of beautiful fall colors.
Along with hiking, Chattahoochee-Oconee National Forests has many outdoor activities like trout streams for fishing, camping, or swimming and boating on Georgia's Lake Sinclair.
If you'd rather get a birds'-eye view of fall foliage in Georgia, you'll want to stop by the Brasstown Bald Visitor Center. The Visitor Center is perfectly situated 4,784 feet above sea level so that when the weather is clear you can see four different states from their observation deck (North Carolina, South Carolina, Georgia, and Tennessee)! The untouched vastness of this wilderness makes Brasstown Bald a must-see in the Fall.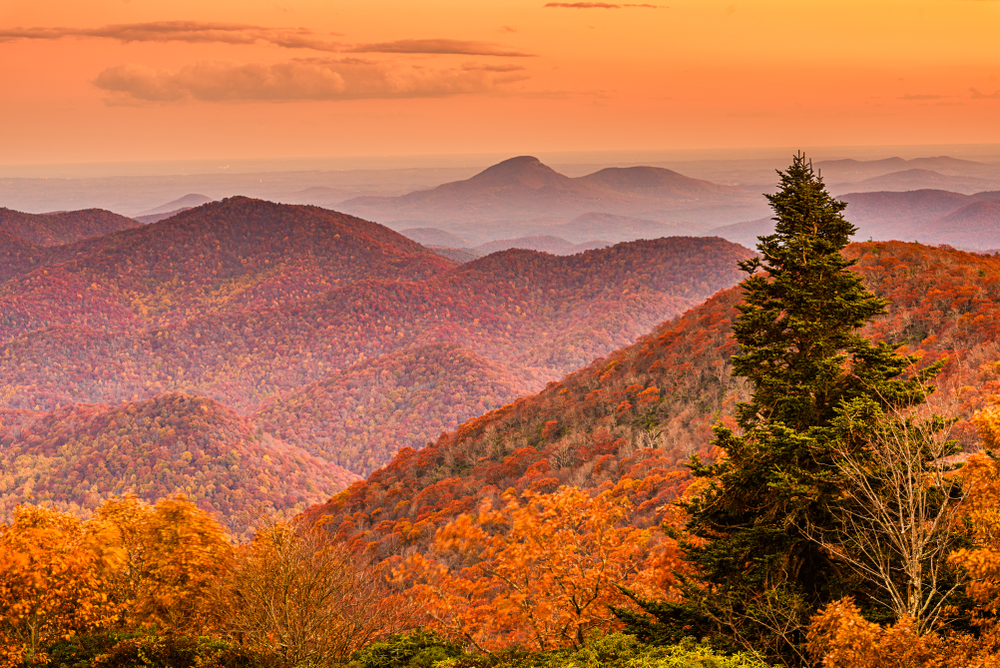 Atlanta
You already know that Atlanta is a MUST when you're visiting Georgia. Museums, shopping, eating, and sports, might fill up your itinerary, but you'll want to make sure that you set time aside to enjoy Fall in Georgia with a city twist. Yes, there are great places to escape to and leaf peep without having to leave the city of Atlanta.
You can get the best of Atlanta nature by visiting Piedmont Park (and it's great for families). There are trails and playgrounds to explore and if you want to take a picnic break, you can choose a great view under a fall foliage canopy. Piedmont Park is over 200 acres, so even though you're in the city, you'll feel miles away surrounded by the lovely colors of the changing leaves.
If you're looking for another park to experience Georgia's fall foliage, you'll want to check out Grant Park. It's the oldest city park in Atlanta, which means its trees have had plenty of time to grow and showcase their leaves. Similar to Piedmont Park, there are trails, but it also has the addition of Zoo Atlanta which is part of the reason the park attracts over 2 million visitors every year.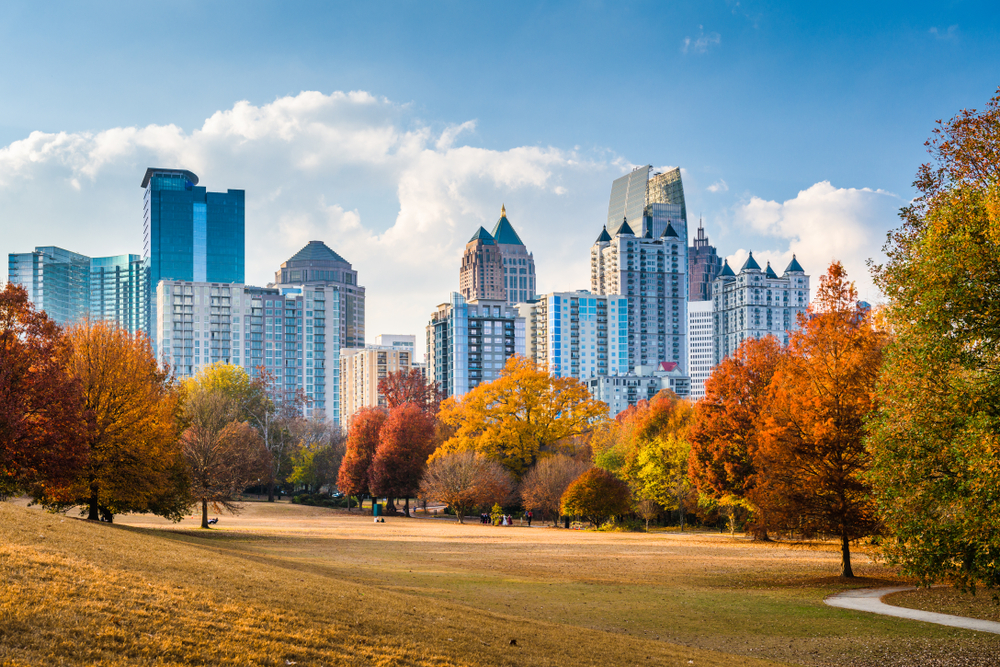 Amicalola Falls State Park
Located near Dawsonville, Georgia, Amicalola Falls State Park is named after the stunning waterfall that can be found there. At 729-feet Amicalola Falls is the third-tallest waterfall east of the Mississippi River. It's an especially memorable and picturesque spot to experience Fall in Georgia.
There are three different ways you can get to Amicalola Falls to enjoy the cascade with a background of Georgia fall foliage. You can hike up 604 steps to a viewing platform located halfway to the top of the falls, use the ADA access West Ridge Trail (about 0.3 miles), or park at the top of the falls and brave the view of plunge point which overlooks the entire valley.
Just as there are several options to view the waterfall, there are several options of activities you can participate in while visiting this State Park. Ziplines, 3-D archery, a GPS Scavenger Hunt, and of course hiking and fitness trails are all available. If you would like to get up close and personal with wildlife, the Amicalola Falls Lodge hosts birds of prey and reptile meet-and-greets on the weekends.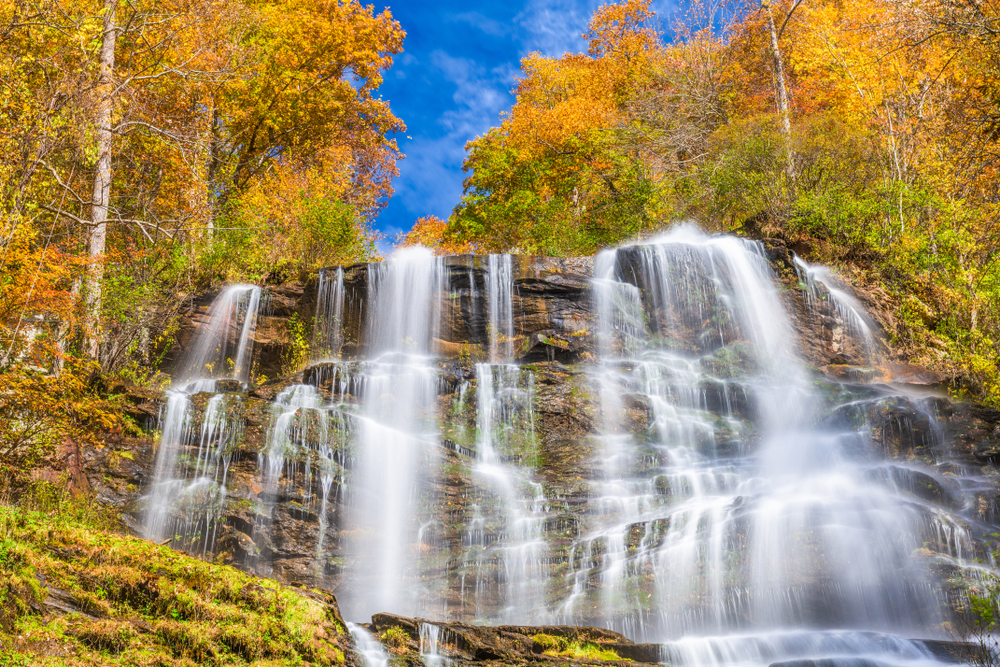 Blue Ridge
The mountain town of Blue Ridge is only 90 miles north of Atlanta, but you will feel like you're in a whole other world. It's nestled in Chattahoochee National Forest, so it has hiking trails, trout streams, waterfalls, and whitewater rafting in its backyard. With over 100,000 acres of National Forest, you can only imagine what this town looks like when Fall in Georgia is in full bloom.
Blue Ridge was created as a railroad town that later became a high-end resort because of the pristine mineral springs found there. You can still get tickets for the Blue Ridge Scenic Railway. You'll be able to catch a train and see the changing leaves in a unique way. Plus, your hands will be free to take as many pictures as you want!
If you want to explore the Georgia fall foliage around Blue Ridge for more than one day (which you should because there are so many great trails on the Blue Ridge Parkway), you can choose between accommodations in the town (hotels or bed & breakfasts) or accommodations in the forest (campgrounds, lodges, or cabins). Either way, you're guaranteed a breathtaking view when you wake up in the morning.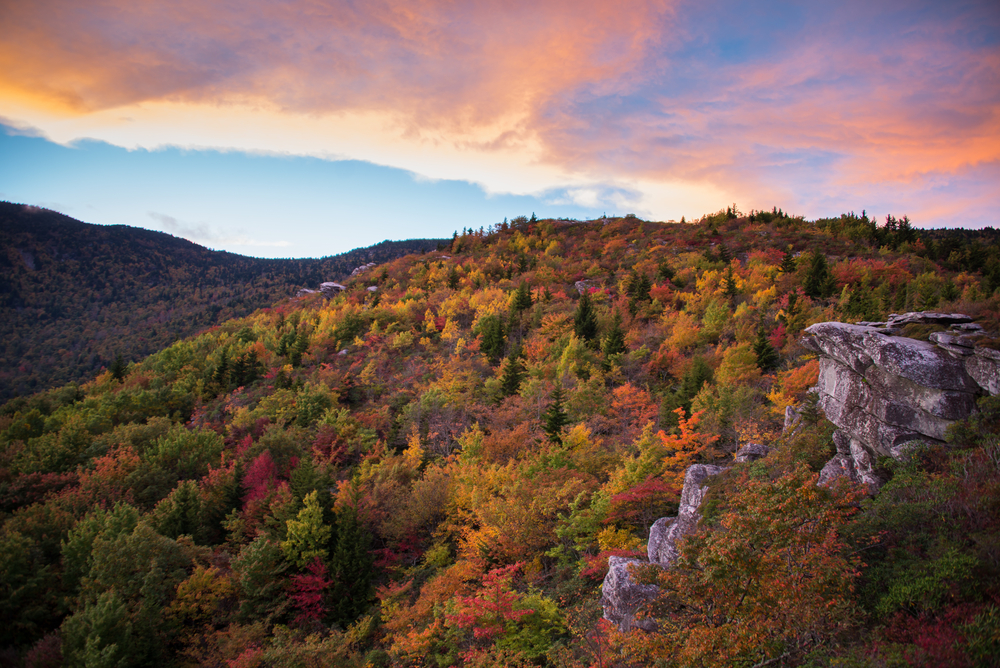 Helen
The small town of Helen, Georgia can be summed up in one adjective – charming. This town is only 2.1 square miles but is Georgia's third most visited city! Helen's popularity has to do with its atmosphere of cobblestone paths, Bavarian-inspired architecture, and German eateries. We know after reading that you already want to visit, but add the beautiful colors of Fall in Georgia and you have a postcard-worthy photo op on every corner. It's definitely one of the cute towns in the South you have to see for yourself.
If you're worried that a small town will mean there's nothing to do, you'll be pleasantly surprised to know that there are several hiking trails, waterfalls, horseback riding, mines, and even a mountain coaster. There are also several vineyards and breweries that you can enjoy.
So whether you want a little adventure or a cozy cabin to view the fall leaves, Helen has it all plus the addition of true Southern charm.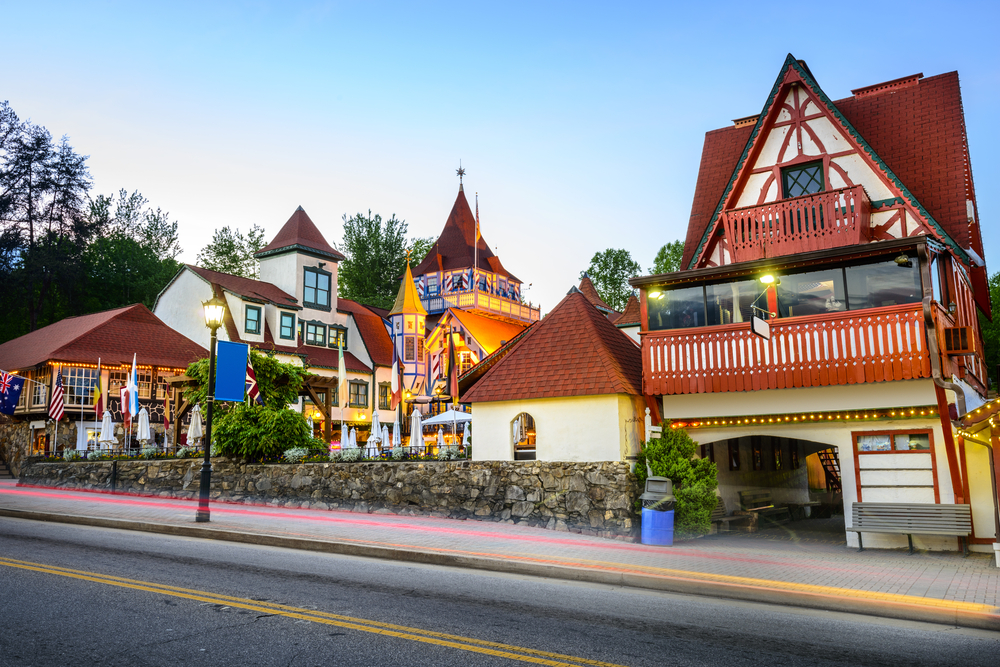 Vogel State Park
There's a reason that Vogel State Park was one of the first two parks founded in Georgia in the early 1900s. The diverse landscape makes it an enjoyable destination for any nature lover, but leaf peepers are especially drawn to it during the Fall. Its location at the foot of Blood Mountain and surrounding Chattahoochee National Forest makes Vogel State Park one of the top places of where to see fall colors in Georgia.
The State Park was improved by the Civilian Conservation Corps, a work relief program during the Great Depression that allowed unemployed single men the opportunity to help with national conservation on public lands. There's a CCC museum in the State Park that goes more into the history of the purpose of the CCC and the facilities within Vogel State Park that were constructed by the "CCC Boys."
There are a number of trails of varying degrees of difficulty from easy (4 miles) to challenging (13 miles), so explorers of all ages and experiences will find a hike they will love. You'll want to make sure that you take the Bear Hair Gap Loop that will take you to Trahlyta Falls. The Loop circles around Lake Trahlyta which offers a stunning reflection of the fall leaves you'll be walking under.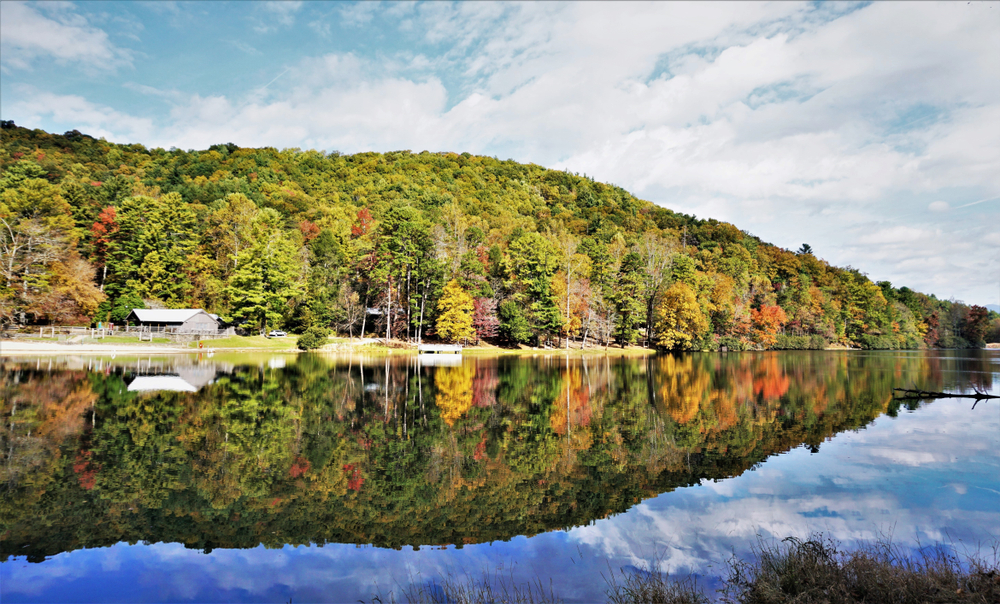 Tallulah Gorge State Park
If you're an adventurer wanting to know where to see fall colors in Georgia, your list needs to include Tallulah Gorge State Park. The State Park offers memorable ways to see the changing leaves with rim trail hikes, a suspension bridge, a gorge floor hike, and more!
If you want to explore the gorge floor, you need to get a permit (it's free) from the Interpretive Center at the State Park. You can only get a permit the day of your visit, but make sure you get it early since they limit permit distribution to 100 each day. Tallulah Gorge is so beautiful that tightrope walkers have used it as a test of their skills. You can even see the towers that high wire artist Karl Wallenda used when he tightrope walked across the Gorge.
If the suspension bridge isn't enough of a thrill for you, the State Park also offers archery, canyon climbing, fishing, geocaching, paddling, swimming, and rock climbing.
There are several hikes, playgrounds, and even a sand beach that make Tallulah Gorge State Park a great location for families too.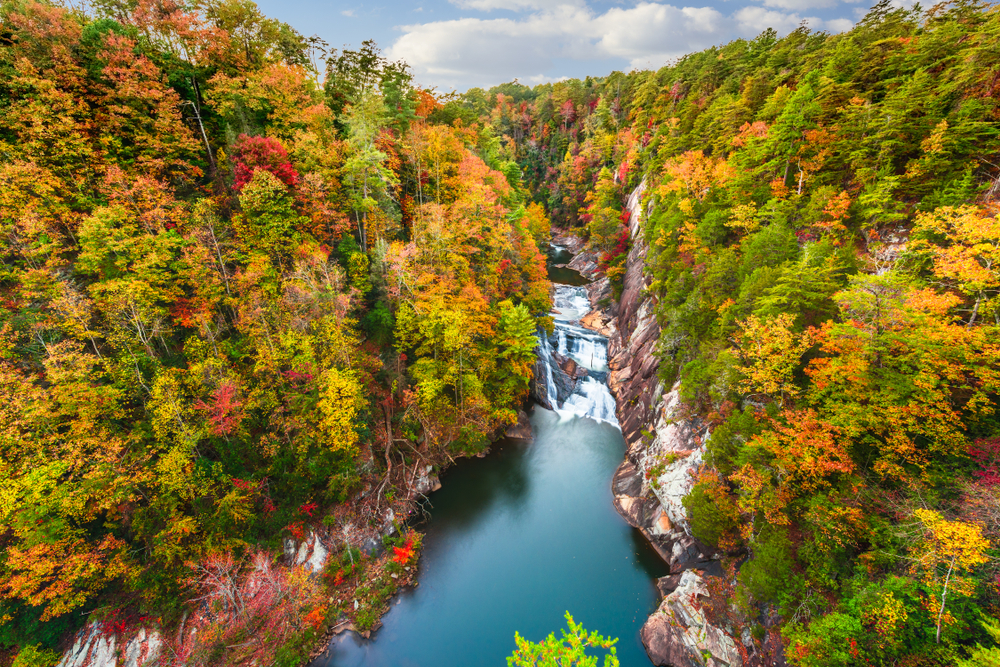 Marietta
One of the wonderful day trips from Atlanta is the city of Marietta, Georgia. It's about 25 minutes outside of Atlanta and worth the drive because it's far enough away from the city to see a wider variety of fall foliage in Georgia.
Marietta has several locally owned pumpkin patches, corn mazes, and apple orchards that will add to the coziness of your leaf peeping adventures. If you want to add some additional thrills, the town offers ghost tours in various parts of its city.
Marietta is also located near several state parks, like Chattahoochee River National Recreation Area and Kennesaw Mountain National Battlefield Park that both have trails so you can see Georgia in the Fall up close and personal. Marietta is the perfect location between the city and untouched nature that you are sure to want to explore.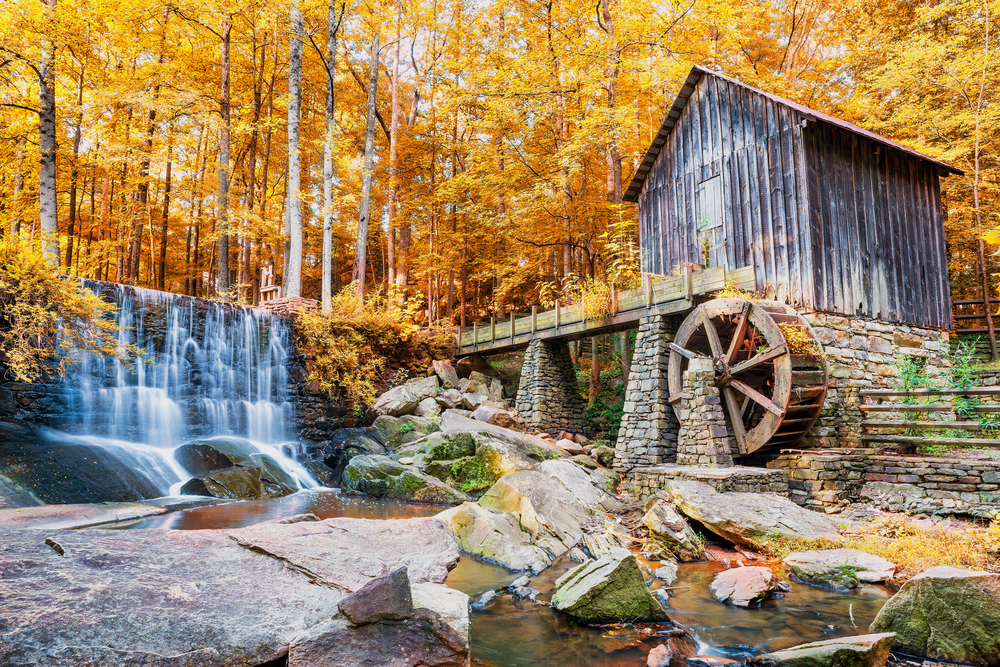 Fort Mountain State Park
If the drive along Highway 52 to get to Fort Mountain State Park isn't breathtaking enough, Fort Mountain State Park has some sweeping views of Georgia fall foliage that you won't want to miss. The trails up Fort Mountain are a mixture of forest and streams and can be explored by hiking, biking, or horseback. At the peak of the Mountain is a stone fire tower that was built in the 1930s.
As unique as an old fire watch tower might be, Fort Mountain also has an 855-foot-long rock wall that historians believe was built and used by Native Americans for either defense against hostile attacks or for religious traditions. The mystery behind the rock wall only adds to the need to reach the summit so you can see it for yourself.
The untouched land surrounding Fort Mountain will allow you to see a sea of color and is a great place to really experience Fall in Georgia. You'll also be able to learn a little history about the Cherokee tribes that had lived on the land for generations.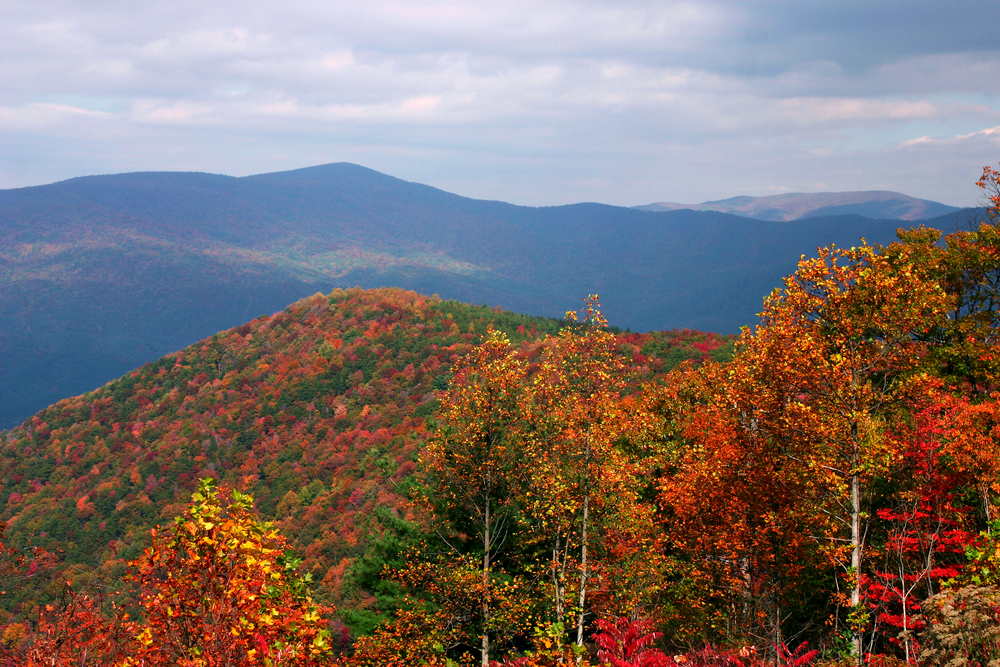 Anna Ruby Falls
Anny Ruby Falls is a great way to experience Fall in Georgia, because it's only a short trip from the small town of Helen, Georgia and an even shorter hike from your car to the beautiful falls. The path to Anna Ruby Falls is fully paved and the 30-minute hike will take you 0.4 miles from the parking lot to the base of the falls. There are benches along the way so you can sit and more fully enjoy the foliage above and around you.
Anna Ruby Falls is unique in that it also has a a trail for visitors that may be blind or have visual impairments. The Lion's Eye Trail takes visitors along Smith Creek and has Braille signs to detail the environment around the trail.
A $3.00 fee per person (16 years and older) is required to visit the Falls but is well worth it to support such beautiful and inclusive trails.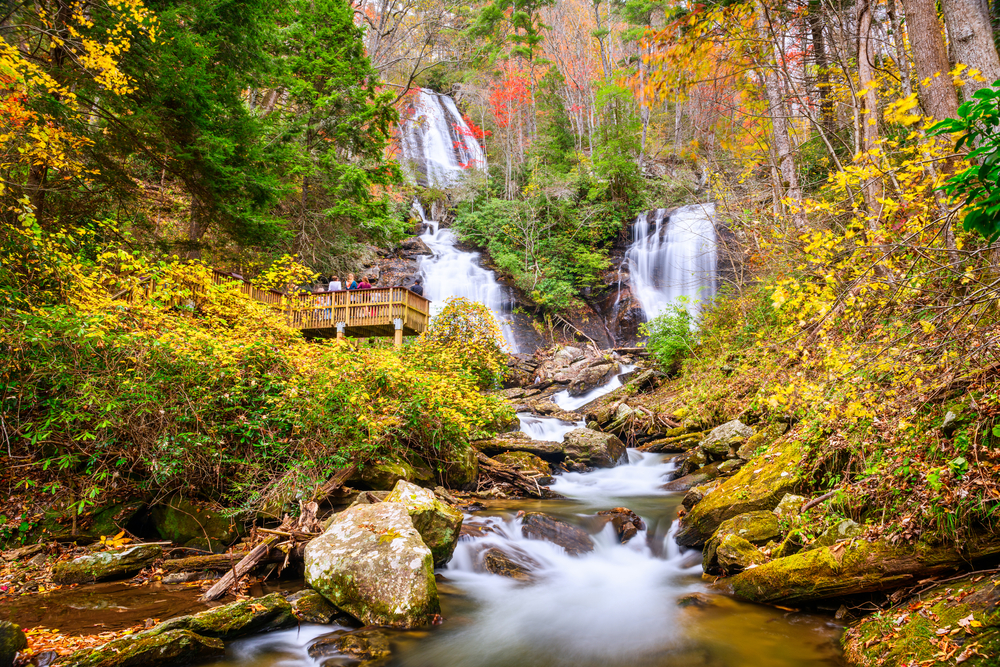 Cloudland Canyon State Park
With waterfalls, caves, cliffs, and canyons, there's no shortage of beautiful and diverse landscapes to view the changing of leaves. The Georgia fall foliage in Cloudland Canyon State Park is perfectly contrasted with the evergreens that also grow throughout the area.
Depending on your preference of pace, you can view the foliage by foot, hoof, or wheels (aka hiking, horseback riding, or mountain biking). And if you want more time to take in the all beauty, you can camp in the State Park in a tent, yurt, cottage, or RV. There are also outdoor fun options of geocaching, disc golf, and fishing, so you'll be sure to find something fun for everyone.
Weekends are particularly crowded, so if you can, try to plan your visit on a weekday.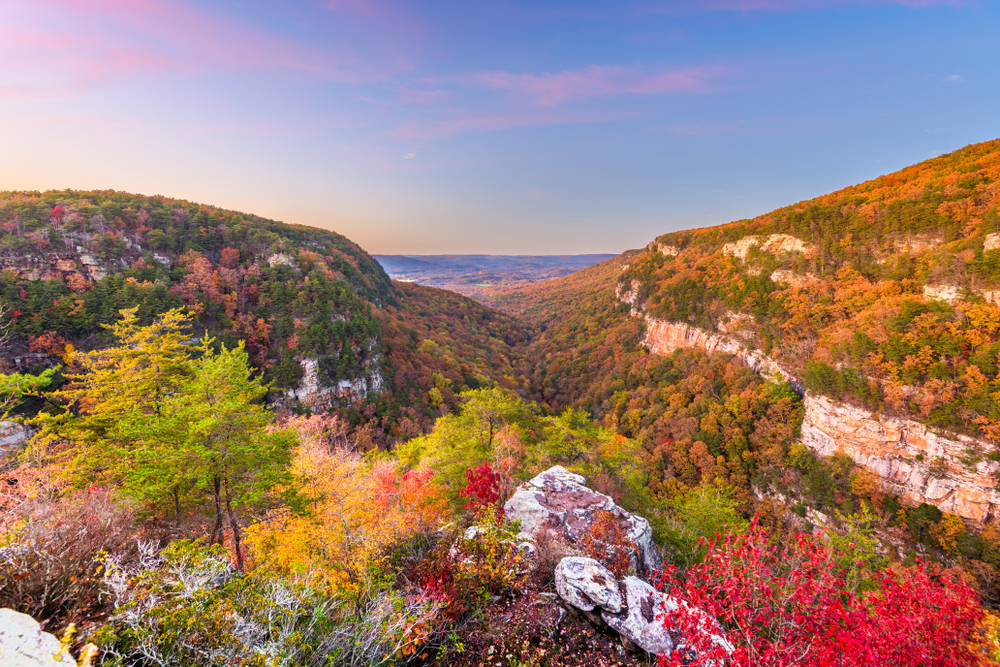 Yonah Mountain
If you love walking under fall foliage in Georgia, hike the Yonah Mountain Trail in the fall. If you love walking through wildflowers, come back after fall and hike the Yonah Mountain Trail in the spring. Basically, just hike the Yonah Mountain Trail. You won't regret it! The trail is moderately challenging and does include going over boulders, but you'll be more preoccupied with the stunning scenery you're walking through. The summit views (and all those up the trail) make this a popular Georgia hike.
Located at the foothills of the Appalachian Mountains, the Yonah Mountain trail is a little over four miles round trip. It's a steeply inclined trail, so make sure to plan and prepare accordingly (there are spots that are great for rock climbing). Hikers are advised to stay away from the edge of the trail because of the sheer drop-offs. There are campsites you can stop at if you would prefer to take your time and explore the scenery a little more before summiting.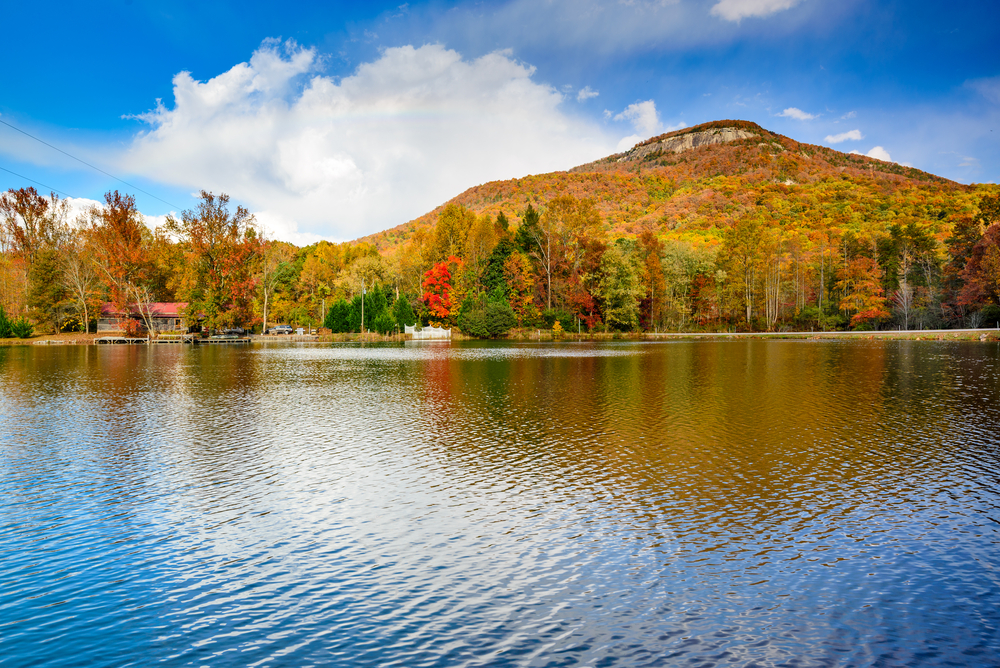 Experiencing Fall in Georgia will make you want to come back every autumn. The beautiful waterfalls, sweeping state and national parks, and charming towns and cities will only add to your exploration of fall foliage. So, as you plan your itinerary for your next trip to Georgia, make sure it's scheduled for the fall, and make sure you set aside time to do some quality leaf peeping!