While the city has so much to offer, it's time to take some day trips from Atlanta to get out and explore. Haven't you ever wondered what else the Peach State has in store for your Georgia state of mind?
The state of Georgia borders many states, making your possibilities endless! Surrounding the state are Tennessee, Alabama, North Carolina, South Carolina, and Florida! Depending on how far you want to drive, you can really get a change of scenery.
It doesn't matter what you want to do. Georgia and its surrounding states have so much to offer. Whether you want to explore national parks, waterfalls, or just quaint rural towns, there's a lot to keep you busy on your road trip!
The Metro area can get tiresome really quickly. So when you're tired of the hustle and bustle, in desparate need of an escape, and you don't know where to go? Don't worry. We've got you covered. Here are the best day trips from Atlanta to feed your wanderlust.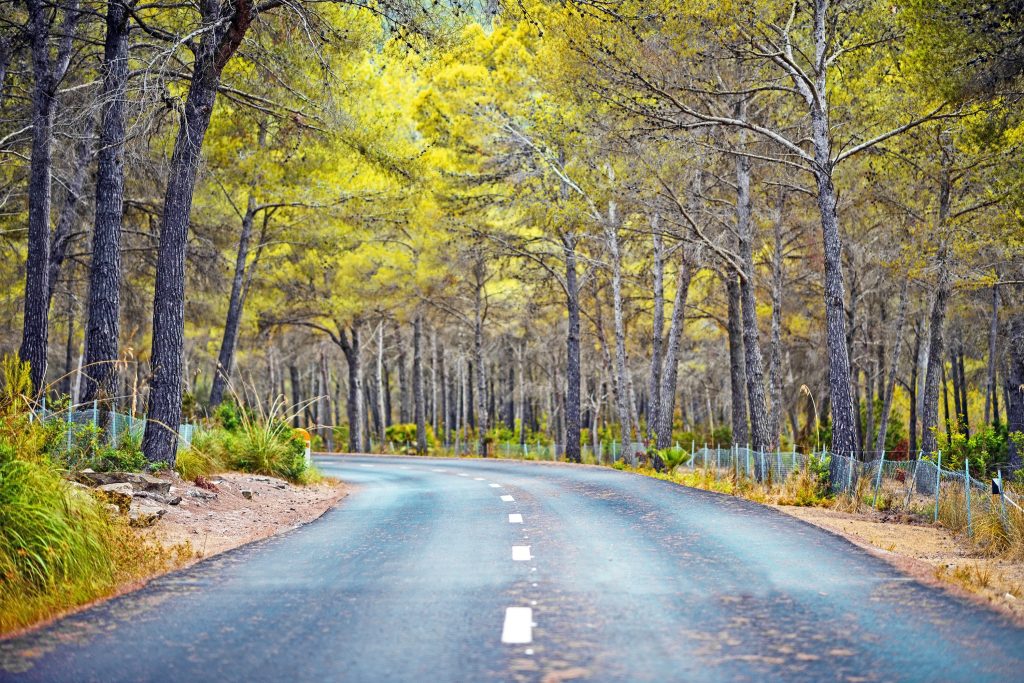 16 Interesting Day Trips From Atlanta For Your Bucket List
Day Trips From Atlanta Within 1 Hour
Marietta
At a mere 26 minutes northwest of the city, Marietta makes one of the best day trips from Atlanta! With a historic town square surrounded by a dramatic mountain backdrop, it's just far away enough from the city to feel cozy.
To get a good feel for the town, you can take the Marietta Trolley for a one-hour, fully narrated tour from Antebellum Square on Thursdays through Sundays. You'll tour grand antebellum homes and the battlefields at Kennesaw Mountain.
Nature lovers will love the hiking trails at the Chattahoochie River National Recreation Area. Take a raft and drift leisurely through the shoals or go fishing on the misty waters as the sun comes up. You can even have a picnic with some friends!
Drop the kids off at Six Flags White Water for a day of water park fun while the adults can go play at Treehorn Cider. Get a true taste of Treehorn by sampling their hot mulled cider or the drop biscuits with cider sage butter. Don't forget to take home some hard cider for later!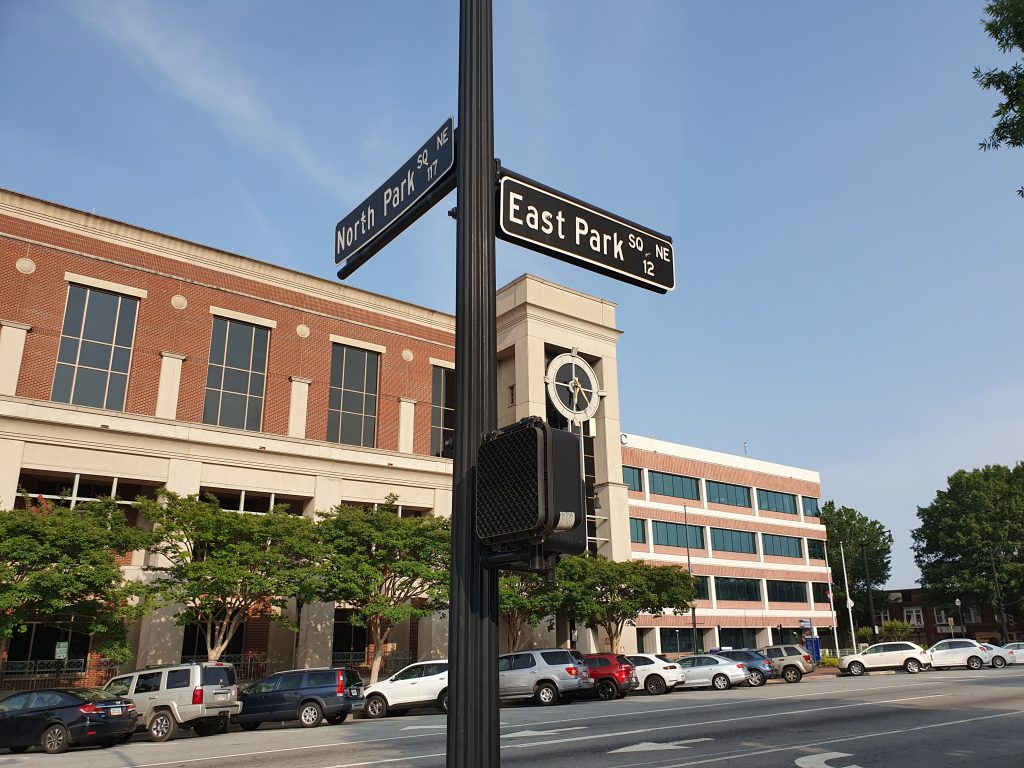 Serenbe Farms
Just 35 minutes to the south, you'll realize that Serenbe Farms makes one of the best day trips from Atlanta! A truly magical community near Chattahoochee Hills, you couldn't feel further away from the hustle and bustle of the big city.
Serenbe describes itself as a wellness community connected to nature. A neighborhood full of fresh food and fresh air, the citizens and community are focused on wellbeing. The community is small, just hitting 350 homes over the past 15 years of development.
Check out the Artisan and Farmers Market every Saturday from April through November. You'll find organic food and artisan goods. While you shop, you'll be listening to live music and be able to participate in other fun activities too! Not to mention the views of the Georgia landscape can't be beat!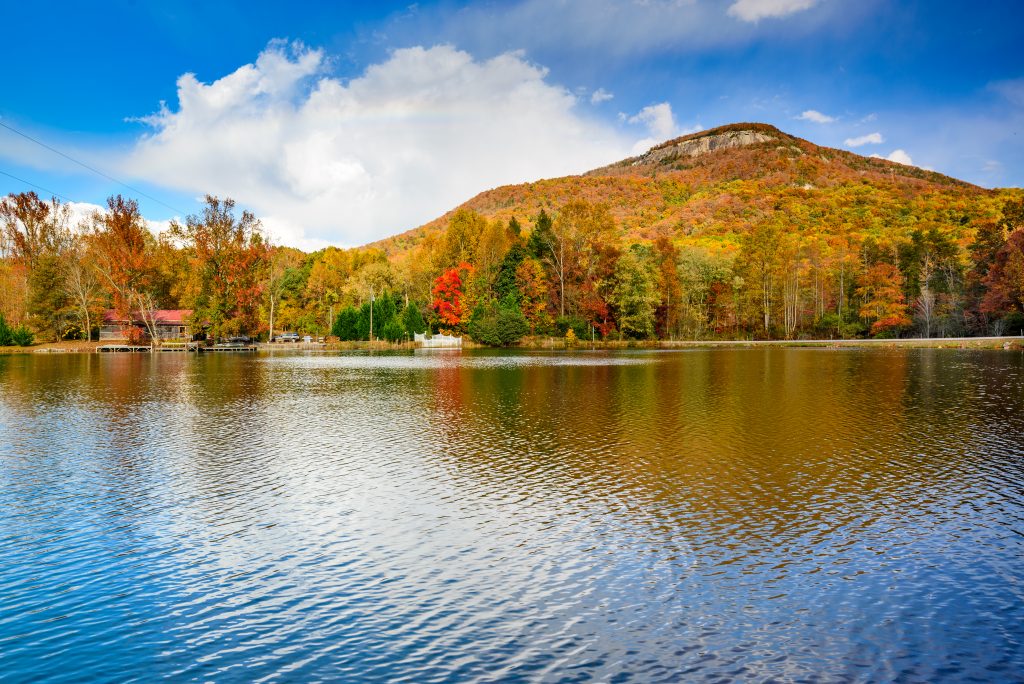 Callaway Gardens
Just an hour and fifteen minutes west and a little bit to the south, you'll find a lush paradise that makes one of the best day trips from Atlanta! Callaway Gardens is a beautiful haven for nature and flower lovers alike!
Over 2,500 acres, beautiful plants and flowers decorate the grounds. If you want to extend your day trip, there's even a resort and spa! You can unwind with luxurious spa treatments Thursday through Monday 11 AM to 6 PM, but keep in mind, they're closed on Tuesday and Wednesdays.
Callaway Gardens also boasts biking and hiking trails, a swimming beach, and two incredible golf courses. If you're the outdoorsy type, you'll love traversing the grounds at your leisure. Drop your kids off for some swimming while you hit the links!
The gardens also host events throughout the year, too! Check out Fantasy in Lights during the holidays which has been profiled by National Geographic! You can see colorful balloons float through the air in September during the Hot Air Balloon Festival. Head over to the swimming beach for the July 4th Star Spangled Beach Party for some fireworks!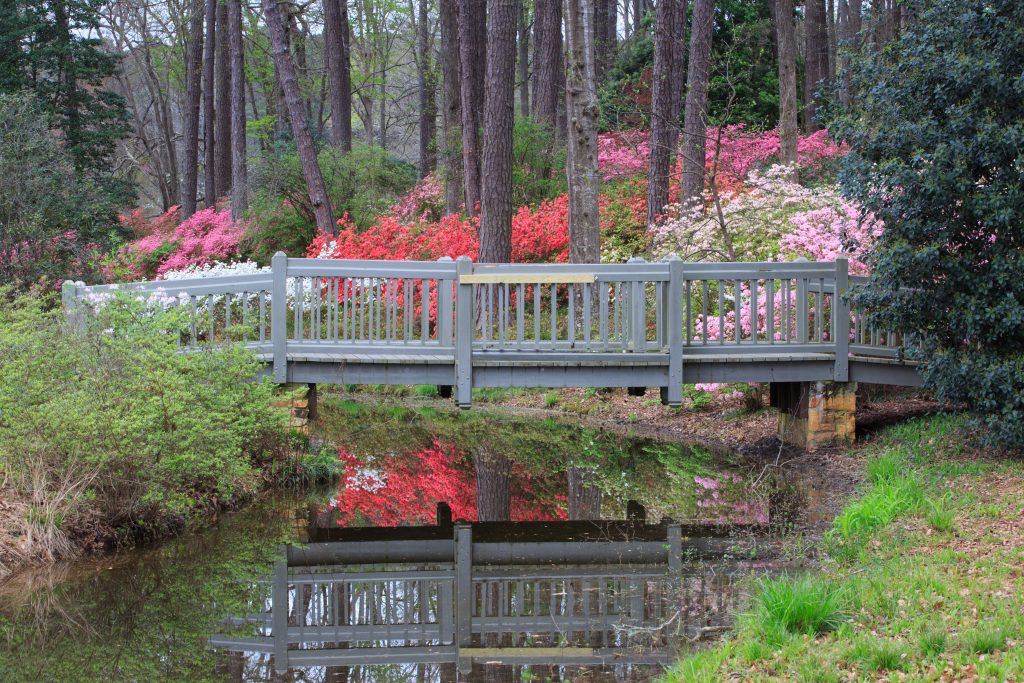 LaGrange
Just an hour away from the big city, LaGrange makes one of the best day trips from Atlanta! Back in the early 1800s, General Marquis de Lafayette was reminded of his estate in France when he saw the area's rolling hills, so he named this area LaGrange!
LaGrange is home to the Great Wolf Lodge. A gigantic indoor water park hotel, this is a perfect place to drop off the kids for the day! Day passes start at $40. In addition to the water park, you can also enjoy mini-golf, a rock climbing wall, bowling, an arcade, a ropes course, and more!
While the kids are playing, head to the Nutwood Winery and sample homemade breads, Amish cheeses, and a variety of desserts to pair with their signature wines. Then you can hit the links at the Fields Golf Club, which also hosts festivals and live music!
LaGrange also has amazing restaurants, the Biblical History Center, and is home of the Azalea Storytelling Festival! Just outside of town you'll find the Hills Dales Estate and the Wild Animal Safari Park where you can drive through and feed the hungry animals!
Senoia
Just an hour away from the big city, Senoia makes one of the best day trips from Atlanta. There are two major reasons to head to Senoia: if you're looking for a relaxing break from city life, or if you're a fan of The Walking Dead!
Senoia illustrates just how wonderful a slower pace of life can be. Get away from the hustle and bustle of Atlanta at Merimac Lakes Park. Walking trails are open every day of the year and if you have a valid fishing license, you can take advantage of the fishing venues!
The town's downtown area is filled with shops and antique stores, so you'll always find something unique. Don't forget to hit up the amazing restaurants like the Southern Country Steakhouse & Saloon. You can even tour the beautiful historic homes and leave feeling refreshed!
If you're a Walking Dead fan, there's even more for you to do here! Take one of the many tours available in Senoia like Dad's Zombie Roadtrip and you'll be able to see many of the show's filming locations starting from Season 1. Afterward, grab a frightfully good cup of coffee at the Walking Dead Cafe!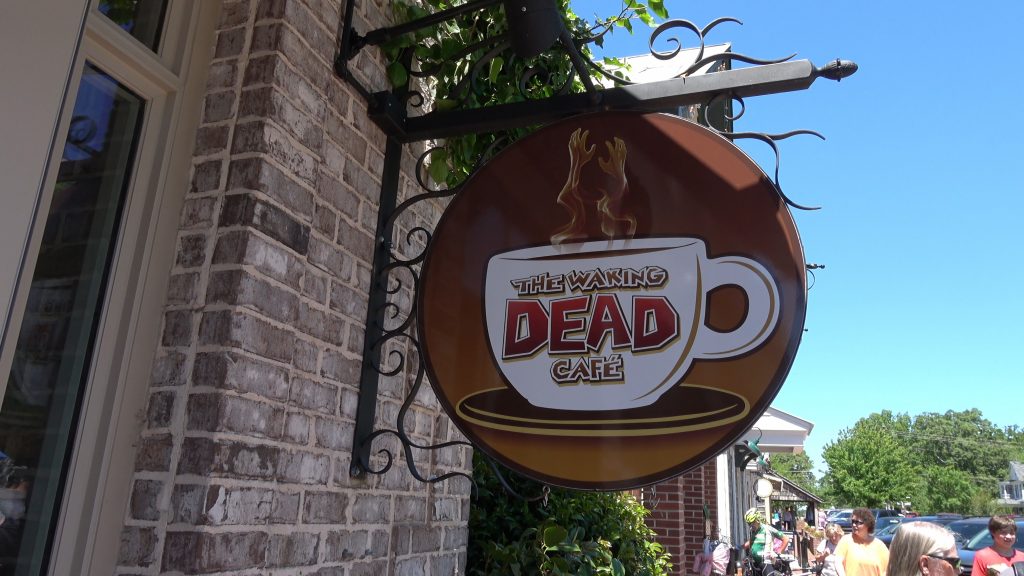 Atlanta Day Trips Between 1-2 Hours Away
Columbus
Named for Christopher Columbus, Columbus makes one of the best day trips from Atlanta, only one and half hours away. Originally inhabited by the Creek Indians, it was an important shipping port and today is still popular because of its location along the Chattahoochee River.
Outdoor adventurers absolutely rave about Whitewater Adventures. USA Today named it the number one Man-Made Adventure in the World! You'll glide down the river with your family along either a mild Lazy River or down wild and crazy Class V rapids.
You can also explore Uptown Columbus, the area's entertainment district. Right along the Chattahoochee River, you can walk or bike the RiverWalk, a 22-mile paved trail that follows the river. The area also hosts Market Days on Broadway with a farmers market! And don't forget about the free concert series!
Columbus is also a haven for art lovers! Along Broadway, you can take in the Sculpture Walk where you'll see original art and sculptures. Each year, they add more pieces, so it's never the same! You can also tour the National Civil War Naval Museum at Port Columbus for a taste of history.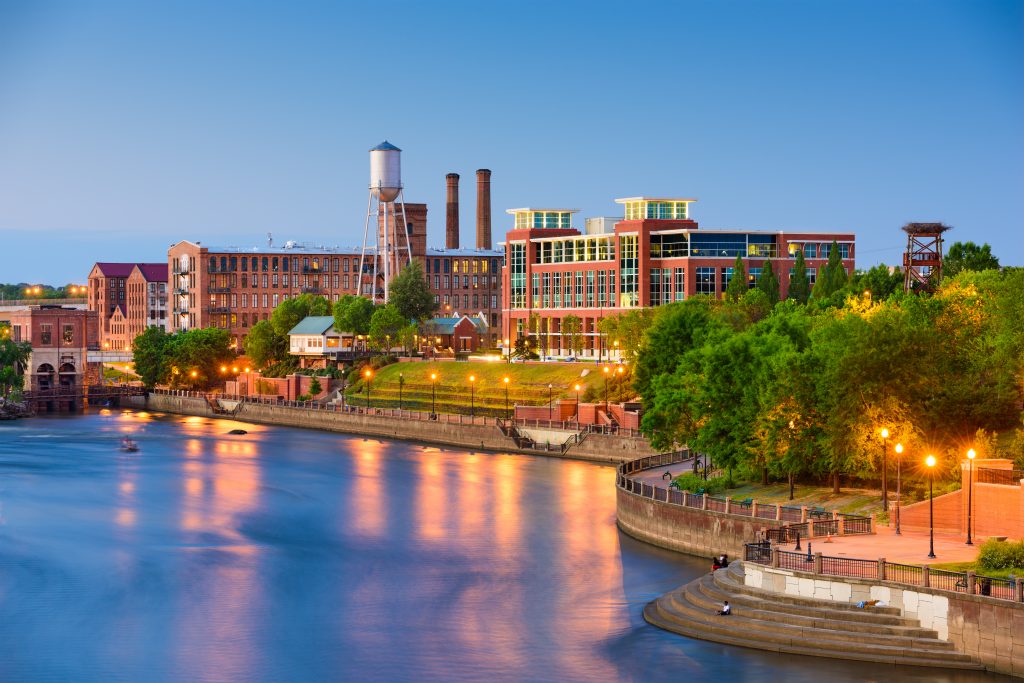 Macon
If you've never been to Macon, then you're missing out. One of the most quaint and charming towns in Georgia, this is one of the best day trips to take from Atlanta, especially for all things pink!
Among other things, Macon is home of the Cherry Blossom Festival. Held for two weeks every spring, the trees are lined with the pink petals and make the downtown area truly a beautiful wonder to behold. Even if you don't visit during the festival, the trees themselves make the perfect Instagram photo op!
Macon's downtown area is filled with activities and even hosts a two-day music crawl event every July. Bragg Jam allows you to see your favorite musicians while experiencing specials at the local restaurants and shops in the downtown area. During the holidays, the area is decorated with lights and just beautiful.
If you're the outdoorsy type, then visit Amerson River Park. You can walk the paths by the Ocmulgee River. Watch the kayakers paddle by or hop in one for yourself and take in the sights! Then visit the Ocmulgee National Monument, hike the Ocmulgee Heritage Trail, or pack a picnic to enjoy on Lake Tobesofkee!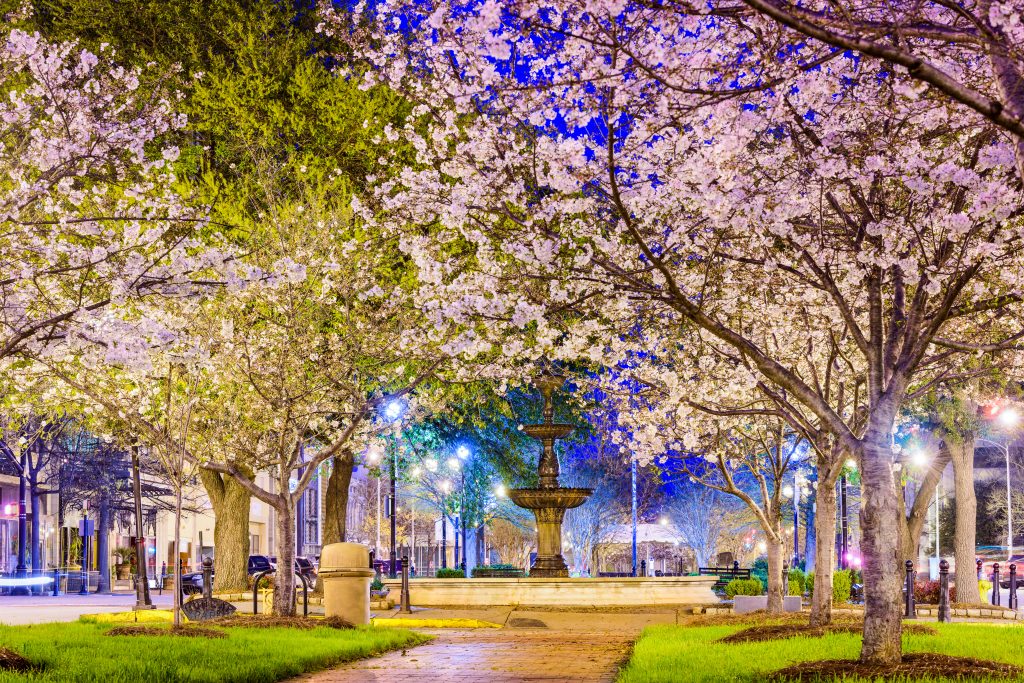 Great Wolf Lodge
Let's face it, they don't call it Hotlanta for nothing. This is why the Great Wolf Lodge makes one of the best day trips from Atlanta. The perfect way to beat the unbearable summer heat? Hit up Georgia's indoor water park, the Great Wolf Lodge.
At the Great Wolf Lodge, the water is always 84 degrees. Not too hot and not too cold! The water park has plenty of slides, pools, and activities for all ages. At the end of the day, you can even retire to a hotel room, or a charmingly themed Wolf Den for kids.
Enjoy simulated rapids on River Canyon Run. Leave the kids at Fort MacKenzie, a four-story water treehouse while you relax with the adults at Northwood Oasis. Or simply relax in Otter Run, the park's lazy river.
When you need to dry off but you're still not done having fun? Don't worry, the Great Wolf Lodge still has plenty of fun and adventure for the whole family. Hit up the kid-friendly bowling alley! There's also mini-golf, a ropes course, an arcade, a rock climbing wall, and even a Build-A-Bear workshop!
Helen
One of the best day trips from Atlanta is to visit Helen, just one and a half hours to the north of the city. Who says you have to get on a plane to feel like you're in a different country? When you visit Helen, you'll feel like you're taking a vacation in Germany!
The Bavarian village of Helen in the Blue Ridge Mountains is not your ordinary town. Its charm comes from the architecture. Since 1969, city leaders have decided to model the town's buildings on south-German architecture, creating a quaint Bavarian feeling when you walk through the neighborhoods.
Helen also boasts incredible hiking trails nearby. Of all of the trails, you're going to want to see Anna Ruby Falls, one of the prettiest waterfalls in Georgia. You'll find access via a paved trail to viewing platforms. You'll be so close to the falls you'll be cooled by the mist from the cascading water!
To get the most German experience, take a carriage ride downtown and visit the quaint shops and restaurants. You don't want to miss out on the Biergartens either. You can't go wrong visiting during one of Helen's extraordinary community events like Oktoberfest or Christmas in Helen!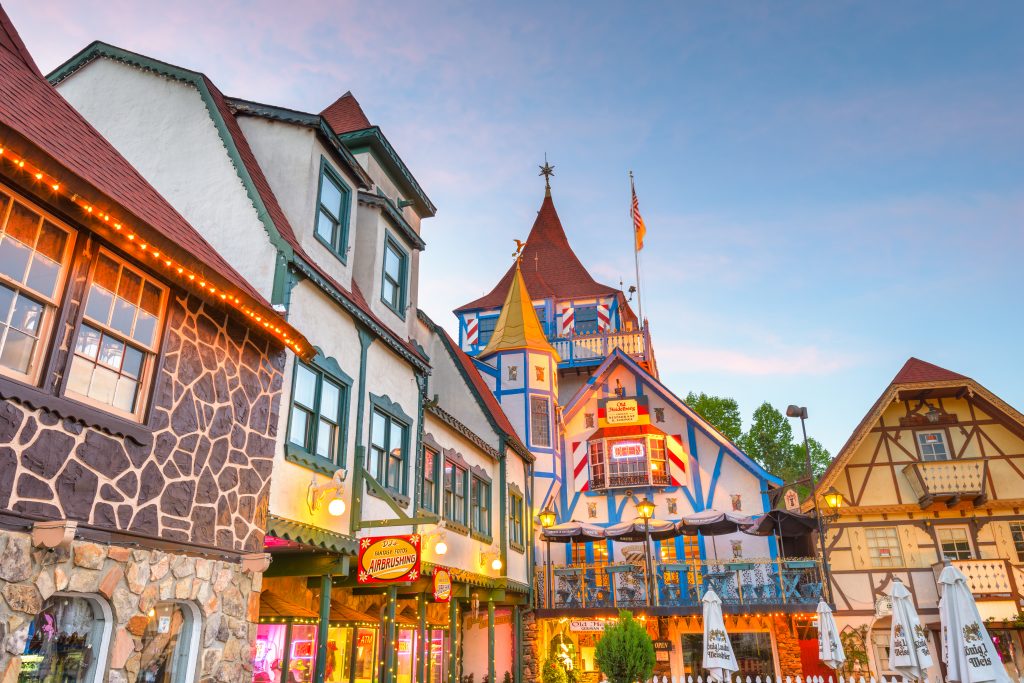 Chattanooga, TN
Chattanooga is one of the great romantic getaways in TN. As a small city, it boasts the perfect combination of city life and nature escapes.
The Tennessee Riverpark in Chattanooga is a fantastic example of when city life meets nature. While the Riverpark is nestled in downtown Chattanooga, you'll also get an up-close view of the Tennessee River, including the flying seabirds and bustling fishing piers.
Other than the Riverpark, Chattanooga also has the breathtaking Tennessee River Gorge, the underground waterfall known as Ruby Falls, and the Tennessee Aquarium. For those looking to experience more of the city side of Chattanooga, there is also the Creative Discovery Museum as well as the many restaurants and shops of downtown Chattanooga.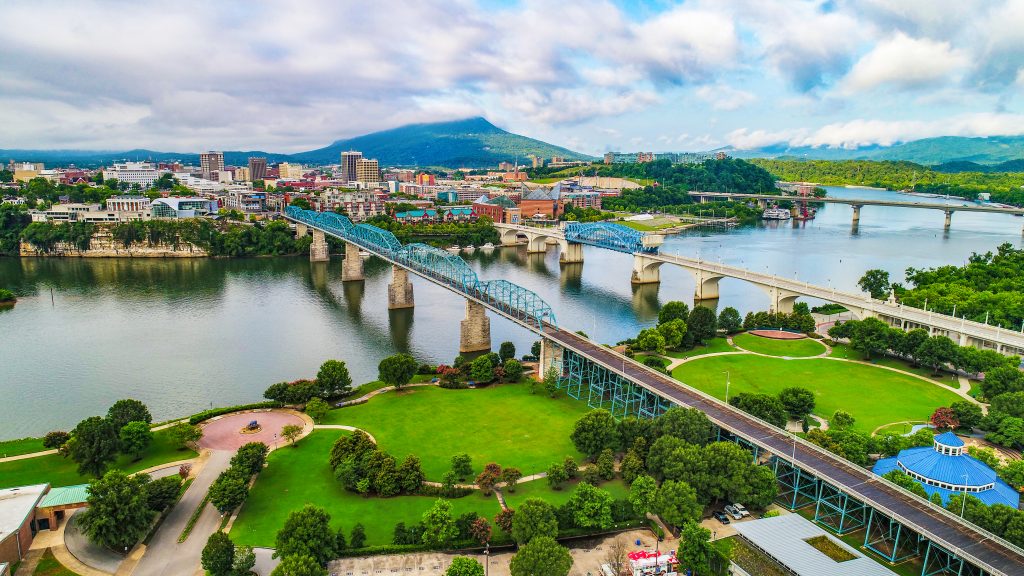 Blue Ridge
Southern Living Magazine voted Blue Ridge, Georgia one of the best mountain towns! Located just 90 minutes from Atlanta, it is perfect for a romantic getaway or a family mountain vacation. Don't forget it when planning one of your day trips from Atlanta!
Known for its Blue Ridge Scenic Railway, wineries, and brewers as well as a more upscale dining and shopping destination. Take a ride on the railway or go trout fishing on the Toccoa River!
Blue Ridge is a great year-round town to visit for the outdoors where you can hike on the Appalachian trail, go tubing, visit a brewery or winery, enjoy a scenic drive or play golf! You can even try whitewater rafting or pick apples at a local orchard in the fall!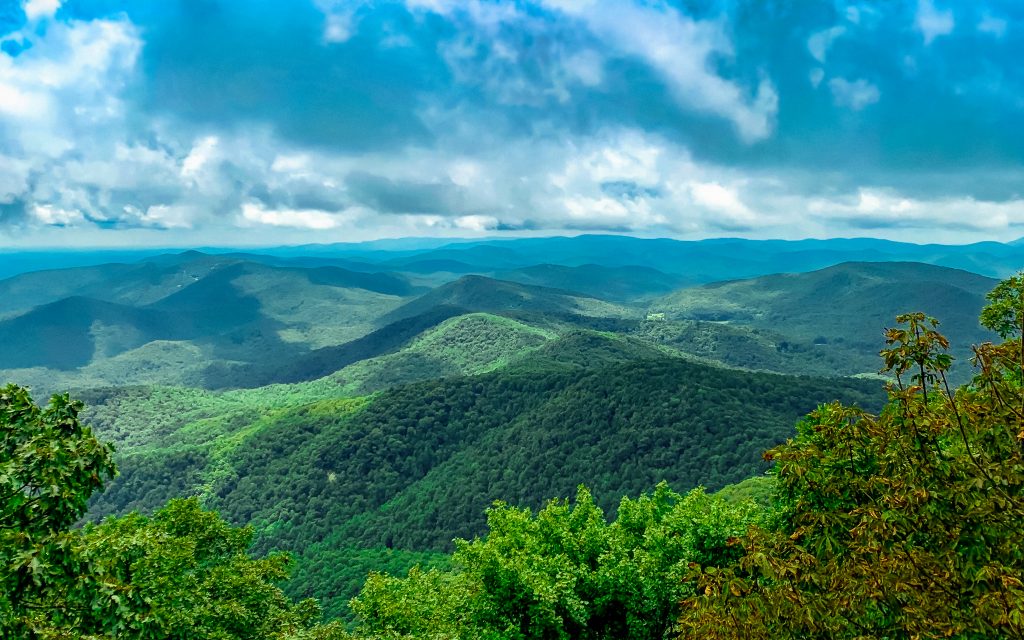 Amicalola Falls
Located near Ellijay, Georgia, this waterfall towers to a height of 730 feet and is definitely a sight to see while you're in Georgia. The water spills over a cliff onto multiple layers of rock that create the beautiful whitewater visuals, making it one of the best day trips from Atlanta, only an hour and fifteen minutes away.
You can reach this Georgia waterfall from the Amicalola Falls Trail which is located in the Chattahoochee National Forest. The Amicalola Falls State Park is one of the most popular state parks in Georgia, and visitors frequent this park during any season.
From snow in the winter to leaves in autumn, or the bright sun of the summer, this waterfall is a top pick for many hikers. The hike is just over 2 miles round trip, but because of the elevation it is rated as a more difficult hike. Get ready to climb stairs, there are over 620 total!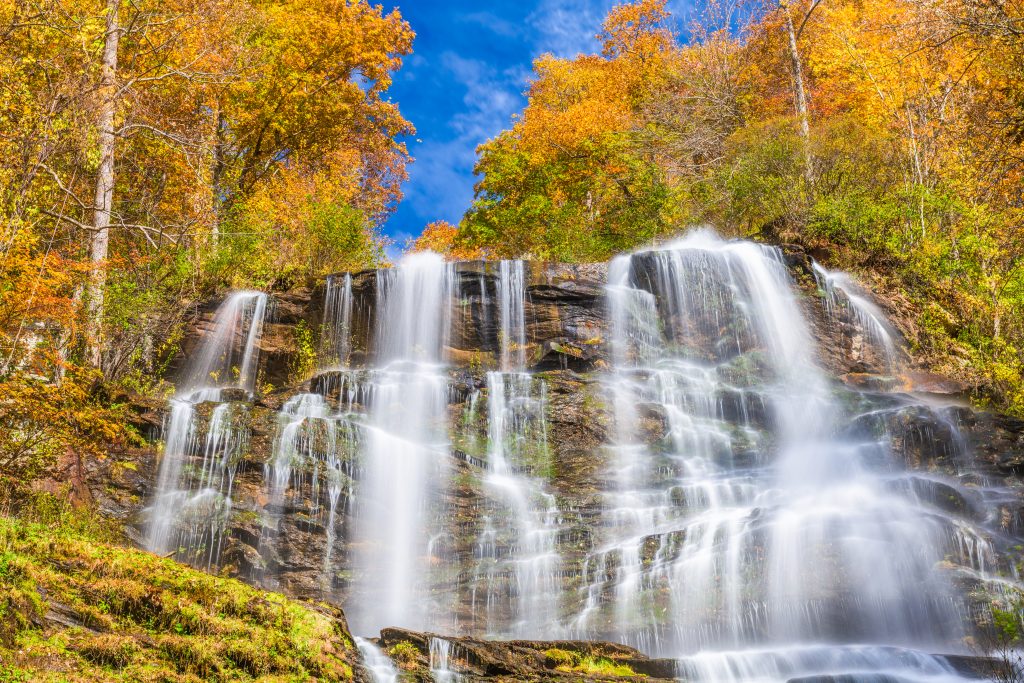 Atlanta Day Trips Over 2 Hours
Providence Ridge Canyon State Park
Known as Georgia's 'little Grand Canyon', Providence Canyon State Park is located in Stuart County and was formed by poor farming practises in the 1800s with some of the gullies going as deep as 150 feet. It's unique scenery makes it one of the best day trips in Atlanta!
Just to the south of Columbus and only two hours away from Atlanta, the views are truly breathtaking here. The orange, pink, purple, and red of the soil provide a truly unique scene. And if you visit during July and August, you will see the rare Plumleaf Azalea in bloom.
There's a number of different hiking options at this southern national park, whether you're an experienced hiker looking for something more strenuous , or something easier with handicap access there will be something for you. You can even enjoy a picnic area above the canyon as well as a playground!
Oh, and dogs are also allowed on a 6 feet leash!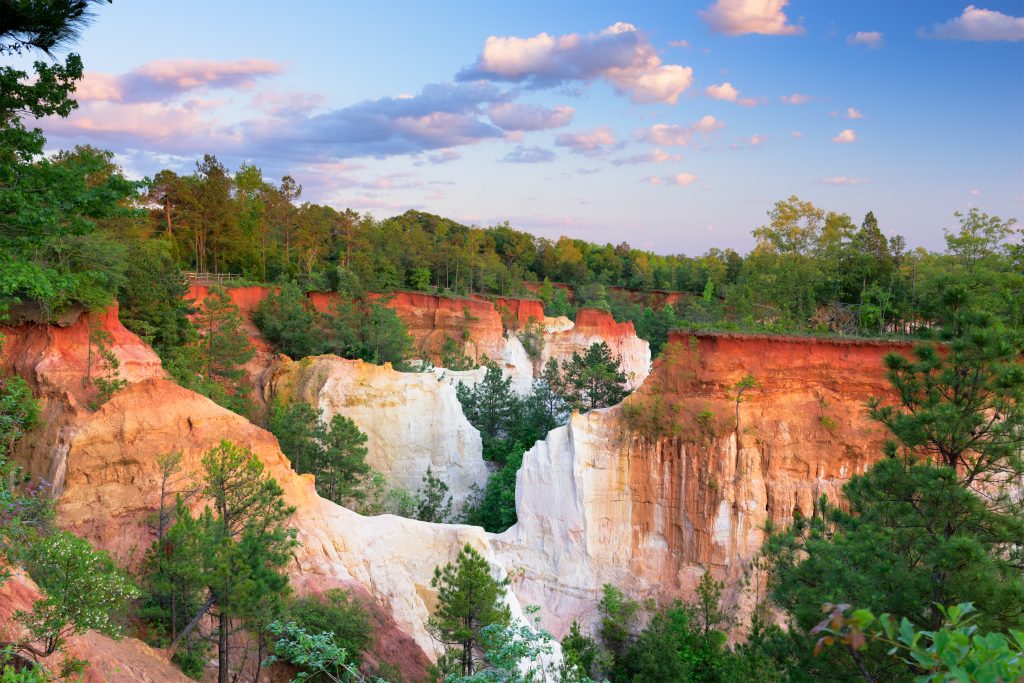 Augusta
If you follow golf, then this next entry on our list of best day trips from Atlanta should seem like a no-brainer. That's because Augusta is home to a little golf tournament every year called The Masters! Okay, it's not so little, but there's more to do than golf here.
The Partridge Inn should certainly be on your list for romantic weekend getaways in Georgia. The mix of luxury and cozy is the perfect spot for a couple to get away from it all. You can enjoy the spacious balcony rooms to enjoy your morning coffee with a view, relax by the gorgeous pool, grab a drink at the rooftop bar, or enjoy a meal on the veranda.
Visit the Augusta Canal National Heritage Area and cruise down the canal in a boat tour! Then take a walk around the museum in the Discovery Center. If that's not enough history for you, you can visit the Augusta Museum of History and then take a trolley tour.
For the more adventurous, rent a kayak and paddle the Augusta Canal yourself or explore Phinizy Swamp Nature Park! If golf isn't your cup of tea, then head on over to SRP Park during baseball season and catch an Augusta Greenjackets game!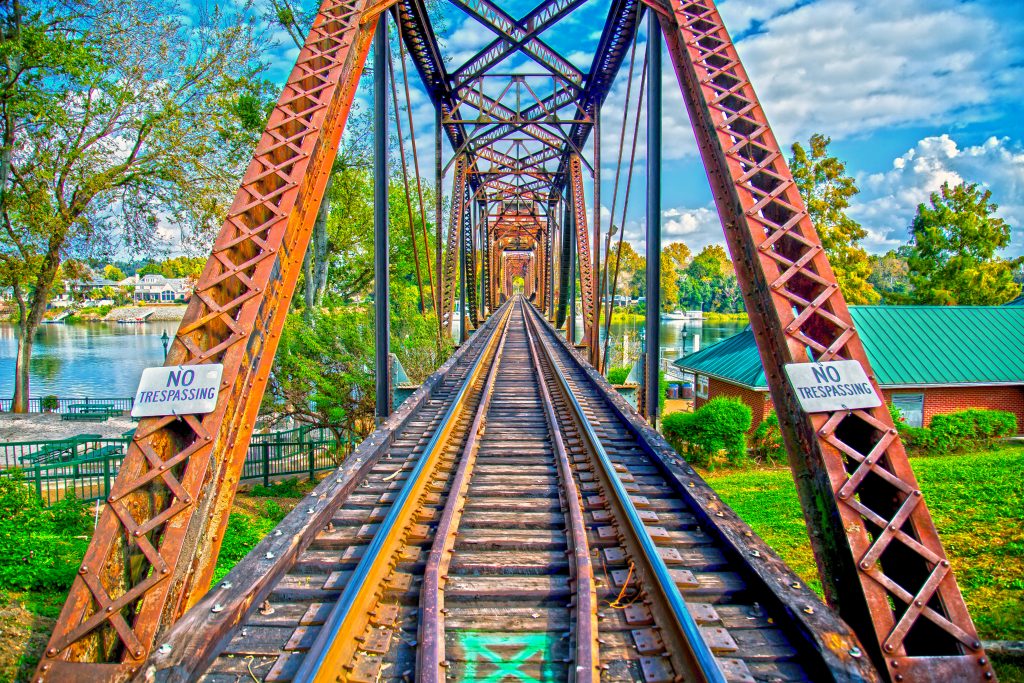 SAM Shortline
The Blue Ridge Railway has NOTHING on the SAM Shortline Train. One of the best day trips from Atlanta, you can visit Georgia's only rolling state park! Taking a ride on this train is the best way to see the full beauty of the entire state.
You can board the train at Georgia Veterans State Park in Cordele to enjoy a ride in an air-conditioned, vintage train car! The best part of the SAM Shortline Train is you have multiple options as far as destinations go! Choose between Plains, Americus, or Archery! Each one is rich in history!
The town of Plains is home of 39th President Jimmy Carter. Here you'll see an inside look at his campaign and his life and get a deeper education in American politics. Archery is the site of President Carter's boyhood home where you'll see what rural life was like in the early 1900s!
The ride from Americus to Plains is the shortest option and perhaps the most scenic. However there's so much to do that your time will fly and you might need to take a second trip! As you sink back in your comfy chair, you'll enjoy a mix of romantic yesteryear with the excitement of today's South!
Albany
No, we're not talking about the Albany in New York! In Southwest Georgia, just under 3 hours away from the city, you'll find the town of Albany, one of the best day trips from Atlanta with a multitude of family-friendly activities.
Everybody simply adores the Flint RiverQuarium. This is one of the few open-air aquariums in the world, focusing on the fish and plant life found in the Flint River. You can also get close to exotic animals at the zoo at Chehaw Park. Make sure to ask about Chloe!
Make sure to visit the Ray Charles Plaza in the center of the Flint River. A life-size sculpture of the soul musician is seated at a Baby Grand piano, resting on a rotating pedestal. You can enjoy a concert as his beloved melodies play at timed intervals while water flows over the pedestal and into a reflecting pool.
For even more fun, visit the All American Fun Park to enjoy two miniature golf courses, a 1/4 mile go-kart track,
sixteen bowling lanes, and much more! There are also bumper boats, laser tag, and a roller coaster simulator!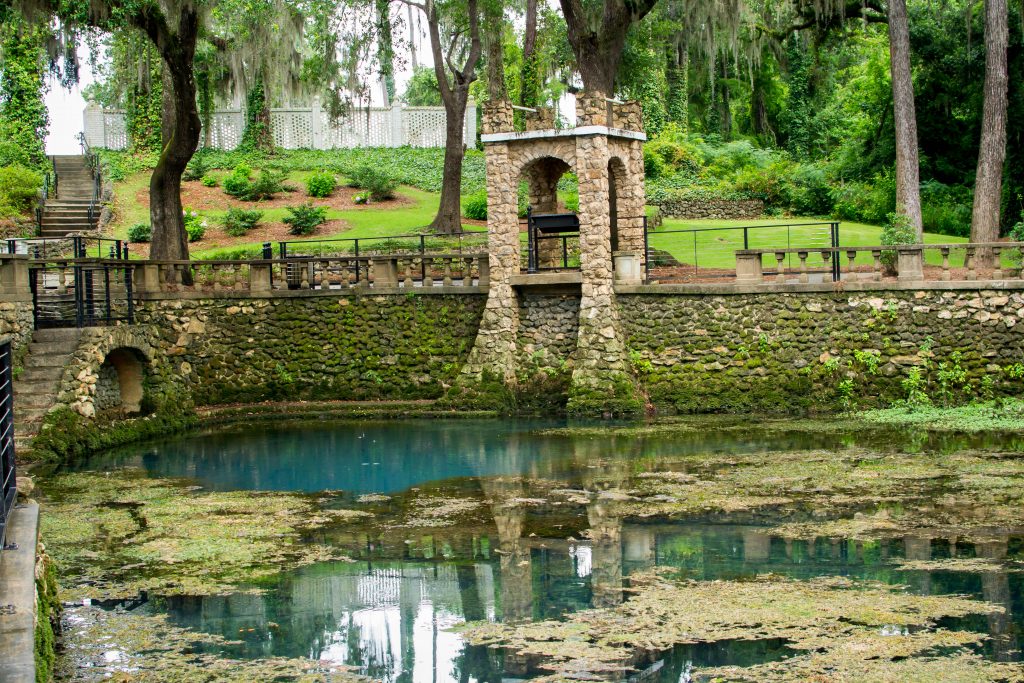 While Atlanta has so much to offer, sometimes you need to get out of the big city and explore. Georgia has a wealth of opportunities for the solo traveler with insatiable wanderlust or the family looking for a new adventure. Just remember that your next day trip from Atlanta is only a short car ride away!