If you are looking for the best Blue Ridge Parkway hikes, you will not be disappointed! This is a gorgeous and breath-taking place to immerse yourself in nature.
If you are planning a Blue Ridge Parkway road trip, you are sure to make a bunch of stops to hike and admire the overlooks. These Blue Ridge Mountain trails are too good to pass up!
These mountains hold much more than history through their trails, crags, and cliffs. No matter your skill level, you'll be sure to find a hike that you will love on this list! You will get to know the difficulty level, the length, and the location of each of these Blue Ridge Parkway trails.
Waterfalls, wildlife, rivers, oh my! If the wild is calling your name, it surely will lead you to these hikes. Breathe in the fresh air of the mountains while sitting on overlooks miles above the valleys. Capture timeless pictures for long-lasting memories.
Make your next outdoor experience memorable at any of these Blue Ridge Parkway hikes!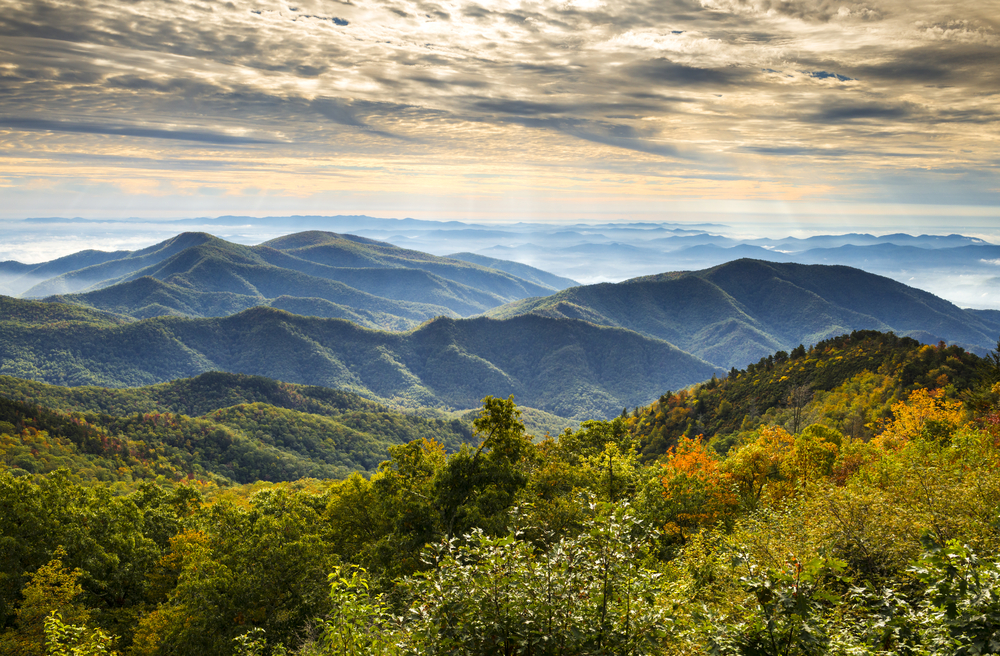 17 Best Blue Ridge Parkway Hikes You Must Try
Graveyard Fields Hike
Don't let the name spook you! This is a particularly fantastic hiking trail in the Blue Ridge Mountains. This gem is southwest of Asheville, North Carolina.
As you begin, you will pass through a heavily forested path with large tree canopies. Along the 3-mile round trip walk, you will encounter fields of wildflowers and wild blueberries! It is just as stunning as the two waterfalls that make an appearance on this hike.
This is one of the more moderately difficult Blue Ridge Parkway hikes. While children can do it, you should expect them to be tuckered out and have some challenges with inclines and rough ground. The terrain will include decked bridges to roots of trees creating steps on the dirt trail.
While you walk the trail, all of your senses will be in bliss with the smell of the greenery, wildflowers, and the voice of the creek and waterfalls singing in the background.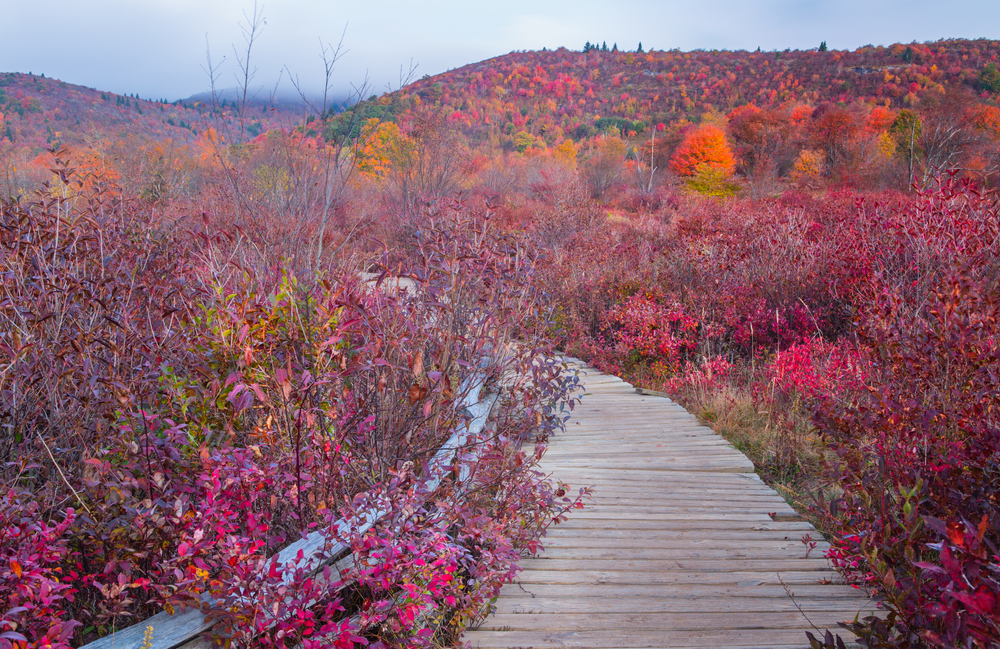 Craggy Gardens Trail
Heading northeast of Asheville, North Carolina, to the city of Black Mountain you will find the gorgeous Craggy Gardens Trail. This show stopper is only 1.9-miles long with minimal challenges.
This is one of the easier trails that the whole family, including your fur baby, can enjoy. Family photos will never be the same after you capture the splendor of this hike on camera.
On one of the best Blue Ridge Parkway hikes, you will experience seemingly endless beauty. The trail is full of rhododendron in various colors that are best viewed in spring or summer.
If you haven't snacked on the wild blueberries too much there is a picnic area near the end of the hike. It has several picnic tables scattered on the field with exceptional scenery from the wild vegetation. In the meadows you cross, you will also have a view of the vast Blue Ridge Parkway and mountain tops.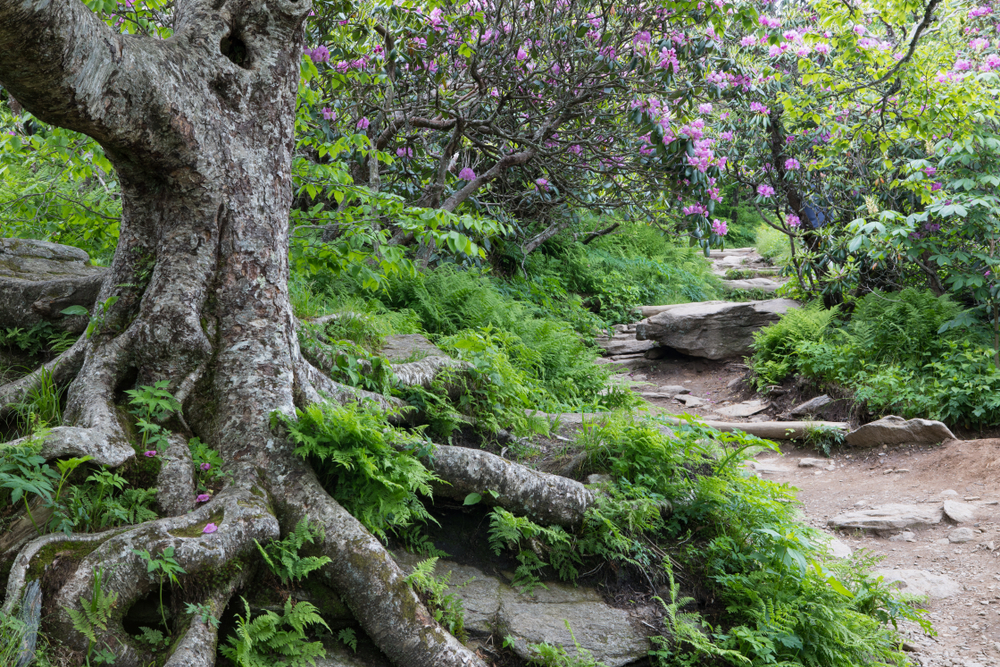 Rough Ridge Trail
Your next stop for the best Blue Ridge Parkway hikes is just northeast of Linville and southwest of one of the cutest Blue Ridge Mountain towns, Boone, North Carolina. Rough Ridge Trail is a moderately strenuous 1.2-mile hike round trip. While it is a short one, its grandeur is not to be underestimated.
You will start the trip with a view of a waterfall. A nice welcome indeed! The wildflowers and other vegetation found on Rough Ridge Trail are sometimes rare so it is best to view from a distance and not stray off the path.
The uphill hike is steep with cables to help keep you on the proper path as you make your way to large boulder overlooks. From here you are able to sit atop them and take in the impeccable surroundings.
Enjoy the hike year-round, however, in fall you will see the forest's many colors in the sea of trees on the overlooks.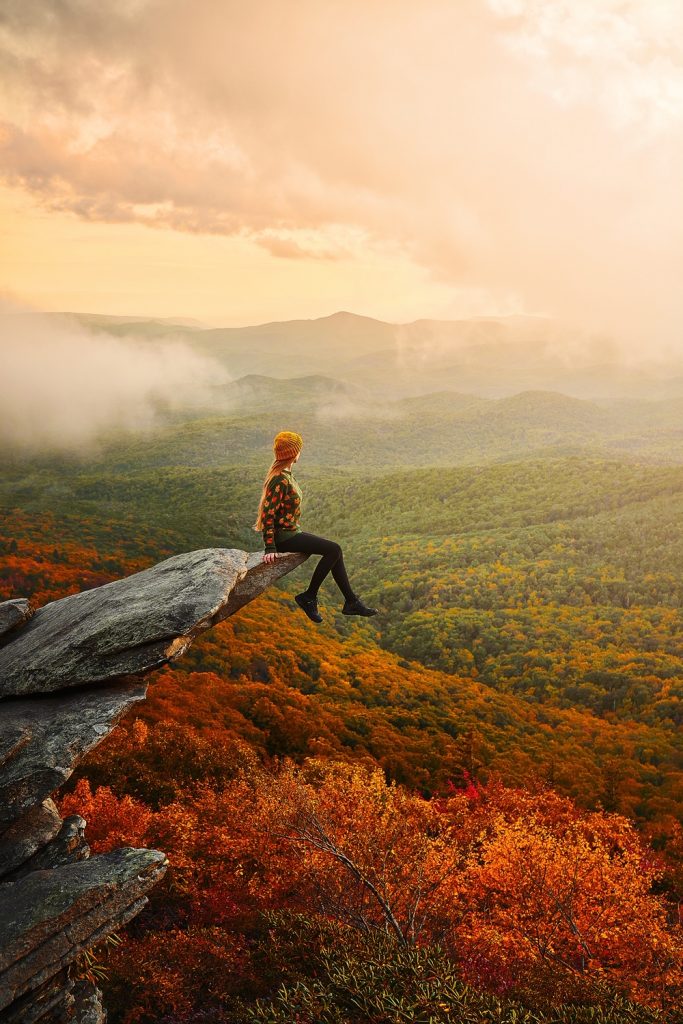 Tanawha Trail
If you are looking for a challenge then Tanawha Trail may be for you! This hike starts at Julian Place Park and ends at Beacon Heights northeast of Linville, North Carolina. The moderately challenging hike is 13.5 miles of adventure.
Fun Fact! Tanawha means fabulous eagle or hawk in Cherokee. Keep an eye out for the wildlife! You will want to bring hiking boots as this is one of the more strenuous Blue Ridge Parkway hikes with a variety of terrain. There will be terrain ranging from boardwalks and grassy flatlands to uphill hikes.
There will be an abundance of immense rock formations, waterfalls, fields of boulders, and tunnels of rhododendrons. Magical is an understatement when it comes to this hike along the Blue Ridge Parkway. Keep in mind that weather changes are frequent along this long trek. Rainstorms and dips in temperature may happen so it is best to be prepared for all weather possibilities.
Due to the longer duration of this trail, you may want to break up your journey into segments. There are many access points that allow you to choose how far you want to travel. Be sure to keep track of where you stop so you can start at that access point to finish the hike another time!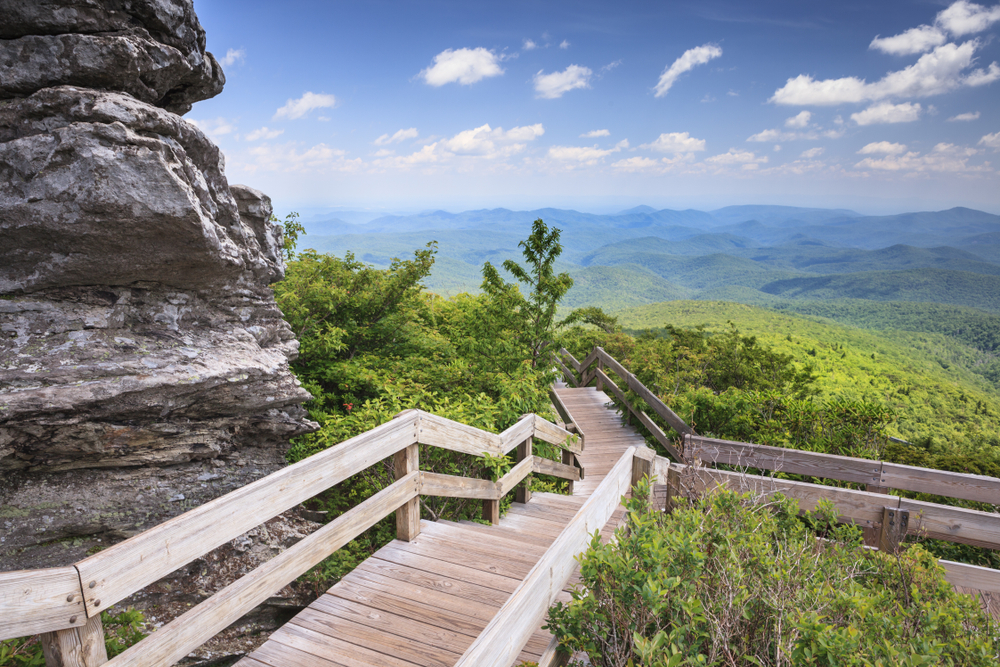 Waterrock Knob Trail
Waterrock Knob Trail is not for the faint of heart! You can find Waterrock Knob Trail near Waynesville, North Carolina, and while it is only a 1.2-mile round trip, is rated moderate to difficult due to the steep climb in elevation. Of all the Blue Ridge Parkway hikes, this is one of the highest elevations you will encounter as it reaches nearly 6,000 feet in elevation.
Sunrises and sunsets are a popular reason to endure the hike since there will be minimal light pollution. The mountainous views are magnificent at any time of the day or year! The first portion of the trail is paved and then as it becomes steeper, your path will turn into gravel and rocky stairs.
Keep in mind that the weather will be much colder the further up you go so you may want to consider bundling up! Wearing a pair of hiking shoes on this rugged hike is also advised.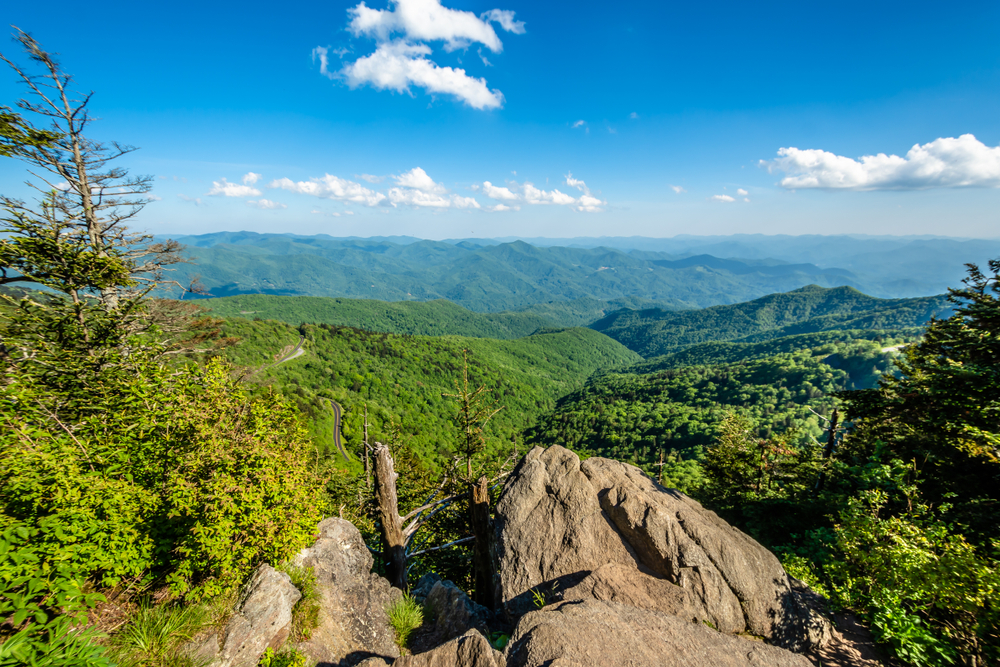 Devil's Courthouse Trail
Glorious views await you on Devil's Courthouse Trail. This Blue Ridge Parkway hike is located near Asheville. It gets its name from folklore surrounding the wicked appearance of the mountain and the cave that lies within holds tales from the Cherokee who believe the devil held court there.
This hike may be well suited for a novice looking for a moderate hike to get their feet wet in a good challenge. At only .9 miles long you are in for a real treat at the peak of the trail.
The rough course is worth it! Devil's Courthouse Trail is paved for a short portion of the hike and then is an uphill hurdle. On your way to the peak, you will find rare plants that thrive in high altitudes so not straying from the path is important.
Once you reach the summit, you will have a mesmerizing view. On a clear day, you will see mountains that reside in three neighboring states, South Carolina, Tennesee, and Georgia! As you view the horizon it is difficult not to be awestruck.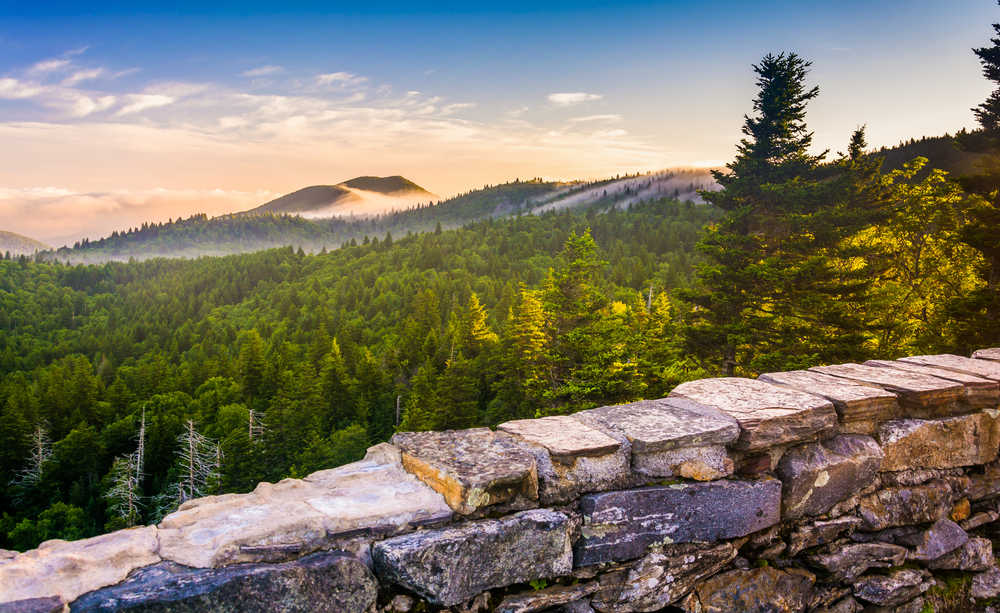 Crabtree Falls Loop Trail
Breaking a sweat is worth it when you hike Crabtree Falls Trail! The loop is 2.5 miles located in Tyro, Virginia. Experienced hikers will enjoy this moderate to strenuous path.
The Blue Ridge Parkway hikes are a delightful challenge, especially on Crabtree Falls Loop Trail. The rocky path has high drop-offs in some areas.
The payoff is beyond beautiful. The forest's canopy allows for sunlight to dapple the ground and the cool wind will engulf you in fresh air. At the base of the trail, you will get to experience the massive 60-foot waterfall that cascades magnificently, creating a fresh mist in the atmosphere.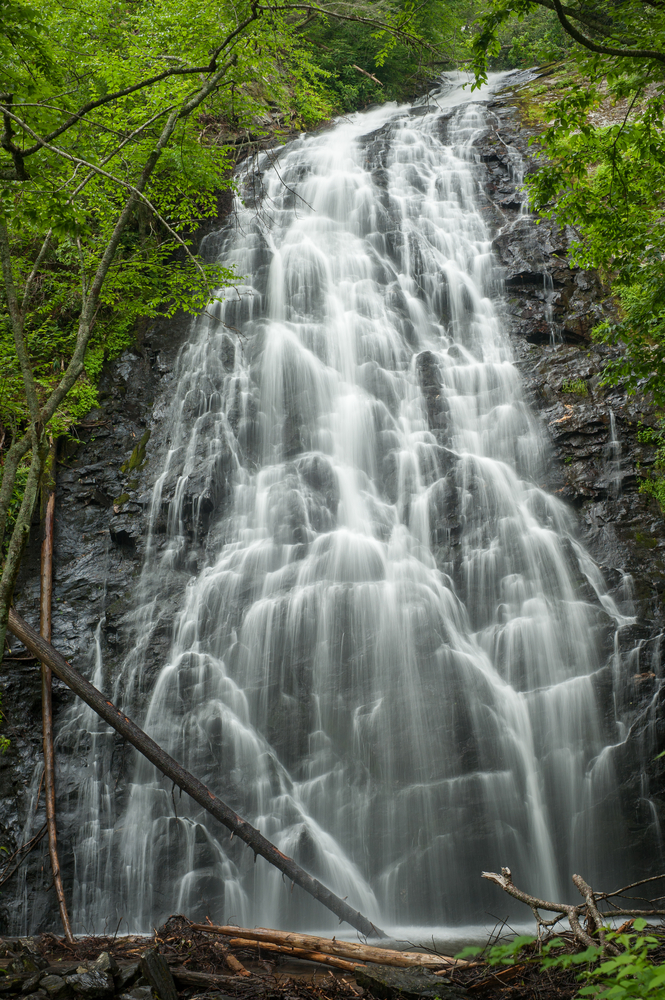 Sharp Top Trail
One of the most scenic hikes along the Blue Ridge Parkway is located in Bedford, Virginia. As a more demanding 3-mile trip, you may want to pace yourself. Grab water and a snack and hit the trail! For those not able to do the hike up Sharp Top Mountain's trail there is a bus that runs to the top.
The course has a steep ascent of several stone staircases with short breaks of flat walking paths. A walking stick may help you navigate up and down the path. Reaching the summit is just part of your quest for immense views! There will be a rock field featuring large boulders overlooking the valley.
At the crown of the mountain, you will get a 360 view of Shenandoah Valley and the Peaks of Otter making Sharp Top Trail one of the best Blue Ridge Parkway mountain trails. It is truly a sight to see on one of the best Blue Ridge Parkway hikes in Virginia!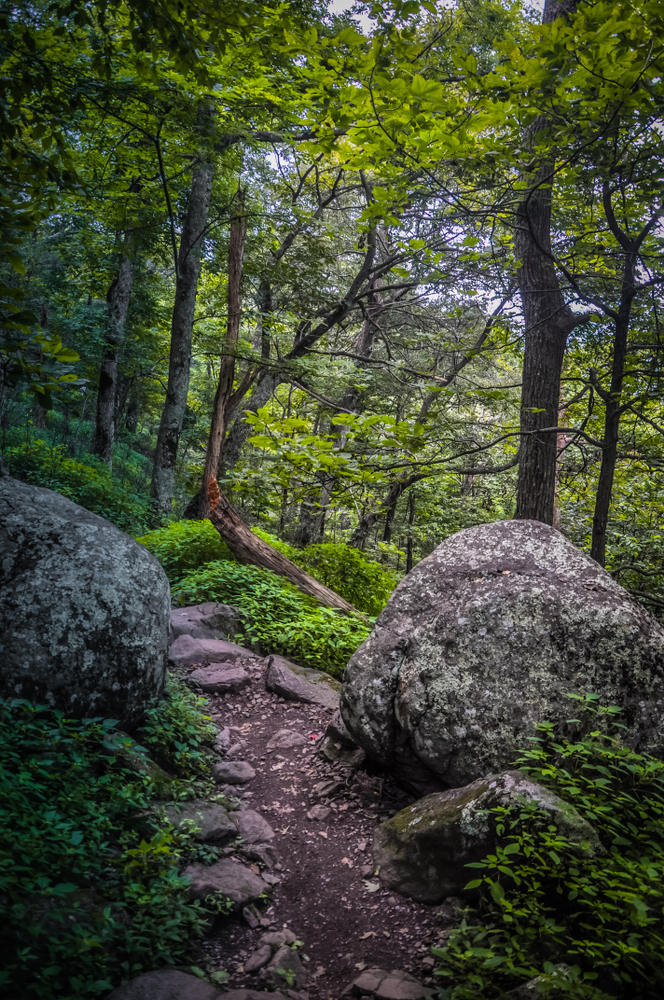 Erwins View Trail
Erwins View Trail may be closest to Rivendell (or any magical land) as you can get on the Blue Ridge Parkway! This 1.7-mile hike is rated easy to moderate difficulty and can be found near Newland, North Carolina.
This is an enchanting trail that will seemingly transport you to another world. The tunnels of forest trees will guide you to serene sights and sounds. From waterfalls and wind rustling leaves to wildlife that may be spotted along the way, this is an amazing trail! This is a hike where birding is also popular.
Chimney View, Upper Falls, and Erwins View are the three overlooks that will take your breath away on this trail. These are well worth the climbing and careful stepping you will have to do to reach them.
The scenery is especially powerful when the trees are turning colors in autumn. With so many ways to view the waterfalls and Linville Gorge, it is plain to see why this is one of the most popular Blue Ridge Parkway hikes.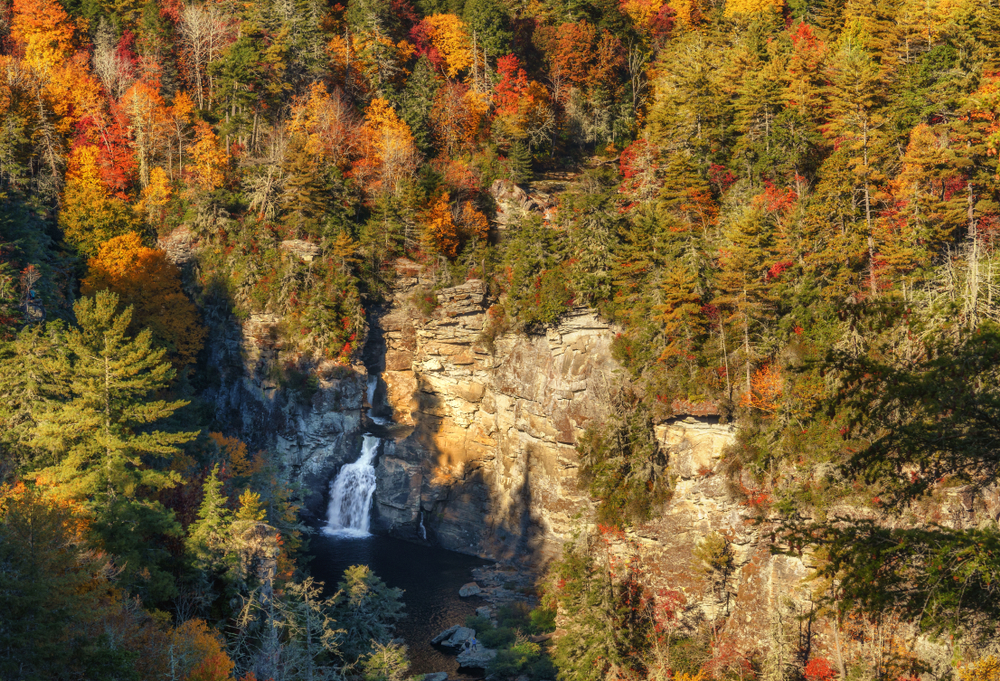 Apple Orchard Falls Trail
You will want your camera for this hike on Apple Orchard Falls Trail! This is a choose your own adventure trail that allows you to make a quick trip of 2.5 miles or a full loop of 5.6 miles. Both are certain to be deserving of your time! You will find this hike on the Blue Ridge Parkway near Buchanan, Virginia, and it crosses into Jefferson National Forest.
The hike has an easy to moderate rating and is family and dog-friendly. It has the perfect camping spots for all outdoor adventurers as well! There are a couple of waterfalls that are downhill which is what makes the trail a bit more difficult but doable. The streams trace part of the trail so you will have a lovely ambiance as you take in your surroundings.
Sunset Field Overlook, which is the end of the 2.5-mile trail is a striking place to stop and rest before continuing the captivating journey on one of the easy Blue Ridge Parkway hiking trails.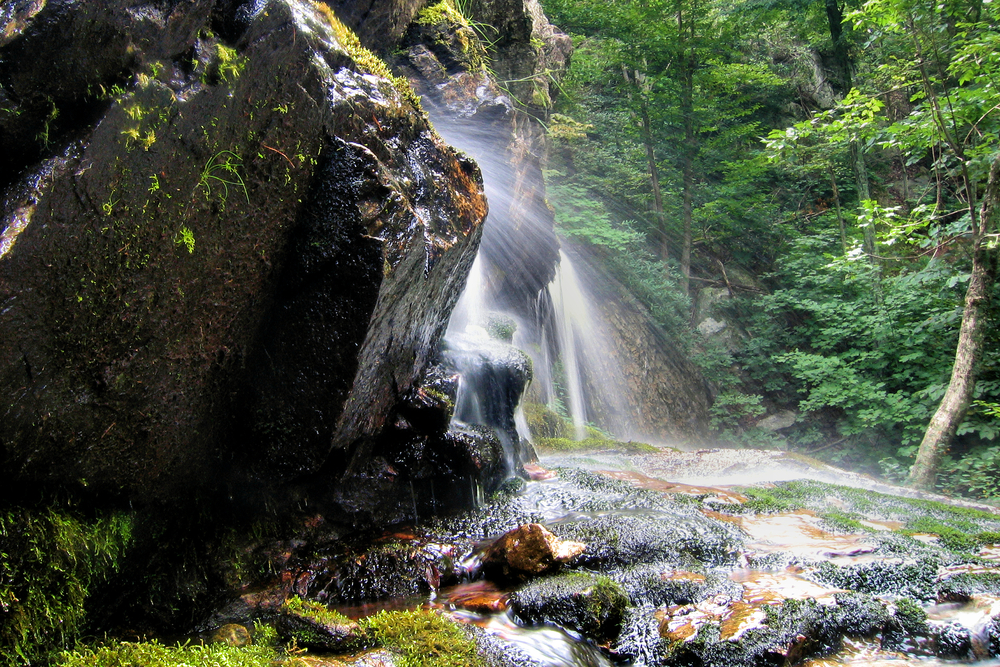 Jacks River Falls Trail
If you are looking for a difficult trail that is for a more experienced hiker, Jacks River Falls Trail is the perfect stop! A backpacking adventure can begin here in the Cohutta Wilderness on this 14.8-mile hike near Epworth, Georgia.
While you are able to make it a short hike, the trip is rewarding! Consider bringing a GPS, compass, or waterproof map since the trail can be unmarked in some areas. This can be thrilling for an advanced hiker!
Being prepared is key for hiking on the Blue Ridge Parkway. Given the difficulty of this hike, it is not recommended for pets or young children. You will be crossing over several rivers that can be knee-deep so a hiking stick and waterproof hiking boots are recommended.
The rivers a beautifully laid with rocks with clinging moss and algae. The trek will lead to spectacular waterfalls and pools of clear water. This is one of the scenic hikes on the Blue Ridge Parkway that can be taken on year-round!
Richland Balsam Trail
Hop on the Richland Balsam Trail for a short and sweet (smelling?) hike! Located southwest of Asheville near Tuckasegee, North Carolina, is this 1.4-mile loop of fern engulfing path! This is a moderately difficult hike due to the steep descent. After all, this is the highest point on the Blue Ridge Parkway at a massive 6,053 feet!
Ferns and wildflowers create fragrant air to enjoy as you conquer this trail. Pack a picnic to enjoy on the tables at the beginning of the trail or on the Hayword Jackson Overlook. Lunch with a view, anyone?
This trail is closed in the colder months as the summits are much cooler than the base of the hike. Mixed with the elevation, it creates poor hiking conditions. Nonetheless, you do not want to miss out on the most impeccable hikes off the Blue Ridge Parkway!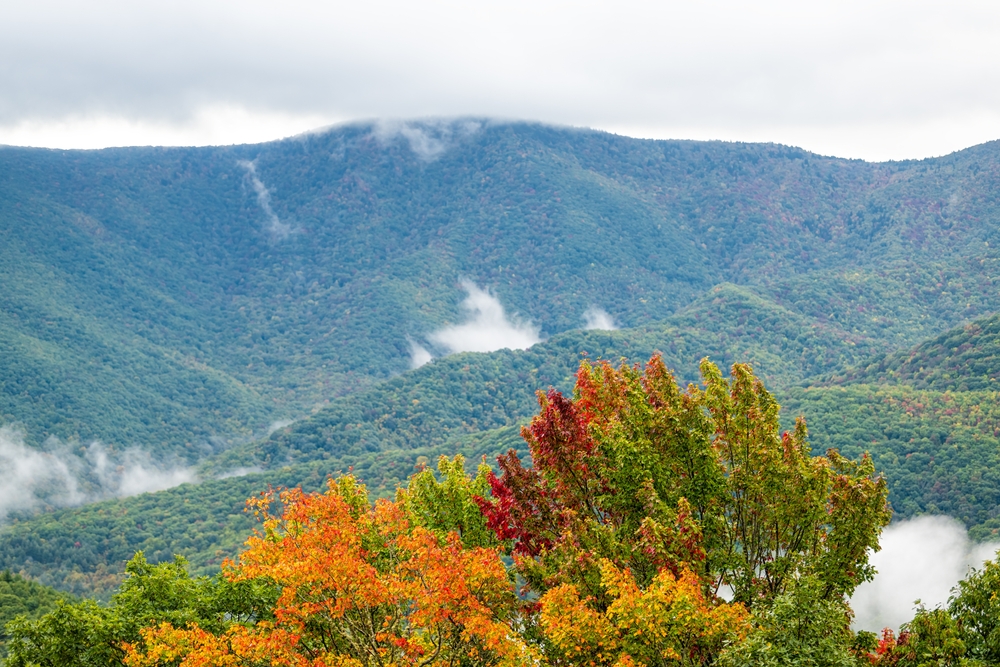 Linville Falls Trail
The Linville Falls Trail is one of the best hiking trails in North Carolina. This area is maintained by the National Parks System and is free to enjoy. You will find the trailhead near mile marker 316.4 on the Blue Ridge Parkway.
The trail system is 2.8 miles with many beautiful viewpoints of the river gorge and the lower and upper falls. The sections vary in difficulty, but are all worth the trek, especially in the fall when the leaf colors pop.
Upper Linville Falls cascades for 90 feet over a rocky cliff. There are plenty of overviews so you can admire the waterfall from all angles. It is possible to also hike down to the water's edge for epic photos.
You do not want to miss out on this amazing landscape when in the Asheville or Boone area. You can also camp here for an even more memorable experience.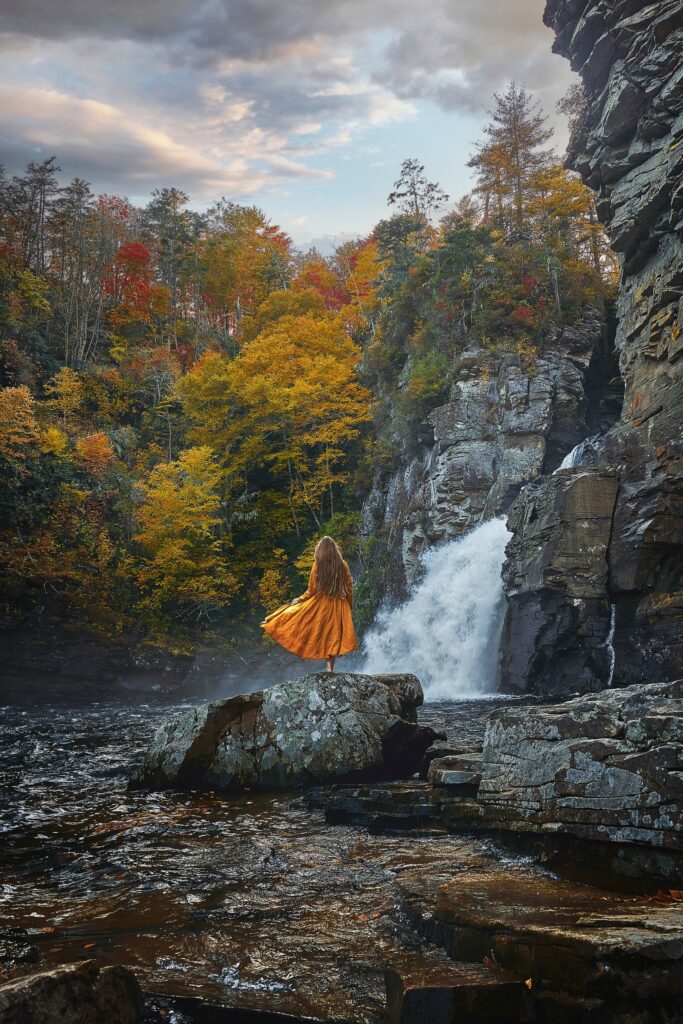 Humpback Rocks Loop
The Humpback Rocks Loop follows a portion of the Appalachian Trail near mile marker 5.8. The trail is nestled in the George Washington National Forest near Waynesboro, Virginia. It is a moderate 4.3-mile loop that brings you to pretty views and rock formations at Humpback Rocks.
Consider doing the trail counter-clockwise to save the steep section for the downhill return trip. This will make the trek a bit easier but there is still a good elevation gain and many stairs to climb.
The ascent is worth it for the 360-degree views of the valley below you. There are many cool, jutting rocks where you can snap a selfie to post on Instagram.
Make sure to stop by the Humpback Rocks Visitor Center as well to learn about the history of the area and see a historic farm.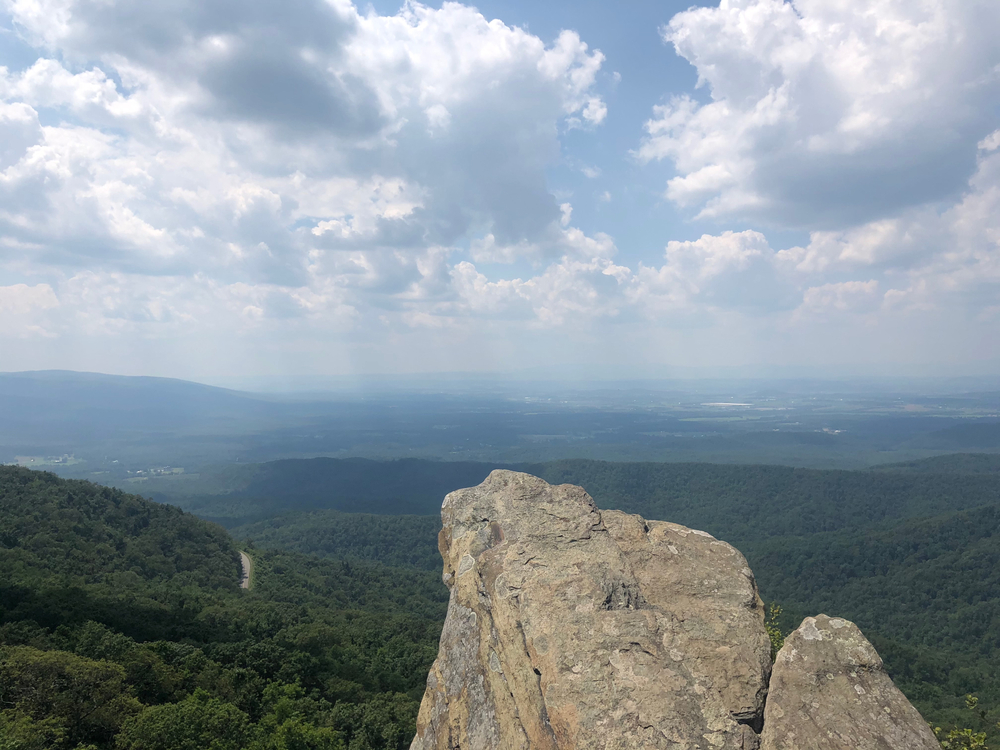 Fryingpan Mountain Lookout Tower Trail
Found in the Pisgah National Forest in North Carolina, the Fryingpan Mountain Lookout Tower Trail will lift you up to over 5,300 feet above sea level. You will be granted views of Mt. Pisgah's summit, Looking Glass Rock, and Cold Mountain.
The hike is a moderate 1.5-mile out-and-back trail. The name comes from a communal frying pan that once hung in a tree here. The 70-foot fire tower dates back to the 1940s and can be climbed for amazing, unobstructed views.
The trail also has many wildflowers. The path is gravel and easy to follow as you traverse one of the prettiest Blue Ridge Mountain hikes.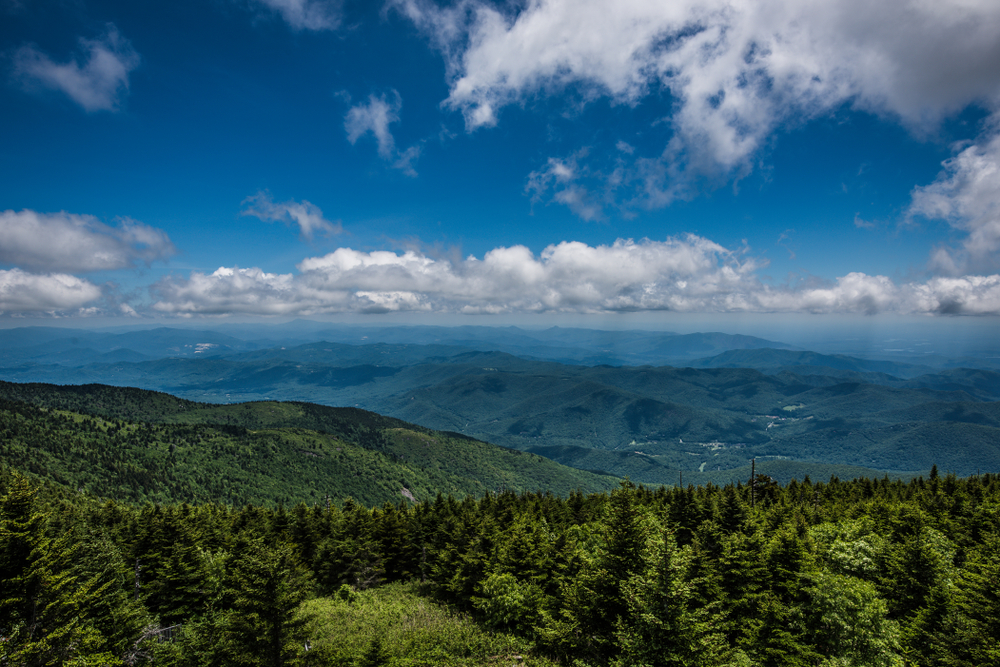 Deep Gap Trail
Head to Mount Mitchell State Park in North Carolina to find the Deep Gap Trail. This moderate to difficult trail is 8.6 miles round trip.
There are some trickier areas with rock scrambling and fixed ropes, so wear good hiking boots. It can also get chilly at the high altitude even in the summer, so bring a jacket along.
Mount Mitchell is the tallest mountain in the Eastern United States at an elevation of 6,684 feet. As you hike the ridge of the mountains, you will have awesome, panoramic views of the the valley and surrounding peaks.
Though it is a tough hike, it is 100% worth it! If you want to lengthen your trip, you can continue onto the Black Mountain Crest Trail which extends about 7 miles into the Pisgah National Forest.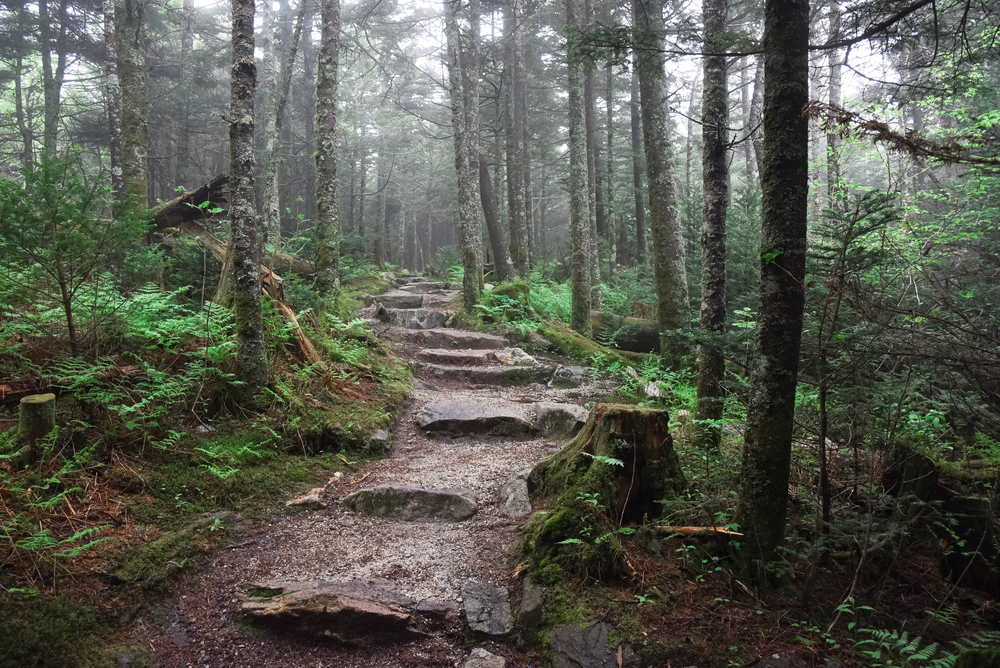 Boone Fork Trail
The Boone Fork Trail is another of the best Blue Ridge Parkway hikes in North Carolina. Found near Blowing Rock, this moderate to difficult hike is a 5.2-mile loop perfect for nature photography and birding.
The trail follows the Boone Fork River, bringing you to views of the 25-foot Hebron Falls. The hike consists of crossing bridges, climbing ladders, and traversing boulders through the river. Make sure to wear water proof boots and expect some muddy areas.
While the hike has its challenges, the scenery makes up for it. You will pass through forests, meadows, and rhododendron tunnels.
This trail is one of the best Blue Ridge Parkway hiking spots. Since is it super popular, arrive early to ensure you get a parking spot and avoid bigger crowds. The parking lot is at the Price Park Picnic Area.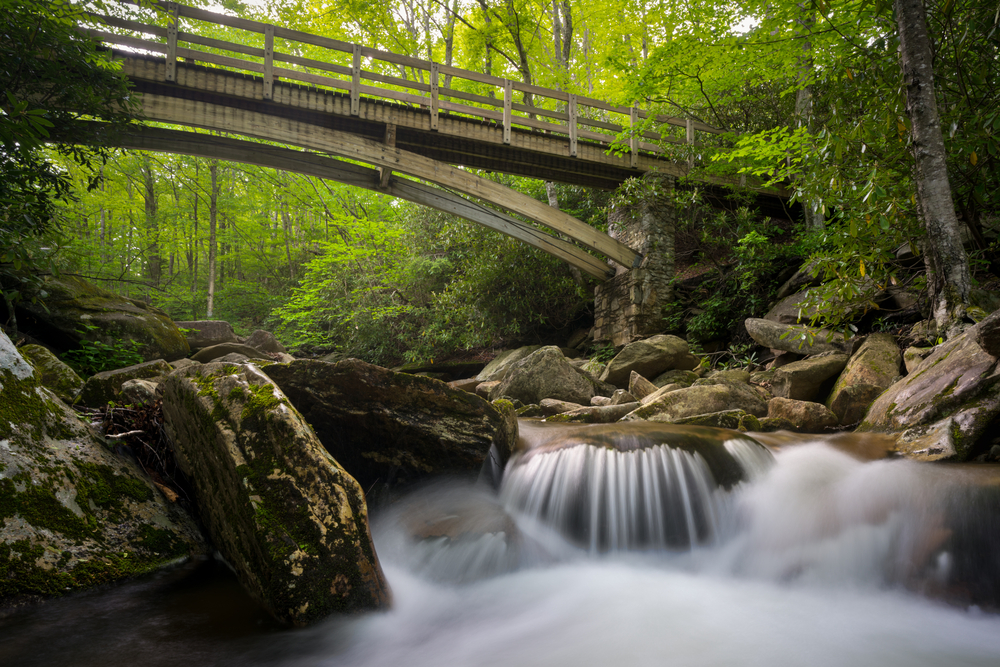 You will absolutely love hiking in the Blue Ridge Mountains! This is one of the most beautiful areas in the United States, especially in the fall when the mountains are set ablaze with bright colors.
From easy Blue Ridge hikes to more challenging trails, there is something for every hiking level.