If you're looking to get away, these treehouses in Georgia offer the perfect escape from reality. There's something nostalgic about staying in a treehouse. It brings back childhood memories of playing in treehouses and climbing the trees.
They also offer the perfect secluded environment among the trees, entangled in nature.Some of these Georgia treehouses are pretty off the grid for more of a camping expirence, there are also several luxury experiences for the best glamping, even with running water. So pick a tree, pack a bag, and get ready for a seriously Instagram-worthy vacation in Georgia.
14 Dreamy Treehouses In Georgia You Can Stay In
Trinity Treehouse
Hello beautiful! This treehouse Airbnb in Stonecrest, Georgia is everything you could want and more. There are certainly no compromises in this dreamy home with the most charming southern mountain home decor. If you're looking for treehouses near Atlanta, this is a perfect spot being just behind an Atlanta suburb, but still nestled into the trees for a secluded experience.
There are 2 bedrooms and 1 bathroom, so it can sleep up to 4 people. This home in the trees will give you all the creature comforts for the best glamping experience like running water, air conditioning, a full kitchen, full bathroom, WiFi, and TV. Nature will still surround you though, with views of birds, deer, and wild turkeys from the main elevated deck and huge 6 ft. windows.
Once you make your way down the treehouse stairs, immediately on your left is the Davidson-Arabia Mountain Nature Preserve, offering 2,500 acres of rolling hills, granite outcroppings, two lakes, and miles of wooded and paved trails. You can also access the orange blaze trail from the treehouse, and paved multi-use biking trails are accessible at nearby trailheads. Or if you want a taste of the city life during your stay, you're just 25 minutes from the Atlanta Beltline and King Center.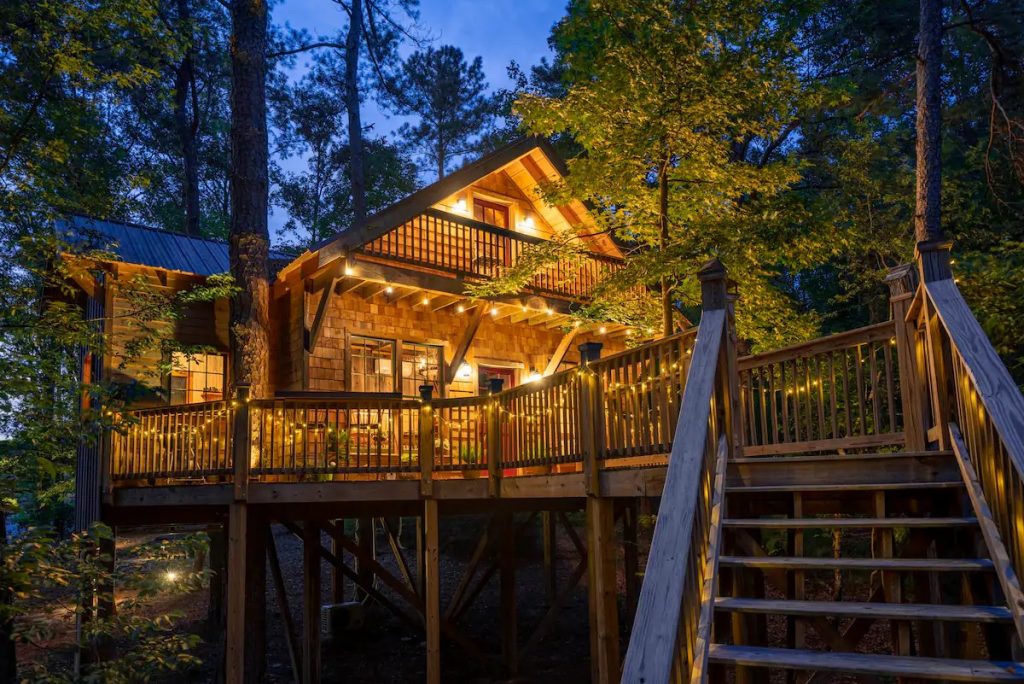 Secluded Treehouse near Helen, GA
Looking more for off-the-grid treehouses in Georgia? This secluded treehouse near Helen might be just right. This treehouse is uniquely made out of all recycled materials, totally secluded, with no running water or electricity, and cars aren't even allowed on site.
You'll be totally in tune with nature in this cozy 1-bedroom treehouse. It's just like camping, but with the comfort of a bed and being high up in the trees for great views of wildlife. There's an outhouse on-site, but don't worry if you need a full bathroom with a shower, that's available to you at the check-in office.
Your car can be left at the check-in office about a 1/2 mile away and then you're a short hike away from your treehouse getaway.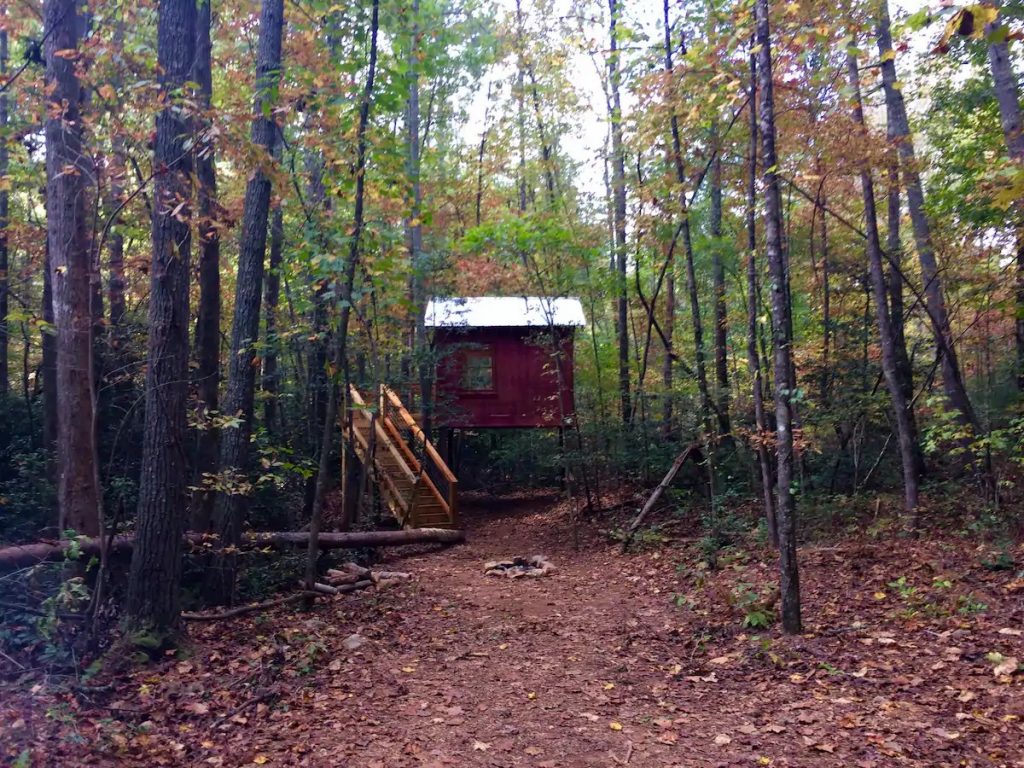 Owl in the Oak Treehouse – Private Forest Escape
If you're looking for an off-the-grid experience, but not quite ready to be too far away from the suburbs, the Owl in the Oak treehouse in Duluth might be perfect. It's situated in the forest behind a neighborhood and offers tiny house living with 120 sq. ft. and a 50 sq. ft. loft bed.
The treehouse includes a kitchenette with a propane stove, mini-fridge, sink, and even a propane fireplace for a cozy atmosphere. You'll also have a small bathroom with a composting toilet, a shower with hot water, and a sink.
Summer offers a very secluded expirence with full foliage, but there's no AC in the home, so you'll have to rely on opening windows for a cross breeze. This home is also fully suspended in the trees, so you just might feel some swaying if the winds are strong.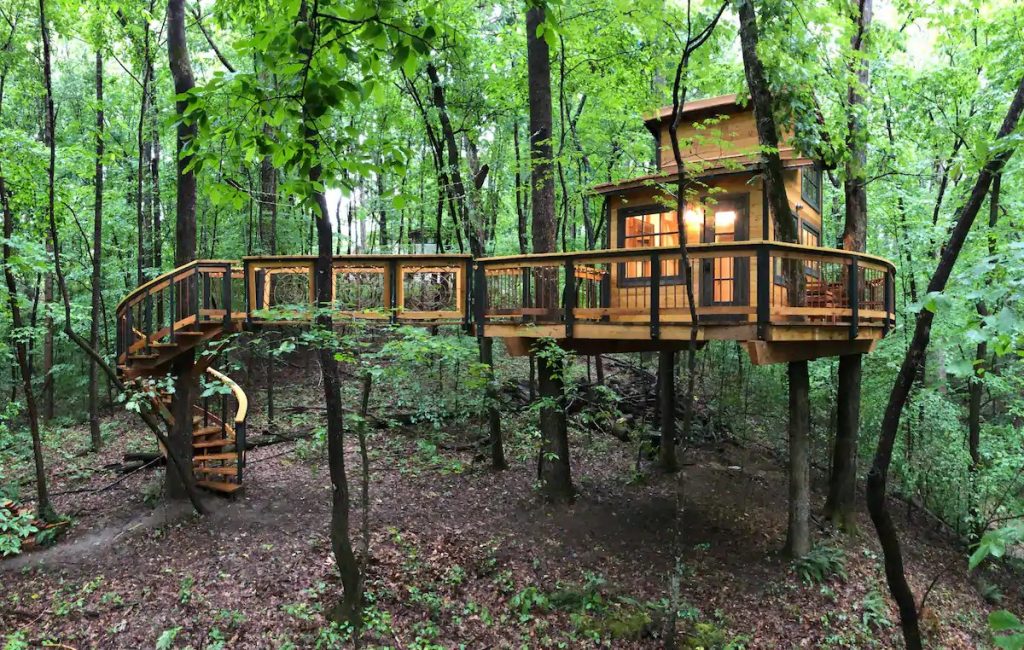 Eden Treehouse at Tiny-Living Eco-Farm & Homestead
Escape reality in this quaint Eden Treehouse in Canton. This 90 sq. ft. space is whimsical and perfect for a getaway for two. Enjoy a glamping experience with a cozy bed, relaxing hammocks, and a deck with a table and chair to enjoy your breakfast with the morning birds.
A stay in this treehouse offers more than a place to rest your head as it's part of Splendor Oaks which offers a woodsy wonderland with a 5-acre farm promoting eco-friendly practices and holistic healing combined with the best southern hospitality. You can also rent kayaks, floats, and finishing poles to enjoy the nearby lake.
The main house on the property offers a guest lounge with a kitchenette, a washroom for bathroom facilities, and a Traveler B&B room with games.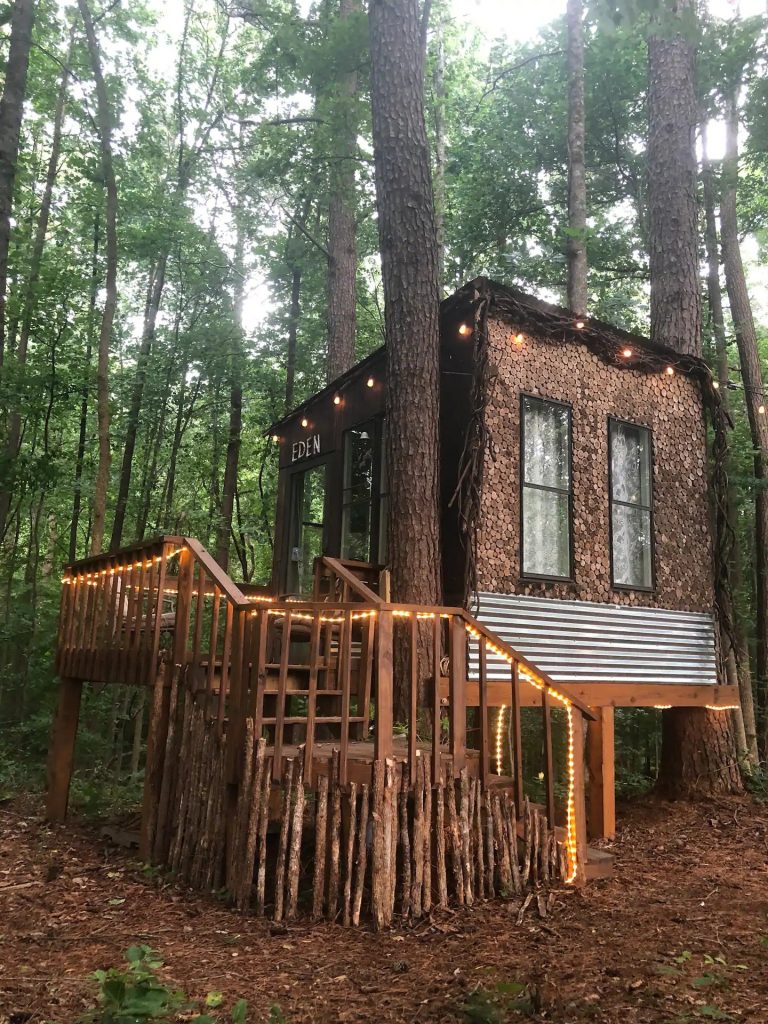 Firefly Bend Treehouse with Hot Tub
If you enjoy nature and you want to trade in city noises for sounds of a rolling creek and birds in the trees, this treehouse is for you. Secluded on a 5-acre property, Hemlock Farm, this Firefly Bend Treehouse is built on a hillside in the bend of the creek which means you'll have amazing views and can relax to the sounds of the flowing creek.
Hiking, kayaking, cycling are all available nearby. You'll also be close to Blue Ridge, Dahlonega, and Blairsville if you'd like to venture into the city during your stay. Or you can enjoy nearby Vogel State Park or Wolf Mountain Winery.
The space offers 1 bedroom and an outdoor kitchen. There is no running water, but there is a main cabin on the property for showers and running water, shared with 2 other treehouses. There's also a hot tub in the treehouse that's perfect for enjoying the creekviews and unwinding in the evenings.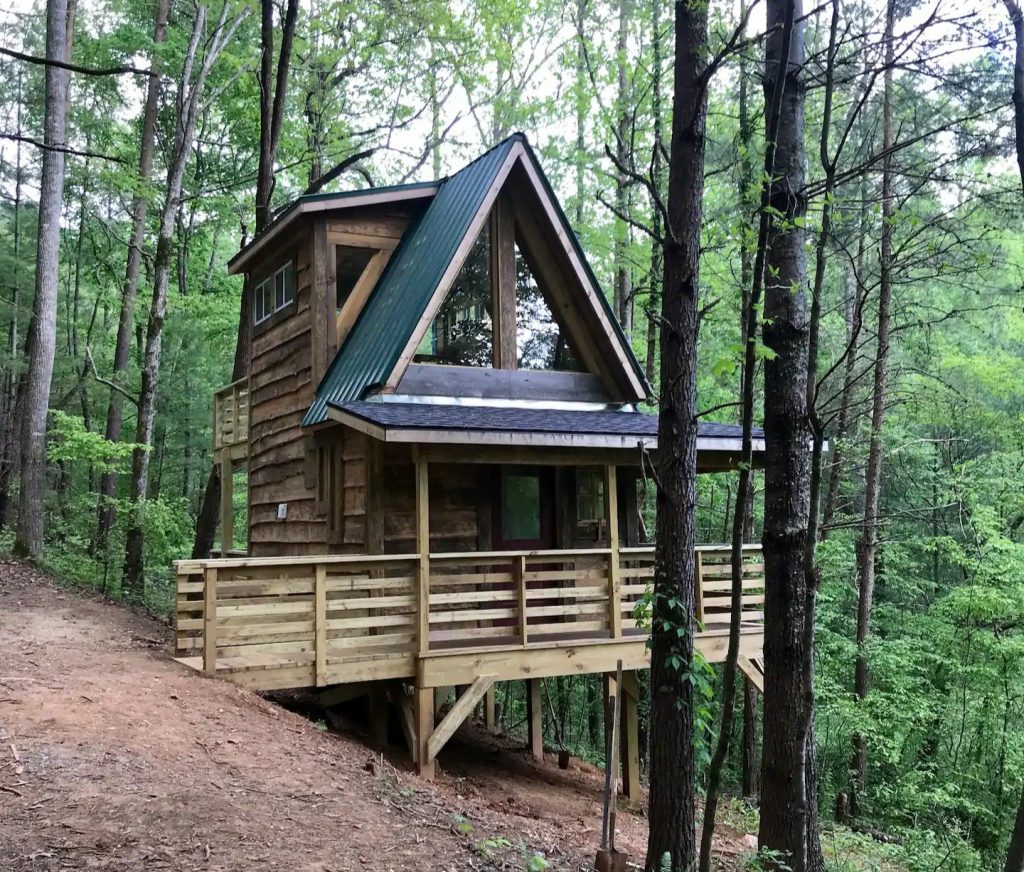 Sereni-tree House – The Book Treehouse of Suches
This Sereni-tree House in Suches sits atop a hill and is full of natural charm, built out of reclaimed farmhouse lumber. Find your escape in one of the hundreds of books to enjoy while sitting on the porch with the sunrise and songs of the morning birds.
This treehouse is also located on Hemlock Farm, so your stay may be met with a few farm animals too. The space has one bedroom with stainglass windows, an outdoor kitchen, and a wrap around porch. There is no running water, but the main cabin offers bathroom facilities shared amongst 3 treehouses.
You'll be just a few feet away from the national forest, where you can hike to the waterfall that creates the creek on the property or to the top of Pilot Mountain.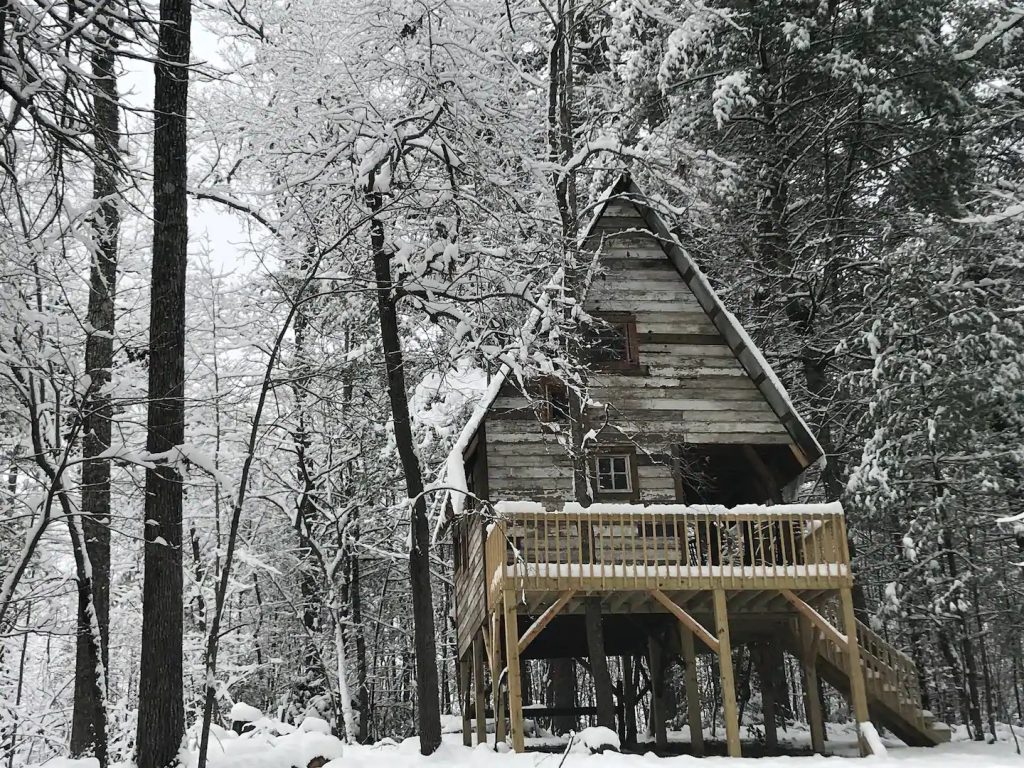 Wiley Mountain Lodge – A Tree House in the Woods
Experience glamping at it's finest in this Wiley Mountain Lodge. If you're looking for a space to experience with a group larger than 2, this spacious mountain lodge is the perfect escape to still get away but not be in a tiny space.
This treehouse lodge is full of history being over 100 years old and every peice of the home is Georgia-made from the quartz stone to the stitched quilts. The lodge used to be an inn to welcome guests off the Tallulah Falls Locomotive Trains, it's now been transformed to be a completely private retreat that can sleep up to 8 people.
The rustic style is seen throughout the 4 bedrooms with wood interiors and stone accents. You'll have a full kitchen, 3 full bathrooms, a living room, dining space, hot tub, and lots of porch and balcony spaces to enjoy the outdoors. The home is very secluded, surrounded by trees for the perfect space to get away and unwind in the woods.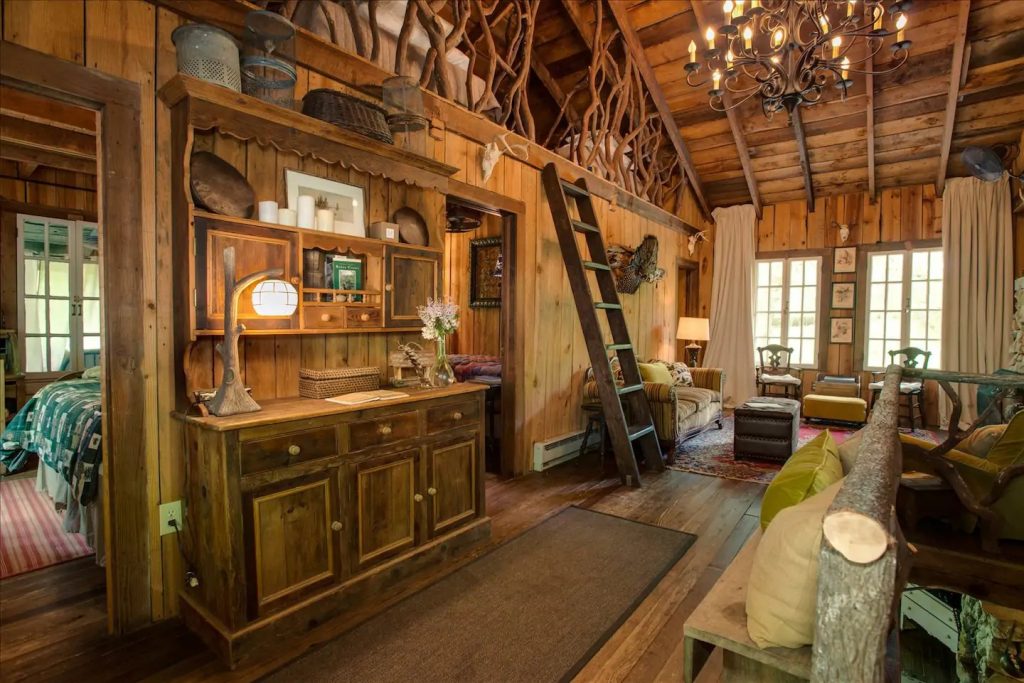 Mountaintop Luxury Treehouse at Selah Ridge
This might be one of the best luxury treehouse rentals in Georgia! It's all in the details in this treehouse, with such attention to the small things to make sure your stay is unforgetable.
The treehouse in Ringold is close to many great activities like wineries, hiking, and whitewater rafting, but the treehouse itself is its own destination with amenities like a custom cedar hot tub, outdoor shower, and breathtaking views that can be enjoyed from all over including the giant picture window that can be opened to let the outdoors in.
This treehouse intentionally doesn't offer wifi in hopes you'll unplug and unwind. This would be a perfect romantic retreat for a couple with one king bed, but there's also a pull-out trundle bed under the main bedroom to sleep up to 4 if needed. There's also a small kitchenette, indoor toilet and sink, and outdoor shower.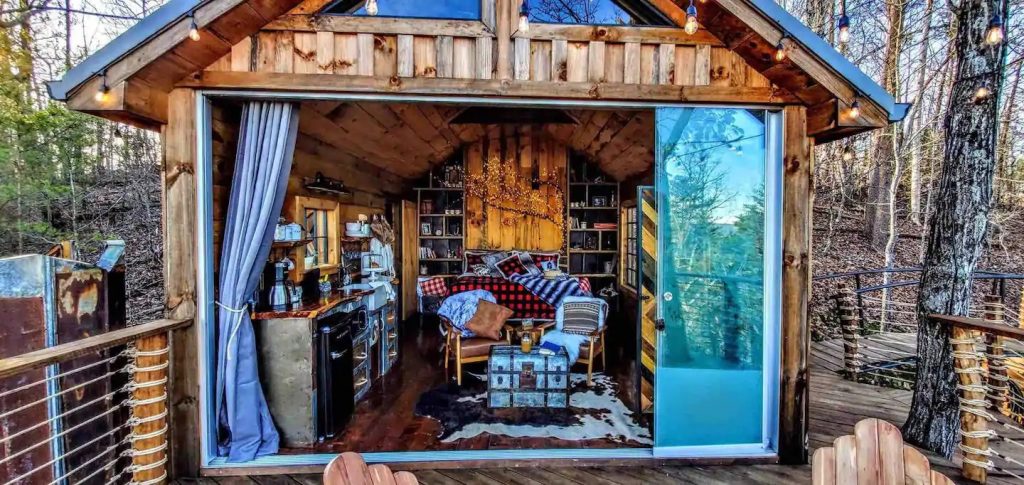 Treehouses at Candlelight Forest/Sophie's Roost
A little bit of home mixed with a little bit of nature is what you'll find in this cozy treehouse cabin in the 200 acres of Candlelight Forest. This treehouse is a hidden gem for families with 2 bedrooms, 1 with a queen bed and the other with 4 single beds and plenty of fun outdoor activities.
The deck offers gorgeous views with an outdoor kitchenette for grilling and creating campsite meals. The home is built on a slope, so the front of the home is easily accessed without a lot of climbing. It's just minutes from Chattanooga which offers lots of fun attractions for families.
Candlelight Forest has two small mountain lakes for catch and release fishing, hiking trails, and a park with badminton, corn hole, a fire pit, and a historic marquee tent with family games. You can also visit the Plucky Peacock farm stand and country store where the director of recreation will help you plan your adventures and take advantage of all the amenities on site.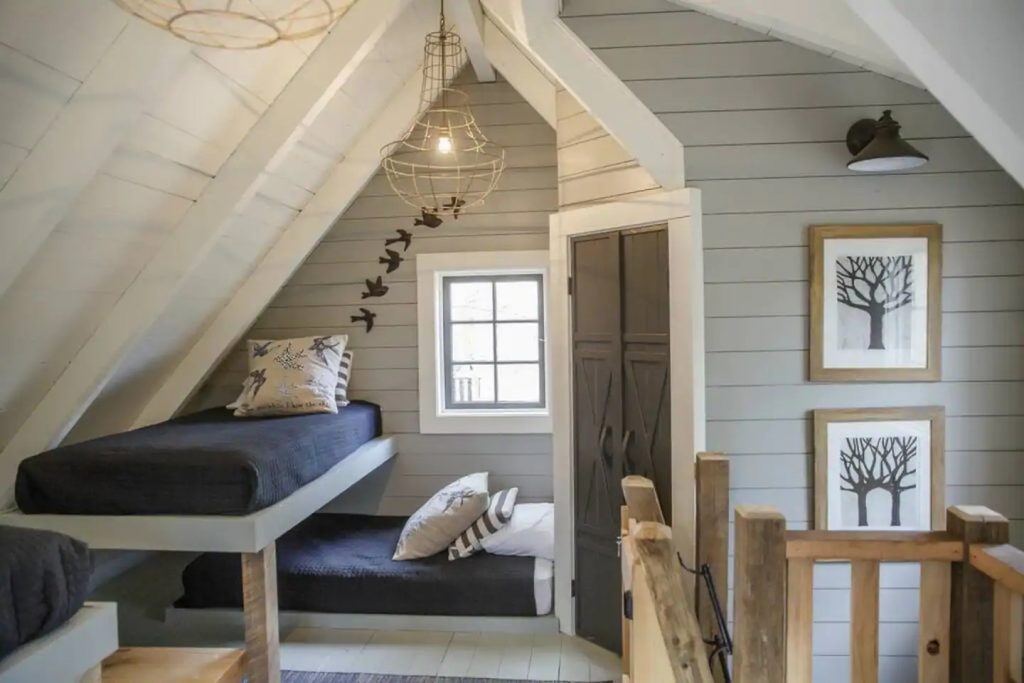 Atlanta Alpaca Treehouse in the Bamboo Forest
This Alpaca treehosue is one of the most unique treehouses near Atlanta! Nesteleted into a bamboo forest on an active rescue farm you'll be able to watch llamas, alpacas, chickens, and dogs roam.
The treehouse can sleep up to 4 people with a queen size memory foam loft bed, and a pull-out couch. There's also a swing rope "Bali" bed underneath the home that some choose to sleep in. You can fall asleep star gazing and watching the bamboo sway through the large skylight and in the mornings watching the sun peak through the jewel tones of the stained glass window.
The treehosue is 15 feet off the ground and below you is where the alpacas and lamas graze. You'll have heat, AC, electricity, a mini fridge, coffee maker and 3 gallons of potable water. There's no running water, but a fully functioning bathroom is just a short walk away.
This home is also known for being featured in "Treehouse Masters," "Kevin Probably Saves the World," and "Love is Blind." It's also a popular spot for weddings, engagements, and photography with it's unique style and features.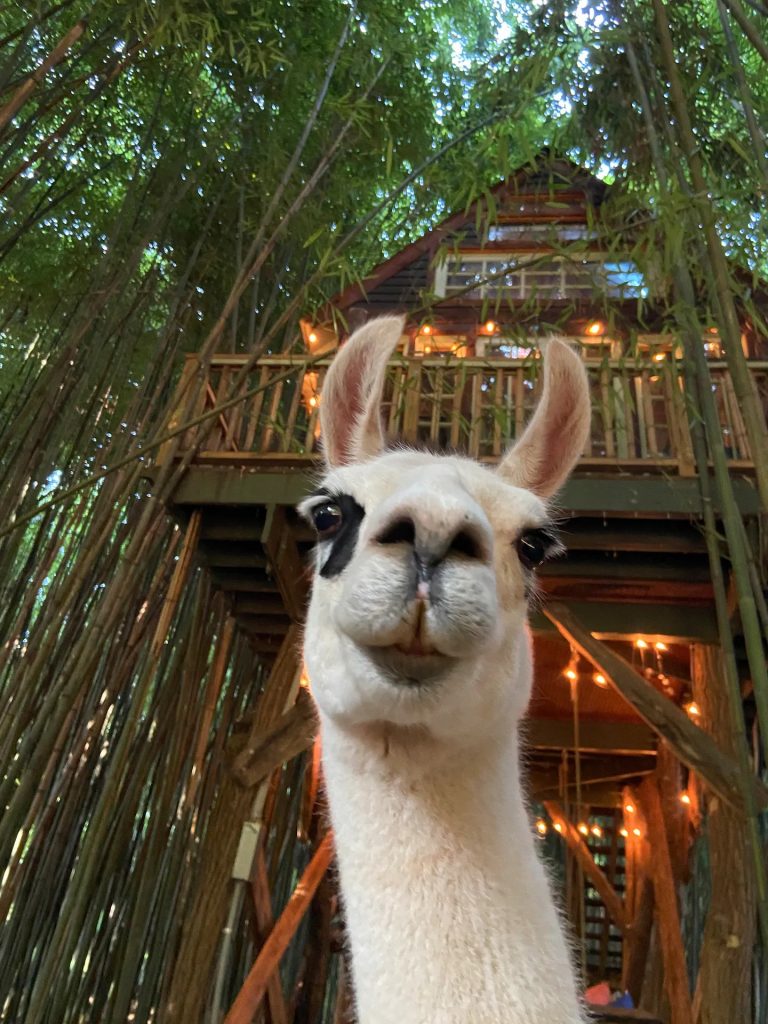 Attitude Adjustment
This Attitude Adjustment treehouse in Helen has such an appropriate name. How could you not be in a good mood in such a cozy and relaxing space? The treehouse offers a luxurious escape with 2 bedrooms and 2 bathrooms.
The living room space is perfect for gathering with a fireplace and huge floor to ceiling window for amazing forest views and letting in the glow of the sunset in the evenings. You can unwind on the screened porch or in the hot tub. There's also a loft area with a foosball table to have a little fun.
This treehouse is about 7 miles from Helen, GA so you'll be just a short drive away from the cities attractions like exploring the Bavarian-style downtown or tubing down the Chattahoochee River.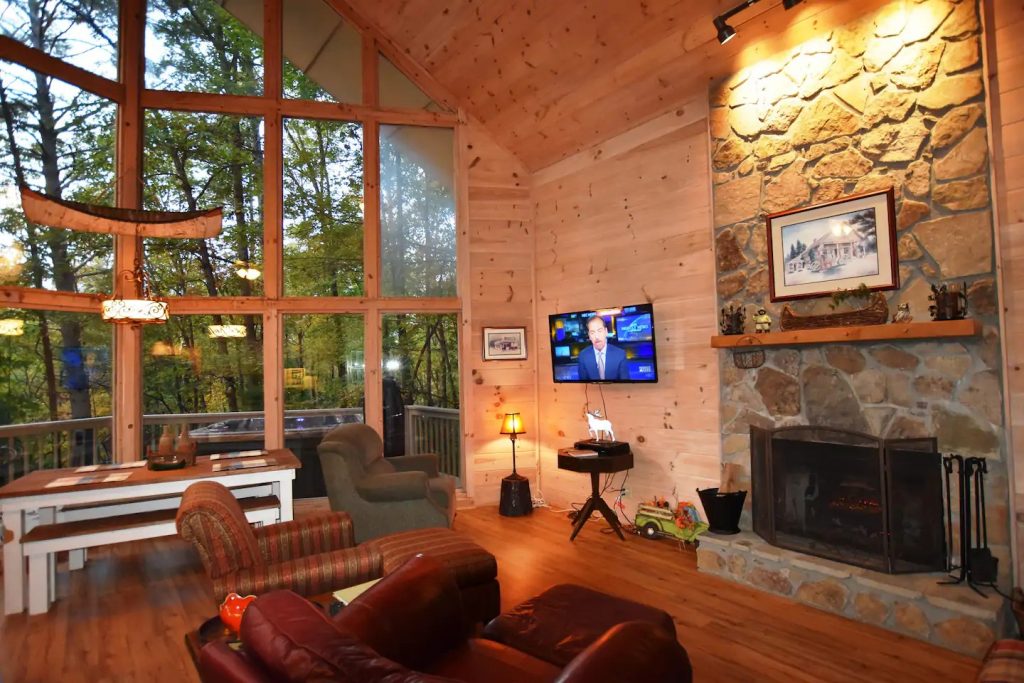 Secluded Intown Treehouse
Secluded treehouse rentals in Georgia that are still close to the popular cities can be hard to find, but this treehouse near Atlanta is a little hidden gem. Featured on the show "Treehouse Masters," this cozy and romantic space is the perfect getaway for a couple.
There are three seperate rooms all connected by rope bridges centered around mind, body, and spirit. "Mind" for the sitting room with unique antiques and the perfect place to read a book or chat, "body" for the bedroom to sleep and recharge in, and "spirit" for the hammock deck where you'll be immersed in the greenery.
It is truely an escape from the real word within the Atlanta city limits where you can connect with your loved one and with nature.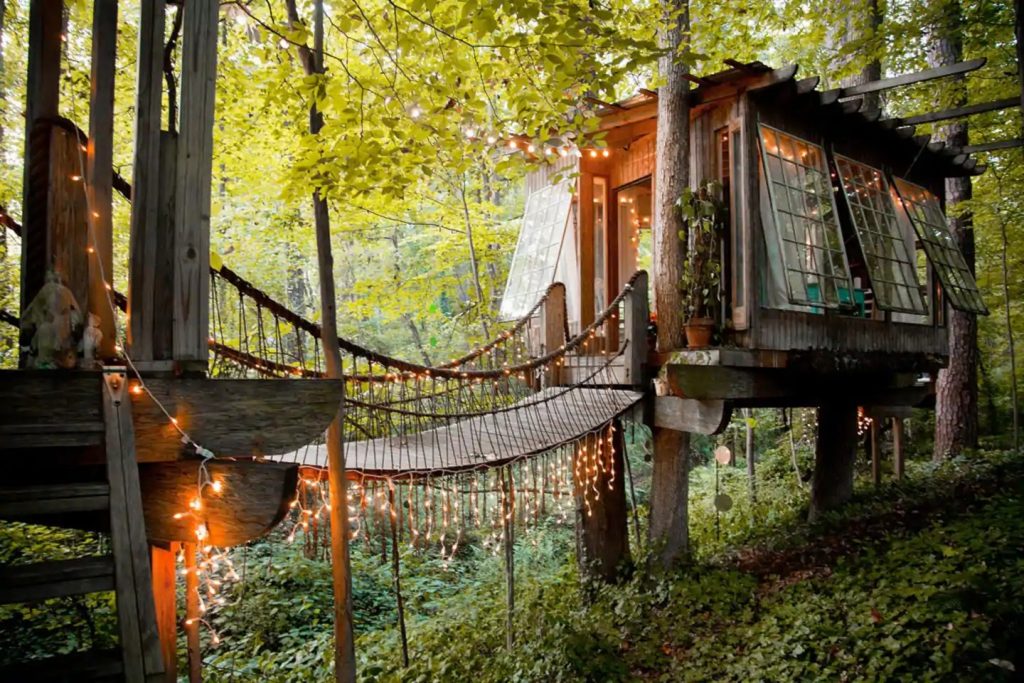 Bed+Bough, an enchanting Treehouse Retreat
The Bed+Bough treehouse in Dawsonville is sure to bring back the nostalgia of everything you loved about treehouses as a kid, but still with a comfortable stay.
This private retreat high in the trees offers luxurious accommodations with a whimsical flair. The treehouse brings you the comforts of home with a king-size loft bed and queen size pull out couch, kitchenette, microwave, toaster oven, sink, and French Press. It sits on a private 5-acre property so you'll feel secluded but you're still just minutes from great local attractions.
Unlike many other treehouses in Georgia, this one offers running water with a full bathroom. It's designed for ultimate glamping with a fire pit, Adirondack chairs, outdoor dining area, and pizza oven all on the grounds of the property.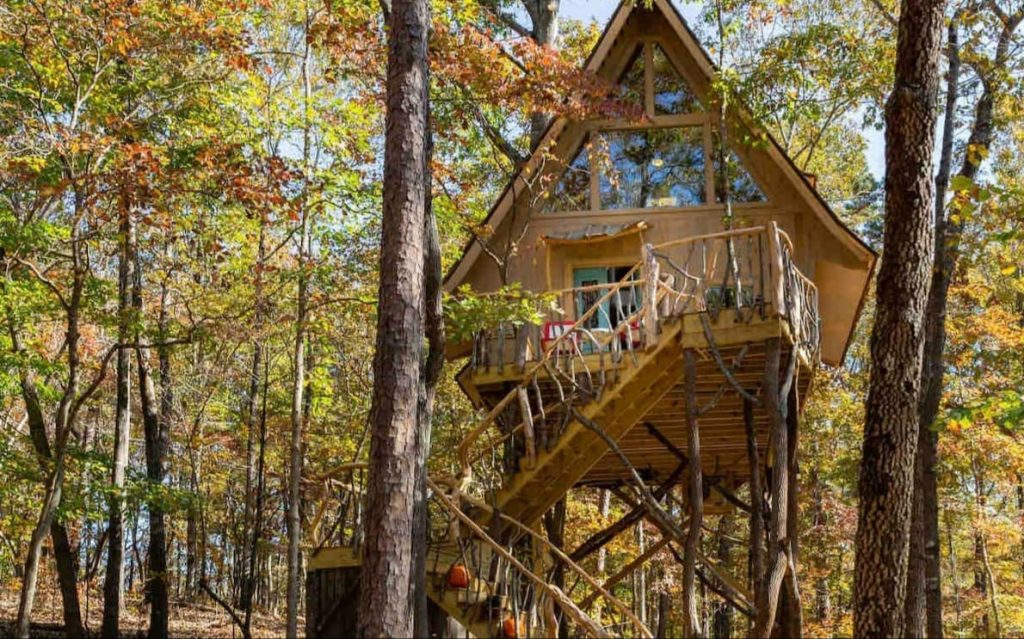 Whippoorwill Retreat Treehouse
There's a wide variety of treehouse Airbnbs in Georgia, but this Whippoorwill Retreat is particularly unique with a modern design, antique decor, and plenty of connection to the nature that surrounds it. It is designed to bring the outdoors in with floor to ceiling views, a wrap-around porch, a sun/moon rise perch, and a gas fire pit.
There are 2 bedrooms, one with a unique suspended bed, and one with a skylight for overhead views of the trees and stars at night. Running on solar power, the home incorporates green practices and products better for the environment you're living in. There are also lots of antique features full of history in this treehouse, as well as a gorgeous floor to ceiling glass window which is supported with live edge beams from a 150-year-old Eastern Red Cedar tree.
Your stay includes a golf cart to take you down a scenic path to your treehouse and once you arrive there's a convenient luggage lift to carry your luggage up, so you don't have to carry it up the steps. You also have an option to hire a professional chef to have your meals prepared for you in the home or brought to you as a gourmet picnic basket. There's also a small kitchenette and coffee bar if you'd like to prepare your meals yourself.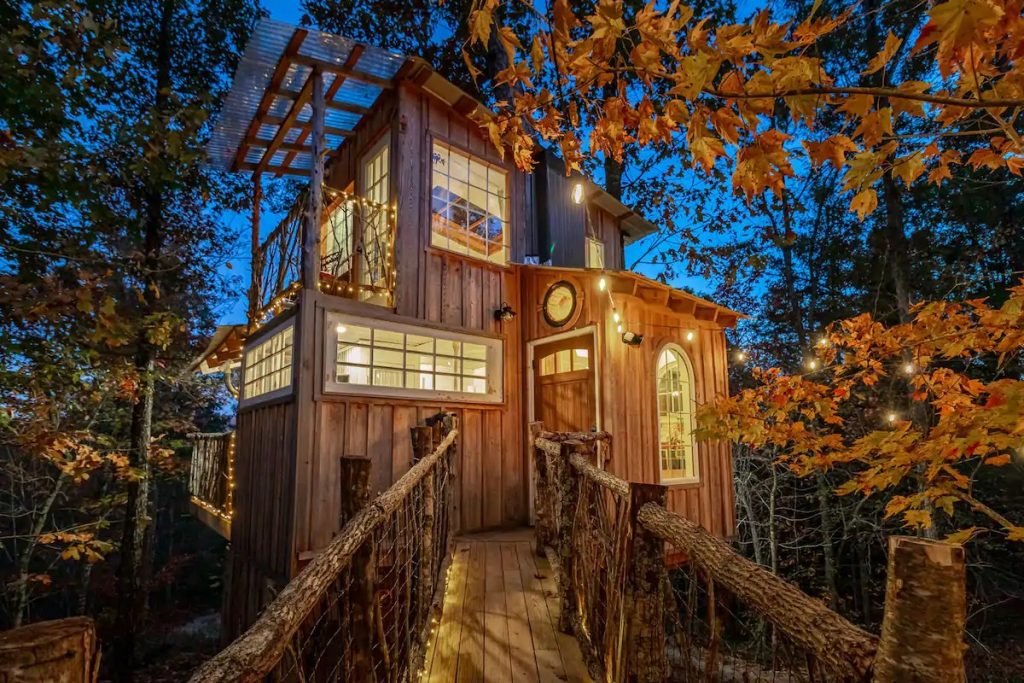 Treehouses in Georgia seem to offer the most dreamy escapes with the lush green landscape, great weather, and so much to do in the nearby cities. If you're trying to decide what part of Georgia to visit, we also have a list of fabulous weekend getaways in Georgia.
These treehouses would be great for a week long retreat or just weekend getaway to unwind a unplug. If a treehouse stay is just a pit stop for you, make sure you check out our Ultimate Georgia Road Trip.