If you're looking to get away, these treehouses in Georgia offer the perfect escape from reality. There's something nostalgic about staying in a treehouse. It brings back childhood memories of playing in treehouses and climbing the trees.
They also offer the perfect secluded environment among the trees, entangled in nature.Some of these Georgia treehouses are pretty off the grid for more of a camping expirence, there are also several luxury experiences for the best glamping, even with running water. So pick a tree, pack a bag, and get ready for a seriously Instagram-worthy vacation in Georgia.
14 Dreamy Treehouses In Georgia You Can Stay In
Canopy Blue Luxury Treehouse
Hello beautiful! This Canopy Blue Luxury Treehouse in Blue Ridge, Georgia is everything you could want and more. There are certainly no compromises in this dreamy home with the most charming modern mountain home decor. This home is located near the popular Aska adventure area and have everything you wish for!
There is 1 bedrooms and 1 bathroom, but it can sleep up to 6 people. There is a queen bed for the bedroom, a hanging queen bed in the sofa area and both a sofa bed and bunk beds in the living room, making it perfect for families with children. This home in the trees will give you all the creature comforts for the best glamping experience like running water, air conditioning, a kitchen with two burners and a fridge , full bathroom, WiFi, and TV but no cable. Plus nature will still surround you, as the property is located on 4 acres of private woods, and there is the popular Benton MacKaye Trail right out the door!
The outdoor deck area is double the size of the cabin, with ample seating such as rocking chairs, hammock, an outdoor hot tub, fire pit, picnic table, bbq grill making it the perfect place to relax while being surrounded by nature, as the home is build around trees. You can often spot wildlife such as deers!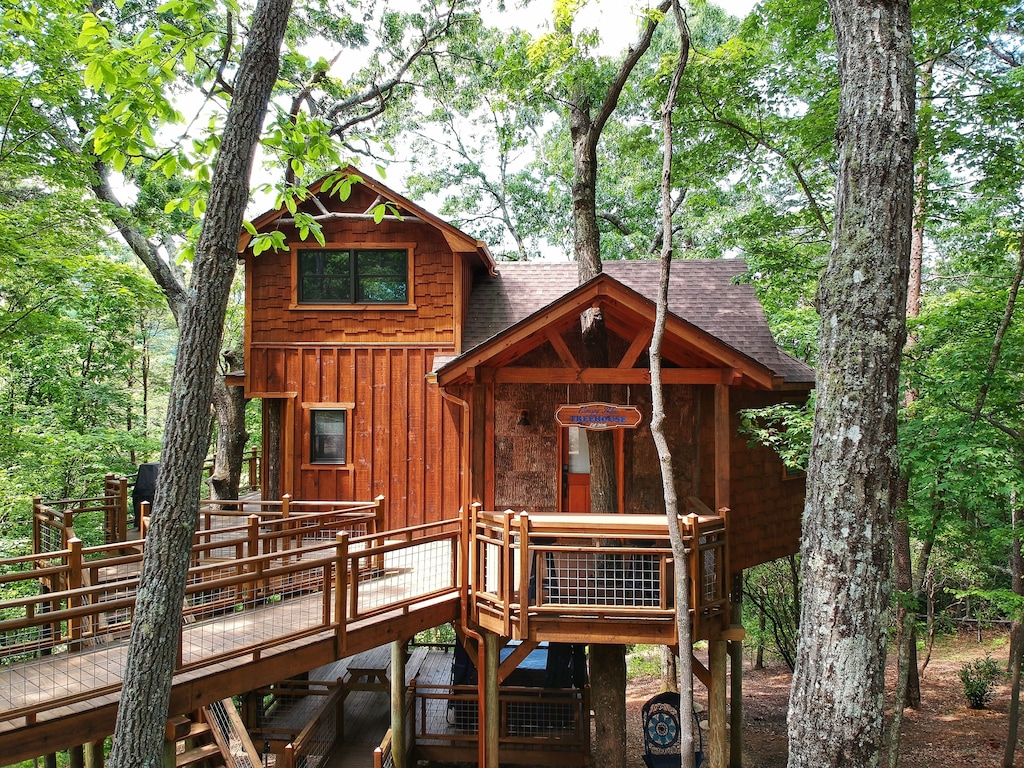 Inn The Ravine
Located just outside Blue Ridge, Georgia in the small town of Cherry Log you will find the luxury Inn the Ravine treehouse rentals in Georgia. This treehouse is unique and unlike any other property as it was designed with meticulous details! The owners also own the Canopy Blue treehouse above. When you pull up you will notice two trees coming out of the roof!
You'll be totally in tune with nature in this two bedroom, one bath treehouse that sleep 5. Perfect for couples and families alike, as there is one bedroom downstairs and one in the loft area. With a California king, a queen bed and a twin window bed there is plenty of space to spread out! The decor aims to bring the outdoors inside with natural and muted colors and textures and tons of natural wood, and windows in every room showcasing the beautiful outdoors.
There area several outdoor patio areas with seating to enjoy a cup of coffee or a cocktail, including a screwed in porch room with a fireplace, an over 1000 square foot deck wrapping around the treehouse with a hot tub!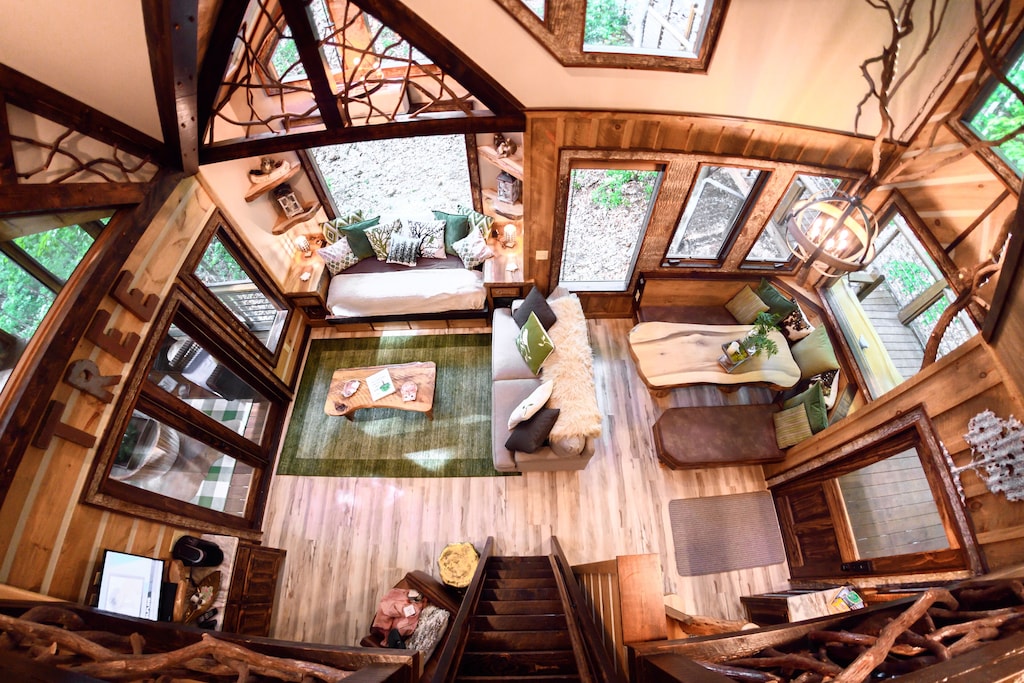 Creekside Treehouse
If you're looking for an a magical treehouse experience, you will want to check out this Creekside Treehouse home! This property is one of a kind, and offers guests a secluded property just steps from Storey Mill Creek in the Chattahoochee National Forest. Perfect for those looking to enjoy the outdoors.
The treehouse is one bedroom and one bath and sleeps 2 guests. The bedroom has a queen bed, a full kitchen and an outside deck. On the deck you will find an outdoor cover hot tub.
On the property not only can you enjoy the peaceful creek where you can sit on the bench, you can roast marshmallows in the fire pit and you have access to your very own private blue hole. A natural spring perfect for swimming and fishing. In the summer this is the perfect place to cool off from the hot sun!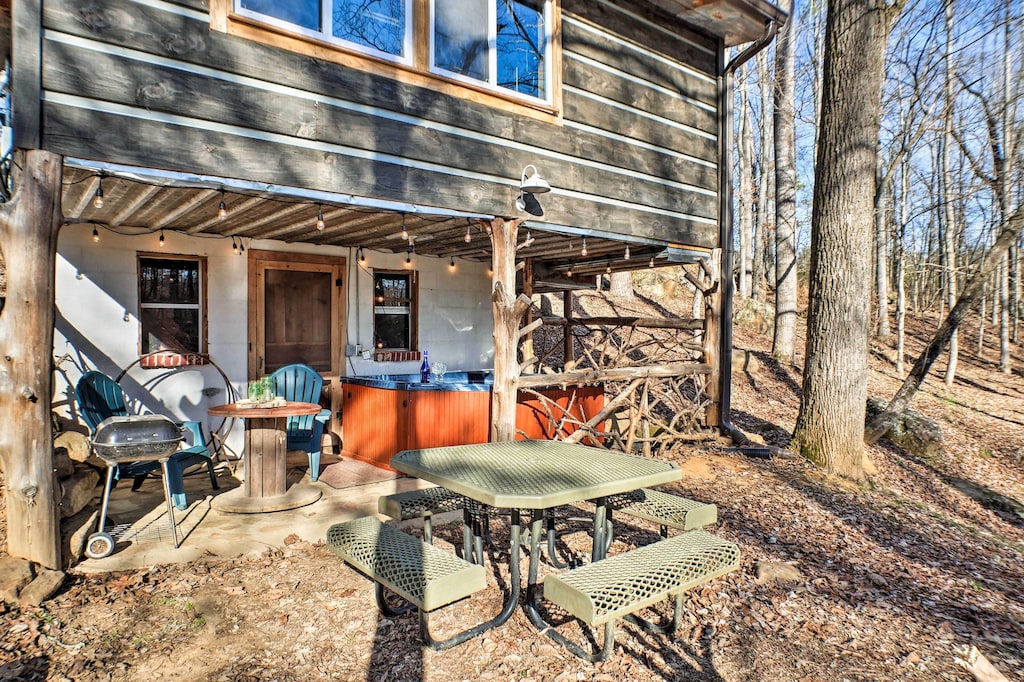 3 Peaks Treehouse
Escape reality in this elegant 3 Peaks Treehouse . This Mountain View home is perfect for large groups as it sleeps 8 guests and located just outside of Blue Ridge, Georgia . This 3600 sq. ft. space even has a cozy separate treehouse perfect for a couple just steps away features its own kitchenette, bathroom, AC and tv and bed.
A stay in this treehouse offers more than a place to rest your head. The cabin everything you could want. With four bedrooms each with a king bed and four bathrooms, with plenty of living space.A fully equipped kitchen perfect for cooking for your entire party, a large dining room table facing the mountains, high end furnishings, a gas fireplace and more. After a long day relax in the hot tub or relax on the screened in porch or one of the wrap around patios.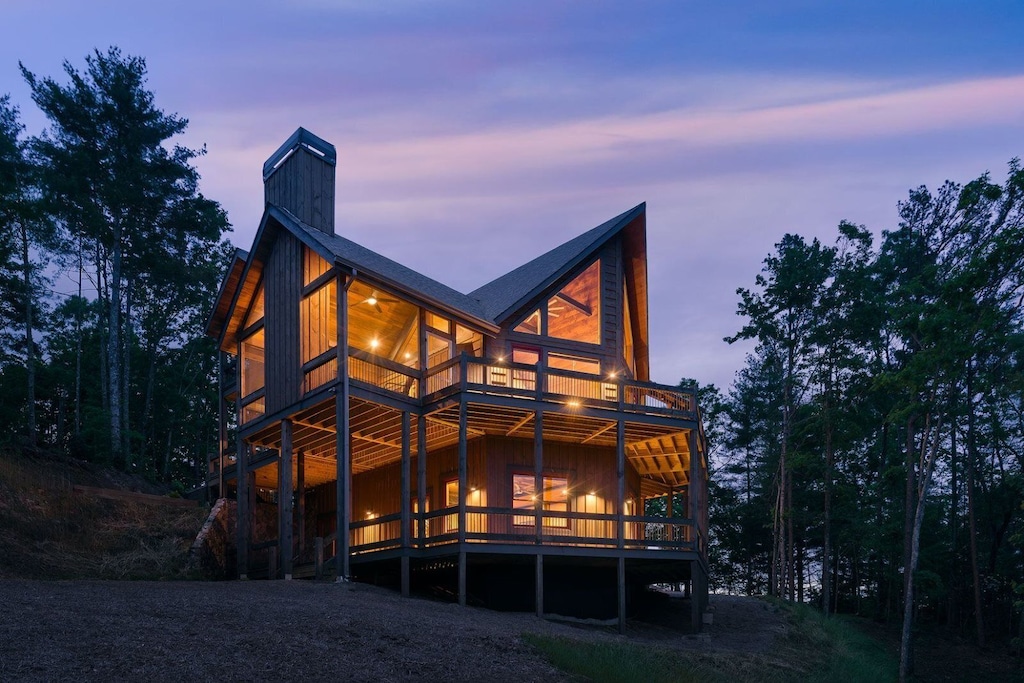 Blue Ridge Treehouse
If you enjoy nature and you will want to check out this stunning log cabin only minutes from downtown Blue Ridge. The Blue Ridge Treehouse is over 2500 sq feet with 3. bedrooms and 3 bathroom sleeping up to 8 guests.
Secluded with mountain views, this three story home features outdoor covered decks on each floor. There is an open floor plan with large kitchen, a gas fireplace, high ceilings and plenty of windows framing the mountains. Plenty of Tv's and on the lower level you will find a game room with foosball table and laundry room.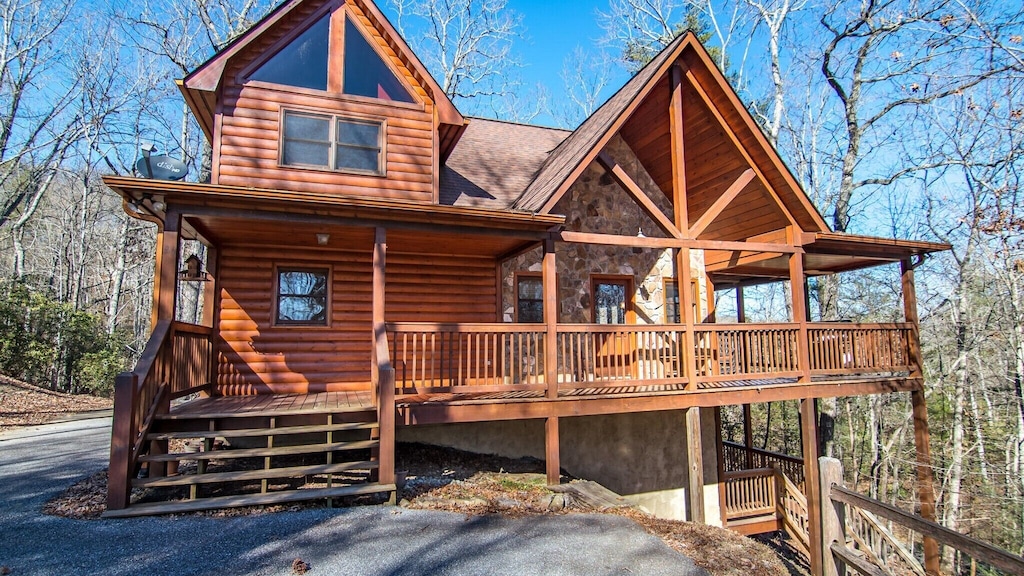 Waterfront Cabin Treehouse
This Waterfront Cabin Treehouse in Dahlonga sits atop a 52 acer protected nature preserve. As you travel down the long driveway you will be transported to your own private oasis at Frog Creek that boarders a National Forest.
This treehouse has two bedrooms and two bathrooms and can accommodate 6 guests. The is one of the treehouses in Georgia that is situated overlooking a large pond that is filled with bass, and a waterfall. The property features a fire pit and numerous paths along the water.
You'll be just a few feet away from the national forest, where you can hike through the various trails. Just minutes away you can do panning for gold if you decide to leave the property.
There is a treehouse with a queen bed and sleeper house with 4 bunkbeds but they do not have running water or electricity. The cabin has three bedrooms each with king beds and a beautiful claw foot tub overlooking the pond in the master.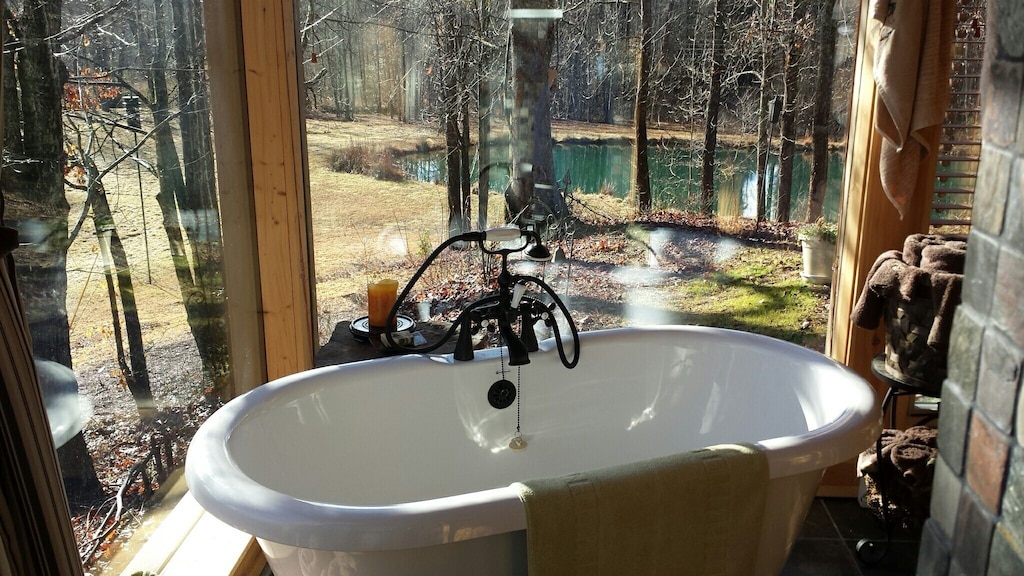 A Tree House in the Woods
Experience glamping at it's finest in A Tree House in the Woods. If you're looking for a space to experience with a group larger than 2, this spacious mountain lodge is the perfect escape to still get away but not be in a tiny space.
This treehouse lodge is full of history being over 100 years old and every peice of the home is Georgia-made from the quartz stone to the stitched quilts. The lodge used to be an inn to welcome guests off the Tallulah Falls Locomotive Trains, it's now been transformed to be a completely private retreat that can sleep up to 8 people.
The rustic style is seen throughout the 4 bedrooms with wood interiors and stone accents. You'll have a full kitchen, 3 full bathrooms, a living room, dining space, hot tub, and lots of porch and balcony spaces to enjoy the outdoors. The home is very secluded, surrounded by trees for the perfect space to get away and unwind in the woods.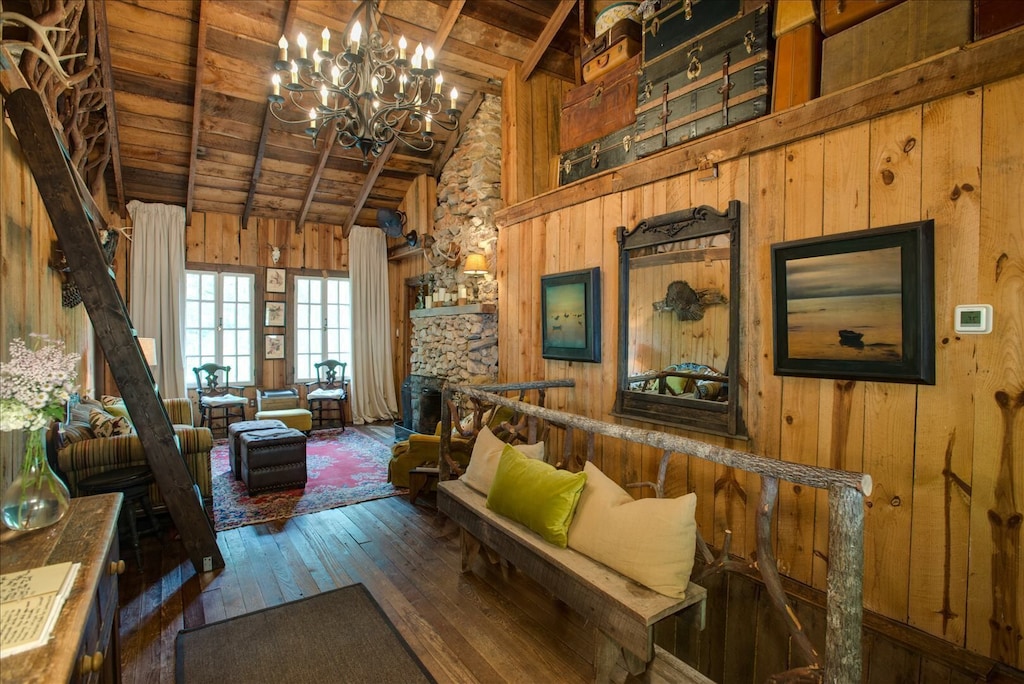 Treehouse with Elegance
This might be one of the best treehouse rentals near Ellijay Georgia! It's all in the details in this Treehouse with Elegance. The idyllic setting is perfect for couples looking for a romantic get-a-way in the mountains.
All guess will be met by host, and driven up to their mountain top treehouse by the host. There is one bedroom and one bathroom but can accommodate up to 4 guests, the lofted bedroom is very large with a king size bed. Awaiting you on your arrival with be a complimentary bottle of wine and cheese platter!
During the summer months guests love to make use of the river on the property where you can use the kayaks on property to explore! From the soaking hot tub on the back porch, to the wood fire pit, the porch swing chairs the cabin is set up so you can enjoy nature.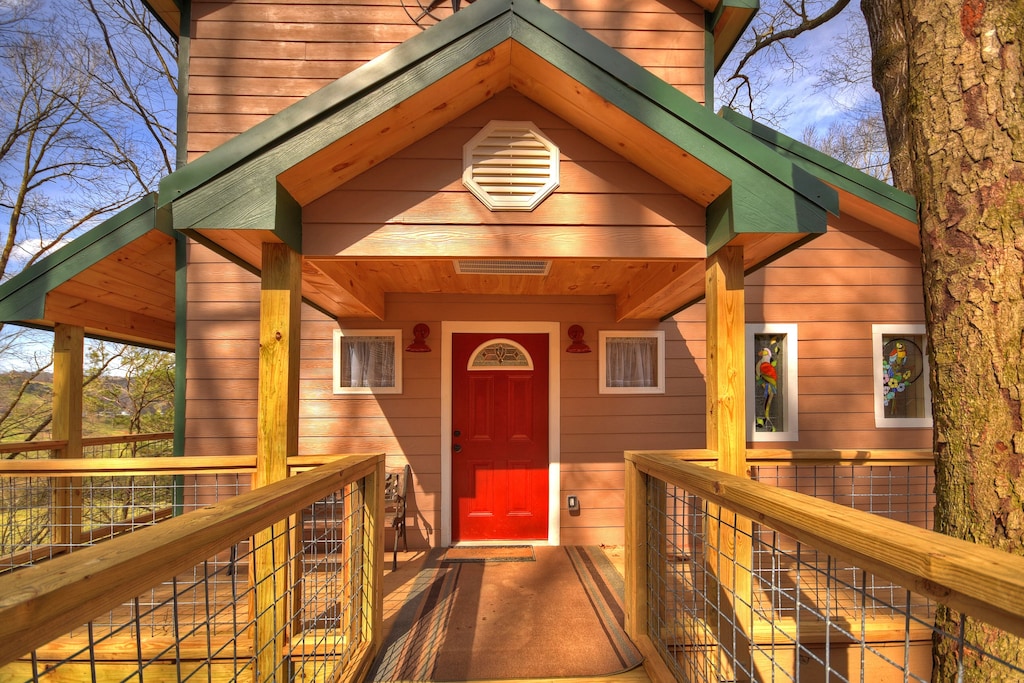 Treehouses at Candlelight Forest/Sophie's Roost
A little bit of home mixed with a little bit of nature is what you'll find in this cozy treehouse cabin in the 200 acres of Candlelight Forest. This treehouse is a hidden gem for families with 2 bedrooms, 1 with a queen bed and the other with 4 single beds and plenty of fun outdoor activities.
The deck offers gorgeous views with an outdoor kitchenette for grilling and creating campsite meals. The home is built on a slope, so the front of the home is easily accessed without a lot of climbing. It's just minutes from Chattanooga which offers lots of fun attractions for families.
Candlelight Forest has two small mountain lakes for catch and release fishing, hiking trails, and a park with badminton, corn hole, a fire pit, and a historic marquee tent with family games. You can also visit the Plucky Peacock farm stand and country store where the director of recreation will help you plan your adventures and take advantage of all the amenities on site.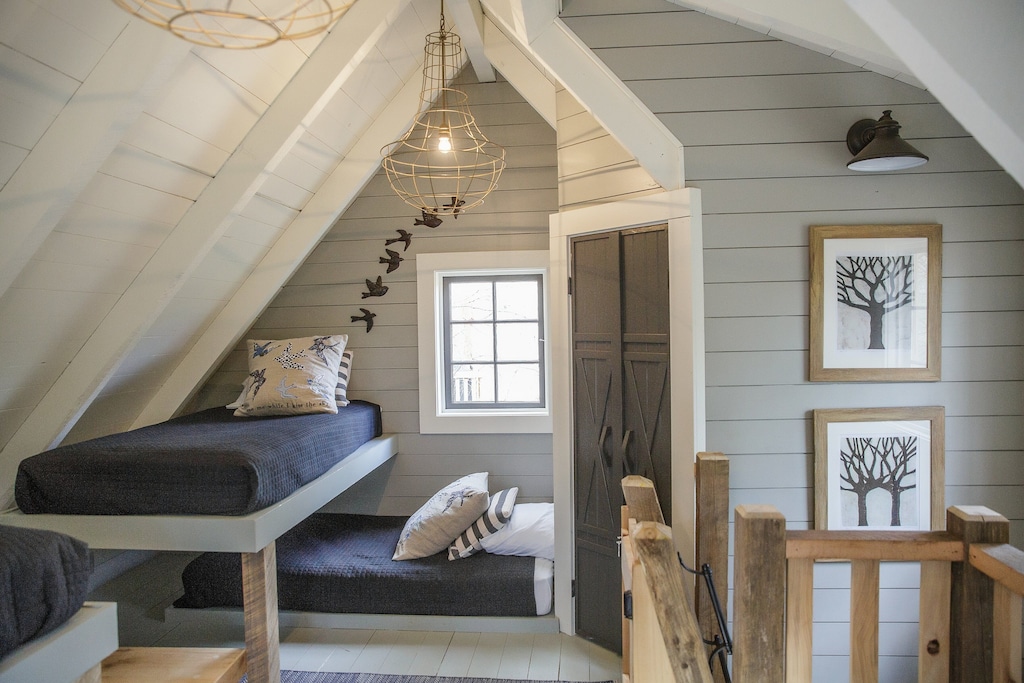 Urban Glass Tree House
The Urban Glass Tree House is one of the most unique treehouses near Atlanta! A mix of modern glass, and rustic setting this two bedroom, two bathroom treehouse is a gem and sleeps up to 7 guests!
Located near the midtown area, just two blocks from both Atlanta Station and .GA Tech campus this treehouse is a must visit! With an open floor plan the host is all about showcasing local Atlanta. From the local fresh ground coffee offered in a full kitchen with top of the line appliances and fully stocked kitchen to bathrooms with heated floors.
There is a full dining room that sits 8, and the home includes wifi, and TV. You can enjoy the upstairs outdoor glass balcony perfect for enjoying the mornings. This rental is great option for those visiting the campus of GA tech, just be aware this is a college neighborhood so there is some noise!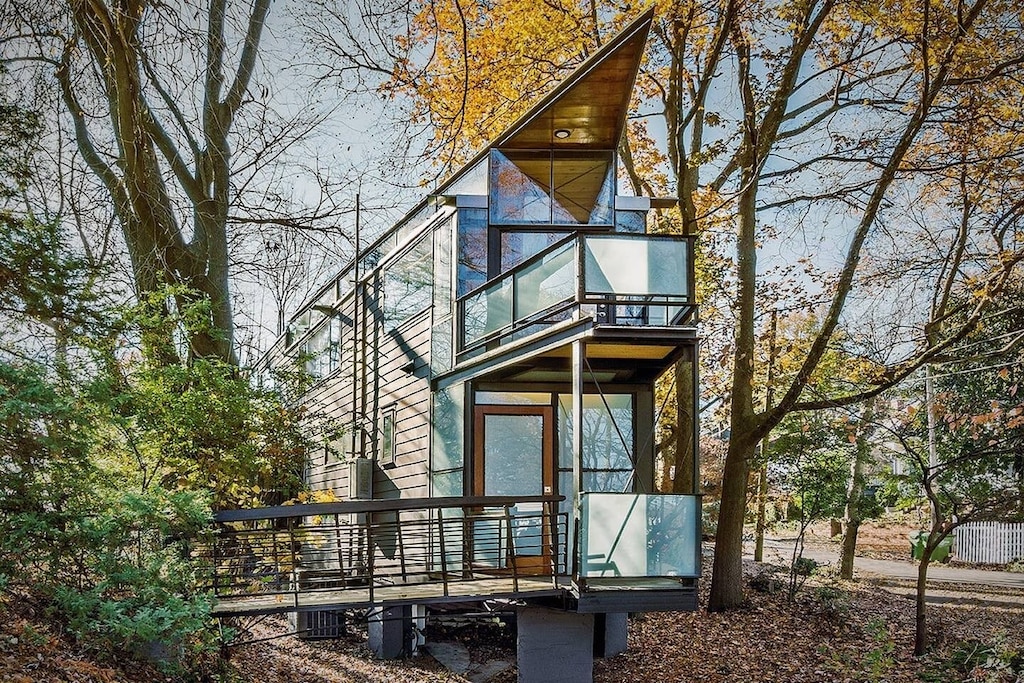 Modern Mountain Tree House
This Modern Mountain treehouse in located in the Northern Georgia Mountain in the town of Big Canoe. How could you not be in a good mood in such a modern and relaxing place! This treehouse features two bedrooms and two bathrooms and can accommodate four guests.
The "treetopper" is walking distance to all the amenities you could wan at Big Canoe Club. Including a swimming pool, fitness center, beach area, golf course, tennis courts and a lake where you can rent pontoon boats. There is an open floor plan in the living space with a full kitchen, a TV and wifi.
In the first bedroom you will find a queen bed with a glass window wall where you will feel as if you are living in the trees, and bunk beds in the second room. The bathrooms have been fully renovated as has the whole home with marble tiles and a rain-head shower as well as a small outdoor deck.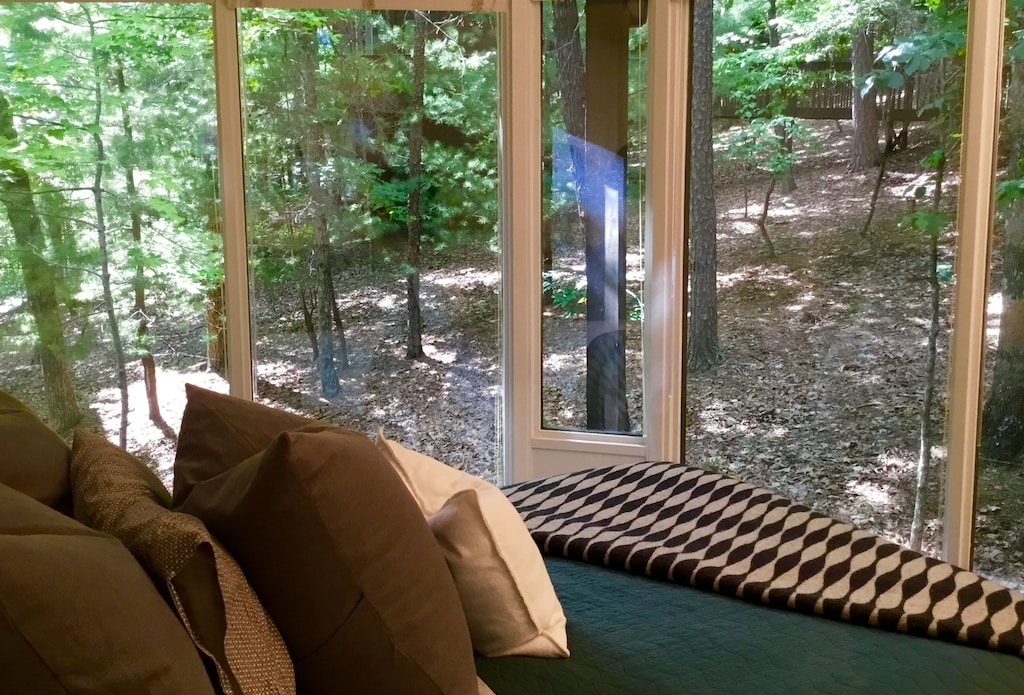 Secluded Intown Treehouse
Secluded treehouse rentals in Georgia that are still close to the popular cities can be hard to find, but this treehouse near Atlanta is a little hidden gem. Featured on the show "Treehouse Masters," this cozy and romantic space is the perfect getaway for a couple.
There are three seperate rooms all connected by rope bridges centered around mind, body, and spirit. "Mind" for the sitting room with unique antiques and the perfect place to read a book or chat, "body" for the bedroom to sleep and recharge in, and "spirit" for the hammock deck where you'll be immersed in the greenery.
It is truely an escape from the real word within the Atlanta city limits where you can connect with your loved one and with nature.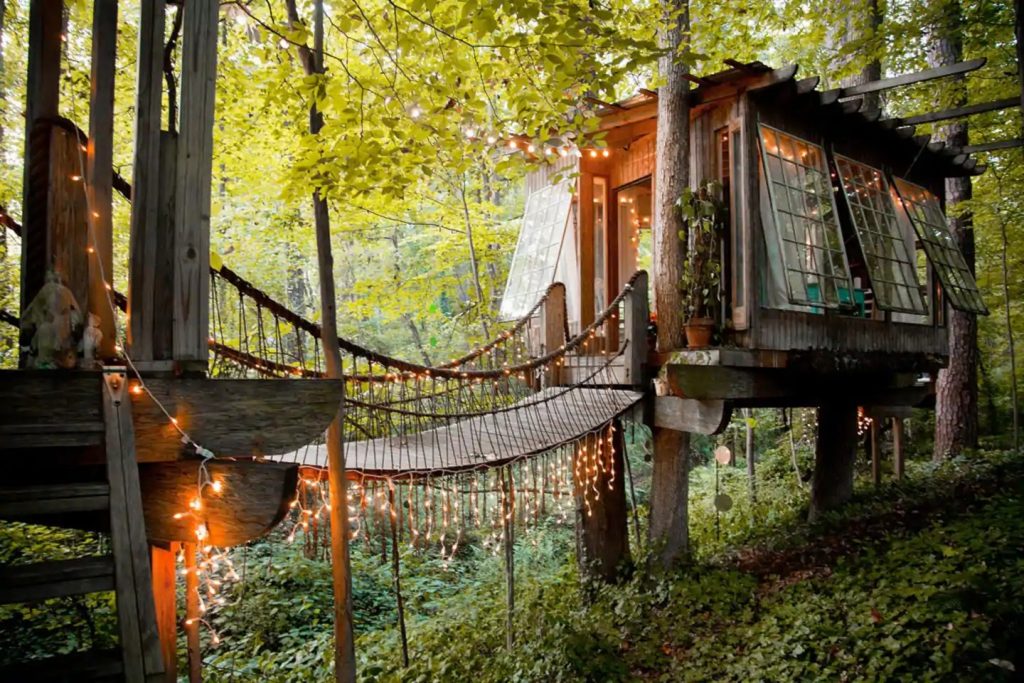 Bed+Bough, an enchanting Treehouse Retreat
The Bed+Bough treehouse in Dawsonville is sure to bring back the nostalgia of everything you loved about treehouses as a kid, but still with a comfortable stay.
This private retreat high in the trees offers luxurious accommodations with a whimsical flair. The treehouse brings you the comforts of home with a king-size loft bed and queen size pull out couch, kitchenette, microwave, toaster oven, sink, and French Press. It sits on a private 5-acre property so you'll feel secluded but you're still just minutes from great local attractions.
Unlike many other treehouses in Georgia, this one offers running water with a full bathroom. It's designed for ultimate glamping with a fire pit, Adirondack chairs, outdoor dining area, and pizza oven all on the grounds of the property.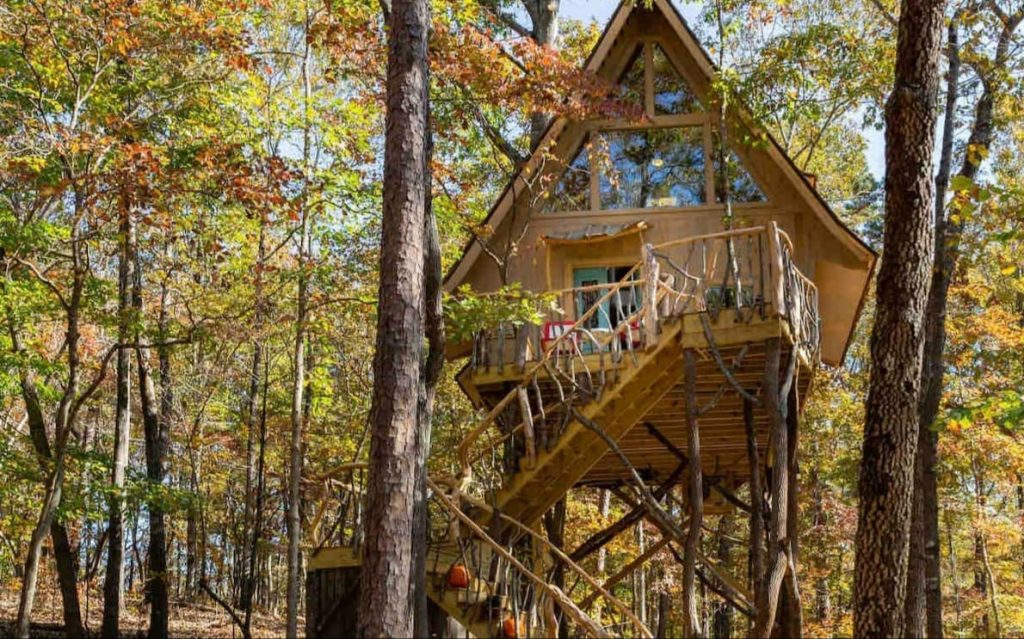 Whippoorwill Retreat Treehouse
There's a wide variety of treehouse Airbnbs in Georgia, but this Whippoorwill Retreat is particularly unique with a modern design, antique decor, and plenty of connection to the nature that surrounds it. It is designed to bring the outdoors in with floor to ceiling views, a wrap-around porch, a sun/moon rise perch, and a gas fire pit.
There are 2 bedrooms, one with a unique suspended bed, and one with a skylight for overhead views of the trees and stars at night. Running on solar power, the home incorporates green practices and products better for the environment you're living in. There are also lots of antique features full of history in this treehouse, as well as a gorgeous floor to ceiling glass window which is supported with live edge beams from a 150-year-old Eastern Red Cedar tree.
Your stay includes a golf cart to take you down a scenic path to your treehouse and once you arrive there's a convenient luggage lift to carry your luggage up, so you don't have to carry it up the steps. You also have an option to hire a professional chef to have your meals prepared for you in the home or brought to you as a gourmet picnic basket. There's also a small kitchenette and coffee bar if you'd like to prepare your meals yourself.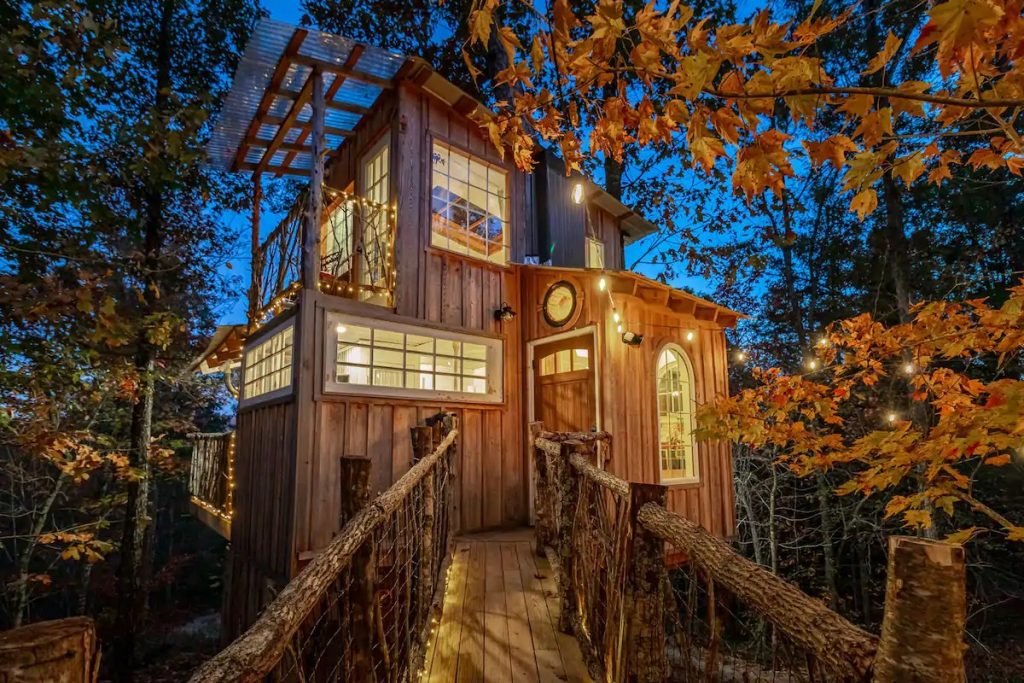 Treehouses in Georgia seem to offer the most dreamy escapes with the lush green landscape, great weather, and so much to do in the nearby cities. If you're trying to decide what part of Georgia to visit, we also have a list of fabulous weekend getaways in Georgia.
These treehouses would be great for a week long retreat or just weekend getaway to unwind a unplug. If a treehouse stay is just a pit stop for you, make sure you check out our Ultimate Georgia Road Trip.