So you're looking for haunted places in Kentucky? Look no further, we've got you covered!
There are so many things to do in Kentucky, but ghost hunting has to be one of the most fun! Kentucky may be known for its horse racing and world-renowned bourbon, but over the years it has actually gained quite the haunted reputation. So much so, that it actually houses some of the places that people would consider to be some of the most haunted places in America!
From ghosts that haunt haunted hospitals and haunted hotels where you will surely hear a lot of bumps in the night, there is something in Kentucky for every paranormal lover!
Waverly Hills Sanatorium, Louisville
For anyone who is interested in haunted places in general, you have no doubt heard of Waverly Hills Sanatorium. Not only has it become known as one of the most haunted places in Kentucky, but in the entire world!
Waverly Hills Sanatorium opened in 1901 as a hospital to help tackle the 'White Plague' (tuberculosis) which was running rampant in Kentucky at the time. It was built in the hopes to find a cure to the epidemic, but that, unfortunately, would not be the case. Over 63,000 people died inside the hospital, including patients, doctors, and nurses. So many deaths occurred in the hospital that they constructed tunnels to get the dead bodies out. A low-budget film was made based on this tunnel.
If tackling Tuberculosis wasn't bad enough, many of the patients were subjected to horrific procedures, and many of them didn't survive the experimental practices. Some included removing parts of the infected lungs, removing rib bones, and the 'sun treatment' that theorized that sun exposure would help kill the bacteria that caused the disease.
It is widely believed that many of these tortured souls still walk the halls of Waverly Hills, and it is thought that it is one of the most active haunted places in Kentucky.
There have been many different accounts of haunted activity at Waverly Hills. Many visitors have reported seeing black shadows in the hallways, hearing disembodied voices, whistles, and even being touched.
Some ghosts that are said to call Waverly Hills home is the spirit of a young boy called Timmy. It is thought that he fell to his death from the roof where the children would play, but it was never determined if it was accidental or if foul play was involved. Timmy is often seen playing with a leather ball.
Another story is that of room 502 where the head nurse would stay. It's said that she was a pregnant, unmarried woman in the 1920s who tragically committed suicide in the room. There are also stories of another nurse committing suicide in the same room by jumping off the top floor, but she has never been identified.
Nada Tunnel, Powell County
The Nada Tunnel is seriously creepy, and is one of the more unknown haunted places in Kentucky unless you are a local!
Known as 'The Gateway to Red River Gorge', the tunnel is 900-foot long tunnel that you will encounter on the KY-77 in Powell County. It, quite literally, looks like a hole carved into the side of a mountain and is surrounded by greenery. It's definitely a unique way to enter the gorge, even if the legend that goes along with it is pretty unsettling.
Construction for the tunnel began in 1910 and mostly used dynamite to blast through the limestone rock to create it. The legend goes that a man was killed when he put a stick of frozen dynamite next to a fire to thaw it and it exploded. It is said that this man still haunted the tunnel can be seen manifesting as a strange, glowing green orb at the entrance of the tunnel.
Some drivers have even reported hearing moans coming from the walls of the tunnel when they were driving with their windows down!
Be advised that it is NOT. a good idea to enter the tunnel on foot or by bike. The tunnel is extremely narrow and has no interior lighting, making it hard for drivers to see you and impossible to get past pedestrians.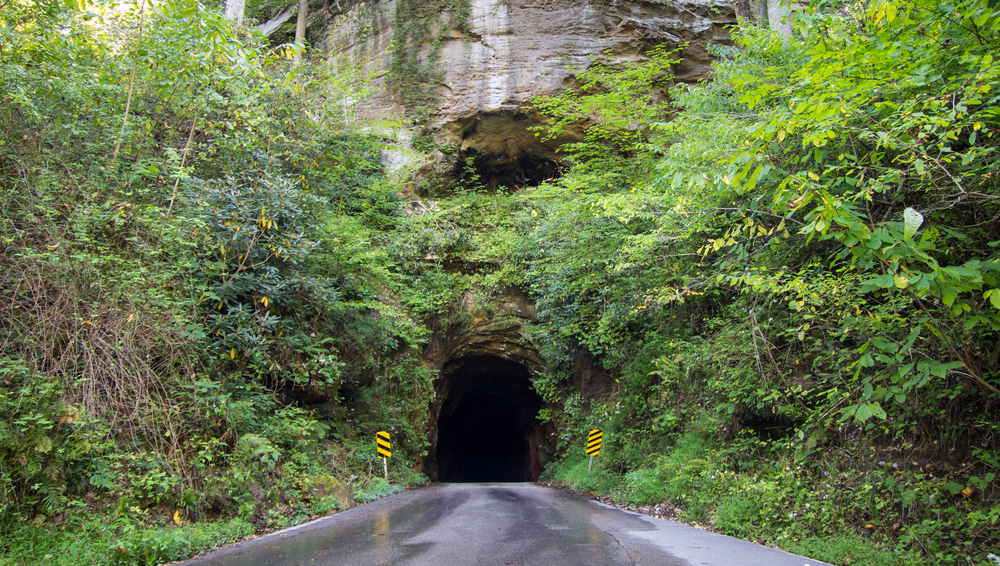 The Kentucky State Penitentiary, Eddyville
Not only is this location one of the most haunted places in Kentucky, it just so happens to be the oldest prison in the state built in 1886 and is still an operating prison today. This is truly one of the best small towns in Kentucky!
Whilst the prison is definitely a masterpiece to look at, you don't want to be going inside. It's a maximum security and supermax prison that houses Kentucky's Death Row inmates. The prison has a LONG history of abuse, horrific conditions, death penalty executions, hunger strikes, and even a prison break.
Over the years, there have been many accounts of hauntings from both prisoners and staff that have worked at the prison. There's been countless reports of disembodied voices, whispers, footsteps, and even screams. A glowing orb has also been spotted by numerous people. It definitely sounds terrifying!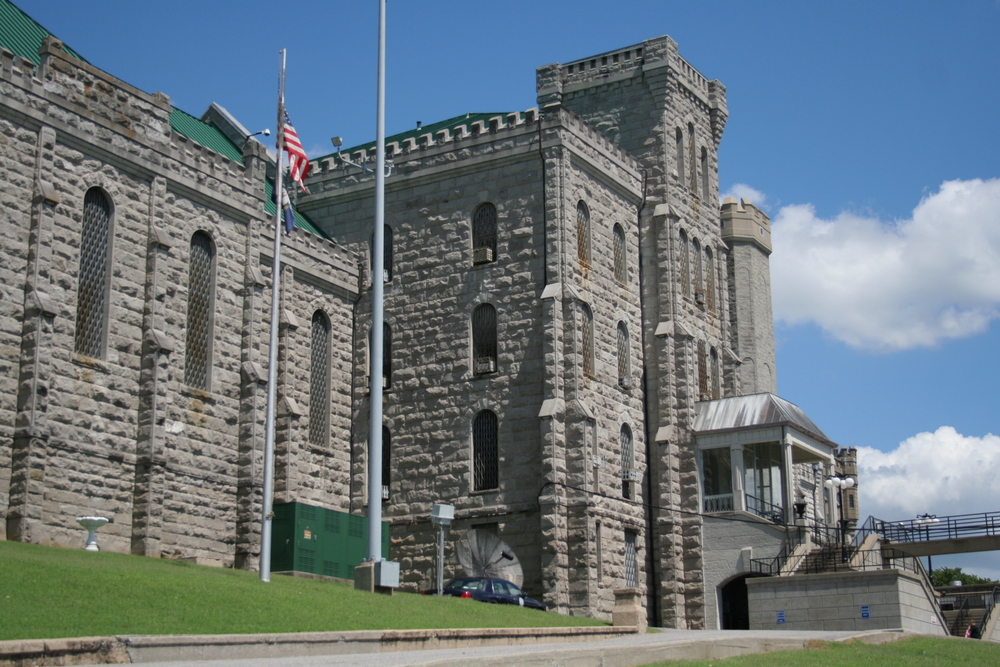 Sleepy Hollow Road, Prospect
Most of you probably think 'Sleepy Hollow' sounds familiar, but we're not talking about the film here – or the place that the film is based on!
Sleepy Hollow Road is a road that leads to Devil's Point, a site that is known for satanic rituals, sacrifices, haunting chants, and bonfires. If that isn't enough to scare you, then Kentucky's own Legend of Sleepy Hollow definitely will!
This is not a haunted place in Kentucky that you want to go to at night! Sleepy Hollow Road is a two-lane country road in Oldham County.
The most well-known legend of Sleepy Hollow Road is that of a hearse that will speed up behind you if you drive on the road at night and make you crash on the turns. Okay, we know this is a little bit far-fetched but there is another legend at is even more horrifying and disturbing that involves the bridge at the end of the hollow.
It has become known as Cry Baby Bridge, and according to the legend is was a place where mothers would throw deformed children – or products or incest/bastards – into the water. Many people have reported hearing disembodied screams and crying from the bridge, which is just so awful.
Bobby Mackey's Music World, Wilder
Bobby Mackey's Music World has gained quite a name for itself as being one of the most haunted places in Kentucky – it even has a sign in the store which says they are not liable for anything that the ghosts do there!
The 'most haunted nightclub in America' is owned by country singer Bobby Mackey and legend has it that this site has a very violent past. So much so that Bobby Mackey's Music World has had an exorcism!
According to legends, the club was once the site of a slaughterhouse in the 19th century before it was forcibly closed for terrible conditions. It's then said that it became a satanic cult site before the murder of Pearl Bryan that took place just 2.5 miles away from the property. There is also the legend of "Johanna" who committed suicide with poison in the 1940s after her father murdered her lover in a dressing room.
Whilst there are no public records of these events, the paranormal activity at Bobby Mackey's Music World has been happening to people for years, and many suspects that something dark lurks in the shadows here. So much so that this place has been called 'Hell's Gate'.
The activity that people have claimed to have experienced here is absolutely terrifying. Janet Mackey (Bobby's wife) has claimed to be thrown down the stairs and screamed at by a paranormal force. She won't even enter the club anymore.
Many others have heard disembodied voices, growls, seen trash cans been thrown across the room, and even scratched! This definitely sounds like one of the most terrifying places in the world!
Seelbach Hotel, Louisville
If you're brave enough to stay in a haunted hotel in Kentucky, then the Seelbach Hotel is the one for you!
Arguably one of the most haunted places in Kentucky, the Seelbach Hotel was opened in 1905 by immigrants Otto and Louis Seelbach. They spared no expense in their luxury and imported the best materials and decor from around the world to create this lavish Beaux-Arts Baroque hotel. 25,000 people visited the hotel on its opening day, and quickly gained a reputation for being one of the finest hotels in the country. And in our opinion, it still is despite the ghosts that supposedly roam the halls.
The most well-known ghost at the hotel is known as The Lady in Blue and is one of the reasons for the hotel's popularity as she is seen so often. She is thought to be a hotel guest named Patricia Wilson. In 1936, Patricia moved from Oklahoma to Louisville after separating from her husband. In the hopes of working things out, the pair planned to meet at Seelbach Hotel.
Tragically, her husband would never make it to the hotel as he died in a car accident on his way to the hotel. A few days later, Patricia's body was discovered at the bottom of an elevator shaft, but the circumstances of her death are unknown.
The Lady in Blue has been seen all across the hotel, but she is commonly seen on the 8th floor and on the hotel's mezzanine. All accounts of her sighting have distinctively said that she was wearing a blue dress and had long black hair, and would disappear. One account stated that they say The Lady in Blue waiting at the elevator, and didn't realise she was a ghost until she walked straight through the closed doors.
There have also been alleged sightings of an old woman in raggedy clothes standing behind a mirror and a man on the 8th floor who would stare out of windows.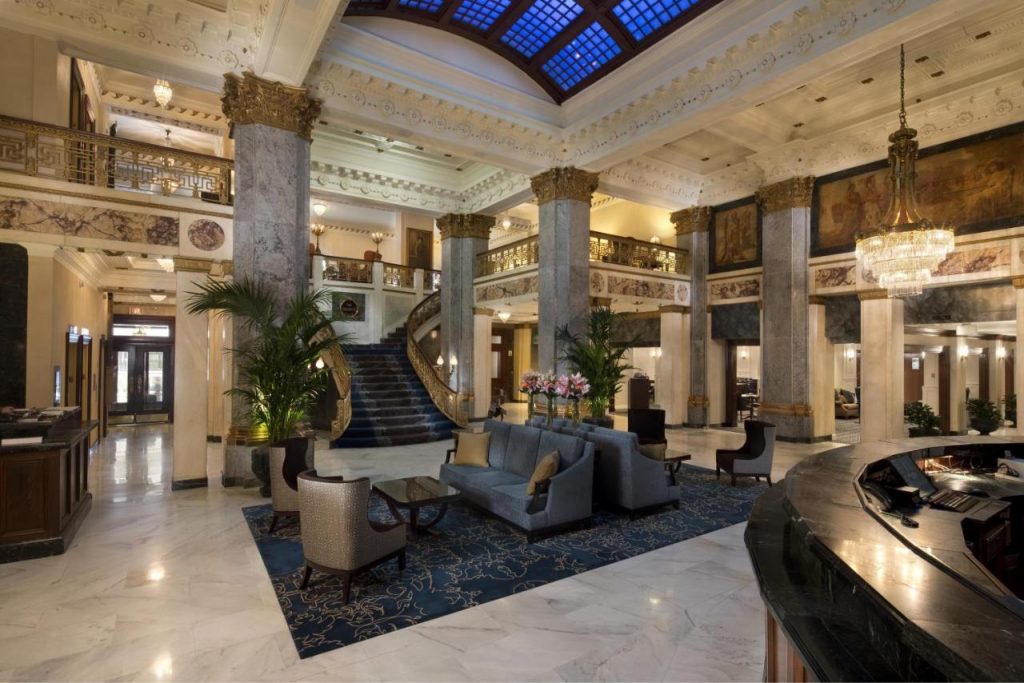 Maple Hill Manor, Springfield
This 1851 Greek Revival home was built for Thomas Irvine McElroy as a wedding gift for his young bride, Sarah Jane Maxwell. It oozes southern charm and is definitely one of the most well preserved pre-civil war era homes in the whole of Kentucky. And as it turns out, it is also one of the most haunted places in Kentucky!
The home was originally built as a plantation, but it was also used as a Civil War Confederate Encampment and Union Field Hospital after the battle of Perryville.
The battle of Perryville was fought in 1862 was fought near Maple Hill Manor and became one of the most violent and destructive Civil War battles in the state. More than 7,600 people were killed, wounded, or missing by the time the battle ended.
Today, Maple Hill Manor is an award-winning Bed and Breakfast with 7 private rooms, a wedding and special events showplace, and an Alpaca and Llama farm!
However, it is said that Maple Hill Manor is haunted by its original owners and soldiers who died at the place. Paranormal activity has occurred here that has even turned skeptics into believers!
Guests have reported hearing the sounds of their doors rattling and voices coming from the next room when nobody else was staying on that floor. Guests have also reported knocking on their doors, only to have nobody there. Footsteps are heard often, and one guest has even been touched!
Check Rates on Hotels.com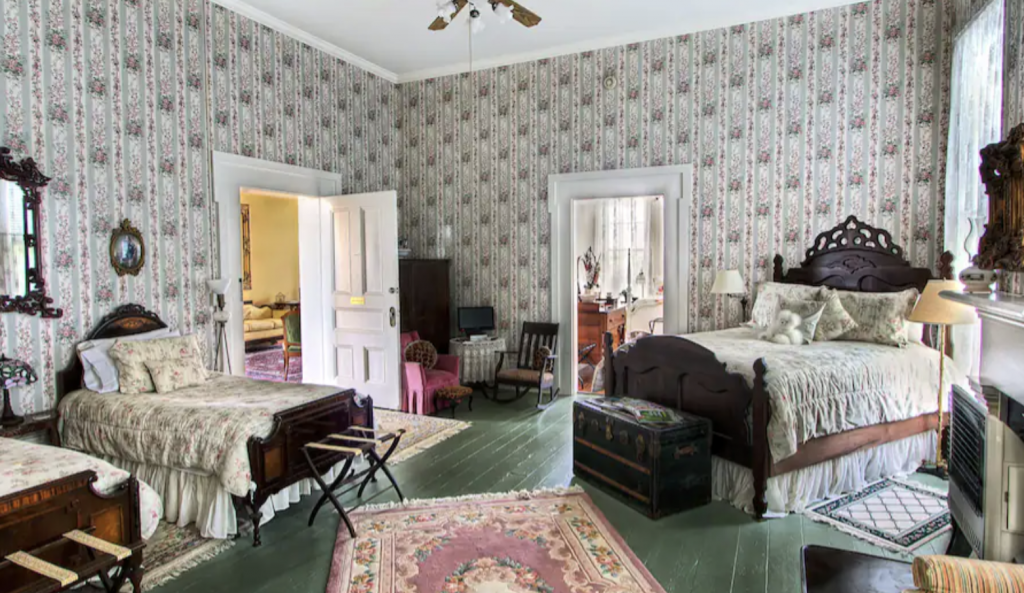 Central State Hospital/Lakeland Asylum
Central State Hospital has seen many different name changes throughout it's lifetime and has since become known as one of the most haunted places in Kentucky which a long list of deaths. Many believe a lot of those patients still walk the halls of this hospital.
It was built in 1873 as a 'home for Juvenile Delinquents' before it was converted into the Central Kentucky Lunatic Asylum.
Throughout Central State Hospitals' history, there have been tales of underfunding, understaffing, and overcrowding. The hospital was built to accommodate 1,600 people, but by 1940 there were over 2,400 patients in the building. There have also been multiple accusations of abuse, including the near-drowning of a patient by Dr. Robert H. Gale who was actually exonerated for his crimes.
Over 900 death certificates for patients at Central State Hospital that were buried on the property, including mentally disturbed, disabled, elderly, and those who were just put there by their families. However, to this day nobody knows exactly how many people are actually buried on the property as many records were lost.
Throughout the years, many people (including staff) have experienced things they can't explain. They have heard footsteps, screams, voices, and even had power surges and seen orbs!
Camp Taylor, Louisville
Have you ever heard of an entire neighborhood being haunted? Well, that is certainly the case for Camp Taylor in Louisville!
This is one of the haunted places in Kentucky which is a huge part of its history. Camp Taylor is now a small town, but it was once a military camp that started in the 1900s and was for a time the largest military camp in America and housed over 47,000 men at one time.
Camp Taylor was built on 2,000 acres of farmland and included 1,500 buildings and was, surprisingly highly regarded amongst soldiers and was a sought-after destination. Soldiers at Camp Taylor wrote about the decent accommodations, hot meals, and laundry service. But unfortunately, the camp couldn't escape the disease.
The flu pandemic between 1917-1918 took the lives of 1,000 people in the span of a 3 week period, and many people believe these soldiers are mostly responsible for the activity today. Residents of the town have reported seeing soldiers walking the streets and hearing marching in the middle of the night. There are also reports of an unknown Victorian woman with blonde hair who will give you an icy stare if you look her in the eyes!
Mammoth Cave National Park
We never thought that we would be adding a cave to our haunted lists – but never say never right! Mammoth Cave National Park has not only become known as one of the most haunted places in Kentucky but also one of the most haunted natural wonders of the world.
Mammoth Cave is the longest cave system known in the world and has a pretty strange history too that has seen more death than you would initially think!
Dr. John Croghan bought the cave in 1839, and along with the cave came several slaves including a cave guide names Stephen Bishop. Dr. Croghan actually turned the cave into a hospital as he believed that the cave's constant temperature of 54 degrees could cure consumption. 11 hospital huts were built inside the cave and 15 patients were moved into the cave. Not surprisingly, this idea was a failure. Two patients died in the cave within the first year and all 15 patients got worse.
You can actually still see the remains of these hospital huts on Mammoth Cave Tours. You will also see a slab of stone where the dead bodies of the patients were placed before they were removed.
Mammoth Cave is also known for being the place that cave explorer Floyd Collins died in after trying to open up a sand cave in 1925. He became trapped in a narrow crawlway 55ft below ground and subsequently died 14 days later after rescue attempts were made.
In terms of paranormal activity, there have been over 150 documented paranormal events, included some that have been experienced by scientists and park rangers. Much of the paranormal activity is experienced during 'blackouts' on the cave tours, where electric lights are turned off and the guides speak to visitors by the light of an oil lamp.
Many people have reported being shoved by playful spirits, hearing footsteps only to turn around and find nobody there, hearing disembodied voices, and seeing apparitions and shadows!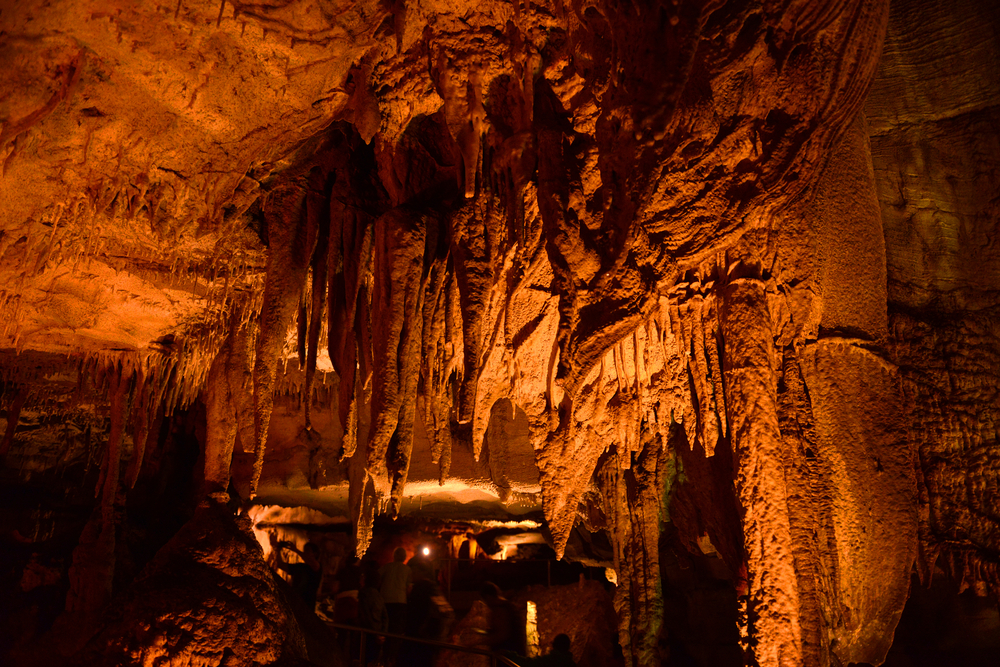 And that is our list of haunted places in Kentucky! We hope you have found something that interests you and you would love to visit – there are so many different types of haunted places in Kentucky we know that you will enjoy visiting.