The most beautiful hidden gems in the South might just be hiding in your backyard! The South is a vast and tremendous place, and there are so many easy nooks and crannies to miss.
It doesn't matter whether you want to hit the open road, see some canyons, or descend down waterfalls. These hidden gems in the south will sure to wet your palate!
Check out the canyons in Georgia! Or dive underneath the abandoned, underground home of a former Floridian millionaire. If you're feeling truly adventurous, rappel down a cave with a waterfall!
So don't worry, we've combed over the best sights, sounds, and attractions the hidden gems in the south have to offer so you don't have to. Pack up the car, grab some hiking boots, and get ready to take in the best hidden gems in the south.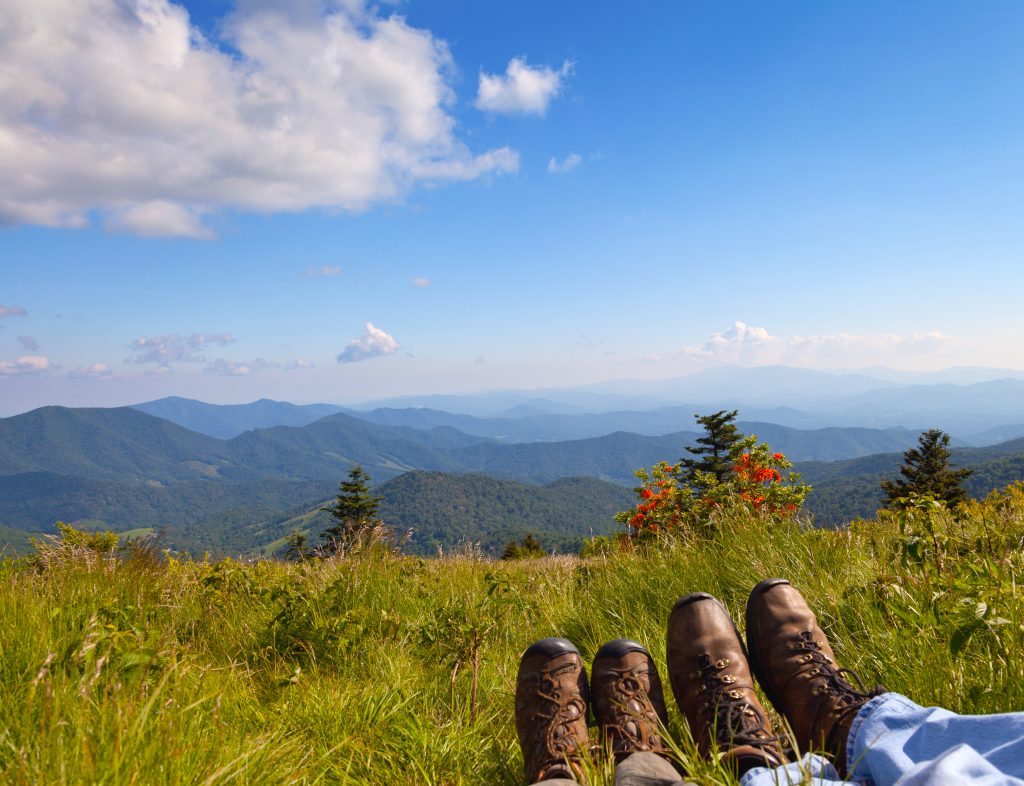 15 Magical Secret Spots And Hidden Gems In The South USA
Florida Domes (Florida)
One of the most interesting hidden gems in the South is now actually a natural animal sanctuary! Once the home of a millionaire seeking the serene beach life, these domes now provide shelter for birds and aquatic life off the Gulf Coast.
Years of erosion have slowly engulfed this structure and submerged the majority of it. The remaining "domes" are now part of the wildlife preserve and are accessible only by boat.
Located in Cape Romano, this hidden gem in Florida is definitely a sight to see and provides a great glimpse into the power of nature. You can get to it by canoe or by jet-ski!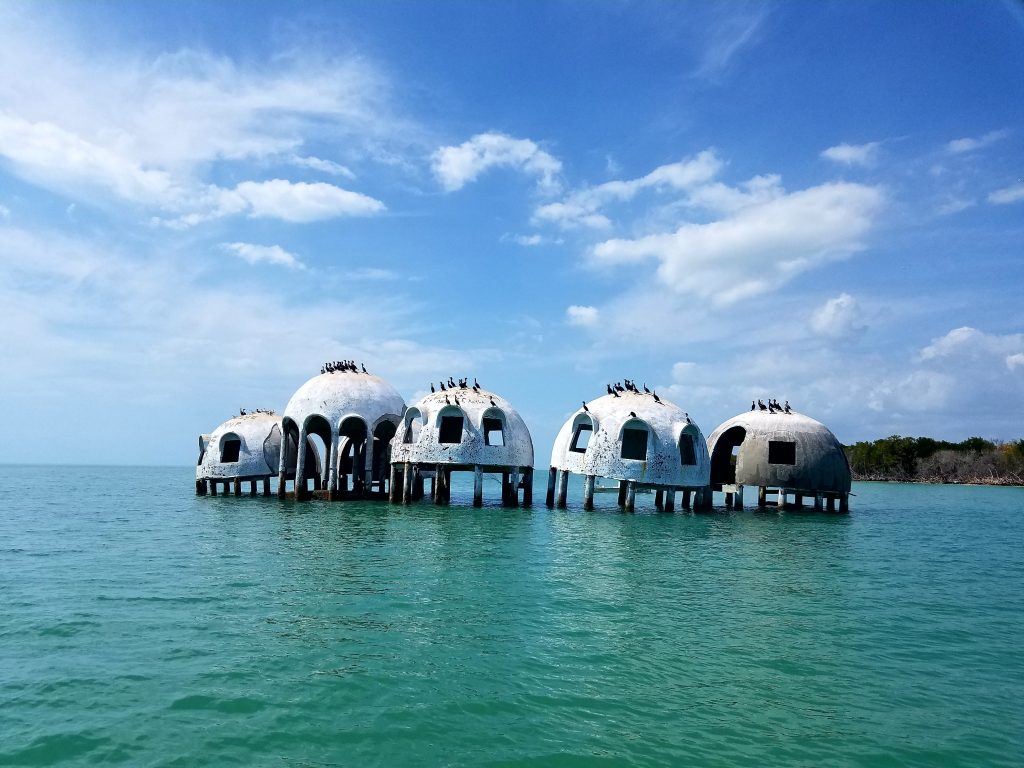 Providence Canyon State Park (Georgia)
One of the most beautiful hidden gems in the south USA is actually one of the Seven Natural Wonders of Georgia. While Providence Canyon State Park's gullies were caused by poor farming, today they make picturesque landscapes.
Around 1,003 acres in Steward County, Providence Canyon is called "Georgia's Little Grand Canyon." Take that Arizona! Better yet, it only takes around 2 hours to hike the entire trail!
The canyon soil's colors range from soft pinks, to lush orange, to deep reds, and purple hues, making a perfect natural painting. Look out fo the rare Plumleaf Azalea, that only blooms here in this hidden gem in Georgia.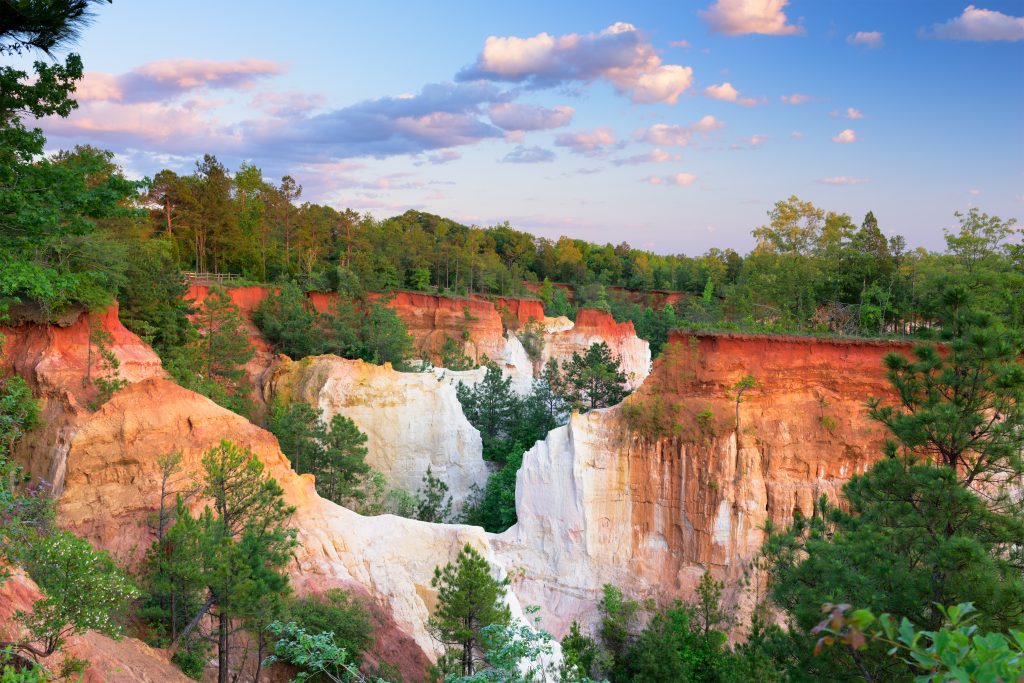 Stephens Gap Callahan Cave (Alabama)
One of the most mysterious hidden gems in the south USA is the Stephens Cap Callahan Cave. A 150 foot cave, it has a waterfall and beautiful light beams that filter through.
You can hike the trail on foot, or if you're adventurous, you can rappel down by rope. While completely free, permits are required for both. You can also camp overnight here for free!
If you do hike this hidden gem in Alabama, the trail is 1.4 miles and is about moderately difficult. Dogs on leashes are permitted. Wear good shoes, and be careful with your footing, and remember you will get muddy and dirty!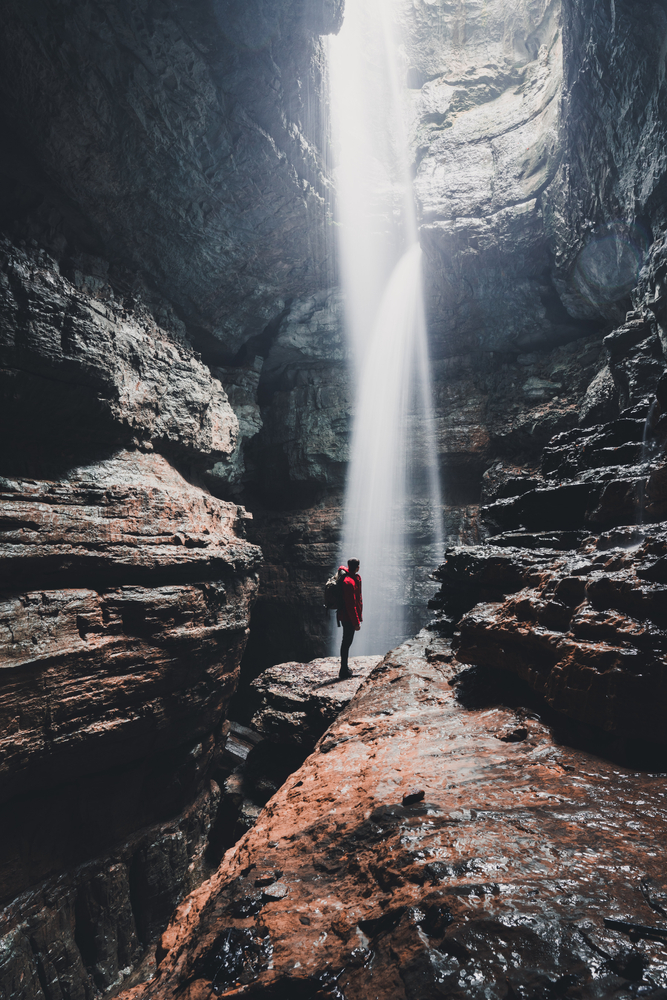 Abandoned Jazzland (Louisiana)
We absolutely love all things abandoned, but sometimes the story of how they got to be that way may be sad. On August 29, 2005, Katrina struck the Gulf Coast and also hit Six Flags New Orleans.
While must of what remained is a creepy wasteland of abandoned rides, empty carnival games, and faded colors of a once vibrant world. Muddy clowns, smashed mermaids, and Mardi Gras figures stuck in an apocalyptic freeze-frame are hard to resist.
While a visit to this hidden gem in Louisiana may be incredibly tempting, think twice before going. This site can be dangerous and can be deemed trespassing if caught inside. The park is best observed from the outside.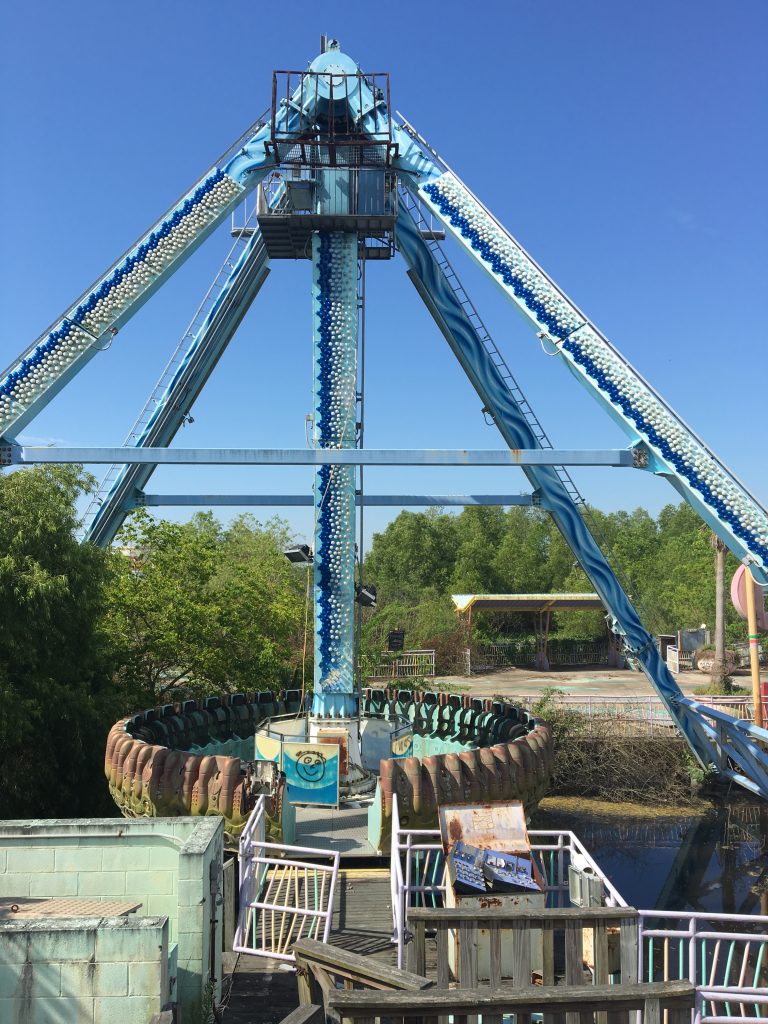 Saint Helena Parish Chapel of Ease (South Carolina)
Along MLK JR Blvd on St. Helena Island, you'll see some ruins off to the left. Don't count off these ruins, you're passing by one of the best hidden gems in the south USA. The Saint Helena Parish Chapel of Ease still stands today.
Built for slaves as The Chapel of Ease for the plantation population of the area, it was destroyed during the Civil War. Destroyed by Union Soldiers looking for treasure, only the ruins and a graveyard remain.
The church's ruins are hauntingly beautiful if we do say so ourselves. People have reported strange sensations when walking through the graveyard. Someone even saw apparitions of people dressed in 18th-century clothing!
It doesn't matter whether you're a ghost hunter or a history buff. A visit to one of the spookiest hidden gems in South Carolina will sure to please everyone in the family.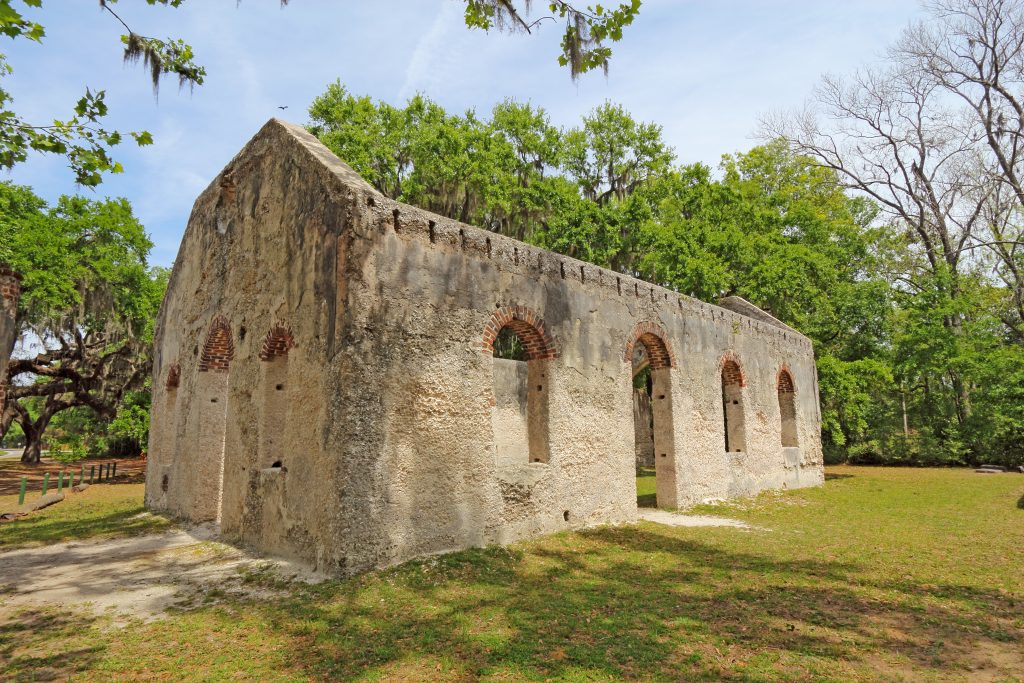 Hamilton Pool (Texas)
When an underground river collapsed thousands of years ago, Hamilton Pool was born. 23 miles west of Austin, you can find it off of Highway 71, one of the best hidden gems in the south USA.
Today, Hamilton Pool functions as one of Texas' favorite swimming holes! Thanks to it's location 3/4 upstream from the Pedernales river, a 50-foot waterfall plunges blow. You can often see many people jumping off the limestone "diving boards."
Although in the dry months, the waterfall may slow to a trickle, it never dries up completely. One of Texas' hidden gems, it also gives home to a variety of native birds, fish, plants, and animals.
Reservations are required, so make them online in advance! You'll pay $12 per care as well as $8 for ages 13+ with discounts from seniors and children 12 and under.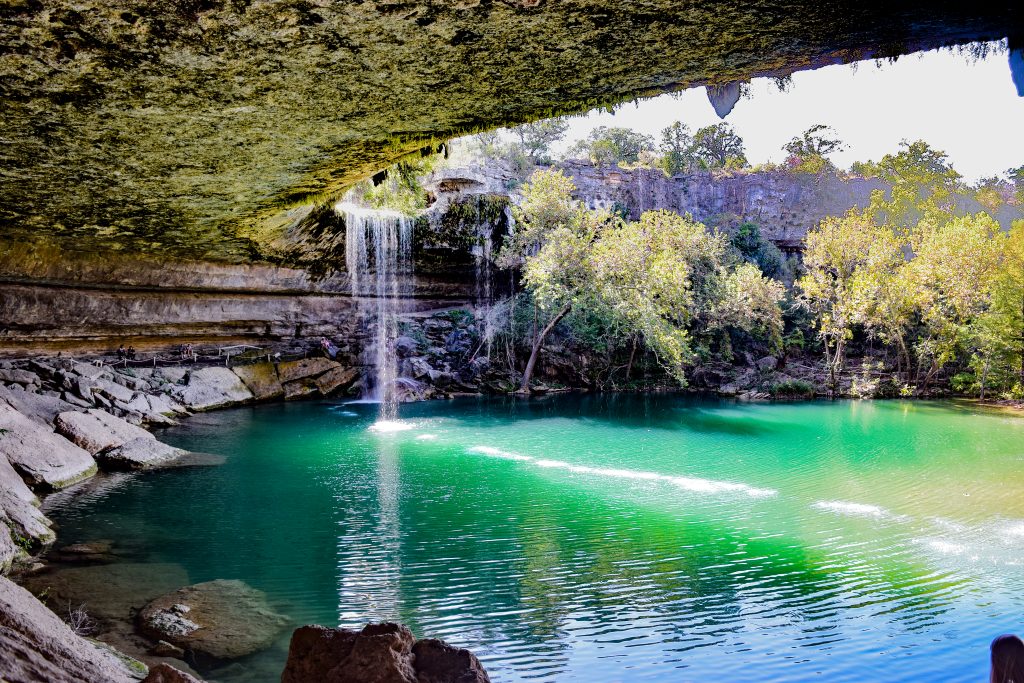 Gorges State Park (North Georgia)
Set in the middle of roaring waterfalls, river gorges, and rock walls, you'll find the next best of the hidden gems in the South. Georgia's Gorges State Park feels like an adventure of a half.
With over 7,500 acres of land, there's something to do for everyone here. Explore the expansive museum-quality visitor center and have lunch at the picnic grounds. With its rugged interior, enjoy distance hiking, backpack camping, trout fishing, or even horseback riding.
Serious hikers will appreciate that Gorges State Park incorporates a portion of the Foothills Trail. It also touches Lake Jocassee at the South Carolina Border. More trails and campsites are still being added as this hidden gem in Georgia is relatively new.
If you're looking to get a view of the waterfalls, head over to the Bearwallow Picnic Area. Trails begin near the parking lot and are marked with blue circles. Just be careful where you step!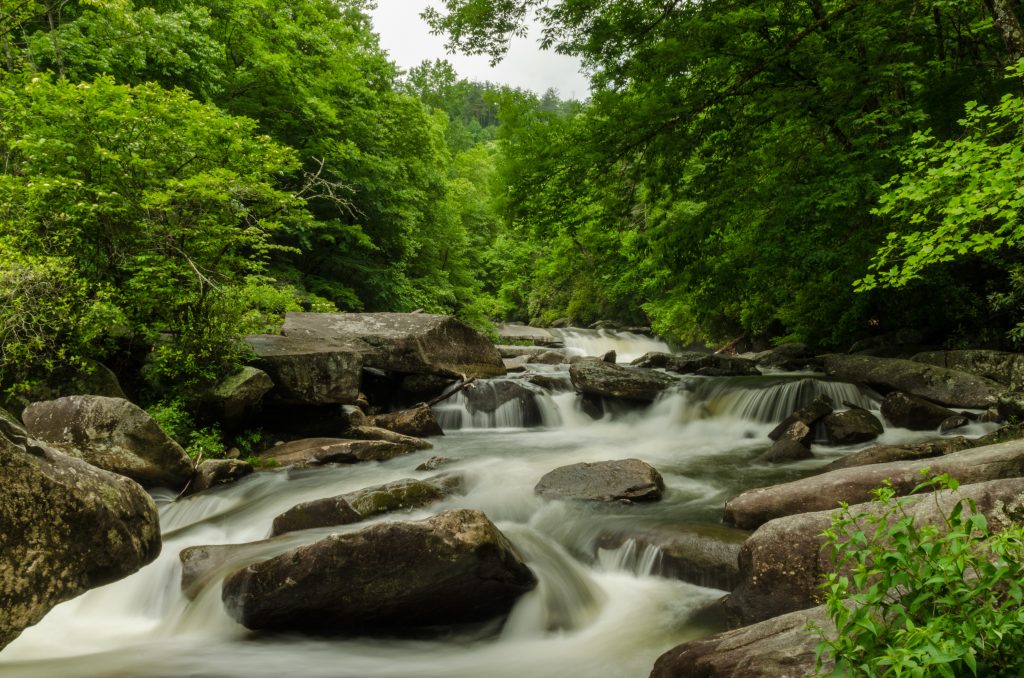 Fire Flies of Gatlinburg (Tennessee)
To see things really light up for this next of the hidden gems in the south USA, it's time to head to Gatlinburg, specifically Grandaddy Mountain. This is when the fire flights light up the night sky.
Every year, you can catch the Smokey Mountain Synchronous Firefly Even! It's never too early to start planning, as the bugs will light up in late May and early June! Their lights are an example of bioluminescence!
Thanks the the popularity of the event, there are many places where you can reserve a spot to enjoy the spectacular shows.
Smoky Mountain Synchronous Firefly Event 2020. It's never to early to start making plans to see the Synchronous Fireflies (and the Blue Ghost Fireflies) that will light up the night sky in late May and early June 2020 in the Great Smoky Mountains. Firefly viewing in the Smokies has become such a popular event that there are now several venues available to enjoy the spectacular shows.
Grandfather Mountain's Stewardship Foundation aims to continue this celebration of fire flies every year. When guests explore, understand, and value the wonders of nature we grow stronger together.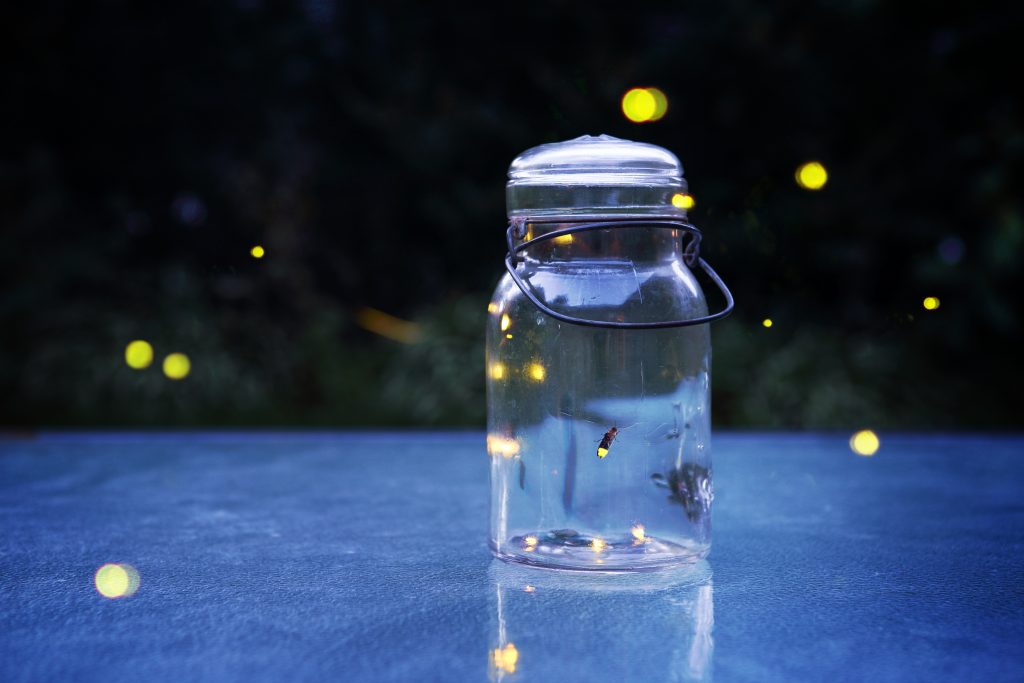 Stumphouse Tunnel (South Carolina)
In Walhalla South Carolina, you'll find one of the oddest hidden gems in the South: an incomplete railroad tunnel. Now available to the public, you can visit Stumphouse Mountain Tunnel in Oconee County!
What was supposed to be dug for the Blue Ridge Railroad through the Sumter National Forest never came to be. Lack of funding brought construction to a halt, and the project was never revived after the Civil War.
Today, travelers can take a short path from the parking lot to see and peer down the tunnel. While there were efforts to complete it, today it just stands as a monument to pre-Civil War engineering!
Down another path, there's another sight to behold in Issaqueena Falls. Easy access, you can find a gentle, sloping path to a wooden lookout platform. With railing and seating available, you can also lunch at a nearby picnic shelter.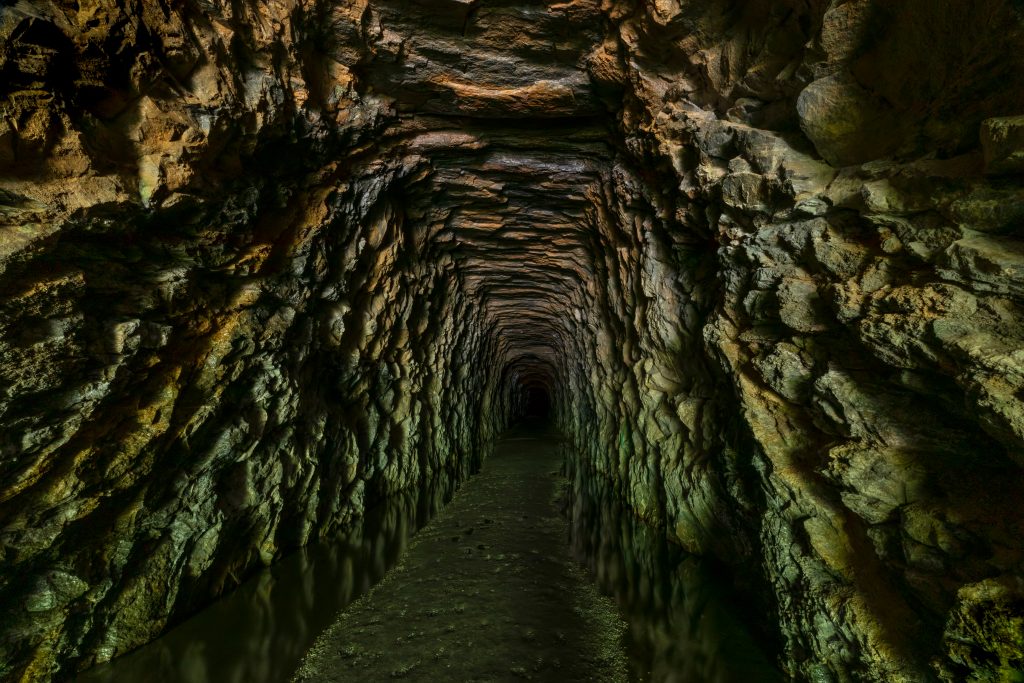 Cumberland Island National Seashore (Georgia)
Here, at one of the most hidden gems in the south, you'll find a place where history meets nature. Just past St. Marys, you'll find Cumberland Island, Georgia's largest and southernmost barrier island.
The combination of pristine maritime forests, wide marshes, and undeveloped beaches make you wonder what they would say if they could talk. Natives, missionaries, and enslaved African Americans all walked here once.
Historically, there's a lot to do here. Take a tour from Lang's Seafood Inc. to historic locations around the seashore. Here you'll see Plum Orchard Mansion, Cumberland Island Wharf, and the Settlement (including the First African Baptist Church), along with other sites.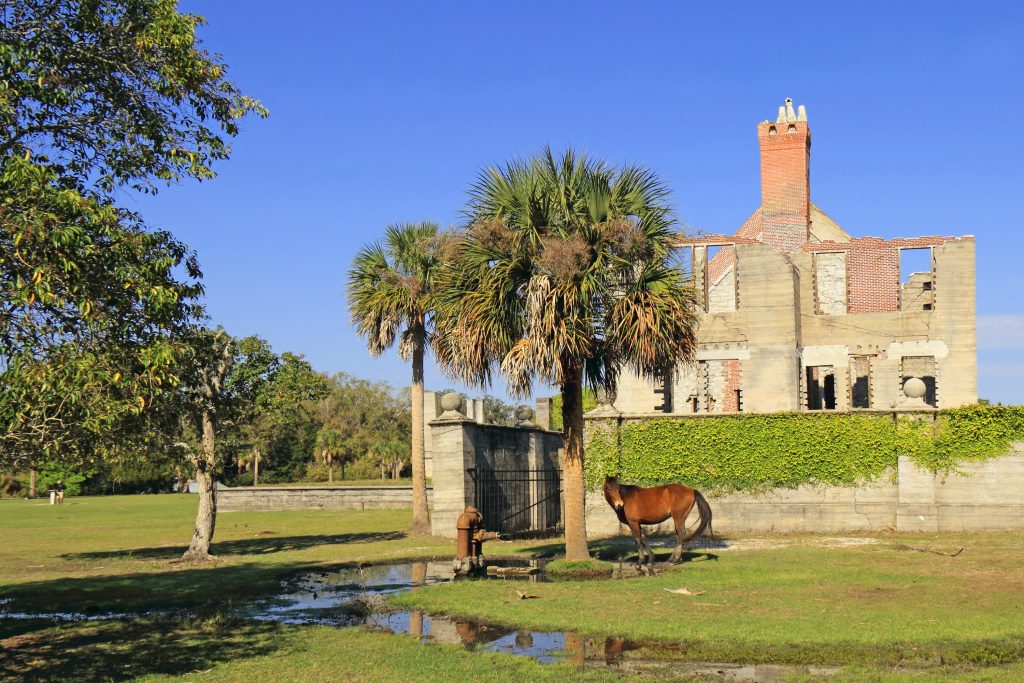 Kiawah Island (South Carolina)
With ten miles of beaches, many world-renowned golf courses, and a tranquil atmosphere, what better of the hidden gems in the south can there be than Kiawah Island.
While many people travel here every year, we're here to tell you about some lesser-known hidden gems in South Carolina. The usual spots can be fun to hit, but seek out new things the next time you're in Kiawah Island.
Find the Blue Heron Pond Tower, in the Vanderhorst Plantation. When you climb the spiral staircase, you'll have a 360-degree view of the marsh and nature. You'll also be able to see fish, birds, alligators bobcats and deer!
Next head to Marsh Island Park, essentially its own island! With 8.1 acres of beautiful nature, you'll definitely see wildlife here! Drive the bridge over Governors Drive and climb to the tower for the best views.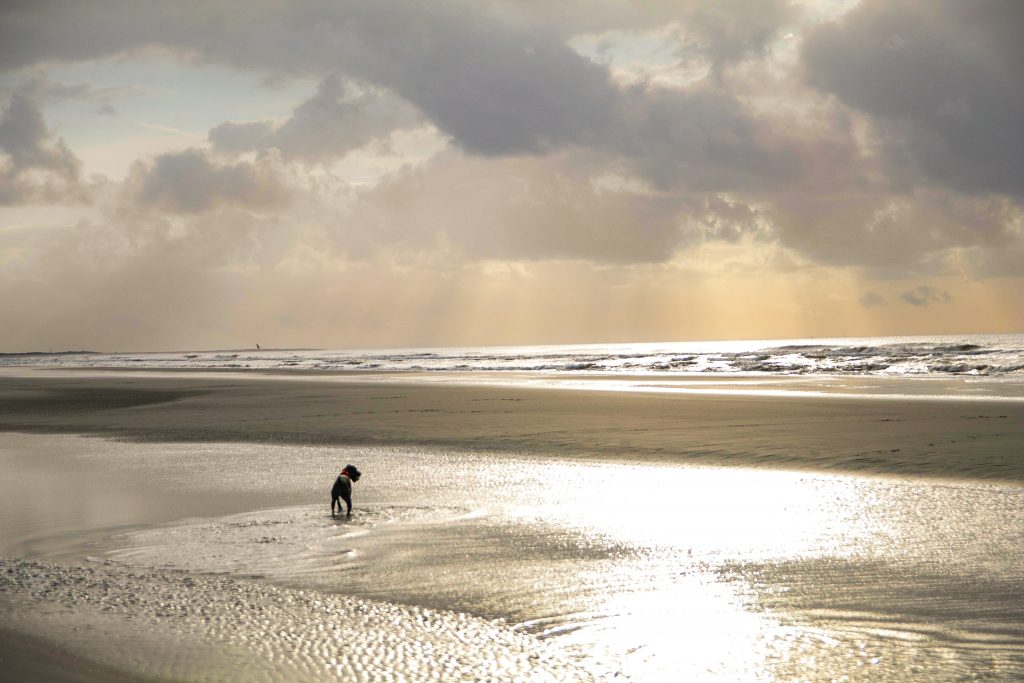 Natchez (Mississippi)
One of the most beautiful hidden gems in the south can be found in Mississippi, in the small town of Natchez. A hub of Southern history, you can see many diverse elements in one place.
While admiring the lovely and richly appointed Antebellum homes, you'll be sobered by the Forks of the Roads market where Black people were traded.
The last sobering reminded of our awful chapter in history is enriched in the remains of the Native American villages almost devastated by Manifest Destiny.
If it all seems to get to be too much, you can break for a drink or gamble on a few rounds on the grand old riverboat at the Isle of Capri Casino or grab a drink at the Magnolia Grill.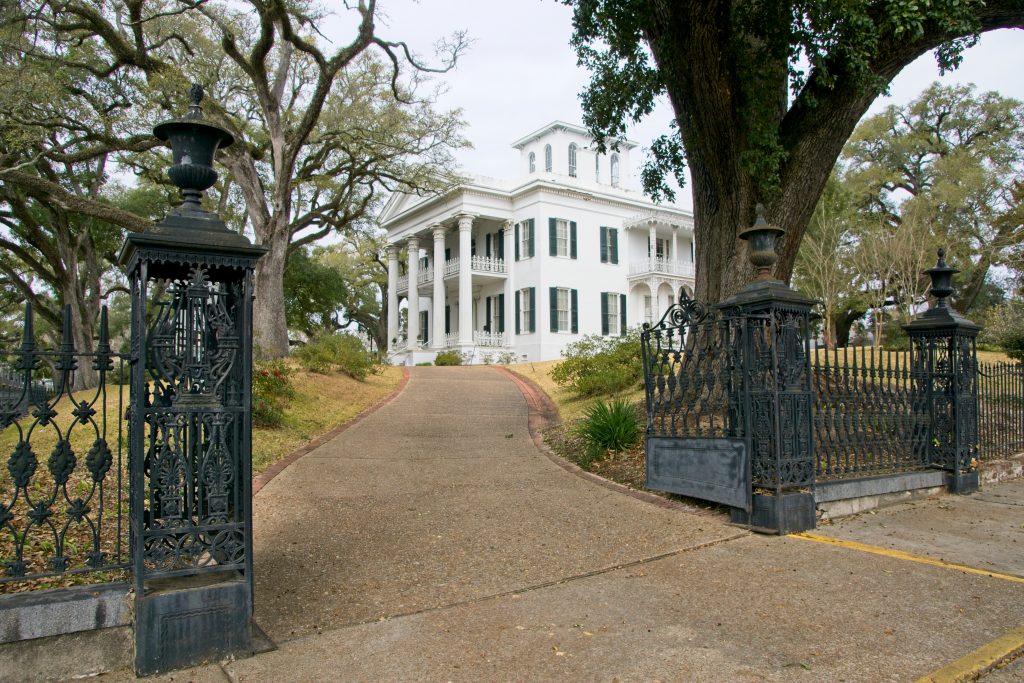 The Bell Witch Cave (Mississippi)
Tennessee has some really interesting lore, but the story of the Bell Witch Cave and its actual location makes it one of the spookiest hidden gems in the South.
In the summer of 1817, the Bell family began to see strange-looking animals on the property and heard strange, disturbing sounds. After guests were invited to corroborate the strange instances, a committee was formed and the Bell Witch, tormenting the Bells, was formed.
Haunting and torments occurred gradually and more frequently over the next three years. It's pretty disturbing, you can hear about it when you visit. It all finally stopped when John Bell, the patriarch died.
Only for the brave of heart, you can tour the home and the Cave where John was tormented. Daytime tours of the Bell Witch Cave are available from 10 AM – 5 PM. Nobody under 18 years old may enter without a parent's consent.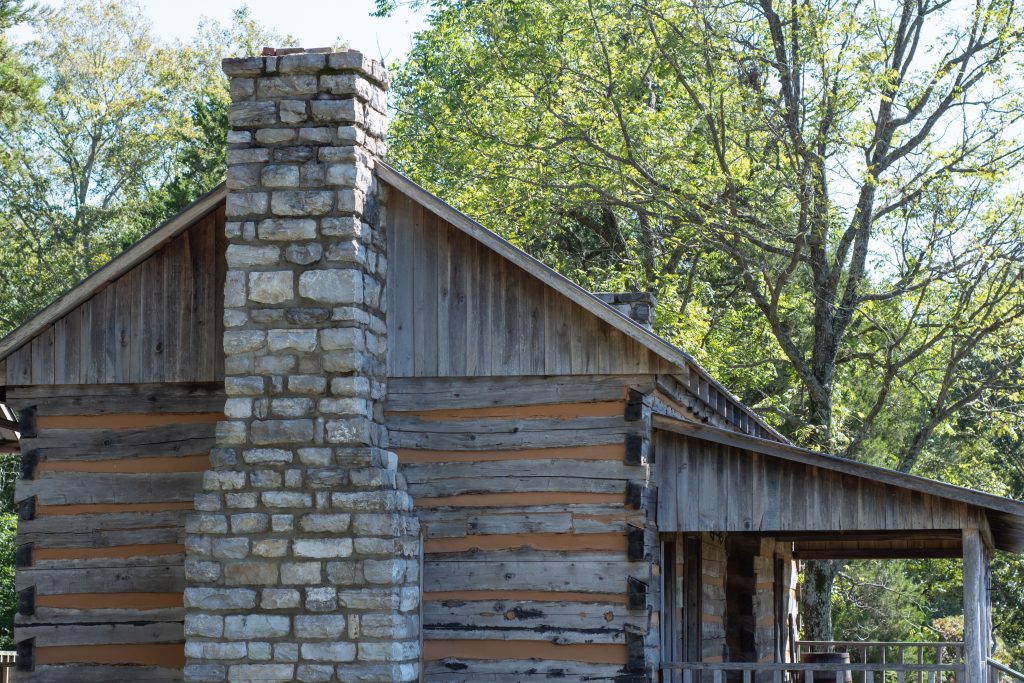 Tennessee State Prison (Tennessee)
Film buffs and horror fanatics, unite! This next of the hidden gems in the south, the Tennessee State Prison will chill you to your spine.
A maximum security facility, Tennessee State Prison housed some of most dangerous criminals. Closed in 1992 in inhumane practices, its notoriety still remains.
First, the panorama and exterior looks like something out of nightmares. Thanks to rumors of its haunted nature, no concert in Tennessee will make you scream quite like this hidden gem in Tennessee.
In fact, many movies have been filmed here like Framed, Nashville, Mane, Ernest Goes To Jail, Against the Wall, Last Dance, The Green Mile, The Last Castle, and Walk The Line.
Today, the inches of paint has bubbled and peeled. Rust lines the metal bars, and the floor is weathered with coats of dust. Don't even get people started on the asbestos!
While you cannot go inside, Nashville Ghost Tours will gladly take you to to exterior so you can see it for yourself.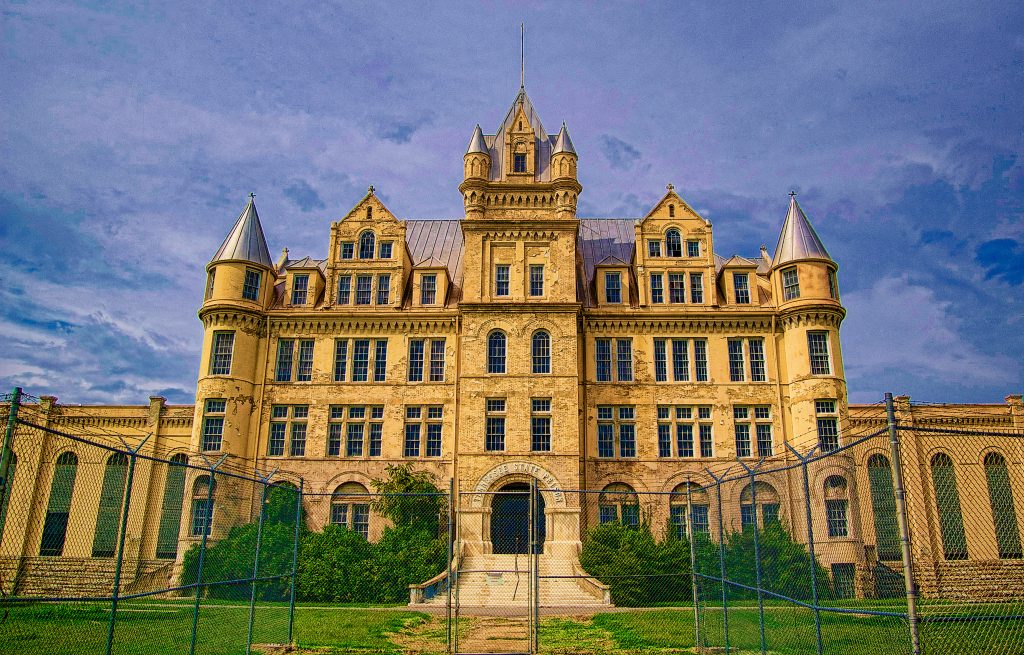 Dauphin Island (Alabama)
On Alabama's Sunset Capital, you'll find one of the most beautiful hidden gems in the South USA. A top family destination, Dauphin Island is one of Alabama's hidden gems.
Along from having access to great beaches on the Gulf of Mexico, Dauphin Island provides a fabulous escape to city life! You can enjoy swimming on the beach, and numerous fishing charters!
You also have access to some dazzling historic attractions like Fort Gaines or the Audubon Bird Sanctuary. The Audubon Bird Sanctuary is actually the largest of its kind of the east coast, so birders, you're in luck!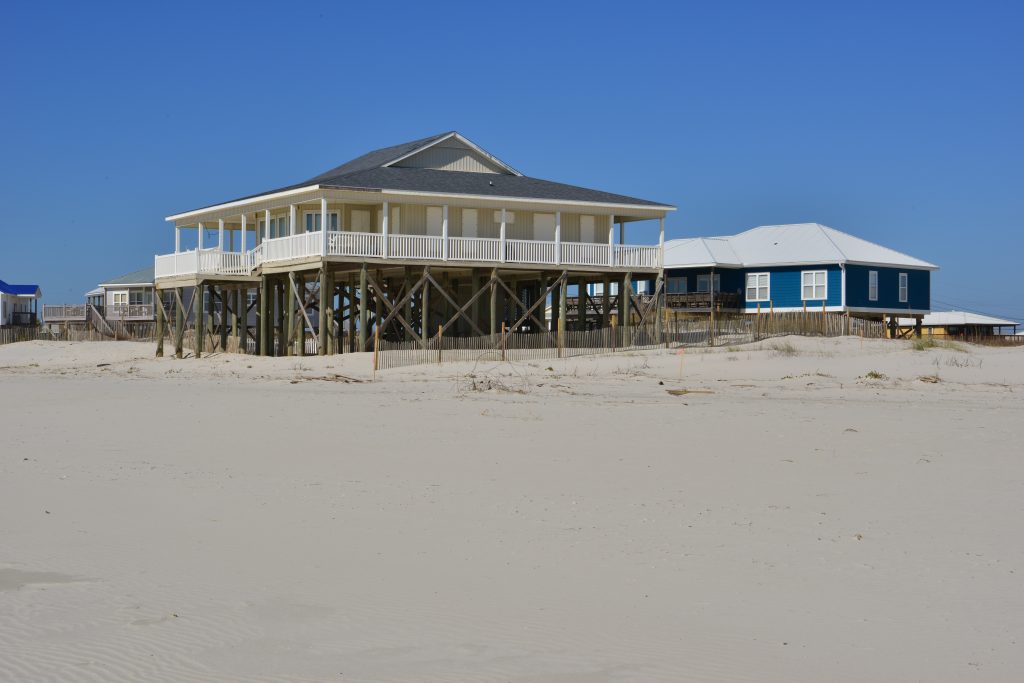 We hope that you've thoroughly enjoyed our list of hidden gems in the South USA! We certainly loved traveling to find them, and we hope that you enjoy discovering them as much as we did.