Are you looking for small towns in Georgia? You are in the right place. In this article, we will walk you through some of our favorite Georgia towns. We will cover quaint towns in Georgia and the best mountain towns in Georgia. And of course the prettiest towns in Georgia.

First, let's start by saying that Georgia has much more to offer than peaches. Even though that is what springs to most people's minds when you mention this state.
Georgia began life as a British colony and most of the small towns here are the epitome of what we have come to expect from the south. White-washed churches, plantations, mansions, and some impressive Victoria and pre-war architecture.
And Georgia has lots of nature to offer too from the beaches to the mountains. Georgia is full of waterfalls, gorges, marshes, forests, and an abundance of wildlife.
It's also a state with a somewhat shady past. A lot of the native Americans were forcibly removed from this area under the 'Trails fo Tears' government act. Also, the wealth and large plantations enslaved thousands of African Americans forcing them to work.
We think it's important when visiting that we remember that the wealth in this country was mostly built on the shoulders of the repressed. That doesn't mean we can't marvel and enjoy this beautiful state just that we be mindful of these historic repressions.
Georgia is a state filled with history, charm, character, and southern hospitality. It has so many great small towns and it was hard to pick our favorites. But we had to pick so if we have missed out on your favorite let us know in the comments.
If you are looking for a weekend getaway take a look here, 16 Fabulous Weekend Getaways In Georgia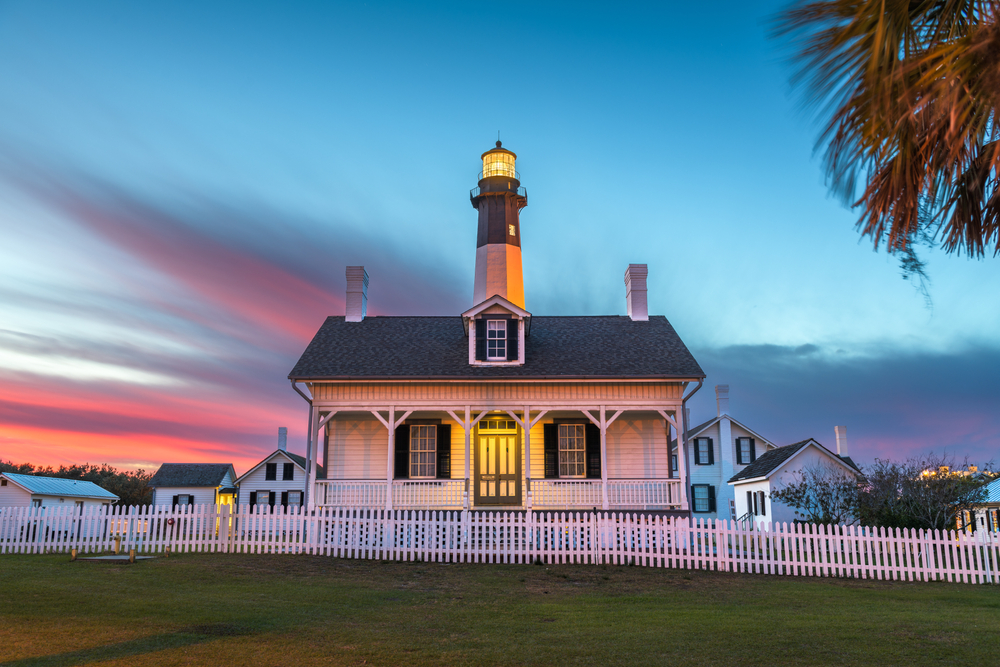 14 Cutest Small Towns In Georgia
Macon
Macon is one of those small towns in Georgia that really has it all. Nestled in the middle of the state Macon is a great place for a weekend getaway.
The town has a diverse history and a lot of culture to enjoy. If that wasn't enough it's surrounded by nature including 180 acres of upland forest at Amerson River Park and the Ocmulgee River.
History abounds here too. Macon is home to the Tubman Museum which is the South's largest facility devoted solely to African-American art, history, and culture. The area is also home to Ocmulgee National Monument dated from around 1000 A.D. It is a great example of Native American heritage. We think It's important that we acknowledge the history that came before colonization and this town does this well.
Other things to visit here are Cannonball House, the only house in Macon damaged when struck by a cannonball during the Civil War, Hay House, a seven-story National Historic Landmark, and an example of Italian Renaissance Revival architecture. These are just a few of the historic things to do in this area and if you like history then this is the place of you.
Otis Redding was also from here and there is a life-sized statue in his honor and a visit to Cherry Street is sure to please the music lovers.
If you can visit in spring for the blossom then this place is even more enchanting but it does have something to offer in every season.
If you want cute towns in Georgia that offer it all then Mocon is the place for you, there is plenty to do. It's beautiful and the shops and restaurants are delightful.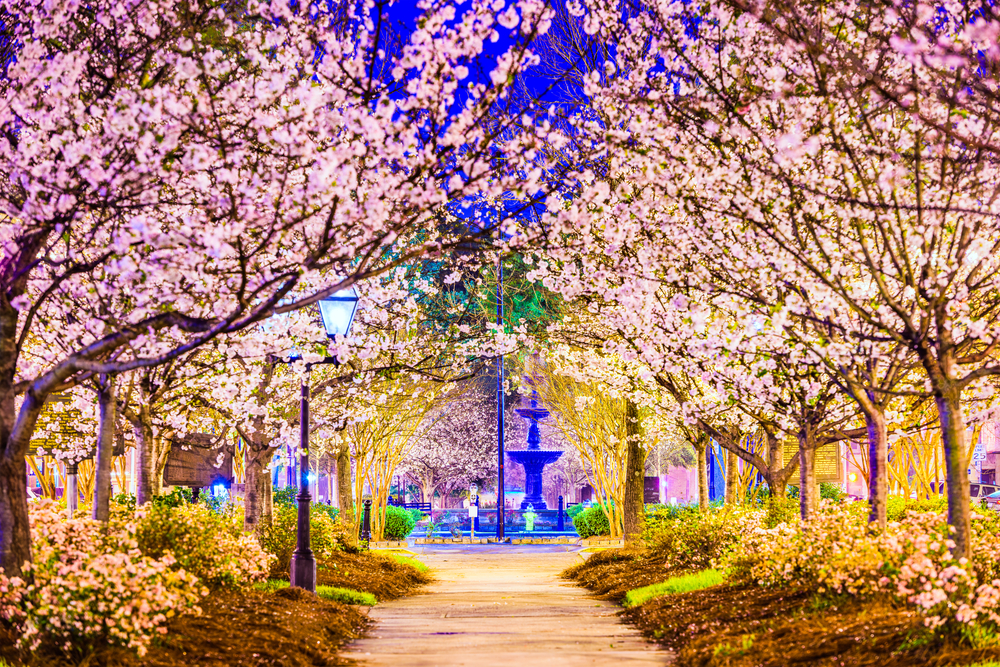 Helen
Helen is a mountain town in northeast Georgia, known as Little Bavaria. For a small town, this place is packed with a charm all served with some German hospitality.
The walkways are cobblestone, the buildings look like they should be on a chocolate box, and you will find Alpine drink and food on every corner.
The town has a lot of history. It started as a home to the Cherokee, and then to European settlers who came for the gold and the timber. If the walls could talk in this town they would have some tales to tell.
An added bonus is the nature that surrounds this town from the Chattahoochee National Forest, the Chattahoochee River Anna Ruby, and Raven Cliff waterfalls. Oh, and of course the Blue Ridge mountains the outdoors adventurer will not be disappointed.
And if shopping is your thing Helen has over 200 boutique shops selling craft, artisan, and beautiful handmade items.
Helen is one of those towns that everyone needs to see at least once. It mixes charm, culture, history, and the great outdoors with such ease.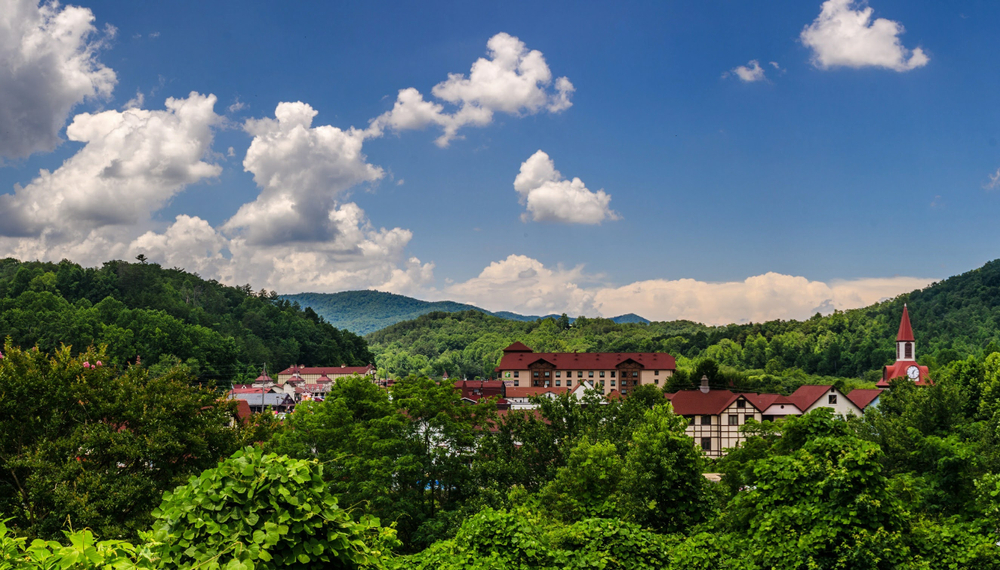 Madison
If you looking for good old southern hospitality and charm Madison is for you. It's also one of the oldest and largest National Historic Districts spared from civil war destruction.
The town offers some beautiful architecture, unique shops, great restaurants, and incredible hiking in one of Georgia's largest state parks.
The nightlife here isn't up to much but during the day you will find lots to keep you occupied. On the Antebellum Trail, it is known for its beautiful Tantebellum homes, and a lot offer guided tours.
If you are looking for small towns near Atlanta at an hour away Madison will be perfect for you. It's a welcoming place with an air of romance and a charm that can only really be found in the south.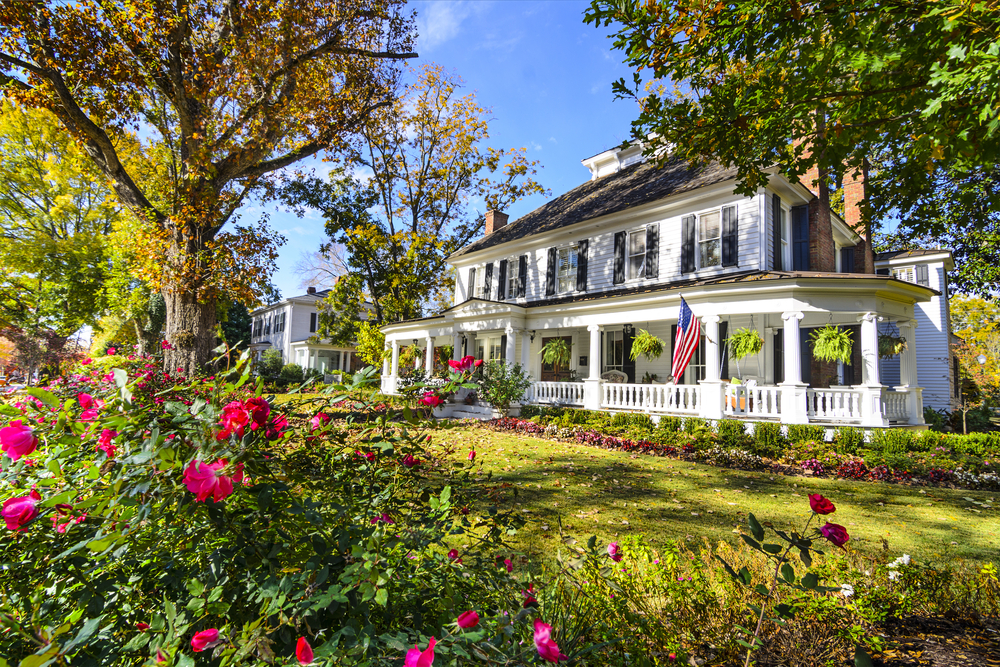 Savannah
Savannah is a coastal town known for its cobblestoned squares, horse-drawn carriages, manicured parks, and pre-war architecture. It's a charming southern escape with lots to offer every type of visitor.
The Historic District is stunning, the Victorian District has some beautiful architecture and the Starland District is where it's hip and happening. You will never run out of things to do here from the quaint and beautiful to scary ghost tours and historic cemeteries.
Definitely take a trolley tour if you can and you must visit the Gothic-Revival Cathedral of Saint John the Baptist. And if you love shopping for unique finds and artisan products Savvahah will not disappoint.
It is without a doubt one of the best small towns in Georgia, the beauty is just everywhere. Savannah demands to be explored and we are sure you will love it as much as we do.
Going to Savannah? Check out our 17 Coolest Things To Do In Savannah, Georgia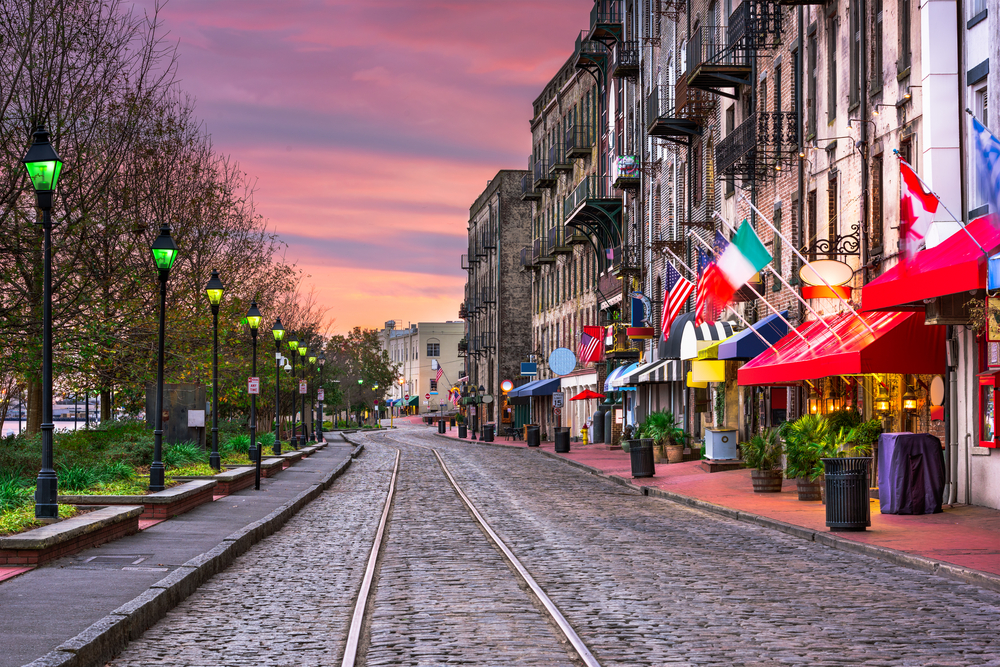 Jekyll island
Jekyll Island is one of the Sea Islands and one of the Golden Isles of Georgia's barrier islands. If you are after peace, serenity, and wide-open beaches then this might be the place for you.
This 5,500-acre island has 10 miles of shoreline to explore and we highly recommend a trip to Driftwood Beach and the Georgia Sea Turtle Center.
The island has a long history. Inhabited first by the Native Americans and colonized in 1733 it was the home to prosperous plantations until the end of the Civil War.
A group of wealthy families purchased the island in 1886 and those involved in this purchase represented over one-sixth of the world's wealth. For over 40 years it was the playground of a very wealthy few until the state bought it back in 1947.
Take a tram tour around the National Historic Landmark District and see the opulent mansions called cottages by their millionaire owners.
While this island is incredible with some enviable beaches we must not forget that this island was built on the repression of others. Please remember this as you are marveling at its beauty.
This island has a lot to offer everyone, dolphin tours, horseback riding tours, nature centers, 20 miles of bike trails to name but a few.
You won't be disappointed here that is for sure and we think it is an island well worth a visit even just to enjoy for a day.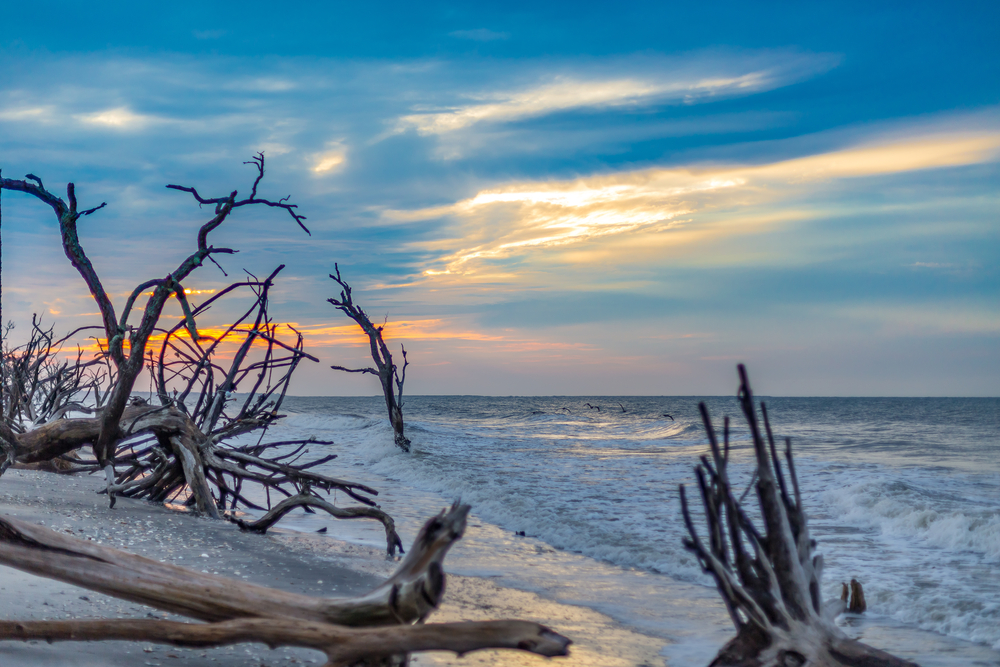 Athens
Athens marks the start of the state's Antebellum Trail of historic Civil War towns. Nestled just below the foothills of the Blue Ridge Mountains Athens is vibrant, hip, artsy, historic, and very trendy.
There are lots to explore here from the State Botanical Garden, the historic sites, the picturesque walking trails, and unique shopping. Athens is also home to the University of Georgia and was named one of "The Coolest Small Cities in America" by GQ Magazine.
The town is full of life and offers history alongside cool, it really is a gem.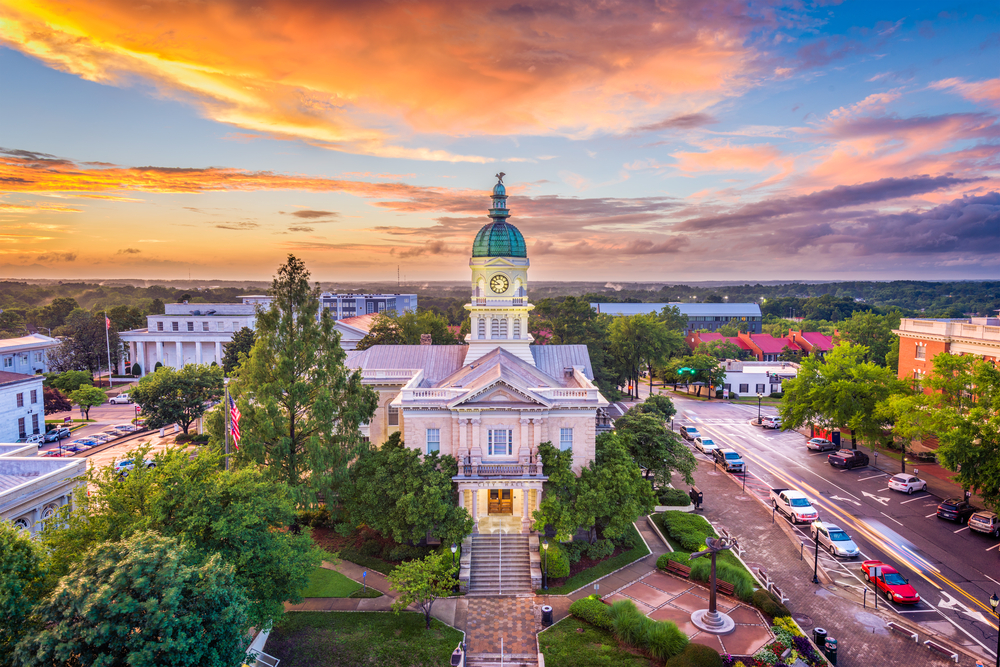 Tybee Island
Located just 20 minutes from Savannah this island is the perfect escape for those who need some sea and sand. Known for its clean wide beaches Tybee Island is a real gem. If you are thinking about visiting bring a bike it really is the best way to explore.
The island is very charming with a family-friendly atmosphere and it's a perfect place to just get away from it all for a while.
The island has some notable historic landmarks. Tybee Island Pier & Pavilion was built in 1891 and destroyed by fire. It was rebuilt in 1996 for the Summer Olympics. The Tybee Island Lighthouse & Museum is the tallest and oldest lighthouse in Georgia.
You can also take a kayak tour around Cockspur Island Lighthouse, the smallest lighthouse in Georgia, and Fort Pulaski National Monument is close by.
The island has a long history. Originally inhabited by Native Americans, then the Spanish explorers, and became a part of the Georgia colony in 1704.
This island has a lot to offer from some beautiful beaches to lots of history and a charm that we love.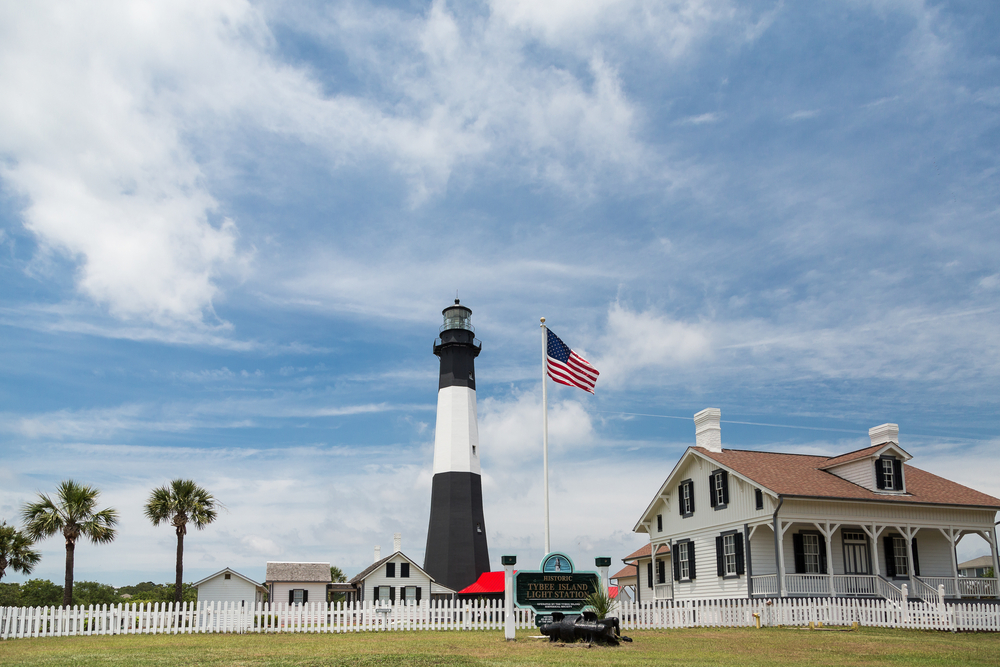 Dahlonega
Site of the first major U.S. Gold Rush and in the foothills of the Blue Ridge Mountains Dahlonega offers mountains, waterfalls, historic downtown, and the Chattahoochee National Forest.
And we saved the best until last Dahlonega is at the center of the Georgia wine region. Some of the wineries are picture perfect and well worth visit.
If you are interested in History visit the Dahlonega Gold Museum State Historic Site, The Crisson Gold Mine, or the Consolidated Gold Mines. And while you are here you must have a go at gold panning.
The town has a chequered past though in 1837 the Cherokees were forcibly removed from this area known as the 'Trails of Tears' removal act. Native American history and landmarks are still present and we urge you to also explore the past on which this town was built.
The town really is worth a visit, it's beautiful and there are lots to do for all ages. Make sure to check out some of the Best Things To Do In Dahlonega!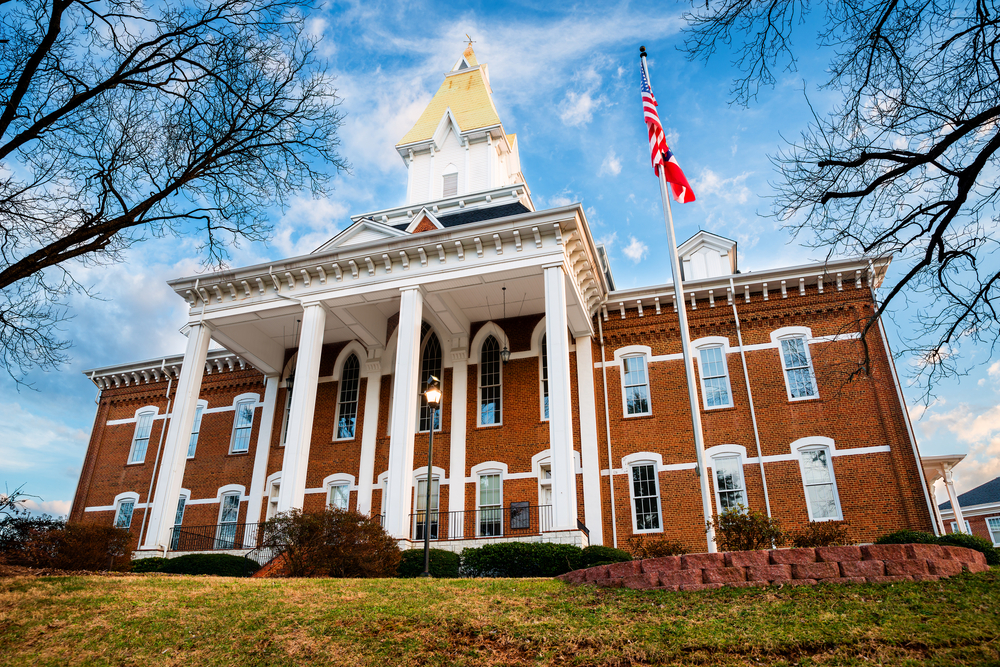 Adairsville
In the Oothcalooga Valley, Adairsville is a must-visit if you love history, antiques, and atmosphere. It was the first Georgia town to be listed in its entirety on the National Register of Historic Places.
Adairsville is most known for the Great Locomotive Chase in 1862 and you can still today visit the depot that witnessed the pursuit. Each fall a three-day celebration is held in remembrance of the event.
The downtown area is charming and there are some beautiful examples of Victoria and pre-war architecture.
This is a quaint town with a lot of history and a very charming downtown.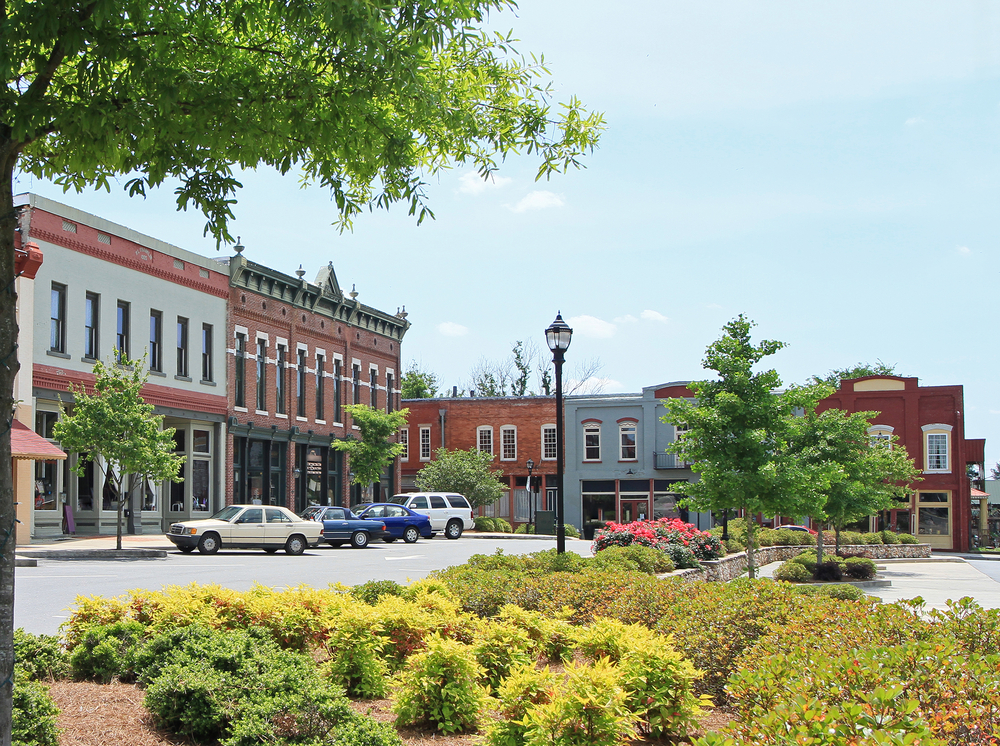 Marietta
Located in northern Georgia, a small town near Atlanta, Marietta is a town rich in history and culture. The town has no less than five National Register Historic Districts and there are lots of historic buildings here from the antebellum and Civil War periods.
The town square is a historic gem and we highly recommend a ride of the Marietta Trolley which does fully narrated tours of the area. There is a lot to see here including the Marietta Museum of History, the Marietta Gone With the Wind Museum: Scarlett on the Square, The Root House Museum, and the battlefields at Kennesaw Mountain.
This is one of the small towns in Georgia that has so much to see and is just a stone's throw away from a big city.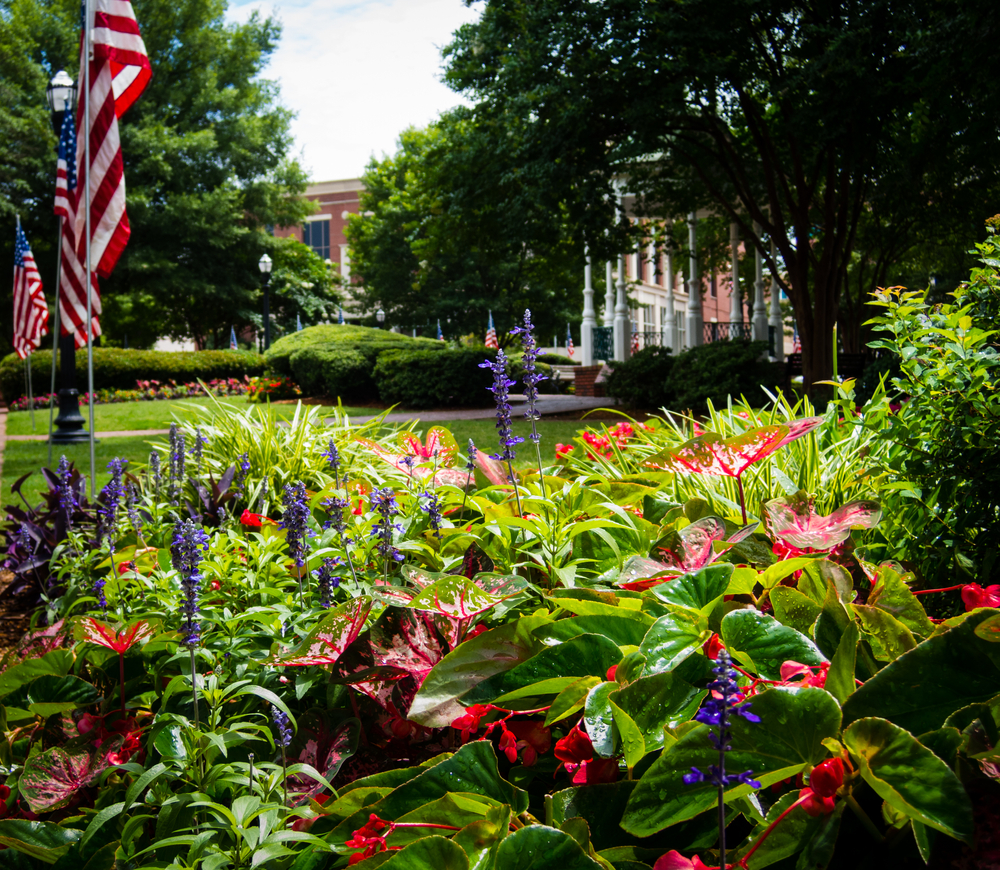 Covington
One of the small towns in Georgia that you may not have heard of but probably know by sight. More than 140 films have used this town as a backdrop including "The Dukes of Hazzard," "In the Heat of the Night", "Sweet Magnolias," and most famously as Mystic Falls from "The Vampire Diaries"
So to say this town is picture-perfect would not be an understatement. The Newton County Courthouse is probably the most iconic structure, listed on the National Register of Historic Places. But, honestly, the whole town is beautiful.
As you can imagine most of the attractions here center around the films created here. You can take Mystic Falls Tours, Main Street Trolleys takes in all the film sights and you can take a self-guided tour of the locations.
One of the cute towns in Georgia that has a lot to keep most people happy for a few days.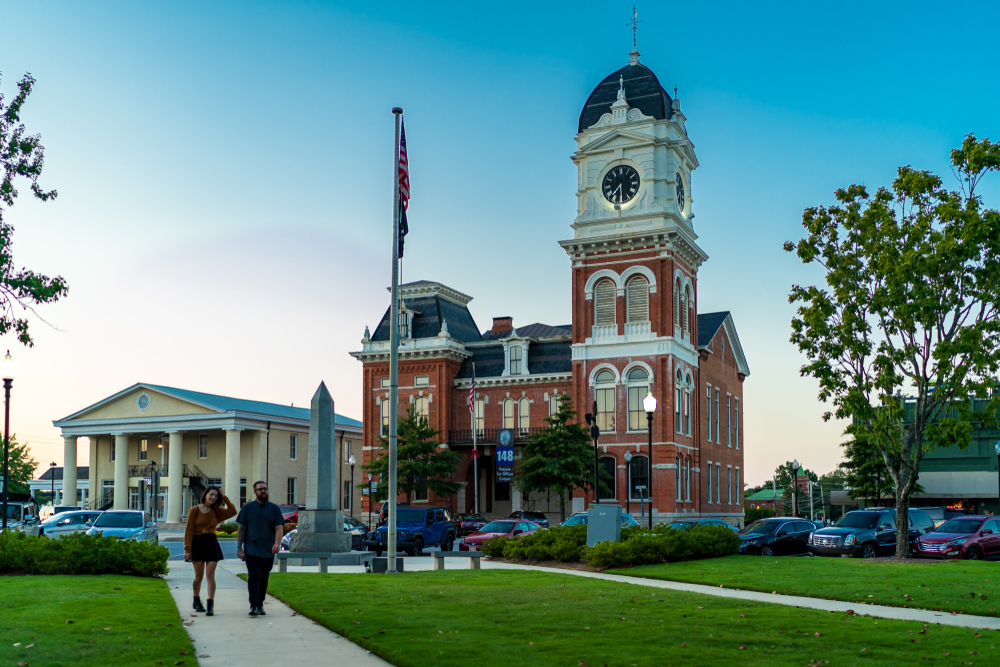 Lilburn
Located only 20 miles from downtown Atlanta, Lilburn is a quaint essential small-town American town with a huge dash of culture. Lilburn is home to the largest Hindu temple in North America.
The downtown is tree-lined sidewalks, has beautiful architecture, and has that old-worldly feel. Get a bike and explore as there is so much to see including Lilburn City Park.
An absolute must is a free tour of the BAPS Shri Swaminarayan Mandir. This temple is the largest outside of India and a ceremony is performed each morning at 11.15.
One of the best small cities in Georgia if you want to experience the culture with a big side of history.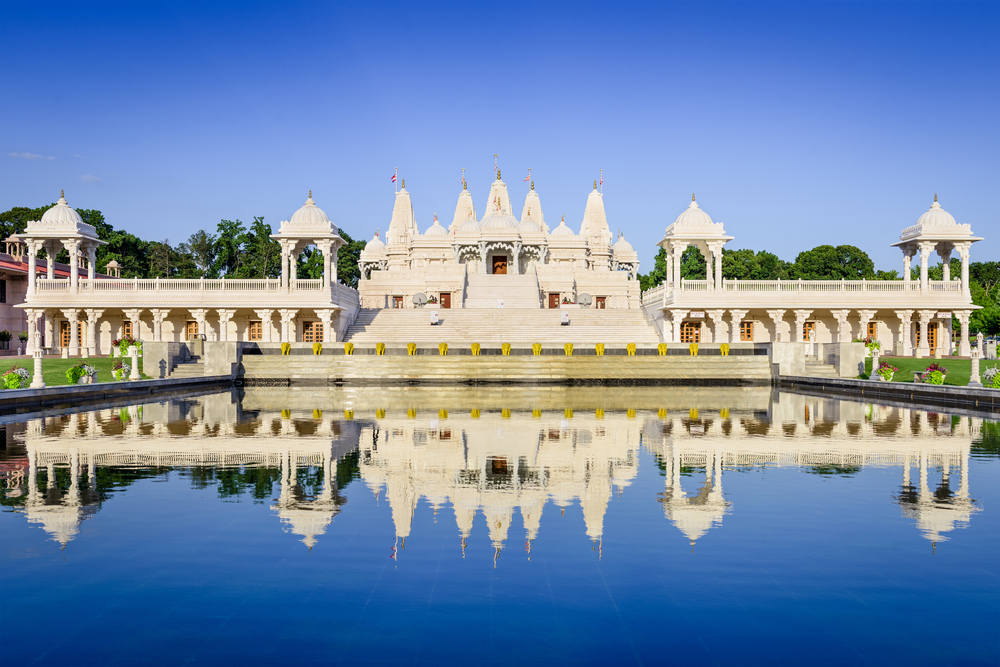 Fayetteville
Fayetteville is located 22 miles south of downtown Atlanta and was designated a Main Street City in 1996. Since then the downtown has been restored its historic streetscape.
Founded in 1822 by European Americans by forcible removing the Native Ame4icans this town has a somewhat chequered past. Enslaved African Americans also worked the cooton plantations here for more than a century.
This town is named after Revolutionary War hero the French Marquis de Lafayette.
The 1825 Fayette County Courthouse is the oldest surviving courthouse in Georgia and really is beautiful. Also worth a mention is The Holliday-Dorsey-Fife House built in 1855 by John Stiles Holliday and The house that Chris and Nancy Benoit lived in and the site of The Benoit tragedy.
Pinewood Atlanta Studios opened here in 2014 and is the largest film and television production studio in the United States outside the state of California.
Despite its past, this town is a great place to visit, It's a town that is intent on keeping its history while also recognizing the needs of the modern visitor.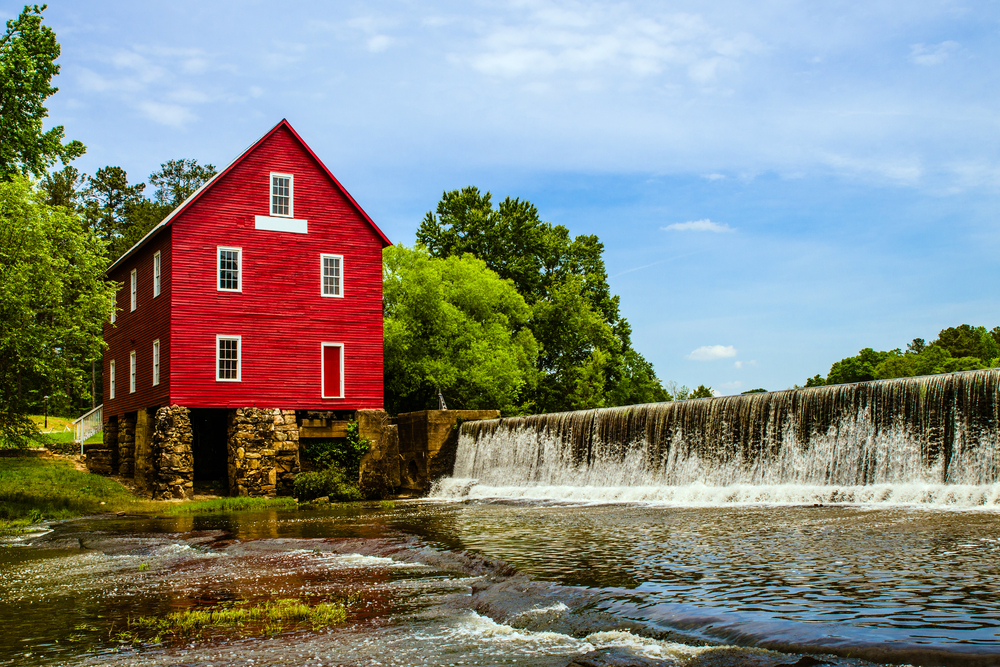 Duluth
Duluth has a small-town feel yet is close to all the big city amenities of Atlanta. The downtown is breathtakingly beautiful and full of charm with a cute town green with a large fountain.
Named by NewsMax magazine as a "Top 10 City for Best American Values" so that gives you an idea of how all-America this town is.
The Southeastern Railway Museum is also here and there are an array of train artifacts and vintage locomotives to see.
Its a great place to visit for a quick getaway.
We do hope you visit one of these small towns in Georgia. We know whichever you pick you will have an amazing time. Georgia really is a great state with so much to see and do.
Have a great time in one of the best small towns in Georgia and we can't wait top hear all about it on your return.
If you are thinking of doing a road trip this might help, 15 Fun Georgia Road Trips For Your Bucket List