If you are searching for the ultimate 3 days in New Orleans itinerary, you have come to the right place! New Orleans is such a unique, vibrant, and interesting city that we are confident that you are going to fall in love!
If you are new to New Orleans, welcome! New Orleans is located in Louisiana on the Mississippi River and has a rich French Creole culture that is apparent in every aspect of the city.
Planning your trip to New Orleans last minute?
Make sure to book your hotels and tours in New Orleans in advance to ensure availability! Here are our top picks for your trip!
Top Experiences And Tours In New Orleans:
Top recommendations for accommodation In New Orleans:
If you have heard of New Orleans as a city for partying and drinking, it is partially true, that is what a lot of people do on their New Orleans itinerary.
HOWEVER, that is far from all there is to do! We are going to show you a wide variety of things to see and do in the city and let you take it from there!
This New Orleans itinerary is perfect if this is your first time in the city. You will have the chance to see the best of what NOLA [New Orleans Louisiana] has to offer all within a very short span of time.
From exactly what to do and see to where to eat and stay, this guide will tell you all the relevant information about spending 3 days in New Orleans. We even have an entire post on the Coolest Airbnbs In New Orleans!
If you have already visited New Orleans in the past, take a quick peek through this itinerary as you may find something new that you didn't know existed! Perhaps a new restaurant or a new quaint and hidden side street. There is always something to discover in New Orleans.
Finally, when planning your 3 days in New Orleans itinerary, keep in mind that the whole point of spending your "One Time In NOLA" is to WANDER and discover! Create your own story! Take our tips and then create your own memories and find things all on your own. That is what New Orleans is all about.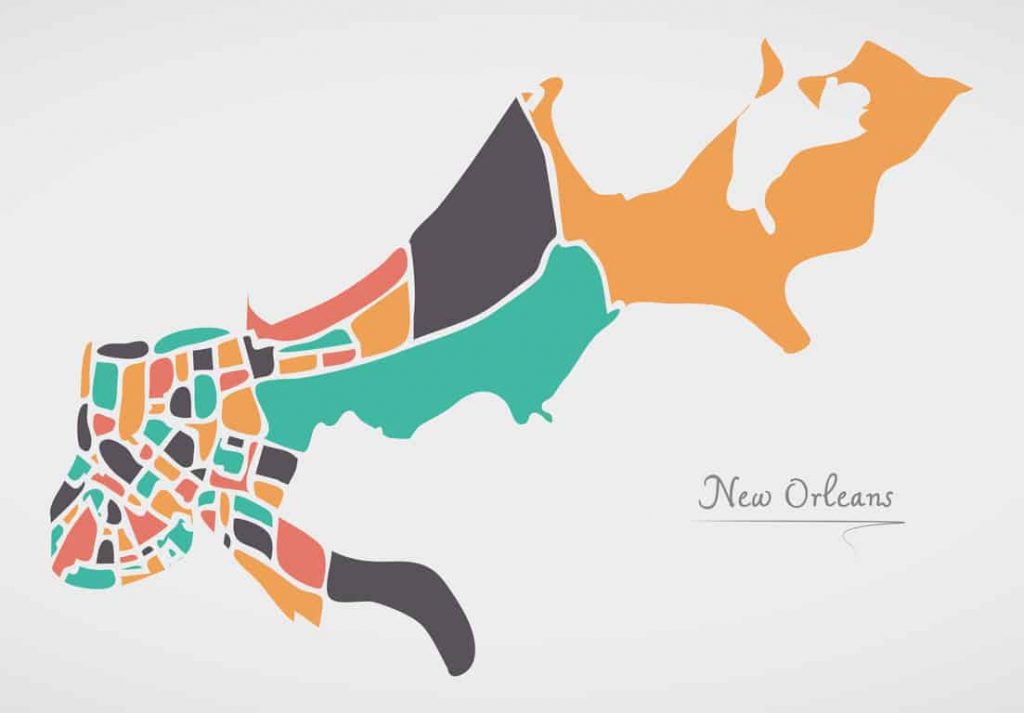 The Ultimate 3 Days In New Orleans Itinerary You Should Steal
Day 1: Begin Your New Orleans Itinerary By Exploring The French Quarter
The French Quarter is the area of New Orleans that is the most famous and well-known. When people think of New Orleans they often think of the French Quarter with the beautiful balconies and party streets.
We are here to tell you that the French Quarter is MUCH larger and more diverse than you will think. It is actually quite huge and there is a lot to see and do! It is the perfect place to begin your 3 days in New Orleans itinerary so you can orient yourself with the main sights of the city.
Our New Orleans itinerary will provide you with a list of stops for each day including an order. This is just a suggestion and we want you to feel free to change the order at your leisure and add/drop things. We will provide our tips so that you can create your own personalized experience during your 3 days in New Orleans!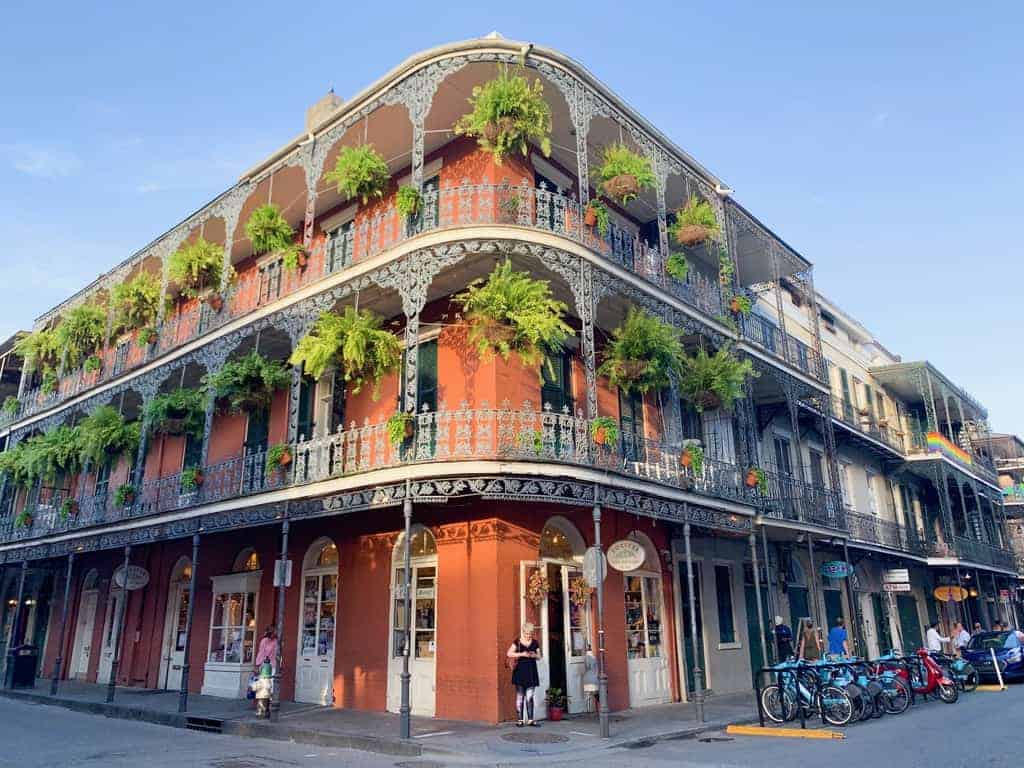 Stop 1: Explore Jackson Square
The best place in the French Quarter to begin your New Orleans itinerary is Jackson Square. This square is named after the General and all-around bad dude Andrew Jackson.
Although he has a dark past, the square is beautiful and very central in the French Quarter. Walk around the park and the surrounding areas. There are live street musicians that play in the park and that is what New Orleans is all about.
The best views of Jackson Square are from across the street. When you leave Jackson Square, cross Decatur Street to the Washington Artillery Park. Climb up the stairs and then turn back around and look at Jackson Square. This is a wonderful photo spot and allows you to have a bird's eye view of this central area!
Book Now: French Quarter Walking Tour
Book Now: New Orleans Hop-On Hop-Off Bus Tour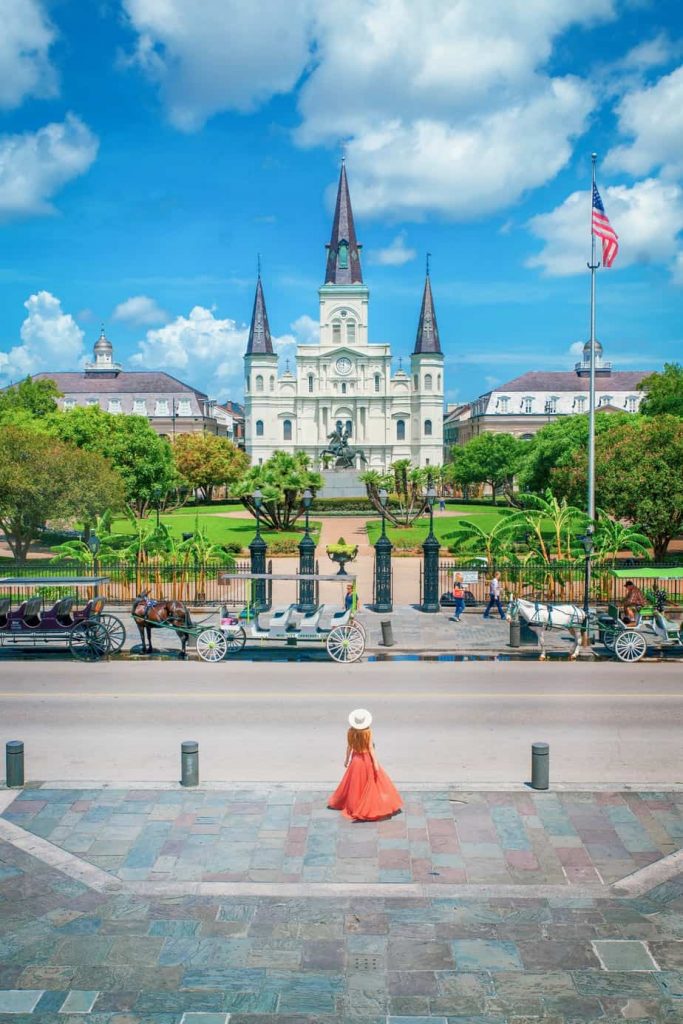 Stop 2: Relax Along The Mississippi
If you continue through Washington Artillery Park, you will cross over a cable car line and then you will end up right on the banks of the mighty Mississippi! There are stairs that head straight into the river and there is a pretty riverwalk with benches if you don't want to sit on the stairs. On a good day, there will be a lovely breeze coming off the Mississippi River.
This is a quick place to relax and cool down during your New Orleans itinerary. Watch the paddle wheelers go by and you may even spot a cruise ship coming into port! It is one of the most relaxing things to do in New Orleans!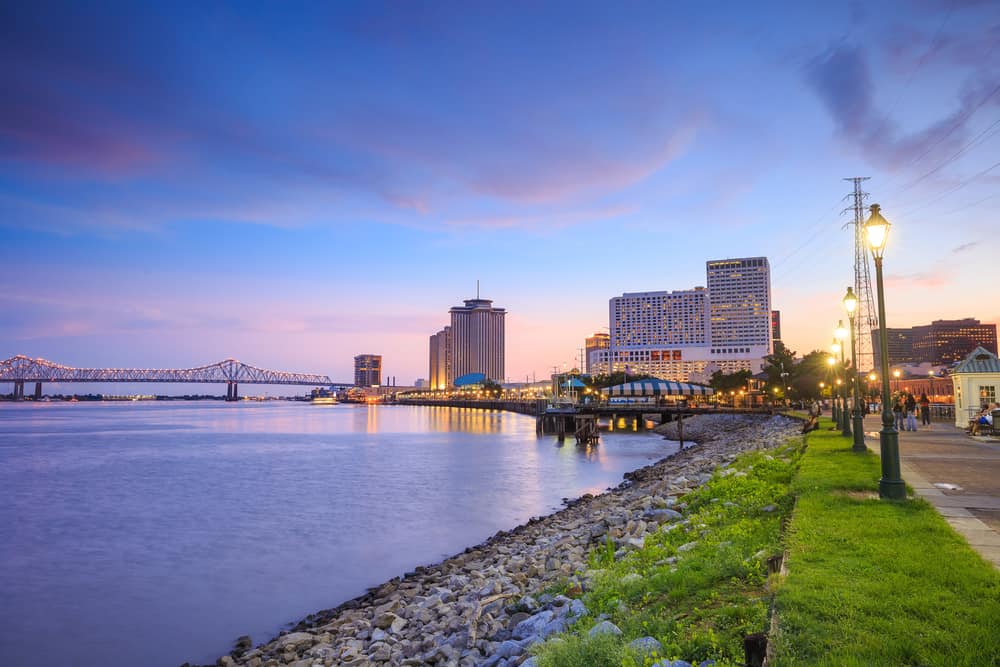 Stop 3: Taste Your First Beignets At Cafe Du Monde
While you are still across the street from Jackson Square, head back down the stairs and visit Cafe Du Monde. This cafe is home to the best beignets in New Orleans and is VERY popular. This is a highlight on any 3 days in New Orleans itinerary and we are confident you will be back multiple times to experience the goodies!
The menu is quite small and beignets are the focus. One order costs less than $3 and they are huge! The beignets are topped with a good 1/2 inch of powdered sugar so make sure you eat something savory before or after you visit so that you don't have a blood sugar crash!
Cafe Du Monde is open 24/7 so if you want to beat the crowds, come later in the evening during your New Orleans itinerary. Perhaps for an after-dinner snack or a really sugary breakfast.
Book Here: New Orleans Food History Tour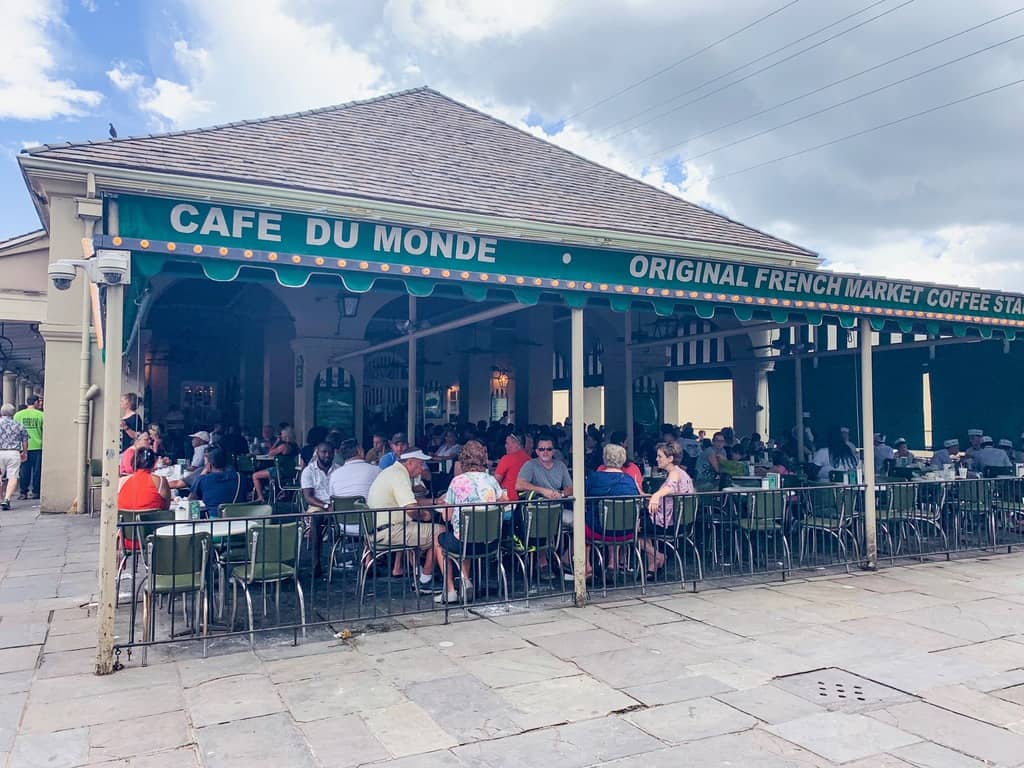 Stop 4: Shop At The French Market
Walk off your beignets at the nearby French Market. We were told by locals that you want to avoid the food at the French Market so proceed with caution because you never know what the meat actually really is.
These are words from our local guide so what you do with them is up to you! The French Market is a favorite for people planning their New Orleans itinerary and looking to shop on a budget.
The French Market spans 6 blocks and was originally a Native American trading post with the French way-back-when. The market is the oldest of its kind in the United States and makes a great historic stop if you are trying to see the best of New Orleans in 3 days.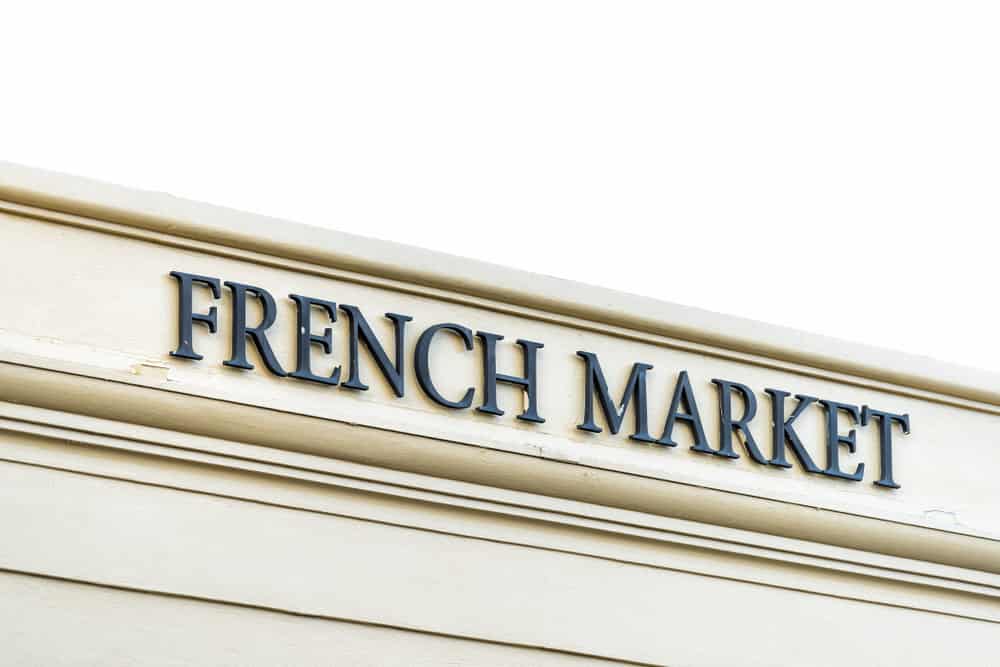 Stop 5: Eat Lunch At St. Roch Market
You are going to have to take an Uber/Drive to reach St. Roch Market but it is totally worth it! This is a very popular food hall in New Orleans and a must for any foodies. The best part is they offer Haitian food that is veganized as well as the typical meat option.
St. Roch Market is the perfect spot for lunch as there is something for everyone. From vegan food to Asian cuisine to Mediterranian food and Haitian food and the best cookies ever, you won't go wrong by lunching at St. Roch!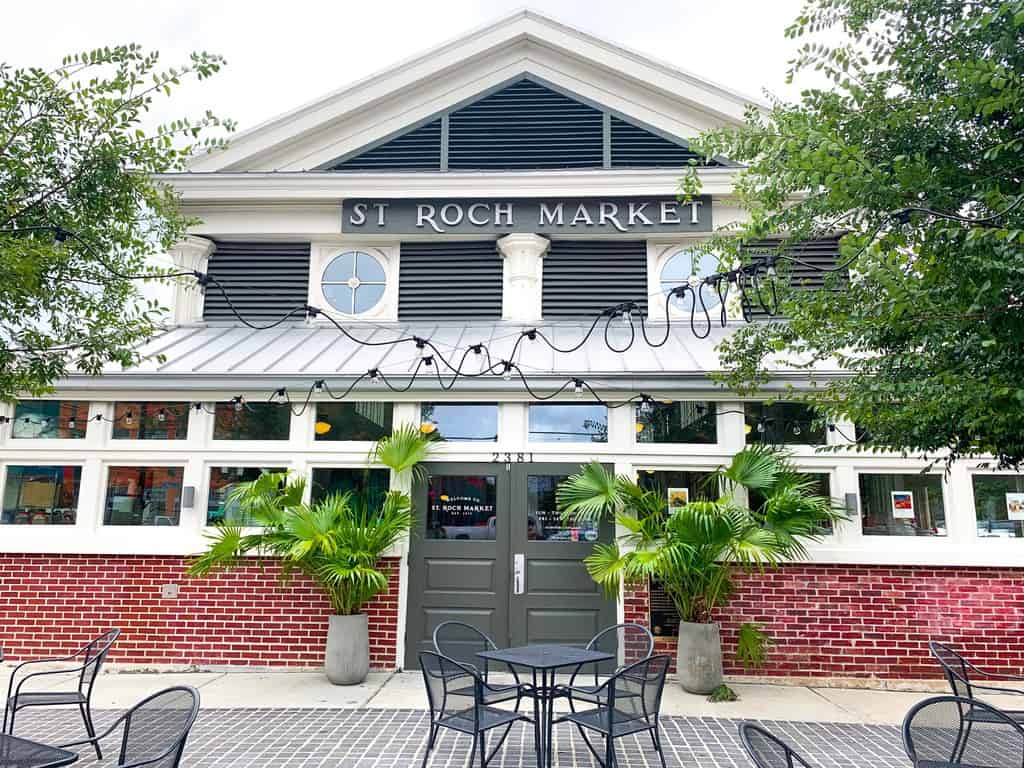 Our favorite spot for lunch was by far Fritai which is a black-owned Haitian restaurant in the market. We highly recommend the Mushroom Tofu Fritai and the Griot Plate.
It was affordable and beyond good. We could have eaten here every day of our New Orleans itinerary, but we can't because there are so many other goodies in the city to explore. This is a must, especially if you are looking for Black-Owned Restaurants In New Orleans!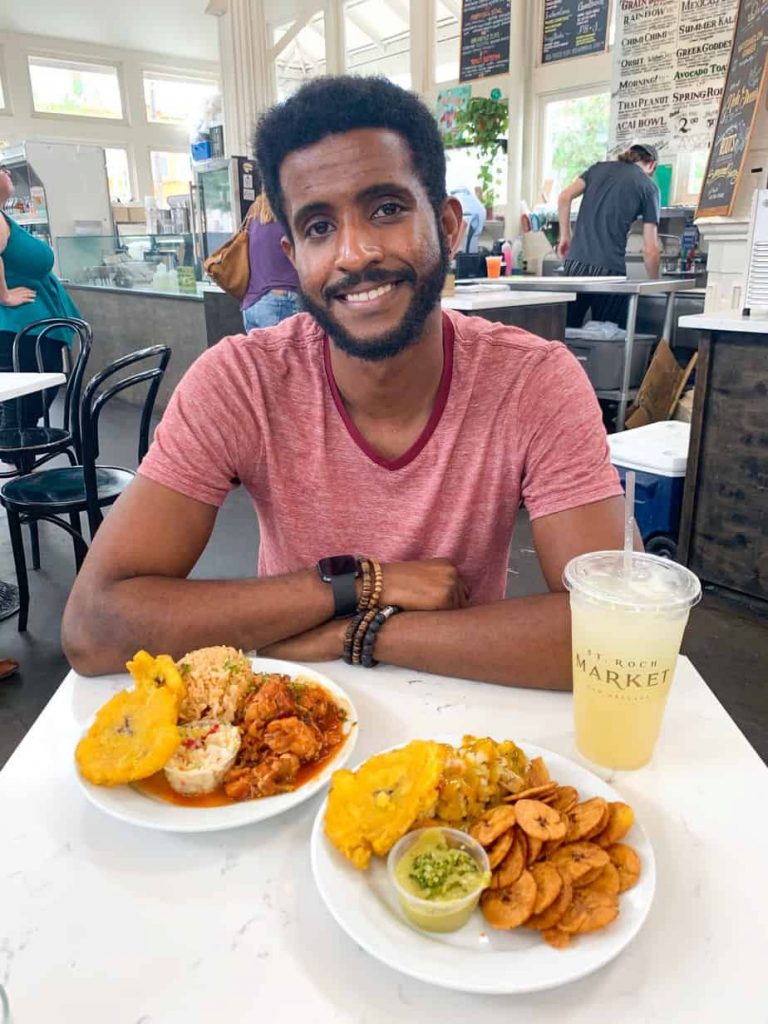 Stop 6: Saint Louis Cathedral
Have your Uber drop you back off near Jackson Square. This is an easy and central location to tell your driver to drop you off at! Saint Louis Cathedral is the oldest cathedral in the United States and is really beautiful. Most people only stand outside and see it from photos, but this is a mistake! The inside is very traditional and beautiful and is worth a visit. It is free to enter and you can donate if you want.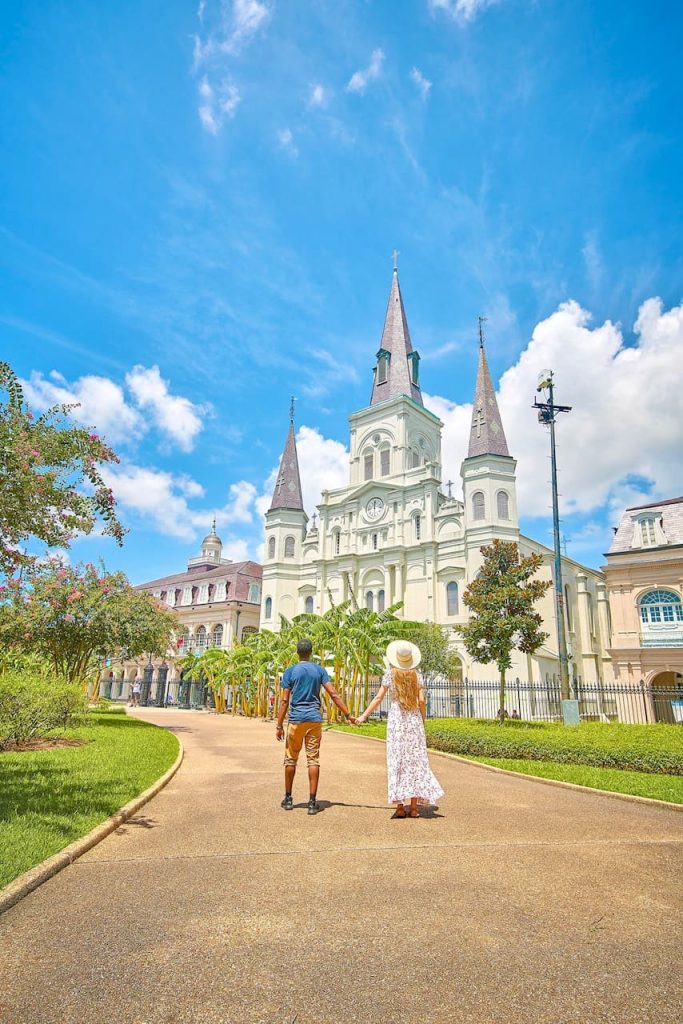 Stop 7: Grab A Drink At The Carousel Bar
The Carousel Bar will be a highlight of your 3 days in New Orleans itinerary. It is located in Hotel Monteleone along Royal Street. This hotel is a very beautiful luxury hotel but anyone can visit and it is totally free to enter the hotel and bar! Even if you don't want to drink at the Carousel Bar, we highly recommend going to take a photo and see the bar.
The Carousel Bar is iconic and actually spins around in a circle like a real carousel! The decor and design is stunning and it is a favorite on any New Orleans itinerary. If you want to drink here, you should arrive a little before 11am when it opens.
If you don't want to go that early, you will have to stake out your seat and wait for people to leave while quickly grabbing a spot. Per the hotel managers, this is the best way to go about it in order to snag a coveted seat!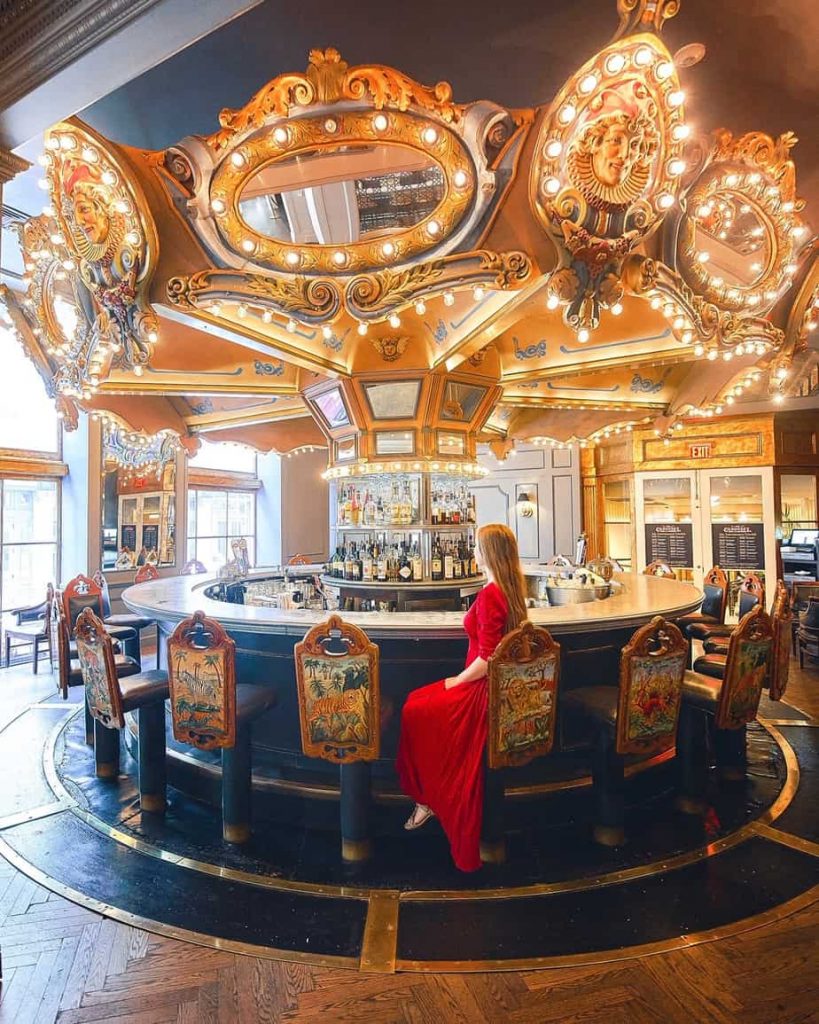 Stop 8: Go Balcony Hunting
Royal Street is home to some of the best balconies in New Orleans. If you simply walk down the street toward the "Jackson Square" area you will come across tons. Once you pass over the backside of Jackson Square, keep heading away from it into quieter areas of the French Quarter. This is where the magic happens and where you will find the best of the best!
A sultry evening stroll is a wonderful way to take in this part of the French Quarter. There is an eye-catching balcony at every turn and you won't want to miss a single one! Keep your camera at the ready as they are on the end of every block. This also allows you to leave the hustle and bustle of your New Orleans itinerary for a quiet stroll.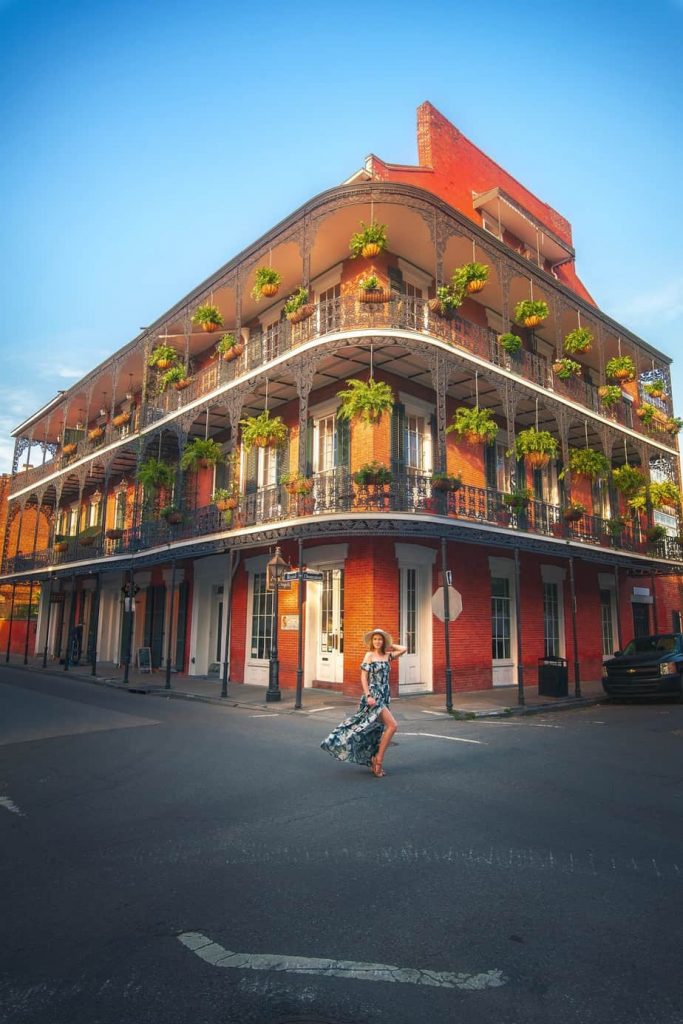 Stop 9: Finish Day 1 Of Your New Orleans Itinerary With Dinner
The French Quarter is home to some fantastic places to eat during your 3 days in New Orleans itinerary. The food is world-famous and you won't want to miss it! Some of the best spots in the city are located here. We recommend checking out Brennans New Orleans if you are looking for a fine dining or "nicer" dinner experience! It is one of the more expensive options but makes for a delightful evening out!
The Napoleon House has been in the French Quarter for almost 200 years and makes a wonderful dinner option for trying out some New Orleans' favorites. It is one of the more affordable dining options on your New Orleans itinerary and the food is great!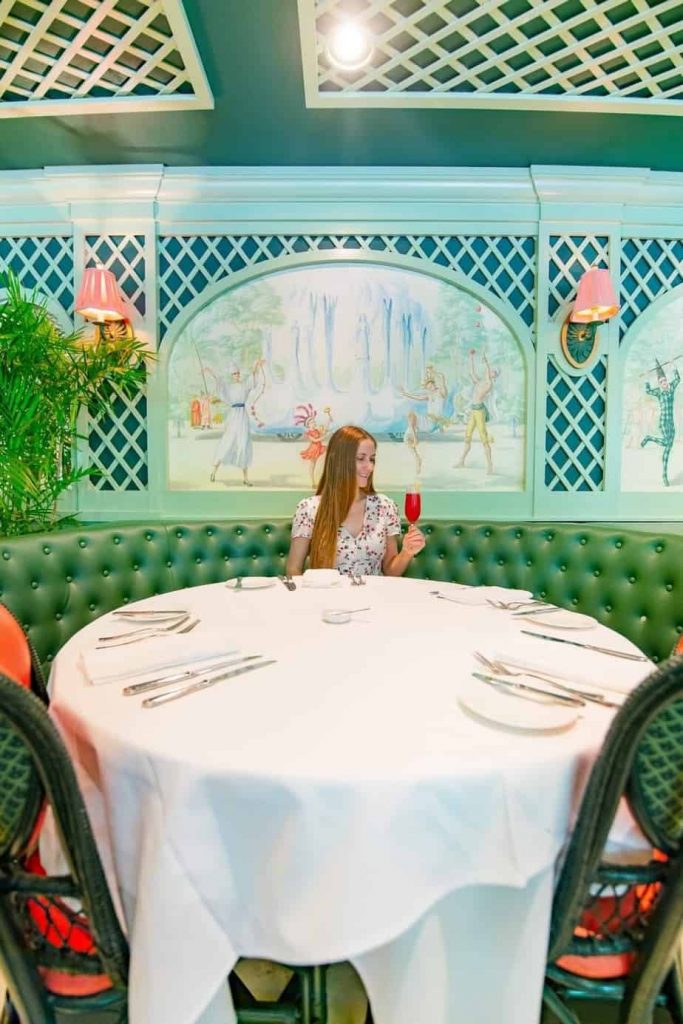 Stop 10: Visit Bourbon Street
You know you want to know what Bourbon Street is all about so you may as well go get it over with on the first day of your New Orleans itinerary! Bourbon Street is THE party street.
We didn't party as we don't drink a lot and aren't a fan of clubs, but we did walk down it and that was an experience itself! Even if you don't drink or party, you should certainly walk down in the evening to see everyone enjoying themselves.
There is a bar for literally every taste and style! From rap and country to punk rock and jazz, the clubs abound and the cover is usually free or really cheap! Bourbon Street is known for the daiquiris so check into testing one out after your dinner!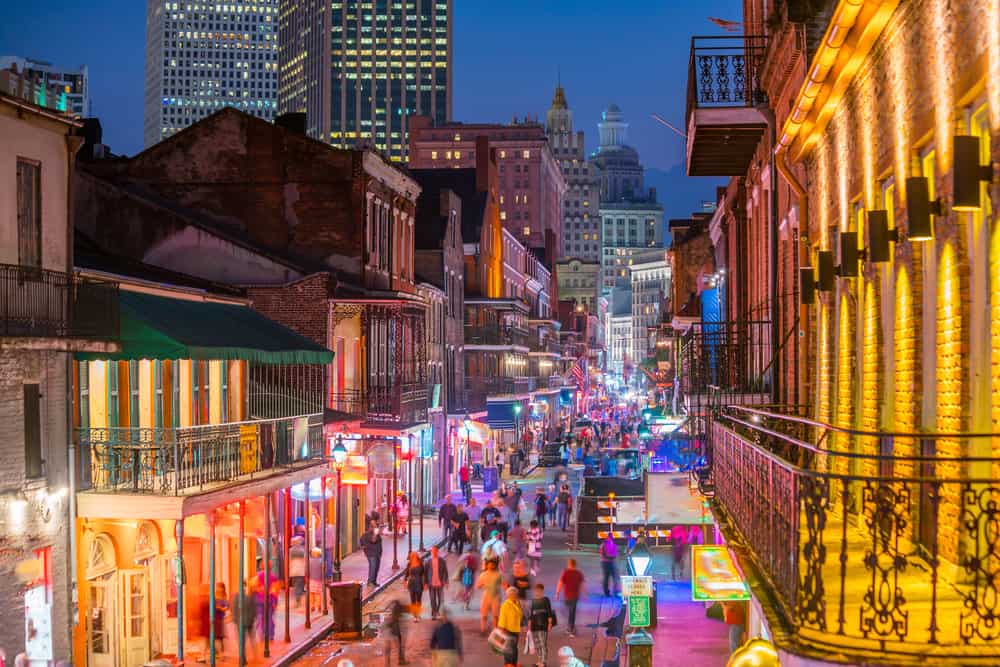 Day 2: Explore The Bywater District And Garden District
On the second day of your New Orleans itinerary, you are going to go from one end of the city to the other! Spend the morning in the Bywater District before it gets too hot [little shade!] and then spend the afternoon in the Garden District exploring ancient trees and stunning homes! Today it is all about houses and beautiful architecture.
Stop 1: Breakfast At Elizabeth's Restaurant
Begin the second day of your New Orleans itinerary by having breakfast in the Bywater District at Elizabeth's Restaurant. The breakfast there is HUGE and you can experience true "American portions" which we love! We love getting a lot of food for the money! Elizabeth's is in such a cute building and the food is so good. We recommend the Eggs Benedict but done up the way Elizabeth's does them! This means that instead of bread your eggs go on top of something like fried green tomatoes or a different type of meat! This is a wonderful place to grab Brunch In New Orleans!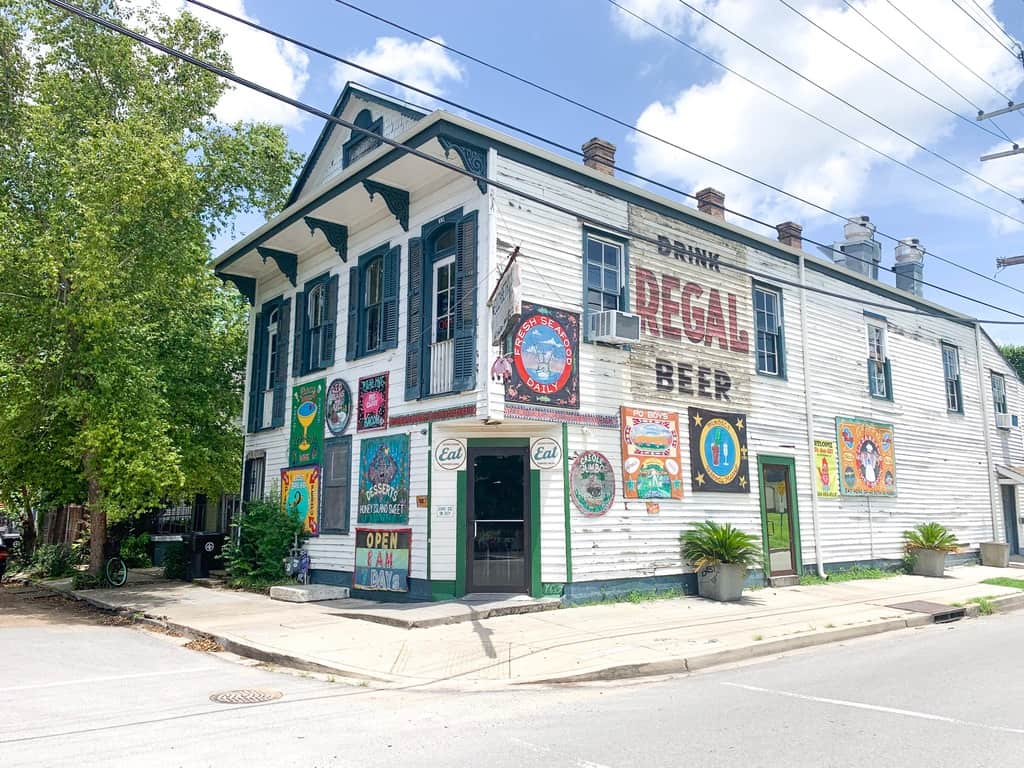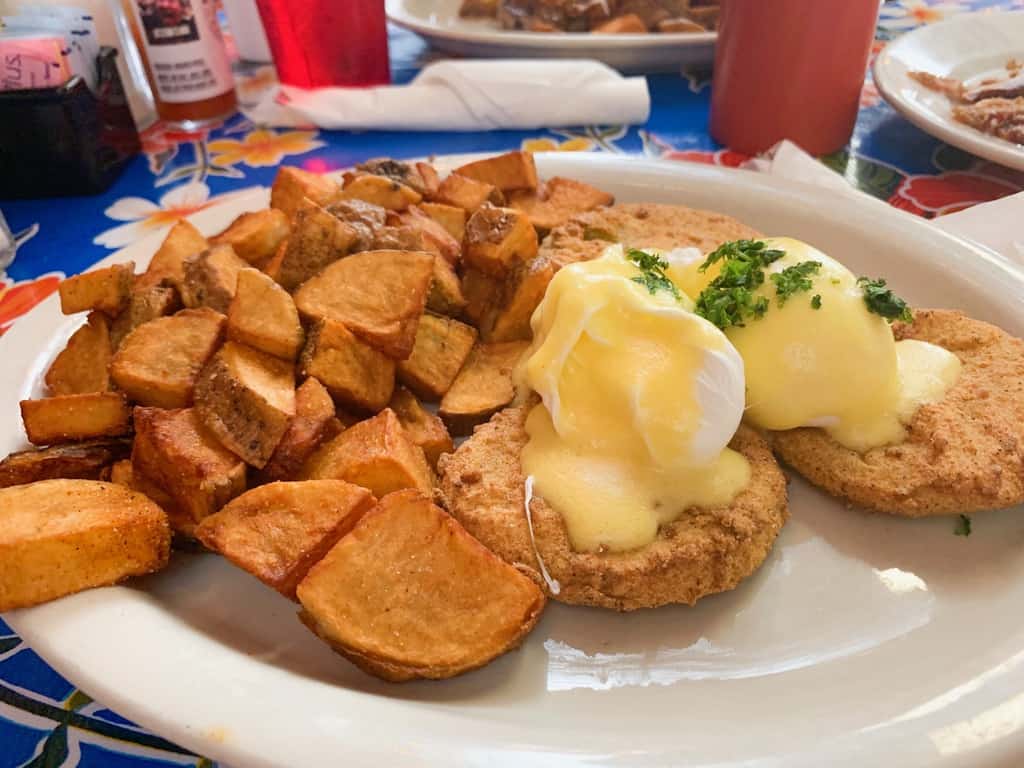 Stop 2: Visit Crescent Park
After breakfast, stroll through Crescent Park before it gets too hot. Depending on the time of year you are planning your New Orleans itinerary, it may be very hot or it may be really nice weather. You never know with the weather in the south [we know as we are from Florida!] Crescent Park is a park along the Mississippi in the Bywater District that has a huge "crescent" walkway that goes over train tracks. The crescent is a popular photo spot and the park is worth a quick stroll!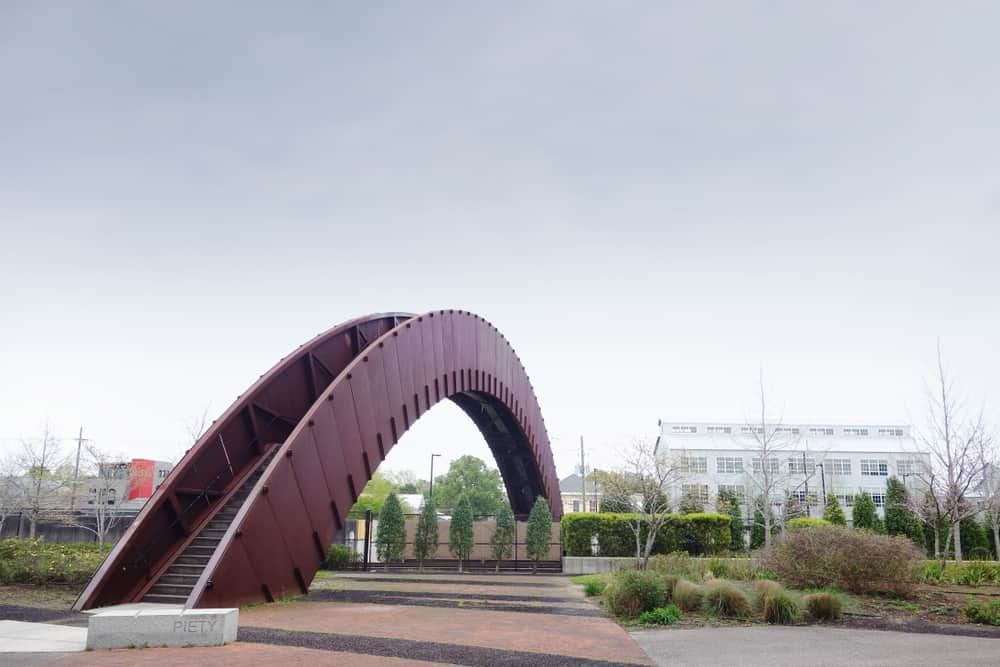 Stop 3: Shop In Euclid Records
New Orleans is all about off-beat, local, and cute! Euclid Records is just that. The hot-pink exterior is so pretty and pink and the inside is filled with records, CDS, and more. If you are a record lover or music lover of any kind, you may come out with a very unique souvenir to take home from your New Orleans itinerary if you visit this store! There are some rare records and unique hits that you can take home. You may even get lucky and see a live performance!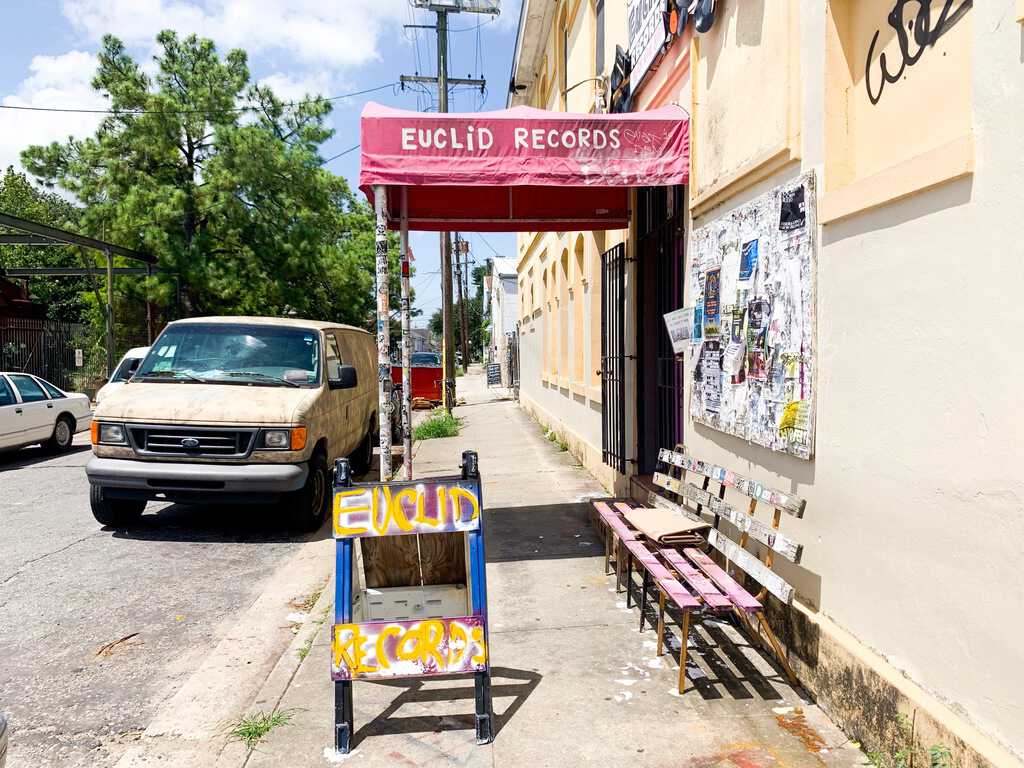 Stop 4: Explore The Colorful Homes
This is THE thing to do during your 3 days in New Orleans itinerary in the Bywater. Walk up and down the nearby streets and look at all the cute and colorful houses! Royal Street has many cute ones, but every side street is a great spot for exploration! You never know what you may discover and that is the charm of New Orleans! Some homes are quaint and cute. Some are eclectic. Some are colorful. Find some that are your favorites and take tons of photos!
A word of caution: these are people's homes so don't go on their porch! This isn't a huge issue in New Orleans like it is in London or Paris but we wanted to add that quick reminder just in case! Just stay on the sidewalk or street and stay respectful!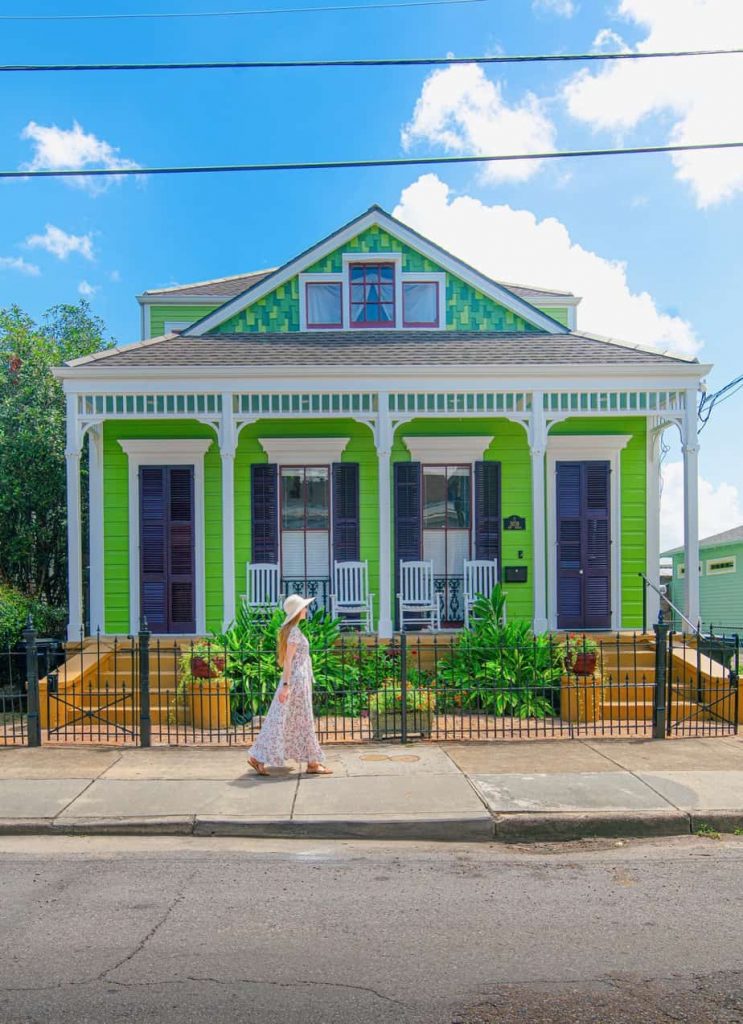 Stop 5: Lunch At Auction House Market
After you are done exploring the Bywater District, head across town to Auction House Market for lunch. This place is SO CUTE and very popular with locals and business people and it is located on trendy Magazine Street.
It offers totally different options from St. Roch Market and has a more upscale feel. The decor and the design are the perfect respite from the city and a great way to recharge during your 3 days in New Orleans itinerary.
We recommend Long Chim and the Thai Tea, Vegan Unicorn, and Garlic Chicken were all great dishes. Depending on what you are in the mood for, there is something for everyone! Don't forget to check out the fun and funky bathroom with all the "lips" on the walls! It is so cute!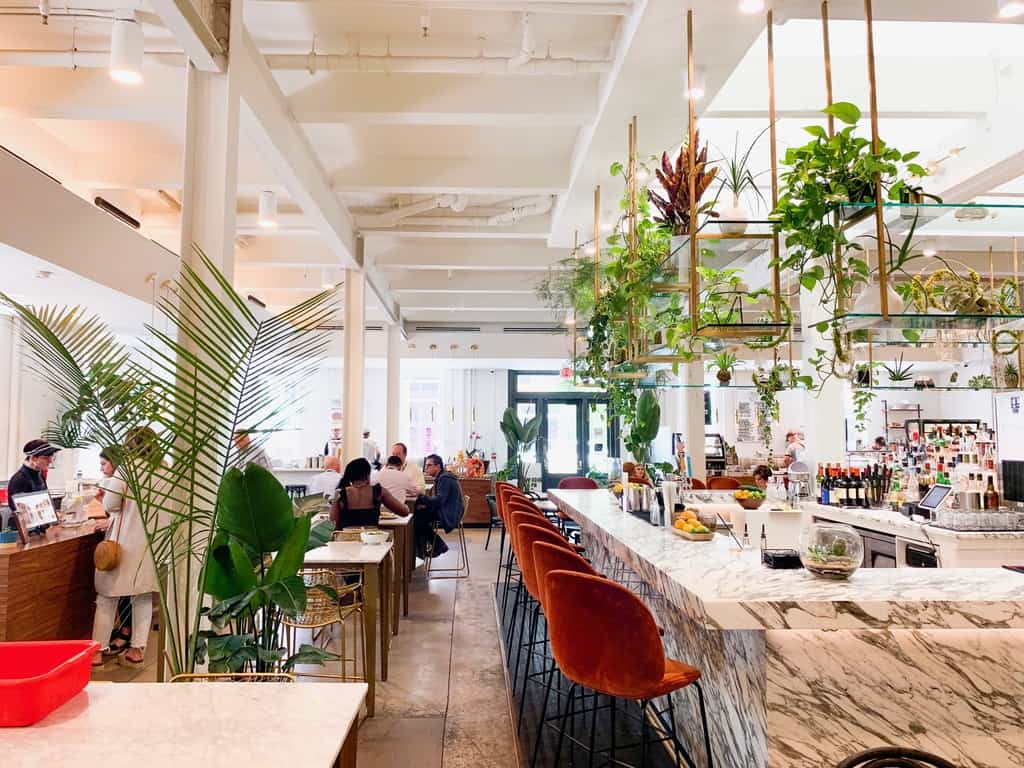 Stop 6: Ride The St. Charles Streetcar
Head two blocks from Auction House Market and take a ride on the St. Charles Streetcar. It is a dark army green color and is the oldest continuously running streetcar in the whole world! That is such a cool fact! Even better? A 24-hour pass on the New Orleans streetcars and buses costs just $3. Yes, you read that correctly. It costs $3! You can pay with cash or you can download the RTAGoMobile app and create and account and put in your payment this way. This is what we did and it was super easy!
Then you can sit and enjoy a super cheap ride in the streetcar. This is one of our favorite things that we did in New Orleans and it is super fun and unique! If the windows are open, be careful to not stick your head or hands out the window as lamp posts and trees are within 1 foot of the windows and you could easily lose a limb.
We loved sitting in the back of the St. Charles streetcar because you can stretch out and enjoy views from both the sides and the back! We recommend prioritizing this on your 3 days in New Orleans itinerary because it is totally awesome!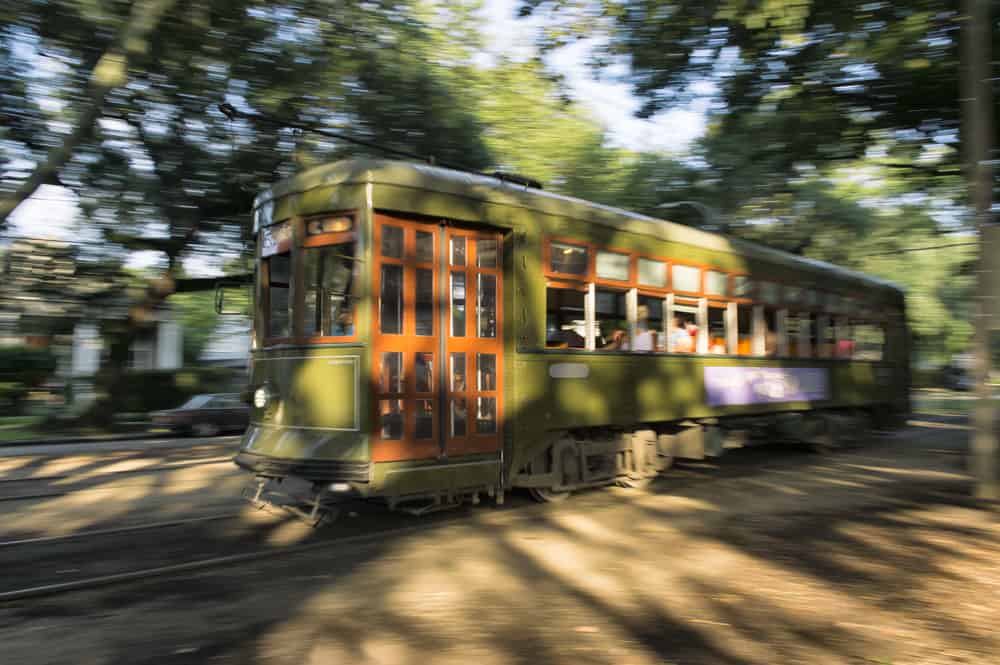 Stop 7: Marvel At The Garden District Homes
The Garden District is home to some of the prettiest and most impressive homes in New Orleans. If you thought the Bywater was great, you are in for a real treat when it comes to the Garden District. Start on St. Charles which is the same street the streetcar runs down.
You can hop out of the streetcar at any stop and walk around and then get back on and go to the next area. The streetcar runs around every 10 minutes so you won't have to wait long.
This is a great way to beat the heat during your 3 days in New Orleans itinerary because of the shade provided by the oak trees that line this area of town! The walk is very easy and you can get on and off the streetcar as many times as you want. Make sure to have your camera at the ready so you can take some awesome shots as you stroll along. Every house is stunning!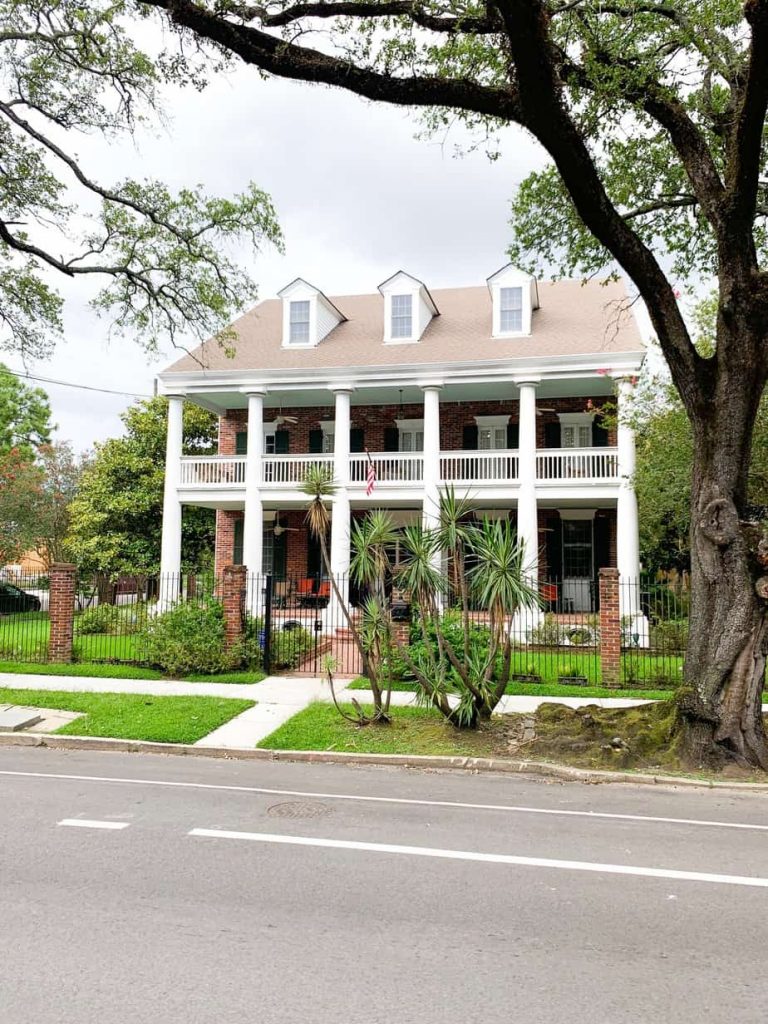 Stop 8: Dinner At Commander's Palace
Commander's Palace is just as cute and colorful as the rest of the city and it is a great way to end the second day of your New Orleans itinerary. Commander's Palace offers Creole fare and jazz music. You can choose a 5-course tasting menu or you can dine a-la-carte. There are plenty of options for every taste including a few vegetarian choices like risotto and gnocchi!
Even if you don't want to eat dinner at Commander's Palace you should still stop by to take some photos of the colorful exterior. It is just too cute and you really don't want to miss it!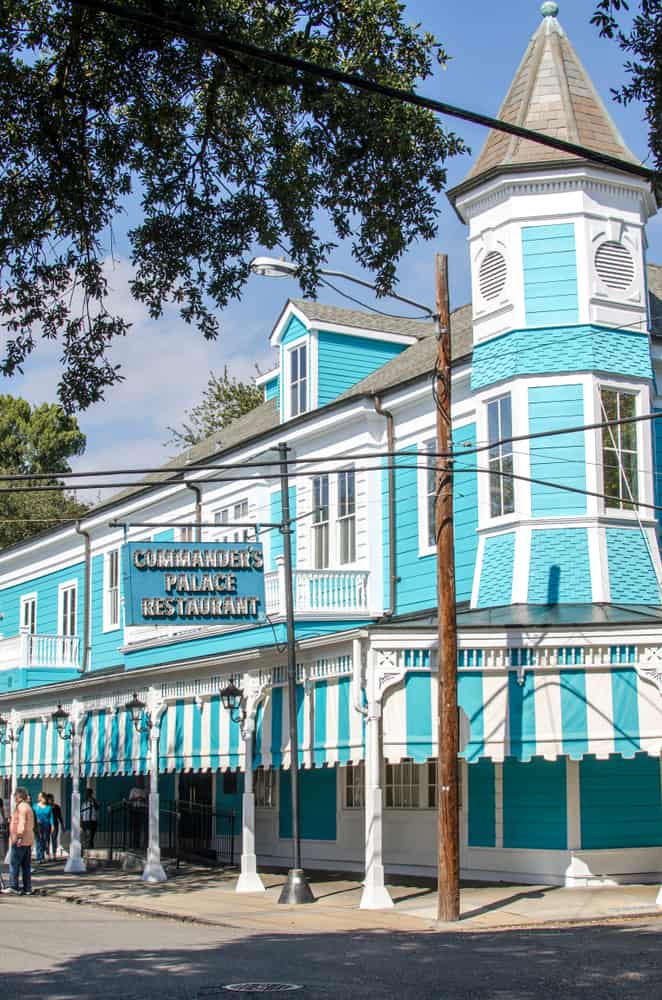 Day 3: End Your 3 Days In New Orleans With A Little Bit Of Everything
We love that the final day of your 3 days in New Orleans itinerary will allow you to do a little bit of everything! This is the best part of a trip to New Orleans. The first two days you can pack in what you must see.
The last day should be more relaxed as you revisit old favorites [French Quarter anyone] and see new things that the city has to offer that you may have missed. This is the day that is all about you and your favorites? Want to head back to Cafe Du Monde again? Why not! Go for it!
Stop 1: Take A Ride On The Steamboat Natchez
Steamboat Natchez is one of the oldest remaining paddle wheelers on the Mississippi. If you have never ridden on this type of boat before, consider starting off the final day of your New Orleans itinerary with a ride on the Steamboat Natchez. There are a variety of tours and tickets you can take and it is more affordable than you may think! Enjoy live music when you take a Day Cruise On The Steamboat Natchez and you can even tour the preserved steam engine room!
Book now: Steamboat Natchez Day Cruise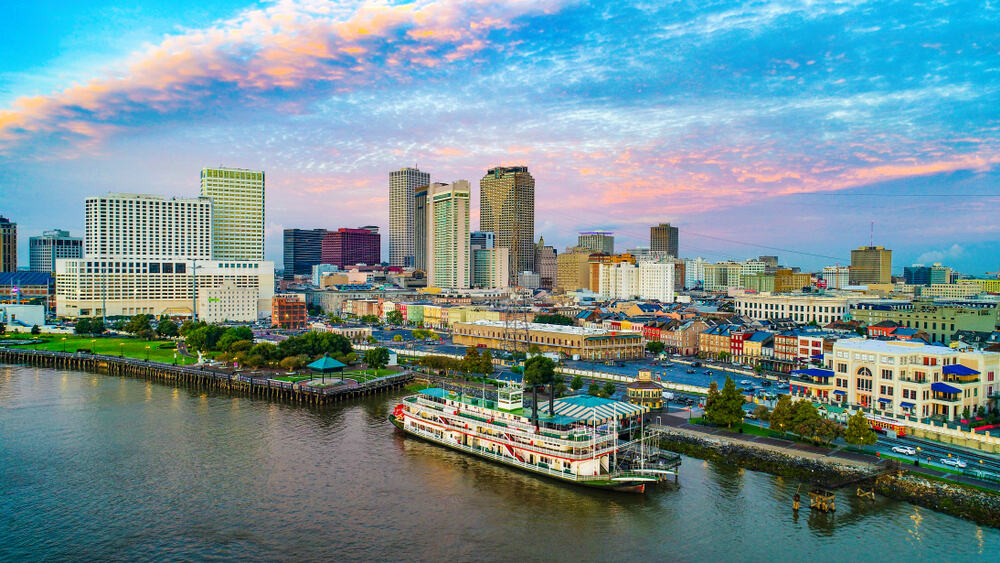 Stop 2: Lunch At Cafe Beignet
On your last day in New Orleans, make sure to have lunch at Cafe Beignet. There are a few locations around the city, but our favorite it the Royal Street location in the French Quarter. Cafe Beignet looks like a traditional French cafe and is famous for, you guessed it, beignets!!!!
Try visiting both here and Cafe Du Monde and comparing which beignets are your favorite. To us, each cafe had a different taste which is why we recommend both. The beignets here were HUGE and affordable. One order is certainly enough for two people.
Cafe Beignet also serves breakfast and sandwiches which is why it is the perfect lunch spot on the final day of your 3 days in New Orleans itinerary. There are vegetarian options as well as local fare, depending on what you are interested in tasting!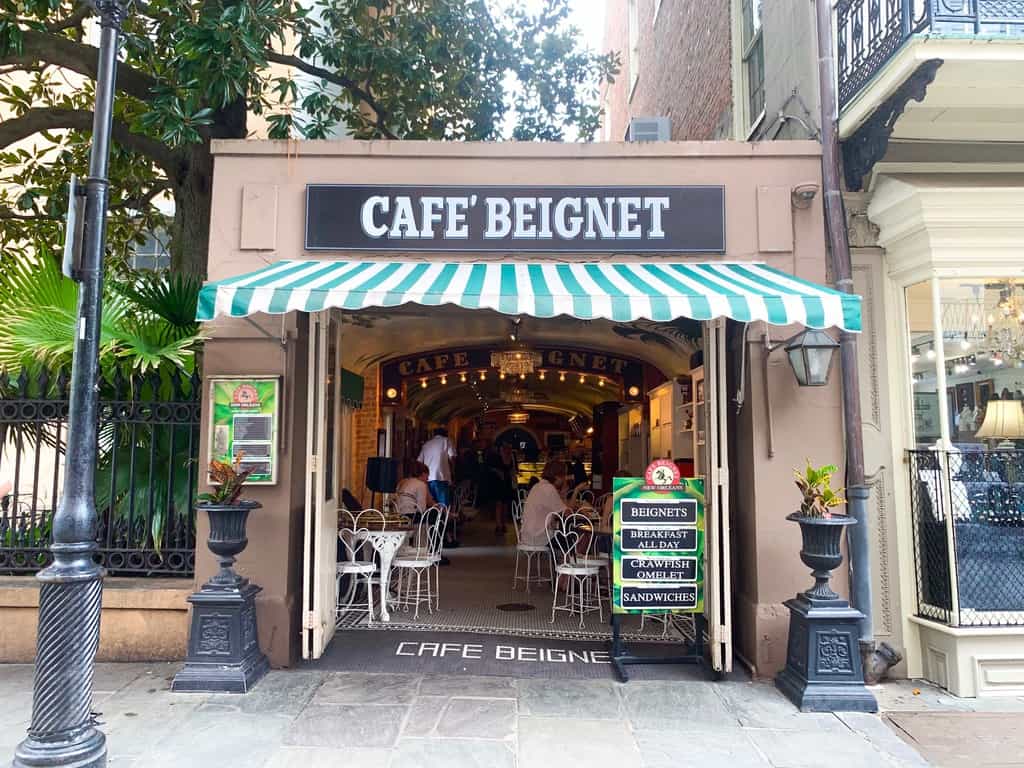 Stop 3: Visit The Royal Street Antique Shops
After lunch, step outside onto Royal Street and visit some of the world-famous antique shops. The antique shops are stunning and the things they are selling are beautiful. It is like walking into a really fancy museum! You can go window shopping or choose to actually enter and go inside the shops! Just be careful not to bump into anything, many of the antiques cost tens of thousands of dollars!
Read next: 8 Prettiest Streets In New Orleans
Stop 4: Optional Bayou Swamp Tour
If you have always wanted to visit a swamp, now is your chance! The Louisiana Bayou 2-Hour Swamp Tour will show you the best of the swamps and will talk about the history of the area and the ecology surrounding the swamp and wildlife that lives within it.
This is NOT inside of the city or within walking distance of the French Quarter. As a result, you will be picked up by bus or will meet your tour and then you will drive outside of the city for the tour.
If you have ever wanted to see an alligator in the wild, this is your chance! Be sure to keep your eyes peeled as there are hundreds of thousands all within a small area. Chances are good that you can see an alligator during your 3 days in New Orleans itinerary if you choose to do a swamp tour! This is also a great time to go hiking in Lousiana so if you are outside of the city and want to do this, it is a great way to get active!
Book Now: Louisiana Bayou 2-Hour Swamp Tour
Book Now: New Orleans Swamp Tour By Boat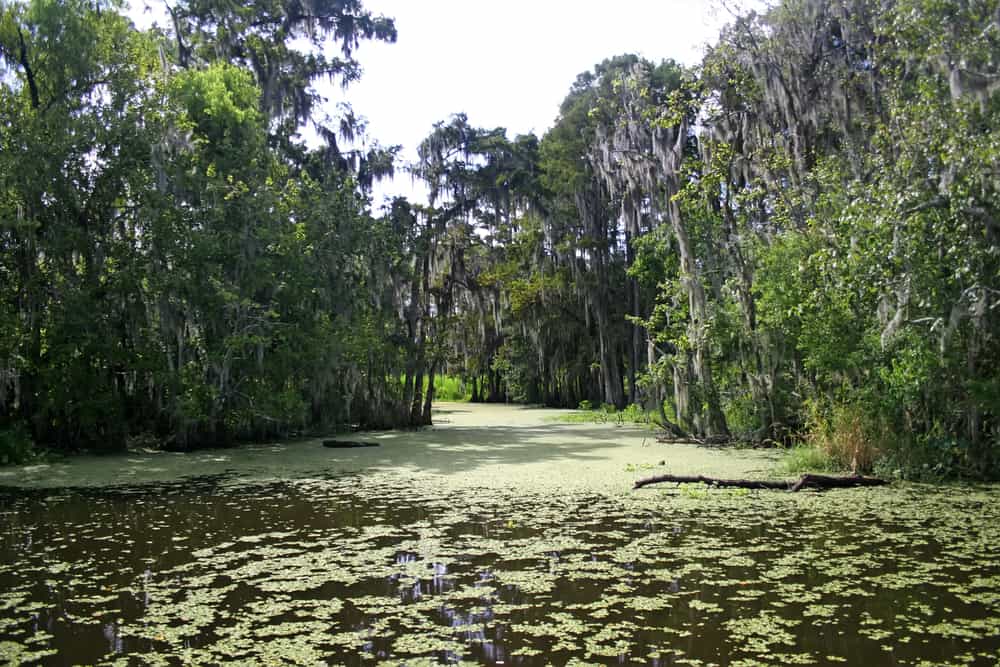 Stop 5: Go On A Ghost And Voodoo Tour
Sure, you can walk into a voodoo store here or there, but a voodoo tour is truly the best way to learn about this interesting and lesser-known culture. Spend the evening at a voodoo walking tour. They are surprisingly affordable and very informative so you can learn and ask questions about the practices of voodoo.
The walking tour is 2 hours long so be sure to choose to eat dinner either before or directly after! Have a snack or heavy lunch as well. Don't forget to check out some of the most Haunted Hotels in New Orleans!
Voodoo Tours are often combined with ghost tours so you get the best of both worlds. Ghosts are HUGE in New Orleans culture so you are sure to spot something paranormal. Even if you don't, you are going to learn some really interesting things during this affordable tour!
Book now: Ghosts, Vampires, Witches, And Voodoo Tour
Book now: French Quarter Ghost Tour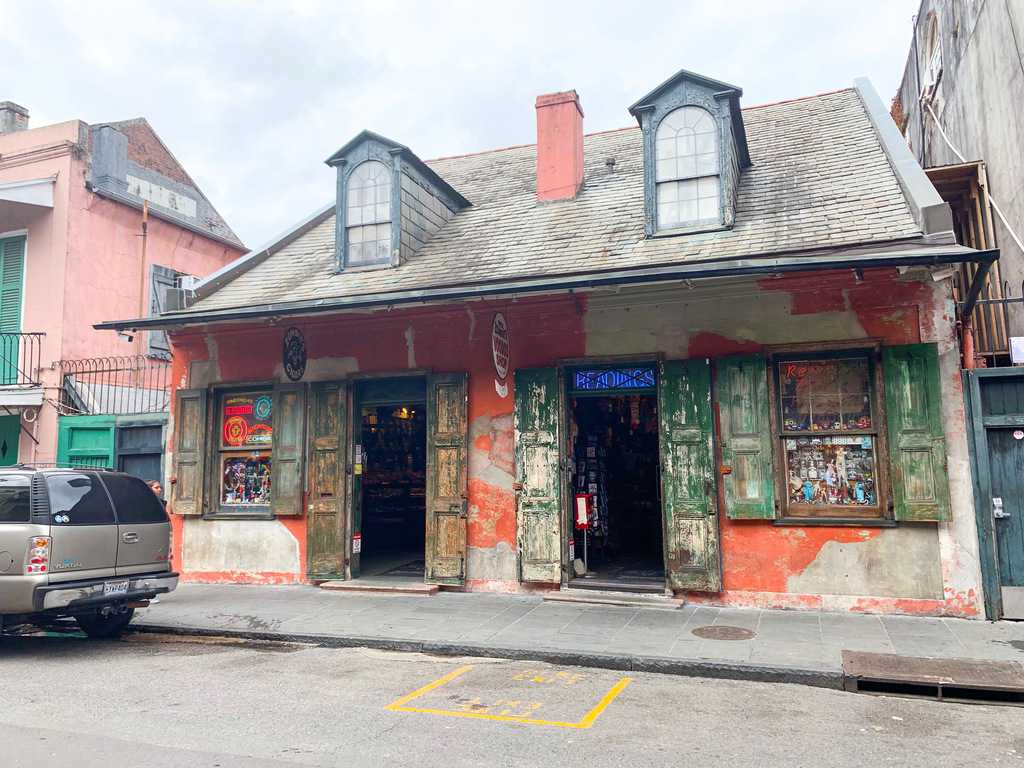 Stop 6: Dine On The Balcony Of Tableau
You have been looking at all the pretty balconies during your 3 days in New Orleans itinerary and now it is finally your time to visit one yourself! We stumbled upon Tableau by sheer accident and it was one of our favorite dinner spots during our entire trip! If you choose to eat at Tableau, make sure to ask to eat on the balcony. We didn't have to wait at all and we arrived around 7pm. You can call in advance to make a reservation if you are worried.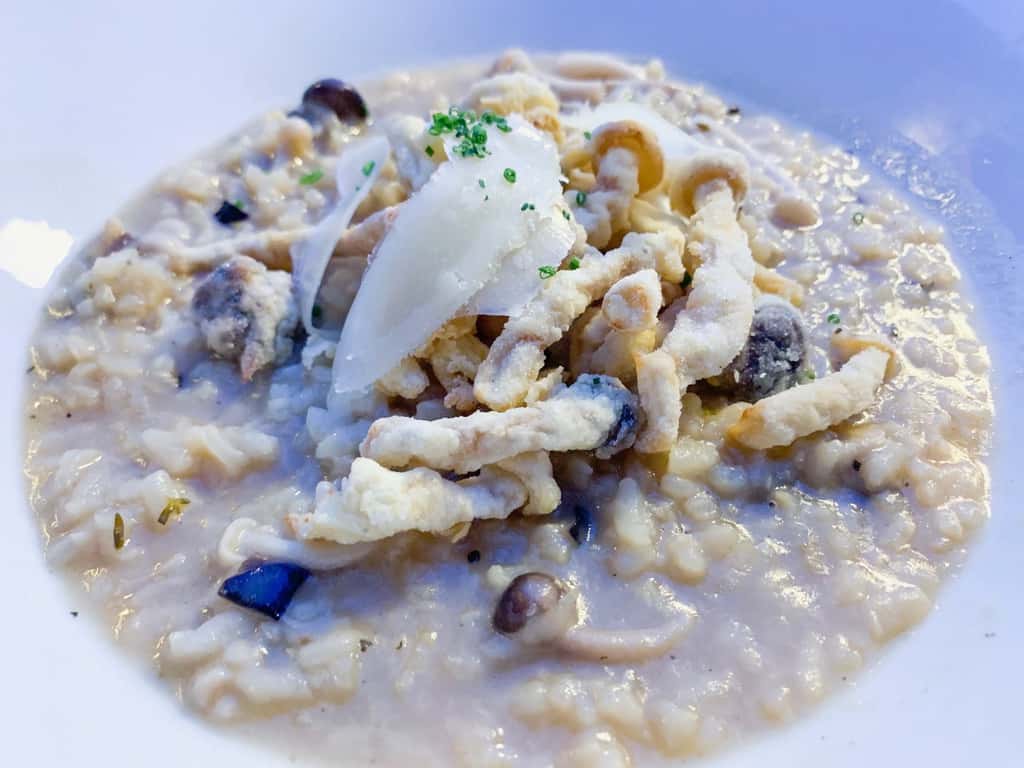 Tableau overlooks Jackson Square and Saint Louis Cathedral and the food is divine! The Wild Mushroom Risotto was some of the best we have ever had and the dessert is delightful as well!
We love making risotto so getting out out at this delicious restaurant was even better!
We really can't recommend Tableau enough. If you are looking for one "nicer" place to eat dinner during your New Orleans itinerary, we highly recommend dining on the balcony at Tableau. You will hear street musicians and it is just what New Orleans is all about! You can't go wrong here.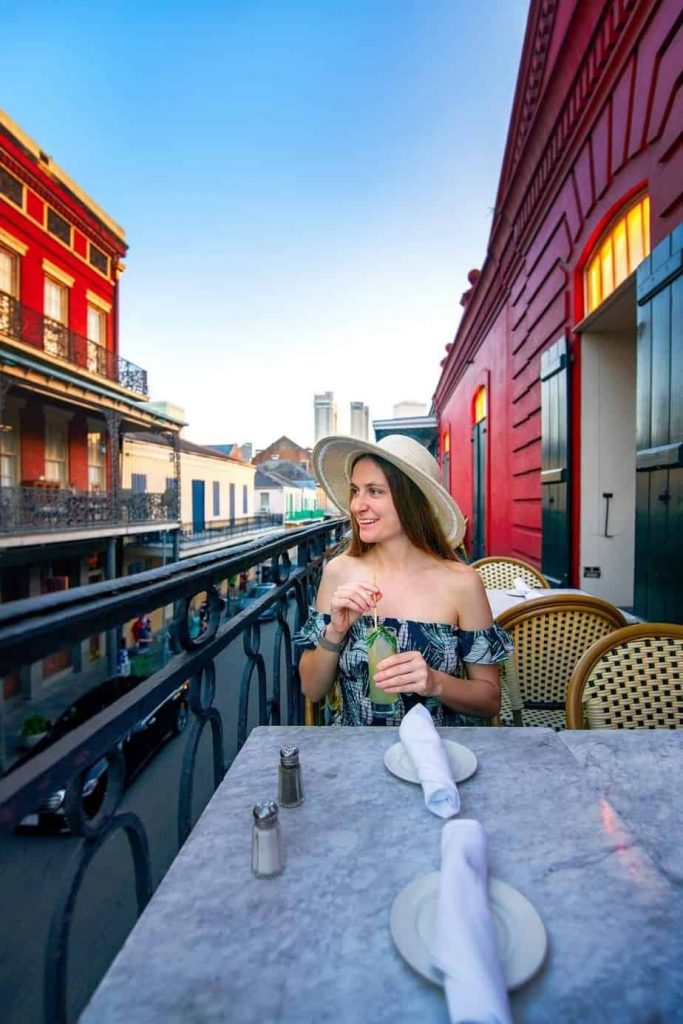 Stop 7: End Your New Orleans Itinerary On Frenchman Street
Frenchman Street is a wonderful place to end your 3 days in New Orleans itinerary. In fact, many people prefer it to Bourbon Street because it is less crazy and the live music is out of this world! Many of the bars and clubs on Frenchman Street offer free cover and you just need to show your ID to get in. The live Jazz music is fantastic, so if you are looking for a different vibe, this is the place to be to finish off your trip!
Alternatively, why not do both Frenchman and Bourbon if you really want one last look at Bourbon? Just go to Frenchman earlier in the night after dinner and enjoy some great live music and then head to Bourbon later at night!
Where To Stay In New Orleans
There are endless choices of where to stay in New Orleans! From hotels to some of the amazing Airbnbs In New Orleans, there is a choice for every travel style.
We chose to stay at International House Hotel and it was truly the perfect location. It was just two blocks away from the French Quarter and we were so happy about this. The French Quarter can get a bit loud at night as everyone is having fun, so we were glad to have a space to escape the noise all while being just steps from our favorite part of New Orleans. It is easily one of the most romantic hotels in New Orleans!
The room was lovely and we had a corner view of the city on two sides. We were also nearby the cable cars which meant we could get around easily and affordably to multiple areas of New Orleans. There was also a bar in the hotel that often featured live music so that was really enjoyable too. This is truly one of the Best Places To Stay In New Orleans!
The coolest part of staying here was the Banksy in the lobby! This is an actual Banksy salvaged from another part of New Orleans and there is a whole exhibit on how it was done. In case you didn't know, Banksy is a very famous anonymous street artist so this was a real treat to see and walk past every single day!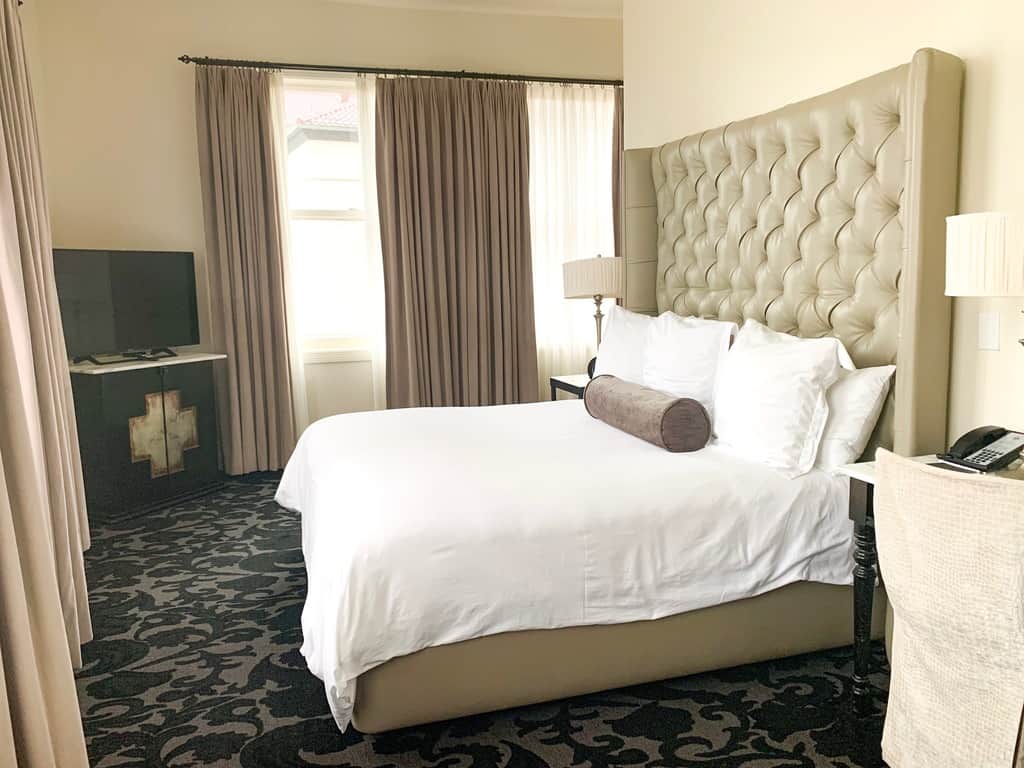 We hope that you enjoy your 3 days in New Orleans as much as we did! There is so much to see and do that you can hardly go wrong, no matter what you choose.
From the sounds of Frenchman Street to the oldest streetcar in the world, there is something for everyone to discover on this New Orleans itinerary! Let us know what you would have added or your favorite thing to do in New Orleans! For more information and every tip you can imagine, please check out Visit New Orleans!
Please note: Our trip to New Orleans was in partnership with New Orleans & Company, all opinions are our own