If you're looking for the best hikes in Arkansas, you have found the right page! Many of Arkansa's most gorgeous hikes are easily accessible for all hiking levels.
Some will require special gear and others just a good pair of boots! Each trail has a unique view to keep each trail you blaze more scenic than the last. The trails you'll be hiking in Arkansas will have more than memories to acquire. This list will include the difficulty so you can use it to ramp up your hiking game!
With all the beautiful hikes in Arkansas with waterfalls, rock formations, and views it's nearly impossible to go wrong with any of these! Let's jump right in!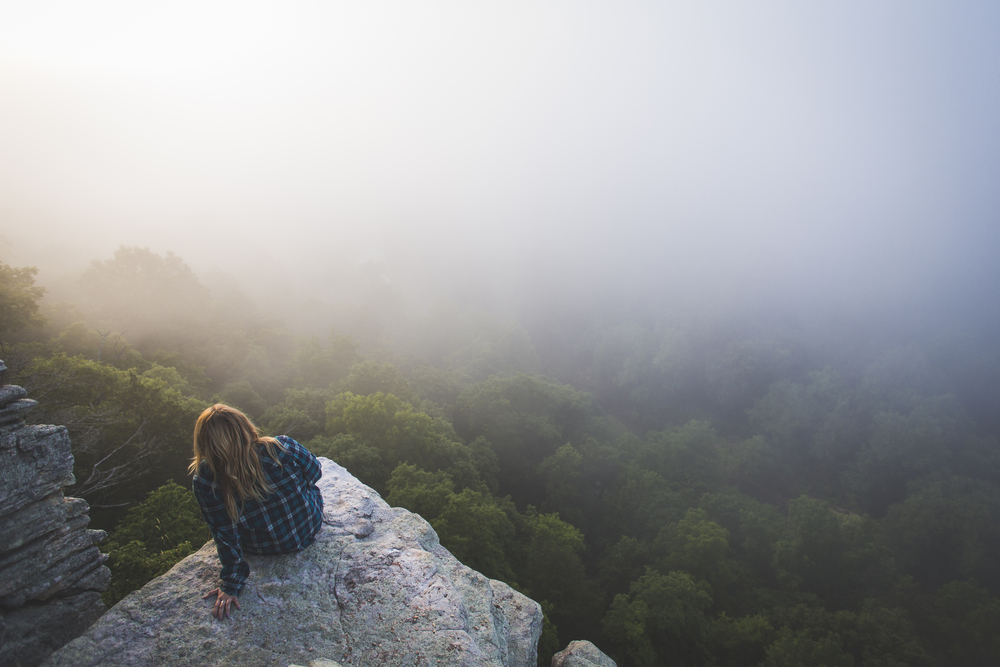 12 Scenic Trails for Hiking in Arkansas
Hemmed-in Hollow Falls Trail
Located along the Buffalo River, Hemmed-in Hollow Falls Trail is one of the best hikes in Arkansas that you can do! This 5-mile round trip hike is not recommended for small children or anyone who tires easily. As the name suggests, your final destination is at the foot of a colossal waterfall.
You'll start at Compton Trailhead which holds two trails. On the right a horse trail and to the left your adventure begins! You'll keep trekking straight and head down the steep hill. This is where some difficulty will appear as you maneuver through narrow steps. There are some built-in stone steps that will assist you, however, the difficulty is still higher on this trail as you find your footing on the slope.
Your 4 to 5-hour hike will include a couple of smaller waterfalls (14-18 feet) before you reach the 206-foot tall waterfall, Hemmed-in Hollow Falls. This breathtaking waterfall makes the thought of your uphill hike back to the entrance well worth it. Bring snacks, water, and a good pair of hiking boots to enjoy this scenic hike in Arkansas!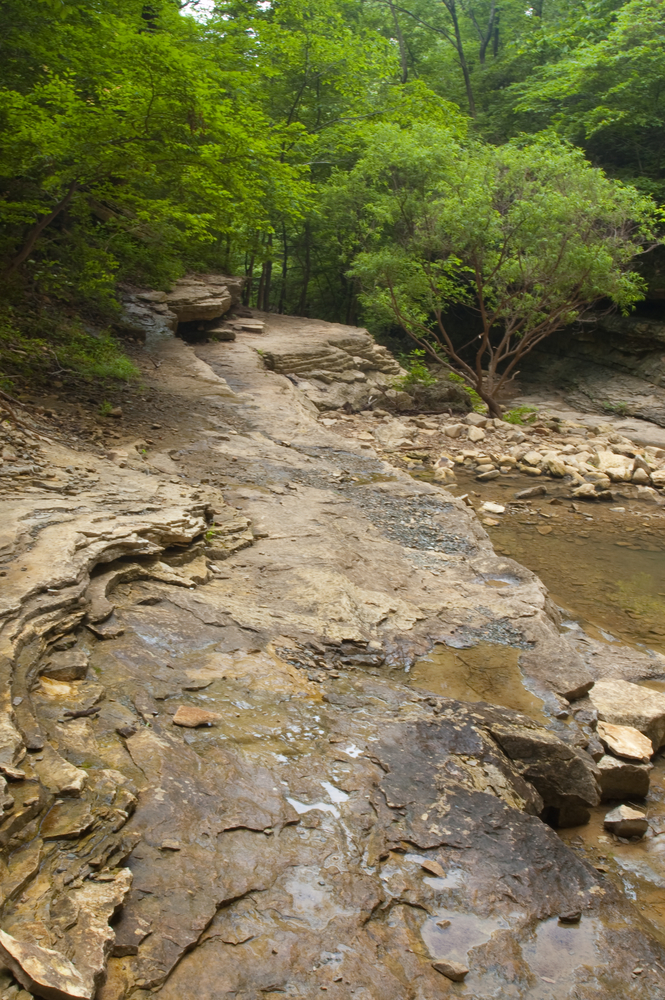 Tufa Terrace Trail
You will be in for a smooth walk on the Tufa Terrace Trail. This brief hike in Arkansas is only .2 miles and is accessible at Hot Springs National Park trailhead. Don't worry! If your hiking itch isn't scratched by this short walk there are other trails that connect to or are near.
What makes this easily accessible trail one of the best hikes in Arkansas? Not only the fact that it is ideal for our smaller hikers but also for its incredible geology that gives a visual of history. Tufa, which is a rock that overtime developed calcium carbonate formed by precipitation, is its own beautiful piece of time that you can view from the trail and get up close and personal with the cascading waterfall that forms into a small warm pool of water. Hearing the water flow is soothing and a great sight! Bring a pair of binoculars to enjoy birding or spot some of the wildlife scampering about.
Lost Valley Trail
Don't be too distraught by the name! You'll only be lost in the beauty of Lost Valley Trail. This is truly one of the best hikes in Arkansas due to its unique plant life that is worth the visit year-round!
It is located a mile and a half south of Ponca. The trail is 2.2 miles long and is a great choice for beginner hikers as it has benches scattered alongside the path. It is also wheelchair accessible for the first half mile making it a short yet scenic choice.
There's more than foliage and gravel here on Lost Valley Trail. For more of a challenge, you can veer off the main trail to take a gander at Eden Falls and Eden Falls Cave. Here you will be able to climb inside the cave to find a hidden waterfall. Be sure to have a flashlight! The rocks will also be slick so choose each step carefully.
Even if you choose to forgo the daring caves you are still sure to see small waterfalls, creeks, and can surely get great pictures. It's time to add this hiking trail in Arkansas to your bucket list!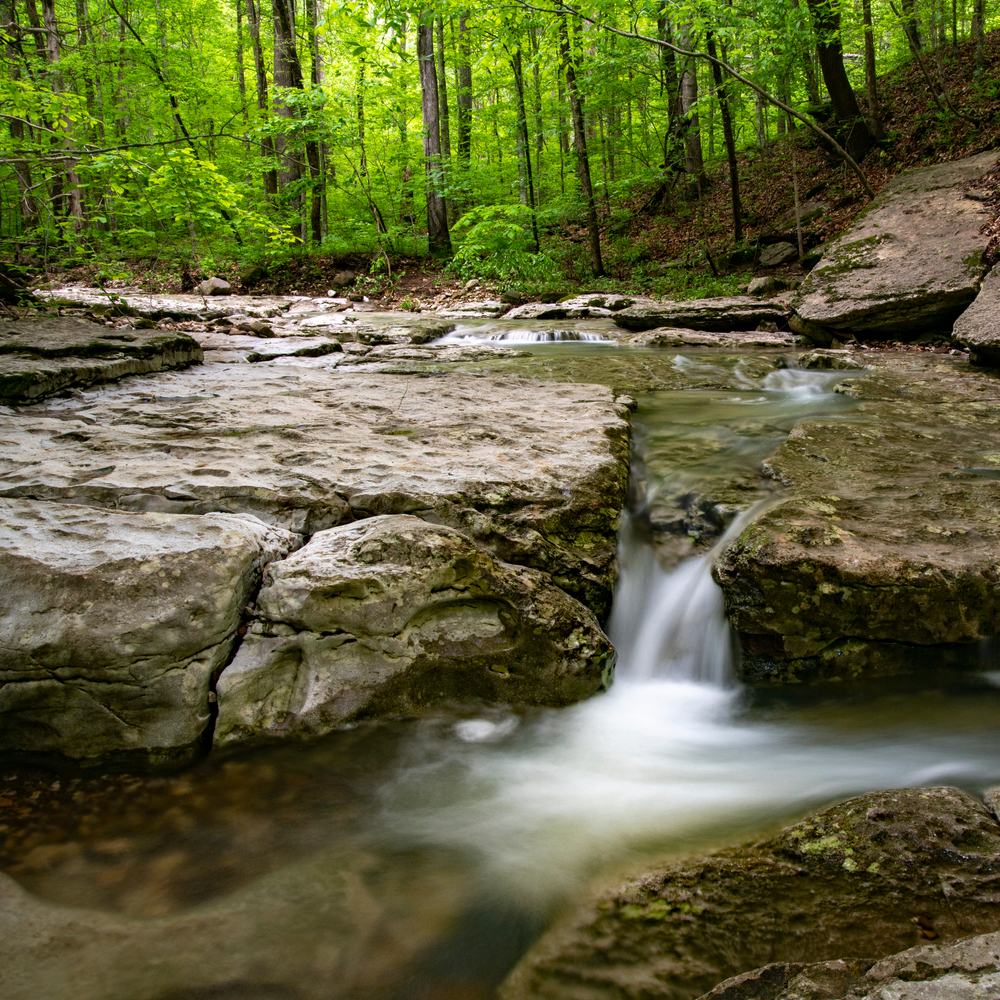 Harmon Park Loop Trail
Located in Eureka Springs, this 1.4-mile hike is perfect for all levels of hiking enthusiasts. With multiple rest stops around the hiking trail, you can bring a picnic and enjoy the shade of the forest. Your furry friends are free to join you and take a break at The Bark Park right off the trail as well!
The wooded area is a splendidly shaded stroll. You will pass Crescent Spring and Grotto Spring with its picturesque cave entrance. This trail also provides restroom stops, a playground, and one of the first Carnegie Libraries built in 1912 that is easily accessible from the trail. With so much to see, there is no doubt that this is one of the best places to hike in Arkansas.
Make sure to check out our list of Best Things To Do In Eureka Springs if you are planning to visit!
Goat Trail
As one of the best trails in Arkansas that is both challenging and stunning, Goat Trail is sure to be a hit! Adventuring on the 6-mile round trip hike of Goat Trail will lead you to the infamous Big Bluff. You may also hear this trail called Big Bluff Trail. You'll start on Centerpoint Trailhead and Goat Trail spurs off from it.
This path may prove to be difficult for novice hikers and will require more stamina as it takes between 4-6 hours to complete and has rough terrain. That being said, Goat Trail isn't a dog-friendly hike and maybe best to avoid with young hikers. This steep walk will have some tough areas to maneuver or climb.
The views you will take in will be of the vast forest, the Buffalo National River, and rock formations. You'll walk along a ledge to get to Big Bluff which is several hundred feet off the ground. Be sure to wear the proper footwear with a good grip! You can enjoy this surreal hike in Arkansas at any time of the year.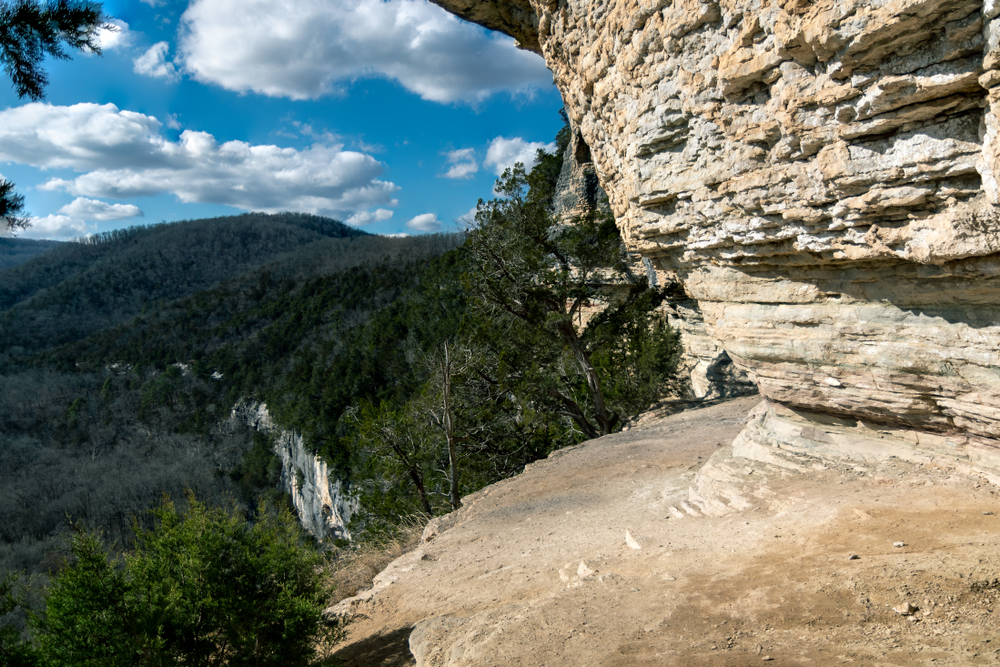 Whitaker Point Trail
For more moderate skill-level hikers, Whitaker Point Trail will be a grandiose hike. As one of the best places to hike in Arkansas you will have photo ops at every turn. Your 2.9-mile course will begin in the Ozark National Forest and is nestled right off of AR-21 N to Co Rd 5 in Kentucky Township. It's a bumpy ride getting to the trailhead on the gravel road!
From the wildflowers to the waterfalls, this trail has something enchanting in-store for you. Arguably the most magnificent of the reasons to choose Whitaker Point Trail is the Hawksbill Crag. This rugged cliff overlooks the vast Ozark National Forest and is exceptionally beautiful when the leaves start turning colors in the fall. Grab a camera, some water, and make your way to this marvelous hiking trail in Arkansas.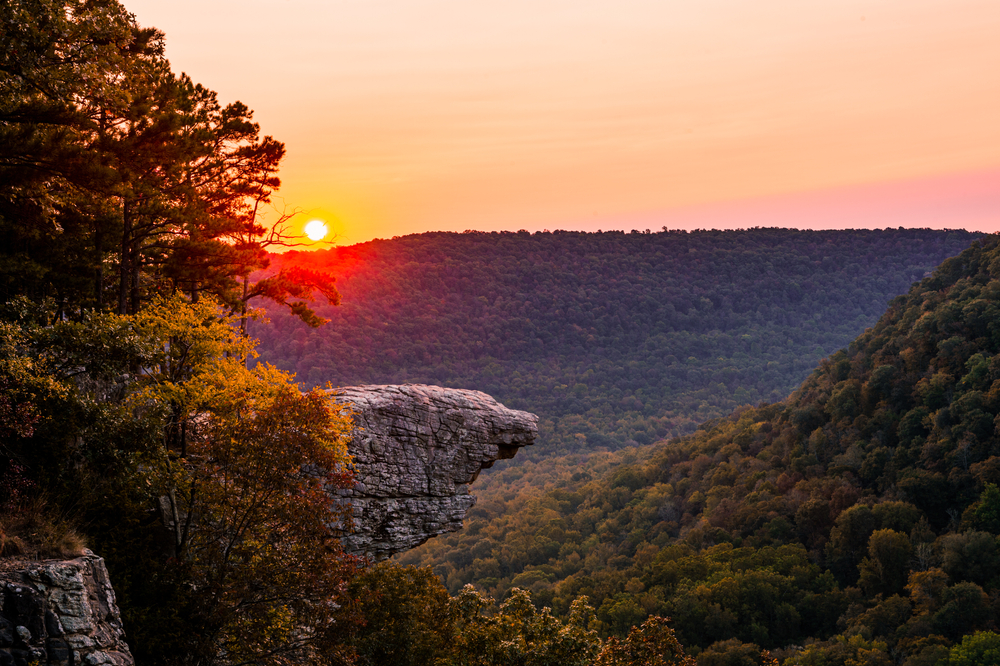 North Forest Trail
Having a family day could not be better than spending it at North Forest Trail. Your splendid hike is located in Bentonville, Arkansas, and near the Crystal Bridges Museum of American Art. This trail is only 1.4-miles long with much to offer! Walking this path you will have the opportunity to enjoy the forest's brilliance at any time of year.
The path is paved making it a less strenuous hike and wheelchair accessible. Along the trail, you find sculptures, a variety of flowers, and numerous types of trees. Landscaping knows no bounds here! Enjoy a lovely stroll while enjoying fine art. At different times of the year, you may even be able to experience the North Forest Trail lit up with several different light fixtures. These events are held at night and make for a memorable walk. No wonder North Forest is one of the best hikes in Arkansas!
Blowing Springs Trail
You may have heard that the journey is more important than the destination. Well, that is certainly true for Blowing Springs Trail near Bella Vista, Arkansas! This hike in Arkansas is 4 miles long with all the fixings you would want on a hike!
The moderately difficult trail is still family-friendly with narrow parts of the trail that take you up and downhills. As part of the splendor, you will cross a 30-foot high bridge that connects a rock shelf down to the trail. The path loops around a naturally air-conditioned cavern that keeps 60-degree Fahrenheit air circulating. Nature truly is fascinating! Take a quick stop there to rest before continuing your magical visit to Blowing Springs Trial.
Richland Creek Campground Trail
Scout badge or not you'll love the daring trails in Richland Creek Wilderness! Your pathfinding skills are sure to be tested on this moderate to difficult hike in Arkansas. The Richland Creek Campground Trail is fairly rugged and the trail… well trails off! It will disappear (not entirely) and reappear while you get closer to the creek. Don't worry though. It is easy to keep up with and if you are in doubt GPS on your cell phone will help you out!
The Richland Creek is home to gorgeous waterfalls that will meet you at the end of the trail. This trail is 6.5 miles round trip and your hiking boots will be thanking you when you are done! You'll encounter a variety of terrain from gravel to skipping over rocks on the creek. This is also a great trail for birding or spotting wildlife.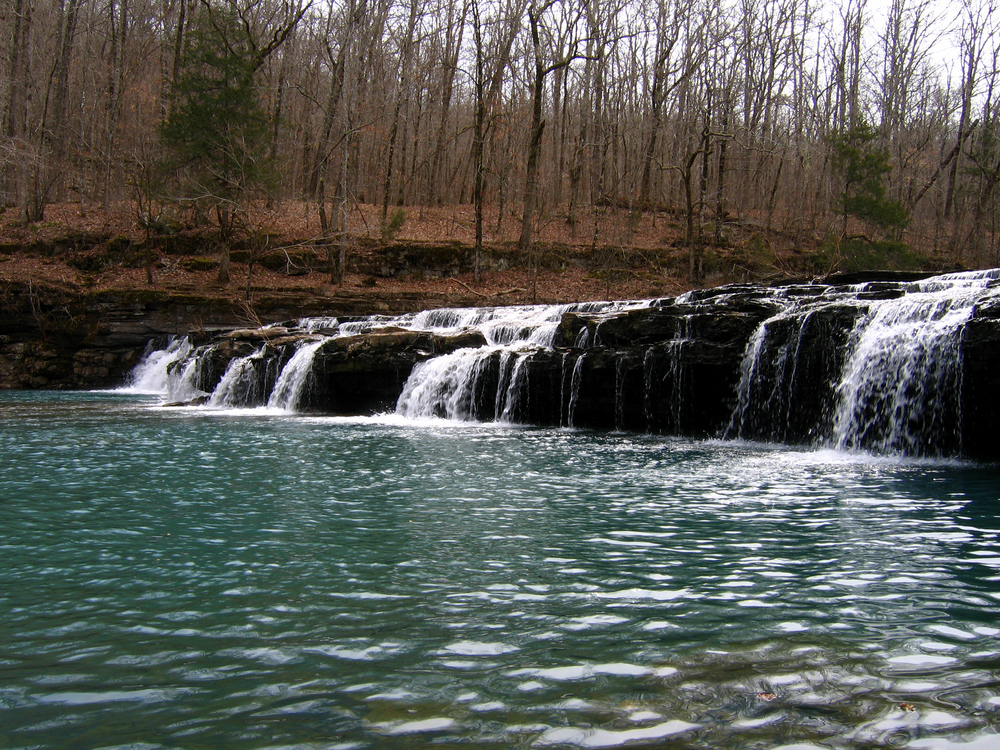 Winding Stairs Trail
For more scenic hikes in Arkansas head to Winding Stairs Trail! This trail is located near Caddo Grap, Arkansas. It is a 4.5-mile hike where you will embark on a moderately challenging trek. Despite the difficulty level you will not want to miss all this trail has to give!
You will encounter impeccable overlooks, caves, and of course the waterfall cascading down the stairs formed by rocks. The trail pass right through Baylock Creek which is a nice change of pace where you can hop on rocks to cross. You may want to consider water-resistant shoes! Make your way to Winding Stairs Trail at any time of the year to enjoy its magnificence.
Fossil Flats Trail
Choosing your own adventure? Make it a scenic trail in Arkansas and consider Fossil Flats Trail for your next excursion. The roughly 6-mile long trail will take you on a walk through rocky terrain that despite the distance is still on the lower end of moderately challenging making it a good beginner hike as well! Just be prepared for the length by bringing plenty of water.
Located right outside the Fossil Flats Campground (A) is where your venture begins. This is another hike that may have you pass through or over creeks so water-resistant shoes are a plus! The forest and views of the creek make this an exceptional hike in Arkansas to enjoy.
Yellow Rock Trail
You will see more than yellow rocks on this beautiful Arkansas trail! The 3-mile splendor is located near West Fork, Arkansas along Lee Creek. The semi-loop is rated moderate to difficult as there will be elevation and areas of unsure footing. The large rock slabs are quite the sight as you travel the trail.
This trail will lead you to Yellow Rock Bluff where you will view the sea of forest and sky of Lee Creek Valley. Overlooking the trees and creeks is breathtaking. The dry creeks create a break in the gravel for a different terrain beneath your feet. The best time to enjoy the trail is when the leaves are green or changing color although the trail is open all year. Breath in that fresh air while relishing every blissful moment at Yellow Rock Trial.