Are you looking for the best national parks in Virginia to explore? Well, you've found the right list!
If history is your passion, you'll have a fantastic time touring the battlefields and learning more about the great battles that were fought there. We've got you covered when it comes to discovering more about America's past with our national monuments in Virginia.
Or perhaps you're more of a nature lover. If that is the case, continue reading to find some gloriously secluded woodland in these Virginia national parks to romp through.
Don't have time for frolicking through forests? Well, you can get serious with a hike using part of the Appalachian Trail that is located in a couple of the national parks in Virginia!
Whatever you love to do, the Old Dominion has so much to offer; there is sure to be something for everyone to enjoy on this list. Whether it's a family road trip, or you're flying solo; two weeks in the state, or two days, there are plenty of options here to suit any kind of exploration of Virginia.
So without further ado, let's take a look at the 15 best national parks in Virginia!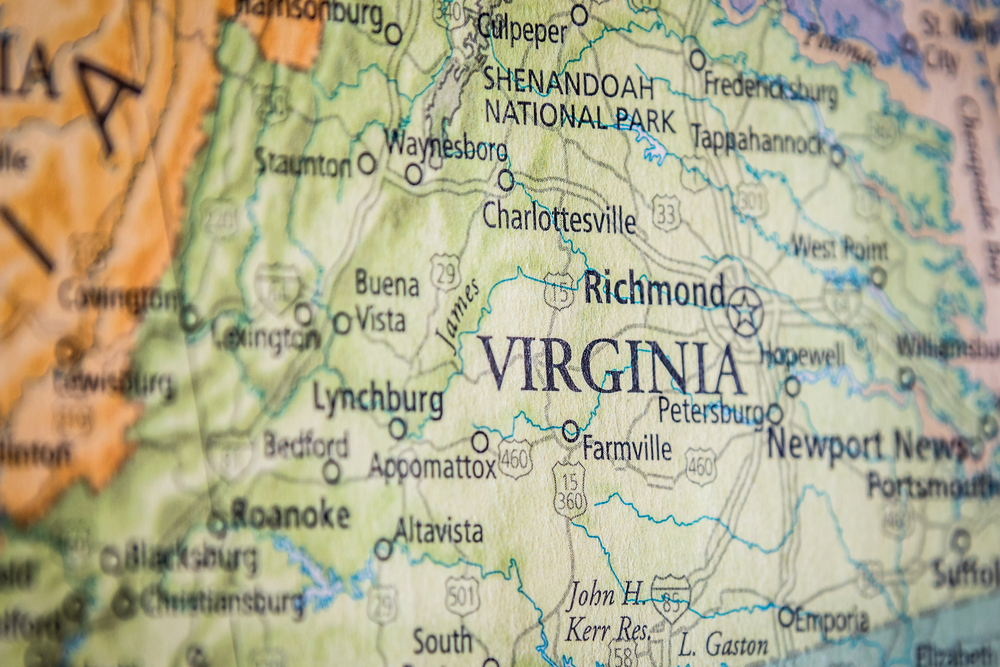 15 Best National Parks In Virginia To Explore
Shenandoah National Park
Whether you love hiking, camping, stargazing, tubing, or just adventuring, Shenandoah National Park is a fantastic place to start.
You can wander through woods, hike to new heights, or wonder at waterfalls. This national park in northern Virginia is a perfect spot for lovers of adventure, relaxation, or natural beauty.
In addition, if you're really into hiking, you'll be excited to hear that a part of the glorious Appalachian trail winds itself through the Shenandoah National park.
I mean, can you really beat this? This place seems to have it all!
If you want a more detailed list of things to do while you're here, then check out our list of 14 Best Things To Do In Shenandoah National Park!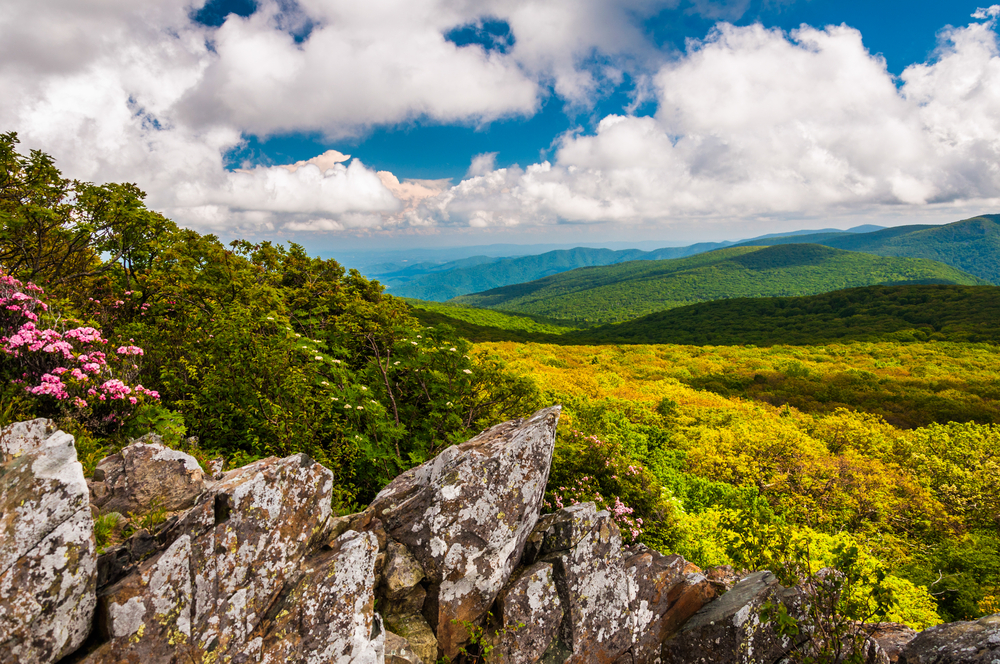 Yorktown Battlefield
This one's for the history lovers! Who remembers the Battle of Yorktown, 1781? Well, you know…not literally, unless you're a good two and a half centuries old! But hopefully you remember it from U.S. History, because this one was important!
Yorktown Battlefield is where the North faced their last crucial battle fought on land. They were led into the battle and out the other side in victory by General George Washington.
At this national park in Virginia you have the opportunity to wander through exhibits relevant to the siege of Yorktown, or you can go up top to the observation deck and overlook the battle field where the fighting took place. Also take a quiet moment to visit the cemetery and remember all the men who sacrificed their lives that we might live in freedom.
While you're in the area, it's also well worth your time to drive over to Williamsburg or Jamestown and get a fuller historical experience since it's so close to the Yorktown Battlefield!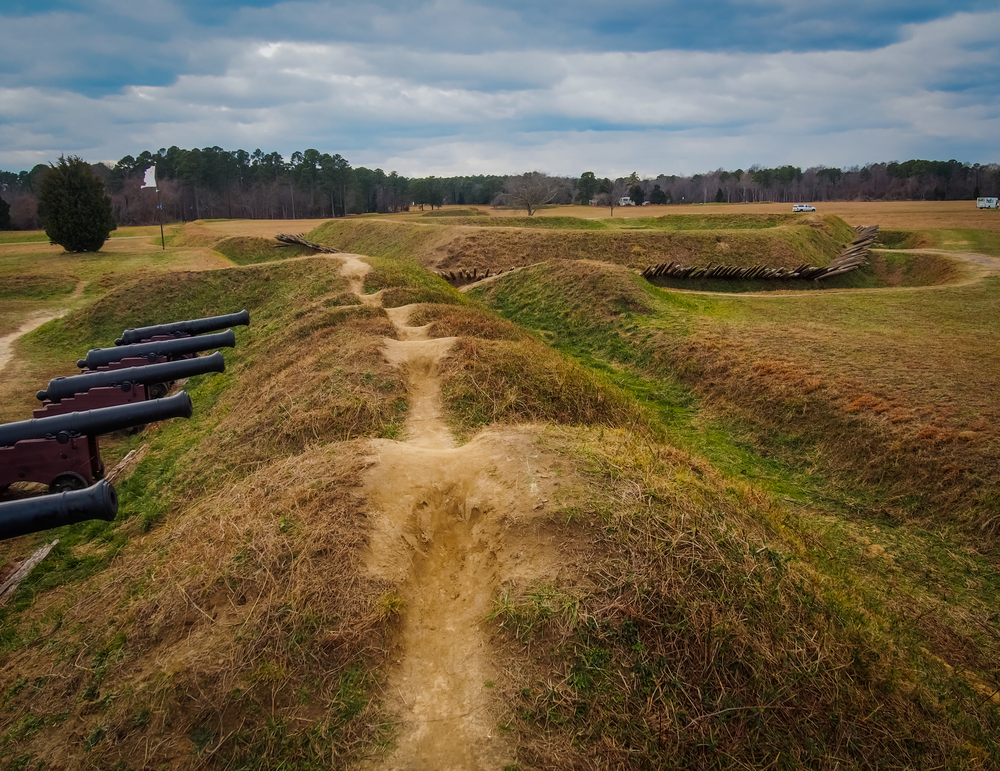 Prince William Forest Park
Are you one for forests and fairytales? Then you should plan some time in your trip for a visit to Prince William Forest!
Here's another one of our national parks in Northern Virginia. Prince William Forest has many, many miles of hiking trails, paved and gravel road for biking, lakes, and streams where you can fish!
Ever considered orienteering? Now's the opportunity to try something new and have a blast! At Prince William Forest Park it's a double win because not only can you have the fun of adventure and exploration, but you can do it in such beautiful place. Who knows, perhaps you'll find a new favorite hobby?
Now, some of you will be thinking, "Ahh, this doesn't sound like my cup of tea. Rummaging through forest land while trying to decipher a compass and map? No thanks!" Well, don't sweat, just take it easy and see if you can spot all the fantastic wildlife which has made it's home in the park, you'll definitely get your own share of excitement watching the wonderful species that can be found there.
Whatever you choose to spend your time doing, you'll have a lovely and memorable trip, so don't miss out on visiting Prince William Forest Park while you're in VA!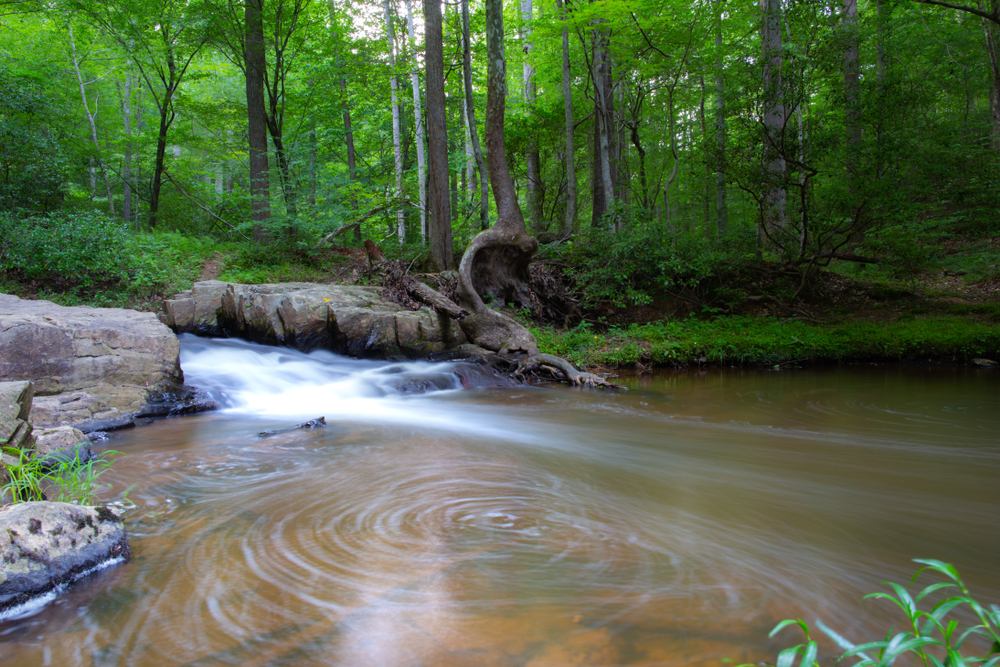 Harpers Ferry National Historical Park
This one is really for history lovers! The historic culture is so alive here.
Harpers Ferry Park is one of the best national parks in Virginia for experiencing history and getting to know the past. It offers so many opportunities to step back into the time of our ancestors and get to know what it was like to live among them.
From the blacksmithing and cooking workshops to the living history events, any history lover would be absolutely thrilled by the experiences!
There is also lots of hiking to be done here. Whether you want to saunter by the river or trek the mountain tops, you can find the perfect trail to suit your abilities.
So don't forget to make time for Harpers Ferry National Historical Park (keep in mind that this park is also in West Virginia and Maryland)! Harpers Ferry is truly one of the best small towns in West Virginia that you should explore.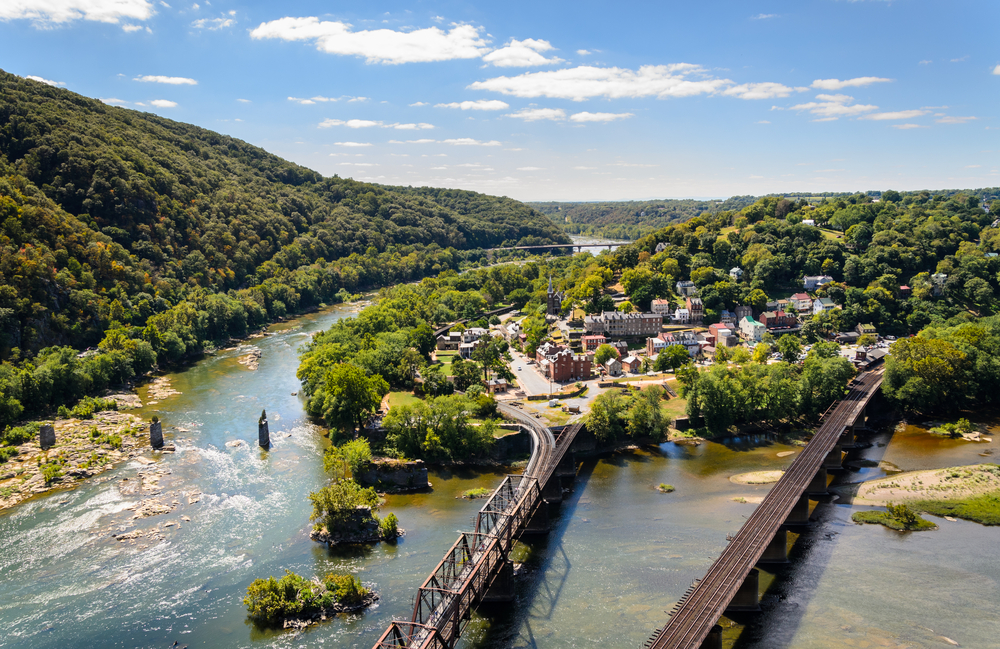 Great Falls National Park
If you're looking for some stunning water falls or interesting river rock formations you should check out Great Falls. This Virginia national park is a fantastic place for outdoor activities.
Things to do inside at this park are very limited, but outside the excitement ranges from coursing through white water rapids to daringly climbing 75 ft. cliffs.
Fishing, hiking, and bring-your-own horse riding are all activities you can enjoy at Great Falls. Or just relaxing with a picnic basket and some good conversation is worth while too.
Whichever activities peak your interest, you can be sure they will be enjoyable and memorable.
Whether you're audacious or easygoing, you can definitely find something to do and enjoy at Great Falls, even if it's just sitting back a gazing at the beautiful water falls, it will be time well spent.
This is easily one of the best East Coast USA National Parks you should visit!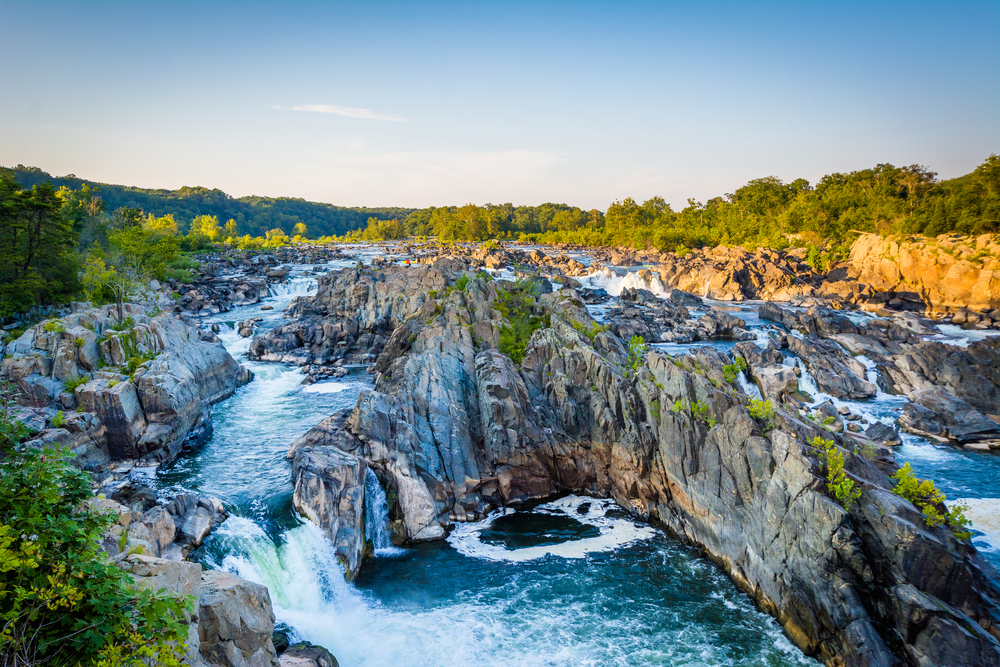 Manassas National Battlefield Park
This national park in Virginia provides exciting activities for both the history lovers and the outdoorsy types.
For those interested in the First and/or Second Battle of Manassas, the hiking trails focused on those battles or the guided walking tours would be right up your alley! There are sometimes even living history demonstrations.
For those not so interested in the history of Manassas National Battlefield Park, the walking trails can still be a fun experience, and in addition, if you have a horse then you can ride through their 20+ miles of designated riding trails.
If you don't have a horse and the rest of your group is ecstatic about their love for history, you can just chill by the pond with some catch-and-release fishing.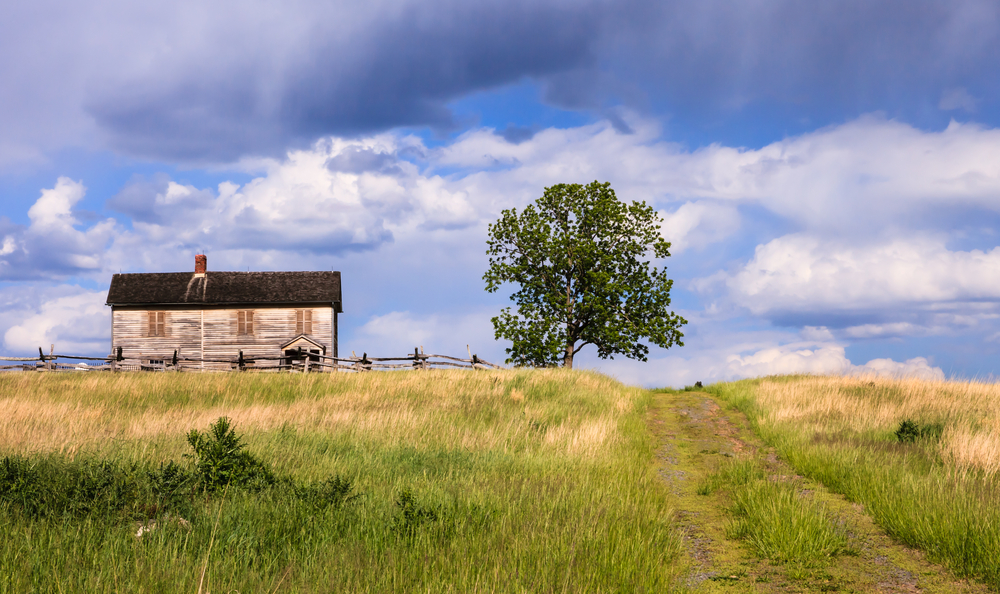 Cumberland Gap
For lovers of both history, sentiment, nature, and adventure, Cumberland Gap National Park is the place for you.
Cumberland Gap is a natural channel that cuts through the treacherous Appalachian mountain range, enabling the passage of the Native Americans in pursuit of buffalo and the traversing of pioneers in search of a place to call home.
From laid back walks through the woods, to multiple day backpacking excursions, Cumberland Gap is set for it all.
This National Park in Virginia is a wonderful place for watching all kinds of wildlife, from bears to beavers, and photographing the wildlife and nature.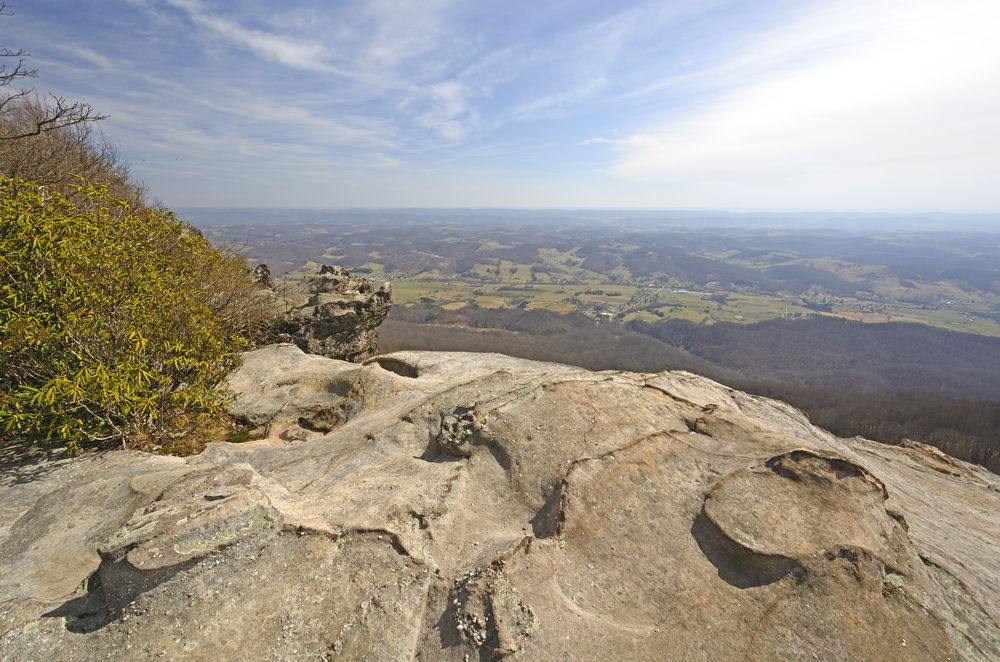 Appomatox Courthouse National Historical Park
This is a fantastic national monument in Virginia for anyone interested in the Civil War, architecture, beautiful landscape, or history.
This house is the very place that the Confederate Army of Northern Virginia was surrendered by General Robert E. Lee to General Ulysses S. Grant.
This park is truly a gem in the crown of historical monuments. The artifacts there are incredible, varying from General Lee's pencil to uniforms, the preservation of the past in this place is incredible.
But not only is this park full of history, but it is full of beauty too. Whether you are gazing at the enchanting architecture of the courthouse or following the trails through fields, you can find something lovely.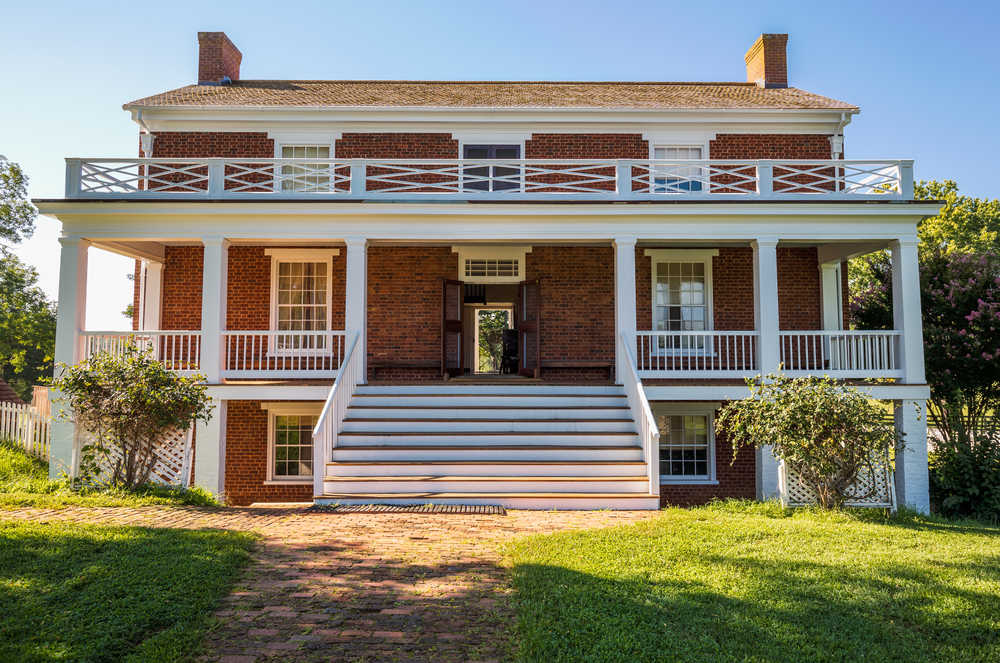 Blue Ridge Parkway
What's floats your boat? Hiking, camping, fishing, music, picnics?
Well pick your favorite because Blue Ridge Parkway has it all! Yes, even concerts!
Even the hiking has variety. Whether you want an easy hike to overlook Arnold Valley, a moderate hike to see the cascades, or a strenuous hike up to the most prominent peak in the area, you can find it at this national park in Virginia. You can even spend some time on the famous Appalachian trail!
And, as if that isn't enough, you can listen to live concerts here! You can go to hear the musicians play traditional old-time bluegrass music.
If none of that interests you, then there is always some good old picnicking, fishing, and bicycling to be done!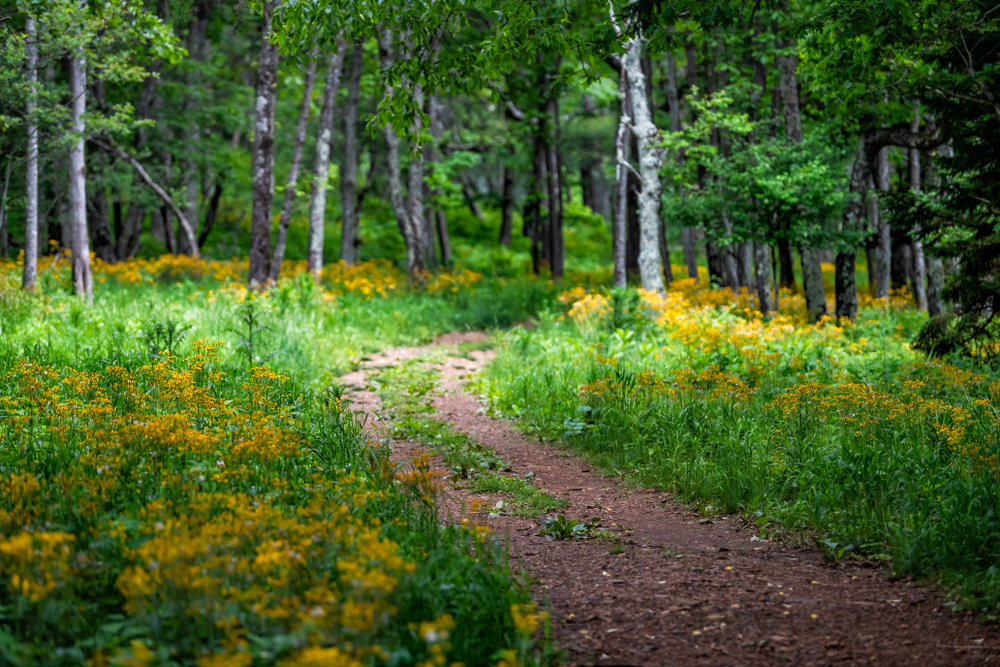 Colonial National Historical Park
Earlier we covered the Yorktown Battlefield, which is apart of the Colonial National Historical Park, but the two other parts of this park are just as worthwhile to visit!
Yorktown, Jamestown, and Williamsburg are all important and relevant historical sites. The Colonial Parkway connects them all in a way that can best serve the public while preserving the beauty and nature that is around them.
The drive is beautiful, and a fun way to hit all three sites. Whether you want to just appreciate Virginian nature or you are interested in learning more about our history, this is a trip worth your time.
Don't forget to add this national park in Virginia to your list of stops!
In case you need some ideas for Williamsburg, you can check out our list of 14 Best Things to do in Williamsburg, VA You Shouldn't Miss.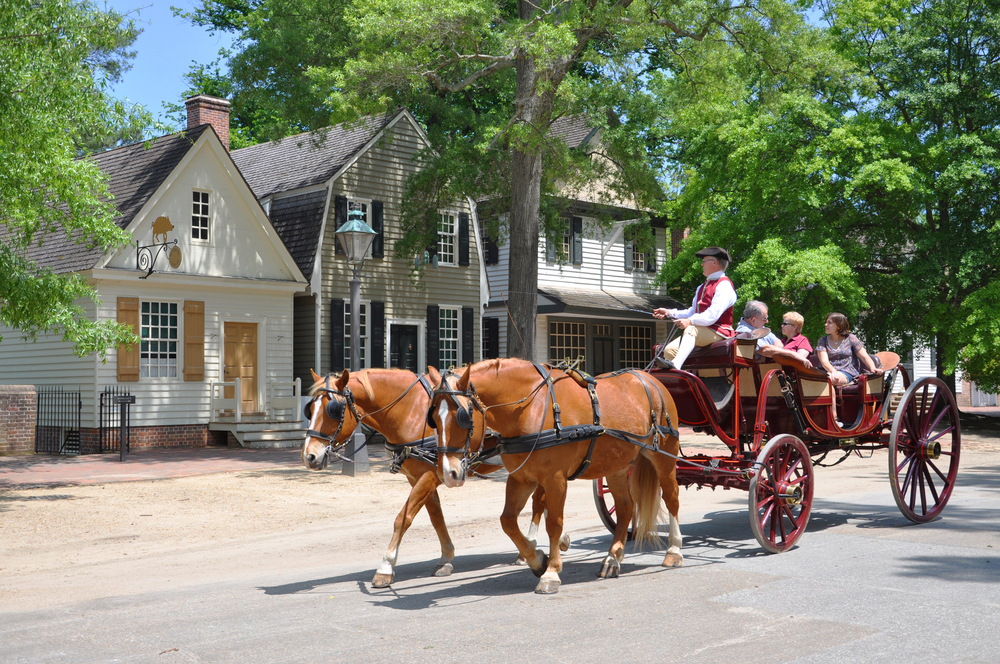 Assateague Island
If you've been reading through this list waiting to hear about a spot you can swim at, well, you've finally reached it!
Assateague Island National Park is not only a breathtakingly beautiful beach with white sands and rosy sunsets, but there is lots to do here, some things you've probably never done!
Whether you want to bring your own horse and ride it romantically along the beach or watch wild horses in their own natural atmosphere, you'll be glad you went to one of the best national parks in Virginia.
Not only can you get horse crazy here, you can go crabbing, fishing, hiking, and bicycling! Too many options? Well, grab your tent and stay a night (or five!) and get all of the beach walks, horse rides, fish dinners, and ocean swimming you could hope for.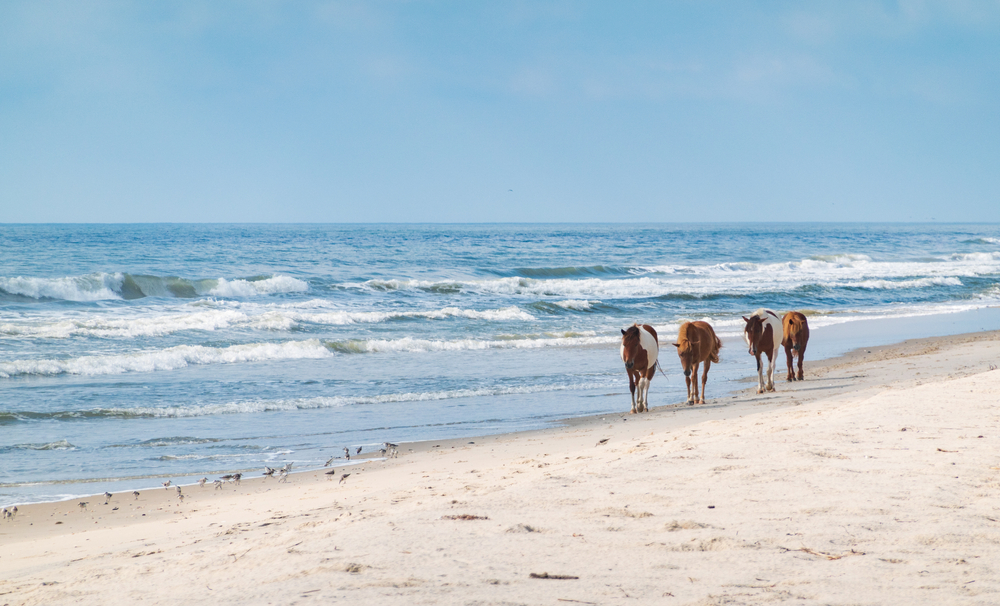 Arlington House, The Robert E. Lee Memorial
This beautiful example of the early Greek Revival style architecture is one to make architects and lovers of architecture swoon!
As for the historians? Well, the amount of history packed into this national monument in Virginia is amazing. Ranging from information about the families who lived there to the slaves who served there, this incredible edifice serves as a sort of living history book.
Another beautiful aspect of this location is the unity it evokes. It is a memorial to Robert E. Lee for the effort he made after the end of the Civil War to build up harmony and peace.
It is also a place of deep reflection about the meaning of war, the duties of soldiers, patriotism, freedom, and loyalty.
Fort Monroe National Monument
If you've never been to a military fort, now is your chance! They are incredibly cool places to examine and explore and it only makes it cooler that this one is surrounded by a moat!
Not only is there a fantastic retired fort you can see, but there is also the Casemate Museum to explore with so much history and so many artifacts; you will be amazed.
The fact that it is situated right by the shore is another plus, because you get to have that lovely view to look at.
If you want a national monument in Virginia to visit with an extra bit of awesome, you'll definitely want to check out Fort Monroe!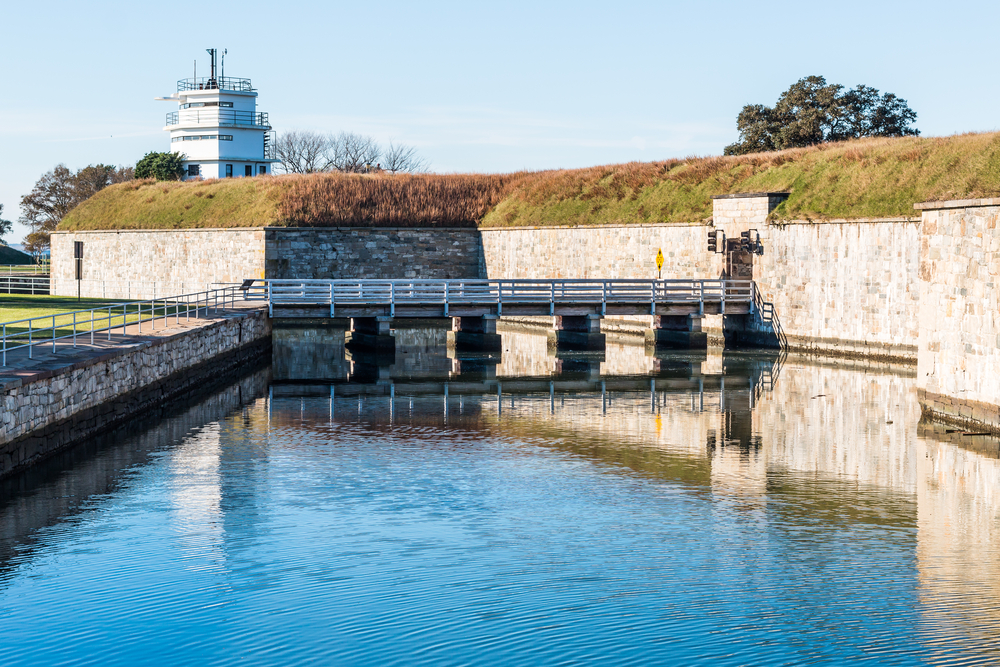 Wolf Trap National Park for the Performing Arts
Speaking of awesome, this Virginia national park is incredible!
For such a beautiful example of Virginian nature, you'd probably never think that you can go here to watch a musical, jazz concert, or listen to opera!
That's right. Among these trees you can find a 7,000 seat theater for performances of all kinds. Not only that, but there are trails to hike and places to picnic while you're waiting for your show to start.
On certain nights you can even catch an insightful talk about the performance you are about to see!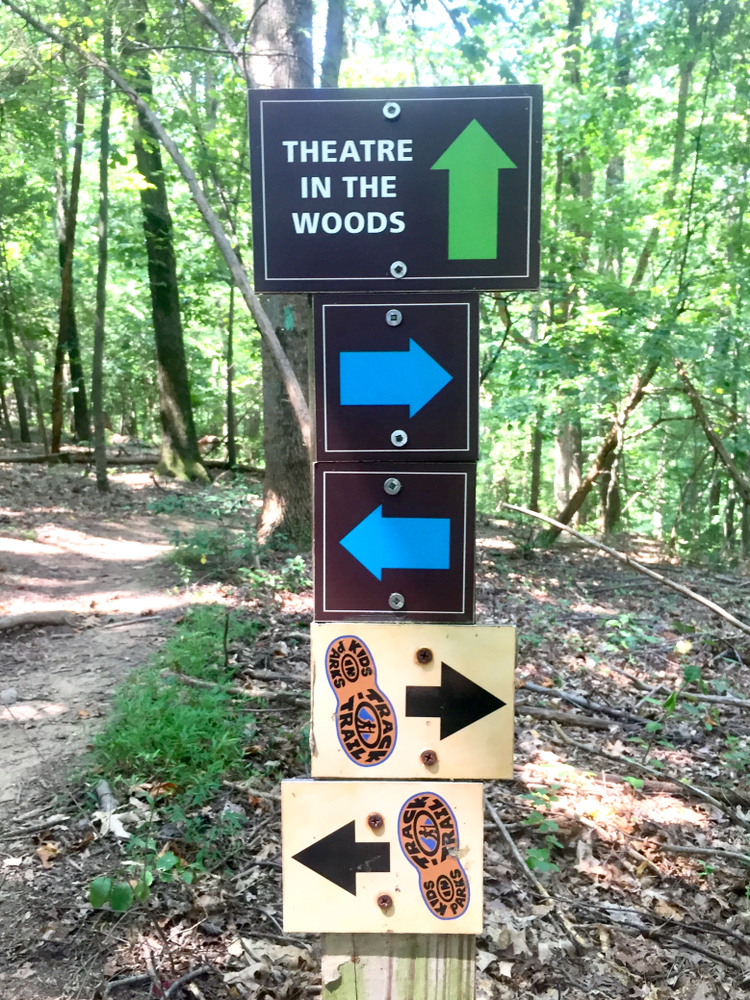 Richmond National Battlefield Park
This park is a wonderful place to wander through woods while getting to see the location of important events that took place during the civil war.
Whether you want to walk, take a bike, a friend, or a dog with you, you can experience the beauty of a Virginian forest and learn more about the history of our country (but be aware of which trails bikes are allowed on!).
Not only is it a great place to get some exercise or learn some history, it's also a fantastic place for watching birds and wildlife.
Richmond Battlefield is an important historical national park in Virginia, so don't miss out!