Let us help you find your dream North Carolina Airbnb property! Come with us as we discover some of the most incredible accommodations to be found in North Carolina. We will share all of the important details including price range, location, amenities, and nearby attractions and entertainment. 
North Carolina is a beautiful state to visit with a very moderate climate and stunning landscapes. There is so much variation throughout North Carolina; you can go from the majestic Blue Ridge Mountains all the way to the white sandy beaches of the Outer Banks.
North Carolina is most well-known for is craft beer and music scene in Asheville, delicious and tasty BBQ all over, and it is southern charm and hospitality. It is pretty gorgeous year-round, but if you visit during Fall you are in for a real treat!
Choosing to stay at a North Carolina Airbnb gives you the opportunity for a more home-like atmosphere and privacy. Another added benefit can be when the hosts leave you with local restaurant suggestions. So, leave the hustle and bustle of corporate hotel life behind you and get ready to explore all of these fabulous North Carolina Airbnb properties with us!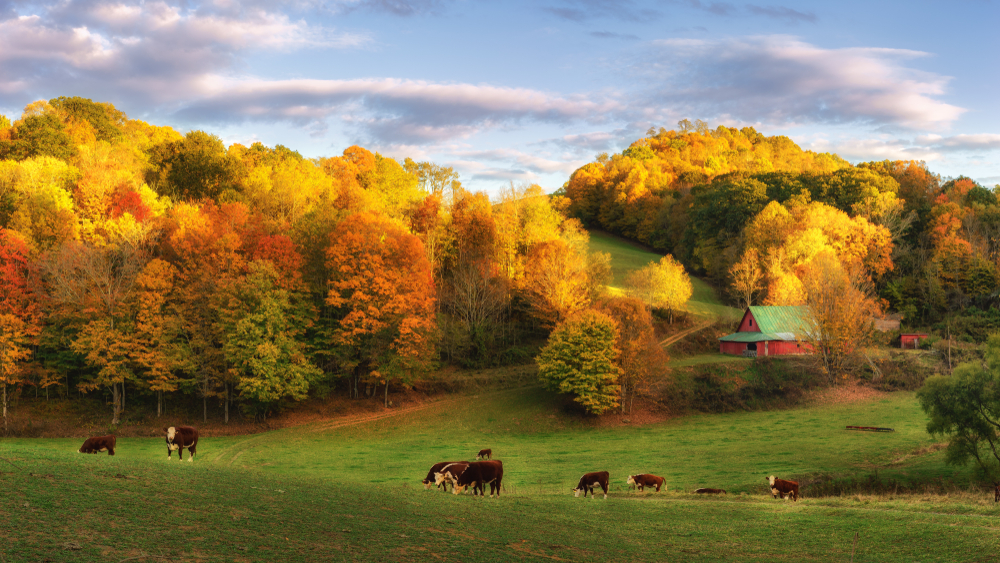 17 Best Airbnbs In North Carolina
Fleetwood Farmhouse
Our first North Carolina Airbnb home is located in Fleetwood, conveniently close to the beauty and wildlife of the Blue Ridge Parkway. It is an incredibly fresh and modern farmhouse style home complete with a wood-burning fireplace. Tons of natural light shines throughout this relaxing oasis in the woods.
The Fleetwood Farmhouse can accommodate up to 8 guests with 3 bedrooms, 4 beds, and 2 baths. Amenities include a full kitchen, living room, dinning room, washer and dryer, and porch with rocking chairs. It is moderately priced and perfect for those with a large family or group. Local attractions include hiking, skiing, ice skating, wildlife sanctuaries, pumpkin patches, farm museums, and the Tweetsie Railroad.
Check Rates: Airbnb.com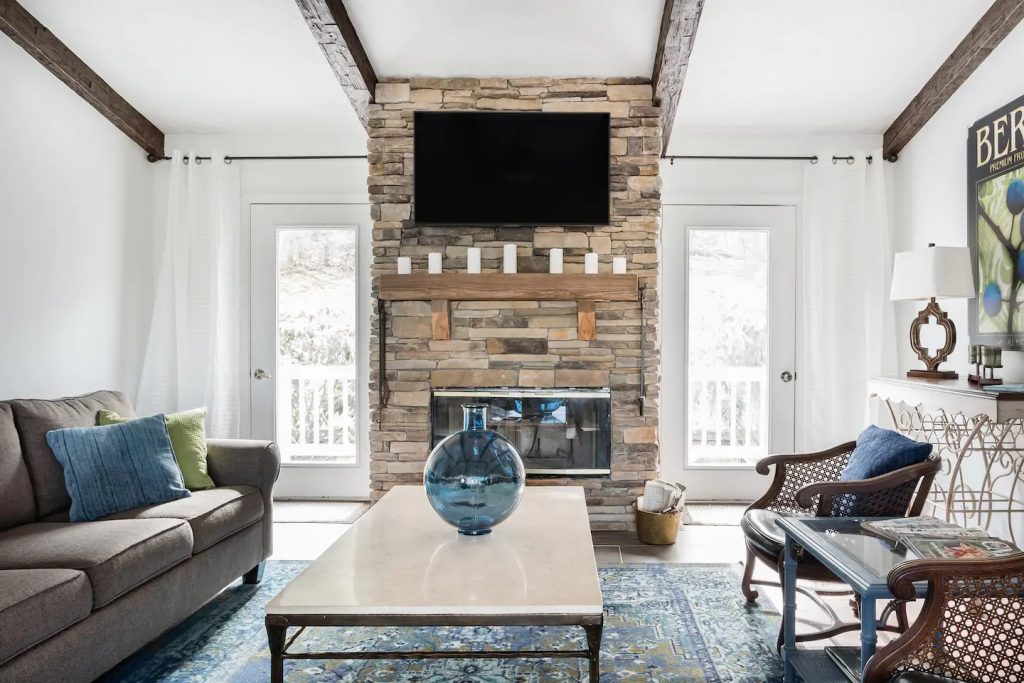 Patriot's Point
Welcome to Patriot's Point, a North Carolina Airbnb spanning 1,000 square feet in the heart of Havelock. In a Brookstone neighborhood off of HWY 70 and HWY 101, you'll find your bliss here.
Patriot's Point sleeps up to four people with two bedroom, each with a queen bed. The master bedroom has an ensuite with a tub and shower. The second bathroom also has a tub and shower and all linens and towels are provided.
The kitchen is fully stocked and the dining area seats four. The living area is inviting and spacious and you'll love the private, fenced in backyard complete with pergola, patio, fire pit, and barbecue grill.
You'll love having the private driveway with ample parking. You can also feel safe with a Ring Doorbell at the front entrance.
Check Rates: VRBO.com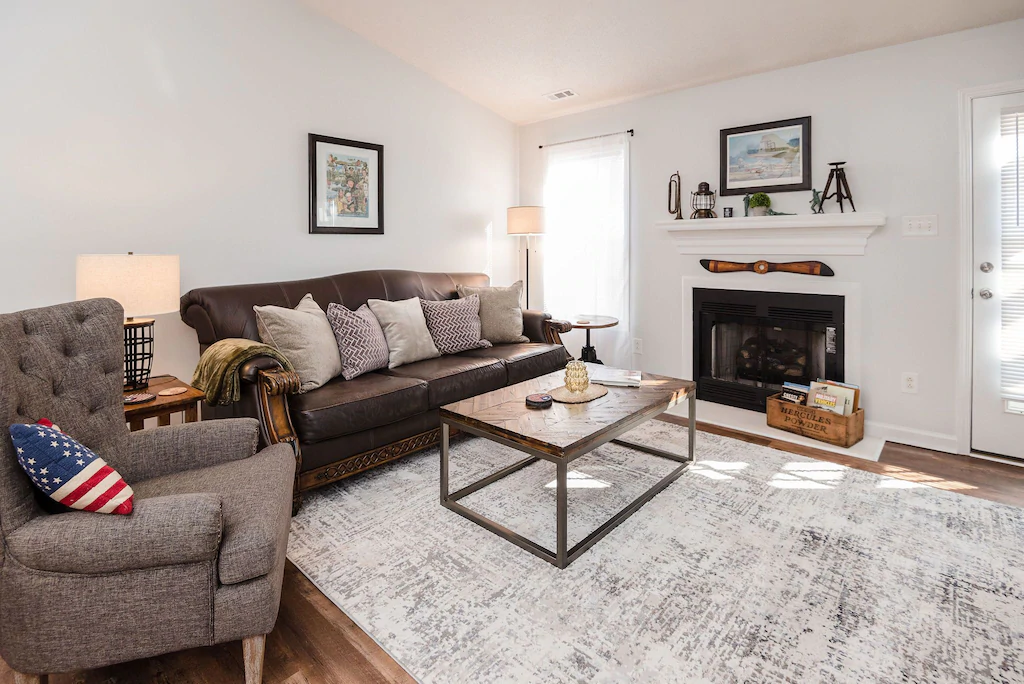 Panoramic Lakefront Oasis
Located in Semora, our next North Carolina Airbnb is a panoramic lakefront oasis that is ideal for recharging body, mind, and soul. This luxury home has so many amazing amenities including a hot tub, a private screened-in patio, a large wrap-around upper deck complete with rocking chairs, a stone fire pit with seating, an oversized dock with lounge seating, paddleboards, kayaks, rafts, and water guns.
The lake house can accommodate up to 8 guests with 3 bedrooms, 8 beds, and 2.5 baths. Amenities include a full kitchen, living room, dining room, washer and dryer, and indoor fireplace. The hosts have really thought of all of your needs as they provide several beach towels, a pack and play, board games, books, toys, and a gaming console.
The decor is modern, bright, and very crisp with white paint throughout. Local attractions include Jibtopia Wake Park, Mayo Park, the Springfield Distillery, and the Dukes of Hazard Museum.
Check Rates: Airbnb.com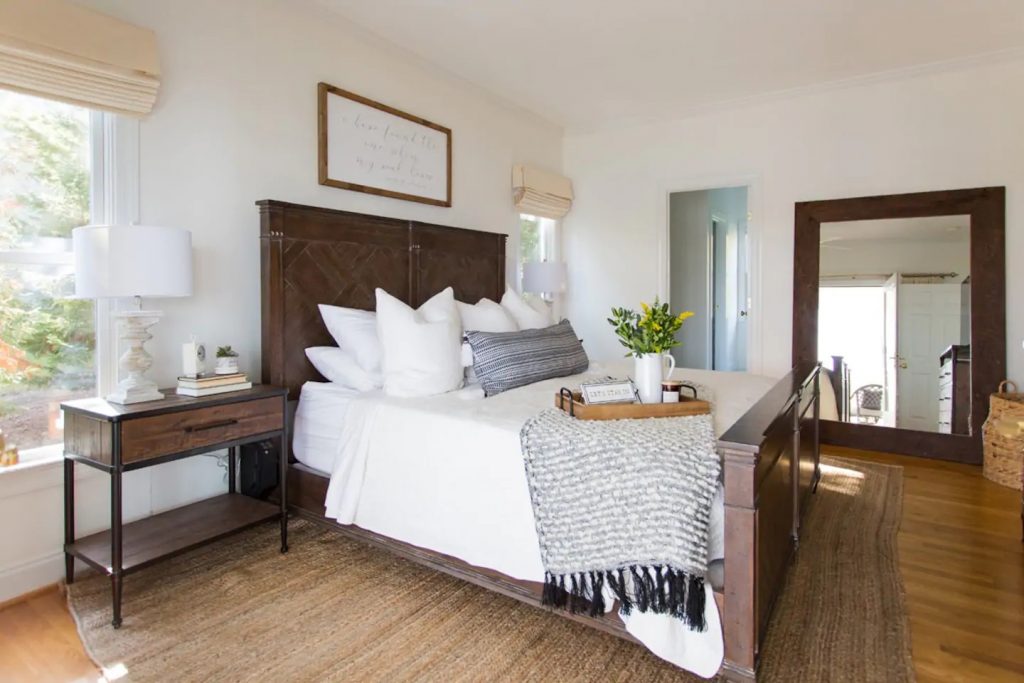 Bears Repeatin' FIX
In this ideal cabin getaway, you'll be staying in the heart of the great outdoors. The name of this North Carolina Airbnb says it all: it doesn't "Bear Repeatin'" that you'll want to keep coming back to this listing.
The main level of the home has hardwood floors throughout. The living spaces features plush, comfortable furniture around a stone, remote-controlled gas log fireplace with an HDTV. Behind, there's a dining area with a fully equipped kitchen with stone-tiled countertops.
Upstairs you'll find a spacious loft with a sleeper sofa and a combination bumper pool and poker table. There's also a desk with a TV and a PlayStation 2 set up. Bring your own games or play some of the games on hand. When it's time to wind down, the master downstairs has a King bed, while the master upstairs has a queen bed.
Enjoy the views of the mountains from the completely private back deck. On a covered front porch, take a soak in the hot tub. You're just 10 minutes outside Boone, minutes away from all the High Country has to offer. This is truly one of the most romantic getaways in North Carolina!
Check Rates: VRBO.com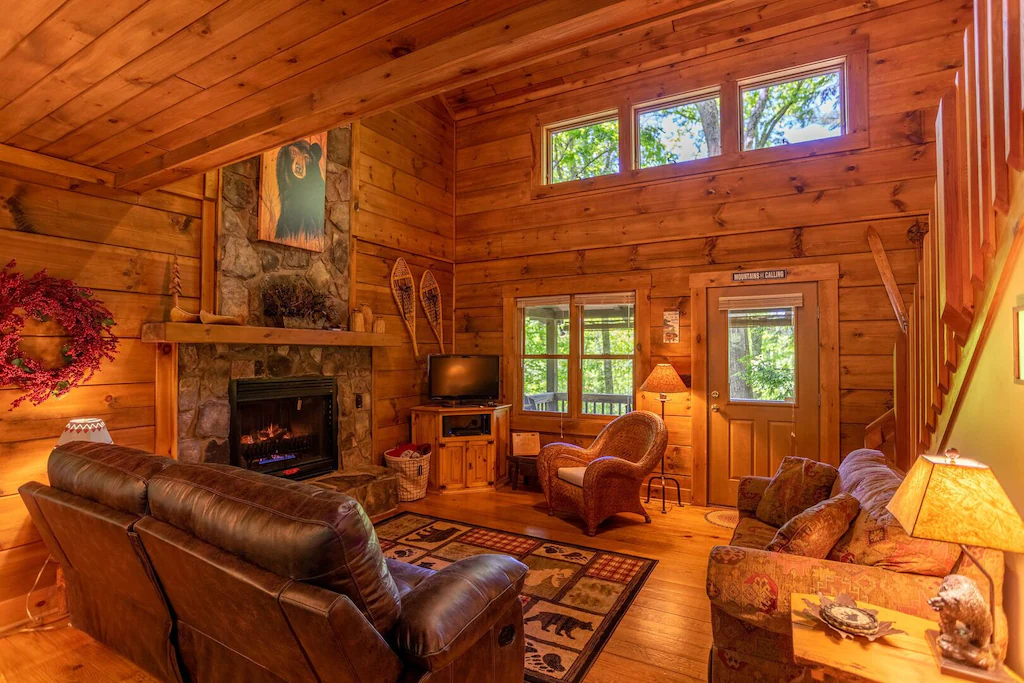 Mermaid's Tears
This beautiful beachfront home in Rodanthe is one of the Outer Banks vacation rentals! Mermaid's Tears is the perfect place for a relaxing beach vacation!
This home is named after the natural sea glass that can be found along the shore right outside the home. It features a beautiful and spacious living room with windows overlooking the ocean as well as a modern kitchen, sunroom, and plenty of outdoor space to enjoy the sunshine!
Accommodating up to 10 guests, Mermaid's Tears is the perfect place for trips with family or friends! The home is located near Rodanthe, making it a wonderful base for exploring everything Hatteras Island has to offer, including some of the prettiest beaches in the Outer Banks!
Check Rates: VRBO.com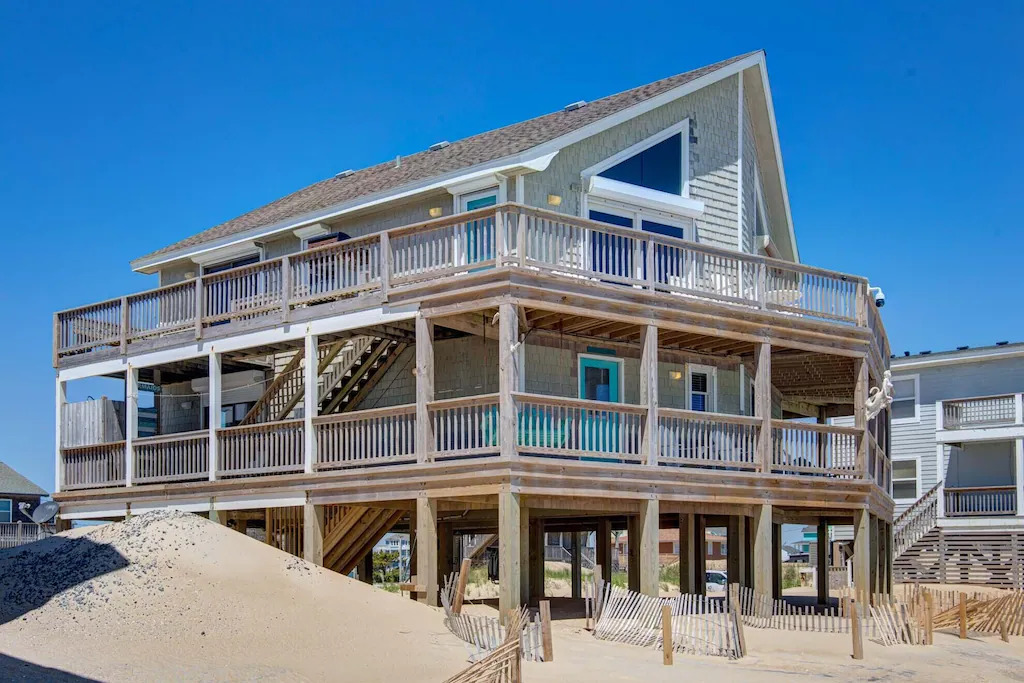 Elegant Stone Greenhouse
Are you a fan of "Glamping"? If so, then our next North Carolina Airbnb is right up your alley!! This elegant stone greenhouse is located in Concord and it features cozy country vibes and charm piled up to the heavens.
Now, this property is outstanding all by itself, but as an added bonus it is located on a 20-acre farm with towering pine trees all around you! It can accommodate up to 2 guests with 1 bedroom, 1 bed, 1 bath. Amenities include a seating area with wood burning stove, heating and AC, and a mini-fridge and coffee station.
There is a shared Eco Bathroom located on property that includes an outdoor rain shower as well as Men's and a Women's eco-toilets and a sink. Guests also have access to outdoor dining with a private propane grill, a table, and chairs. There is also an above-ground pool and deck (open seasonally) and an 8-person hot tub and a fire pit (open year-round).
Don't miss out on this affordable hidden gem! Local attractions include SEA-LIFE Charlotte/Concord Aquarium, Charlotte Motor Speedway, Great Wolf Lodge Water Park, and the Richard Petty Driving Experience.
Check Rates: Airbnb.com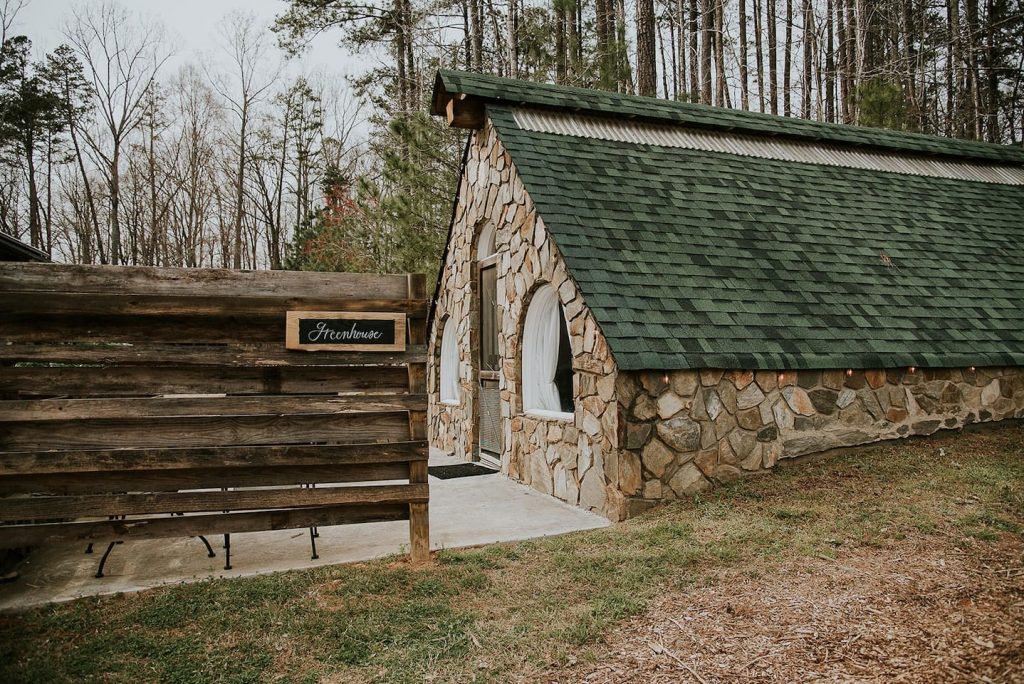 Lakefront Cottage on Lake Lure
One of the the most luxurious Lake Lure vacation rentals, the Lakefront Cottage will surely make you feel right at home. This North Carolina Airbnb will make you never want to leave!
Nestled along the shores of the Snug Harbor Cove, you'll have views of Lake Lure, Snug Harbor Cove, and the picturesque surrounding mountains. The cottage is two levels separated into three large bedrooms, affording more space than a typical lodge or cabin rental.
The kitchen, living room with a large stone fireplace, and eating area are all found on the first floor. You'll love the natural aroma of cedar paneling with collar beams. Between the three bedrooms, you can comfortably sleep seven.
You also have access to a modern boathouse with plentiful decks and platforms for sunbathing, diving, and one of. the best fishing coves on Lake Lure. You'll love the water sports, hiking, shopping, and dining conveniently located around the lake too!
Check Rates: VRBO.com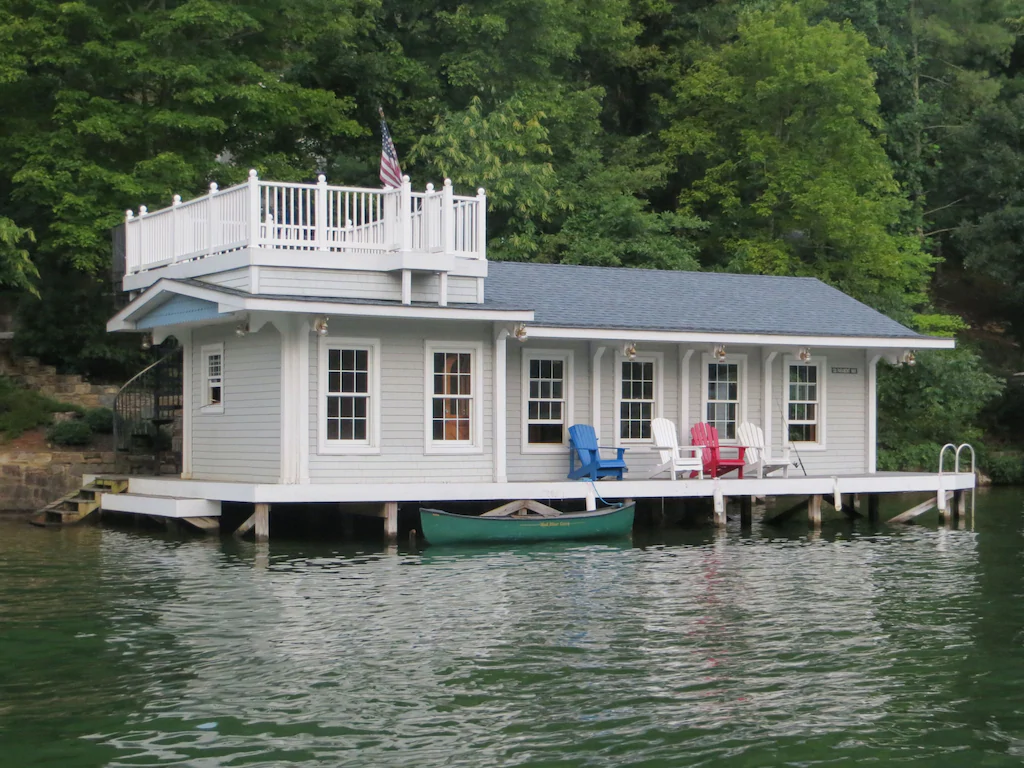 Sugar Creek Treehouse
Are you seeking a truly fun, unique, and thrilling experience? Well, if you answered yes, then this next North Carolina Airbnb is perfect for you! We now venture to Green Mountain, NC to this epic Sugar Creek Treehouse. Yes, you read that correctly!! A TREE-HOUSE!
First of all, this incredible tree-house sits above a mountain and right next to a stream. Secondly, it is moderately priced and features an artsy bohemian cafe vibe. Lastly, the Sugar Creek Tree-house can accommodate up to 6 guests with 1 bedroom, 2 beds, a pull-out sofa, and 1 bathroom. Amenities include a full kitchen, washer and dryer, wood stove, and a hot tub.
Located only 45 minutes from Asheville, so you can easily take a day trip to taste some local micro-brews or listen to live music. Other nearby attractions include Loafers Glory Rafting and Tubing, Parkway Playhouse, the Appalachian Trail, and Roan Mountain State Park.
Check Rates: Airbnb.com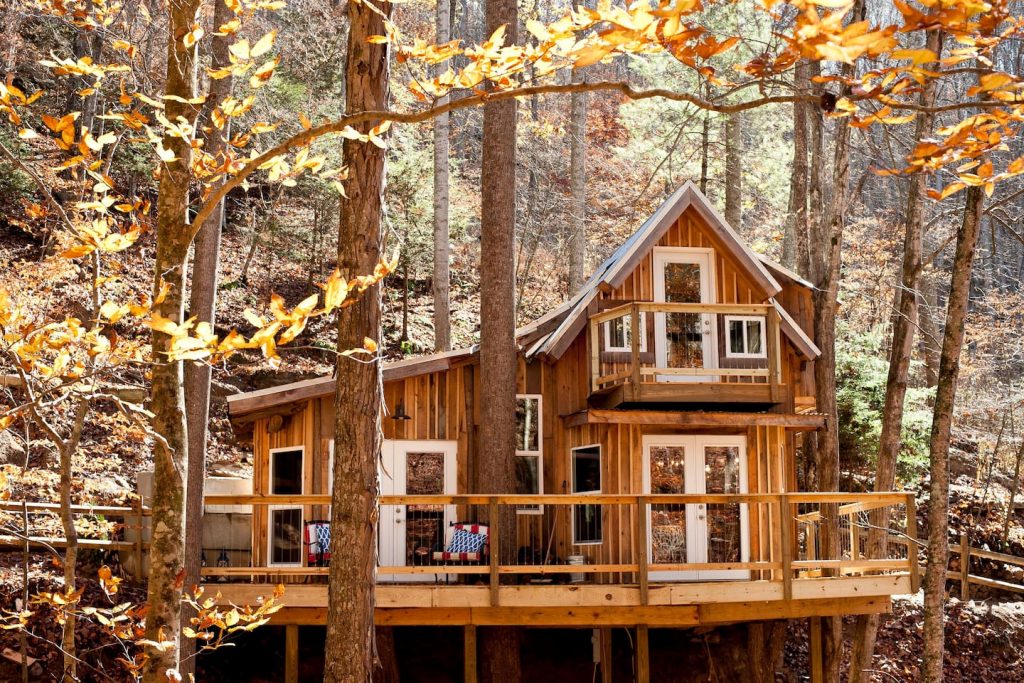 Ocean Breeze
When you're looking for Duck, North Carolina rentals, the Ocean Breeze rental will surely catch your eye. The perfect Outer Banks condo, this North Carolina airbnb will get your vacation started off right in the heard of the Colony By the Sea Community.
This one bedroom, two bathroom condo can be found literally a two-minute walk away from the beach. You're also just walking distance away from Duck's local restaurants and features. Take a stroll on the Town Park boardwalk or visit the Waterfront Shops!
Inside Ocean Breeze, you'll find a chic living area complete with flat screen TV and comfortable seating. The kitchen is fully equipped if you choose to dine in. Outside, you'll love the stunning sunrises and ocean views from your private balcony.
Check Rates: Airbnb.com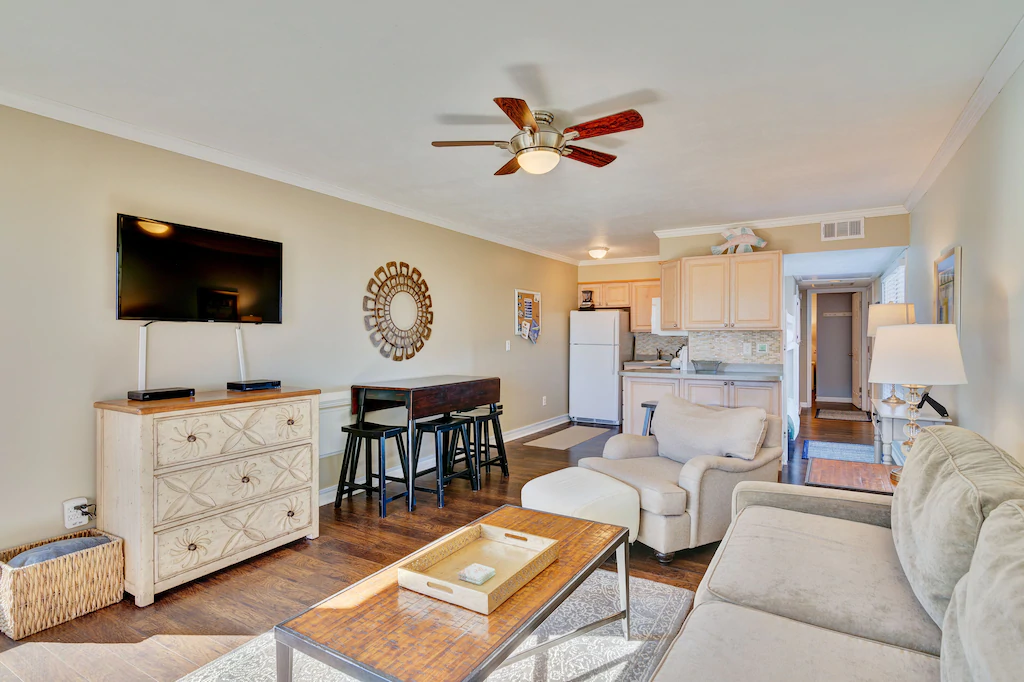 Super Luxe Stecoah House
When you choose to stay at the Stecoah House, you are choosing an ultra-modern and luxurious experience with an insanely gorgeous mountain view. Located in Bryson City, you are right in the heart of the Smoky Mountains and extremely close to the world-famous Nantahala Outdoor Center.
The sleek and elegant Stecoah House can accommodate up to 6 guests with 1 bedroom, 3 beds, 1.5 baths. Amenities include a full kitchen, living room, washer/dryer, gas fire place, outdoor fire pit, a wrap-around deck, and over a half-acre of mountain grounds.
The real highlights of this house are the floor to ceiling windows that allow you to really experience the amazing mountain view without obstructions. Local attractions include the Great Smoky Mountains Railroad, Bryson City Island Park, and the Fly Fishing Museum.
Check Rates: Airbnb.com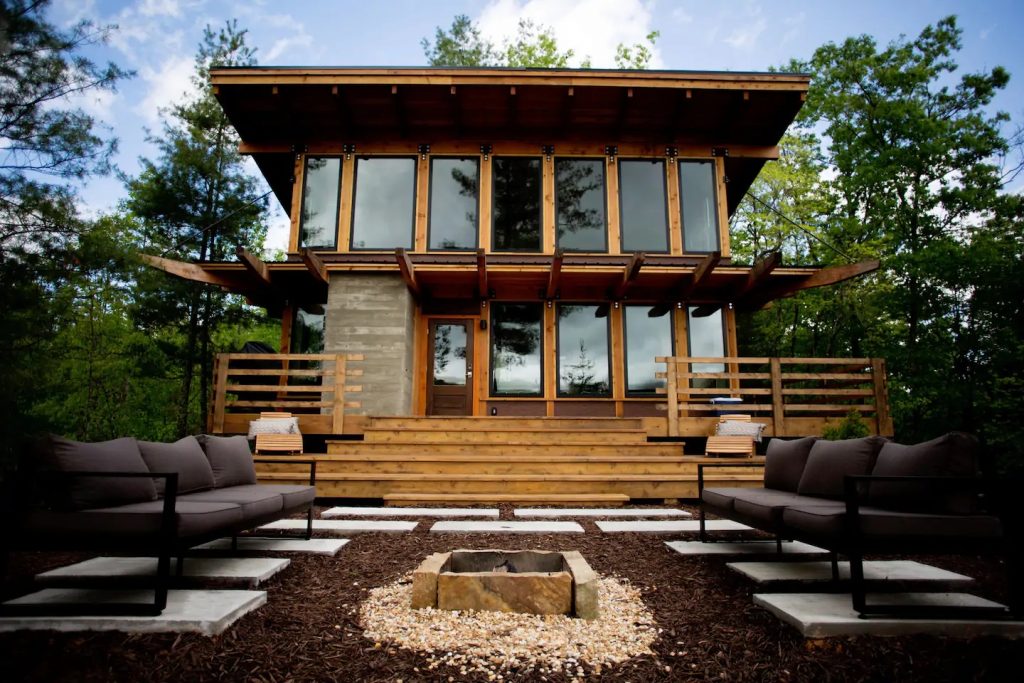 Picturesque Mountain Cabin
The picturesque mountain cabin will be your retreat nestled up high on a mountain, surrounded by five acres of property. The stunning mountain view afforded by this North Carolina airbnb will make you feel like you're in the height of luxury.
The home is highlighted by large windows that give you great views of the beautiful Smokey Mountains. You can also admire them from the large deck on sitting chairs or from the hot tub. This Bryson City Cabin Rental will be the highlight of your trip to the Smokey Mountains.
Keep in mind that this listing is at a very high elevation. The roads to get there will be steeper, narrower, and curvier than you may be used to driving. Consider the gravel roads a part of the listing's rural mountain charm.
Check Rates: VRBO.com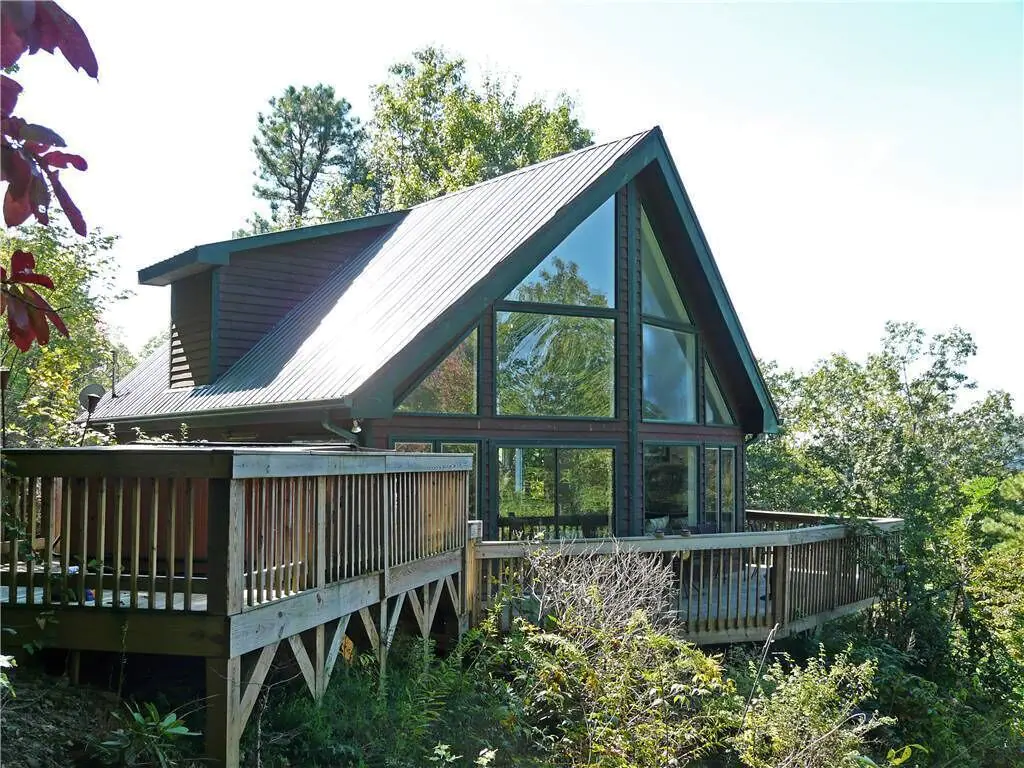 Sunset Rest
Everything you've read about Lake Luke is true. And at this North Carolina Airbnb, you'll understand why they call it Sunset Rest. A welcoming reprieve, you're sure to make lifelong memories at this listing.
Inside the beautifully decorated space, you'll find four bedrooms, three baths, a sleeping room, and a half-bath. You can comfortably sleep 10 people in the beds alone. Max occupancy is 12 guests! Linens are provided for all beds, but other guests must provide their own linens.
Hardwood floors run throughout the home. The kitchen is modern and contemporary with lots of room to gather and cook. You'll love all of the outdoor deck space, perfect for homebodies who just want to relax. The kitchen connects to the family room creating a cozy atmosphere with natural light.
Nestled in the foothills of the Blue Ridge Mountains, you'll be close to water sports, golf, tennis, zip-lining, hiking in Chimney Rock, and more! You'll also be close to Pisgah National Forest, Grandfather Mountain, Mount Mitchell, and the Cherokee Reservation!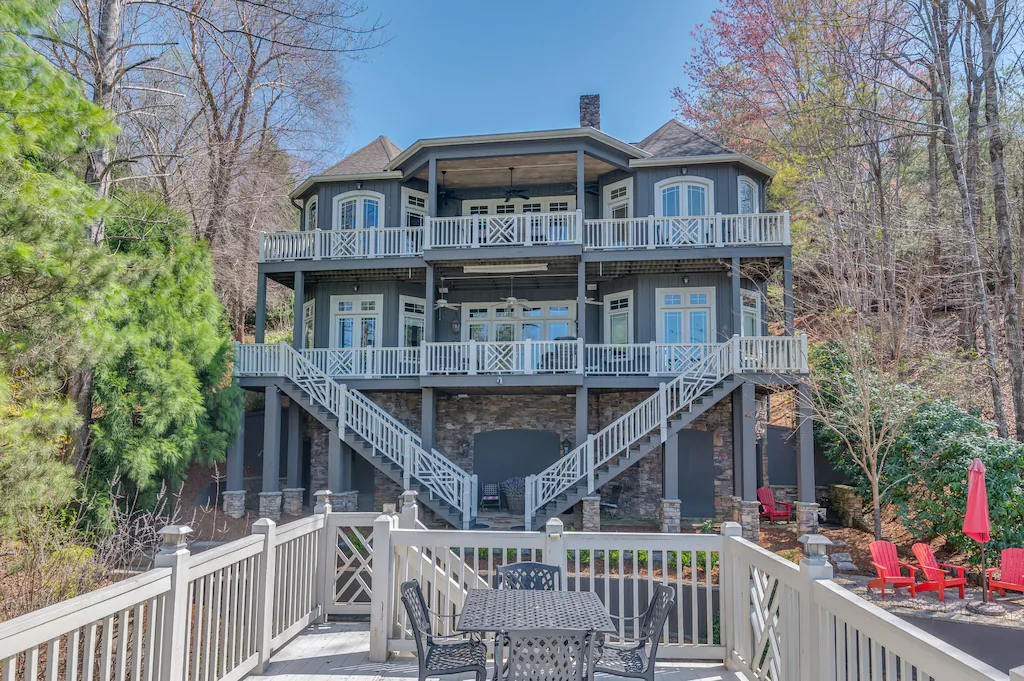 Big Little Bear at Eagles Nest
Big Little Bear is a new North Carolina Airbnb and will sure to be one of your favorites places to stay! You'll enter and immediately love the open concept kitchen and living area with stainless steel appliances including a gas stove and a bar that seats four.
In the living room, a sofa and three chairs sit around a gas log fireplace and a TV with great streaming services! Off to each side is an ensuite bedroom with a king bed and TV. The counters are granite with double vanities! You'll love how luxurious it feels.
Out back, there's a spacious deck. Sit on the Adirondack chairs for the best views of the forest. There's also a new grill which you'll love for cooking. You'll be between Great Camp and the North Pavilion area of Eagles Nest, a great location near all the popular community amenities.
Check Rates: VRBO.com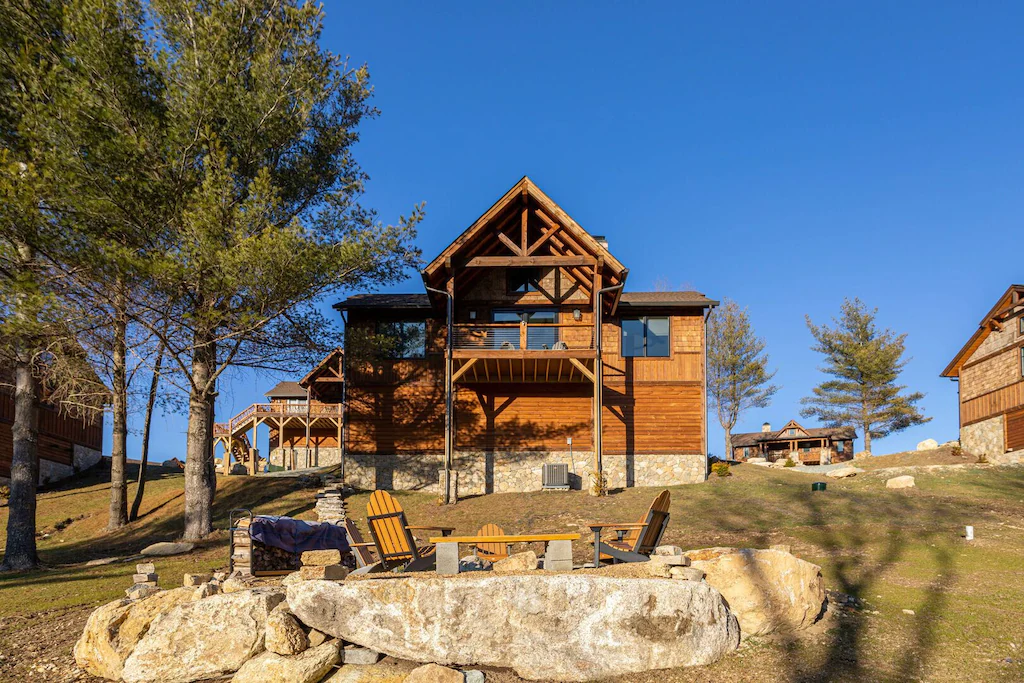 Joshua's Lodge
Joshua's Lodge can be found just 8.5 miles from downtown Franklin. Every room of the four bedroom, three bath, two level lodge was designed with relaxation and local attractions in mind. Perfect for big families or large group of friends, this North Carolina Airbnb sleeps 16.
The scenic property offers a private hot tub, fire pit, pool table, movies, games, and proximity to whitewater rafting, hiking, historical sites, and more. You'll love the themed rooms like the Bears Den, the train room, and more nature themed rooms.
Joshua's Lodge has modern updates with rustic finishes, two levels, an open living room with Smart TV, a wood burning fireplace and dining area. You're only 4.5 miles away from the Great Smokey Mountain Fish Camp and Safaris, and 12 miles away from the Tellico Gap!
Check Rates: VRBO.com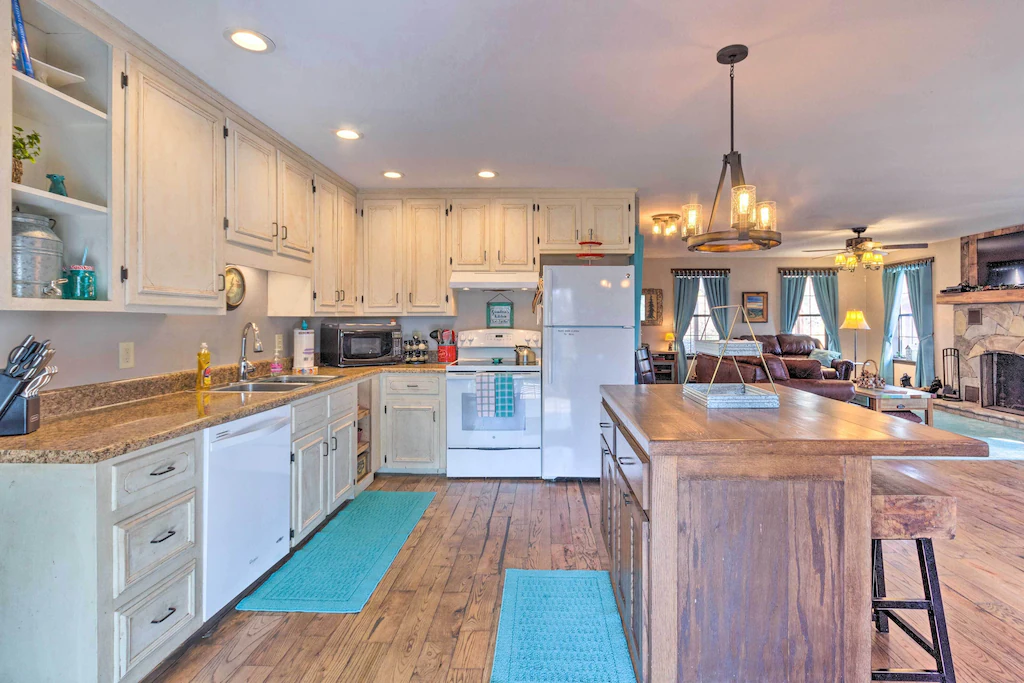 Buck Creek Frontage
You're going to love Buck Creek Frontage. It's always about the setting, and this is the spot for you. It's really not a creek, it's a rip roaring river!
Sleeping six comfortably, this cute cabin is nestled in a wooded setting where nature abounds. You'll be living in luxury with three bedrooms and two baths, a full kitchen, wrap around porch, fire pit, and more!
The home is easy to access, mostly on paved state roads. When you get to the last 2/10th mile, you'll drive along a private road until you reach the house with plentiful parking. And best yet, you're close enough to make quick trips to Highlands for five star dining or a grocery run in Franklin!
Check Rates: VRBO.com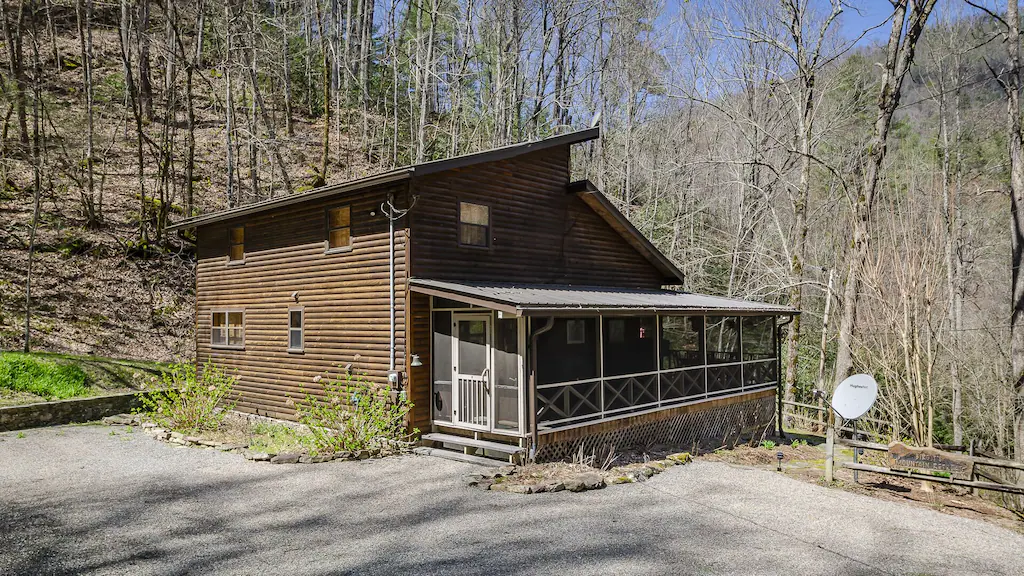 Spinnaker Point
If you're looking for beauty and luxury, then you're going to want to pay a visit to Spinnaker Point, a great North Carolina Airbnb. This raised-ranch style home will make all of your dreams come true.
With the dock just on Smith Creek and just outside of Oriental North Carlina, you'll enjoy a huge family area with great views. Just around the corner there is a quiet nook with a fireplace, perfect for relaxing.
The master has a queen bed, and so does the secondary bedroom. There's also a bunk room with a television. The kitchen has plenty of room to create family memories including beautiful quartz counters.
Check Rates: VRBO.com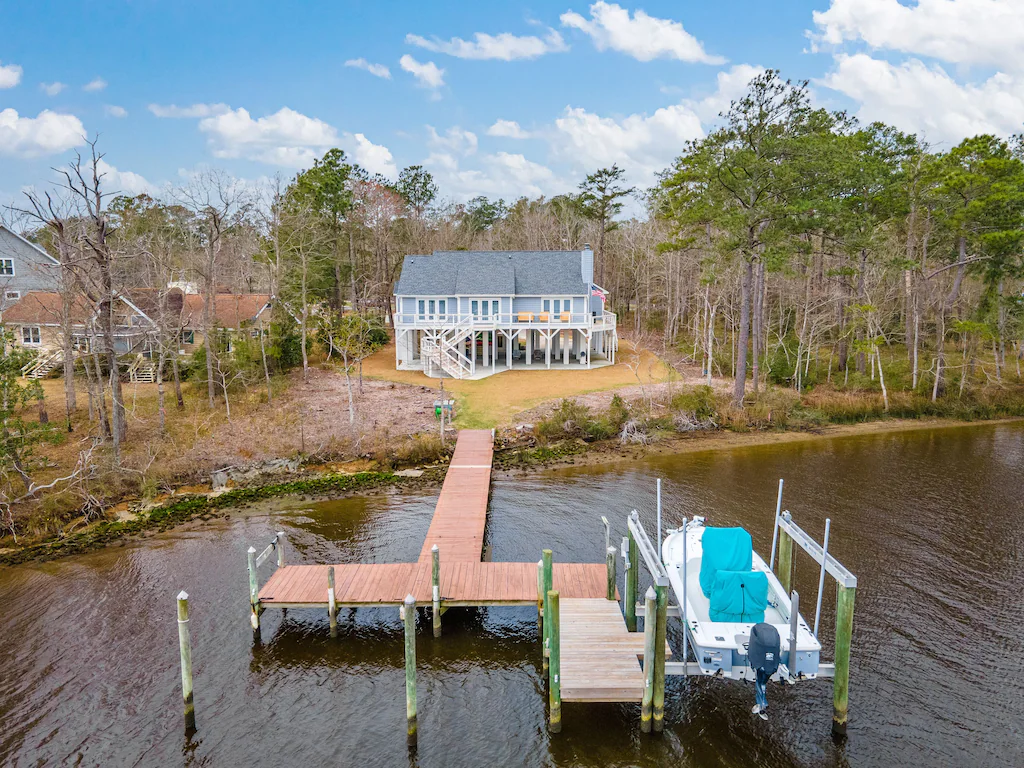 Spacious Oceanfront Home
Found right on the shoreline, this North Carolina Airbnb will give you the best kind of Ocean Vibes. Perfect for large friend groups or familiy reunions, you'll fall in love with the Spacious Oceanfront Home, which sleeps 16 people!
The Wave Watcher II house has six queen beds, four bunk beds, and two twin beds in the loft. There are two full baths, two half baths, and an outdoor cold shower on the walkway to the beach. Over 2,400 square feet of living space you'll have spectacular views of the ocean from all around.
Enjoy the ocean breeze from the fully covered porch. You'll love having 5 color, cable TVs, high-speed wifi, and of course air conditioning. There's also a washer and dryer, dishwasher and microwave.
Check Rates: VRBO.com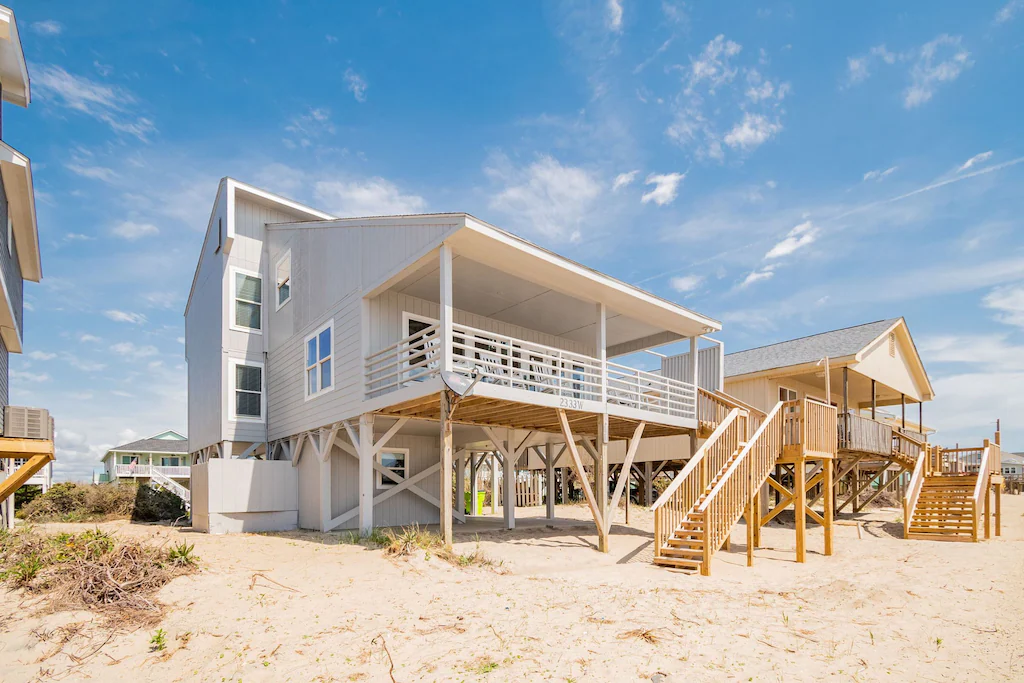 Well, now comes the hard part…picking your favorite! We know it can be hard to narrow down your choices when they are all so fantastic. Make a list of what is most import to you in terms of location, price, and style, and that will help point you in the right direction. We hope you have enjoyed touring each North Carolina Airbnb and wish you a wonderful trip!