If you are searching for the best Outer Banks beaches, you will not have trouble finding some! This coastal strip of islands in North Carolina has some of the best beaches in the South. With minimal development, the untouched nature remains wide open and beautiful.
The beaches in the Outer Banks give you a place to work on your tan and swim in gorgeous water. Kids will have fun building sandcastles and having a picnic under an umbrella. If you are feeling adventurous, then try out some watersports. But, if relaxation is your thing, then bring a fishing pole.
No matter your idea of fun, you will have a great time exploring the small towns, lighthouses, and beaches of the Outer Banks, North Carolina. What are you waiting for? You will want to add the Outer Banks to your travel bucket list by the end of this article. Don't forget to check out our list of the Best Islands In North Carolina if you want to explore!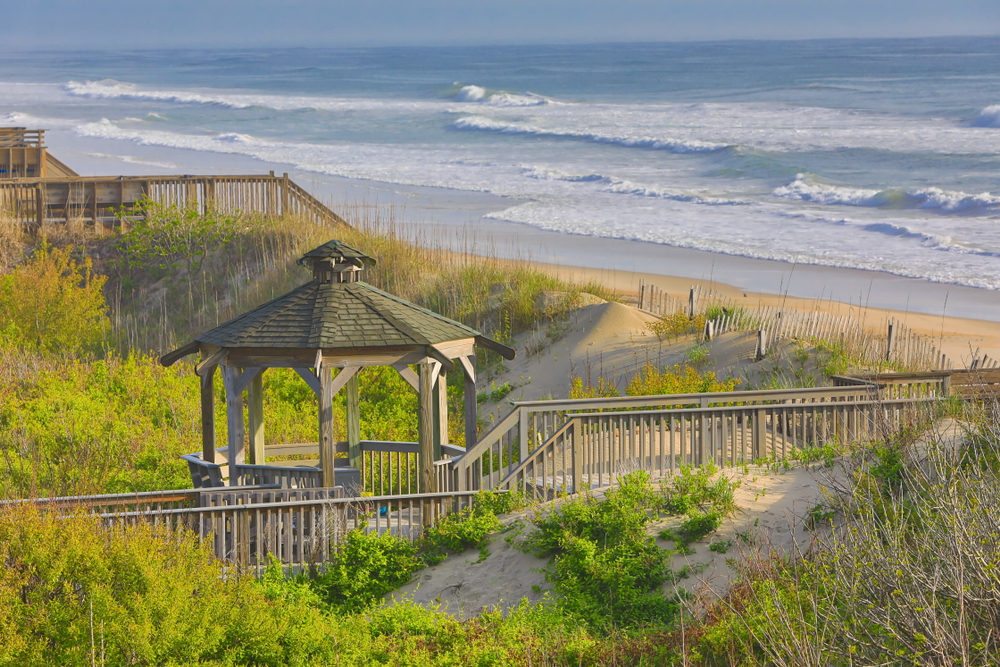 7 Best Outer Banks Beaches You Should Visit
Corolla Beach
Corolla Beach is famous for the herd of wild horses that make it their home. These majestic creatures are descended from horses brought over by the Spanish in the 1500s. You can take a guided tour to find the animals or you can drive your own 4×4 vehicle out on the sand to search for them. But remember to keep a safe distance and do not feed them.
This is one of the best Outer Banks beaches for families since it is relatively secluded and does not get too crowded. You will have an easy time finding a patch of sand to call your own. Lay down a blanket and let the beach atmosphere send you into vacation mode. Rent kayaks to paddle through the Currituck Sound.
When you aren't lazing around at the beach, Corolla has many attractions to keep you entertained. Tour the Whalehead Club, a 1920s-era mansion that is still full of vintage furniture. Take time to climb the Currituck Beach Lighthouse to find amazing views of the Outer Banks. The Center for Wildlife Education is perfect for anyone who wants to learn about North Carolina's animals.
Other fun family activities include hiking the nature trails and hanging out at the skate park. There is a full 18-hole golf course or you can play mini gold instead. Walking through the shopping complexes is something to do if the weather is bad.
There are a ton of rental home options in Corolla for every budget. A small beach cottage would be perfect for a honeymooning couple. If you are traveling with a big family, rent a luxury vacation home with a private pool and split the cost. Book in June to enjoy the Annual Under the Oaks Art Festival and buy some local art. While you are here, make sure to check out some of the best restaurants in the Outer Banks!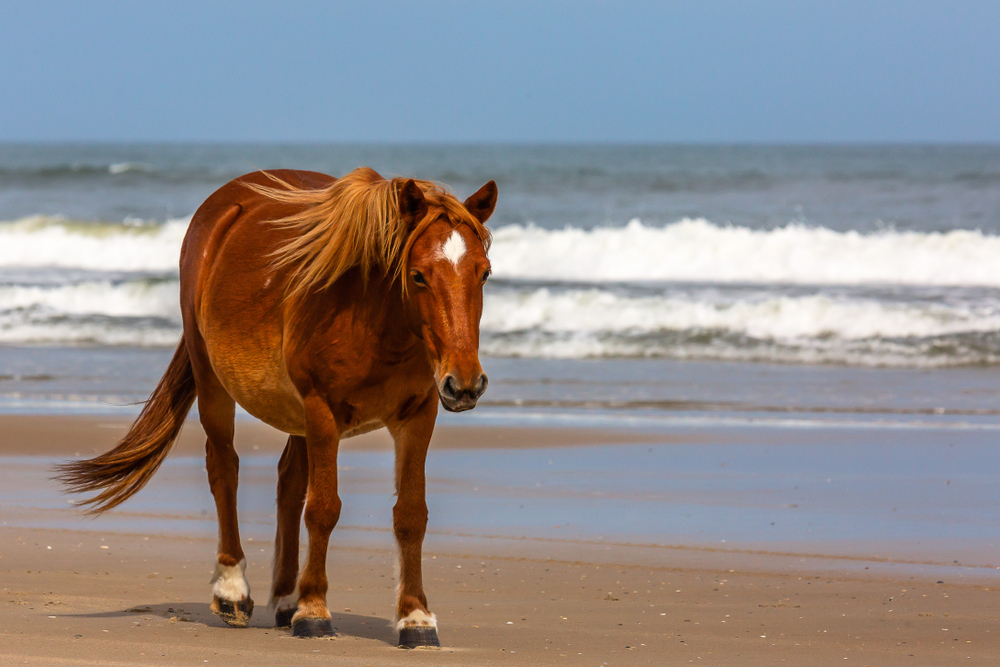 Coquina Beach
Coquina Beach is a remote and undeveloped beach that will make you feel as if you have landed in paradise. As part of the Cape Hatteras National Seashore, this Outer Banks beach is protected and holds onto its wild charm. Be ready to spot numerous seabirds. The fishing here is great too. If you want to add seashells to your collection, this is the perfect place to search.
You can walk to the beach or drive a 4×4 vehicle with a permit. To save on the driving fee though, take the easy walk from the parking area. The beach has a makeshift road in the sand, so watch for vehicles.
This beach was named after the colorful coquina clams that can be spotted in the water in spring and summer. Interestingly, a 1921 shipwreck occurred here and some of the wreckage of the ship still remains. When the weather is right, Coquina Beach is a great place to surf.
From the beach, cross of the bridge to Longboat Key where you can find family-owned restaurants and local shops. Charter a boat to get out on the water for the day and enjoy prime fishing and fun in the sun.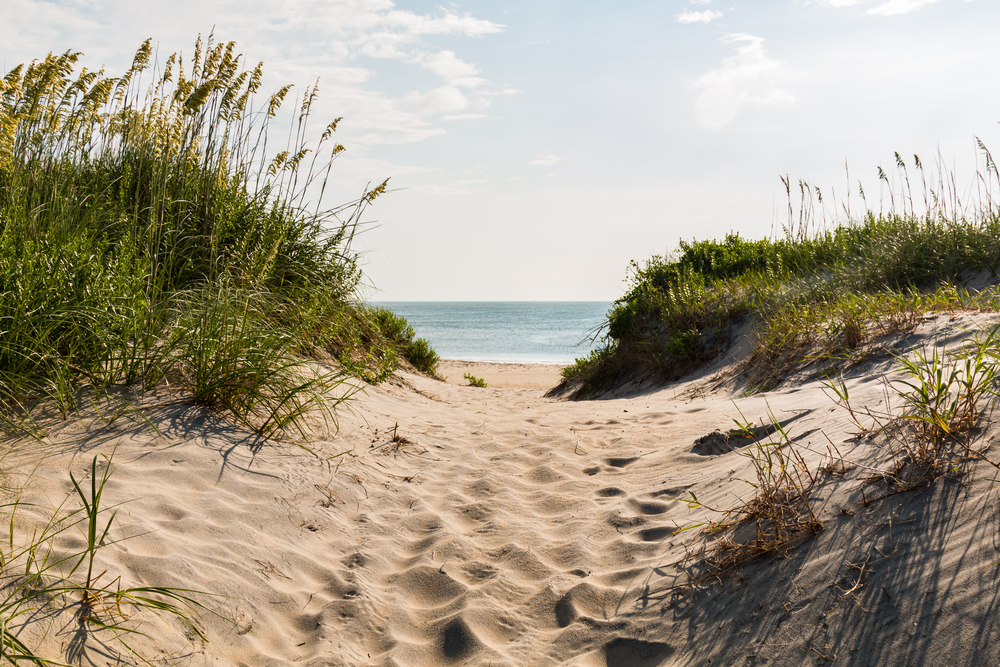 Rodanthe Beach
Another Cape Hatteras National Seashore escape can be found at Rodanthe Beach. This is a popular spot for sunbathing, swimming, and general beach fun. Keep your heart pounding by surfing, kiteboarding, or windsurfing at Pamlico Sound. More laid-back activities include fishing at the pier or bird watching at the Pea Island National Wildlife Refuge.
The small town of Rodanthe has risen in popularity because of the Nichols Sparks' novel and film adaption, "Nights in Rodanthe." This is a great place to rent a beach cottage and pretend you are living inside your own romantic novel. Couples will love getting away from the world in this slice of the Outer Banks.
Rodanthe Beach is one of the Outer Banks beaches that allow beach bonfires with a permit. Time your bonfire for a night with a full moon for extra fun and romance. There is nothing like sitting around a roaring fire while watching the reflection of the full moon dance on the dark water.
The annual Wings Over Water event takes place each October in Rodanthe. This gathering of bird enthusiasts includes guided birding trips, kayak tours of the Pea Island National Wildlife Refuge, photography workshops, and educational programs. This is a great importunity to meet other birders.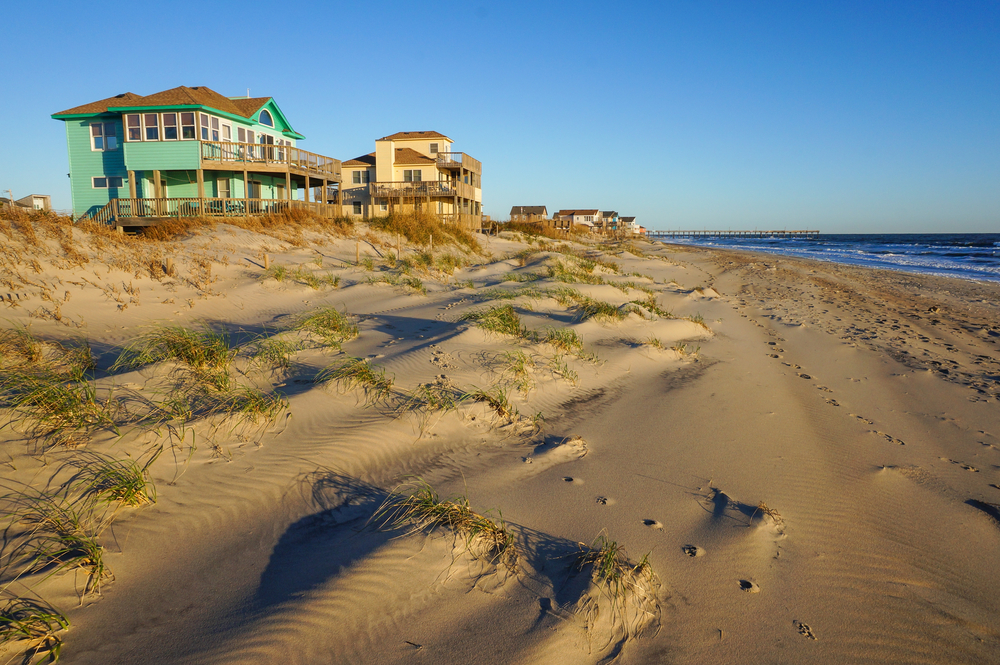 Kitty Hawk
The great beach town of Kitty Hawk is known as the home of the Wright Brothers, though their first flight actually took place in nearby Kill Devil Hills. You can learn more about their flight and see a replica of their plane at the Wright Brothers National Memorial.
Kitty Hawk was originally known as "Chickahawk" by Native Americans, meaning "a place to hunt geese." Today, many tourists come to rent a beach home and relax rather than hunt birds. But geese can still be seen here.
The seven different public beaches are the most popular attractions in Kitty Hawk and they are both kid- and dog-friendly. Walk along the Kitty Hawk Pier to find gorgeous views of the water. Spend time sunning yourself or swimming in the pretty water.
The 1800-acre Kitty Hawk Woods Coastal Reserve has beaches to discover and trails to hike. You can also find plenty of wildlife here, including white-tailed deer, gray foxes, and otters. Plus, it is the ideal place for peaceful bird watching.
Kitty Hawk hosts many food and art festivals throughout the year that will make your trip even more fun. Shop for local art or enjoy delicious seafood during events such as the OBX Arts & Crafts Festival and the Oink N' Oyster Roast.
If you want to find more beaches, head to Kill Devil Hills just south of Kitty Hawk. Along with a wicked awesome name, this town has great beaches where you can swim, surf, or fish the day away.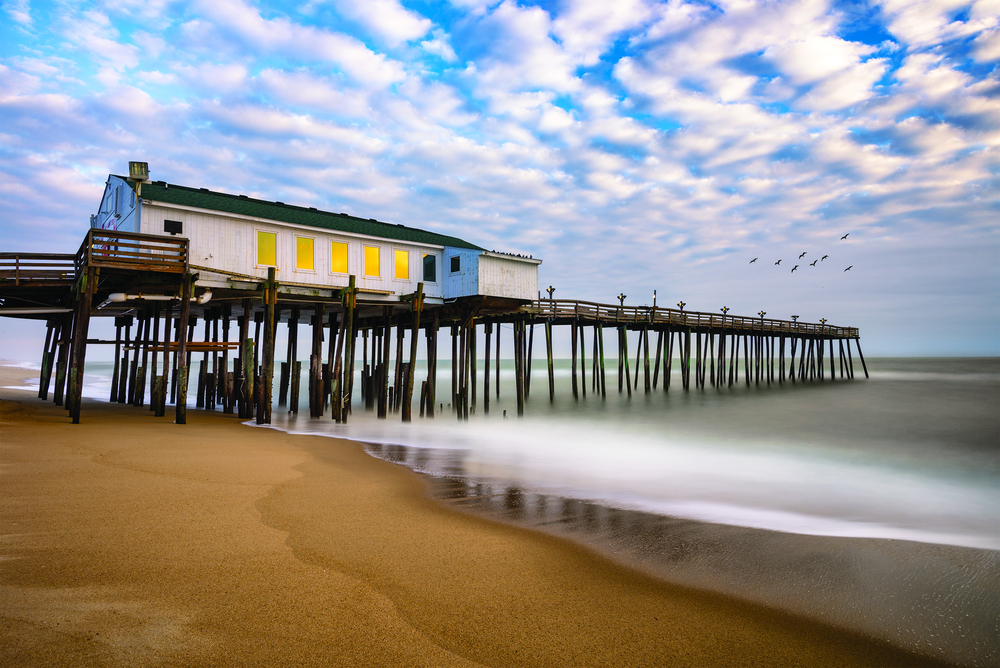 Nags Head
You will find some of the best Outer Banks beaches in Nags Head. This is a top tourist attraction in North Carolina. With oceanfront hotels and many great vacation homes available to rent, it is not hard to find a place to stay in Nags Head. You are bound to have an awesome beach vacation here!
Dogs are allowed on the Nags Head beach as well as bonfires as long as you have a permit. You will have fun metal detecting, fishing, swimming, or simply lounging in the sun. The 1870s-era Bodie Island Lighthouse provides picturesque views. Jockey's Ridge State Park is the place to go for riding over the sand dunes or to go hang-gliding.
Along with beaches, Nags Head also has fun family activities like go-kart tracks and mini-golf. There are also great restaurants and ice cream shops. Don't forget to check out some of the best things to do in Nags Head.
If you travel to Nags Head at the right time, you can enjoy some of the annual summer festivals hosted here. One festival to check out is the Outer Banks Watermelon Festival. The watermelon-themed food and games are sure to offer fun for the whole family.
The Outer Banks Pirate Festival lets you attend the Scallywag School, search for buried treasure, and eat a ton of yummy food. Pirates actually used to live in Nags Head back in the day and are the alleged reason behind the town's name. The pirates would use a lantern around a nag's head to trick boats into coming near before they plundered them.
If you happen to get bored of the beaches in Nags Head, North Carolina, then drive over to nearby Roanoke Island to visit the Roanoke Island Marshes Dedicated Nature Preserve or the North Carolina Aquarium. Take a dolphin tour for the chance to see the majestic creatures. The Roanoke Marshes Lighthouse and the Roanoke Island Maritime Museum will teach you about nautical history.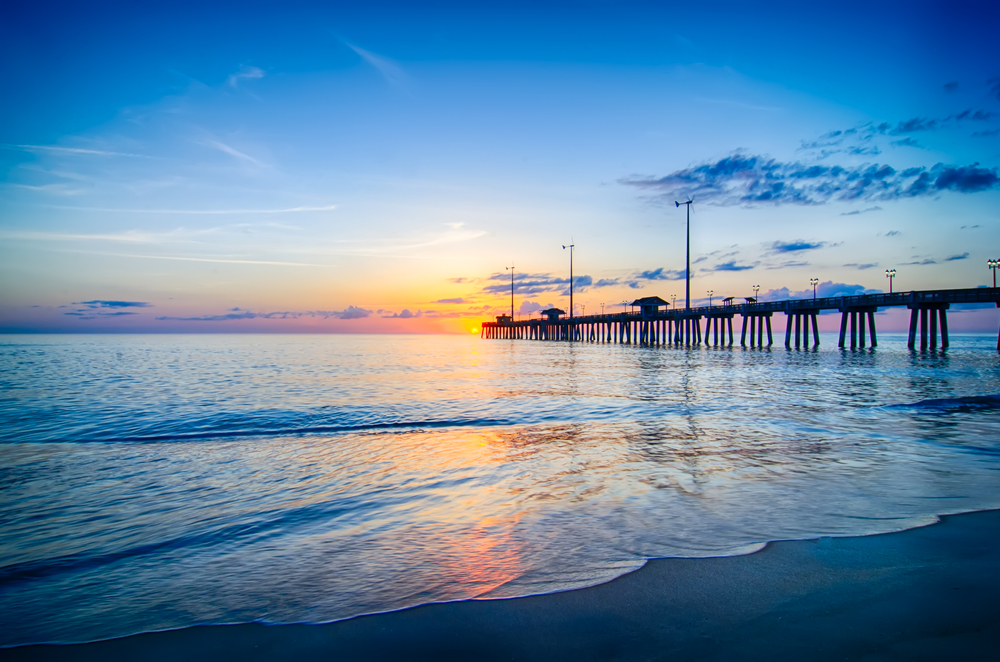 Duck Beach
Have you heard of Duck, North Carolina? It is becoming one of the most loved vacation spots in the Outer Banks.
The city has beaches on both the ocean side and the sound side so you can enjoy both types of water. The ocean is ideal for water sports such as surfing, jet skiing, and windsurfing. The calmer sound is perfect for swimming or kayaking.
While there are not actually any public beaches in town, each housing community and rental home comes with private beach access. This helps to keep crowds down and gives you an opportunity to relax in peace. Let people means more chances to find washed-up shells as well.
Without a lot of development, this area is full of nature and small town charm. The untouched beaches stretch to create the perfect escape from the real world. Relax with the sound of the waves lapping against the shore. Just don't forget to apply ample sunscreen!
Duck offers visitors great choices for eating out and shopping. Make sure to check out our list of best restaurants in Duck you must visit!
The shopping area is very walkable, allowing you to fully appreciate the small town. Have drinks at a waterside restaurant as you watch the sunset over the water.
In October, the annual Duck Jazz Festival is held at the Duck Town Park and Boardwalk. In December, the Duck Yuletide Festival is the best time to see light displays, go shopping, or enjoy a tapas crawl.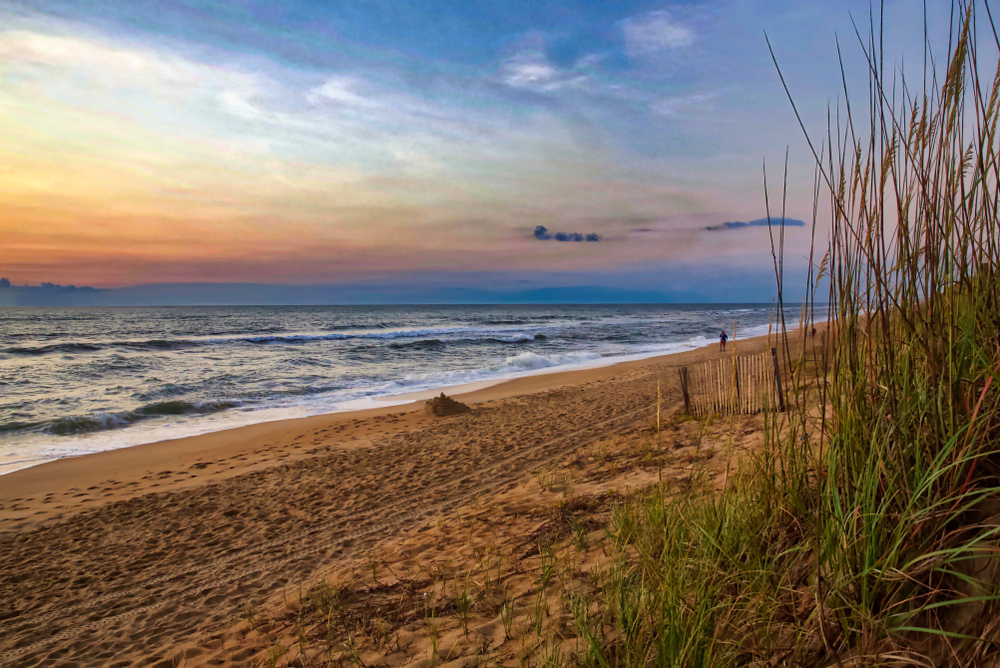 Cape Point Beach
The last Outer Banks beach we will discuss here is Cape Point Beach. This is the easternmost beach on Hatteras Island and is one of the best fishing destinations in the state. Anyone who wants a chance to catch game fish should book a fishing charter here.
Since it is part of the Cape Hatteras National Seashore, there are wide spaces of natural land. The sandy beaches are great for shelling and rare conch shells are often discovered here. Birders will be interested to learn about the species that nest here, such as the piping plover and American oystercatcher.
Spend time at the beach laying on a towel, paddle boarding, or watching dolphins play in the water. You can go horseback riding on the beach for a great family or couple's activity. What could be more fun or romantic than that?
Besides beach activities, this island features many other things to do. Make sure to take time to climb the Cape Hatteras Lighthouse and visit the Museum of the Sea. There are also hiking trails to explore as well as historic cemeteries.
Cape Point is a great place to visit in the winter because the temperature can range from 50 to 70 degrees Fahrenheit. Many rental homes include hot tubs or fireplaces to ensure you stay cozy during your visit. This is one of the best beaches in the Outer Banks for couples who enjoy staying snuggled up in a pretty location.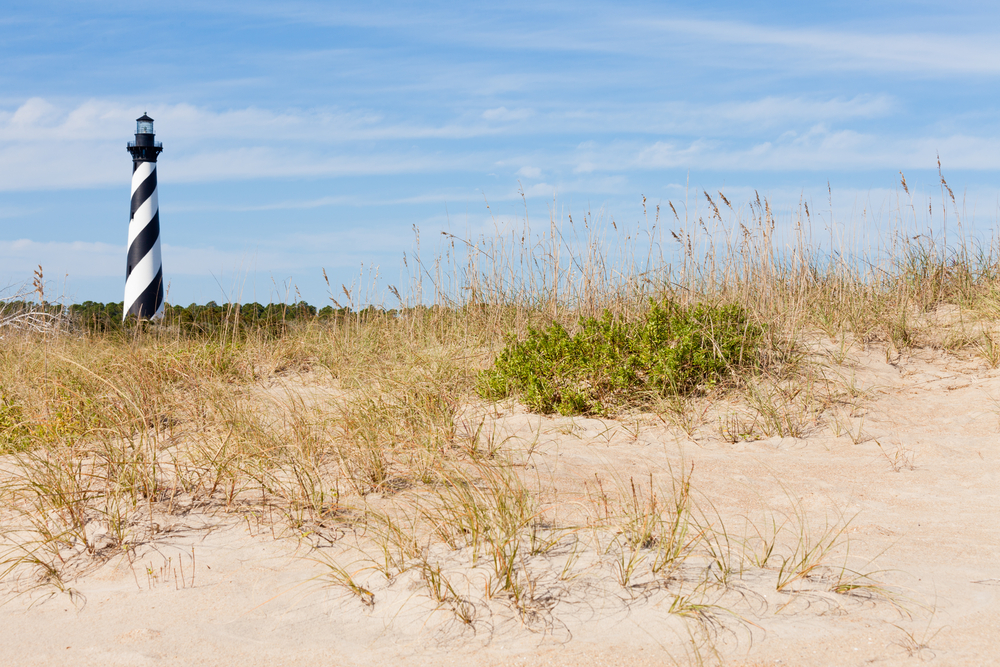 By now, you have realized that the coastal stretch of the Outer Banks is where you will find some of the best beaches in North Carolina. If you are planning a family vacation or couple's getaway, then the Outer Banks beaches should definitely be on your radar. This is where you can find some of the best sea fishing and beach combing areas in North Carolina.
Whether you like to cuddle around a glowing beach bonfire, play in the sand with your kids, or get your heart thumping with every water sport possible, the beaches of the Outer Banks are the perfect place to make great memories.