If you're looking for romantic getaways in North Carolina, you have stunning options! The Tar Heel State is overflowing with beautiful destinations to play host to your getaway. It's a state with a wide variety of landscapes and atmospheres, making it easy for you to find your dream destination.

You can find dreamy treehouses in the lush forest, cozy cottages near the crashing waves of the Atlantic, luxury rentals in the city, and everything in between. There's a variety of amenities and extras that can be found at these NC rentals that will make your trip all the more enjoyable. So, whether you are looking for romantic weekend getaways in North Carolina, week-long adventures, or just a night away, you will be able to find the perfect rental to fit your needs!
If you are looking for more inspiration, make sure to check out our detailed list of the Best Resorts In North Carolina, from mountains and beaches to cities and lakes!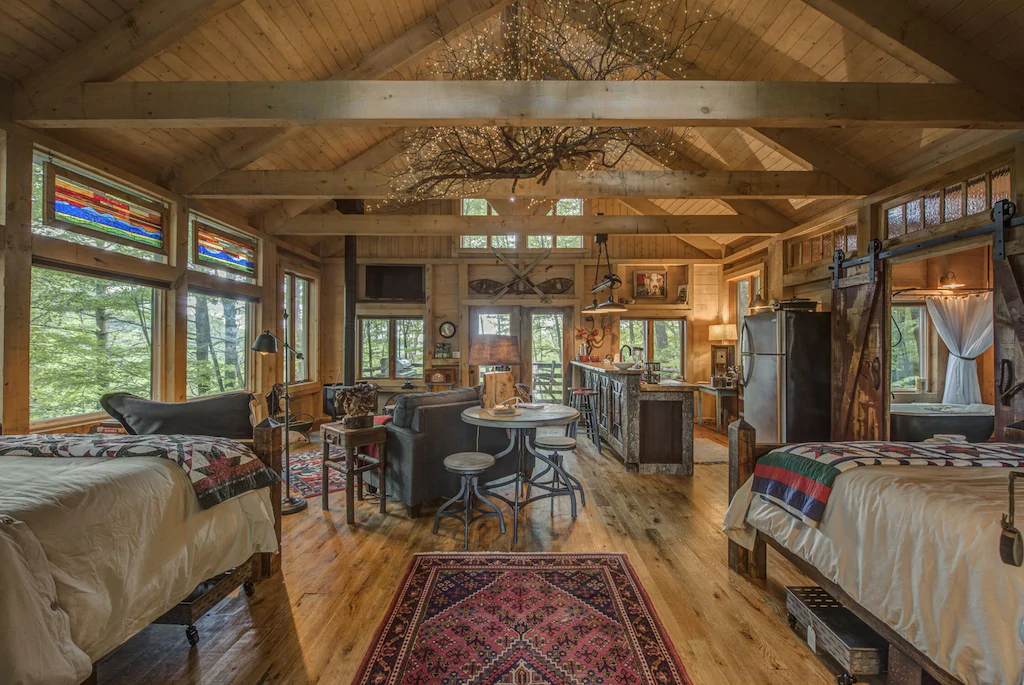 15 Best Romantic Getaways In North Carolina You Must Try
Luxury Riverfront Mountain Cabin
When it comes to romantic getaways in the North Carolina mountains, this rental really knocks the ball out of the park. As you probably know, romantic cabins in North Carolina are plentiful, so it only makes sense that this luxury riverfront mountain cabin is among the top ten cabins in the United States on VRBO.

This cabin is a huge 2,000-square-foot artistic build that has a vaulted ceiling, a large wrap-around porch, and unique interior design features that make your stay all the more enjoyable. All of these wonderful features are a part of what makes this rental one of the best romantic getaways in North Carolina.

There's also a fire pit outside where you can sit under the stars roasting marshmallows and listening to the water passing by in the river below. This rental has everything you need to have an enjoyable stay, even cut firewood is ready for you to use! Plus, there are so many amazing things to do in Asheville.

You will love the location of this rental as it is nearby with many beautiful natural features and things to do on a romantic weekend getaway to Asheville. Being in this area will allow you to have easy access to the Blue Ridge Parkway, stunning waterfalls, amazing Asheville restaurants, coffee shops, and breweries.

Check rates: VRBO.com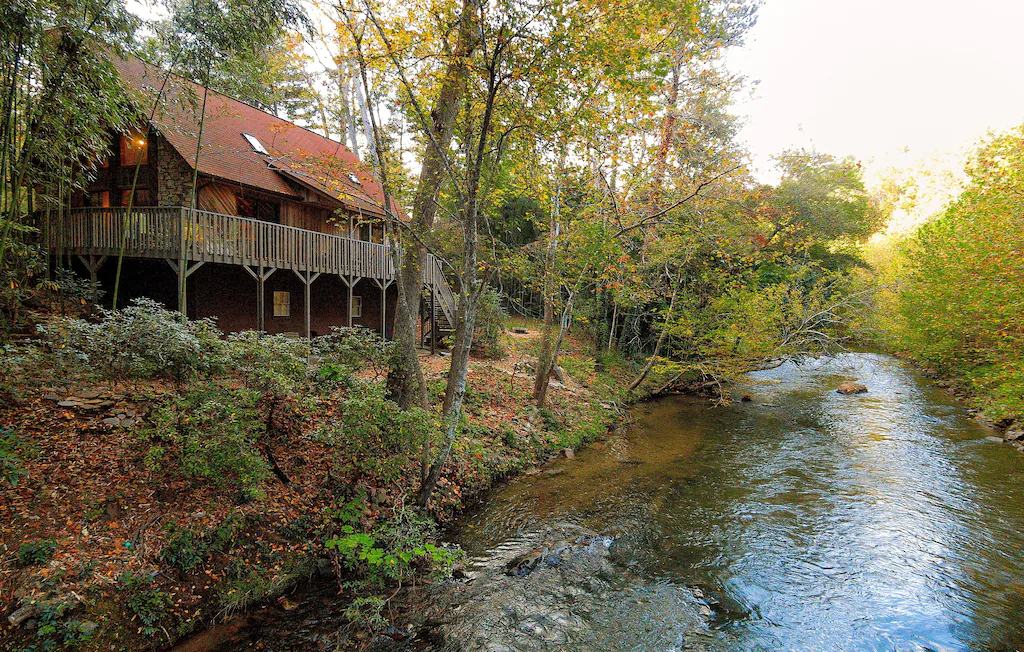 Luxury Retreat By Beautiful Creek
Of all of the romantic getaways in North Carolina, Blowing Rock and Boone are among the very best! It's easy to find cabins in Blowing Rock and Boone to rent for your getaway, but this luxury retreat is one that you won't want to miss the opportunity to visit. This lovely 1500-square-foot cabin is perched on the edge of a creek on a super secluded twenty-acre plot of land.

An architect couple spent three years perfecting the construction of this beautiful piece of paradise and today it stands as your perfect romantic escape. The cabin has many large windows to let in natural light and allow you views of the natural beauty around you. Even with the openness, you can rest assured that you will have privacy.

The fire pit, furniture, and hot tub outside of the cabin make for an even more enjoyable experience. Of course, if soaking in the tub outside isn't your thing, you can always enjoy the large jet tub inside as well. This indoor tub is in a room with large windows surrounded by natural beauty, ideal for nature lovers.

You will be nearby the Tweetsie Railroad, Appalachian Ski Mountain, Danieal Boone Native Gardens, and many other attractions. Enjoy shopping in the resort town of Blowing Rock, chase waterfalls in the mountains, or enjoy the beauty around you by hiking on the trails nearby. Keep in mind that you must be a minimum of twenty-five years old to rent this cabin.

Check rates: VRBO.com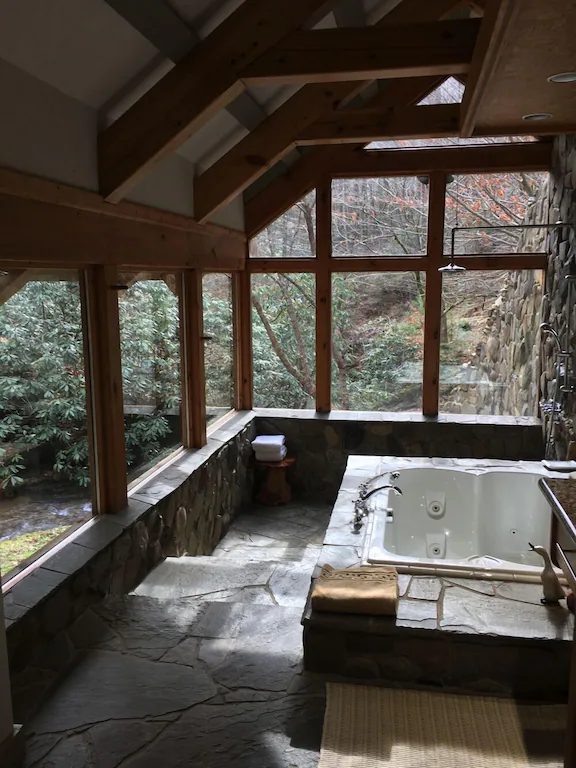 Historic Cabin in Little Switzerland
The romantic getaways in North Carolina rarely disappoint, and this one isn't any different. You will love the other-worldly charm of this historic cabin in Little Switzerland. The interior is super unique to the area. Although you can find wooden interiors inside many of the cabins along the Blue Ridge Parkway, this one also has stone floors, copper detailing, European aspects, and a brick fireplace.

This cabin is super cozy and perfect for a winter vacation. Of course, you will love your stay at any time of year as there's a fire pit and lounging area outside near the flower gardens that you can enjoy during the warmer months. Plus, the large partially-enclosed porch makes for the perfect place to lounge outdoors in any weather.

Little Switzerland is a town in the North Carolina mountains that was designed to look like a town in the alps. There are fun shops, great food, and architecture unique to the United States in this lovely little town. All though small, it holds so much beauty, fun, and adventure. This is definitely one of the best North Carolina weekend getaways for couples!

Check Rates: VRBO.com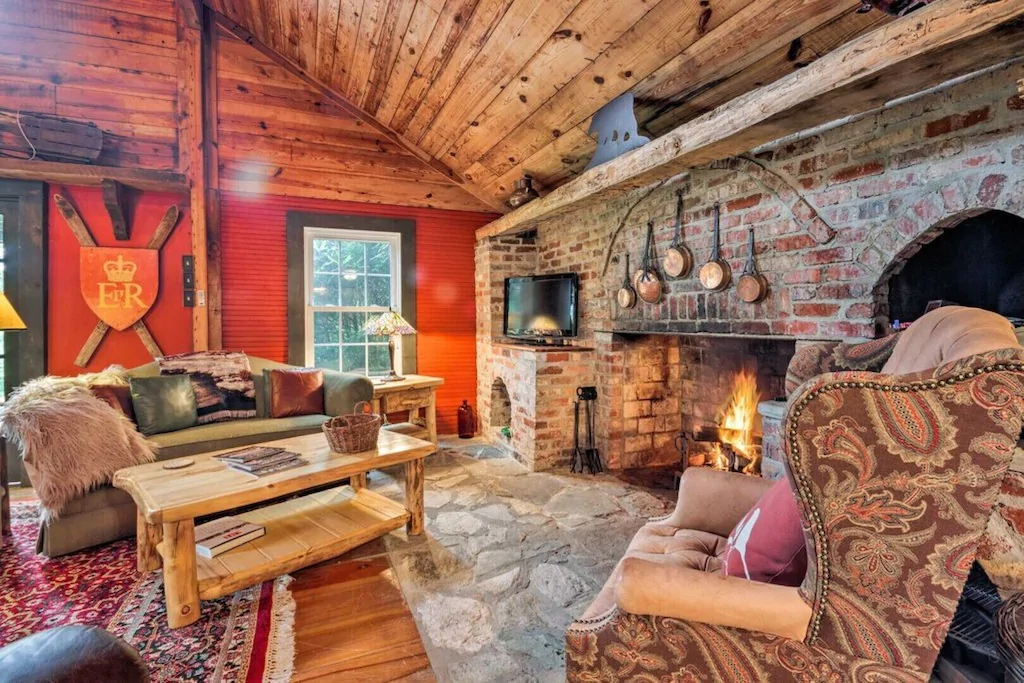 Classic 1935 Oceanfront Beach Cottage
For newlyweds looking for romantic getaways in North Carolina, the Outer Banks offers adventure, dreamy locales, great food, natural beauty, and more. This classic 1935 oceanfront beach cottage is just one of many amazing rentals in the Outer Banks, but for those on a romantic vacation, this cottage is what dreams are made of.

Many people choose to honeymoon in North Carolina, and it's no secret as to why. Places like this breathtaking cottage in the Outer Banks make your time spent in the Tar Heel state all the more enjoyable. The cottage is located in the town of Kitty Hawk which is located on one of the most popular islands in North Carolina, Bodie Island. There are truly so many things to do in Kitty Hawk that you shouldn't miss!

It's easy to see why this is one of the best rentals for couples looking for a romantic escape. There's a deck on the upper level where you can sit looking out over the water, a screened-in porch on the lower level with rocking chairs, a classic beachfront cottage interior, nice TVs, and simply unbeatable views of the ocean.

Waking up every morning to the view of the blue water outside your window is an absolute dream. Even preparing lunch or just washing your hands is a treat in this rental as you have unimaginably beautiful views from the kitchen as well. You are sure to fall in love with Kitty Hawk and this rental on the sea. Keep in mind that you must be at least twenty-seven to rent this cottage.

Check Rates: VRBO.com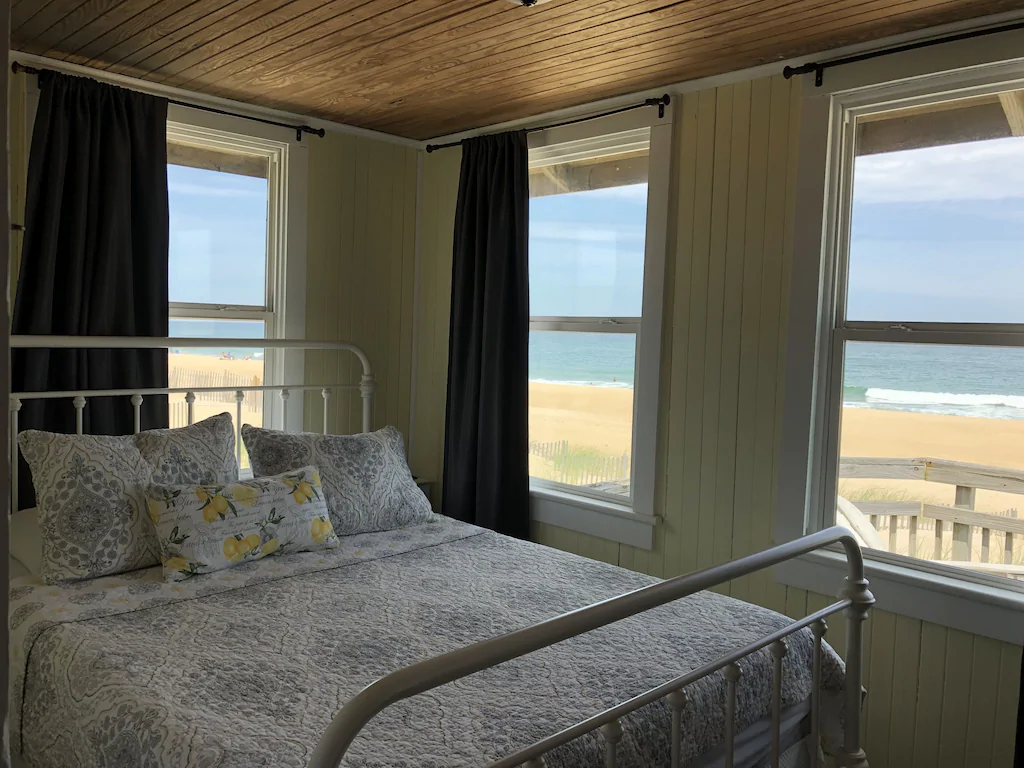 Uptown Charlotte Loft
This rental is among the best romantic getaways in North Carolina! It's right at home in the city of Charlotte. Visiting Charlotte is one of the most romantic trips in North Carolina for couples to take. This uptown Charlotte loft near Panthers Stadium is remarkable!

Urban chic is taken to the next level with the interior of this rental. There are stunning twenty-foot windows where you will have views over the Third Ward, Johnson and Wales University, and Gateway Village. You'll have quick access to the Hornets Arena, Panthers Stadium, as well as the BB&T Ballpark. If you like to explore on foot, that will be easy from the loft. Shopping, restaurants, bars, and green spaces are all within walking distance.

For city lovers, it doesn't get much better than this brick and industrial loft. Other than the memorable skyline view, you will also have amenities that will make your stay easier. A washer and dryer are in the rental and you will love that extra pillows and blankets are provided along with room-darkening shades.

For those needing to get some work in while you are away, you will be happy to know that there is a dedicated workspace with wifi and an ethernet connection. If you plan on arriving in Charlotte by car, this rental has a parking space available so you will be covered in that regard as well. Couples are sure to fall in love with everything that this loft has to offer.

Check Rates: Airbnb.com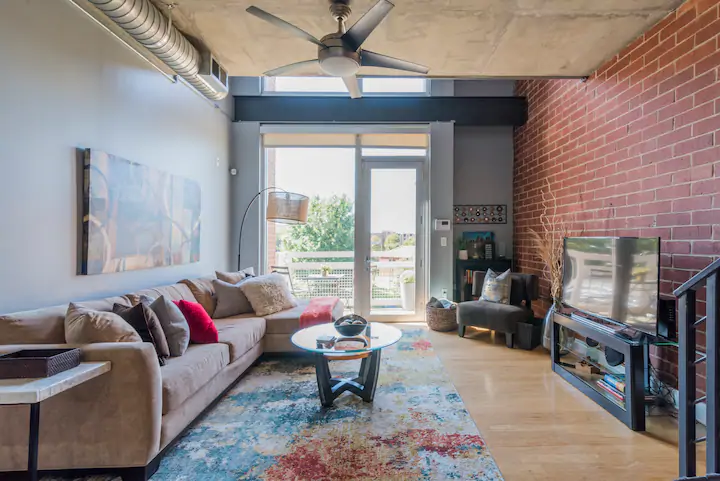 An Urban Oasis in Downtown Winston Salem
You will find many North Carolina getaways in the state's popular cities, but this urban oasis in downtown Winston Salem is something that you won't want to overlook. Winston Salem is one of the most romantic places in North Carolina, and this rental is super dreamy! This city is so popular among couples, in part, because of the romantic fine dining restaurants, the gardens, nightlife, and the art scene.

Staying at this lovely accommodation will give you amazing views greenspace views from the large wrap-around windows, a comfortable bed, a loaded spice cabinet, internet, an in-rental washer and dryer, a wooden deck, and more. You'll fall in love with the cozy city home vibes in this Winston Salem Rental!

There are tons of great things to do in Winston Salem to keep you happy and occupied when you venture out into the city. The city has an amazing art district and has produced many of the state's best artists so just it out during your visit is a must. Reynolda Gardens is another one of the must-visit sites in the city. Walking trails, flower gardens, and historic buildings make the gardens a top site in Winston Salem.

Check Rates: VRBO.com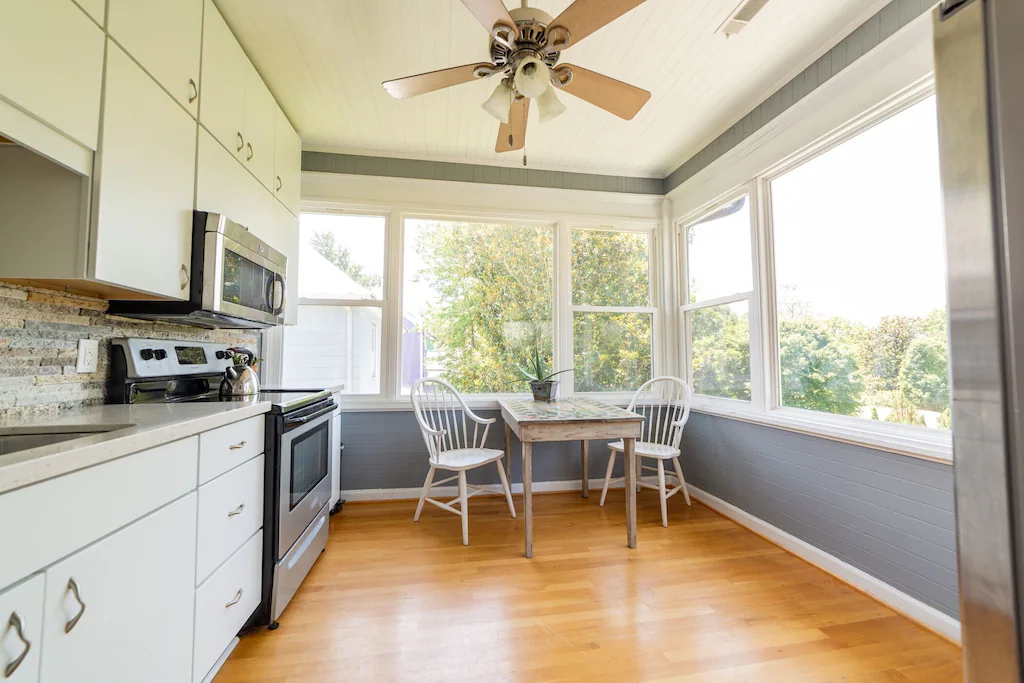 Stargazing Glamping Tent
If you are looking for romantic getaways in North Carolina on a budget, look no further than this stargazing glamping tent in Creston. Near Boone, this rental is nearby a rushing stream with mountain and valley views. If you've been thinking about a camping trip with your significant other, but aren't sure if it is for you, this accommodation may be just what you have been looking for.

The glamping tent is off of the ground on a platform that's complete with a table and chairs. Inside, you have a lot more than a regular ole tent. You have a mini table, comfortable bed, storage space, a coffee-making station, a place to hang your clothes, and more. If you have been dreaming of sleeping out under the stars, but weren't sure if setting up a tent and sleeping on the ground would work for you… this tent will knock your socks off.

When you choose this glamping opportunity for your getaway you will be near the popular Grandfather Mountain, Tweetsie Railroad, Sugar Mountain Resort, golf courses, and all the best places for hiking in Boone and Blowing Rock. For those on a budget and looking to enjoy the beauty of North Carolina, you will want to keep your eye on this little rental as it is one of the best glamping opportunities in the state.

Check Rates: VRBO.com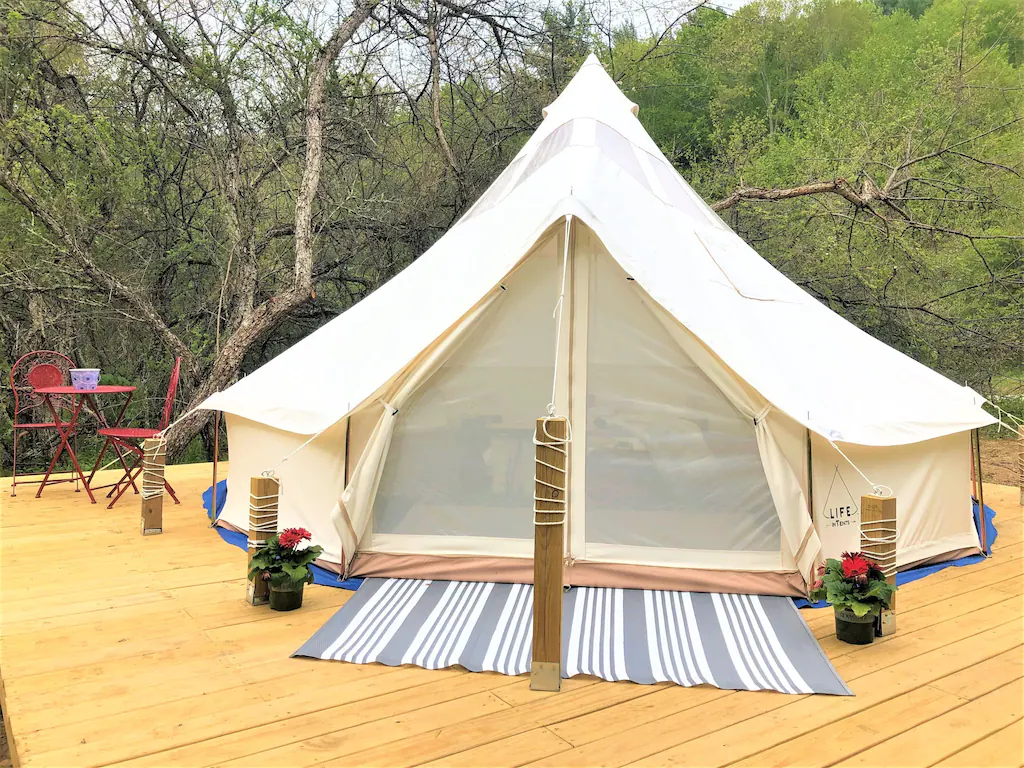 Mountain Getaway For Couples
As with most romantic getaways in North Carolina, this cabin near Asheville is out of this world! The rustic interior of this mountain getaway for couples meets modern technology and allows you to enjoy your stay no matter what weather you're having. Outside, on the large wooden deck, you will find a table and chairs, beautiful greenery, lounge chairs, a hot tub, and views of the surrounding foliage.

As you walk down from the deck, you also have access to a hammock in the trees, a swing under the deck, a sitting area with a foliage-covered pergola, a fire pit, garden, grill, and pond views. For couples who enjoy spending time in the fresh mountain air, this rental is simply perfect for you.

No worries if you can't go anywhere without your doggo, as this accommodation is happy to accept pets. From the hot tub and fireplace to the nearby attractions of Mt. Pisgah, Cold Mountain, the North Carolina Arboretum, and the French Broad Overlook, this rental really does have it all. Be sure to add this rental to your list of possible anniversary getaways in North Carolina!

Check Rates: VRBO.com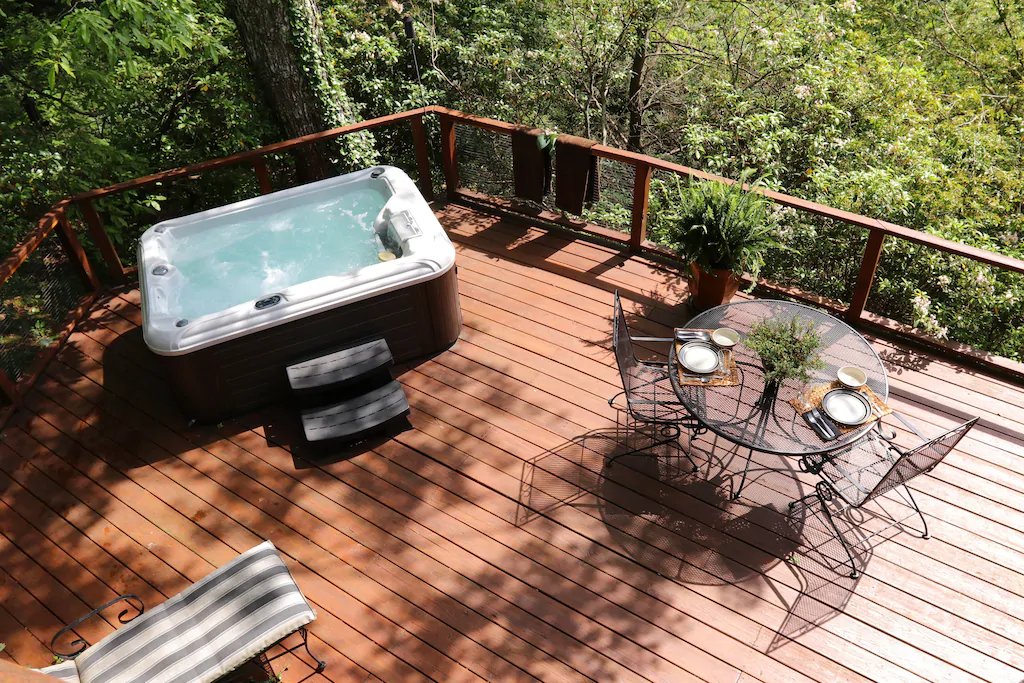 Court Jester
While all of these romantic getaways in North Carolina would be a dream come true for enthusiastic travelers, this rental on Ocracoke Island soars to the top of the list for nostalgia-filled beach rentals!

Ocracoke Island is one of the best islands in North Carolina and is home to one of the best beaches in the state as well. If you have ever dreamed of living your best small town beach cottage life on a little barrier island off of the coats of the Outer Banks… Court Jester is for you!
This rental has a wooden interior and gives major nostalgia to all who stay here. The wooden walls and old-school wooden furniture offer a comfortable and authentic experience for visitors.

While this rental is off the beaten path, you are still in a convenient location near attractions in the village. You will be near to the Ocracoke Pony Pens where you can visit the ancestors of the wild ponies that used to live on the island, the Ocracoke Island Lighthouse, and highly ranked beaches. The island has a lot of pirate history, so you will be able to enjoy interesting historical sites as well.

You will likely want to spend a lot of your time exploring this historically intriguing and beautiful island, but when you are inside enjoying the rental, you will have everything you need to make your stay a comfortable one. There's a claw-foot soaking tub, an upstairs den, TVs, a washer and dryer, and more. A couple of things to note about this property, they offer a military discount for service members, and they also allow pets!

Check Rates: VRBO.com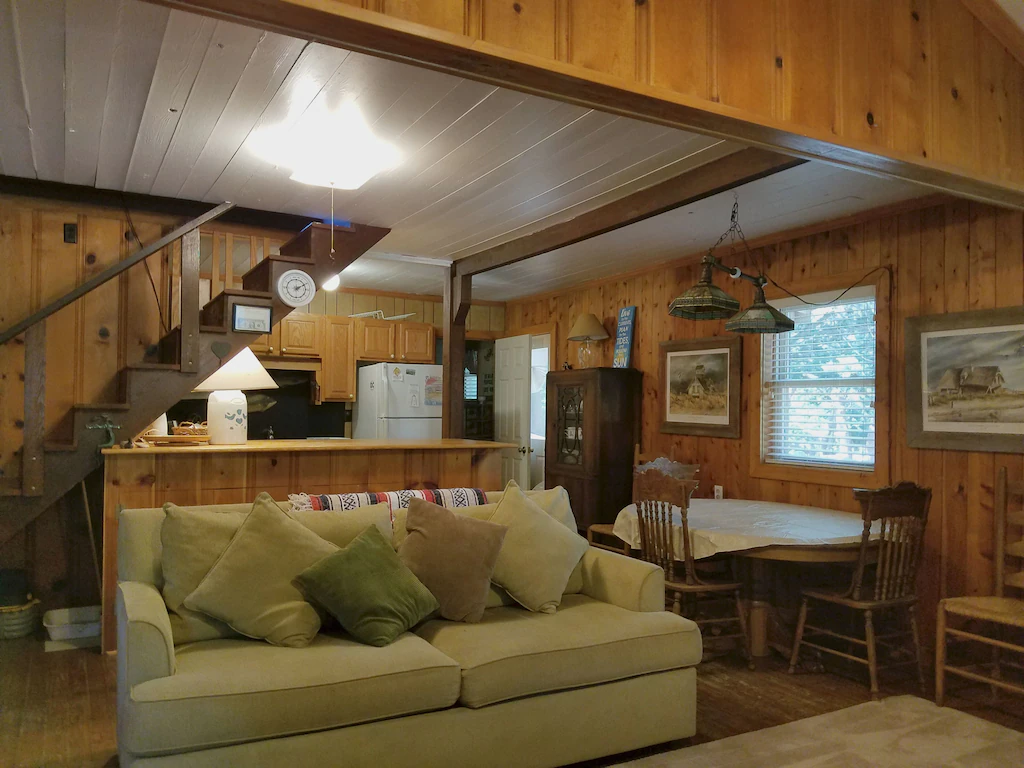 Tiny House With New River View
Travelers looking for romantic getaways in North Carolina that are easy on the wallet will want to consider this tiny house with New River view. Located just fifteen minutes from Boone, you will be just a short drive away from so many amazing restaurants in Boone that are some of the very best eateries in all of North Carolina!

This affordable tiny house has beautiful Dogwoods outside and a firepit to enjoy nights under the stars. A vanity with vintage lights, a smart TV and wifi, a coffee station, and a kitchen stocked with plate ware and utensils are all available at this rental, making it a great place for those who plan on staying in most of their stay.

A queen pillow-top bed in the loft will make your stay extra comfortable and the shower with roofing metal will make your stay all the more unique. If you or your partner like to read, make sure you bring a book from your to-be-read shelf because reading in the mountain sunshine is amazing in this tiny house.

When it comes time to venture out, be sure to check out Ashe Lake and the Appalachian Cultural Museum on your travels. Ashe Lake is one of the best lakes in North Carolina and visiting it during your stay in Ashe County is something you will be glad you did as it is one of Ashe County's best-kept secrets!

Check Rates: VRBO.com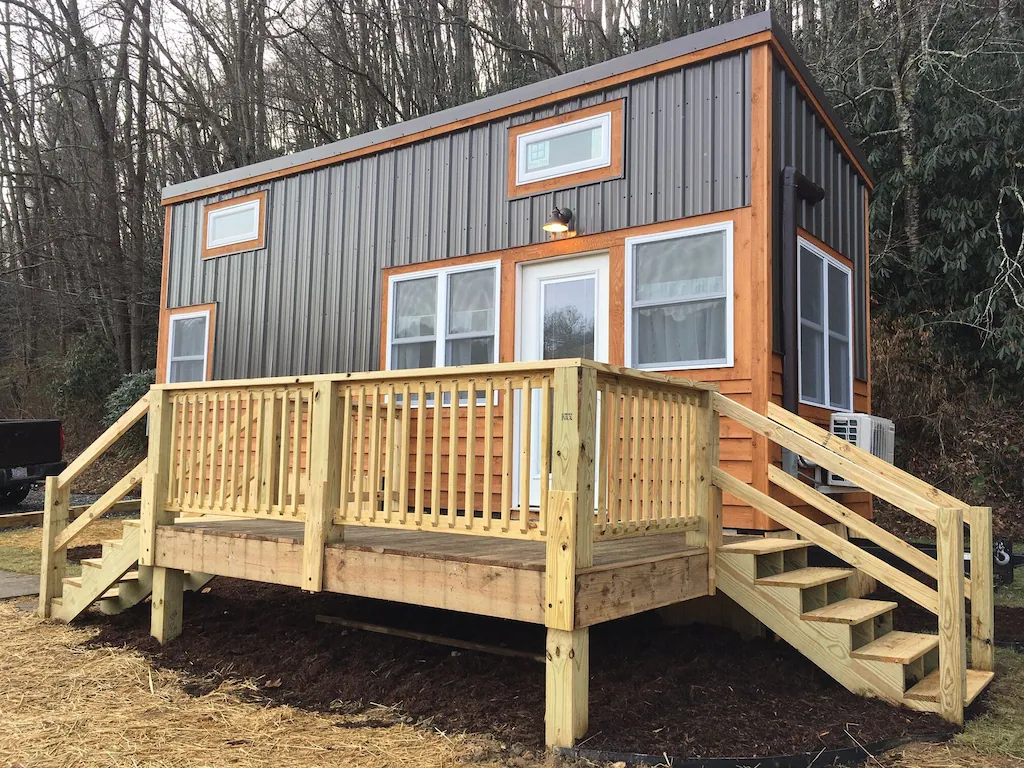 Beautiful Oceanfront Condo
Many of the romantic getaways in North Carolina are in the beautiful mountains. However, if you are looking for something different, this rental in Carolina Beach may be for you. This beautiful oceanfront condo has awesome views on the north end of town and is perfect for couples looking for a rental right on the beach.

When you stay here, you will have a spacious master bedroom, comfortably living space, a balcony overlooking the beach, a TV and DVD player, an in-house washer and dryer, and more. You will also have parking on site, which is great as you will never have to pay for parking to visit the beach.

Carolina Beach is one of the coolest places to visit on the NC coast and has many attractions, restaurants, shops, and more for you to check out. The Carolina Beach Boardwalk is amazing and is home to the delicious Buzz's Roost at the Beach. This restaurant has the most amazing chicken tacos and is definitely worth a visit.

Check Rates: VRBO.com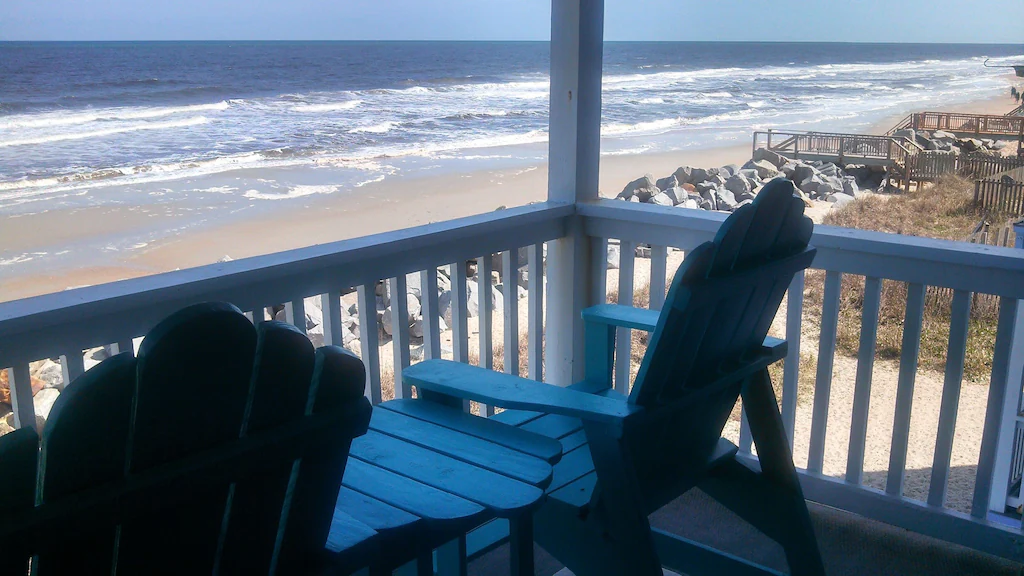 Nancy's Treetop Mountain Vista
For those looking for romantic getaways in NC with private hot tubs, Nancy's treetop mountain vista cabin is perfect for couples! This property is near Asheville and has windows wrapping around the building that give views of the trees and mountains around the cabin, including Mt. Pisgah.

For hikers and adventurers, this cabin is simply perfect. You can have relaxing meals on the deck outside, take a dip in the hot tub under the moonlight, read in the rocking chair in front of the wood stove, and sleep with the light of the night sky peeping through the windows. Couples looking to truly relax out in nature will fall in love with Nancy's cabin!

Mt. Pisgah, Cold Mountain, the North Carolina Arboretum, Canton Area Historical Museum, and other popular sites are all within ten miles of this property. You will have your choice of hiking experiences as well as other outdoor experiences like swimming, canoeing, wildlife viewing, and more. This is without a doubt, one of the best cabins in Asheville and one of the best romantic getaways in North Carolina!

Check Rates: VRBO.com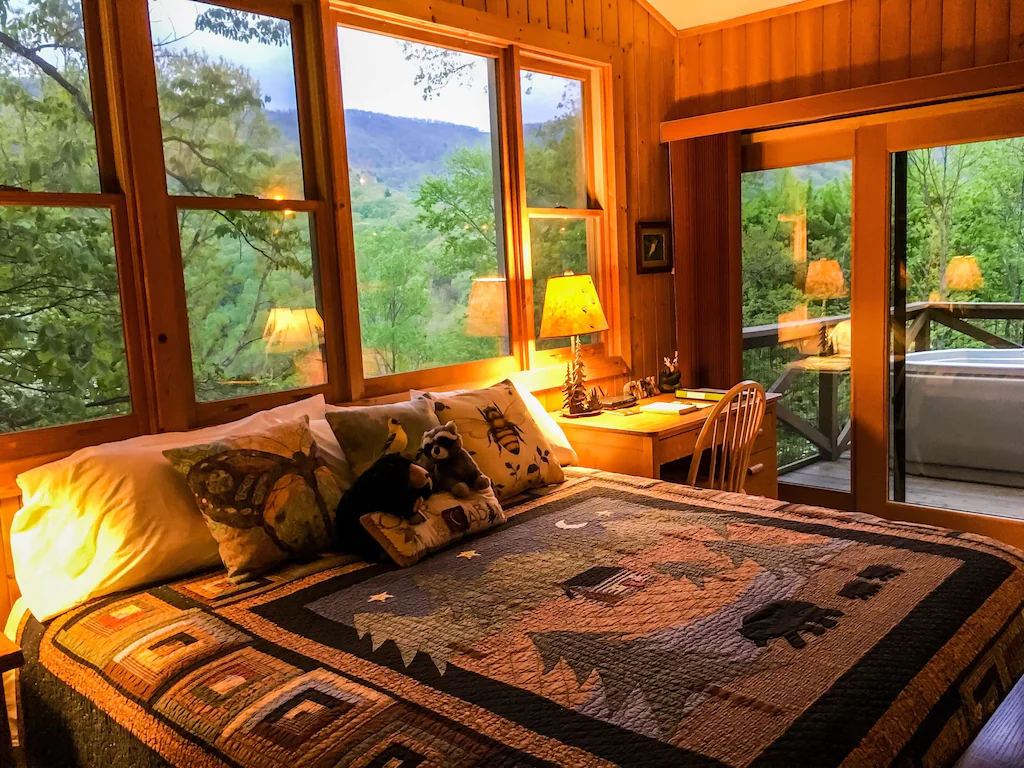 Romantic Rhododendron & Bark Getaway Cabin
Adventurous couples looking for romantic getaways in North Carolina will love this romantic Rhododendron and bark getaway cabin. It's located in Avery County, just outside of Banner Elk and the neighboring vineyard. You will have amazing views of Grandfather Mountain and be close to all of the amazing outdoor activities that the area offers visitors.
We put together this amazing list of things to do in Banner Elk for you to check out before you go!

You will have your own private hot tub and a deck overlooking views so amazing that they have been used in commercial calendars. Private hiking trails climb the mountain on the backside of Beech Mountain on the property which you can access during your stay. Inside, you'll be greeted with a beautiful and calm interior. A reading nook, jet tub, outdoor fireplace, and a cellar with stone walls and a fireplace are all waiting for you at this rental!

If you want to venture out from the cabin and check out your surrounding, there's so much to do within just two miles of the rental, including Apple Hill Farm, Beech Mountain Resort, Flat Top Brewing Company, and more! If you decide to take your romantic NC getaway in the fall, you will be thrilled with the amazing leaves, as the Banner Elk area is one of the best places to see fall foliage in North Carolina.

Check Rates: VRBO.com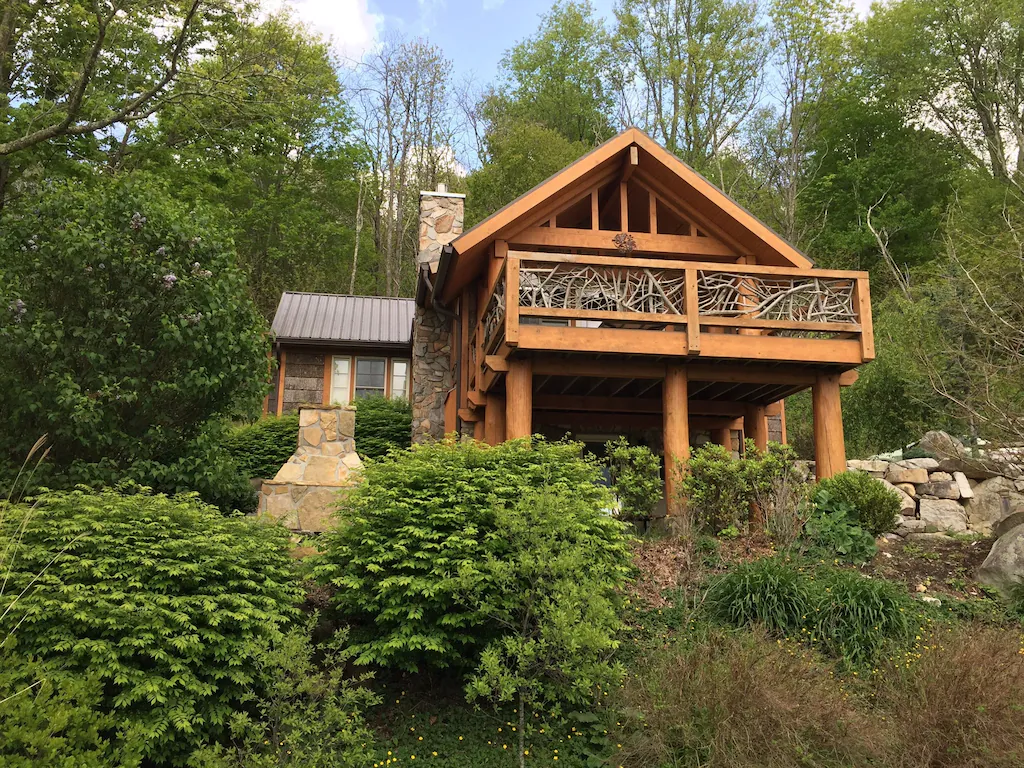 Tree House on The Farm
Have you ever thought about looking at the romantic getaways in North Carolina that are off the ground? Treehouses are plentiful in The Tar Heel State, and you can find one located in beautiful Ashe County. This treehouse on the farm is an adventure for those who dare to wander into the country and experience its charm for themselves.

Located on farmland, you will find friendly farmlands that you can pet and spend time with, including turkeys, ducks, chickens, horses, goats, donkeys, and more! There's also endless hiking on the property for adventurers. Inside, you will find all the amenities you need like a washer and dryer, internet, TV, a wood stove, and basic supplies like paper towels and soaps.

The interior is simply stunning. The custom woodwork and custom chandelier are amazing! A rope-lined walkway will lead you into the house, where you will find amazing detail, cute furniture, and cozy beds. Although small, this is one of the mightiest treehouses in North Carolina with its vaulted ceilings, stained glass windows, an old-timey tub, and a breathtaking deck with views. You'll have to pry yourself from the outdoor bar that looks out into the forest.

Near this cute little treehouse, you will find opportunities to rent horses for horseback riding, canoeing and kayaking, fishing, and tubing. You can find a wildlife lake, the New reservoir, and two golf courses near this rental as well. If you plan on fitting in as much fun as possible during your trip, be sure to check out the New River State Park and the Tweetsie Railroad.

Check Rates: VRBO.com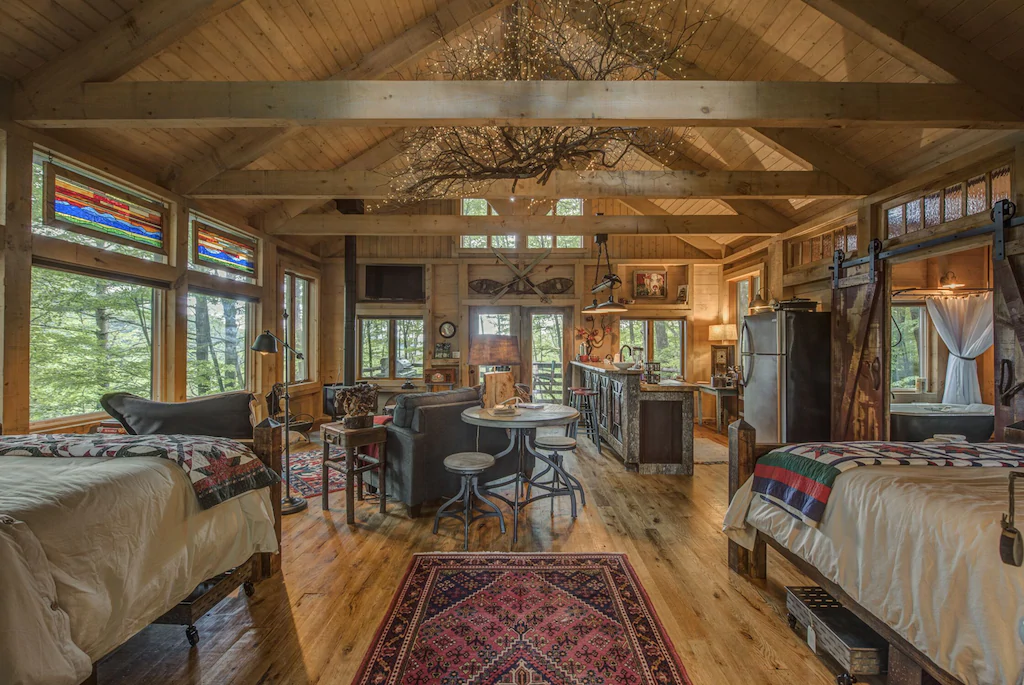 Direct Beach Access Oceanfront Cottage in Avon
This rental is in Avon, which is one of the best places to visit in North Carolina for couples. Situated on Hatteras Island in the Outer Banks, visitors will never want to leave this direct beach access oceanfront cottage in Avon. The interior is peak Outer Banks cottage vibes. From wood slat walls to sand-tone colors, the cottage is everything you would expect from a rental on the barrier islands.

When you stay on this property, you will enjoy the amount of natural light that pours into the rooms, the sand dune and blue-sky views, and the direct access to the beach beyond the dunes. Another benefit of this property is that staying here will give you access to the community amenities. The swimming pool and tennis courts are great ways to mix up your time spent in town.

You'll love that this rental comes with everything you need to be comfortable during your stay. A washer and dryer, coffee maker, dishwasher, internet, and TVs all make long stays in Avon enjoyable. From the cottage, you will have nearby opportunities for bird watching, swimming, fishing, surfing, parasailing, and other outdoor activities.

While Avon is famous for its outdoor activities and attractions, you will also have great restaurants, museums, art studios, and shops to keep you busy indoors. Keep in mind that you need to be at least twenty-seven to rent this cottage.

Check Rates: VRBO.com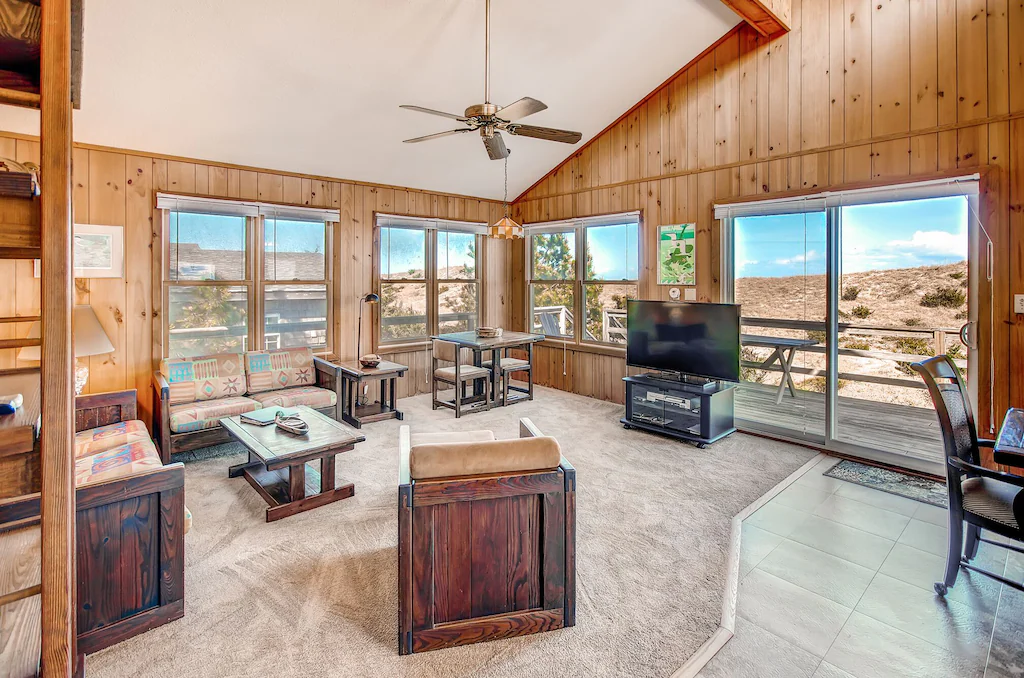 There's not much that you can't find in the Tar Heel State. When looking at all of these awesome North Carolina romantic getaways, it's easy to see that city lovers, mountain seekers, and sun-worshippers can all find their dream romantic getaways in North Carolina. Without a doubt, the Tar Heel state goes above and beyond in the way of providing romantic destinations. Which of these getaways would you like to book first?