Are you ready to find the cutest beach towns in the South? You're in luck! The American south has so many amazing beach towns to choose from!

Starting in the northern most part of the southern states, you can find countless historical sites and educational experiences to be had. Moving further down the east coast, you can see well kept historic homes, cobblestone streets, and more historical points of interest. Then, as you head down to Florida, you can find unbelievable blue water, white sands, and a tropical climate. You can also find several gulf coast beaches that are full of life and fresh seafood!

As you can tell, there's a beach town for everyone in the south! The beach towns in the south are full of history and stunning natural beauty that just cant be compared to other beach towns around the United States. If you've been dreaming of fresh seafood, warm weather, crashing waves, and white sand beaches, you've come to the right place!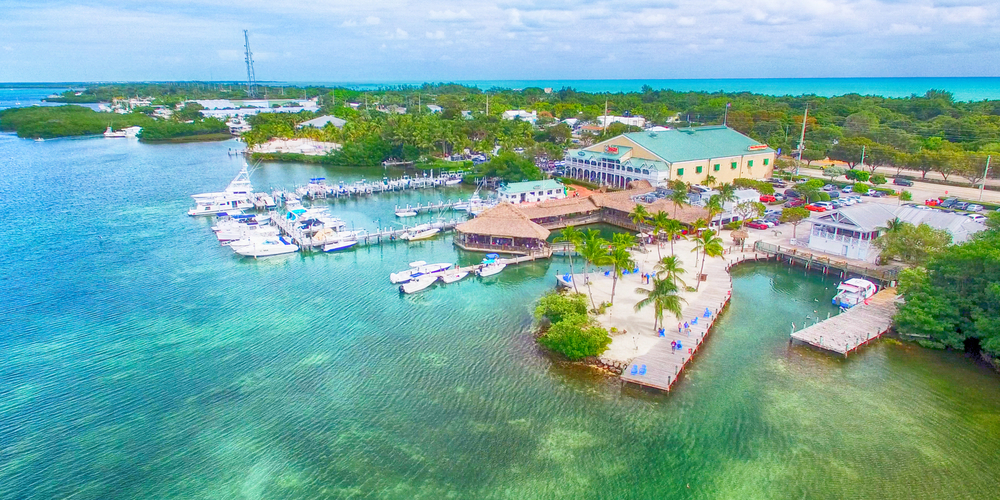 15 Cutest Beach Towns In The South USA
Galveston, Texas
This island city on the northern Gulf Coast of Texas should definitely be on your bucket list! Galveston is one of the coolest beaches towns in Texas! The town is often referred to as "The Republic of Galveston Island" by those who live there because it is simply so different from the rest of Texas. You can rest assured that a trip to Galveston will be unique experience unlike any other in the south.

Galveston has a ton of attractions and points of interest, you won't be at a loss for things to do while you are there! If you're visiting with children, make sure to experience Moody Gardens which will take have you experiencing the rainforest and the ocean like never before. One of the most fun places to visit in Galveston is the Pleasure Pier! The pier has roller coasters, other rides, a restaurant, and is one of the most iconic sites along the coast.

Of course a trip to Galveston wouldn't be complete with out time spent on the beach! When you're not laying on the beach enjoying the southern sun, there are plenty of nearby restaurants, sweet shops, museums, and more to check out!

Stay Here: Beach Palms Hotel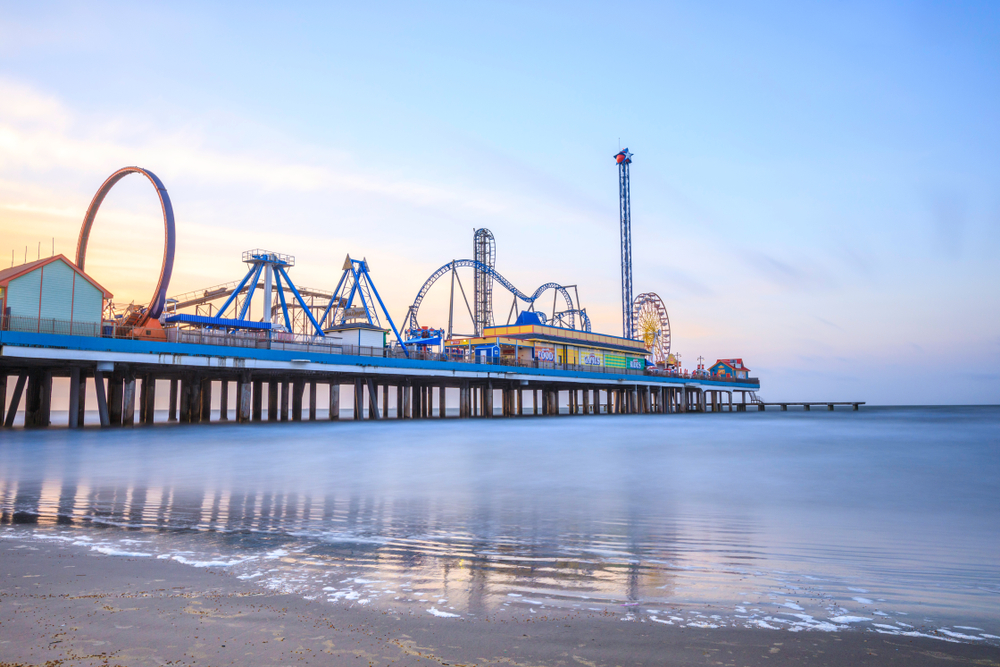 Cape Charles, Virginia
One of the best beach towns in the south to visit if you're looking for an amazing place to visit in a more northerly area. Cape Charles is just about an hour north of Virginia Beach and is full of beauty and you can spend your time in the sun exploring the town, learning about its history, lying on the beach, participating in water sports, and much more!

If water sports are your thing, you should check out Poseidon Watersports where you can rent jet skis to explore the waters off the coast of Cape Charles. For those looking to learn about the area, head to the Cape Charles Museum where you can not only learn about the history and development of Cape Charles but the surrounding areas in Virginian as well. Last, but not least, make sure to check out the Cape Charles historic district to buy sweet treats and other local products!

Stay Here: Bay Cottage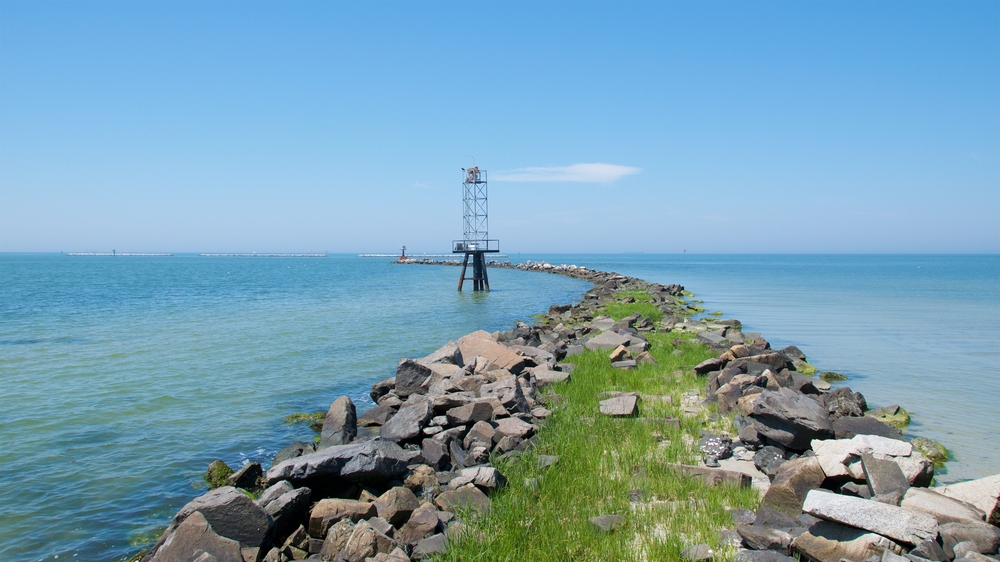 Folly Beach, South Carolina
Only a half-hour drive from the battery in Charleston, Folly Beach is one of the cutest little beach towns in the south! It has become one of the most popular surf locations on the east coast.
If you like to surf or are interested in taking lessons, there's no better spot than Folly Beach! (The Washout is the most popular surf spot.) If you want to be on the water in Folly Beach, but surfing isn't for you, you can try your hand at kayaking or paddleboarding. Golf carts and bike rentals are also available in Folly Beach!

The Morris Island Lighthouse can be seen from Folly Beach and watching the sunrise next to the lighthouse is a must for your Folly Beach bucket list! Another must-do while in Folly Beach is to take advantage of the live music that plays nightly at restaurants across the town.
For those looking to spend most of their time on the beach, consider visiting the Lighthouse Heritage Preserve. The preserve is stunning with driftwood along the sand, a view of the lighthouse, and amazing sunset views! Don't forget to check out our list of the best Islands In South Carolina if you want to explore more!

Folly Beach is in a perfect location for those wanting to stay in a beachfront accommodation as they are plenty and beautiful! However, a quick tip for those traveling on a budget, staying just a few miles from the beaches in Folly Beach can save you a ton of money on accommodation!

Stay Here: Birdseye View of Folly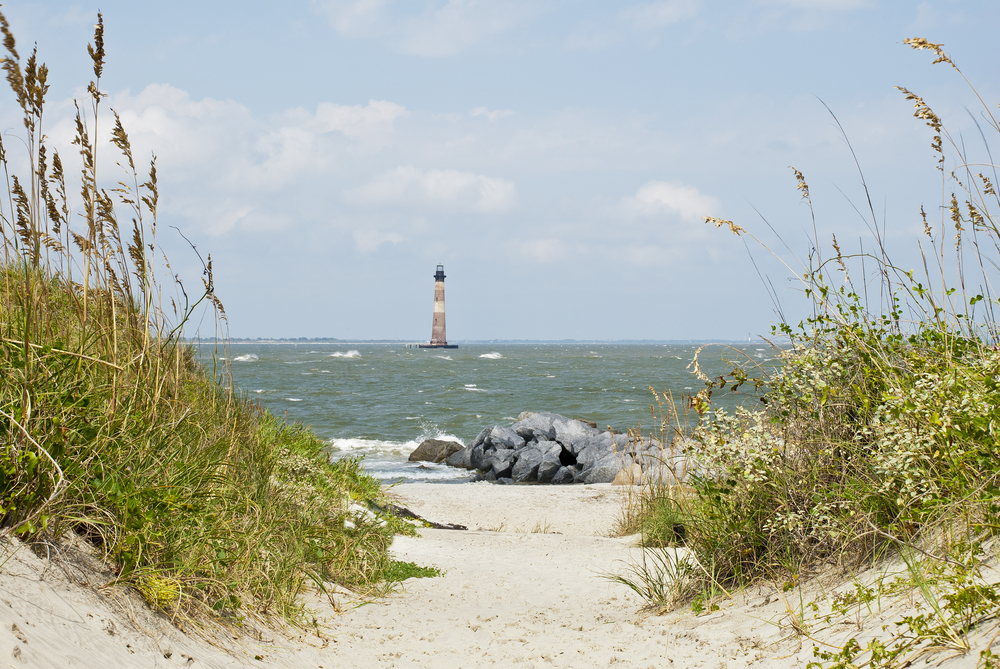 Fernandina Beach, Florida
Fernandina Beach is on Amelia Island which is on the northernmost barrier island of Florida and is only thirteen miles long. Despite its small size, there are tons of fun things to do, making it one of the best beach towns in the south! On top of the fun sites and attractions in Fernandina Beach, there are also loads of breathtaking natural beauty!

A must on your Fernandina Beach bucket list should be Fort Clinch State Park. You can learn about the history of the island and Fort Clinch, as well as tent or RV camp at the state park campground. There are also opportunities to bike, hike, and more in the park. Another must-see attraction is the Amelia Island Lighthouse. This lighthouse is in operation and is in place to guide boats through the inlet waterways.

You can also check out the Amelia Island Museum of History to learn about the area and visit Main Beach Park for some fun in the sun! The park has sand volleyball courts, pavilions, playgrounds, and of course: sun, palm trees, and a beautiful beach.

Stay Here: Amelia Hotel at the Beach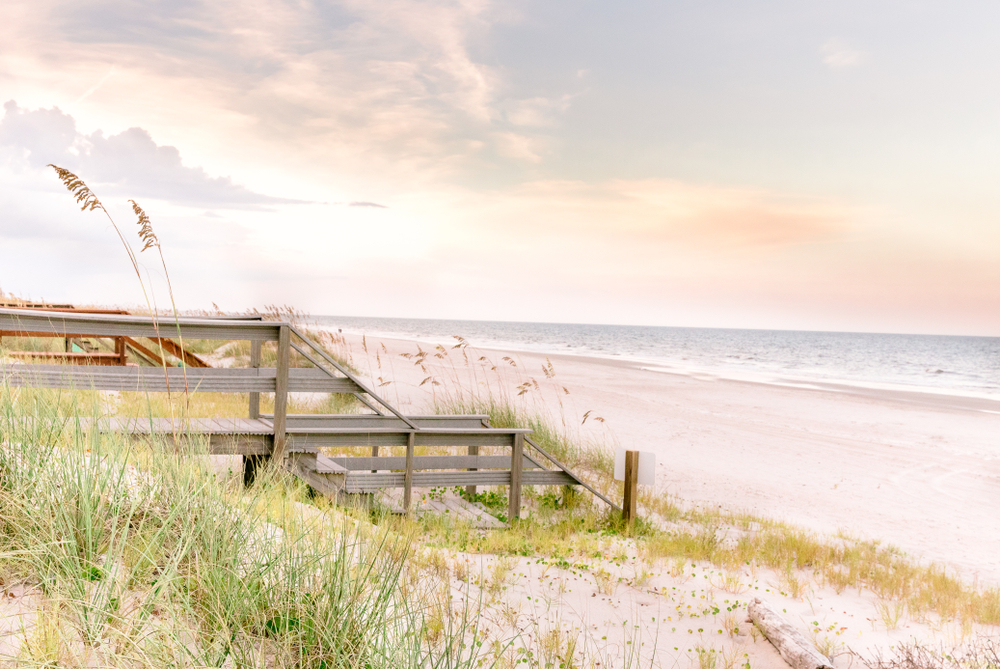 Orange Beach, Alabama
Orange Beach, Alabama is not only one of the best beach towns in Alabama, but one of the best beach towns in the south for travelers looking for a destination that has an abundance of activities and attractions to explore. You won't have to search for fun things to do in Orange Beach; from walking trails and water activities to arcades and museums, you can find something for everyone!

Adventure Island and Fat Daddy's Arcade are great for visitors to Orange Beach who are traveling with kids or if you're just looking to have a good time! Or if you're more of a history buff, consider visiting the Orange Beach Indian and Sea Museum. Then, when you're ready to spend some time in the fresh air, head to the Backcountry Trail. This is a system of beautiful trails that you can walk or bike through parks and marshes in Orange Beach. Of course, a trip to a beach town wouldn't be complete without a trip to the beach! The main beach access is the Cotton Bayou Public Beach Access which gives you access to a beautiful and expansive beach with amenities.


Stay Here: Beachfront Gulf View Balcony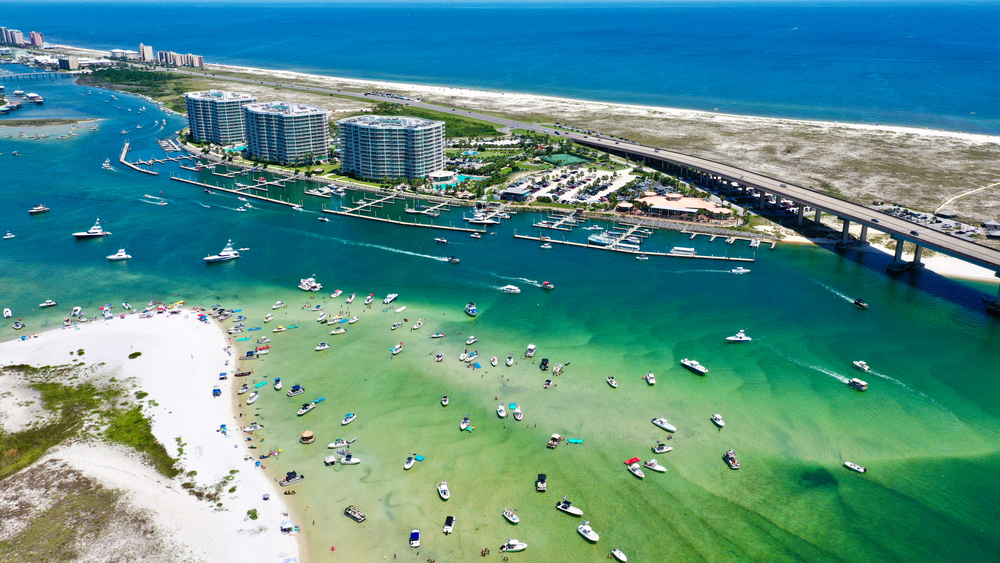 Nags Head, North Carolina
This beautiful little town can be found in the Outer Banks of North Carolina and is by far one of the best beach towns in the south. Once you cross over the island of Manteo, you will be greeted first in the Outer Banks by the town of Nags Head. The town is home to the stunning Bodie Island Lighthouse, art museums, outdoor activities, and more! This is truly one of the best beach towns in North Carolina!

The most popular, and beautiful, attraction in Nags Head is Jockey's, Ridge State Park. The park is home to the tallest naturally formed sand dune on the east coast. You can hike to the tops of the sand dunes and get a great view of the surrounding water or you can get more involves and fly a kite or hang glide off the dunes. If you're feeling brave, you can take hang-gliding lessons right there in the park!

If you're looking for indoor attractions or are needing to escape a rainy day, Nags Head has two art museums, as well as an amusement center and arcade called Destination fun zone! When choosing a beach to visit in Nags Head, consider heading a few minutes south to the popular Coquina Beach. This beach features rocks along the water's edge that is covered in moss. Then, just behind the rocks, you have white sand and beautiful blue water; it's something you must see for yourself!

Stay Here: Outer Banks Inn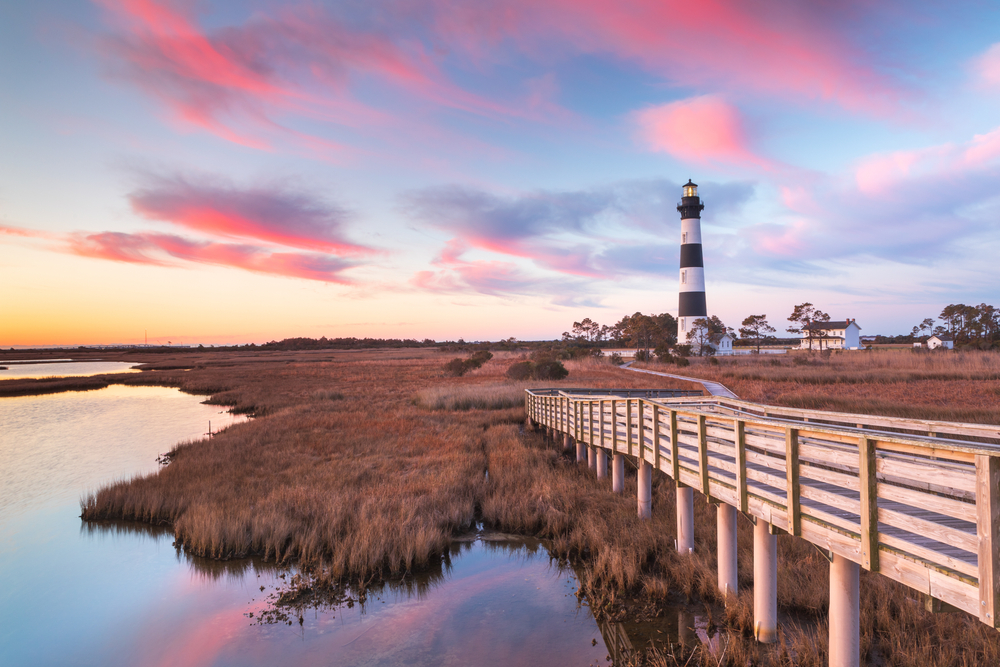 Biloxi, Mississippi
Biloxi is one of the coolest beaches in Mississippi! It's a gulf coast town full of casinos, spas, and resorts. However, budget accommodations and attractions can be found in Biloxi as well.
For all of the foodies visiting Biloxi, you will have no problem at all finding delicious and fresh seafood. There are so many amazing restaurants in Biloxi that you should check out too!
In fact, you can make a reservation to go on a Biloxi Shrimping Trip where you can watch fishermen fish for crabs, shrimp, and other local delicacies in the surrounding waters!
Biloxi is also home to some of the best Resorts In Mississippi, including beachfront ones!

Biloxi also has a lighthouse, pier, arcade center, and several museums: including a Mardi Gras museum and the Ohr-O'Keefe Museum of Art. While on Biloxi Beach, make sure to check out the pier where they have a large variety of restaurants serving fresh seafood caught directly from the pier!
Plus, just a twenty-five-minute drive from Biloxi Beach will land you in the popular gulf coast city of Gulfport. This can make for a great day trip while you're in Biloxi!

Stay Here: Jubilee Inn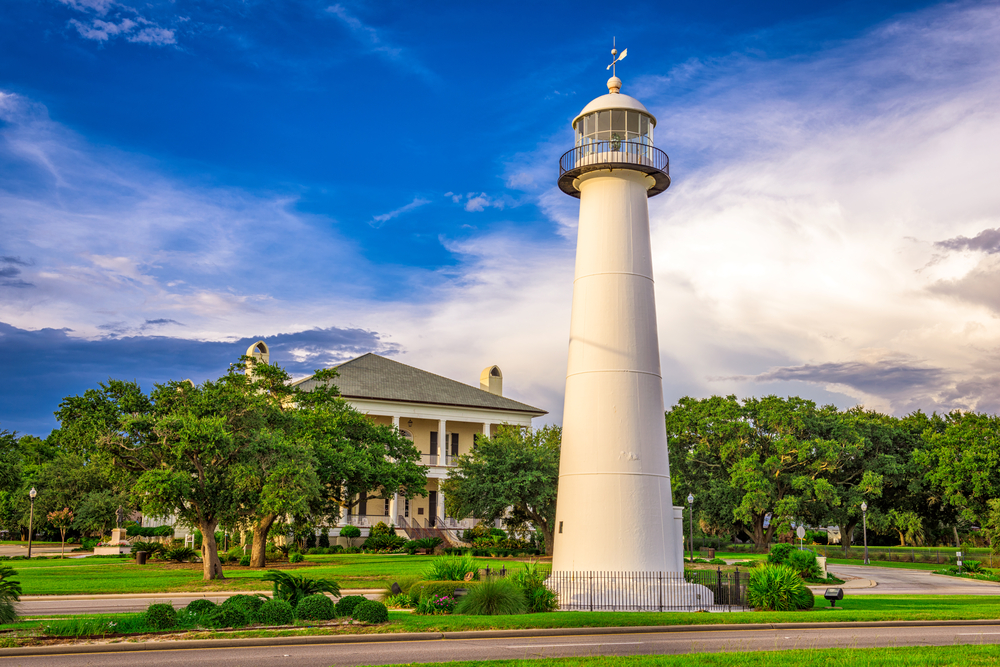 Tybee Island, Georgia
Only a twenty-minute drive from downtown Savannah, Tybee Island is one of the coolest beach towns in the south. This beautiful part of Georgia is popular with travelers who enjoy being out on the water.
There are amazing opportunities to kayak, jet ski, and paddleboard around Tybee Island. You can take kayaks and paddleboards up creeks, through marshes, around sandbars, and to the Cockspur Lighthouse. If you're feeling really adventurous, you kayak to Little Tybee Island to camp for the night! This is truly one of the best beach towns in Georgia!

If being on the water isn't for you, don't worry! There are a lot of other options for you as well. Renting a bike, searching for the best hushpuppies and seafood, and laying on the beach are all popular things to do on Tybee Island. If you have the time, consider taking a dolphin tour! Bottlenose dolphins love to frolic around this cute little beach town and seeing them up close via a dolphin tour is a great way to experience Tybee Island.

Stay Here: Atlantis Inn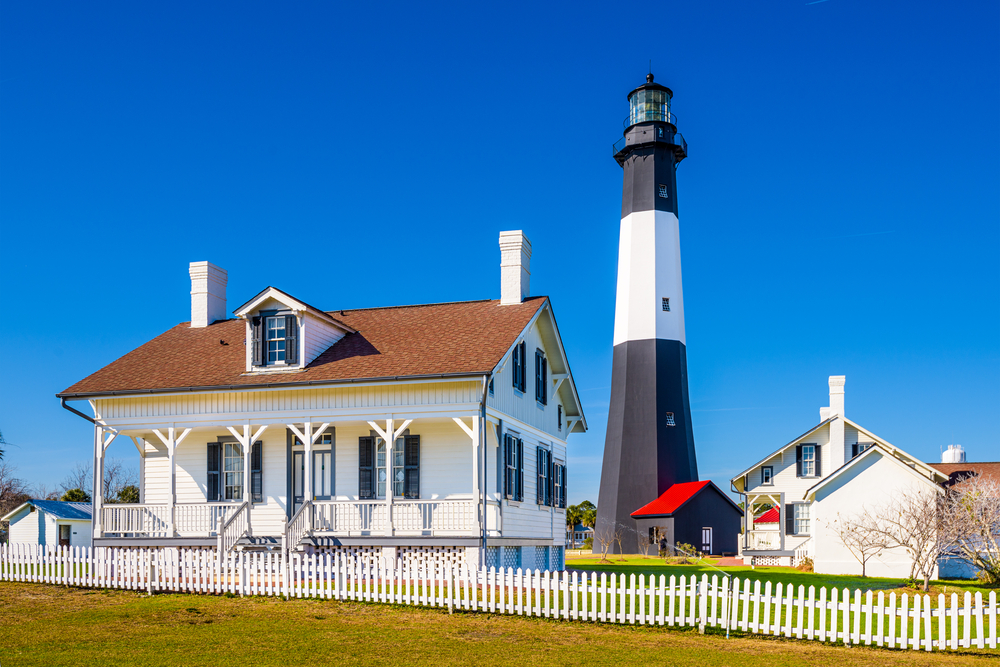 Islamorada, Florida
A half-hour drive south from Key Largo, you can find one of the most beautiful beach towns in the south. Islamorada is a stunning town in the Florida Keys that is perfect for those looking for a mild tropical climate to vacation in. The weather and water are both incredible in Islamorada. Made of six separate islands, you will have plenty of activities to participate in and plenty of gorgeous beaches to explore. Anne's Beach is one of the most popular and although its beauty can draw in crowds, it is still worth a visit as it is not only beautiful but is kid-friendly and dog friendly as well.

While visiting Islamorada, make sure to taste some of the fresh-caught seafood from one of the many seafood restaurants. The Square Grouper and The Lazy Days Restaurants are both great options for you to check out! If you are taking a break from the white sand beaches in Islamorada, consider visiting the Windley Key Fossil Reef Geological State Park where you can see coral fossils and the remnants of an old quarry.

Stay Here: Chesapeake Beach Resort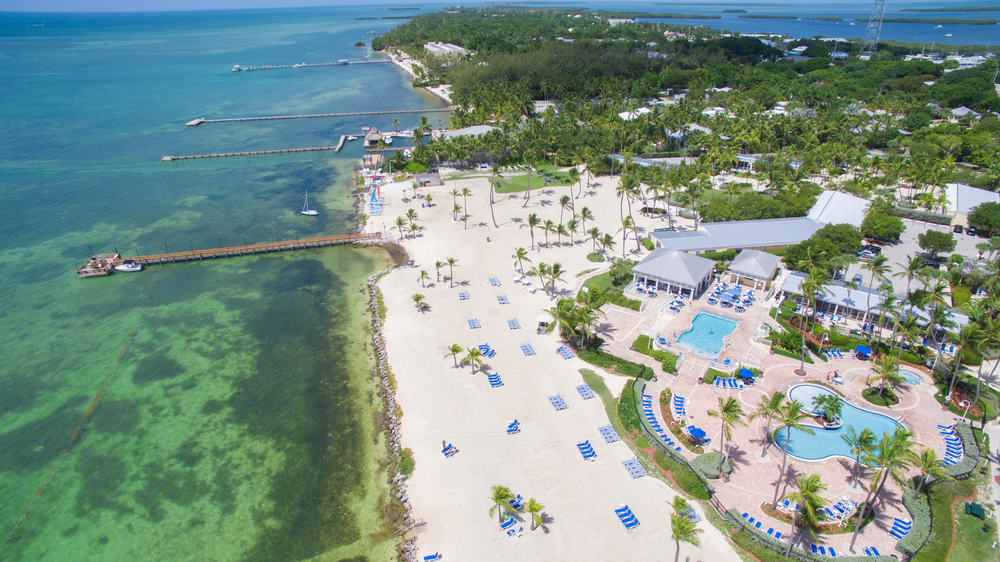 Port Aransas, Texas
Situated in the Gulf of Mexico, Port Aransas, Texas is one of the best beach towns in the south for those who love to be outdoors, because not only does it have great beaches, but also many other opportunities to have fun outdoors. From fishing and sunbathing to golfing and shopping, there is something for everyone in Port Aransas.

The town is located on Mustang Island. The island got its name from the wild mustangs that used to roam the islands for hundreds of years. No one knows for sure how they got to the island, but they have remained an interesting part of Port Aransas Island. To learn about the mustangs and the history of the town as a whole, head to the Port Aransas Museum.

While in Port Aransas, parasailing, kiteboarding, windsurfing, paddleboarding, kayaking, and birding are all available to you as a visitor. Offshore excursions and other fishing activities are also common. In fact, Port Aransas is known as the fishing capital of Texas because of how great the fishing is in the channels and bays, off the pier, and offshore. There are also fishing tournaments held in and around Port Aransas that can be fun to watch in the summer months.

Stay Here: Captain's Quarters Inn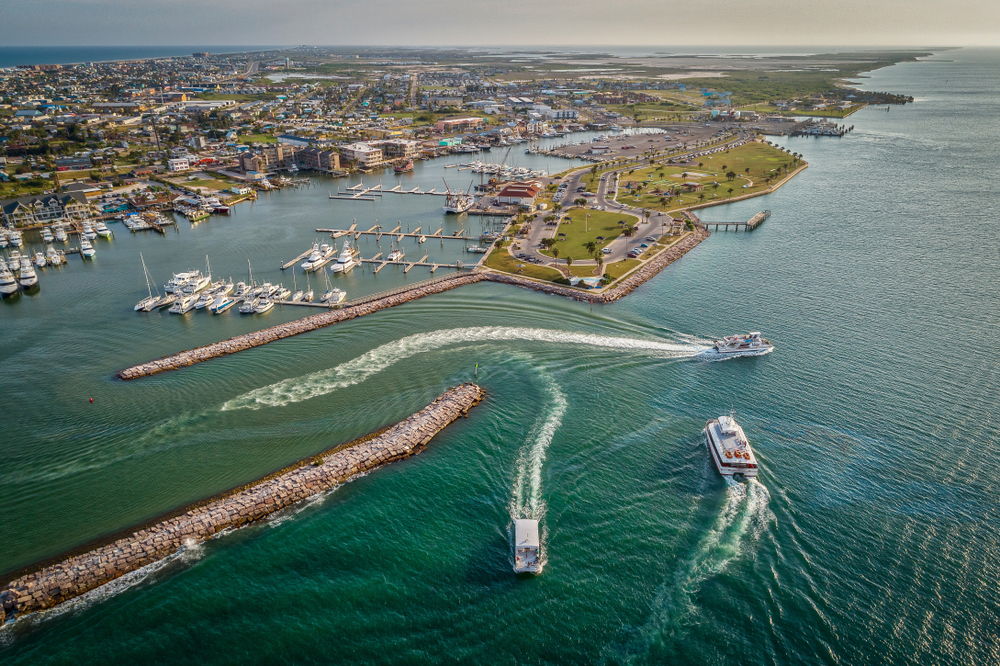 Kure Beach, North Carolina
If you're ready for a beautiful beach town that has a stunning beach with a variety of nearby attractions, Kure Beach has you covered. Arguably one of the best beach towns in the south, Kure Beach is on the southern part of the North Carolina coast, just north of the beautiful Bald Head Island and Zeke's Island. Kure Beach is a great town for both learning and play!

You can learn about the area's marine life at the North Carolina Aquarium at Fort Fisher, learn about the area's civil war history at the Fort Fisher State Historic Site, or learn about the military history of the area at the North Carolina Military History Museum. Or if you're ready for some fun in the sun, you can head to the Fort Fisher State Recreation Area for sunbathing or exploring the rocks on the water's edge. Make sure you check out some of the locally caught seafood at Jack Mackerels Island Grill before you head home!

Stay Here: Ocean Front Views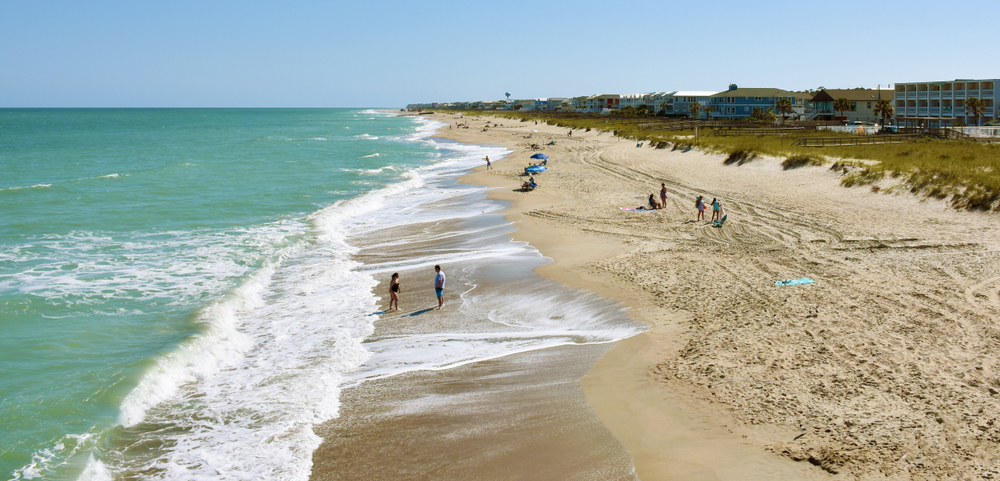 St. Augustine, Florida
There's no better town in the south for history than St. Augustine. The city is the oldest in America and has countless historical sites and attractions that are educational in nature. Located on the east coast of Florida, you can find St. Augustine just fifty minutes south of Jacksonville, Florida. Aside from the historical sites, you can also find beautiful architecture, opportunities to get close to wildlife, and amazing restaurants.

Some of the most popular historical sites in St. Augustine include Castillo De San Marcos that was built by the Spanish to help protect their assets in Florida, The Fountain of Youth where Ponce De Leon believed he found the secret to eternal youth, and the St. Augustine Lighthouse which has been around since that 1800s. There are also several museums where you can learn about the history of the town.

If you're looking for the most beautiful and well-preserved parts of St. Augustine, head to the Colonial Quarter. In this area, there are shops, cobblestone streets, Spanish architecture, restaurants, and more to explore. This is one of the best beach towns in the south because there are so many attractions, beaches, restaurants, and history that visitors to St. Augustine can spend up to a week exploring it without getting bored!

Stay Here: Guy Harvey Resort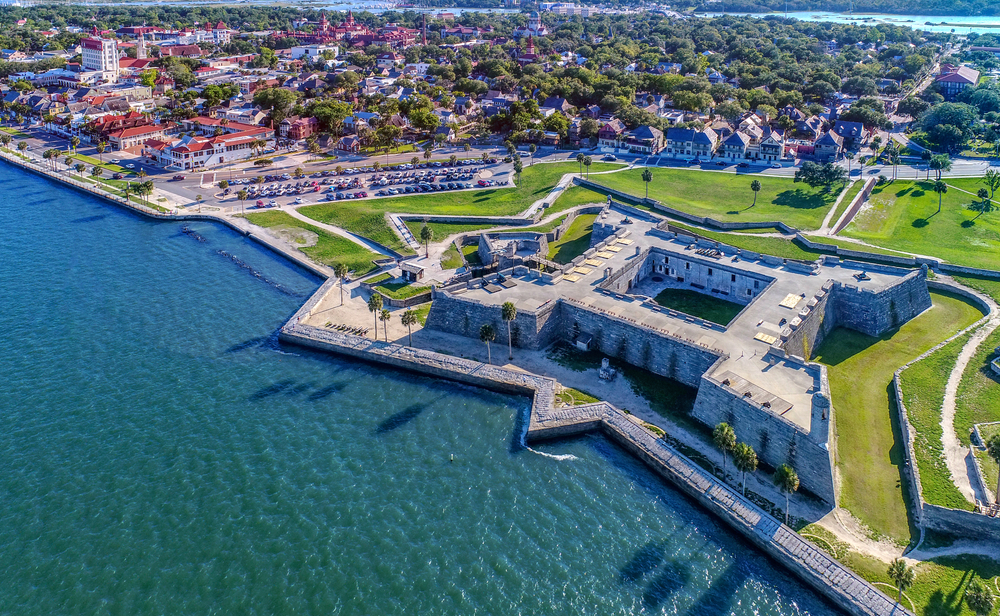 Hilton Head Island, South Carolina
For colorful and vibrant sunsets, Hilton Head Island is one of the best beach towns in the south. Hilton Head is in a great location for visiting surrounding towns in the south. It's only forty-five minutes from Savannah, Georgia, and just less than two hours from Charleston, South Carolina. This gives you two great options for day trips while you're visiting the island.

In Hilton Head, there is a beautiful area known as Harbor Town where there are restaurants, the Hilton Head Lighthouse, pier, shopping, and more where you can eat a delicious seafood dinner overlooking the Hilton Head Lighthouse and the water while listening to live music in the sea breeze. You can often see bottlenose dolphins playing in the water around the pier and lighthouse in Hilton Head. You can also see dolphins on the tours offered in the area!

Other points of interest in Hilton Head include the Stoney Baynard Ruins, the Hilton Head Rear Range Lighthouse, the King Neptune Sundial, and the Coastal Discover Museum. If you want a secluded beach area to visit while in Hilton Head, check out the Fish Haul Beach Park. The park has outdoor showers and restrooms as well as an expansive beach where you can search for shells and shark teeth!
There are so many amazing places to see, make sure to check out our Favorite Beaches In Hilton Head!

Stay Here: Condo on the Beach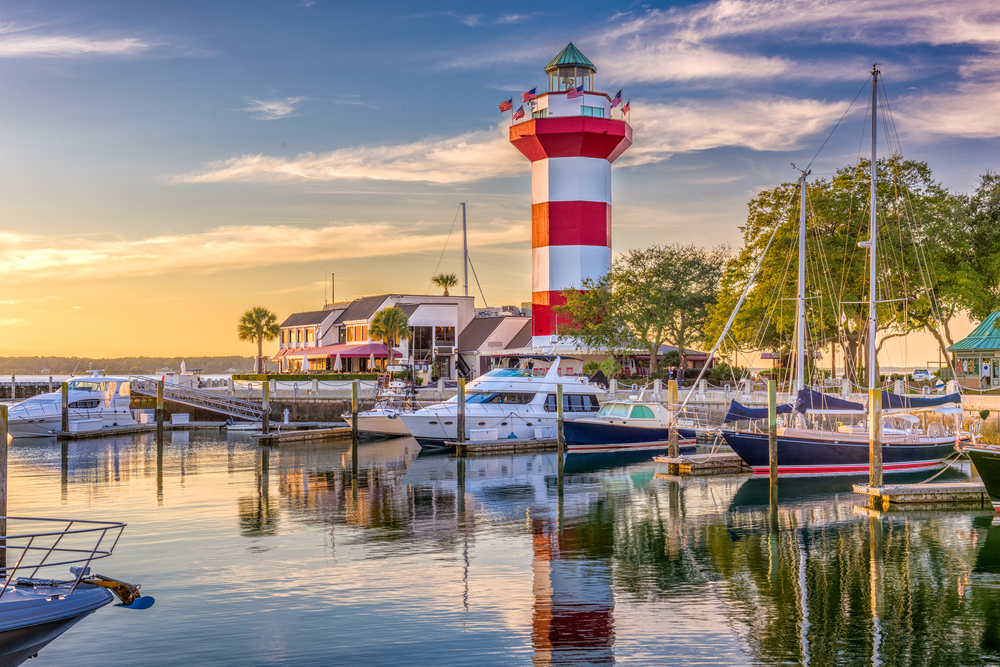 Gulf Shores, Alabama
Gulf Shores is one of the beach towns in the south that is full of activities and attractions, making it a great town to visit for those who don't want to be in the great outdoors during their whole trip and for those traveling with kids. You can find two amusement parks, water rides, a zoo, an open-air shopping and entertaining, museums, mini-golf, go-carts, and the USS Alabama Battleship Memorial Park in Gulf Shores.

The sand is shimmering white and the water is a beautiful shade of blue, making for a great visit to the beach! For a chance to see sea turtles while in Gulf Shores, head to the Bon Secour National Wildlife Refuge. At the refuge, you can also walk the wooden boardwalk trails and see sea birds and other wildlife.

Gulf Shores is in a beautiful location in the Gulf of Mexico and is surrounded by many fun day trip opportunities. A couple of the best options are Pensacola, Florida which is about an hour and fifteen minutes away and Mobile, Alabama which is around an hour and ten minutes away.

Stay Here: Beach Front Sunset Views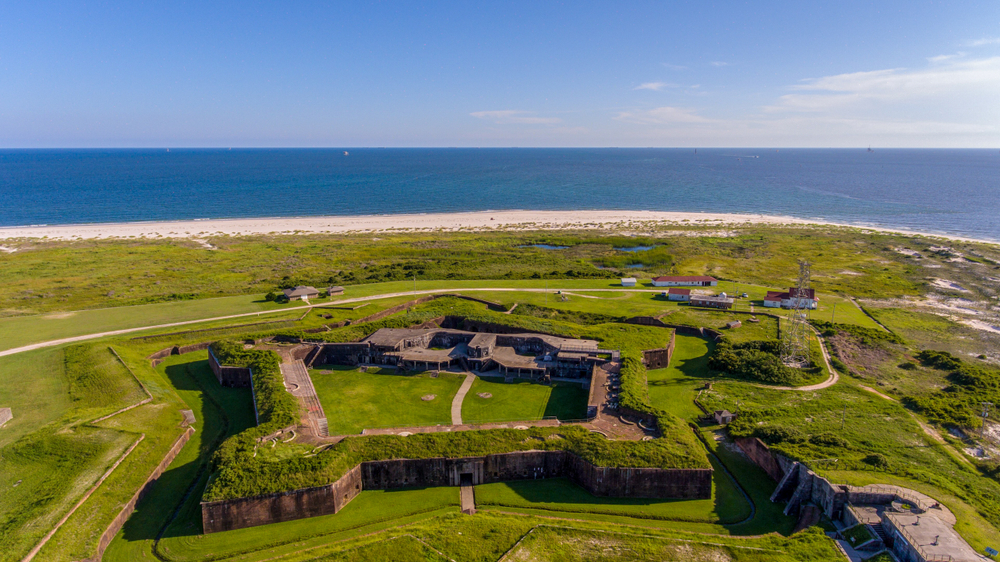 Sanibel Island, Florida
Sanibel Island is situated on the West Coast of Florida in the Gulf of Mexico and it's known for having amazing sunsets. Since it's an island, you get a very secluded vibe that is ideal for relaxation. So many fun activities including floating on the clear blue waters, walking along the shore and collecting shells, or going kayaking!

The hotels, inns, and restaurants are plentiful yet unobtrusive. There is a nature preserve that you can visit to see lots of wildlife. Great for seafood lovers as most of the restaurants serve fresh fish, shrimp, and other seafood. If you want to spend most of your time laying on the beautiful beaches, Tarpon Bay Beach and Bowman's Beach are both great options!

Natural beauty abounds on Sanibel Island! One of the best ways to get out into nature is to walk the Calusa Shell Mound Trail in the J.N. "Ding" Darling National Wildlife Refuge where you can see wildlife and amazing views of the surrounding area. While you're in Sanibel Island, you are only about forty-five minutes from Fort Myers, giving you a great option for a day trip!

Stay Here: Sunset Beach Inn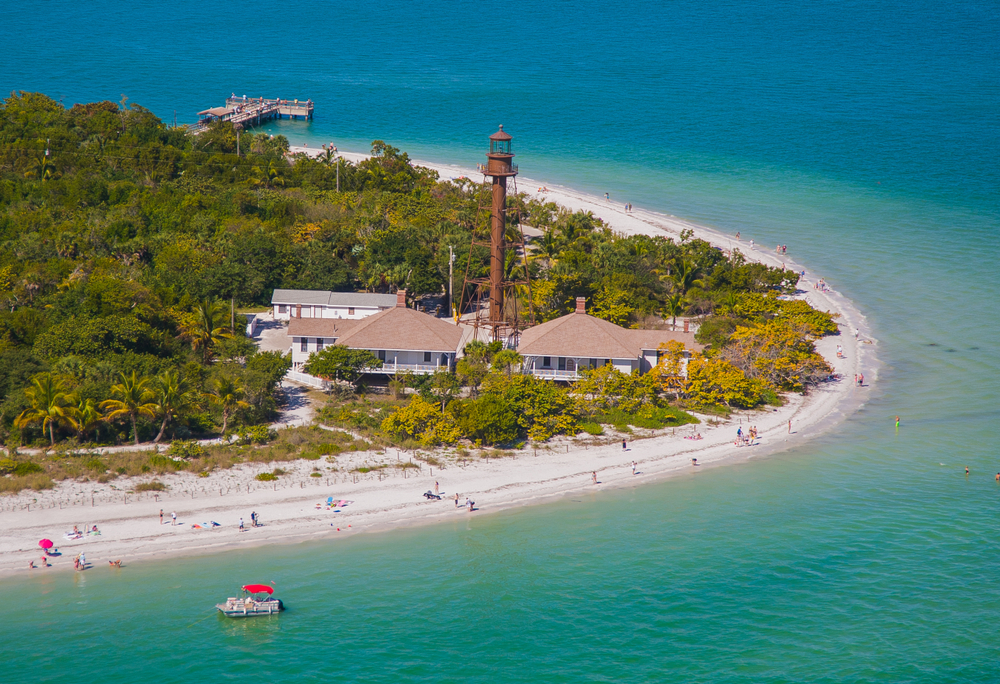 Rich in history and culture, these beach towns in the south are full of fun, beauty and adventure. From water sports and beach activities to cobblestone streets and historical sites, you there's something for everyone! Which beach town will you visit first?