If you're looking for a getaway then staying in one of these cabins in Helen might be just what you are looking for. There is something magical about Helen, Georgia and you can add to the magic by staying in a cozy cabin. 
There is something so comforting about staying in a cabin. They offer the perfect escape whether you want a romantic weekend away or an unforgettable experience for your family cabins in Helen offer it all.
Helen is one of the cutest small towns in the south. You will instantly fall in love with its' bavarian architecture and friendly hospitality. It really does have that Alpine village feel and what better way to compliment that than staying in one of these Helen vacation rentals.
In this article, we will walk you through cabins in Helen Georgia, cabins on the river in Helen, and cabins for the perfect Christmas getaway. If you don't know anything about Helen believe us when it comes to Christmas Helen goes all out.
We have found cabins really close to Helen, Cabins that are secluded, cabins with hot tubs, and of course cabins with some amazing views.
So why don't you get the full Helen experience and stay in one of these cabins? It's like having a European holiday without even leaving the States.
Are you ready to see which cabins in Helen that we picked for you? Don't forget to check out to some of the best Restaurants In Helen!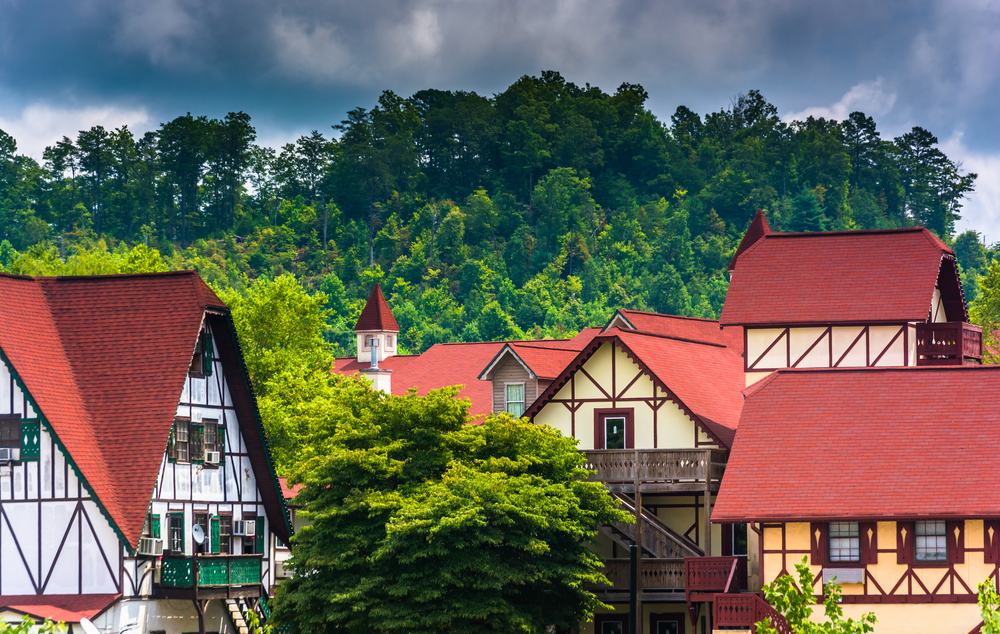 12 Whimsical Cabins In Helen Georgia
The Sweet Retreat Cabin
If you are looking for a romantic private getaway in a vacation rental in Helen then The Sweet Retreat may be perfect for you. The living room has a love seat the bed is queen-sized and the kitchen has everything you need.
The property also boasts an outdoor seating area, fire pit, and a gas grill. But you come here for the views of Mt Yonah and the heavily wooded area making this cabin feel really private. This is truly one of the best things to do in North Georgia!
And the icing on the cake a hot tub with an incredible view.
This property is about 9 miles away from Helen and is a perfect place to enjoy Helen and also the sites and trails of the mountains.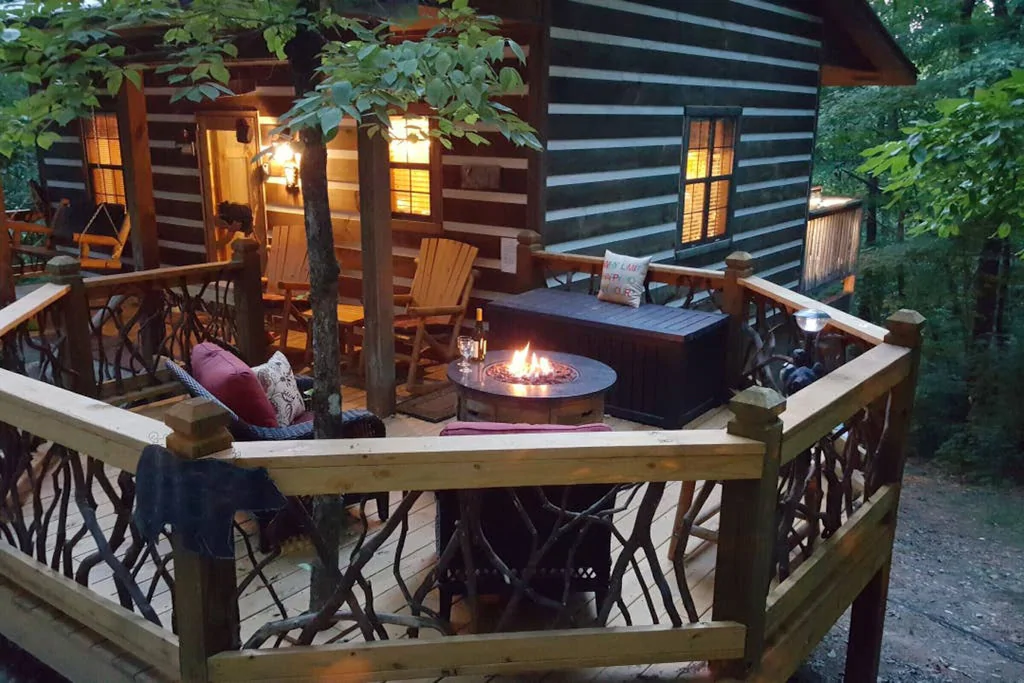 Desirable Cabin in City Limits of Helen
This Helen cabin rental sleeps 4 and is located within the city limits of Helen on 1 ½ acre. The desirable cabin is a three-minute drive from downtown Helen and the hiking trail from Helen to Hardman is just around the corner.
There are two large bedrooms one with a king and one with a queen bed topped off with a sunroom with large windows looking over the forest.
The great outdoors can be enjoyed by two covered porches and I'm told you will often see wild turkeys and deers roaming around the property.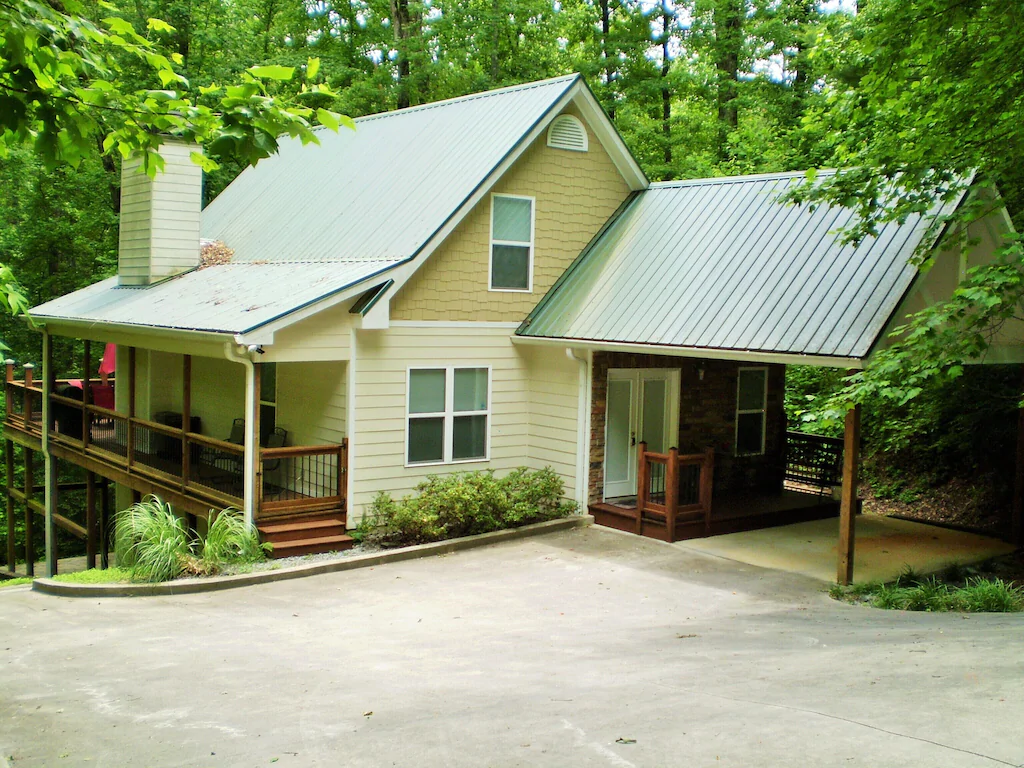 Helen Riverside Cabin
If you want to be close to Helen but feel like you are out in the wilderness this cabin in Helen Georgia is a good option.
Sleeping 4 to 6 this is one of the cabins in Helen that allows you to stay right in the heart of Helen. The cabin is right in Helen and a short walk from downtown.
Located on the Chattahoochee River this Helen Riverside Cabin has two big bedrooms and two jetted bathtubs. There is also a sleeper sofa in the living room meaning this property can sleep six.
The deck at the back overlooks the river and from the front, you have views over Hanby mountain. If you are looking for cabins on the river in Helen then this one is for you.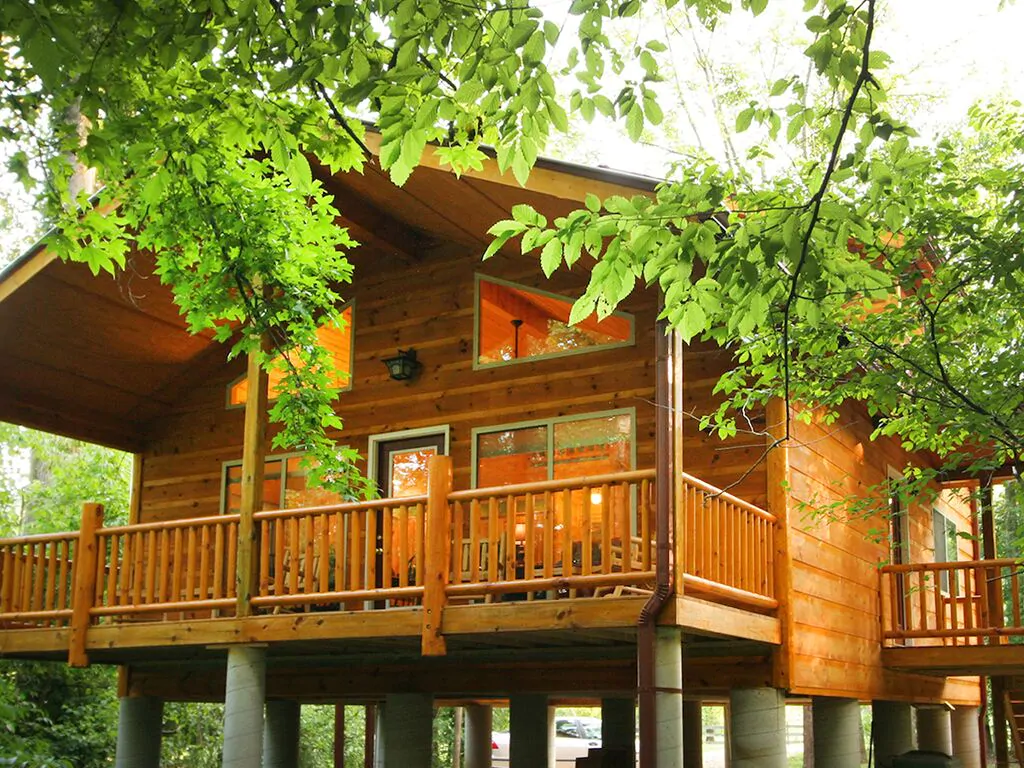 Cozy Nook
Cozy Nook sleeps a couple and provides everything you need for that perfect getaway. Located three miles from Helen this cabin gives you the best of both worlds, seclusion and the town close by.
This Helen vacation rental is located in a deep rhododendron forest at the very end of a private road. It is snuggled up to thousands of acres of the Chattahoochee National Forest for maximum privacy. If you are coming to spend Christmas In Helen, this is a great spot to stay!
There is an outside fire pit, a queen size bed a full bath, and a shower. The deck features a roofed hot tub with views of the dense forest and mountains.
If you are after totally seclusion then this is the place for you.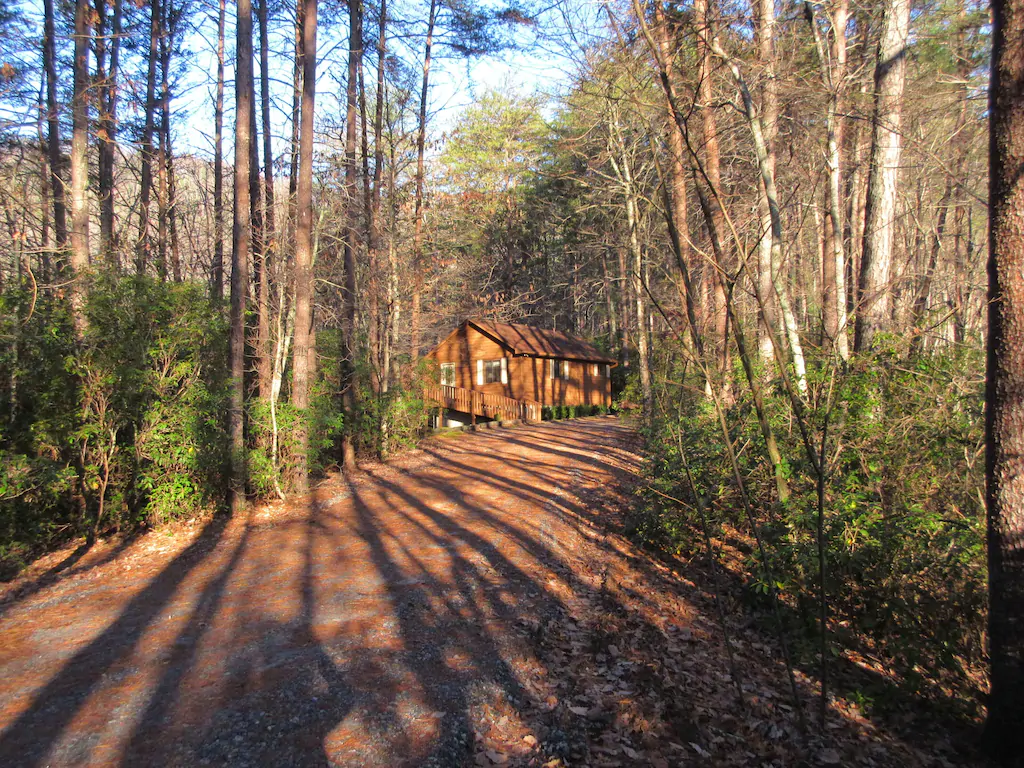 Cabin on Soque River
If you like your cabins in Helen to come with a river then you are in for a treat. This Cabin on Soque River is great for two couples.
This mountain retreat has two master suits both with private bathrooms. Helen is a few miles away and easy to get to.
The cabin is recently renovated and is beautiful and clean with some incredible views.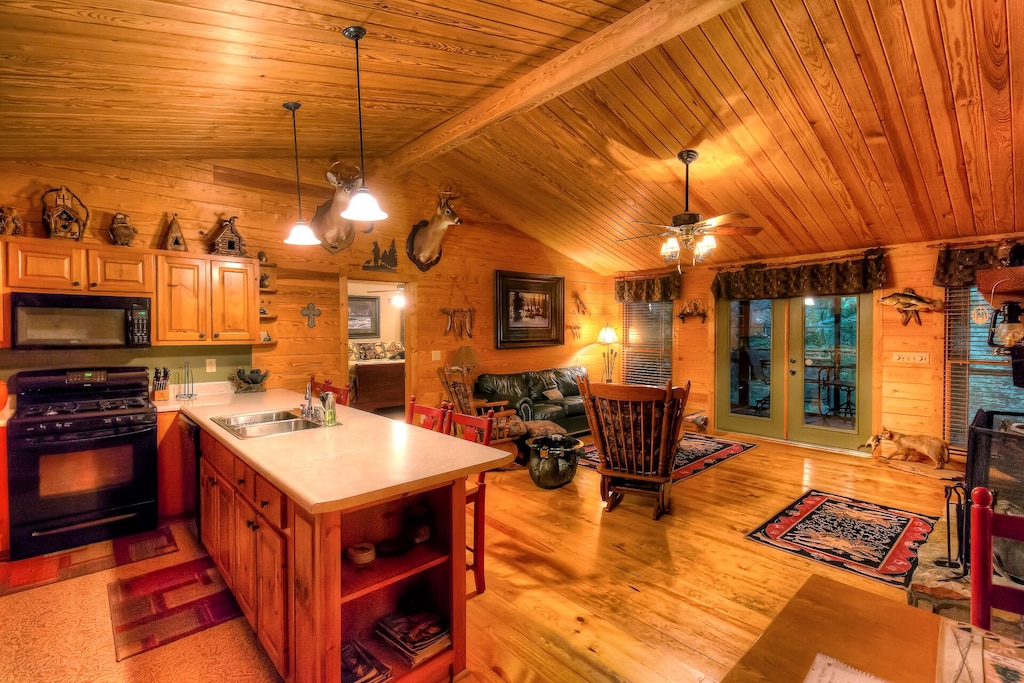 Bear Affair
If you are wanting seclusion and romance then Bear Affair is perfect for you. Tucked away in the woods bordering the National forest the views are breathtaking.
There is a king-size bed and a sleeper sofa if you want to add a few more guests but I don't think you will want to share this place.
The outside deck has a grill and incredible views and on the opposite side of the cabin is a hot tub. Helen is just a 4-mile drive away.
This is one of those cabins in Helen you will fall in love with.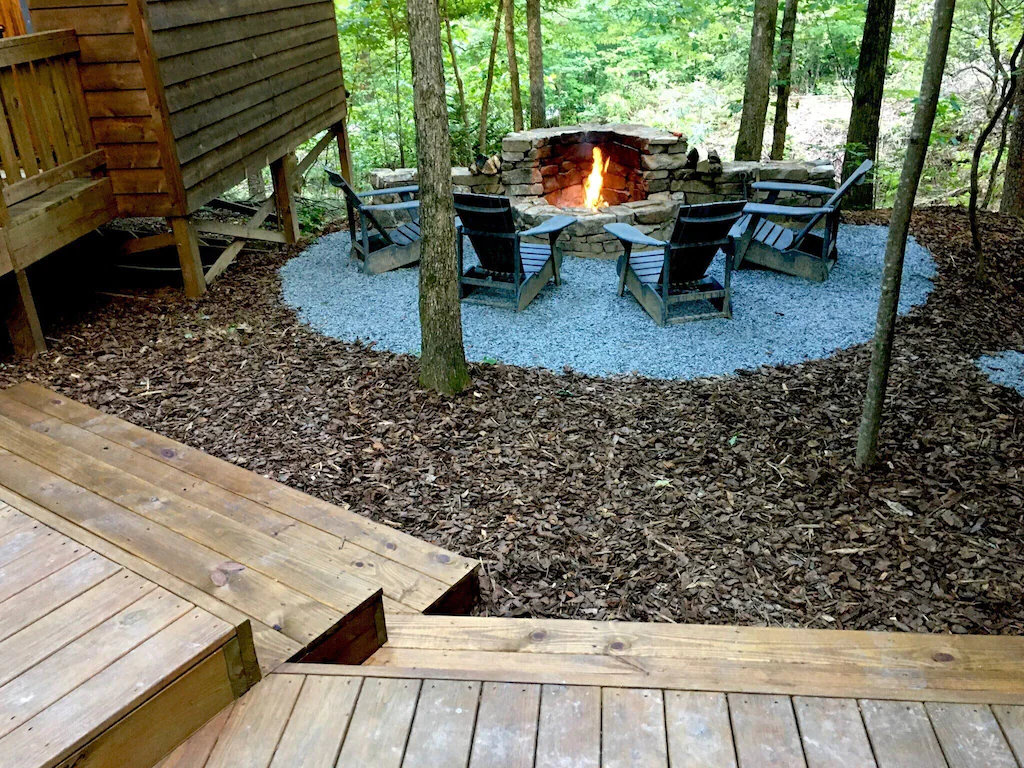 Dreamscape
Dreamscape is tucked away and provides your own private universe. There are two master bedrooms one on the bottom floor and one on the top so they are totally private from one another.
The upstairs room has honeymoon-style vibes with a jacuzzi hot tub and two decks, one covered and one open, and everything here for you to grill on the deck if you wish. There is also a fully stocked kitchen upstairs and a living room/diving area.
Downstairs there is a queen-sized bedroom with a full-sized pool table and a deck with a hot tub and outdoor dining facilities.
The front of the cabin has a porch and a fire pit and a place to sit with the nice added extra or marshmallow roasting sticks.
There are windows everywhere and the light and views in this cabin are amazing.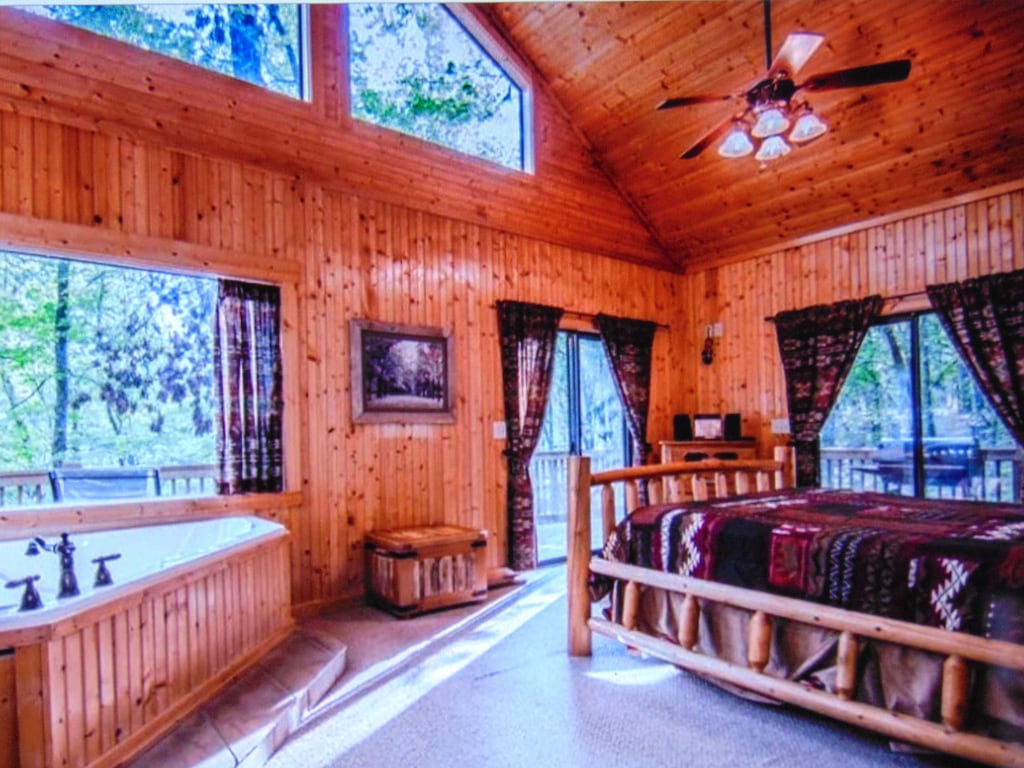 Stylish Helen Gem With Three Decks
Less than a mile from Main street this Stylish Cabin is perched in Helen's woodsy landscape. This cabin can sleep six and has an added bonus it has a game and media room.
The property is beautiful and has everything you need including three porches. There is also a fire pit and really is your own oasis in the woods.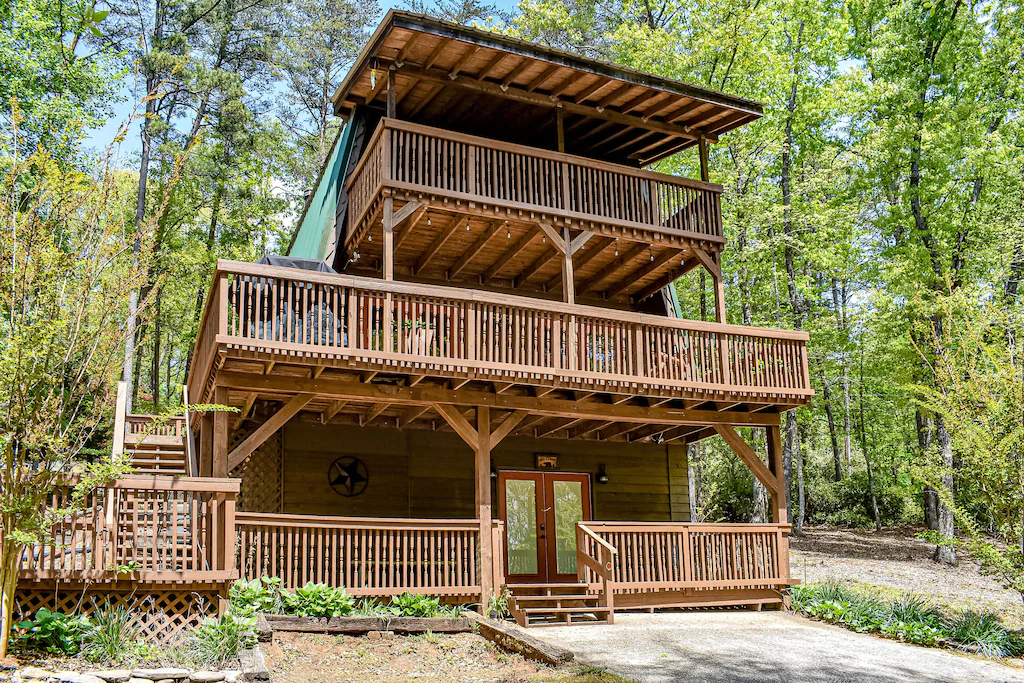 Bear Paw Cottage
Sleeping 2 adults and 2 children this property offers seclusion at an affordable price. It also unusual for this area has level parking meaning it's great for motorcycles.
There is a queen sixed bed and a loft with a double mattresses comfortably sleeping two children.
There is a also a hot tub on the covered porch and a charcoal grill and picnic area. Bear Paw Cottage is a real gem.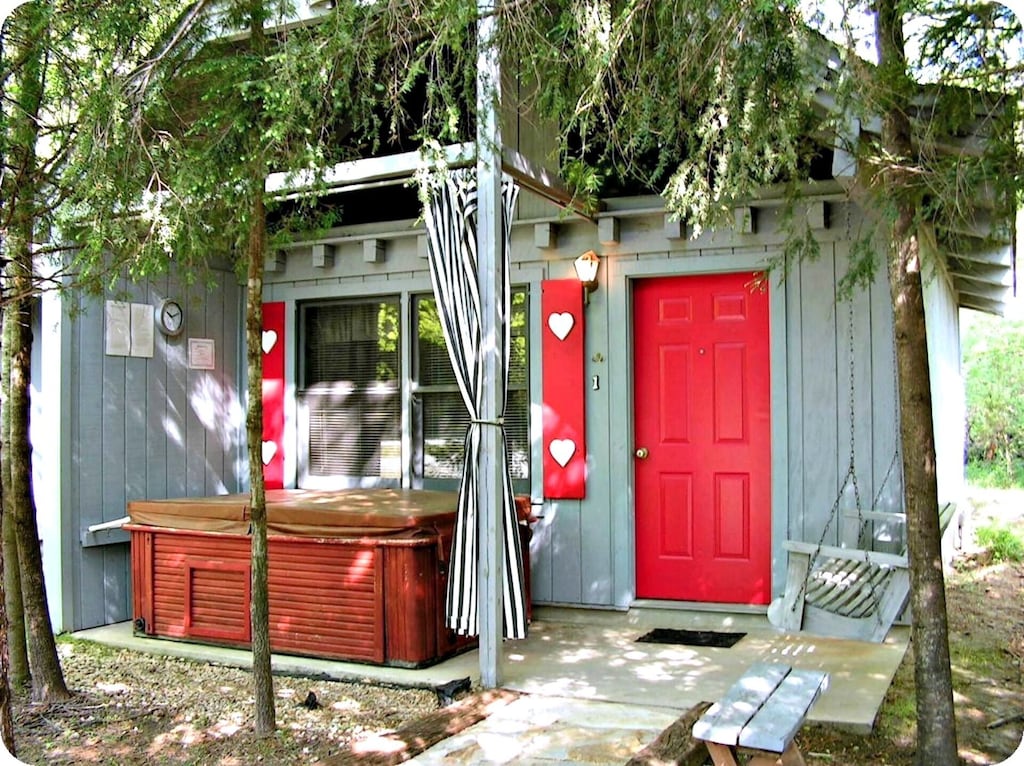 Sautee Nacoochee Mtn Paradise
Sautee Nacoochee Mtn Paradise is within walking distance of Helen and the perfect place for couples or a single person.
This charming 1 bed and 1 bath cabin in Helen has a wraparound deck complete with a porch swing for that truly authentic experience.
Just five miles from Helen there is everything you could need, including a king bed, fire pit, and well-equipped kitchen.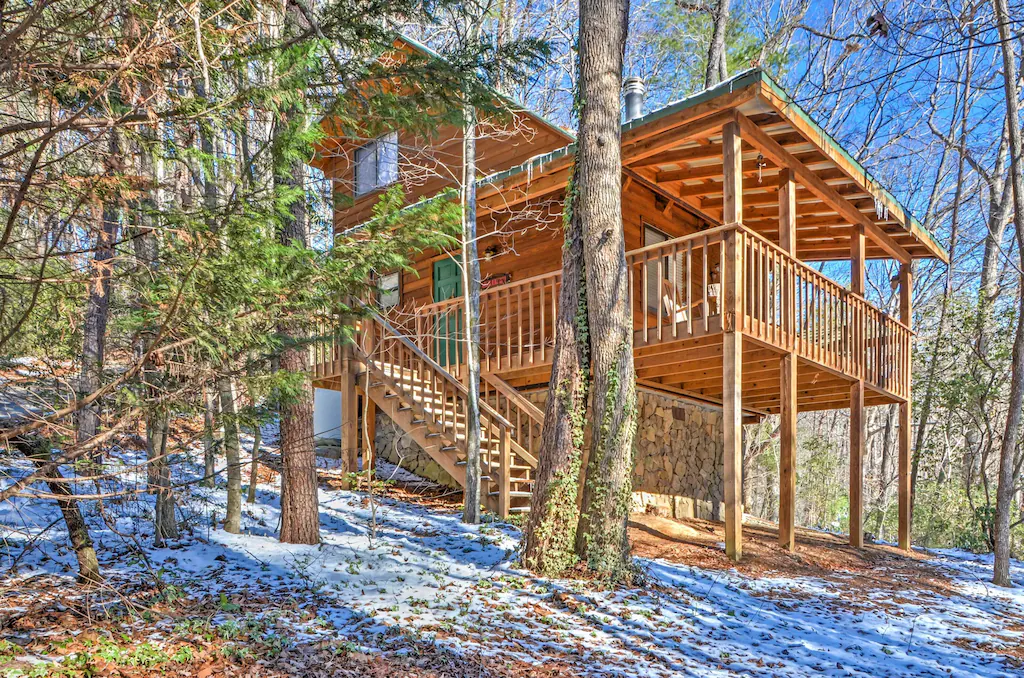 Bear Hug
Six miles from Helen Bear Hug is a cozy cabin sleeping two.
The kitchen is well equipped and there is a wood-burning fireplace. The property also boasts a fire pit, gas grill, and hot tub. All topped off with some incredible views.
One of the super cute cabins in Helen.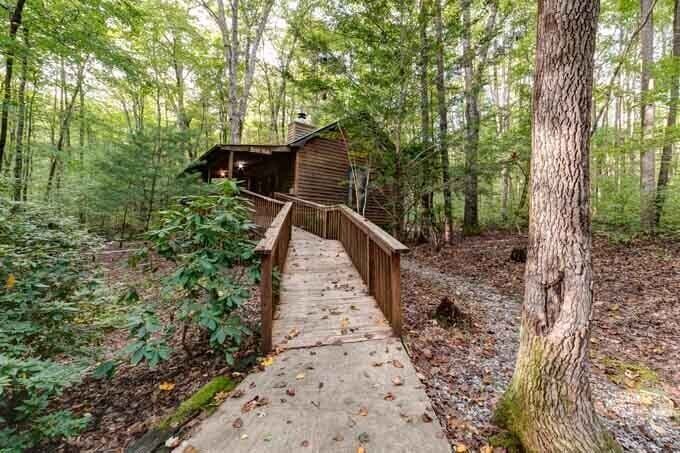 Cozy Cabin in Helen
A short walk from Helen this cozy 2 bedroom property comfortably sleeps five and is a perfect size for a family mountain getaway.
This cabin really offers that rustic charm and gives a real wilderness feel while providing everything you need.
And of coarse there is a hot tub.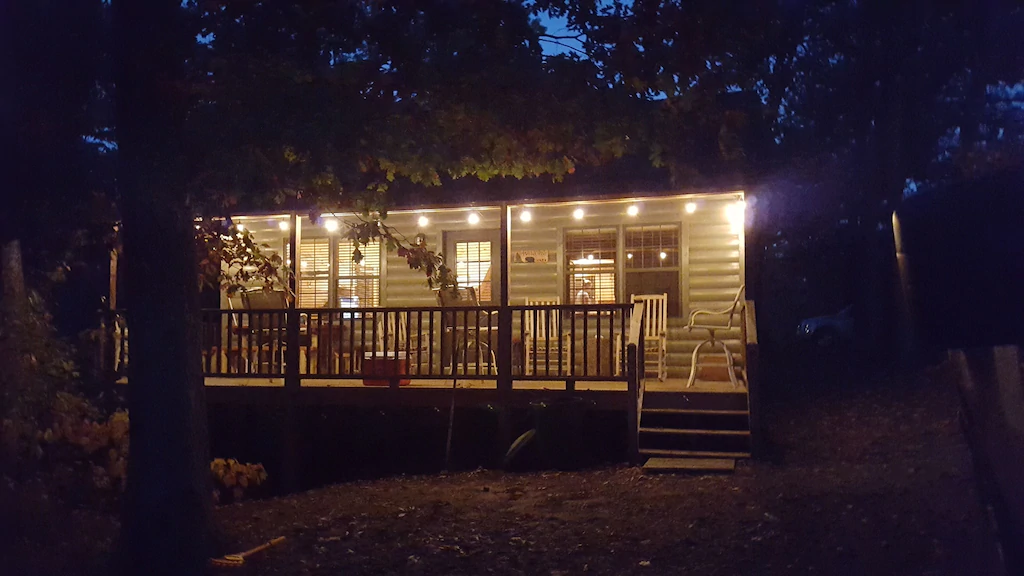 Whichever one of these cabins in Helen that you choose we know you will have an incredible time. Please come back and tell us all about it.
Helen really is a amazing place with lots to do and see. We wish you all the best in your vacation.