Are you curious about the most fun things to do in Columbus Georgia? Look no further! We've got the best list of Columbus' most fun activities right here!
Georgia's second-largest city is a dynamic and bustling community on the Chattahoochee River, and this city has it all! From Columbus' popular downtown filled with restaurants, shops, and local landmarks, you can explore all that the city has to offer. You are steps away from thrilling outdoor adventures, Broadway-caliber theatrical performances, delicious food, and locally brewed beer – what more could you ask for?
From taking on the world's largest urban whitewater course to exploring the city's vibrant arts scene to stepping into the region's history, there is plenty to do in this hidden gem in Georgia.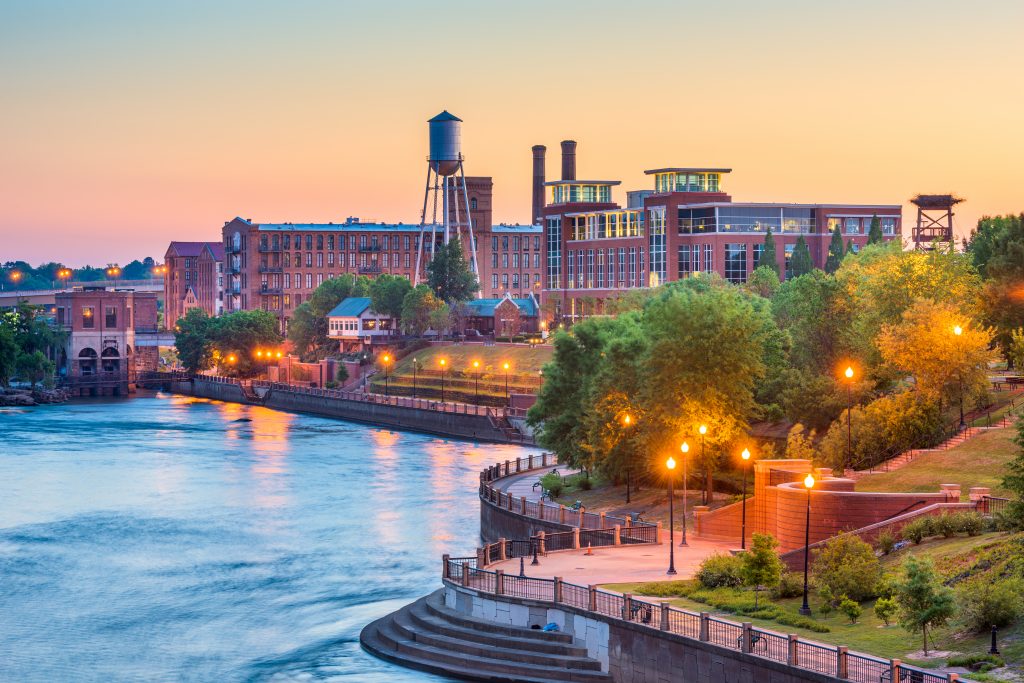 14 Fun Things To Do in Columbus Georgia
Coca-Cola Space Science Center
Situated in the heart of downtown Columbus' Historic District is the thrilling Coca-Cola Space Science Center, one of the most fun things to do in Columbus Georgia. If you're ready to fly to the moon, this is a must-do experience on your visit.
Step inside to see Georgia's largest collection of NASA Space Shuttle artifacts, and the many interactive exhibits. You can test your piloting skills, participate in a simulated rocket launch, and even drive rovers around the surface of Mars. When you're finished, relax inside the museum's Omnisphere Theatre for a tour of the skies and a special science-based film. Check their schedules as these programs change regularly, with kid and adult-friendly options to suit all visitors.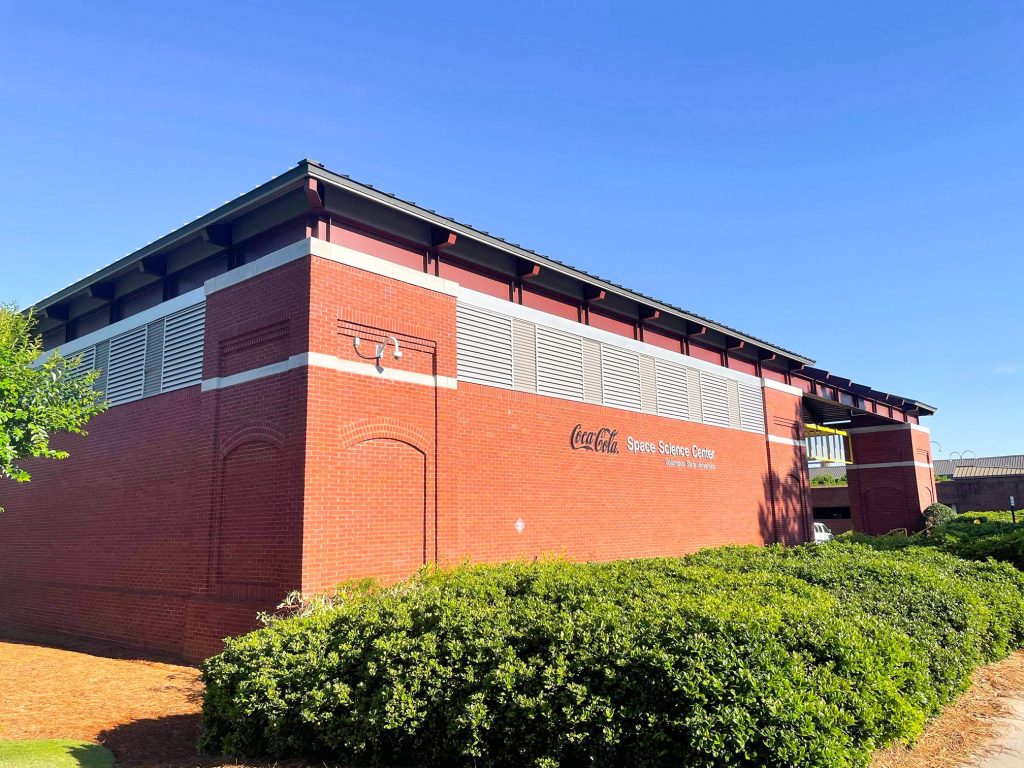 National Civil War Naval Museum
Step back in time to tour the National Civil War Naval Museum, dedicated to exploring the history of boats and ships used along America's waterways. With many interactive exhibits and events, the National Civil War Naval Museum is among the top things to do in Columbus.
See the remains of the CSS Chattahoochee, a steam and sail-powered gunboat. She was sunk in 1865 near Columbus to keep the ship out of Union possession. Also on view is the CSS Albemarle, featuring a classic Confederate Naval design, which you can explore both inside and out. The USS Hartford was the flagship of the navy's first admiral. This ship allows you to admire the function of the boat in battle, but also provides a glimpse into what it was like to live on board, with restored living quarters available to view.
The museum hosts a variety of living history events throughout the year, so no matter when you visit, there is sure to be something exciting happening at Port Columbus!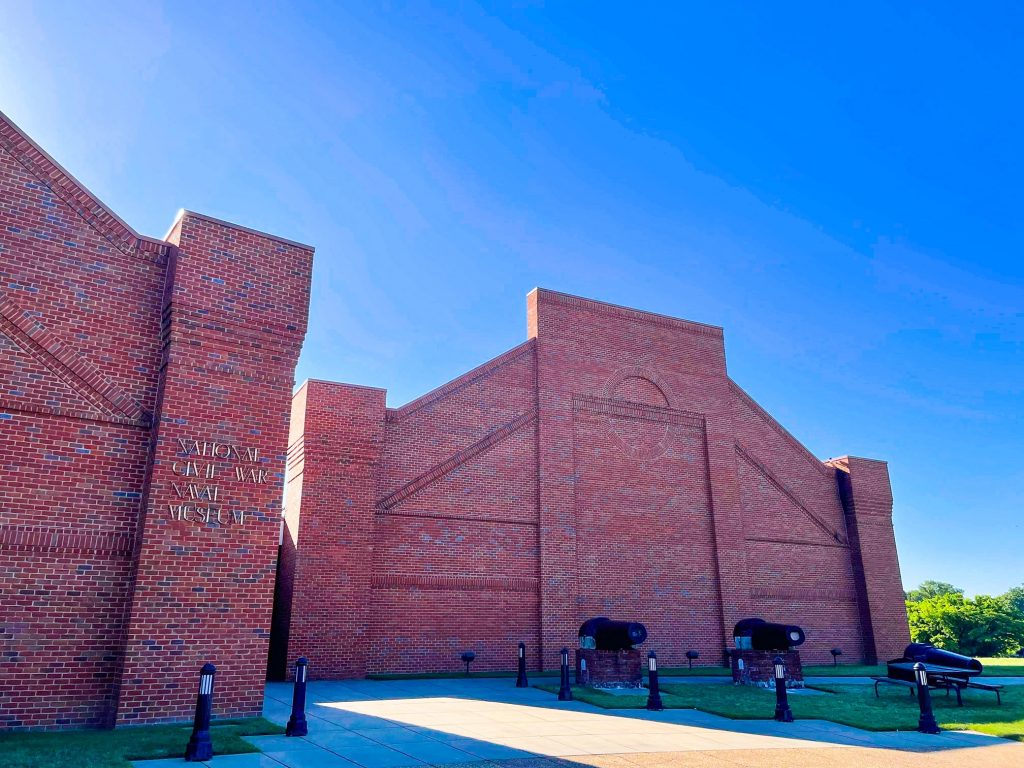 Chattahoochee RiverWalk
The Chattahoochee RiverWalk is Columbus' landmark attraction, running 15 miles along the length of the city and the adjacent Chattahoochee River. It's a beautiful and fun-filled linear park that should be at the top of your list when making a visit to Columbus.
Bring your bike along to make the most of a day on the RiverWalk. You can start at the city north area of Lake Oliver and make your way through downtown Columbus, finally stopping at nearby Fort Benning. Along the way, take in the beautiful natural landscape on the river, and have a picnic nestled among a canopy of trees. Take the scenic 14th Street Pedestrian Bridge, featured as one of the Prettiest Covered Bridges in Georgia, to enjoy the river banks in Alabama – you can literally walk or bike across state lines! This is a kid-friendly activity with playgrounds situated along the river, and easy trails to keep kids entertained.
The RiverWalk is also an excellent byway to explore many other attractions on this list – Whitewater Express, the Coca-Cola Space Science Center, the National Civil War Naval Museum, Historic Westville, Oxbow Meadows, and the National Infantry Museum are all located alongside the RiverWalk.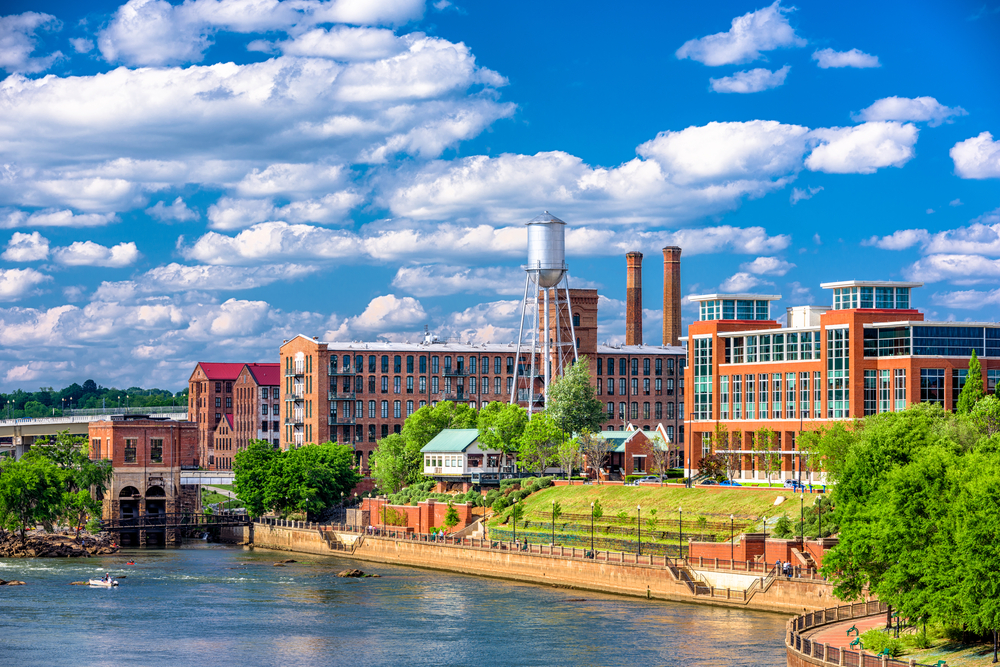 Oxbow Meadows Environmental Learning Center
For nature lovers, Oxbow Meadows is one of the best places to go in Columbus Georgia. Affiliated with local Columbus State University, Oxbow Meadows houses all kinds of cool creatures like snakes, turtles, fish and even alligators!
Oxbow Meadows was created in 1995 to help preserve and educate visitors on the local landscape and ecology of the area. In addition to their nature trails and exhibits featuring local wildlife, Oxbow Meadows hosts a variety of interactive programs throughout the year. Enjoy a picnic with tortoises, or participate in an alligator feeding! Make sure to check their event schedule as programs are subject to change.
If you're in the mood for solo exploration, take a journey down one of their many wildlife trails to explore the wonders of this region sitting right on the banks of the Chattahoochee River.
Columbus Museum
Columbus is a city that celebrates the arts, and that is no exception at the Columbus Museum, one of the premier places to go in Columbus Georgia. It has the distinction of being one of the biggest art museums in the Southeast, and is also dedicated to showcasing the history of the area alongside its vast art collections.
Begin by journeying through a historic look at life in the area from the time of the native Creek peoples straight through to today. As you explore the exhibit, look through many found artifacts and view home and community buildings that showcase what life was like for residents in many different eras of life in Columbus.
After you've taken a trip through the region's history, move into the art galleries showcasing many works of modern, contemporary, and classical art. The museum is home to works by celebrated artists with ties to the city like Bo Bartlett and Amy Sherald. The Columbus Museum also features exciting rotating visiting exhibits throughout the year, so check their schedule around your visit.
Kids are also welcome at the Columbus Museum – make sure to stop by their interactive Transformations center if you're traveling with little ones!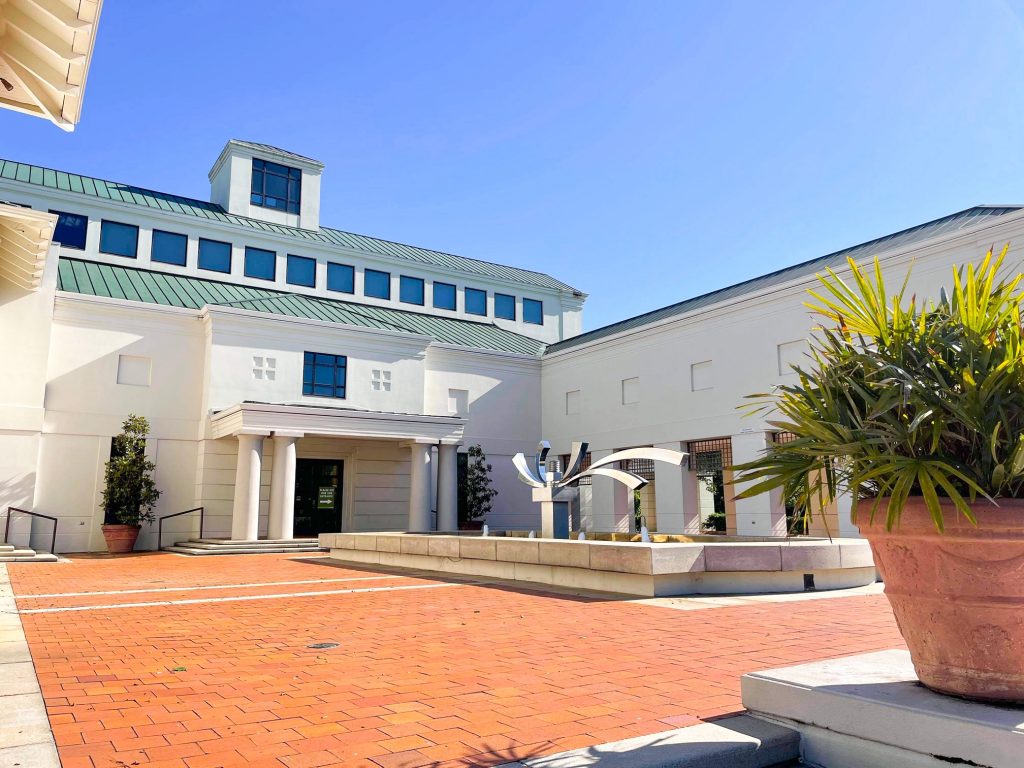 Columbus Botanical Garden
Located on 36 acres of undeveloped land in north Columbus, the Columbus Botanical Garden is a truly magical space – one of the best things to do in Columbus.
Step through their beautiful Cottage Garden, Terraced Garden, and Vegetable Garden as you enter, and make your way back into the forested JoAnn Holt Walking Trail. Along the trail pass through the Rose Garden and Camellia Garden in a truly secluded and peaceful time with nature. The trail is very easy and walkable and is accessible to all visitors, including kids.
The Columbus Botanical Garden is also one of the only attractions on our list near Columbus Park Crossing, the main shopping and entertainment district outside of downtown Columbus. After your visit at the Botanical Garden, bring your appetite to enjoy one of the many restaurants in the area, and take in a movie on a hot afternoon.
Springer Opera House
Originally opened in 1871, and designated in 1992 as the State Theatre of Georgia, the Springer Opera House is a restored and fully operational theatrical gem in Columbus. With year round programming, you won't want to miss the opportunity to catch a show at this historic theatre.
The Springer mostly performs Broadway-style musicals but has also debuted original plays by writers with ties to the area. It also boasts a robust Children's Theatre program, with plays running throughout the year for kids of all ages. The Theatre for the Very Young series serves child audiences as young as two years old.
Outside of an outstanding performance history, the Springer is also steeped in historical legends. It is thought to be one of the most haunted theatres in America. Frequented by many of the most famous actors of the 1800 and early 1900s, it is said that the ghost of acclaimed actor Edwin Booth still inhabits the theatre to this day. Taking in a show at the Springer Opera House is definitely one of the most fun things to do in Columbus Georgia!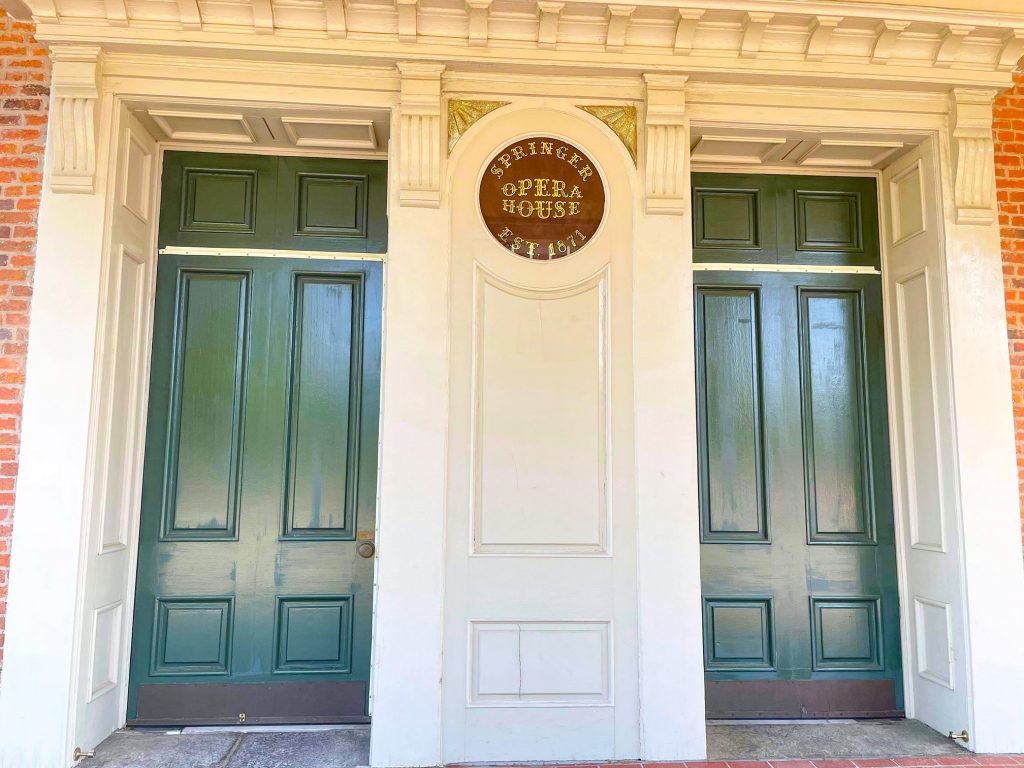 National Infantry Museum
At the RiverWalk's end at Fort Benning, home of the United States Army Infantry School, lies the National Infantry Museum and Soldier Center. Immerse yourself in the history of our nation's military, from the United States' founding to the present day at one of the most fun things to do in Columbus.
The National Infantry Museum at Fort Benning includes many interactive galleries spanning different times and wars in American history. See artifacts from combat and from a soldier's life that you can't see anywhere else. While you're perusing all of the curated galleries documenting the history of our nation's infantry, get ready to take on some immersive attractions like their virtual reality combat simulators. You can choose from different simulations including a non-combative evacuation mission, a mission in a humvee or a Black Hawk helicopter, and a try at the rifle range.
People of all ages are welcome at the National Infantry Museum, but it should be noted that the museum does use theatrical lighting and sound effects, including combat sounds, as you explore the galleries. If you are traveling with guests who are sensitive to lights and noise, make sure to ask for help from staff to navigate around these areas.
Ma Rainey House and Blues Museum
Explore the home of Columbus native Gertrude "Ma" Rainey, Mother of the Blues, at one of the best things to do in downtown Columbus. Learn about the life of this musical pioneer, influenced by the sound of the Chattahoochee Valley in her youth, who then took her show on the road and changed the world.
Born in Columbus in 1886, Ma Rainey began performing as a teenager in the area at the First African Baptist Church. She is said to have coined the term "blues" to describe the music she and her husband, William "Pa" Rainey, were singing. Throughout her career, she mentored and collaborated with many famous musicians of the area including Louis Armstrong, Bessie Smith, and Blind Blake.
Ma Rainey retired from touring in 1935 when she settled into a house located on Fifth Avenue in Columbus. She remained there for the rest of her life. Today, you can tour the restored house to get a glimpse into Ma Rainey's life as a musical innovator. The Ma Rainey House also features exhibits tracing the history of the blues sound through the region. If you're a music lover, the Ma Rainey House and Museum should be one of the top things to do in Columbus Georgia.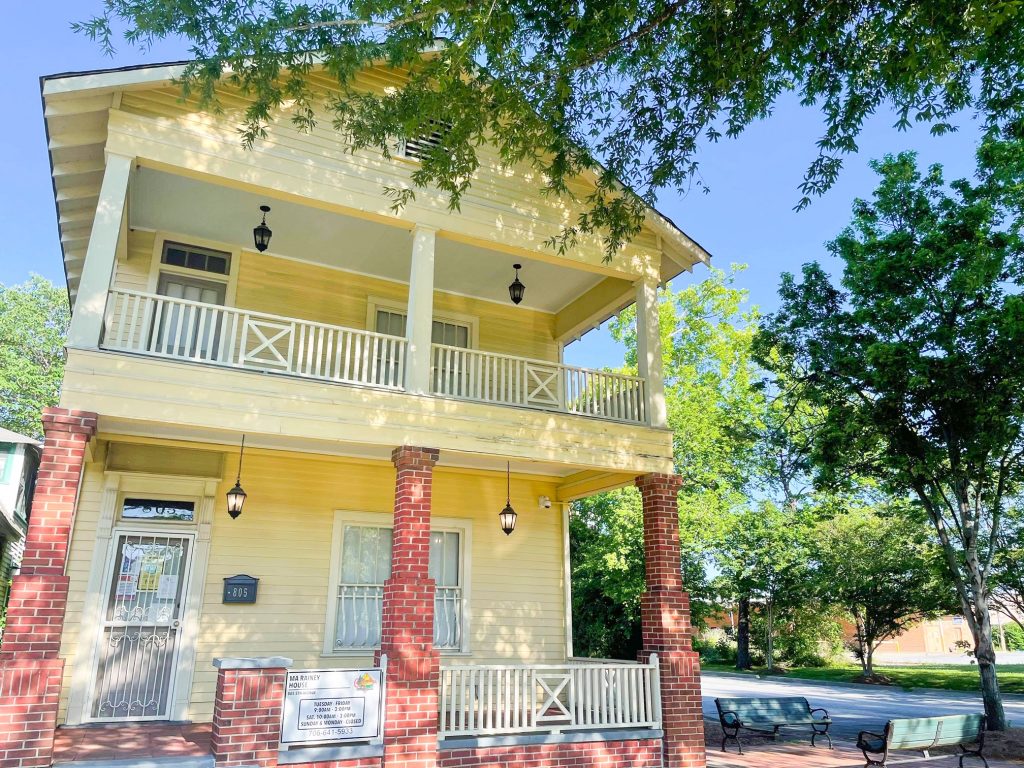 Historic Westville
Walk right into history at Historic Westville, located near Oxbow Meadows and the National Infantry Museum in Columbus. Historic Westville is a living history museum, recreating a local village in the 19th century, making this one of the most history-filled places in Columbus Georgia.
With seventeen historic buildings making up the property, guests can fully immerse themselves in what life was like in the Chattahoochee Valley in days gone by. Begin by learning about the native Lower Muskogee Creek peoples, and move into the heart of the village in which you'll discover trade-based shops, homes, and places of worship.
On a visit to Westville, you can expect to encounter village "residents" who can answer questions, and demonstrate skills and trades that were a part of everyday life during the 1800's, like blacksmithing, quilting, carpentry and more. There is no food on-site, but you can bring your own picnic to enjoy in Westville's Kaiser House.
Whitewater Express
If you're looking for adventure, look no further than Whitewater Express, one of the most fun things to do in Columbus Georgia. In 2012, Columbus became the go-to rafting destination when it opened the world's longest urban whitewater course on the Chattahoochee River.
Choose from a variety of courses depending on your experience and thrill-seeking level. There are beginner and advanced trips available, all with an experienced river guide taking you on the journey. Feel free to float leisurely down the river, enjoying the scenery, or battle the raging Chattahoochee River rapids, like Cutbait, one of the largest rapids on the east coast.
Whitewater Express also offers land-based experiences for those wishing to stay off the boat. Try the Blue Heron Adventure Park to zipline across the Chattahoochee and across state lines – zip right from Georgia into Alabama and back again. Bike rentals are also available to bike the length of the RiverWalk around Whitewater Express. This adventure of a lifetime is situated right in the heart of downtown Columbus, so after your epic journey you are steps away from great restaurants and bars to celebrate a day on the water!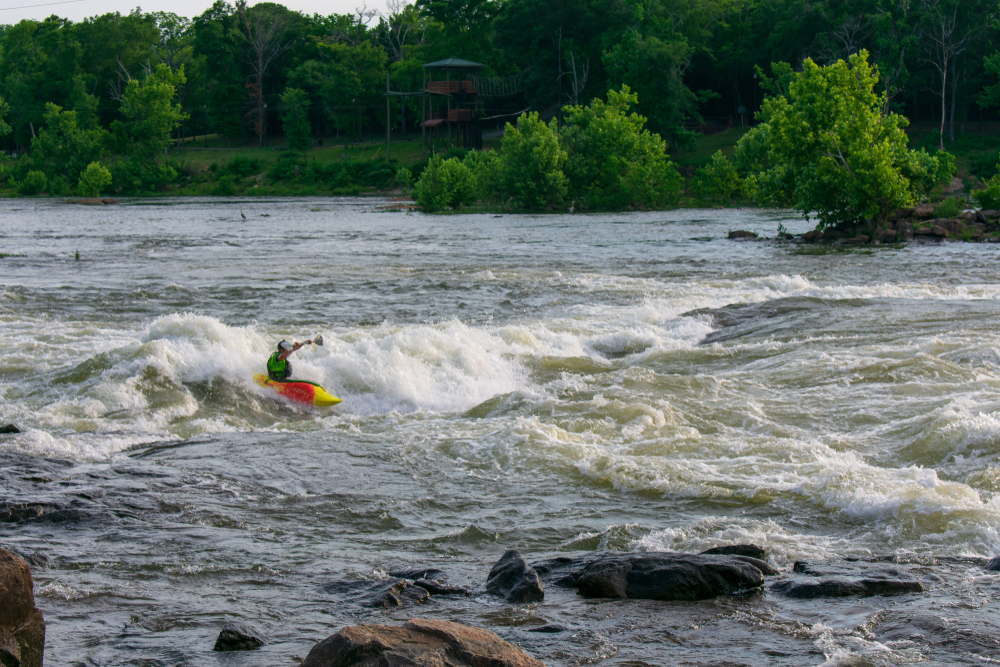 Pasaquan
One of the most unique sites in America, Pasaquan is a must-do for anyone who loves art. Located a short drive from downtown Columbus in Buena Vista, Georgia, Paraquan is the home of Eddie Owens Martin, otherwise known as St. EOM, and Pasaquan is his life's work, as he turned the entire homestead into a visual masterpiece.
St. EOM was a self-taught southern artist who hitch-hiked his way to New York City at fourteen to make a living as a fortune teller. After his mother passed away in 1957, he moved back home to the old farmhouse in Georgia and began restoring it into what would become Pasaquan. He fused African, pre-Columbian Mexico and Native American symbols and designs to create environmental artwork over a span of 30 years. The homestead includes mandala murals, 900 feet of painted masonry walls, and many different ritual structures.
Today, Pasaquan is listed on the National Registry of Historic Places, and visitors can delight at St. EOM's groundbreaking vision of an art environment. The site has recently been restored to its original beauty by Columbus State University, and is certainly one of the most eccentric things to do in Columbus.
Providence Canyon State Park
Affectionately dubbed Georgia's "Little Grand Canyon," Providence Canyon State Park is an excellent stop for a day outdoors in Columbus. The remarkable canyon landscape was actually caused by poor farming practices in the 1800's, but guests today can marvel at the wondrous site and enjoy a picnic with family down in the canyon.
Hike down into the canyon to choose from a variety of trails and things to see. This is a pretty easy hike for non-experienced hikers and little ones, but the trip back up can be steep. As you explore, check out the waterways, climb on the rocks, and squeeze through amazing rock formations. If you're looking for a little more adventure, plan to backpack along the trail and stay overnight in the backcountry trail. For more formal camping options, check out nearby Florence Marina State Park.
Columbus State University also hosts Astronomy and Geology events at Providence Canyon throughout the year, so make sure to check the schedule on your visit. To get the most out of Georgia's amazing natural landscape, Providence Canyon is one of the best places to go in Columbus.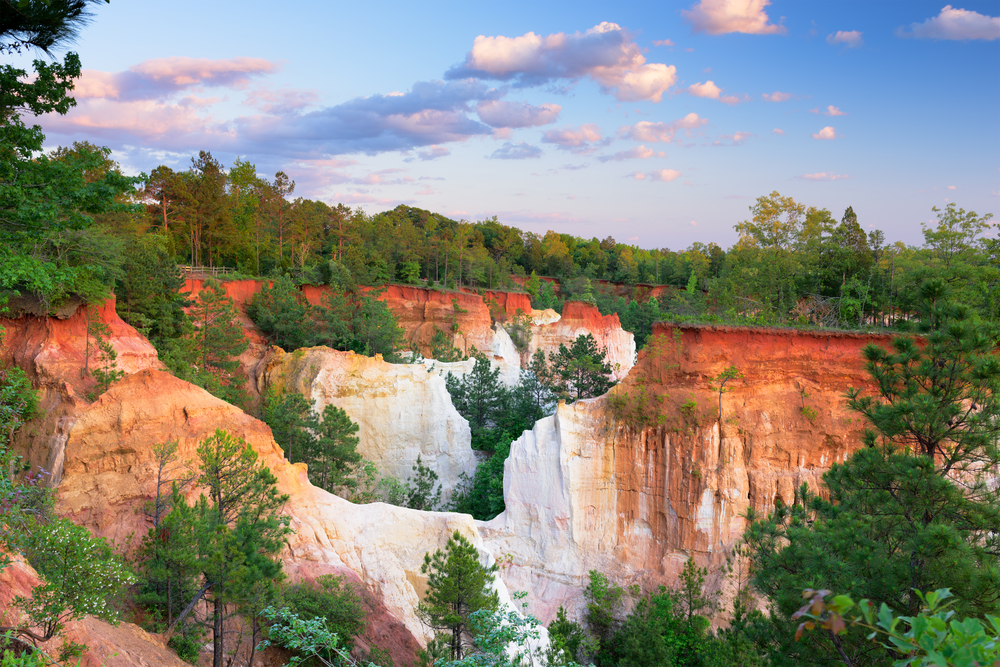 Museum of Wonder
With no shortage of unique art experiences in the area, the Museum of Wonder continues that tradition. Located a quick drive from downtown Columbus, across the Chattahoochee River, is Seale, Alabama – home to the Museum of Wonder. Started by local artist Butch Anthony in the 1970s, the Museum of Wonder is a drive-thru museum featuring art, artifacts, and strange creations, making this one of the most unique things to do in Columbus Georgia.
Called a modern day "cabinet of curiosities," the Museum of Wonder is completely drive-thru and open 24/7, so travelers can get a sneak peek into Butch's work and findings. He created the idea of a drive-thru museum as he became more well-known in the area, people would stop by his house to see everything he was making and collecting. To try and make some more time to work, he put all of his wonders on display for anyone to see at anytime they choose – and it is truly something special!
Still living and working in the area, Butch is a world-renowned folk artist, his work having been featured in museums across the U.S. and Europe. See it for yourself from the comfort of your car at the Museum of Wonder!
With so much to do and see, Columbus is an outstanding destination for those seeking a happy in between of country and city life – there are so many things to do in Columbus.
Enjoy the outdoors, explore the history, and become one of the locals in Columbus' vibrant downtown area. You can appreciate the arts, while also immersing yourself in the beauty of the Chattahoochee River. A trip to Columbus is sure to be one you won't forget!