There's no better time for you to book a couples getaway at one of the most romantic hotels in New Orleans than right now!
New Orleans is a the perfect place for any couples getaway. Between things to do in the French Quarter, Bourbon Street, and the sheer amount of culture in the area, there's no other place we'd want to spend some time with our significant other!
This list has the most romantic New Orleans hotels we could find for you to enjoy! Don't forget to check out some of the most Haunted Hotels in New Orleans!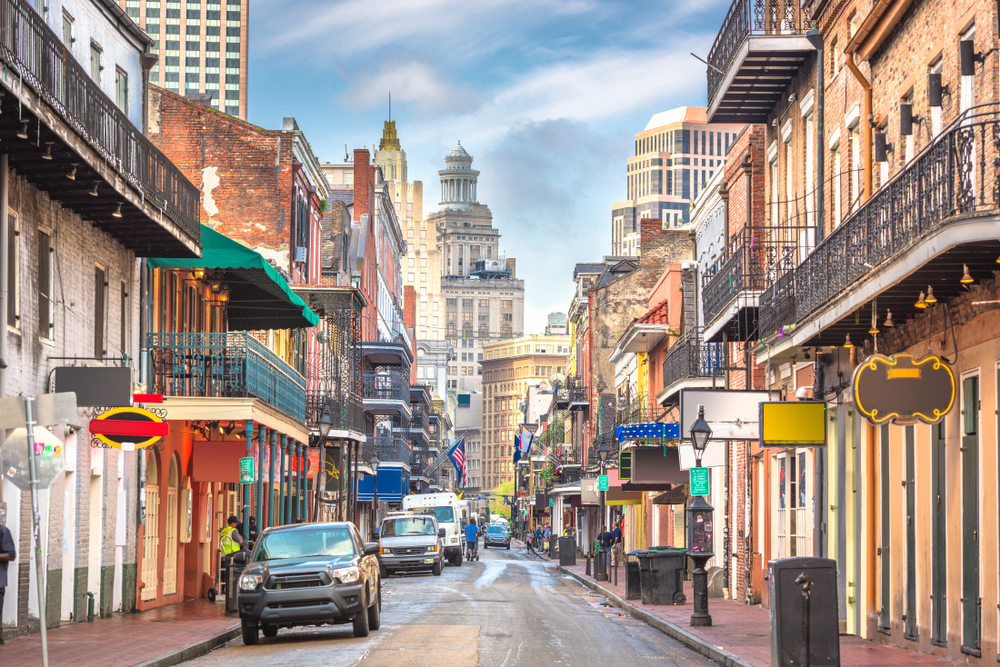 12 Most Romantic Hotels in New Orleans For Your Couples Getaway
The Roosevelt
The Roosevelt is not only one of the most romantic hotels in New Orleans, it is also one of the most luxurious!
This New Orleans hotel has been around for the last 125 years! The amount of history this hotel holds for its guests amount to many lifetimes. This is truly one of the Best Places To Stay In New Orleans!
The Roosevelt offers many room types for couples to select from during their stay. There are the typical Deluxe, Superior, or King suites, but for a romantic couples getaway, we think you'll love the Luxury, Astoria, or Waldorf suites
. Even better, if you're celebrating or just want to go the extra mile for your significant other, the Presidential Suite is the way to go! No matter which room you select, each has a gorgeous setup and gives you the historical beauty that you just can't get anywhere else!
This is one of our favorite places to stay for a New Orleans Weekend Getaway!
And we can't forget the spa! You and your love can enjoy the Couples' Therapy Suite in the spa, and then enjoy live music at the Fountain Lounge for dinner. But don't forget to make your way to the Rooftop Bar and a poolside cocktail!
The Roosevelt is the perfect place for your romantic adventure!
Check Out Rates Here: hotels.com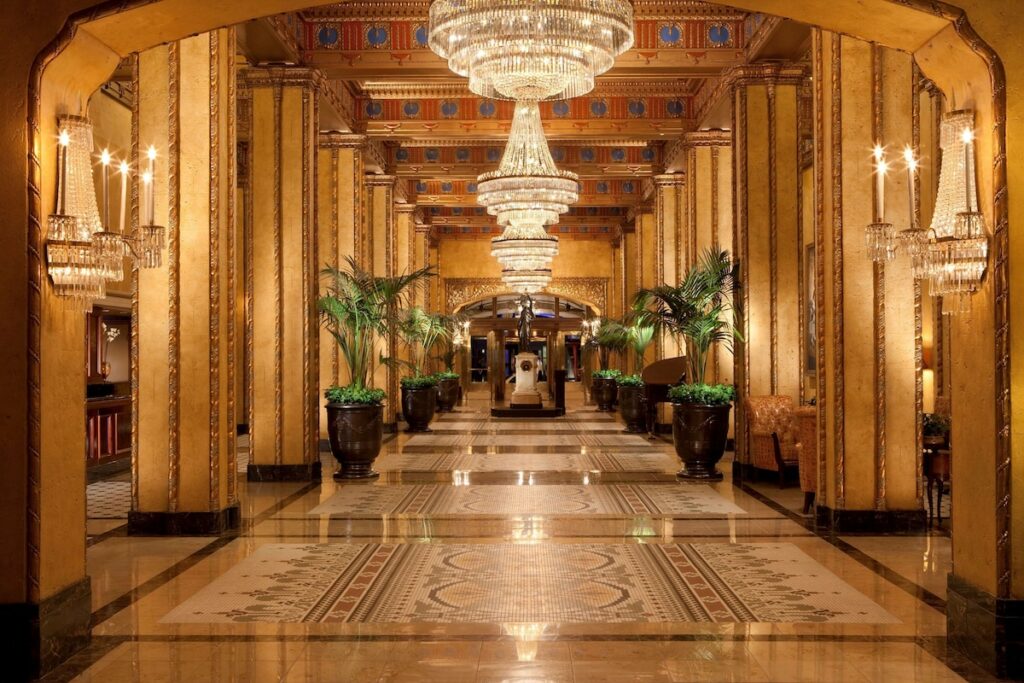 Royal Sonesta
The Royal Sonesta is another New Orleans hotel we know couples will love!
Located directly on the historic Bourbon Street, this hotel in New Orleans has iron balconies overlooking the hustle and bustle of the city life in the French Quarter. You and your love can enjoy the nighttime breeze while experiencing all the lights and beauty of the city happenings while enjoying a luxurious in-room meal!
Of course, there is nothing more elegant than the Desire Oyster Bar. Here, you can enjoy the raw bar and experience the most delicious oysters that make you feel fancy and sophisticated all at once! Then, you can head to the pool bar to enjoy a dip in the water with a drink in hand while you both relax and enjoy the night!
For a fancy experience, you'll want to head to The Jazz Playhouse for an experience that will put you right at the heart of the New Orleans music scene. You'll need tickets for this, so make sure you plan ahead!
This hotel in New Orleans will make you never want to leave! It is truly one of the cutest Boutique Hotels In New Orleans!
Check Out Rates Here: hotels.com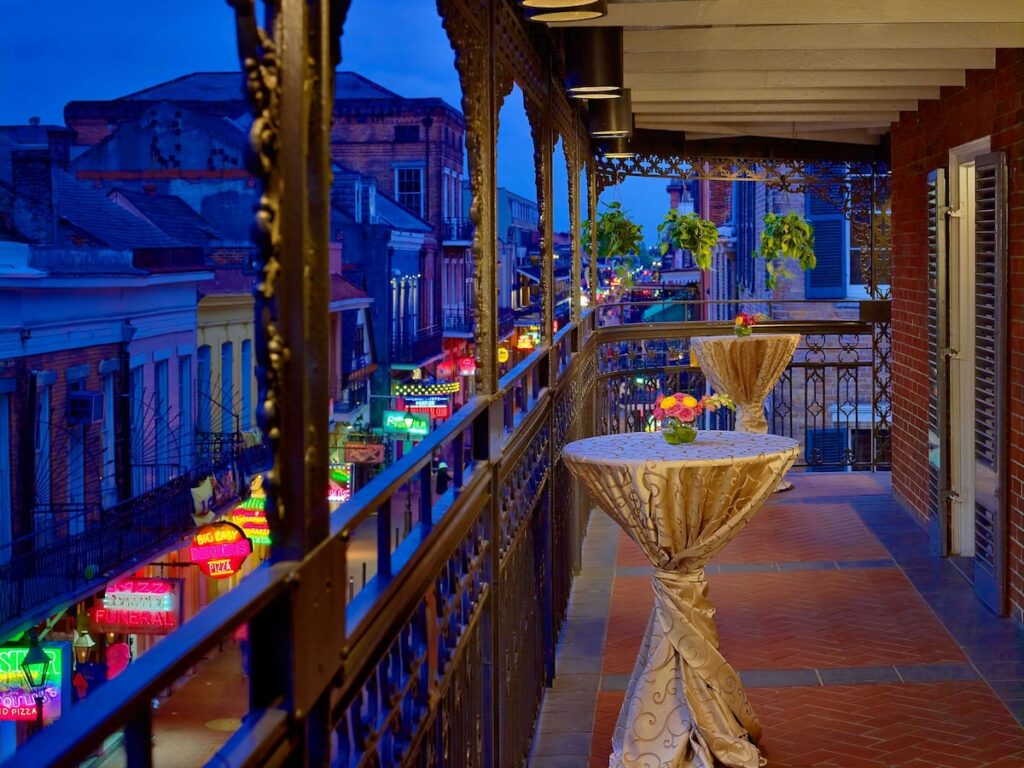 Maison Perrier New Orleans
The Maison Perrier New Orleans is one hotel in New Orleans you will want to come back to again and again!
This hotel is located in the Uptown/Garden District and has an elegant touch of Victorian charm keeping it alive for visitors! Built in 1892, this New Orleans hotel has seen the ins and outs of the world, while continuing to be an important centerpiece in New Orleans charm.
Here, the rooms are elegantly named after female beauties such as Charlotte, Pearl, or Clair just to name a few. You and your significant other may want to spend time outside of the room once you have seen the beautiful outside courtyard this hotel includes!
Lucky for you, this hotel offers an Uptown Romance Package that includes an entire list for couples to enjoy during their stay with exciting experiences like a private carriage tour of the French Quarter.
This hotel is the perfect place for you and your love to slip away and enjoy time together!
Check Out Rates Here: booking.com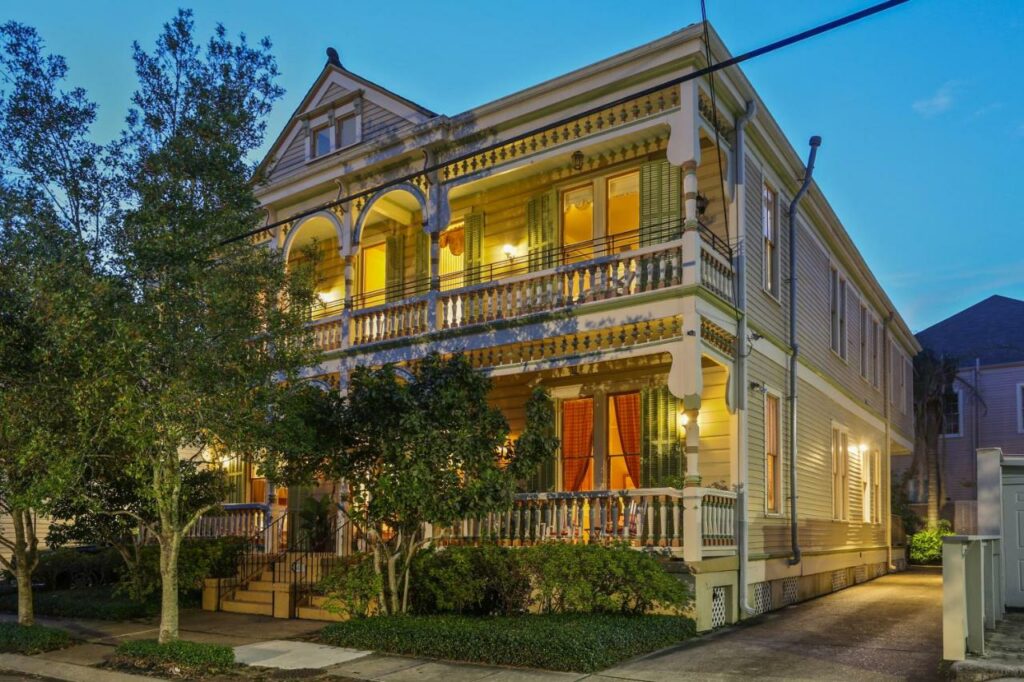 Hotel Peter and Paul
Hotel Peter and Paul is made up of a historic Church, School House, Rectory, and Convent. Each renovated section flipped into a new unique hotel experience!
These buildings have a beautiful influence of Europe, primarily Spain, Italy, and France. Here, every room is unique, you'll never see a room that looks identical to another! Some select rooms even have claw-foot bathtubs for your most extravagant bath experience!
There's so much to do at this hotel, you may not ever want to leave! You can enjoy your morning coffee at the Cafe, or enjoy your lunch in the yellow-painted sunroom. You can wander into the brick-lined courtyard for a romantic lunch outside, or even check out the bamboo-filled bar for a drink.
Most exciting is Sundae Best, the ice cream shop. You and your significant other can enjoy a sweet treat and taste their homemade ice creams, and handmade flavors!
We know that once you see this hotel in New Orleans, you will make it a yearly trip!
Check Out Rates Here: hotels.com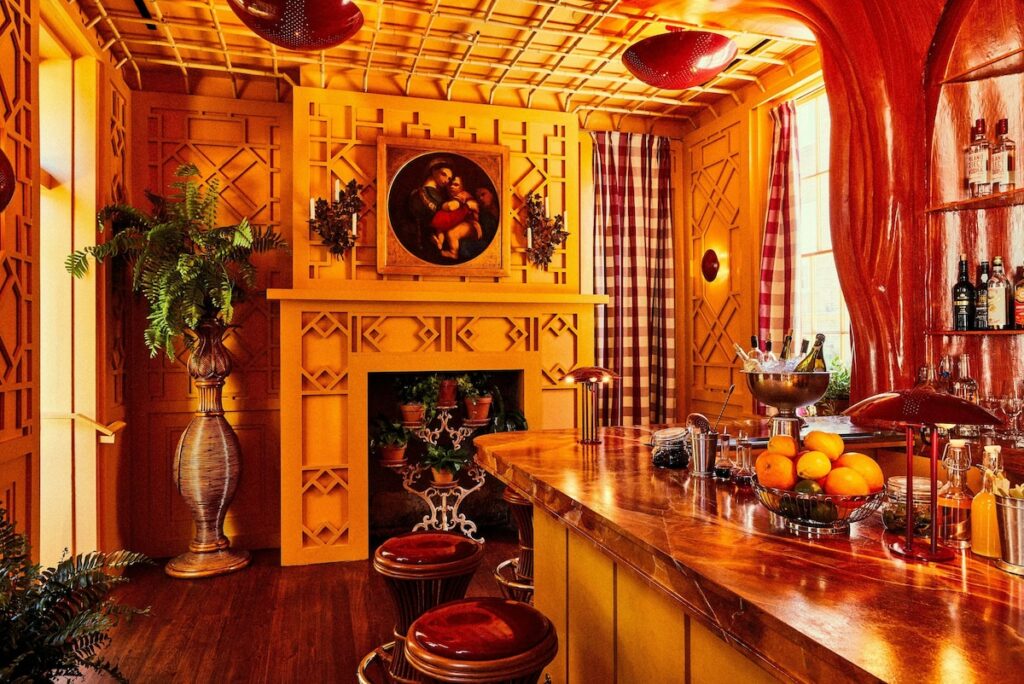 Maison de la Luz
The Maison de la Luz is one of the most extravagant hotels in New Orleans!
From the elegant staircase the moment you walk into the building, to the grand windows that open the views from all around the area, you won't be able to hold in your excitement as you begin your romantic adventure!
You can select between the One Bedroom Suite, the King Bedroom, or the Junior Deluxe Studio Suite. There are also smaller and larger options, but these are the most intimate for you and your loved one!
Other than the upscale decor, you can talk a short walk to what the Maison de la Luz considers their neighbors, Bar Marilou or the Three Keys!
Bar Marilou is the perfect place to grab a cocktail to either start or end the night, while at the Three Keys, you can check out live music and get a taste of New Orleans musical culture!
Now if the timing is just right, Maison de la Luz holds the most elegant weddings! We know after visiting this New Orleans hotel, you may want to come back for an important celebration!
Check Out Rates Here: booking.com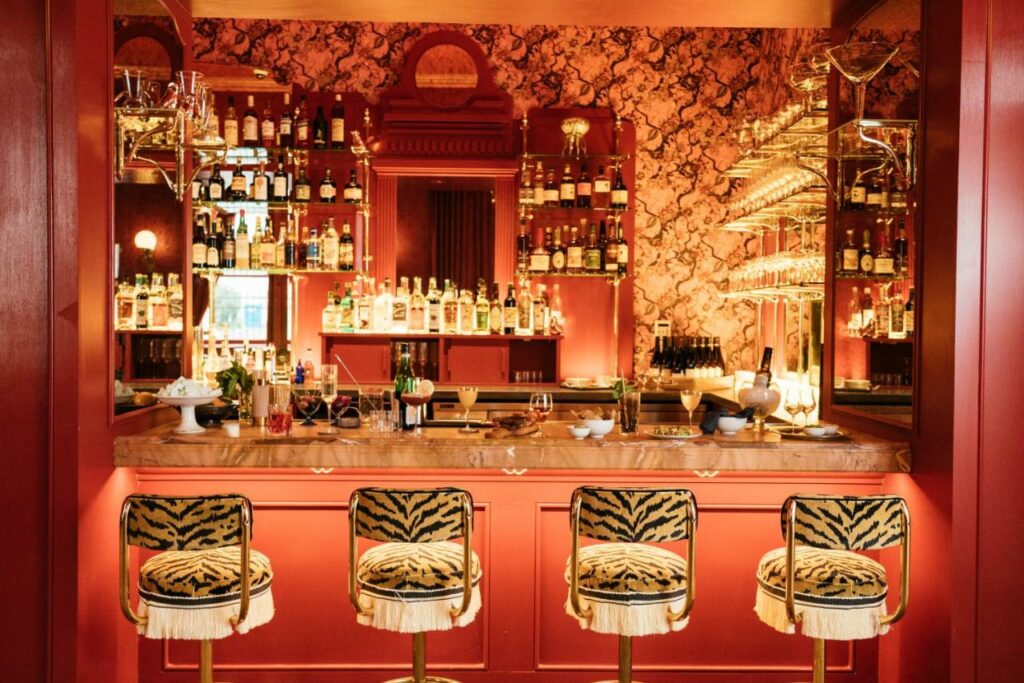 Ritz Carlton
The Ritz Carlton is an exciting experience anywhere you go, but it doesn't get any better than New Orleans!
Located on Canal Street in the historic French Quarter, this Ritz Carlton is in the 1908 Beaux Arts building. Your romantic getaway immediately starts with the beautiful, locally inspired decor with a flair of southern charm!
You can rest in the Italian marble baths, or experience the city's largest spa and discover their spa voodoo ritual. There is no better place for a couple to spend time together than being pampered in the largest spa they can find!
If you and your love are feeling up for a challenge, you can learn to play the trumpet with Jeremy Davenport during your stay if you can pull yourself away from the 24-hour room service.
The Ritz Carlton in New Orleans is a luxury experience you'll never forget!
Check Out Rates Here: hotels.com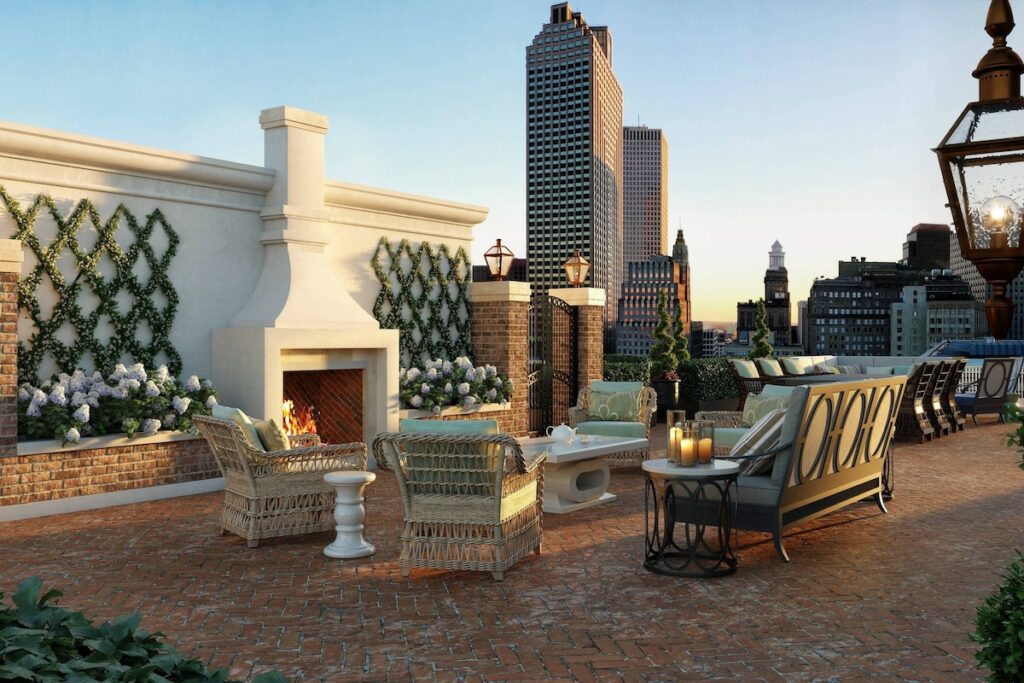 The Saint Hotel
This hotel in New Orleans is located in the French Quarter within walking distance from Bourbon Street!
At The Saint Hotel, you'll find unique decor that you simply won't find anywhere like it! The luxurious suites, the one-of-a-kind hotel views. It's a trip worth making more than once!
This hotel also has an indoor pool, a hot tub, and a spa. You'll find plenty of places to take a relaxing moment for you and the one you love!
Once you're ready to enjoy a drink, you have to try the hotel's very own Burgundy Bar! This bar has fiery signature cocktails and spirits that you'll want to know how to make after you leave.
Between the decor, the spa, and the overall experience of luxury you'll have here, we know you will enjoy every second of your visit!
Check Out Rates Here: hotels.com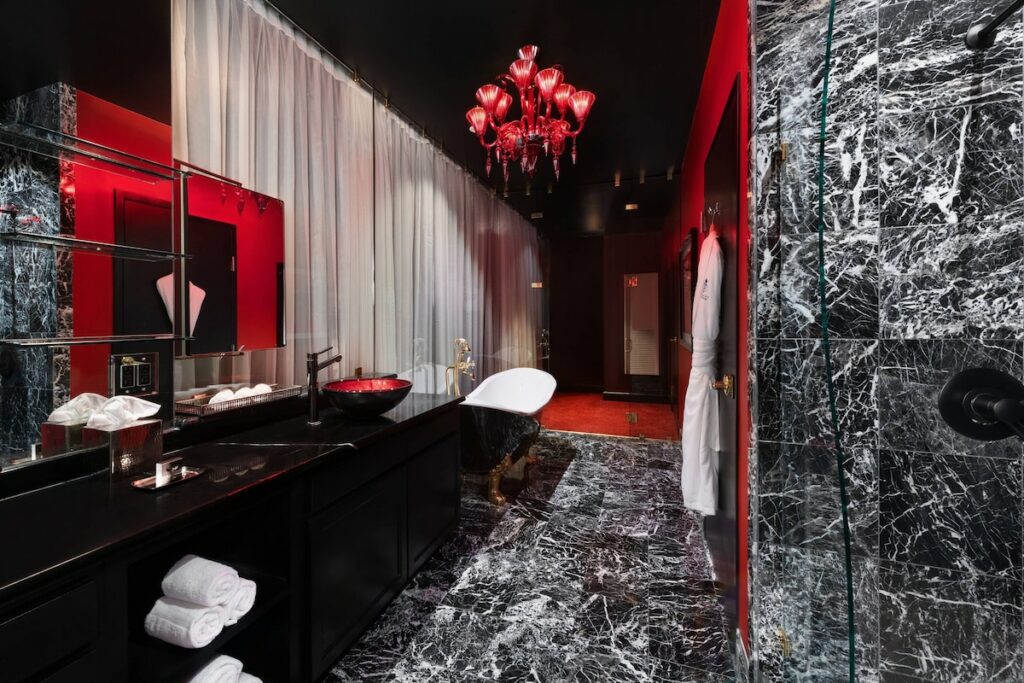 Voco St. James Hotel
This is one of the hotels in New Orleans you will remember forever!
The Voco St. James is located in the Business District of New Orleans, within a short walk to historic Canal Street. Other than the location, the hotel itself is reason to be excited!
This hotel has a beautiful terrace. If you remember anything about this hotel it is how romantic the terrace was and how relaxing you feel just lounging with your loved one. The voco St. James also has a beautiful garden and poolside courtyard!
But the really romantic feel comes from the interior decor. The bathrooms are covered in marble, the bed frames have exquisite woodwork, and the hallways are lined with exposed brick. If there's one thing that makes our hearts flutter its luxury design, which is one thing you'll experience here!
Be sure to make the quick walk to Cafe du Monde for a New Orleans must during your couple's getaway!
Check Out Rates Here: hotels.com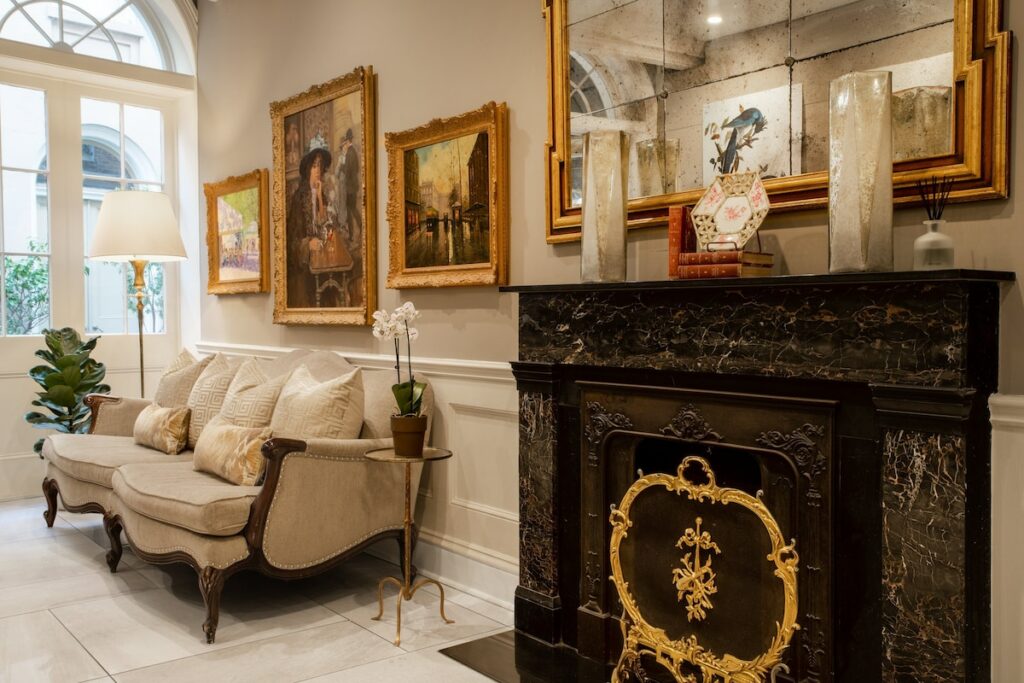 Windsor Court Hotel
The Windsor Court Hotel is one of the most beautiful and luxurious hotels in New Orleans!
This hotel offers beautiful views of the Mississippi River or the bright city skyline. But of course, there's nothing more romantic than a couples spa! This hotel's spa treatment is in such demand that you have to plan in advance if you want to experience the spa while you're here!
One of the coolest parts of this hotel are the views from the rooftop pool. Imagine taking the time just to stop and enjoy your love while lounging in the pool at sunset! It doesn't get much better than that if you ask us!
But what's really interesting about the Windsor Court Hotel is the extraordinary art collection on the hotel's wall. These museum-quality works are valued at roughly $10 million! It's the joy of taking a stroll through a museum with your partner without having to venture out of the hotel's walls.
Of course, you'll need to check out the hotel's bar where they feature live jazz music and give you a taste of New Orleans flare!
Check Out Rates Here: booking.com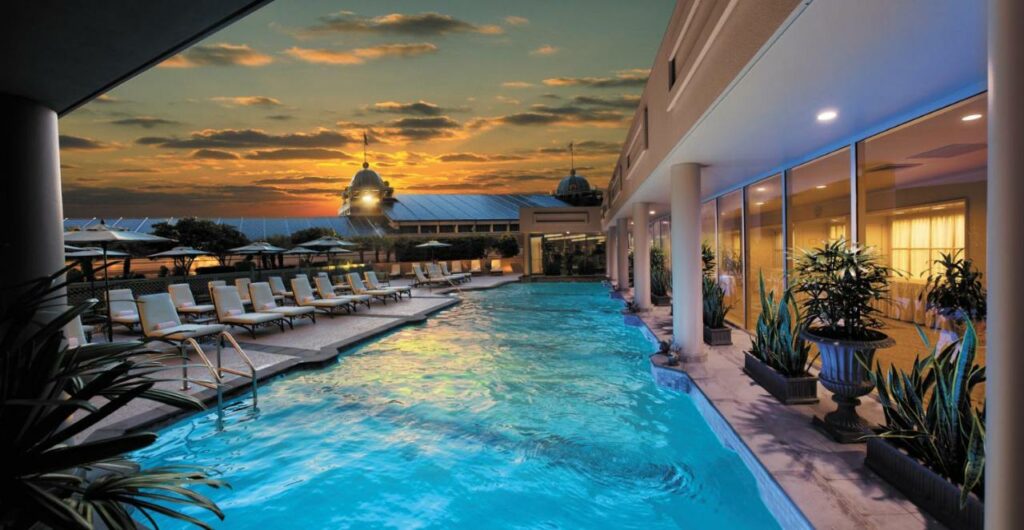 International House Hotel
The International House Hotel is one of the hotels in New Orleans that showcases the historic architecture and culture of New Orleans. Some even say that this hotel is so perfect, it could be the destination in itself!
The decor of this hotel could be described as romantic, sensual, decor to uplift and bring people together! What better place to enjoy a couples getaway?
One of the rooms we think you'll love is the Muse Penthouse! Equipped with a beautiful view, and a large relaxing bathroom, this room also comes ready with a baby grand piano. It does not get much more romantic than that, especially if one of you is a pianist! The balcony to this room is the best place to enjoy a glass of wine and watch the sunset, or brew some coffee and watch the sunrise in the morning!
Of course, it wouldn't be a proper couples getaway without a couples massage and spa treatment! The spa at this luxurious hotel is incredible, and guests keep coming back for more.
One of the most talked about bars in New Orleans, Loa, is located within the walls of this hotel! This bar specializes in innovative cocktails to showcase the culture of Voodoo spirit in New Orleans!
Make sure you put this hotel at the top of your priority list when planning your getaway!
Check Out Rates Here: booking.com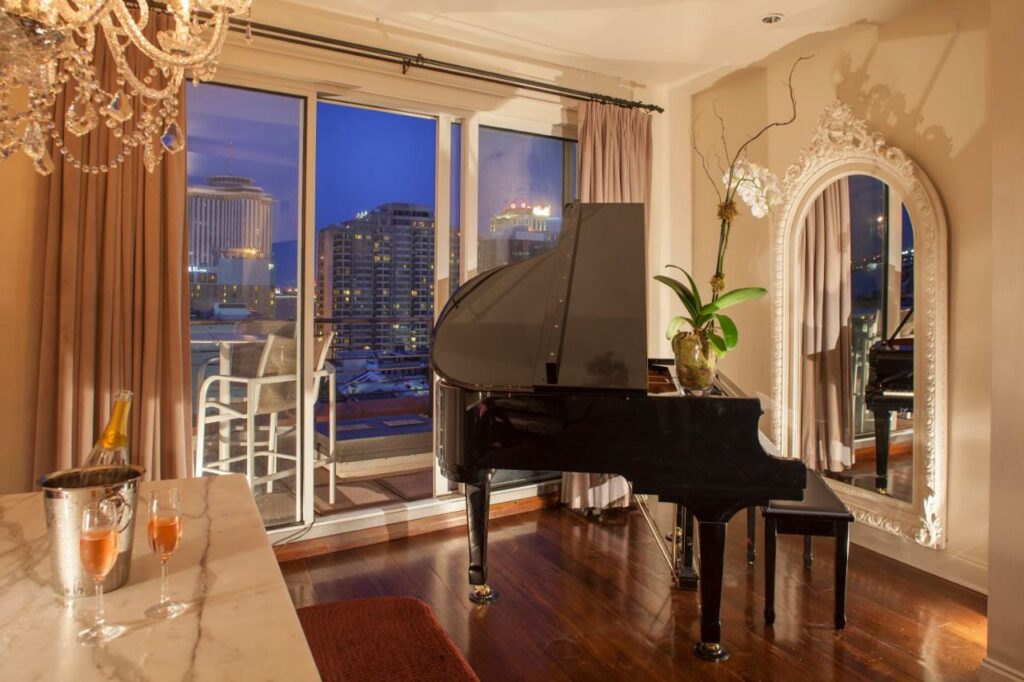 NOPSI Hotel
This New Orleans hotel was built during the Roaring Twenties, at the height of Jazz and Jazz influence.
NOPSI Hotel is so historic that it's listed on the National Registry of Historic Places and is easily one of the most popular hotels in the Business District in downtown New Orleans!
One of the biggest draws to this hotel is the rooftop deck and pool. This pool has a great view of the city and is the perfect spot to relax with your love at any time of day. Here, you can experience live music and enjoy a dip in the pool at the same time! During their Saturday Sessions, they have live Jazz that is especially popular!
If you want to take a dip into history, you need to check out Henry's Gin Bar in the hotel. It will blast you back to the 1800s with its signature drinks and specials! Stop by here before a night on the town or for a nightcap before heading up to the pool for a sunset dip!
This is one of the hotels in New Orleans you will regret if you don't experience it!
Check Out Rates Here: hotels.com
Omni Royal Orleans Hotel
This is one of the most amazing hotels in New Orleans, luxurious enough to make you feel like a royal!
Omni Royal Orleans Hotel is known for the elegant weddings they put on for their special guests! While your getaway might not include a wedding at the moment, after your couples getaway, it might in the future!
You'll want to book the Luxury Suite for your couple's getaway. From one of the luxury suites, you'll be able to experience the iron-wrapped balconies, the Penthouse has quick access to the rooftop deck and observation deck, and you'll get to experience the most beautiful decor this hotel has to offer!
For a relaxing drink, head to the La Riviera Bar. This hotel bar is located on the rooftop and is popular among the guests that come here! The best way to enjoy a couples getaway is to have a cold signature cocktail in hand and remember that for the moment it's just you and your partner for the getaway!
This is one of the most luxurious hotels you won't want to miss out on!
Check Out Rates Here: hotels.com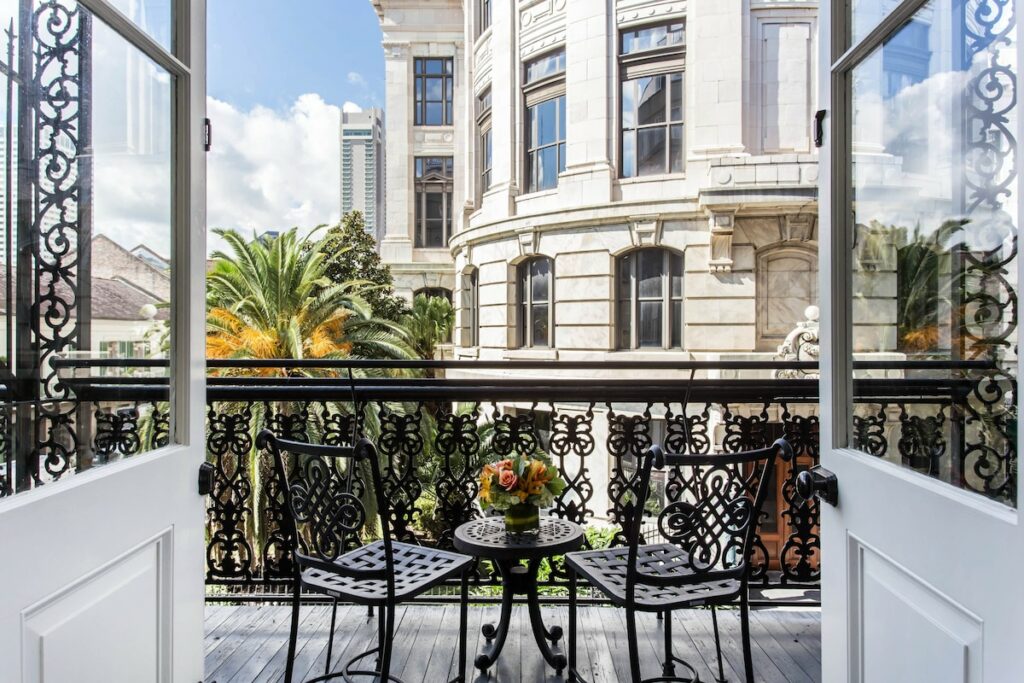 No matter what time of year, every couple needs a getaway eventually! The best place to have a getaway is in New Orleans, a place with a lot of history and culture, and full of romance.
We know this list will help you plan the most romantic couples' getaway!