If you are looking for some of the best things to do in Asheville, North Carolina, then this list is for you! Asheville is one of the coolest cities in America and is located along the Blue Ridge Parkway. Since it is in the Blue Ridge Mountains, there is an eclectic mix of attractions in Asheville.
Planning your trip to Asheville last minute?
Make sure to book your hotels and tours in Asheville in advance to ensure availability! The longer your wait, the more difficult it gets. ESPECIALLY during Fall Foliage! Here are our top picks for Asheville:
Top Places To Stay In Asheville:
Top Experiences And Tours In Asheville:
Asheville is one of the cutest small towns in the South for many reasons. The town itself has a vibrant arts scene, especially in the downtown district. It is also where you can find the Biltmore Estate, which is a historic house museum that has acres of property, a massive mansion, and its own shopping district. If neither of those things interests you, Asheville is perfectly situated for exploring the great outdoors.
On this list of what to do in Asheville, we've made sure to include a little something for everyone. There are also a few hidden gems you might not find on other lists of Asheville attractions.
No matter what you are interested in, you'll find plenty to explore on this list of best things to do in Asheville that you won't want to miss.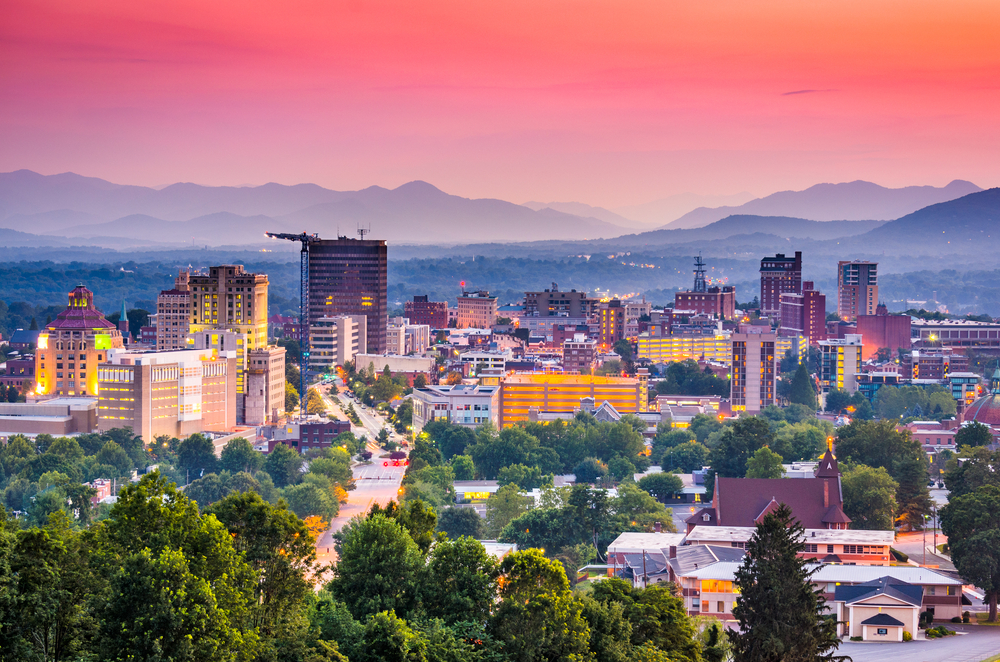 25 Best Things To Do In Asheville, NC (And Nearby!) You Must Do
Stroll the North Carolina Arboretum
One of the best things to do in Asheville is the North Carolina Arboretum. It is over 430 acres of trails, gardens, and more nestled in the Blue Ridge Mountains. You can find it in the Bent Creek Experimental Forest which is part of the Pisgah National Forest. If you are driving on the Blue Ridge Parkway, it's across from Milepost 393.
The Arboretum has 65 acres specifically set aside that are nothing but cultivated gardens. The garden has both native and exotic plant species. Usually, from April to October there is something in bloom at the Arboretum. It is also known for having one of the most extensive bonsai collections in the United States. Throughout the garden, you'll also find sculptures and the sculptural exhibit changes throughout the year.
Hikers looking for a place with fairly easy hiking and biking trails will love the Arboretum. There are over 10 miles of manicured and well-kept trails for you to explore. The hiking trails range in difficulty from easy to difficult and cross through Pisgah National Forest, Lake Powhatan, and the Blue Ridge Parkway.
If you're looking for free things to do in Asheville that let you explore the outdoors, the North Carolina Arboretum is worth a stop.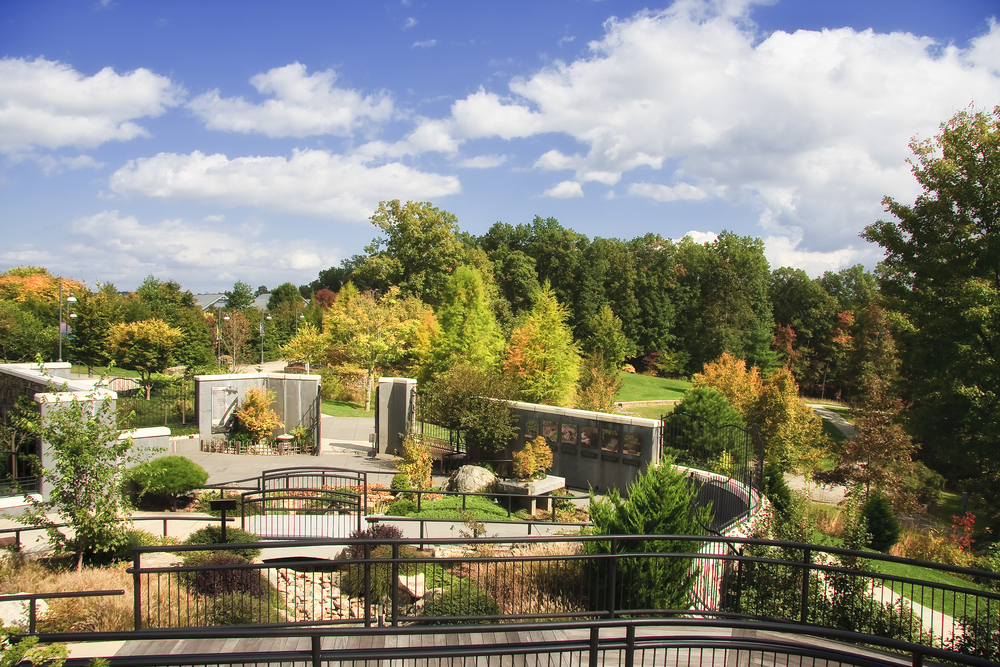 Be Awed by the Biltmore Estate
One of the most popular Asheville attractions is the Biltmore Estate. It's also one of the best things to do in North Carolina. Built over a span of six years and opened to the family in 1895, the Biltmore Estate has been the shining jewel of Asheville, and maybe even the Blue Ridge Mountains, ever since.
The French chateau-style mansion has over 250 rooms including bedrooms, a conservatory, a bowling alley, an indoor pool, and even a 'Halloween Room.' The house has been open to the public for tours since the 1930s and is one of the most suggested best things to do in Asheville by locals and visitors alike.
On the estate, there are also miles of gardens, a greenhouse, woodlands with trails running throughout, a replica European-style village, restaurants, and a winery. The Biltmore can be kind of expensive to tour, but it is well worth it. It is the only house of its kind in the United States and is full of beauty and history. You can easily spend the whole day exploring.
Don't forget to check out our list of the best boutique hotels in Asheville!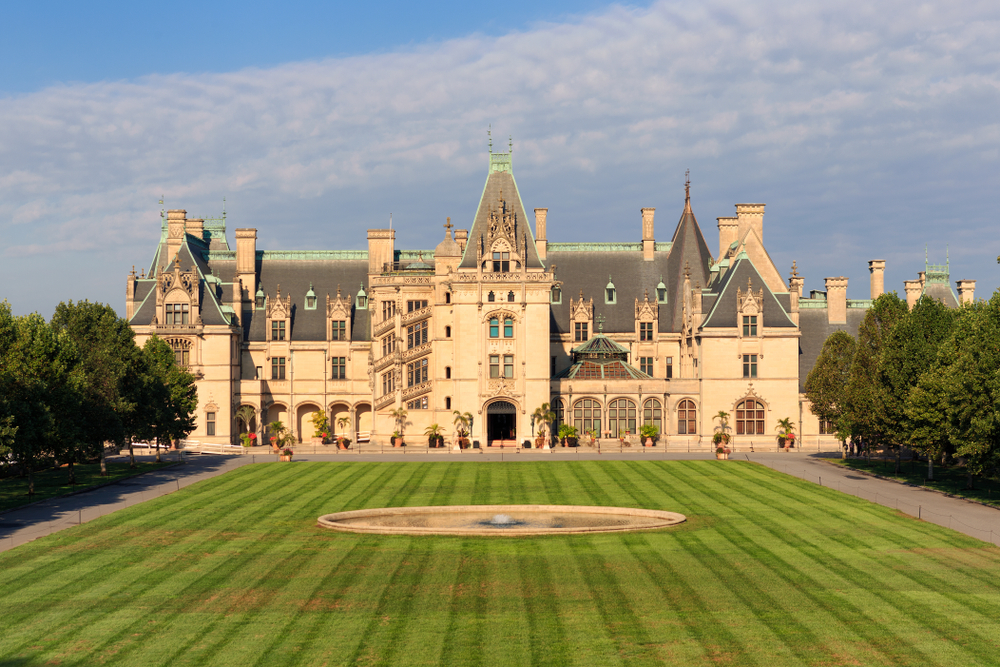 Admire Some Street Art
Asheville is known for many things. One of those is its art scene. That art scene is so vibrant and healthy that it is overflowing onto the streets of Asheville. As you walk through the city you'll find larger-than-life murals on many of the buildings. Asheville boasts more than 15 murals of all shapes and sizes.
You can find a large portrait of Dolly Parton, Sloth from The Goonies, or a giant sneaking fox. There are also murals with a spiritual or political message. Some are collages of different images or quotes and others are made for photo ops.
Walking around and trying to spot the various murals is one of the fun free things to do in Asheville.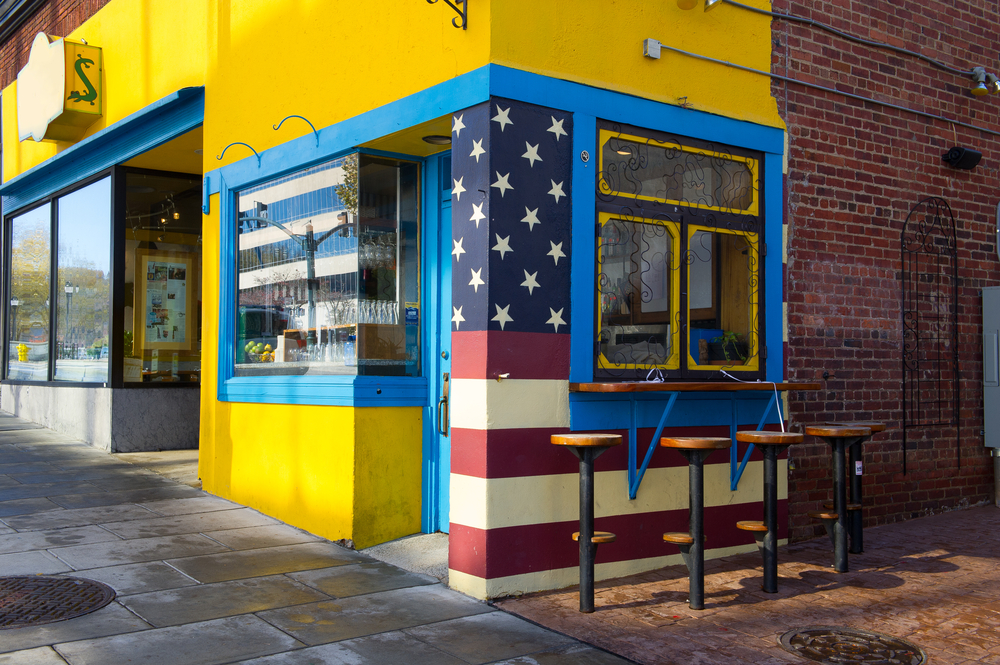 Hike in the Pisgah National Forest
Pisgah National Forest surrounds most of the area of the Blue Ridge Mountains around Asheville. Over 100,000 acres of it were once owned by the Biltmore Estate, but over time more and more have been sold back to the United States government. The National Forest is now over 500,000 acres of dense hardwood forest, waterfalls, rivers, and mountain peaks. Go hiking, biking, pack a picnic, or just drive through the park to see some stunning views.
In Pisgah, you'll find several different environments, and parts of the forest are even considered temperate rainforests. It is also known to have some of the best hiking trails in Southwestern North Carolina. They range from easy to difficult and you can see breathtaking waterfalls or climb the highest peaks in the East.
You can also enjoy Pisgah by taking a scenic drive along the Blue Ridge Parkway. During the fall, Pisgah National Forest is one of the best places to experience fall foliage in North Carolina.
Book Here: Pisgah Forest: Forest Bathing & Nature Therapy Walking Tour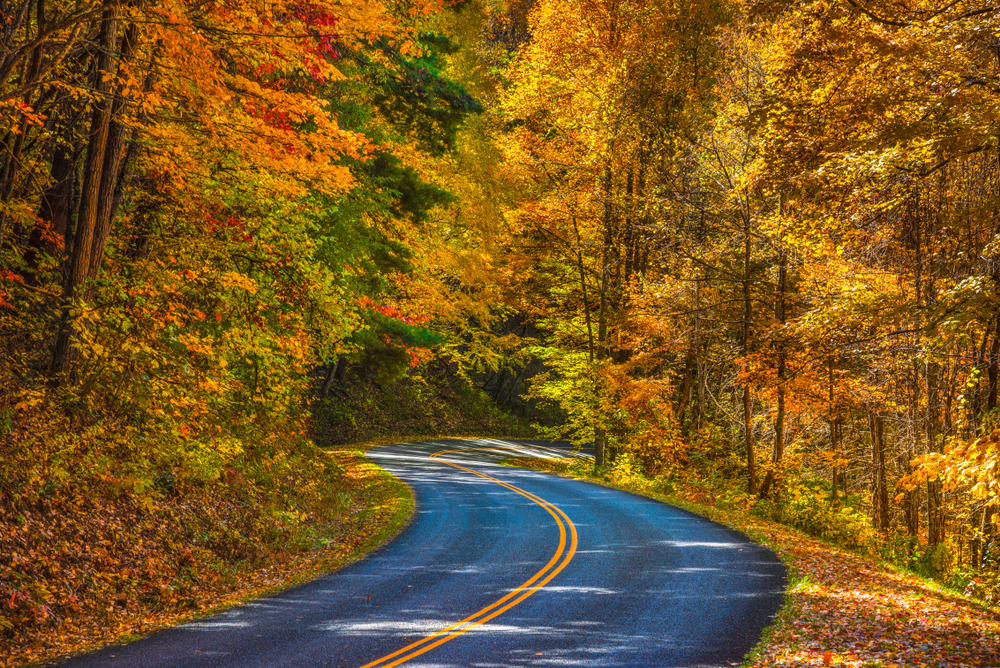 Take a Day Trip To Waterfalls
Depending on how long you'd like to drive, you can see some truly gorgeous waterfalls near Asheville. Whether you only have time for a 30-minute drive or can drive over an hour away, you're sure to find a waterfall you want to explore. There are dozens of beautiful waterfalls near Asheville just waiting for you to explore.
Many of the waterfalls require some sort of hike. So when you're planning your day, make sure you research how difficult the hike is. You can also take a whole day and stop at several different waterfalls along the Blue Ridge Parkway. If you do that, we suggest packing a picnic lunch, it may not be easy to find a place to eat near some of them.
When you plan your day trip, keep in mind that while most of the falls are free to hike to, some do have a fee to enter the parking area. However, you should be able to see most of these waterfalls without paying an entrance fee. Depending on what time of year you are visiting they can also get pretty crowded – especially during 'Peak Week' when the fall colors are most vibrant.
Make sure to check out our list of the Best North Carolina Mountain Towns you must visit!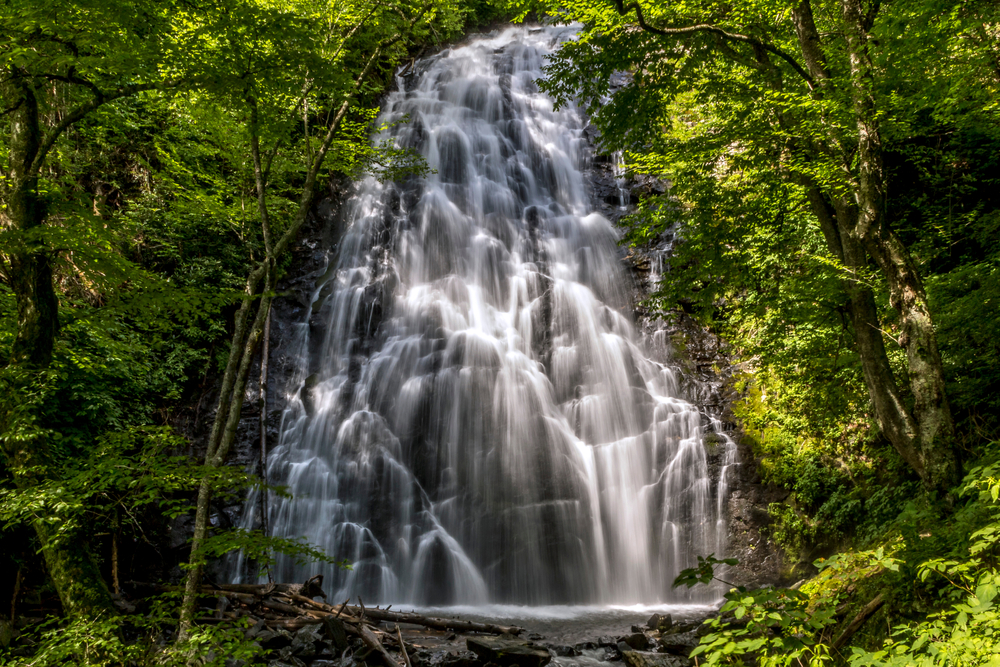 Drive The Blue Ridge Parkway
If you are visiting Asheville you absolutely need to drive the Blue Ridge Parkway. The Blue Ridge Parkway runs from Virginia to just south of Asheville along the spine of the Blue Ridge Mountains. The Blue Ridge Mountains are part of the larger Appalachian Mountain range that runs from Canada and down into Northern Alabama.
There are a ton of great stops along the parkway near Asheville. You can also travel farther north up the parkway and make a day trip out of it. Highlights along the parkway include Grandfather Mountain, the Linn Cove Viaduct, and the small towns of Blowing Rock and Boone.
You can find plenty of places to go near Asheville along your Blue Ridge Parkway drive including hiking trails, parks, and overlooks.
Book Here: Asheville: Yoga on a Mountain Hike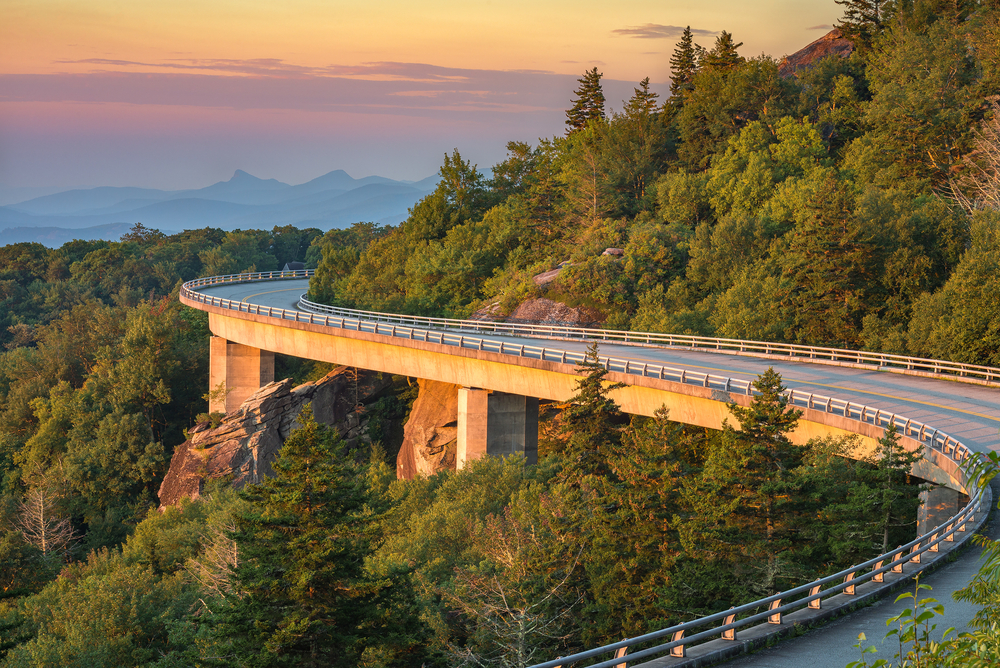 Explore the River Arts District
What was once the industrial district of Asheville is now the River Arts District. The River Arts District, or the RAD, has taken over the abandoned warehouses and mills along the French Broad River. It is also the part of Asheville where you're more likely to find one of the many murals.
In the River Arts District, you'll find art studios and art galleries. The art studios include crafts like pottery, painting, and glassblowing. Because it is a vibrant part of the city, there are also plenty of unique places to eat and shop. Some of the best restaurants in Asheville can be found in the River Arts District. You'll also find music venues, breweries, and boutique shops. It is one of the best things to do in downtown Asheville.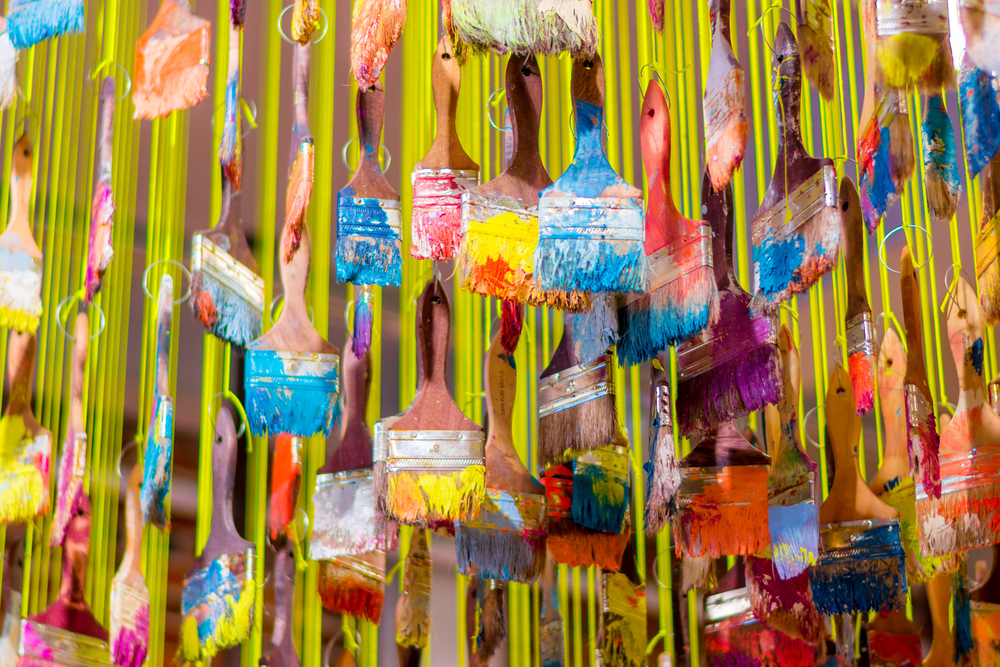 Soak Up Culture at the Asheville Art Museum
After admiring all the art from local artists in the River Arts District, you may want to see some more. If that's the case, head to the Asheville Art Museum. Inside you'll find a collection of American artwork from the 20th and 21st centuries. This includes artists from art movements like Cubism, Pop Art, and Post-Modernism.
Most of the collection is works from local artists, in particular artists that went to the local art school. Black Mountain College was open from 1933 to 1957 and was a major art institute in the area. The works in the Asheville Art Museum are often pieces by students and instructors from Black Mountain College.
In the collection, you'll also find over 250 sculptures and installations that feature Cherokee arts and Outsider arts. The museum is working on adding more Cherokee and Native artists to its collection but currently features over 60 Cherokee artists. The Asheville Art Museum is a wonderful representation of art in the Southern Appalachian region that continues to strive for better representation in the art scene.
This is one of the best activities in Asheville for art lovers!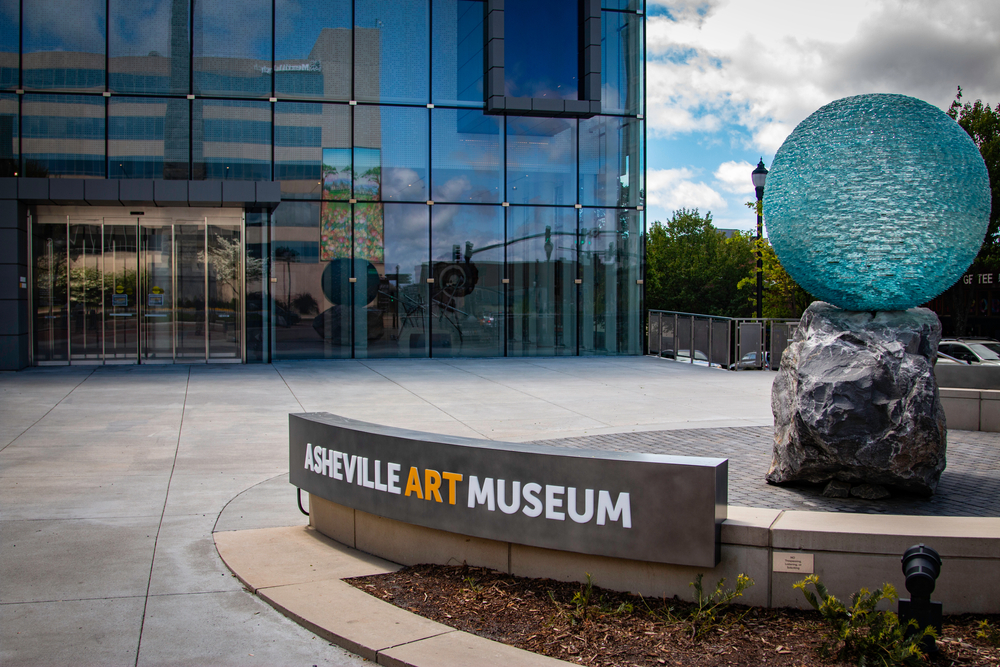 Visit the Carl Sandburg Home National Historic Site
The Carl Sandburg Home National Historic Site isn't actually in Asheville. It's about a 40-minute drive outside of Asheville, so it's a great option for a day trip when you need a break from the city. The home is located in Sandburg's final hometown, the small village of Flat Rock. Carl Sandburg was a Pulitzer Prize-winning author and poet.
The home's formal name is Connemara and the National Historic Site preserves the home as it would have originally looked when Sandburg lived there. Established in 1968, it was the first National Historic Site to honor the life of an American poet.
Sandburg was an important literary voice during the Civil Rights Movement, and he was an early writer on what was happening in Chicago that led to the infamous Chicago Race Riots. It is a charming home dedicated to the life and memory of an important American author who fought for Civil Rights for decades.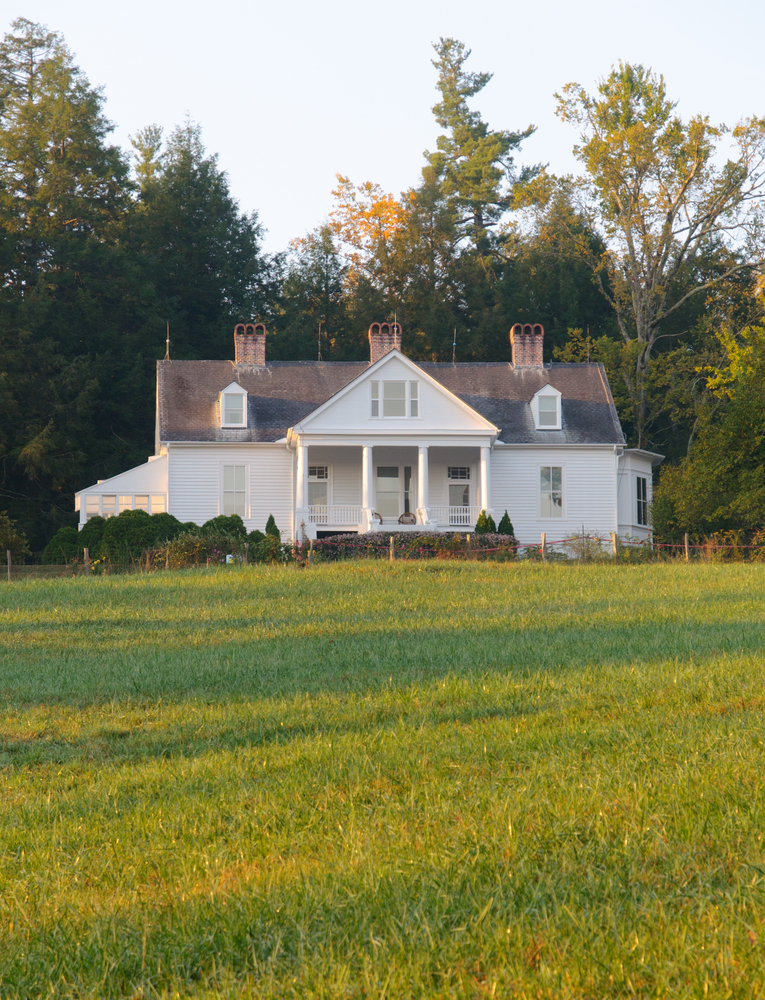 Dine at Downtown Asheville Restaurants
Asheville is quickly becoming known as a hot destination for foodies. With its lively art scene and abundance of breweries, it's no surprise that Asheville has embraced the culinary arts wholeheartedly. Most of the restaurants are now centered in the city's downtown district.
One of the things that makes downtown Asheville restaurants so unique is that almost all of them are focused on the farm-to-table movement. This means instead of sourcing their food from large distributors, they ethically source their food from local farms. Often farm-to-table foods are hormone-free and organic, but that isn't always the case.
Whether you are looking for Italian pasta, spicy Thai dishes, or unique fusion restaurants, there is a restaurant in Asheville's downtown for you to enjoy. You won't find just places for dinner. There are also great restaurants known for their breakfast menu and bakeries, ice cream shops, and chocolatiers.
Book Here: Asheville: Scenic Helicopter Experience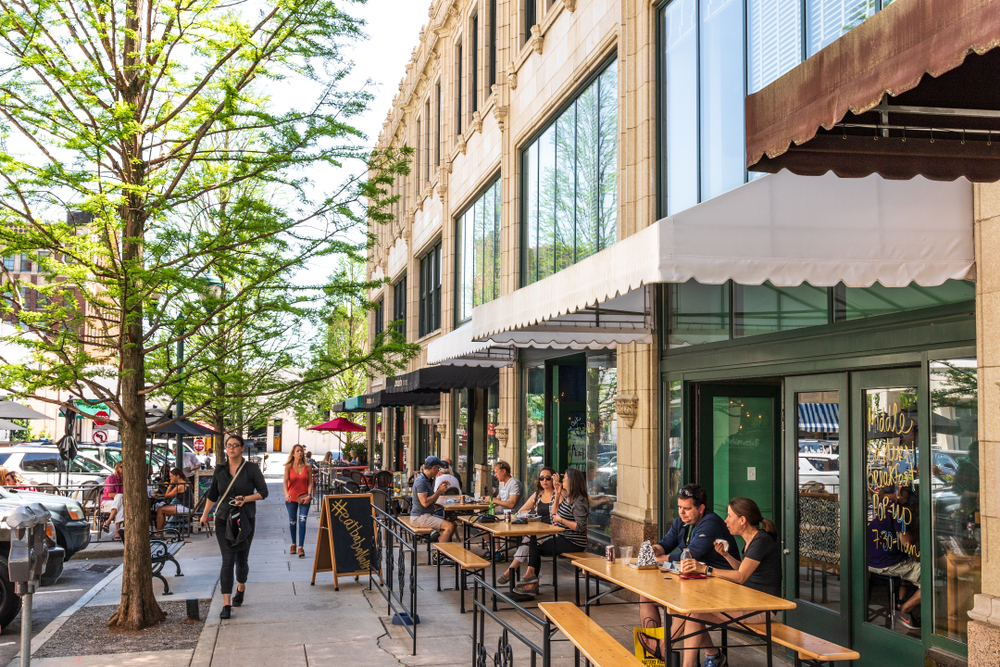 See Gorgeous Nature at Craggy Gardens
You can find the Craggy Gardens about 15 minutes north of Asheville. The Craggy Gardens are an area where you can walk or hike in the Craggy Mountains, which are a smaller set of mountains within the Blue Ridge Mountains. If you are driving the Blue Ridge Parkway, to get to the gardens, you can find them at Milepost 364.4-367.6.
It is a beautiful spot for a scenic hike in the Blue Ridge Mountains. The gardens are most known for the amazing floral display they put on every year. In June the area comes alive with thousands of pink and purple Catawba rhododendron blooms.
If you plan on visiting the gardens for the blooms, be prepared to deal with some crowds. It is a very popular Asheville activity during peak blooming season. But it is well worth it!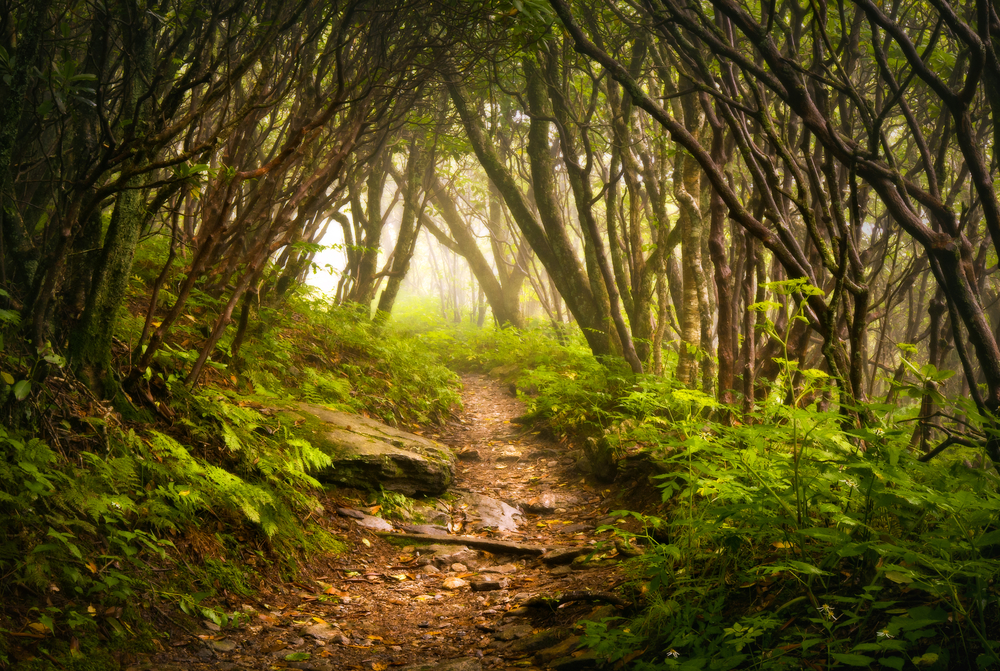 Find Awesome Views at Mount Mitchell State Park
If you want to see the highest peak east of the Mississippi River, head to Mount Mitchell State Park. Mount Mitchell was one of the United States' first state parks, partially because people wanted to preserve the mountain peak. You don't have to take an extensive hike to be able to admire some truly stunning views of Mount Mitchell.
There is an observation deck that is easily accessed that has great views of the peak. There are also tons of hiking trails in the park. They range from easy to difficult and even range in length. So if you only have time for a short hike, but you still want to explore the park, there is a perfect trail for you. At the entrance of the park, you'll find a visitor's center with a museum.
The museum focuses on the history of Mount Mitchell and its cultural significance in the area. Near the museum and visitor's center, there is a full-service restaurant and concession area. The restaurant and concession area are open only during the peak season, so from May to October.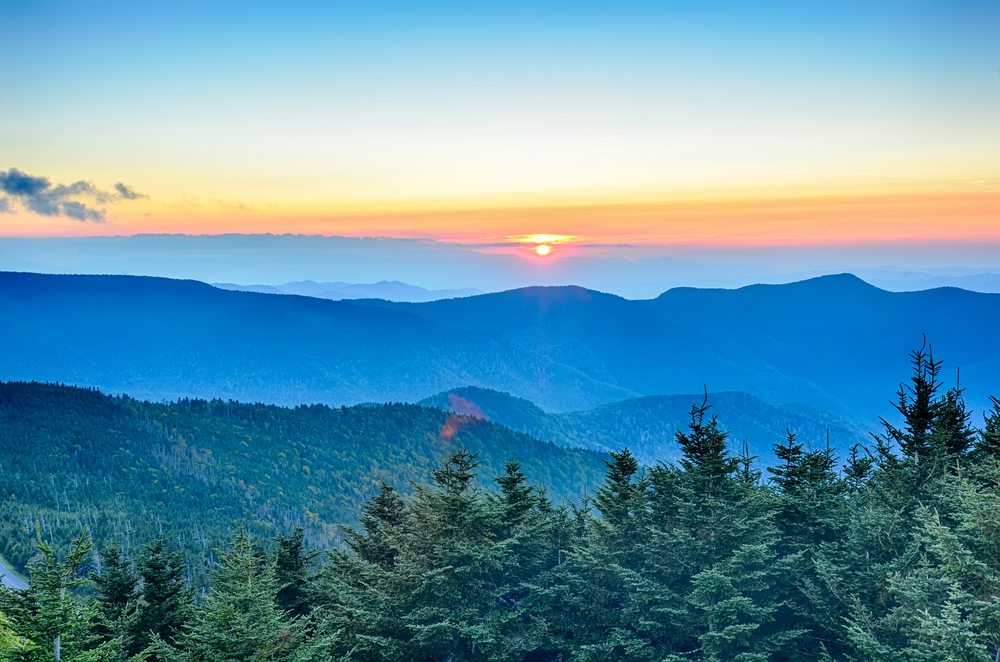 Play at the Asheville Pinball Museum
For those looking for one of the more unique things to do in Asheville, consider the Asheville Pinball Museum. It's a really cool date night idea, or it could even be fun for kids if they are a bit older.
With over 35 vintage and antique pinball machines, you can easily spend a good chunk of time enjoying the museum. Think of it less as a traditional museum and more like an interactive museum.
The museum charges a set rate for all-you-can-play games. They also have vintage video games that are also one set price for all you can play.
If you get hungry while you're having fun, the museum also has a small pizza shop inside it that offers pizza and beer. You have to pay for that separately, but it's still a super fun and cheap night. It is one of the best things to do in Asheville for adults.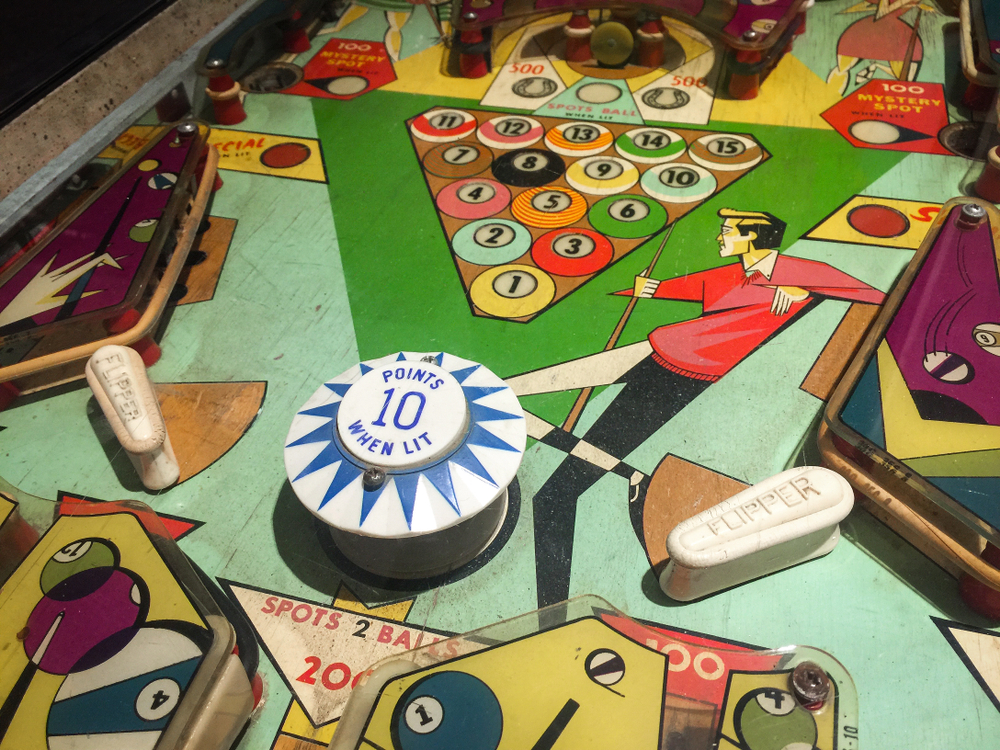 Explore The First Baptist Church
The First Baptist Church is a historic Baptist Church in Asheville. It was designed and built from 1925 to 1927 by the famous architect Douglas Ellington. Ellington designed several of the buildings in downtown Asheville. It is known for its striking Art Deco design. The main portion of the church is a polygonal brick building that is four stories and domed. In the front entrance of the church is a large and fairly ornate hexastyle portico.
Inside, you'll find an equally stunning space. It features a large wood stage with tall wood paneling behind it. The paneling hides most of the elaborate inner workings of the massive pipe organ. From the top of the paneling pipes of all shapes and sizes stick out and provide beautiful music for the church sanctuary.
The ceiling of the sanctuary reaches into the domed space you see from the exterior. It is painted elegantly with fluffy clouds. The First Baptist Church is a historic and unique piece of Asheville's architectural history. If you are looking for unique things to do in Asheville, add the First Baptist Church to your list.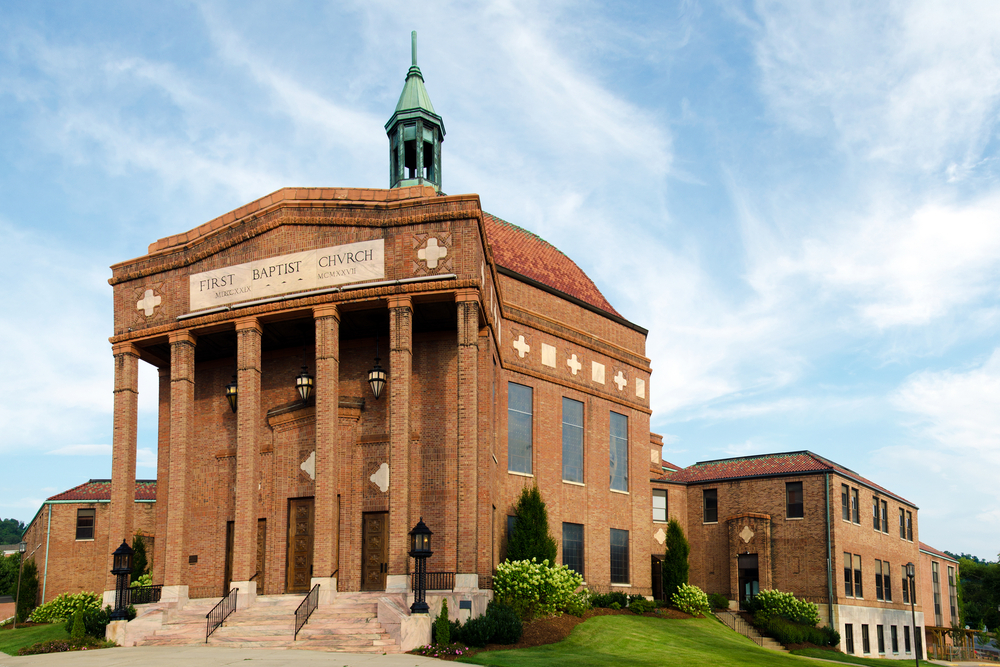 Visit the Folk Art Center
At Milepost 382 on the Blue Ridge Parkway, you'll find the Folk Art Center. It originally opened in 1930 thanks to the Southern Highland Craft Guild. Now it has over 900 artists in several galleries and shops. The main gallery and shop can be found at the Folk Art Center. However, you can find several smaller shops featuring Appalachian artists at other prominent Blue Ridge Parkway stops.
It is easily the most popular Asheville attraction on the Blue Ridge Parkway. In addition to the massive shop, the Center also houses galleries, all featuring art by local artists. The exhibits rotate, so if you see something you'd like to purchase, don't leave without taking it home.
Depending on when you visit, you may be able to see one of the resident artists working in the studio that has windows for the public to look in on. This makes it one of the coolest places to visit in Asheville!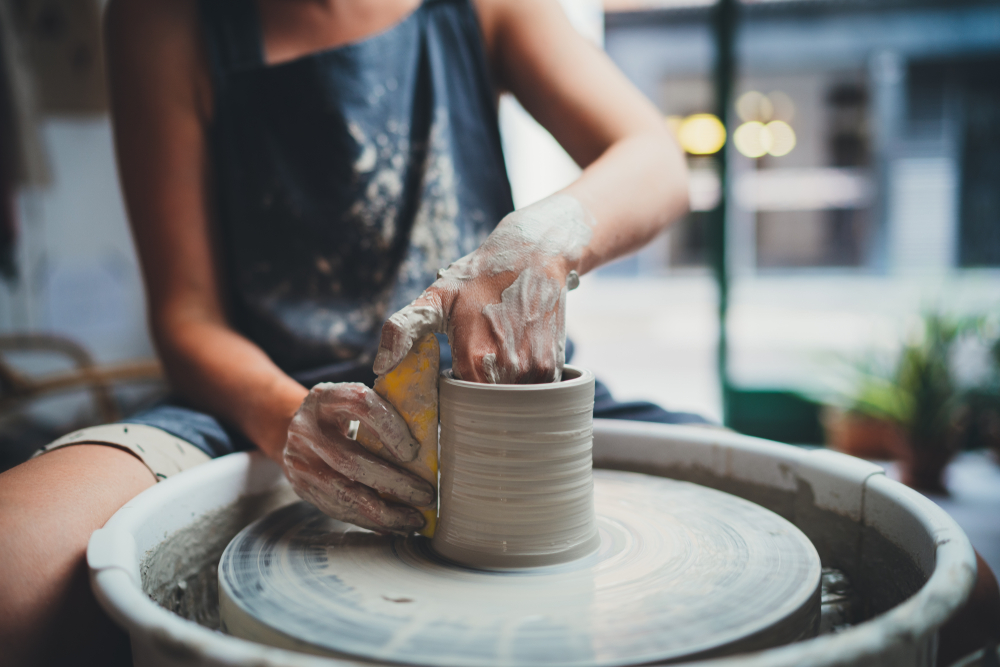 Stroll Through The Biltmore Village
The Biltmore Village was originally built as a place for the employees of the Biltmore Estate. Now the former employee homes have been converted into a charming shopping district across the street from the entrance to the Biltmore Estate. It is free to wander through the Village, making it one of the best free things to do in Asheville.
There are 40 shops to explore and 10 restaurants and cafes. It is a picturesque way to enjoy a quiet afternoon. The shops are almost all housed in historic homes and cottages. Stroll along on the charming antique brick sidewalks lined with trees and shops. There are also several original buildings in the Village like the Cathedral of All Souls that add to the charming atmosphere.
The Biltmore Village is clearly one of the top things in Asheville, North Carolina.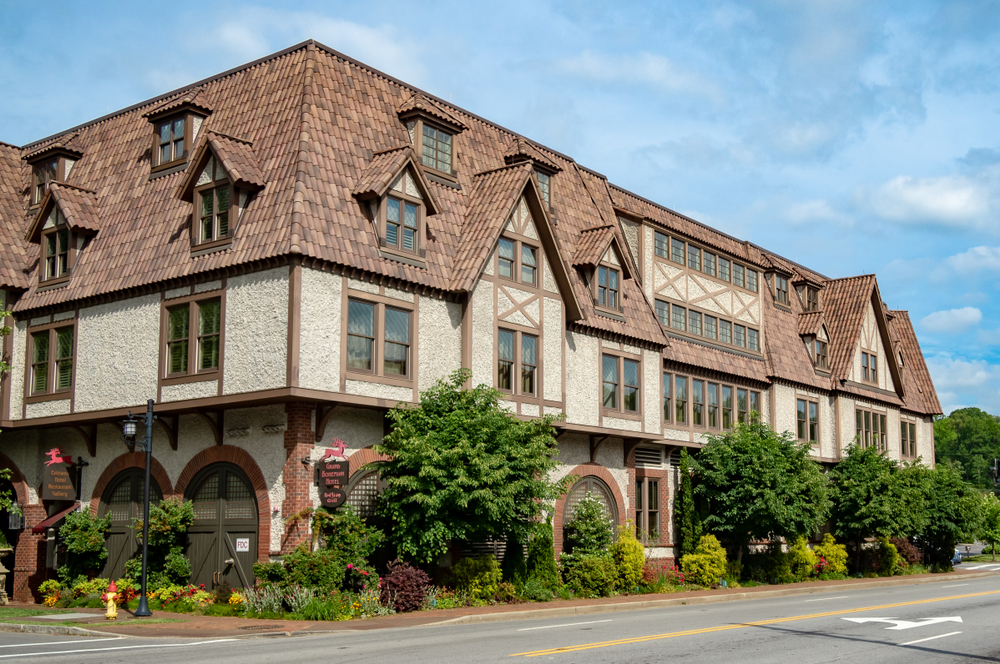 Walk the Urban Trail
The best way to see all the best parts of Asheville is through the Urban Trail. The Urban Trail is a walking tour of the city's unique history. If you walk the trail at a leisurely pace, it takes about two hours. Along the way, you'll stop to admire or explore some of Asheville's most notable spots. It is also completely self-guided and one of the best free things to do in Asheville, NC.
While you walk and follow the trail you'll see stations with information that tells you all about the spot. You'll learn about famous authors like Thomas Wolfe and F. Scott Fitzgerald. Outside some of his most famous buildings in the Asheville skyline, you'll learn about Douglas Ellington. No trip exploring Asheville is complete without learning about George Vanderbilt's effect on the city thanks to the Biltmore Estate.
The Urban Trail is a super fun way to explore Asheville if you have some time and want to stretch your legs. It's also the best way to see the highlights of the city while you learn about their cultural and local significance as well.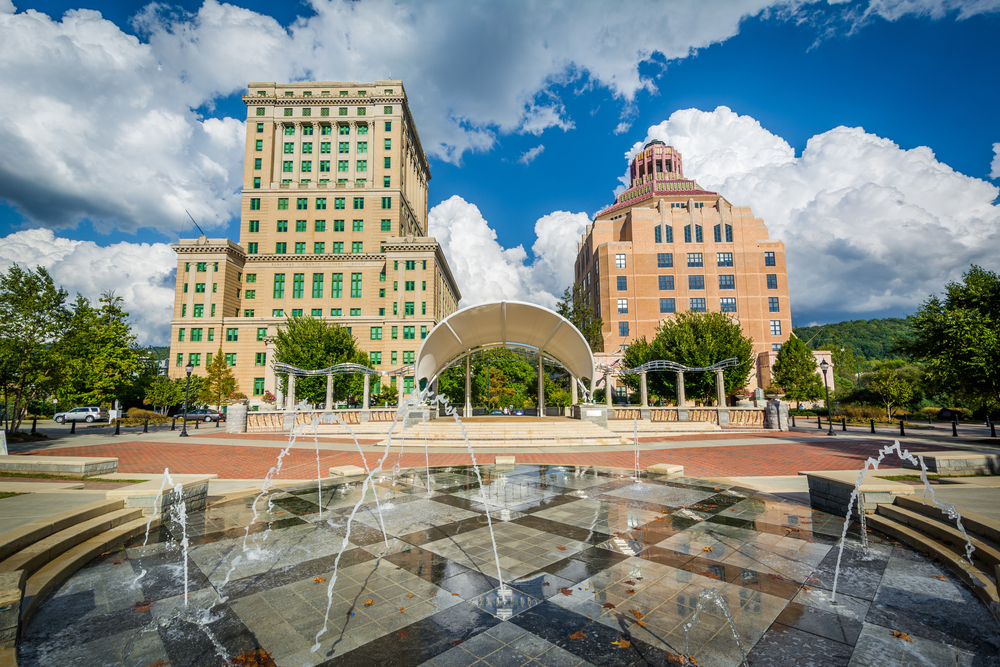 Learn at the Asheville Museum Of Science
One of the best things to do in Asheville with kids is the Asheville Museum of Science. The museum is fairly small, but the kids will have tons of fun. It features a more hands-on technique for learning about science. The goal of the Asheville Museum of Science is for visitors to experience science, not just observe it.
Inside the small museum, you'll find a few different permanent exhibits. If you are interested in rocks and minerals, there is the Colburn Hall of Minerals. They also have a self-guided STEM lab that is also interactive. It is one of the most popular exhibits in the museum.
There are also dinosaur skeletons, fossils, a 'Toddler Nest', and more. The museum also has exhibits that change throughout the year, making it a fun and exciting Asheville activity to come back to throughout the year. The kids will love exploring the museum and interacting with all the fun exhibits.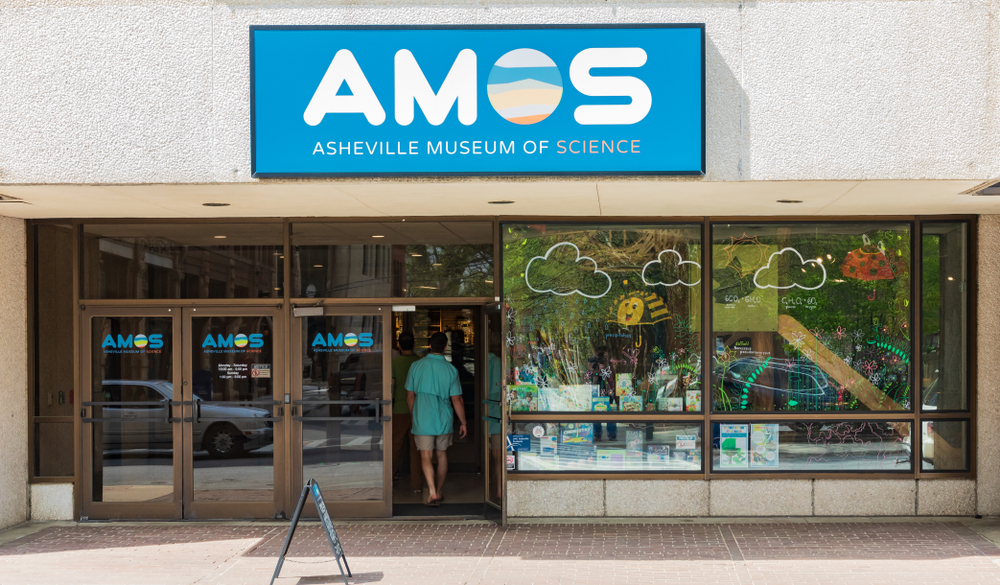 Step Back in Time at the Thomas Wolfe Memorial State Historic Site
Thomas Wolfe was a famous American author in the 20th century. He was born in 1900 in Asheville and his childhood home still stands in Asheville. Wolfe would later immortalize his childhood home in his writings, although he gave everything different names.
Now visitors can experience the Victorian home as Wolfe would have experienced it. They offer daily tours and there is also a walking tour you can take around the home and the area. It is in downtown Asheville, so it is a stop on the Urban Trail too. For those interested in American literature or historic homes, this is one of the best things to do in Asheville.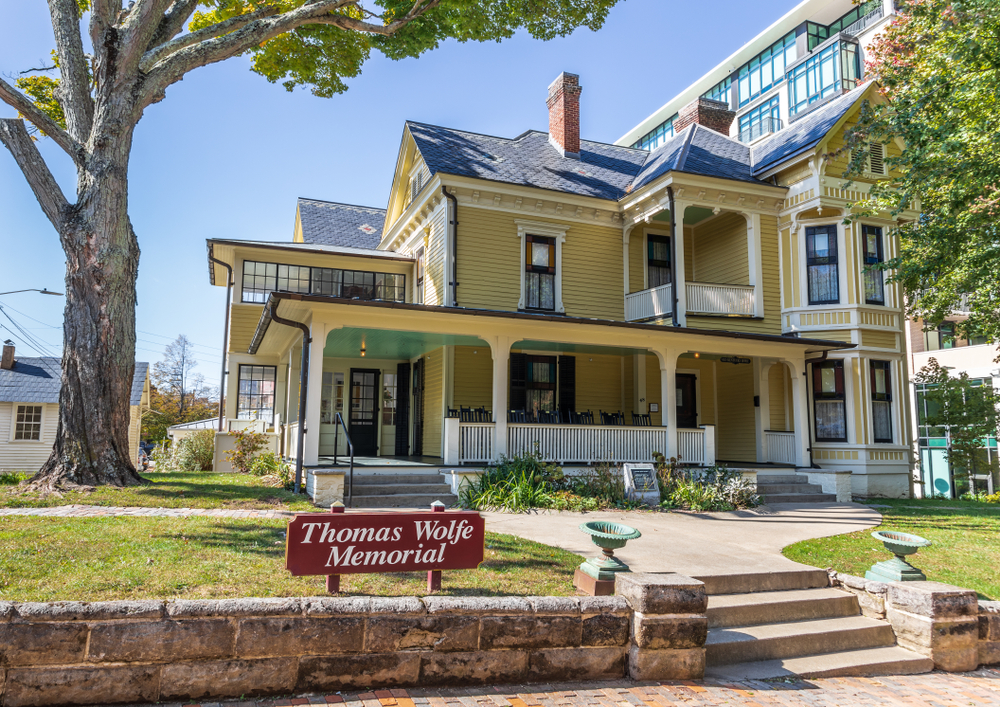 Photograph the Basilica Of Saint Lawrence
The Basilica of Saint Lawrence is another famous architectural piece of downtown Asheville's skyline. It features a unique Spanish Catalan design that is not very common in the area. The church was built in 1905 by the famous Spanish architect, Rafael Guastavino. A little over 90 years later, in 1993, Pope John Paul II elevated it to a minor basilica.
Now the Basilica is the only basilica in Western North Carolina. One of its most unique design features is its elliptical dome. Historians and architects believe it may be the only freestanding elliptical dome in the United States. Inside it is an ornately designed sanctuary. The ceiling features bricks laid in a herringbone pattern, large rectangular and semi-circle stained glass windows, and a large ornate altar. It is one of the more unique Asheville attractions.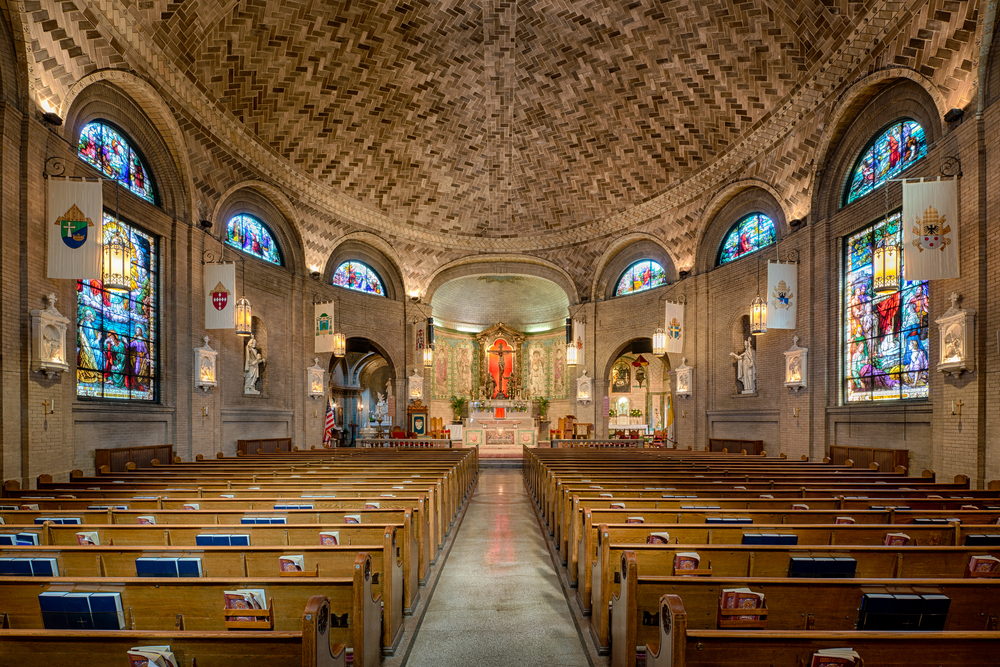 Get a Drink at Catawba Brewing Co.
There are many great breweries in Asheville perfect for anyone who likes to try local craft beers when they travel. Asheville is even known as one of the best beer cities in America, so you know they take pride in their work.
One brewery to visit is the Catawba Brewing Co. which has two locations in Asheville. It is family-owned and opened in 1999. They are named after the Catawba River and are proud of their location in the Blue Ridge Mountains.
You will love the vibe of this brewery as well as all the drinks with their fun names. Try the Peanut Butter Jelly Time, White Zombie, or Hopness Haze.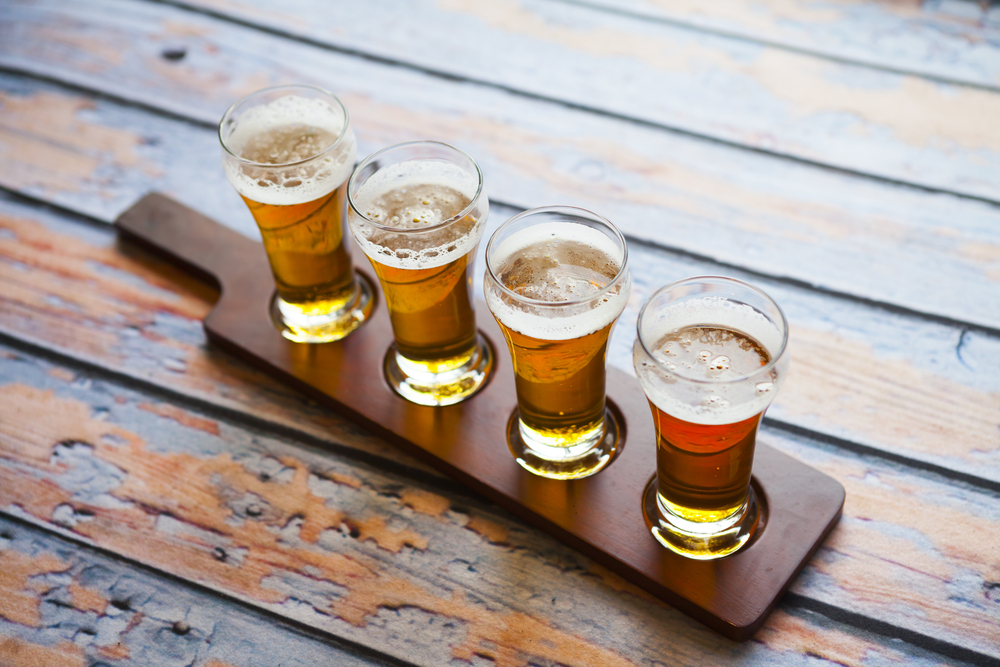 Go Foraging
If you are looking for really unique things to do in Asheville that will get you out in nature, consider doing a foraging tour. Asheville is known as the "Garden of Eden for Wild Edibles" with up to 500 edibles found growing in the surrounding forests and meadows.
No Taste Like Home is a foraging tour company based in Asheville. The expert guides here will lead you through nature and teach you how to find delectable wild edibles. A variety of mushrooms, fruits, nuts, roots, flowers, and greens can be found depending on the time of year.
When the tour is over, you can bring your finds to one of the partnering Asheville restaurants where they will be prepared as an appetizer to your purchased meal. Isn't that so cool?!
You can also stop by the Asheville Wild Foods Market for more wild edibles or buy them made into pestos, teas, and more.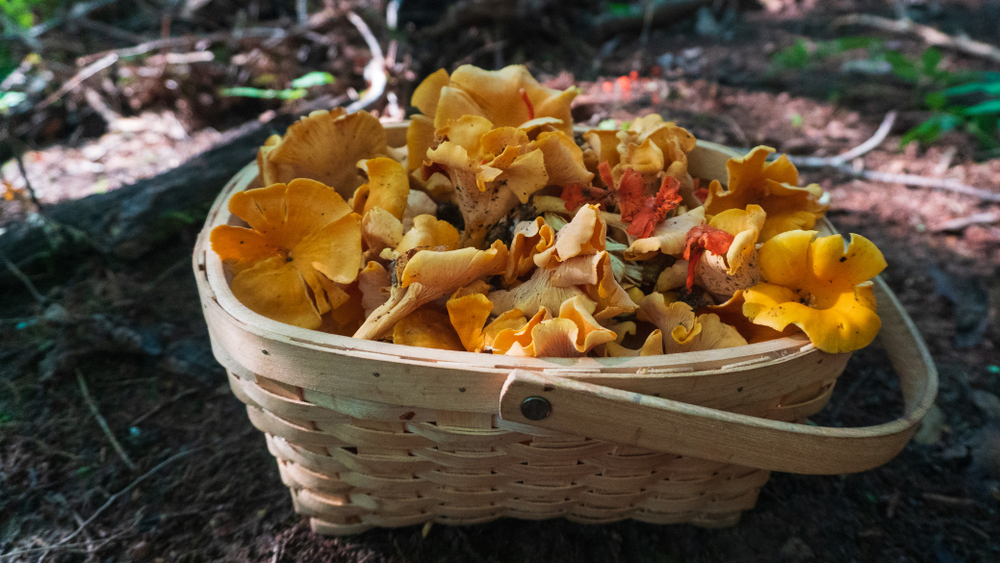 Enjoy Views from Chimney Rock State Park
Chimney Rock State Park is about an hour from Asheville and is a great escape from the city. Chimney Rock is a 315-foot monolith that provides amazing, panoramic views of the lush forests, the Hickory Nut Gorge, and Lake Lure.
There are many other trails in the park that offer more great views. You'll be able to see Hickory Nut Falls, an epic 404-foot waterfall that was featured in the 1992 movie The Last of the Mohicans. The moderate-rated trail to the waterfall is 1.4 miles roundtrip.
Other fun activities in this state park include rock climbing, learning at the Animal Discovery Den, and picking up a souvenir at Cliff Dwellers Gifts. There are also great campgrounds in the area.
This is one of the best things to do near Asheville to add to your NC itinerary!
Book Here: Asheville: Chimney Rock Helicopter Tour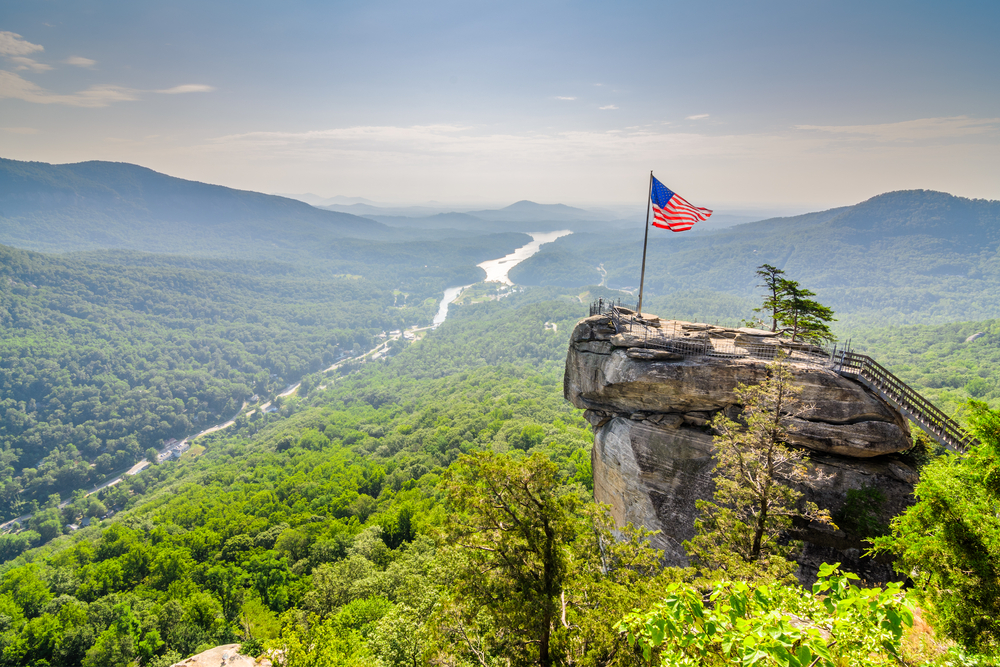 Feel Refreshed at a Spa
Did you know Asheville is a popular spa destination? People from all over come to enjoy world-class spas and wellness experiences. If you want to pamper yourself, make sure to budget since the packages can be expensive, but they are so worth it.
The Spa at the Omni Grove Park Inn is one of the most popular spas not only in Asheville but in the country. Here you will find mineral pools, a cave spa, and a lap pool with 6,500 fiber-optic stars and underwater music! There are also facials, massages, saunas, and eucalyptus-infused steam rooms.
You can also unwind with hot organic tea in the fireside lounge area. You will leave the spa feeling completely restored.
Other spas in Asheville worth checking out include the Asheville Salt Cave & Spa, Shoji Spa & Lodge, Wake Foot Sanctuary & Spa, and Sauna House. A spa visit is one of the best things to do in Asheville for couples or a girls' trip.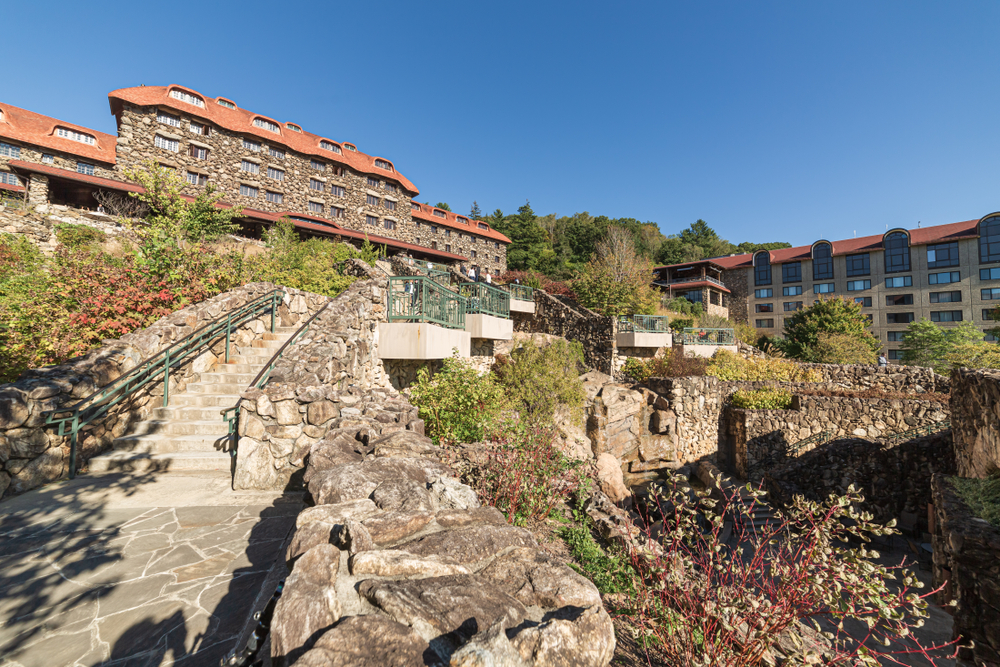 Take a Ride on the Gray Line Trolley
A ride on the Gray Line Trolley is one of the best Asheville activities for the whole family. This hop-on, hop-off trolley takes you through downtown and many historic districts. As you ride past the pretty sights, you will learn all about the city's history and culture with fun narration.
The trolley makes ten stops where you can get off and explore. The Asheville Visitor Center is one of the best places to start since there is free parking. The route takes about 90 minutes to complete, not including time at stops.
If you want a more unique tour, book the Haunted History & Murder Mystery Tour. You will hear ghost stories and tales of Asheville's dark history. This is one of the best things to do in Asheville at night.
There is also a Holly Jolly Christmas Trolley Tour for caroling and seeing the holiday decorations throughout town.
Book Here: Asheville: Mountain Spirits Haunted Walking Tour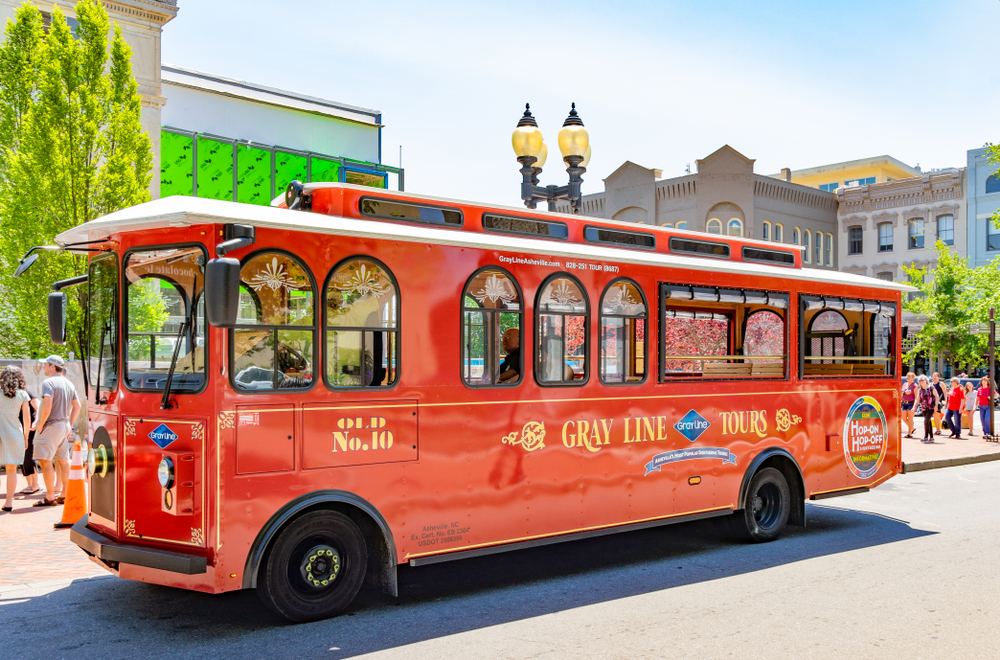 As you can see, there is an endless amount of fun things to do in Asheville. Whether you want to experience a vibrant art scene, sample tasty restaurants, or learn more about the history and culture of the area, there is an Asheville activity to interest you. It's easy to see why Asheville is one of the prettiest cities in the South.