Are you looking for things to do in The French Quarter? If so you are in the right place. In this article, we will walk you through things to see in the French Quarter, attractions in the French Quarter, things to do on bourbon street, and things to do in the French Quarter at night.
Planning your trip to New Orleans last minute?
Make sure to book your hotels and tours in New Orleans in advance to ensure availability! Here are our top picks for your trip!
Top Experiences And Tours In New Orleans:
Top recommendations for accommodation In New Orleans:
The French Quarter is also known as the Vieux Carre and is one of the oldest neighborhoods in the city. Initially, it was the center of the town and a trade hub established in 1718.
Now this area is a fun and exciting neighborhood and has everything that the traveler could ask for. From elegant streets, stunning architecture, boutiques shops, and lively markets every part of the french quarter has something exciting to offer.
Live music, restaurants, and voodoo temples give this area such a fun party vibe. Let's just say the french quarter has to be seen to be believed.
There is a reason this area is known as the Crown Jewel of New Orleans. This area is romantic, mysterious, quirky, fun, and of course Jazzy. This is truly one of the Best Places To Stay In New Orleans!
So are you ready to see what we have picked for you to do in The French Quarter?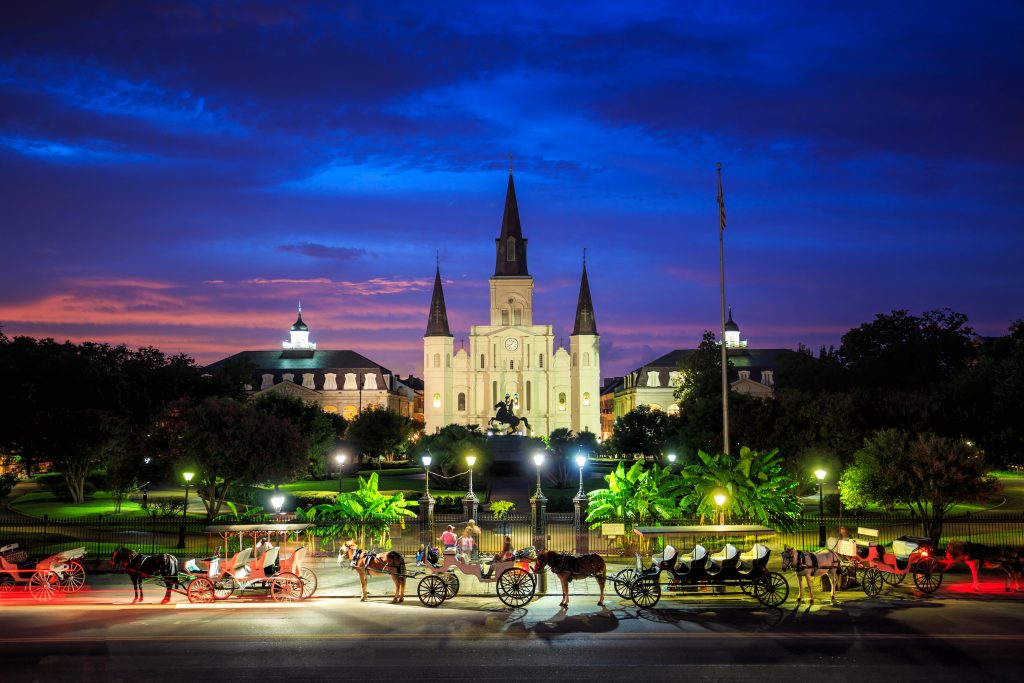 15 Interesting Things To Do In The French Quarter In New Orleans
Take A Ghost Tour
It wouldn't be a post about things to do in the French Quarter without suggesting a ghost tour. NOLA has a dark past from the slave trade, several wars, and natural disasters leading to many legends and ghost stories. Also, it has been used in several popular TV series as the epicenter of vampire and witch activity.
If you love all things ghostly and ghouly like we do then we highly suggest a ghost tour. The two-hour ghost tour takes in all the haunted locations in the French Quarter with an experienced guide. Don't forget to check out some of the most Haunted Hotels in New Orleans!
The guides are armed with historical knowledge all of them historians in their own right. You will visit the places the French Quarter has become famous for. You stop at Lalaurie Mansion (as seen on 'American Horror Story Coven'), May Bailey's Brothel (as seen on Travel Channels 'Ghost Adventures'), and other notorious haunted places.
This two hour tour is the only tour that has access to a haunted building so if that is your thing then this is definatley one of the things to do in the french Quarter at hight.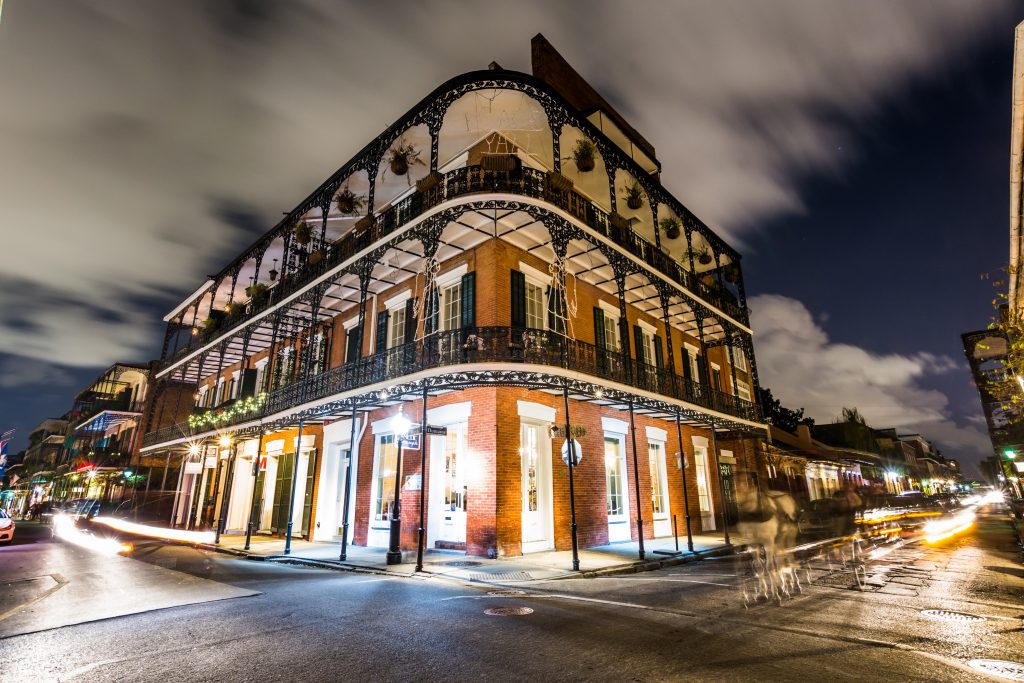 Experience The Local Food
NOLA is known as one of the top foodie destinations in the USA so why not make one of your gateway by enjoying a food tour. The NOLA food is culture-clashing mouth-watering cuisine and there is nothing like the cajun food in this area.
Start your NOLA food tour by experiencing the powdered sugary goodness known as the beignet, a breakfast staple in this area. You will then visit America's oldest public market, the Fench Market where you will grab a bite to eat and then you move onto the French quarter for some cajun country delicacies.
And of coarse you get to taste some Louisiana hot sauce and the famous gumbo. And this tour is all topped off with some locally grown sugarcane and pecans.
If you love food then this tour might be just what you looking for.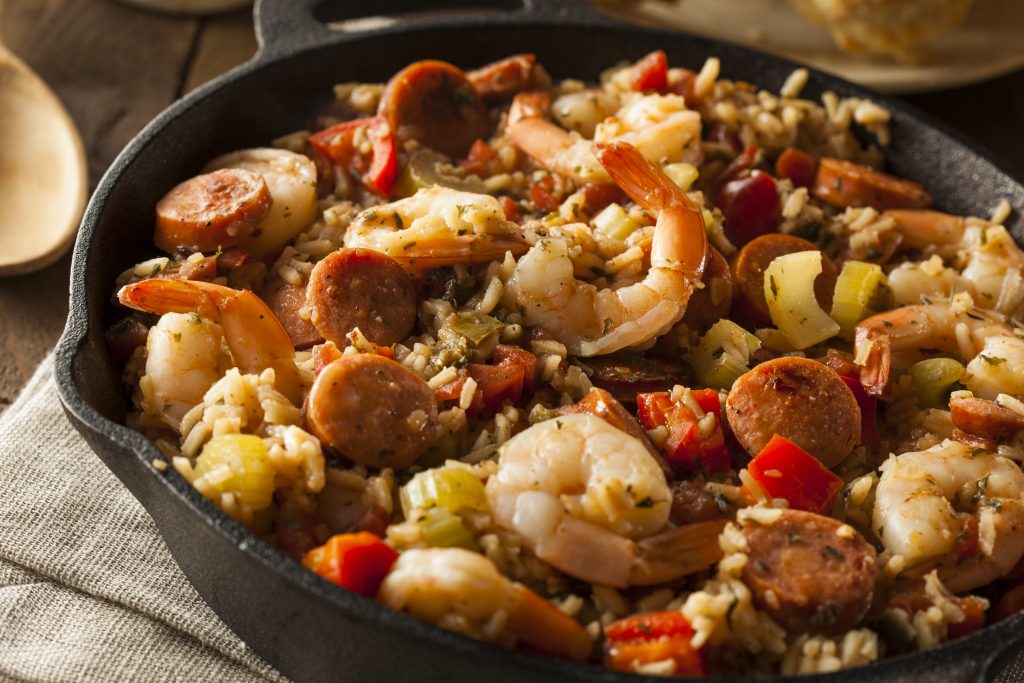 Stroll Through Jackson Square
Jackson Square is the central part of the French Quarter and is always a lively happening place. The street performers are well worth watching and if you enjoy watching them as we do then please tip them as this is how they make their money.
The square is named after Andrew Jackson and while he has a somewhat chequered past the square is beautiful. It's a great place to just sit and watch the world go by.
The best view of the square is across the street and the best photo spot is up the stairs in Washington Artillery Park. Jackson Square is a National Historic Landmark and arguably the most recognized place in NOLA. It's a space with over 2.5 acres of space to enjoy.
Definitely one of the things to see in the French Quarter.
This is one of our favorite things to and you should add it to your Weekend In New Orleans Itinerary.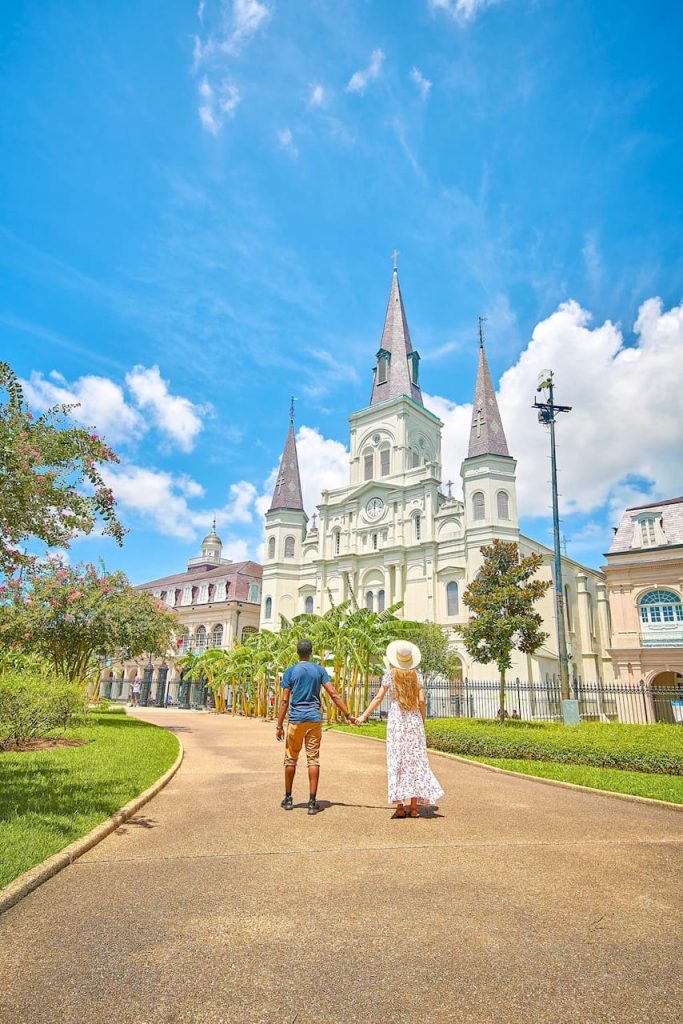 Explore The Historic French Market
Originally a Native American trading post along the Mississippi River the post developed into a cultural and commercial hub for French and Spanish colonists. Over the next three centuries, immigrants from Europe African, and the Carribeans added their influence helping to create the diverse market you see today.
The market is now housed in a modern structure designed by Joseph Abeilard, one of America's first African American Architects. The market is vibrant and a trip is an absolute must.
One of the most historically famous parts is called Dutch Alley a pedestrian plaza at Dumaine and St. Phillip Streets. You will also find the Farmers Market Pavillion, a Flea Market, and keep a look out for the local artists and craftsmen selling their creations.
This popular destination is right off Jackson Square and is a great place to grab a snack, a souvenir, or stop for a larger meal and a wonder. One of the attractions in the French Quarter you have to see.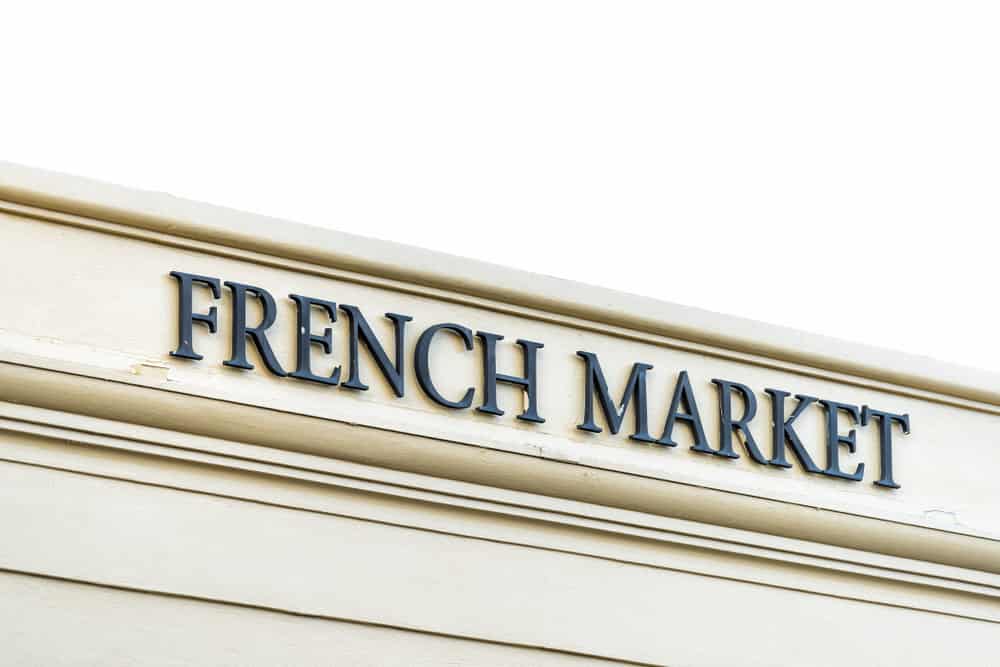 Visit The Presbytere
Facing Jackson Square opposite the St Louis Cathedral the Presbythere is an architecturally important building in the French Quarter and is quite impressive.
Dating from 1791 construction was financed by Spanish philanthropist and nobleman Don Andres Almonester y Roxas. Originally it was used for commercial purposes and served as a courthouse from 1834 until 1911.
Today it's home to something much more exciting and elaborate exquisite collection of Mardi Gras artifacts and memorabilia. Interactive exhibits allow visitors to experience the excitement of this celebration without having to actually attend.
The gift shop is also well worth a visit as it sells a treasure Trove of Mardi Gars memrobillia.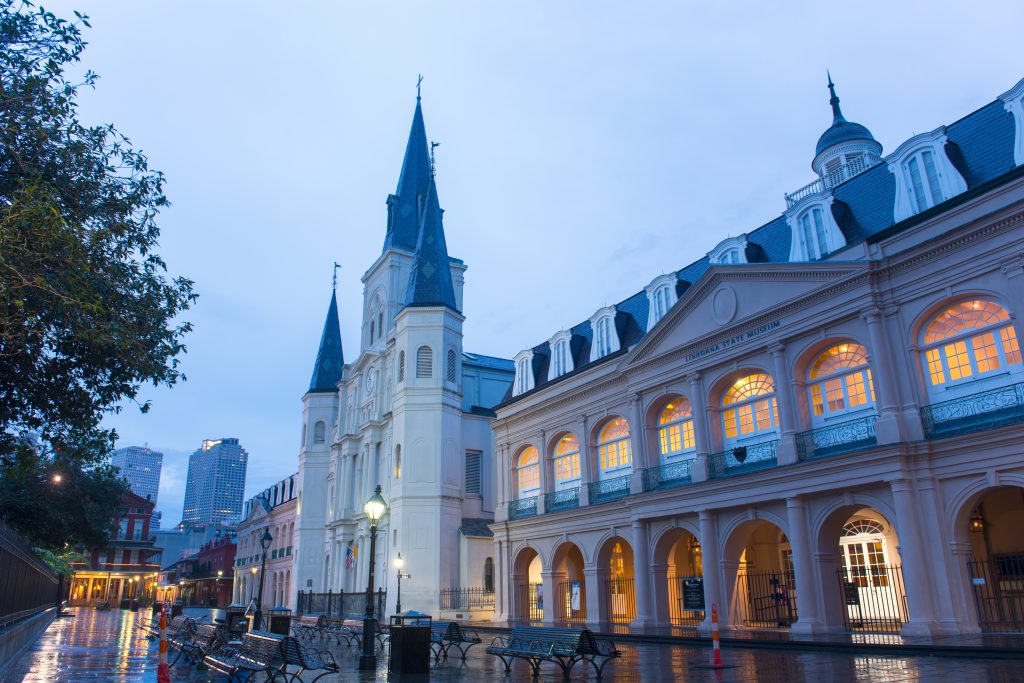 Visit The New Orleans Pharmacy Museum
On the National Register of Historic Places, the New Orleans Pharmacy Museum showcases the history of pharmacy and healthcare in Louisiana; past and present.
​It might seem strange to recommend a pharmacy museum however American's first licensed pharmacist made some significant contributions to the industry in New Orleans. By becoming the first licensed pharmacist his pharmacy became the first licensed in America.
In 1804 NOLA led the way in making pharmacy a profession. The museum documents and illustrates the history of medicine during the 19th century. Housed in an 1823 Creole Townhouse there are two floors of exhibits. One of the more unique things to do in the French Quarter.
Expolre Marie Laveau's House Of Voodoo
You cant come to NOLA without learning a little bit about voodoo, something New Orleans seems to have become synonymous with. But Voodoo is far from the pin cushions and voodoo dolls we are lead to believe it is.
Voodoo is a complex religion and here at the famous Marie Laveau's, you can learn about the historical and spiritual significance of this religion and the woman who helped revive it in the city.
Opening in 1988 the shop offers a wide variety of items for both learning and practicing. The shops also offer psychic and spiritual readings available every day.
It's a mixture of museum, shop, and a shrine or sorts and really is a curiosity to see whether you believe or not. This is a spot uniquely New Orleans. so add it to your list.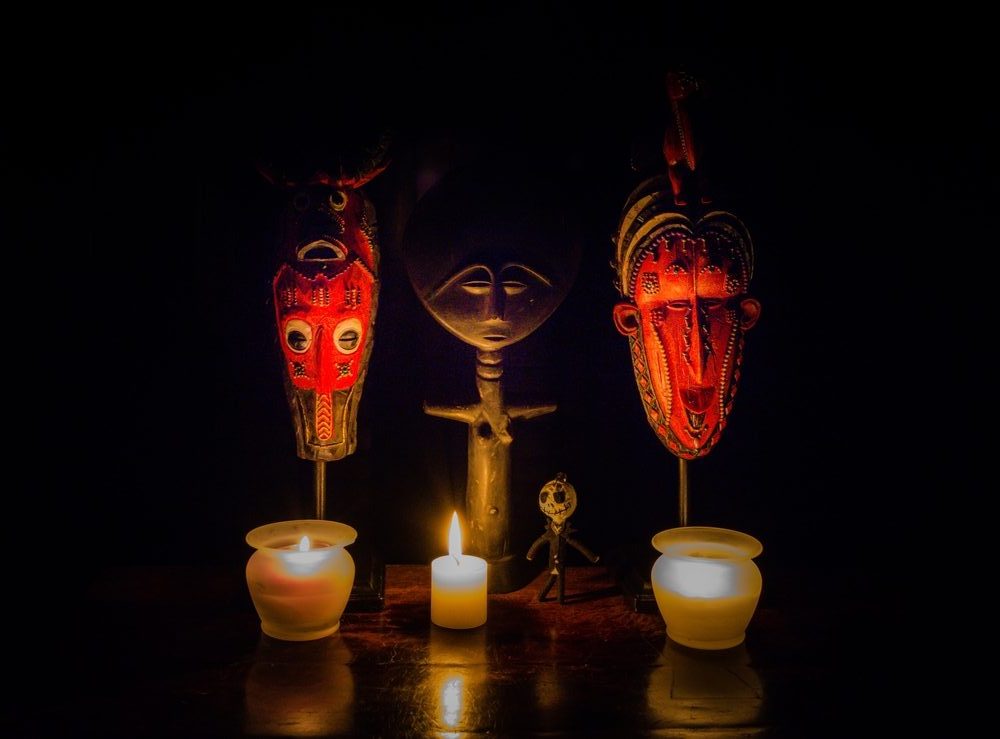 Go Antique Shopping
Royal Street has a solid reputation for providing quality and unique antiques and has in the past and present attracted many famous and notorious people to their doors.
The showrooms line the street and continue the long tradition of New Orleans as furniture merchants. The significance of the port in the past established this area as a place for imported fine craftsmanship.
Today New Orleans is the second largest port of entry for antiques in the United States and many of these antique shops have been in the same family for years. Many of the Royal Street merchants are members of the Royal Street Guild, an organization dedicated to the assurance of quality, integrity, and authenticity in goods and services obtained on Royal Street.
It's a great place to browse and grab yourself something unique.
Eat At A Terrace Restaurant
There are some fantastic places to eat in the French Quarter is one of the things to do in the French Quarter at night. Most of the restaurants are set in terraced houses and allow eating on balconies, pavements, and terraces.
There is nothing like sitting in one of these restaurants and watching the world go by. The food around this area is world-famous so we highly suggest taking a seat and a bite.
If you are looking for something finer and nicer try Brennans. It's pricy but worth it and the interior is stunning. Another recommendation is The Napoleon House it has been there for over two centuries and has a European charm that we love.
Both these restaurants offer great food and are brilliant places to enjoy a night out in The French Quarter.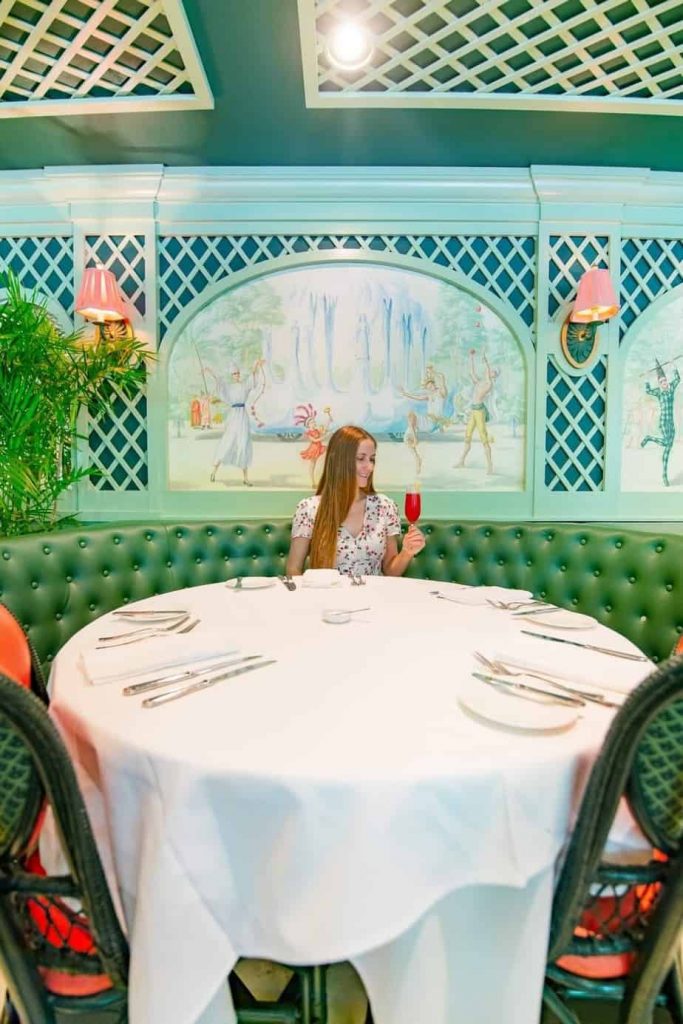 Try Out Beignets
Any trip to NOLA wouldnt be complete without trying a Beignets. These sugary breakfast pastries are well worth seeking out.
Perhaps the most famous location is Cafe Du Monde which sits in the French Quarter and really is an experience. The menu is small and focused on beignets and the location is enviable. This is one of the best places for breakfast in New Orleans!
There are other places to try Beignets too but this is the place to go for the experience. It does get bust so visit out of peak times to avoid the crowds.
Put this on your things to do in the French Quarter list, you wont regret it.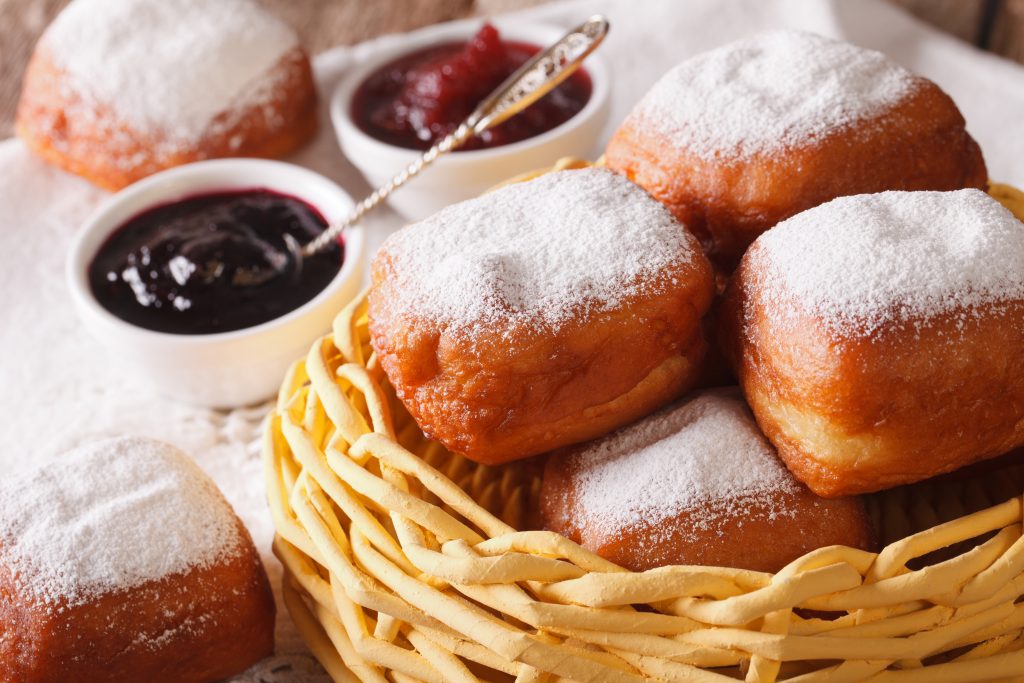 Grab A Drink At The Carousel Bar
A bar on a carousel! Yes this is NOLA after all. Located in the Hotel Monteleone anyone is welcome to come in and enjoy this special place.
The bar is shaped like a carousel and even spins around. It gets busy but if you arrived before it opens at 11 you will find is less busy. If you want to take a picture get there just before it opens.
This bar really is like not other and if you can we suggest checking it out.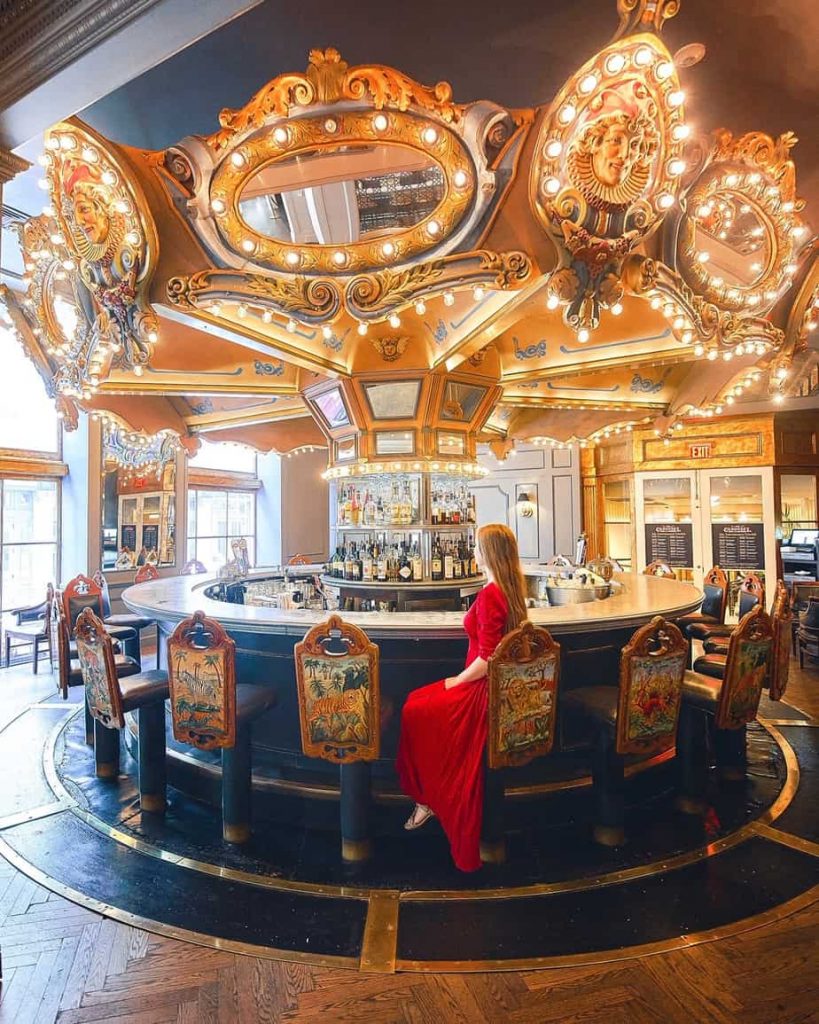 Take A Steamboat Ride
While obviously, the steamboat does not take you around the Frech Quarter this is the place where you can get on one or just watch them as they depart on their journies.
The New Orleans Steamboat Company has been a part of the scenery here since 1817. The steamboat Nacthez is one of the oldest running steamboats on the Mississippi.
Taking a steamboat ride is a great way to see the city from a different perspective and to learn some of the history of New Orleans and it's surrounding area.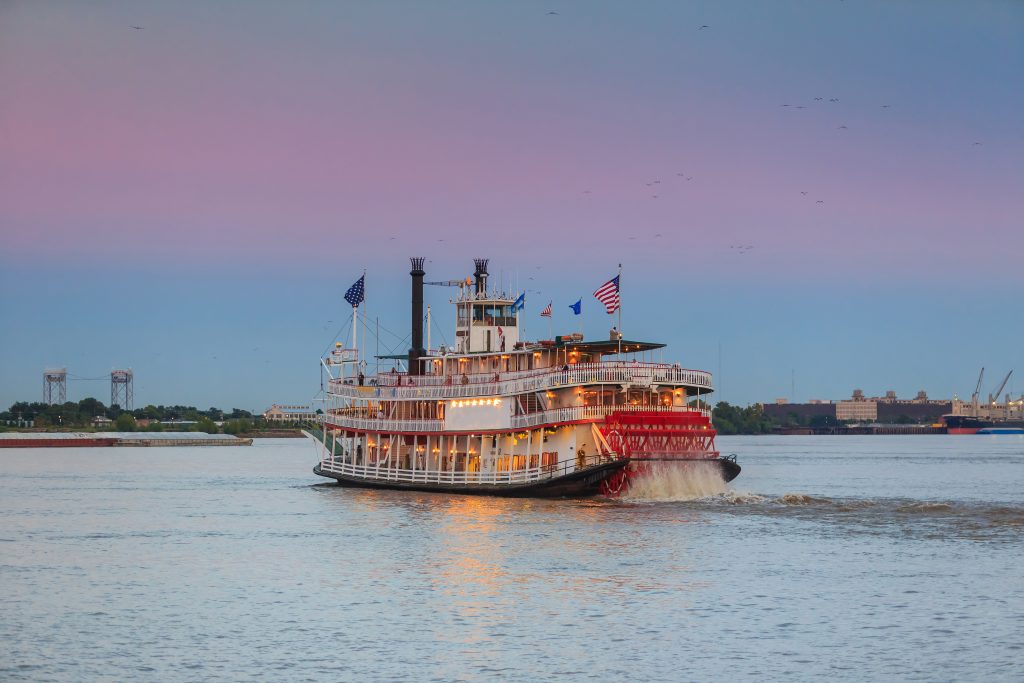 Marvel At Saint Louis Cathedral
One of the most notable landmarks in New Orleans overlooking Jackson Square this building is iconic and you don't want to miss paying a visit.
With three towering spires, the building is just beautiful to look at. It makes a great photo opportunity. We high;y recommend you take a look inside as it really is marvelous and well worth spending some time exploring and learning about this incredible building.
If you do go inside please consider giving a donation as the upkeep of this building is tremendous. This is one of the most underrated things to do in the French Quarter.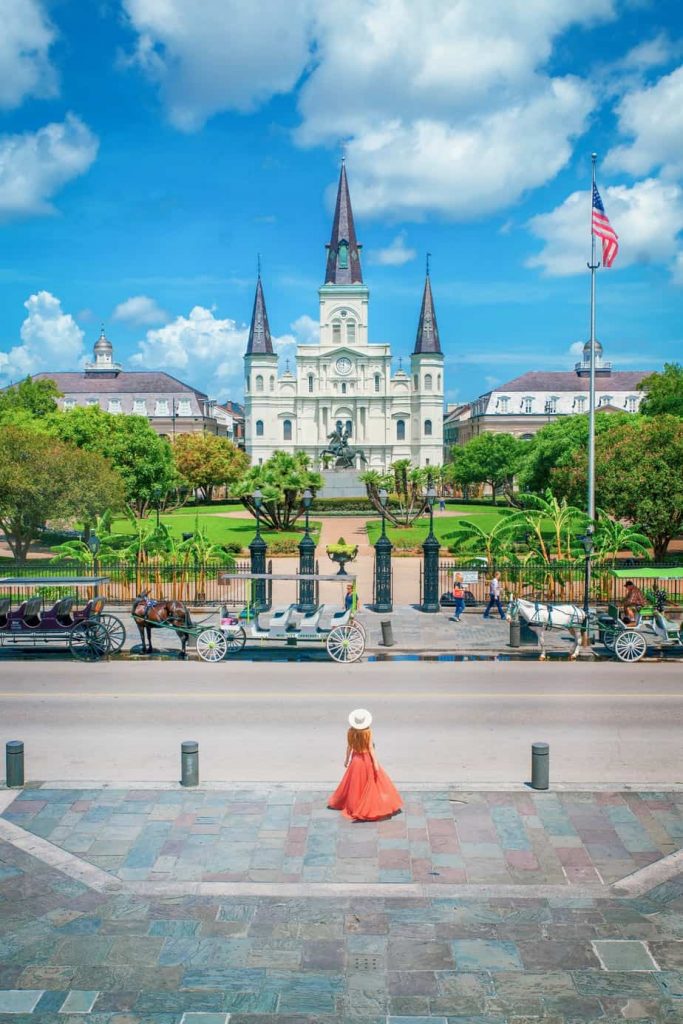 Go Balcony Hunting
If there is anything special about New Orleans it's most certainly the building and their ornate balconies. Taking an evening stroll down Royal Street is in our opinion one of the best things to do in the French Quarter at night.
You will also find loads of incredible balconies in the Jackson Square area but if you head to the quieter areas of the French Quarter they just keep getting better and better.
Make sure your camera is at the ready as the photo opportunities are plenty. New Orleans is a busy place and sometimes just getting away from the hustle and bustle is just what you need.
Enjoy Bourbon Street
We couldn't talk about things to do in the French Quarter without mentioning Bourbon Street. This street is the party street and visiting is an experience.
When it comes to things to do on bourbon street just be there and go where the feeling and vibe takes you. Its a hip and happening place with something for everyone whatever your tipple and music taste.
We are not party animals so we didnt spend a lot of time here however we enjoyed just walking down and taking in the atmosphere.
This is a street you have to visit even just in passing and if you are more of a party animal here the drinks tend to be cheap and the Diaquaris are said to be exceptional.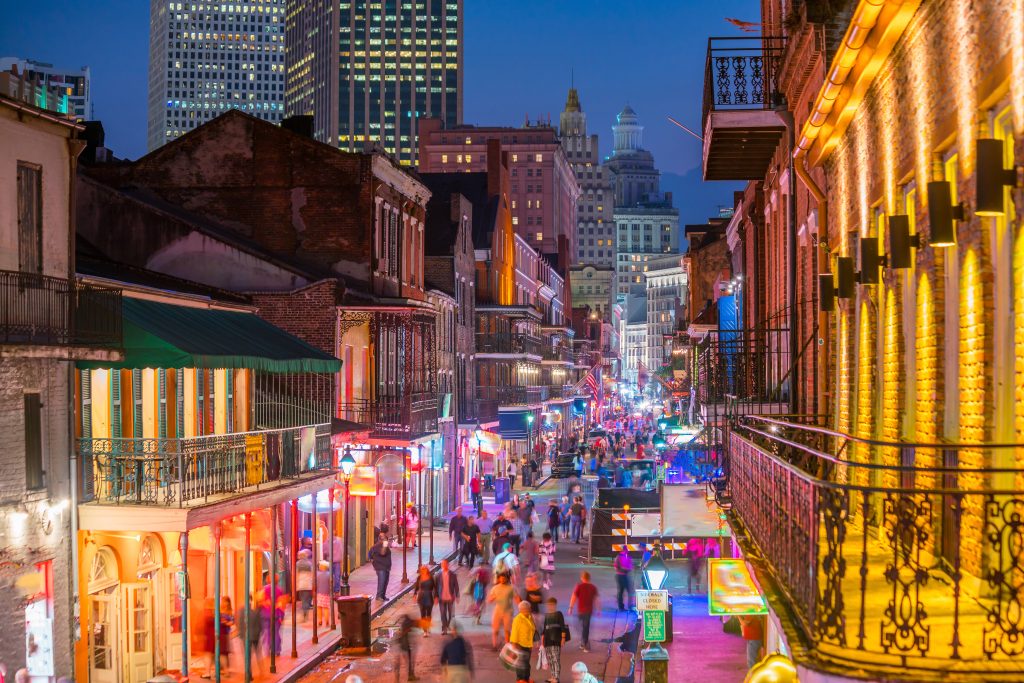 As you can see there are so many things to do in the French Quarter. Here we have just picked a few of the attractions in the French Quarter but there are lots more depending on what you enjoy doing.
There are definitely best time to visit New Orleans and time to avoid the crowds. However whenever you go we know you will have an amazing time. Please come back and tell us all about it we can't wait to hear how it goes and what you do.