If you are looking for a meal with a view then this list of rooftop bars in Savannah is for you! Take a seat perched high above the beautiful city of Savannah, Georgia, and enjoy foods ranging from fine dining to casual cuisine.
Planning your trip to Savannah last minute?
Make sure to book ahead! Hotels and tours often sell out the closer you get to your trip. Here are our top picks for Savannah!
Top Experiences And Tours In Savannah:
Top Hotels In Savannah:
Everywhere you turn you will be able to see the town below in a new way. The next time someone asks where you should eat you will have plenty of fun options! From mouthwatering tapas to homestyle meals these eateries will be delicious decisions.
Even if it is just meeting friends for drinks, there is a seat for you high above the town. Rooftop bars are a great choice whether you are on vacation or enjoying a staycation!
Bring a group or dine solo to relax and overlook the scenery of Savannah's historic sites. These popular spots are sure to be a hit no matter the crowd you are trying to please. Celebrate in style with any of these rooftop bars. Picky eaters will find a menu for them!
Maybe you are looking for a family-friendly option for the smaller foodies traveling with you. Vegetarian? There is a rooftop bar for you too! In any case, this list of the best rooftop bars in Savannah will not disappoint!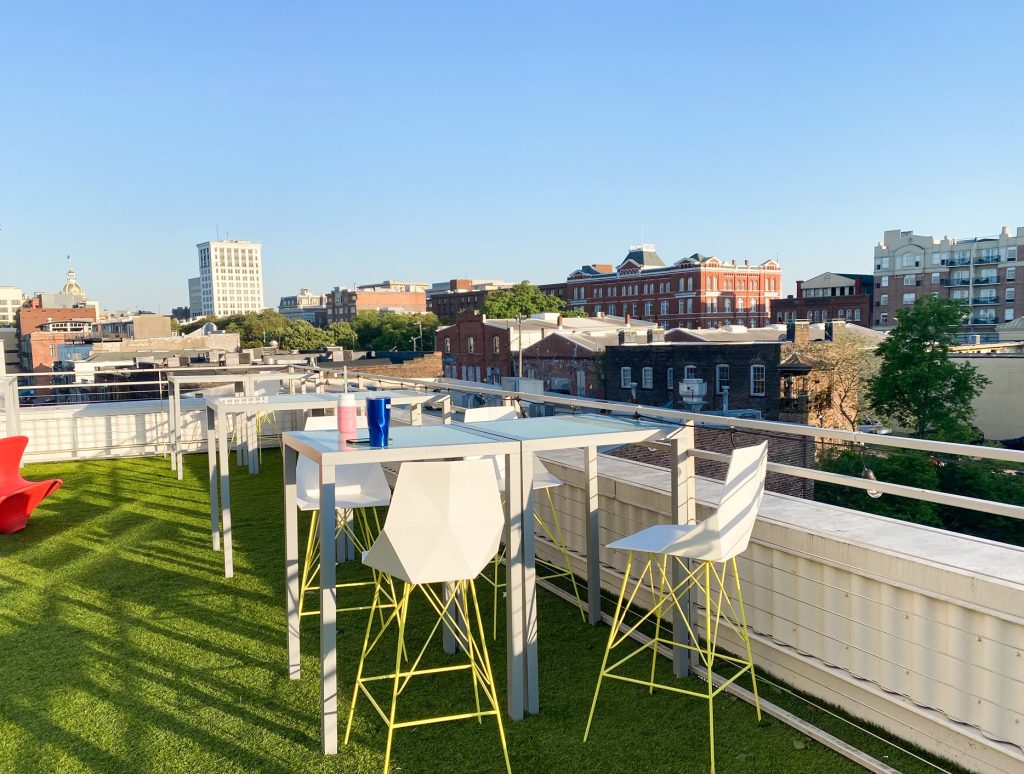 The Peregrin
Nested on top of the infamous Perry Lane Hotel, The Peregrin is one of the must-visit rooftop bars in Savannah! This is truly one of the Best Boutique Hotels In Savannah!
This modern lounge is a gorgeous spot to have cocktails and tapas-style food. You will get premium food that is locally sourced alongside your handcrafted beverage. Turf floors to big lawn chairs, the chic design is bright with touches of garden decor.
The Peregrin is family-friendly during the day and provides yard games to play. While this is not an 18+ bar it is not advised to bring children after dark. The crowds become more adult as groups come to enjoy the sunset and skyline. With a handcrafted drink or a carefully selected glass of wine in hand, you are sure to fall in love with The Peregrin! Your view of one of the prettiest cities in the south will match no other!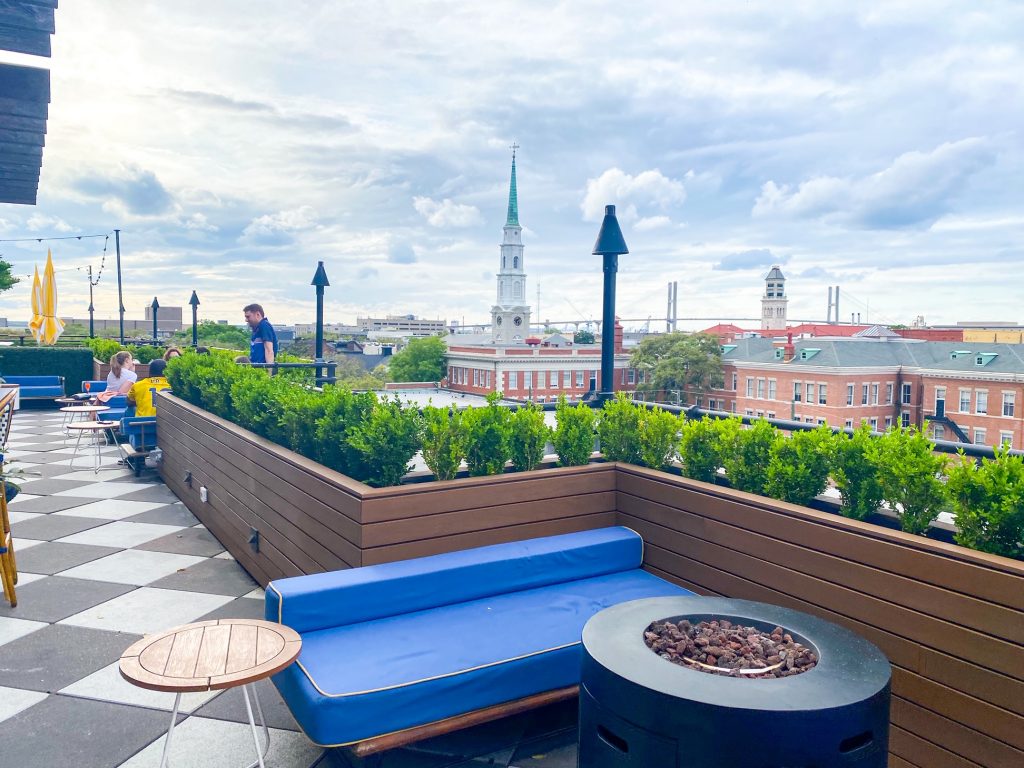 Rocks on the Roof
Marvelous views? Check! Rocks on the Roof is the perfect spot for gathering with friends for happy hour or dining with an impeccable view of Savannah. Grab a bite to eat or a drink to sip at Rocks on the Roof. Located atop the impressive Bohemian Hotel, you will be able to experience authentic Savannah seafood. The Georgia waters bring in delicious and fresh-caught seafood that is paired delightfully with locally sourced and seasonal ingredients.
Your views of the Savannah River make this a lovely spot in the historic district of Savannah. Rocks on the Roof will have live music from time to time as well! The small plates and tapas-style cuisine are deliciously created by an award-winning chef that will surely tantalize the taste buds. You will find vegetarian and vegan options here too! This really is one of the best rooftop bars in Savannah!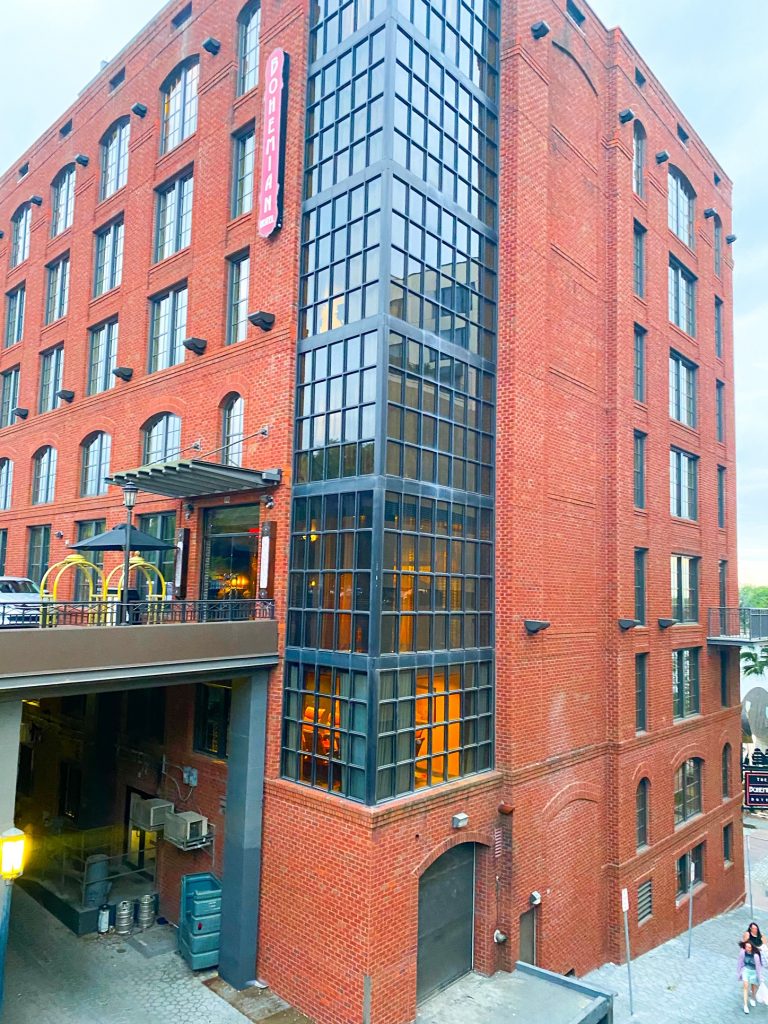 The Lost Square
It is all about perspective atop The Lost Square! Take a gander at the immaculate views from this rooftop bar above The Alida Hotel. Your stay in Savannah would not be complete without a trip to a rooftop bar and this may just be the whole package! Come and take a deep breath of the sweet sea breeze and indulge in the glory of fabulous food and views.
Swanky drinks and shareable plates will make your next night out on the town one to remember. The backdrop of Savannah will provide simply stunning pictures of all the excitement! There is an occasional DJ that comes to special events or themed weekends along with creative drinks added to the menu. Rooftop bars in Savannah have the bar set high (literally!) so having The Lost Square on your checklist is a must!
Myrtle & Rose
Bask in the swoon-worthy views at Myrtle & Rose, one of the best rooftop bars in Savannah! The elegant décor was inspired by flower crowns worn by muses in mythology. You will find this gem above the Three Muses Building in downtown Savannah. The luxury setting is an alluring spot for any reason to have a night on the town.
Overlooking the Savannah River from this modern garden is a charming setting for any occasion. If you are looking to dine on the weekend, consider a Sunday morning! Jazz Brunch is alive and well on Sunday Mornings at Myrtle & Rose. The small plates pair nicely with the wide variety of wines available. It is easy to fall in love with the décor, food, and views at Myrtle & Rose!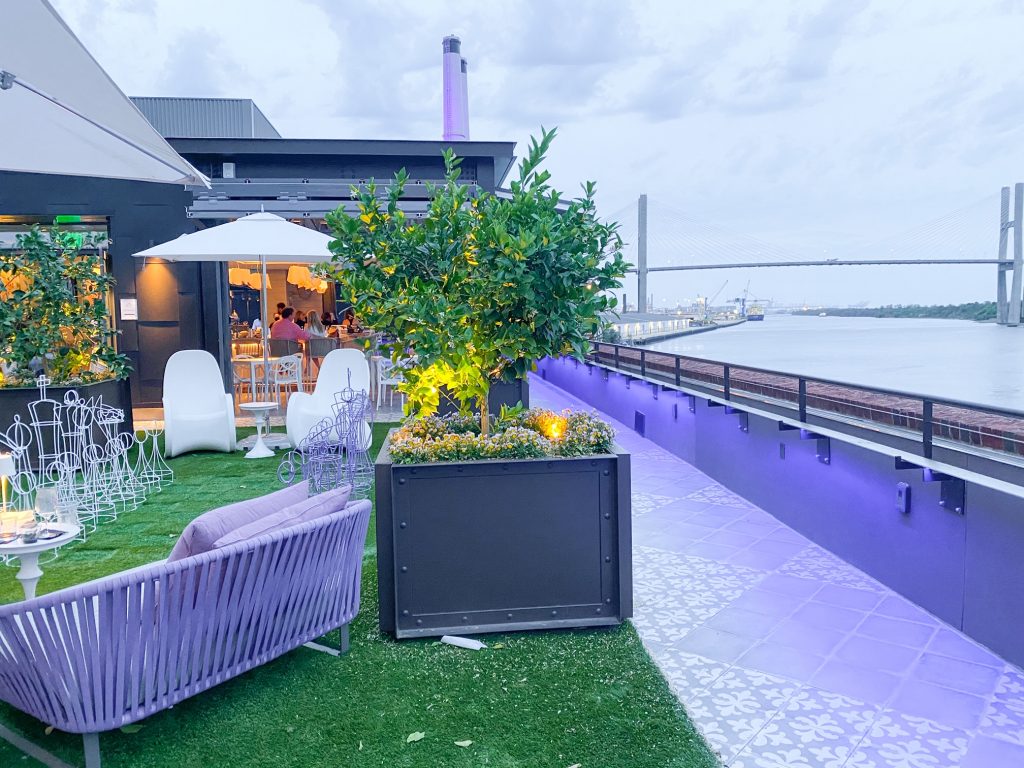 Electric Moon Skytop Lounge
It is all rise at the Electric Moon Skytop Lounge is for you! The energetic bar is a 21+ only venue and is located above the JW Marriott Savannah Plant Riverside District. The eccentric spot features a slide from the Electric Moon Skytop Lounge to the Moon Deck. Do not fret. Should you not want to risk spilling your drink, you may take the spiral staircase down. Here you will have a spirited time playing lawn games while enjoying handcrafted cocktails.
No matter where you are standing, overlooking the river from a lively vantage point provides you with a whole new perspective of Savannah. The building features two smokestacks that are lit up making a creative beacon in downtown Savannah. Delicious shareable plates and appetizers mixed with a fun night out? You have it all here at one of the best rooftop bars in Savannah.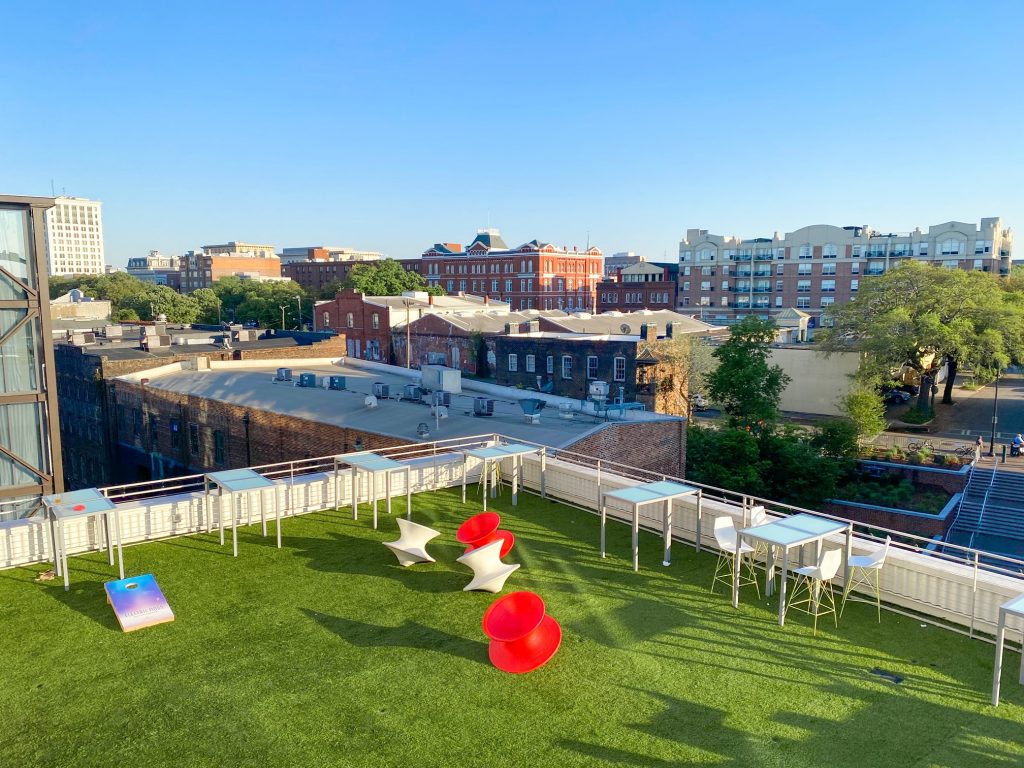 Churchill's Pub
For a grand time atop the city of Savannah, head over to Churchill's Pub! It is a casual British-inspired tavern with tasty pub grub supporting regional and local farms. In the heart of the historic district, you can perch high above the city for impressive views and laid-back ambiance. This is one of the best rooftop bars in Savannah that the whole family can experience! Cheers to that!
This rooftop terrace is a superb place to sip English draft beers or vino from the wine cellar! You can also pair your dishes with craft beers and signature cocktails. A rooftop bar that is casual and spirited like Churchill's Pub will offer the most ideal spot for a new hangout location with friends. The pub offers a private space for parties for any event you are planning! For an afternoon of good eats and company, Churchill's Pub is a lively choice.
Rooftop
Feel on top of the world at Rooftop, located atop The Drayton Hotel! This is one of the oldest buildings in the area built in the 1890s. Celebrate weddings or small get-togethers at this slice of history. As you make your way through The Drayton Hotel and up to Rooftop, you will be tempted to book your next stay at this striking hotel. The beautifully decorated hotel will lead you to the equally stunning rooftop bar. Rooftop will keep a piece of your heart making it a reoccurring item on your itinerary!
Phenomenal views await you at Rooftop! The skyline will include City Hall as well as an irresistible view of the Savannah River. Cozy up on the bistro-style seating and munch on delicious bar foods. Cocktails are masterfully created at this rooftop bar in downtown Savannah. Drink and be merry at Rooftop any time of day! Come for the picture-perfect backdrop, stay for the flawless dining experience.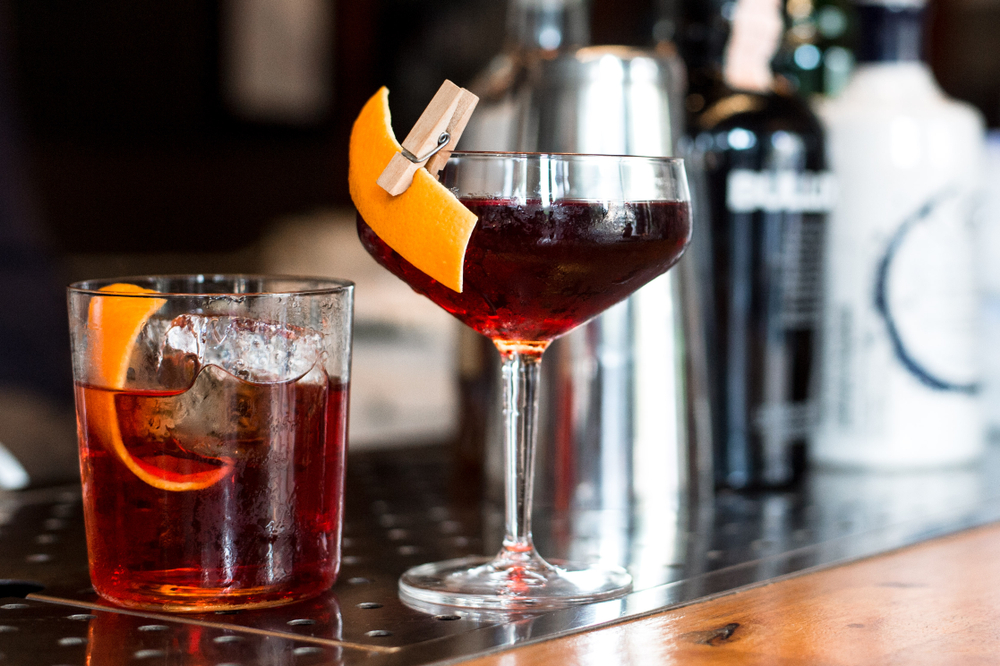 Top Deck
Overlook the Savannah River from Top Deck, one of the most perfect rooftop bars in Savannah with a view! Savor the taste of each exquisite cocktails, whisky, beers, and more above the Cotton Sail Hotel. The menu is made up mostly of smaller plates that you can munch on while socializing. A night out at a rooftop bar is just what you need to kick back with friends or solo!
Your views of the historic Bay Street and Talmadge Memorial Bridge will leave you breathless no matter what time of day you visit. If the craft signature cocktails are calling your name, answer! They are an excellent pairing for any of the plates or a charcuterie board. Relax and unwind watching the ships sail by here at Top Deck.
The Public Kitchen & Bar
For a more down-to-earth style of dining, you will want to venture to The Public Kitchen & Bar. This rooftop bar is atop their inside dining and overlooks the historic streets of downtown Savannah. The Public Kitchen & Bar combines casual dining with a mid-century appeal.
The menu has a wide variety of options to appeal to all taste pallets at your table! Top-quality food as at a priority here. Once you have a taste of their cuisine you will inevitably be craving another trip to one of the best rooftop bars in Savannah! The Public Kitchen & Bar is a casual restaurant that you do not want to pass up on your travels!
The Perch
Take a seat at The Perch with a classic cocktail surrounded by the modern touch of this contemporary rooftop bar in Savannah. The atmosphere is inviting making your lounging time more comfortable at this renovated 1950s bank. Taking in unique views of historic downtown is best from The Perch with glass in hand.
Freshly caught seafood and locally sourced produce make each meal an irresistible feast! Your cocktails with friends or dinner date will be memorable from food to views. There is also live music from time to time! The outdoor dining experience is a must at the best rooftop bars in Savannah, so be sure to check The Perch off your list when you are in town.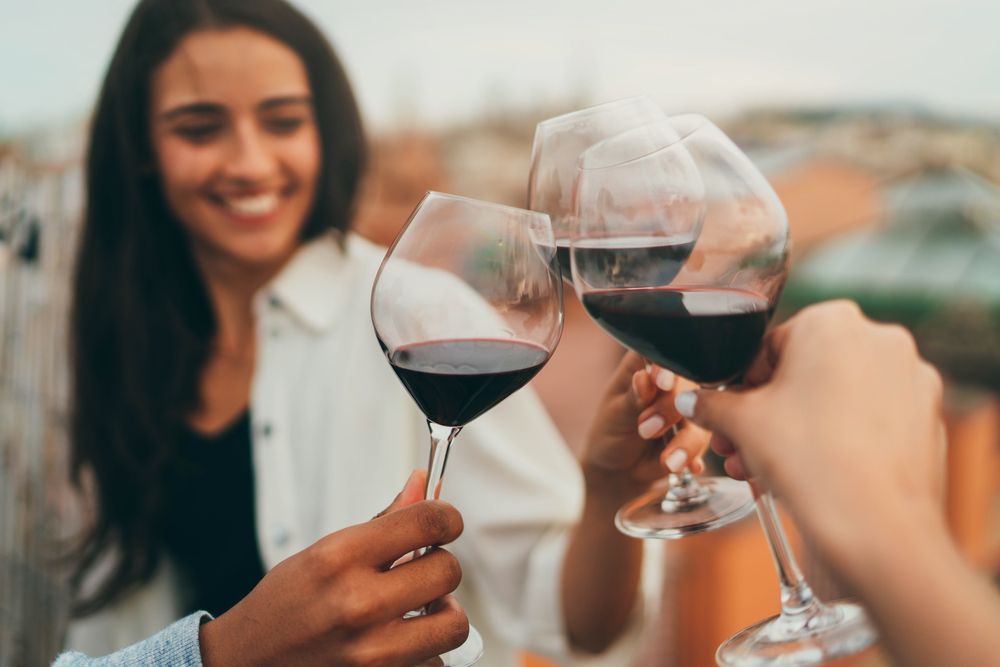 The Grove
With so many rooftop bars in Savannah, there is no short supply of beautiful nests to dine at including The Grove! Located downtown in City Market, it is easily accessible from brunch to dinner or late-night drinks. The Grove is casual and open to all ages, however, it is not necessarily kid-friendly.
This popular location allows walks ins although a reservation will ensure you timely seating! The wait is worth the tastefully crafted cocktails and select wines. The southern comfort style cuisine will make it hard to leave your seat, so enjoy another handcrafted beverage! Your next meeting or party would adore the three levels of bar and ambiance found on the third floor overlooking the great city of Savannah.