Did you know that there are beautiful castles in the South USA that you need to visit? Yes, you read that right! You don't have to travel to Europe to see breathtaking castles with rich history and amazing craftsmanship. We've rounded up the very best castles from various southern states so you can see all the turrets, stained glass, and stone masonry you like here.
While some of these southern USA castles will be a quick add to your itinerary, others you will want to dedicate more time to allow you to explore them to their fullest. Many of these castles in the South also double as hotels that you can rent a room or the whole building for the night! So, if you've ever wanted to feel like a king or queen, be sure to read on to see our roundup of fairytale castles in the South USA.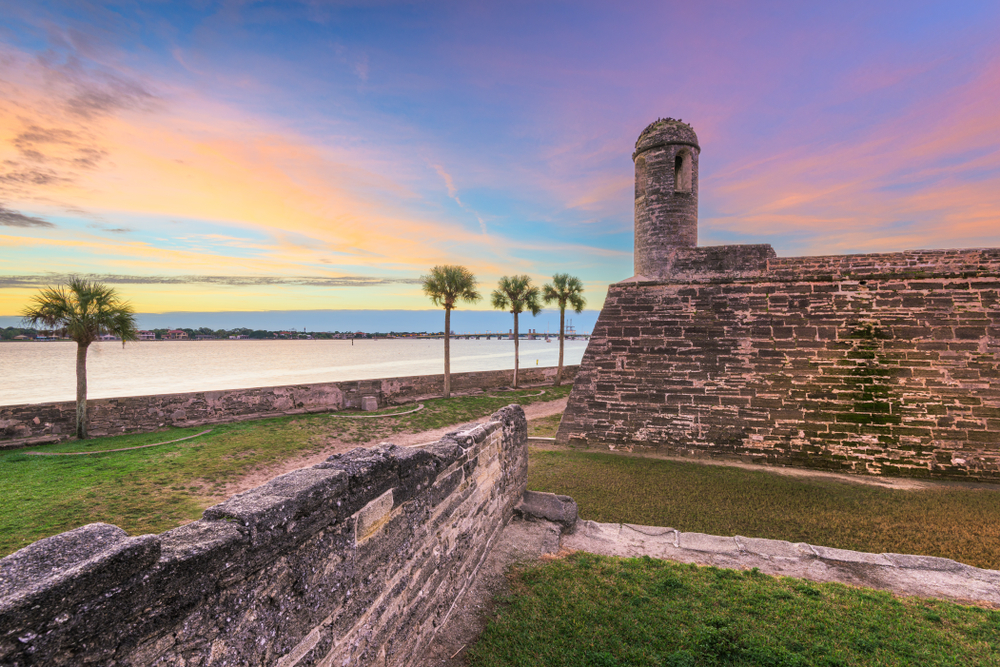 15 Fairytale Castles In The South USA You Must Visit
Castle Otttis, Florida
While most castles were built to protect the land around it, Castle Otttis in St. Augustine, Florida was built to appreciate the land around it. Built as a landscape sculpture, this is one of the castles in the South that actually serves as a giant work of beautiful art. The piece has 88 window openings that are all windowless. This was intentional! The artists wanted sun, rain, and wind to enter the interior of the castle.
This massive project had its entire exterior constructed by two people: Ottis Sadler and Rusty Ickes. They didn't have additional help with the masonry but did hire a single carpenter to work on the interior of the enclosed chapel. With so few people working on the construction, the project took seven years to complete.
They never planned for Castle Otttis to become a tourist attraction, but how could you not want to visit this beautiful piece of art?
You can visit the castle, but only by appointment (this includes school field trips, weddings, or tours). They also have a Christian church service at 10:00 a.m. on the last Sunday of each month, but these have been temporarily canceled due to COVID-19 precautions.
Castle Otttis is also included in our 10 Magical Castles in Florida list!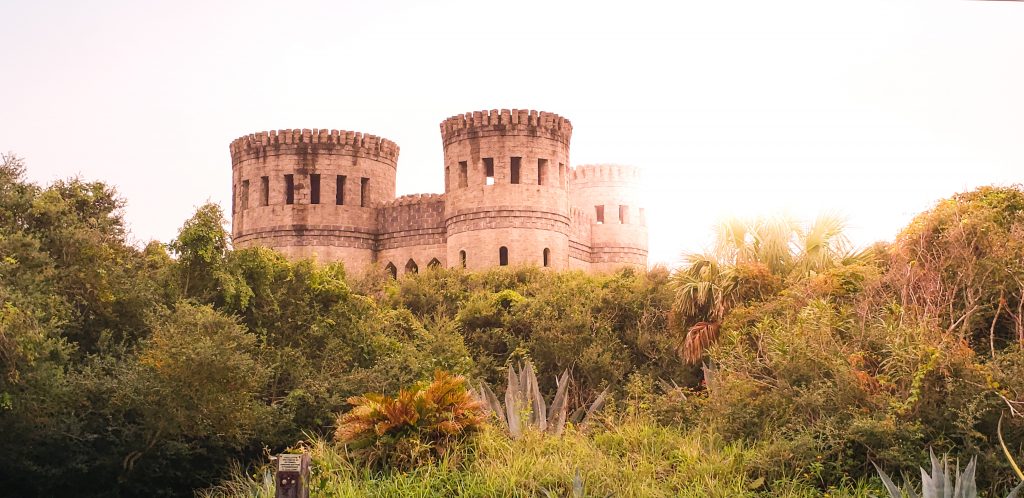 Old Capitol Building, Louisiana
Who wouldn't want their state capitol to look like the perfect blend between a castle and a cathedral? The Old Capitol Building in Baton Rouge, Louisiana is one of the castles in the South USA with that combination. With turrets, stained glass, and cathedral doors the interior of this building is just as beautiful as its exterior.
The Old Capitol Building has a rough history that includes being set on fire (accidentally) twice! In 1976 it was designated as a National Historic Landmark and began a long restoration process. Because of the history, this building played a role in, it has moved from a legislative purpose to an educational purpose. Serving as a museum, the exhibits are open and free to the public from 10 a.m. – 4 p.m. Tuesday – Friday and 9 a.m. – 3 p.m. on Saturday.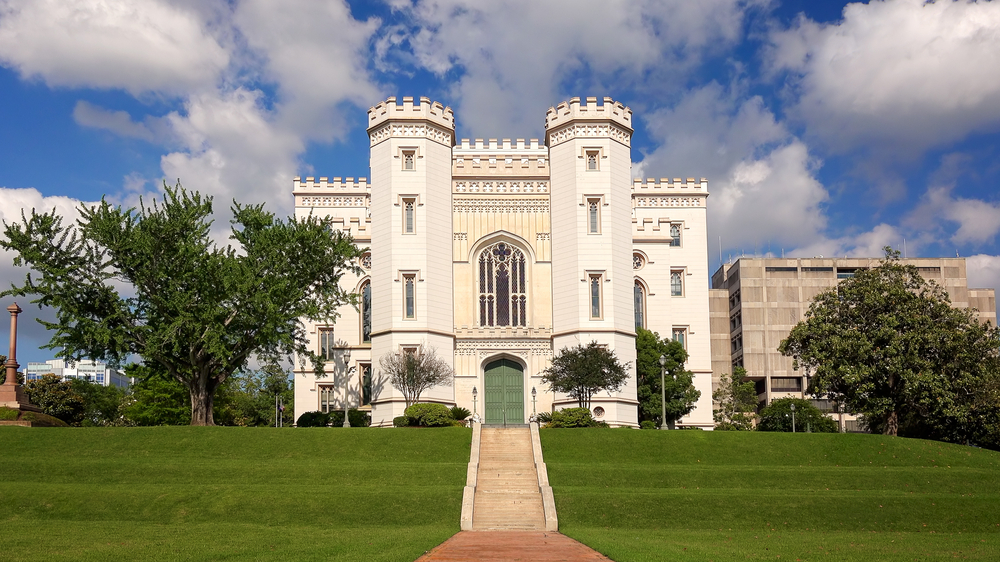 Homewood, North Carolina
Don't let Homewood's stony exterior fool you, this manor in Asheville, North Carolina is a venue often used for celebratory events like weddings. Originally a home built for Dr. and Mrs. Robert Carroll in the 1920s, Homewood frequently housed famous guests like F. Scott Fitzgerald and the Vanderbilts (remember that name from the Biltmore estate we mentioned earlier?).
This is one of the castles in the south USA that has been cared for so well that its original floors, walls, fireplaces, and scones are all still in wonderful condition. The grandeur of the manor can be found in the Great Room that boasts a 20-foot ceiling and has space for over 100 dinner guests!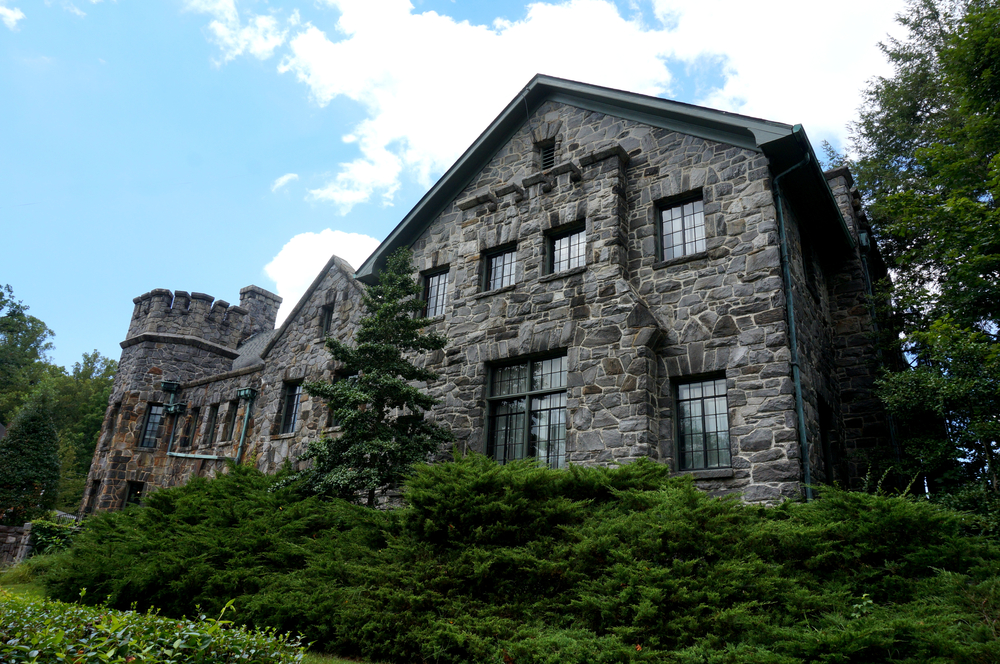 Falkenstein Castle, Texas
If you Google this castle, make sure you specify that you're looking for castles in Texas, or you may end up in Germany at the castle of the same name. About an hour north of Austin, Falkenstein Castle is nestled in Kingsland, Texas on a 133-acre plot of land.
This castle's design draws heavily on European history. In fact, Falkenstein Castle's owners, Terry and Kim Young, were inspired by original drawings that were on display in the famous Neuschwanstein Castle in Germany. With permission from the director of Neuschwanstein Castle, they received copies of the original art and used them as the creative base for their own castles in the south USA.
Private tours are currently not available, but the castle still available for rent as a wedding venue or for other private events. Falkenstein Castle is also listed on airbnb and VRBO, where you can see its perfect blend of modern comforts and medieval decor.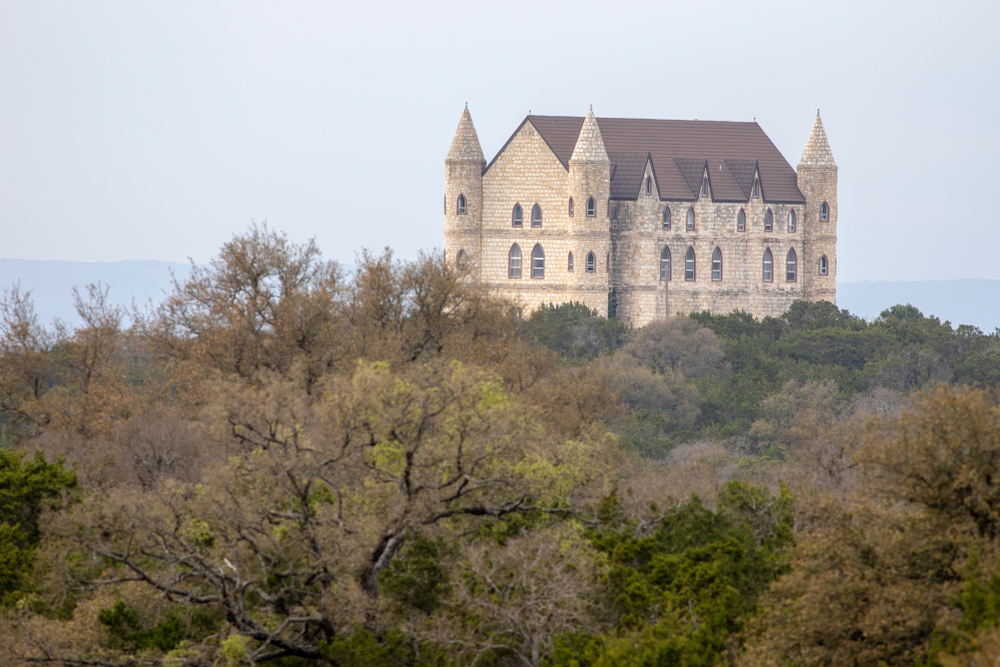 Point Park, Tennessee
To get to Point Park in Chattanooga, Tennessee, you have to pass through the castle gates at the park entrance. These historic gates were built in 1904 and are a large interpretation of the insignia used for the US Army Corps of Engineers.
While you can't explore the inside of this Southern castle, you can explore Point Park that's full of Civil War history. The Park provides a sweeping view of the Lookout Mountain Battlefield where the "Battle Above the Clouds" was fought.
This national park has a $7 entrance fee for adults 16-years-and-older and is open daily from 8:30 a.m. – sunset.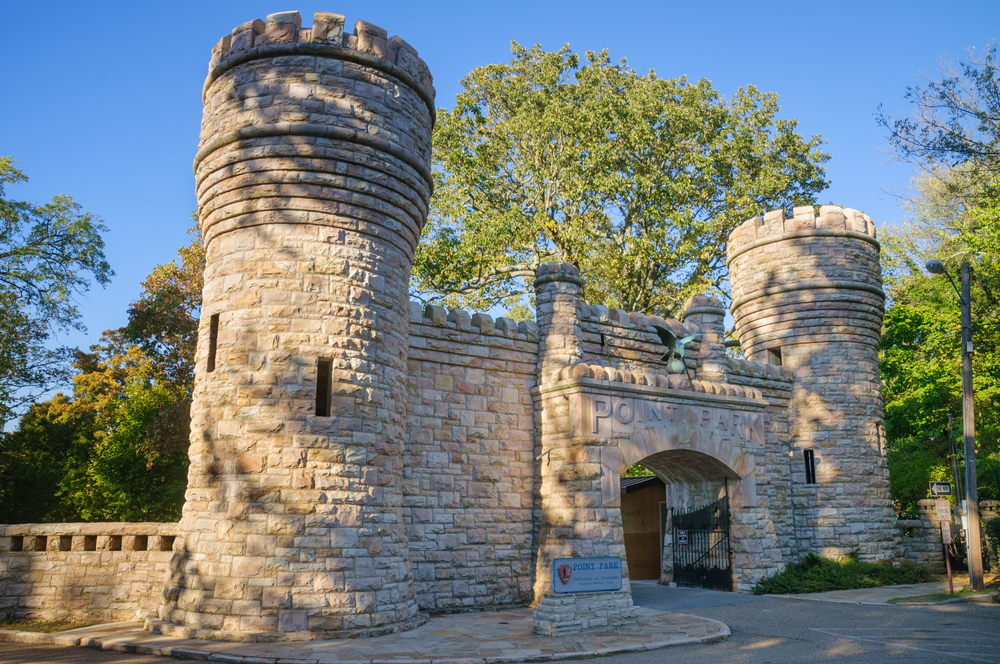 Kentucky Castle, Kentucky
The Kentucky Castle will really make you feel like a king or a queen since this castle is a luxury hotel, restaurant, and spa. Fittingly the grand structure is located in Versailles, Kentucky (just outside Lexington, Kentucky).
The Castle grounds include a full-functioning produce farm with vegetables, truffle orchards, lavender fields, and a berry patch to ensure that the produce used in the restaurant is of the best quality and always fresh. The farm is also home to goats, rescue horses, chickens, and honey bees.
If you have a special day, you can rent the Castle it for weddings and private events. If you are just wanting to explore the Castle, you can schedule a private guided tour for up to 10 guests. Your tour guide will give you a history of the castle as you walk the first two floors, rooftop, terrace, and grounds. Cost varies based on the size of the group, so you can contact the Castle for more information.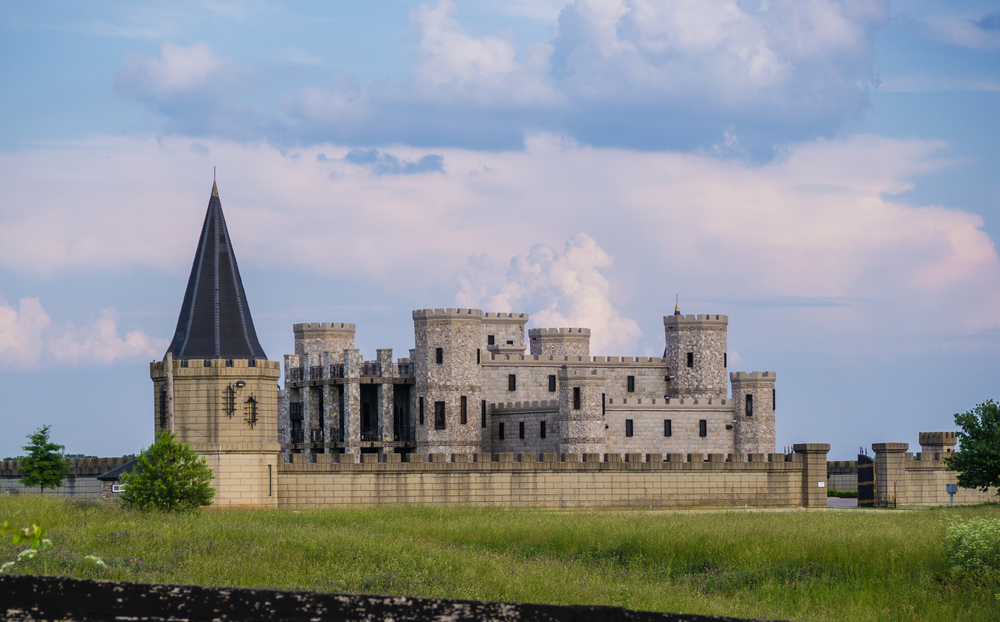 Castle on Peachtree, Georgia
This mansion is officially named Rhodes Hall, but with its Stone Mountain granite exterior, it was understandably given the nickname the Castle on Peachtree. Peachtree Street used to be lined with mansions, but Rhodes Hall is one of the last ones remaining in a historic district of Atlanta, Georgia.
Built in the early 1900s, the Castle on Peach Tree's architects combined medieval Romanesque and Victorian style to create a beautiful fortress with stained glass windows, mahogany staircase, and even a security system (which was a novelty at the time).
When the owners Amos Giles and Amanda Rhodes passed away, their children deeded the mansion to the State of Georgia. It now acts The Georgia Trust headquarters and is undergoing ongoing restoration projects.
While tours have been temporarily suspended due to COVID-19 concerns, the Castle on Peachtree is available for special event rentals.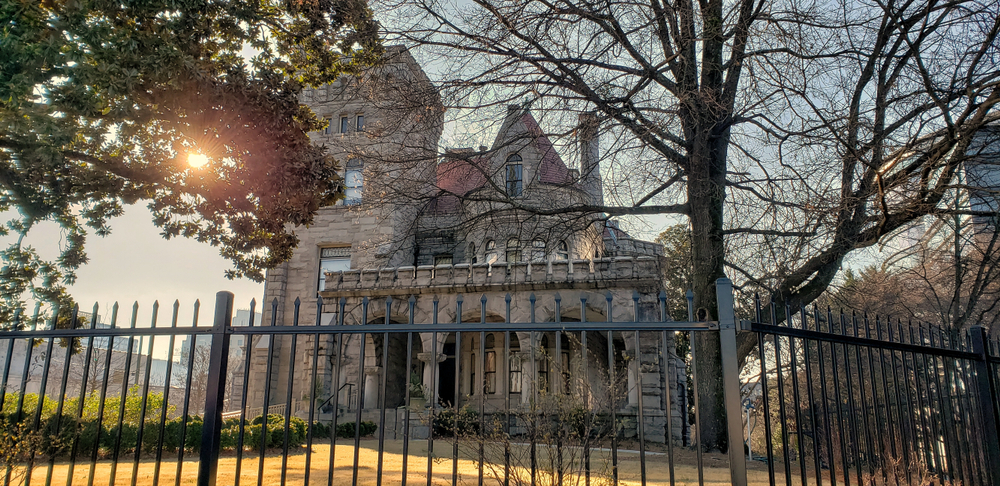 Fort Proctor, Louisiana
Located in the waters of Lake Borgne in Louisiana, Fort Proctor looks like a Southern USA castle rising up out of a large moat. While it may look Medieval, the structure is actually an abandoned fortress dating from between the War of 1812 and the Civil War. This stronghold was meant to guard the bodies of water around New Orleans from attacks from Britain. Ironically, it was never used.
A hurricane ruined the newly constructed Fort Proctor and before it could be repaired, the Civil War broke out and it fell into ruin. Then erosion came into play turning the fortress into it's own island.
You can reach Fort Proctor by boating from Shell Beach, in St. Bernard Parish, Louisiana. Just be mindful that the structure does have extensive damage from natural elements and should be explored with caution!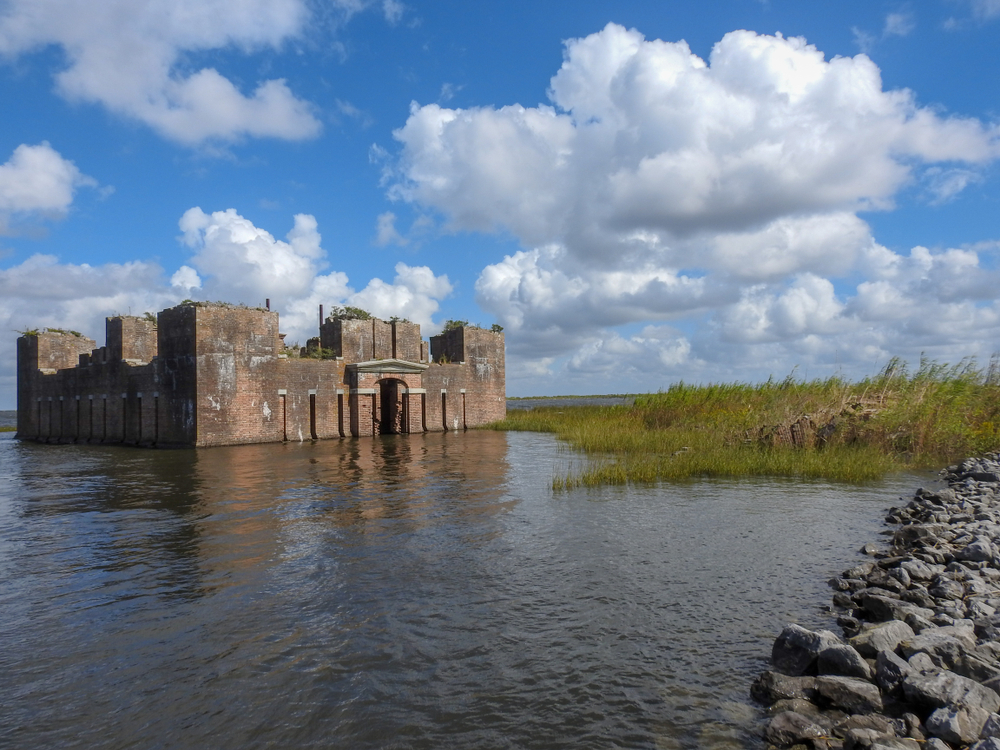 Biltmore Estate, North Carolina
The Biltmore Estate is an estate in Asheville, North Carolina that was built in 1895 by George Vanderbilt and became the country retreat to his wife and daughter. Yes, a real family lived in this 250-room French-inspired chateau. The Biltmore Estate is so expansive that it's been given the title, America's Largest Home, one of the true castles in the south USA.
It wasn't until the Depression in 1930 when there was a need for money to maintain the house and property that the family opened the estate for tourists. Since then, the property has grown to include an inn, shopping, restaurants, a winery, a spa, and a hotel. If there isn't anything that catches your eye at the Biltmore Estate, you can check out our list of 15 Tasty Downtown Asheville Restaurants You Must Try.
Today, visitors can tour the estate which serves as a museum to carefully curated and preserved decor and the original building structure. The self-guided tours include three beautifully maintained floors of the house, the basement, and the estate grounds.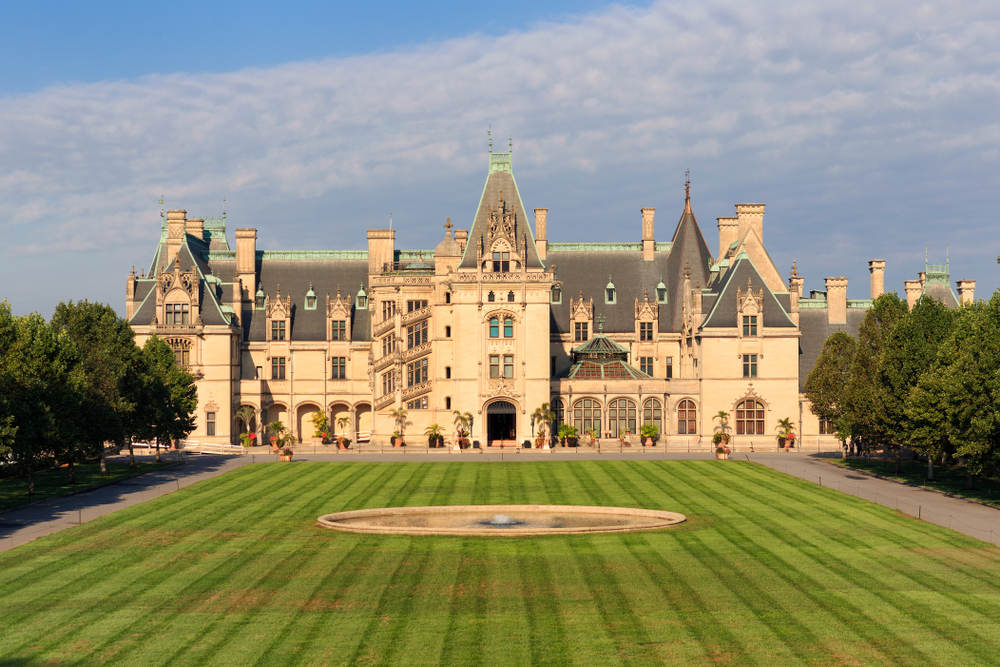 Castillo de San Marcos, Florida
Castillo de San Marcos National Monument in St. Augustine, Florida, is the oldest masonry fort in the continental United States. Over 320-years-old, this fort is filled with history and now serves as a historical site that educates the public about Spanish military life in the 1600s. Since it was made of coquina it was fireproof and able to withstand attack, which it proved by successfully keeping the British navy out of St. Augustine for over 60 years.
There are many interactive and educational elements in this Southern USA castle including, canon firings on the gun deck, weapon demonstrations, and ranger-led tours (or you can do a self-guided tour if you prefer).
Castillo de San Marcos also houses several preservation projects that go beyond protecting the physical fortress. Best known are the Cannon Preservation Project to the 3D Digital Documentation Project which will benefit museums and historical preservation throughout the world.
Admission into the fortress is $15 for adults 16-years-and-older, but you can visit again within a week of your entrance fee purchase.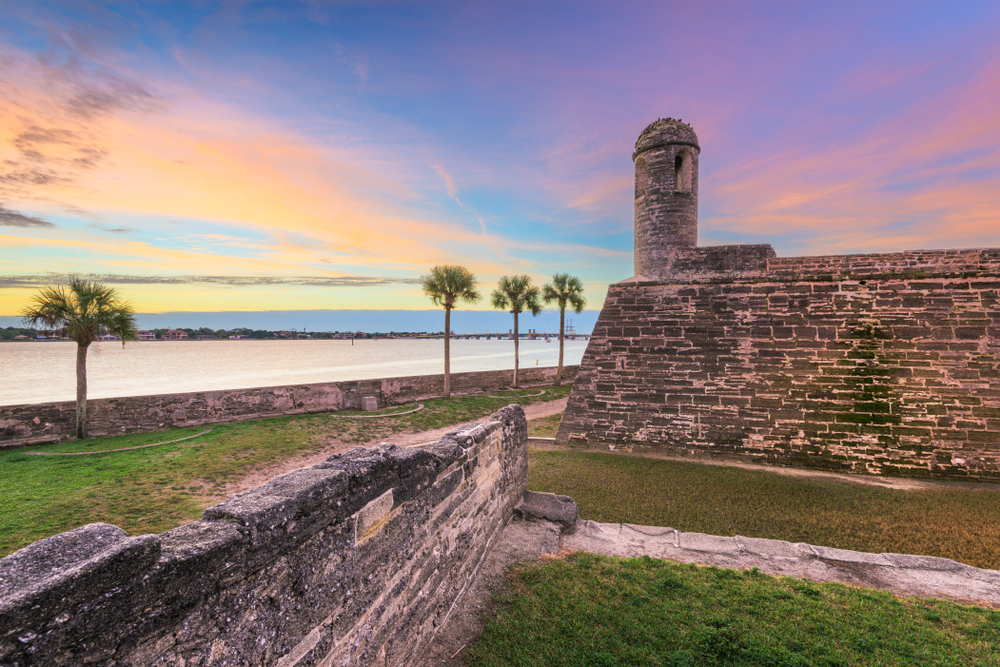 The Citadel, South Carolina
Charleston, South Carolina has one of its very own castles in the South that's fittingly part of a campus called The Citadel. This castle is a fortress of education that serves as the military college of South Carolina to over 2,000 members of the South Carolina Corps of Cadets working on their undergraduate degrees.
The iconic Padgett-Thomas Barracks was originally built in 1922, but due to issues with this structure was demolished in 2011. Thankfully, the castle-esque building was reconstructed in 2004 and includes a spiral staircase in each corner, a guard room, and an eight-story central tower.
The barracks are fully functional and house the Echo, Foxtrot, Golf, and Hotel companies of the Second Battalion along with the regimental staff. While the barracks are only for students and staff, you can choose from our roundup of 12 Gorgeous Bed and Breakfasts in Charleston South Carolina to spend the night in.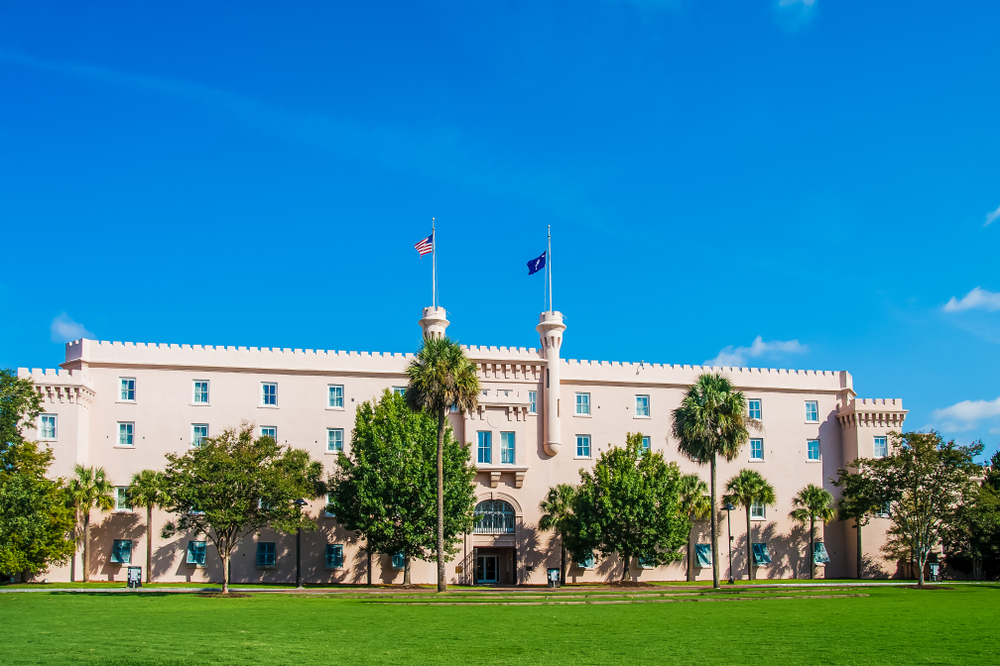 Spring Castle, Tennessee
Most castles are larger than life, but Rock Island State Park in Tennessee is home to the humble Spring Castle. This petite castle is along one of the many hiking trails in the park. Where else can you see waterfalls, an abandoned cotton mill, and a castle all in one hike?
The Falls City Cotton Mill is nationally registered as a historic place that operated from 1892-1902. The Spring Castle, located next to the cotton mill is small in size due to the fact that it served as cold storage for the cotton mill workers.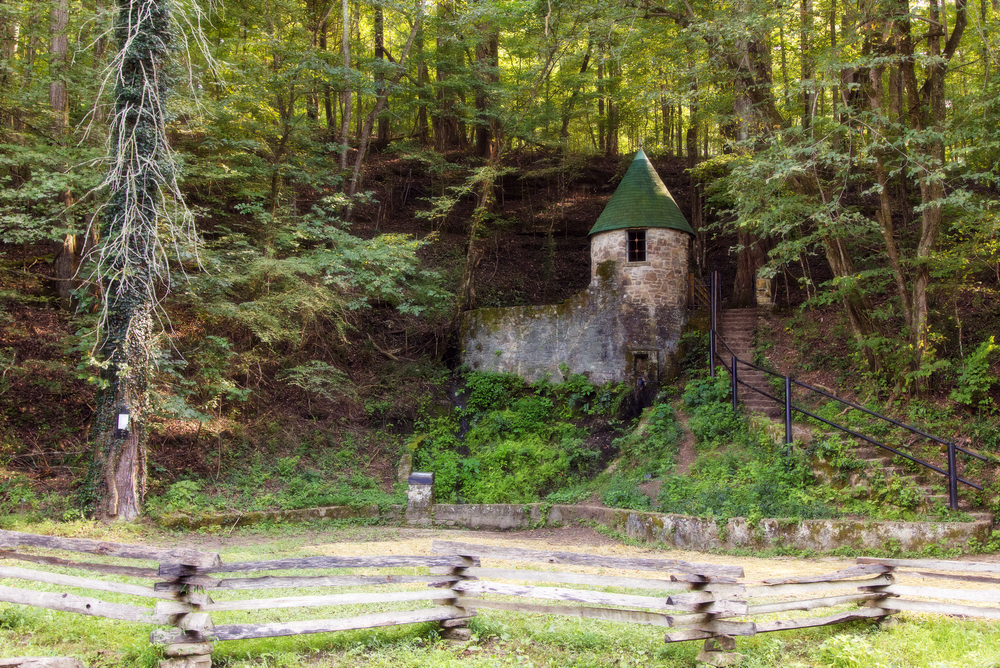 Newman's Castle, Texas
Turrets, a moat, a 3,000-pound drawbridge (that's fully functional!), and a breathtaking view of the countryside, are everything you could want in a Southern USA castle! Newman's Castle has all of these medieval features and is located in the hill country of Bellville, Texas.
Tours are available six days a week for groups big and small, but reservations are required. The tour lasts about 2 hours and includes a lunch prepared by Newman's Bakery. If you would rather have the castle all to yourself, they also rent the castle out for special events. Imagine a fairy-tale event in an actual castle!
Newman's Castle was created and owned by Mike Newman who was inspired by his personal European adventures while he was in his 20's. Fun fact, Mike Newman also runs the popular Newman's Bakery in the city of Bellville.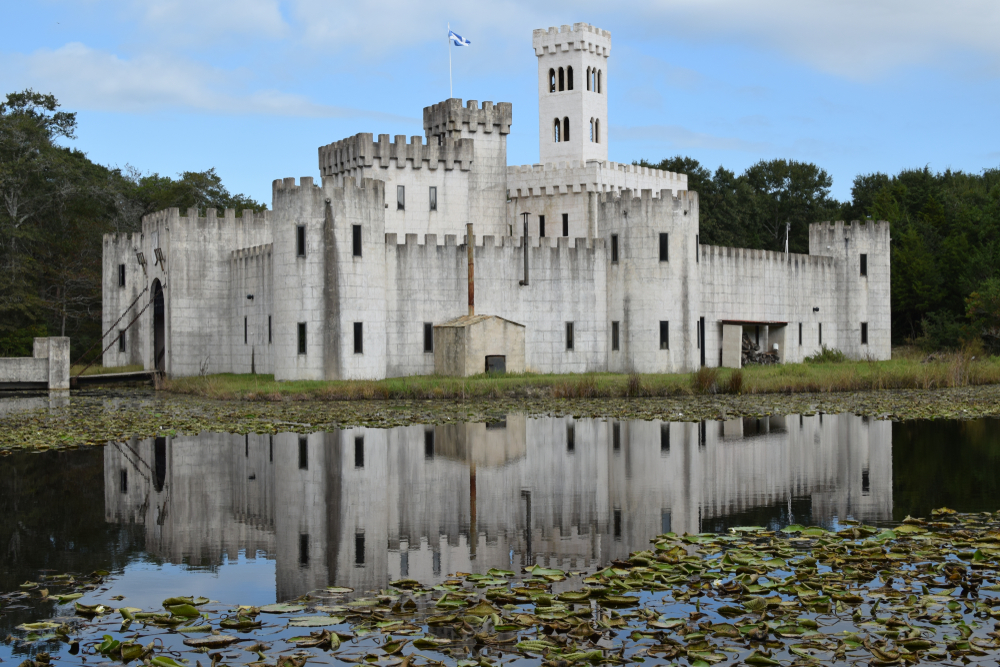 Burruss Hall Virginia Tech, Virginia
Hogwarts isn't the only school that has a castle on its campus grounds. Virginia Polytechnic Institute and State University (Virginia Tech) boasts its own stunning castle-esque landmark building, Burruss Hall.
The original building was constructed in 1963, and additions and renovations have grown the building's capacity and functionality so it can continue to be used today. Burrus Hall currently serves as Virginia Tech's administration building, but it also houses an auditorium for commencement, studios, classrooms, and offices.
Like most buildings on the campus, Burruss Hall is a namesake to an influential member of the University's history. Julian Ashby Burruss was the eighth president of Virginia Tech and during his tenure as president he allowed women to be admitted as full-time students and changed military requirements for male students from four years to two years.
While physical tours of the campus are temporarily suspended due to COVID-19 restrictions, there are virtual tour options available. And if you plan on visiting Virginia Tech's campus in Blacksburg, Virginia, be sure to stop by Burruss Hall.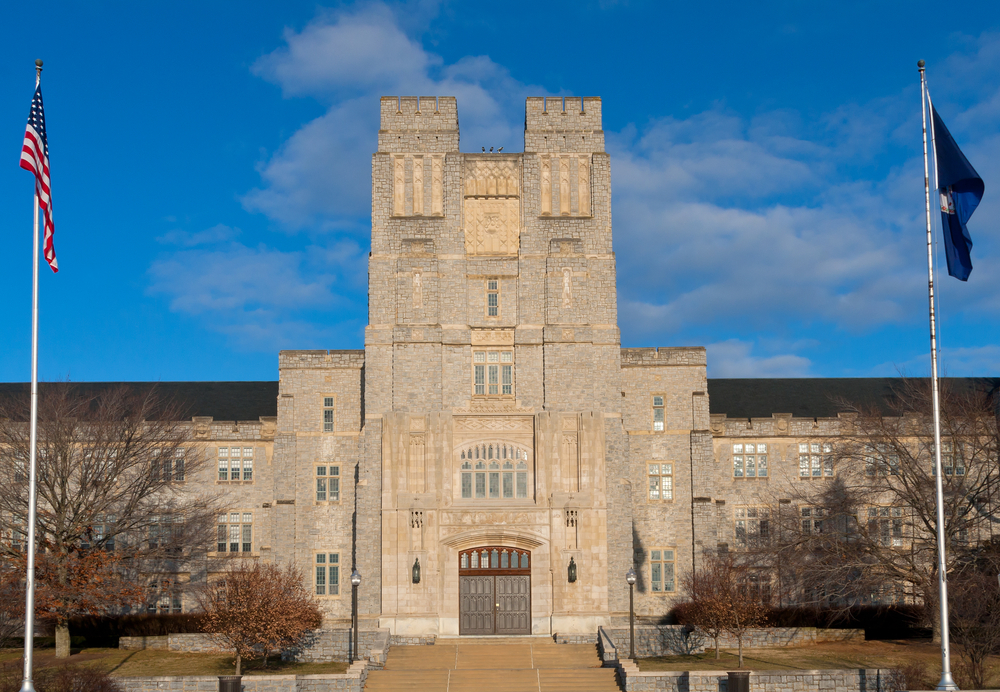 Cinderella Castle, Florida
Can you have a list of fairytale castles and not include Cinderella castle at Walt Disney World in Orlando, Florida? Cinderella Castle welcomes visitors of all ages and from around the world to the most magical place on earth. Its iconic silhouette and color scheme was inspired by the historic Neuschwanstein Castle in Germany.
While it serves as the entryway into Fantasyland, a castle isn't a castle without detailed landscape, so be sure to explore the gardens and Cinderella's wishing will. Be sure to check out more tips about your trip to Disney World!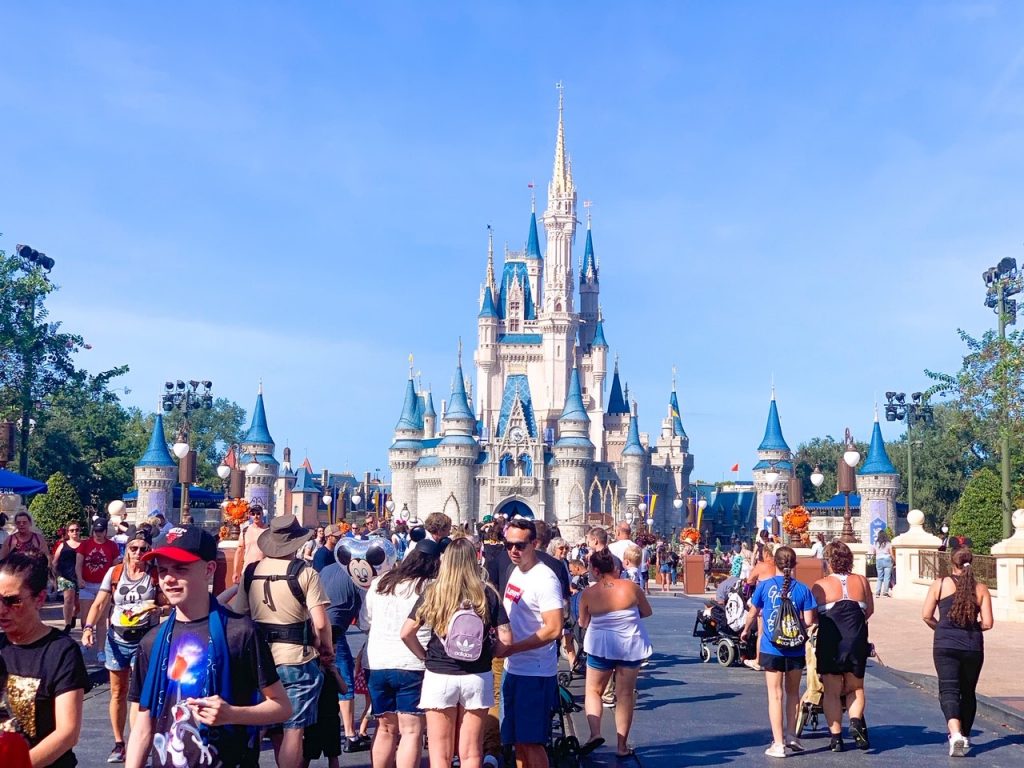 These castles in the south USA bring a variety of medieval architecture and inspiration to the states and are well worth the visit. With so many options, you'll be sure to get your fix of historic castles that you can actually explore without having to pay any expensive tour fees. And if you decide to spend the night in one of these castles you're sure to feel like royalty!