Heading to the Southern USA and looking for some fun Southern gifts to round out your experience? Then you are in the right place.
We have scoured the internet to find some unique small shops that offer a variety of southern gifts. You are sure to find something that you love, need or just plain want in your life.
Or, perhaps you've already come back from your trip and wish you grabbed something. All these options can be purchased online and they ship your item to you. So it's a great way to pick up a memento after you've been on your holiday.
And, let's face it, vacation time is sacred time and doesn't always allow for enough shopping time to buy for everyone on your list. So go ahead and feel zero guilt in buying a gift ahead of time (or even afterward!) for all the friends and family on your list. You could also buy yourself a gift afterward – there really is no time limit on when you treat yourself.
No matter where you are heading in the South we have some Southern souvenirs that you are going to love! So whether you are planning on relaxing and doing the best things to do in Hot Springs Arkansas. Or you will be riding the best bike trails in Florida you are in for some great ideas for southern-themed gifts.
Or, maybe you haven't been able to travel recently and you want to gift yourself with the feeling that you've been an a lovely adventure.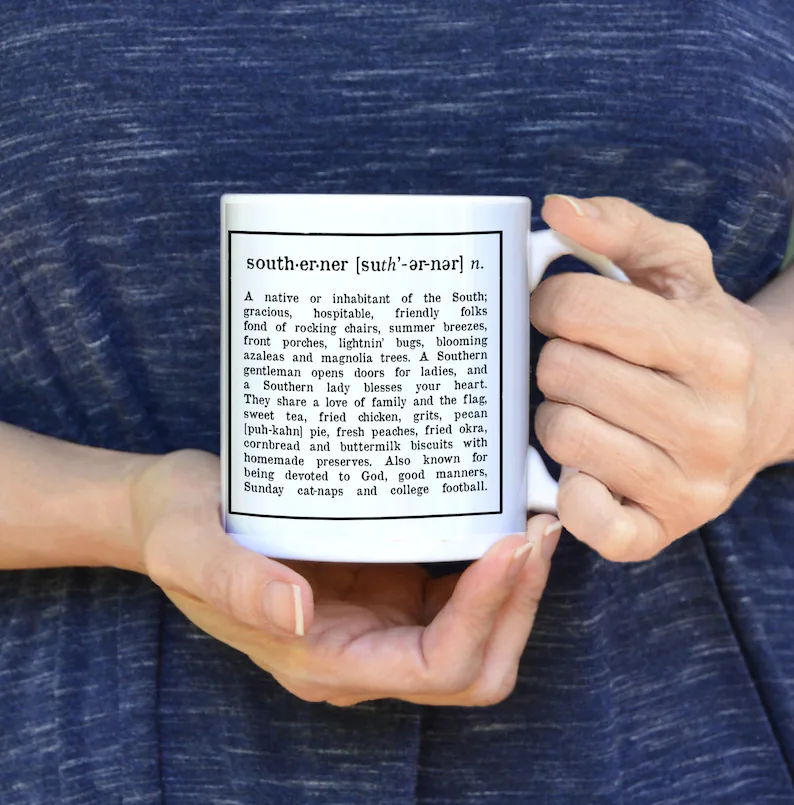 15 Best Southern Gifts and Souvenirs You Will Love
Southern Sayings Magnets
Based out of Knoxville TN these Southern Saying Magnets are one of the true Southern Gifts. The owner, Meghan McCrary is a former architect that just couldn't make that path in life fit. So now, all those incredible design skills get poured into beautiful things that YOU get to buy.
These magnets are packed with southern sayings that you will definitely recognize. They are heard all the time, though you sometimes might need a local to explain the nuance of what they actually mean. Regardless of whether you know exactly what that wry southern smile and a "bless your heart" really means you are sure to love having these adorn your fridge.
These would also make an amazing stocking stuffer if you need some southern Christmas gifts! Definitely don't stop at the magnets here though. Meghan has so many fun paper and gift options; including her very popular dry and sarcastic greeting cards. With an incredible history of 5 star reviews and punctual shipping, you can feel safe and secure in buying your southern-themed gifts from Meghan.
Check it out here: Southern Sayings Magnets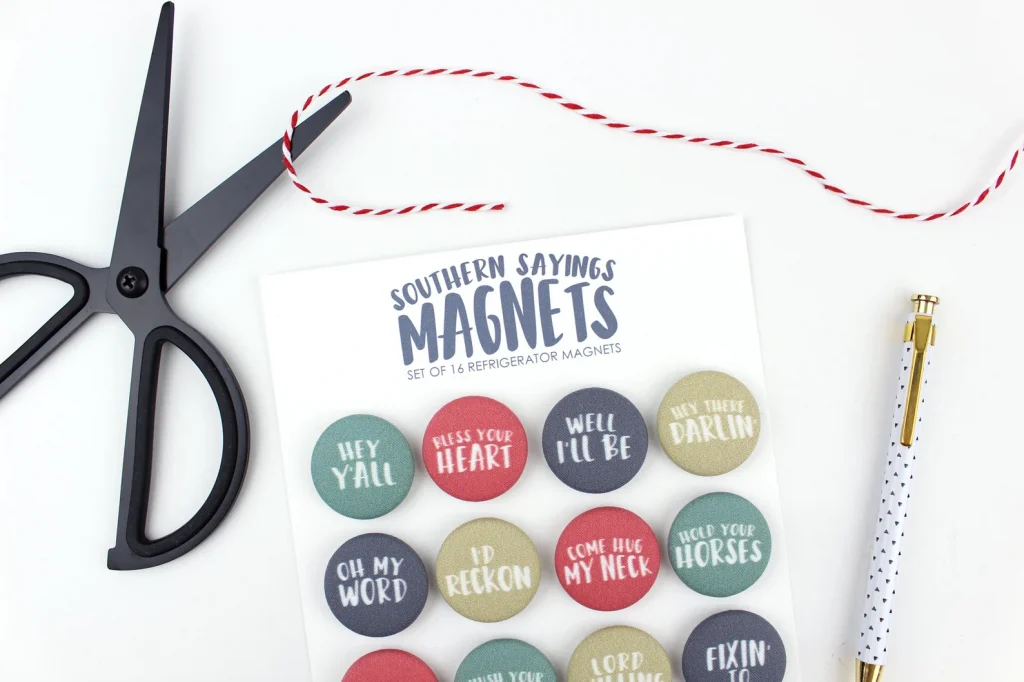 Southern Sweet Tea Candle
This is one of the southern gifts that will have you dreaming of the south all year round. The Southern Sweet Tea Candle is like a cold glass of southern tea in a jar. You will feel like you've been transported to a front porch in the mid-summer sunshine.
The candles are handmade. They are also phthalate-free, made from soy, and have a wood wick. If you aren't quite sure what Southern Sweet Tea smells like. Imagine something sweet with a hint of tea and a little citrus and bergamot. You will have people wondering what smells so good in your home!
This is such a great option for Southern-themed gifts because the company really does its homework in sustainable candle making. They responsibly source their products. The wicks are American grown and purchased from another company with great standards. And, if that isn't enough the candles are also vegan, cruelty-free, carbon-neutral, AND handmade.
It is so easy to buy several of these for gifting to friends and family as the best southern souvenirs. The owner, Teresa Lynn, provides top-notch customer service, has thousands of five-star reviews, over 40,000 sales, and has impeccable shipping standards. You will feel great about buying the Southern Sweet Tea Candle for your southern souvenir.
Check it out here: Southern Sweet Tea Candle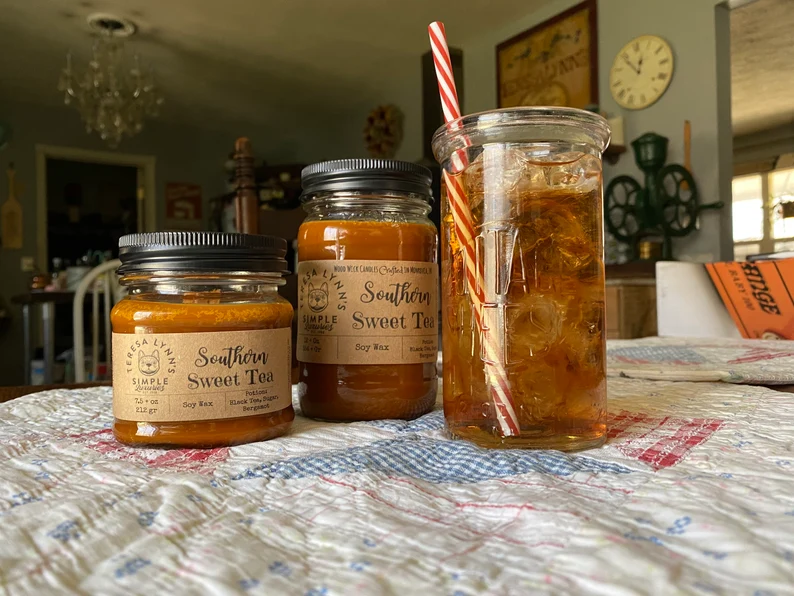 Florida Water Lotion
This is another of the great southern gifts from Teresa Lynn's shop. The Florida Water Lotion isn't just a fun gift but it works really well!
Despite what the name may cause you to believe there isn't actually water from Florida in this lotion. Florida water is actually an essential oil blend. This seller makes their own blend from a recipe that is over one hundred years old. The original recipe uses a blend of witch hazel, citrus and alcohol but they keep the alcohol out for the purpose of making a better lotion!
In the 1800s this blend was used for a myriad of things some of which you definitely shouldn't use it for anymore. But when you use this Florida Water Lotion you are spreading a little bit of history on your skin.
The price for this lotion is fantastic. And, if you want to make it into a full spa treatment, they have other Florida Water products as well. You could give the body mist and soap a try as well! This is definitely one of the best southern souvenirs.
Check it out here: Florida Water Lotion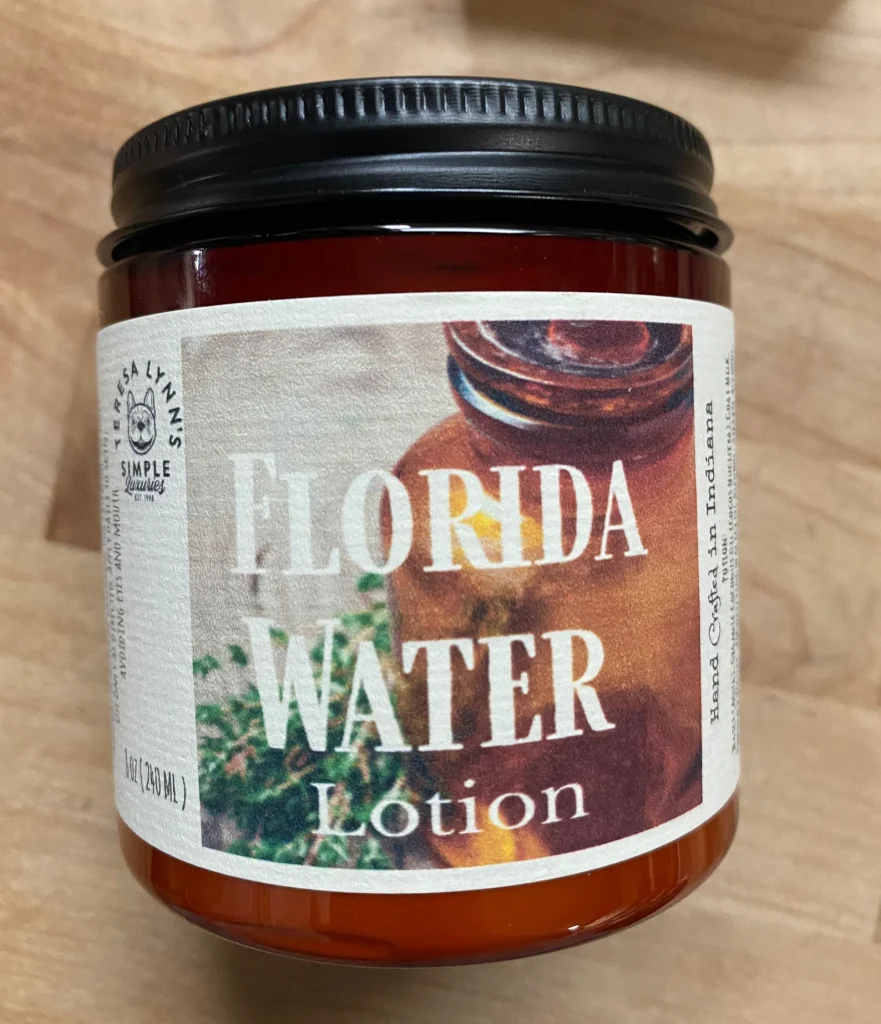 Southern Pillow
Everyone needs a little bit of cozy in their life and southern gifts are a great way to give that. This Southern Pillow will be a conversation starter in your home. It is fun, comforting, amazing quality and is straight from the south in Alabama!
If you are looking at this for someone else they would be so lucky to be the one on the receiving end of this gift. The pillowcase measures 18 by 18 inches which is a fairly standard size. But, if you want to make sure that you have a pillow that will fit, you can order it with the pillow. That's pretty much the easiest house warming gift ever.
The pillowcase is made from burlap and is a great addition to any decor. But, it is especially lovely, in modern farmhouse vibes. However, you do you, and if you love it you can pretty much put it anywhere and it will still look cute. Isn't that the benefit of southern charm?
This is definitely one of the things to buy in the south that you will undoubtedly use. And useful souvenirs are always lovely. And, if you want to go all in, be sure to check out the matching bag! Again, this is another, an absolutely lovely and well-reviewed seller that we know you will love.
Check it out here: Southern Pillow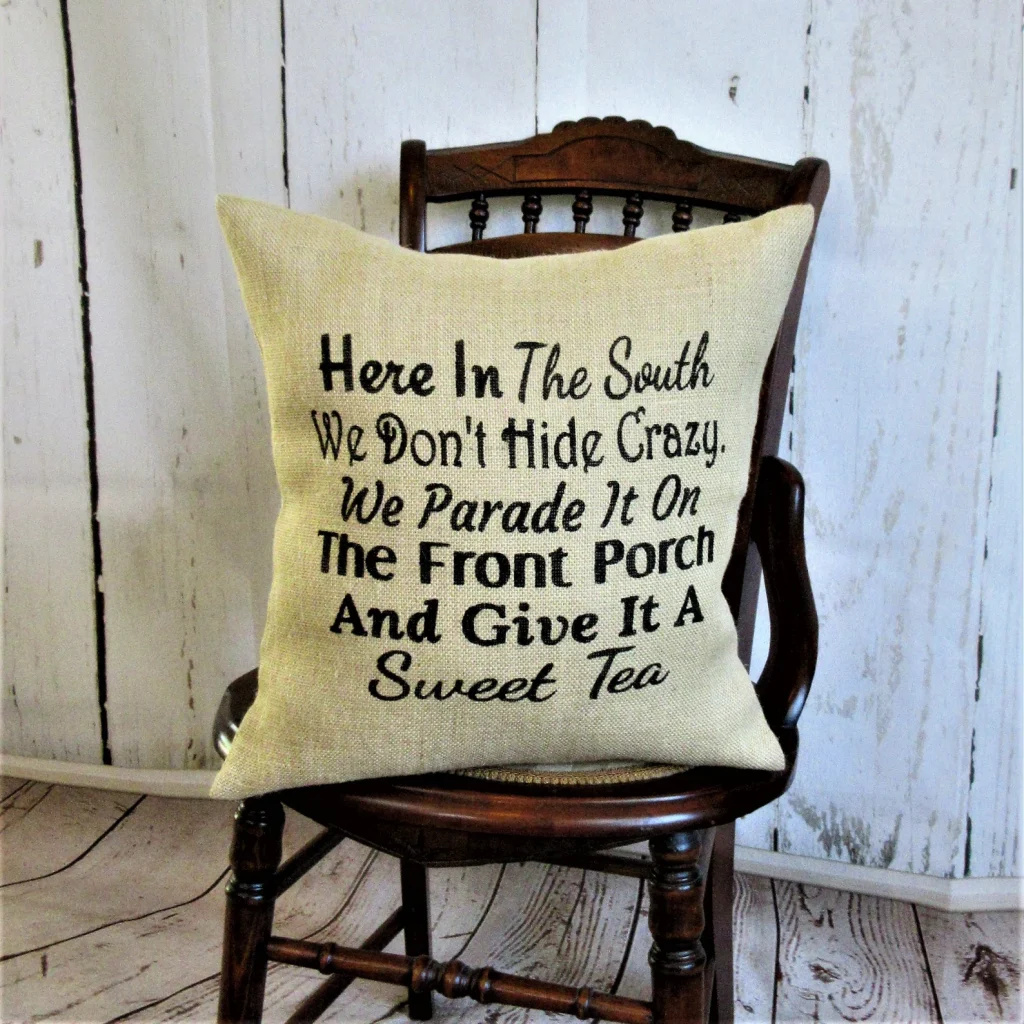 Born in the South Sign
This is such a fun option for southern gifts! This Born in the South Sign definitely may sound like it's only for those who call the south home but be sure to read the sign first! It is so fun and true for those who have been smitten by the south.
This would make a great housewarming gift for someone who has recently moved to the south. You could also gift it to yourself if you live there! Or, maybe, you have hopes of spending more time there. It's really just a fun sign that can be easily added to your decor.
The Painted Porch is located in Florida and, if you love signage, they have some fun options. In addition to the Born in the South sign be sure to check out their cute, "well, butter my biscuit" sign. And their porch rules sign is a great splurge for to bring the spirit of the south to your porch!
These are some great options for southern souvenirs you can buy online!
Check it out here: Born in the South Sign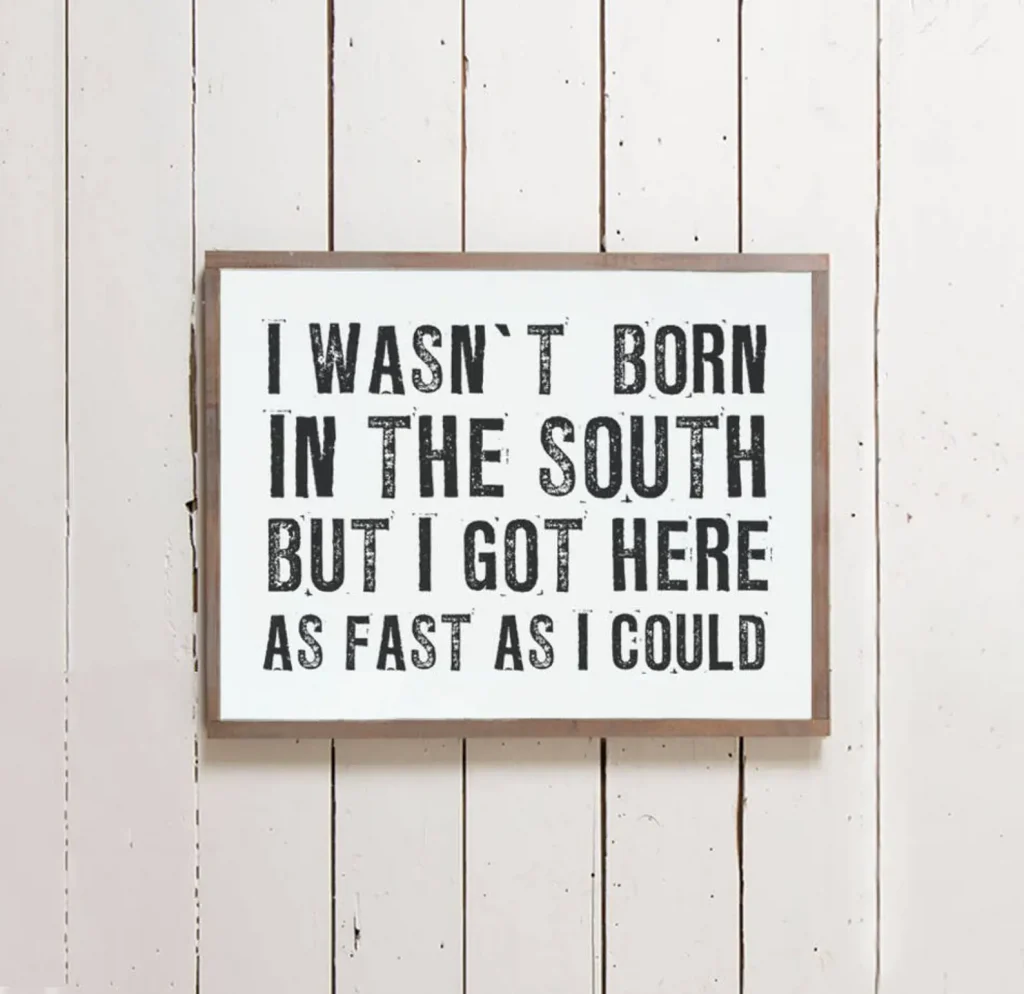 Southern Girl Shirt
Clothes make great southern gifts! This super lovely shirt from Apparel902 is so soft and the sizing is perfect. The Southern Girl Shirt is a comfortable, slightly oversized top with a stylish rolled short sleeve.
You have a great opportunity to make this feel like your own because there are twelve different colors to choose from!
The material is super soft and washes well. This will definitely be a shirt that people are going to ask you where you got it from. And it is so easy that it is one of the southern souvenirs you can buy online.
This is also a seller you can rely on. They sell so many other shirts and sweaters and are great at getting back via messages if you have any questions or concerns. So go ahead and order your favourite color and be ready to wear your southern gifts!
Check it out here: Southern Girl Shirt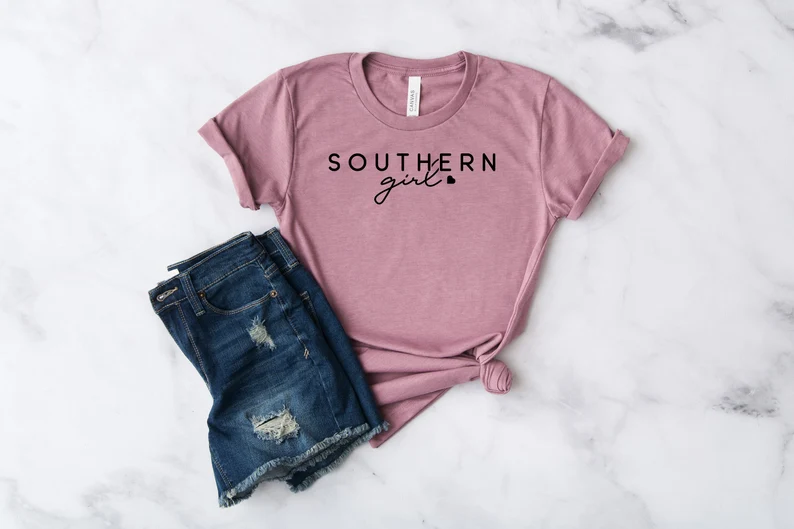 Southern VA Charm Pecan Pie
Did you ever, in your wildest dreams, think that one of your southern gifts could be pie!? Well it can be. And this Southern VA Charm Pecan Pie will not disappoint. This is, surprisingly, one of the southern souvenirs you can buy online!
You can order this pie and have it delivered right to your door. Or have it delivered directly to the lucky person that you are gifting it with.
The seller is super accommodating and you can message them to talk about egg free, gluten free or tart versions. You can even fill out your own little message that will be shipped with the pie for the lucky recipient.
Just be aware that the seller is doing the nearly impossible and shipping pie around the US. So, there will be the risk of a little smooshing. But, that doesn't change the amazing taste. And this pie is jus the right amount of sweet with the perfect crust to filling ratio. You will love this pie!
Check it out here: Southern VA Charm Pecan Pie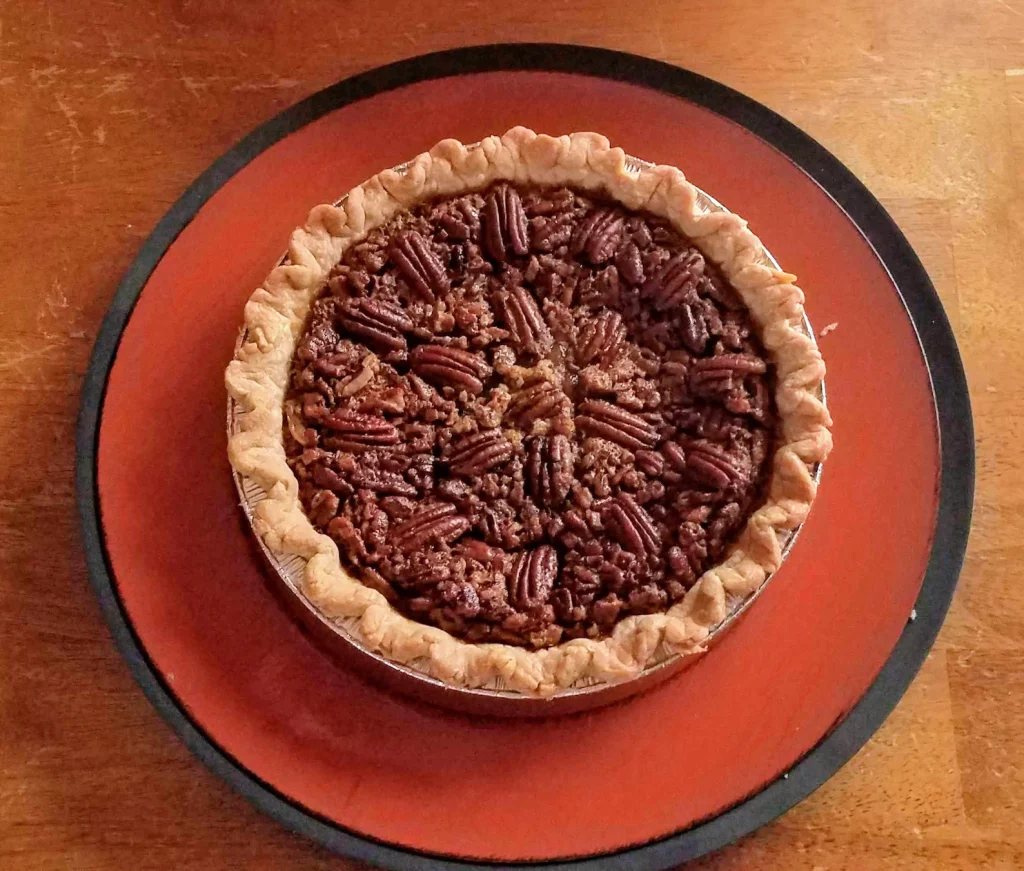 Sriracha Honey
This is a fun twist on one of the usual southern gifts. Lots of people know that the south is famous for hot sauce. Well, what about some Sriracha Honey?
Some of the best southern souvenirs are the ones that put a fun spin on what is usually expected. And the Sriracha Honey does just that. This delicious blend of sweet and spicy is so much fun to add to your culinary tool belt.
This honey will add a smokey sweetness that you just won't get any other way. The flavour is so unique. And the product is shipped to you safely to avoid any accidents with the product before it makes its' way into your kitchen cabinets.
This would also make an awesome option for Christmas. There is surely someone in your life that would appreciate some southern Christmas gifts to sprinkle their Christmas with some warmth. And this will definitely do that!
Check it out here: Sriracha Honey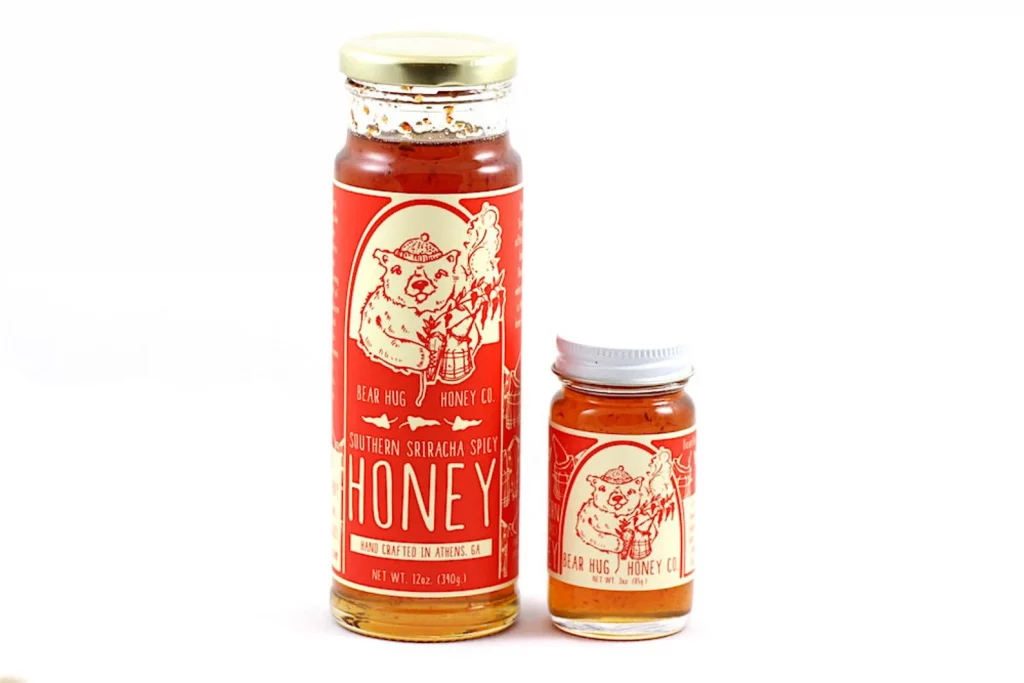 Southern Magnolia Scented Goats Milk Soap
Nothing screams southern gifts quite like the scent of magnolias. You will smell that warm scent of blooming magnolias in your home (and on your skin!) with this beautiful soap.
The Southern Magnolia scented Goats Milk Soap is handmade and a great purchase for those with sensitive skin. You can also feel great about buying it because using bar soap cuts down on plastic usage. It's pretty much a win for everyone – the environment, the seller and your skin!
Because the soap is made using good old fashioned methods the soap is saved from needing a lot of the harsh ingredients found in soap today. You won't find phthalates, palm oil, parabens, or aluminum here! And that's a good thing!
The seller has amazing reviews and repeat customers. That is always a good sign that you will know this is one of the best southern souvenirs! And be sure to grab the soap bag as well to help your soap last to the very last bit.
Check it out here: Southern Magnolia Scented Goats Milk Soap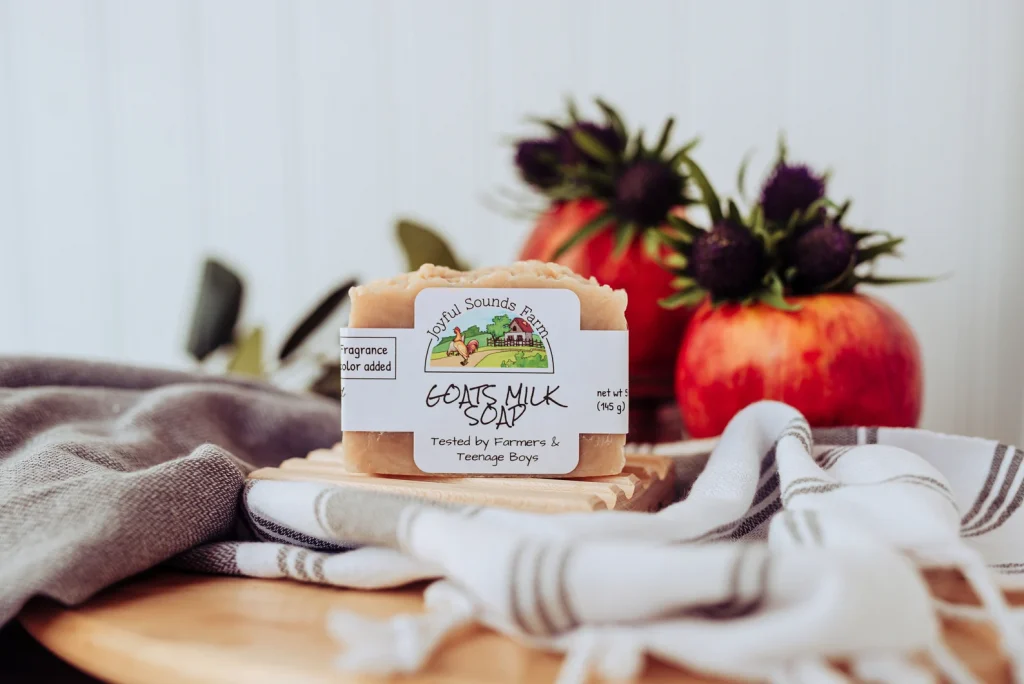 Southerner Mug
Southern gifts and all this talk of front porches and Southern sweet tea would not be complete without a mug to enjoy it all with. You can relax, kick your feet up and sip your favourite tea from this Southerner Mug. Extra bonus southern points if you happen to be sipping Southern Sweet Tea.
This mug is full of all sorts of cozy. Everything it lists on the mug is definitely what the south is known for. It's that warm hospitality that gives you the feeling of being home. And you can have that feeling every time you drink for this mug. Or give it as a gift to your favourite friend! It is sure to put a smile on someone's face every time they drink from it.
And nothing screams the art of southern hospitality quite like a fun mug. And this mug is like a page straight out of the dictionary was pasted on your mug in the cutest way possible. You have two sizes to choose from and the seller has a great selling reputation. You're sure to enjoy these as gifts from the south.
Check it out here: Southerner Mug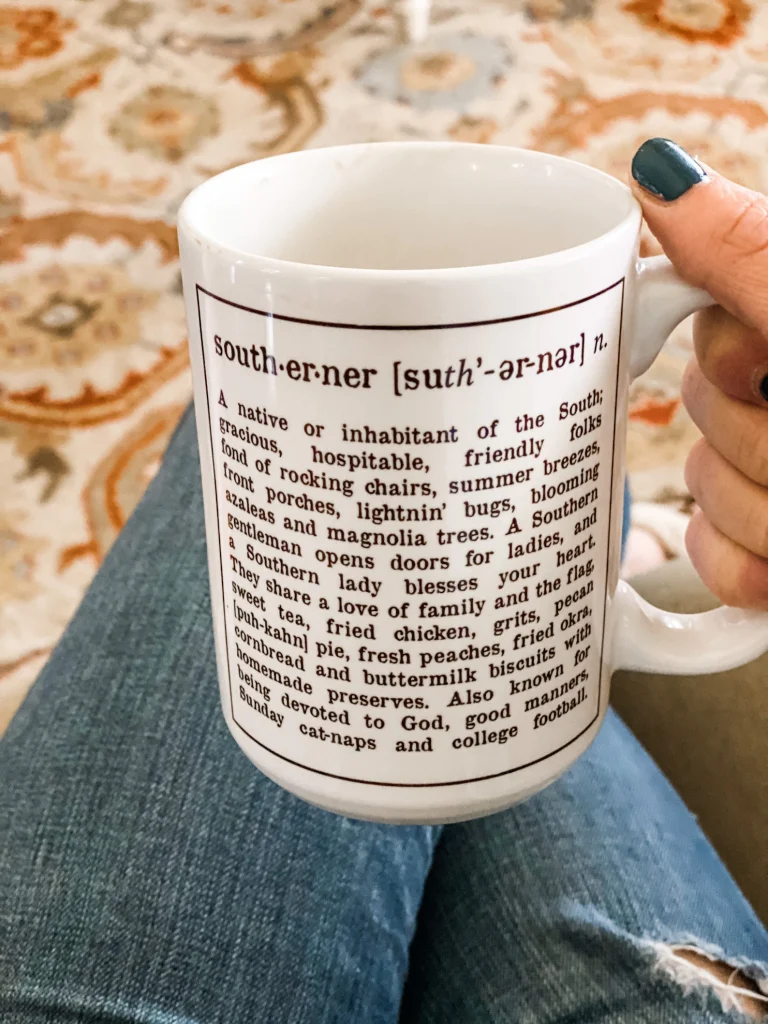 Personalized Magnolia Stationary Set
This is one of the southern gifts that will have you feeling like you are channeling the southern USA every time you pull it out. The Personalized Magnolia Stationary Set is a brilliant and subtle touch of southern charm.
You will be writing out thank you notes that will demonstrate just how well you know southern hospitality. What's really great is that you can personalize this stationary. So you can add your name (or the name of who you are giving it to) which makes it impossible to ever regift! Talk about perfect for southern Christmas gifts.
The card weight is the perfect thickness with a gentle texture to it that is full of luxury. If you would rather not have your name on the cards you could easily add another sentiment instead. What about "thinking of you"? Or perhaps you could add one of your very favourite southern sayings!
These cards will certainly spruce up your old fashioned correspondence and come with the envelopes that you will need. You can even order your envelopes with a pre-addressed return address! What a great way to express thanks or to stay in touch with someone.
Check it out here: Personalized Stationary Set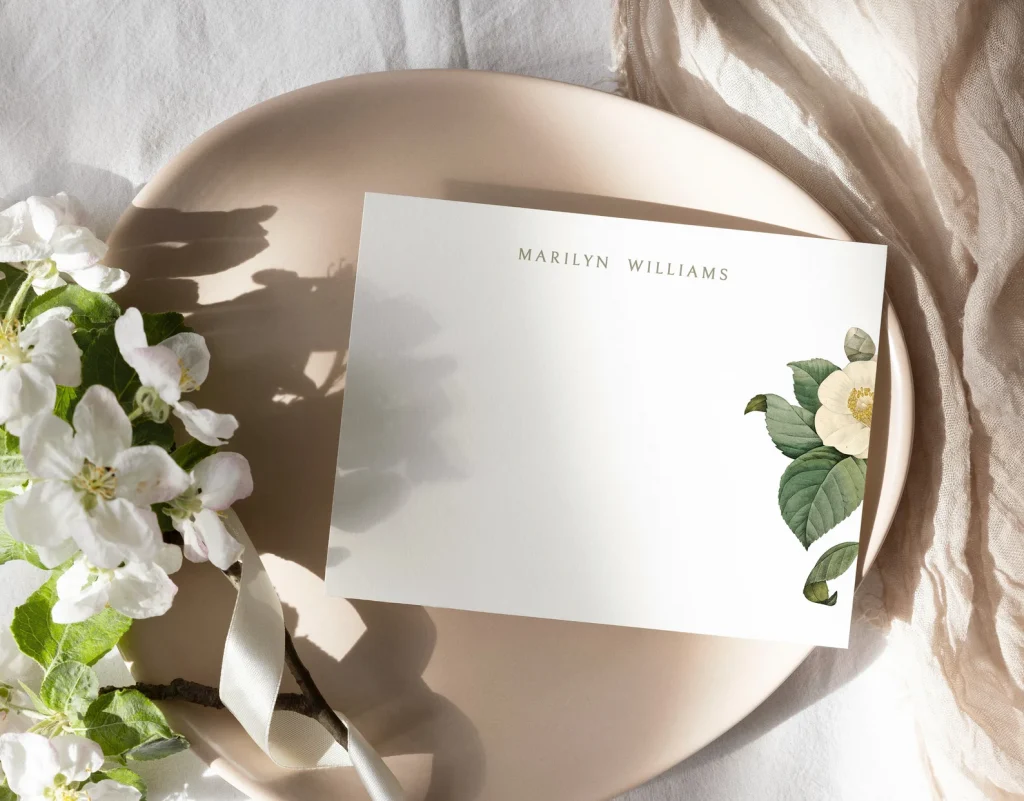 Magnolia Seeds
This is a truly unique item for southern gifts. And, let's all just agree one something here, magnolias are essential southern USA. These Magnolia seeds will give you a chance to grow your own piece of the south in your own yard.
These would make a great stocking stuffer. They are very unique Southern Christmas gifts. You could also use these as a house warming gift. Or just as an "I want to give you a bit of the south" kind of gift. You really cannot go wrong. Unless you live in Alaska. You might have trouble growing magnolia trees there. Naturally, you'll want to do some research first. But, surprisingly, there are quite a few places in the USA that you can grow these.
Of course, there is a possibility to grow magnolias in a pot. You'll want to contact the seller to get all the information on how to grow. But, given the right care and attention, these seeds could be blessing your home with that warm sweet magnolia sent. Just picture the joy that you could have from having your own magnolias blooming.
Check it out here: Magnolia Seeds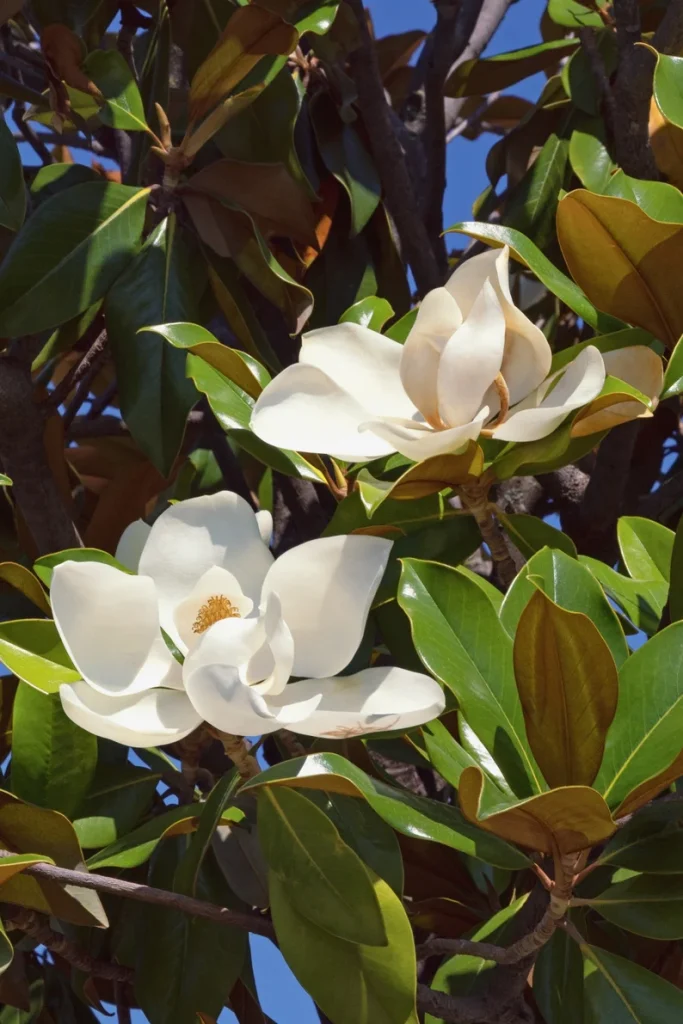 His and Her Toothbrush Holder
Southern gifts don't have to just be from your vacation. You could easily use these His and Her Toothbrush Holders for a wedding gift. Or gift it to yourself just because you can.
The concrete holders are sleek and modern and come in a set of two. Yet, the his and hers labels add an element of warmth with the leather. If you would rather not have them say 'his and hers' you can customize them to say what you would like. Maybe you want to put on names? Or you have children and want to make sure they keep their items organized. Then, this would be a great way to keep that bathroom tidy in a very stylish way.
These are handmade and made to order so you have some great options to work with the seller for what you would like. Though, please keep in mind, that the letters will all be uppercase letters. Which, really isn't an issue because it's all cute anyway!
With three concrete colors to choose from. And with personalization options. This is definitely one of the best southern souvenirs!
Check it out here: His and Her Toothbrush Holder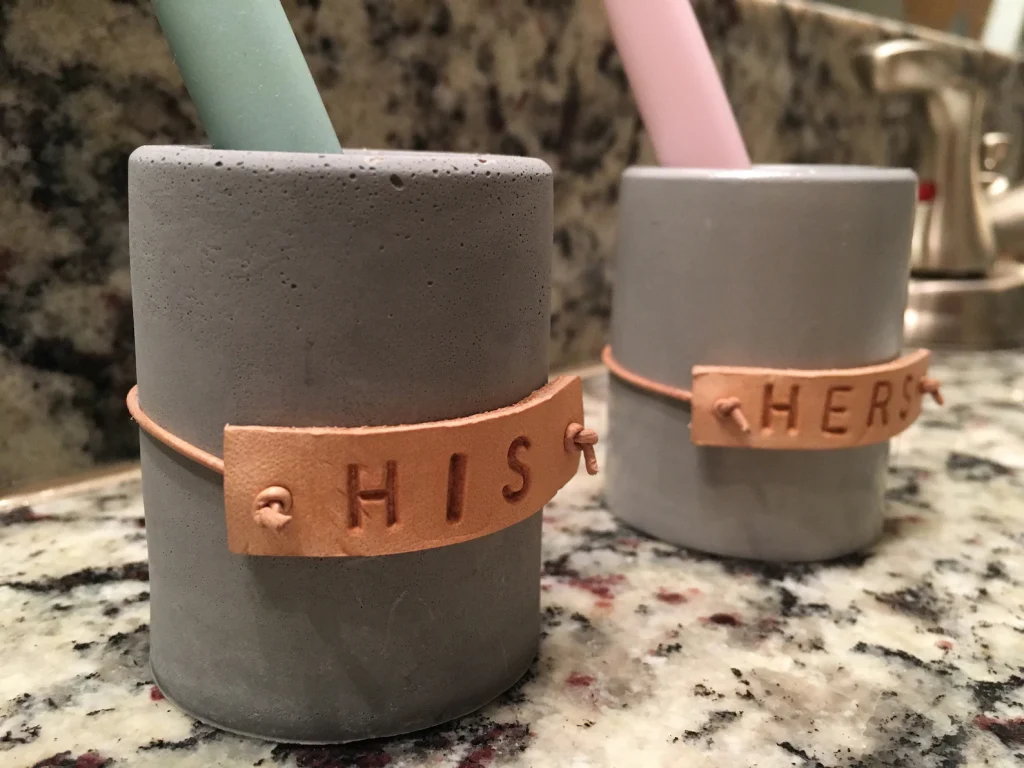 Embroidered Tea Towels
These southern gifts have hints of bygone days. The embroidered tea towels are intricately detailed with a variety of flowers.
You can buy these as gifts for southern moms who love having every detail attended to. Or buy them for yourself to feel like you have a little vintage southern USA adorning your kitchen. These are so beautiful that it will be like you are using a little piece of art for function.
Some of the best southern gifts are the ones that are beautiful and useful and these embroidered tea towels definitely fit that description. You can buy one towel, two, three or a set of four. The seller put a lot of thought into these products. They even took care to wash and dry the towels before embroidering to save you the panic of shrinking them! This also prevent puckering in the embroidered design when washed. And, one of the best parts, it means they are super easy and quick to wash!
These embroidered tea towels are definitely one of the gifts from the south that you should check out!
Check it out here: Embroidered Tea Towels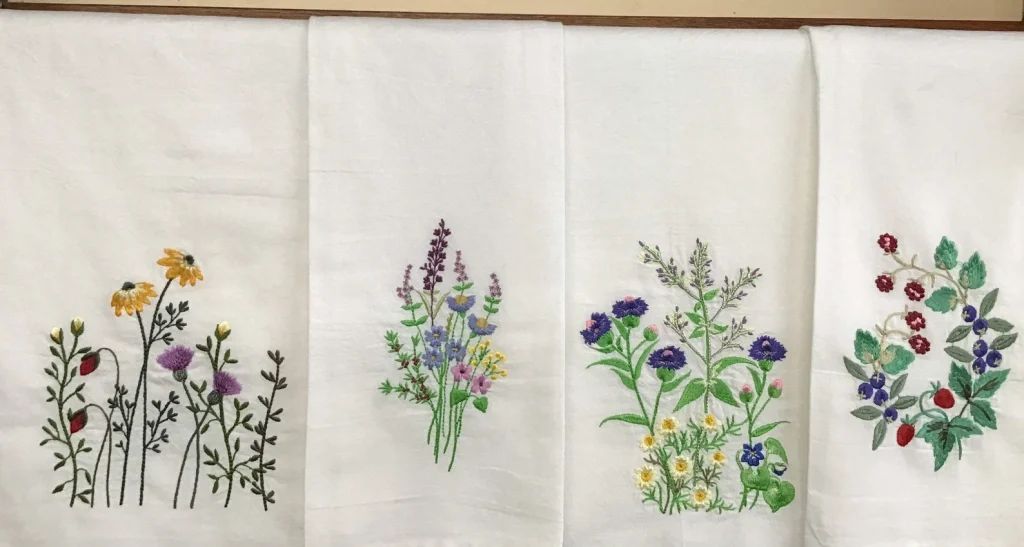 Linen Half Apron With Pocket
These aprons are great southern gifts. Providing good hospitality is something that the southern USA prides itself in. These Linen Half Apron With Pocket are a wonderful option for yourself or a variety of people on your gift list.
The aprons are unisex and come in nineteen different colors. There are literally colors for every preference. You can then order the one size fits all or contact the seller to work out a custom size. Maybe you are shopping for someone particularly tall and you want the apron to still look like an apron – then custom size is the way to go.
These are great southern souvenirs you can buy online. And then you can think of the sweet south while you cook in your new favourite apron. The linen fabric is soft and luxurious. And the finished product is so cute and you can really see the quality. So if you are looking for what to buy in the south then this is a really great option.
Check it out here: Linen Half Apron with Pocket