Looking for hiking in Boone? Then you are in the right place. Boone and Blowing Rock have some incredible options for hiking in North Carolina.
Whether you are a beginner or advanced and looking for a challenge there is something for you here. We've tracked down some pretty waterfalls, some gentle nature walks and some steep ascents for you to choose from.
If you want to round out your trip with some other adventures be sure to check out the best things to do in Boone. You will love the fun variety that is available here. You can even check out nearby Little Switzerland for another option.
To fuel up for your hikes you'll want to check out the best restaurants in Blowing Rock. There is really something for everyone!
But, first, you will want to start planning your hiking in Boone!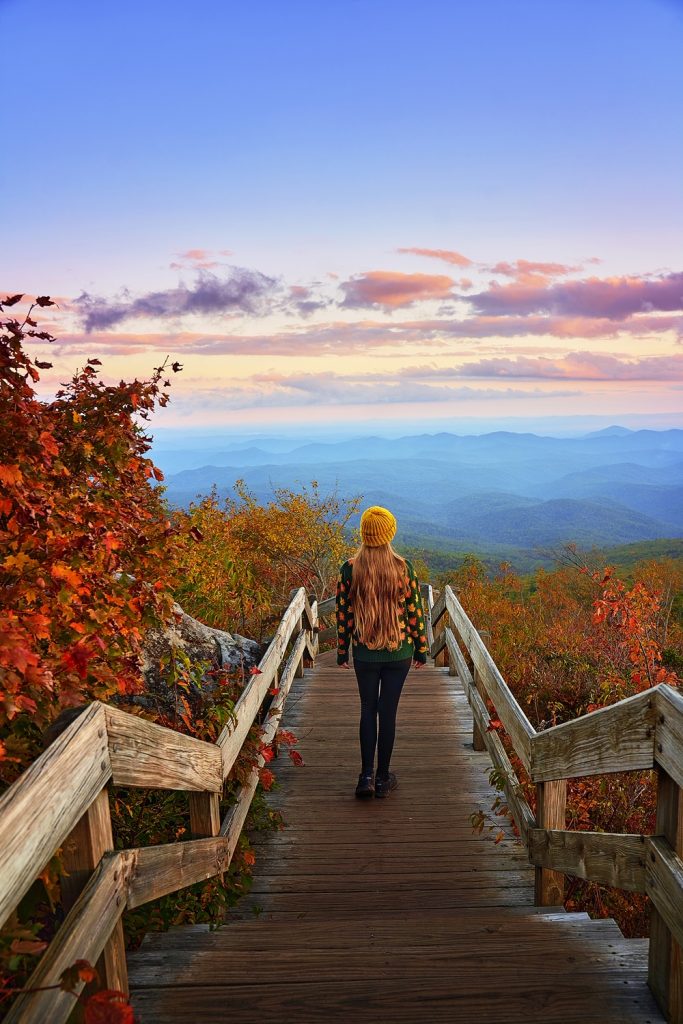 12 Best Places For Hiking In Boone And Blowing Rock
Hebron Falls
Hebron Falls is a great option for hiking in Boone. Located less than 20 minutes from Boone. And under 10 minutes from Blowing Rock. It is hiking near Boone and Blowing Rock that you will not want to miss. Don't forget to check out our list of Best Things to Do In North Carolina!
The trail is narrow so you will be hiking single file. But the trail is lovely. While there are no sweeping views with this hike you will be rewarded with forests, butterflies and incredible leaf foliage colors depending on the season of your hike. There are several bridge crossings over the water as well.
The trail is technically a loop though this will involve crossing over some rocks and some hikers have remarked that the trail can be difficult to find. You can always opt to walk to the falls and back if a loop isn't possible. The falls themselves are lovely little falls among huge rocks that really add scale to the experience.
Sturdy hiking shoes are recommended as this is a moderate trail. You can also bring along your dog on this trail as long as they stay on the leash. It's a great option for Boone trails and is truly one of the best waterfalls near Boone and Blowing Rock!
Appalachian State Nature Park Loop
The Appalachian State Nature Park Loop is literally hiking in Boone. This nature preserve is located on the Appalachian State College.
The loop is 1.2 miles of moderate hiking. You're never too far from a road and part of the trail offer some views of the campus below. Unfortunately, the care of the trail seems to be lacking in recent years. While the trail is still clean it needs some clearing. As a result, trail markers can be hard to find.
When you make it to the long bridge, there is an orange marker hiding on the tree to send you to the waterfalls. If you are looking for Boone Hikes that are literally in Boone this is a great option to stretch your legs. However, we recommend not trying to find the loop until the path is better cleared. And you will enjoy the lovely hike to the water and back (which accounts to around .6 miles round trip). The best way to enjoy your hike is the safe way!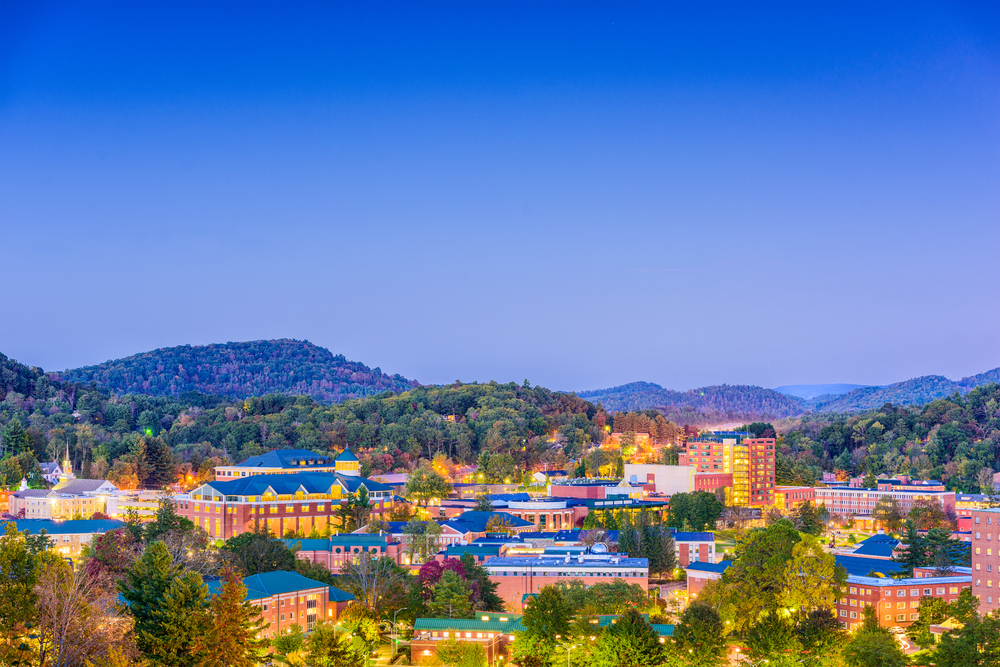 Price Lake Trail
When looking for hiking in Boone the Price Lake Trail is an awesome option. Located east of Blowing Rock less than a 10 minute drive. And just 20 minutes away from Boone. This trail is a breeze to get to.
The trail is accessible year round and suitable for all levels of hikers. If you want to make a full trip of it you can rent a canoe or a kayak and ride on the lake after your hike as well. There is also a camp ground if you want to stay longer!
For the hike you are looking at a 2.2 mile loop that goes around the perimeter of Price Lake. The trail is well marked and great for families or people looking for a less rigorous hike. You can even bring along your dog on this rail. It is a pretty popular trail due to it's wide accessibility. So just be prepared that there will be more than a few hikers on the trail with you.
A great option for hiking near Blowing Rock for people that aren't looking for a challenge or are new to hiking. It isn't stroller friendly but the trail is relatively flat and easy to navigate. If it has recently rained, be prepared that the trail can get muddy in places.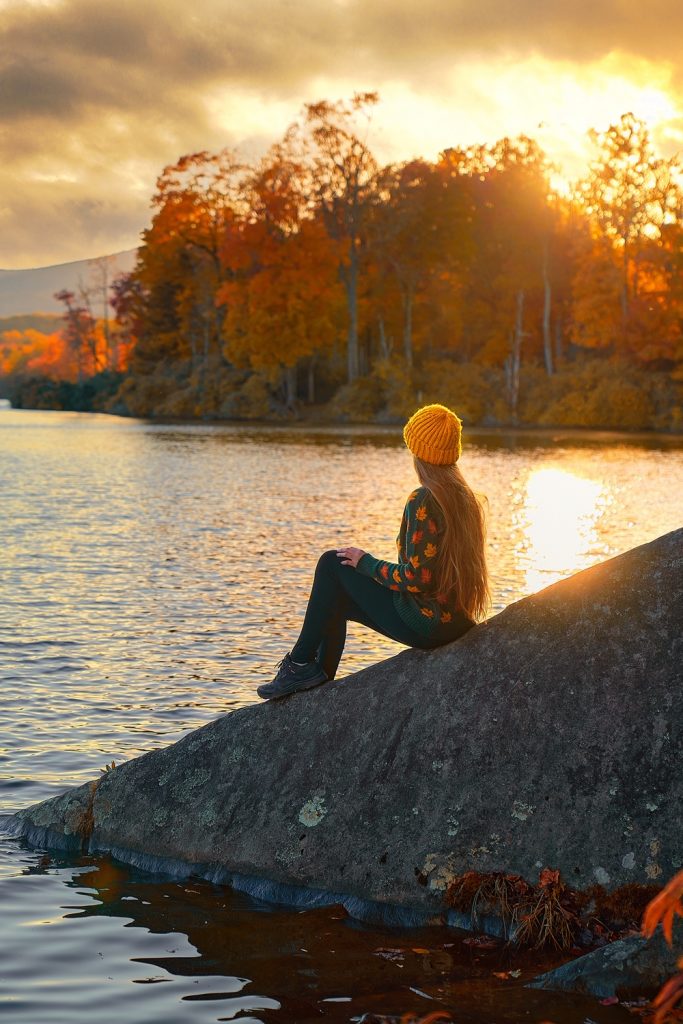 Profile Trail
This is hiking in Boone that is for people who love steep ascents! The Profile Trail hike is a strenuous hike up Grandfather Mountain. The views that you will be rewarded with are absolutely amazing.
You will follow along the water for a good portion of the hike. The trail is all a natural trail with some pretty rocky and steep parts. In 3.6 miles you will ascend 1,775 feet. It is quite the feat!
The trail is open for winter hiking as well and is absolutely beautiful. As always, practice safe hiking, be prepared for the weather you are hiking in. Near the top the trail combines with the Grandfather Trail so keep that in mind if you are also planning to hike the Grandfather trail.
You will have several stream crossings and will need to watch your step as you get closer to the top. For those reasons, it is not recommended that you take animals on this trail. And remember not to attempt stream crossings when the water level is up!
You will love this challenge on one of the best Boone Hikes!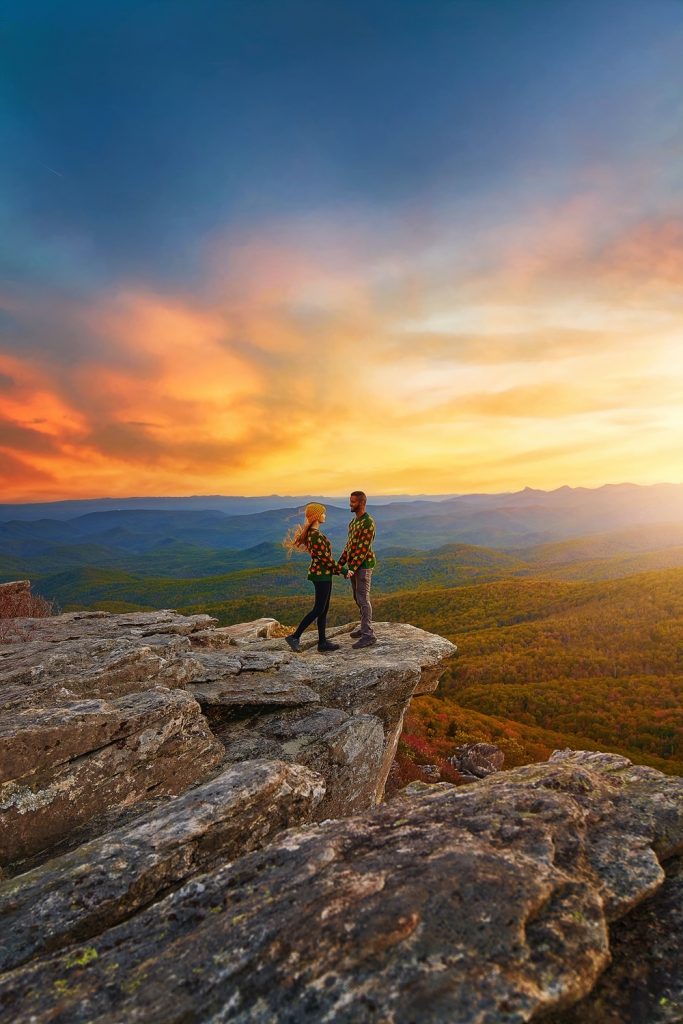 Cascades Trail
If you are hoping for hiking in Boone that is on the Blue Ridge Parkway the Cascades Trail is an awesome option. You will find parking for this at mile marker 271.9.
The Cascades Trail is a leisurely walk that should take you around 30 minutes to finish. It's a great option for beginner nature enthusiasts and families. Just less than halfway you will get to the falls. There is a beautiful overlook. Please watch your children carefully as it is not safe to climb the walls and rocks here. People have died here doing that. And don't climb them for pictures either!
The trail back will take you through trails of rhododendron and mountain laurel. It is really a lovely little treat in the mountains. And the side of the trail you will even have the opportunity to learn about the plants and the trail from interpretive signs. This is one of the easy hikes in Boone that you will not want to miss.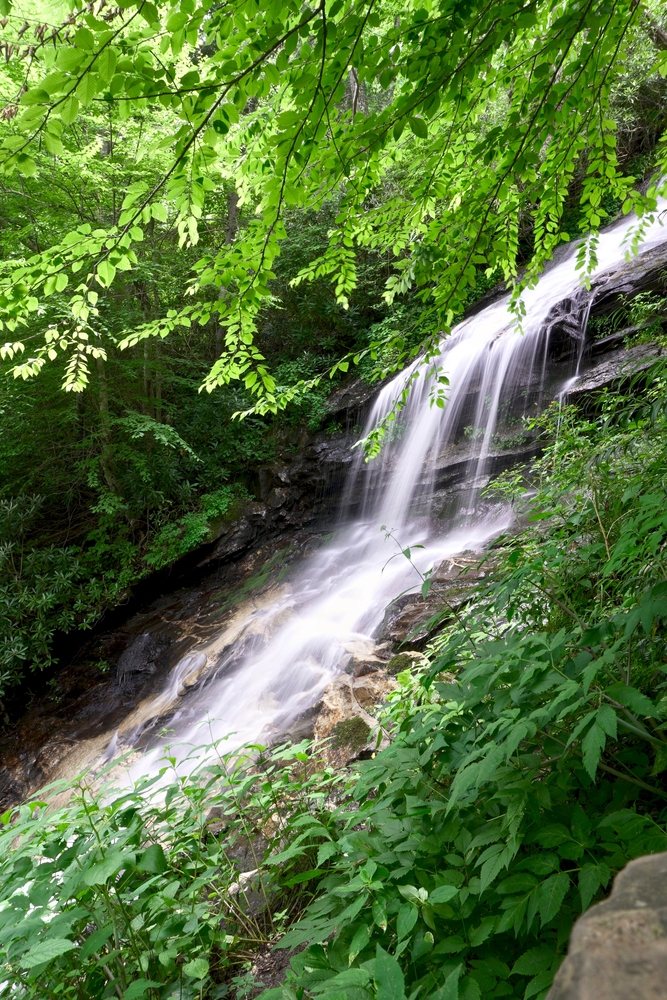 Rough Ridge
This 1.5 mile round trip hiking in Boone trail is a popular one. The Rough Ridge trail starts off steep but is worth the hike. You will find the start point at Mile Marker 302.8. And it is found in the stunning Pisgah National forest.
From there you have probably your steepest part of the climb. Since the trail is on one of the highest ridges in the Blue Ridge mountains this hike provides some of the best views available. This also means you will be traversing some steep inclines so be prepares.
Your first lookout point is a wooden boardwalk that takes you to a sweeping view of the mountains and the Blue Ridge Parkway. Please don't climb over the fence for pictures! They are there for your safety!
You could stop here and head back or you could keep on going up. If you choose to keep heading up you will be rewarded with incredible views. The hike will have you climbing over some rocks but you will love the reward. There is also a very iconic place for pictures up here as well! This is definitely some of the best hiking Boone has to offer!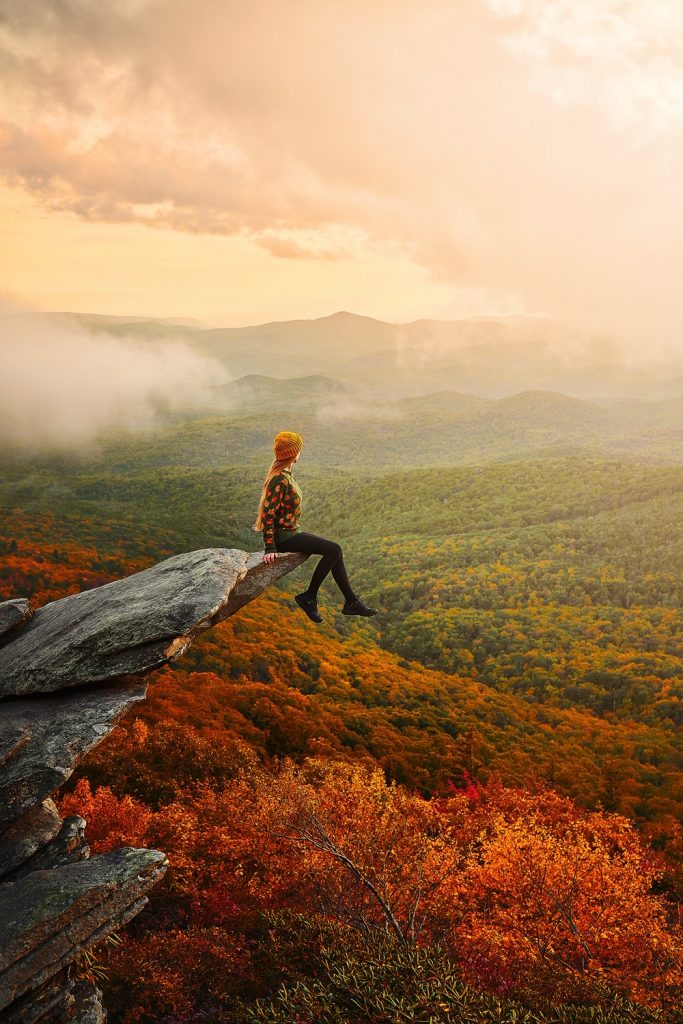 Linville Falls
You have two great trail options when hiking in Boone to Linville Falls. You have the option of the Erwins View Trail or the Linville Gorge Trail. Both trails are around the same length and begin at the visitors center.
The biggest part of how the differ is where the trails take you to at the falls.
Taking the Erwins View Trail you will have several great lookout spots on your hike. The chimney view gives you a peek at the lower falls. Your final reward will be a view of the falls from up above. The view from the top is especially pretty in the fall.
If you'd rather see the falls from down below you will want to opt for the Linville Gorge Trail. When you get to the trail fork about 0.2 miles from the visitor center you will want to head left. This will take you down to the bottom of the waterfall and basin for a completely different view.
Both hikes are around 1.5 miles round trip. And you are looking at a moderate intensity though totally doable if you are travelling with kids. Expect some tree routes and steps on the trail. This is definitely one of the best hiking Boone places to check out!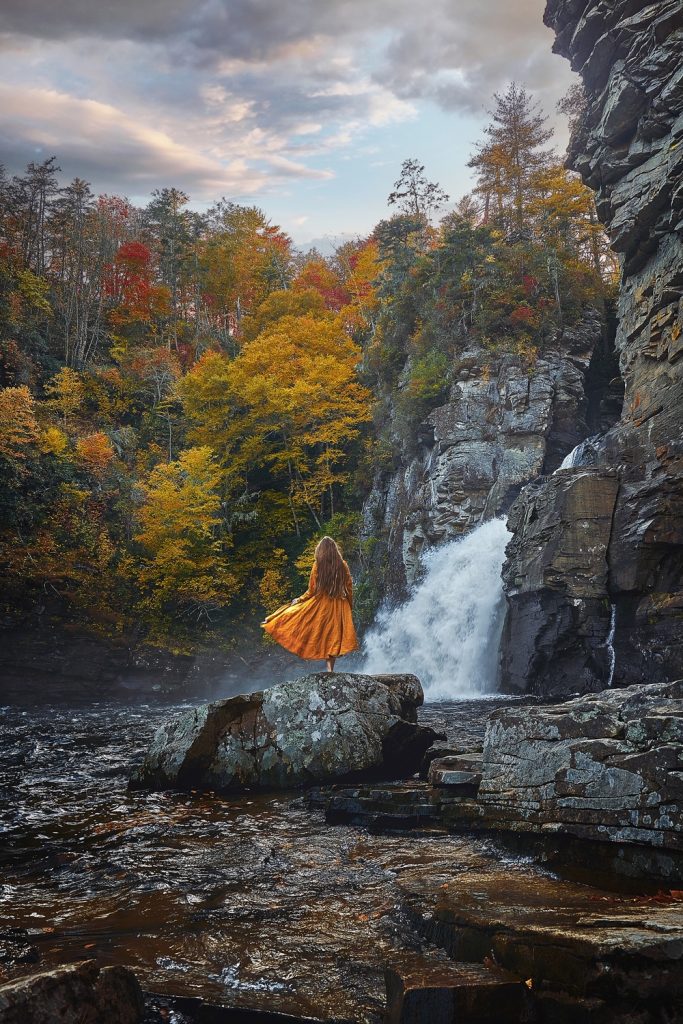 Bass Lake Loop
This is a hiking in Boone treasure. The Bass Lake Loop is actually right on the edge of Blowing Rock which makes plans for hiking in Blowing Rock a breeze.
The trail loop goes around a beautifully scenic lake. It is an easy trail that's great for a socializing walk or getting in some loops for exercise.
You will find some fun details on the trail like stone bridges. And, at 1 mile round trip, it is easy to adjust how long you are walking for by adding some extra loops. It's extremely family friendly, beginner friendly and dog friendly (just be sure to keep them on the leash).
This is one of the hikes near Blowing Rock that you will love.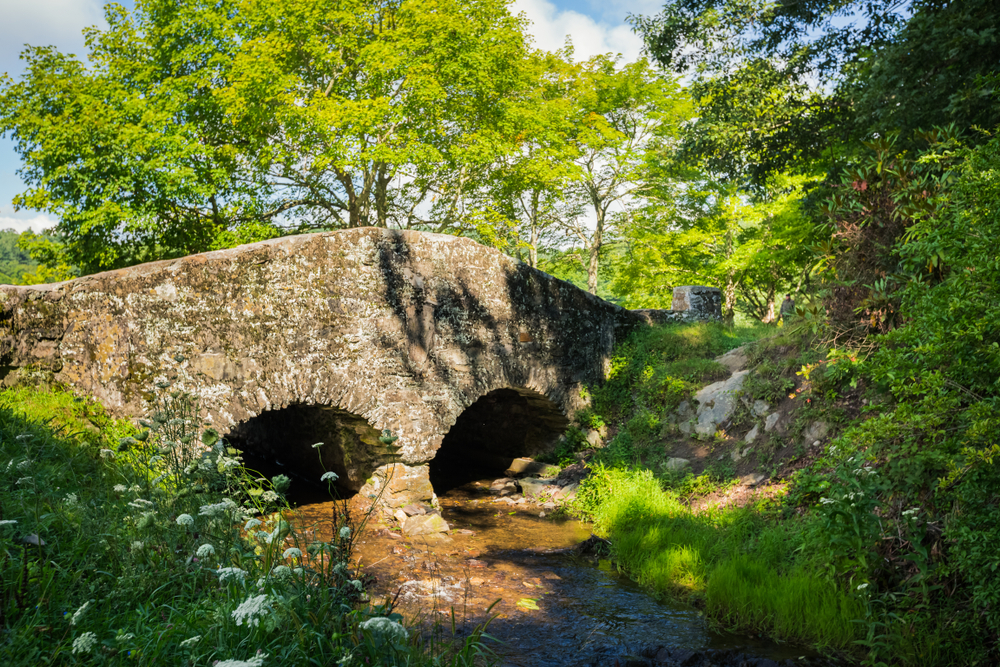 Boone Fork Trail
You'll love hiking in Boone at Boone Fork Trail! This loop trail is quite the trek at 5 miles but it's really fun. At a consistent pace you are looking at a 2-3 hours to complete for a good fitness level.
There are few stream crossings (which should not be attempted when the water is high!). And you get to have a stop at the Hebron Falls. The waterfall here is not very large but the boulders that are in this area are truly spectacular.
The trail itself has several rocks and roots to work around and is not recommended for absolute beginner hikers but it is still completely doable. If you would prefer to make a shorter version on this trail you could easily hike to the falls and back. You'll love this as one of the hikes near Boone.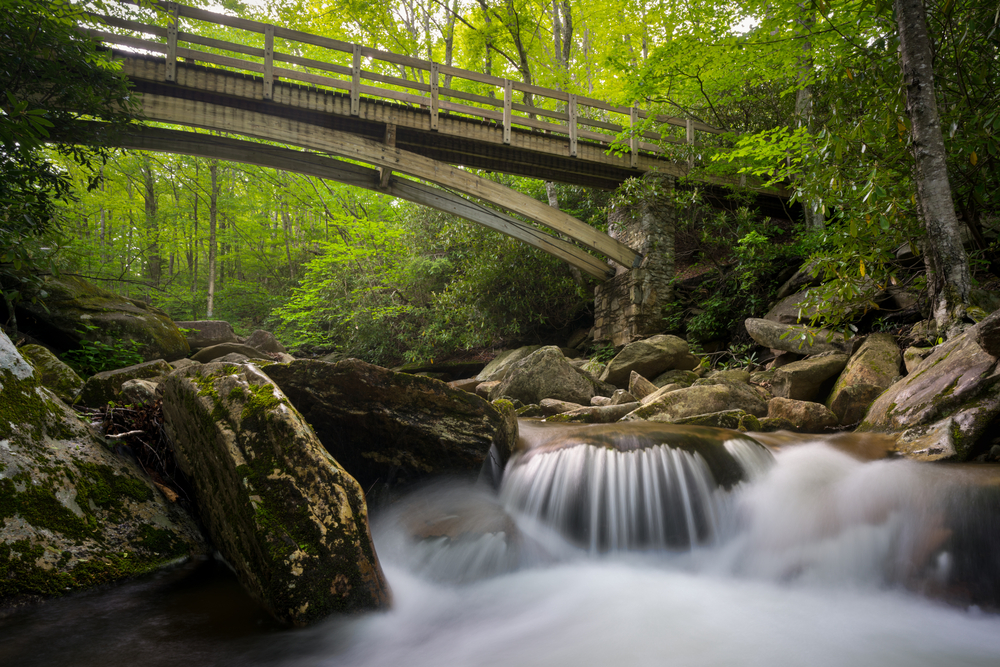 Tanawha Trail
Hiking in Boone would not be complete without the Tanawha Trail. This trail is one of many that take you up Grandfather Mountain. The 13.5 mile trail intertwines and shares some trails with others on our list but, if you are up for the challenge, Tanawha Trail is worth the extra climb.
You will see a large variety of plants on this journey. This includes some incredible fragile plants on the ground so please make sure you stay on the paths. Beyond this you will walk through forests, rocky terrain, rhododendrons, wild flowers and more. It has some steep ascents on the trail so watch your footing.
As with all trails on Grandfather mountain it is required to have a permit to go into Grandfather Mountain State Park. The permit is free for hiking but is still mandatory. So please remember to grab it. And, when you make it to the top of this hike, you will understand why the trail is name Tanawha. The word means hawk or eagle in the Cherokee language and the views that you are rewarded with at the top are definitely indicative of the name. This is some of the best hiking Boone has to offer!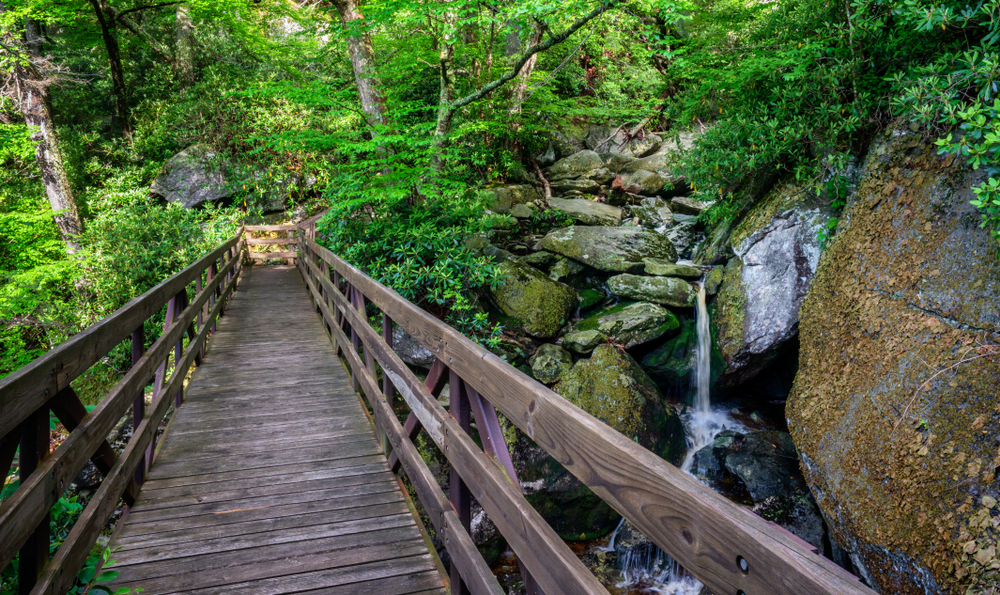 Beech Tree Trail
This is a great for families and beginners looking for hiking in Boone. The Beech Tree Trail is a 1 mile loop in the Elk Knob State Park. You'll find this state park around 30 minutes north of Blowing Rock. And it is less than 20 minutes away from Boone.
Even though this is a flat trail with very little elevation change you still get a few views in. There is art along the path for you to enjoy as well. The trail is primarily in a beautiful wooded forest that gets some incredible wild flowers blooming in the right season.
Dog lovers can bring along their pup to this trail as well as long as the dog is on a leash. This is a really great option to get into the cool mountains and enjoy a lovely walk in the woods. Its a great option for easy hikes in Boone.
Moses H. Cone Memorial Park trails
Moses H. Cone Memorial Park is a hiking in Boone gem. It is less than 20 minutes from Boone. But, even better, it is only 5 minutes from Blowing Rock. This makes it an awesome place to head if you are hoping for hikes near Blowing Rock.
The Moses H. Cone Memorial Park has over 25 miles of trails to traverse. While none of them are particularly challenging they are so beautiful. The park itself is often called the Cone Park by locals. So, if you here that mentioned, it's the same place.
The trails are all pretty easy to traverse and there are a lot of options. This is great for easy hikes in Boone or Blowing Rock. The park also has other activities. You could do some horseback riding. Or visit the expansive manor from the early 1900s. This is a favourite place to stop for a little bit of history and a ton of nature. And you will get to enjoy a lovely view of Bass Lake below.