The Plant Riverside District is Georgia's new destination to enjoy the Hostess City of Savannah. Once an iconic power plant, Richard Kessler redeveloped the area. Found at the West End of Savannah's iconic River Street, creating a new, unique experience for Georgians and tourists alike!
The new riverfront is a beacon for entertainment, shopping, dining, and family fun. Everyone can enjoy the Plant Riverside District. From families to couples looking for a romantic night out on the town and weekend getaways to bachelorette parties, there's something for everyone!
See your favorite artists live onstage under the stars. Enjoy cocktails and reconnect with friends in a rooftop garden. Dine on steak, seafood, pizza, barbecue, or whatever you please! You can even discover something special to take home from an array of high-end shops, galleries, and carefully curated retailers.
As you end your day on the boardwalk, strolling under the stars, you'll know you've discovered something special. This is the newest space to celebrate Savannah. Simply don't miss your opportunity to experience the best things to do at the Plant Riverside District!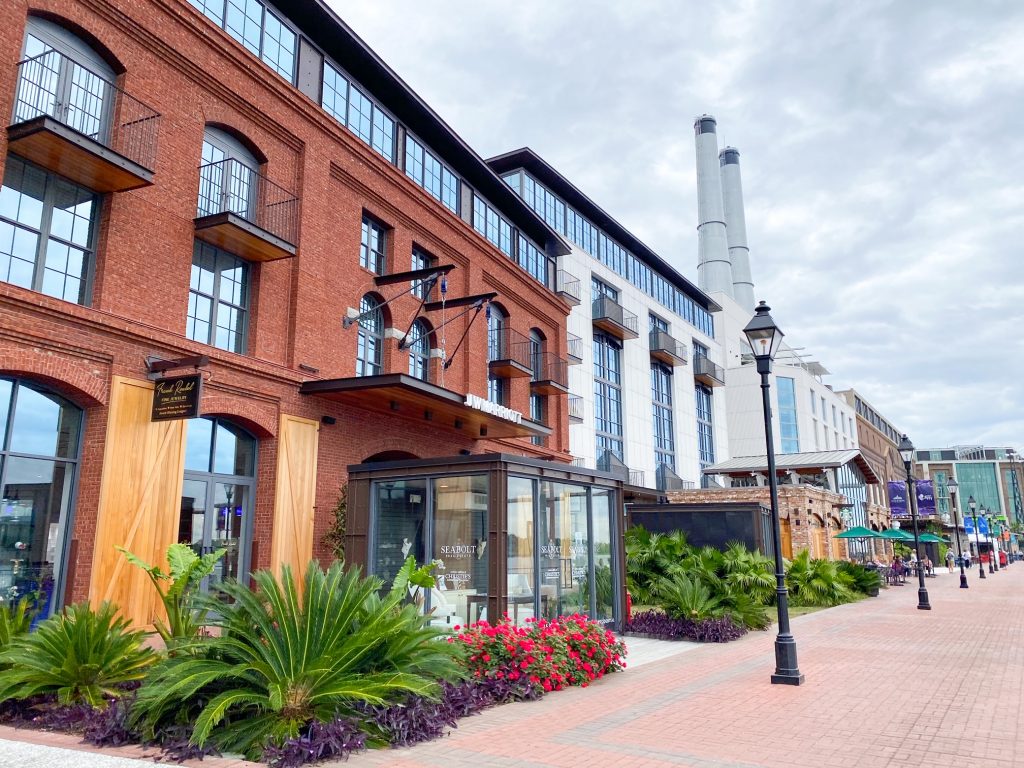 15 Best Things To Do In Savannah's Plant Riverside District
Explore Generator Hall
Once you enter the Plaza at the Plant Riverside District, simply walk past the Power Plant Guest Services to reach Generator Hall. Three stories tall with beautiful exposed brick, consider this beautiful space the living room of the Plant Riverside District!
As you walk through the rows of cases, you'll see lots of interesting things under the glass. Generator Hall
When you look up, the scaffolding in the ceiling is illuminated by colorful projections. This gives the entire ceiling the illusion of stained glass! As you walk through the space, you'll see many lounge chairs and couches arranged around artsy rugs. This is the perfect places to meet with friends before you embark on your journey.
Make sure you look up so you can see a gigantic glass dinosaur perched above the seating areas! He's a brontosaurus and through his clear glass, you can see the modern chandeliers lights reflected through him! Although he is not available for purchase, you can purchase some of the art that adorns Generator Hall's walls!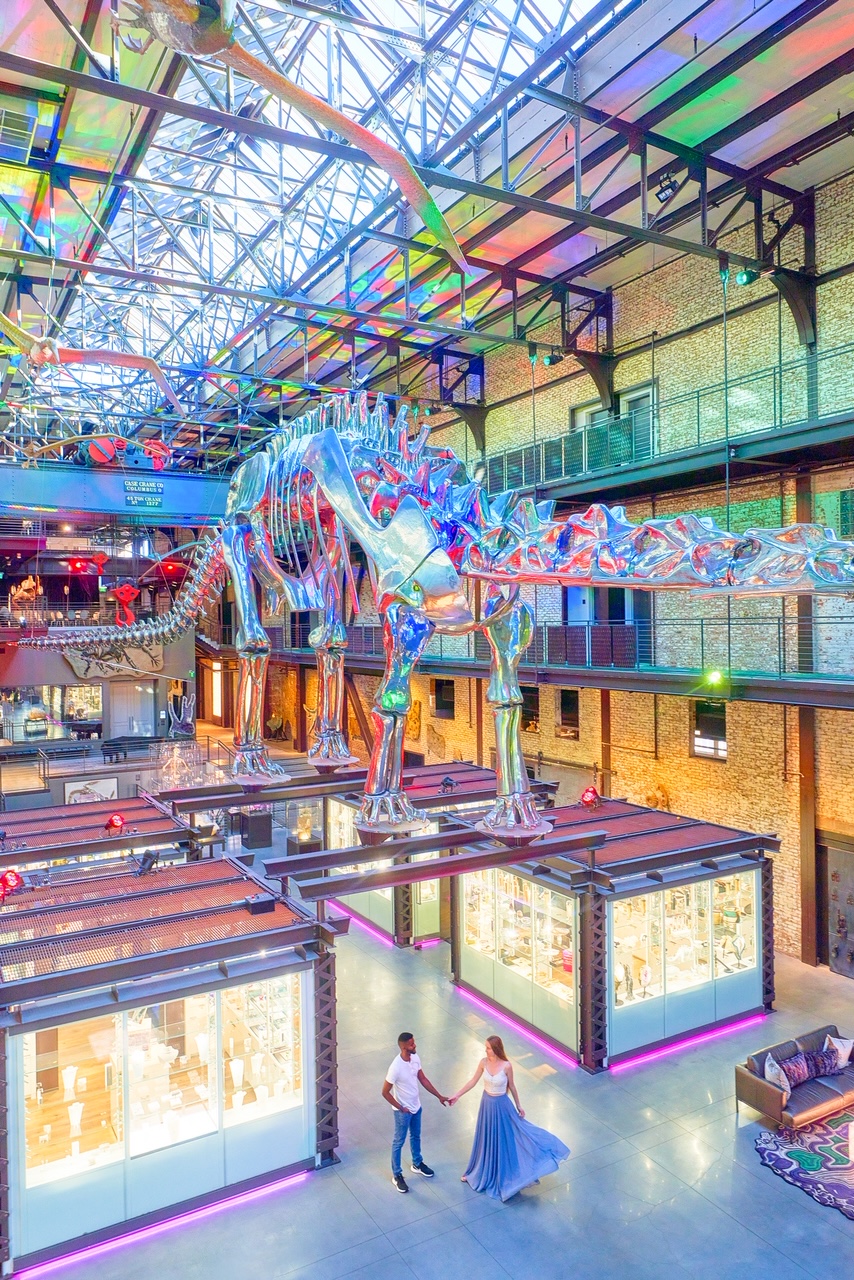 Free Samples at Byrds Famous Cookies
In 1924, "Pop" Bird created the famous Scotch Oatmeal cookies. In 1949, his son "Cookie" Byrd, Jr. took over and created bakery and retail spaces. Later in 1988, "Cookie's" daughter, Kay Curl took the family business to even bigger heights, all in the heart of Savannah, Georgia.
Now with its newest location in the Plant Riverside District, Byrd Cookie Company has proudly won a Best of Savannah Award, furnished by Savannah Magazine. Family-owned for four generations, not only can you try some of the most delicious cookies in the state, you can support a business fully-owned and operated by women!
When you first arrive at Byrd's, you'll be hit by the smell of sugar, butter, and flour all baking warmly in the air. Then you'll notice the beautiful tin designs: perfect to take home as a souvenir. You'll be able to taste free samples of some of their most famous flavors like Key Lime Coolers, Georgia Peach Cookies, and of course, the famous Scotch Oatmeal Cookies.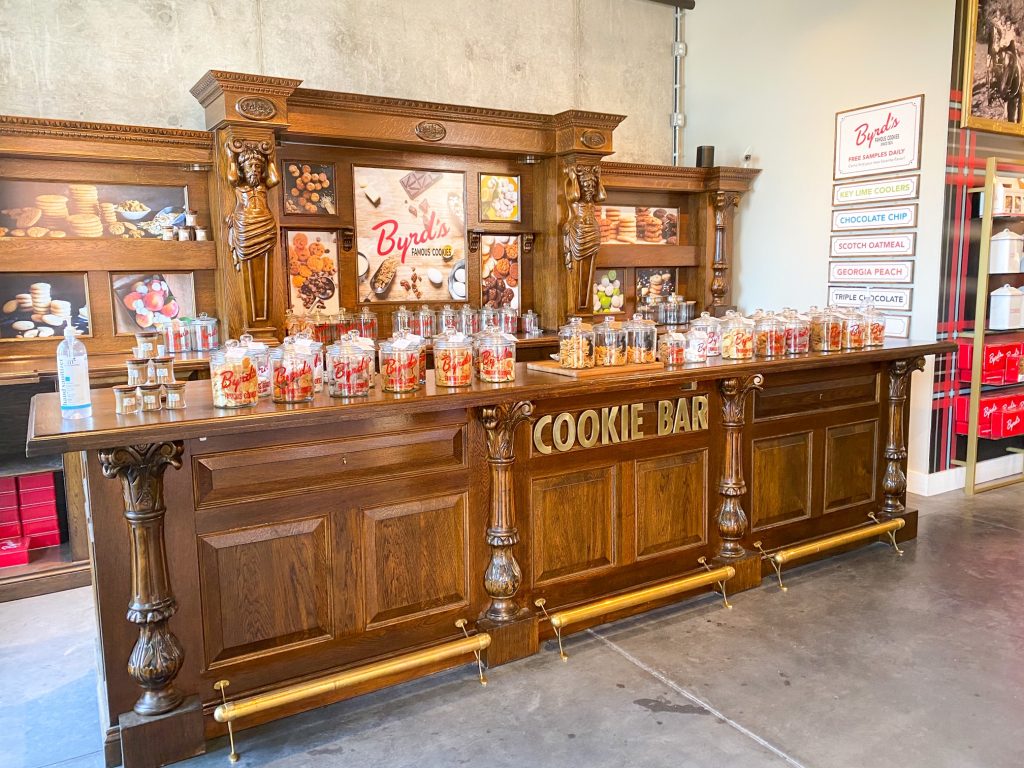 Cool Off in the Splash Pad
Sometimes a long day of shopping and walking around can be exhausting. Especially if you have small children! Georgia summers can be especially brutal, even in Savannah right near the water. If the river breezes aren't enough to cool you off near the Plant Riverside District, then you're in luck.
Head over towards the JW Marriott area of the district for a fun, refreshing surprise! Here you'll find a family-friendly splash pad! Let the little ones cool off as they run through the shooting jets and burn some of that energy they got from eating Byrd's cookies!
Even if you're not a kid, kids at heart will still appreciate the misting breeze of the waters as they walk by. Make sure to stop by at night when the splash pad transforms during sundown into a beautiful fountain, illuminated by gorgeous blue lights.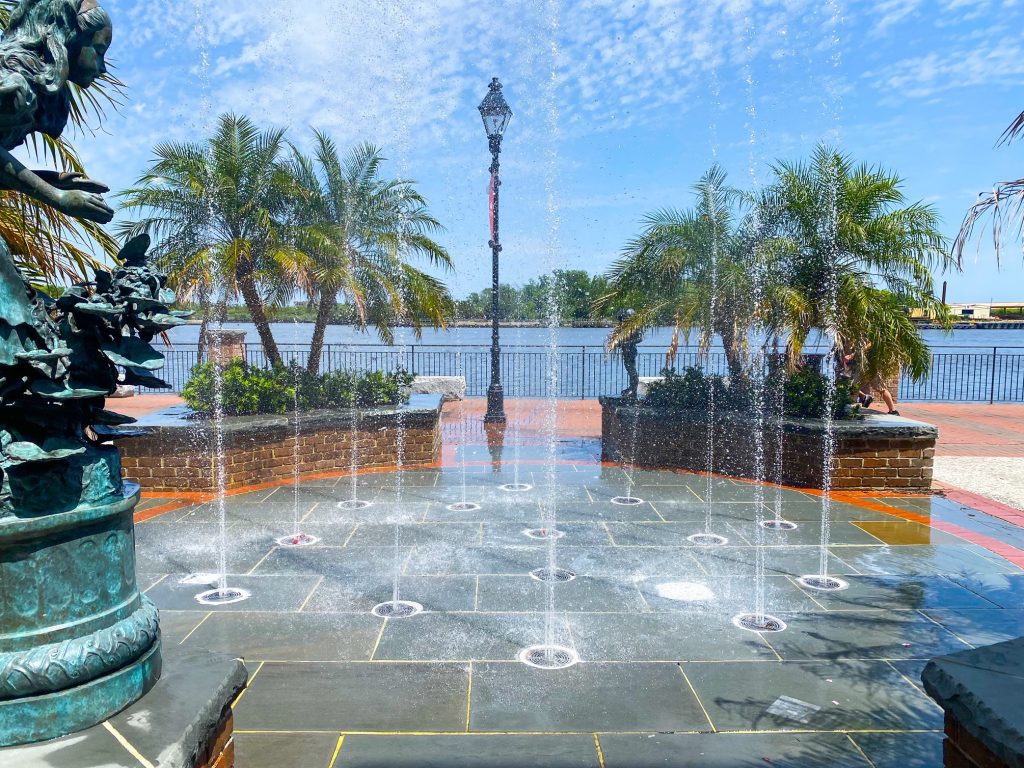 Grab Pizza at Graffito Pizza
With a new district comes new restaurants in Georgia, and at Graffito Pizza, you're not just getting a new gathering place for you and your family. In the heart of the Plant Riverside District, you'll be getting authentic Neapolitan-style pizza that is some of Savannah's best.
Graffito's design screams industrial chic. When you walk in, you'll first notice the pristine minimalist design of the tables and chairs. Then turn your eye to the pizza ovens. As you watch your pizza being assembled, you'll notice a colorful pop-art design on both the exhaust hoods and the hats of your pizza gourmands!
Try the Capriccoisa with fresh mozzarella, Capicola ham, mushrooms, grilled artichokes, parmigiano, and black olives. The Rck pizza has smoked bacon, Italian sausage, mozzarella, caramelized onions, and fonduta di parmigiano!
Find Graffito Pizza inside the Power Plant Building on Sunday through Thursday from 11 AM – 10 PM and Friday and Saturday from 11 AM – 11 PM.
Stop To Smell the Flowers at Urban Poppy
Urban Poppy is not your grandma's florist. In the heart of the Plant Riverside District, Urban Poppy will become your one-stop shop for all things related to flowers and nature! Savannah's very own botanical boutique and wedding design studio, Urban Poppy seeks to bring nature home.
When you look through Urban Poppy's floral arrangements, they are delicate with a rustic feel. They pair beautiful blossoms like soft blue hydrangeas with white farmhouse vases to make a perfect centerpiece. We love when they pair colorful Lowcountry Wildflowers with dark greens like Moody scabiosa, astrantia, and eucalyptus to create a sophisticated color palatte.
Don't be fooled, Urban Poppy is so much more than beautiful flowers. Almost like their own lifestyle brand, they are also an apothecary, a baby boutique, jewelers, and a fashion destination! Find the perfect gift whether it be a sea salt scrub, a sweet-smelling candle, or the softest hand lotion!
You don't have to be in the store to enjoy their flowers either. Designing large, small, and even custom-designed bouquets, Urban Poppy has been creating the ambiance at weddings and other special events for ten years. And after being spoiled by their arrangements for years, you can take a workshop with them to learn the art of floral arrangements for yourself!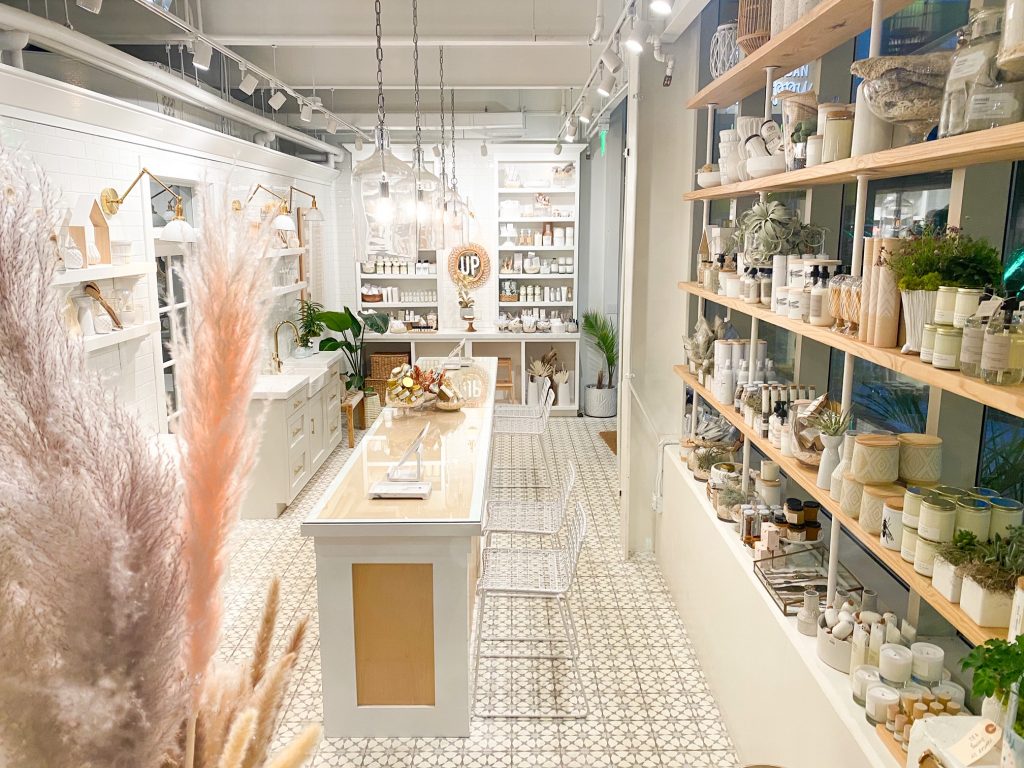 Play Like a Child Again at Electric Moon Rooftop Bar
When we mean you can play like a child at the Electric Moon Rooftop Bar, we mean it literally. How many bars can you think of that has a slide out to the lawn area?! We wouldn't recommend sliding down with a drink in hand, but still. Come on, that's pretty hard to beat.
Electric Moon Rooftop Bar provides an escape to a high-energy rooftop lounge where the stunning river views and illuminated smoke-stacks combine with signature cocktails and live music to create an electrifying experience. One of the best rooftop bars in Georgia, your experience starts at the bar and ends at the Moon Deck.
When you arrive at the Moon Deck, by slide, elevator, or spiral staircase, you'll step onto a gorgeously maintained astroturf lawn. Play lawn games like cornhole or ping pong, or just gather with friends and enjoy the sunset. On cold nights, you can sit around a fire pit. Sure it's covered by a glass wall for safety, but you'll still be warm enough to keep your fingers and toes toasty.
Although the fun and games become 21+ after 6 PM, you can often see kids playing on the lawn or at the ping-pong table before the sun goes down. After that, it's time to let the bottles pour and the adults come out to play! Try the Luminescence, which even has a glowing ice cube in it!
Find the Electric Moon Rooftop Bar inside the Power Plant Building. Play with them on Monday through Wednesday from 4 PM – 10 PM, Thursday from 4 PM – 10 PM, Friday and Saturday from 12 PM – 1 AM, and Sunday from 12 PM – 11 PM.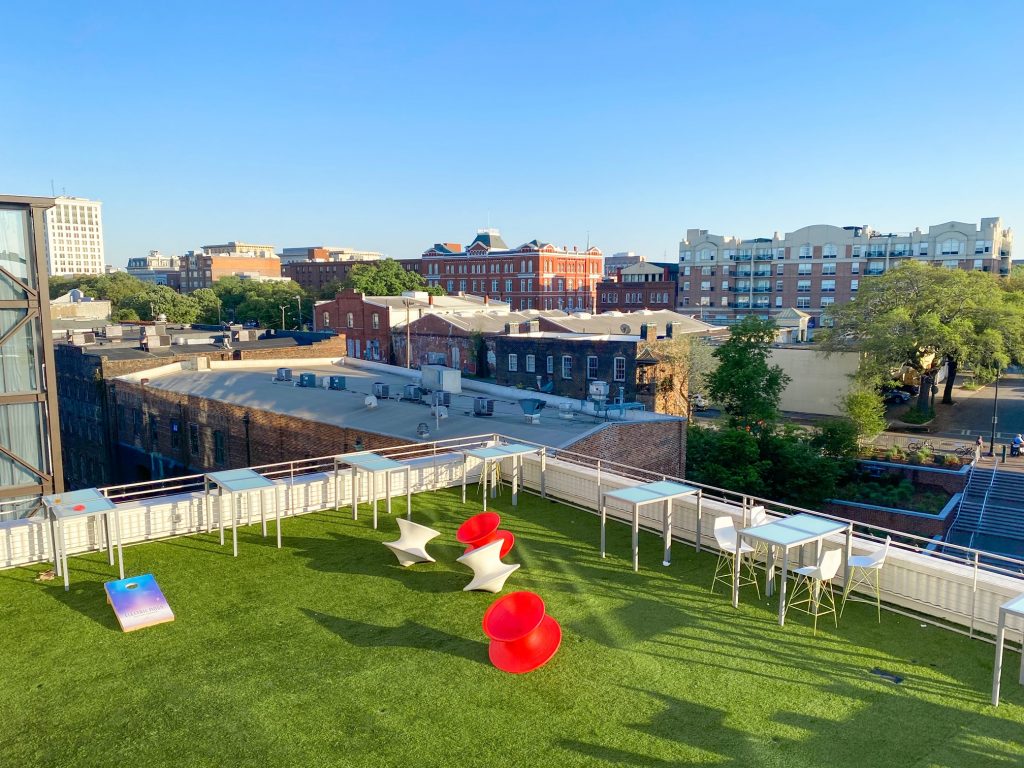 Enjoy a Fancy Night Out at Stone and Webster Chophouse
The Plant Riverside District is not just about fun and games. At Stone and Webster Chophouse, you can feel the legacy of Savannah's historic power plant in a modern setting that brings energy to the riverside with premium fine wines, prime steaks, seafood, and craft cocktails.
Start with the Shellfish Tower, a perfect appetizer for a large group. Served chilled, you'll be sharing half a dozen oysters, half pound jumbo shrimp, a half Maine Lobster, a half a pound of King Crab legs. For dipping options, you have horseradish, cocktail sauce, a Meyer lemon aioli, and mignonette.
For your entrees, it really depends on whether you want surf or turf. You can't go wrong with the 8 oz, 45-day aged Filet Mignon or the 14 oz Prime Aged New York Strip. For fish, try the Chef's Daily Market Selection, or the Faroe Island Salmon served with citrus, fennel, hon dashi, and a beurre blanc sauce.
Find Stone and Webster Chophouse inside the Power Plant Building on Tuesday through Thursday from 5 PM – 10 PM and Friday and Saturday from 5 PM – 11 PM.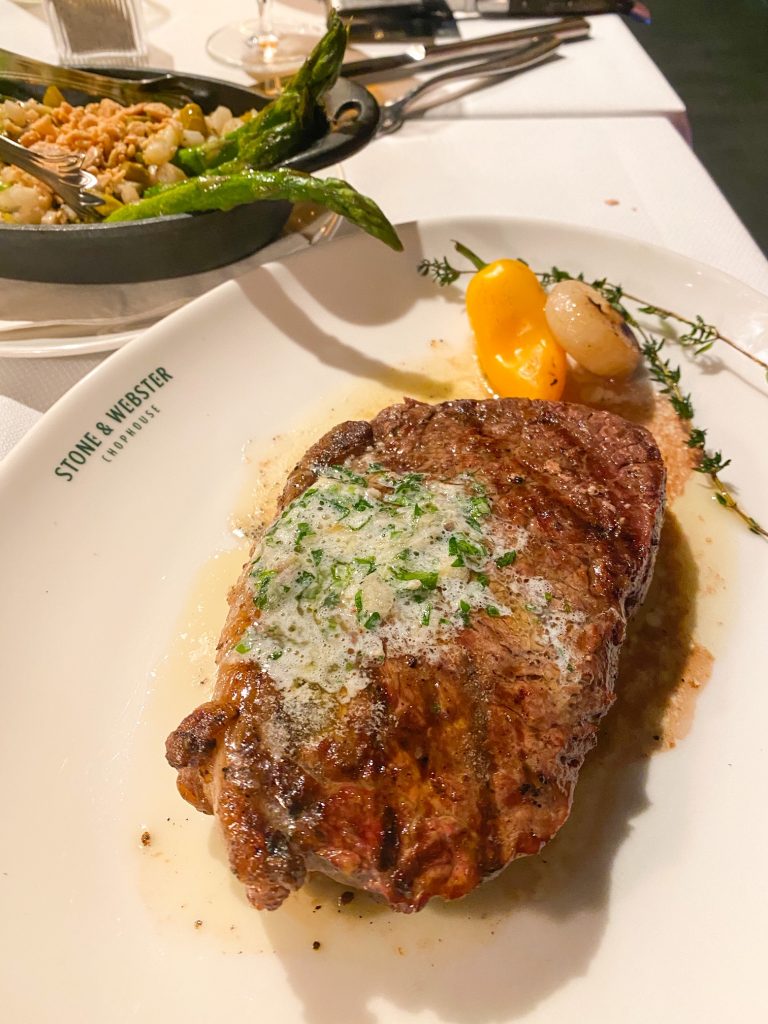 Listen to Live Music
Not only does the Plant Riverside District aim to entertain with an array of shops and restaurants, the district wants to be Georgia's prime destination for live entertainment and live music! Depending on when and where you are in the district, you can always find something to listen to.
Every week, the Plant Riverside District hosts performances from local and regional bands outside at the Plant Riverside Ampitheatre. Each Friday and Saturday night from 7 PM – 10 PM, groups perform for crowds spaced around the district's grassy knoll facing the flowing Savannah River. The backdrop? The cargo ships that pass by.
Inside, you can hear a piano tinkling from 11 AM – 2 PM every day in Generator Hall. Truly the lobby of the entire Power Plant, you can relax and look at the fossils. You can also hear piano players from 5 PM – 9 PM in the Beethoven Terrace Piano Bar, which overlooks the main lobby of the JW Marriott Hotel.
Hep cats will appreciate local musician Jeremy Davis and his jazz group, the Fabulous Equinox Krewe. You can hear them perform cool jazz and lively standards atop the Electric Moon Skytop Lounge as well as the Myrtle & Rose Rooftop Garden.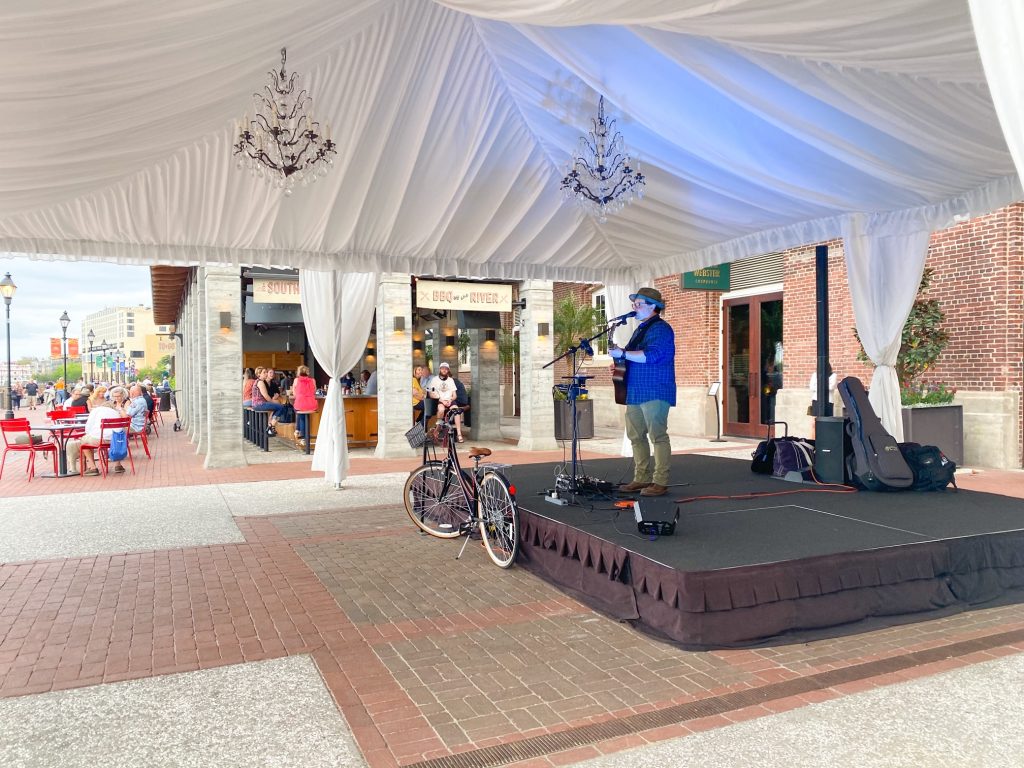 Shop at the Savion Gallery
When you want a taste of the finer things at the Plant Riverside District, be sure to stop by the Savion Gallery. A mecca for art lovers everywhere, you're sure to find the newest, most chic piece to hang anywhere in your home!
It's not just oil paintings at the Savion Gallery; here you'll find only the best original artwork. Their collection ranges from stone sculptures to mixed media prints and everything else in between. Savion prides themselves on sharing paintings and works of art that range in style and method from a variety of unique artists around the world.
Even if you're already a savvy art collector, consider stopping by the Gallery. Have you inherited a painting that has suffered the ravages of time? Savion has over 30 years experience in art restoration, fixing holes, tears, flaking paint, even fire and water damage. All of this can be expertly corrected.
You can find the Savion Gallery inside the Three Muses Gallery inside the Plant Riverside District.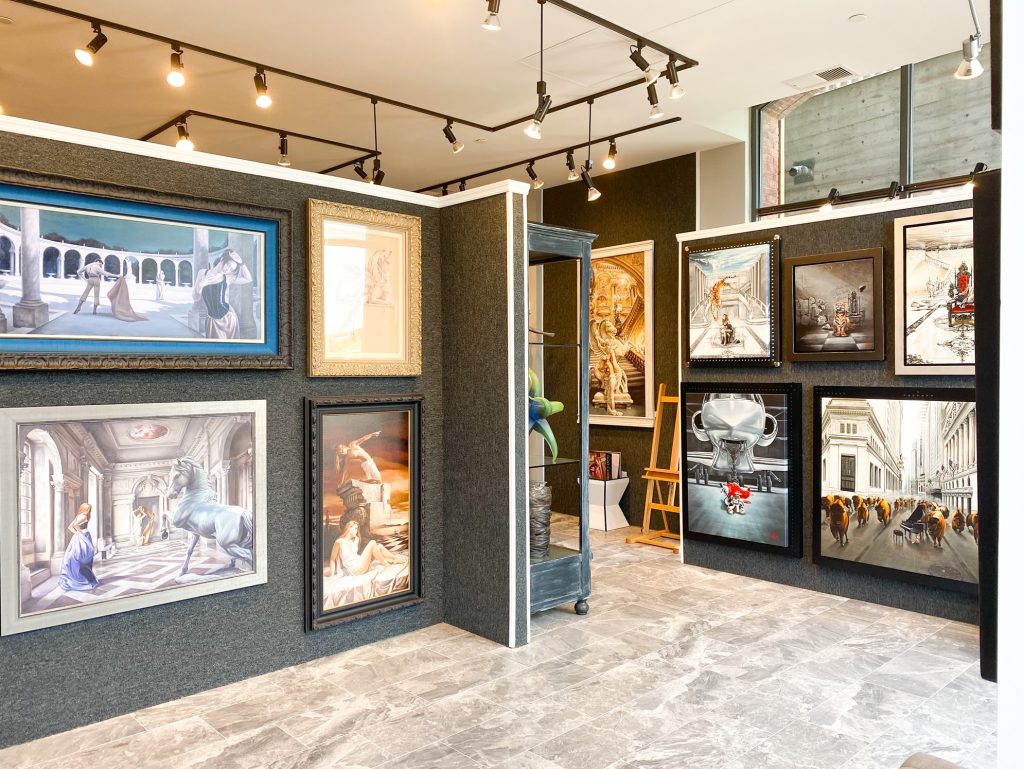 Relax at Myrtle and Rose Rooftop Gardens
While the Electric Moon Rooftop Bar is known for it's extravagance and high-energy fun, that's not the only rooftop bar to be found at the Plant Riverside District. At the Myrtle and Rose Rooftop Gardens, you'll be sipping on exclusive drinks and delicious small plates in a sophisticated garden atmosphere.
Inspired by the flowers used in the crowns worn by the muses in classical mythology, the garden's flora of course uses Myrtle and Roses: the symbols of femininity, love, and romance. Make sure to look for symbols hidden around the garden: the rabbit. Aphrodite's messenger, the rabbit is linked to love and desire, gifted to lovers as a symbol of their everlasting bond.
Their exclusive jazz brunch serves specialty cocktails like the Georgia Kiss mixed with Grey Goose, Blood Orange, and Lemon. Their other cocktails and mixed drinks are made from Anise, a plant historically cultivated for its aromatic and medicinal qualities. Best enjoyed in hot weather, it's the liqueur of choice in the French Riviera!
Pair your libations with alluring small plates like Black Mussels served with red curry broth, coconut, lime, coriander and grilled bread for dipping. For the height of Southern comfort, try the Fried Green Tomatoes served with blue crab, grain mustard remoulade, fresh citrus, and arugula!
Find the Myrtle and Rose Rooftop Gardens inside the Three Muses Building at the Plant Riverside District on Tuesdays and Thursdays from 4 PM – 10 PM, Friday through Saturday from 12 PM to 12 AM, and on Sunday from 12 PM – 9 PM. Jazz brunch is on Sunday from 12 PM – 3 PM.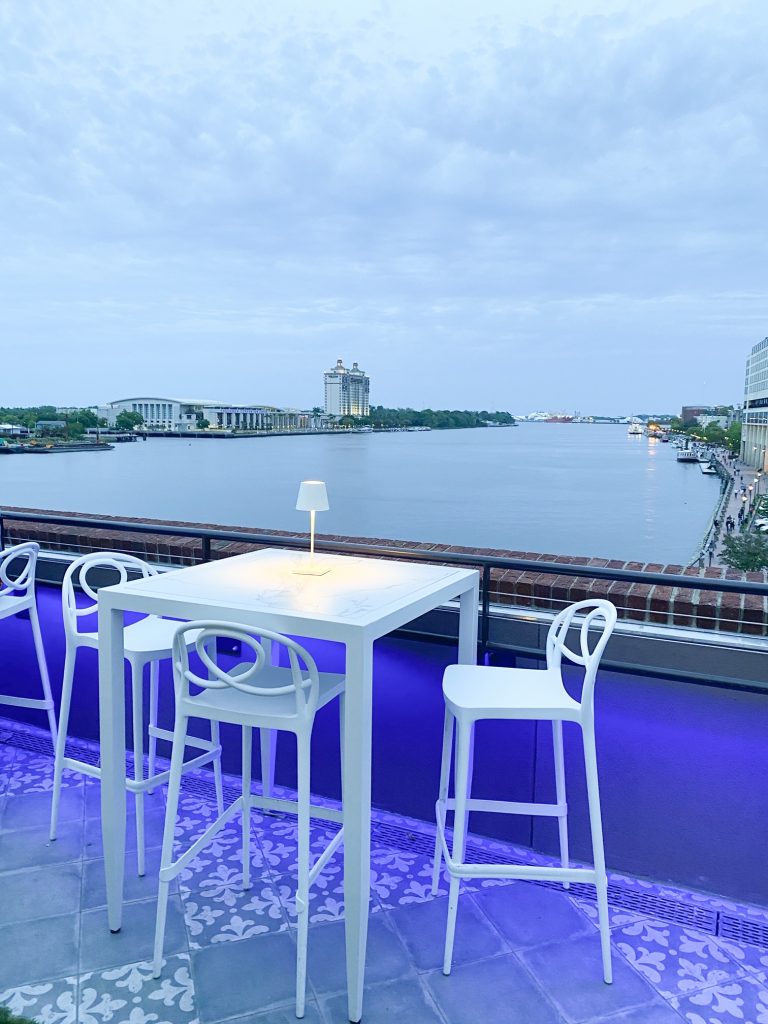 Taco Tuesday at Savannah Tequila Company
Come for the tacos and stay for the tequila. Or is it come for the tequila and stay for the tacos? Well, actually it doesn't matter because the Savannah Tequila Company has no rules! Serving up signature margaritas and the best premium agave spirits, you'll also be delighted by the authentic, delicious Mexican food.
This place isn't sombreros and chili pepper lights. When you walk in, you'll first immediately notice all the natural light that illuminates the open concept space. Colorfully modern chairs complement the clean dining area. Make sure to look out for the beautiful cactus mural on the wall.
Sample tacos with either beef barbacoa, pork carnitas, roasted mushrooms, baja fish, chicken tinga, or traditional ground beef. Each choice of protein is perfectly influenced with toppings to create each bite just perfect. Wash them down with our favorite cocktail, the Avo-rita with blended avocado, Cazadores blanco, melon liqueur, Velvet Falernum, agave nectar, and lime!
Find the Savannah Tequila Company in the Three Muses Building on Monday through Thursday from 12 PM – 10 PM, Friday through Saturday from 11 AM – 12 PM, and Sunday from 11 AM – 10 PM. You can visit the Walk-Up Bar on Friday through Saturday from 12 PM – 1 AM, Sunday from 12 PM – 10 PM, and Thursday from 12 PM – 11 PM.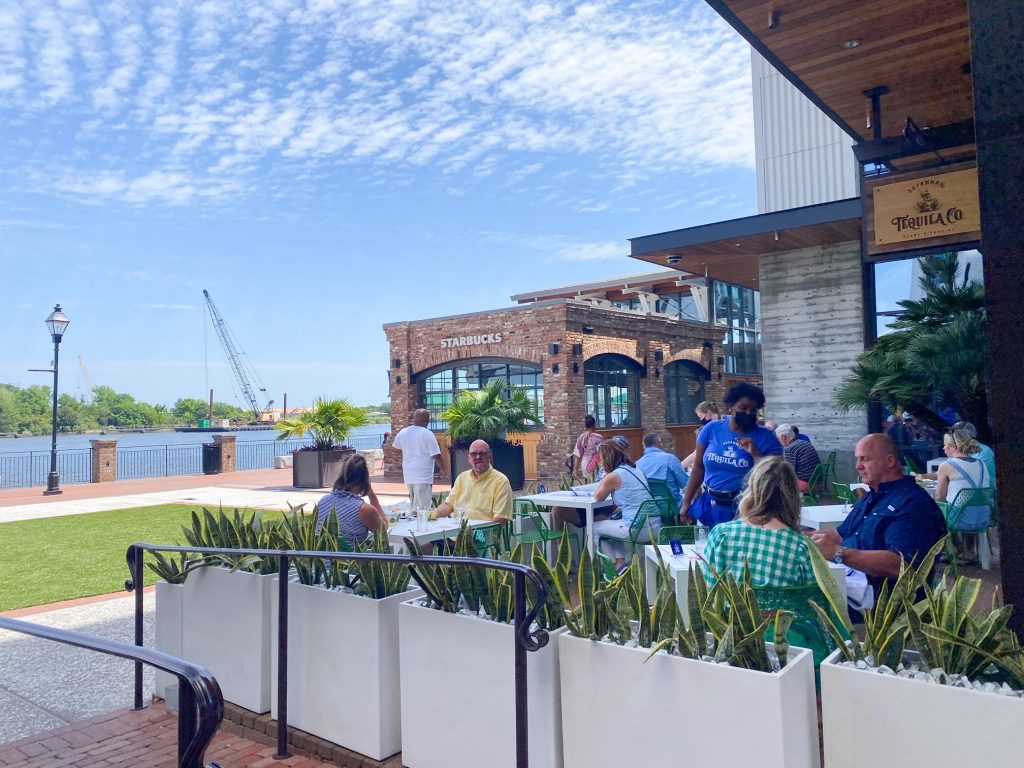 Indulge in Pretzels at Riverside Biergarten
Who knew that plain ol' dough wrapped into a fancy knot could be so delicious? We certainly have had our fair share of tasty treats in Savannah, but nothing beats the pretzels at the Riverside Biergarten! Inside this traditional Biergarten experience, you'll have the best German food in Savannah paired with German beers!
Choose from pretzel bites, traditional pretzels, or a gigantic pretzel! You get your choice of mustard or bier cheese for dipping. For dessert, you can savor some Apple Strudel with Vanilla Ice Cream or fill up on Cinnamon Pretzel Bites with a cream cheese frosting.
And of course, what would a German restaurant be without sausage? Choose from Bratwurst, Smoked Bratwurst, Kielbasa, or Knockwurst. Try one, two, or three of each, or you have the option to mix and match! Each sausage plate is served with sauerkraut, a small German pretzel, and mustard!
Find the Riverside Biergarten right along the Riverwalk at the Plant Riverside District on Wednesday through Thursday from 12 PM – 9 PM, Friday and Saturday from 12 PM – 11 PM, and Sunday from 12 PM – 9 PM.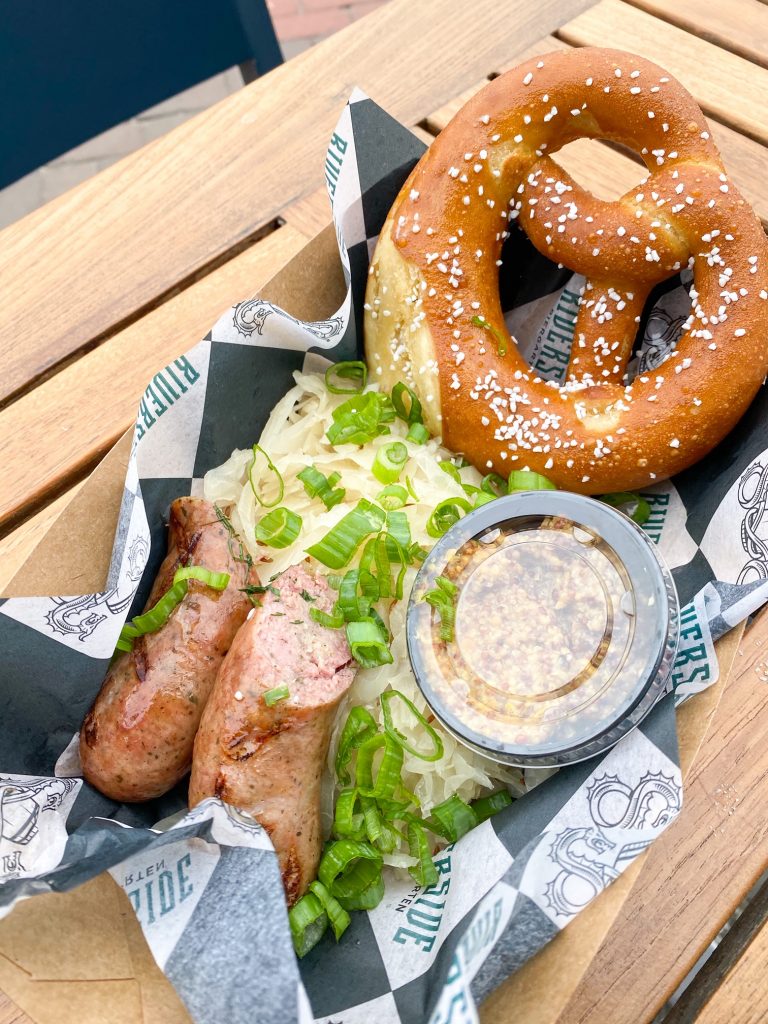 Go on the Ultimate Dinosaur Adventure
One of the most unique kids activities in Savannah, this tour is one part Indiana Jones and another part Dora the Explorer! Dino action and adventure makes for a one-of-a-kind history lesson, traveling back 150 million years with our guide, Dusty the Dinosaur Ranger, and of course our own chrome Plant Riverside dinosaur! A dinosaur adventure is available every Saturday at 10:45am & 1pm and Sundays at 1pm.
Dusty will mix games, music and fun with loads of science and history and brings it all to life as we go on an adventure through the power plant for kids and find dinosaurs which are hidden throughout the Generator Hall. Dusty will start the adventure with a catchy, original theme song, let the kids dig for fossils, explore what kinds of foods dinosaurs eat, and tour the world class Amphicoelias Fragillimus skeleton while roaring like raptors as we take their imaginations to new heights!!
You can go on the Ultimate Dinosaur Adventure inside Generator Hall at the Plant Riverside District on Saturday at 10:45 AM and 1 PM and Sunday at 1 PM. Tickets cost $40 per child and can be purchased by calling 912-373-9100 or by clicking this link.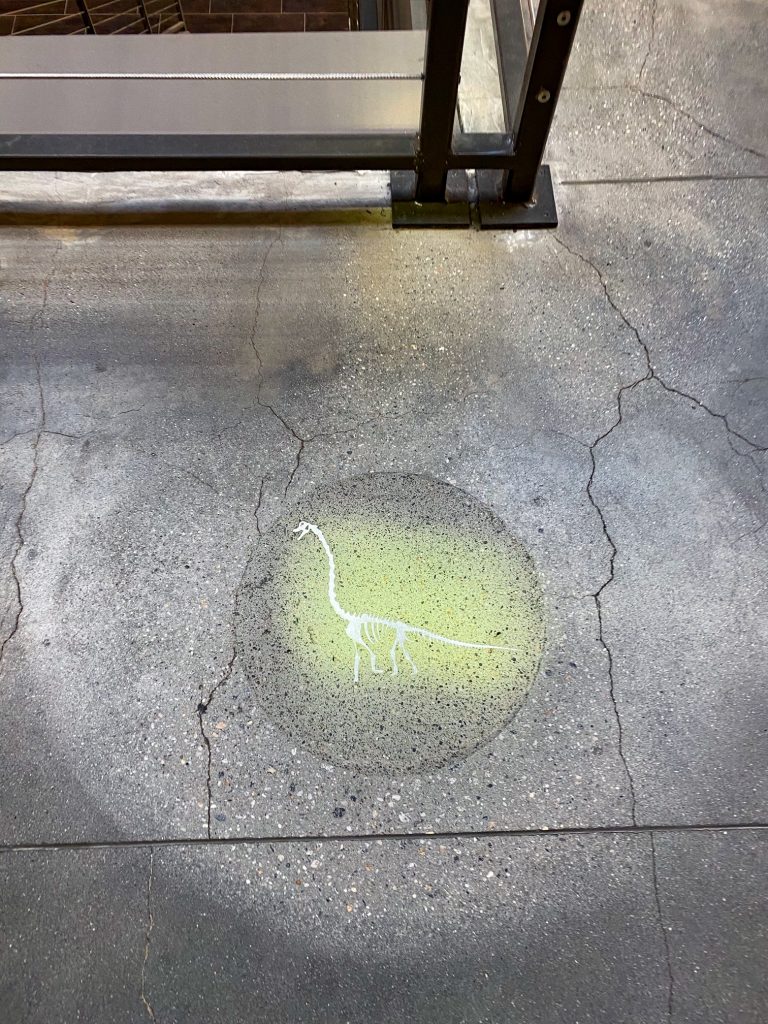 See the Circus with Streetmosphere!
Ernest Hemingway once said, "[the] circus is the only fun you can buy that is good for you." He clearly didn't live long enough to experience Streetmosphere! Where else can you see the circus perform, but for free?!
The best family entertainment not just in the Plant Riverside District, but in all of Savannah, you will enjoy this spectacle. On Saturday nights at 8 PM and 9:30 PM, you can catch these performances absolutely for free. Just make your way to the Riverwalk and you'll hear the excitement!
The first-class street circus performances are furnished by Savannah Cirque. You'll be treated to incredible aerialists and acrobats who defy gravity. Savannah Cirque is renowned for producing circus champions, who have gone on to work with companies around the world! And every week, they treat the Plant Riverside District to a free show for you to enjoy!
JW Marriott Plant Riverside
Located in the heart of the Savannah Plant Riverside District, we can't not mention the lovely accommodations of the JW Marriott. While you can stay elsewhere, we recommend staying at the JW Marriott to be truly in the heart of the Plant Riverside District.
All of the activities we've mentioned are a short walk away from the hotel's lobby. You'll have access to Savannah's shopping district, a nearby art gallery, and a multitude of walking tours that start right at the hotel. You don't even need to call a taxi or Uber to get there!
The JW Marriott hosts a wonderful array of restaurants, many of which we have already discussed. The entire property is enriched in history, drawing from the Power Plant in which it was constructed. This industrial chic feel will comfort you as you enjoy this newest, most exciting spot in downtown Savannah.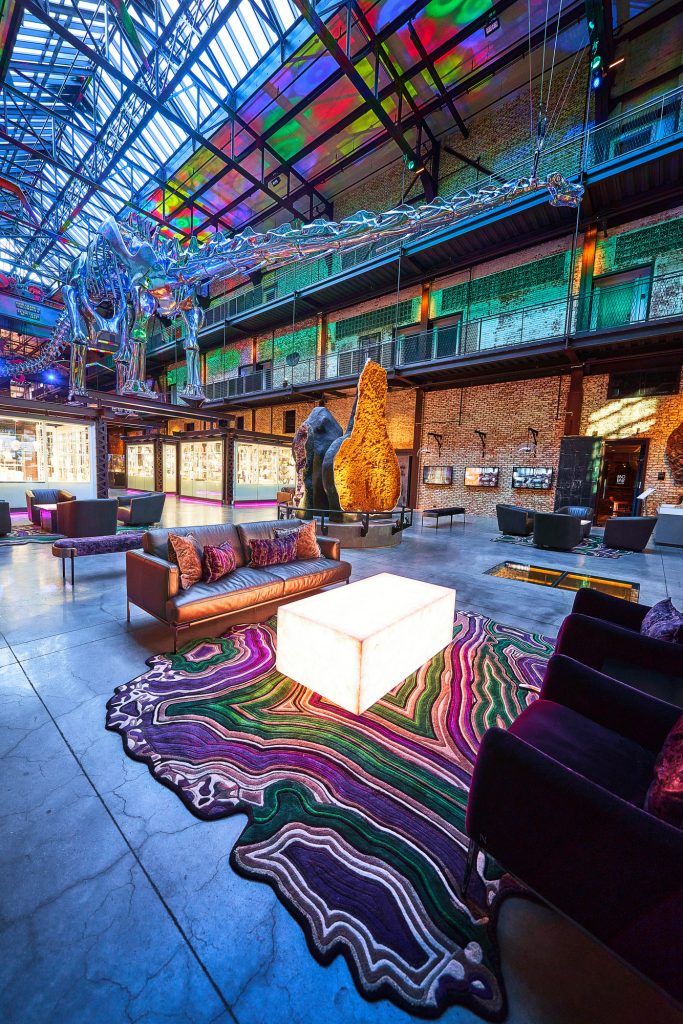 The Plant Riverside District won't let you down. Savannah was already one of Georgia's most exciting towns, and now they've added one more reason to get excited. With unbeatable dining, entertainment, and attractions, the Plant Riverside District is surely on its way to becoming the best thing to do in Savannah.