Planning on apple picking in Virginia? You are going to love these top picks (get it?)! Crisp autumn air, warm baked apples, and flannels are definitely calling so it is time to find the best orchards. You will have your pick of the best orchards and their amenities.
Day trips or dates to an orchard will be a fun affair no matter the occasion and can be added to your list of interesting things to do in Virginia! Virginia is home to many fabulous places to enjoy and this list of orchards will give you a run down to choose your next outdoor adventure!
Picking your favorite apples is just part of the visit to these family-run orchards. From baked goods to gallons of cider there is more than meets the eye at these orchards! Getting to know a bit of history before entering the acres of land will give each bite into an apple a whole new feeling.
Supporting local businesses is important all year, however, the most gorgeous time for apple orchards is in the fall when the apples are ripe and the leaves are turning colors. So, if you are ready to jump into piles of leaves, it is time to jump into this list of best places to pick apples!
12 Best Orchards To Go Apple Picking In Virginia
Carter Mountain Orchard
Handpick your apples at Carter Mountain Orchard! You will find this gem in Charlottesville, Virginia. The Chiles Family has spent the last hundred years working on their magnificent orchards. With humble beginnings, prior generations sold their harvest on a roadside stand. The orchards have since matured into a favorite for both the community and tourists. Carter Mountain Orchard includes an extensive variety of fruits and vegetables for picking, including apples which are available from Mid-June to mid-August.
Carter Mountain Orchard also hosts events with music, food trucks, and more! It is the perfect place to enjoy cider as you watch the sunset over the acres of trees. The apple cider donuts are a must when you visit! Baking with the apples may not be the first thing you think of but no dish will compare to one with fresh-picked produce. It's no wonder this is one of the best places for fun and apple picking in Virginia!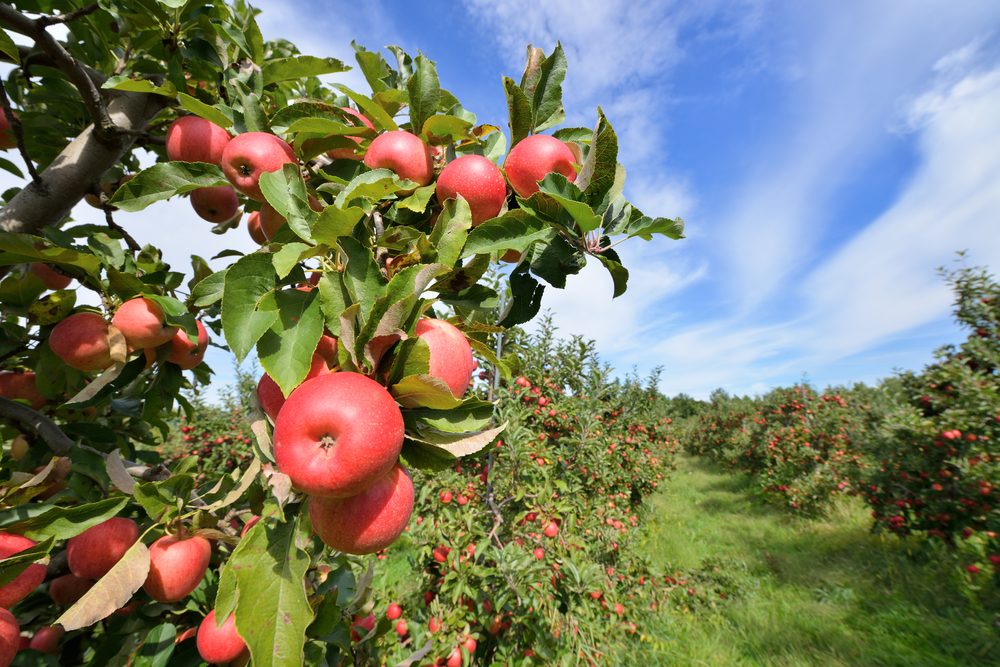 Hartland Orchard
You do not want to miss the window of opportunity to visit the Hartland Orchard! It is only open five months out of the year, but nonetheless provides lots to offer in that time frame. Visitors come between August to October to pick apples, berries, and more from this farm with a dynamic history. Established in Markham, Virginia in 1950, a lot of hard work has been going on since to produce amazing quality fruit.
Adding apple picking in Virginia to your list of fall activities is not complete without Hartland Orchard. You will be able to pick a variety of apples including Smokehouse, Rome Beauty, classic Gala, Grannysmiths and so much more. So try something new and expand your fruit pallet!
Mackintosh Fruit Farm
Burrowed within Northern Shenandoah Valley in Berryville, Virginia is the lovely Mackintosh Fruit Farm! It has been in business since 1988, starting with apple and peach trees. Yum! Since then, a fantastic selection of berries and vegetables have also been harvested. Many travel out to the orchard between May and October to pick and enjoy their fresh apples.
With one of the longest seasons for picking your own apples, Mackintosh Fruit Farm has something for everyone! There is a kitchen and market that provides you with some of the most delicious produce Virginia has to offer! Apple picking in Virginia has never been so sweet. Grab your cardigan and head on over to Mackintosh Fruit Farm to experience a new fall tradition!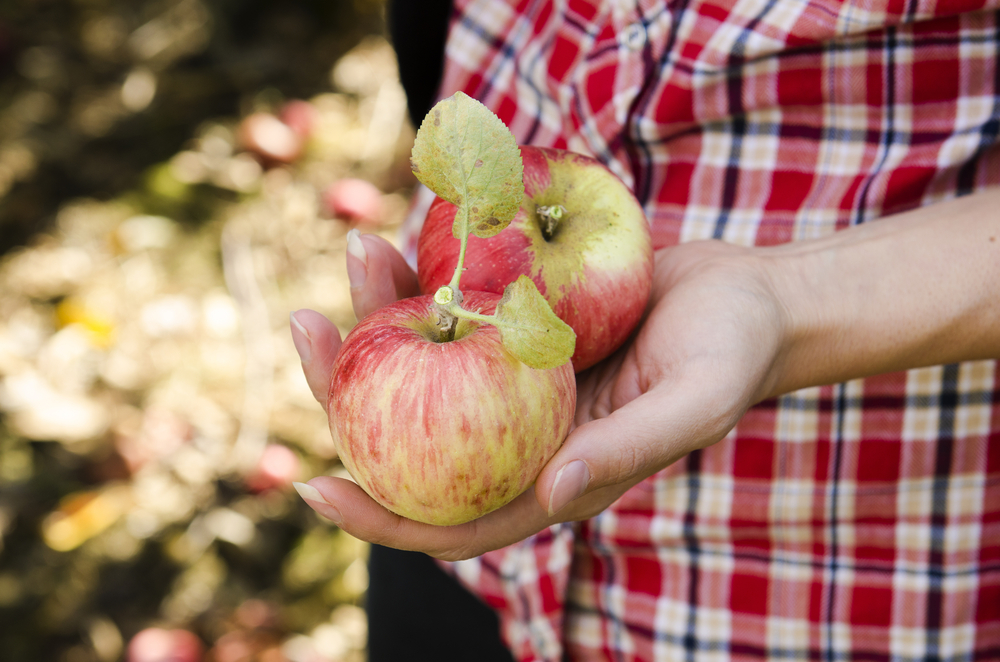 Dickie Brothers Orchard
When it comes to apple picking, the Dickie Brothers Orchard is a must! You will find the orchard in Roseland, Virginia. The Dickie Brothers Orchard has been passed through nine generations and almost 300 years of strenuous labor. That labor has produced abundant crops of peaches, apples, plums, blackberries, and more. Every year, customers are invited to pick the 20 distinct species of apples from Late July to Early November.
Getting the most out of autumn should include apple picking in Virginia! When you are done picking apples at Dickie Brothers Orchard, you should stop by the farm store. It has produce and meats for purchase that are of the highest quality. The tastes and smells of fall are all found while picking apples at the Dickie Brothers Orchard.
Cullipher Farm Market
You will get the full apple picking experience at Cullipher Farm Market! This roadside orchard and farm offers the community a range of fresh produce. The market can be found in Virginia Beach, Virginia. Cullipher Farm Market has fruit picking throughout autumn, including apples, peaches, berries, and pumpkins. Apples are ripe from August to September.
If you are looking for a fun challenge after picking apples, Cullipher Farm Market provides a new corn maze each fall! Coupled with a playground, this makes for a family-friendly outing for apple picking in Virginia. Some days you may be able to order from a featured food truck! Sunsets at Cullipher Farm Market are a marvelous sight to see as well. A good time awaits anyone planning to spend their day at Cullipher Farm Market!
Stribling Orchard
Through six generations and 200 years, the Striblings Orchard has worked hard to provide a fresh harvest year in and out! It has expanded its market by offering cider, pumpkins, and beef. Located in Markham, Virginia, this orchard is gorgeous in the fall! Visitors are invited to come and picnic, try baked and local goods and pick apples between Mid-August to early November.
The fantastic tasting apples are the perfect addition to any of your fall dishes you plan to cook up! The knowledgeable staff will help you pick the freshest apples and show you how to do it like a pro. You will leave with a whole new knowledge base and appreciation for apples! Getting there early is advisable as this is a popular spot for apple pining in Virginia!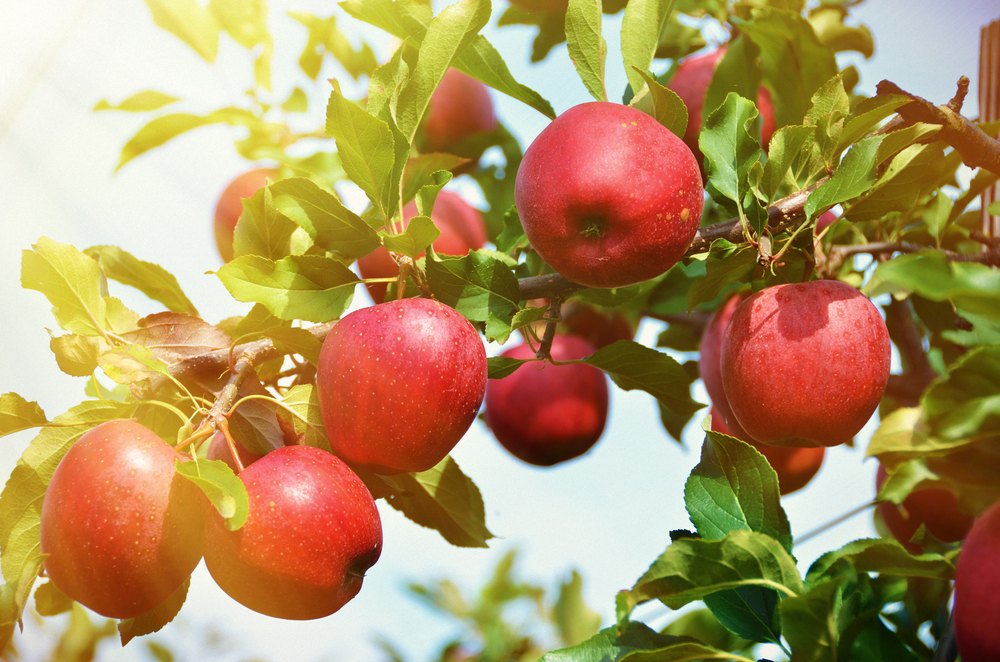 Fruit Hill Orchard
The Fruit Hill Orchard has over 2000 fruit trees, including 900 apple trees! These apples are available for picking from July to December at this 100-year-old orchard. For the last century, this orchard has blossomed into an excellent spot for a lovely afternoon in the fall. The abundant orchard can be found in Palmyra, Virginia.
Apple picking is just one highlight of the day you choose to go! There is an apple museum, games, and picnic tables for enjoying your tasty treats. You will come for the apple picking but stay for the views and a good time! Enjoy the simple pleasures of Fruit Hill Orchard and the activities and produce it provides! You may even want to consider staying at the cottage Airbnb they have onsite.
Henley's Orchard
Bite into a piece of history at Henley's Orchard! Joseph T. Henley Sr. became Virginia's first fruit inspector after obtaining a degree in agriculture and establishing Henley's Orchard in 1932. Starting with 5 acres in for an apple orchard, this farm has expanded exponentially and now includes a peach orchard, a herd of cattle, and many acres of hay. Head over to the orchard located in Crozet, Virginia between July to October when the apples are the ripest.
This darling orchard is a must-see in the fall. With the changing leaves of the orchards and the Blue Ridge Mountain trees in the background, you are in for a magical ambiance. Tree after tree gifts some of the best apples in Virginia! You will have a hard time picking from the vast variety of apples including Honey Crisp, Henley Gold, Winesap, and many more!
Rinker Orchards Inc.
Visitors can enjoy apples from July to October at one of Virginia's first pick-your-own orchards, Rinker Orchards Inc. Stephens City, Virginia has been the home of the many acres of trees since 1973. The family-owned and operated orchard also has its own all-natural cider that is a must-try!
Apples you can pick range from Redcort, York, Nittany, and several others. Faithful locals and travelers swear by the highest quality harvests that Rink Orchards Inc. supplies. Even if you are just driving through the city on your way to any of the amazing outdoor activities the state has to offer, be sure to stop at the orchards for apple picking in Virginia!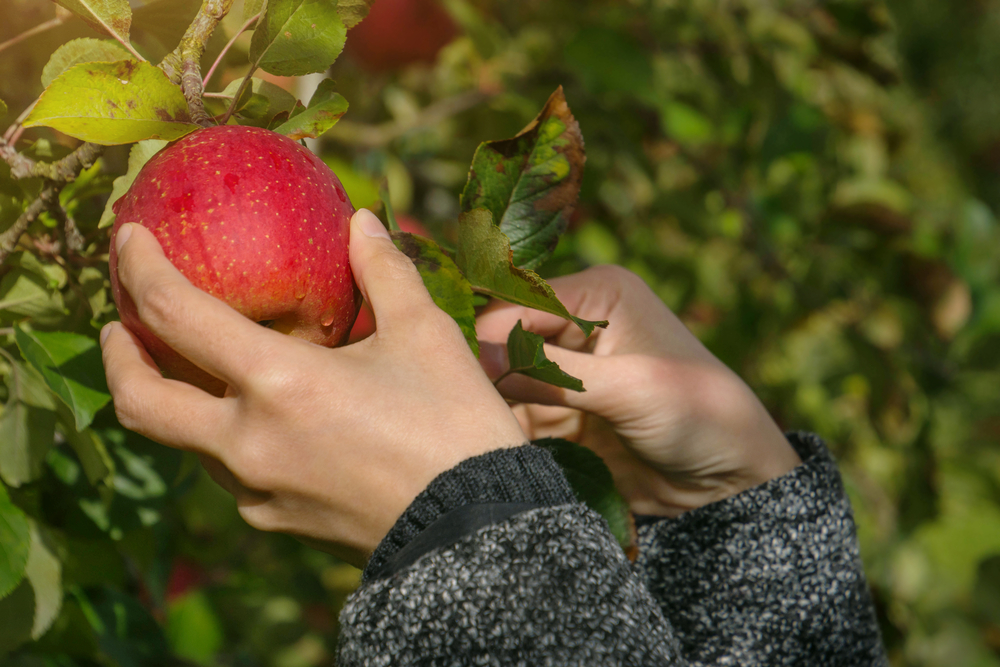 Marker Miller Orchards
Family fun is a staple at Marker Miller Orchards! In addition to offering fresh apples for picking in August through November, Marker Miller Orchards has added pies, doughnuts, cookies, and more to their shop. The orchard is proudly standing in Winchester, Virginia.
Festivals held at the orchard include live music and plenty of good food. With a playground for the younger pickers and delicious baked goods, it sure to be a delightful day at Marker Miller Orchards. When you are apple picking in Virginia there is no short supply of fun to be had!
While you are at it, make sure to take a look at our list of the best things to do in Winchester VA.
Mount Pleasant Farms
While Mount Pleasant Farms was only born in 2011, origins date back to 1992 and since then thousands of trees have been planted. With 400 trees planted in the first year and 1,500 planted the following year, delicious apples, luscious pears, and nectarines were all harvested and typically offered for picking. Early July to August is the most suitable time to pick the freshest apples at Mount Pleasant Farms in Chesapeake, Virginia.
The fall holds the prettiest foliage along with the most luscious apples. You will also have plenty for the young pickers in the group to do! Pony rides, barrel train rides, a playground, and farm animals to pet, will surely be a hit! You may also schedule birthday parties. Fun in these orchards has seemingly no end! Apple picking in Virginia is a real treat!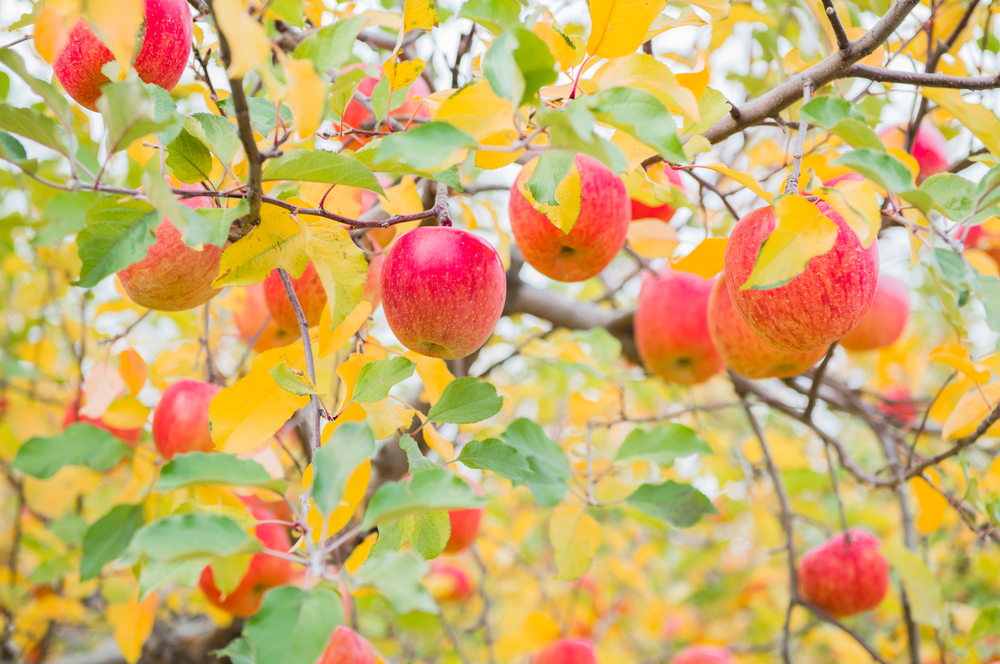 Hollin Farms
Hollin Farms offers an extraordinary variety of delicious apples, other fruits, and homegrown vegetables. It is open from late May through October, however, the apples to be naturally the ripest in September and October. On the eastern side of the Blue Ridge Mountains in Delaplane, Virginia, home of the Hollin Farms.
The rolling green hills behind the orchards make for a picturesque scene in the autumn. Stop by for picking apples, fresh meats, and vegetables! The tree-lined acres are welcoming to all who visit Virginia for an outdoor activity full of memory-making material. Be sure to get an early start to get the first pick. This spot for apple picking in Virginia is a popular stop for locals and travelers alike!