Are you planning on watching the Arkansas Solar Eclipse in 2024? We have some helpful info for you, such as where you'll be able to see the eclipse when it's happening, and how to safely watch a solar eclipse.
If you've never seen a solar eclipse before, you'll have the opportunity to do so in the spring of 2024! Parts of North America will be along the "path of totality", which is the path of the moon's shadow across the Earth's surface. Luckily, many Arkansas locations happen to be along this route!
There are a few things you should be aware of if you are going to watch and/or photograph the solar eclipse in Arkansas. Not only will you have to be in the right place at the right time, but you will also need to watch safely so you don't hurt your eyes. We've got everything you need to know about the Arkansas Solar Eclipse of 2024 listed below.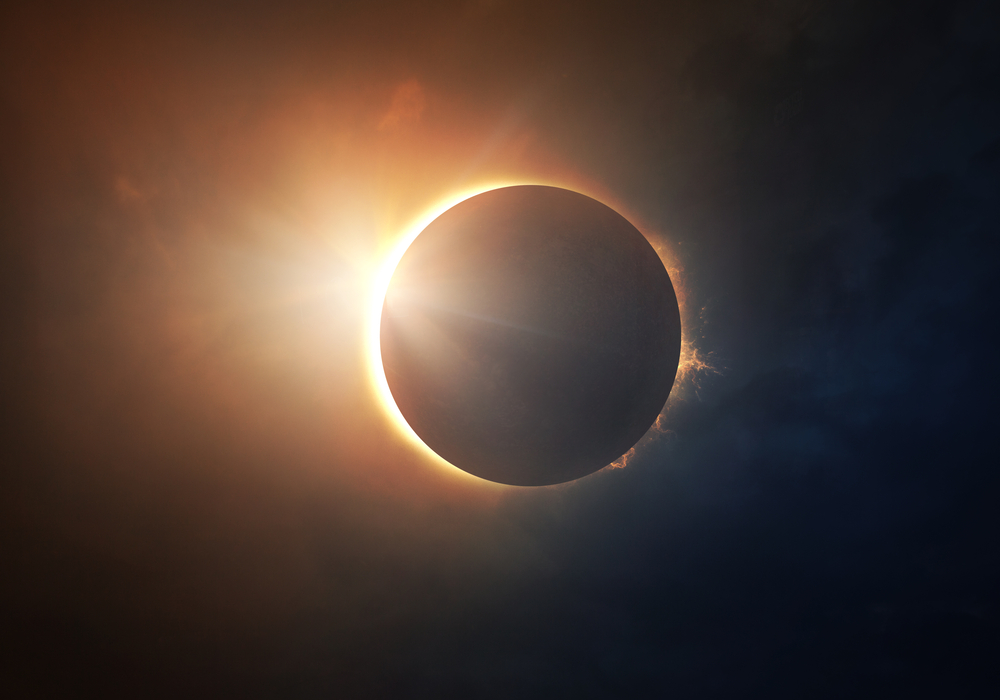 What is a solar eclipse?
Simply put, a solar eclipse is a phenomenon that occurs when the moon passes in between the Earth and the sun. When this happens, the moon lines up with where the sun is in the sky. Certain locations on Earth will not be able to see some, or all, of the sun because the moon will be blocking it from view.
A solar eclipse only lasts for several minutes, as the moon continues on in its orbit and eventually reveals the sun again. Solar eclipses can occur 2-5 times a year, but the locations where you can see them will vary based on the relationship between the Earth's rotation and the moon's orbit.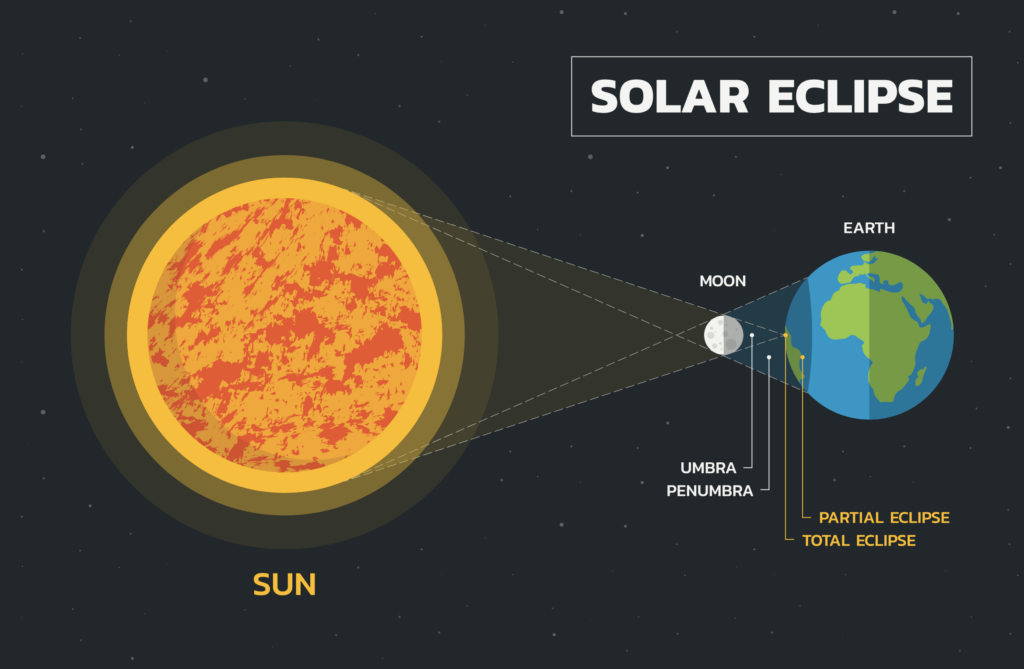 What kind of eclipse is the 2024 Arkansas Solar Eclipse?
As we said above, there are multiple solar eclipses every year, however, these are only partial eclipses. The Arkansas Solar Eclipse will be a total solar eclipse. This means that the moon will totally cover the sun, creating just a slight ring of radiant light around the edge.
Total solar eclipses only happen every 18 months but are often only visible in remote areas.
When will the next North American Solar Eclipse be?
The upcoming North American Solar Eclipse will take place on April 8, 2024. The time, of course, will depend on where you are in North America during hours of daylight.
The last time Arkansas saw a total solar eclipse was in 1918. Unfortunately, Arkansas was not in the path of totality during the last full solar eclipse in North America, which came nearly 100 years later in August of 2017. This makes the 2024 eclipse in Arkansas even more special!
After 2024, the next total solar eclipse that will be visible from North America will occur in 2044, but that will mostly be visible in Canada.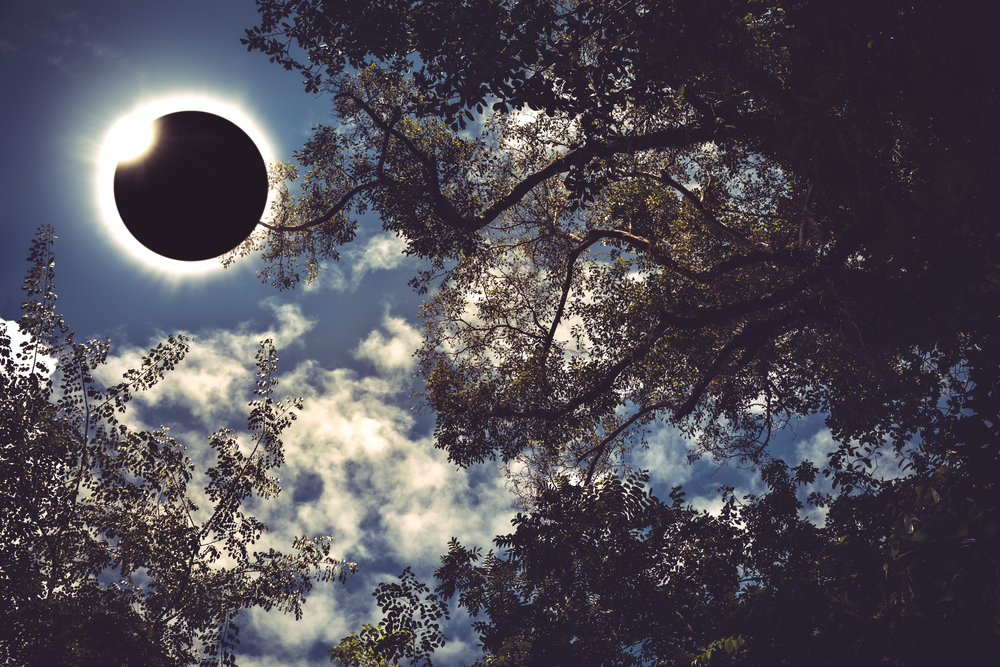 What time is the Arkansas Solar Eclipse in 2024?
The exact time of the Arkansas Solar Eclipse will depend on where you are in the state. However, the general time window in Arkansas will be from 12:30 pm CDT, when the eclipse begins, to 3:24 pm CDT, when it ends. Totality, or when the sun is completely covered, will occur around 1:50 pm CDT, depending on location.
The moon's shadow travels from west to east, so those in the western part of Arkansas will experience the full solar eclipse before those in the east. For example, the sun will be fully covered in Hot Springs around 1:49 pm CDT, but in Jonesboro, it won't be covered until about six minutes later at 1:55 pm CDT.
Tips for Viewing a Solar Eclipse
One of the most important things to know about viewing a solar eclipse is that you should not look directly at the sun! Looking right into the sun can cause severe eye damage and even blindness.
To protect against this, you will want to wear specially-made eclipse glasses or handheld solar viewers. You must wear eclipse glasses and not regular sunglasses. When purchasing eclipse glasses, make sure they are certified as ISO 12312-2 compliant, like these Rainbow Symphony Paper Eclipse Glasses.
If you choose to use binoculars or a camera, make sure to get solar filter sheets to fit over the lenses.
Once you have the correct eyewear and are located within the path of totality, to view the Arkansas Solar Eclipse you will want to be outside during the afternoon hours on April 8th, 2024. Try to find an open space with a clear view of the sky, away from tall trees or buildings.
The only time it is safe to look at the sun with your naked eye is the few minutes in which it is completely covered by the moon.
Hopefully, the skies will be clear on April 8th! If it is overcast or rainy, the eclipse will still occur, but we won't be able to see it.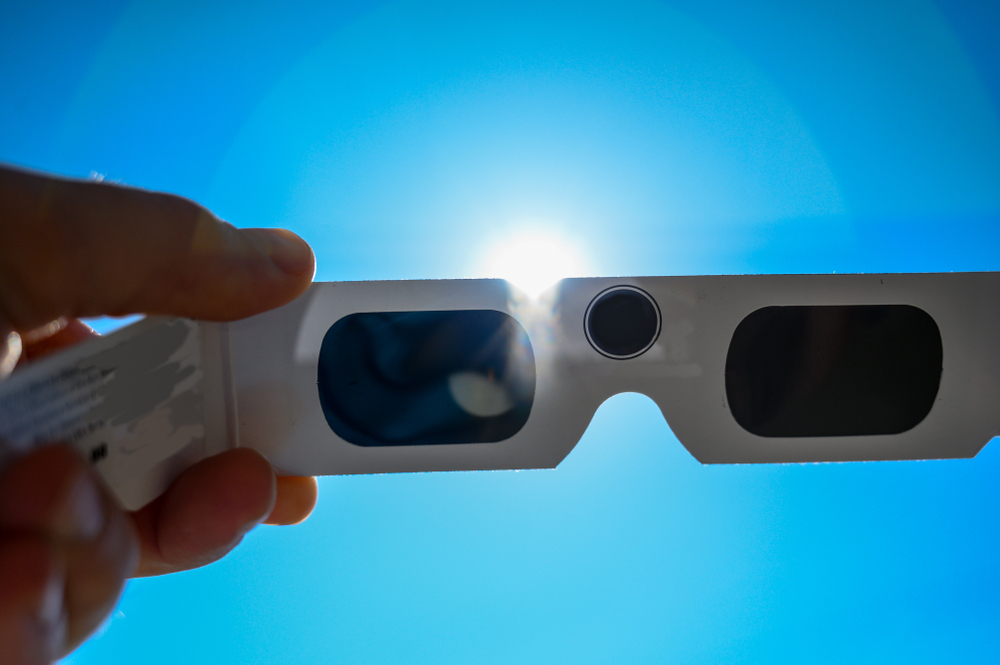 2024 Solar Eclipse Photography Tips
If you are planning on taking photos of the Arkansas Solar Eclipse with a digital camera, there are a few things to know. (Solar eclipse photography can be tricky, so you might want to practice before the actual event so you don't spend precious moments fussing with your gear.)
Firstly, make sure you have a solar filter on your lens, like the sheets mentioned above. Don't point your camera into the sun, or look through a viewfinder, without it!
You'll want to place your camera on a tripod, since, when the sun is covered, you'll be shooting in darkness. A tripod will help eliminate any blur from camera shaking during the slower shutter speeds you'll use in the dark. (Up until that moment though, you can use faster shutter speeds since you'll have enough light from the sun to get clear shots.)
It's recommended to use a fixed aperture (how much light is coming in), between f/8 and f/16, and then choose the shutter speed and ISO (the camera's light sensitivity) combinations from there.
If you have a telephoto lens, that will give you a bigger, clearer picture.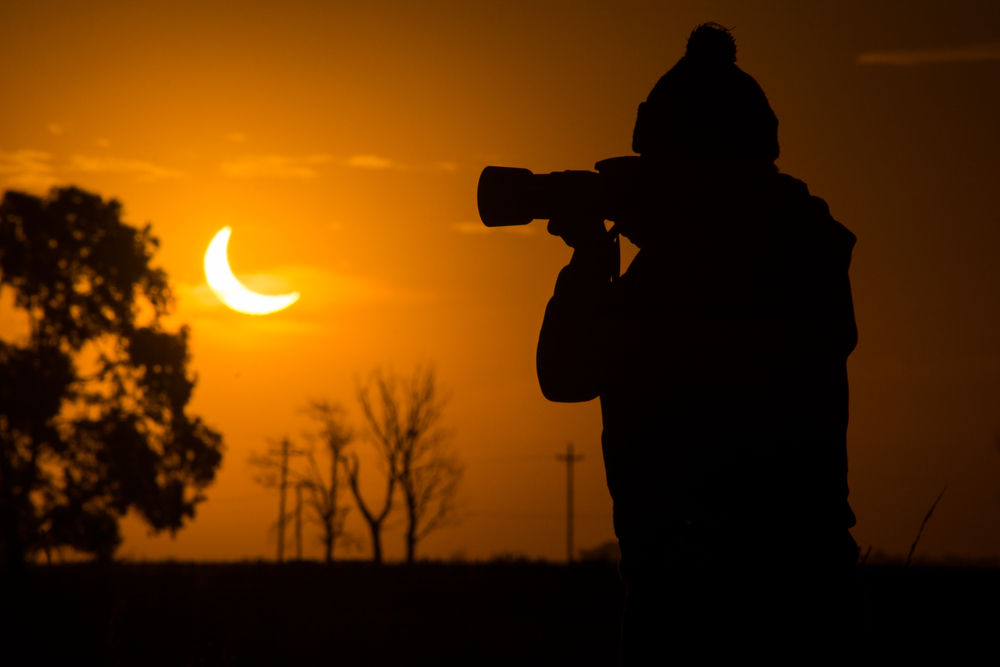 Arkansas Towns in the Path of Totality in 2024
So are you wondering where to see the solar eclipse in Arkansas? You will need to be in a town that's along the path of totality. Unfortunately, the path doesn't include the whole state.
The 2024 solar eclipse path of totality in Arkansas will cut diagonally through the state, starting in the southwestern part and continuing up into the northeastern corner. Some Arkansas towns and cities that fall under the path of totality include Texarkana in the south, Little Rock in the middle, and Jonesboro in the north.
To see if the Arkansas Solar Eclipse will be visible from your town check the list provided within this 2024 Eclipse Information for cities in Arkansas.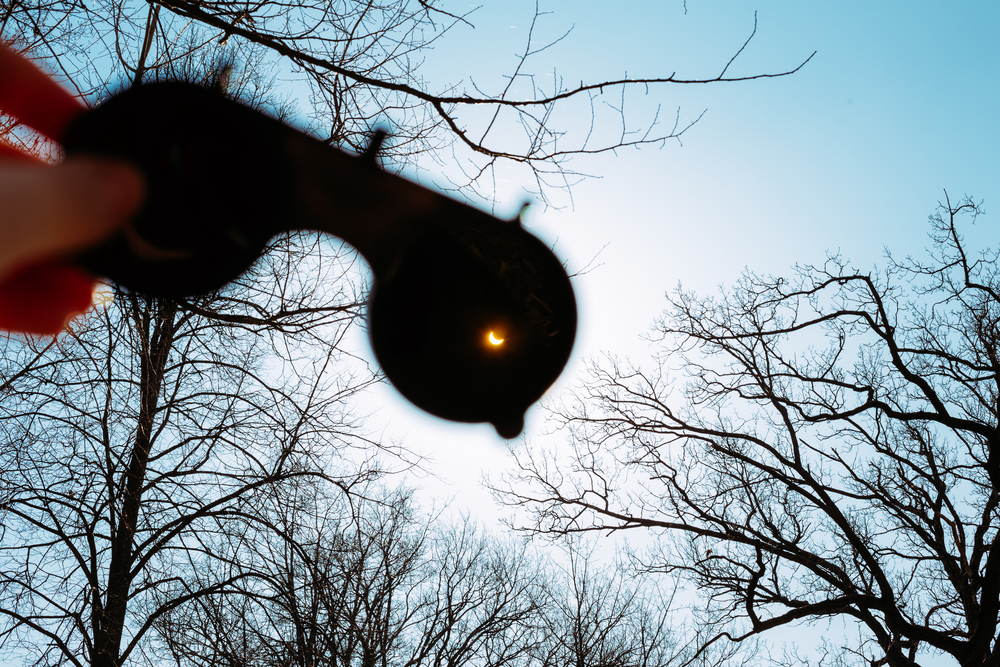 Map Of Total Eclipse Path Through
To see the path of totality as it passes through Arkansas check out the map below!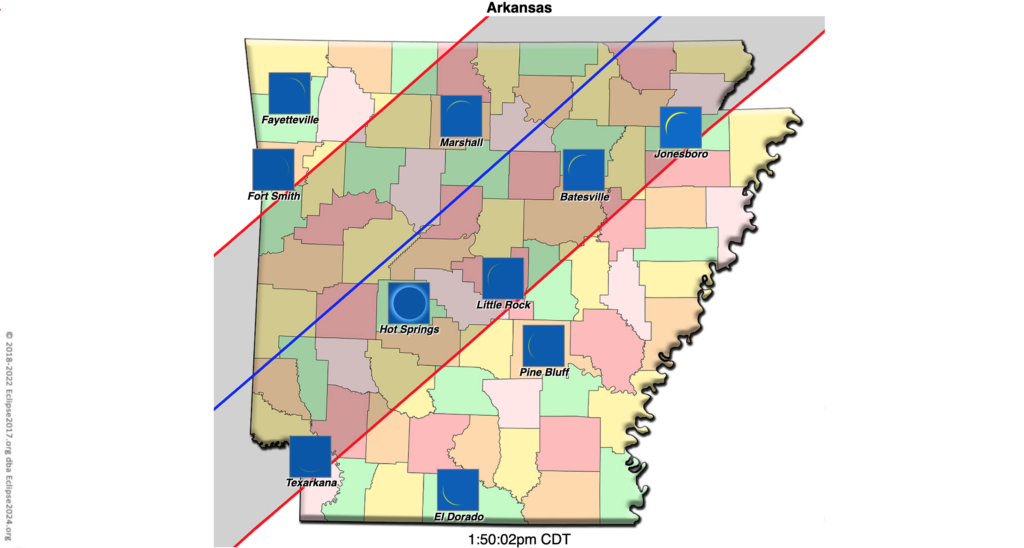 What happens if you are out of the path of totality?
If you are not within the path of totality you will most likely still see a partial solar eclipse, in which the moon covers part of the sun.
The whole state of Arkansas will at least be able to see a partial eclipse; it just won't be a total solar eclipse. For example, folks in Pine Bluff will still be able to see the Arkansas Solar Eclipse, but it will look like the moon is covering about 95% of the sun.
Even if you are only watching a partial eclipse, it is still important to wear the correct protective eyewear!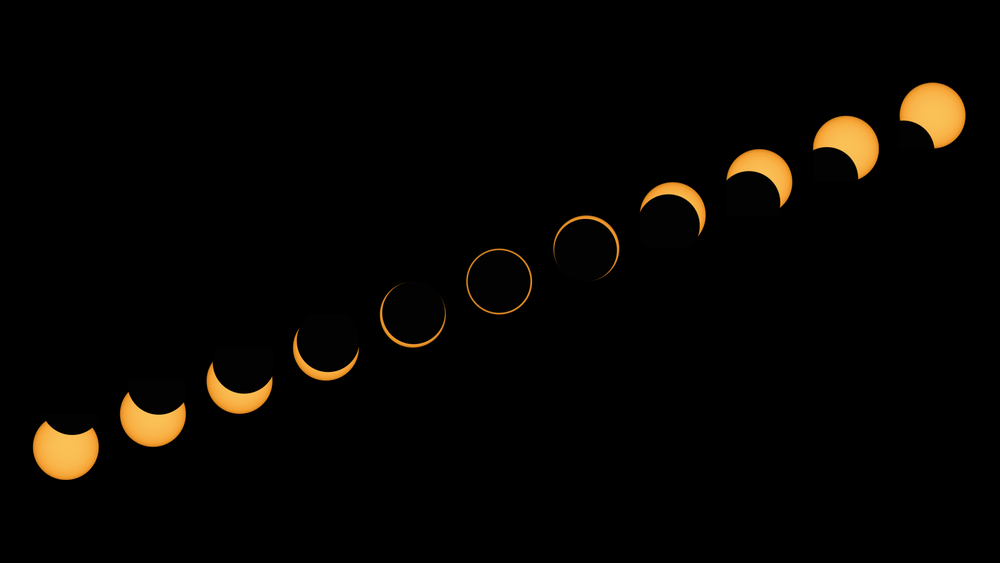 Best Cities to Watch the 2024 Solar Eclipse in Arkansas
As we said above, the best cities to watch the Arkansas Solar Eclipse are those that are along the path of totality. These cities include Mountain Home, Marshall, Paragould, Russellville, Conway, Hot Springs, and the state capital, Little Rock.
Our picks for watching the Arkansas eclipse are Hot Springs, Conway, and Little Rock! If you're traveling to watch the eclipse in Arkansas, these spots would be fun, weekend getaways on their own. They're also near some national and state parks that will offer uninhibited views, like Pinnacle Mountain State Park.
To see the eclipse in Hot Springs, head to spots near the water at Garvan Woodland Gardens (just make sure you don't have any tall trees in the way). Or if you really want to get away, take a hike up to the mountaintop pagoda within Hot Springs National Park which offers awesome views. A Hot Springs solar eclipse would be the cherry on top of a great vacation spot!
If you want to stay in town to see the solar eclipse in Conway, you can spread out on the fields in public parks like Laurel Park or Gatling Park. However, if you don't mind a drive, Petit Jean State Park is only 45 minutes away.
If you're wondering where to see the Arkansas Solar Eclipse in Little Rock, you'll want to be in an area away from tall buildings to make sure you can see the sky. Head to a spot like Emerald Park or Julius Breckling Riverfront Park to really be able to take it all in!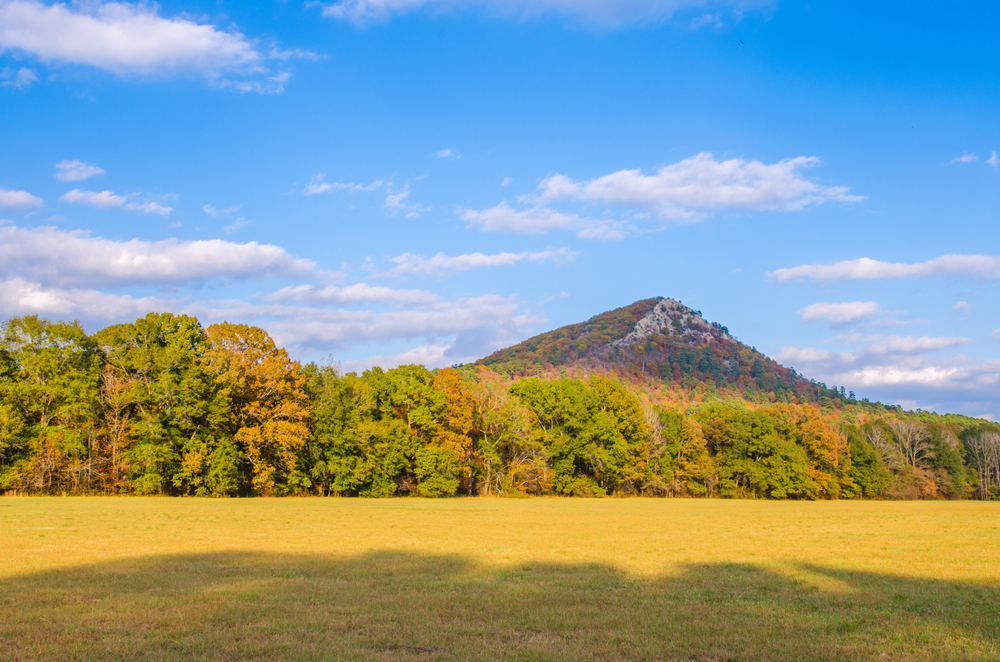 We hope this post answers any questions you might have about seeing the North American Solar Eclipse in Arkansas. Since the next Arkansas Solar Eclipse won't occur until 2045, you'll want to do everything you can to make sure you're ready for this one! With proper eyewear, a good viewing spot, and clear skies, you'll be good to go.