Do you have a Georgia getaway on your mind and looking for the best beaches in Georgia to escape to? You've come to the right place!
There are so many things to do in Georgia, but sometimes you just have to get away to the water. Whether you're looking for the sound of ocean waves or the calm, smooth surface of a lake, you can find it all in Georgia.
Georiga beaches are some of the best on the east coast. With almost 100 miles of sandy shoreline and barrier islands to explore, it's easy to escape the crowds. Relax on a romantic shore with your significant other, play in the sand with your family, or take your four-legged friend for a walk.
You can pitch a tent or stay at a luxurious resort, whatever is more your speed! There are enough beaches in Georgia that you can choose your own adventure, and explore nearby places of history and nature conservation.
So pack your peaches, it's time to go to the beach!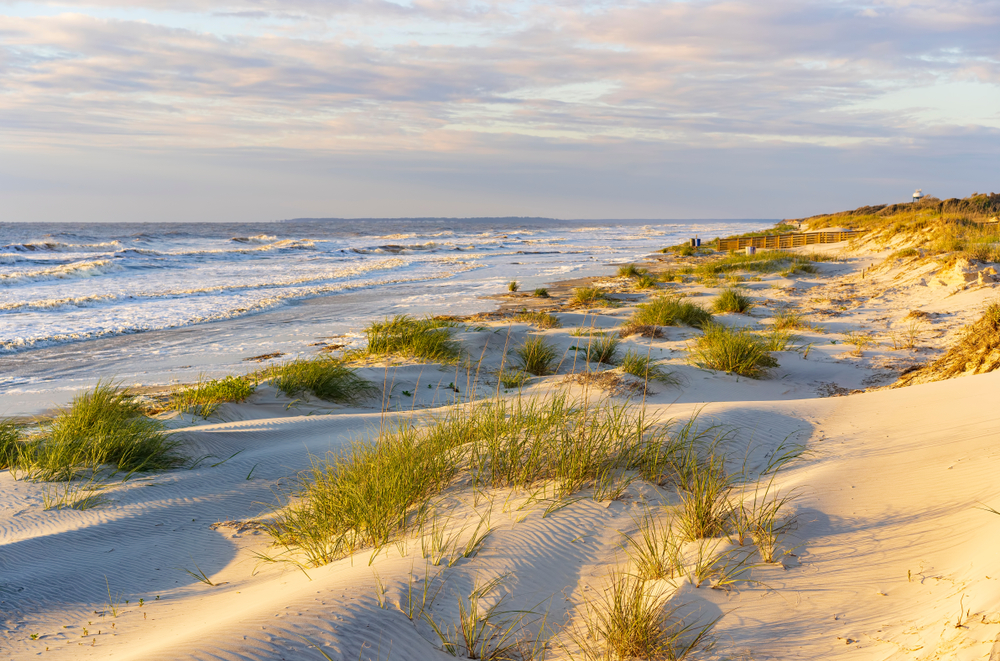 12 Pretties Beaches In Georgia For A Getaway
Driftwood Beach, Jekyll Island
The beautifully scenic Jekyll Island has some of the best beaches in Georgia. Jekyll Island is one of Georgia's Golden Isles, a string of islands that stretches along the coast from Savannah to Jacksonville, FL. It's a beautiful place to collect seashells and watch the sunset.
Driftwood Beach is considered one of the most romantic beaches in America. Located on the north end of Jekyll Island, Driftwood Beach feels like another world. As the name would suggest, it is known for the ancient driftwood trees along the shore. The driftwood creates an excellent element for beach photos!
While you're there, also check out the ruins of Horton House, an 18th-century house and brewery. This is truly one of the best beach towns in Georgia!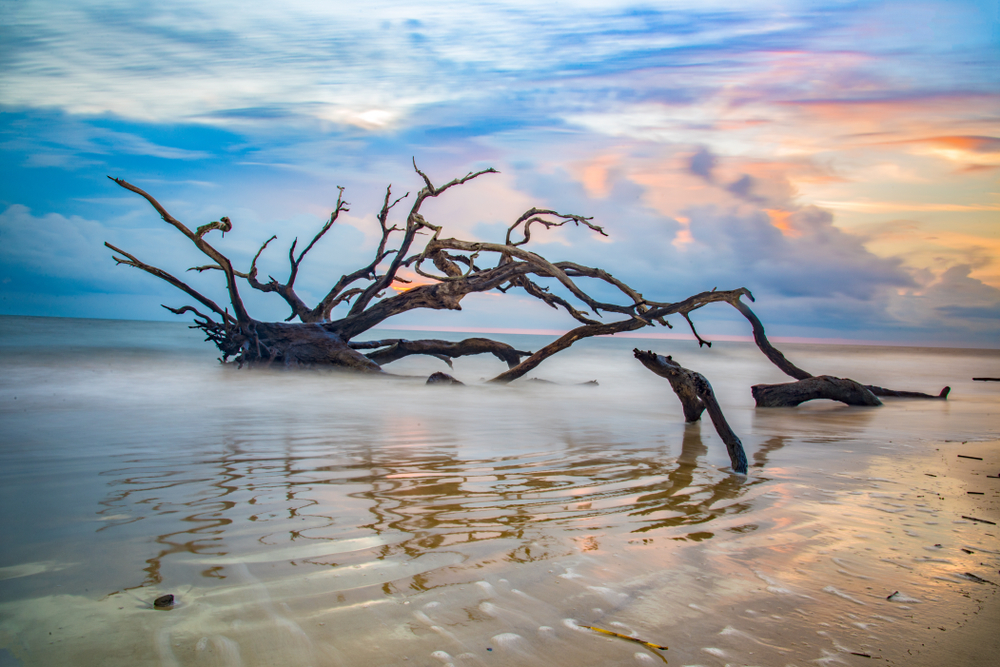 Nanny Goat Beach, Sapelo Island
For one of the more remote beaches in Georiga, head to Sapelo Island. This barrier island is accessible only by boat or plane, which allows the local nature and wildlife to thrive. Visiting Nanny Goat Beach is well worth the effort it takes to get there!
Nanny Goat Beach is at the southern end of Sapelo Island. To reach it, you can park at the Sapelo Island Visitor Center, and from there take a half-hour ferry ride. The beach is then within three miles of the ferry dock.
Once you reach the beach, you'll be greeted by lovely white sand and a blue horizon. Nanny Goat Beach is one of the most undisturbed beaches in Georgia, so it makes a great spot for shelling and bird-watching. There are picnic tables and restrooms available for use.
For those interested in diving, Gray's Reef National Marine Sanctuary is located 16 miles offshore.
North Beach, Tybee Island
North Beach on Tybee Island is quieter than its sibling, South Beach. Enjoy clean white sand dotted with seashells as you sit under a rented beach umbrella as you look out at Georgia's oldest and tallest lighthouse.
Tybee Island is home to some of the best beaches in Georgia (six in fact). Located under 20 miles from Savannah, it's a popular getaway spot. With the ocean on its east side and plentiful creeks on its west side, Tybee Island offers lots of places to hit the water.
When you've had your fill of sun and sand, North Beach offers many other attractions, befitting beach towns in the South. Explore the museum at Fort Screven, a former military post, or catch a movie at the historic Tybee Post Theater. Grab some authentic southern BBQ at Gerald's Pig and Shrimp or ice cream at Sugar Shack.
If you want to extend your stay on Tybee Island, they have some beautiful bed & breakfast retreats and inns. You'll feel the southern charm in one of the best beach towns in Georgia.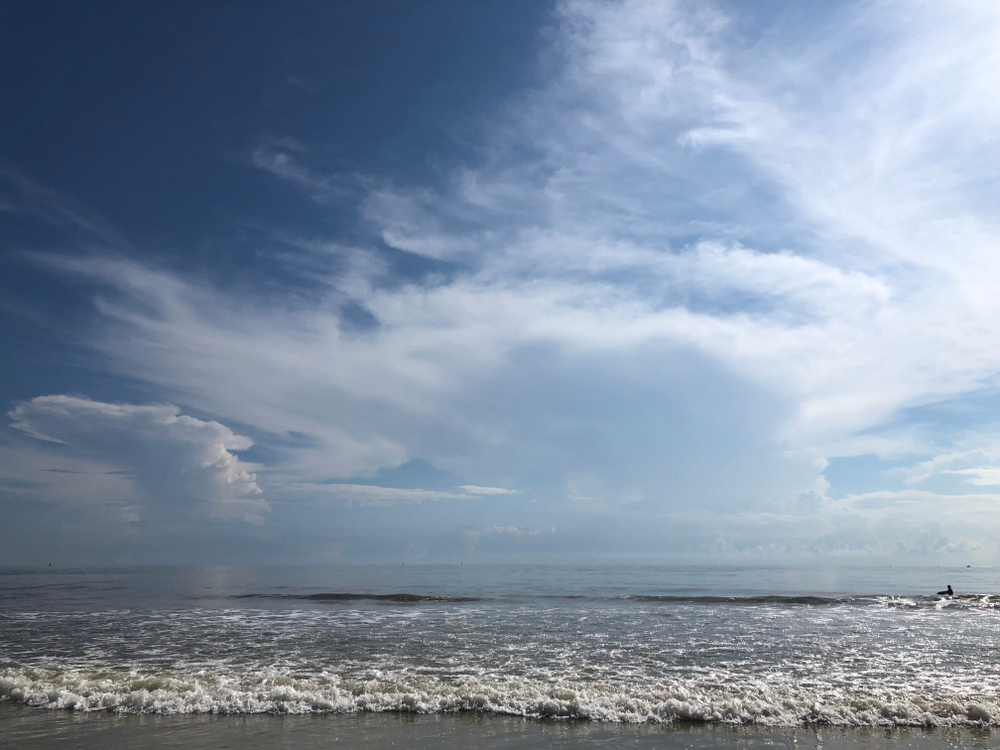 Butter Bean Beach, Chatham County
Just 13 miles south of Savannah lies one of the quietest beaches in Georiga. Butter Bean Beach is a little spot for a picnic or to dip your toes in the Skidaway River. If you didn't bring lunch, you can get it from the local food truck!
Located nearby is the Skidaway Island State Park, where there are many nature trails to walk or bike. Explore marshes, boardwalks, and trees covered in Spanish moss. State parks in the south are full of natural wonders.
If you camp at a site in Skidaway State Park, paddle over to Butter Bean Beach!
East Beach, St Simon's Island
Another of Georgia's Golden Isles includes St Simon's which also has some of Georgia's best beaches. But more than that, St Simon's is full of museums, shopping, and nature parks, making it an excellent Georgia beach town.
The aptly-named East Beach stretches along the east side of the island. The most popular section of it is called the U.S. Coast Guard Station, named for the station that once stood there which is now a WW2 museum, focussing on the efforts on the homefront to protect the east coast.
The hard-packed sand creates a suitable surface for biking on the beach. East Beach is pet-friendly, so your dog can enjoy running up and down the shore with you. Nearby you'll find Massengale Park which provides picnic tables, grills, restrooms, and showers.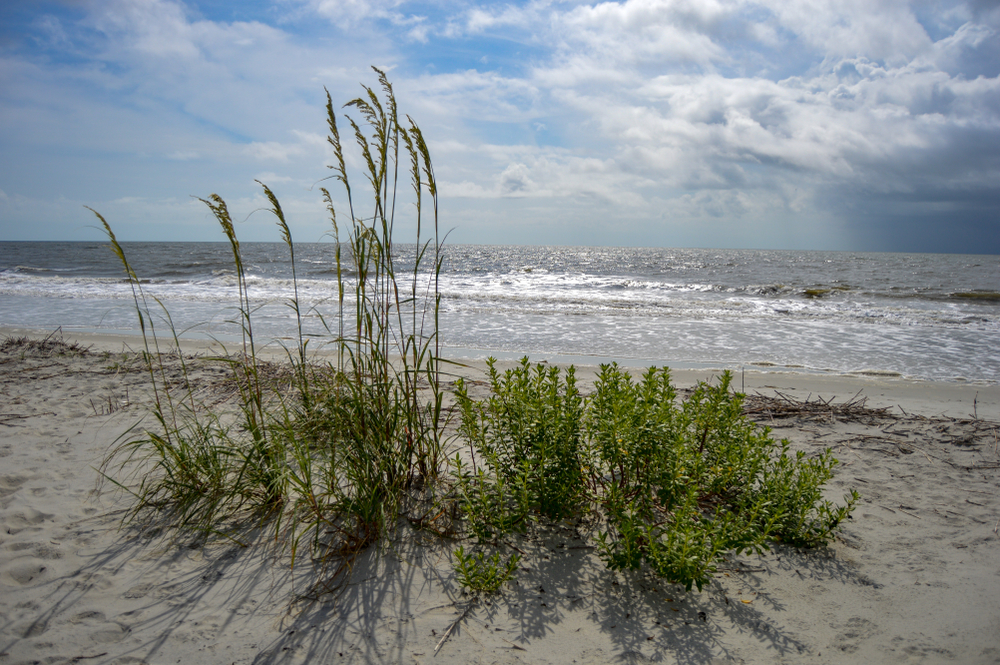 Callaway Gardens Robin Lake Beach, Pine Mountain
For those looking for beaches in west Georgia, take a getaway day or weekend to Callaway Gardens Resort and Gardens. Located just over an hour's drive from Atlanta, you can enjoy fresh air, nature, and one of the best lake beaches in Georgia.
You do not have to stay at the resort to be able to visit the property, although you will need to purchase a daily admission ticket. Callaway Gardens Resort is home to 2,500 acres of trails and natural beauty. There is a Discover Center and a Butterfly House, and many walking trails.
During the warmer months, Robin Lake is available to swim in. Make sandcastles, play some beach volleyball, or take a stand-up paddleboard out on the water. Robin Lake is one of the great Georgia beach getaways for families!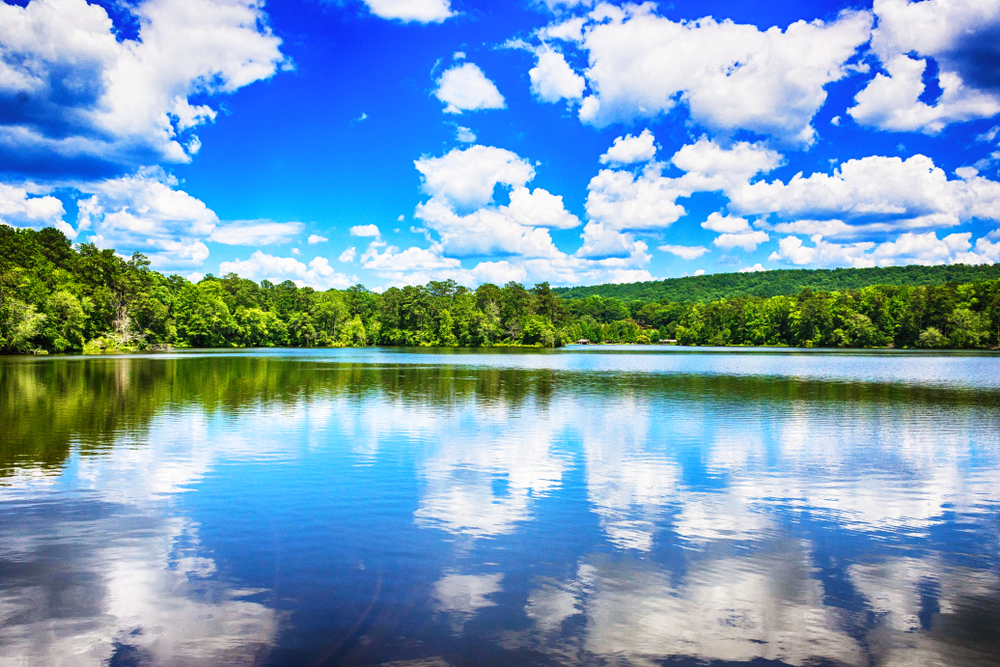 Dungeness Beach, St Marys
Cumberland Island in St Marys has some of the prettiest beaches in Georgia, with 17 miles of undeveloped shoreline. Located at the southeastern tip of Georgia, it is about an hour's drive from Brunswick. Cumberland Island is a National Seashore and is protected by the National Park Service.
Cumberland Island is accessible by ferry, and Dungeness Beach is located a little over a mile and a half from the Sea Camp Dock. Along the walk or bike ride from the ferry, you'll pass the Dungeness Ruins, which are the remains of an 1880s mansion.
There are designated beach crossings, and when you reach the shore you'll find miles of wild sand to wander. Keep an eye out for shells and shark teeth, and you might even see some wild horses passing through! With its fantastic sunsets, Dungeness Beach makes for one of the best, and secluded, beach getaways in Georgia.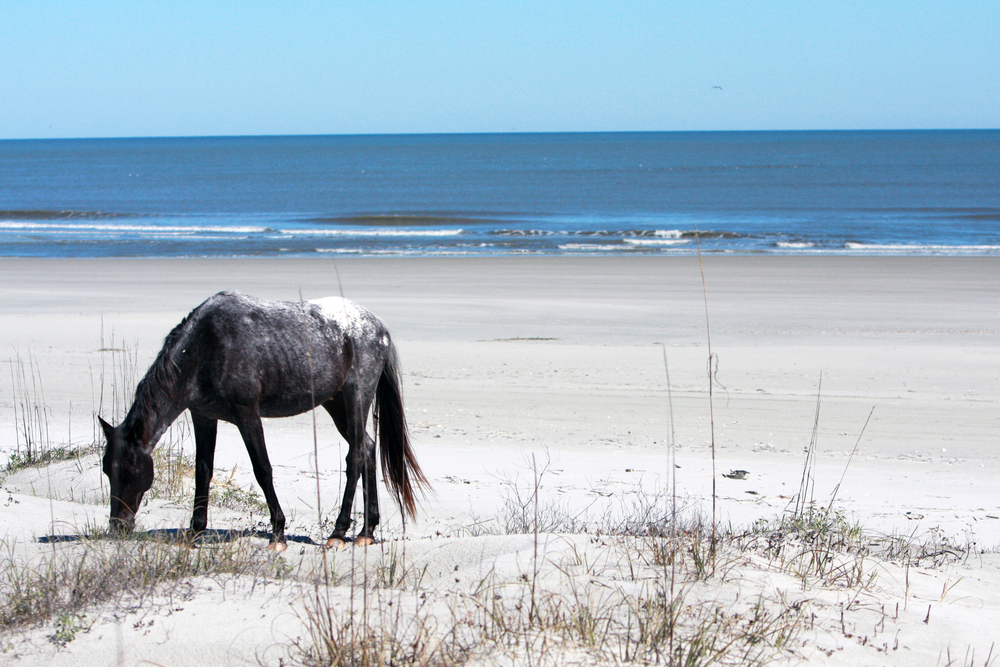 St Andrews Beach, Jekyll Island
At the southern tip of Jekyll Island lies St Andrews Beach Park, another of the best beaches in Georgia. Animal and bird watchers will especially enjoy St Andrews Beach, where you'll be able to spot different migratory birds and dolphins. Climb to the top of the two-story platform for a better view!
Like Driftwood Beach, there are lovely driftwood trees dotted along the beach.
Also located in St Andrews Beach Park is the Wanderer Memory Trail, which chronicles the journey of the Wanderer, America's last known slave ship. Follow the interactive exhibit told through the eyes of a young enslaved African boy, and remember that the shores of the Atlantic were not always a welcome sight.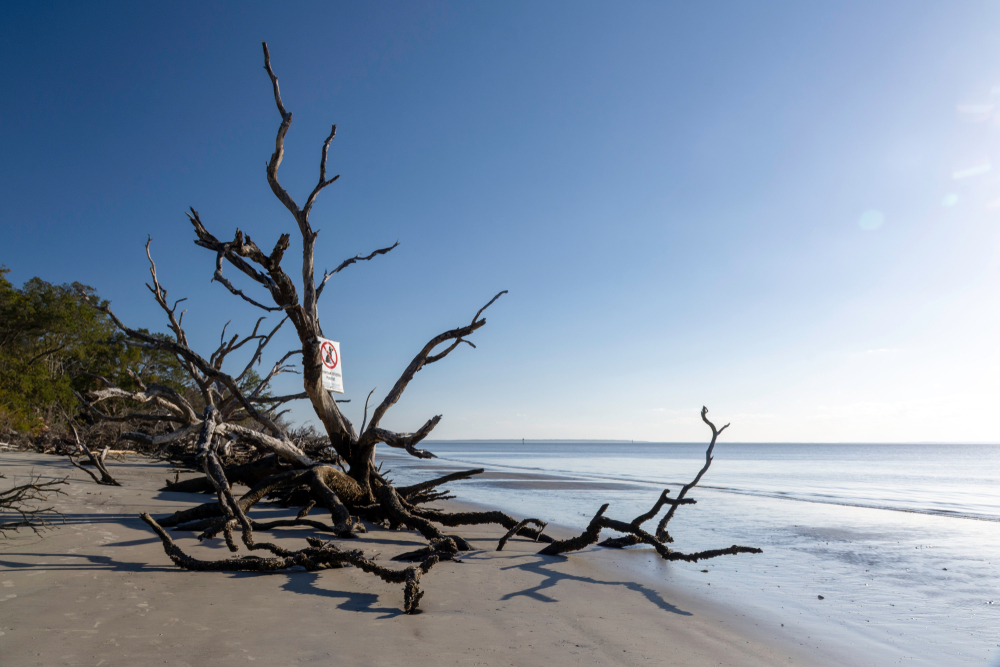 Buford Dam Park Beach, Buford
One of the best beaches for families near Atlanta is the beach at Buford Dam Park. Located within an hour's drive of Atlanta, visiting Buford Dam Park Beach makes a nice little family getaway.
Buford Dam Park is one of several beaches on Lake Lanier in northern Georgia. The beach is sandy and clean and provides everything you could want for a fun afternoon on the lake: a playground for kids, a volleyball court, a picnic area, and restrooms.
Visiting Lake Lanier is a great option for those wanting to visit beaches in Georgia, but don't want to make the trip to the shore!
Cabretta Island Beach, Sapelo Island
Located at the north end of Sapelo Island is Cabretta Island Beach, and it's another of the beautifully secluded beaches in Georgia. Although not technically an island itself, Cabretta feels like one at high tide, when the waters around it rise.
Like the other beaches on Sapelo Island, Cabretta Beach is accessible only by boat, which makes it feel like a private paradise. You may be lucky enough to have the place to yourself!
In addition to sunbathing and taking walks along the hard-packed sand, a popular activity is to kayak along Blackbeard Creek. You can paddle to Blackbeard Island which is a National Wildlife Refuge and is open to visitors during daylight hours.
If you'd like to extend your stay, sites are available at Cabretta Campground.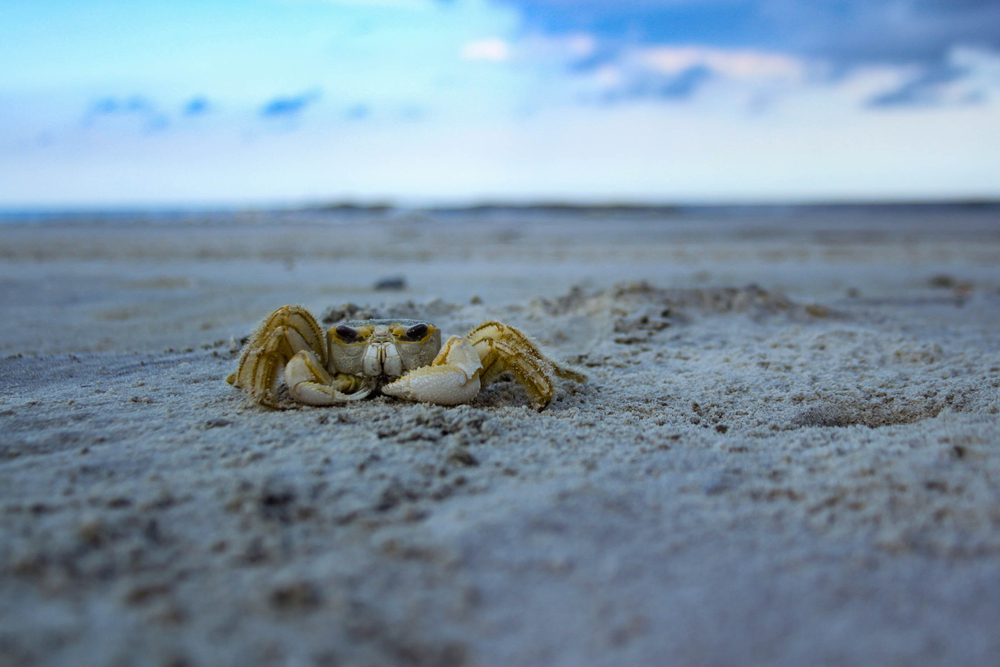 Back River Beach, Tybee Island
One of the best river beaches in Georgia can be found hidden away on Tybee Island. The sandy shore along the Tybee Creek makes for a quieter option compared to the other beaches on Tybee Island, but still just as scenic.
The views from Back River Beach are stunning. It's a great place to watch the sunset, and you might spot some dolphins in the waves! If you really want to see dolphins, there are multiple dolphin tours that take off from the Back River Beach area. Or you can kayak across Tybee Creek over to Little Tybee Island where there is a nature preserve.
If you're coming and going to Back River Beach by boat, you can pull right up to AJ's Dockside Restaurant and enjoy the colorful patio and some local fish.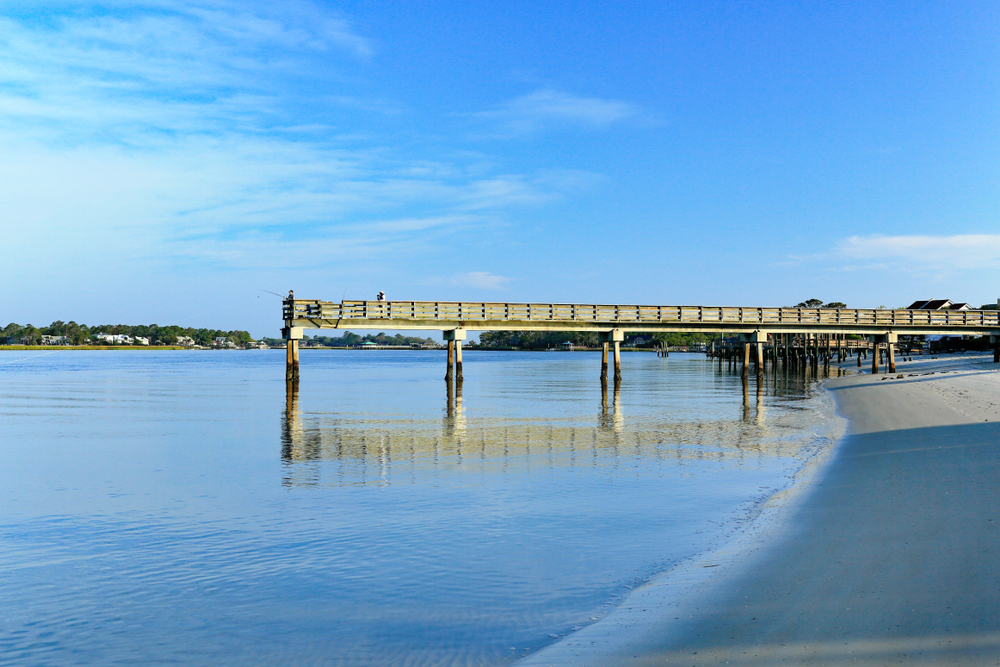 Gould's Inlet, St Simon's Island
For another of the more secluded beaches in Georgia, head to the northeast side of St Simon's Island and you'll find Gould's Inlet. This public beach spot is less touristy, and a great place for some rest and relaxation.
Many folks prefer to either sunbathe, take a walk, birdwatch, or just take in the view of Sea Island as the strong current makes it not ideal for swimming. (Be aware there is no lifeguard on duty as swimming is not advised.)
Gould's Inlet is a popular fishing spot, even among the locals, and the beach is pet-friendly.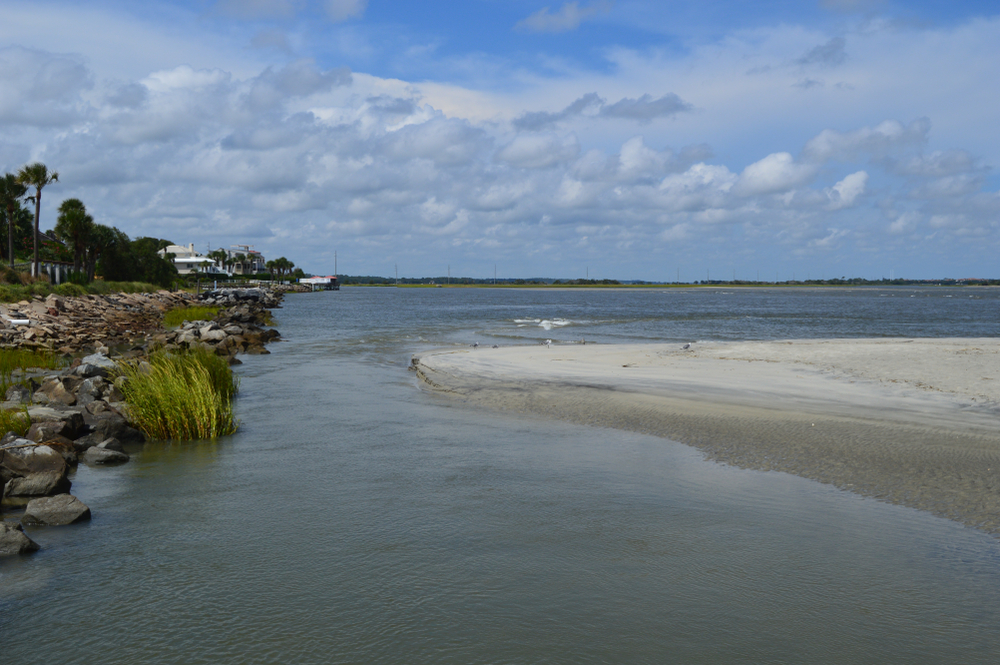 From lakes to rivers to the ocean, Georgia beaches are not to be missed. No matter what kind of vibe you're looking for, we hope you enjoyed this list of the prettiest beaches in Georgia!