Georgia may not be a state best known for beach getaways, but if you are looking for beach towns in Georgia for your vacation, you can stop looking! We've got everything you need from top end resorts, like Sea Island, to the immersive camping experience available at Cumberland Island National Seashore, and literally everything in between!
There's something here for everyone, the nature enthusiasts, the hikers and cyclists, and of course, the dolphin lovers (which, frankly, is everyone… I mean… who doesn't love dolphins?). There are museums, quirky gift stores, magical old buildings, historic oak trees, and more.
But above all, there are beaches, and there are restaurants. If you enjoy the simplest pleasures life has to offer, amazing food, sandy beaches, beautiful weather, you won't want to miss the chance to spend some time among the small Georgia coastal towns.
If we've got you day dreaming about the beach now (sorry not sorry) definitely check out our list of the Best Beaches In Savannah (And Nearby!) You Must Visit!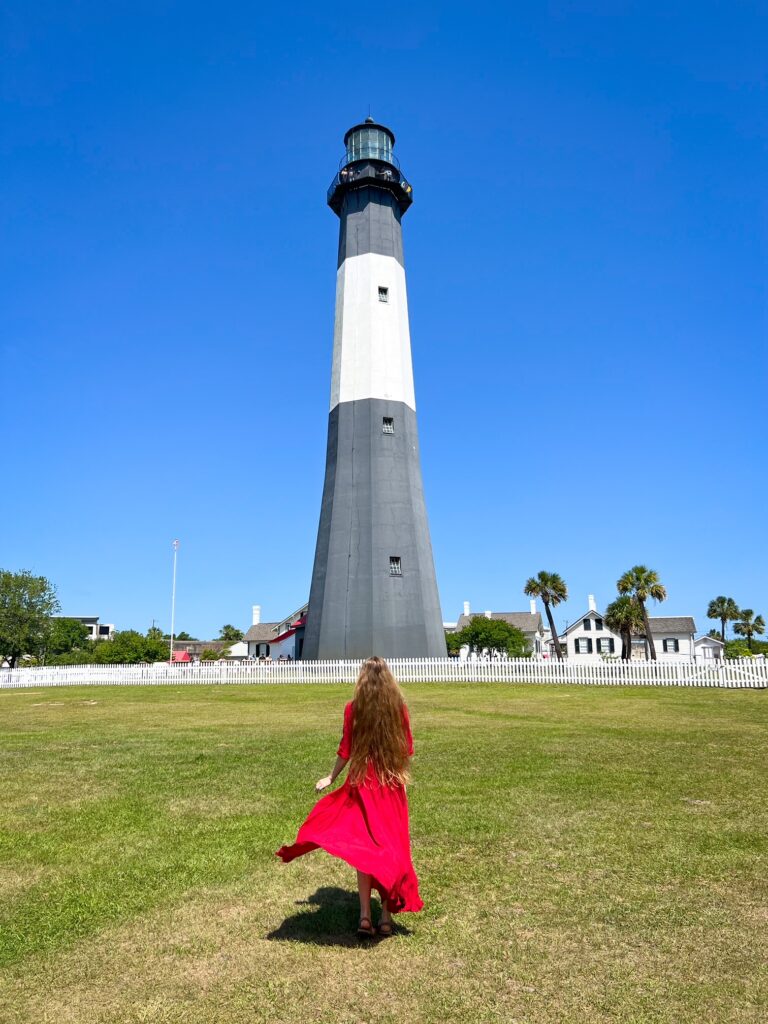 8 Best Beach Towns in Georgia
St Simons Island
St Simons Island markets itself as a great place to escape, and we couldn't agree more, it's one of our favorite beach towns in Georgia!
St Simons, which is actually the largest barrier island of the Golden Isles, is renowned for its sandy beaches, stunning resorts, exciting tours and world class golf courses.
If you're looking for a gorgeous place to stay, we highly recommend the Village Inn and Pub. The inn, which is a restored 1930s beach cottage, is perfectly situated between the oceanfront village and beautiful parkland. If you only stop in at the pub, definitely try their martini, it's something special.
We have put together this Ultimate Guide To St. Simon's Island with things to do, restaurants, where to stay, and more! If you are planning a visit, check it out.
Brimming with gorgeous oak trees, St Simons Island is a magical getaway, full of adventure, but with all the calm and white sandy beaches you need to chill out and relax.
Just over an hour from Savannah, St Simons is a must-do for Georgia locals, but anyone visiting from further afield looking for the best of beach towns near Savannah would not be disappointed to visit this gem of a spot! For more inspiration on the prettiest islands in Georgia to escape to, you'll want to read this!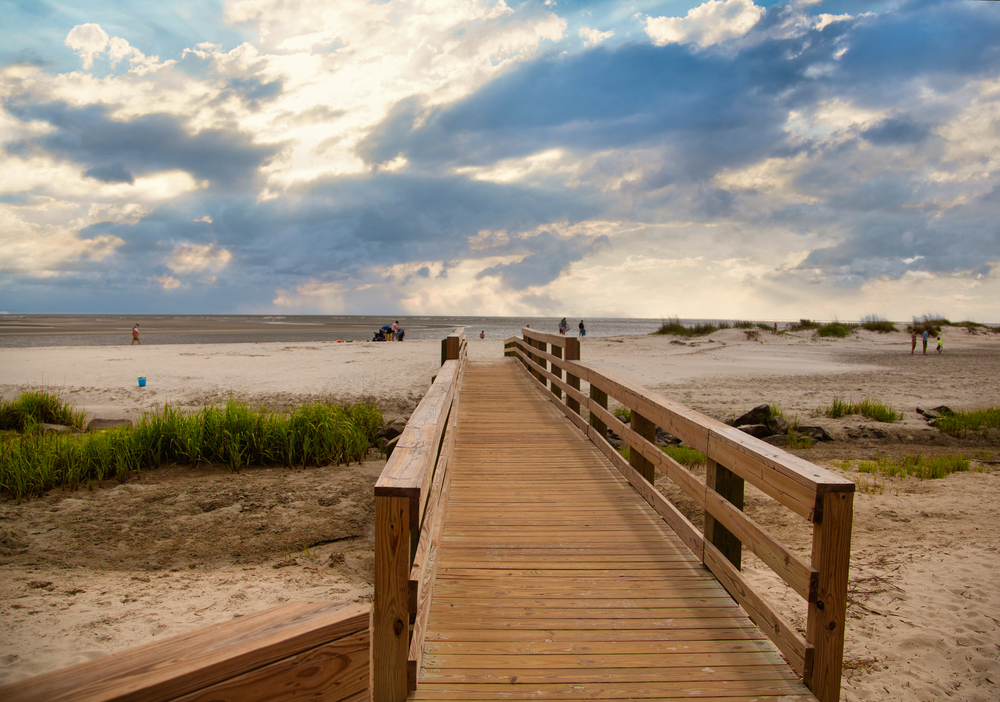 Darien
Darien is one of the best family beach towns in Georgia, with plenty to see and do.
From Turnip Greens Country Market, where you'll find a farmer's market as well a range of boutique stores, to Vernon Square, with historic sites and trails, Darien is an ideal destination for a low key family getaway.
There's also plenty of nature attractions, including rivers, islands, and of course – beaches, as well as other natural habitats. With local estuaries boasting abundant seafood, we know the highlight of your trip will be the restaurants you visit.
Spartina Grill is our favorite but with seafood this local and fresh, you wouldn't be disappointed anywhere you go. If you do visit Spartina Grill, we recommend the scampi bruschetta – SO good!! They also have a trivia night on Tuesdays if that's your jam!
For the best of beach towns in Georgia, definitely add Darien to your bucket list!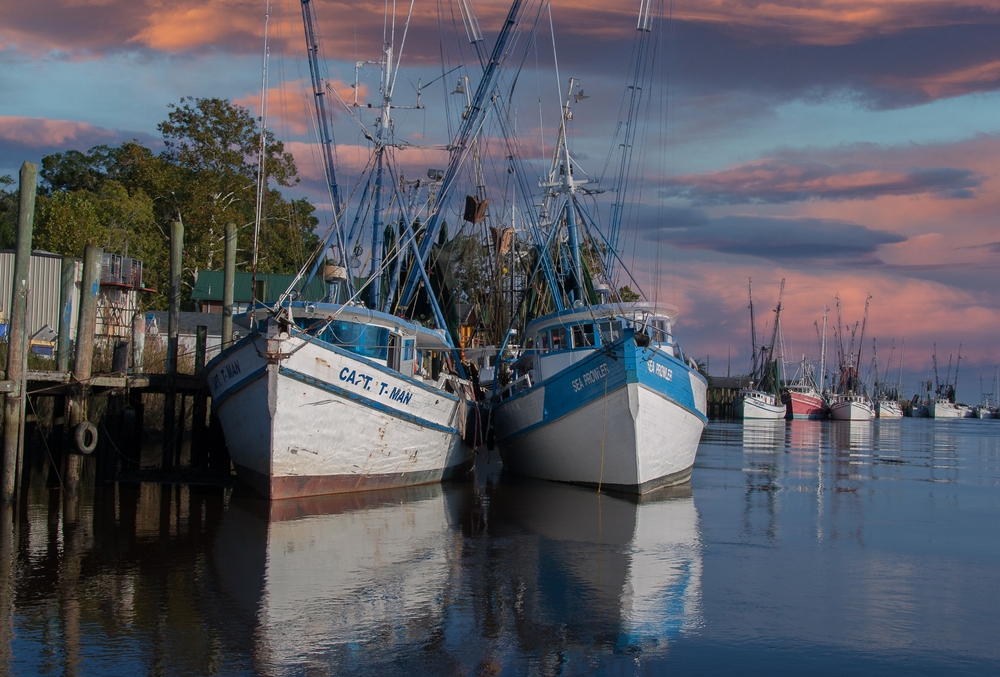 St Mary's
St Mary's in a truly delightful, quaint Georgia beach town. St Mary's is also the gateway to Cumberland Island, which is just a ferry trip away.
Some of our favourite things to do in St Mary's include the St Mary's Submarine Museum, St Mary's Aquatic Centre and all aboard the St Mary's Express train rides on a locomotive! It's a great place to kick back and relax, with a stunning waterfront setting and access to biking, hiking, kayaking and birdwatching. Free concerts in the park are also held regularly.
If you're looking for a great restaurant, we heartily recommend the Southern River Walk Bar and Grill. Their seafood platter is *chef's kiss*. Or, if you find yourself there for brunch, their breakfast burrito (add gravy!) is to die for.
Accommodation options include bed and breakfast inns, and hotels. If you're looking to camp, definitely check our Cumberland Island. Enjoy the best of small Georgia coastal towns at St Mary's – there's nothing not to love!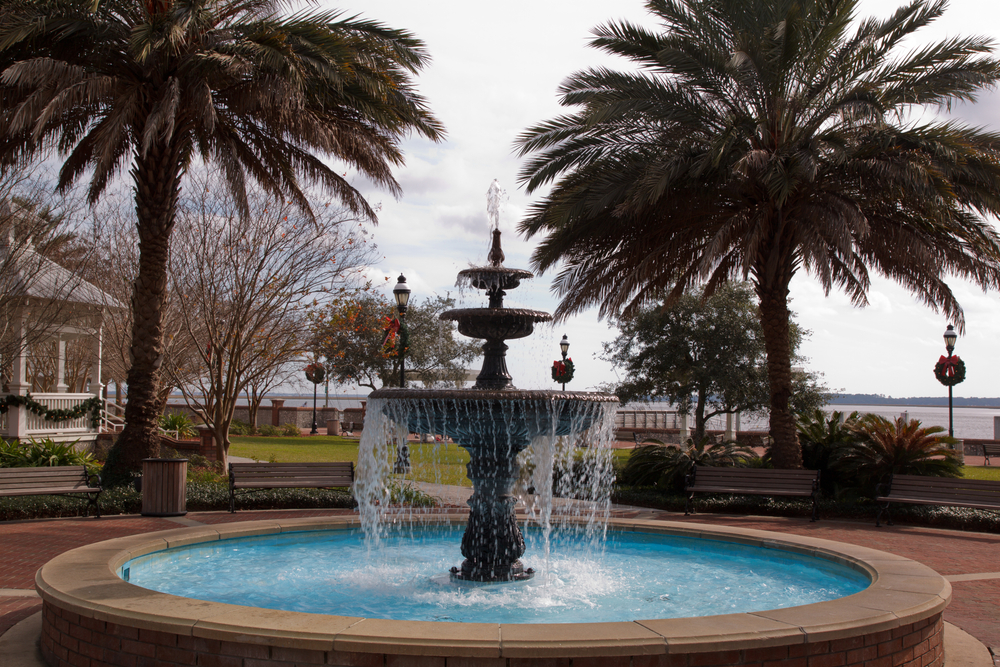 Jekyll Island
Well this place wins the prize for COOLEST name, and handily it's also one of the best beach towns in Georgia.
With loads to do, you'll never be bored here. From the Georgia Sea Turtle Center to the Summer Waves Water Park, you could spend a week here and want to stay longer. Options for accommodation include hotels and resorts as well as camping.
And as for the beaches, well, Jekyll Island claims to have the kind of beaches you dream about, and they aren't kidding. Some of their beaches have access points for people with physical disabilities and also provide beach wheelchairs at no cost. Amazing!
There's also some great places to eat here – we highly recommend the pizzas at the Shore Restaurant. Don't forget to tell them we sent you! Additionally, some excellent local festivals are held on Jekyll Island so it's worth checking local guides to see if you'll be around for the Holly Jolly Jekyll Festival (ho ho yeah!), the Shrimp and Grits Festival or more!
We absolutely adore Jekyll Island, for small beach towns in Georgia it is absolutely unmissable! For more about the best things to do on Jekyll Island, check out our list!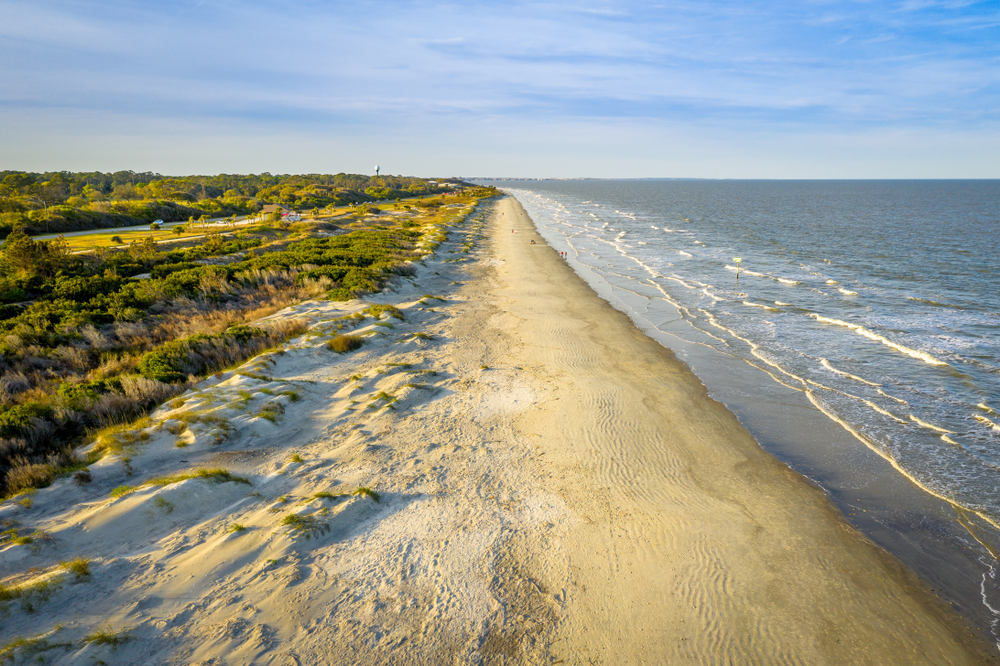 Cumberland Island
Cumberland Island National Seashore is the biggest of the Georgia barrier islands. It may not be a Georgia beach town per se, but we love it, and know you will too, so we've included it here! Think secluded beaches, with clean white sand around your toes. Bliss.
Getting to Cumberland Island is by ferry only, but there is accommodation, so if you are looking for something more than a day trip, this is a great place to spend a few days.
There's also wildlife everywhere including wild horses, incredible bird watching opportunities. In fact, we highly recommend staying at the Cumberland Island National Seashores Camping ground. A stunning location, you will feel truly immersed in this wonderful landscape.
If you'd prefer a bed, definitely check out the Greyfield Inn, which has its own private ferry. Deluxe!
Ultimately, the Cumberland Island beaches are the very best Georgia has to offer, and that's why it's absolutely on our list of best beach towns in Georgia!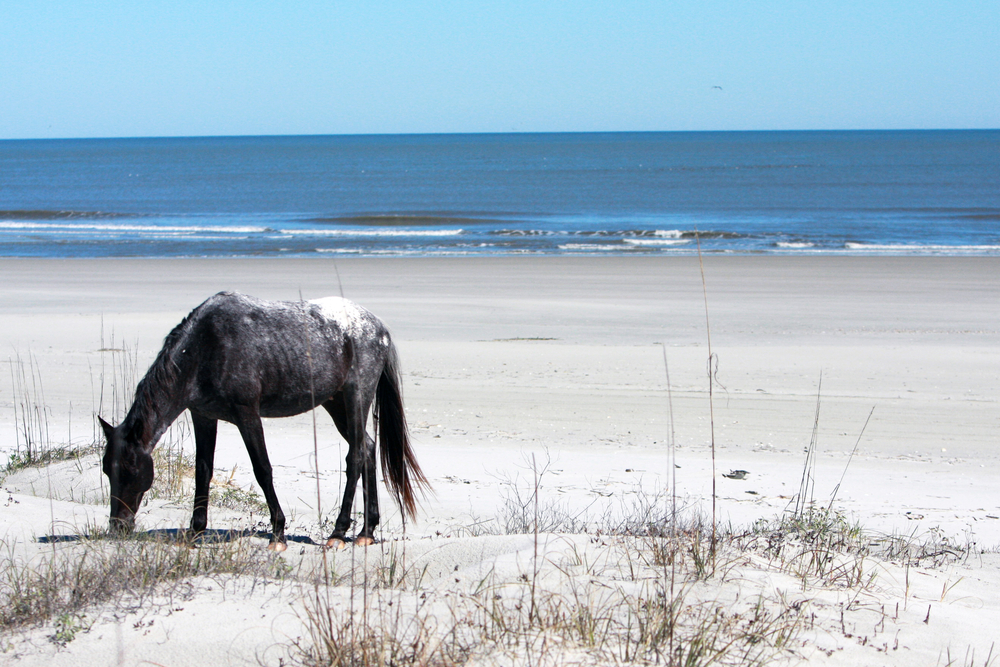 Tybee Island
Tybee Island is one of the best beach towns near Savannah. By near, we mean, like, 18 miles away. Yus! Whatever you are seeking in your vacation, we guarantee you'll find it here at Tybee Island!
Must-see things include Seaside Sisters, a delightful giftshop brimming with fun nick-nacks, Captain Derek's Tybee Dolphin Adventure, that's right, DOLPHINS! And the Crab Shack. Oh heck yes. The Captain's Sampler Platter is an absolute must! Check out our list of the best things to do in Tybee Island for more!
There's also heaps of different accommodation options on Tybee Island, from hotels, to bed and breakfasts, as well as camping options. Truly, something for everyone, for every budget, for every preference! Whatever your style, there will be something to entice you and we know you will leave with the happiest of memories at the end of your Tybee Island vacation.
Tybee is often found in lists of the best beaches in the USA and it's easy to see why. We love this place, truly one of the best small beach towns in Georgia.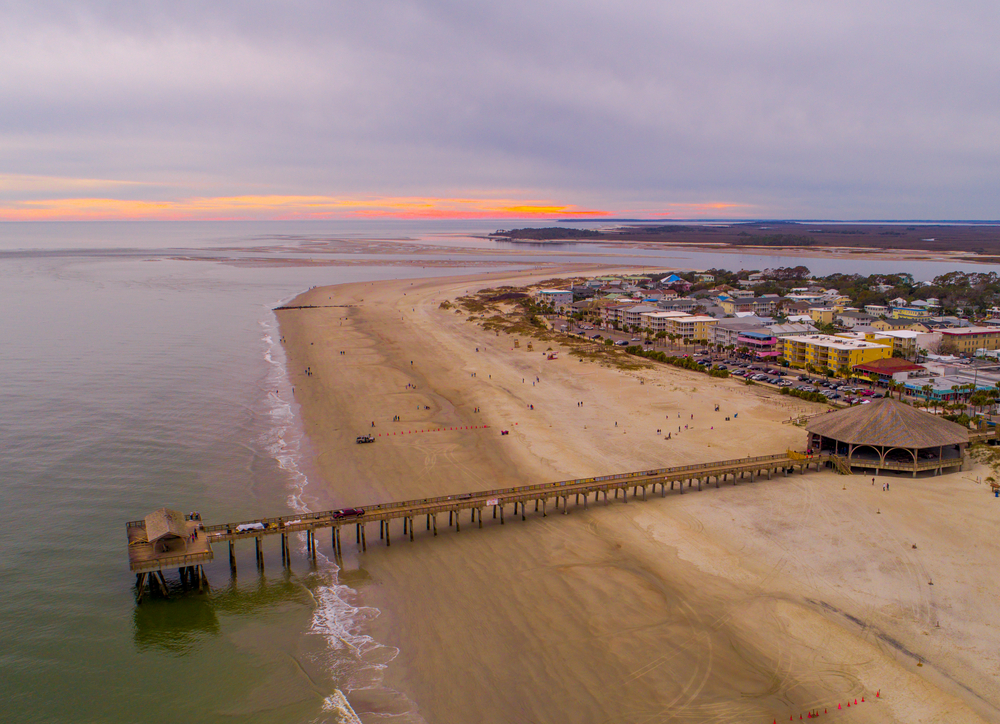 Brunswick
If you're look for the essence of coastal charm, look no further than Brunswick, one of the loveliest, most historic beach cities in Georgia.
Depending on when you go, it's always a good idea to check local guides, as there are excellent festivals planned year round in Brunswick. A great way to look around the town is on a bicycle, as it's all pretty flat. Water sports enthusiasts will rejoice, with loads of options including surfing, kayaking, swimming and sailing. With great weather all year, it's always a good idea to pack your swimsuit!
Make sure to check out our list of the Best Restaurants In Brunswick for your trip! There are so many good options.
Also, Brunswick markets itself as the Shrimp Capital of the World – a big claim, right – but they are pretty spot on. For fresh seafood you will no go wanting. Pop into Indigo Coastal Shanty and try the Charleston Saute – SO good!
For delightfully quaint beach towns in Georgia, definitely add Brunswick to your to do list! Make sure to check out our list of the best things to do in Brunswick!
Sea Island
Sea Island is a privately owned island nestled in the Golden Isles on Georgia's south-eastern coast. But don't let it being a privately owned island deter you, it's a fantastic spot for someone looking for a top end resort beach town getaway in Georgia.
The resort, which is also known as Sea Island, is a destination in itself. With accommodation, day spa, fine dining, tennis, a stunning beach, and of course – top golf courses, it's the complete vacation package.
Sea Island is also close to St Simons Island, Jekyll Island and Brunswick, so it might even be a great place for a day trip if you're less inclined to stay there overnight but would like to check out the amenities.
If you're looking to treat yourself to a luxury vacation at a Georgia beach town, Sea Island will not disappoint. In fact, it is the only resort in the USA that's hosted a G8 Summit! Fancy!
For more on the best beaches in Georgia, definitely check out our list of the Prettiest Beaches In Georgia For A Getaway.