Even though the state has a short coastline, there are still many beautiful beaches in Mississippi worth a visit. If you are heading down south to the Gulf of Mexico and want to spend some time relaxing in the sun, then we suggest visiting some of the Mississippi beaches!
If you are ready to make great memories with your family and friends, then pack your swimsuit and head to these pretty Mississippi beaches. You will have a fun time surfing the waves, swimming in the shallows, combing the beach for shells, or simply soaking in the sun. Don't forget your sunscreen!
We suggest staying in one of the small Mississippi beach towns and completely soaking up the laidback atmosphere these areas provide. With great local restaurants, shops, and art galleries paired with many water sports and fishing opportunities, you are sure to enjoy the small town and beach vibes.
However, if you are vacationing in one of the bigger coastal cities nearby you can visit the Mississippi beaches as a day trip. From New Orleans, Louisiana, the beaches are about an hour and a half away. From Mobile or Pensacola, Alabama, it will be about an hour or two-hour drive respectively. Making your way to these smaller beaches will give you a chance to explore a new state, get away from big city life, and allow you to enjoy fewer crowds.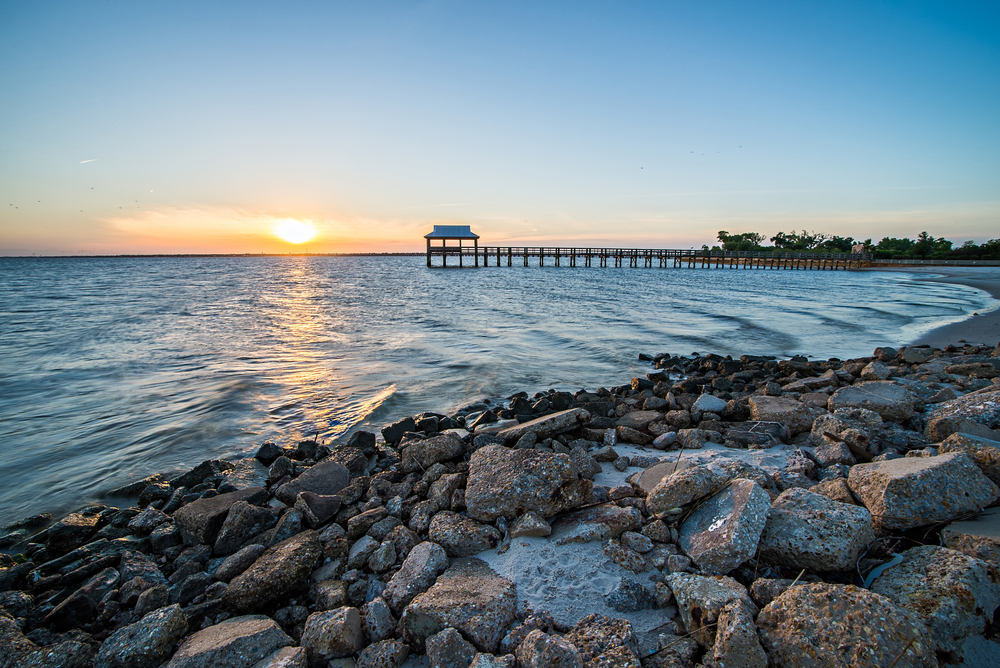 8 Beautiful Beaches In Mississippi
Biloxi Beach
Biloxi Beach is the most famous beach in Mississippi and draws in many visitors. This beautiful beach is known for its soft sand and warm water perfect for swimming. There are plenty of places to lay under colorful umbrellas as you read or tan. If you want to give sea fishing a chance, this is a popular place to book a fishing charter. Or if you are not much into fishing but still want to get out on the water, you can take a sunset riverboat cruise.
It is not just the beach that brings people to Biloxi, though. The nearby casinos, resorts, restaurants, and shops add a whole other level of entertainment to the area. Visitors here also enjoy climbing the historic Biloxi Lighthouse.
Biloxi is also home to some of the best Resorts In Mississippi, including beachfront ones!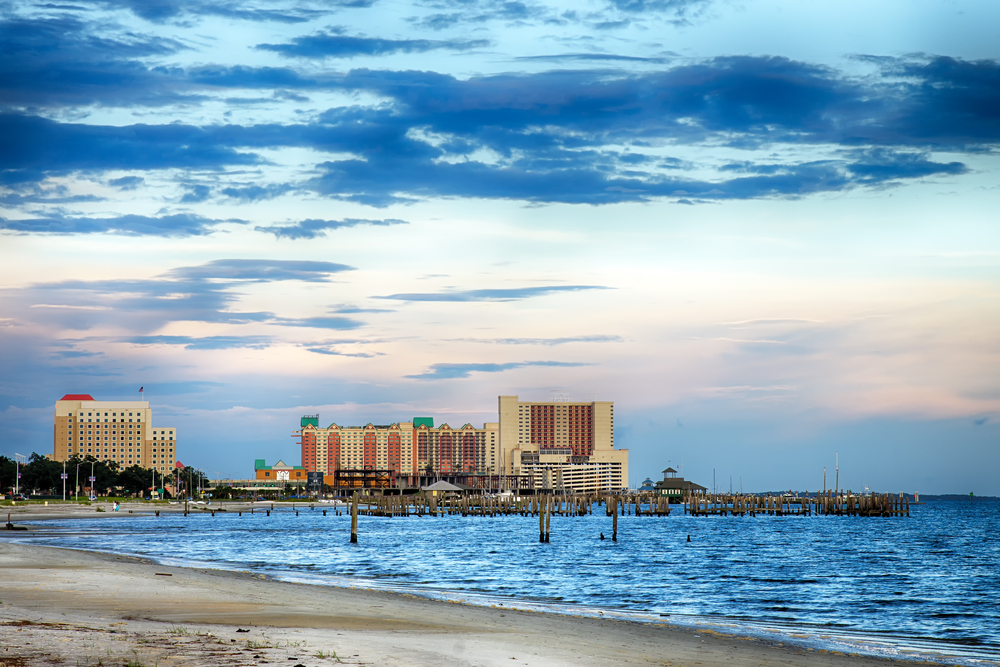 Gulfport Beach
Just about twenty-five minutes from Biloxi is Gulfport, where you will find another of the best beaches in Mississippi. Gulfport Beach and the harbor here are very appealing for locals and tourists alike. This beach is noteworthy for its cleanliness, safety, and the fact that it never gets too busy. Whether you like the heart-thumping fun of jet skiing or the relaxation of throwing a fishing line in the water, this Mississippi beach is for you.
Gulfport is also where you will find Gulf Islands Waterpark and Ocean Adventures Marine Park for fun for the whole family. Or if you are looking for a romantic outing, book a sailboat charter.
Ship Island
From Gulfport, you can take a ferry to Ship Island. Enjoy the hour-long boat ride by watching dolphins play in the water and seabirds fly overhead. When you make it to the small island, you will fall in love with the pretty, tranquil beaches. There is plenty to check out in the area, including nature trails and the old Fort Massachusetts historic site. Pack a picnic and make a day of exploring the island in peace.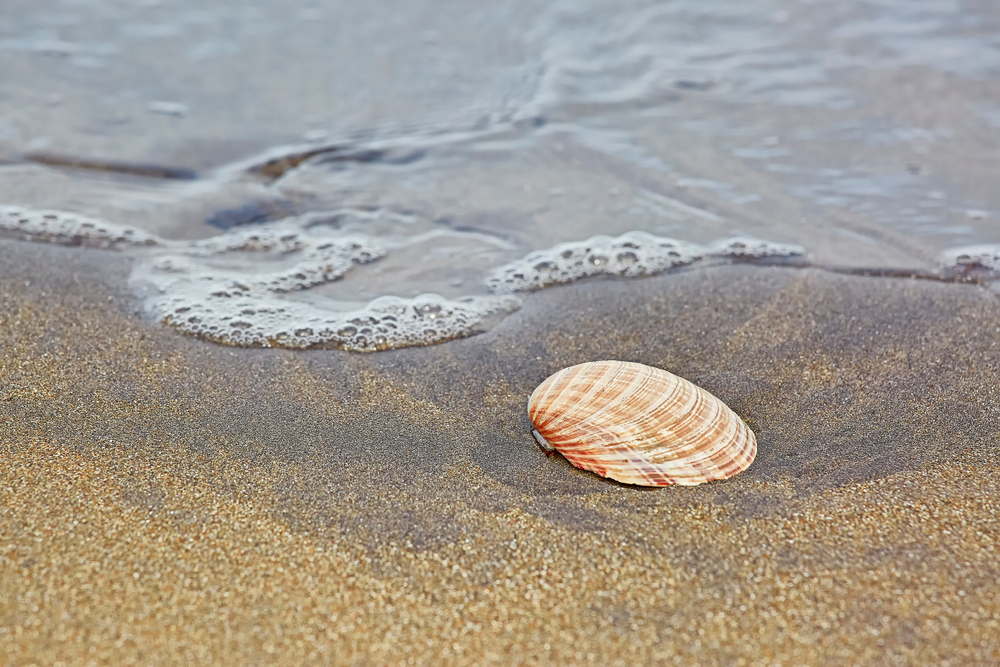 Horn Island
Another barrier island worth visiting is Horn Island. You'll need to book a tour or rent a private boat to get to this remote island. Nature here has been preserved, giving you the chance to experience wildlife in a way you would not be able to at a more populated beach. The white sand beaches here are untouched and gorgeous to behold. For those looking for an off-grid adventure, consider bringing a tent and camping here for a night or two in perfect, seaside isolation.
Bay St Louis Beach
Bay St. Louis is a cute little beach town perfect for families or anyone who wants a great beach vibe without the crowds of Biloxi. The town has many great seafood restaurants and antique shops to check out when you aren't acting like a beach bum. This simple beach creates a serene atmosphere ideal for a sunset stroll. Fishing is also a popular pastime along this stretch of Mississippi shoreline.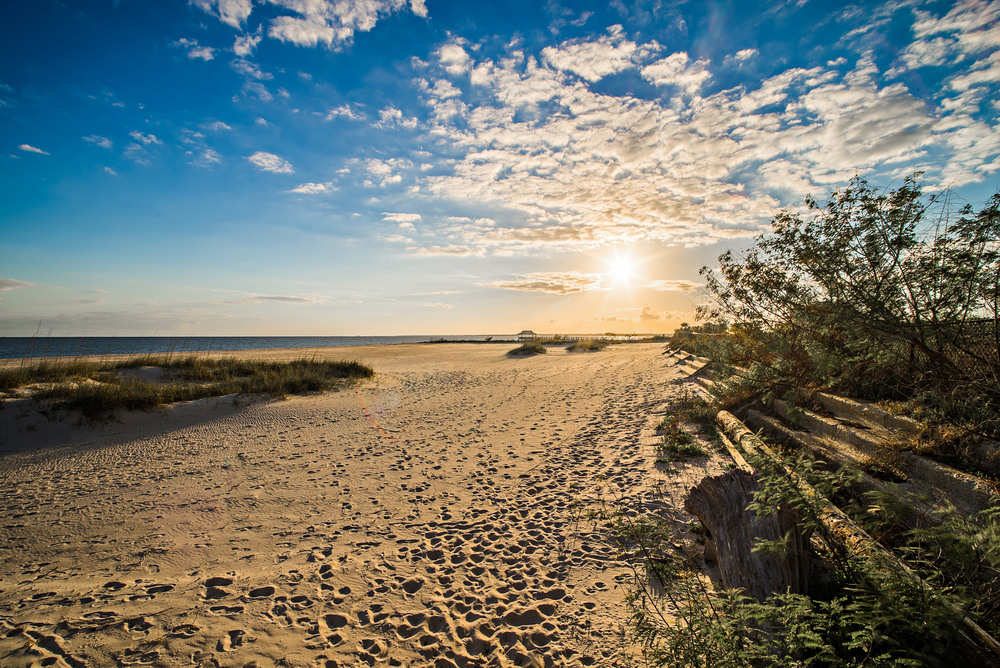 Front Beach
Across the bridge from Biloxi is Ocean Springs, a city that boasts two noteworthy beaches. The first is Front Beach where you will find amazing, panoramic views of the Mississippi Sound. Because of this showstopping sight, this is one of the most beautiful beaches in Mississippi for photographing the ocean. The water here is very calm and shallow making it one of the best places to take a dip. There are also volleyball nets, fishing piers, and places to build bonfires.
East Beach
East Beach is the second beach in Ocean Springs and is more of a local hangout. If you want to avoid tourist crowds, this is the Mississippi beach you are looking for. People come here to fish, kayak, and swim in the serene water. This beach is also near many bed and breakfasts, cafes, and art galleries. Another thing to do is walk the scenic Weeks Bayou Nature Trail. This beach is also a short drive to a section of the Gulf Islands National Seashore where you can find campgrounds, nature trails, and more pristine, white-sand beaches.
Pass Christian Beach
Pass Christian Beach is known as the "Birthplace of Yachting in the South," but even if you don't have a boat, it is a fun place to visit. There are many things to do at this Mississippi beach from playing volleyball to building sandcastles to surfing. This is a popular beach among locals and visitors. Even President Theodore Roosevelt used to vacation here. This is an exceptionally family-friendly beach, so bring the kids for a great day in the sun.
Other things to do in Pass Christian include strolling through the pretty Pass Christian War Memorial Park or playing a round at one of the golf courses. This town is also close to a few nature preserves if you want to spend time in untouched nature.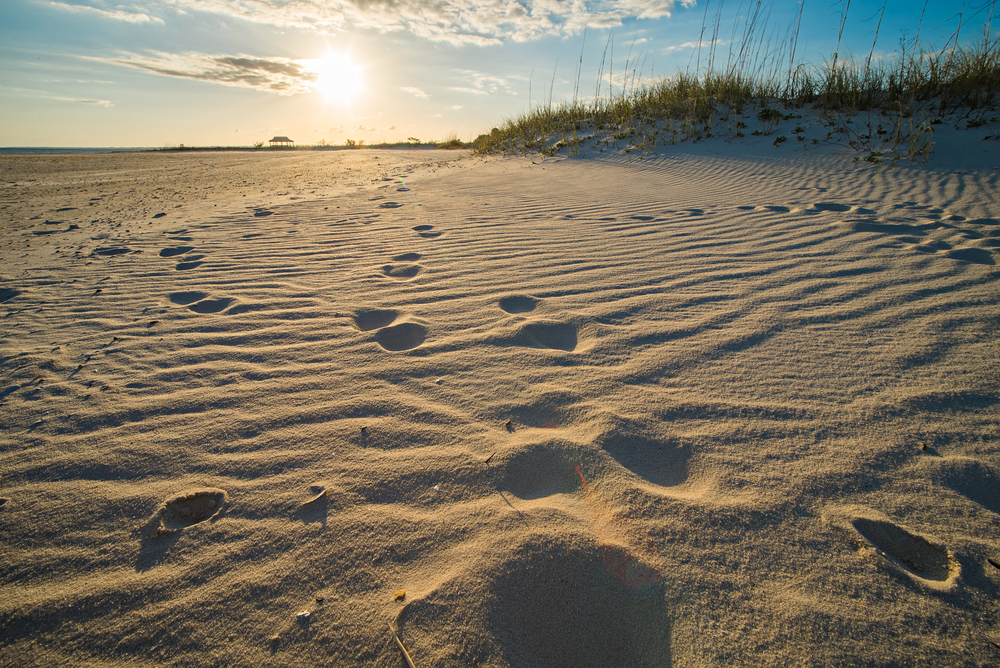 Visiting the beach is one of the most fun things to do in Southern Mississippi. While the coastline is short and there are not a ton of beaches compared to some southern states, Mississippi beaches still offer an exciting time full of sun and surf. Plus, remote islands will make you feel as if you have a paradise to yourself. So what are you waiting for? Plan a trip to some of these beaches in Mississippi!