If you're looking for some of the best and most fun weekend getaways in Alabama, then you have come to the right place. We've got you covered!
From Space and Nasa themed attractions, romantic and luxurious resorts, and historical stops to charming mountain towns and the best natural vistas, we have all of the best weekend trips in Alabama! Alabama is such a great place to go because there is so much variety, between the wetlands, the mountains, the beach, and the cultural spots!
Whether you're looking for a solo adventure, a romantic retreat with a spouse, a fun Southern USA road trip, or a grand adventure with all your friends and family, there is something for you in Alabama. So let's get started helping you pick a vacation you'll always remember!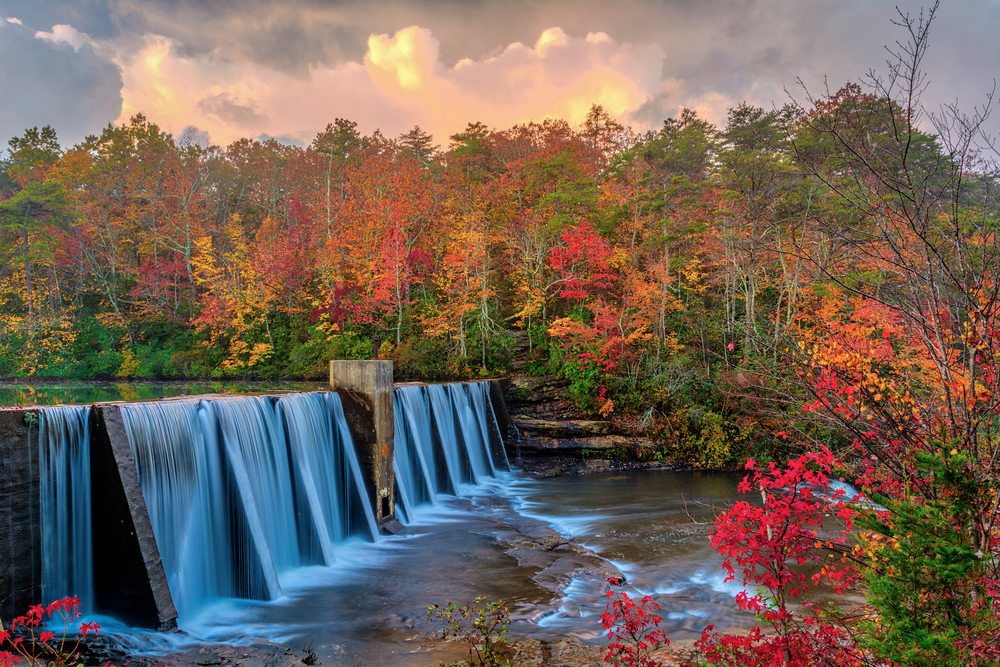 14 Interesting Weekend Getaways In Alabama
Escape to Gulf Shores
With 32 miles of pristine white-sand beaches, it's no wonder that Gulf Shores is one of the best Alabama getaways! Located in South Alabama, Gulf Shores is a vibrant resort beach town with a ton to do!
The warm ocean water is the perfect place to play, with plenty of picnic spots to rest at. There are so many hiking trails nearby, like the local favorite Hugh S. Branyon Backcountry Trail. For more outdoor adventure, try paddle boarding, kayaking, and bird watching, or you can even go on a scenic cruise! The Alabama Gulf Coast Zoo is a crowd-pleaser for visitors of all ages.
With such a fun-packed vacation, you'll be happy to know that the restaurants around Gulf Shores offer some of the best fresh seafood. In fact, this town is known for its National Shrimp Festival.
Make sure to check out our list of the best cities and small towns in Alabama for inspiration on where to visit next!
Where to stay in Gulf Shores:
Hilton Garden Inn Orange Beach: check rates at Booking.com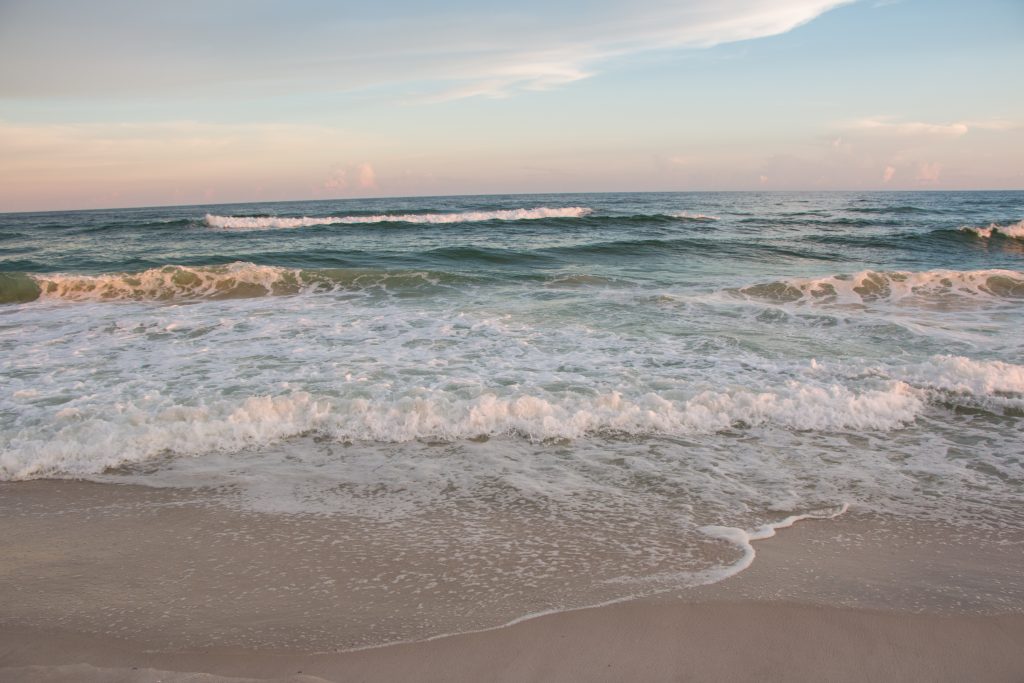 Have A Blast At Rocket City
Huntsville, also known as Rocket City, is one of the top family weekend getaways in Alabama. This Northern Alabama city is known for its role in the Space Race as the home of NASA's largest flight center.
What a delight it is to see spaceship displays right alongside Civil War Era homes! Those interested in space exploration will love visiting the US Space and Rocket Center, a great stop for the whole family!
The city of Huntsville itself boasts a quaint and bustling downtown, with plenty of restaurants to try. The Huntsville Botanical Garden is also out of this world!
Where to stay in Huntsville:
Element Huntsville: check rates at Booking.com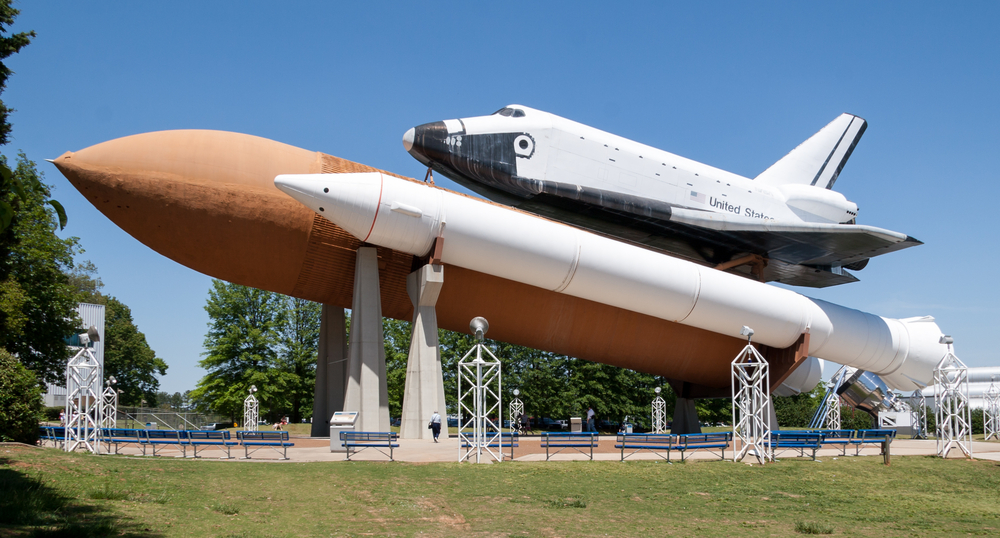 Relax at Springwood Inn
Be a part of history at the luxurious Springwood Inn! Built in 1882 by the founder of the city of Anniston, this house on the hill is the epitome of southern architecture. The front columns and large windows along with the immaculate historical décor feels the height of luxury!
The grounds of the Springwood Inn stretch over 20 acres with plenty of hiking and proximity to biking trails. Enjoy a cup of tea on the porch, along with a delicious breakfast. Spend a sunny afternoon strolling the lush gardens and grounds.
However you choose to spend your time, you won't want to miss the wine and cheese that the estate serves every day at 5 PM!
Check Rates: Booking.com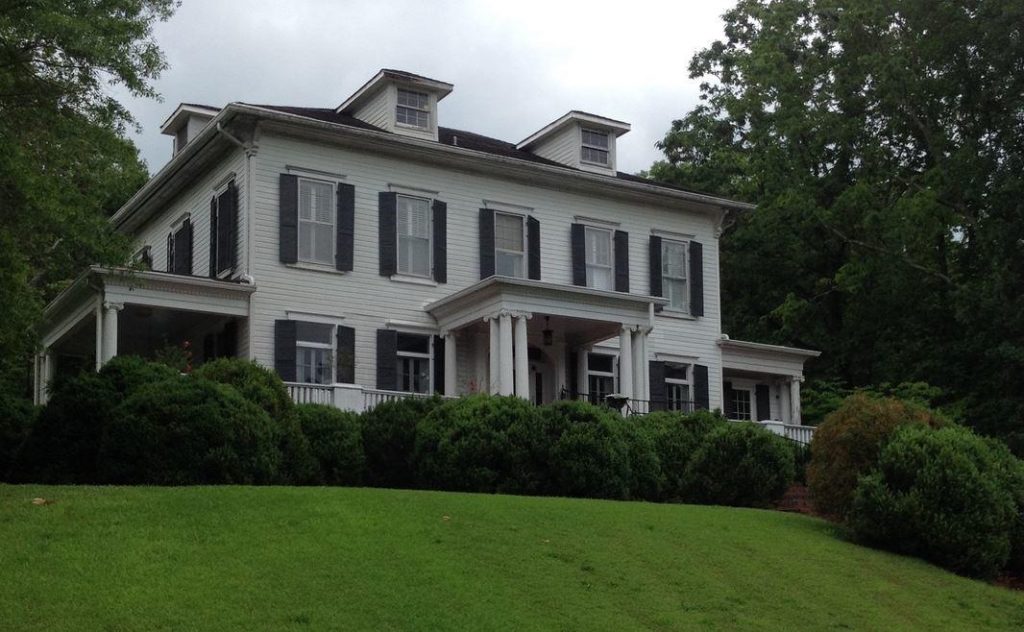 Explore The Cave At Stephens Gap Callahan
See why the cave at Stephens Gap Callahan Preserve is not only one of the most popular caves in the United States but one of the most photographed.
You'll be wowed by the 143-foot pit drop. It's no wonder people can't help but snap a picture of it! To get to the cave floor, you'll need special equipment and experience with caving.
If you haven't gone caving before, not to worry! There is an easier trail through the cave that you can access at any time of the year. Make sure to wear clothes that you don't mind getting dirty and that give you the flexibility you need. If the rocks get wet, they can get slippery, so wear good shoes too. If Stephens Gap Callahan wets your appetite for caves, Cathedral Caverns is only a short drive away!
Where to stay by Stephens Gap Callahan:
Hampton Inn & Suites Scottsboro: Check rates at Booking.com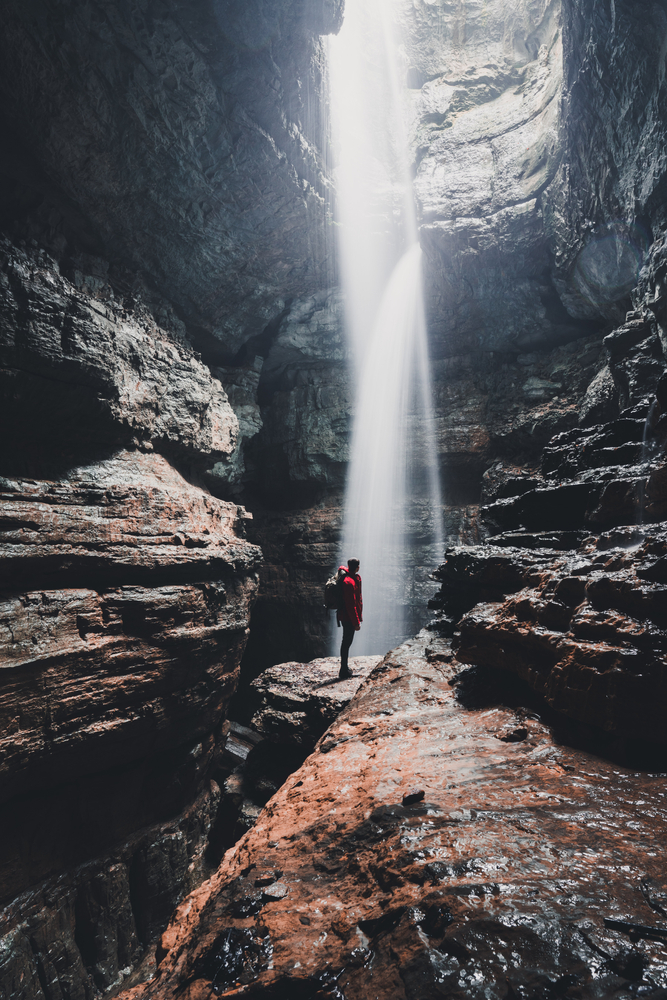 Discover The Oldest City In Alabama
Settled in 1702, the small port city of Mobile proudly proclaims itself the oldest city in the state. Mobile is a history buff's dream getaway!
You can explore the recreation of the colonial Fort Conde and take a gander inside the Battleship USS Alabama, not to mention the plethora of other history museums. Mobile is also said to be the site of the first Mardi Gras in the United States, and they take their celebration very seriously.
We think spring is a great time to visit Mobile because the gardens of the city make it one of the most romantic getaways in Alabama. Check out the annual Mobile Azalea Trail Festival, where visitors can tour the beautiful gardens around Mobile.
Where to stay in Mobile:
Candlewood Suites Mobile-Downtown: Check rates at Booking.com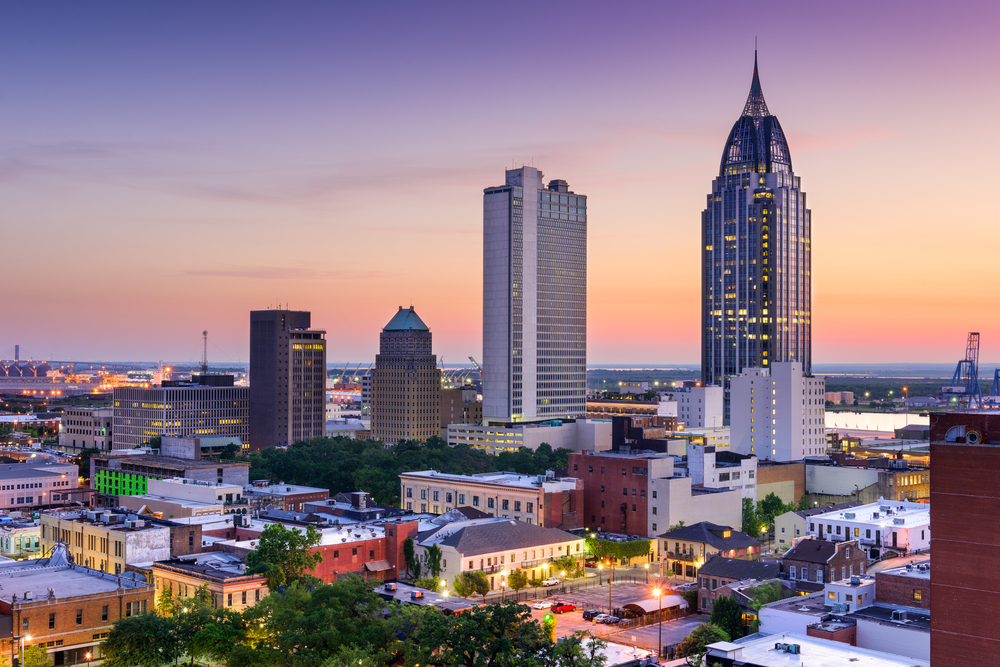 Unwind At The Lodge At Gulf State
You can't ask for a better location than The Lodge at Gulf State which is tucked inside Gulf State Park. Enjoy the best views of the gulf at one of the best weekend getaways in Alabama.
Get some rest and relaxation in one of their comfortable and spacious rooms. You won't have to leave your room to get a view of the beach or of Gulf State.
If you do venture out, the resort has 5 restaurants to choose from, where you can get locally caught seafood. Take advantage of the many decks to catch some rays. You can even see the gulf from the pool!
Check Rates: Booking.com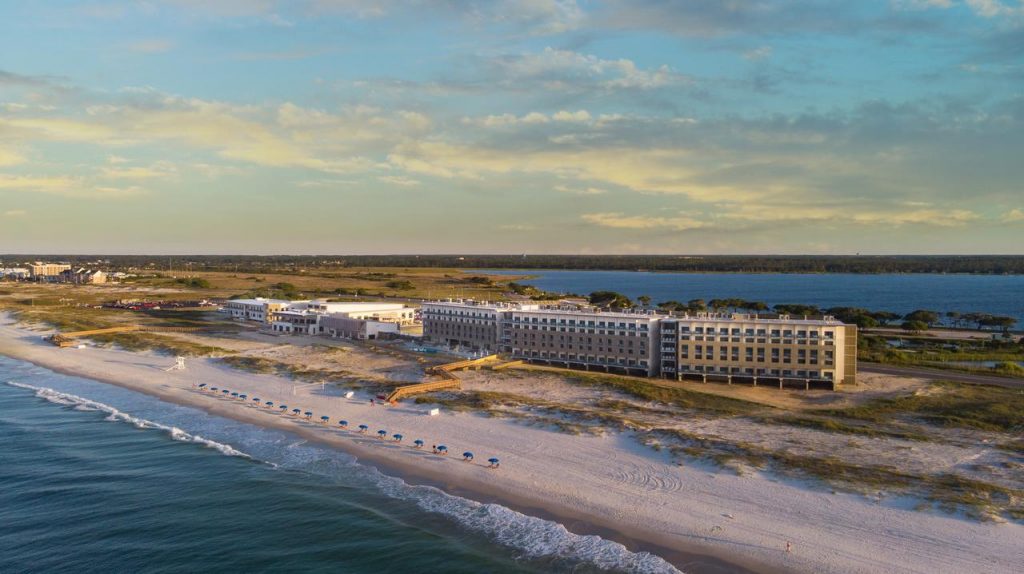 Hike Cheaha Mountain
Get in your nature fix at the highest point in Alabama! Topping at over 2400 feet above sea level, Cheaha Mountain is a fun-filled 7.5 hike. Cheaha State Park, which protects the mountain, is actually the oldest State Park in Alabama!
The hike itself is a bit of an incline, but it's worth it for what you see along the way. The park is known for its wildflowers, as well as it ancient gnarled trees and boulders made of quartzite. Keep an eye out for the remains of a plane crash by the trail too!
All that exercise might work up an appetite, so stop by the Vista Cliffside Restaurant. Some people skip the hike and just come here for the food!
Where to stay near Cheaha Mountain:
Springwood Inn: Check rates at Booking.com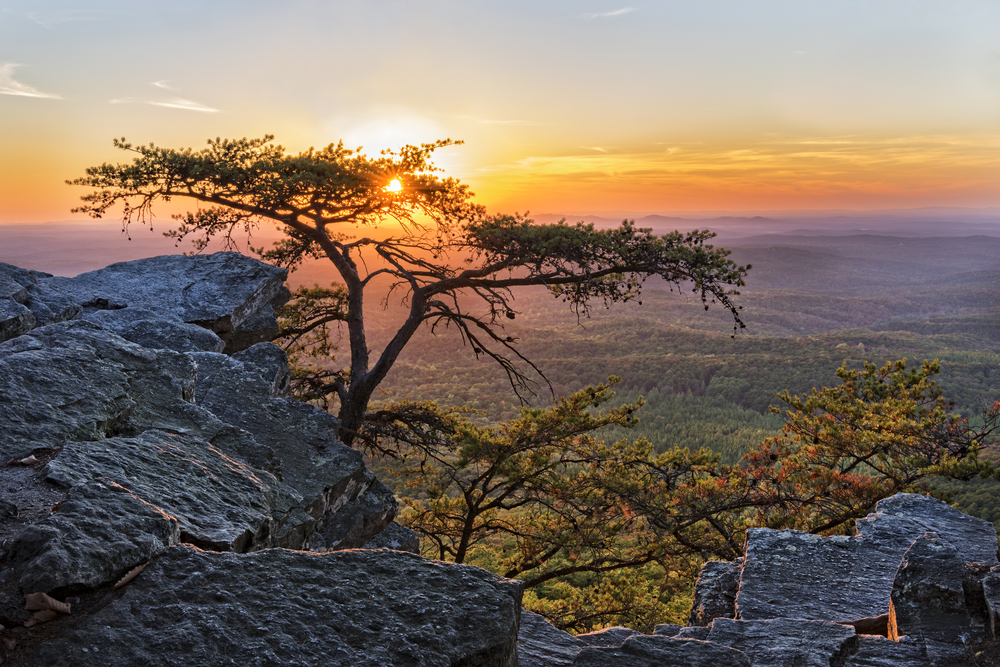 Adventure Through Alabama With An Eco-Tour
With a state as diverse in natural landscapes as Alabama, it's no wonder that ecotourism has become so popular here! There are just so many landscapes to explore!
Head down to the south of the state for your pick of any number of ocean-themed adventures. In Orange Beach, hop aboard a cruise or a kayak to see dolphins up close and personal. You might even see some sea turtles!
If you'd rather check out the wetlands and swamps, there are tours aboard boats reminiscent of safaris that allow you to see alligators and bald eagles in their native habitat. Talk about making memories that your family will never forget!
Where To Stay For Eco Tours:
For Ocean tours near Orange Beach: The Island House Hotel: Check rates at Booking.com
For Wetlands tours starting near Spanish Fort: Holiday Inn Express Daphne: Check rates at Booking.com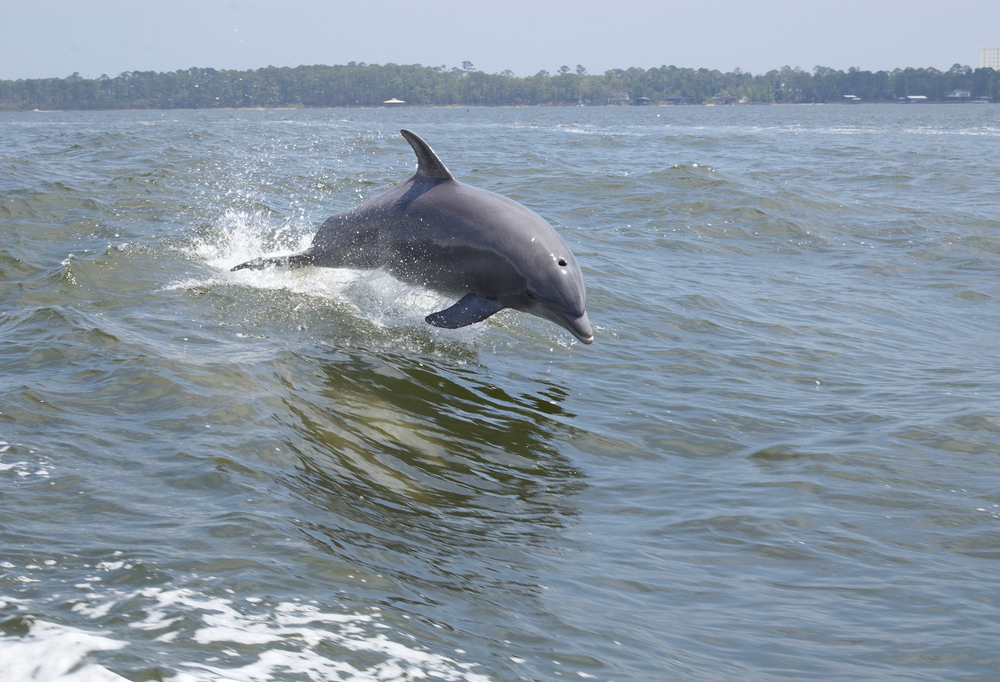 Chill Out At Magnolia Creek Lodge
Just outside of Dothan, Alabama is Magnolia Creek Lodge, a wonderful place to de-stress and take a breath among the foliage.
If you haven't heard of Dothan, it is known as the "Peanut Capital of Alabama", in part because of the National Peanut Festival they hold every year. This cute town also offers great golfing, barbeque competitions, and a heritage park that includes a working Victorian farmhouse. There's something for everyone here.
The Magnolia Creek Lodge itself is both quiet and comfortable, with plenty of space to spread out. The interior décor matches the rustic location. You'll definitely be drawn to the large fireplace in the great room and feel right at home with the cabin-esque wood touches throughout!
Check Rates: Booking.com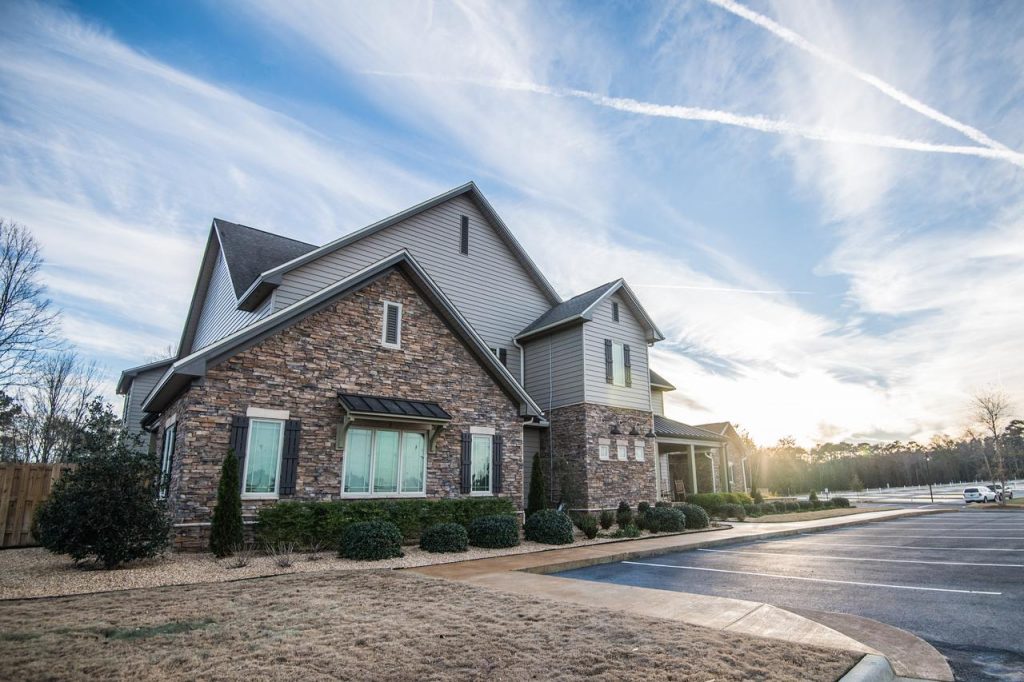 Traverse The Most Beautiful Waterfalls In Alabama
Upper Caney Creek Falls near the town of Double Springs is famous in Alabama for being breathtaking, and we certainly agree with that.
The best part is that it only takes 1 mile of hiking to get to the falls. You read that right! The hike is even easy enough for little kids, and you can bring your dog! The river is a great place to go kayaking or canoeing for added fun.
Keep in mind that there isn't a ton of parking space, so be sure to head here early and be careful where you park! If you haven't gotten your fill of nature at these falls, the legendary Sipsey Wilderness is only a short 30-minute drive away!
Where to stay near Upper Caney Creek Falls:
The Westin Huntsville: check rates at Booking.com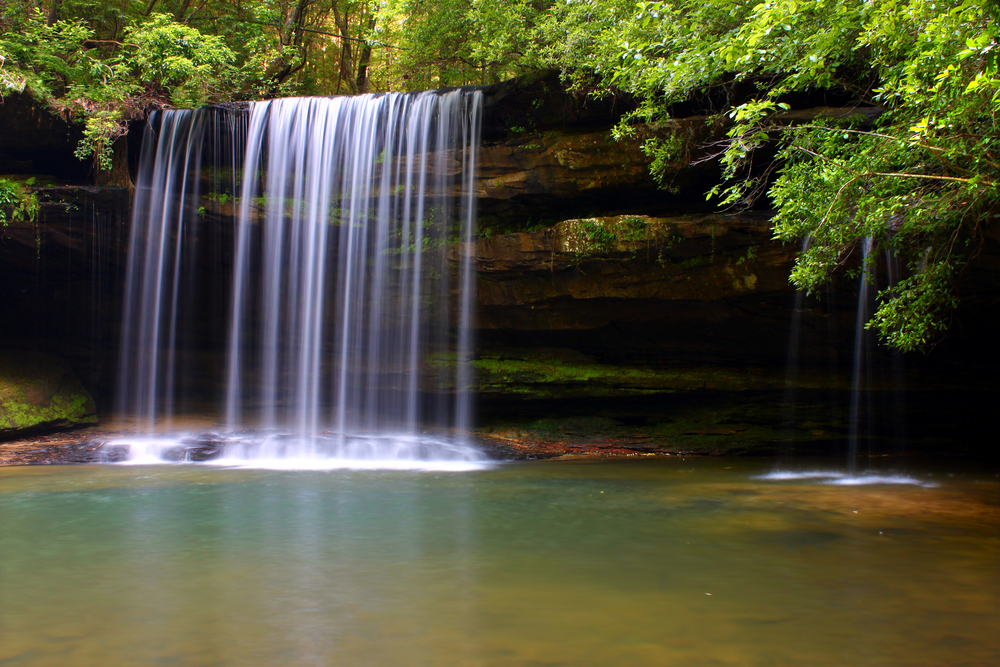 Embrace The Eclectic Vibes of Birmingham
Birmingham is one of our favorite weekend getaways in North Alabama, and we think it's easy to see why.
If museums are your thing, you have to visit this city that is just bursting with history. Are you interested in vintage vehicles? There's a museum for that? How about the history of civil rights? Science? Art? Flight? Jazz? There are museums on all of these topics, and that doesn't even brush the surface.
Looking to experience the city like a local? Rub elbows with them at Railroad Park, a 19-acre park within the city full of outdoor activities and special events. For the best of live entertainment, the Alabama Theatre is the place to go. Built in 1927, it was made to be grandiose and has recently been restored to its full regalia. It offers live music, movies, and ballet to enjoy.
Where to stay in Birmingham:
Modern Downtown Birmingham Condo: Check rates at Booking.com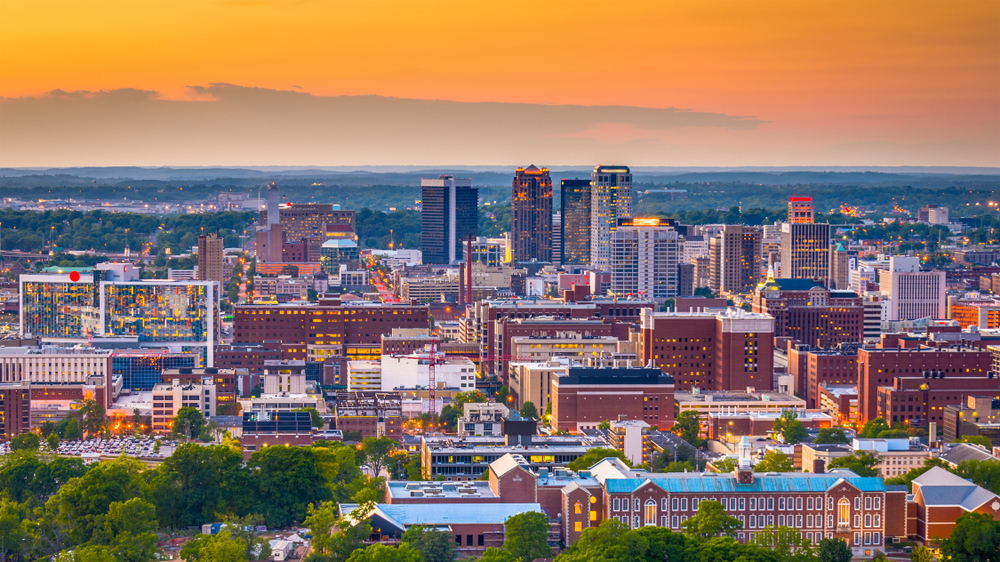 Hang Out At Artsy Mentone
This small town in the northeast of Alabama is a beloved mountain getaway.
The downtown area is so charming and full of local shops. Try out the fabulous Wildflower Café while you're here. Housed in a building from 1887, this restaurant has become a bit of a town gathering spot. Art hangs from every wall of this café, and the delicious food will make you feel right at home.
Desoto State Park next to the town has to be a stop in any Mentone trip. The park itself is beautiful for sure, but most people visit to see the waterfalls which drop over 100 feet. We recommend visiting in autumn because the colors are just so vibrant! Come and see why Mentone is one of the best weekend getaways in North Alabama!
Where to stay in Mentone:
Romantic Tree House Cottage: Check rates at Booking.com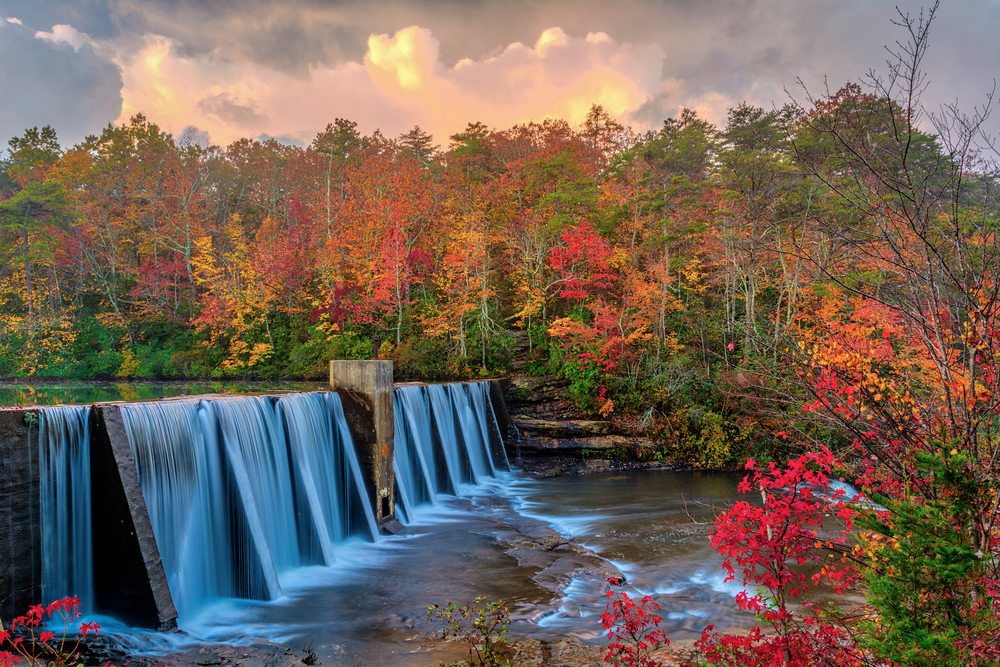 Soak In The Nature At Little River Canyon
Created in 1992, Little River Canyon National Preserve protects over 15,000 acres in Northern Alabama. The area is home to some of Alabama's rarest plant and animal species, like the Kral's water-plantain.
The preserve is full of easy hikes, making it so family-friendly. In the summer, the swimming holes are a refreshing retreat, although they can get a little busy. Fishing, rock climbing, and white water rafting are all popular activities at Little River Canyon. Even some hunting is allowed!
If you want to enjoy the majestic scenery from a more comfortable perspective, there are tons of fabulous drives around the preserve.
Where to stay near Little River Canyon:
Hampton Inn Fort Payne: Check rates at Booking.com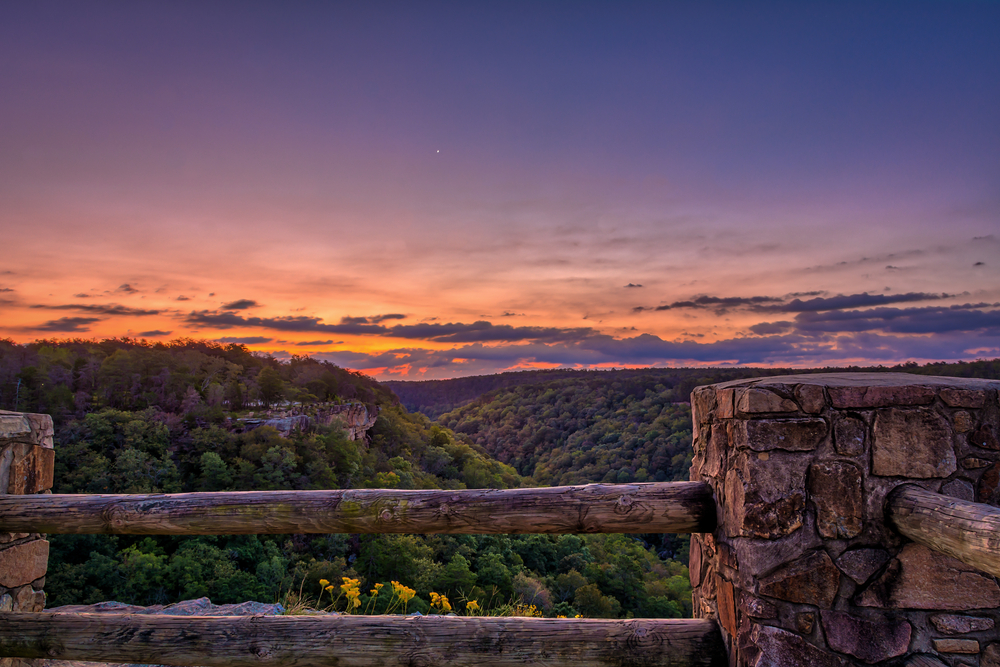 The Grand Hotel Golf Resort & Spa
With over 20,000 square feet of spa, The Grand Hotel has to be one of the most romantic getaways in Alabama! Located in Point Clear, this beachfront hotel is a member of the Historical Hotels of America and is known for its awesome amenities.
Onsite, there are 2 golf courses, 10 tennis courts, a marina, heated indoor and outdoor pools, and 7 restaurants that feature fresh herbs from their gardens. You might find yourself wandering the grounds in awe of the views.
Of course, the aforementioned spa is the crown jewel of the property. It feels like something straight out of Europe! With a sauna, quiet room, and massage services (and so much more), you'll leave more relaxed than you have been in years!
Check Rates: Booking.com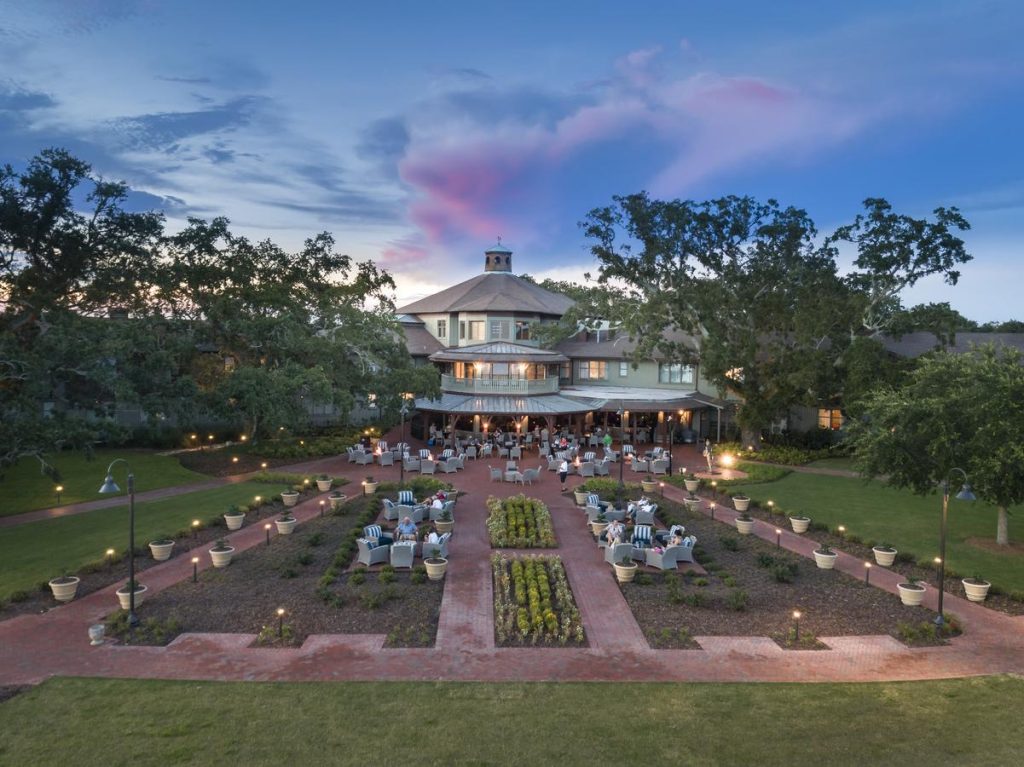 We hope you've enjoyed this list of some of the best Alabama getaways. No matter where you go in this amazing state, we know you'll have the best trip ever. For more awesome vacations in this region, check out our guide to the most interesting weekend getaways in the South.