If you're looking to visit the best beaches in Virginia, then look no further! We've got the 11 best beaches in Virginia that you don't want to miss, and these are great for a little getaway. These are all fun and beautiful beaches located in the Mid-Atlantic state of Virginia, and they are located throughout the state.
We have some traditional beaches, quiet beaches, and even some more unique beaches for you to consider for your next beach day in Virginia. Our list has a little bit of everything, and we have included some beaches that are great for families, for romantic giveaways, and even some that are great for nature lovers. You'll find the perfect beach for your next trip on this list, and you're sure to love the best beaches in Virginia.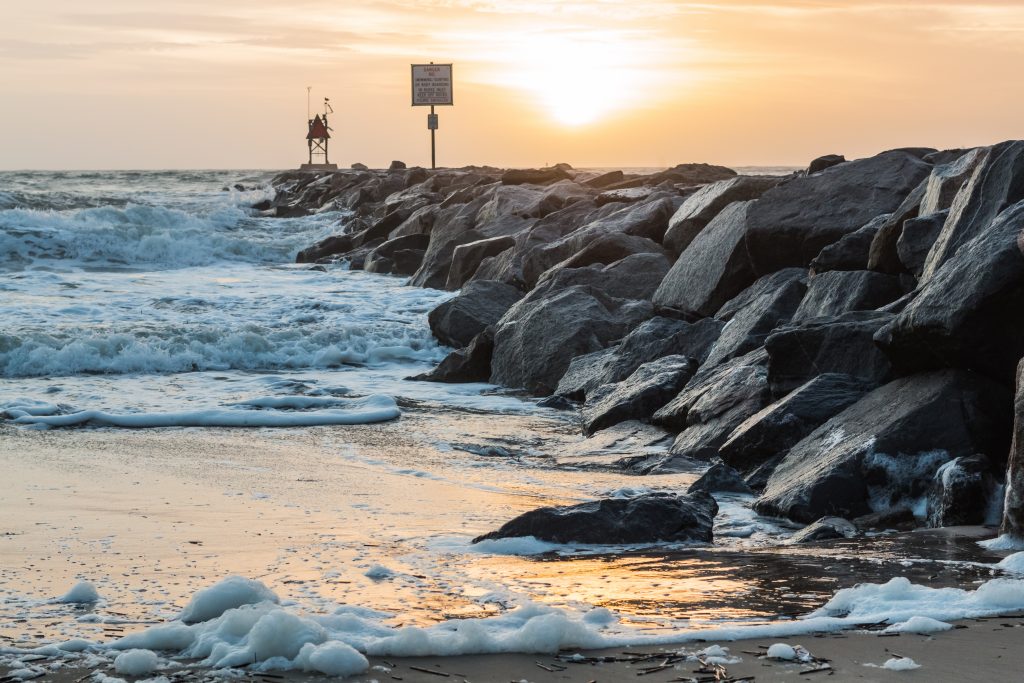 11 Best Beaches in Virginia for a Getaway
Virginia Beach
Easily the most famous beach in Virginia, Virginia Beach is the beach that the most Virginians and tourists visit every year. Virginia Beach is also a city, with many other beaches within it, not just the Virginia Beach Oceanfront that most people think of when Virginia Beach is mentioned. It is truly one of the best beach towns in Virginia.
This is an oceanfront beach on the Atlantic Ocean, and it also close to the Chesapeake Bay. The three-mile oceanfront boardwalk is full of hundreds of hotels, shops, restaurants, and tons of eclectic activities.
If you are planning to visit, check out our list of the Best Oceanfront Hotels In Virginia Beach!
There's even a pier for fishing, and a small amusement park to visit once the sun goes down. Parking here isn't free, and you will have to pay to park at different lots throughout the area.
This is a very touristy area, and during the summer months, Virginia Beach is crowded, loud, and a bustling beach town. The oceanfront hotels will give you the best views of waves, sand, and even a dolphin or two in the morning. Don't miss checking out some amazing restaurants here, and you have to get a picture with the huge Neptune statue!
Virginia Beach is the quintessential beach to visit if you're looking for a resort town that comes alive during the summer, and that's why Virginia Beach is one of the best beaches in Virginia to visit.
Check out some of our favorite beaches in Virginia Beach and nearby!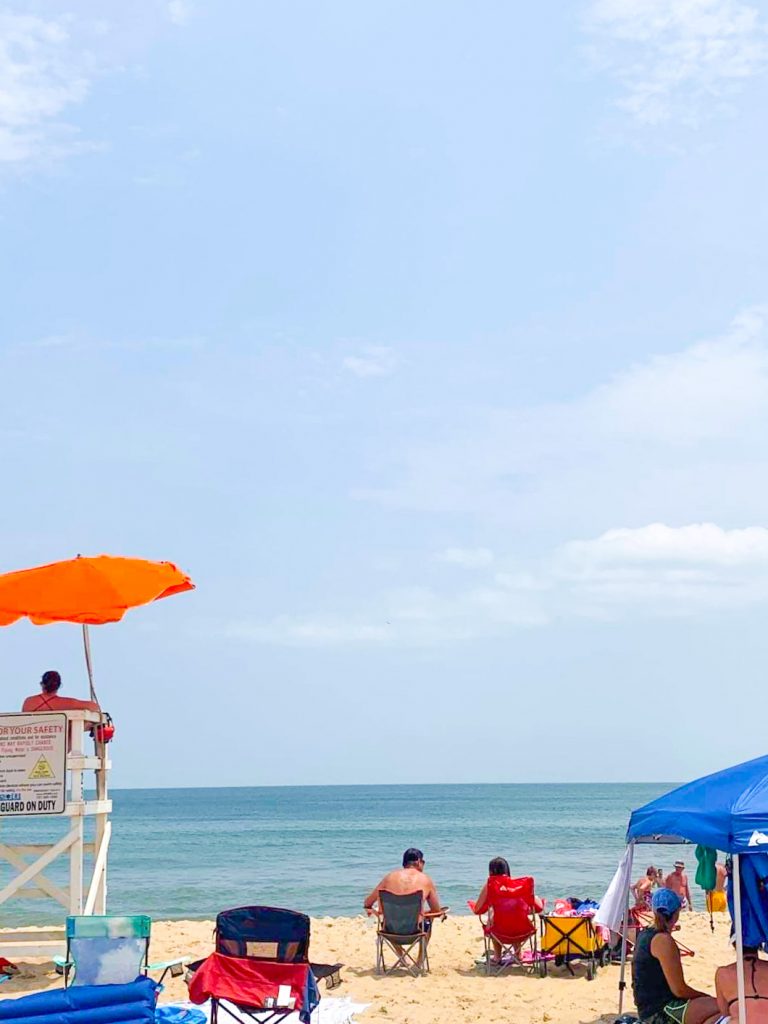 Sandbridge Beach
Sandbridge Beach is one of the many beaches in Virginia Beach, and is a less crowded option for those who don't want to deal with the hustle and bustle of Virginia Beach. Sandbridge has its own secluded 4.5 mile stretch of shoreline, and the beautiful sand dunes are one of the reasons people visit this area.
If you're looking for a quieter way to enjoy Virginia Beach, visiting Sandbridge is it. But be warned, there are far fewer resorts and shops, and that's something to take into consideration while staying here. You may have to hop in the car a few times to travel into Virginia Beach proper to enjoy some of the nightlife or food.
But if nightlife and loud restaurants aren't a necessity for you, Sandbridge will be a great fit. You can have a calm, quiet family vacation here. The serenity of Sandbridge Beach makes this one of our choices for best beaches in Virginia.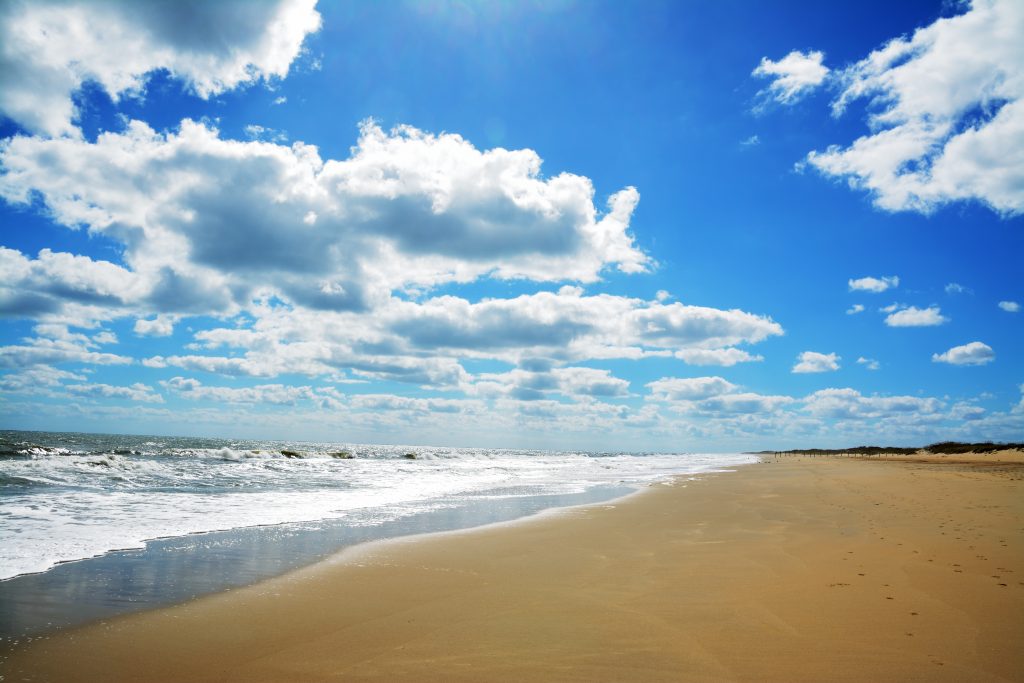 Colonial Beach
Located in Northern Virginia, Colonial Beach is a small, charming beach town. In between the Potomac River and Monroe Bay, Colonial Beach offers a quiet beach experience, and allows visitors to enjoy the quaint town as well. There are a lot of marinas nearby though, which makes Colonial Beach a great choice for fisherman and those who love boating and watersports.
This cute little beach in Westmoreland County is not only one of the best beaches in Northern Virginia, but also one of the best beaches in Virginia. It's the perfect beach town to visit for a quiet, weekend getaway.
Colonial Beach is only pet friendly during the off-season – October 1st until March 31st – so keep that in mind if you like to take Fido on family beach trips.
Assateague Island
Famous for its wild Chincoteague Ponies, Assateague Island also offers beautiful beaches and nature for those looking for a non-traditional beach vacation. There's 37 miles of seashore, with the southern third located in Virginia.
Visit here to see the Chincoteague Ponies, the Assateague Lighthouse, and the quiet, calm of Assateague State Park. Another thing that makes Assateague Island so interesting is that there isn't a residential population of people! Camping is prohibited here, and pets are mostly prohibited on the island as well.
We think heading to Assateague Island is a great day trip idea, and you won't regret stopping here and taking in the beautiful surroundings. This is great place to visit for the views, the nature, and the ponies, and this makes it one of the best beaches in Virginia.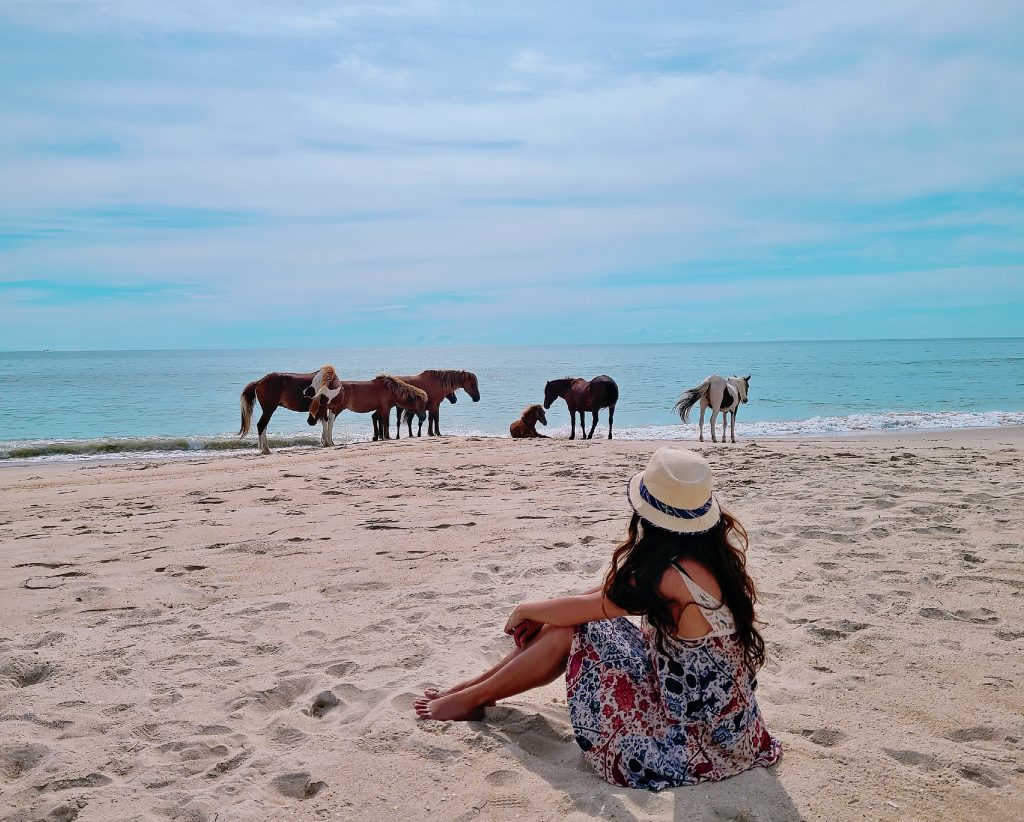 Buckroe Beach
Located in Hampton, Virginia, Buckroe Beach has almost a mile long shoreline and is nowhere near as crowded as its neighbor Virginia Beach. Buckroe Beach also has a much calmer surf than Virginia Beach, which makes this a great choice for families and those with little kids. This is also a much lesser-known beach, so it won't be as busy when you decide to visit.
This beach offers easy parking, a few shops and restaurants, but the great news is that it's going to get a massive redesign. The city of Hampton is investing a lot into making this a more appealing beach area, and is adding parks, housing, commercial space, as well as fishing piers, trails, and paths.
This is already one of the top beaches in Virginia to visit when looking for a quiet escape, but the redesign and refocus on making this a better and more unique beachfront adds Buckroe Beach to our list of the best beaches in Virginia.
Chic's Beach
Named Chic's Beach by its local residents, Chic's Beach is actually Chesapeake Beach. This beach is part of Virginia Beach and located along the Chesapeake Bay. This small 2-mile section of shoreline isn't for the ocean though, it's for the Chesapeake Bay. This beach offers calm water, gentler waves, and is a laid-back beach. Perfect for a quiet and serene beach getaway, Chic's Beach is great for swimming, relaxing, and lots of dolphin watching.
This little beach community is probably the calmest section of Virginia Beach, and isn't touristy at all. You'll find a lot of locals hanging out here, and the beach is never crowded any time of year. Do note, that there is a lot of restricted parking at this beach, so be sure you're staying somewhere around here or parking in the allowed areas.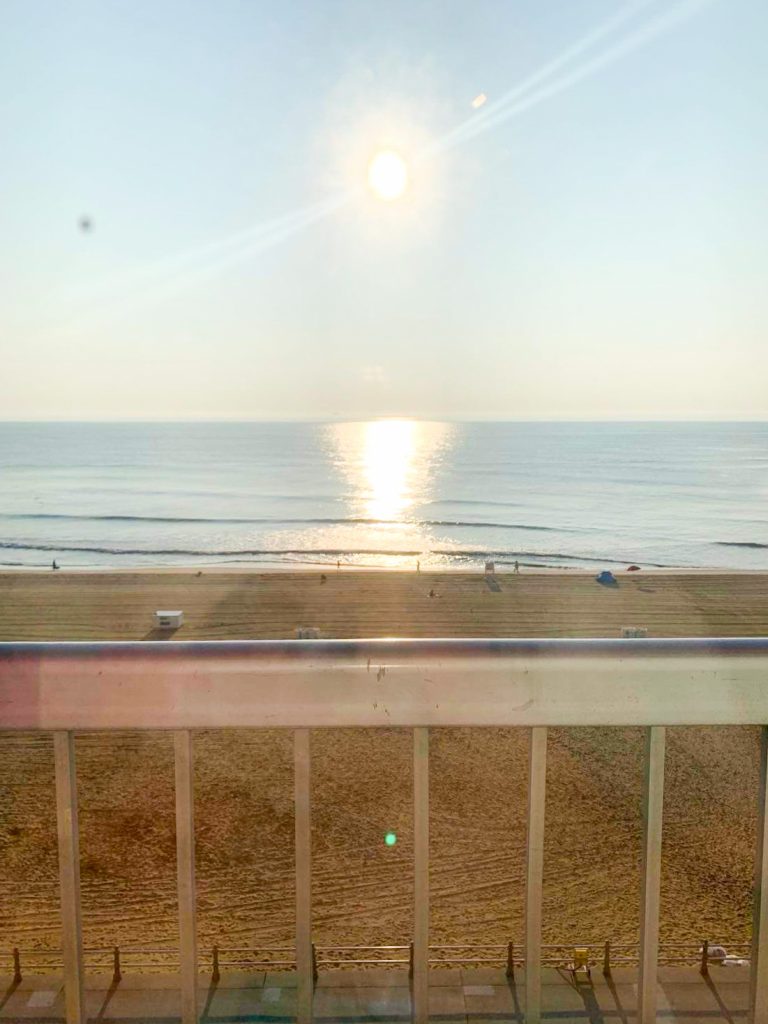 Yorktown Beach
This two-acre public beach is in the heart of Historic Yorktown and right outside the Historic Triangle area of Williamsburg/Yorktown/Jamestown. Located in in the Tidewater Region/Coastal Plains of Virginia, this historic beach may be the best kept secret beach in Virginia. Yorktown Beach is great for families, and is the perfect day trip beach. It's a wonderful choice for fishing, picnics, and fun beach days.
One of the best parts of Yorktown Beach is that they offer free public parking, as well as a complimentary beach shuttle. Free parking, plus being a public beach makes this a budget friendly trip to the beach and definitely makes it more affordable for families to visit here.
This is an easy beach to get to, and if you're visiting Historic Williamsburg or Jamestown for a little history trip during the summer, make sure you make some time in your schedule for a beach day at Yorktown Beach – one of the best beaches in Virginia.
Cape Charles Beach
Cape Charles Beach is definitely one of the lesser-known beaches in Virginia, and it's very quiet, way less crowded, and offers calm, shallow waters. The beachfront here is for the Chesapeake Bay and not the Atlantic Ocean. Cape Charles Beach is great for families, and is pet friendly as well. It's also a free, public beach. This is a small, cute, and friendly town, and many believe it's the best beach town in Virginia.
Located just 10 miles north of the Chesapeake Bay Bridge Tunnel, Cape Charles Beach is in the Eastern Shore of Virginia. It's historic and quaint, but there has been a revival lately in the town, with some new hotels and even a distillery.
This quiet little beach would make for the perfect romantic getaway, but it's important to know that a lot of the lodging here is still just bed-and-breakfasts. Lodging and resorts are limited overall at Cape Charles Beach, but they are starting to add more places to stay here.
Belle Isle Beach
Easily the most unique beach in Virginia, Belle Isle Beach is an urban beach located in Richmond, Virginia. There isn't any sand, ocean, but instead this beach has rocks to relax on and the James River to enjoy.
Because of the rapids in the James River, it isn't safe to swim in the river, but the locals love to spend spring and summer days here relaxing and resting on the rocks. Dogs are allowed on Belle Isle, and families will enjoy spending a day here in the sunshine doing something completely unique. This is a great place to escape for a day while visiting Richmond, and to enjoy dipping your toes in the water on a hot, humid Virginia day.
Belle Isle Beach is located in the heart of Downtown Richmond, and is in Belle Isle Historic Park. We know you've never been to a beach like this before, and that's what makes it one of the best beaches in Virginia. While visiting Richmond, we also have some of our favorite places to eat and some other ways to enjoy the River City.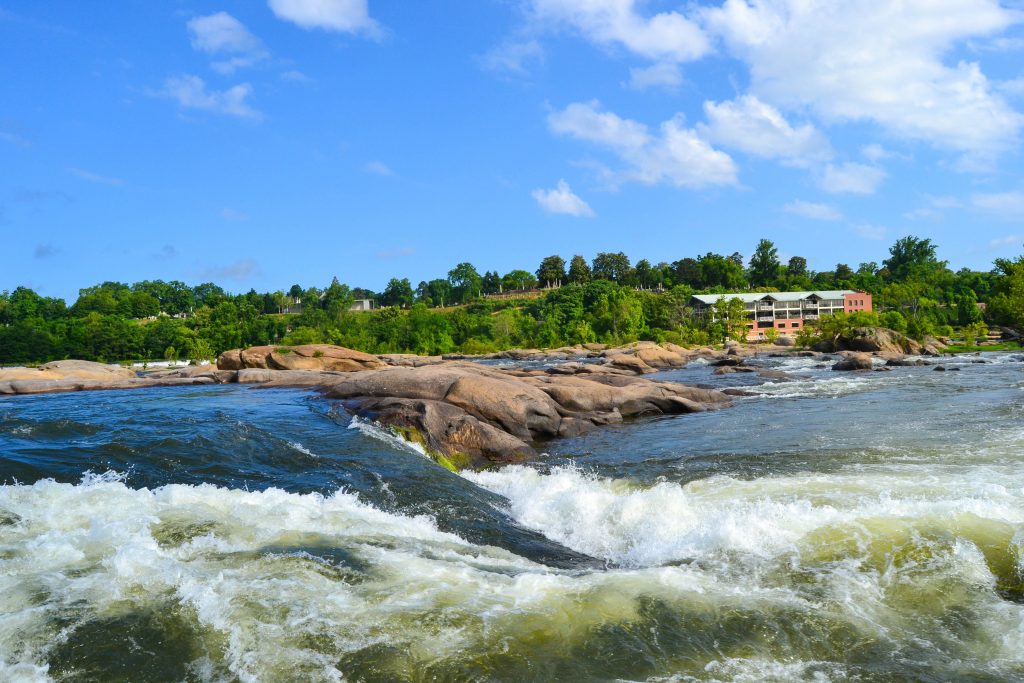 Lake Anna
Lake Anna is located in Spotsylvania and Louisa counties, and is the third largest lake in all of Virginia. This freshwater lake has over 200 miles of shoreline, and this a lake beach with white sands, clear water, and is a public beach. Lake Anna is perfect for relaxing, sunning, and all kinds of watersports.
Another reason to visit Lake Anna is to enjoy all 13,000 acres of nature and water. You can enjoy the lake, or go hiking, ride on the horse trails, or enjoy the views from the docks. There are snack bars here as well, but we recommend bringing your own food and snacks to picnic.
Just about an hour from away from Washington, D.C., Lake Anna is a popular destination for those in the nation's capital and Northern Virginia. It's also one of the most popular recreational lakes in Virginia, since it's easily accessible from Richmond and Charlottesville as well.
If you're looking to enjoy a lake beach and do some jet skiing, tubing, or boating, the popular Lake Anna is a great choice for you, and is definitely one of the best beaches in Virginia.
Smith Mountain Lake
Smith Mountain Lake Beach is extremely popular, and is the second largest lake in Virginia. The freshwater beaches here are great for swimming, families, and lots of watersports. A lot of people visit Smith Mountain Lake to camp, fish, and enjoy the public picnic areas as well.
This beautiful lake is located in Huddleston, Virginia, in between Roanoke and Lynchburg. This is a unique beach to visit because it's right along the Blue Ridge Mountains, and offers 500 miles of shoreline that's nowhere near an ocean. If you're looking for a great summer getaway in Virginia, Smith Mountain Lake offers great beaches, fun water activities, and a unique experience in the middle of nature. This makes it one of the best beaches in Virginia.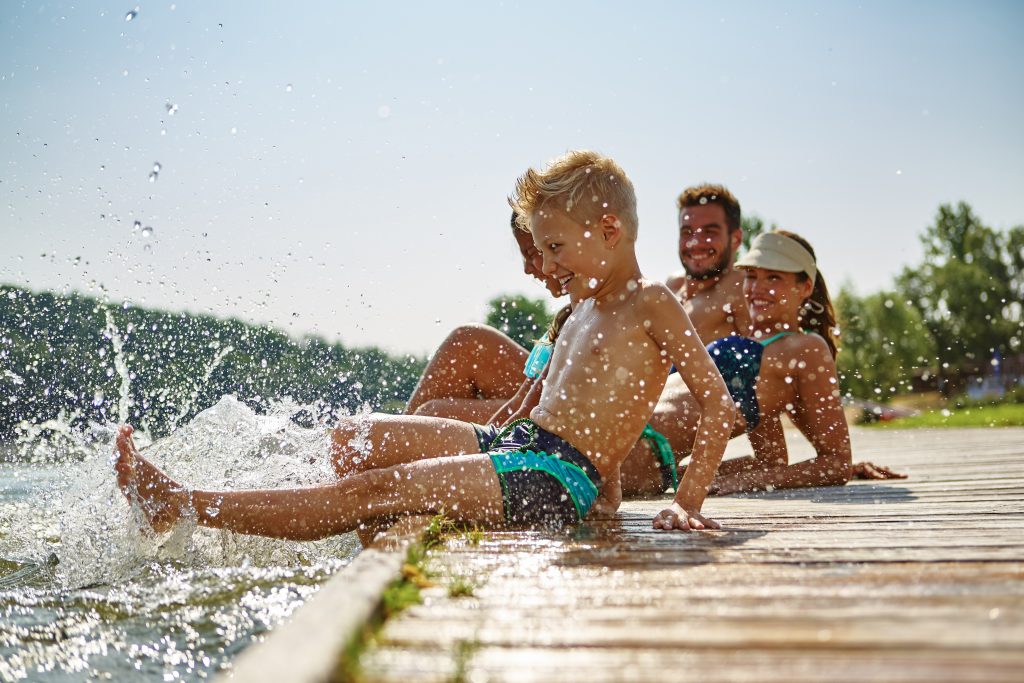 We hope that our list of the best beaches in Virginia has inspired you to plan your next beach trip! Any of these beaches would make for a great getaway, and you can't beach the diversity of the beaches in Virginia. Whether it's a traditional oceanfront beach, a lake beach, or a unique urban beach, these beaches are all fun and great to visit.
We've also got some other ideas for getaways in Virginia, and you don't have to wait for summer to do some of them!
Have you visited any of our picks for the best beaches in Virginia? Or are you planning a trip to one this summer? Let us know in the comments!