If you are looking visit Linville Falls NC, you are in luck! We have put together the best tips and information for your visit to one of the best waterfalls on the Blue Ridge Parkway!
Linville falls is rated one of the best, if not the best waterfall in North Carolina. It is centrally located between Boone, Blowing Rock, Banner Elk and Asheville making it the ideal waterfall to visit in the area. Best of all it is maintained by the National Parks System and is totally free to visit.
More than 350,000 visitors are astonished at the sheer beauty and awe of 90 foot Linville Waterfall and Gorge. Whether you are looking to visit for a few hours, or go on a multi-day hike, or even a road trip though on the Blue Ridge Parkway a stop at Linville is a must!
Make sure to check out our list of the Best North Carolina Mountain Towns you must visit!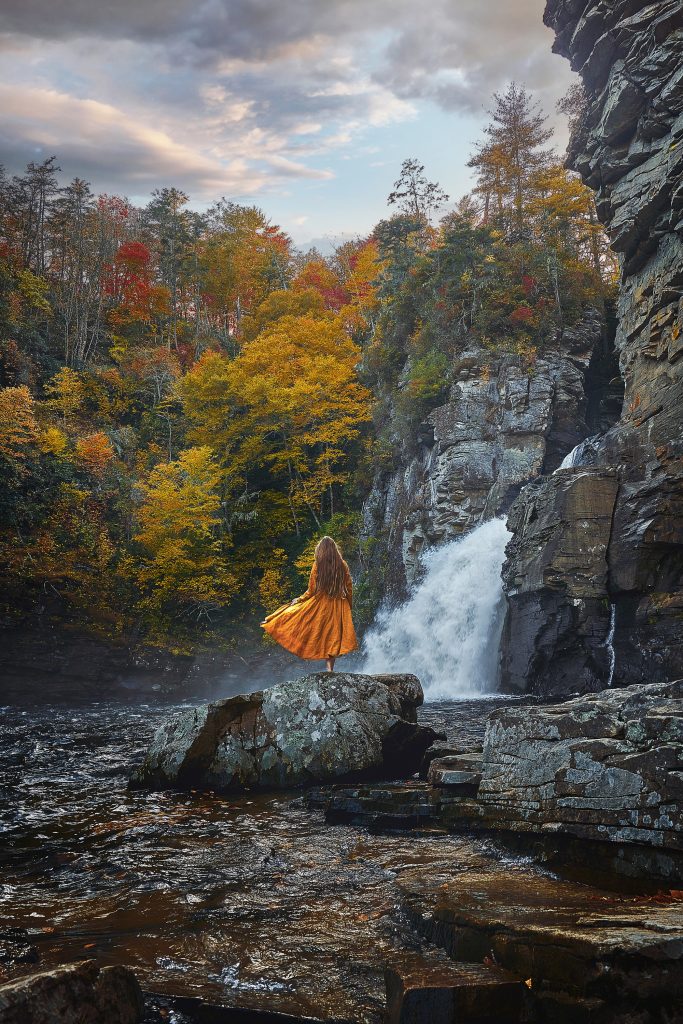 What Is Linville Falls
Linville Falls is located in North Carolina is often referred to as the Grand Canyon of the Southern Appalachians. It is one of only two wilderness gorges in in the Southeast United States. On the trail you will find four different overlooks along the gorge that showcased this famous 90 foot waterfall through the 12 mile Linville Gorge with towering cliffs.
Named after explorer William Linville who discovered this Cherokee landmark known as "Eseeoh" in 1766. The Linville Gorge Overlook Area is inside the Pisgah National Forest and the 12,000 acres is managed by the US Forest service department on the Blue Ridge Parkway. The land was purchased by John Rockefeller in 1952, and congress signed this area as the first National Wilderness Area to be protected in 1964.
While the 90 foot waterfall is the most popular waterfall in the area, due to the sheer size and the spectacular rock walls known as the Linville Gorge surrounding the waterfall on three sides making for breathtaking view and photographs. The 12 mile gorge begins with the river at Grandfather Mountain, and travels over 2000 feet entering the Lake James.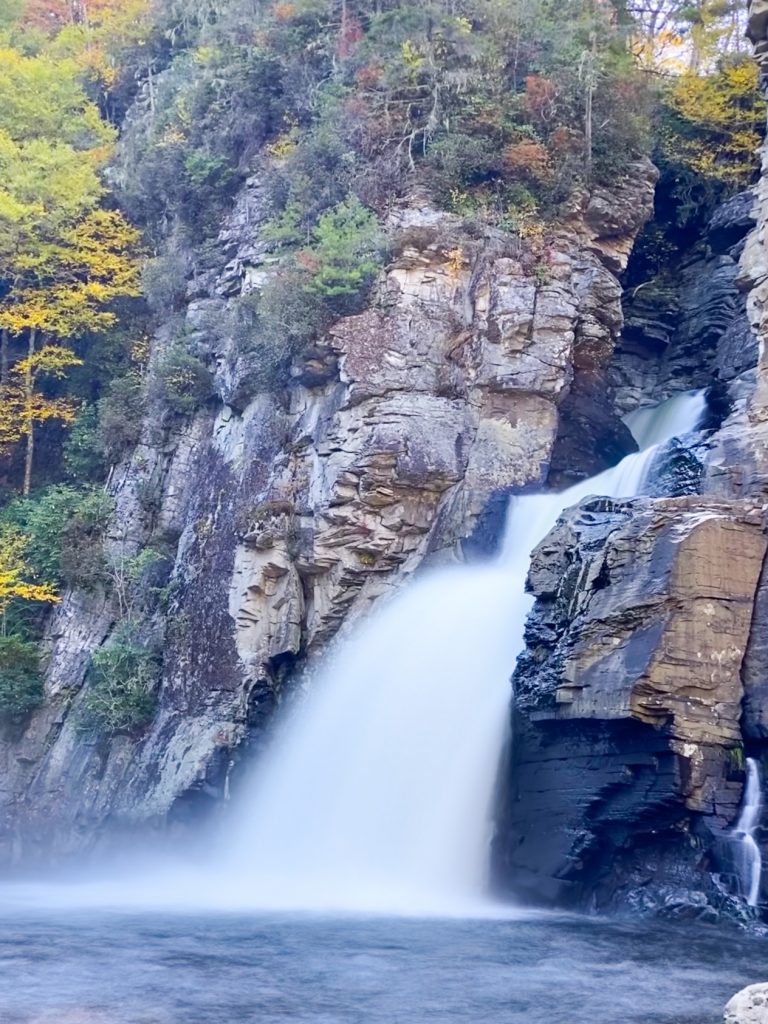 Where Is Linville Falls?
Linville Falls, North Carolina is located at mile marker 316.4 along the Blue Ridge Parkway, on the northern edge of the Blue Ridge Mountains. You can also access Linville Falls from Pisgah National Forest, a great tip for those visiting during the winter season!
The best part is the falls are located between Boone and Asheville. Traveling from Boone, the falls are located 30 miles southwest or just a 40 minute drive. And traveling from Asheville, the falls are located just over an hour northwest, or just 55 miles.

Linville Falls Visitor Center
At the Linville Falls Visitor Center, you will find the parking lot to enter the falls. Also during April to October you can talk with park ranger, grab a map and shop at the small gift store that also sells drinks and snacks inside the visitors center. It is worth noting the parking lot fills up early during summer season.
There are bathrooms, picnic tables, and from the visitors center is where you can start one one of the several trails around the falls where you will find several of the Linville Falls overlooks!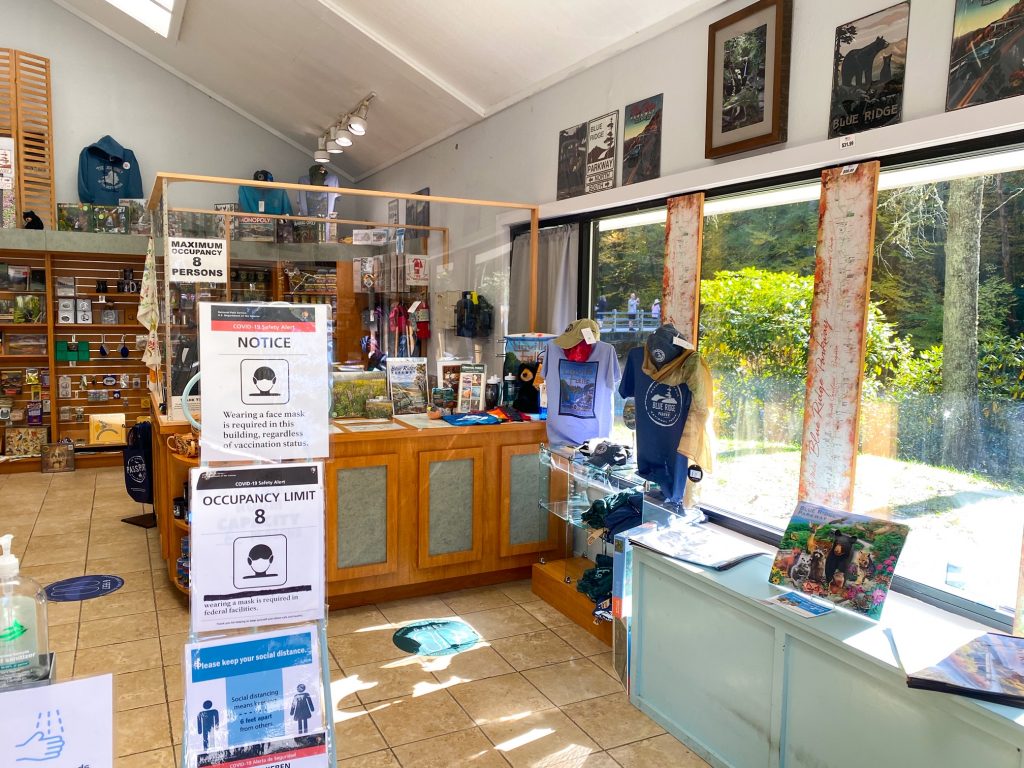 How Much Does It Cost To Visit Linville Falls And Gorge?
The best part about visiting one of the best waterfalls in the Blue Ridge Mountains, is that it is completely free to visit and park at the Linville Falls and Gorge. As part of the Nation Parks system, it is open to visitors from dawn which is typically 10 am to 5 pm.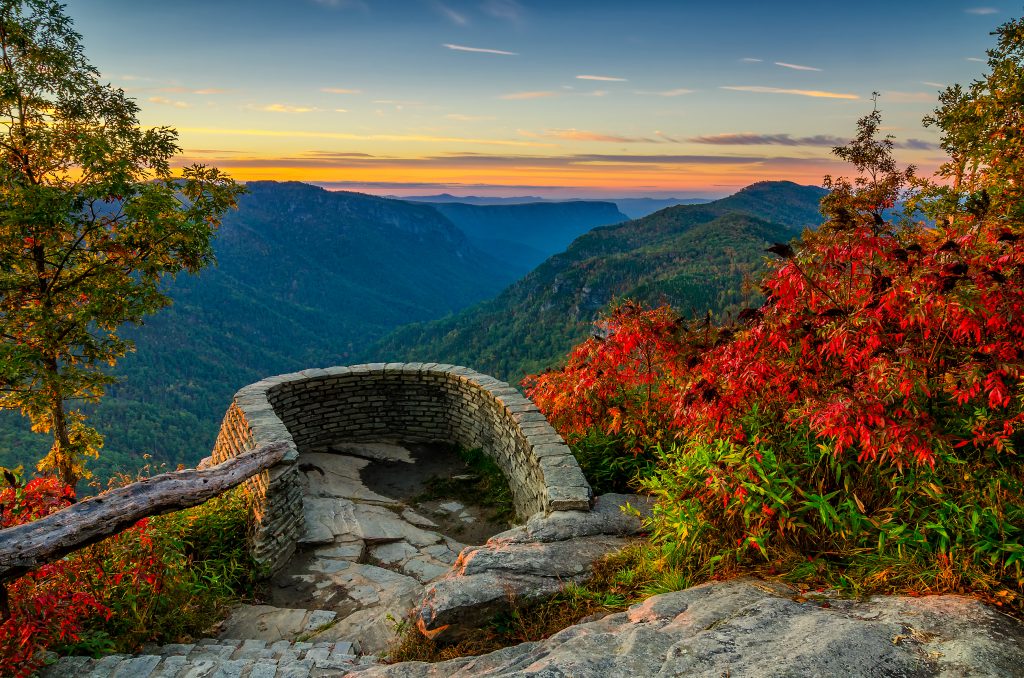 What Time Does Linville Falls Park Open And Close?
The entrance at mm 316.4 is open to visitors center area is open to visitors from April 30 to October 31. You can check the National Public Parks website for dates outside those listed. During winter months the Blue Ridge Parkway is often closed to visitors due to ice and snow that sometimes close the Parkway.
You can also enter the falls from the Linville Gorge Wilderness Area parking from US 221, NC 181, and NC 183.
Crowd's At Linville Falls Park
Be prepared for crowds, especially during holidays and summer break as Linville Falls Park gets more than 350,000 visitors each year. It is one of the most popular waterfalls to visit in North Carolina. If you want to avoid crowds, you will want to go early or late in the season, or visit on weekdays.
But, even if you visit during a summer weekend, there are several trails and viewpoints to spread out and get away from the crowds.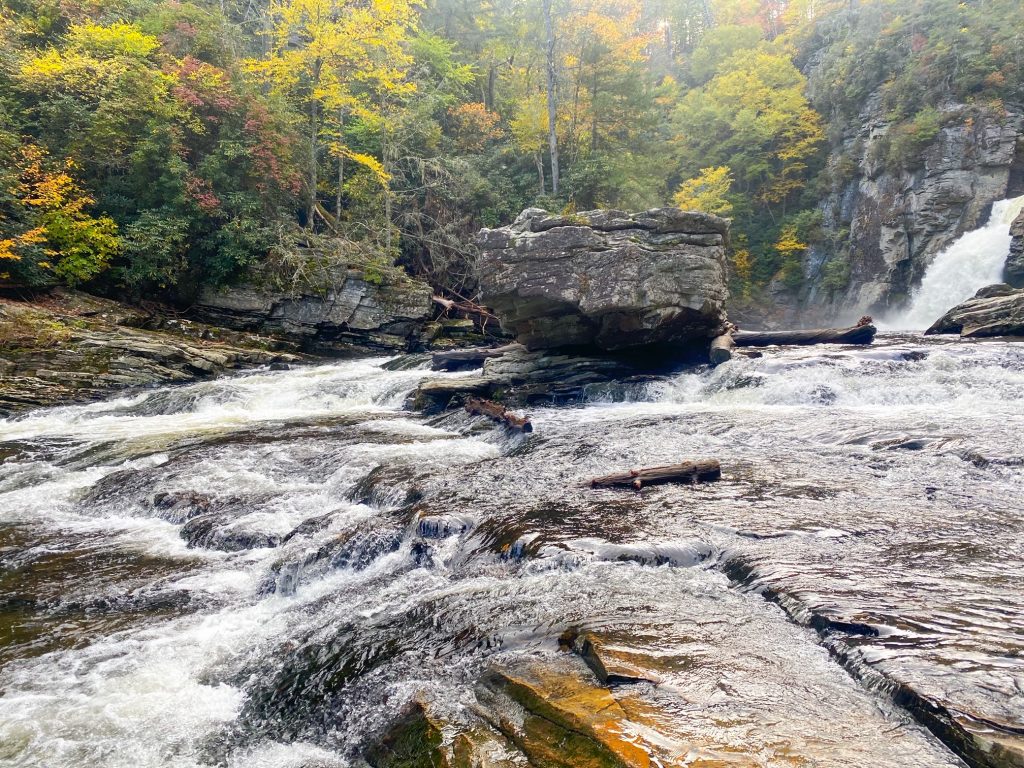 Linville Falls Campground
Linville Falls Campground is the perfect spot to spend a night when visiting Linville Falls. If traveling in RV on or with a tent this 70 site campground is the perfect spot to stop along the Blue Ridge Parkway. As with all the parkways eight campgrounds, they are only open May though October. Perfect for a North Carolina road trip!
In pre-season from April 2 – May 28,and post season Oct 24 – 30 the sites are first-come no reservation needed. Reservations are open May 28 – Oct 23. You can make reservations here and as one of the parkways busiest summer campground we strongly recommend planning ahead. The price is $20 per night.
There are 50 tent sites, and 20 RV sites and 2 ADA sites and 2 group sites, each with a picnic table and fire pit. There are no showers at the campground ( Julian Price at mm 297 is closest campground with showers), nor electric hookups, but there are restrooms with toilets and potable water, and a dump station for recreational vehicles that charges $3 to use.
All the campgrounds follow a leave no trace, so be respectful and remove any trash, as well as be respectful to the land!
If you are looking for a full service campground, a privately owned campground is located just minutes from the Linville Falls on the Blue Ridge Parkway off of HW 221.

What To Wear When Visiting Linville Falls
If you are going to be doing more than walking near the visitor center, we would suggest investing in a good pair of hiking boots! The Columbia Newton Ridge Plus are one our favorites for women, along with 30,000 almost 5 star review amazon. They come in a variety of colors, have great traction, are super comfortable and best of all waterproof. For men, the Merrell Men's Moab Hiking Shoe is a top seller, great for hiking, slip resistance, lightweight and very comfortable. Otherwise you can wear close toed tennis shoes that have grip on the bottom. We would advise against white shoes or smooth soles.
For women looking for a great lightweight, water resistant joggers that are also SPF 50, have pockets, are cute and size inclusive check out the Libin Cargo Pants! For men the CRQ Tactical Pant is lightweight, water repellant, durable and anti-rip fabric make durable for hikes. Not to worry though, you can wear any athletic type clothes you think is appropriate as the trail is quite wide and open.
Staying hydrated outdoors is super important, both in winter and summer months. Instead of carrying around a water bottle, we suggest using a hydration pack. I have used the Ridgeway by Kelty hydration pack for years to with a hydration bladder and bite valve as well as the small backpack to hold keys, phone etc but it is no longer sold. Amazon sells several but this Vibrelli Hydration pack is most similar.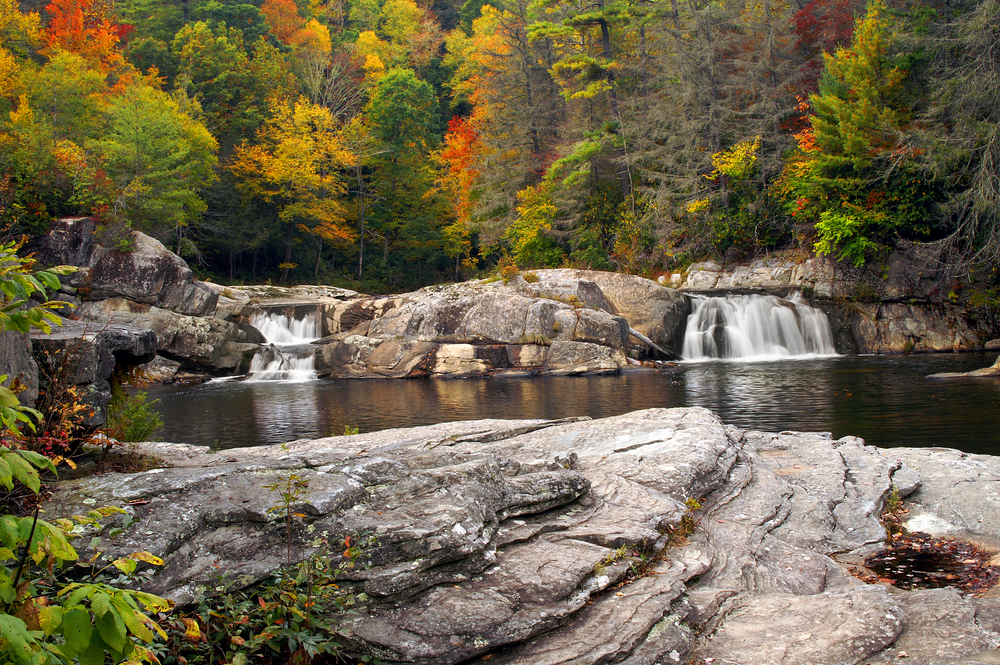 Best Linville Falls Hikes And Trails
There are several trails of various difficulties to view the falls from the easy Erwins View visitor trail to the more difficult Linville Gorge Trail. Below are some options for the different Linville Falls hiking trail you will find from the visitors center. Make sure to stop in the Visitors Center and grab a trail map from one of the rangers. On the map you will see each trail, and overlook marked clearly.
Linville Falls Trail
Linville Falls trail is a 2.8 mile trail system, that is divided into two sections giving hikers 5 different viewpoints of the falls. Here you will find the easiest trail Erwins View which starts at the Linville Falls Visitor Center. You are awarded with three overlook areas during the 1.8 mile trek. The first of which is just 1/2 mile downhill from the parking lot. You will want to continue on to the 3rd overlook Erwins View Overlook, where you are awarded with views of upper and lower falls as well as the gorge!
The second portion of the trail is called Linville Gorge Trail and Plunge Basin and it is another 1 mile that takes visitors down to the Linville river. IF you fork left, you will descend down the trail until you reach the base of the waterfall. If you want to experience the sheer power of the Linville Gorge overlook it is on this trail! You can even stop along the rocks for pictures or a break! If you fork right, you will be brought to the lower falls area. This is one of my favorite hikes in North Carolina!
Please be aware, even though you are brought to the rivers edge, swimming or wading in the water is prohibited.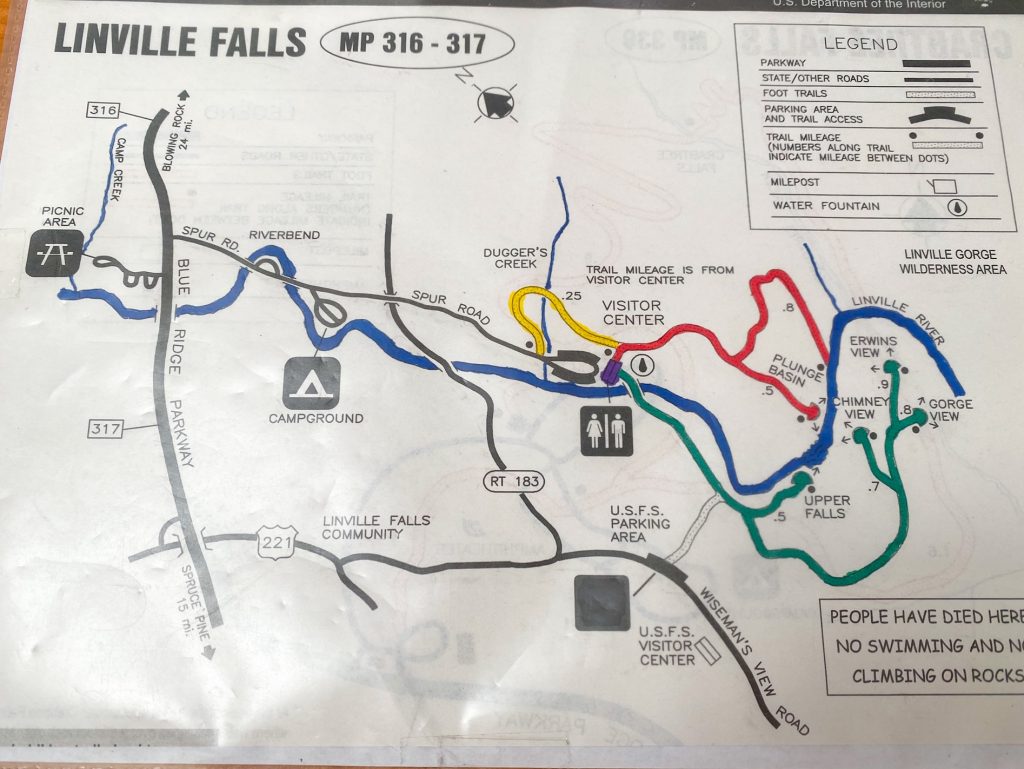 Babel Tower and Cabin Trail
The Babel Tower is a 1.3 mile hike difficult hike that is one of the most popular Linville Falls hiking trails to enter and exit the gorge. The Cabin Trail is just under a mile and due to its steepness, and primitive markings is for advanced hikers wanting to join up with the Linville Gorge Trail.
Pine Gap Trail
For those looking for an easy Linville Falls hike into the gorge, this 1 miles trail intersects the Linville Gorge trail.
Linville Gorge Trail
The Linville Gorge Trail is another extremely popular hike in the Blue Ridge Parkway. This almost 12 mile hike is the longest trail in the Linville wildness area. It starts at the Linville river ( which you can hike a portion of from the visitors center) and ends at Lake James. Hikers are awarded with views of the falls, forest, cliffs, and river. Please note, this is a multi-day Linville Falls hike that takes experienced hikers 2 or more days to complete and you must apply for a permit.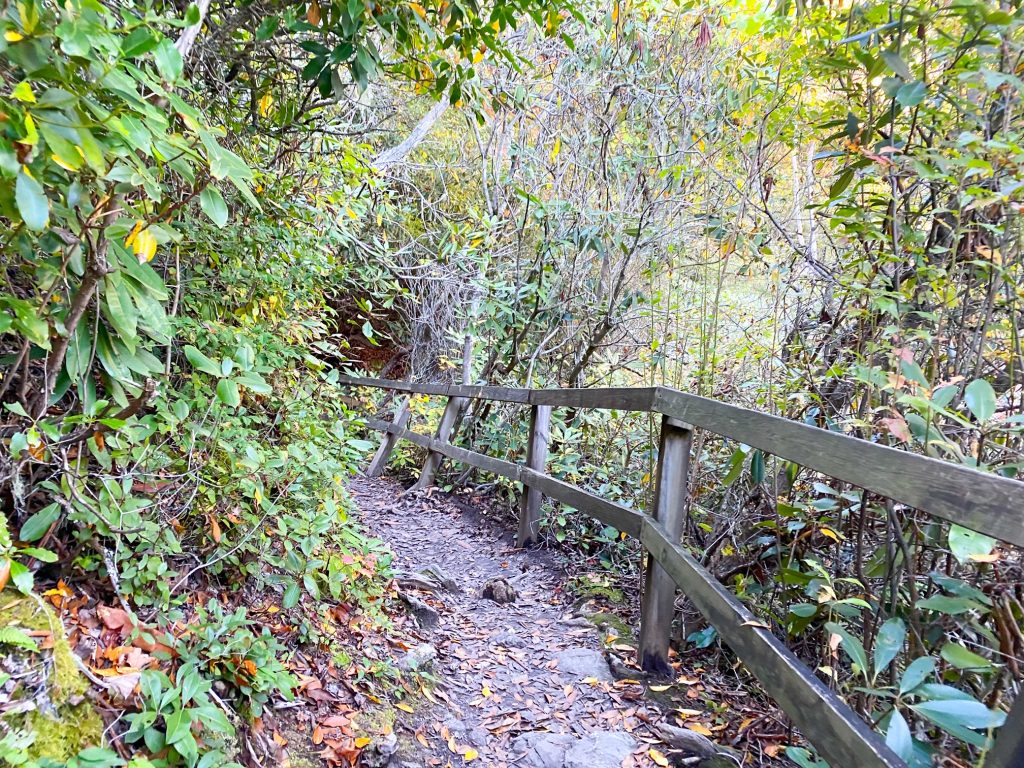 Animals At Linville Falls Park
The Linville Falls state park is the third larges wilderness area in North Carolina, and offeres a diverse ecosystem for animals. While often not spotted near the trails, bears, grouse, deer, foxes, wild turkeys, owls, rattlesnakes and copperheads (beware if venturing off trail), as well as raccoons and fish like trout live in the area.
It is worth noting that fishing and hunting are allowed in season with permits.

How Long To Spend At Linville Falls
This is a common question, how long should be spend visiting Linville Falls? And the truth is, it is up to you! You can stop by for an hour hours, or stay a few days using the Linville Campground as your home base for exploring all the waterfalls near Boone or for exploring the best of the Blue Ridge Parkway!
You can spend an hour just doing the overlook hike, or take one of the other Linville Falls trails with almost 40 miles. to explore, go rock climbing, fishing or checkout the other the other stops along the parkway, or nearby towns like Banner Elk and Blowing Rock.
We put together this amazing list of things to do in Banner Elk for you to check out before you go!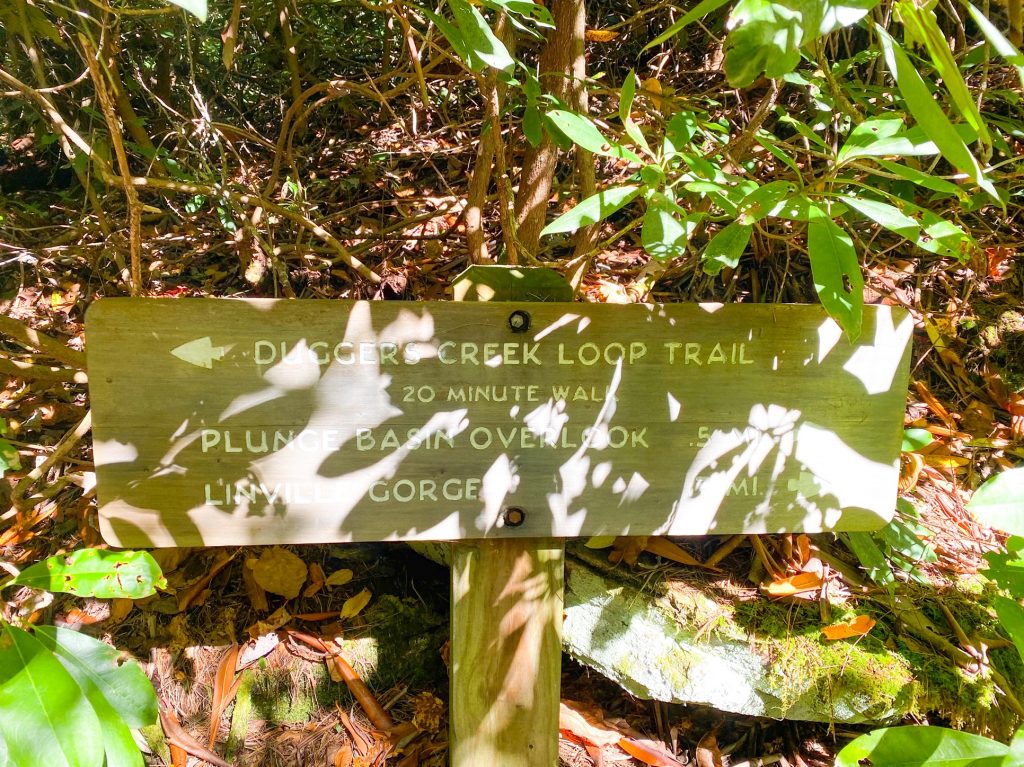 Cabins Near Linville Falls
If you are planning on staying the night near Linville falls and don't want to camp there are plenty of choices nearby. There are a few small towns just 2 miles from the parkway where you can find everything from cozy cabins, to upscale cabins with hot tubs, and condos with mountain views. Whether you are looking for a romantic get-a-way, a family adventure or something in between.
Where to Stay Near Linville Falls: