There are so many Virginia road trips to enjoy whether you love to explore nature, visit cities, or have niche interests and hobbies. Virginia really has something for everyone!
They say "Virginia is for lovers," but it is also for history buffs, hikers, foodies, and bird-watchers. There are plenty of Virginia road trips perfect for couples, families, or friends to make memories.
If you have a few days or even a week or more to spend in this beautiful Southern state, you should plan a road trip to make the most of your time and ensure you see everything you want. What are you waiting for? Here are some Virginia road trip suggestions to help you start planning an epic trip!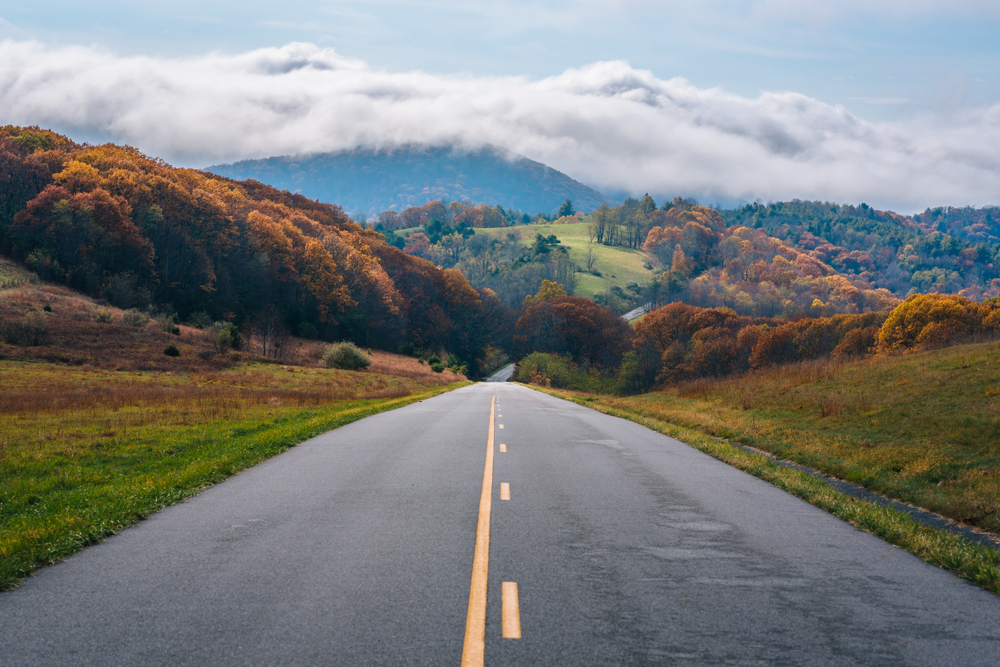 15 Fun Virginia Road Trips For Your Bucket List
Small Towns In Virginia Road Trip
Highlights:
Roanoke
Lynchburg
Lexington
Alexandria
There are so many cute, small towns in Virginia. It would be easy to make a fun road trip itinerary incorporating these places if you love small-town vibes. Start your trip in the mountain town of Roanoke. Hike to the famous Mill Mountain Star for amazing views of this town nestled in the mountains. Then, check out downtown and enjoy shopping and eating out.
Next, check out Lynchburg. Found on the James River and surrounded by mountains, this Virginia small town is full of civil war history. There are over forty miles of trails that loop through the town perfect for walking or bike riding.
Lexington is a college town in the Shenandoah Valley. This small town has many historic sites and museums as well as plenty of boutiques, art galleries, antique shops, and local restaurants and cafes. There are also great trails for biking.
End your small town Virginia road trip in Alexandria, just south of Washington D.C. and next to the Potomac River. With beautiful brick sidewalks and buildings dating back to the 18th and 19th centuries, you will find yourself in one of the cutest small towns in Virginia. This is where George Washington lived for part of his life and there is plenty of colonial history.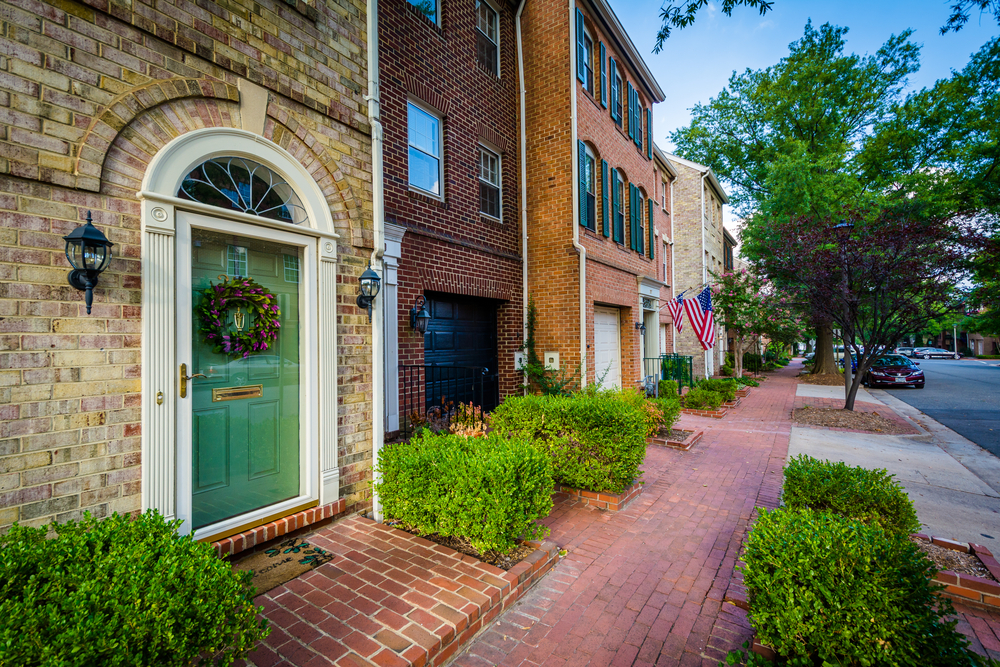 Haunted Virginia Road Trip
Highlights:
Wythe House, Williamsburg
The Boxwood Inn, Newport News
Cold Harbor Battlefield, Mechanicsville
Bacon's Castle, Surry
Virginia is a very old state and there are many historic buildings found here. With a history involving slavery and wars, there are sure to be lingering ghosts. There are many infamously haunted places in the South, and Virginia has its fair share for you to explore. Anyone interested in being spooked or in paranormal investigations will want to take some haunted Virginia road trips.
Williamsburg is a colonial city with a few haunted sites including the Wythe House which dates back to 1753. In 1779, Lady Ann Skipwith died here unexpectedly, but she did not leave. Maybe she stuck around to haunt her husband who married her sister.
The Boxwood Inn in Newport News is another spooky location filled with up to seven ghost residents. After being built in 1896, the building has gone through many stages. Today, visitors can expect a spooky encounter if they chose to walk the halls.
The Battle of Cold Harbor took place in 1864. Since thousands of soldiers died here in such a violent way, it makes sense that some still walk here. Visitors to the battleground have reported seeing lights, smelling gunpowder, or hearing horses.
Lastly, make sure to visit Bacon's Castle in Surry County. During the home's long and sordid history, many enslaved people died here which might have lead to it being haunted. If you visit this 1650s era building, do not be surprised to hear strange sounds or see objects moving on their own.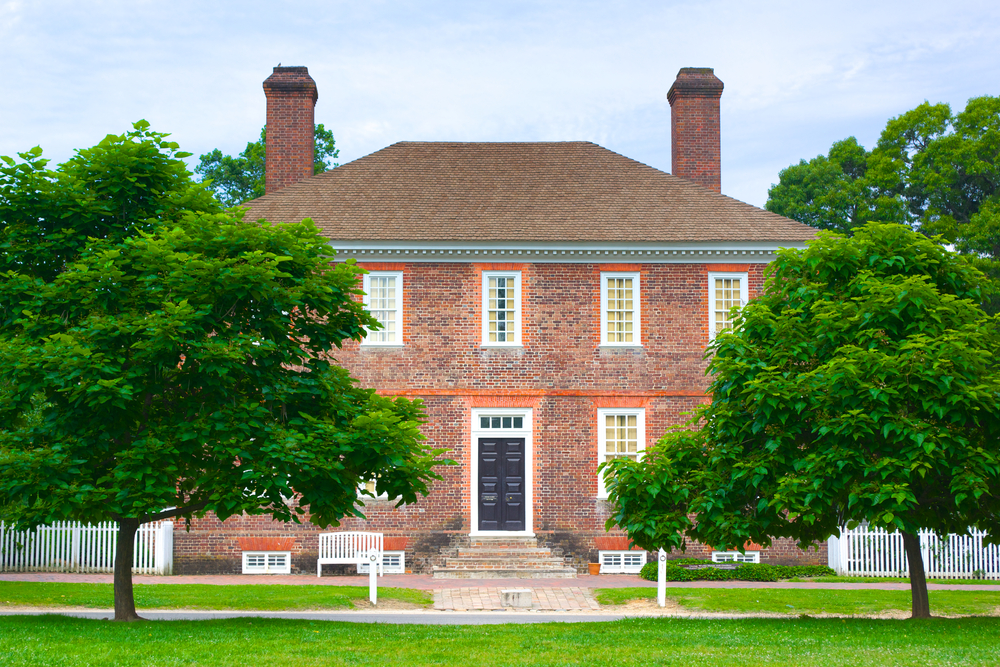 Virginia Waterfalls Road Trip
Highlights:
Great Falls Park
Upper White Oak Falls
Dark Hollow Falls
Devil's Bathtub
Cascade Falls
Stiles Falls
There are dozens of amazing waterfalls dotted throughout Virginia. You could easily do a weekend getaway to find some or make it a longer trip to see even more. No matter which waterfalls you travel to, you will find gorgeous scenery. This is one of the prettiest road trips in Virginia.
Start your Virginia waterfalls road trip at Great Falls Park on the Potomac River and on the border with Maryland. The waterfalls here are not very big, but they are dramatic. If you want, you can get a kayak out on the water and paddle through the white water. There are also hiking trails with great overlooks.
After Great Falls, head to Shenandoah National Park. This beautiful location is a suggestion on many of these road trip lists. There are a few notable waterfalls here to discover, including Upper White Oak Falls and Dark Hollow Falls.
Devil's Bathtub is a unique waterfall that runs into a pool in a gorge. If you don't mind cold water, you can go for a dip after the hike there. You can find Cascade Falls by hiking a relatively easy four-mile round-trip trail. Stiles Falls is a 40-foot waterfall found at the end of a picturesque four-mile, round-trip hike.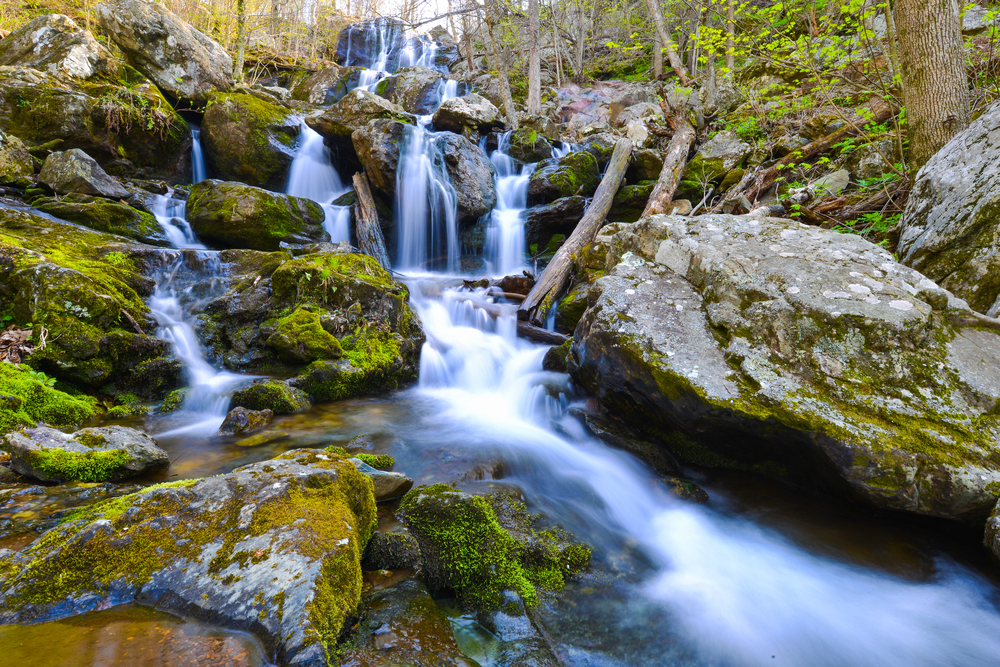 Coastal Virginia Road Trip
Highlights:
Virginia Beach
Norfolk
Cape Charles
Assateague Island National Seashore
Virginia is on the Atlantic coast and while there are not a ton of beaches, there are plenty of cute coastal towns to visit. A coastal Virginia road trip is bound to a be fun and memorable. Begin in Virginia Beach, the biggest beach town in the state. Here you will find great family-friendly beaches and unique attractions.
Next, head over to nearby Norfolk. Best known for its military base and large port, there are a ton of fun things to do here for everyone. If you like seeing shows or operas, check out Chrysler Hall and the Virginia Opera. You might also enjoy the Chrysler Museum of Art or the National Maritime Center where you can find the world's largest battleship.
Drive the iconic Chesapeake Bay Bridge Tunnel to reach the small town of Cape Charles. This cute, coastal town is a great place to find a quaint B&B or camp. Spend time here fishing, boating, or exploring the nature that surrounds the town.
Keep heading north to the Assateague Island National Seashore. You will find the idyllic seaside town of Chincoteague, wild ponies, and miles of beaches perfect for fishing and water sports.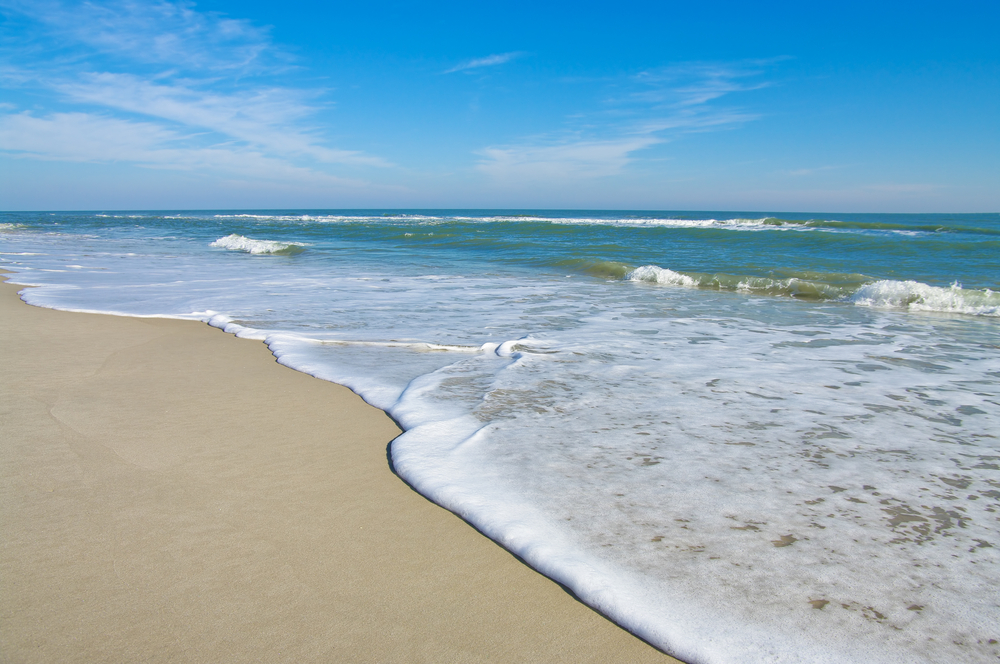 Virginia National Parks Road Trip
Highlights:
Shenandoah National Park
Chincoteague National Wildlife Refuge
Cumberland Gap National Historical Park
Booker T. Washington National Memorial
There are a bunch of national parks and memorials within Virginia to visit whether you are into nature, history, or a mix of both. Shenandoah National Park is one of the most visited natural areas in Virginia. With amazing hiking trails, pretty waterfalls, and gorgeous overlooks, you will have fun exploring and camping in this park.
The Chincoteague National Wildlife Refuge is the place to go to see birds and wild horses. The famous Chincoteague ponies are the descendants of horses that belonged to early Spanish settlers. Now you can find these majestic animals wandering on the beach.
The Cumberland Gap National Historical Park is a mountain pass that was used by Native Americans, pioneers, and settlers. In the Civil War, both sides fought to control the pass. Now you can hike in the footsteps of famous people like Daniel Boone and visit the historic Hensley Settlement.
There are many famous homes to find in Virginia, including the farm where Booker T. Washington was born. While he was born a slave, he went on to become one of the most influential Black men of his time. At the Booker T. Washington National Memorial, you can walk the quarter-mile Plantation Trail and see where Washington lived as a child.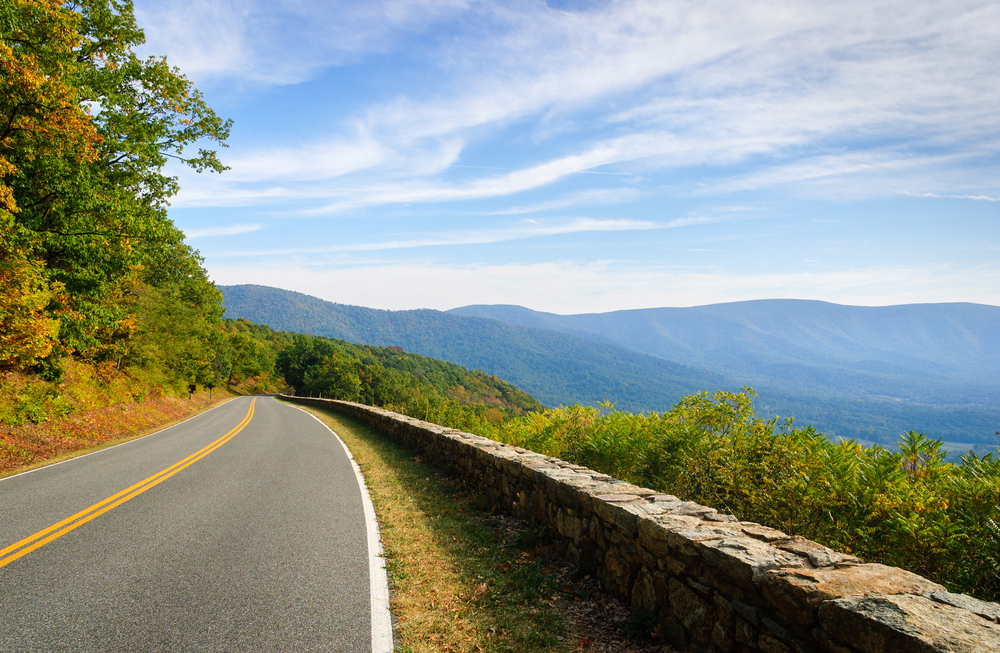 Epic Nature Road Trip
Highlights:
Luray Caverns
Natural Tunnel
Great Dismal Swamp
Virginia is full of epic nature, and it is not all in Shenandoah National Park! Go in search of some unique and hidden gem areas where you can become one with nature. You will fall in love with the amazing Luray Caverns. Their cathedral-sized rooms hold grand stalactites and stalagmites and even a lake.
The Natural Tunnel near Duffield runs 300-yards through the Appalachian Mountains. The tunnel is so large, that it has been used as a train route since the late 1800s. You can take a tour into the depths. If you visit around Christmastime, then check out the light display they create inside.
You might not pair Virginia and swamps in your mind, but the Great Dismal Swamp is found in this state and is worth a visit. This is a great place to see wildlife, including birds, deer, black bears, bobcats, and river otters. The preserved forests and marshland are a great place to get lost.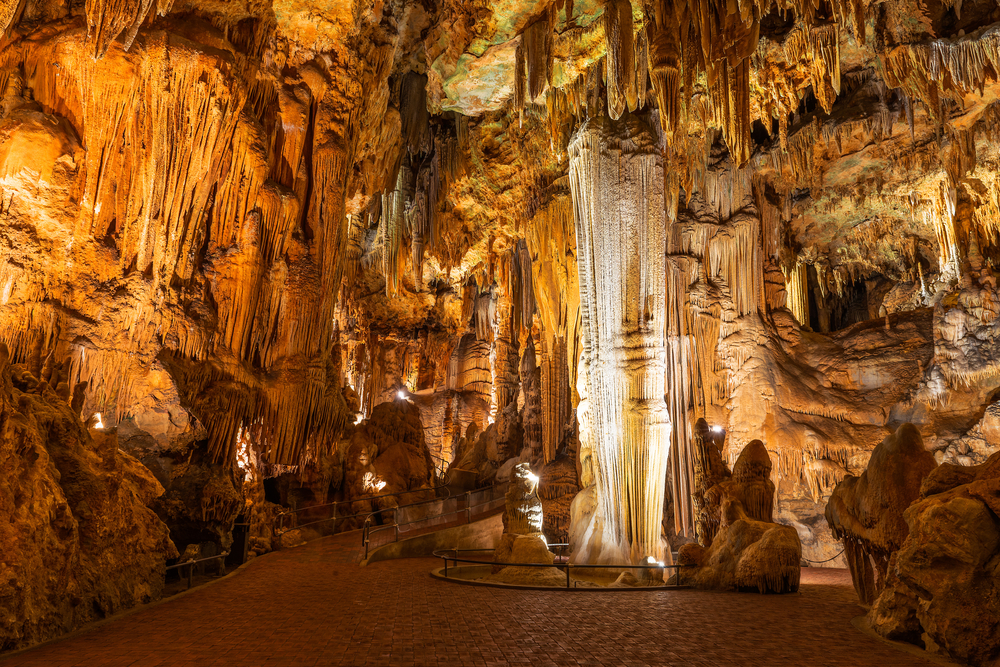 Abandoned Places Road Trip
Highlights:
Swannanoa Palace
Fleetwood Church
DeJarnette Center
If you like exploring abandoned places, there is a Virginia road trip in the making for you! Urban exploration is a popular hobby for many people. Some like to photograph eerie, abandoned places while others like the thrill of walking through these creepy areas. When you visit abandoned places in Virginia, make sure to be safe and follow the law!
One of the best abandoned places to visit in Virginia is Swannanoa Palace in the mountains of Afton. You can take tours of this 1912 palace and witness its grandeur. It is not as decrepit as some of the other places included in this abandoned places road trip but it is definitely worth the visit. It is said to be haunted as well!
Next, Fleetwood Church in Brandy Station is a colorful, wooden structure partially hidden by trees. This church was built in 1850 and stood watch over a Civil War battle. Now it stands with peeling paint and ghosts hiding inside.
In Staunton, you will find the DeJarnette Center, an old sanatorium that practiced eugenics. The building has a long history that began in the 1930s. It has stood empty and formidable since the '90s.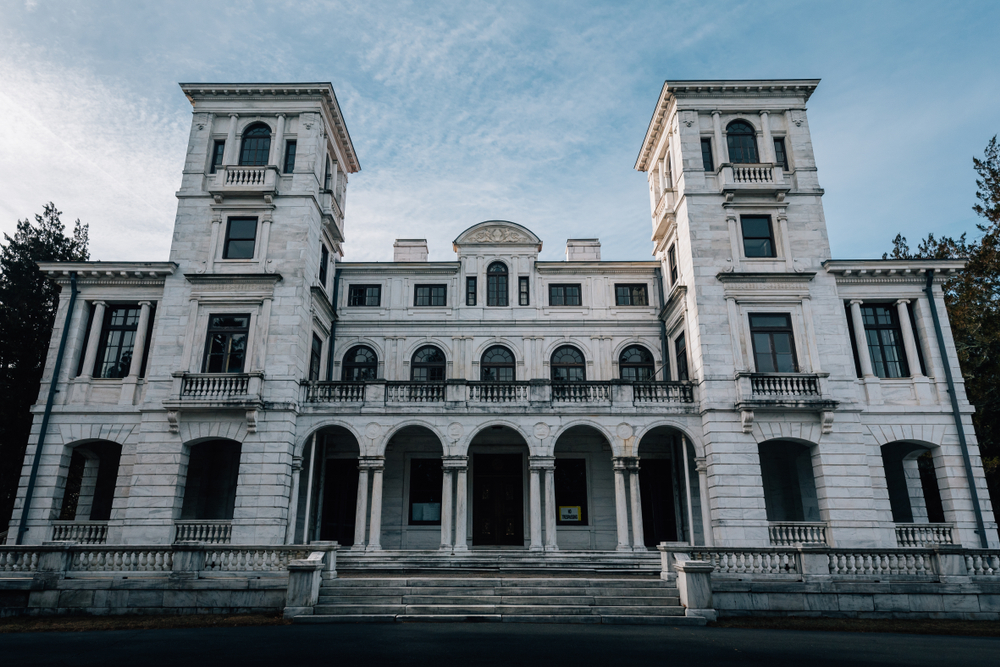 Presidents of the USA Road Trip
Highlights:
Mount Vernon
Monticello
Montpelier
Highland
Virginia is known as the "Birthplace of Presidents" and if you are interested in history or U.S. politics, then you should plan some Virginia road trips. The one we highlight here focuses on presidential homes only, but there are other sites and monuments related to presidents that you can visit.
Start at the beginning with George Washington's Mount Vernon, not far from Washington D.C. This estate had been in Washington's family for years before he eventually inherited it in 1761. He lived there until his death in 1799. You can come tour the home and farm as well as see the tomb of America's first president.
Next, visit Monticello near Charlottesville. This home was designed by Thomas Jefferson, the third U.S. president. Construction took place from 1769 to1809. Jefferson was a slave-owner and those he enslaved built the home and farmed the land. It is important to learn about this dark and sad part of American history. Visiting Monticello gives you an opportunity to see what it would have been like to live on a plantation.
Montpelier is less than an hour from Charlottesville and is where James Madison, the fourth U.S president, called home. This grand estate has great views of the Blue Ridge Mountains. You can also find Madison's grave here.
Another historic home to visit belonged to fifth president James Monroe. Also found near Charlottesville, the Highland estate is rich in colonial history. Today, much research is being done to learn about the enslaved people who lived here.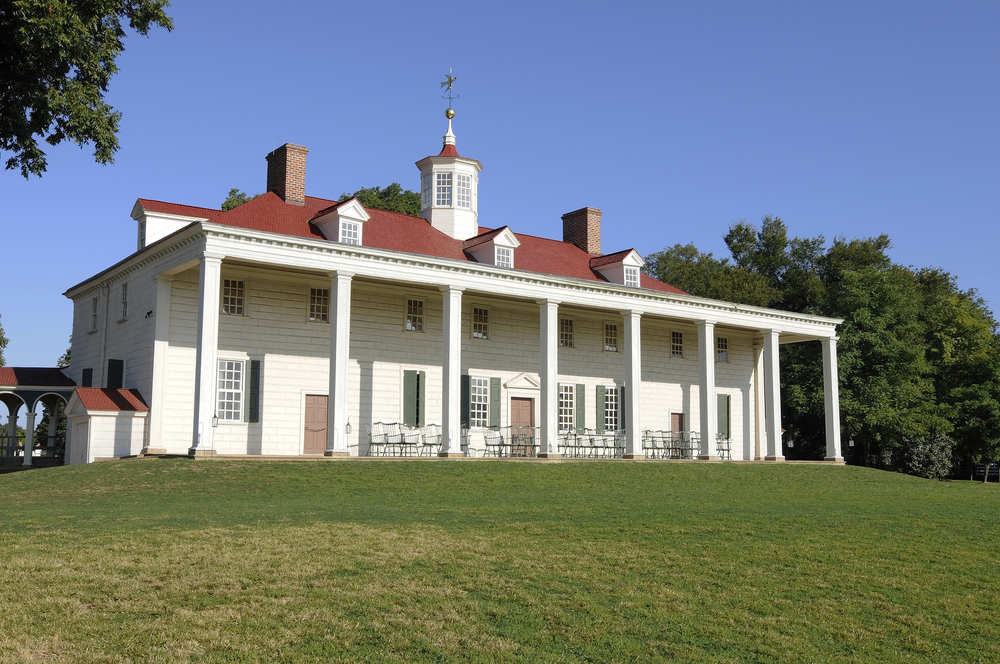 Fall Foliage Road Trip
Highlights:
Shenandoah National Park
Grayson Highlands State Park
Mount Rogers National Recreation Area
Hungry Mother State Park
Virginia is one of the best states for a fall foliage road trip. When autumn rolls around, the trees pop off in bright reds, oranges, and gold. You will need to take multiple Virginia road trips to hit every fall location. People from all over the country flock to Shenandoah National Park for fall foliage viewing, but there are smaller, less crowded areas to discover as well.
Grayson Highlands State Park is near the North Carolina and Tennessee borders. Along with colorful meadow and forest vistas, you might see some of the wild ponies that live here. Make sure to hike the mile-long Rhododendron Trail.
Within the Jefferson National Forest, you will find the Mount Rogers National Recreation Area. This gorgeous slice of nature holds mountain peaks, meadows, and plenty of flaming trees. This is a great place for a bike ride or hike.
Next, travel to Hungry Mother State Park. The lake here helps to add magic to your Virginia fall foliage photos by creating a reflection of the pretty trees. There are a few different trails to check out with water and forest scenery.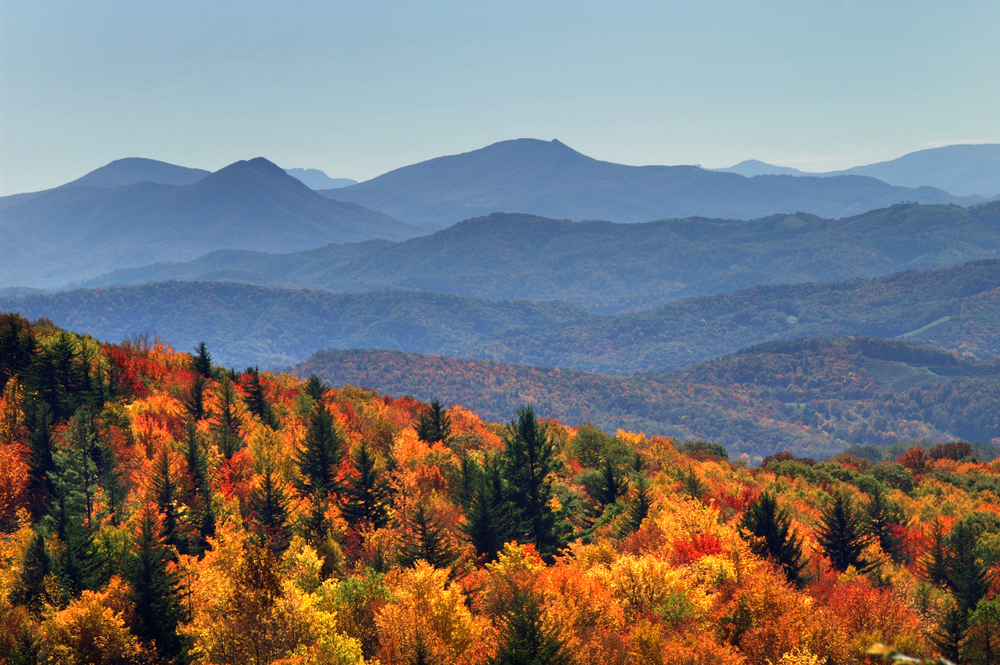 Wineries Road Trip
Highlights:
Rappahannock County Wine Trail
Blue Ridge Whisky Wine Loop
Chesapeake Bay Wine Country
Loudoun County Wine Trail
Virginia is famous for its scenic wine trails and a road trip to some wineries makes for a great girl's trip. There are many wine trails throughout the state. You can pick one for an easy weekend trip or check out multiple trails on a longer vacation.
The Rappahannock County Wine Trail is within an hour of Washington D.C. and features many artisanal wineries. For a boutique wine tasting experience, check out Chester Gap Cellars, Gadino Cellars, Narmada Vineyards, and more!
The Blue Ridge Whisky Wine Loop provides great drinks with fantastic mountain views in the Shenandoah Valley. You will be able to taste test not just at wineries. but at whisky distilleries and breweries as well.
Chesapeake Bay Wine Country has wineries surrounded by historic sites and cute, small towns. Plan one of your Virginia road trips to coincide with one of the Oyster Crawls for even more fun. You can also stay the night at some of the wineries.
Loudoun County is D.C.'s wine trail and is known as the "Napa Valley of the Mid-Atlantic." There are over forty wineries in this area to discover. Some of the wineries offer fun activities such as vineyard hikes, dinners, yoga among the vines, and cellar tours.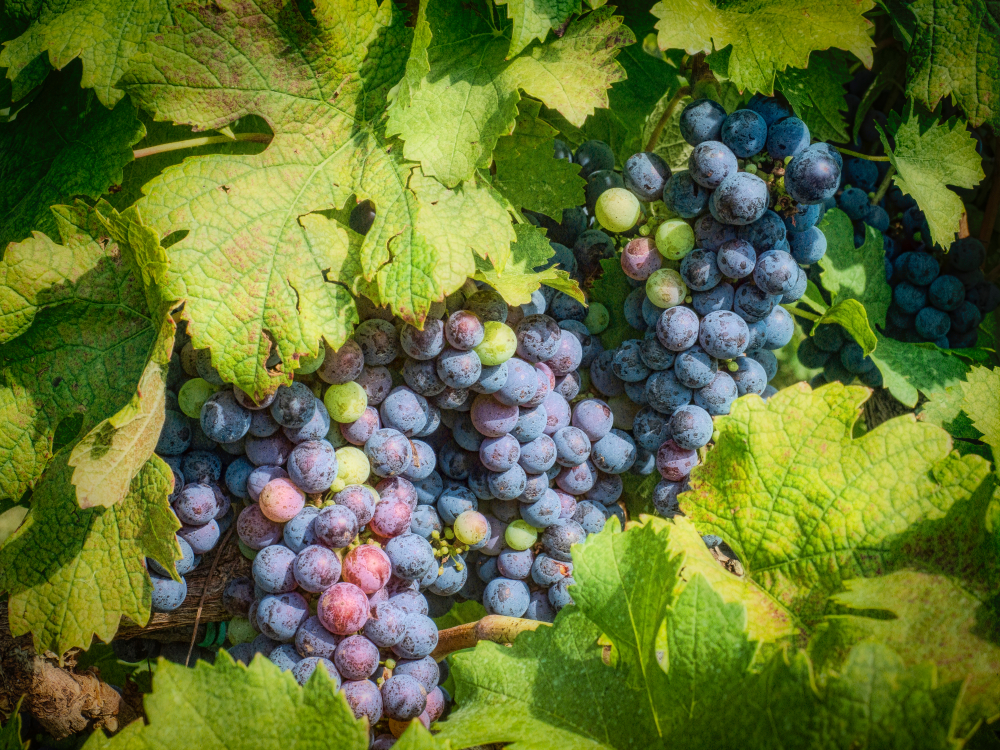 Blue Ridge Parkway Road Trip
Highlights:
Crabtree Falls
Mabry Mill
Apple Orchard Mountain
Natural Bridge State Park
The Blue Ridge Parkway is an iconic U.S. road trip connecting North Carolina and Virginia. Drive through the mountains and lush forests to discover cute small towns, jaw-dropping overlooks, and folk history. This is one of the best scenic drives in Virginia.
Make sure to pull off near milepost 339 so you can hike to Crabtree Falls. The two and a half mile loop trail is ranked as moderate to strenuous and involves steep and rocky areas. The payoff is catching sight of the waterfall flowing down a sixty-foot rock face.
At milepost 171, you will find the historic Marby Mill, which dates back to 1903. It is one of the most photographed stops on the Blue Ridge Parkway. Next, stop at milepost 76.5 and Apple Orchard Mountain. This is the highest point on the parkway on the Virginia side. Make sure to hike to Apple Orchard Falls while you are here.
There are so many stops you can make on your Blue Ridge Parkway road trip that it is impossible to name them all! One last stop to mention, though, is the Natural Bridge near Lexington and milepost 63. This 215-foot tall rock bridge has been awing people for centuries, including Monacan Native Americans and Thomas Jefferson, who actually owned it at one point.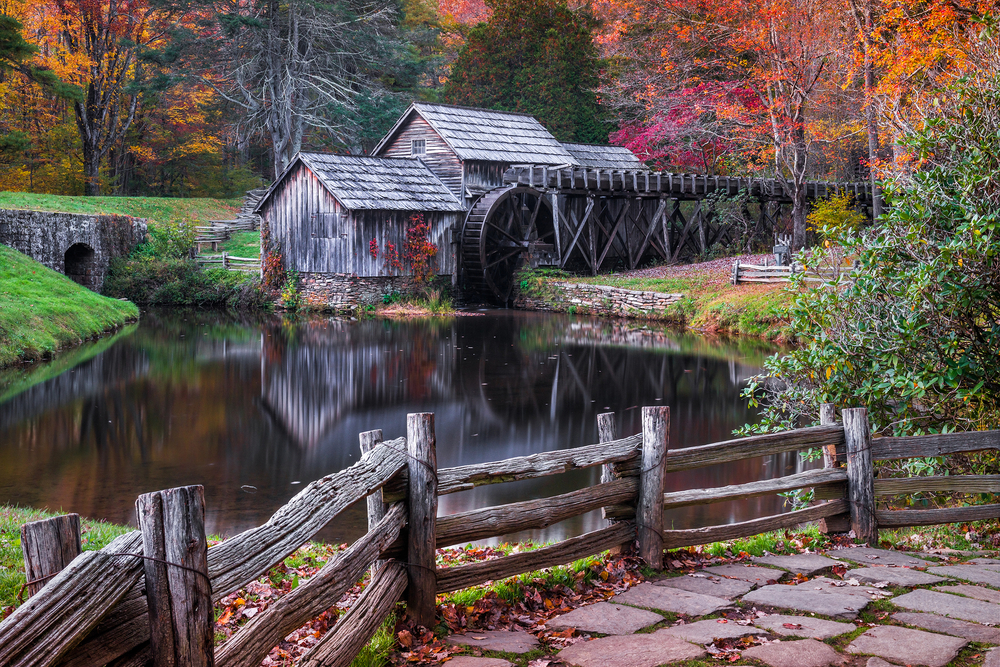 Historic Triangle Road Trip
Highlights:
Jamestown
Williamsburg
Yorktown
The famous Virginia historic triangle road trip will take you to the three colonial towns of Williamsburg, Yorktown, and Jamestown. This road trip can be done in just a weekend since the towns are all within thirty minutes of each other. You will drive the Colonial Parkway to each location as you experience one of the most popular Virginia road trips.
Jamestown was the first permanent English settlement in the Americas with the founding year of 1607. Today, you can walk through the living history museum, including a reconstructed Native American village, colonial fort, and other replicas. The archaeological museum has almost two million artifacts.
Colonial Williamsburg is another living history museum. There are 88 original buildings and even more recreations. Re-enactors walk around helping you feel as if you have stepped back in time. Ride down the streets in a horse-drawn carriage for an even more authentic feel.
The last stop on the Virginia historic triangle road trip is Yorktown. This was the site of the 1781 Battle of Yorktown, the last battle of the American Revolution, and where General Cornwallis surrendered to George Washington. You can visit the battlefield and the Victory Center.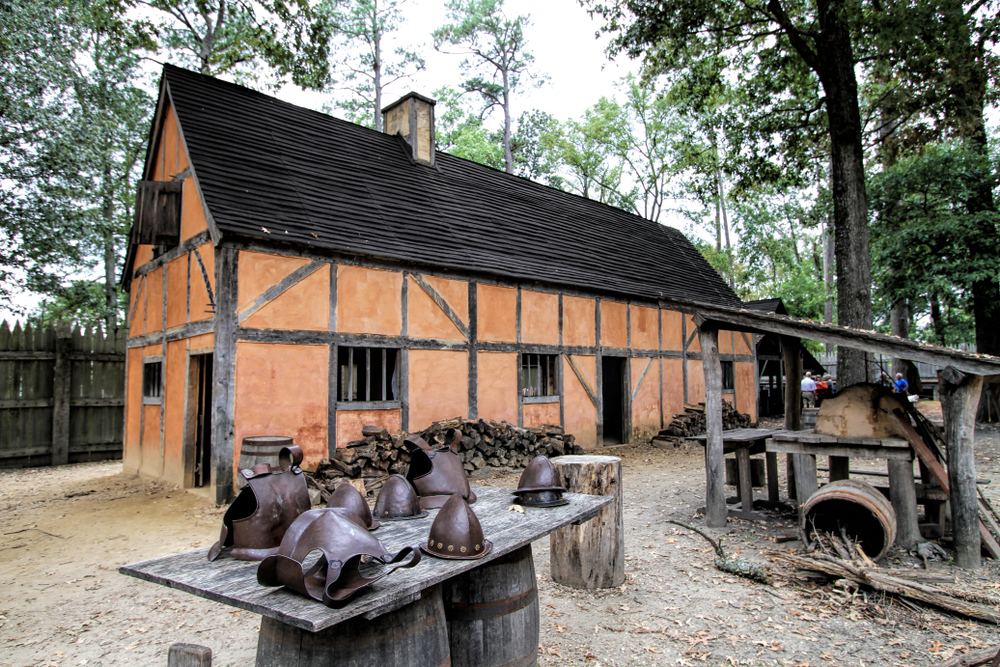 Civil War Road Trip
Highlights:
Richmond
Manassas
Fredericksburg
Appomattox Court House and National Historical Park
Virginia was the site of many bloody battles and important events during the U.S. Civil War. Because of this, Virginia is a destination for serious history buffs. This is one of the best Virginia road trips for anyone interested in America's turbulent past.
Richmond was the Confederate capital during the war and has a couple of places to visit for a history lesson. Richmond National Battlefield Park was the site of two Union attempts to capture the city. You can also visit the American Civil War Museum in Richmond.
Two battles occurred near Manassas. The First Battle of Bull Run happened in 1861 and is considered the first major battle of the war. Today you can come to the Manassas National Battlefield Park to honor those who died.
Fredericksburg and Spotsylvania County Battlefields National Military Park is a somber place to visit but is necessary to see the full scope of this tragic war. Over 100,000 soldiers were killed or wounded over the course of eighteen months. This is the world's second-largest military park.
You have to visit the Appomattox Court House and National Historical Park in order to see where Robert E. Lee surrendered to Ulysses S. Grant in 1865. Come stand in the place where the Confederates laid down their weapons. There are reconstructed buildings, a museum, and ranger programs.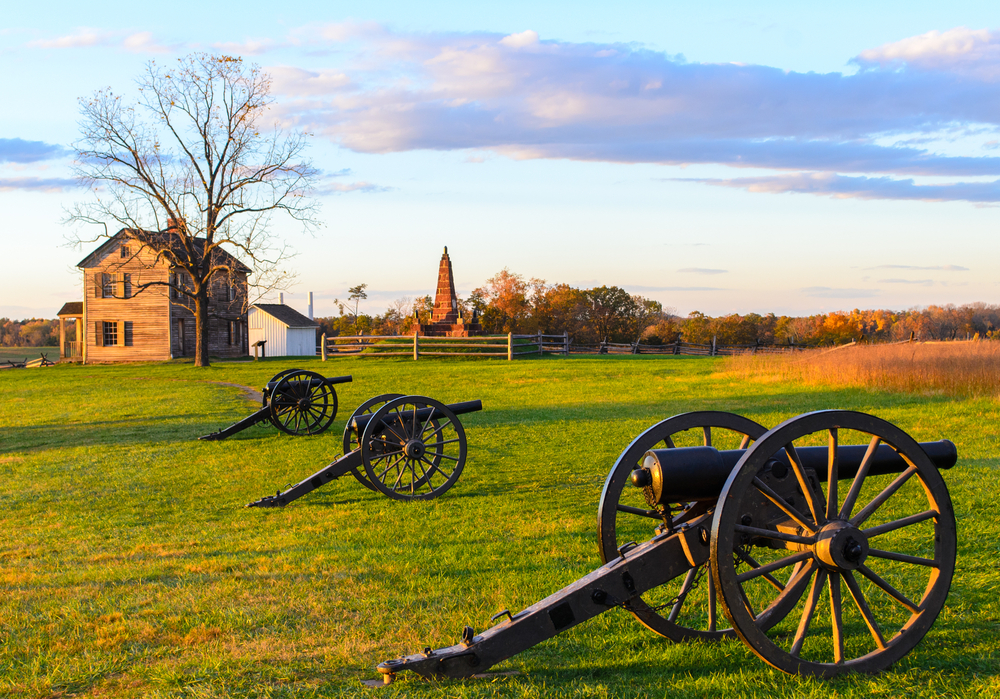 Virginia Lighthouses Road Trip
Highlights:
Jones Point Lighthouse
Old Point Comfort Lighthouse
Old Cape Henry Lighthouse
New Cape Henry Lighthouse
Cape Charles Lighthouse
There is just something about lighthouses that draws people in as much as they repel ships. These structures are perfect for nautical photographs and offer great views. You could easily pair this road trip with coastal Virginia road trips.
The Jones Point Lighthouse in Alexandria is the last remaining river lighthouse in Virginia. It has been standing on the Potomac River since 1855. Though you can't go inside, you can still see it from the ground.
The Old Point Comfort Lighthouse is the second oldest light on the Chesapeake Bay and is found at Fort Monroe. It was commissioned by Thomas Jefferson and built in 1802. It is not open to the public, but you can snap photos of it from the street.
The oldest lighthouse on the bay as well as the third oldest in the country is the Old Cape Henry Lighthouse. It was built in 1792. You can go up this ninety-foot structure for views of First Landing State Park and nearby Virginia Beach.
Just across the street from the old lighthouse, you can see the New Cape Henry Lighthouse which replaced the other in 1881. This one is a bit taller and is a stark black and white.
At 191 feet, the Cape Charles Lighthouse is the tallest in Virginia and second tallest in the country. Unfortunately, it is not open to climb, but you can see it from the Chesapeake Bay Bridge Tunnel.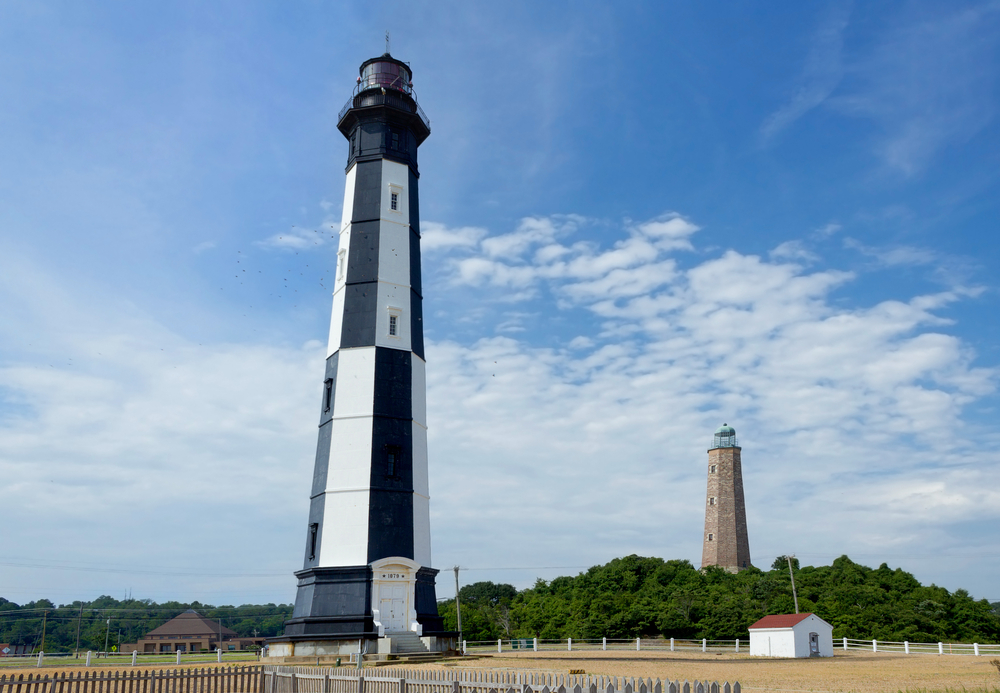 Bird-Watching Road Trip
Highlights
Chincoteague National Wildlife Refuge
Back Bay National Wildlife Refuge
Kiptopeke State Park
Huntley Meadows Park
Dyke Marsh Wildlife Preserve
If you are a birder, then Virginia should be on your radar. Birding in Virginia will allow you to see hundreds of species of birds including raptors, shorebirds, and songbirds. From beaches to mountains to forests, there are plenty of diverse habitats for a variety of bird species.
Virginia was one of the first states to create an official, statewide birding trail. The Virginia Bird and Wildlife Trail features 65 trails throughout the state. You can use this as a guide as you plan your own birding trip.
There are a ton of wildlife preserves and parks in Virginia where birds are plentiful, whether they live there year-round or migrate through. For instance, the Chincoteague National Wildlife Refuge hosts flocks of migratory waterfowl in the winter. The endangered Piping Plover nests here as well.
The Back Bay National Wildlife Refuge is a good place to spot peregrine falcons, bald eagles, and more. If you are interested in seeing more raptors, head to Kiptopeke State Park where nineteen different species have been spotted. Huntley Meadows Park and Dyke Marsh Wildlife Preserve are also notable bird areas to visit, but there are so many more places as well.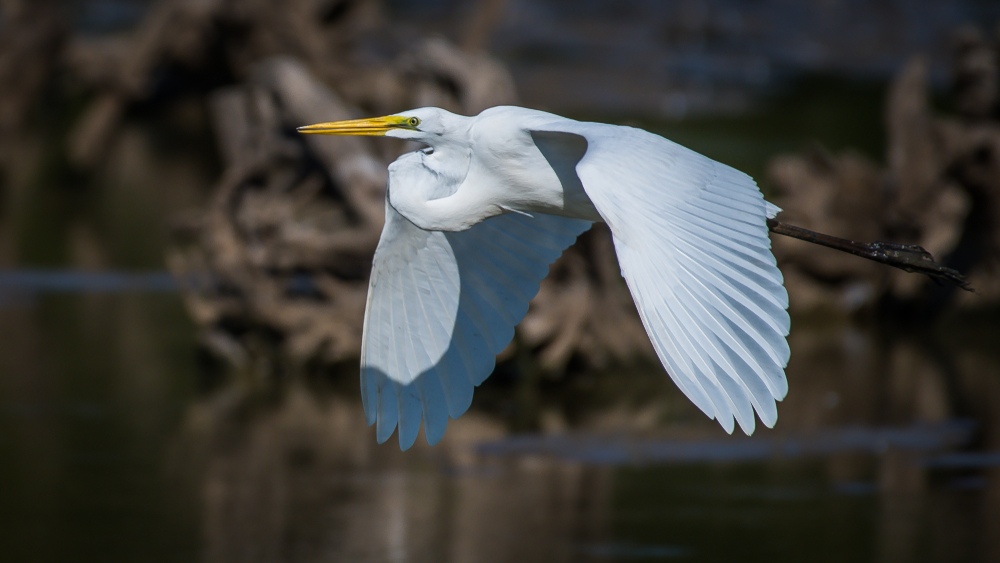 There are Virginia road trips for everyone! Whether you are planning a family vacation, girl's trip, or couple's getaway, this beautiful, Southern state has something to offer. Pack your bags, gas up your car, and get ready for memorable road trips in Virginia!