So you're looking for bed and breakfasts in Charleston? Well, you have come to the right place! South Carolina is a beautiful part of the US that's known for its subtropical beaches, pastel-colored houses, and of course, Myrtle Beach. Charleston makes our list of the prettiest places to visit in the South and it is easy to see why!
Staying in a bed and breakfast on your trip to Charleston is a great idea as it's a great way to support the local economy and a small business! More often than not, the owners of these boutique bed and breakfasts will go beyond for you and your trip. They can even point you in the right direction of some great places to visit that are off the beaten track, too.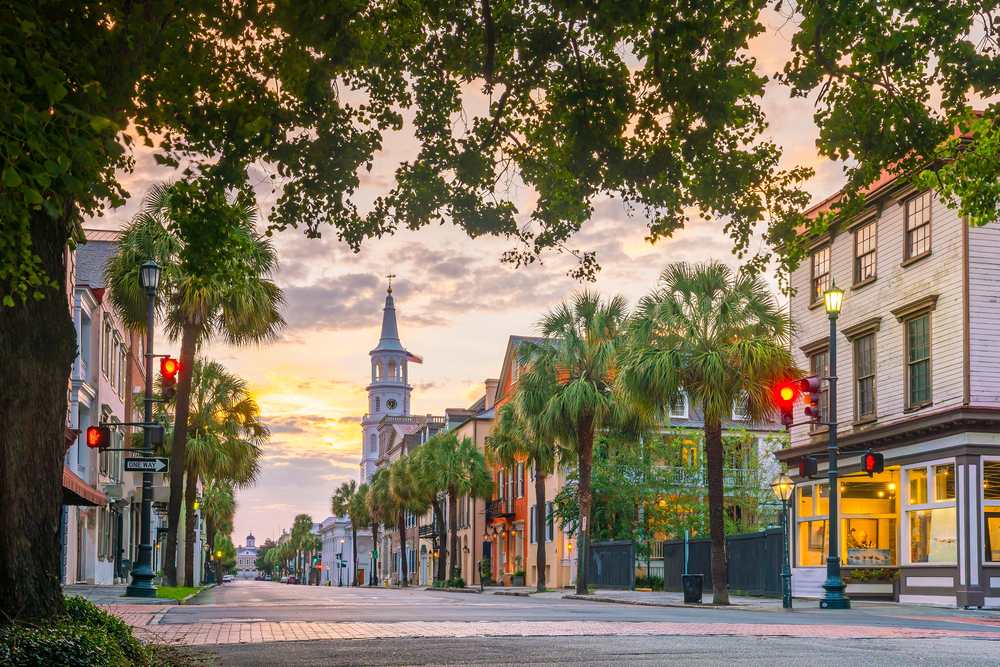 Barksdale House Inn
Built in 1778, the Barksdale House Inn is decorated in the European style, which each room being uniquely decorated. And this bed and breakfast in Charleston really pack on the charm! With a range of four-poster beds, canopy beds, and daily a-la-carte breakfast, what more could you want out of a B&B!?
The Old City Market is just 700 yards away from the Inn, and walking tours are available just a fifteen minutes walk away.
Guests have praised this Inn for the friendly and helpful staff, as well as saying that the hotel is in an ideal location to see all of the sights of Charleston.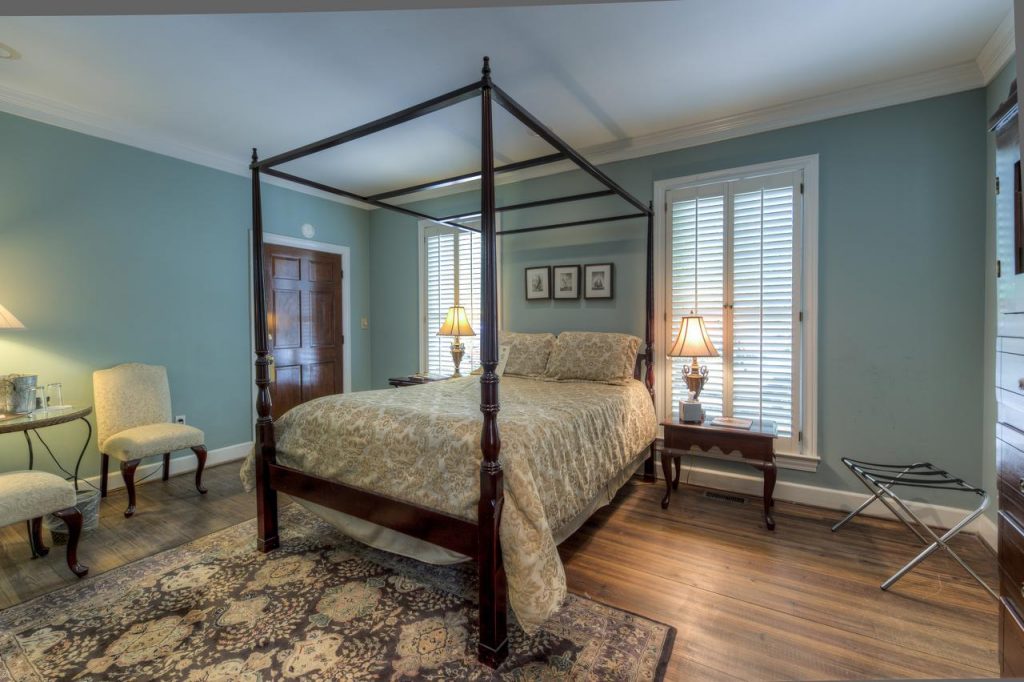 Elliott House Inn
Located in the historic district of Charleston, the Elliott House Inn is absolutely perfect for you if you're a fan of alfresco dining! The gorgeous terrace and patio makes this one of the best bed and breakfasts in Charleston great for a summer vacation – can you just imagine eating your breakfast in that southern sun!?
Each room is decorated in a modern, but still charming and cozy style. The bar and lounge area is great for having a drink after a day of exploring Charleston. This is truly one of the best places to stay in Charleston. This area is not to be missed.
At this Charleston bed and breakfast, you really are right in the heart of it. There are so many things close by, from the Gibbes Museum of Art being just a three-minute walk away and Waterfront Park which is just nine minutes away. You really don't need to bring your car unless you want/have to, as Charleston is so beautiful to explore on foot!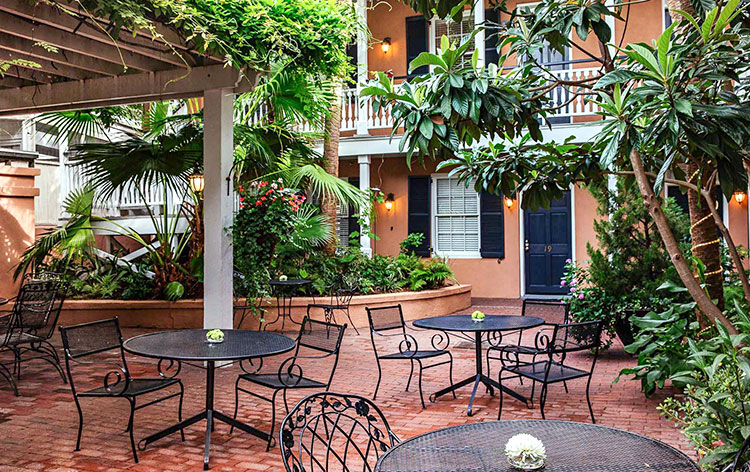 20 South Battery
The newly renovated 20 South Battery is absolutely stunning and has a lot of history that goes with it.
This bed and breakfast in Charleston is right across the street from White Point Garden which, although beautiful, is the site where pirates were hanged and where the Civil War had its beginnings. Nearby, you'll find Marion Square which is just over a mile away and Melton Peter Demetre Park which is 1.4 miles away. It is truly one of the best boutique hotels in Charleston!
Guests at the hotel can enjoy a continental European breakfast in the library (yes, a library!) and wine and cheese in the ballroom after a day of exploring Charleston, you will really be transported back in time historic Charleston bed and breakfast!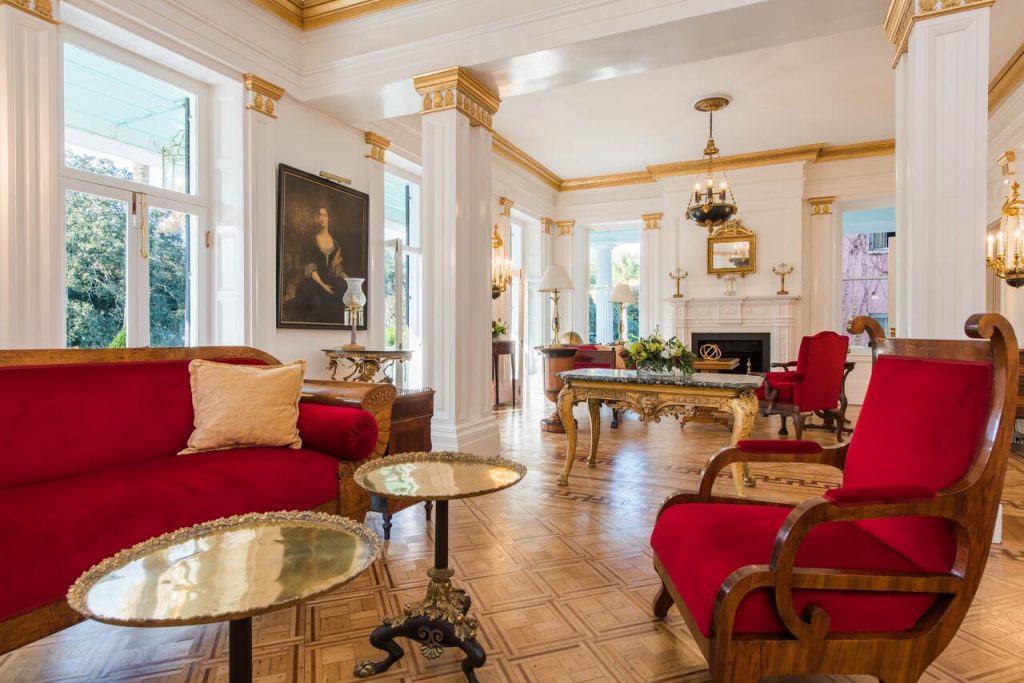 Post House Inn
This lovely Bed and Breakfast in Charleston is the Post House Inn which is located in Old Village and is just a 13-minute walk away from Shem Creek Park.
The beautiful blue decor is sure to make your time at Post House Inn feel super relaxing! We love how these rooms have a modern take on vintage. They still have that old charm without feeling too dated, and each one is decorated differently.
The Breakfast is made from local cuisine and is included in the price which you can enjoy at the onsite restaurant. Guests have praised just how good the breakfast is, so it sounds like you will be in for a treat!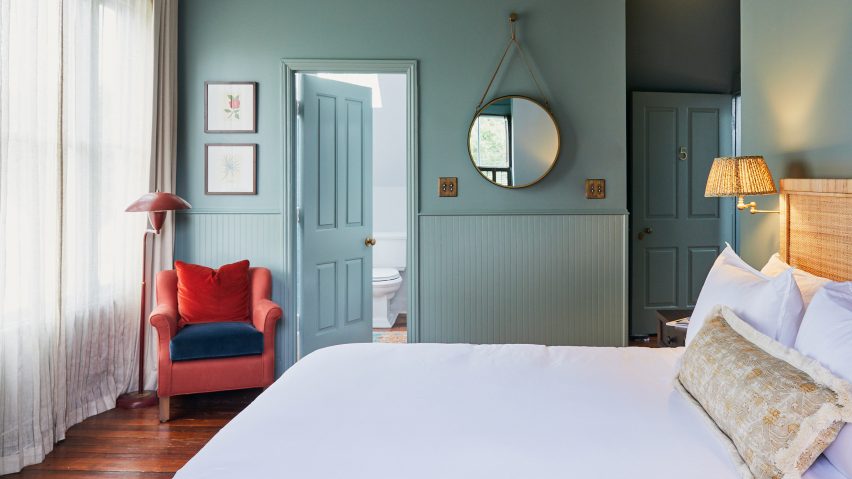 The Jasmine House
This adult-only bed and breakfast in Charleston is the perfect getaway if you are looking for something calm and relaxing.
The Jasmine house is situated in a 1843 Greek Revivalist mansion and is located in Ansonborough, a historic area of Charleston. You're just a 16 minute drive away from City Market!
Each room comes with it's own private bathroom and is individually decorated. Some rooms even come with their own private patio or gas fireplace!
As well as breakfast, this bed and breakfast in Charleston also has a daily complimentary wine and cheese reception, which seems like the perfect way to enjoy the sun terrace to us.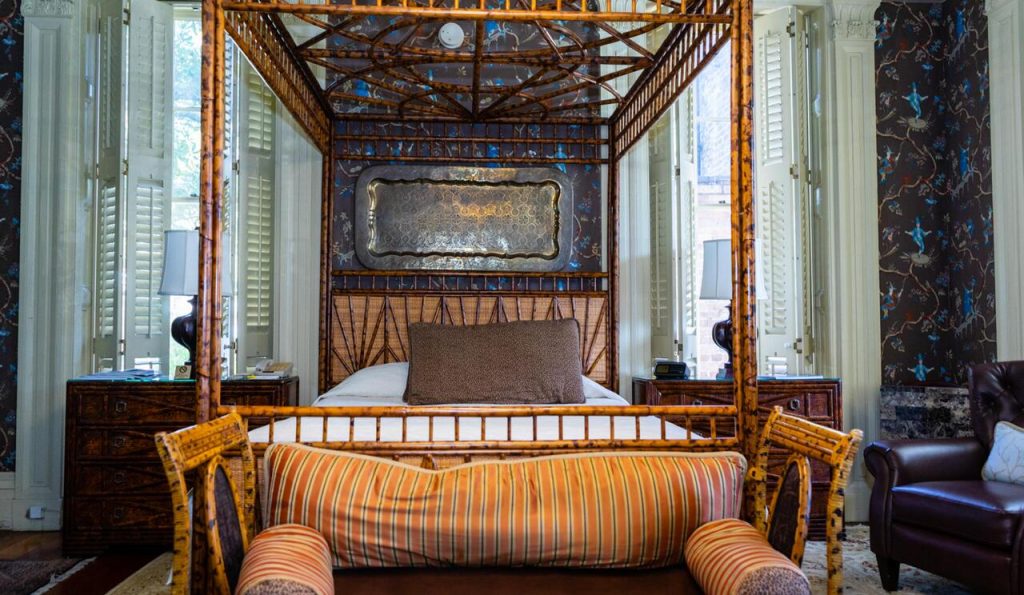 Palmer's Pinckney Inn
Another adult only bed and breakfast, the Palmer's Pinckney Inn is within walking distance of Charleston City Market.
You will feel like you have been transported back in time at this bed and breakfast in Charleston! The four poster beds and antique furniture give the rooms a very typical southern feel without feeling old or outdated. There are five different rooms to choose from that all have different names; the Bombay Room, the Charleston Rice Room, the Cottage Room, the Equestrian room, and the Parisian Room.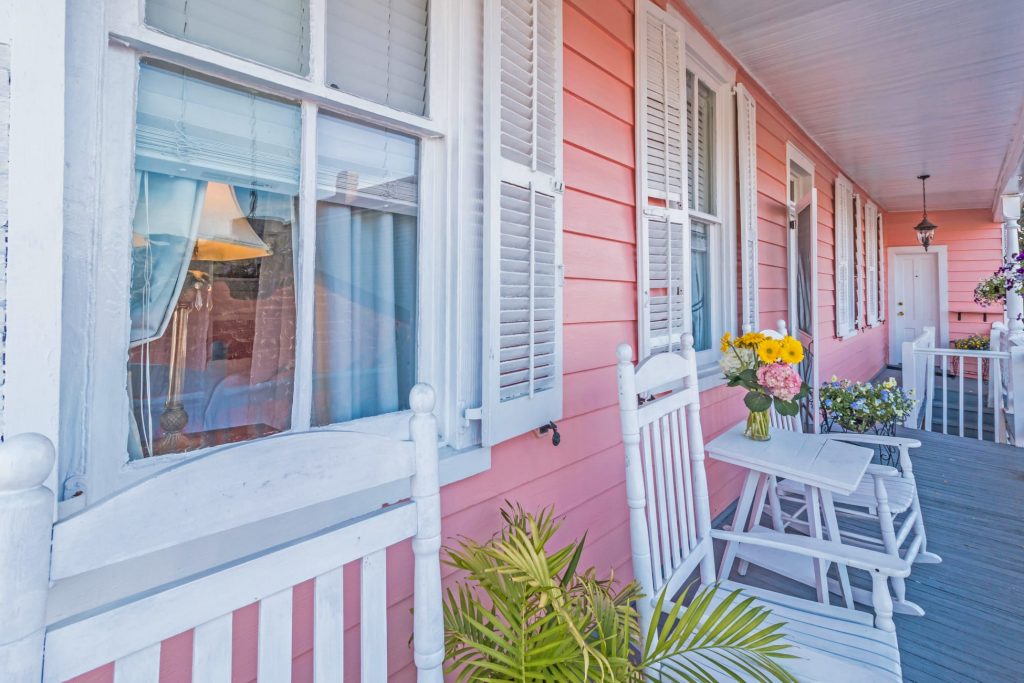 Governor's House Inn
Now, this is one of the bed and breakfasts in Charleston that is quite special and has a lot of history behind it.
The Governor's House Inn has actually been declared a National Historic Landmark due to it's association with Edward Rutledge, who was instrumental in the struggle for American Independence. Did you now that he was the youngest signer of the Declaration of Independence?
This Charleston bed and breakfast is located in the heart of downtown, just a few minutes walk away from Battery and City Market. There is so much to explore around this bed and breakfast, from fine dining and shopping to visiting historic sites.
Governor's House Inn has a beautiful stately piano room to enjoy an afternoon wine reception, as well as a beautiful piazza to enjoy your first sips of morning coffee.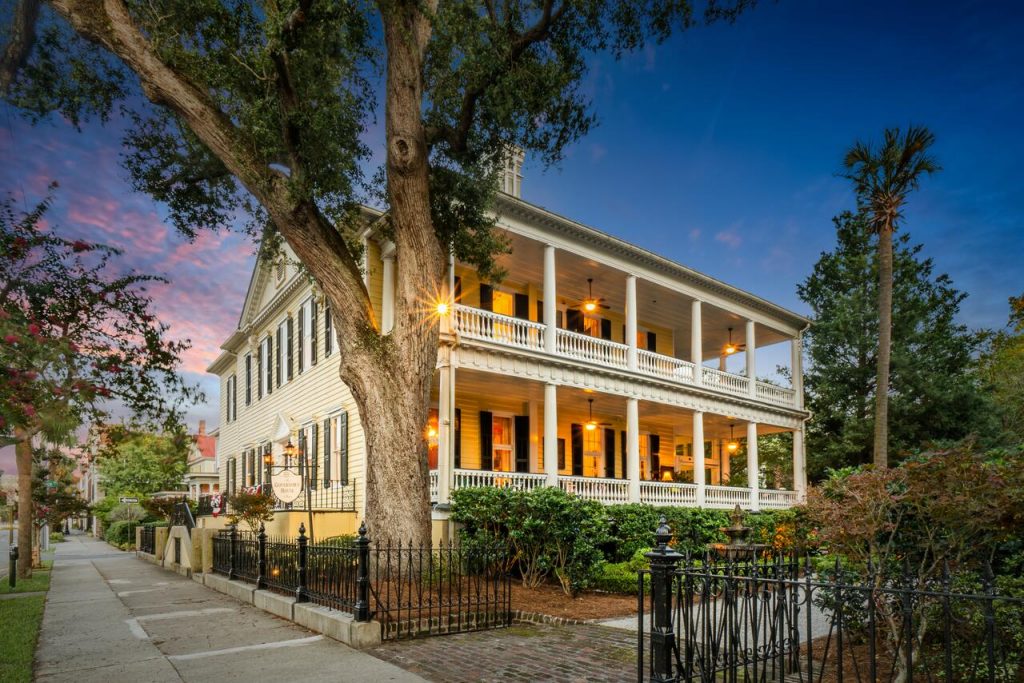 John Rutledge House Inn
The gorgeous John Rutledge House Inn is perfect for families as it has double rooms and in-room childcare. You're even allowed to bring dogs to this bed and breakfast in Charleston!
This is one of the larger bed and breakfasts in the area, which has 19 rooms, all of which are individually decorated. You can enjoy an in-room massage, as well as alfresco dining outside.
John Rutledge House Inn is also listed in the 2012 Conde Nast Traveller Top 100 List as well as being a member of Preferred Hotels and Resorts.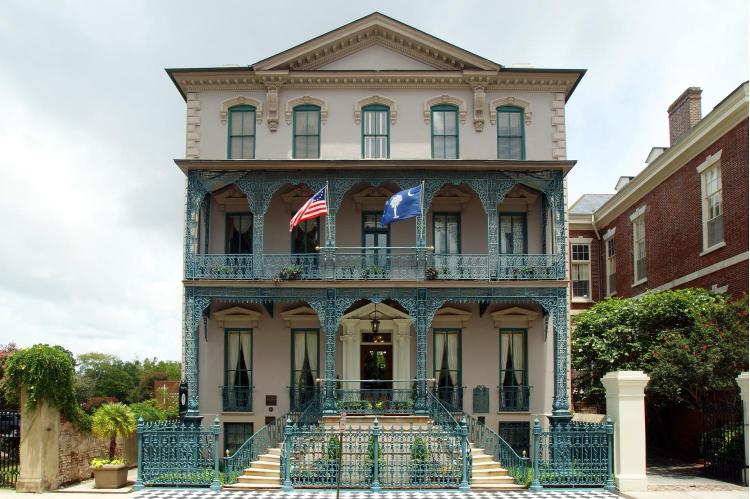 27 State Street Bed & Breakfast
This charming bed and breakfast in Charleston is located in the historic French Quarter, and serves daily continental breakfast featuring local fruit and pastries from Saffron Bakery.
27 State Street is perfect for couples as a free bottle of wine is supplied upon check in, and guests have complimented how friendly the staff are.
Charleston City Market is a 7 minutes walk away and Water Front Park is just 4 minutes away where you can enjoy art galleries, and even visit the Dock Street Theatre. If you're looking for more recommendations, the concierge will be more than happy to talk you through local attractions.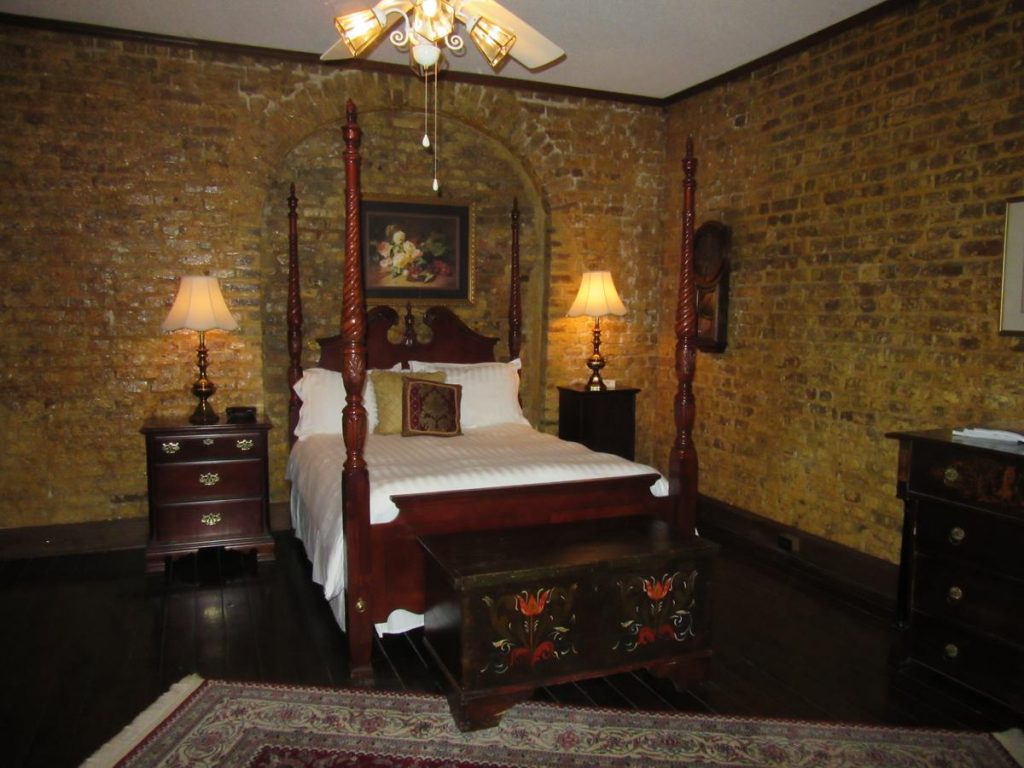 22 Charlotte
The lovely 22 Charlotte is like a home away from home, where guests have said that the owners make you feel like family who make every effort to accommodate you.
The bed and breakfast in Charleston is situated in a quiet neighbourhood, but don't worry, you definitely aren't far away! The South Carolina Aquarium is just a 6 minute walk away and the Aiken-Rhett House is just 5 minutes away.
You can enjoy the fireplace in the communal area, and the breakfast has been highly praised by the guests.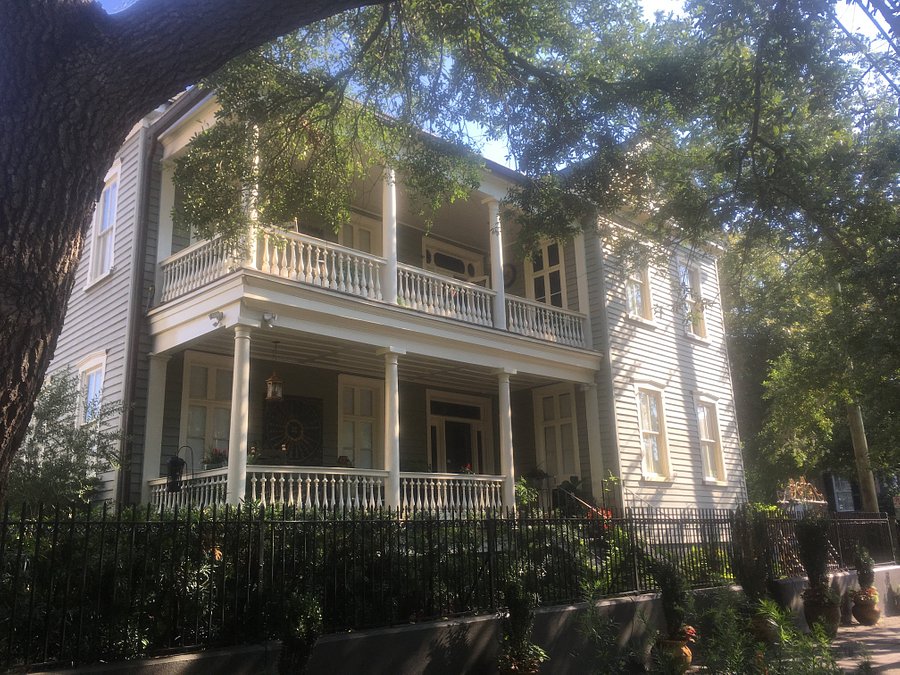 Kings Courtyard Inn
The Kings Courtyard Inn is one of the most popular bed and breakfasts in Charleston. It was named one of the Top 10 Best Hotels in Charleston by Conde Nast Traveler in 2015 and actually in one of the oldest buildings in Charleston. There are original fireplaces, hardwood floors, and hand-carved plaster moldings.
Guests will receive complimentary wine or sherry on arrival and can enjoy breakfast delivered to your room or have it in the courtyard.
Each room is individually decorated and boasts antique furniture to add to the southern charm on the hotel.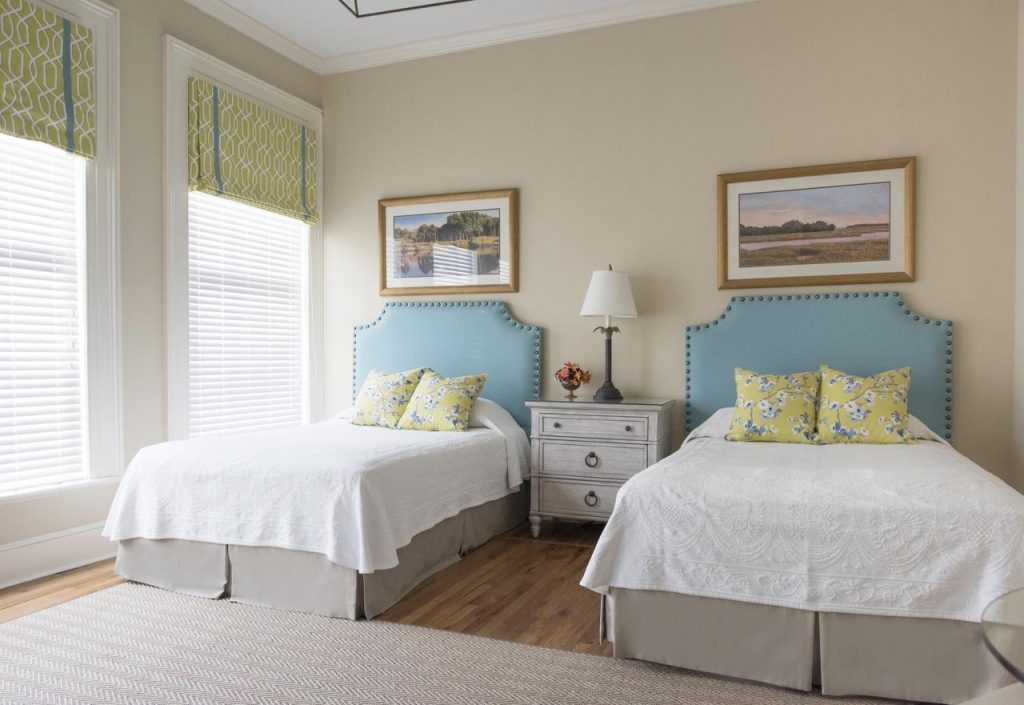 The Ashley Inn
We love that The Ashley Inn is pink on the outside!
This Charleston bed and breakfast is located in downtown Charleston and is a 26 minute walk away from Charleston City Market which provides a great opportunity to explore Charleston on foot!
Each room is individually decorated with a modern, classic touch that is truly timeless. The star of this bed and breakfast in Charleston is definitely the terrace, which is absolutely gorgeous and is the perfect place to unwind after a long day.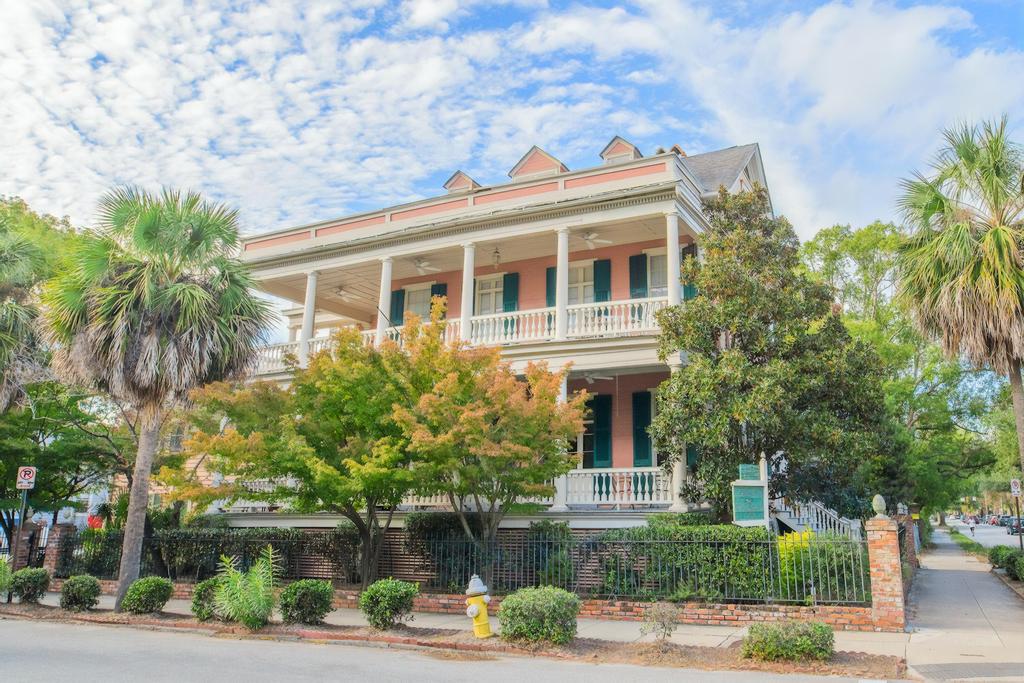 Fulton Lane Inn
Often regarded as one of Charleston's best-kept secrets, Fulton Lane Inn is one of the bed and breakfasts in Charleston that is located on the historic King Street.
Even though it is located in Charleston's most popular area, you would never know it! Fulton Lane Inn is like a serne paradise which is super quiet and tranquil.
A complimentary breakfast is delivered to your door every morning, and a free wine and cheese reception takes place every evening.
The rooms are decorated with antique furniture but you would never know it as the rooms appear lovely and modern.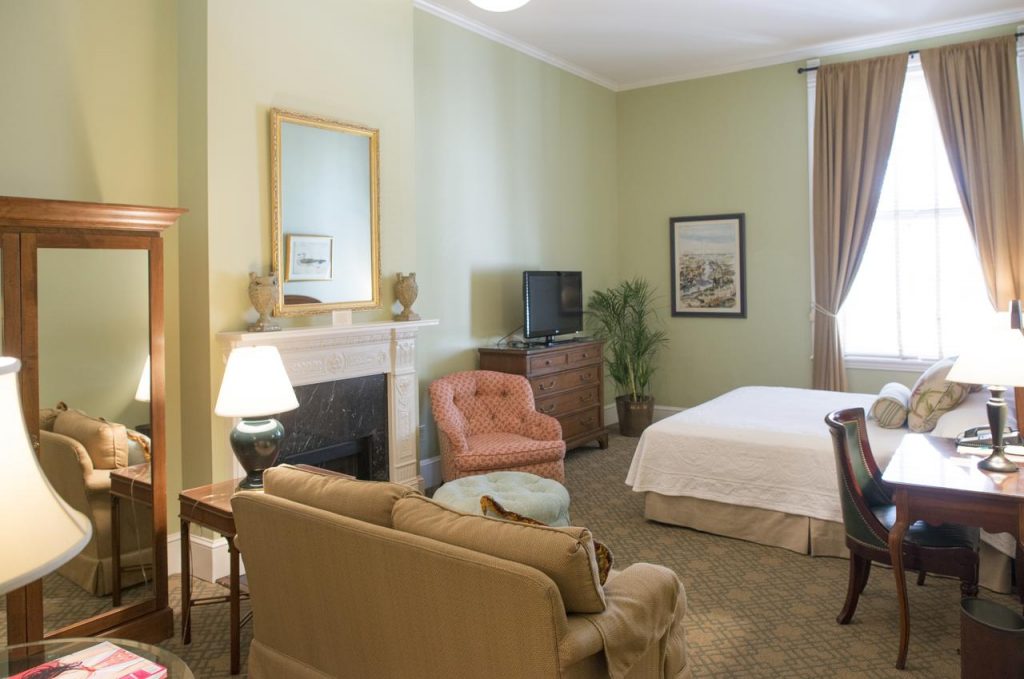 And that is our list of Bed and Breakfasts in Charleston! We really hope you enjoy your stay in this historic city. There is so much history here and so much to explore, we know that you will have the best time!