Do you want to visit all the best beaches in Maryland? Well, this is a great place to start! Here you will find 10 of the most epic beach spots to check out. After you get inside knowledge of the local beaches in Maryland you will know exactly where you want to go. Take your pick from the beautiful Barrier Islands or the charming small-town vibes of North Beach.
Taking a vacation to the nicest beaches in Maryland can be enjoyed by everyone. There are beaches here if you looking for an action-packed weekend full of kayaking or hiking and beaches perfect for a relaxing day of sunbathing. A few of the beaches here even offer history and lighthouse tours.
There are also State Parks here in Maryland with hidden beaches and pristine shorelines. You can reserve a camping spot inside the State Parks, or just stop by during a day trip. Get your beach bag ready, grab a new book, and get ready to have an epic time visiting all the wonderful beaches in Maryland.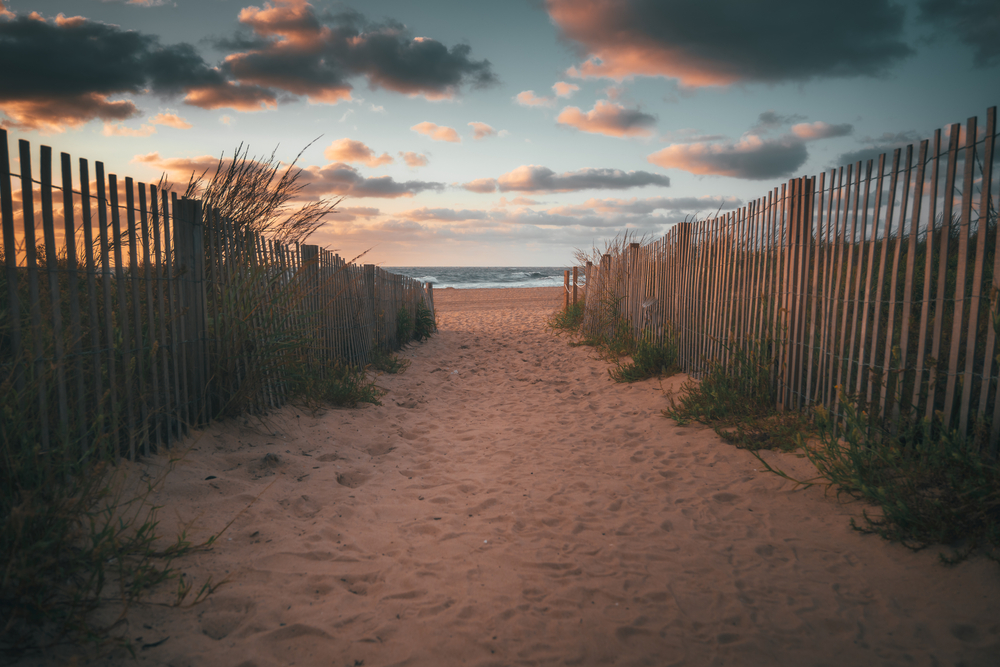 What is the Most Famous Beach in Maryland?
The most famous beach in Maryland is Ocean City Beach. There are 10 miles of shoreline to explore, and lifeguards are always on duty during the tourist season.
There are also plenty of places to stay along the shore and it is very confident to get around town. And the beach is simply gorgeous. You cannot go to Maryland for the beaches and not make a stop at Ocean City Beach!
This is also one of our favorite Weekend Getaways In Maryland you should plan!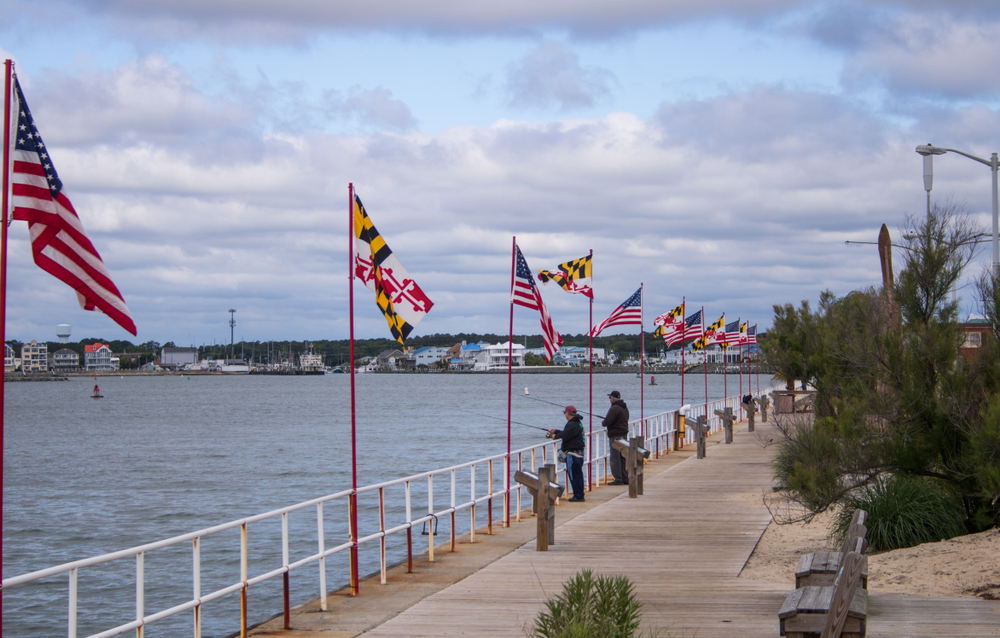 Which Beach has the Clearest Water in Maryland?
There are so many great beaches in Maryland it is hard to say which beach has the clearest water. One of the top contenders has to be the water at the Assateague Island National Seashore.
The water here is clearer for a few different reasons but the main one is that is a little further out from the mainland than the others on this list of beaches in Maryland.
10 Best Beaches in Maryland you Must Visit
Ocean City Beach
If you are looking for the best beaches in Maryland, Ocean City Beach is where you need to go. This beautiful beach has wide sandy shores and an epic boardwalk with roller coasters. There is also plenty of restaurants, boutique shopping, and fun hidden around every corner.
People come here year after year because it is one of the best beach towns in Maryland. You can find all kinds of accommodations from luxury hotels to super cute beach houses. Ocean City Beach is the perfect family, solo, or couple vacation because there is something to do for everyone.
Ocean City Beach is always free, although you may have to pay for parking. You can park on the street with meters, or in a private garage or parking lot. It does get busy in the peak season so come early to find an amazing parking and beach spot.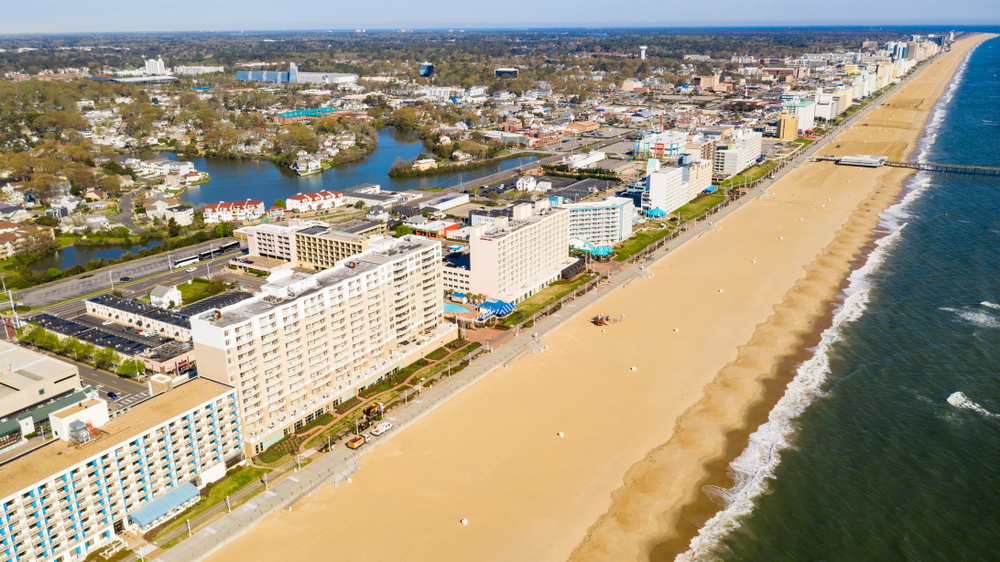 Assateague Island National Seashore
Up next is the beautiful Assateague Island National Seashore. This barrier island off the coast of Virginia and Maryland is well known as one of the best beaches on the East Coast. These islands are known for their unspoiled shores and even more exciting their wild ponies. Many people flock here every year for bird watching as well. There are no hotels on the island, but you can find plenty of options for camping or day trips.
Getting to the island can only be done by crossing over the bridge by car. The route only takes about 20 minutes if you are coming from the Maryland side. There is a small park entrance but you can stay all day. Enjoy swimming in the beautiful water, sunbathing, hiking, or following the ponies. Be sure to put Assateague Island on your list of the best beaches close to Maryland.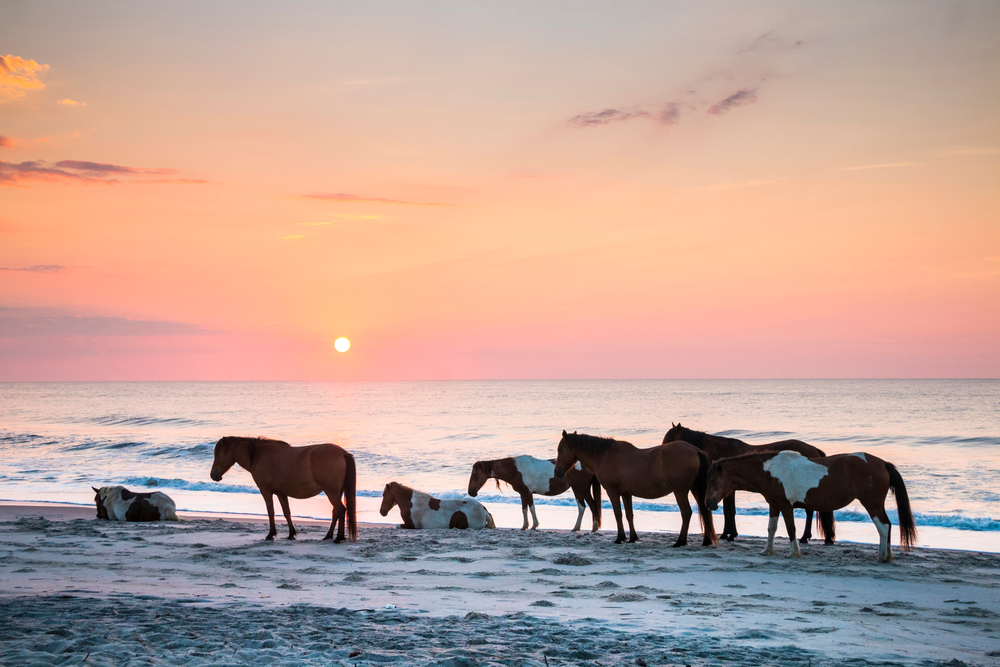 North Beach
If you want to have one of the best Maryland beaches all to yourself, you will want to check out North Beach on the Chesapeake Bay. North Beach is a charming small town in Maryland known for its beaches, boardwalk, and fishing pier. People come here to get away from their busy lives and take in the small-town vibes for a few days.
You can find anything you are looking for at the North Beach Boardwalk. There are seafood restaurants, souvenir and boutique shopping, and a few ice cream parlors. There is also a big playground for children to play in the center of town. If you are planning your trip to Maryland in the summer the town of North Beach puts on free concerts at the North Beach Band Shell.
If you wanted to do some fishing on your trip there are several marinas where you can rent or charter a boat for deep-sea fishing. Or just spend your time relaxing on the sandy shores, either way, North Beach is known as one of the best beaches in Maryland.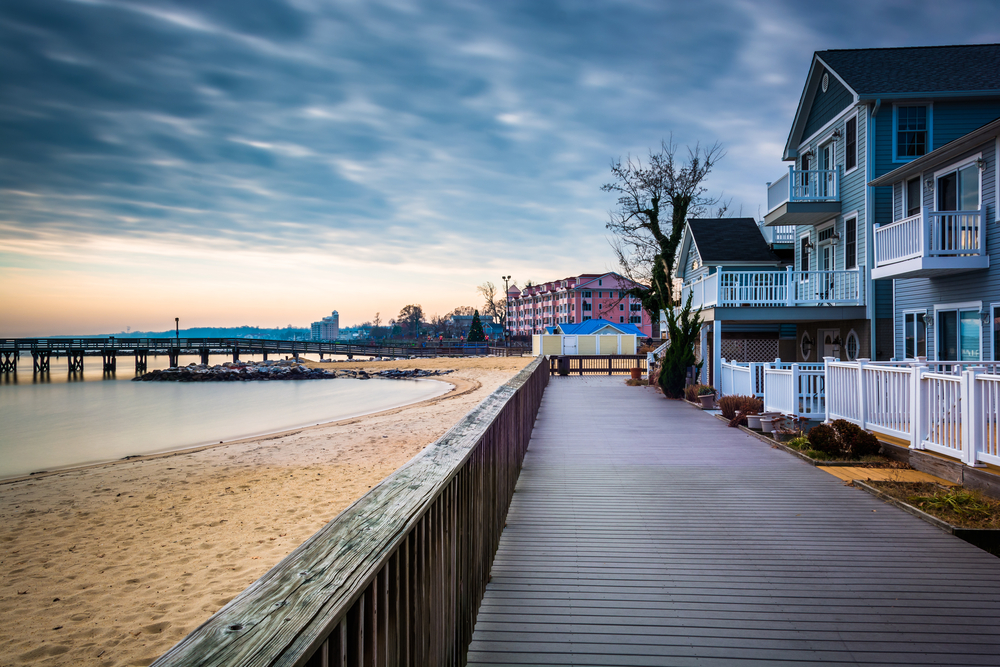 Sandy Point State Park
The beaches of Maryland are all beautiful in their own way, and Sandy Point State Park is one of the best on the western side of the state. Sandy Point is also on the Chesapeake Bay and has an amazing sandy shoreline. This would be a great place to bring your family if you are into active beach activities.
There is a marina where you can rent a boat, or bring your own. You can also rent kayaks, paddle boards, or canoes. Many locals come to Sandy Point State Park for the excellent fishing and crabbing in the area. If you are looking for epic beach hikes and bike trails then you will love this State Park. Almost all of the trails have stunning views of the bay and surrounding wetlands.
The State Park is open year-round, and there is a small fee to enter. The word has gotten out that this is one of the best beaches in Maryland and during the busy summer season, it does get busy. Arrive early to ensure you secure a parking spot.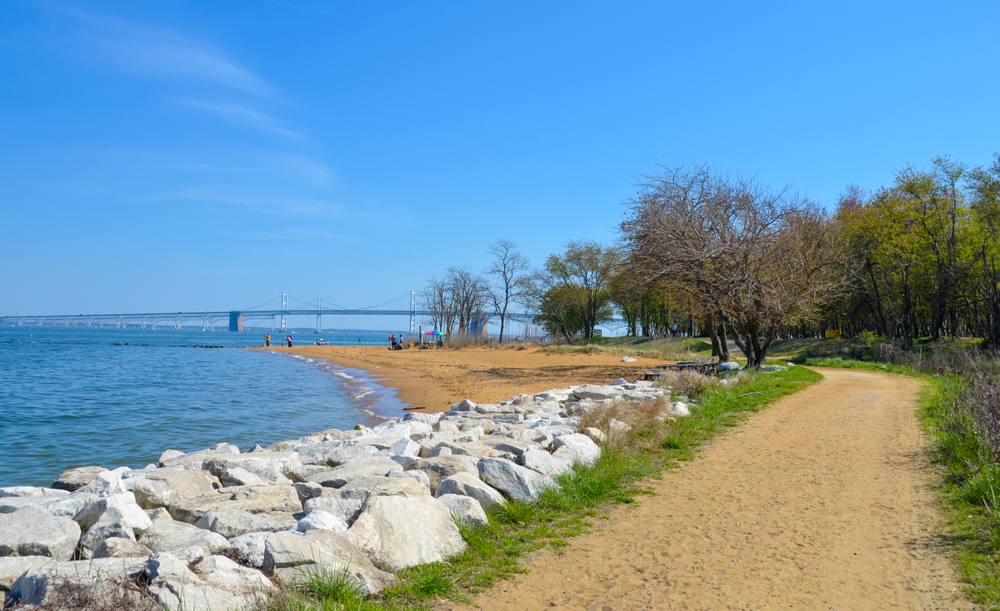 Chesapeake Beach
If you are looking for a laid-back beach vacation then visiting Chesapeake Beach is right up your alley. Here you can enjoy the small-time vibes while exploring the epic shores of the Chesapeake Bay. One of the most known things, besides the beach, in town is the Chesapeake Beach Railway Trail. This is a paved 5.5 mile paved along the waterway perfect for biking and walking.
In the center of town, you will find one of the most beautiful beaches in Maryland with a boardwalk and charming town square. There are plenty of places to stay around the beach or you can opt to stay a few miles away in the country. Bring your clubs with you because Chesapeake Beach is also known for its beautiful golf courses.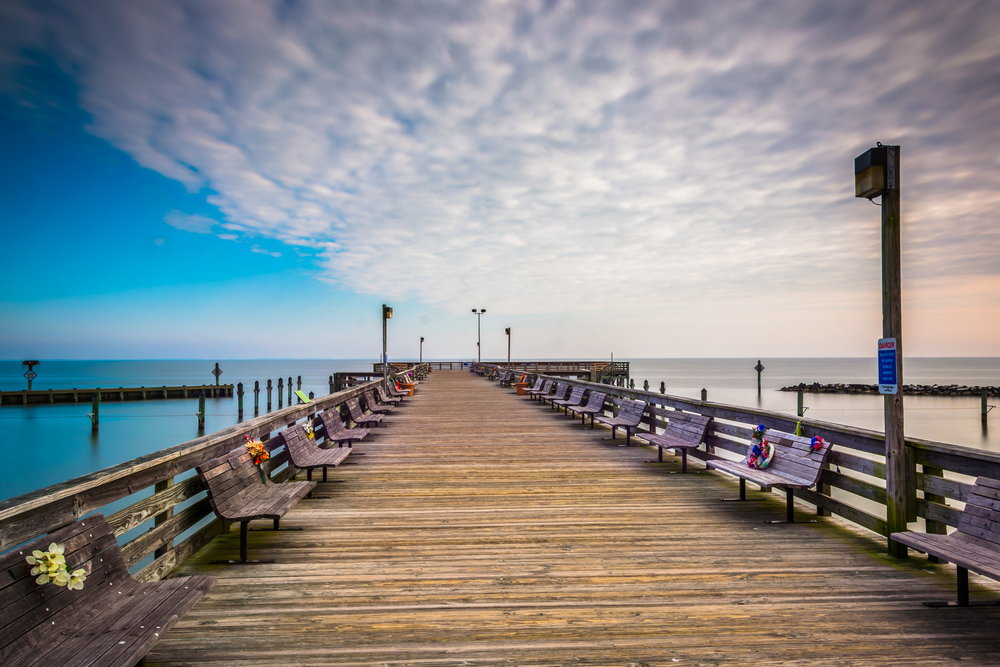 Calvert Cliffs State Park
Up next is Calvert Cliffs State Park and it is one of the best Maryland beaches on the western coast. Besides the beautiful Chesapeake Bay, people come to the cliffs of Calvert to hunt for fossils. Yes, fossils! There is a large collection of fossils from the Miocene era that can be found along the shoreline and on the cliffs. The most commonly found fossils are shark teeth and marine animal bones.
If you wanted to spend a few days exploring all the walking trails and things to do inside the park there are 150 different camps sites. The campsites are available to reserve from April to October. The state park is open year-round, but if you plan to visit in the off-season a few amenities may be closed. If you are thinking of grabbing a hotel the closest town is Lusby, Maryland.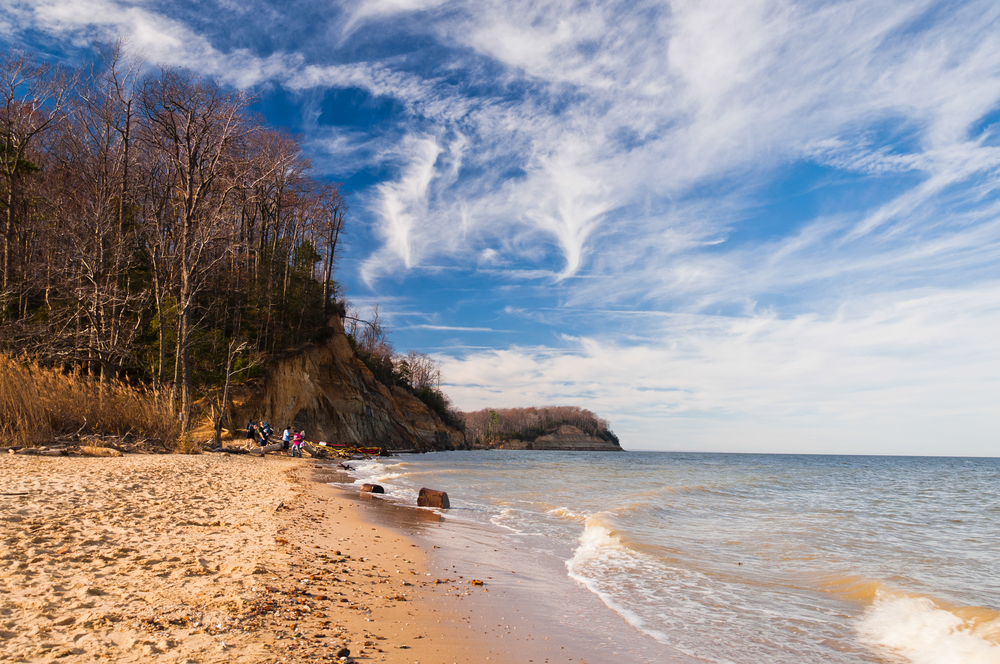 St. Marys Beach
St. Marys is the best beach in Maryland if you are looking for a secluded and natural beach vacation. There are plenty of places for picnics and a playground, and it is the perfect place for sunbathing. St. Mary's Beach is off the beaten path and not many tourists ever visit.
You can also jump over to the St. Mary's River while you are there. This is an excellent River for fishing and crabbing and has a few walking trails around the wetland. And the town of St. Mary's is definitely worth a visit because it was the very first capital of Maryland.
In the small town, there is a living museum that shows the way of life of people in Maryland back in the 1700s. You can also find plenty of accommodation, things to do in town, and places to eat the famous blue crab cakes.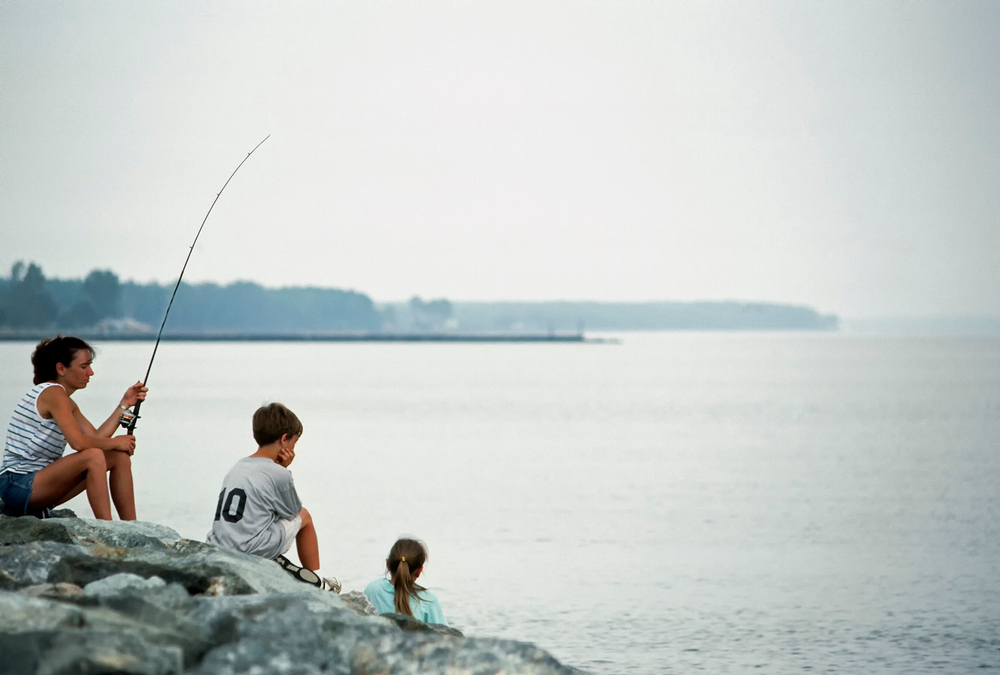 Point Lookout State Park
One of the best vacation beaches in Maryland has to be Point Lookout, State Park. It is located at the very tip of Maryland and has amazing views. One of the best attractions in the park has to be the historic lighthouse built back in 1830. It is the oldest lighthouse in all of Maryland and you can still tour it today. If you are traveling with a history buff the Point Lookout State Park is very informational about what took place there during the Civil War.
Back in the Civil war era, there was a Civil War prison camp that held up to 52,000 confederate soldiers. Today you can tour the remains of the hospital and guard house. Or you can spend your time in the water or just relax at the beautiful beach.
You can bring your RV for a fun-filled weekend of camping, or pitch a tent at one of the many campsites. They are also only open from April to October, but the park remains open all year round. Expect a small fee when parking, and taking the tours.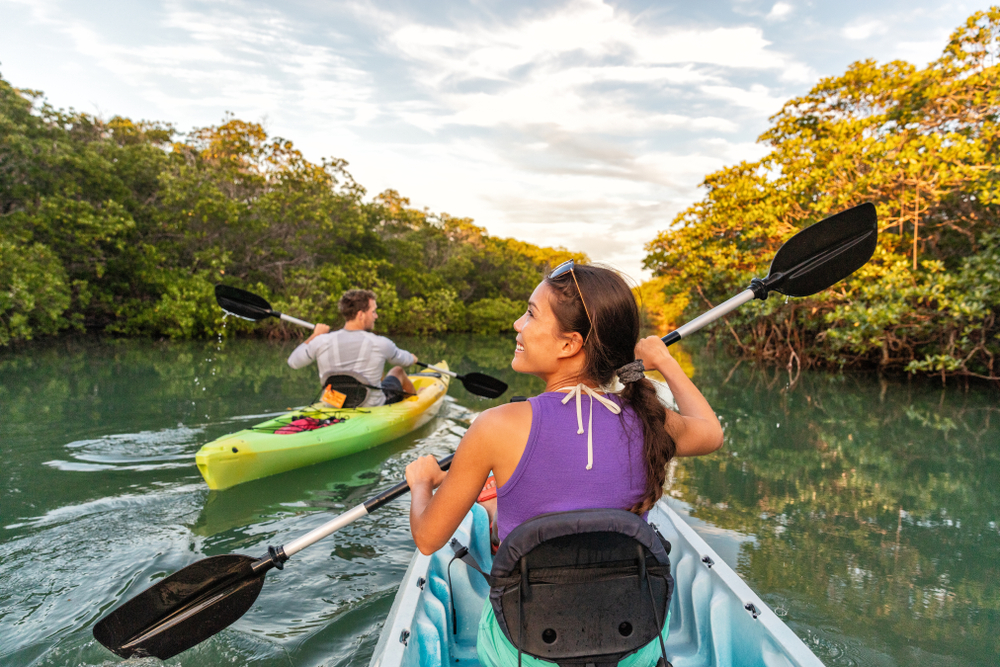 Pocomoke River State Park
The Pocomoke River Start Park is home to some of the beach spots in Maryland. The State Park is located on the tip of the Eastern Shore and offers amazing secluded beach spots and fun beach activities on the Pocomoke River. You will see the well-known cypress swamps around the river, they run about 45 miles up all the way into Delaware.
Besides the beach, the State park also has picnic areas, kayaking, boating, and fishing, and they even have a public swimming pool. You can pitch a tent here or grab a mini cabin for the week with your family. Both are amazing options. This would be the best place to pick if you are looking for peaceful Maryland beach vacations without crowds.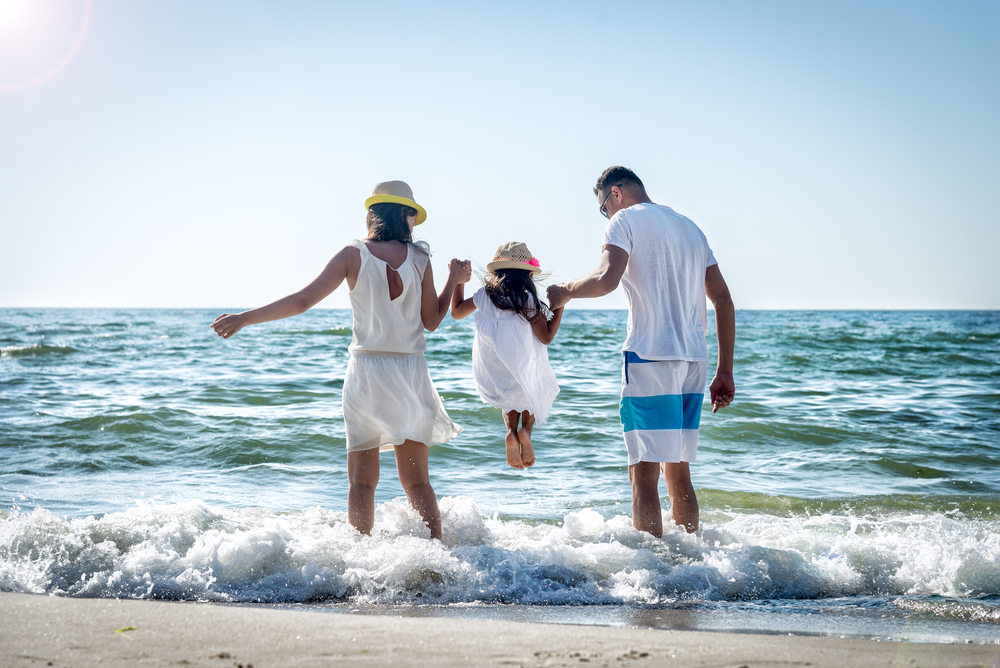 Janes Island State Park
If you had to pick one spot in all of Maryland to kayak or canoe Janes Island State Park should be high on your list. Here you can work your way through 30 miles of water trails. You will paddle through salt marshes that lead you to a secluded, stunning beachfront. You are welcome to fish, crab, put your boat in the water, or just enjoy the marvelous views.
This beautiful island park seems untouched and natural with ample wildlife to see. Birdwatching is popular here, but you can also see an occasional deer or fox. It is free to visit and explore everything the park has to offer all year long. Be sure to bring bug spray with you, the mosquitos can be tough here.
You can also camp at this State Park or reserve a cabin. The sunsets here are magical and deserve at least one night of your attention. You will love visiting and getting a little active at one of the most popular beaches in Maryland.