Looking to spend an epic weekend in Baltimore? You have come to the right place because here you will see all the best things to do! Baltimore, Maryland has a rich history including a historic port that was founded back in the early 1800s. Since then it has evolved and has an epic art and culture scene.
Here you will find a step-by-step itinerary to fill your two days with all the best things to do. Be sure to check out the inner harbor, this is where some of the best attractions are. Many people come for a weekend couples trip because of the many romantic and dreamy views throughout the city. Take a good look throughout this epic list of Baltimore tips to ensure you are going to have an amazing trip.
This is also one of our favorite Weekend Getaways In Maryland you should plan!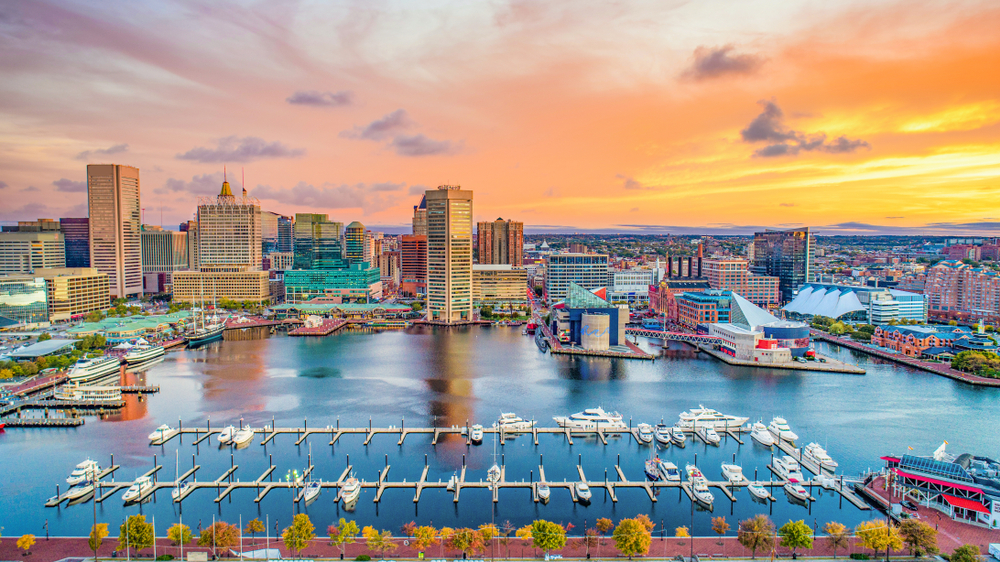 Getting To Baltimore
The first thing to think about when figuring out how to plan a trip to Baltimore is how will you get there. Here are four different ways to meet your budget and needs. But, it all depends on how your personal preferences and how far you are away. The closest airport is the BWI and it is about 10 miles south of downtown. Another way to reach Baltimore is to drive. The major highways are I-95, I-83, and I-70, depending on where you are coming from.
If you are thinking about taking the train, check the Amtrack schedule for Penn Station to find the best ticket for you. Amtrack is reliable, fast, and comfortable. Many of the carts have wifi, air-conditioning, and snack carts. There are also greyhound buses that connect all over the country, they are affordable and easy to navigate.
Getting Around During Your Baltimore Weekend Getaway
There are quite a few ways to get around Baltimore. It all depends on what you have on your list of things to do in Baltimore. The most popular and healthiest way to get around is to walk. Baltimore is a relatively small city, especially around the harbor. Public transportation is also a great resource and is very reliable.
The Maryland Transit Administration (MTA) has bus routes and a light rail system to ensure you have a ride all day long. There are also taxis and ride-sharing apps that work great throughout Baltimore. You could also get around by renting a bike, or scooter. They can be rented right on the sidewalk and can be rented through an app. And of course, you could drive your own or rented car around.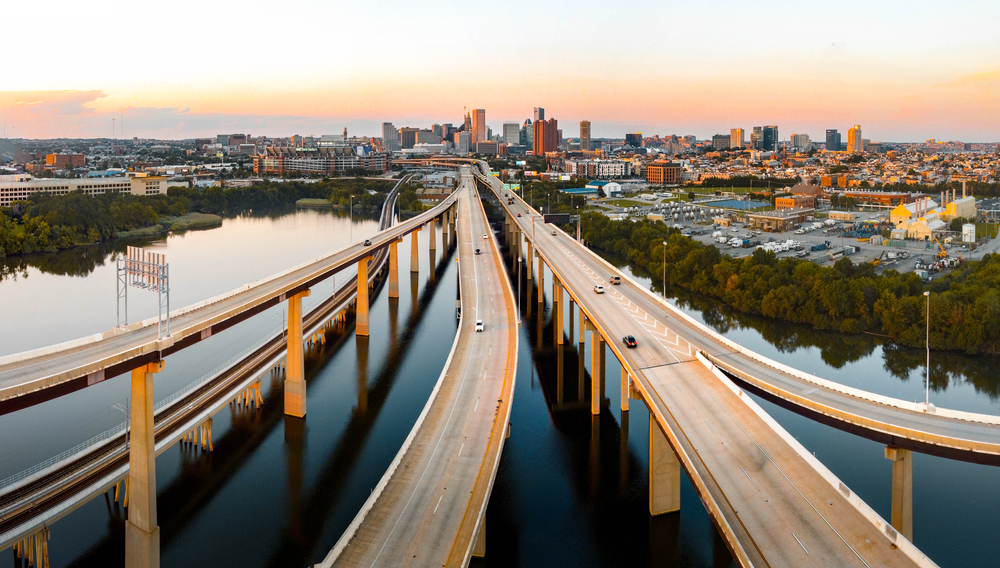 The Ultimate 2-Day Weekend In Baltimore Itinerary
Day 1
Stop 1- Baltimore: Inner Harbor Sightseeing Cruise
After checking into your hotel, one of the best things you could do is take the Baltimore: Inner Harbor Sightseeing Cruise. This is an excellent way to the barrens of the city. Inside the Inner Harbor is where all of the major attractions that you will want to see during your 2 days in Baltimore.
This tour includes 1 hour out on the water with a fully stocked bar. You will see the National Aquarium, Maryland Science center, and all the beautiful and historic buildings around one of America's oldest seaports. This is a wonderful way to kick off your weekend in Baltimore MD.
Book Tickets here: Getyourguide.com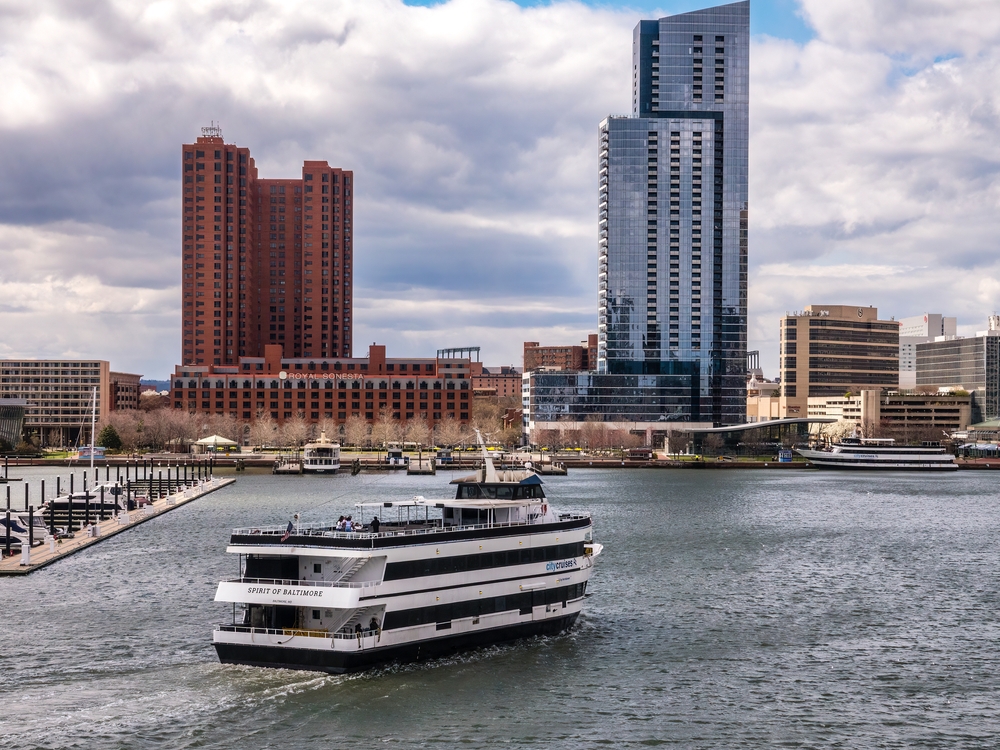 Stop 2 – Visit the Federal Hill Historic Neighborhood in Baltimore
After your boat tour, you should go check out the historic neighborhood of Federal hill because it would be a short walk from the inner harbor. From here you can see the Baltimore skyline and surrounding neighborhoods. Federal Hill is so special dates back to the 19th century and many of the original homes are still here.
You can spend a few of your 48 hours in Baltimore here shopping, eating at some of the best restaurants, or just relaxing and taking in the views.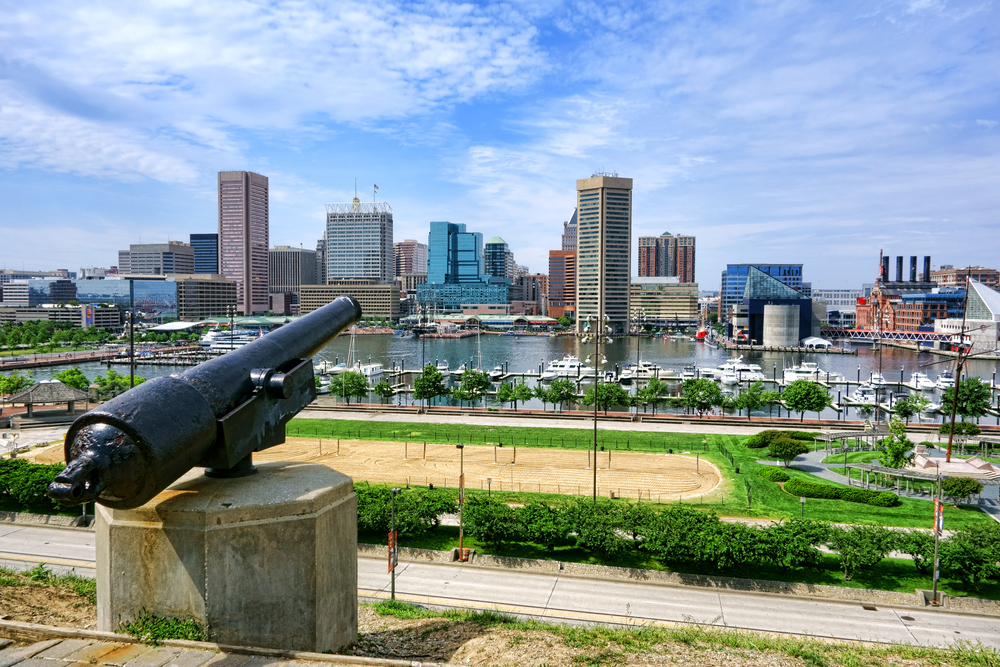 Stop 3 – Guided Brewery Tour with Lunch
Now it is time for your lunch on the first day of your Baltimore weekend trip. Why not pair it with a fun craft brewery tour guided craft brewery tour? Be prepared to spend about 3 hours touring four different breweries including the famous Guinness one.
After walking around Federal Hill and American Visionary Art Museum you will be ready for lunch. Here they will pair your lunch with the type of beer you enjoy having. The tour allows you to try up to 16 different small pours of craft beer. Be ready to have an amazing time tasting beers and relaxing with your friends.
Book your stop now: GetYourGuide.com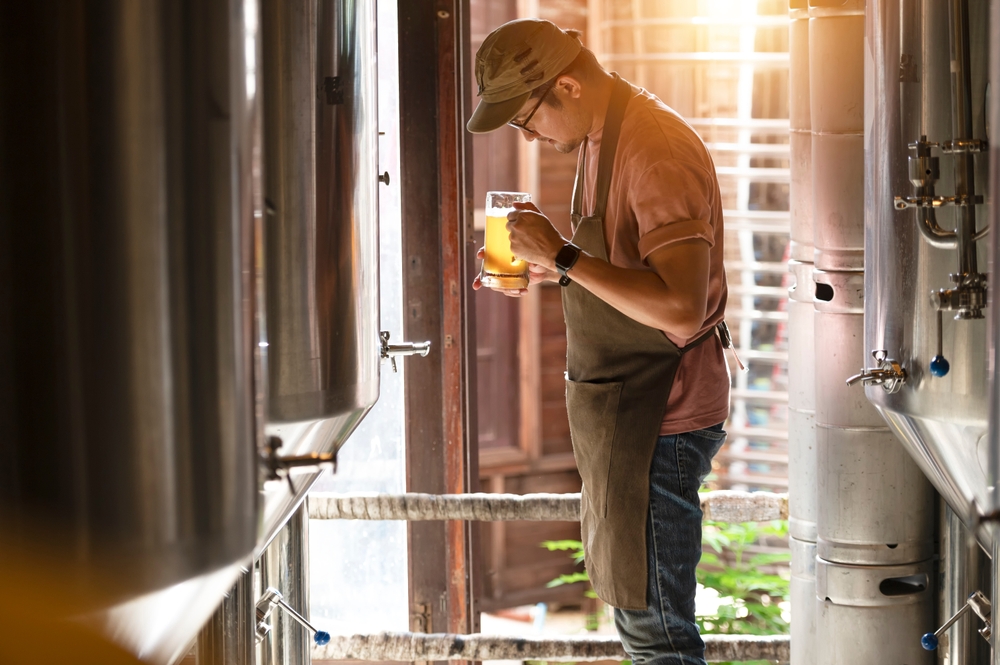 Stop 4- American Visionary Art Museum
Do not leave the American Visionary Art Museum off of your itinerary for Baltimore. And it is inside the Federal Hill Neighborhood you will be so close. This is one of the most unique museums in all of America. This is because they only display self-taught artists.
You will find a large variety of displays including science, philosophy, art, and a major focus on social justice and betterment you are planning on visiting Baltimore during the hotter months of the year it would be a great place to beat the heat too. They are open Wednesday to Sunday from 10 am to 5 pm.
Stop 5 – Ghost Tour
Now that you have had an amazing day you need to go and experience the darker side of Baltimore with a ghost tour, it is one of the best things to do in Baltimore. You will make a stop at the spooky Fell's Point Cemetery to see and learn why they only buried the men there.
Another notable stop is at "The Horse You Came in On Saloon." This was the popular stop by the famous and spooky writer Edgar Allen Poe and was one of the very last places he was ever seen. The Saloon has a spooky past as well and you are going to love touring and learning all about it on the Ghost Tour.
Secure your spot: GetYourGuide.com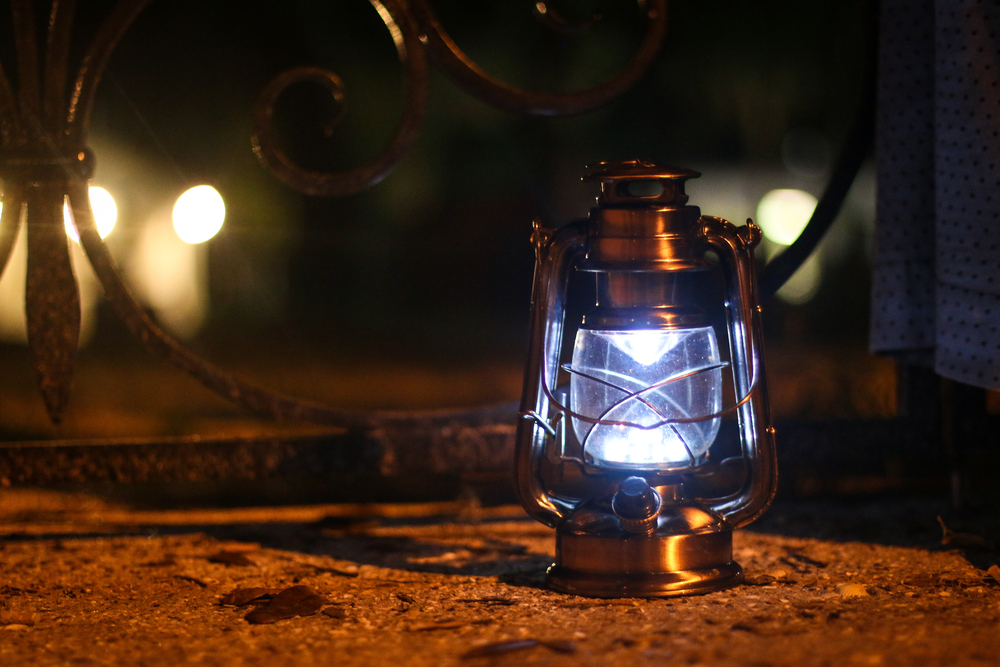 Day 2 on Your Baltimore Itinerary
Stop 1 – Mount Vernon Neighborhood
There are so many reasons why you should visit the Mount Vernon Neighborhood on your weekend getaway in Baltimore. It is full of architecture, history, gardens, art galleries, museums, and Washington monuments.
You can choose to check out the Walters Art Museum, The Famous Peabody and Enoch Pratt Free Libary, and the Baltimore School for the arts. And one of the most visited places to see in The Mount Vernon Neighborhood is the Maryland Historical Society. This museum is dedicated to preserving and interpreting the history of Maryland.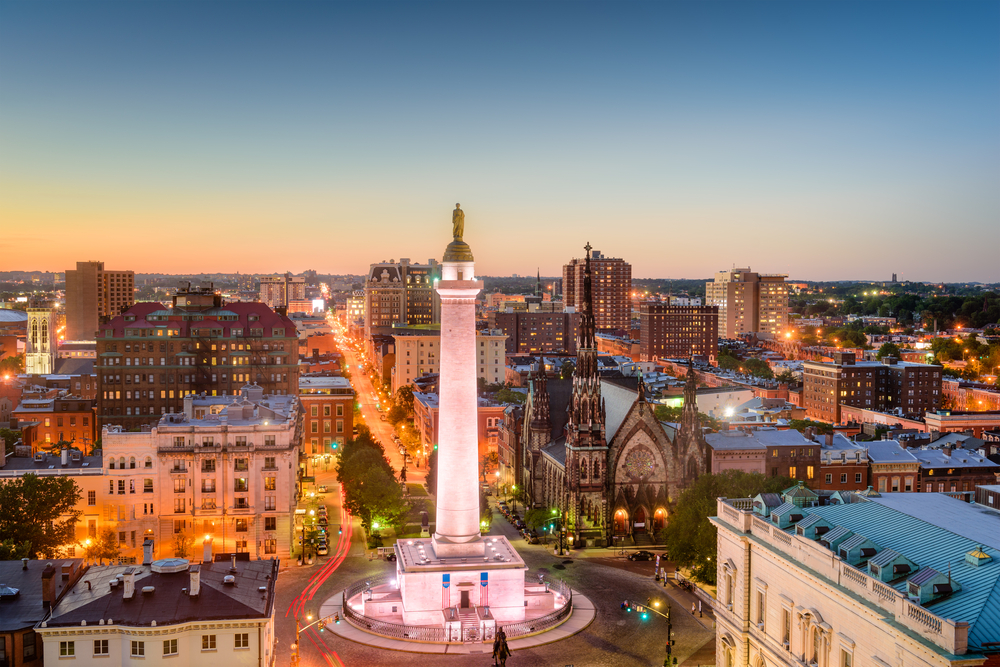 Stop 2 – Museum of Art
If you are trying to do Baltimore in 2 days the museum of Art is one of the best places to visit. There are pieces here that date back more than 5,000 years and represent a large variety of cultures. Plus, the Museum of Art is always free and open to the public.
You can add this to your Baltimore itinerary from Wednesday to Sunday and stop by from 10 to 5 pm. Making it the perfect second stop after checking out The Mount Vernon historic neighborhood. If you have already been to the museum of art you should go every time you are in Baltimore because the exhibits are always changing.
Stop 3 – Hampden
The next stop to do when you are trying to fit Baltimore in a weekend trip is to pop over to Hampden for some shopping. Head straight over to "The Avenue" where you can check out the best boutique shops, bars, and restaurants in Baltimore.
If you are in town during one of the many festivals in Hampden you are in for a treat. One of the most famous ones is the "Bawlmerse" event. This is a festival that celebrates the women of the town. And if you visit during Christmas, the miracle on 34th street is a must-do. Residents of Hampden decorate their homes beautifully for a perfect winter wonderland.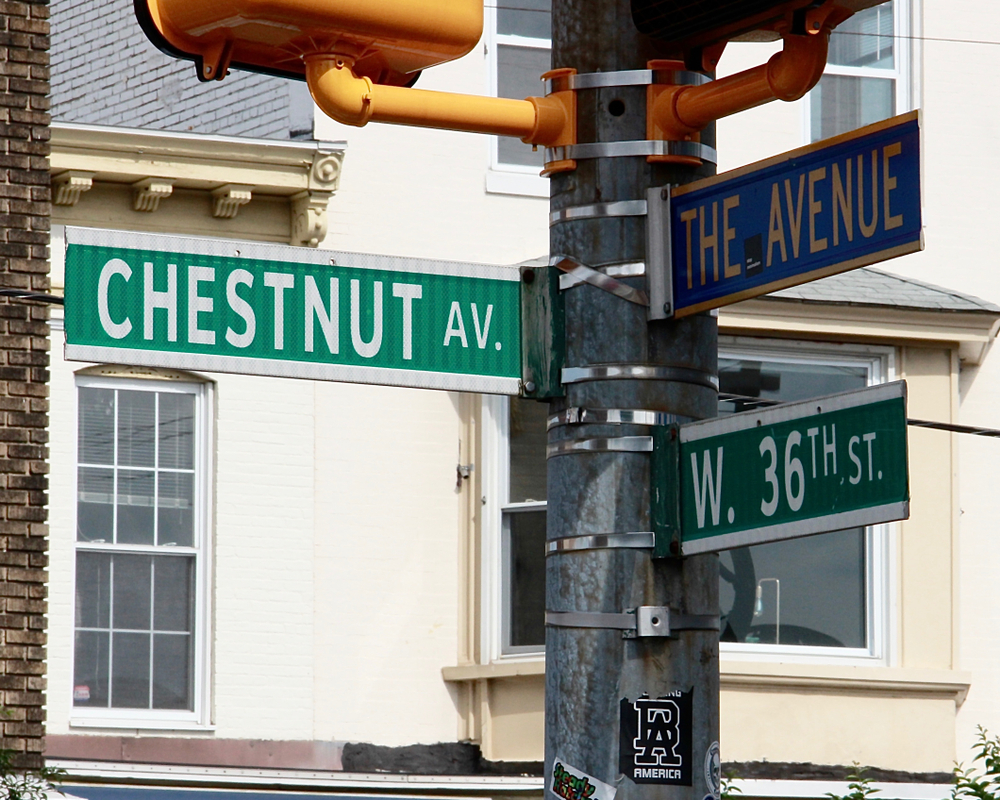 Stop 5- Baltimore: Fells Point Walking Food and History Tour
Now that you have explored a little on your own it is time to take the Fells Point Walking food and history tour. 5 stops on your tour perfectly combine the best tastes of Baltimore MD. From dishes with fresh vegetables, crab cakes, fusion foods with international flavors, and fresh cocktails, save room for desserts.
Now for the history tour of Fell's Point. Your tour guide will take you around Fell's Point and point out important cultural and historical sections of the neighborhood, and learn how this small neighborhood played an important role in the war of 1812. There is something hidden around every corner of this beautiful town in Baltimore MD.
Check availability: Getyourguide.com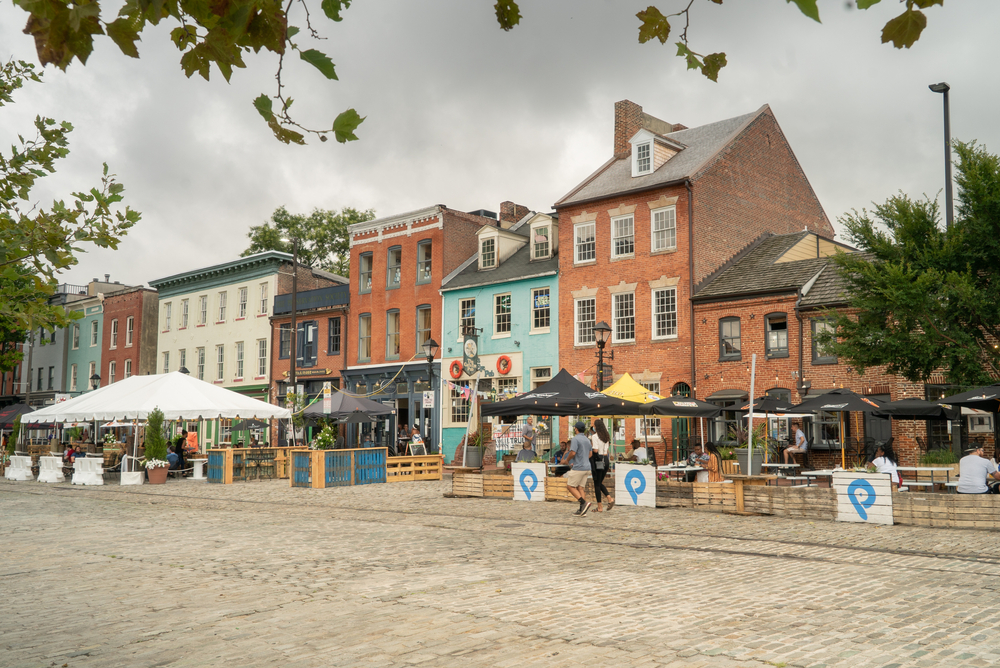 Stop 4- Sunset Captial Wheel Ride
The next stop on your weekend guide to Baltimore is to head back over to the Inner Harbor to ride the Capital Wheel. This epic Ferris wheel is right on the water and gives you amazing views of not only Baltimore, but you can also see parts of Washington D.C., and Virginia.
After you book your ticket you can use it any time for 14 days so you can stop by whenever you feel, but sunset is always the best time. The gondolas are climate-controlled and can fit 6-8 adults comfortably. As you will already know from your tour of the harbor after your Ferris Wheel rides you can check out one of the many restaurants on the water.
Book your ticket now: GetYourGuide.com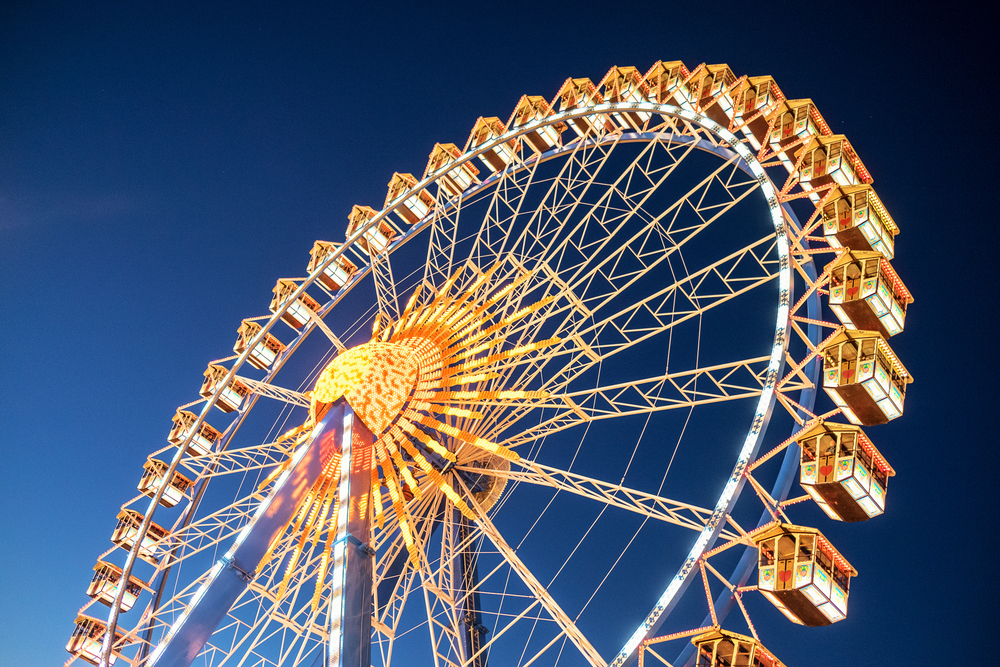 Stop 5 – Baltimore Buffet Dinner & Dance Cruise of the Inner Harbor
After your long day of exploring the best things to do in Baltimore, you are going to be so hungry. That is why this dinner and dance cruise would be the perfect place to end the day. Here you can enjoy your candlelit dinner with a wide variety on the buffet. Dress to impress or come casual, it is completely up to you and your date.
You can take your pick from oven-baked white fish, pan-seared chicken breast, bow tie pasta and green Ceaser salads, meatballs, and plenty more. Then you can relax and sit back with your coffee and dessert and take in your first day in Baltimore MD
Book your spot here: Getyourguide.com
What To Do With 3 days in Baltimore
If you are visiting for the first time in Baltimore, you may want to spend 3 days or more! There are so many unique things to do in Baltimore that you will never be bored.
You can take a helicopter tour to see the city from a bird's eye view. The helicopter can fit up to four people and you will fly in style. They offer noise-cancellation headphones and you will be sitting comfortably in big plush seats while flying over some of the best attractions. Including, the Inner Harbor, Camden Yards, and the epic and historic Fort McHenry.
Book your spot now: Getyourguide.com
Another thing to do when on your weekend in Baltimore is to go and see one of the sports games. During the spring you could check out the Baltimore Orioles. During football season you can check out the Baltimore Ravens, or The Washington Commanders, who also play in Maryland.
The tickets are reasonably priced and it is so much fun. Check out the schedule on the team's websites to find the best game that fits your schedule.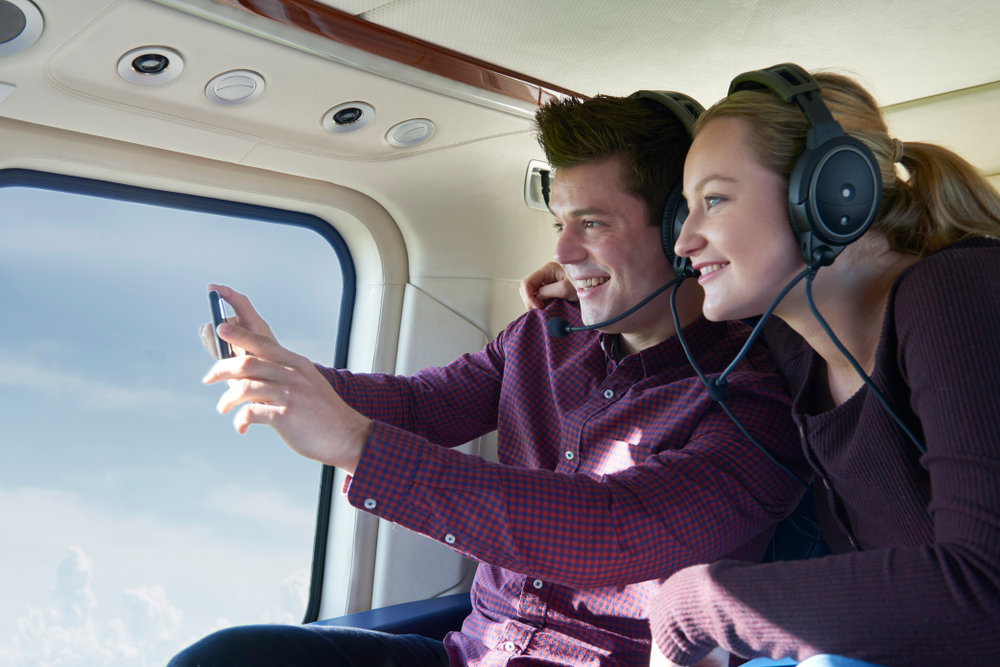 Where To Stay For A Weekend In Baltimore
Sagamore Pendry Baltimore
Sagamore Pendry Baltimore is one of the best hotels in the Fells Point neighborhood. When staying here you will be super close to the Inner Harbor and could easily leave your car in the garage for the weekend. The hotel has 2 in-house restaurants, a fancy Chophouse, and a laid-back lounge the Cannon Room.
There are over 5 different types of rooms to book ensuring they have something that fits your party and budget needs. The pool is open during the warmer months of the year and gives stunning views of the harbor. During the colder months, you can enjoy the view of the water from the Cannon Room. You will love staying here, it is one of the best hotels in Baltimore.
Check rates here: Booking.com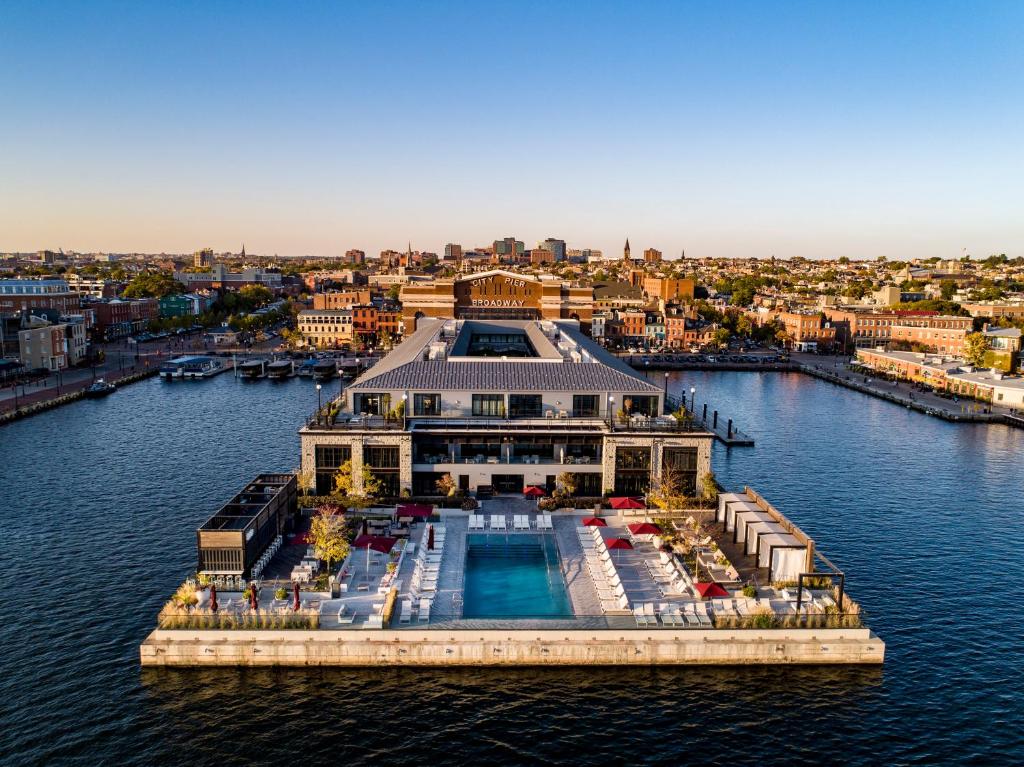 Four Seasons Baltimore
The Four Seasons Baltimore is one of the best luxury hotels in the area they offer a full-service spa with a relaxing sauna, an infinity pool on the roof, and 4 on-site restaurants! When booking a room grab one with a view of the harbor, you are going to love waking up with a view of the water.
In the spring and summer, you can book a cabana right on the water to relax after touring the city. Besides all the luxury touches in the hotel, you will also be within walking distance of the luxury and boutique shopping in the area.
Check rates here: Booking.com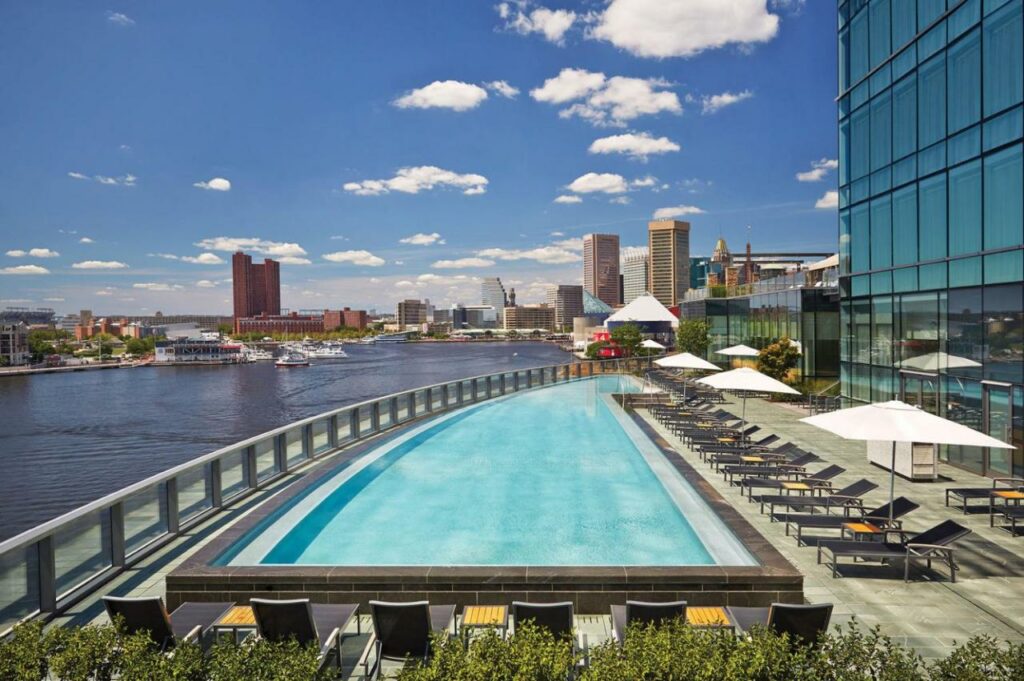 The Ivy Hotel
The Ivy Hotel is one of the coolest 5-star boutique hotels in Baltimore. You will feel like royalty staying in a castle that was built back in 1889. But don't worry because there is luxury at every turn here. Book yourself a massage in the state-of-the-art spa, or try a private booking where they sit it up in the comfort of your room.
Every room has heated limestone floors, an en-suite bathroom, and a cozy fireplace. This would be an amazing place to stay for your romantic Baltimore weekend getaway. The Ivy is in the Mount Vernon Neighborhood and will leave you feeling relaxed and ready to take on the weekend in Baltimore MD.
Check rates here: Booking.com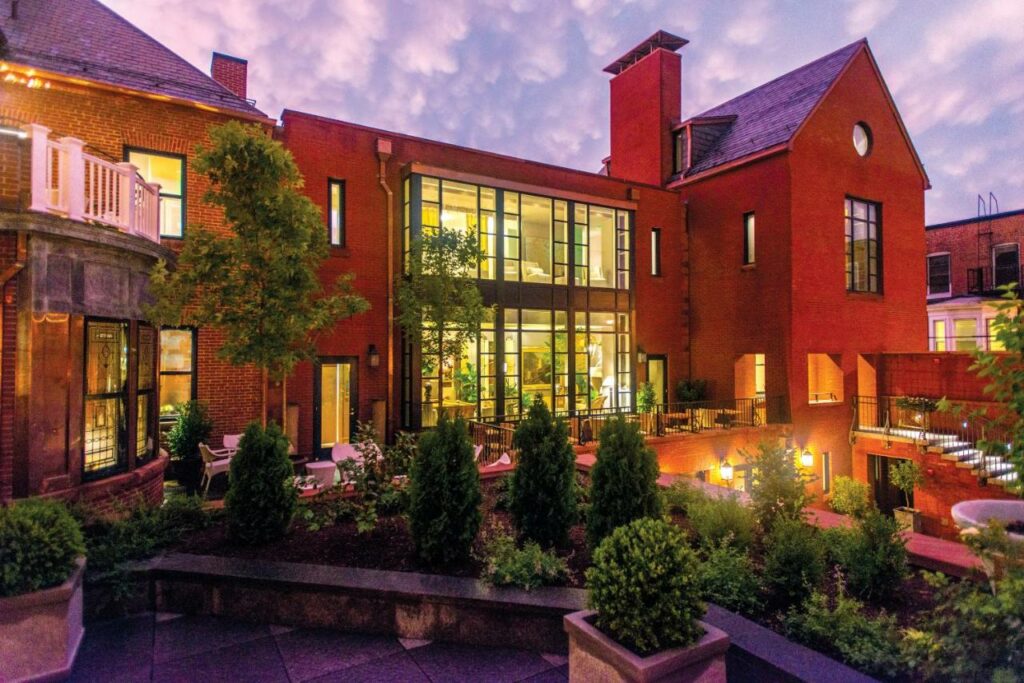 Where to Eat During Your 2 Days In Baltimore
Jimmy's Seafood
One of the best places to stop for seafood is Jimmy's Seafood. People come from all over the state for their famous crabcakes. Most places use filling in their crab cakes but at Jimmy's, you can expect big lump meat. You can order any type of fresh seafood here from fried shrimp to fresh mussels.
Jimmy's Seafood has a very family-friendly environment but, it would also make an amazing date night out. Swing by any time of the day they are open for lunch or dinner, starting at 11 am. The bar area stays open late until 2 am every night. Plan to come in early on the weekends starting at 10 am to enjoy the best bunch and seafood in Baltimore Maryland!
The Food Market
The Food Market is an open kitchen concept inside an old grocery store. This would be a great place for a celebration or a fun night out because they have big picnic-style seating. The fare is American cuisine and they also serve fresh fun cocktails. The menu changes with the seasons to ensure that everything stays fresh and healthy.
Some of the best things to try are the shea crab soup, and beer cheese pretzels, but be sure to save room for the bread pudding, it is legendary. Stop by anytime from 5 pm to 9 pm to grab yourself the best dinner in Baltimore.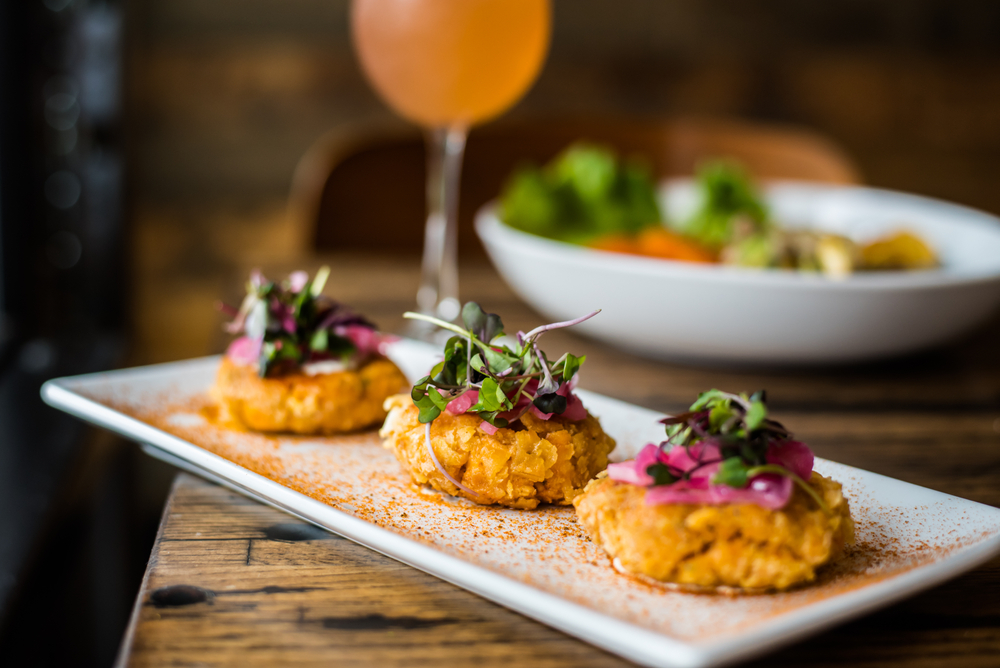 Sotto Sopra
Sotto Sopra is an Italian fusion restaurant in the best part of the city. Many people plan to take a tour around the galleries to build up an appetite. Sotto Sopra is beautifully decorated with high-class touches. Stop by early, they open at 12, for the best lunch in Baltimore.
You can also stop by for a quick pizza and a local craft beer. Or you can grab a table and take your time ordering appetizers, meals, and desserts. The chocolate fondant is very recommended for dessert. For main courses, try the risotto di Gamber, which is made with local shrimp. You could also try different cuts of steak and so many pasta choices.