If you're looking for the best places for breakfast in Savannah, look no further! We've narrowed it down to the most incredible breakfast options this charming southern gem has to offer!
Whether you're in the mood for a classic southern café dripping in charm, a trendy brunch spot with instagrammable plates as flawless as the décor, or a modest local joint where the food speaks for itself, there are options for breakfast in Savannah, Georgia for everyone.
From organic, healthy options to decadent southern soul food and everything in between, the "Hostess City of the South" really lives up to its name when it comes to food. If you're on the hunt for the best vegan or gluten-free breakfast in Savannah or looking to discover unique southern breakfast creations you can't find anywhere else, this city serves up a wide variety of options to impress even the pickiest taste buds.
Keep reading to discover the best places for breakfast in Savannah and see why the food alone makes this charming Georgia town a can't miss destination on any southern itinerary!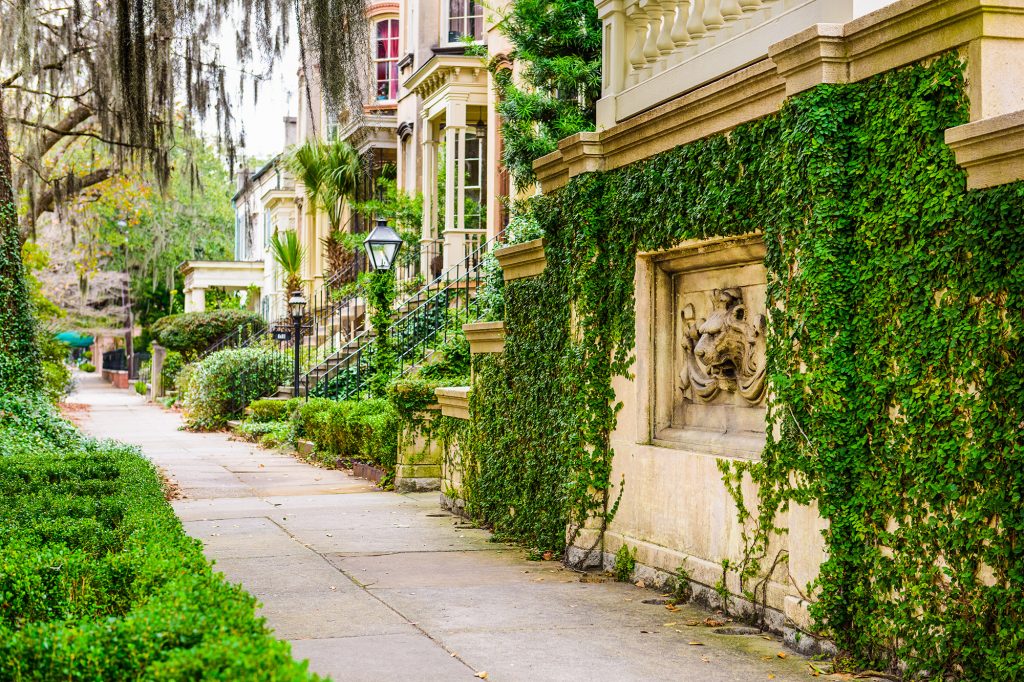 15 Best Places for Breakfast in Savannah
Two Cracked Eggs Cafe
Two Cracked Eggs Café, draws in a crowd of locals and visitors alike who are searching for southern soul food. With its convenient downtown location on Bay Street and all-day breakfast menu, there is never a bad time to stop by for a hearty breakfast in Savannah!
Indulge in one of their classic southern plates such as the river street rambler, a substantial serving of eggs scrambled with potatoes, veggies, and sausage served alongside their famous giant buttermilk biscuits. Order a side of pineapple hickory smoked bacon, served on a clothesline straight out of the smoker.
In the mood for seafood? Two Cracked Eggs offers coastal breakfast delicacies such as shrimp and grits and crab benedict. Gluten-sensitive diners can indulge in a gluten-free version of their famous biscuits and vegetarians will enjoy the florentine benedict or peach french toast.
Two Cracked Eggs is one of the most popular Savannah breakfast spots so be sure to arrive early to snag a table or be prepared for a crowd.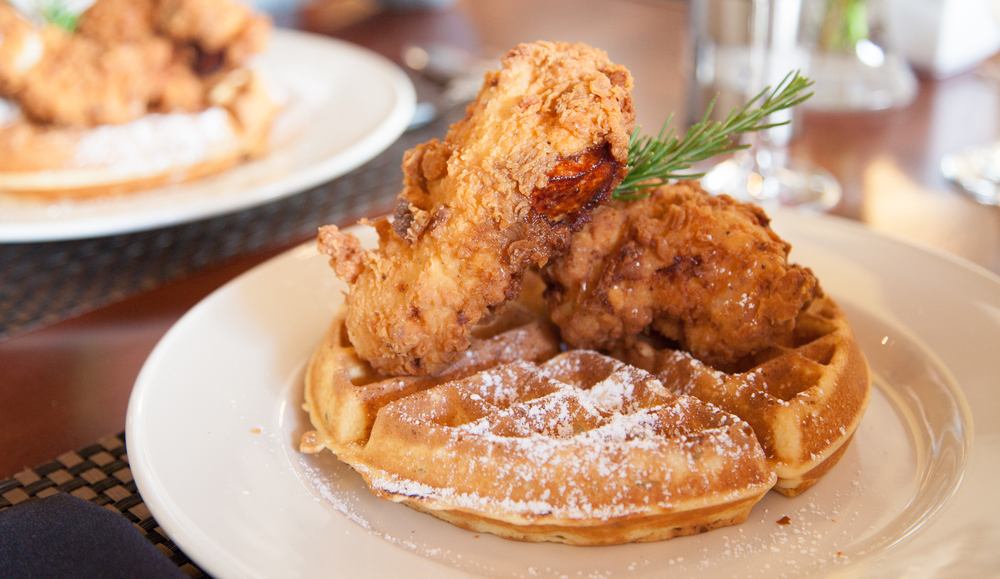 Little Duck Diner
Southern charm meets retro style at Little Duck Diner, one of the quirkiest Savannah breakfast spots located in the heart of the historic district. It doesn't have to be morning to indulge in a delicious breakfast and marvel at the exquisite art deco-modern interior because the entire extensive menu, including breakfast, is served all day!
Try one of the quirky menu options such as the Little Duck in Paris, a hearty breakfast of french toast topped with Saigon cinnamon and maple syrup served alongside eggs and bacon, or opt for classic chicken and waffles topped with spicy sriracha syrup.
Other enticing options include southern biscuits and sausage gravy, buttermilk blueberry pancakes, avocado toast topped with goat cheese, and breakfast risotto. Feeling fancy? Top off your meal with a classic mimosa or perhaps a bloody mary topped with bacon and a signature rubber duck.
Goose Feathers Café
This European-style café and bakery is one of the most well-known places to find some of the best breakfast in Savannah. Locals and visitors line up every morning to snag a table at Goose Feathers for a taste of their scrumptious European meets southern cuisine.
The expansive menu offers many different kinds of tasty pastries such as buttery croissants stuffed with fillings like raspberry cream or spinach and feta, cinnamon buns, muffins, and bagels. Try the bird's nest, southern grits served with poached eggs and salsa, or sample one of the many flavors of quiches or a breakfast panini. Finish off your meal with their famous bread pudding.
Goose feathers is one of the most popular breakfast places in Savanna and is almost always crowded so be preapred for a wait. It is closed on Tuesday and Wednesday and only open from 7:30-2:30 the rest of the week so be sure to plan your trip accordingly.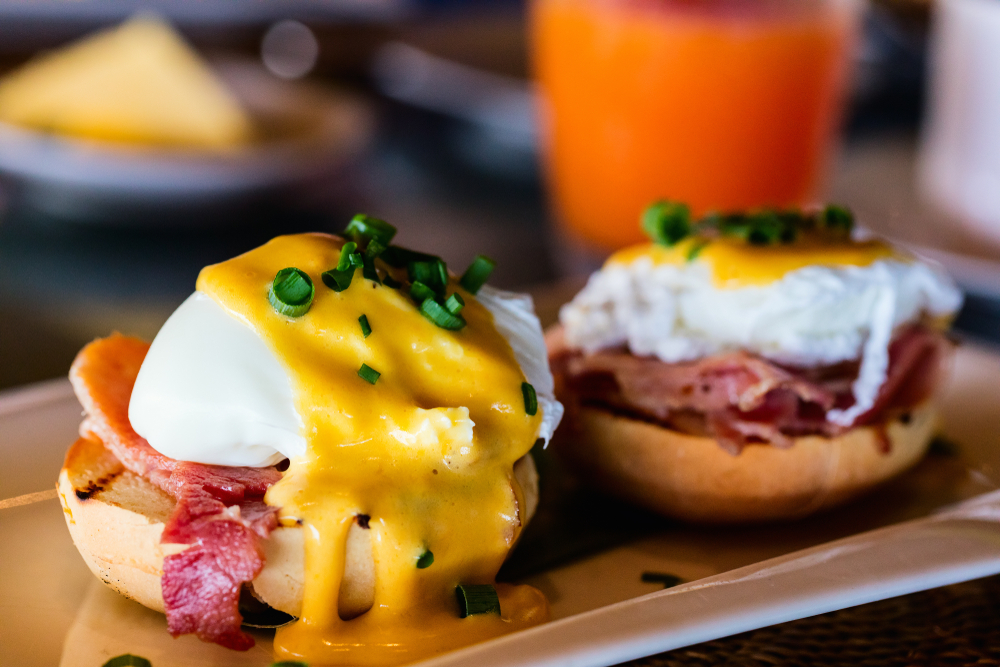 Clary's Cafe
The world-famous Clary's first opened its doors as a drug store in the 1930s before living a life as a soda shop and finally becoming the classic southern diner it is today. Clary's Cafe serves up traditional southern comfort food with an all-day selection of southern breakfast and brunch, making it one of the best breakfast places in Savannah any time of day!
Clary's menu features classic southern staples such as old-fashioned french toast, buttermilk biscuits smothered in sausage gravy, seafood omelets, and country-fried steak served topped with gravy and eggs.
Clary's is open from 8 am to 2 pm every day of the week. Visit this classic southern diner for some of the best breakfast in Savannah and a taste of Georgia history!
B. Matthew's Eatery
Set in a gorgeous historic building with a vintage vibe and southern charm, B. Matthew's Eatery, one of the most well-known spots to find the best breakfast in Savannah's historic district, is not to be missed!
The brunch menu is served until 3 pm daily and features southern comfort food that Savannah is famous for. Choose from mouth-watering classics like shrimp and grits, biscuits and gravy, and french toast, or try a creative dish you can't find anywhere else like the fried green tomato and crab cake benedict.
If you're looking for a delicious vegetarian breakfast in Savannah, B. Mathew's has great options like the veggie scramble served alongside a scratch-made buttermilk biscuit or an omelet packed with fresh veggies and served with southern grits.
700 Drayton
If you're looking to treat yourself to an upscale breakfast in Savannah, this gourmet restaurant located in a historic mansion turned luxury hotel is a perfect choice. Located inside the elegant Mansion on Forsyth Park, 700 Drayton Restaurant is a great spot to find the best breakfast in Savannah's historic district.
700 Drayton offers both classic and one-of-a-kind breakfast options starting at 7 am each day. Satisfy your early morning sweet tooth with the white corn pancakes topped with caramelized banana butter or the french brioche toast drizzled with blueberry syrup and topped with pistachios.
The brunch menu, served from 11am-4pm features one of the most creative menus for brunch in Savannah. Choose from indulgent creations such as an omelette stuffed with fresh blue crab, classic steak and eggs served alongside smoked peach chimichurri and a gourmet twist on a southern staple, chicken and waffles drizzled with molasses BBQ sauce and topped with Georgia pecans.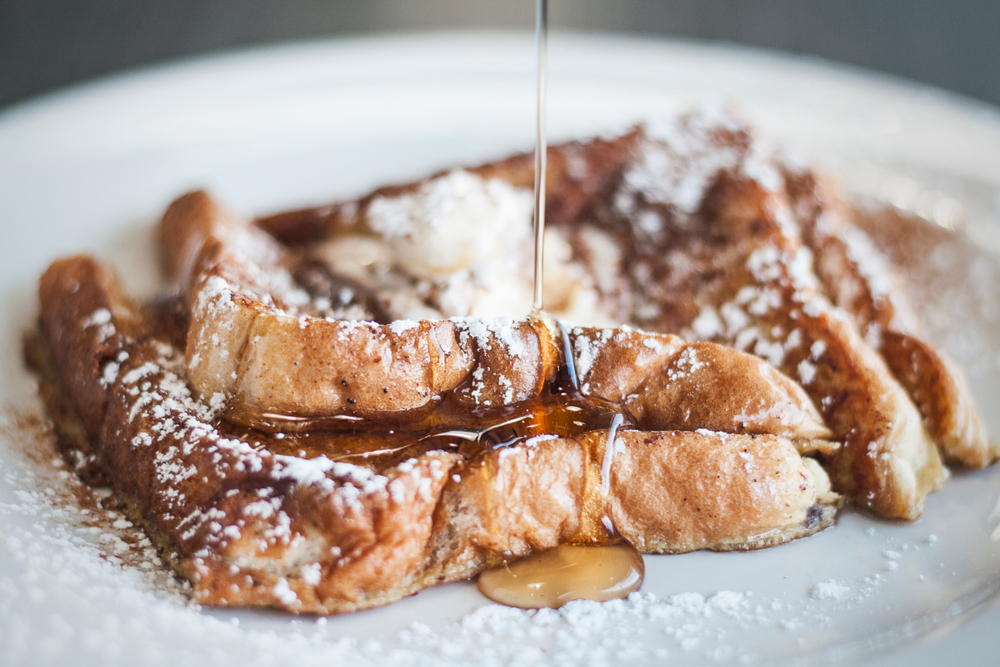 The Collins Quarter
Australian-owned and styled after Melbourne's historic Collin's Street, this trendy café brings an international twist to southern comfort food. The Collins Quarter is a widely popular cafe with two locations, both of which are delicious and stylish options for breakfast in Savannah.
The original location on Bull Street in Downtown Savannah features a brunch menu served daily from 11 am to 3 pm. Discover bold and unique breakfast fare such as Israeli shakshouka style grits, toast topped with minted smashed peas and poached eggs, and bananas foster french toast topped with white chocolate mascarpone cream.
The location at Forsyth Park serves brunch in Savannah on the weekends from 9 am to 4 pm. The menu features delicious options such as pork belly benedict topped with red curry hollandaise and classic southern shrimp and grits.
Be sure to try one of Collins Quarter's signature unique café drinks such as the spiced lavender mocha, Thai iced coffee, or house-made chai latte for a delicious addition to a tasty meal from one of the best Savannah breakfast spots.
Moss + Oak Savannah Eatery at the Hyatt Regency
Located inside the Hyatt Regency and offering outdoor seating overlooking the Savannah River, Moss + Oak Savannah Eatery is one of the loveliest Savannah breakfast spots if you're looking to indulge in southern comfort food with a view.
The breakfast menu is served daily from 7 am- 11:30 am and features southern staples such as grits loaded with cheese and bacon, fresh-baked biscuits smothered in sausage gravy, and Belgian waffles topped with strawberries and candied Georgia pecans.
Lighter options include avocado toast topped with eggs or salmon, egg frittata with mushrooms and spinach, and a yogurt bowl topped with housemade granola, fresh fruit, and local honey.
Huey's Restaurant
This riverfront restaurant serves up authentic New Orleans cuisine and boasts stunning views over the Savannah River. Huey's is known for being one of the tastiest breakfast places in Savannah and offers a brunch menu full of classic Cajun flavors.
Try one of Huey's seafood specialties such as the creole omelet stuffed with shrimp, the crab cake benedict topped with fried green tomatoes, or a hearty plate of catfish, eggs, and southern grits.
If you're looking for a sweeter breakfast in Savannah treat yourself to the pain perdue, New Orleans style french toast topped with powdered sugar and pecan butter. Don't forget to order a few, or maybe a dozen, of their world-famous beignets, served warm and dusted with powdered sugar.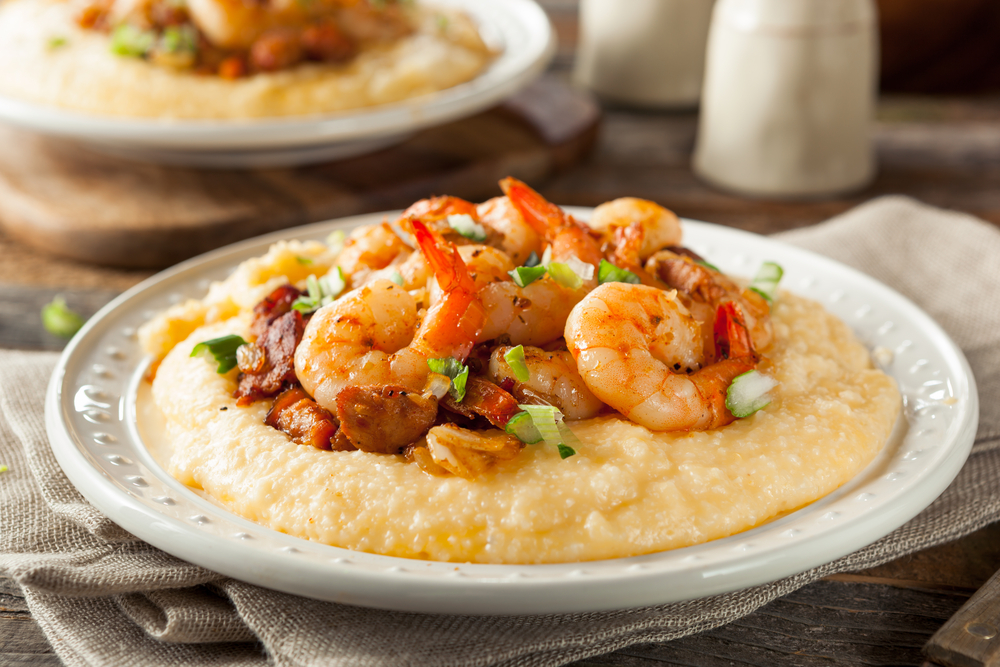 Fox and Fig
Looking for the best vegan breakfast in Savannah? This hip and modern café serves up tasty and healthy plant-based fare that will impress herbivores and carnivores alike.
Try creative twists on classic breakfast favorites like the gunslinger oat pancakes, topped with smoked cashew butter, maple syrup, and sprinkled with a dusting of Brazilian espresso. Other delicious breakfast options include chia porridge topped with seasonal fruit. Finish off your meal with a cafe drink made with plant-based milk such as the horchata latte or early spiced lavender mocha.
Fox and Fig offers some of the best breakfast in Savannah all day every day from 10 am to 9 pm so you can stop by to indulge in delicious plant-based versions of southern breakfast staples any time.
The Grey
Set in a refurbished bus depot, the Grey is an upscale retro dining experience and one of the most famous restaurants in the city. Brunch is only served on Sundays from 11-3 so plan your visit accordingly and don't miss out on this incredible spot for brunch in Savannah.
The brunch menu offers a selection of delicious and creative southern dishes such as blue crab beignets served with mascarpone and fried chicken with buttermilk hotcakes topped with cane syrup.
If you're looking for the best breakfast in Savannah on any other day than Sunday but still want a taste of The Grey's legendary food, you can head down the street to The Grey Market, a casual counter-serve spot with quick grab-and-go breakfast options like pastries, bagels, and breakfast sandwiches.
22 Square Restaurant
Located inside the sophisticated Andaz Hotel, 22 Square is a modern eatery serving up farm-to-table southern comfort food. It is the perfect place to find the best breakfast in Savannah for those looking for fresh cuisine featuring locally grown produce and sustainable ingredients.
The breakfast menu is available on the weekends from 7am- 11am and features healthy options such as an egg white frittata served with fresh market vegetables, avocado toast topped with poached local eggs, and a fresh seasonal berry parfait topped with local Savannah honey.
Indulge in classic french toast topped with fresh fruit or buttermilk pancakes served alongside pecan wood smoked bacon. Finish off your breakfast in Savannah with freshly squeezed fruit juice or perhaps a citrus mimosa.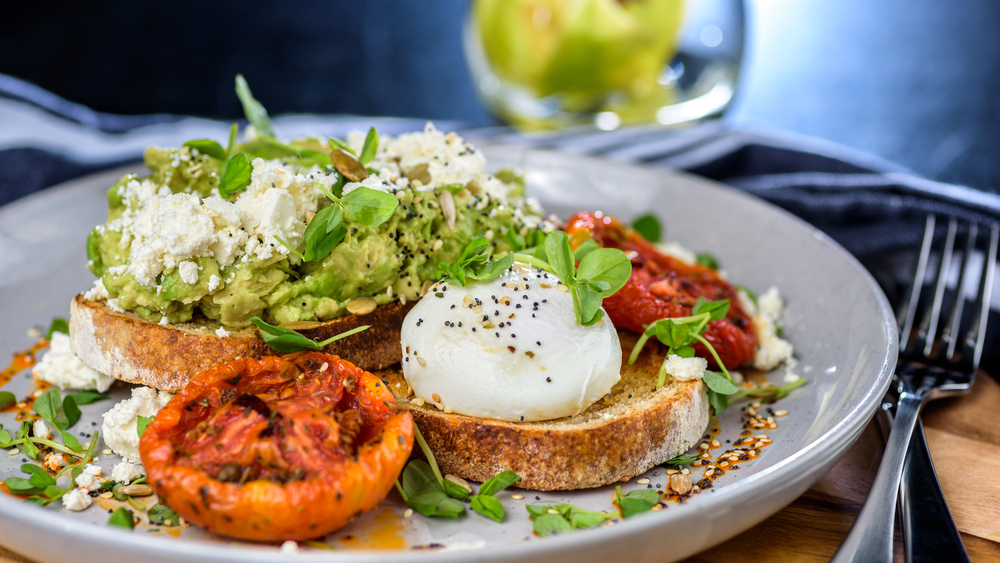 Savannah Coffee Roasters
Located in the heart of the historic district, Savannah Coffee Roasters has been around for over 100 years and is one of the best coffee shops in the city. It also happens to be one of the tastiest breakfast spots in Savannah and offers a daily breakfast and brunch menu to complement its extensive coffee selection.
Choose from delicious breakfast meals like The Egglethrorpe, a waffle biscuit topped with spicy pork sausage, egg, and smoked gouda cheese, or the Barnard Street Breakfast, a Belgian waffle served with eggs and bacon. The menu also offers a selection of quiches served with salad.
Savannah Coffee Roasters is a great place for vegans looking for the best breakfast in Savannah, with plant-based options such as the Habersham Hash, a hearty plate of quinoa and rice, corn, poblano peppers, and beyond sausage. Many of the breakfast offerings can be made gluten-free as well.
Gryphon Tea Room
This historic pharmacy turned classy café is a hidden gem for brunch in Savannah. Step back in time into the mahogany wood and stained glass interior that is bursting at the seams with southern charm. Gryphon Tea Room is owned by the Savannah Colege of Art and design and is a gorgeous setting to enjoy some of the best breakfast in Savannah.
Choose from elegant classics like the full English breakfast, smoked salmon croissant, or quiche du jour. The brunch menu also features creative specialties such as the french toast bread pudding and the savory chicken and spinach crepes.
The brunch menu is served on Sundays from 11 am to 3 pm. For an upscale take on brunch in Savannah, treat yourself to afternoon tea which is served Friday through Sunday and includes a selection of tea sandwiches, pastries, and scones.
Henry's
Located in downtown Savannah, this modest restaurant is the place to go for the best breakfast in Savannah for those looking for delicious food on a budget. Henry's offers simple southern breakfast staples all day and a breakfast buffet that will leave you and your wallet full and happy.
Try one of Henry's unique omelet creations such as the philly cheesesteak omelet or the bacon cheeseburger omelet. Pork chops and eggs, biscuits and gravy, buttermilk pancakes, and cinnamon french toast are just some of the southern comfort food options on the extensive menu.
Henry's opens bright and early at 6:30 every morning and serves up hearty breakfast food until 2:30 pm, so it's the perfect place to find some of the best breakfast in Savannah whether you're an early bird or getting a late start to your day.