If you are planning a stay in The Natural State, these incredible resorts in Arkansas should be on your radar! Enjoying the stunning natural beauty of Arkansas is easy and relaxing when staying at one of the best Arkansas vacation resorts.

You may be interested in a city stay, or perhaps a lake or mountain stay, you may even be interested in staying in one of the few 5-star hotels in Arkansas. No matter how you choose to enjoy the resort life during your visit you can't go wrong by staying at one of these remarkable accommodations.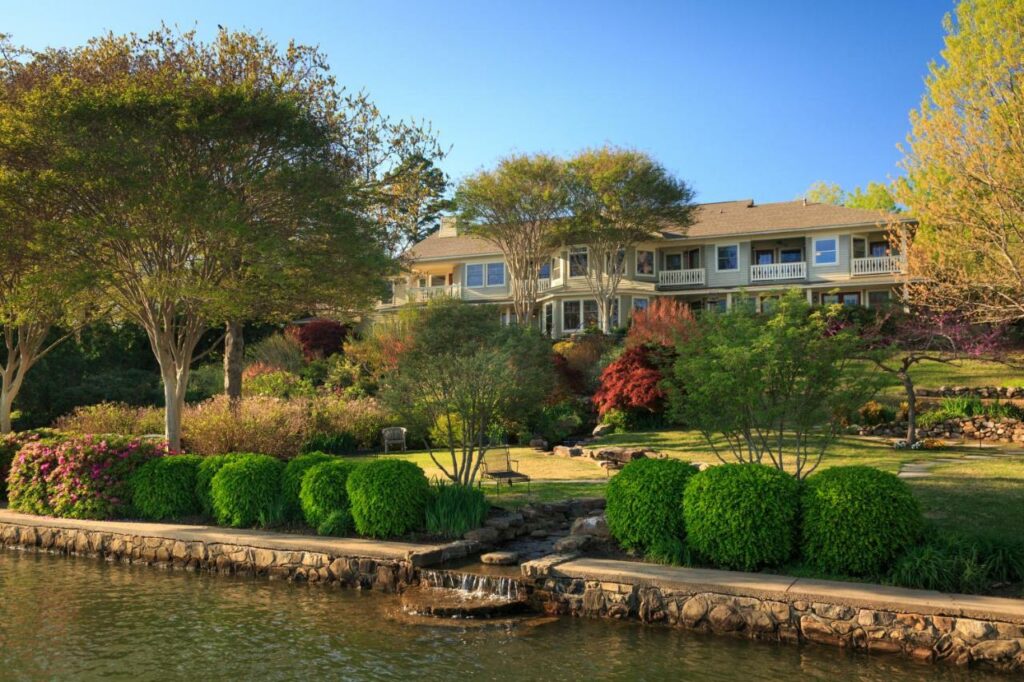 10 Best Resorts In Arkansas You Must Visit
1905 Basin Park Hotel
One of the best places to stay in Arkansas is the 1905 Basin Park Hotel. Located in Eureka Springs, Basin Park offers full-service lodging. You can use the downtown courtesy shuttle to get around during your stay and they also have complimentary parking. On top of this, you will very safe during your stay as they have security on site.

Enjoy the colossal breakfast on weekdays and a fresh continental on the weekends, a hot tub and sun deck, as well as many fun things to do during your stay. What makes the 1905 Basin Park Hotel one of the best resorts in Arkansas is all of the activities and things to do in the hotel.

The hotel has a spa on site where you can get hot stone massages, self-heated mud, warm bamboo for deep pressure and lymphatic drainage, as well as exfoliating foot masks. Of course, they also have standard massages alongside massages for stress relief, couples, prenatal, and CBD massages as well. If you are feeling the need for a little extra pampering you can throw in a facial or body scrub while you're there.

Also at the Basin Park Hotel is the Balcony Bar and Restaurant, Jack Rabbett's Whiskey Bar, and something super unique as far as resorts go, a ghost tour! The Basin Park Ghost Tour shows you around the most active paranormal spaces in the hotel. You'll hear stories from investigators and learn about the evolution of ghost hunting on the hotels' ghost tours.

Check Rates Here: Booking.com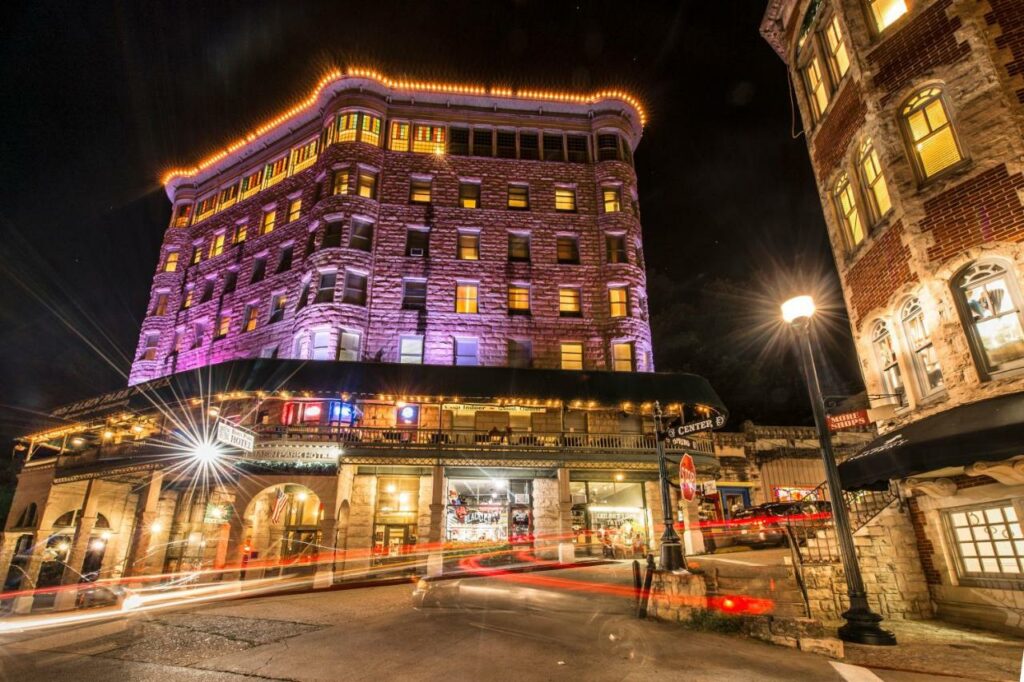 Embassy Suites Hot Springs – Hotel & Spa
The Embassy Suites Hotel & Spa in Hot Springs, Arkansas is among the best resorts in Arkansas for couples! With a fantastic gym and pool at this hotel, you will be able to stay active and healthy while spending time with your significant other. Plus, you can enjoy made-to-order breakfast for free every morning during your stay. How great is that!

At the hotel, Bistro 400 is open for lunch and dinner. You can find everything from onion rings and hot wings to sandwiches, burgers, and pizzas on the menu. If you want something more elevated, ribeye, pesto pasta primavera, and bourbon peppercorn chop are also on the menu.
This is truly one of the Best Resorts in The Southern USA!!

Also home to the Spa Botanica, Embassy Suites has an incredible Meditation Room where you can enjoy a refreshing glass of Mountain Valley Water. The spa offers nail, skin, and body treatments along with an assortment of flavors of herbal teas to sip on during your visit. If you are looking for a super rejuvenating experience when you stay at one of the amazing resorts in Arkansas, Embassy Suites should be on your radar!

Check Rates Here: Booking.com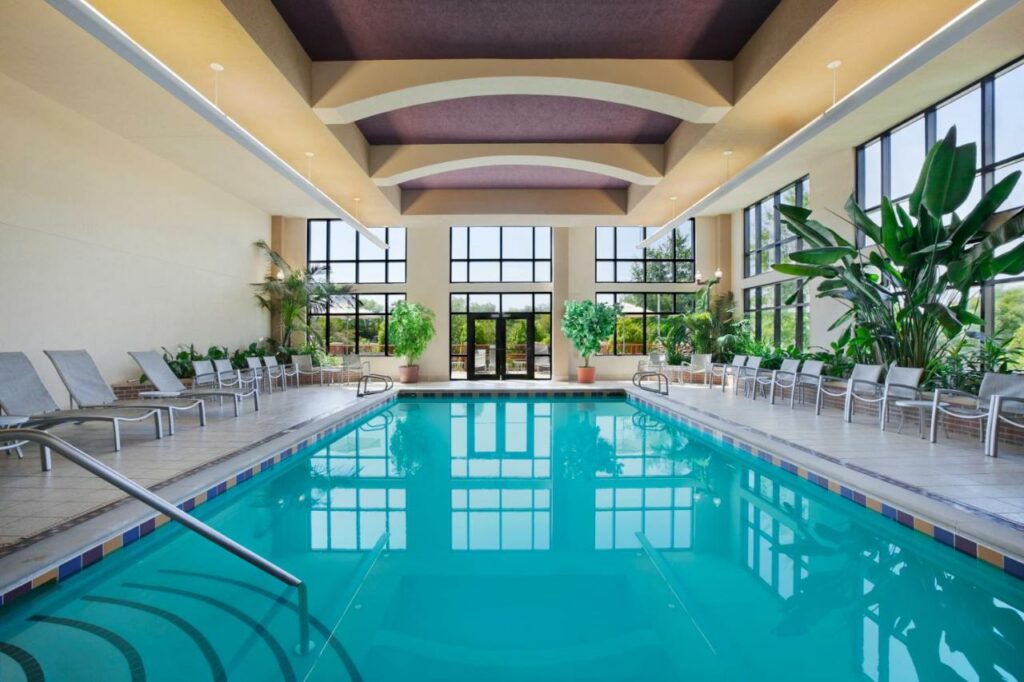 1886 Crescent Hotel and Spa
For those looking for mountain resorts in Arkansas, set your sights on the 1886 Crescent Hotel and Spa in Eureka Springs. By far, one of the best Arkansas mountain resorts, the 1886 Crescent Hotel and Spa is in a simply breathtaking location in the Arkansas mountains. High on the mountain and surrounded by trees, this dreamy locale is perfect for those looking for a romantic and idyllic resort to stay in while in Arkansas.

The history of the hotel is quite interesting. The fourth floor of the hotel holds historical archives for the building. Notable people from all around the world would come to stay at the Crescent. At the time of its construction, it was the country's most luxurious hotel, having cost nearly 300 thousand dollars to complete.

When you stay at this resort you can enjoy breakfast in the Crystal Dining Room, lunch at Skybar Gourmet Pizza, and dinner in either the Crystal Dining Room or the Frisco Bar and Burgers. Also, after a long day of enjoying Eureka Springs and relaxing in the spa, head to Top of The Crest. Here you can enjoy the sunset while having a frozen drink, snack, or a dessert like a Colossal Cupcake.

The spa offers guests a variety of services including massages, body treatments, facials, manicures and pedicures, waxing, hair services, and more. There are also relaxation spaces on site. The Infra-Red Sauna is a complimentary feature for spa guests that offers many health benefits.

Check Rates Here: Booking.com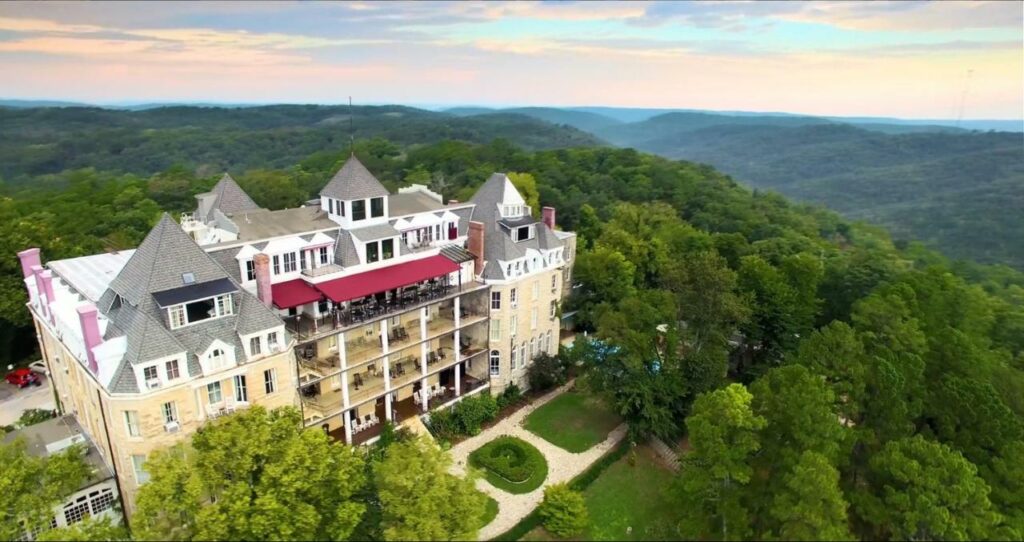 Arlington Resort Hotel & Spa
The Arlington Resort Hotel & Spa in Hot Springs is one of the most incredible luxury resorts in Arkansas. This historic hotel is the largest of all of the spa resorts in Arkansas. With nearly 500 rooms, Arlington has been around since 1875.

In the lobby, you will find a bar and an elegant dining area along with their beautiful Crystal Ballroom. And outside of the resort, you will find incredible things to do while you are in the area. The famous Bathhouse Row, museums, art galleries, restaurants, and live entertainment are all within walking distance of the hotel.

Arguably, the main reason for staying at The Arlington is the Hot Springs Spa and Salon. Here you can find a variety of salon and spa services. You can find everything from facials, body wraps, and spray tans to waxing, blowouts, and hydrotherapy. After a tiring travel day, booking a deep tissue massage or a stint in the dry sauna is just what you need.

Check Rates Here: Booking.com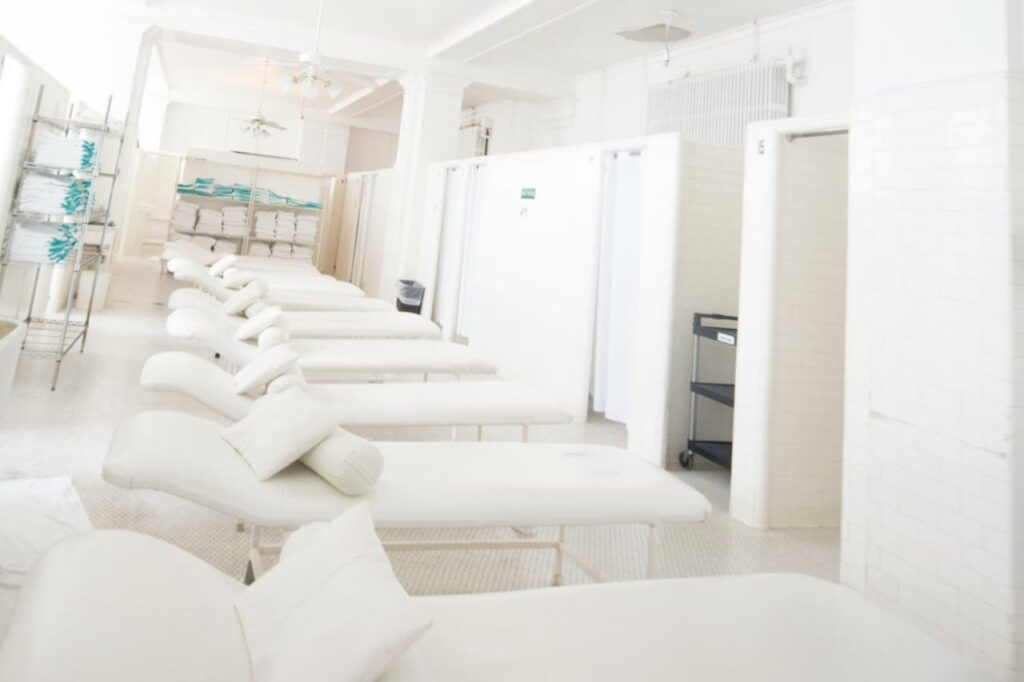 Capital Hotel
The Capital Hotel is among the best Arkansas resorts for couples. You will find this accommodation near the Arkansas River in downtown Little Rock. A living piece of history of you to enjoy, The Capital Hotel is dedicated to providing personal attention and care with their excellent customer service so that you feel welcome and cared for when you visit the hotel.

As one of the best resorts in Arkansas, you will want to be sure to try the remarkable food available by visiting the One Eleven Bar. Creating delicious dishes with only the finest ingredients available is what they do at One Eleven. The welcoming contemporary Bistro setting is the perfect place for breakfast, lunch, or dinner.

For breakfast, you will find eggs benedict, omelets, pecan pancakes, breakfast tacos, lox bagels, and more. For dinner, you will find dishes like veal Osso Bucco, sourdough crusted Chilean seabass, potato gnocchi, mushroom tortellini, red win poached pear salad, and of course, crab cakes, and Bangs Island mussels.

The approach to hospitality at The Capital Hotel is something that they like to call Southern Comfortable. With deluxe rooms, high ceilings, subway-tiled tubs, awe-inspiring views of downtown Little Rock, and suites that offer large European soaking tubs, you will surely enjoy Southern Comfortable during your stay at The Capital.

Check Rates Here: Booking.com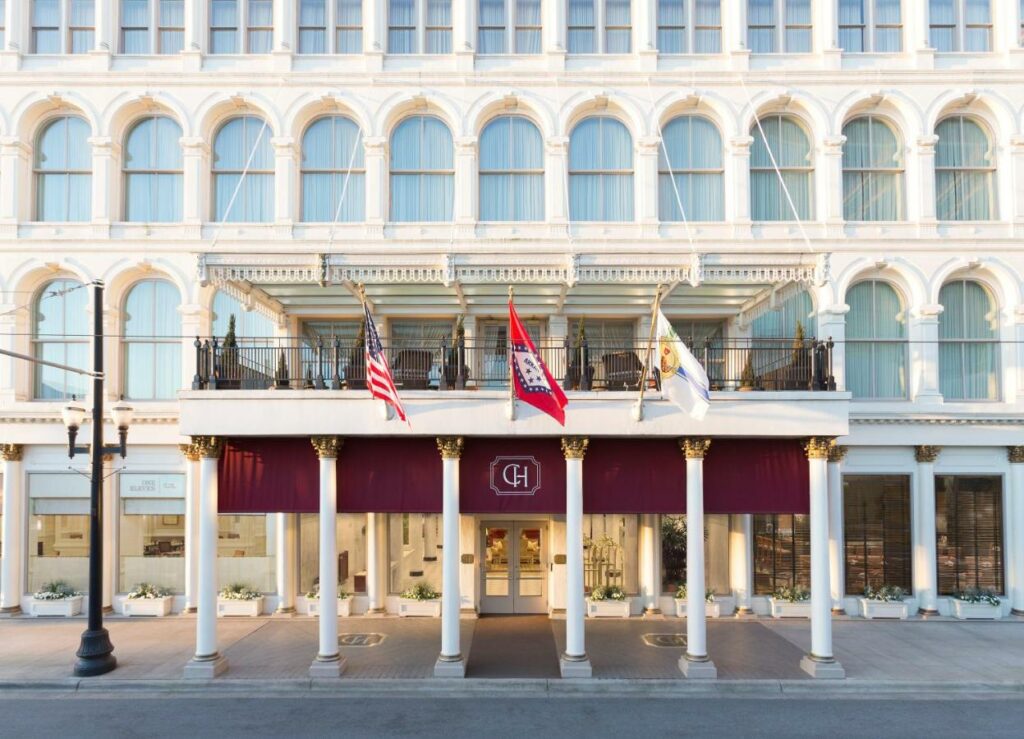 AC Hotel Little Rock Downtown
One of the best Arkansas hotels to stay at if you are looking for modern luxury is the AC Hotel Little Rock. With a European-inspired interior, breakfast, and decor, the AC Hotel is located in two historical buildings that are inspired by the geography and landscapes of Little Rock.

Enjoy a breakfast of croissants, prosciutto, cheese, yogurt, tarts, and fresh fruit at the AC before you start your day. Later, you can enjoy one of the hotel's signature Gin and Tonics in their lounge. They also have local microbrews, Spanish wines, and more. At the end of the day, Spanish tapas and a well-curated menu of small bites can be ordered from the bartender.

Also on site is a fitness center, a convenience store, free coffee and tea throughout the day, and dry cleaning service. The location of the hotel makes it one of the best resorts in Arkansas! With such a wonderful location in the downtown area, you will have access to some of the best things to do in Little Rock within walking distance from your hotel, as well as some of the most remarkable restaurants in Little Rock.

MacArthur Park, The Mosaic Templars Cultural Center, the Old State House Museum, the Historic Arkansas Museum, and the Museum of Discovery are all near the AC Hotel. If you fancy a walk along the river, you are in luck there as well. You can reach the Julius Breckling Riverfront Park on foot as it is just a few blocks away from the hotel.

Check Rates Here: Booking.com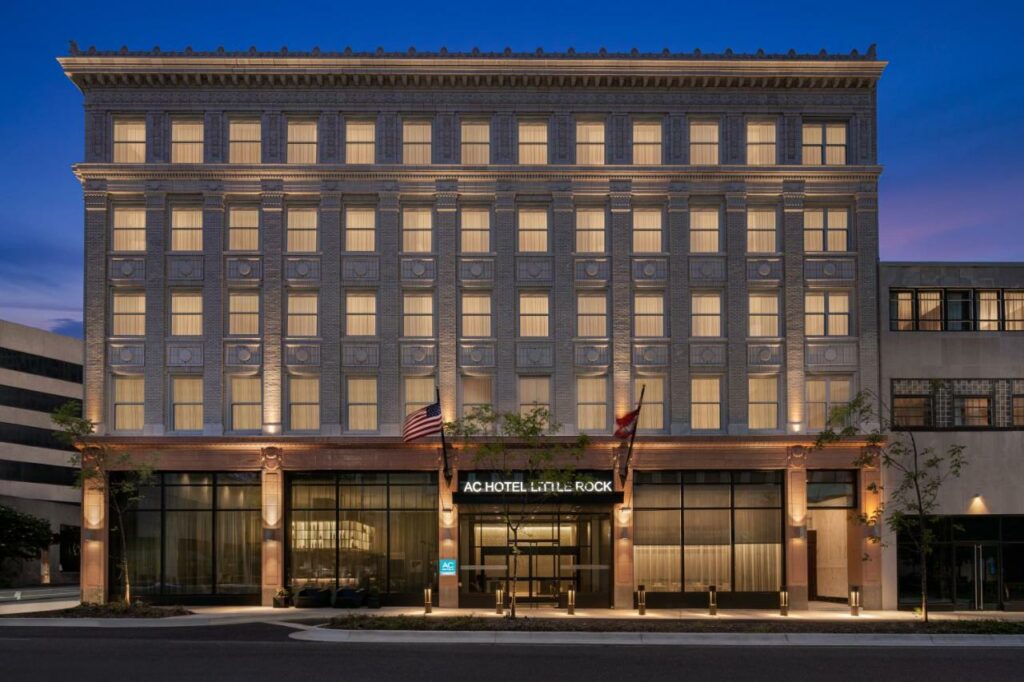 21c Museum Hotel Bentonville
When looking for the best Arkansas resorts, it's important not to overlook the 21c Museum Hotel in Bentonville. More than just one of the best resorts in Arkansas, the 21c Museum Hotel is a contemporary art museum, boutique hotel, cultural center, and the home to The Hive restaurant.

The museum has more than 12,000 square feet of space for exhibitions that are seamlessly integrated into the nooks and crannies of the hotel. The galleries are open each day and they are always changing so you can see something new each time you visit. If you would like, you can even take part in a guided museum tour to get the most out of your stay at the hotel.

The rooms at the hotel are designed to look like the rooms at the flagship location in Louisville Kentucky which has won many awards. With spacious rooms, high ceilings, thought-provoking art, comfortable beds, and all the amenities you would expect from a high-end hotel, it would be difficult to not enjoy your stay at the 21c Hotel.

The Hive Restaurant holds various events and performances that make your stay all the more enjoyable. Events like Halloween Drag Brunch and Afternoon Apertivos on the weekends will make for a memorable experience. With drinks like the Kentucky Daisy and the Stonewall Inn, you'll likely struggle to pull yourself away from the table at the end of the night.

Check Rates Here: Booking.com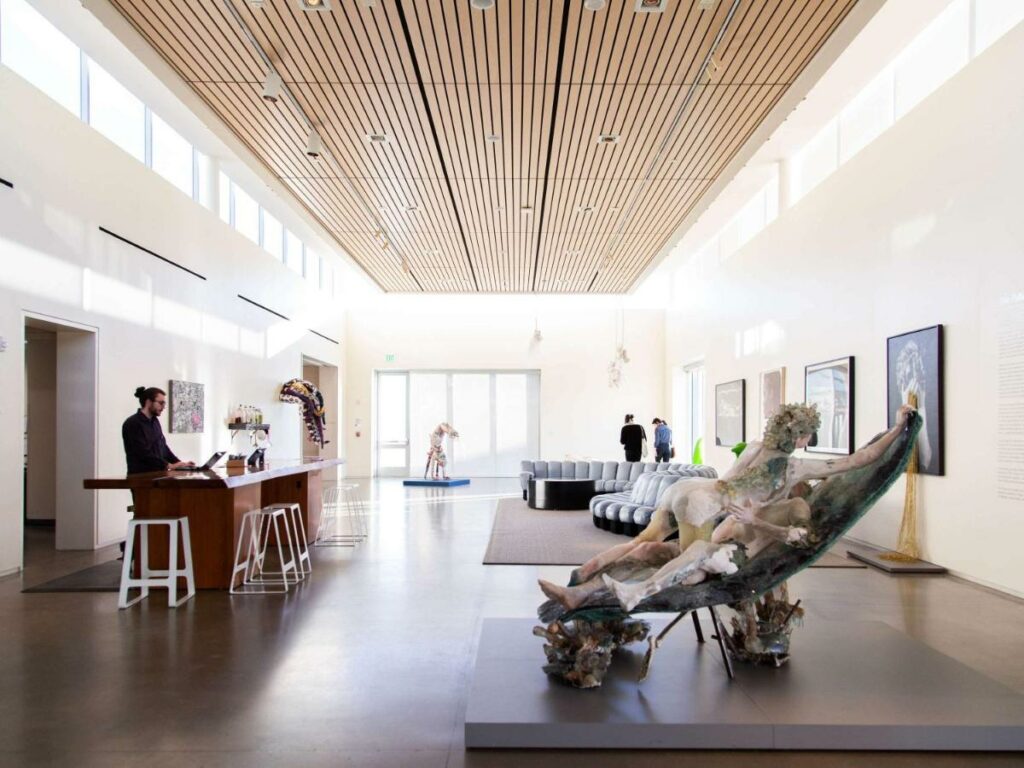 Lookout Point Lakeside Inn
If you are looking for lake resorts in Arkansas, look no further than the Lookout Point Lakeside Inn. With all of the incredible things to do in Hot Springs, Arkansas, it's easy to see why you would want to book accommodation in the area. The Lookout Point Lakeside Inn is in southern Hot Springs on beautiful Lake Hamilton.

On Lake Hamilton, you will find the stunning Garvan Woodland Gardens. Complete with a children's garden, walking trails, and overlooks, the gardens are remarkable and something that you won't want to miss during your stay on the lake. Other things to do around the lake include boating, golfing, horseback riding, and visiting some of the incredible restaurants nearby.

The inn itself is a carefully curated escape on the waterfront. As the most romantic hotel in America, this is the place to be for couples looking for resorts in Arkansas. The Ouachita Mountains are a dreamy location for couples looking to get away for a couple of days (or a couple of weeks!) The inn has won awards for the rooms, food, drinks, and hospitality that is offered to guests.

Some of the outstanding awards won by this inn include TripAdvisor awards for the most romantic hotel in the United States, best small hotel in the United States, best lakeside hotel in the United States, best inns in the south, and more! With accolades coming from Good Morning America, The Today Show, Southern Living, and Trip Advisor, you can rest assured knowing this is one of the best places to stay in Arkansas.

Check Rates Here: Booking.com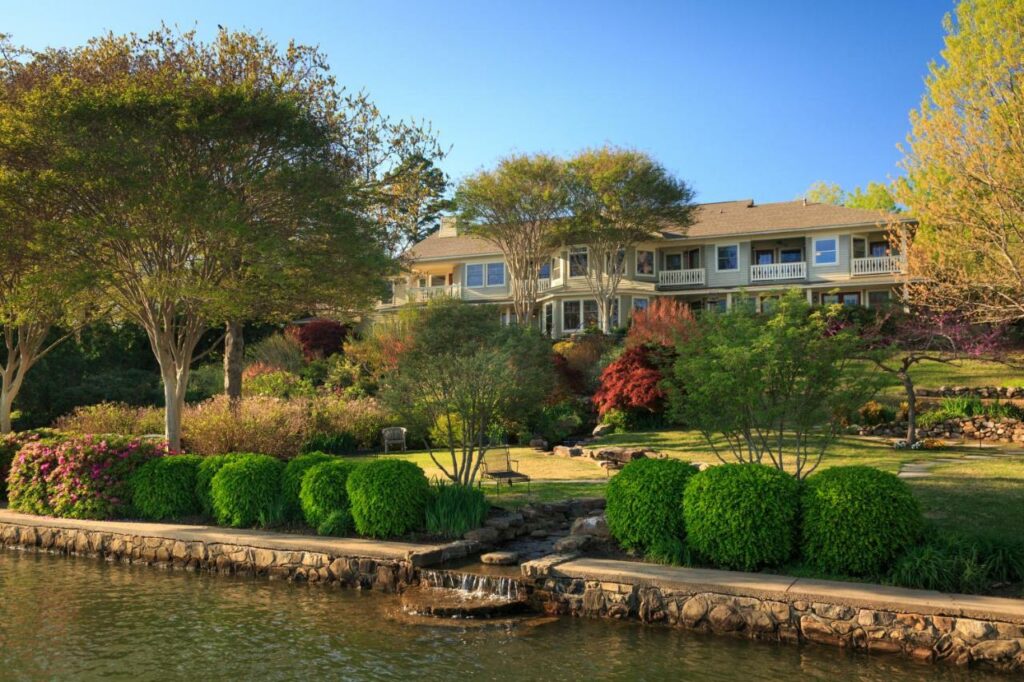 The Reserve at Hot Springs
Other resorts in Arkansas will struggle to compare to The Reserve at Hot Springs. This level of southern hospitality and elegant historical rooms are hard to beat. The hotel has been restored to its Gilded Age glory and is now one of the most luxurious and sought-after hotels and wedding venues in the state.

There are twelve accommodations in the main house along with the Legacy House and the Cottage Suite adjacent to the main house. Dive into a comfortable bed with luxury linens in a beautiful and historic private mansion to enjoy a respite from the hecticness of everyday life.

With features like kitchenettes, fireplaces, rain showers, soaking tubs, racetrack views, garden views, and more, you are sure to make memories you won't soon forget at The Reserve. Luxury packages and enhancements are available to you during your stay as well. Have chocolate-covered strawberries or a charcuterie board for two sent to your room, enjoy champagne on your arrival, or book a private wine dinner designed by a team of talented culinary chefs.

Check Rates Here: Booking.com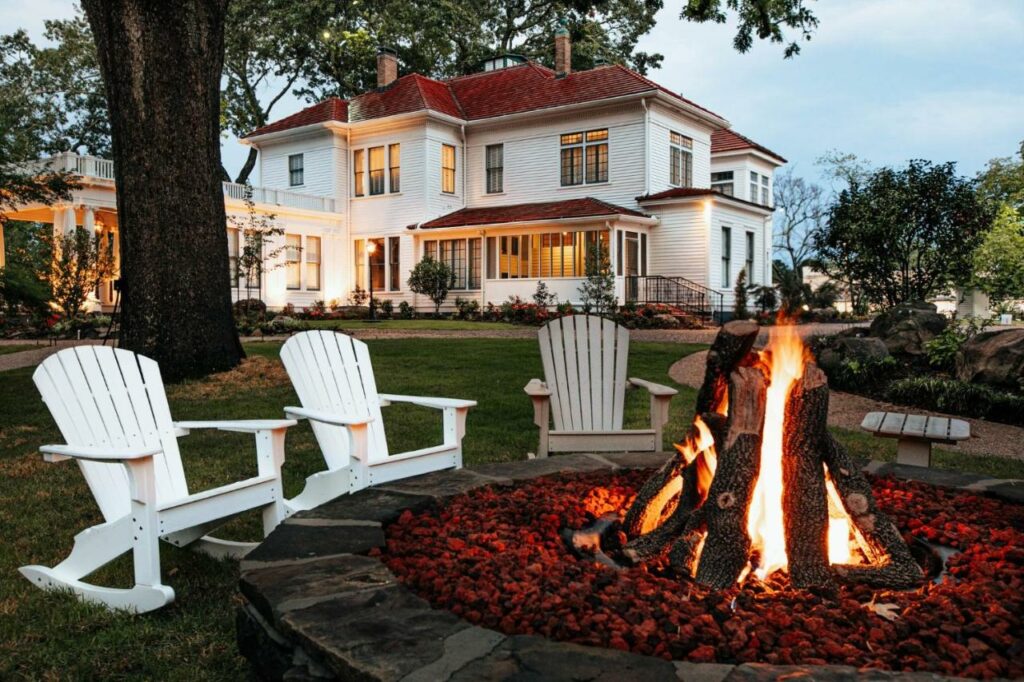 Best Western Inn of the Ozarks
Calling all family travelers! The Best Western Inn of the Ozarks is among the best Arkansas resorts for families! There are tons of amazing things to do in Eureka Springs near the Best Western Inn so you won't have to worry about traveling far to find fun things to do with your family.

As far as family resorts in Arkansas go, you will want to make sure that there is an amazing pool wherever you choose to stay. And at the Best Western, you will have an incredible outdoor pool to enjoy with your family. Plus, the hotel is pet-friendly for travelers visiting with their furry friends!

Pool tables, ping pong tables, arcade games, mini golf, and a buffet at Myrtie Mae's Cafe all make the hotel all the better for families. While you are in Eureka Springs you can visit Lake Leatherwood, explore the Eureka Springs & North Arkansas Railway, and more. The railway offers an amazing dinner train experience where you can spend two hours enjoying the natural beauty of Arkansas over dinner.

Check Rates Here: Booking.com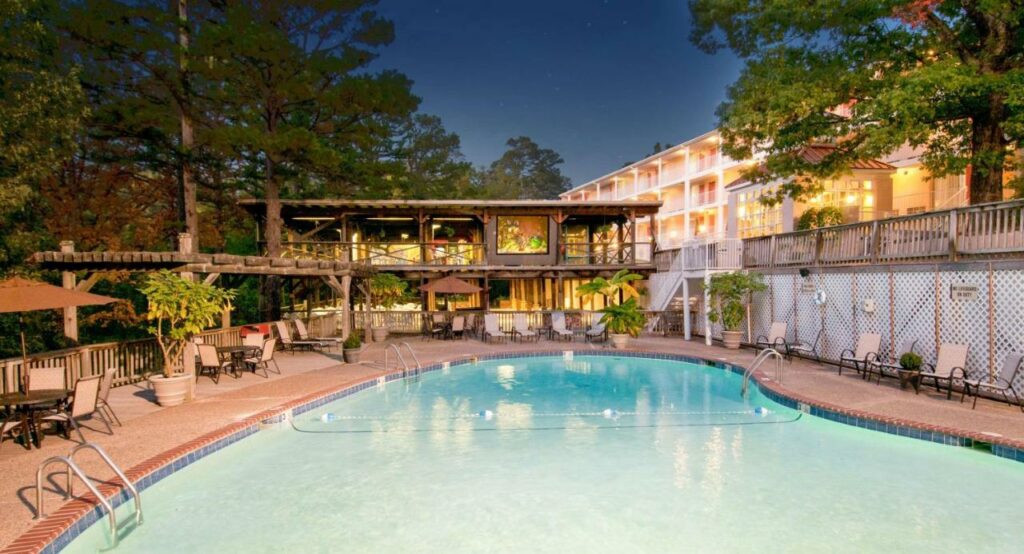 Now that you've learned a bit about some of the most popular Arkansas vacation resorts, which one do you think you will visit first? Whether you are looking for a romantic getaway in Arkansas, a family resort, or seclusion in the Ozark Mountains, you have so many amazing accommodations to choose from!