If you are looking for a list of the best restaurants in Little Rock Arkansas we have you covered! Below you will find the best places to eat in Little Rock!
You are sure to work up an appetite as Little Rock is such a fun city to explore and visit! Check out the list we have put together a list of the best things to do here!
We consider it one of the best food cities in the South! The capital of Arkansas has had to carve out its own space with some iconic foods centered around farm to table concepts, steakhouses, everything cheese related and more! The eclectic cuisine makes it easy for everyone to find the perfect dining spot in Little Rock!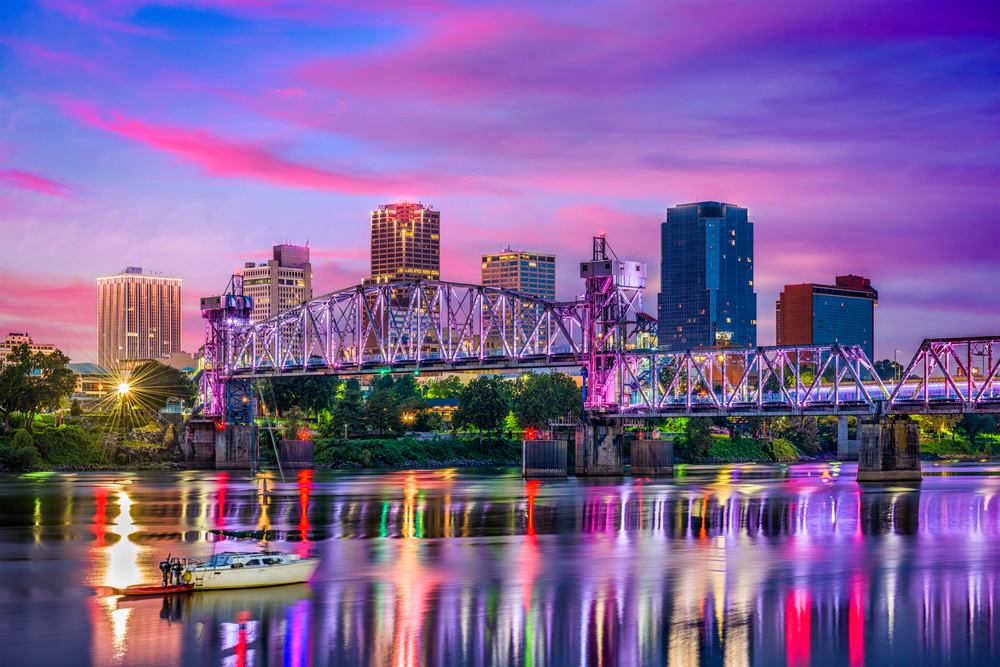 15 Best Restaurants In Little Rock AR You Shouldn't Miss
Arthur's Prime Steakhouse
If you are celebrating a special occasion, Arthur's Prime Steakhouse is one of the best places to eat in Little Rock Arkansas. This steakhouse is rated one of the best in the south, with all beef aged on site and is delivered three times a week! Make reservations online!
Those looking for exclusive dining, it is one of the restaurants in Little Rock with private rooms! Dine in one of two private wine vaults. You can even join friends of the cellar program where patrons can keep their private wine collection in lockers here!
Now for the menu, start your meal with oysters on half shell, a wagyu beef carpaccio, baked brie, or a colossal lump crab cake. Only USDA dry aged prime meats are served.
Choose from Arthur's Filet, Bone-in Ribeye, NY Strip, as Australian Wagyu beef , Japanese Kobe Beef and the Prime Chateaubriand for 2. Or try one of their signature entrees like Lobster tail, Alaskan Halibut, Dijon encrusted lamb, and a roasted chicken breast.
Pair with all the signature steakhouse side! Creamed spinach, brussel sprouts, truffle fries, baked potato, wild mushrooms, mac n cheese and more.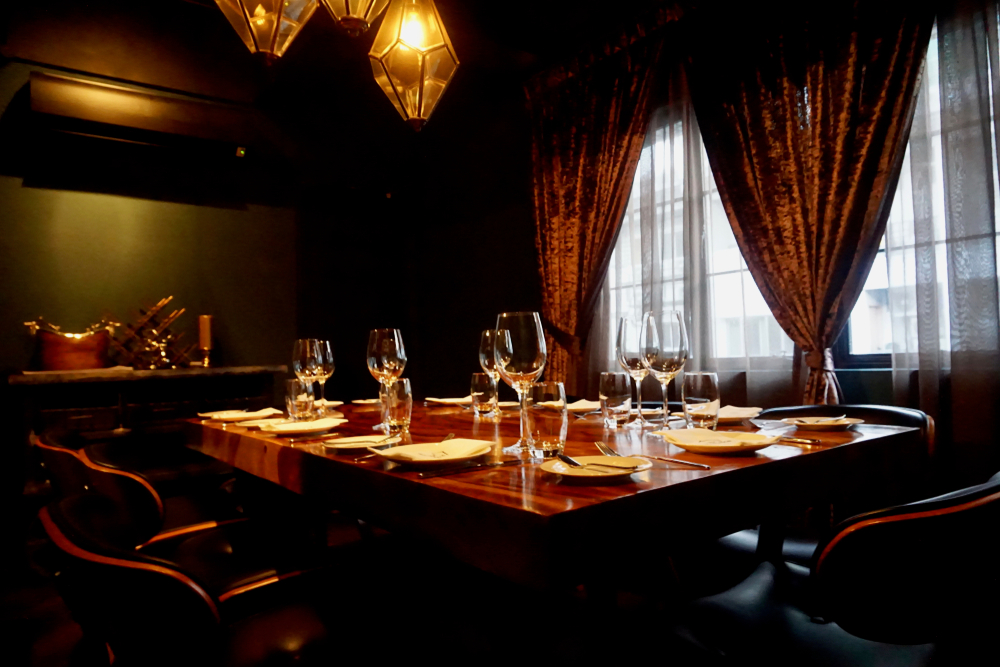 The Pantry Restaurant
If looking for what to eat in little Rock, head to one of the west Little Rock restaurants like the Pantry Eateries. Opened in 2014, and located in the Hillcrest neighborhood they serve up Czech and German classics!
It is a great choice for those looking for gluten free and vegetarian restaurants in Little Rock too! Start with "nibbles" like hummus, truffled deviled eggs, cheese spaetzle and brussel sprouts. Mains include vegetable Lesco skillet, an assortment of flatbreads, and a vegetable side plate.
The lunch menu includes nibbles such as bacon wrapped dates, buffalo shrimp, and a country terrine. Street fair food include house made sausages, a stockpot with sea bass, fish and fries, Jager or wiener schnitzel, and goulash.
Dinner menu features season pastry, family style salads, Svickova a Czech roast beef, roasted pork shoulder, house made Hungarian Sausage, burgers made with brats and a Hungarian Goulash pastry pie.
Sonny Williams' Steak Room
Diners looking for upscale restaurants in Little Rock will want to add Sonny Williams' Steak Room to their list. Located in the Little Rock's River market district, there is complimentary valet parking and live piano music Monday through Saturday!
While this is a fancy restaurants in Little Rock, Chef Ben Lindley aims to welcome diners with delicious menu and a warm ambiance.
Order the Sonny's slab charcuterie board or fried calamari to start for the table. Steaks include porterhouse, NY Strip, bone-in Ribeye, and filet. Or choose from entrees like a blackened shrimp scampi pasta, herb roasted chicken, honey glazed chili salmon and Sonny's Famous lamb.
Delicious Temptations
Delicious Temptations serves one of the best breakfast in Little Rock AR. For over forty years this family run restaurant has served breakfast, lunch and brunch.
Breakfast favorites include pancakes, french toast, eggs benedict, omelettes, quiche and biscuit and gravy.
Lunch menu has cold sandwiches such as avocado sunshine, a chicken cashew crunch, tuna, a very veggie. Soups and salads range from a chicken chef, greek salad, and a hot soup of the day.
Larger entrees include a open faced crab melt, a parmesan chicken croissant, a quesadilla, a grilled club, burger, and a philly.
Table 28
Located inside Burgundy hotel diners will find one of the romantic restaurants in Little Rock. Serving American cuisine with a southern twist with locally grown produce! Stop in for happy hour Monday to Thursday from 4 pm to 6 pm.
Table 28 only serves a dinner menu. Try the roasted winter squash soup, a port wine poached pear or a larger shared appetizer like Arkansas dirty rice, curry chicken meatballs, octopus, and duck wings.
Entrees from the farm include a purple risotto with farm veggies, Arkansas prime beef filet with parmesan brussel sprouts, from the water entrees include Shrimp and grits and blackened redfish with whipped sweet potatoes.
Those with a sweet tooth will want to order the sticky toffee pudding, a s'mores moose with cognac ice cream.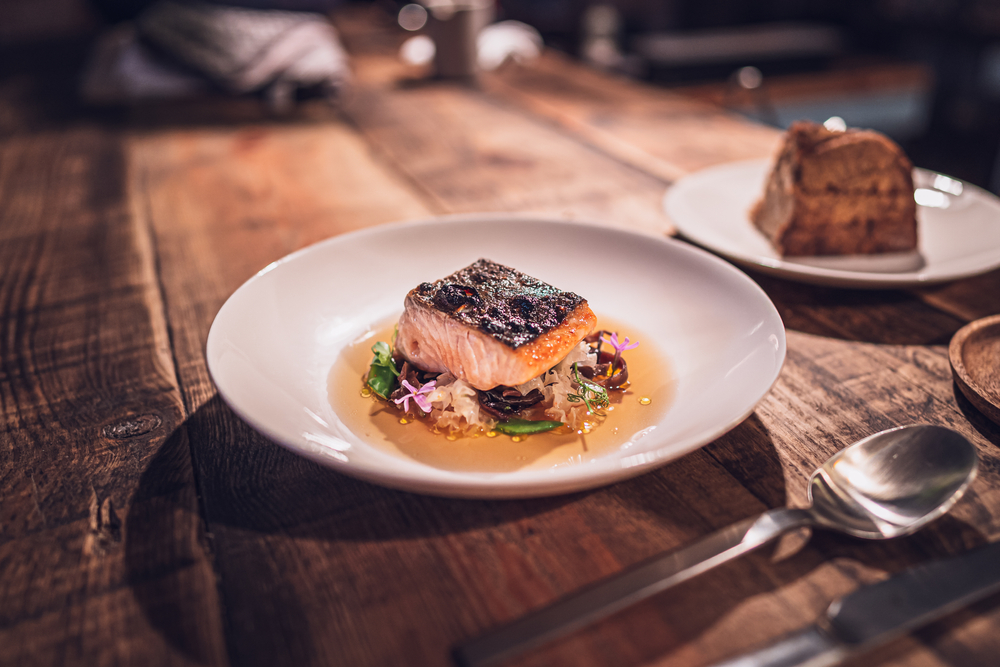 The Root Cafe
The Root Cafe needs to be on your list of the restaurants for the best lunch in Little Rock AR. This farm to table restaurant sources produce from small farms around Arkansas. The motto here is community through local food.
Open Tuesday to Sunday from 8 am to 8 am, you can order off the breakfast, daily or dinner menu. On the breakfast menu served 8 am to 11 am, try the housemade sausage biscuits, a roots benny, tofu scramble and buttermilk pancakes.
For the daily menu try the hand formed burgers, or the vegetarian shitake mushroom burger. Old world brats, various sandwiches like banh mi or deviled egg salad, a curry chicken salad and a kimcheese sandwich.
Dinner menu is served 5-8 pm, and all plates are served with cornbread and garden salad plus a side. From meatloaf, purple hull peas, pulled pork, hot chicken and a crispy fried tofu!
Kemuri
Kemuri is one of the places to enjoy the best dinner in Little Rock. This combination sushi, seafood, and Robata restaurant is open for lunch from 9 am to 11:30 am and dinner from 2:45 pm to 6pm. Stop in for brunch, lunch or dinner!
Come in for a unique brunch menu with Japanese fusion cuisine such as green tea pancakes, a miso french toast, eggs benedict with soft shell crab, shishito grits and shrimp, and kemuri tacos.
Try one of the lunch specials like express sushi lunch, shrimp bento box, or a variety of sushi rolls. On the menu you can find steamed buns, poke rice bowls, hibachi rice, Szechuan salmon, miso ramen, curries and bibimbap.
Dinner is served Robata style, a Japanese style of slow cooking over fire. From half roasted duck, prime beef sliders, chilean sea bass, ahi tuna bowl, miso glazed black cod, ramen bowls, and drunken noodles.
Petite and Keet
Petite and Keet will be found in almost every Little Rock restaurant guide and has been voted one of the best restaurants in Little Rock, Arkansas. The rustic ambience paired with a menu showcasing local chefs and local ingredients it the perfect spot .
Open everyday but Sunday for dinner. Happy hour is everyday from 4 -6:30 pm.
Another one of the restaurants offering private dining rooms choose between the wine cellar, sidewalk cage with garage door, or rent out the entire restaurant for your event!
Start your meal off by sharing the beer steamed mussels, tempura calamari or fried guacamole and crab ceviche. Mains include a pistachio and almond crusted New Zealand lamb chop, a prosciutto wrapped sea bass with Arkansas sweet potatoes, and the house made eggplant lasagna.
YaYas Euro Bistro in Little Rock
For those looking for Mediterranean food in Little Rock AK with a flare will want to try YaYas Euro Bistro. Open daily for lunch, dinner, happy hour and a Sunday brunch buffet!
Lunch here is set up tapas style with small plates like gnocchi with roasted chicken, roasted cauliflower and crab cakes. Pair with one of the fresh salads like a pear and avocado or tenderloin steak salad.
Or try one of the flatbreads from traditional margarita and pepperoni to a 5 meat! Bistro specials rotate like the bistro steak, yaya's roasted chicken, trout almandine, butternut squash ravioli or an angel hair pomodoro pasta.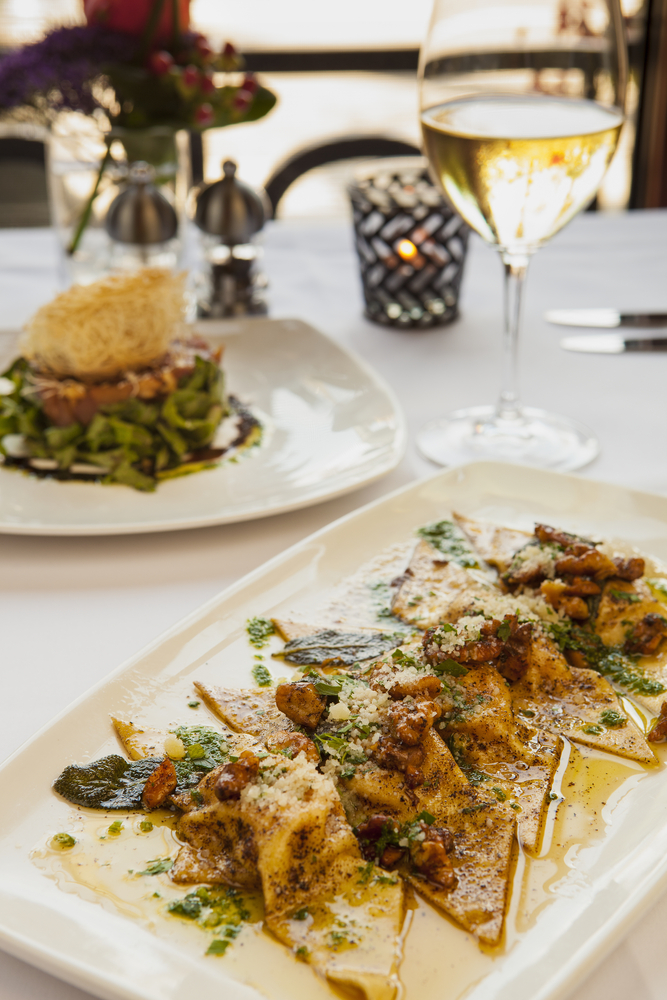 Samantha's Tap Room & Wood Grill
For those looking at where to eat in Little Rock and are downtown try Samantha's Tap room and Wood Grill. The food and ambience is upscale met with down home comfort. Sample the 32 beers or 20 wines on tap here!
Come prepared to share for the communal table dishes like a parmesan salsa on a grilled baguette, the spicy, smokey and sweet charcuterie and cheese plate, surf and turf queso blanco and the grilled artichokes.
Mains include sandwiches like a smoked ham and swiss cheese, a blackened grouper, cuban and veggie. Heartier fare includes a bacon wrapped quail breast, Tom Yum Gulf shrimp, and a bacon wrapped filet mignon.
Pair with purple hull peas, sautéed snap peas, chipotle mac and cheese, creamy asiago grits, or a loaded bake potato.
Tokyo House
Tokyo House makes our list of the best Little Rock restaurants for its delicious sushi lunch and dinner buffet – a one of a kind offering in Arkansas. Come hungry, the sushi chef prepares more than 50 styles of rolls each with high quality ingredients.
The lunch buffet is less than $13 and served from 11am to 3 pm, and dinner is under $20 and served from 5-8 pm.
Also on the menu you will find Japanese style fried rice, yakisoba or udon noodle dishes with you choice of protein, tempura and a full sushi and sashimi menu.
Lost Forty Brewing
Another of the downtown food places in Little Rock, Lost Forty is just as passionate about its craft beers as it is about its food!
Come sit in the tap room and relax and enjoy a good time with friends and family! Classic beer offerings include a Rock Hound IPA with citrus notes, PUNCHY snow cone's, Love Honey made with local honey, a wild cider with and a bourbon aged blonde.
The food menu includes wings and cauliflower vegan wings, an Arkansas cheese dip, waffle fry skillet, brewhouse gumbo, the L40 Smokeshack salmon or cobb salad, pizzas, a Rueben and Cuban sandwich, a smash burger and more.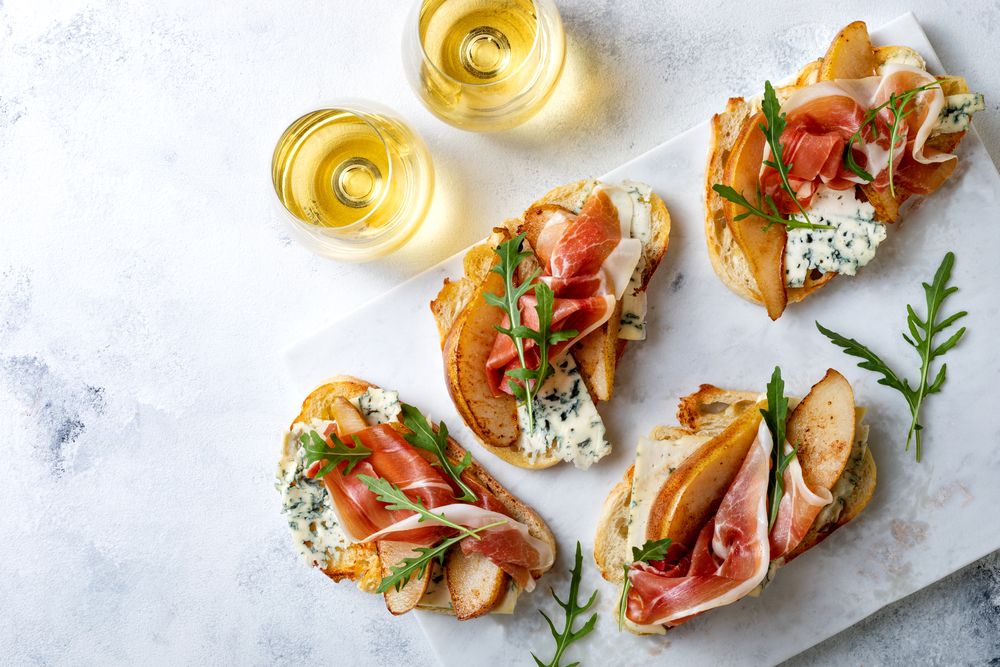 Three Fold Noodles + Dumpling Co
Voted one of the best places to eat in Little Rock AR, Three Fold Noodles is known for its homemade Chinese noodles, dumplings and steamed buns!
Signature noodle bowls come with homemade noodles, choice of protein, vegetables or upgrade to a premium bowl with enhanced flavors and broths.
The house made dumplings known as shui jiao and made fresh with your choice of protein topped with green onions. Or add six of the house made dumplings to your soup!
And the steamed buns – mo are served sandwich style with pickled and fresh vegetables with your choice of protein. Appetizers include potstickers, and the three-fold salad.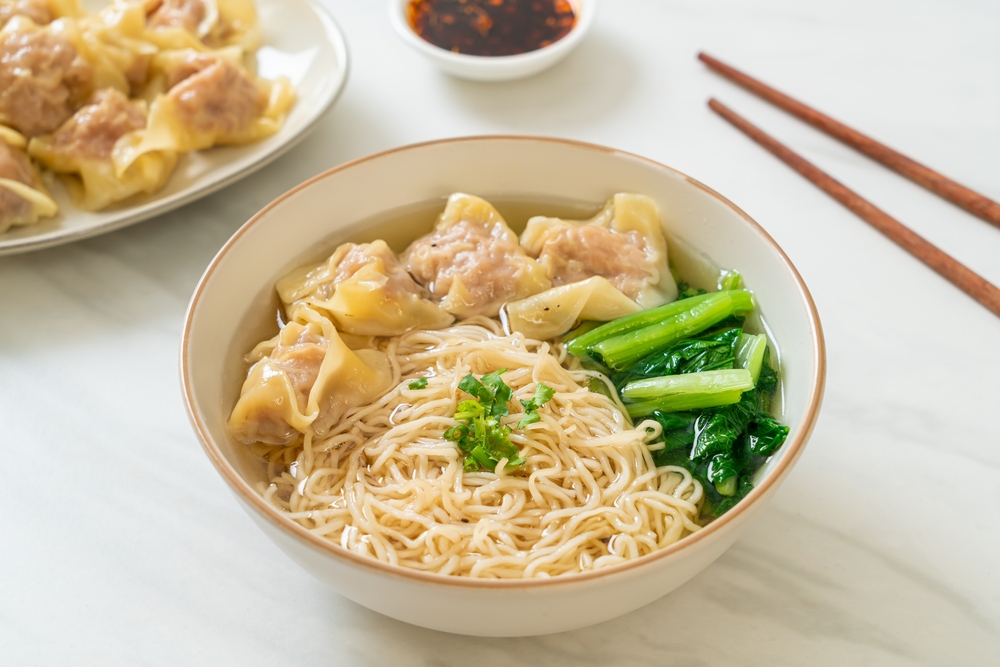 Layla's Gyros
Layla's Gyros is one of the casual Little Rock dining places. Diners will be welcomed with an amazing meal at this local causal Greek restaurant.
From hummus, baba Ghannouj, tabbouleh, taziki, or lentil soup for starters. They have a large assortment of salads like a greek, gyro or tilapia salad.
Choose from sandwiches or platters of gyros, falafel, beef or lamb kifta, in addition to a wide variety of pizzas and calzones with Greek influence!
Zaza
Are you looking for the best Little Rock food that includes Neapolitan wood fired pizzas and premium salads? If so, ZAZA is your place! This fast casual restaurant transports diners back to a traditional Italian restaurant.
The best part is every month they work with a local farm to source all their ingredients for a season salad of the month. And the farmers markets for a weekly seasonal pizza.
From a Zaza house salad with spinach, blueberries and goat cheese, to a roasted chicken caesar, to a sesame ahi or a Vietnamese chicken all the salads are super filling and unique! OR create your own from their menu!
Pizzas include traditional but why not try something mouthwatering? The chile-honey soppressata, Zaza Italian sausage, The Forager with veggies, the spicy Atomica with Sicilian anchovies. All are cooked in a 750 degree oven giving that amazing black char crust! Yum!