Are you looking for a list of the best resorts in South Carolina? If so, we have you covered with 15 amazing resorts below!
Whether you are looking to vacation at some of the best towns in South Carolina, have ideas for the best weekend getaways, or fun South Carolina road trip ideas we have you covered! There is so much to see and do in South Carolina.
From the incredible South Carolina beaches to the SC islands, it is the perfect place to relax and unwind at some of the best resorts in South Carolina. Choose from beachfront resorts in popular towns like Hilton Head, Charleston, and Myrtle Beach to low-country Greenville and Aiken where you can explore outdoors and nature. From resorts perfect for couples looking for a romantic vacation to family-friendly resorts, to properties with 1 and 2-bedroom villas we have you covered.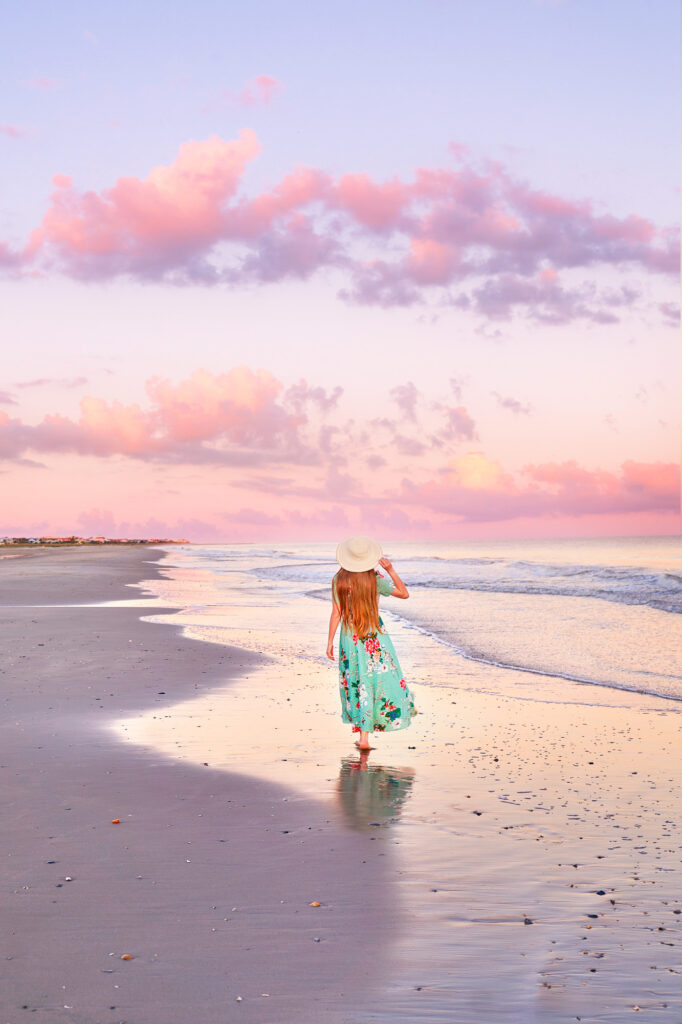 15 Best Resorts In South Carolina You Must Visit

Marriott Hilton Head Resort and Spa
For those looking for South Carolina beach resorts, check out the Marriott Hilton Head resort and spa. The Marriott brand is synonymous with being an amazing hotel brand for leisure travelers looking to unwind, and what better place to explore than the Hilton Head area one of the prettiest islands in South Carolina.
This hotel offers it all! Amenities range from PGA golf courses, indoor and outdoor swimming pools, beach access, tennis courts, spa Solei, sundries stores, gym, and a variety of restaurants! Choose from fresh seafood, a southwestern cafe, a Southern bistro, an Italian, and a BBQ restaurant. Or check out some local restaurants.

The rooms here are modern with many featuring balconies with ocean views and the suites here offer extra space for those who want to stay longer. Many suites offer dining areas, living rooms, and separate sleeping areas. Check out our guide to the best things to do in Hilton Head.
Check rates Here: Booking.com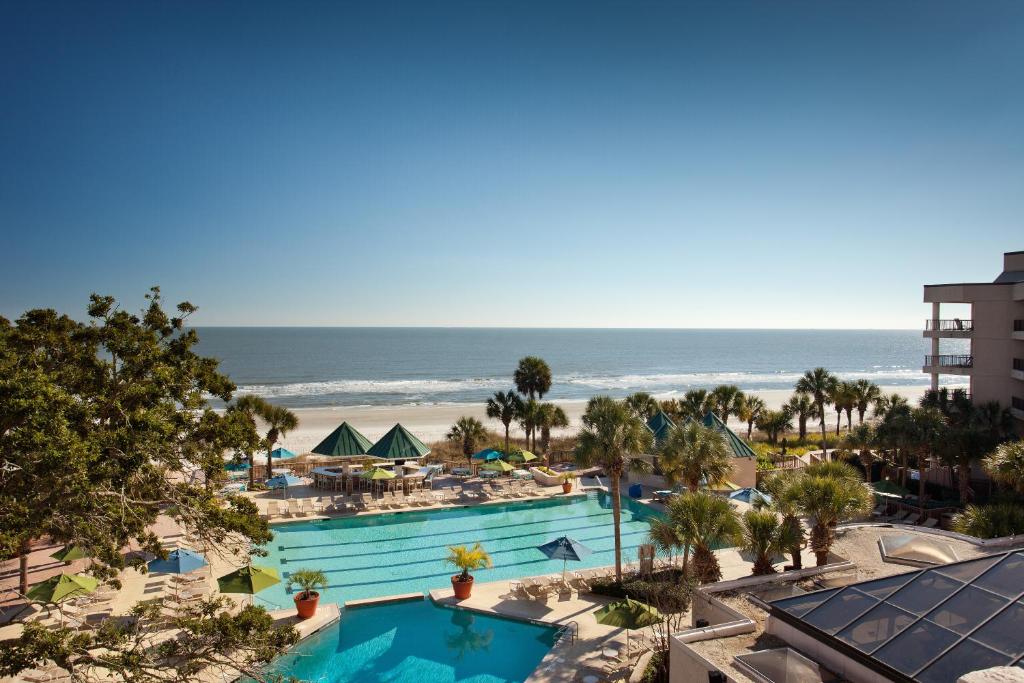 Marriott Myrtle Beach Resort and Spa at Grande Dunes
Marriott Myrtle Beach Resort and Spa at Grande Dunes is one of the best South Carolina vacation resorts if you want to stay on the north end of Myrtle Beach. This luxurious resort offers it all, from accommodations to a variety of restaurants, pools, golf courses, a gym, and more.
If you are looking for one of the best beach resorts in South Carolina, this is the resort or you. The rooms here are appointed in calming ocean tones and many of them have balconies with ocean views. Head to the hibiscus spa to unwind and enjoy one of their signature massages. This is truly one of the Best Resorts in The Southern USA!!
Swim in the indoor or outdoor pool that is surrounded by palm trees, or relax in the hot tub overlooking the beach. The property also features outdoor hammocks, a large gym, laundry rooms, a convenience store and gift shops! You never need to leave Marriott Myrtle Beach but if you do, checkout our list of thee best things to do in Myrtle Beach.
Ocean's on 82 is an all-day restaurant on property featuring a variety of international cuisines, Ocean Blue has an indoor cocktail bar with a lounge feel, and also has a casual poolside dining menu. Or head to the Cove, the oceanfront season restaurant featuring upscale dining options. And for those who want to dine off resort there are plenty of options nearby!
Check Rates Here: booking.com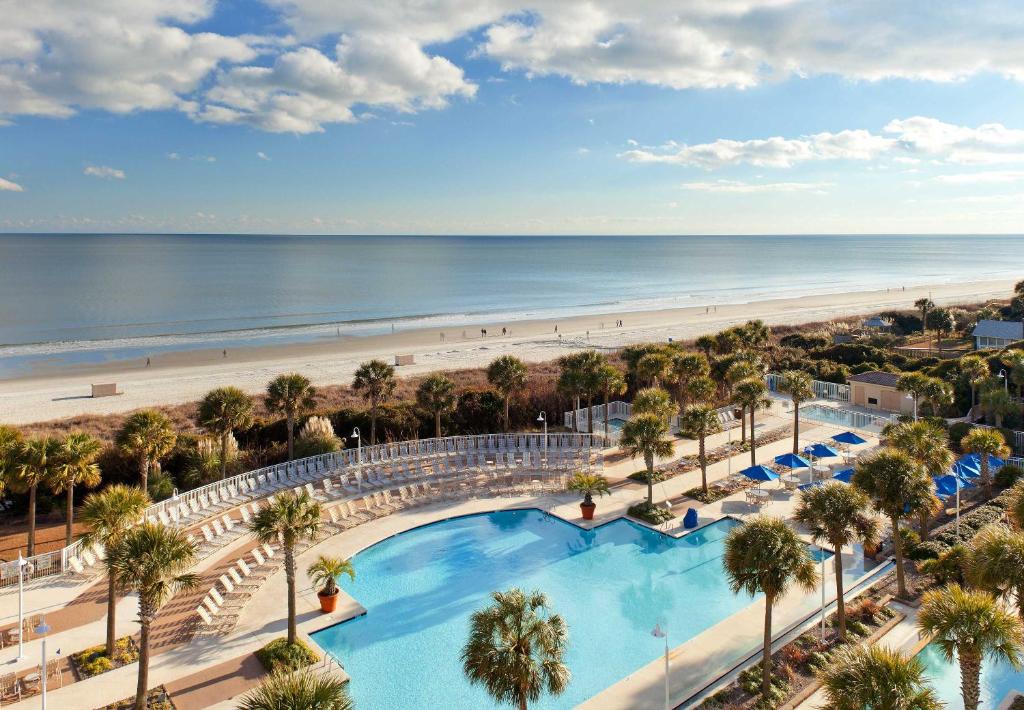 The Beach Club at Charleston Harbor Resort and Marina
For those searching for luxury resorts in South Carolina on the beach check out The Beach Club at Charleston. Ranked the #1 resort in South Carolina by Conde Nast, this tropical seaside resort is the perfect place to unwind and relax. The resort is only 92 rooms, with luxurious accommodations and personalized service.
Showcasing the best of the low country, the design aesthetic here is very thoughtfully laid out. The rooms feature tranquil designs with soaking tubs, and wood floors. From the wrap-around porches with seating, to the outdoor seating with life sized chess board, private cabanas, or the onsite 33-seat movie theater the grounds are gorgeous. There is private beach access for guests and multiple pools with a view of the harbor. Make sure to visit the Estuary spa known for its organic and natural products.
For dinner check out the top-rated Charleston Fish House for breakfast, lunch, or dinner. Or hang at the Bridge or Reel Bar and order a cocktail while listening to live music, and don't forget about the tiki bar serving drinks and lite bites by the pool. OR check out our guide to restaurants in Charleston.
Check Rates Here: booking.com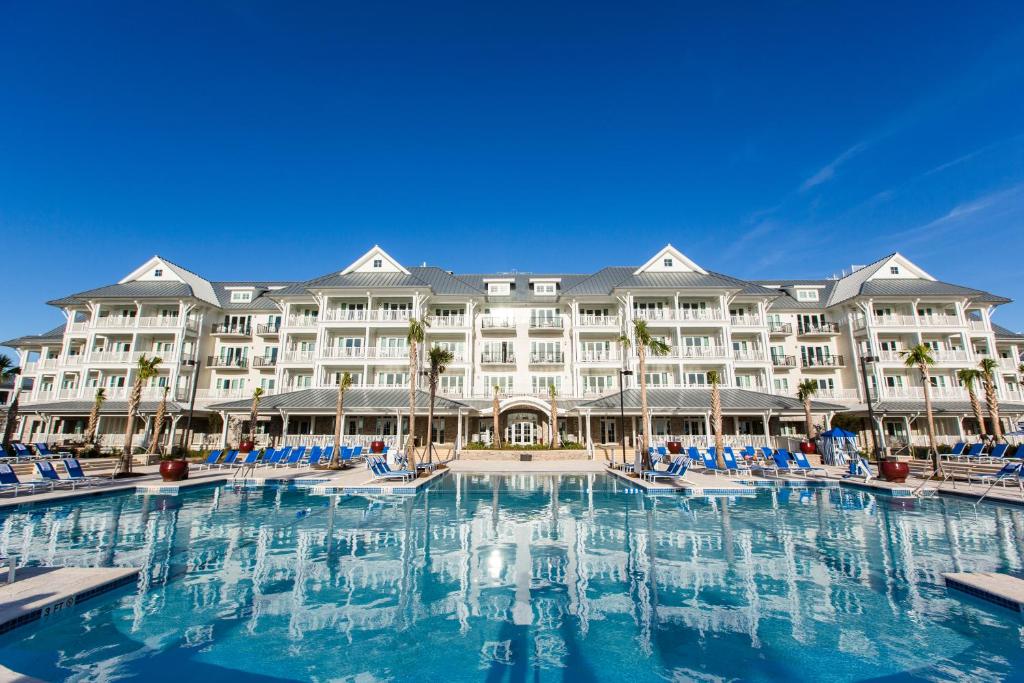 Sonesta Resort Hilton Head
Sonesta Resort Hilton Head is one of the best resorts in South Carolina for couples looking to vacation in the Hilton Head area. The Sonesta strives to be one of the best hotels for both business and pleasure. The grounds at this resort transport you to a tropical oasis with lush gardens leading to the beach. Stop and relax on one of the hammocks or pergolas located around the resort.
There is a zero entry lagoon style pool and the adults-only pool and hot tub, golf, tennis, kayaking, bike rentals, kids club, and a spa on site. Plus a variety of dining options like the seasonally rotating menu at Seacrest Restaurant to the more casual Sweet Cane's poolside lunch spot. The resort also features a complimentary shuttle around Shipyard Plantation and Coligny plaza. And best of all this is one of the pet-friendly resorts in South Carolina.
The rooms here feature both garden and water views, many of which have balconies, and a seating area and feature everything one could want for a comfortable stay.
Check rates here: booking.com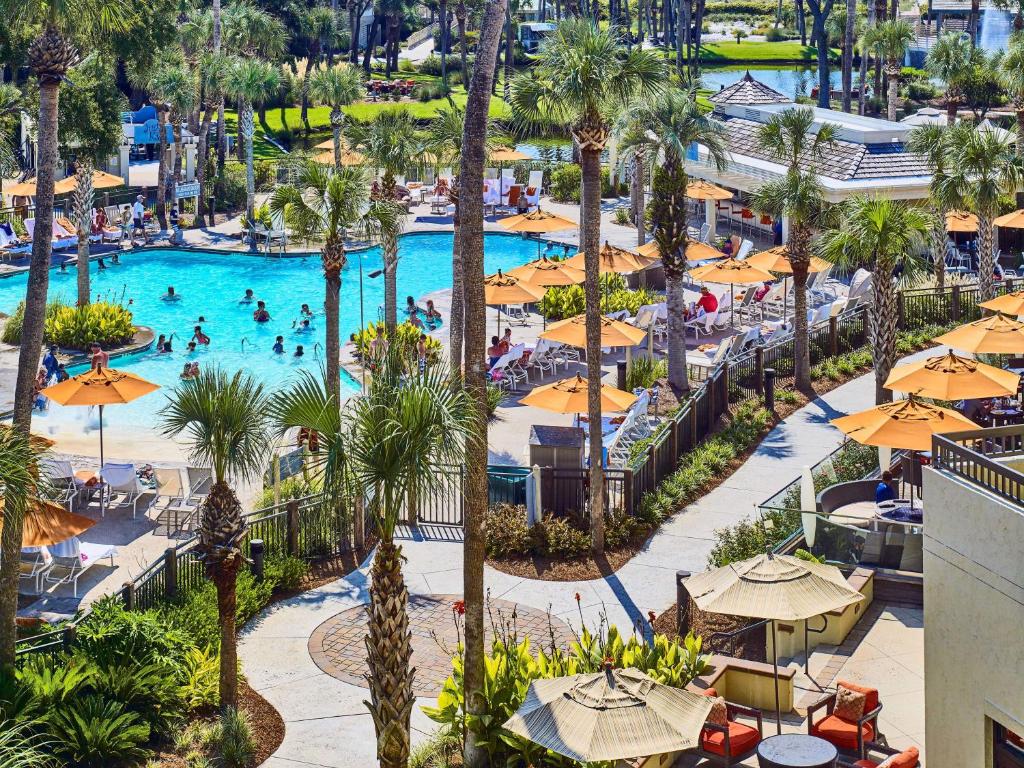 The Strand – a Boutique Hotel
The Strand is one of the family resorts in South Carolina! This boutique hotel is located in Myrtle Beach offering luxurious one and two-bedroom condos within a waterfront retreat. This hotel aims to think of everything, from complimentary hot breakfast to private beach cabanas along the beachfront pool and a fire pit lounge area.
Those with families enjoy the extra room in the condos featuring oceanfront balconies, a living room, a full kitchen with everything you need, and a washer and dryer.
On site you will find the Market restaurant serving lunch and dinner as well as the Strand and Modern bar and a fitness center.
Check Rates Here: booking.com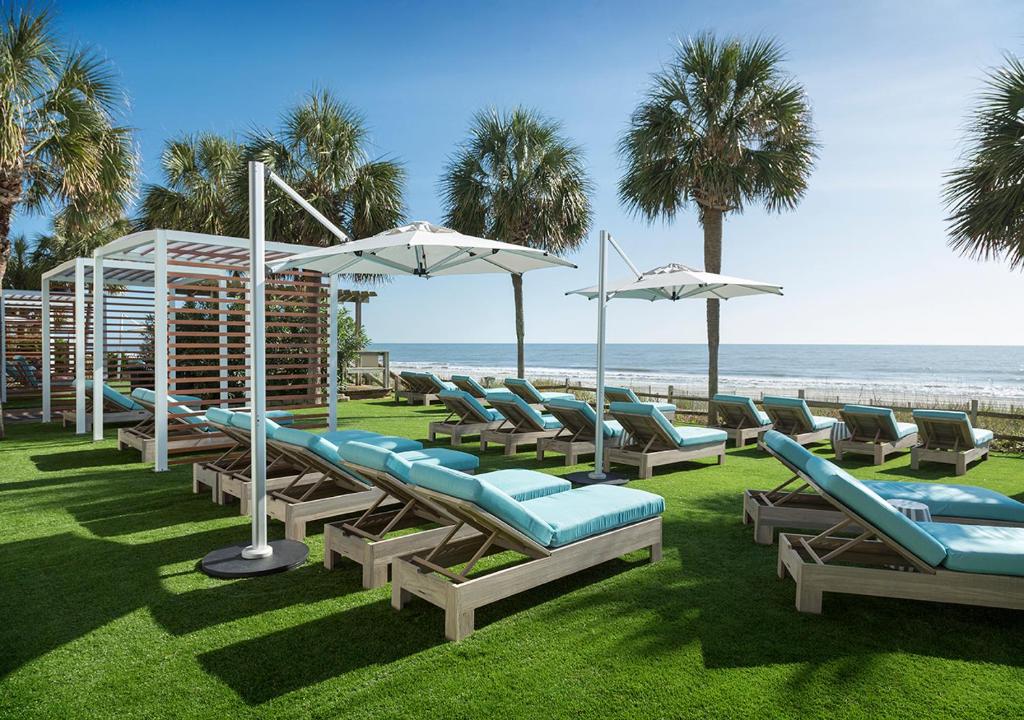 Omni Hilton Head Oceanfront Resort
Another option for oceanfront resorts in South Carolina, specifically Hilton Head is the Omni! The tagline here is "explore paradise at our Hilton Head Beachfront resort". The Omni Hilton Head was ranked as one of the top resorts in South Carolina by Travel and Leisure.
Located in the ​​Palmetto Dunes Oceanfront Resort community, the grounds here are equally as gorgeous. There are 3 golf courses, 11 miles of bike trails, tennis courts, a wooden boardwalk to the beach, a hot tub, fire pits, a spa, and a path to the harbor.
There are a variety of dining options from the HH Prime serving fresh seafood and steaks to Palmetto Market serving breakfast and casual lunch, a tropical poolside bar, and restaurant the Breeze and Buoy bar.
The rooms all feature a luxurious coastal feel, with private balconies, ceiling fans, mini-fridges and microwaves, seating areas and a tasteful color pallet of neutral tones. To larger rooms featuring one-bedroom suites, and luxury oceanfront suites for those looking for something more special.
Check Rates Here: booking.com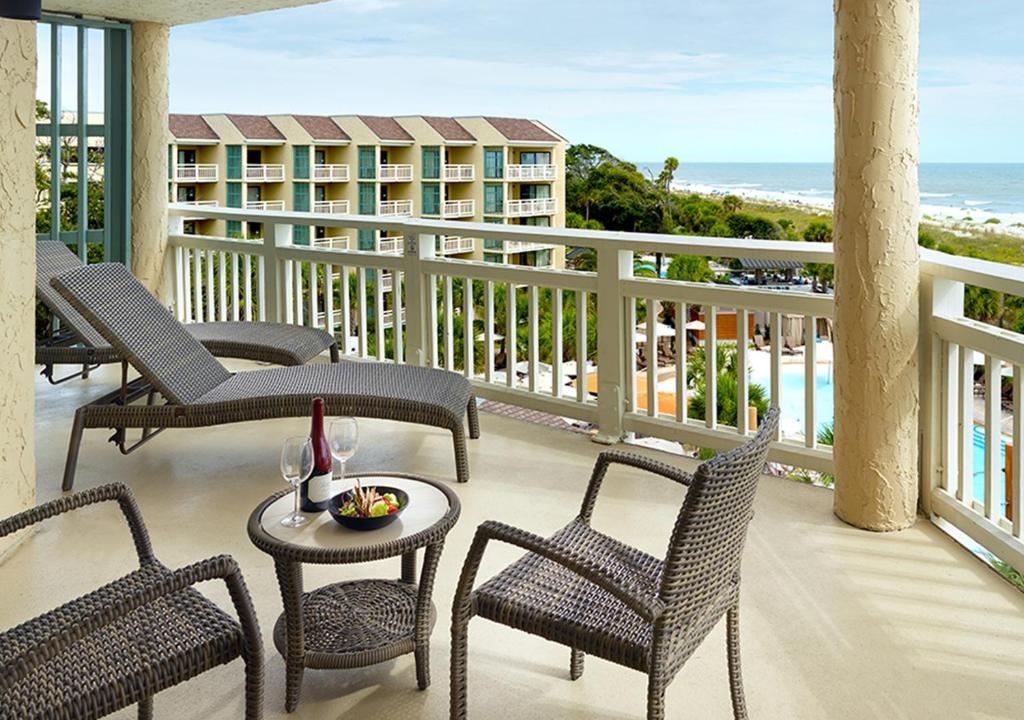 The Sanctuary at Kiawah Island Golf Resort
On Kiawah Island, you will find the Sanctuary resort, one of the best resorts in South Carolina for couples! Just 20 miles from Charleston, this resort is a calm oasis delivering luxurious five-star service and accommodations. For those seeking out a truly luxurious resort – this is that place.
The resort wants to transport guests back to the yesteryear of opulent southern luxury. While opened in 2004, the resort transplanted old oak trees, and historical materials to create a timeless resort with all the modern amenities. Relax in one of the two outdoor oceanfront pools, or head inside to use the pool. There is a fitness center, spa, and chapel, as well as a house car for guests to use.
There are 255 rooms, including suites and a club floor. The club lounge offers a hotel within a hotel offering a private oasis offering transportation services, table-side food services, and more. Charleston is also one of the best food cities in the south.
The guest rooms offer balconies, Frette linens, robes, deep soaking tubs, and a refrigerator and are decorated in tasteful neutral tones with pops of color. For those needing more room, there are a variety of suites to choose from some include formal dining rooms, kitchens, multiple bedrooms, and more!
Check rates Here: hotels.com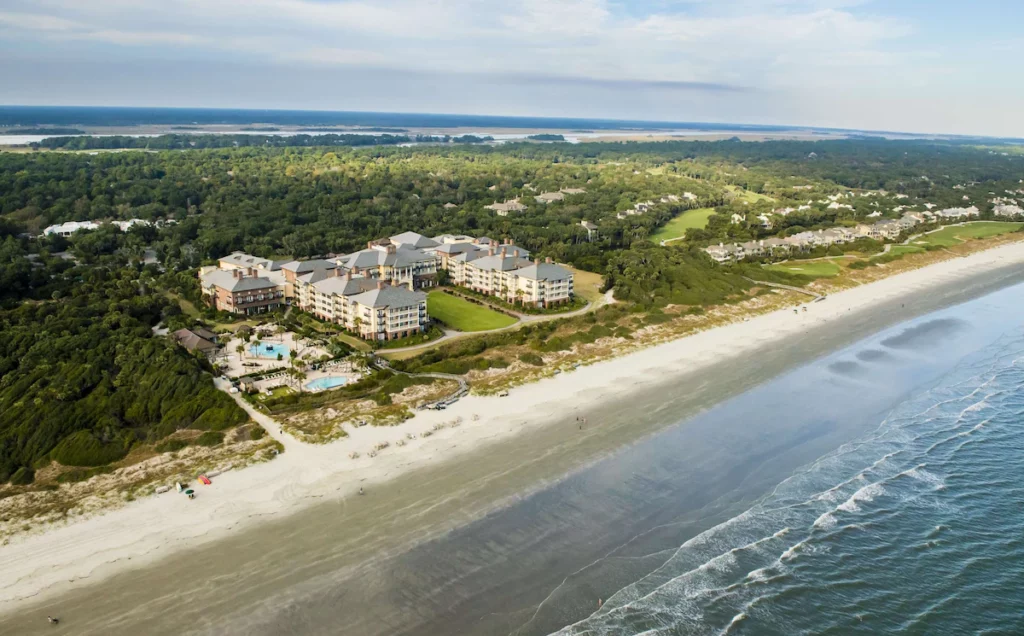 Montage Palmetto Bluff
Montage Palmetto Bluff is one of the best South Carolina resorts for those looking to escape to the low country yet still want a luxurious stay. Located between Hilton Head and Savannah this is the perfect resort for guests wanting a classic southern escape. Set on a nature preserve, and nestled between two picturesque villages the resort features the hotel, golf courses, and a riverfront marina.
The resort features a variety of rooms, cottages, and village homes depending on your needs. Whichever you choose you will be greeted by luxurious southern decor that is understated yet offers a rich southern flair. From deep soaking tubs, to rainfall showers, marble bathrooms, and luxurious linens. While the cottages and homes offer expansive views of the low country and full homes with plenty of space for your group.
The resort offers experiences like culinary and concerts year-round as well as horseback riding, golfing, clay shooting, paddle boarding, and boating, along with a treehouse for children and fire pits where families can enjoy roasting marshmallows. Cadillac vehicles are offered for guest use as well.
After a full day, head to one of the restaurants. Octagon serves southern cuisine with a seasonal menu and craft cocktails. Or try the River Head farm-to-table restaurant and Hush bar, the best-kept secret at the resort with amazing drinks and happy hour. Fore and Aft serves Mexican cuisine and Melt is the perfect place to gab a scoop of ice cream after dinner and shopping.
Check Rates Here: booking.com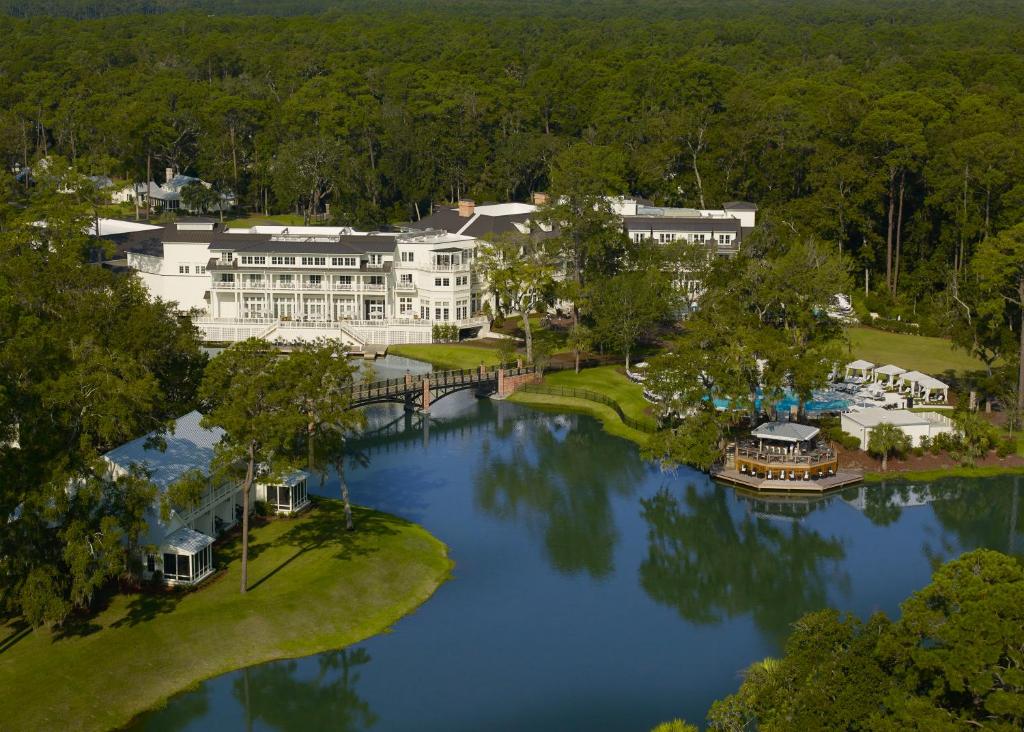 The Sea Pines Resort
For the last 50 years, the Sea Pines Resort 5000 acre property has occupied the southern third of Hilton Head Island. We think this resort is one of the best South Carolina resorts for families. From beaches to golf courses, tennis, and biking trails, to custom accommodations to suit every need. Stay at the Inn and Harbor town or one of the luxurious vacation homes for up to 12 guests.
This hotel aims to pamper guests anticipating their every need through personalized service. From seasonal beach concierge service to a boutique pool, butler services, a players lounge with TVs and fireplaces, bikes, and the clubhouse.
The rooms here are appointed with stylish premium amenities like frette sheets and robes, a selection of pillows. To deluxe gourmet coffee daily from 6 to 11 am, spa bathrooms with soaking tubs, evening turndown, and Nespresso machines in the room.
For those who love to golf, there are 3 championship courses named the best in the country or play tennis at the Smith Stern tennis center. There are a variety of restaurants, from fresh-caught seafood at the Coast, to lunch at Fraser's Tavern, Harboursides open-air cafe, or the Quarterdeck overlooking the Harbor towns lighthouse.
Check Rates Here: Tripadivsor.com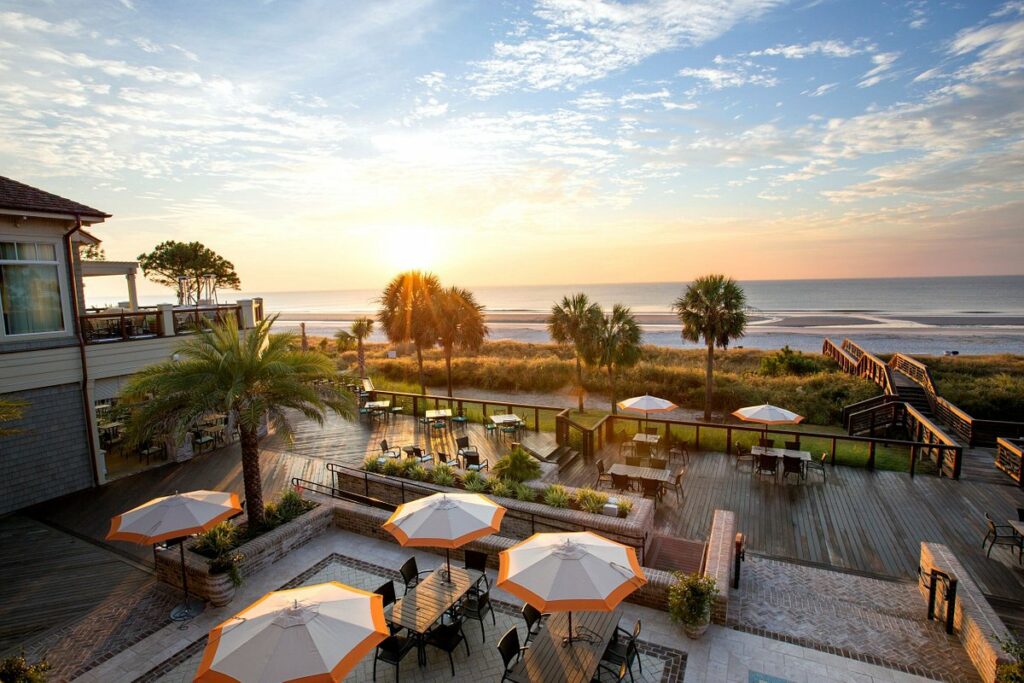 Bali Bay Resort
Another one of the best resorts in SC is Bali Bay Resort located in Myrtle Beach. The newly constructed resort gets voted as another of the best South Carolina resorts for couples. With 21 units with direct ocean views, with one, two and three-bedroom suites and the 5000 sq foot penthouse offers all the space needed to relax and unwind. Perfect for large family gatherings, team events or other functions.
Unlike most resorts in the area, free parking is offered. Enjoy the pools and hot tubs overlooking the ocean, and close to Broadway at the beach with plenty of shops and dining options to choose from.
Check Rates Here: Hotels.com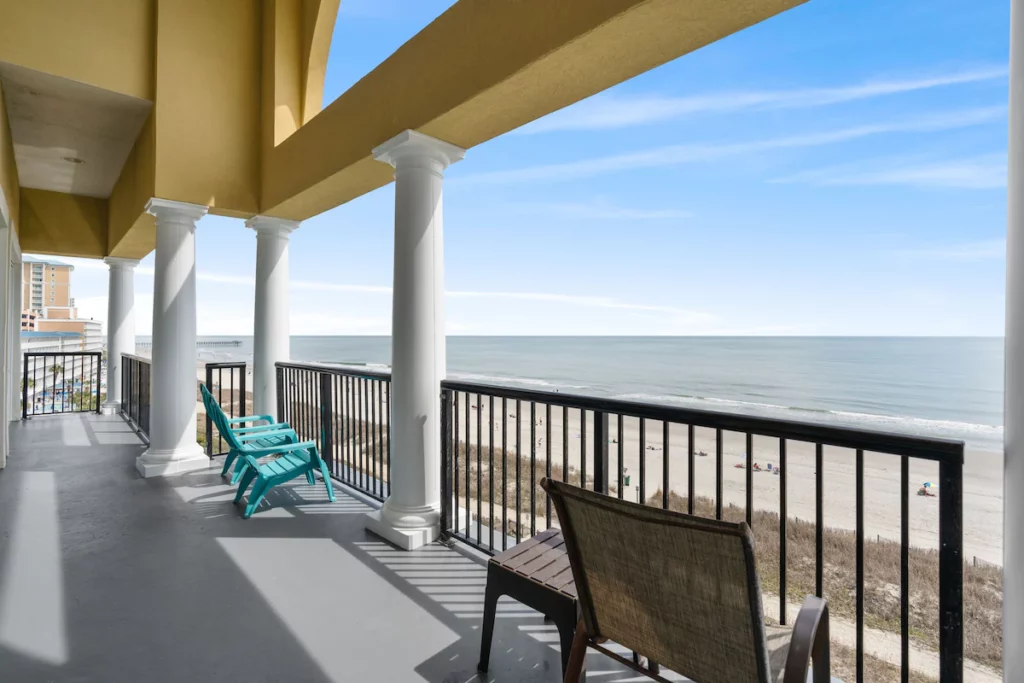 Marriott Barony Beach Resort
The Marriott Barony Beach Resort is one of the best South Carolina hotels for those looking for a vacation retreat. This is one of the Marriott vacation properties and offers two-bedroom villas with full kitchens, living areas, and more.
Each of the well-appointed villas here offers room for up to 6 guests with oceanfront balconies, a washer and dryer, and two bathrooms. After settling into your villa, explore the property's large pools both indoor and outdoor with a waterslide, hot tub, recreation center with gym, shuffleboard, and a spa. Or head down to the beach through one of the hotel boardwalks.
On site there are two restaurants and a sundries convenience store where you can stock up on everything you need. Or stop by a grocery store before coming to the resort as you have an entire kitchen to use.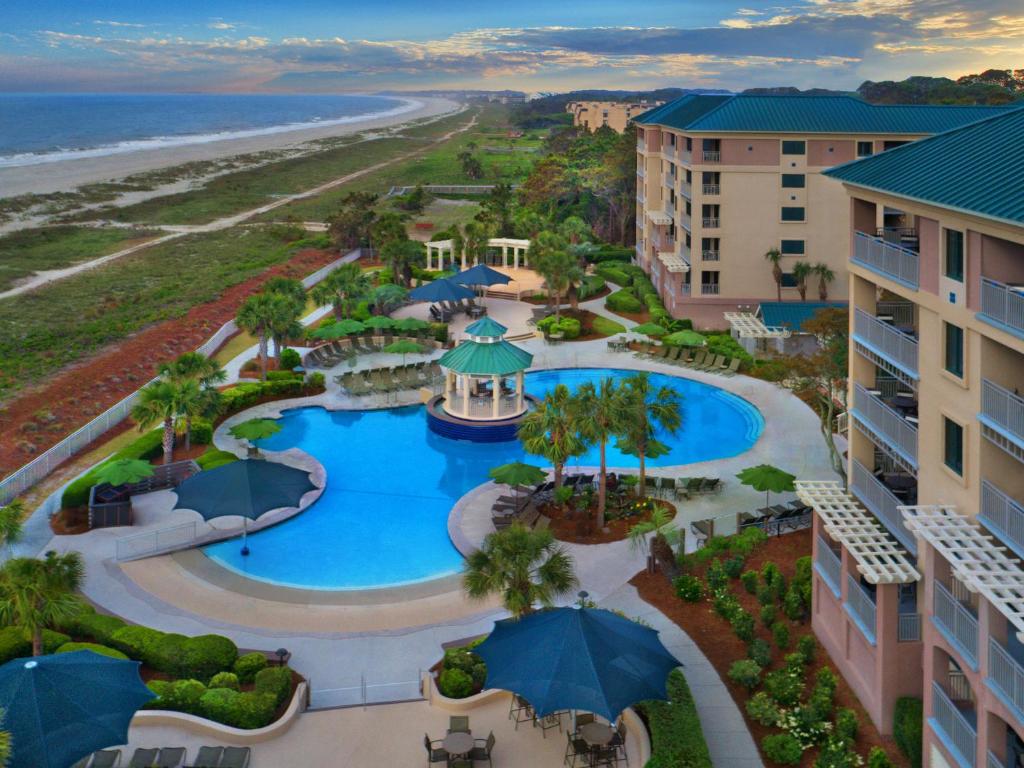 The Wilcox
Since 1898, the Wilcox in Aiken, SC is considered to be one of the finest resorts in South Carolina. Southern Living ranks this as one of the top resorts in the world! From the exquisite main hotel to cottages to vacation rentals the Wilcox offers the best of southern hospitality.
The guest rooms offer guests a tranquil retreat, while the resort offers every amenity or package one could think of. A quiet respite from the day-to-day, guests come here to relax. Sit by your fireplace, or relax on the outdoor terrace.
Wilcox is known for having amazing packages catered to guests. From a romance and sap package to sports and wellness or even a family friends package. Dine at the award-winning restaurant where the menu showcases International dishes with a southern twist, the gorgeous lobby bar, Sunday brunch, or a one-of-a-kind special meal at various locations around the resort.
Check Rates Here: Booking.com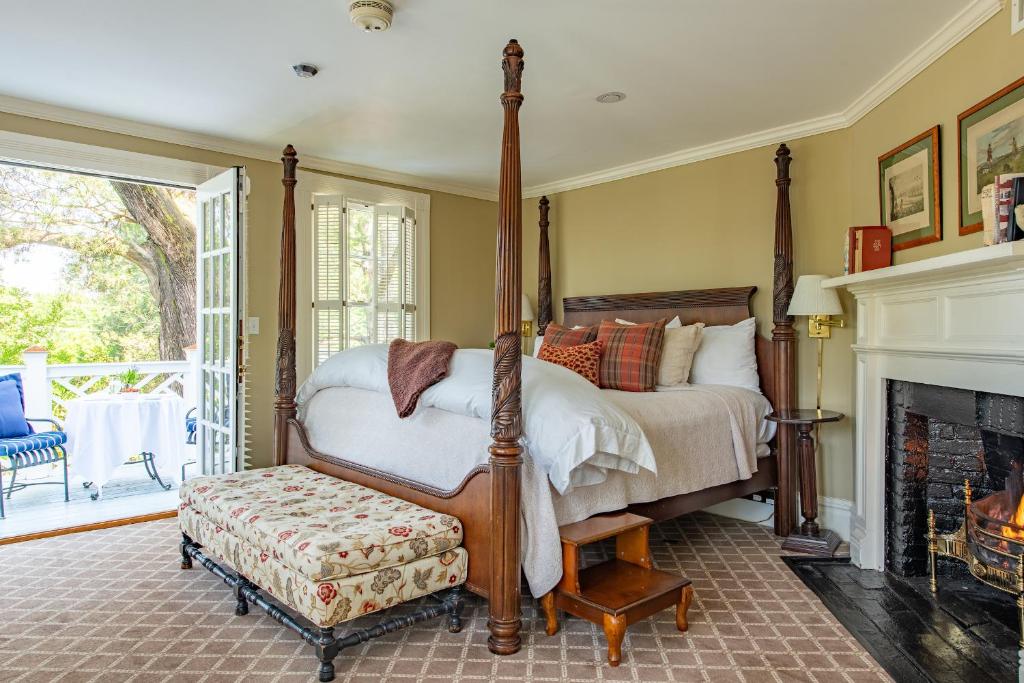 Wild Dunes Resort
The Wild Dunes by Hyatt is one of the best resorts in SC for those looking to stay in Charleston. This is the perfect family resort in South Carolina for those who want to be near both the beach and downtown Charleston. This 1600-acre resort offers everything for a relaxing family vacation with 4 different properties, to pools, beaches, shops, and a fitness center and spa. We have put together an Ultimate weekend itinerary in Charleston for you to check out.
Choose from 3 hotels or a vacation rental, ranging from hotels in the center of the action to a hotel offering quiet respite. Choose from the Sweetgrass Inn with floor-to-ceiling windows with private balconies, kitsch decor, and tranquil decor with pops of color. The Boardwalk Inn features beachfront views with tranquil spaces. While the residences feature living rooms, with kitchens and furnished balconies.
From the 12 tennis courts to the Spa at Sweetgrass offering a variety of treatments, to oceanfront golf courses, and a fitness center. There are several pools creating the centerpiece of the resort complete with a fire pit. Or head down to the amazing Charleston beach for a fun family day.
Check rates here: Booking.com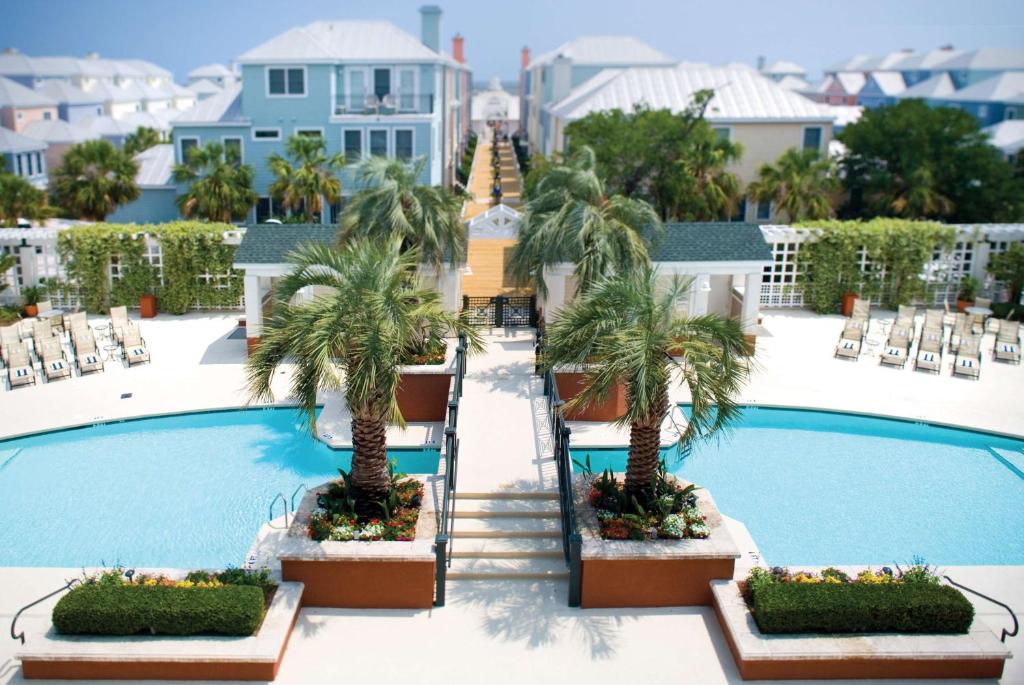 Disney's Hilton Head Resort
The Disney brand is synonymous with being family-friendly and the Disney Hilton Head resort is no different. This picturesque resort is fashioned after a 1940's lodge with 12 miles of beach access, pools, campfire, and more family fun activities. Plus it is close to Savannah for those on a road trip!
The resort features studio rooms and larger villas large enough to fit your family. With porches and balconies, fully equipped kitchens, and more. Take the shuttle to the beach house, use the barbecue grills or enjoy the pools featuring waterslides and water features. There are kids and teens programs, guided nature walks, and bike paths around the island.
Dine at either the Signals season lunch and breakfast spot or head to Tide me Over to grab snacks for a beach or pool day.
Check Rates Here: Expedia.com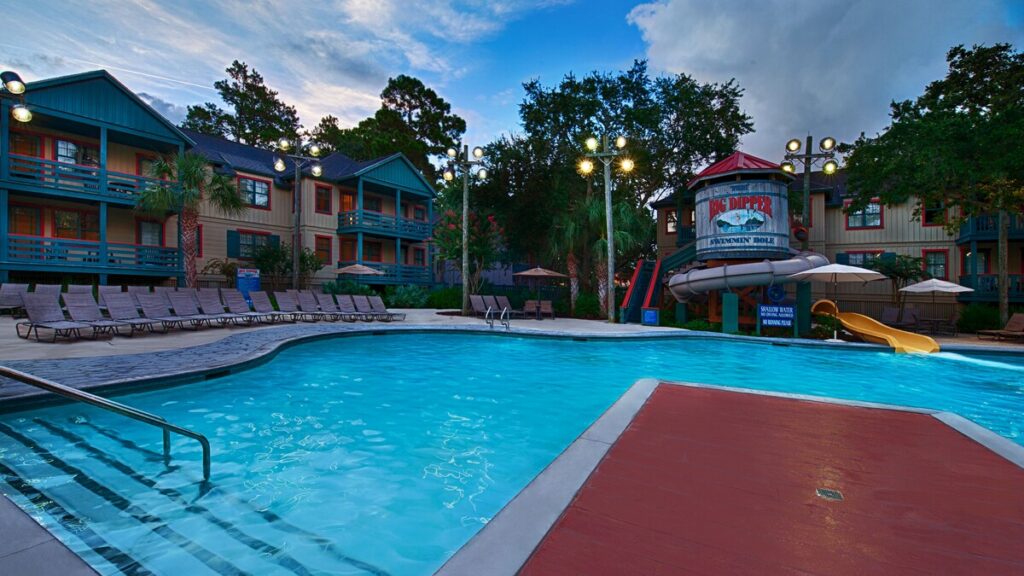 Grand Bohemian Lodge Greenville
One of the best places to stay in South Carolina is the Grand Bohemian Lodge Greenville. In the heart of downtown along the Reedy River, you will find a luxurious lodge showcasing the natural beauty of the area. And for those visiting in fall it is one of the best places to experience fall in South Carolina!
The resort features floor-to-ceiling windows, an outdoor bar overlooking the river, and stone fireplaces. Outside enjoy lush gardens, tons of outdoor hiking, and breathtaking waterfalls. Or head to Poseidon Spa or the fitness center. The rooms feature earthy tones, with welcoming seating areas, gorgeous marble bathrooms, and suites with living rooms to unwind in.
Set on the river, dine at Between the Trees featuring modern lodge cuisine or Spirit and Bower's sophisticated bar with seasonally crafted cocktails.
Check Rates Here: Booking.com