Are you looking for the best restaurants in Williamsburg? Well, you have come to the right place because here there are 15 of the best places to eat throughout the historic city. Here you will find the perfect place to relax after spending your day strolling through the charming cobblestone streets where the first settlers came to America. You are sure to work up an appetite after your day of shopping, sightseeing, or hitting the famous amusement park Busch Gardens.
If you need some inspiration on where to stay check out the most romantic getaways in Virginia there are some amazing places on that list for stays in Williamsburg.
No matter what you are looking for there is sure to be something on this list to please even the pickiest eaters. Breakfast is the most important part of the day so you will want to pay close attention to where to stop before you head exploring. Be sure to check out all the amazing sites in Williamsburg and you won't go hungry with this list of the best food in Williamsburg.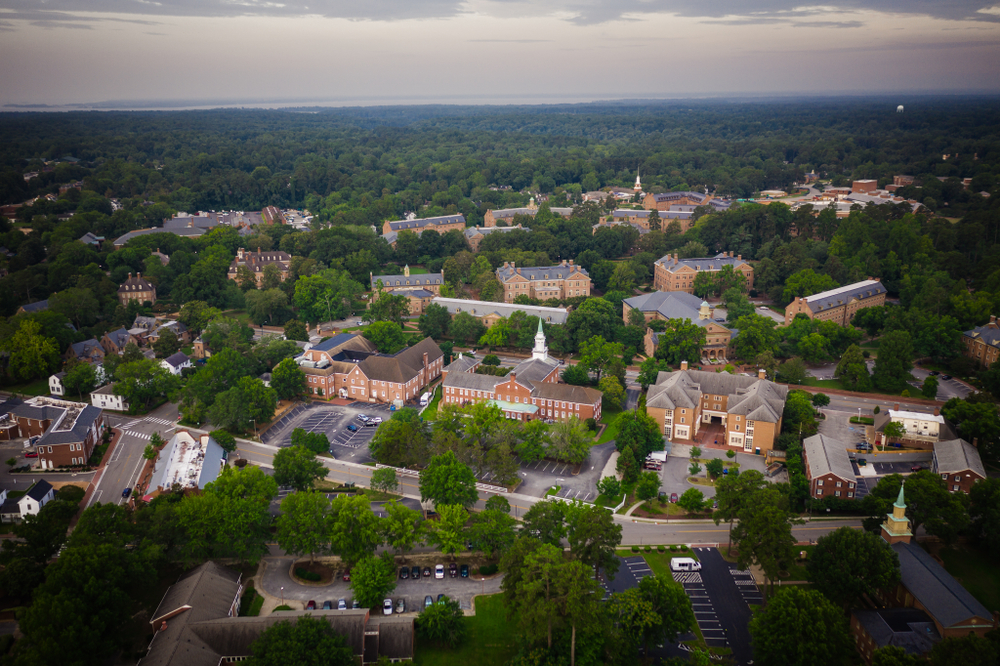 15 Best Restaurants in Williamsburg You Must Try
Food For Thought
Come to Food for Though to get inspired by some of the greatest thinkers in America. Including noteworthy scientists, world-famous inventors, and people who changed the world being social leaders. On top of everything, you will learn while dining at one of the best Williamsburg restaurants you will also be able to enjoy everything from American cuisine to healthier choices inspired by places all over the world.
Here you will see discussion cards placed throughout the table to the conversation going on while you are dining. This would be an amazing place to go for a fun family dinner or maybe even a first date. They also cater to all diets including vegan, and vegetarian, and have some of the best seafood in Williamsburg.
Captain Georges
Captain Georges is the perfect place to stop after spending your day in Williamsburg. Here you will find an ocean-themed restaurant serving you the finest seafood in Williamsburg. They offer a high-quality buffet that includes so much yummy food you will leave feeling fantastic. They always have the freshest crab legs, steamed shrimp, mussels, salmon, and pretty much any type of seafood you can think of.
You will also find plenty of options for meat lovers here as well. They offer BBQ ribs, sirloin stakes, and beef brisket. They also serve up all of your favorite sides and the dessert menu is extravagant. You will not regret spending your time dining having your dinner in Williamsburg at Captain Georges.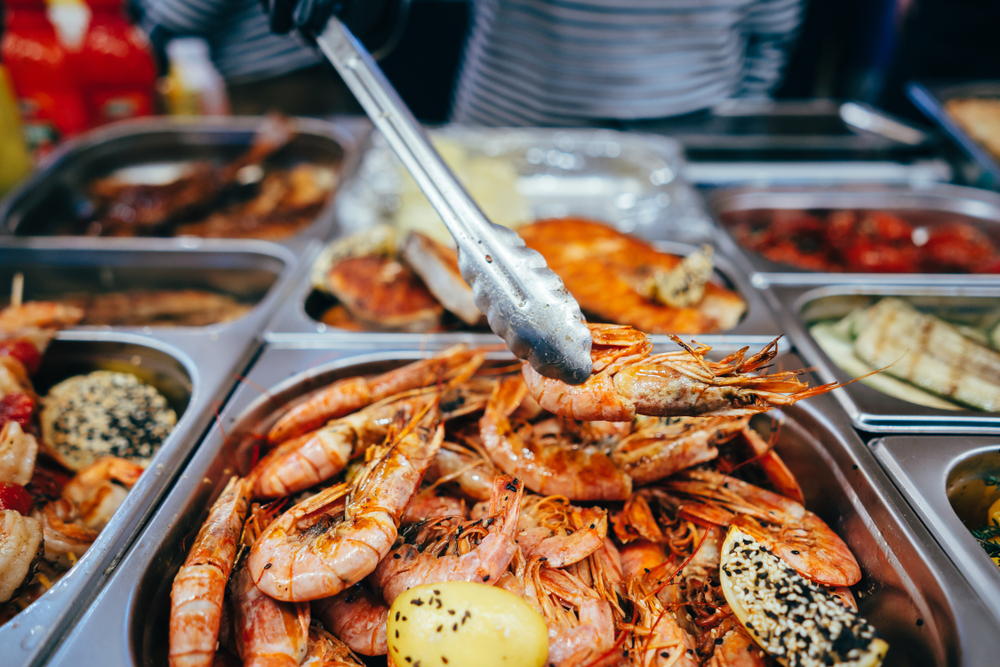 Fat Canary
Fat Canary is one of the best restaurants in Historic Williamsburg and they have a very instructing story on how they got their name. If you have ever heard of the poem by John Lyly he talks about how when the settlers stop for supplies at Canary Island they referred to the wine as "Canary" and that is how this wine and cheese bar got its name. They do serve more than just cheese and wine here, they offer American fares in a bistro-themed restaurant.
Be sure to make yourself a reservation for dinner here because they are only open from Wednesday to Sunday starting at 5 pm. If you find yourself there before 5 pm the dining area is first come first serve and you can enjoy a meal and glass, or bottle, of wine out the patio. You do not want to miss one of the cutest Colonial Williamsburg restaurants.
Aberdeen Barn Steakhouse
Here is a place for all the steak lovers who are looking for where to eat in Williamsburg. At Aberdeen Barn, you can enjoy a steak cooked over an open hearth grill or something fresh from the sea. The restaurant is decorated tastefully with the charm of an old southern barn. Every entree comes with a fresh salad and a side so you know you will leave satisfied.
They also all of the southern comfort food you can think of including homemade mac and cheese and St. Louis-style BBQ ribs. They are family-friendly and have a wide selection for children on their Jr. guest menu. You do not want to miss out on eating at the Aberdeen Barn for some of the best dining in Williamsburg.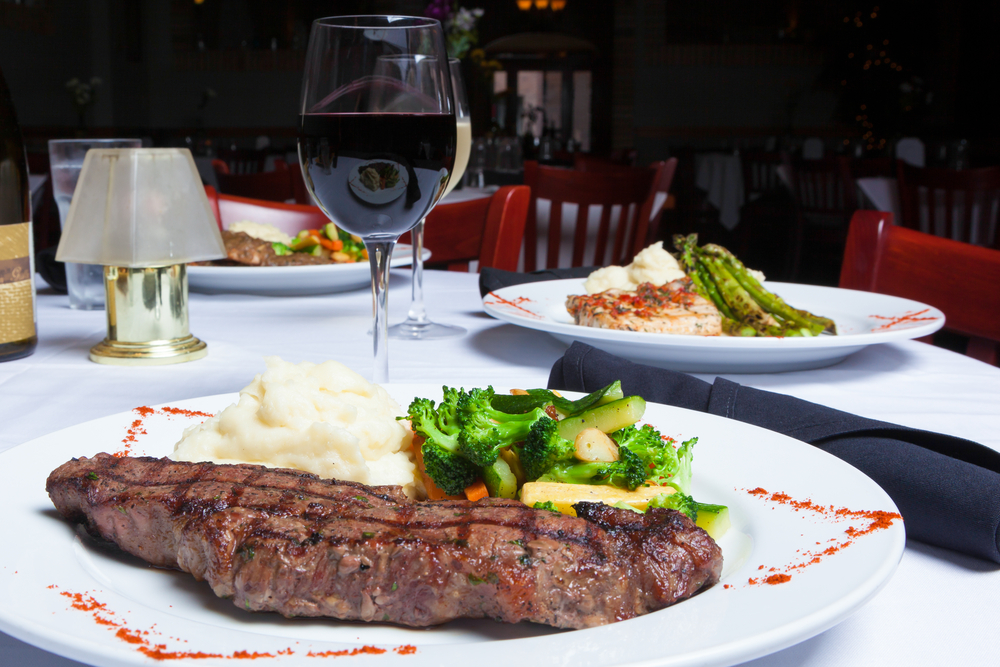 Craft 31
If you are on the search for the best brunch in Williamsburg then Craft 31 is the best place for you to try. Every Sunday they are serving up some of the best mimosas and bloody marys in town alongside your favorite brunch items. But they are so much more than just a brunch spot, every other day of the week they are open for lunch and dinner.
Here you will find craft beers and American pub food including seafood, salads, burgers, pizzas, and pretty much anything you could imagine. If you are lucky enough to catch them on the weekend they often have live music. They open every day at 11 am except for Sunday when they open their doors at 10 am to start brunch. You will defiantly want to stop by and try out Craft 31 for a few drinks or a full meal because they are one of the best restaurants in Williamsburg.
New York Deli Williamsburg
Craving a yummy pizza and need to know where to eat in Williamsburg? The New York Deli in Williamsburg is serving up the best NY-style pizzas, subs, strombolis, and pretty much anything else Italian you can think of. There is plenty of space to eat inside or out on the patio, or you can order pick up.
They have a very broad menu and it would be a great place to stop in for your NY-style pizza fix and enjoy family-friendly dining in Williamsburg. You can enjoy this delicious food Tuesday- Saturday from 11 am to 9 pm so plan according if you do want to miss out on this authentic New York Deli.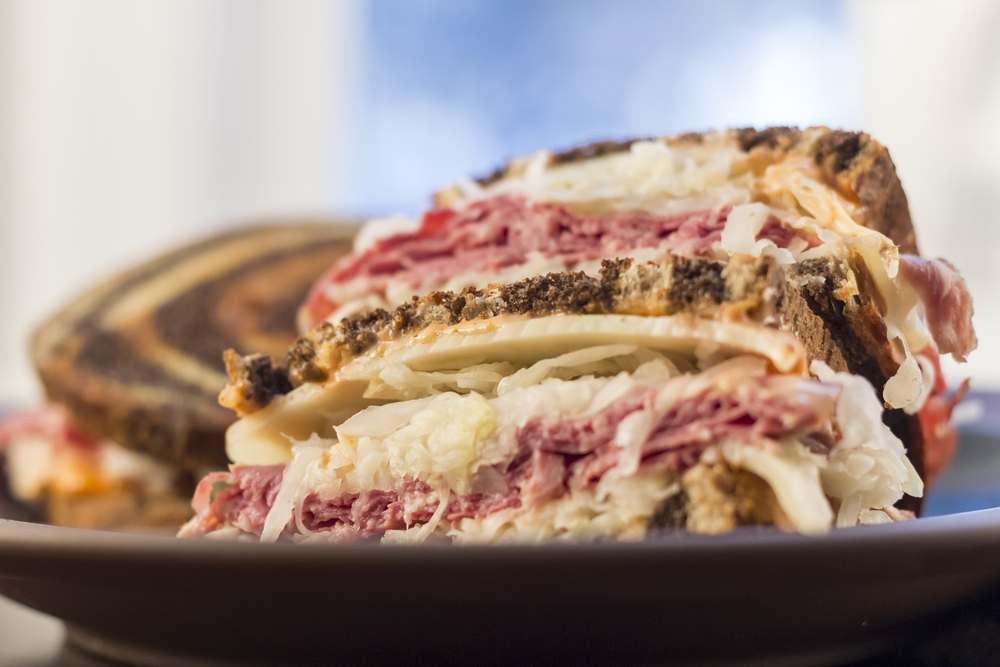 Pauls Deli
Although they have a new look Paul's Deli has been a family-owned business since the 1970s. They are a neighborhood bar and grill that serves up all of your favorite American foods and they pride themselves on making all of their customers feel like a part of the neighborhood. Pauls Deli is located in the new town and serves up the best lunch in Williamsburg.
The crowd favorites are the subs and sandwiches but they also have super yummy salads and burgers. They also try out new specials for lunch and dinner and they switch out their beer taps every week. If you can visit them on the weekend you will hear live music from the local talent making this one of the most fun restaurants in Williamsburg to visit.
Pierces Pitt BBQ
Pierces BBQ has been opened since 1971 and they have not changed much about the way they cook since then. They have always been family owned and they keep their sauce a secret recipe. There is nothing fancy at Pierce's but they serve up some of the best home-cooked meals in the state. Here you can enjoy pulled BBQ, brisket, burgers, or a variety of hot dogs.
Do not forget to order a few sides here they are just as good as the main meal. You can enjoy everything from coleslaw to onion rings here at Pierces Pitt. So grab the whole family and sit outside under the big trees on one of the picnic tables and have yourself some good old fashion southern cooking at one of the best restaurants in Williamsburg.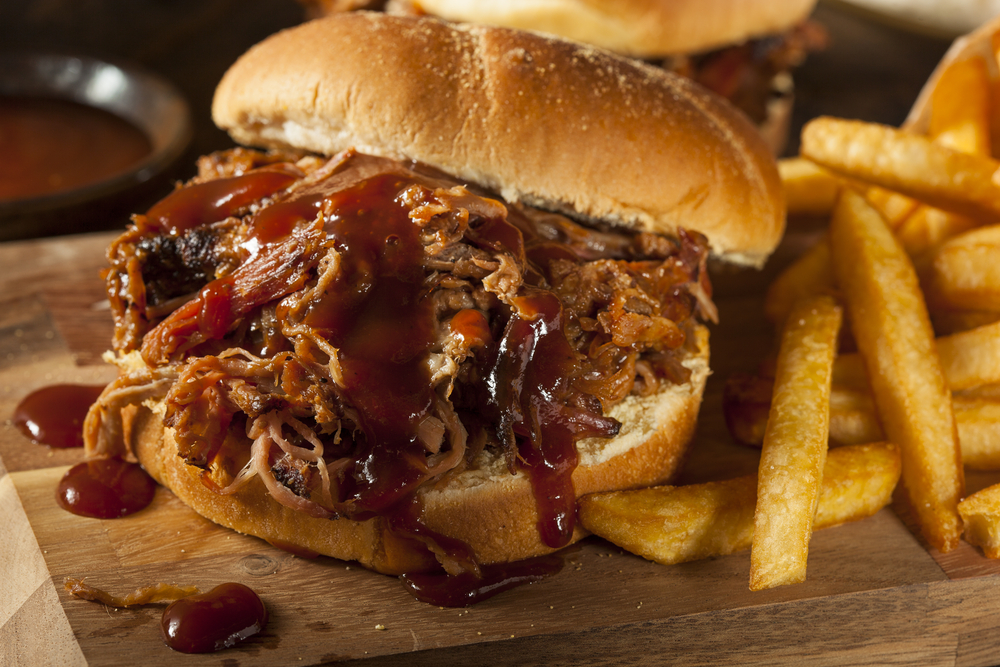 Le Yaca
If you are looking for fine dining in Williamsburg for your next big date night or special occasion you are going to want to give Le Yaca a shot. At Le Yaca they serve simple French cuisine using only the freshest ingredients and the menu changes with the season ensuring that everything is up to par. You can enjoy lunch or dinner here and brunch on the weekends but they do close on Mondays. They fill up fast so reservations are strongly recommended. You will have so much fun trying the unique cooking by the world-class chefs at one of the best restaurants in Williamsburg Va.
Christiana Campbell's Tavern
For an authentic time at one of the colonial Williamsburg restaurants, you have to try Christiana Campbell's Tavern. The rumor is that one was of George Washington when he was looking for seafood in Williamsburg. So come and enjoy dining in a historic tavern that has been around since the 18th century. They serve fresh seafood including shrimp, scallops, and the catch of the day.
Eating at Christiana Campbell's Tavern is so much more than just a dinner, it is also a show. Their servers dress up in fashion from G.W.'s time and you will hear music playing from the period as well. This is one of the best places to stop for an authentic experience that will take you back in time just like you were dining in one of the restaurants in Colonial Williamsburg.
Colonial Pancake House
You cannot miss out on the most important meal of the day on your trip and Colonial Pancake House has the best breakfast in Williamsburg, VA. They have been severing up their famous flapjacks and homemade breakfasts in Colonial Williamsburg since 1996. Their menu consists of classic American dinner food with gluten-free and vegetarian options as well.
They also have plenty of options for lunch and you can order it all day long if you are traveling with someone who doesn't do breakfast. They are only open until 2 pm so make sure to stop by early and grab yourself a seat and enjoy one of the best restaurants in colonial Williamsburg for breakfast.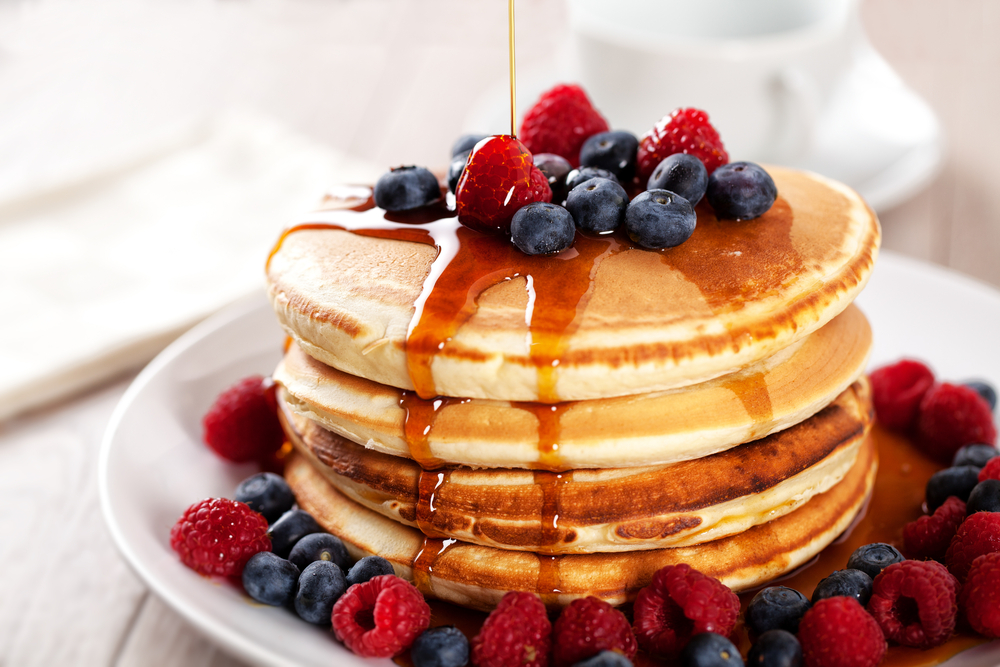 Blue Talon Bistro
The Chef who opens Blue Talon Bistro likes to call his cooking, "serious comfort food". Here you will find food inspired by a French bistro with a bit of American Flare added in. Like most good cooking the food here is cooked slow and has family traditions thrown in. At the Bistro you can enjoy breakfast, lunch, and dinner and there is plenty of options for even the pickiest eaters.
The locals love the creamy and thick clam chowder that has whole clams inside. You have to try their cocktails some of the more popular ones are the absinth drinks and the aviation drink. It is recommended to make a reservation and they are closed on Tuesdays and Wednesdays. You do not want to miss this French-inspired dining in Williamsburg.
Second St. Restaurant – An American Bistro
in 2007 the Second St. Restaurant went through an extreme makeover and emerged as the hottest American bistro and became one of the best places to eat in Williamsburg. Here you will be able to enjoy all of your favorite American-inspired dishes with a few surprises thrown in. There are plenty of options for everyone including seasonal appetizers, grilled pizzas, plenty of seafood options, bison burgers, poke bowls and so much more.
At the Second St. Restaurant, they even have an entire menu dedicated to gluten-free options so you are sure to find something here for everyone to love. If you are a vino connoisseur they pride themselves in having their own Napa Valley blend and up to 100 different affordable wine bottles to order as well. You will have to go and try them out for yourself to see why they constantly get voted as one of the best restaurants in Williamsburg.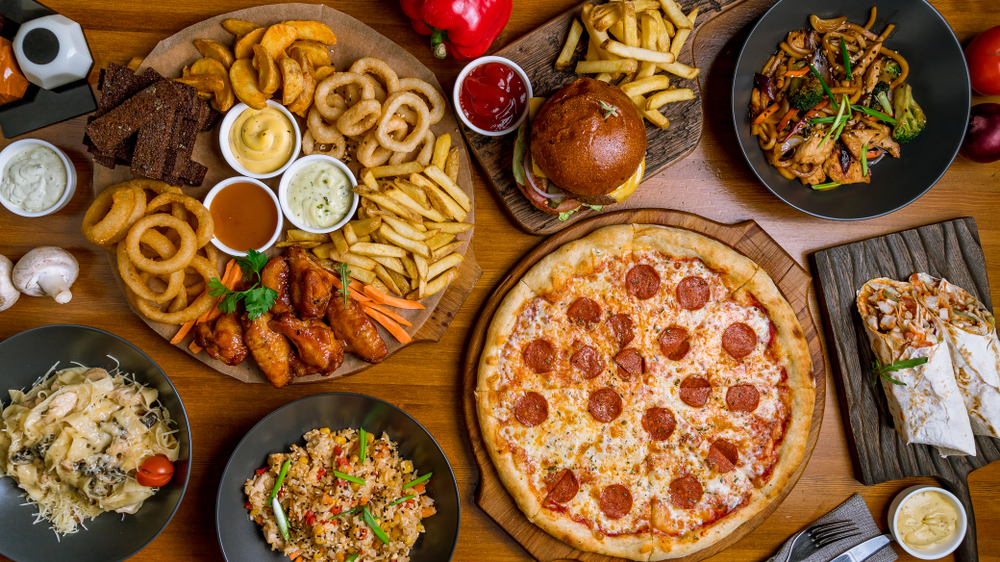 Kephi Greek Kitchen
If you have ever tried authentic Greek cooking then you are in for a treat at Kephi Greek Kitchen. They are open every day from 1130 am to 10 pm serving up some of the best dining in Williamsburg. At Kephi Greek Kitchen they import their herbs and olive oil from southern Greece so they can give you the most authentic taste.
Browse through their counters of fresh-made desserts, bread, herbs, and olive oils to take home they make the best souvenirs. Here you can enjoy "maze" or tapas small plate dining with your friends and family. After eating here at one of the best restaurants in Williamsburg greek food may become one of your new favorites.
Rockefeller Room at Williamsburg Inn
The Rockefeller Room is one of the best fine dinings in Williamsburg. Here you can enjoy a dinner of three courses or five courses with plenty of options for both. They pride themselves that their cuisine is of traditional fine dining with southern American tributes. If you love seafood and oysters then you are going to enjoy picking the different dishes on the menu.
They are only open on the weekends so you should plan and make a reservation today. The Rockefeller room is inside the Williamsburg Inn so if you have not found yourself somewhere to stay during your trip to Williamsburg then you can book yourself a weekend at the beautiful resort as well.