If you're looking for somewhere to eat breakfast in Williamsburg Virginia, you can stop looking! Here you will find a comprehensive list of the best breakfast restaurants in Williamsburg VA.
Pancake houses are dizzyingly popular here, but each offers its own take on breakfast (or brunch!), whether it's through the pancake flavours available, or the myriad other dishes on offer as well. From classic diners to upscale bistros, there's something here for every taste and budget.
So, whether you're planning a vacation or a road trip and will be stopping in Williamsburg, or if you live nearby and are keen to try something new, read on, and discover our favourites in the top breakfast spots in Williamsburg VA.
By the way if you are looking for ideas for road trips in Virginia, check out our guide to fun Virginia road trips for your bucket list!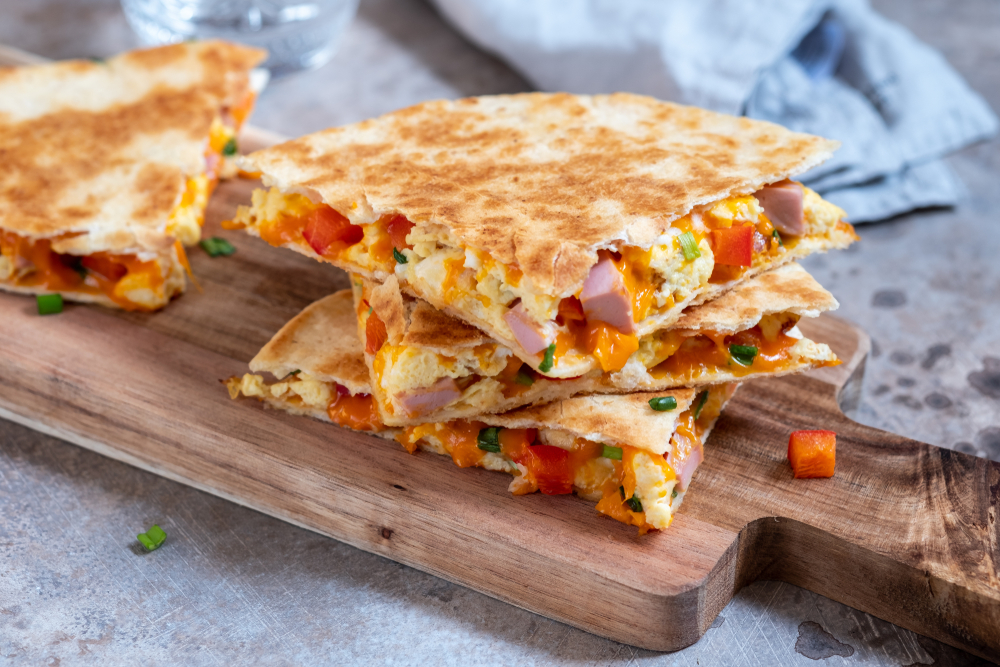 12 Best Places for Breakfast in Williamsburg VA You Must Try
Southern Pancake House
Do you love pancakes? Of course, you do. Honestly, what kind of monster doesn't like pancakes? (Sorry not sorry if that's you)… Well there is certainly no shortage of pancakes in Williamsburg Virginia so buckle up while we deep dive into the taste of hot, tasty, buttery pancakes.
We have a few favourites, and one of them is the Southern Pancake House, a family-owned breakfast restaurant in the Colonial Williamsburg historic area, and close to Busch Gardens and Water County. For more on great things to do in Williamsburg VA, check out our list of the best things to do in Williamsburg VA you shouldn't miss!
Depending on the season there are as many as ten pancake options available here, but the breakfast menu is massive, and we love their fried chicken and waffles, turkey sausage patties with eggs, and fried catfish with eggs.
If you're fussy, or travelling with someone who is, there is absolutely going to be something here for everyone! For example, they also offer combination plates, omelettes, French toast, a million (no exaggeration) sides, cereal, fruit, plus waffles. Oh yeah, and pancakes!
For the best breakfast in Williamsburg VA, you're bound to find it here at Southern Pancake House!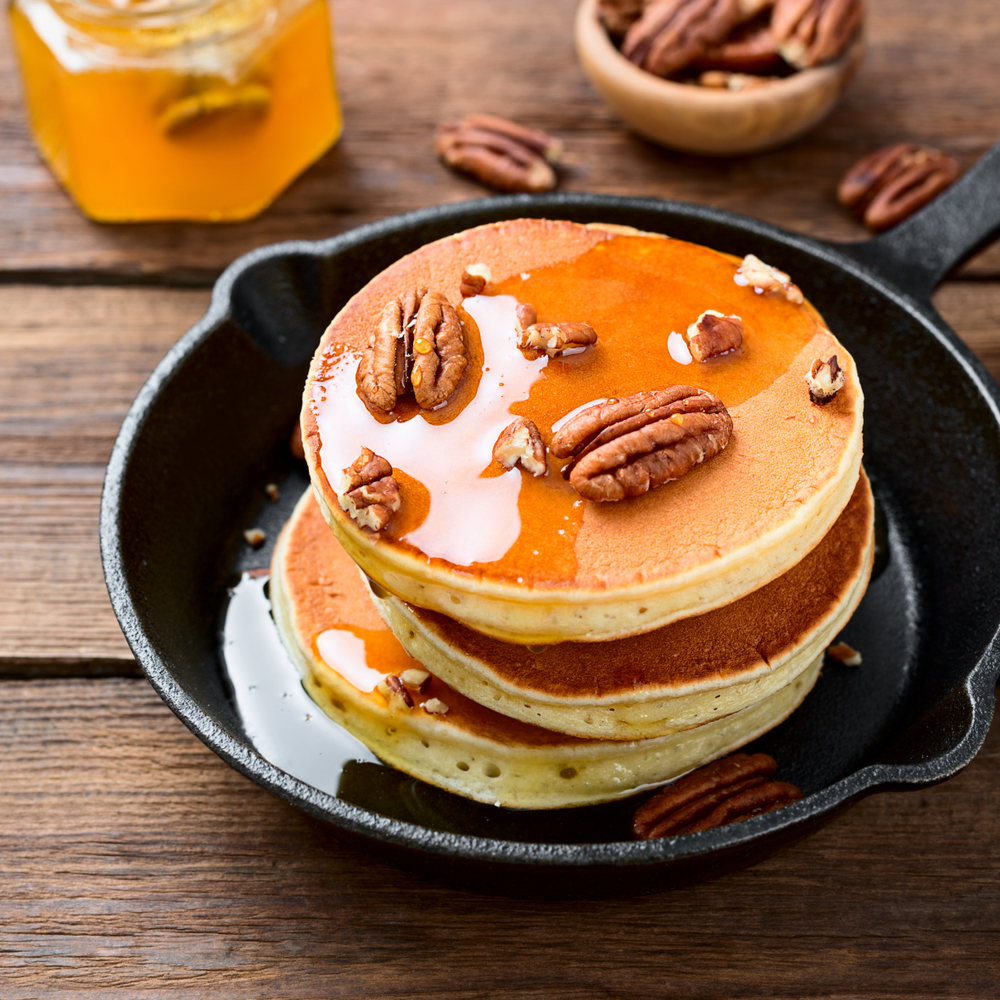 The Old Chickahominy House
We love the Old Chickahominy House, it's truly one of the most iconic breakfast spots in Williamsburg Virginia. This delightful establishment started life in 1955 as a tea room, serving biscuits and pies.
While it's since shifted down the road a bit, the essence of this quintessential breakfast venue is the same – a great place for great southern food. They also have a delightful gift shop so you can grab treats for the folks back home and share some of the joy of breakfast in colonial Williamsburg VA.
As for the food, well, if you're that hungry, you'll want to smash the Old Chickahominy Breakfast – ham, bacon AND sausage, with eggs, grits, and biscuits, plus tea or coffee. Sign us up! If you're for something a little lighter, there's so many great options, with pecan pancakes, eggs with cheese and hot biscuits, and creamed ham on toast a few examples of a truly exquisite Southern menu.
Did we mention their biscuits are award winning? Oh yeah. Next time you're in town, or if you're planning a visit, you'll definitely want to add this delightful local to your list! It is truly one of the best restaurants in Williamsburg!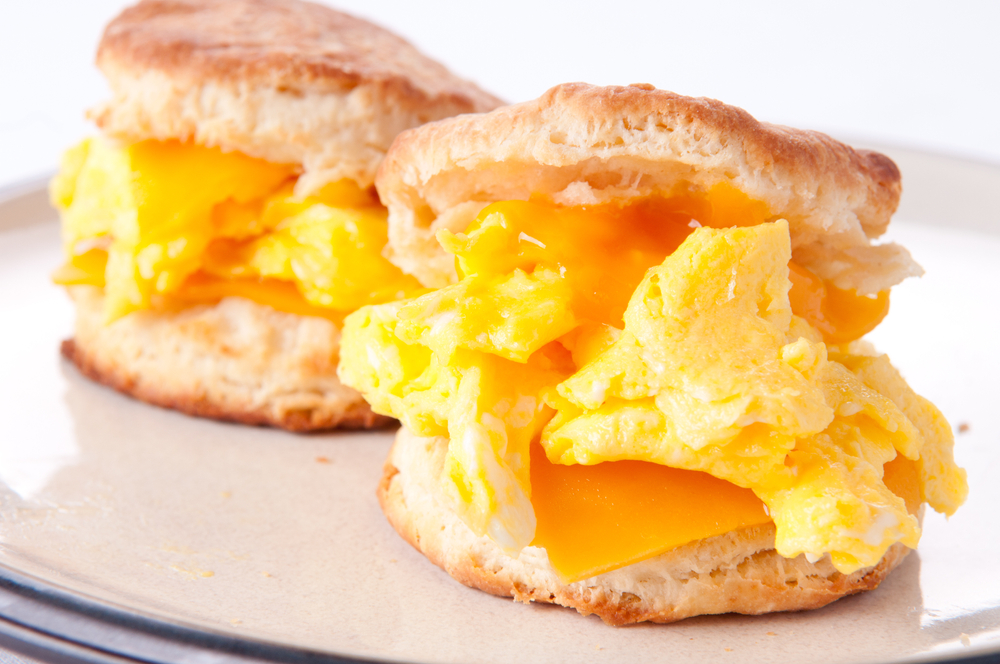 Capitol Pancake House
Ahhh. Capitol Pancake House. See, we told you there is an abundance on pancakes in Williamsburg Virginia. We want to move there, for this one reason.
One of the things we love best about Capitol Pancake House is their mimosa menu. Oh my! There are over 25 different mimosas on offer here! We love the specialties, such as blue raspberry, cherry sprite, and sangria, but their traditional selection, including green apple, kiwi and mango are also incredible.
As for the food, it is also a winner. Sign your life away with one of the Capitol's Signature Breakfast Specials, such as the Dirty Southern Breakfast Platter (fried chicken, grits, biscuits and gravy), or grab something from the pancake selection (cornbread pancakes!!), or anything else on this tasty menu. Malted Belgian waffles, Philly cheesesteak omelette, corned beef hash and eggs, no choice here can be wrong.
You can also opt for gluten free pancakes, and waffles, which are just two choices on a dedicated gluten free menu.
A great stop for breakfast or brunch, we know you'll love Capitol Pancake House just as much as we do! Especially if you're looking for a gluten free breakfast in Williamsburg VA!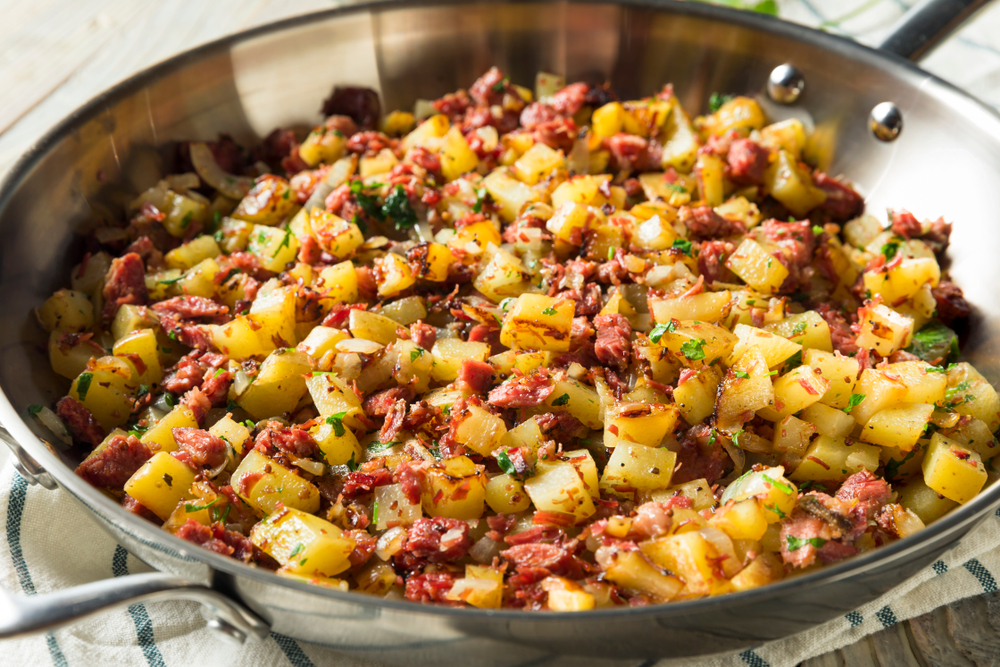 Blue Talon Bistro
Since opening in 2004, Blue Talon Bistro has become a firm favourite in Williamsburg Virginia, at any time of the day. In fact, it even made our list of the best restaurants in Williamsburg VA! BUT we are here to talk about breakfast, and brunch, so let's go go go!
Blue Talon Bistro's motto is 'serious about comfort food', and friends, they are not kidding. It is one of the best breakfast restaurants in Williamsburg VA.
While there may not be as many options on the menu at Blue Talon Bistro as you'll find at other breakfast places in Williamsburg VA on this list, what they offer is dazzling. Salmon croquettes, served with potato cake and fried eggs? Yes yes yes! Or the breakfast cassoulet, braised white beans with pork, duck confit and breakfast sausage, poached eggs and toasted baguette. Yum! How about a croissant with brie and apricot preserve? Take me there now!
All that said though, our favorite is hands down the truffled eggs. Poached eggs in a black truffle cream with toasted baguette and asparagus.
The beauty of this lovely establishment is that, as you'll have noticed, their offerings are a bit different to the usual. Twists on old favourites, or innovative ways with traditional ingredients. Whatever it is, it's a winner, and we heartily recommend a visit here for your next visit to Williamsburg VA.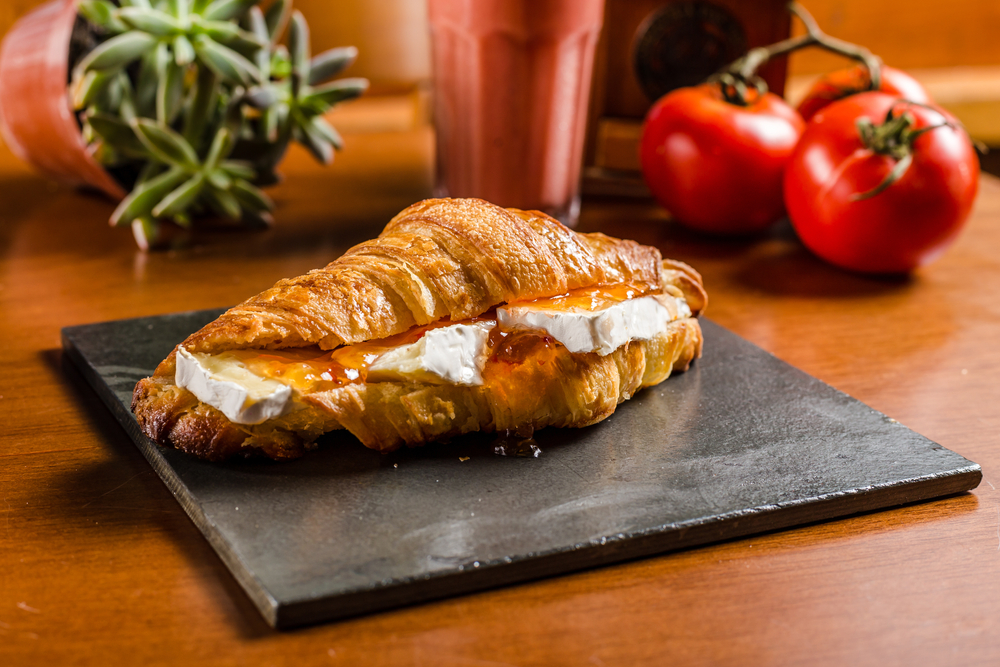 Astronomical Pancake House
Not another pancake house! Ha, keep reading! Yes, it certainly is another pancake house. Williamsburg Virginia is teeming with them but frankly we are not complaining! Each does things its own way, and we love that.
Here at Astronomical Pancake House they do play to their strength, which is, you guessed it – pancakes! From apple caramel pancakes to bacon pancakes and everything inbetween, there's a pancake option for every taste.
They do also serve waffles and eggs. We love the Spartan (Greek style omelette) and Gone Country waffles (served with chicken strips). Om nom nom! As for pancakes, it's gotta be Chocolate Insanity every time! Think pancakes served with chocolate chip cookie dough ice cream, chocolate chips and chocolate sauce. Death by chocolate, sign us up!
They also post amazing photos of their food on Facebook so if you're tossing up what to order definitely check out their page!
Add the Astronomical Pancake House to your shortlist of best places for breakfast in Williamsburg VA, for sure. And to quote the restaurant… have an astronomical day, y'all!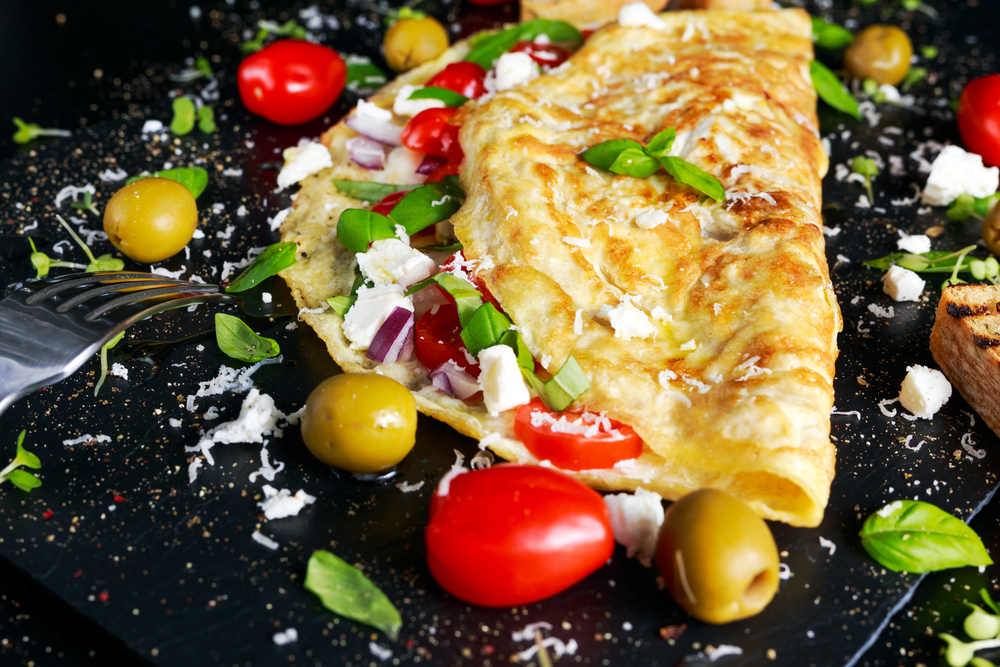 Los Paisanos
Los Paisanos is a Mexican restaurant and grill that also happens to serve some of the best Williamsburg Virginia breakfast.
The breakfast menu here is nothing short of comprehensive, with house specialties as well as whole sections dedicated to eggs benedicts, pancakes, waffles, French toast, omelettes, and various combinations of these.
Back to specialties for a moment, because this is where we recommend you focus your culinary efforts. Why not try the Latin style breakfast? Scrambled eggs mixed with pepper, tomato and onion, and served with beans, avocado, plantains, cheese, cream and tortillas. Yum! Or there's the Huevos con Chorizo – eggs mixed with chorizo, served with beans, tortillas and a side.
Our personal favourite is the Tex-Mex Benedict, avocado and bacon on an English muffin, served with poached eggs and hollandaise sauce plus jalapenos and pico de gallo. What a treat.
Williamsburg VA breakfast restaurants are plentiful, and Los Paisanos should definitely make it on to your list for the next time you're in town!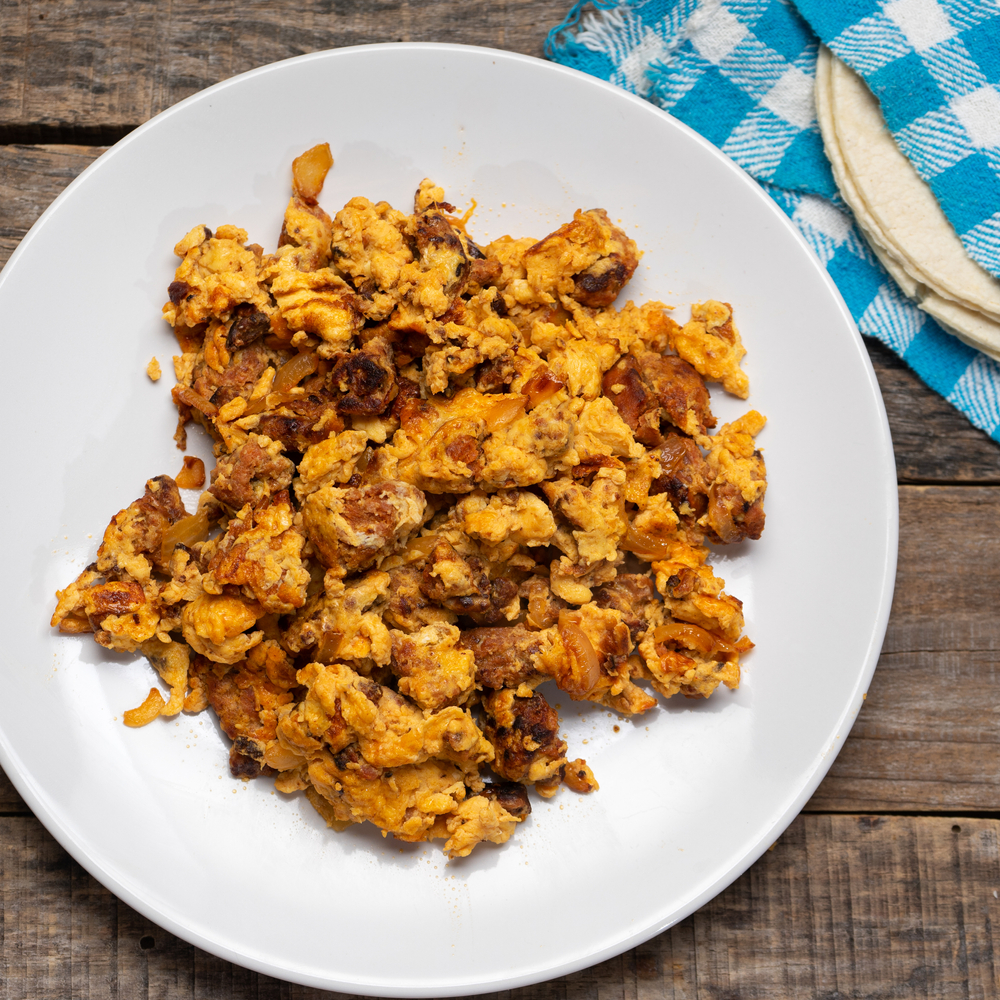 Smokey Griddle Pancake House
The Smokey Griddle Pancake House has an epic breakfast menu, making it one of the best places for breakfast in Williamsburg Virginia. We love it!
You could be mistaken for thinking the 20 or so items listed on the first page is the full breakfast menu, but that's just the egg and omelette selection! They also have pages filled with pancakes, waffles, specialties, and sides.
Our favourite dish here is the fried catfish, served with eggs, home fries or grits, and toast or biscuit. Tasty! They also offer a breakfast quesadilla, which isn't common on breakfast menus in Williamsburg VA. Think of your choice of bacon, sausage, chicken or chorizo mixed with scrambled eggs, shredded cheese, onions, peppers, in a delicious soft flour tortilla and with a serve of amazing homemade sauce. Plus of course, a choice of sides.
You can't put a foot wrong here, you could choose by closing your eyes and pointing randomly at the menu and we're pretty sure you won't regret what you end up with. Definitely one for your Williamsburg VA breakfast bucket list! And if you're looking for other things to do in Williamsburg VA, check out our list of best places to visit in Virginia!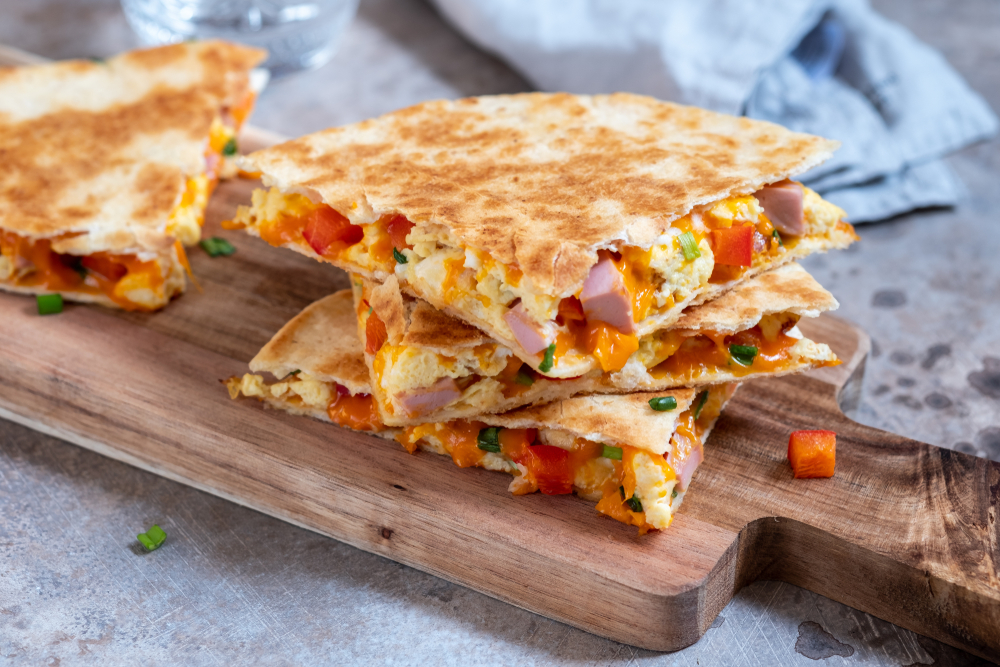 Shorty's Diner
With so many great breakfast places in Williamsburg Virginia (like, the 34 places with pancake in the name), it can be easy to overlook a great diner. But if you're looking for the best Williamsburg VA brunch OR breakfast, Shorty's Diner (which has two locations, Williamsburg and Richmond VA), is just the ticket.
We LOVE Shorty's Burrito (eggs, cheese, hashbrowns, your choice of sausage, bacon or ham) served with either home fries, hash browns or grits… make with sausage and a side of home fries, thanks!
Their Country Eggs Benedict is also a winner, with poached eggs and a sausage patty on a buttermilk biscuit, topped with sausage gravy and served with home fries.
Breakfast is served all day, which means if you find yourself at Shorty's Diner with someone at lunch time, there's nothing to stop you from ordering these treats.
So, for the best brunch in Williamsburg VA, add Shorty's Diner to your to-do list. You won't regret it. Promise.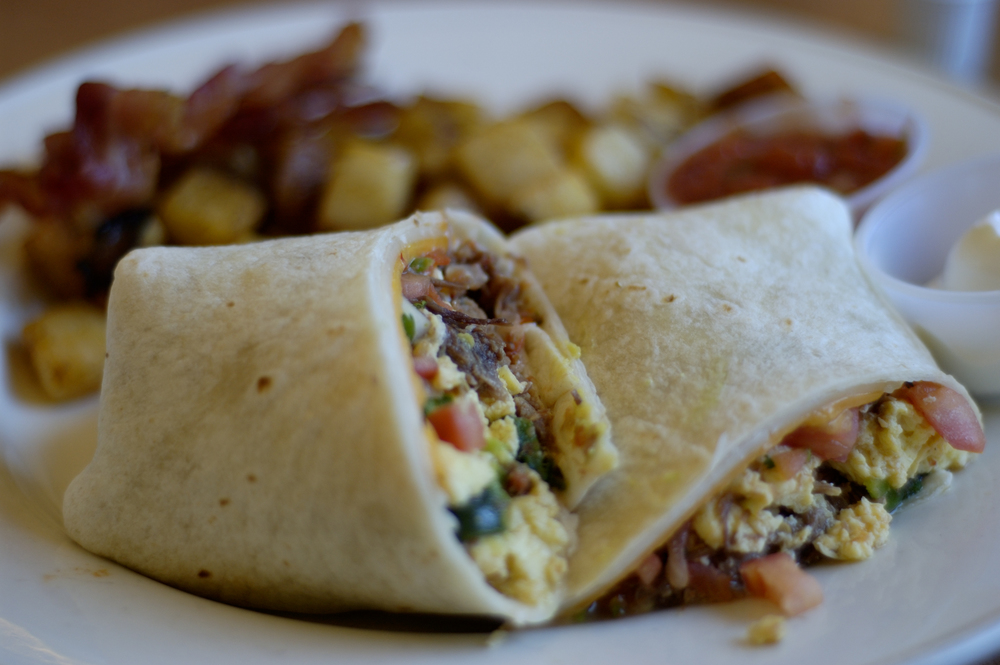 Mama Steve's House of Pancakes
Mama Steve's House of Pancakes boast that "Mama Steve's has always been a favorite of locals and visitors alike," and they are not kidding. We love visiting it here, and by the way it's always jam packed they are spot on about it being a local favourite too. We guarantee it's a great place for breakfast in Williamsburg Virginia.
Our favourite is the applewood bacon and eggs, served with toast and hash brown or grits. Simple, classic, delicious! Other stand outs on their menu are the potato and American cheese omelette, and sausage roll-ups (sausage links in buttermilk pancakes). Their blueberry pancakes are also a little plate of happiness.
There are so many pancake restaurants in Williamsburg VA, each with great claims on what they do, and Mama Steve's House of Pancakes is no different. Drop by and you'll see why it's one of the best breakfast restaurants in Williamsburg VA.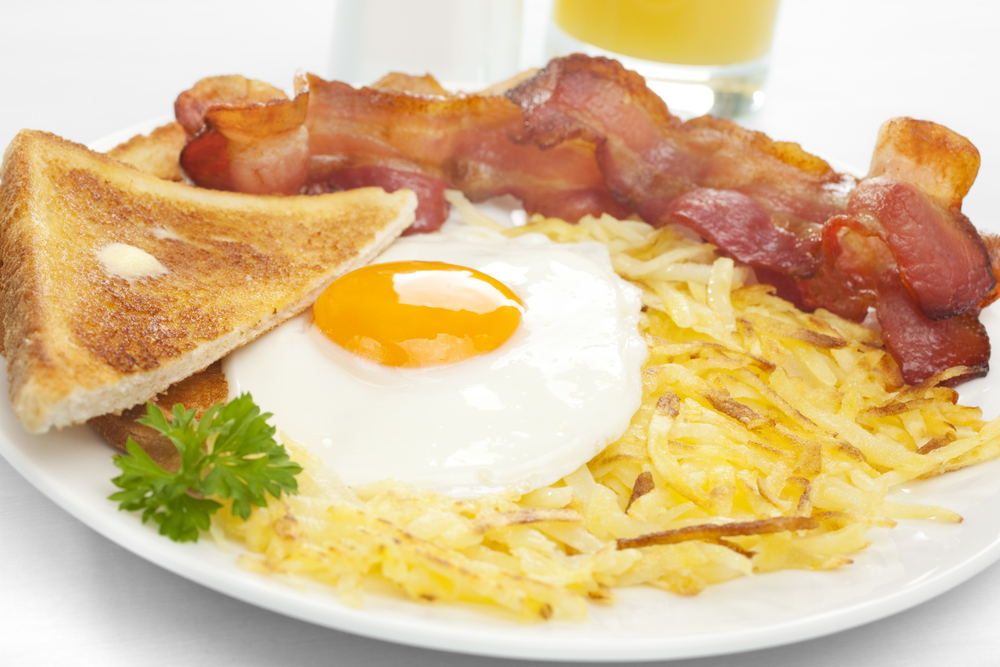 Tipsy Beans Cafe
Tipsy Beans Café is a great little spot. It's a bar, it's a café, it does bangin' breakfast and brunch food, (as well as charcuterie if that's your thing) and they're open all day, meaning you'll love it so much at breakfast you'll no doubt be back for lunch and dinner!
We love the Greek yoghurt parfait (vanilla yoghurt, granola, berries, coconut flakes), stuffed French toast (French toast filled with cream cheese, served with berries, whipped cream and sugar), and crab cakes eggs benedict. They have some great acai bowls, and bakery pastry treats, as well as some great breakfast cocktails and smoothies, including an acai berry smoothie! Yes!
Tipsy Beans Café is closed on Mondays but open every other day for all your breakfast needs! It's super trendy but also family friendly. Whether you're going with the posse or the family, you'll be glad you did. We love it! For the best Williamsburg VA breakfast restaurants, chuck this one on your list!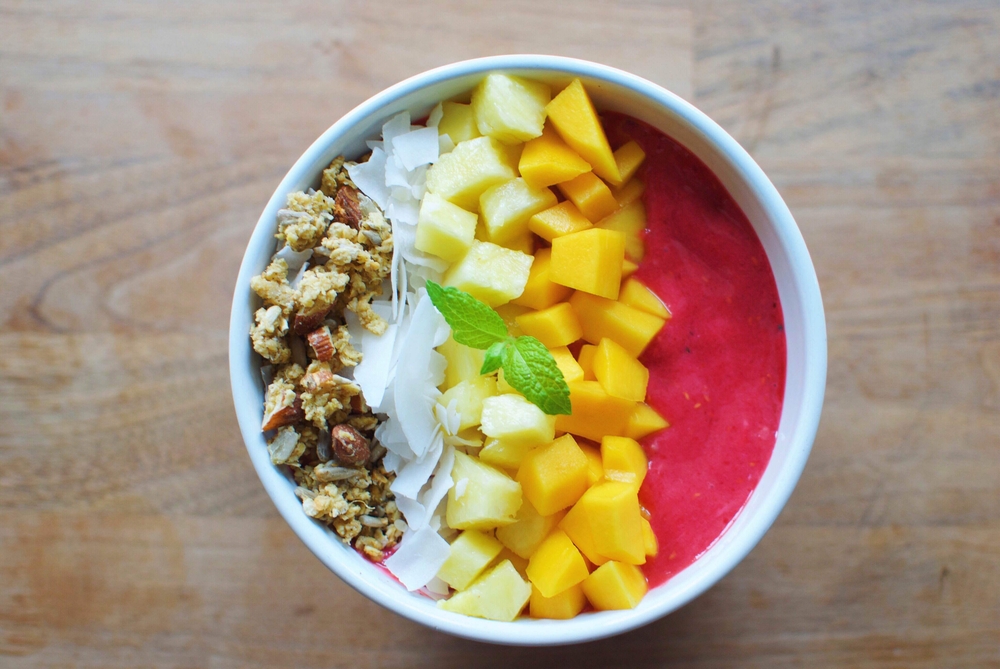 Traditions Restaurant at Williamsburg Lodge
Can't choose between waffles and pancakes, biscuits or bacon, French toast or omelettes? If your breakfast needs to be a buffet, well, we've got good news. Traditions Restaurant at Williamsburg Lodge is one of the best places for breakfast in Williamsburg Virginia, and it's here for you!
Offering a traditional breakfast buffet, with items such as scrambled eggs, bacon and sausage, grits, country fried potatoes and fresh seasonal fruit, this is a breakfast purist's all-inclusive dream.
fried chicken, smoked salmon (cold and hot!), frittata, shrimp cocktail, Caesar salad. This menu is brimming with good stuff. They also have some top-notch breakfast cocktails, like blueberry lemongrass mimosa and top shelf pickled okra bloody Mary.
Whether or not you're staying at the lodge, for the best Williamsburg VA brunch, don't miss Traditions Restaurant!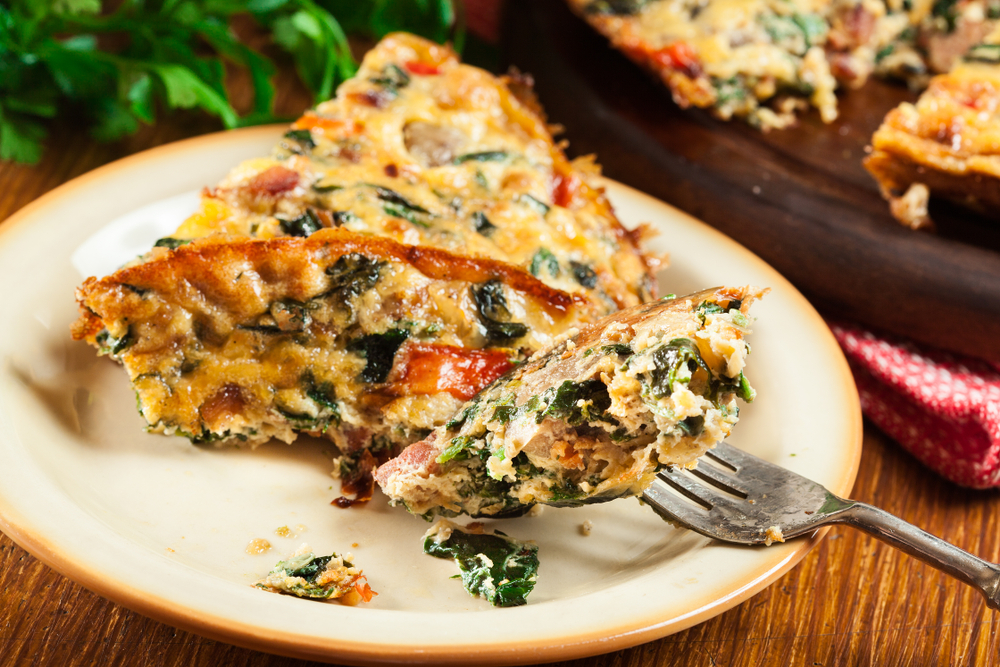 Not Another Pancake House
Well folks, the clue is in the name here. Yes, we promised you PANCAKES in Williamsburg Virginia, and surely you'll agree we have delivered on this promise! But having a lot of pancakes on offer is not a bad thing. If your town is great at something, why not show that off to the world?
And great at it they are at Not Another Pancake House, offering some of the best breakfast food in Williamsburg VA. They divide their menu into epic subheadings – eggs, waffles, benedict, skillet, omelettes, French toast, pancakes, combos, sandwiches, and Southern charm. Phew! You might want to pencil in a second visit to fully get your head around the options here.
BUT if that's not an option, let us help. We LOVE their Sweet and Heavenly combo, with a pancake, French toast and half a waffle – the best of everything! Or there's Red Velvet Waffles (wot!) if you prefer your breakfast sweet, or the drool-worthy Classic Skillet (hash browns, scrambled eggs, sausage, peppers, onions and cheddar cheese) if you're seeking savoury, umami flavours.
Whatever your jam, you'll find it at Not Another Pancake House, who serve incredible pancakes, but SO much more as well. The very best of breakfast places in Williamsburg VA! Tell them we sent you!