Visiting the best things to do in Brunswick, Georgia is a must for anyone looking to see the best that The Peach State has to offer. This lovely little town is one of the best beach towns in Georgia and plays a large role in the seafood industry in the south.

The town has been called The Shrimp Capital of the World due to the wild GA shrimp that are plentiful in the marshes and estuaries around the historic mainland city. Brunswick is the mainland city near the four Golden Isles; St. Simons Island, Sea Island, Jekyll Island, and Little St. Simons Island.

You will find everything in Brunswick from miles of sandy beaches and beautiful marshlands to world-class golf clubs and resorts. Whether you are doing a bit of solo traveling or exploring with your loved ones, you are sure to love this idyllic coastal town. Let's dive in and check out the best activities in Brunswick.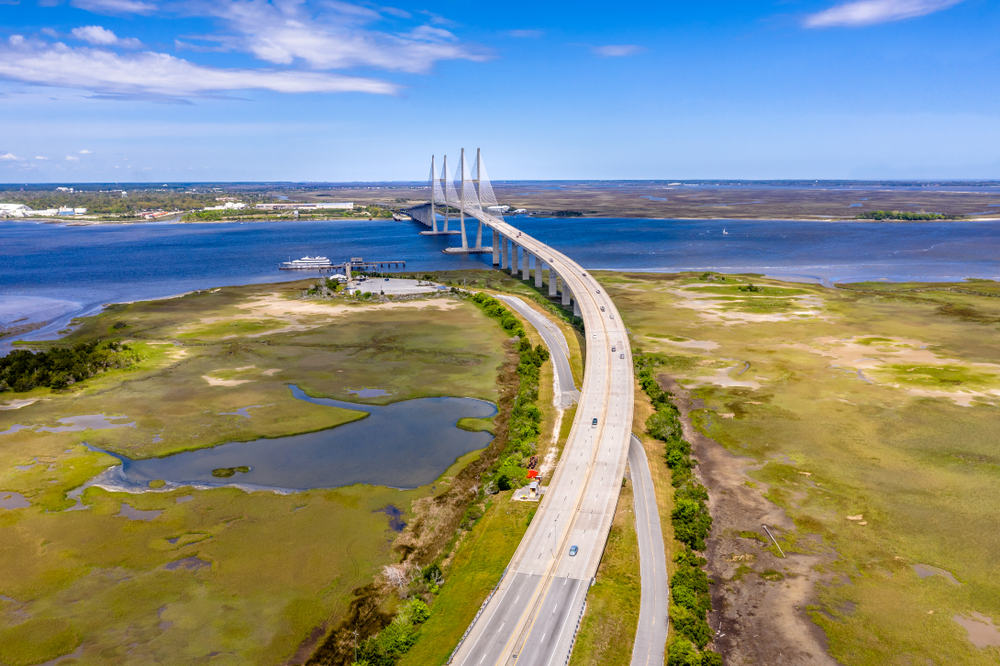 15 Best Things To Do In Brunswick GA You Shouldn't Miss
Richland Rum
One of the best places to visit when you are spending a weekend in Brunswick is the Richland Rum Distillery. When compiling a list of the best things to do in Brunswick for adults, you will want to make sure not to overlook Richland Rum.

The distillery offer tours in Brunswick where you can get a rare glimpse at the traditional techniques and artisan methods that are used by the distiller. Richland also sells coffee. This exceptional Georgia-made coffee is aged in Rum barrels so that it is able to soak up the stunning aroma of the rum that was aged for years in the barrel.

If you aren't interested in spending a lot of time at Richland but you still want to try some Georgia-made rum while you're there, you can order curbside pick-up. Rain or shine, swing by and pick up your order of 86-proof Old South Georgia Rum or the unaged and unfiltered Virgin Coastal Georgia Rum to try for yourself.
Make sure to check out our list of the Best Restaurants In Brunswick for your trip! There are so many good options.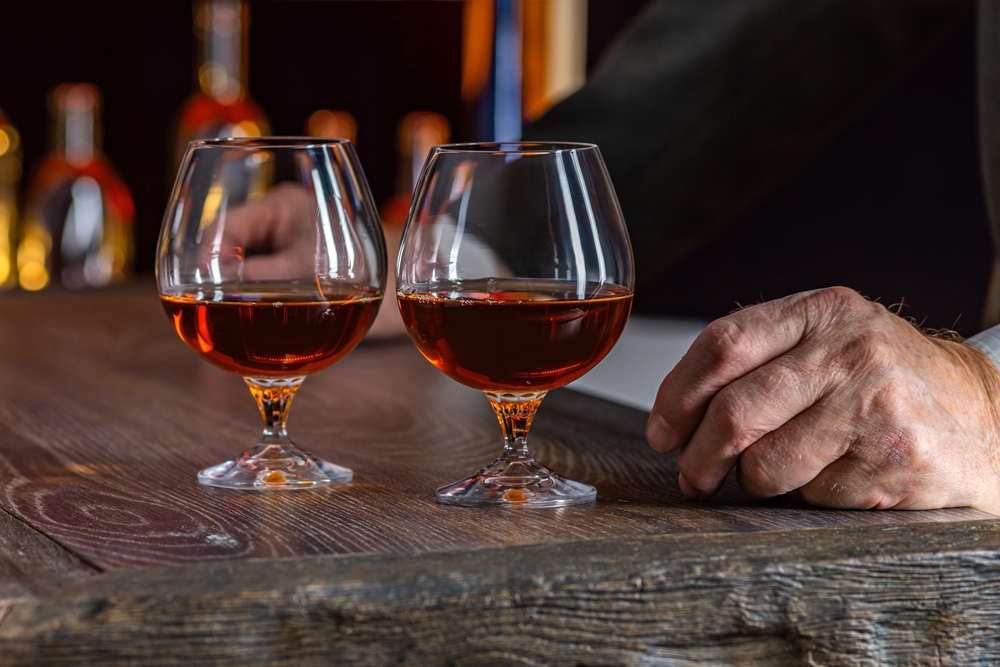 Coastal Tide Excursions
One of the best things to do in Brunswick with kids is to take a tour with Coastal Tide Excursions. You can take a commercial steel hull shrimping trawler that has been refurbished for eco-tourism, conservation, and education on a tour of the beautiful waters off the coast of Georgia.

For traveling families who put an importance on education while traveling, you really can't get much better than this. Of course, adults can enjoy these excursions all the same. Coastal Tide Excursions also offer Island Air Boat Tours.

For those who have never been on an airboat, now is your chance! This fun opportunity allows you to jump aboard an eighteen-foot airboat for an hour of exhilarating adventure through the marshes and estuaries of the Golden Isles.
Mary Ross Waterfront Park
Visiting the incredible parks in this lovely little town is one of the best things to do in Brunswick GA. In fact, the number of excellent parks in Brunswick is part of what makes it one of the best small towns in Georgia.

The Mary Ross Waterfront Park can be found at the end of Gloucester Street. You can see a scale model of a Liberty Ship like the ones that were built in the shipyards in Brunswick during World War II. You can also check out the amphitheater, outdoor musical playscape, pavilion, and the farmers market during your visit.

Visiting this park is a must for anyone looking to enjoy some spent along the water. It's perfect for those traveling with kids that need to burn off some energy as well. On your walk, you will find signs, plaques, and historical items along the walkway that teach visitors about the area.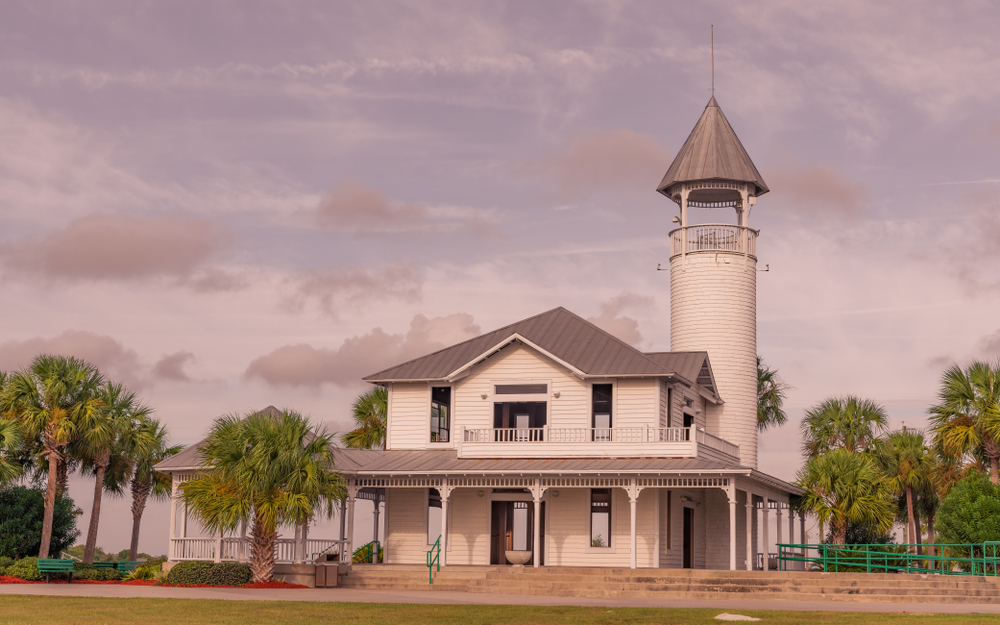 Georgia Sea Turtle Museum
This is by far one of the best things to do in Brunswick. You will find this attraction around 15 minutes from mainland Brunswick. It is well worth the quick journey as it is a super cool site to check out.

This is the only sea turtle education and rehabilitation facility in the state of Georgia. In the center, you will find learning opportunities as well as visual displays of rehabilitation in action. There are exhibits and experiences at the museum that you won't soon forget.

Many of the sea turtles in the hospital here are suffering from being cold stunned. When turtles become weak and inactive from cold exposure, they often need help to recover and this sea turtle hospital at this museum does just that.

While children in particular love this museum, you will see adults exploring the sea turtle hospital and exhibits just the same. And the best part about the museum is that admission is super reasonable and all of the proceeds go to help offset the operating costs which include rehabilitating these beautiful creatures.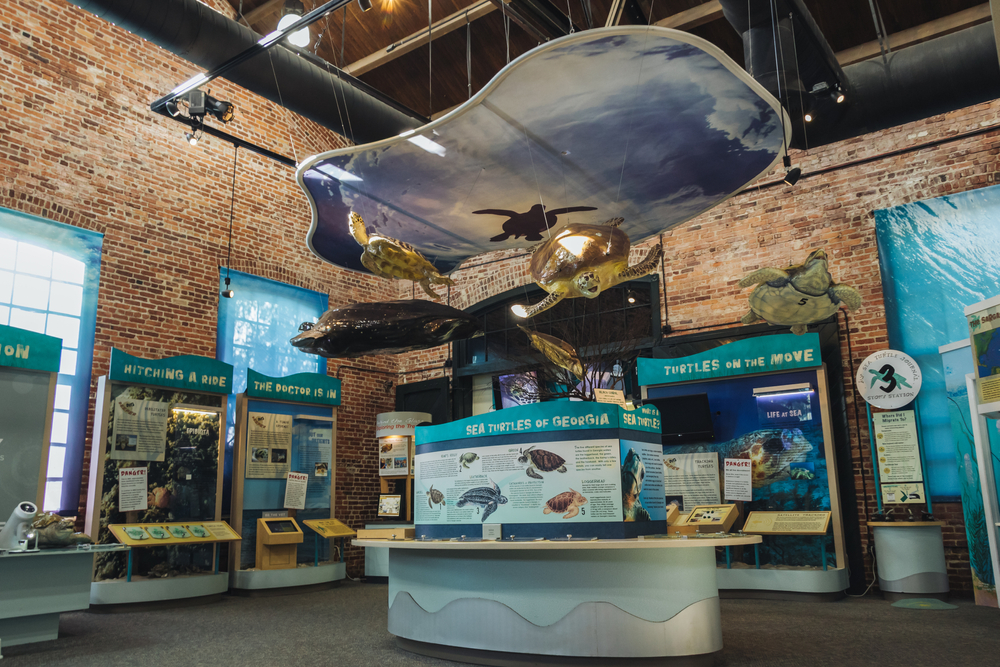 Reid's Apothecary
Looking for things to do in Brunswick at night? Reid's Apothecary is a dreamy little restaurant that has a bar area, lovely interior design, and a Southern menu that you won't want to miss.

The bar serves up superior and unique drinks like the Boogaloo which is rye, pineapple and vanilla liquor, lime, absinthe, and egg white. If you want something with a Hispanic twist, order the Flight to Oaxaca which is mezcal, passion fruit and grapefruit liqueur, orange, tajin, and dehydrated lime.

Reid's Apothecary is considered to be among the best things to do in Brunswick for couples for many reasons, but one thing that really draws people in is the impeccable dinner options. You will find things like pulled duck nachos, curried chickpeas, and fried green tomatoes on the menu!
Pinball Palace
Arcade lovers unite! When it comes to fun things to do in Brunswick, it doesn't get much better than a visit to the Pinball Palace. Among the best Brunswick activities, the Pinball Palace was actually rated as one of the top pinball arcades in the entire country!

The museum portion of the building showcases nearly one hundred expertly and carefully maintained and cleaned machines. With one admission fee, you can play on the machines all day long! There is also a bounce house room where kids can have a blast!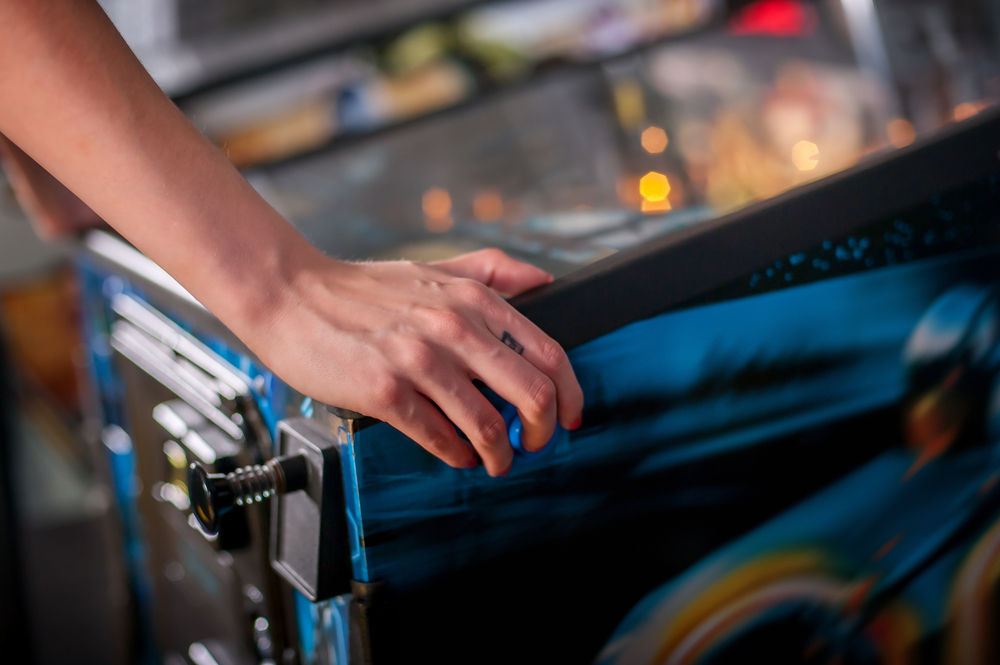 Blythe Island Regional Park
Adventure travelers looking for outdoorsy things to do in Brunswick should stop by the Blythe Island Regional Park. The park is around 1,100 acres and is open to the public. This site offers a playground, picnic areas, and the freshwater Lake Cindee which is perfect for both swimming and fishing;

There is also a campground on site. The RV sites have hookups and offer lake views, there is a dump station, and propane gas and ice are available for purchase as well–giving you everything you need in one place! Plus, the area around the park holds some of the best things to do in Brunswick Georgia.
Marshside Grill
With shrimping playing such a large role in shaping this coastal town, it's only right to try some of the incredible shrimp that the waters produce in the area. Of all the attractions in Brunswick, one of the best is Marshside Grill!

Brunswick has amazing seafood restaurants. And this waterfront seafood joint plays a part in making Brunswick one of the best romantic getaways in Georgia. With waterfront views and a menu of shrimp tacos, burgers, and hibachi, your and your special someone will love spending the evening at the Marshside Grill.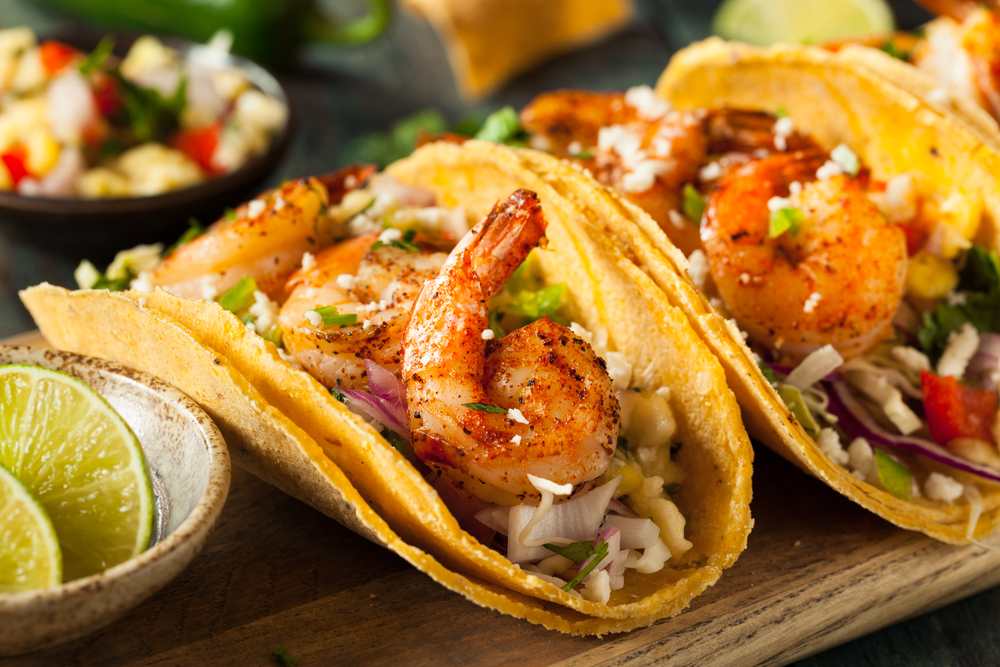 Lover's Oak
Among the coolest places to visit in Brunswick, is Lover's Oak. This notable tree is a Southern live oak that holds historic significance. You will find the tree in the Old Town Historic District where it has stood since the 12th century!

Local legend says that brave Native American men and maidens would come to the tree as it acted as a rendevous point. The trunk of the tree is around 13 feet in diameter and some of the branches that spread out into limbs reach 12-30 inches in diameter.

You will find a plaque beneath the tree that explains its significance. This is one of the best free things to do in Brunswick for those looking for interesting sites on a budget. (Especially if you are traveling with kids as they love to climb up into the tree for photos!)
Scoops Away Ice Cream & Candy
There's nothing like a sweet treat when traveling. One of the best things to do in Brunswick with kids is to visit Scoops Away Ice Cream and Candy. The variety at this sweet shop is out of this world! You can really find it all. Maybe you are in need of a cold treat on a hot day or maybe you are simply traveling with kiddos and are looking to surprise them with something fun, either way, don't skip Scoops Away!

The menu includes soda floats, energy floats, slushies, shaved ice, shakes, brown bombs, and extreme ice cream cups. These cups come with ice cream and other desserts like apple pie, cheesecake, and more!
Driftwood Beach
Driftwood Beach is one of the best beaches near Brunswick. This is a truly iconic and stunning beach in the Golden Isle that you won't want to miss. Visited by thousands each year, the beach can be found on Jekyll Island. Ask anyone–visiting this picturesque beach is one of the best things to do near Brunswick!

The beach is on the north side of the island and is covered with beautiful driftwood that creates a fantasy-like scene from another world. This is a great area for excellent travel photos, simply walking along the beach at sunset, or having a picnic with a view.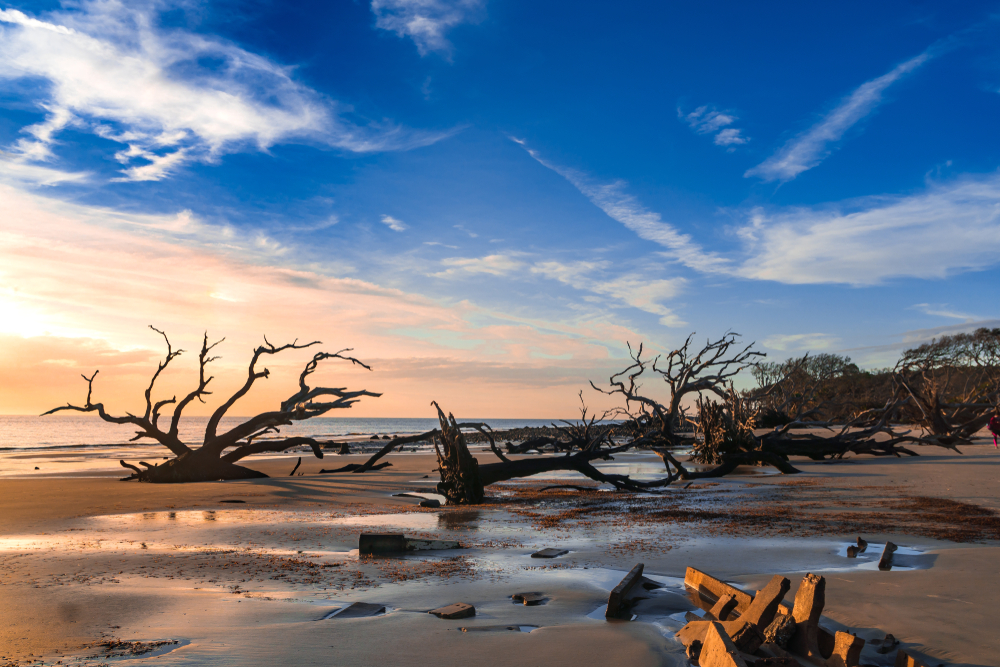 Heritage Oaks Golf Club
Golfers, take note. The Heritage Oaks Golf Club in Brunswick is an absolute gem. This par 72 golf course has around 6,900 yards of manicured landscape that offer views of the Buffalo River. After the 18th hole, you can head to the bar and grill for post-golf refreshments.

The restaurant here is part of what makes Heritage Oaks Golf Club one of the best things to do in Brunswick, Georgia. During your scenic dining experience, you can order wings, burgers, and dogs along with a draft, glass, or pitcher IPA.
St. Simons Island Lighthouse Museum
A ten-minute drive from mainland Brunswick will take you to the stunning St. Simons Island Lighthouse. The museum beneath the lighthouse is in the old keeper's dwelling. You can discover some fascinating pieces of history as it relates to coastal Georgia in the historic photographs, artifacts, and the interactive exhibits that are designed for visitors of all ages.

The reason that this incredible lighthouse has made its way onto the list of the best things to do in Brunswick is the history that comes along with it. If you are the type of traveler that loves to dive into history on your adventures, buckle up because this lighthouse tells a colorful story.

Built in the years 1868-1872, the first original light station was destroyed in the Civil War. The one that stands in its place today was designed by a top notch architect named Charles Cluskey. It stands at 104 feet tall and is made of Savannah gray brick.

You can learn about the impact that the lighthouse has had on the Golden Isles at the museum below the lighthouse.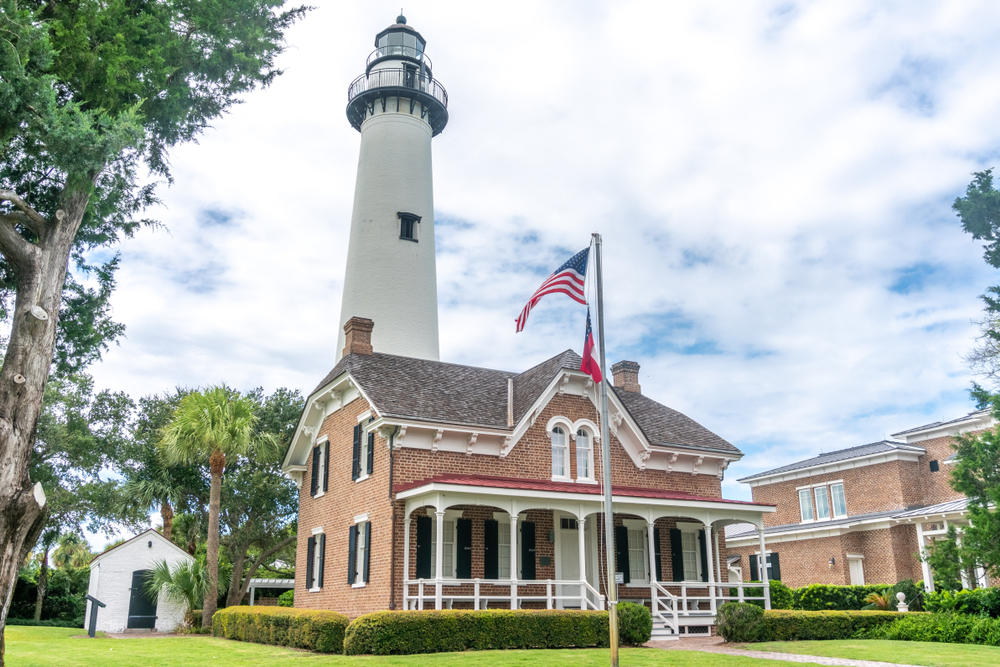 Silver Bluff Brewing Company
The Silver Bluff Brewing Company focuses on community and quality beer. The Golden Isles is a unique community that beer enthusiasts love. Silver Bluff produces four year-round brews along with a few seasonal beers a year. Of course, you can enjoy featured beers in the tap room as well.

This brewing facility is quite unique as it contains two brewhouses, a canning line, and a production facility that is connected to their taproom and beer garden. These spaces are ideal for a quick pint or an afternoon drinking session.

The beer garden is more than 3,200 square feet of green space and sitting areas. Those wanting to sit in the garden are welcome to bring food from nearby restaurants like Island Jerk or Tipsy McSway's to enjoy with your beer.

Don't skip visiting Silver Bluff Brewing Company as it is among the best things to do in Brunswick!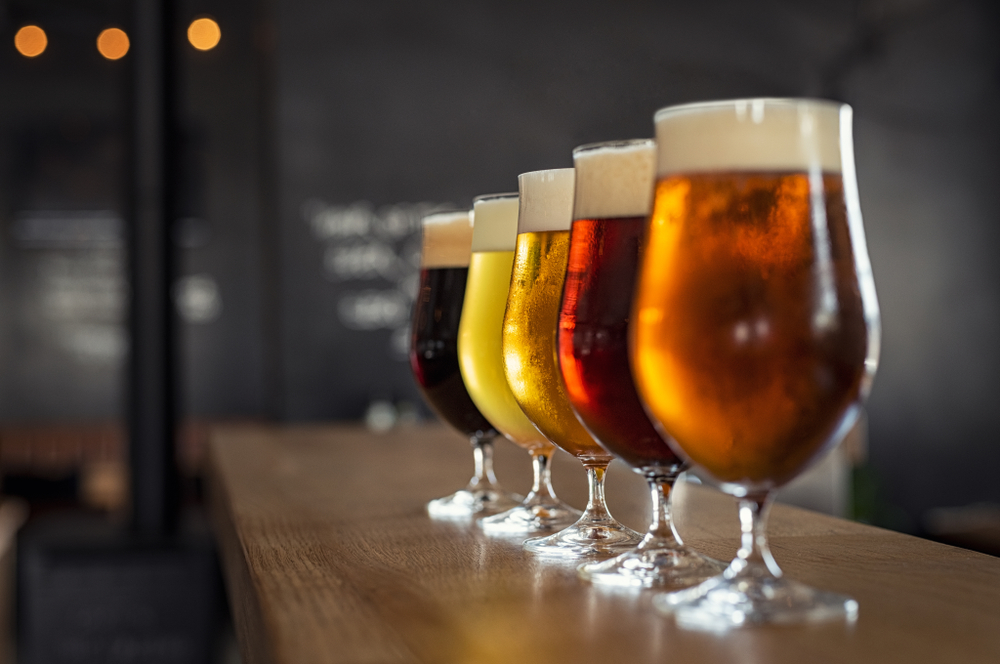 Fort Frederica
One of the best things to do in Brunswick is to take a short fifteen-minute road trip to the historic Fort Federica National Monument. You will find the fort on St. Simons Island. The archeological remnants of the fort are being preserved here at this monument.

The town and fort were built to protect the British colony of Georgia from raids from the Spanish. More than 600 British troops were once stationed at this fort! When you visit you will see wooden boardwalks winding along the green grass under Spanish Moss-covered trees, historic structures, cannons, and gardens.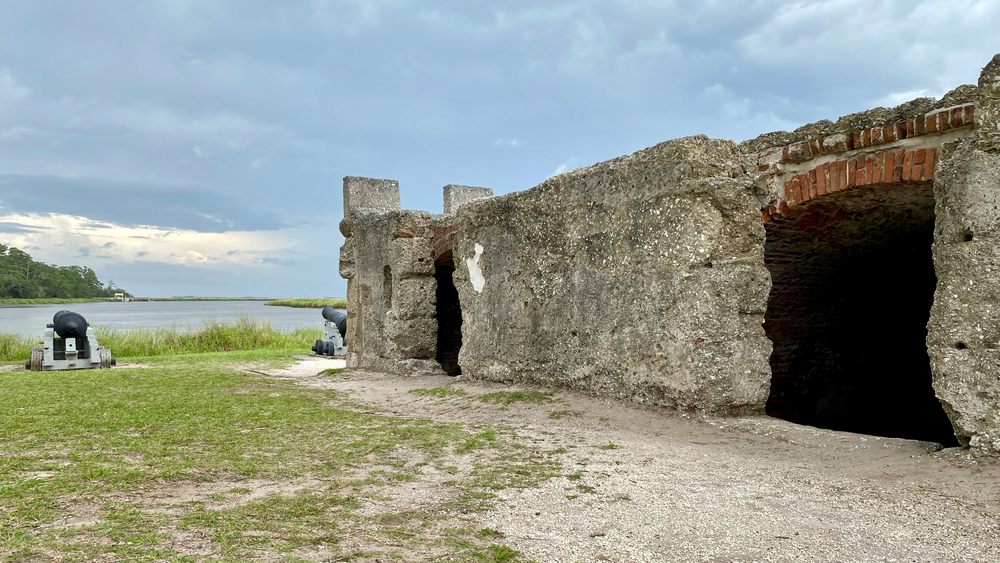 Hopefully, you won't have to wonder what to do in Brunswick GA after learning about all of the amazing sites, parks, restaurants, and attractions. From great food and boat excursions to historic sites and sea turtle rescues, this lovely coastal town in The Peach State is overflowing with exciting things to see and do.

Now that you have learned a bit about all of the best things to do in Brunswick, which do you think you will do first?