If you're looking for festive places to experience Christmas in Tennessee, we've got you covered! The Volunteer State shines no matter what time of year, but Christmas time offers a little something extra. The Christmas lights, festivals, events, and general festiveness of the state are a sight to behold.

In Tennessee, you will be able to find a plethora of fun Christmas activities to participate in. You can go ice skating, watch performances, attend festivals, drive through neighborhood after neighborhood of houses that are beautifully adorned with Christmas decorations, and much more!

Tennessee is a really wonderful place to experience Christmas as there are many big cities that get into the Christmas spirit by offering visitors tons of Christmas activities and the mountain scenery in the eastern part of the state adds even more frivolity to the Christmas season. Which of these Christmas in Tennessee activities will you do first?
12 Festive Places To Celebrate Christmas In Tennessee
Experience Tennessee Christmas Magic in Gatlinburg
There's nothing better than experiencing Christmas in the Smoky Mountains. The town of Gatlinburg offers Christmas fun around every corner during the holiday season. Whether you are a festival fanatic or you're just looking for some lovely Christmas ambiance, Gatlinburg has you covered!

If you're looking for a place to see the Gatlinburg Christmas lights, a visit to the Gatlinburg SkyLift Park is in order! The Gatlinburg SkyBridge at Christmas is lit up beautifully for an event called Lights Over Gatlinburg and it is a must-see for Christmas in Tennessee. Walk over the 300-foot tunnel bridge that is covered with more than 40,000 lights, check out the 30+ foot Christmas tree, and much more in the Sky Park.

While you're exploring everything that Gatlinburg has to offer at Christmas time, don't overlook the Fantasy of Lights Christmas Parade that takes place on the parkway. During past parades, more than 80,000 people have shown up to watch the spectacle that includes hundreds of decorated floats! If parades aren't your things, consider checking out Gatlinburg Tunes and Tales where you can listen to stories, live music, and see all of your favorite North Pole inhabitants.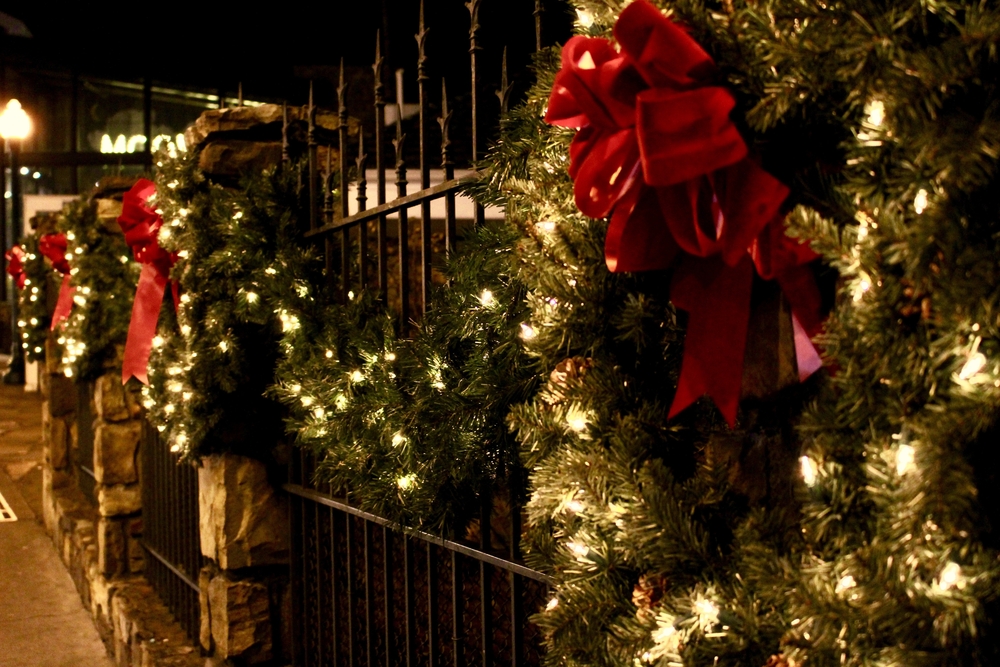 Christmas at Dollywood
Some would say that a trip to Pigeon Forge isn't complete without a visit to Dollywood. This is so true when it comes to Christmas in Tennessee. The stunning display of lights at Dollywood is a must-see at Christmas time!

With the walkways and buildings adorned with millions of Christmas lights during the season, this Tennessee theme park is a spectacular display of the Christmas spirit. The light season in the park starts in November and runs through to the beginning of January, so you have plenty of time to schedule a trip to Dollywood during the holiday season.

Dollywood also offers Christmas shows in the park. There's no better way to get into the Christmas spirit than by listening to Christmas carols and watching classic Christmas stories acted out on stage. There are also opportunities to play reindeer games, decorate cookies, and see classic Christmas characters. Of course, kids are also able to get their picture taken with Santa!
Christmas in Nashville
Christmas in Tennessee just wouldn't be the same without the Christmas festivities in this lovely Tennessee town. A Country Christmas at Gaylord Opryland Resort & Convention Center is a can't miss when visiting Nashville during Christmas time. The fun is boundless at Opryland! From dinner shows, scavenger hunts, and Santa to Rudolph's Holly Jolly Breakfast, bumper cars, and more, Christmas at Opryland is perfect for families.

Cheekwood Estate & Gardens is another site in Nashville that goes big for Christmas. You can see amazing light displays, a 20+ foot Christmas tree covered in orchids, Children's Wonderland, the Dancing Lights of Trains, and more during your visit.

The Nashville Ballet puts on a performance of the Nashville Nutcracker. The classic ballet gets a Nashville twist in this rendition of the beloved performance. The stunning costumes, twinkling lights, and incredible talent you will see during the show will have you wanting to make watching the performance your new Christmas tradition!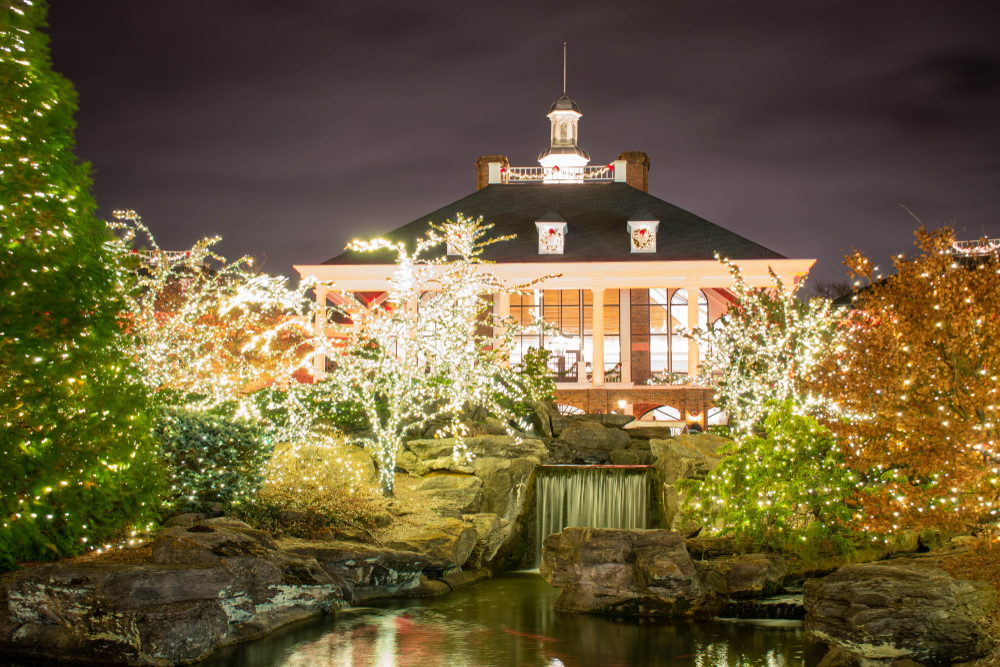 Drive Through The Brentwood Neighborhoods
The lovely Tennessee town of Brentwood offers visitors an amazing display of the Christmas spirit each year. For more than twenty years the neighborhoods in Brentwood have filled their streets with Christmas lights and decorations and it's called the Sunnyside Drive Christmas Lights Display.

A drive through the neighborhoods of Brentwood to see the Sunnyside Drive Christmas Lights will plant you firmly in the Christmas spirit and leave you in awe. Although it's free to drive through the neighborhoods, the houses that participate in the lights take donations each year for the Shriner's Hospitals For Children.
Visit The Historic Rock Castle
Spend Christmas in Tennessee by diving into history. The Historic Rock Castle in Hendersonville was built in the late 1700s and was the home of General Daniel Smith and his wife Sarah. Both were early Tennesseans. Daniel created the first map of Tennessee, has been credited with the naming of the state, and was a surveyor who helped form the line between Kentucky and Tennessee.

This historic home is breathtaking at Christmas time. The wreaths and garland hung from the fences around the property and on the home are a welcome sight around Christmas time, especially when there is snow on the ground; the atmosphere is so welcoming! During the holiday season you there's a lot of learning and fun to be had at the home.

You can take a free tour of the home, enjoy refreshments, the holiday gift shop, and appearances from Santa. This event is always offered for free to the community during this time of year and no tickets are necessary. This is a great opportunity to not only enjoy the holiday season but learn a bit about the history of Tennessee as well.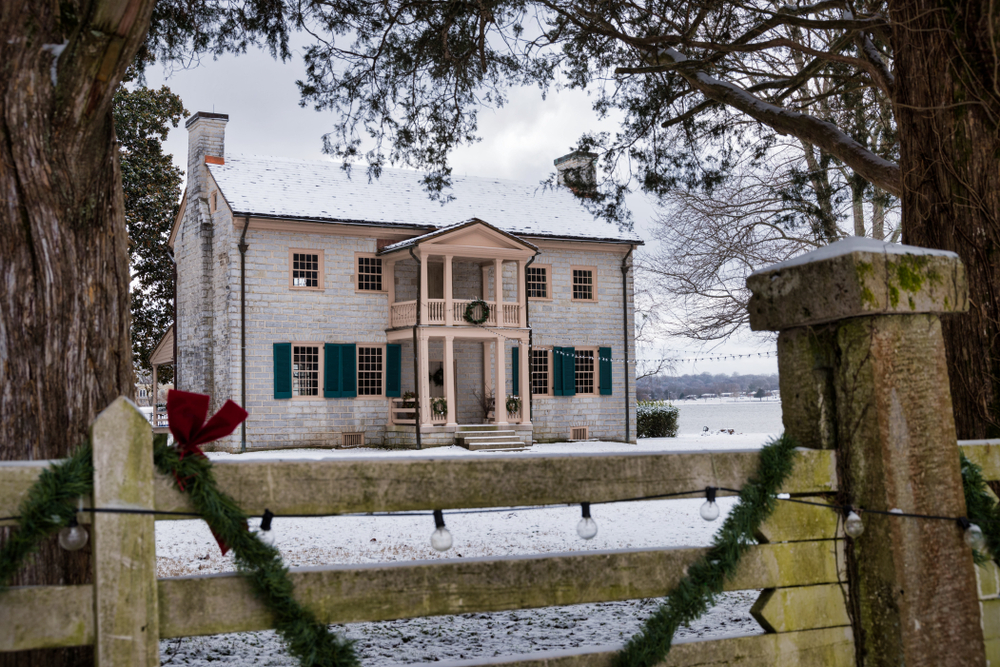 Go Christmas Lights Hopping in Memphis
For those who love checking out the Christmas lights every year, you will love Christmas in Memphis! You will find that there are so many fantastic places to drive through and walk through to see Christmas lights in Memphis each year.

The largest light show, not only in Memphis but in the mid-south, is the Starry Nights at Shelby Farms Park. This light display is a drive-through attraction and has more than three million lights! The Zoo Lights at the Memphis Zoo is another amazing light display in the city. With fun features like light tunnels, s'mores kits, hot chocolate, and a 90 foot LED Ferris wheel, this site is a must-see in Memphis.

You can also see other light displays, including the Collierville Holiday Light Tour, Enchanted Forest: Festival of Trees at Pink Palace, and the Holiday Wonders at the Memphis Botanic Garden. Each year at Graceland, the home of Elvis Presley, you can attend the lighting ceremony where they light up the mansion and ground for the holiday season.
Christmas in Knoxville
Known for delicious southern food, a wonderful downtown, and for being an exciting city to visit when in the Volunteer State, Knoxville is an exciting place to experience Christmas in Tennessee. This Tennessee city is delightful for both adults and children at Christmas time. You will find downtown to be decorated beautifully for the holiday, complete with a 40+ foot Christmas tree!

A favorite holiday tradition in Knoxville is at the zoo! Zoo Knoxville is wonderfully decorated for the holiday with lanterns, tree lights, and more for visitors to enjoy. You can also enjoy the Knoxville Neighborhood Holiday Trails. Grab a map online of the neighborhoods that are participating and take a driving tour of the trails to enjoy the Christmas Lights that are on display.

You can also follow the Peppermint Trail. The trail takes you to bakeries, bars, restaurants, coffee shops, boutiques, and other places in the city that offer peppermint specials and are adorned with peppermint-themed light displays. New events and festivals are always being put on in the city. Make sure to check the Visit Knoxville website to see what amazing events will be held in the city this year!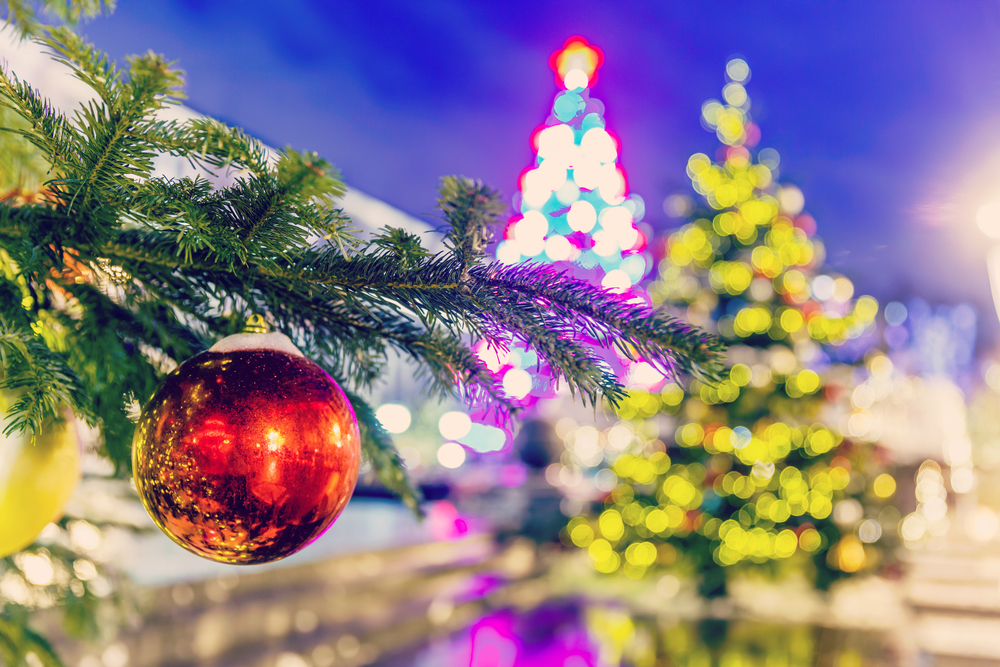 Snow Tubing in Tennessee
Snow tubing is a real treat in the state of Tennessee. You can find many opportunities to enjoy the snow and cold weather around Christmas time by swinging by one of these snow tubing locations.

Arguably the most popular place to snow tube in the state is at Ober Gatlinburg. This site is a popular attraction in eastern Tennessee that offers snowboarding, a skylift, skiing, and other fun activities. Kids as young as age three can participate in snow tubing at Ober Gatlinburg. Sessions last for 90 minutes and they have a wonderful "magic carpet" that is like an outdoor escalator that takes you to the top of the hill for each new run so that you can avoid climbing the hill each time!

Another option for snow tubing is at Pigeon Forge Snow. This site is open year-round in the heat, cold, rain, or shine. Fun for adults, teens, all the way down to young kids, Pigeon Forge Snow is a super fun thing to do during Christin in Tennessee. The snow is made entirely of water and the inside temperatures are always around 60-70 degrees! This is a super unique experience and it's actually the first attraction of it's kind in America.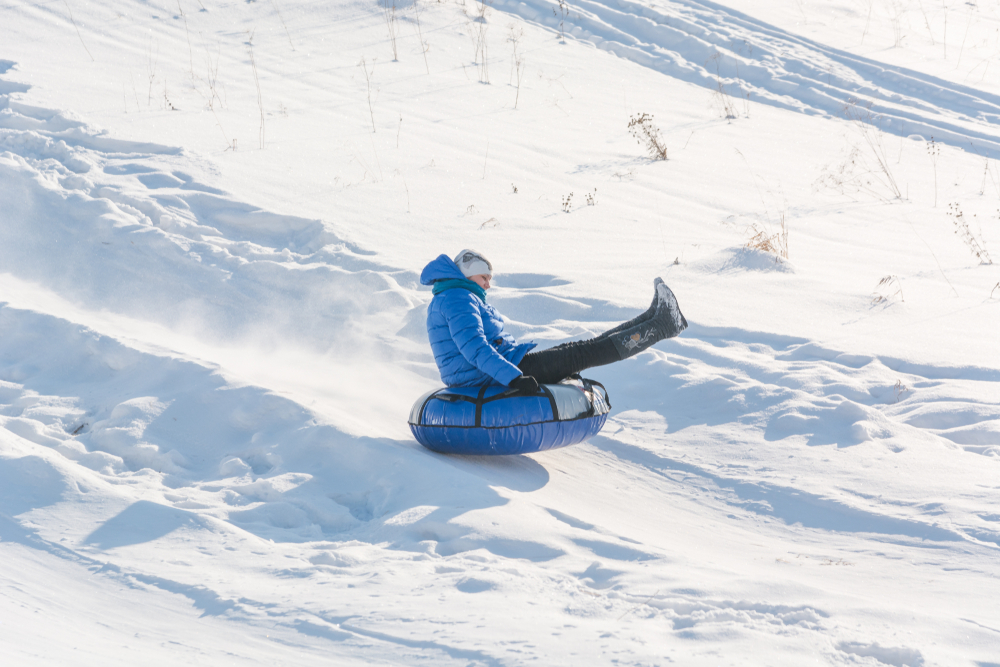 Experience Christmas in Columbia
Christmas in big cities is a blast! However, if you want a true small-town experience for the holiday season, a visit to the town of Columbia is a must. This lovely Tennessee town has been hosting a Christmas parade on Main Street since 1986! You can take part in the festivities and watch the bands, clubs, groups, classic cars and motorcycles, and more drive in the parade.

The yearly Maury Christmas Tour of Homes is a holiday tour that takes you on a tour of some of the most beautiful and historic sites in the area. You can see these sites at your own pace over the span of two days. The tour includes the Rippavilla, Polk Home, Grace Episcopal Church, Elm Springs, and The Athenaeum.

There are many other fun Christmas activities to take part in Columbia. If you will be visiting with kids, you can swing by the Children's Museum to have Cookies with Santa. There's also a free holiday market in nearby Thompson Station at the historic Homestead Manor and a place at the Polk Memorial Gardens where people light candles for loved ones.

For those visiting with kids, above all, make sure you don't miss the Blue Barn Christmas Market and Winter Festival. There is a Santa's Snow Shop, pancake making, Christmas cookie decorating, crafting, a petting zoo, bounce houses, shopping, food trucks, and other fun Christmas activities for you at this Columbia festival!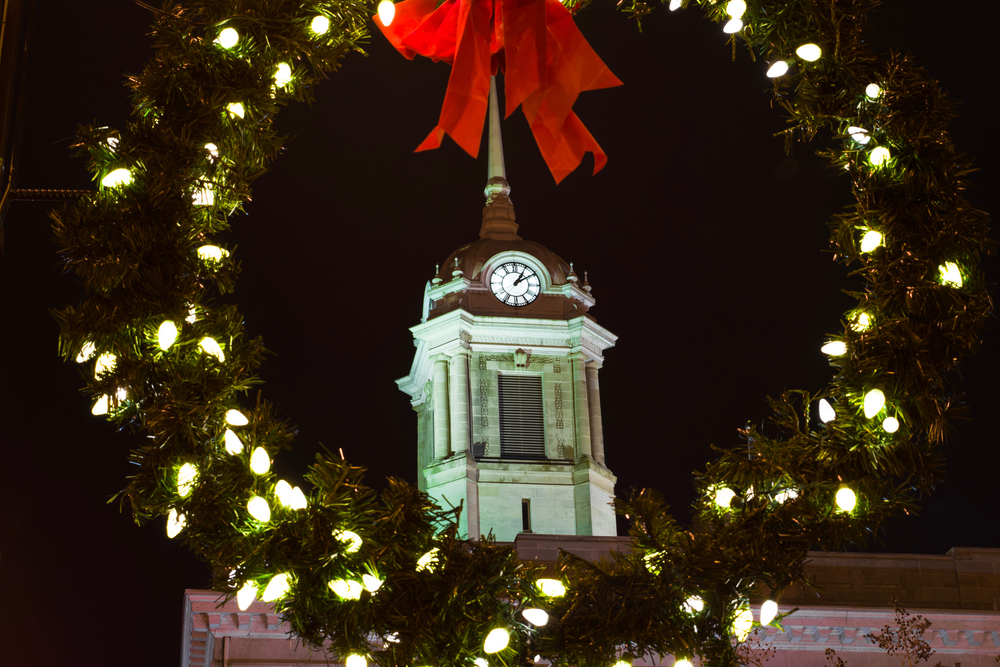 Christmas in Chatanooga
Will your Christmas in Tennessee include a visit to Chatanooga? It should! Christmas time is really fun in Chatanooga! One of the most fun activities during this time of year is to follow along the Holiday Trail of Lights. The trail shows you twelve-holiday activities that will add to your holiday fun. Along this trail, you can find train excursions, animal encounters, gingerbread-house workshops, artist demonstrations, and much more holiday fun.

Have you ever watched the Polar Express? You can have your very own Polar Express experience on the Tennessee Valley Railroad's Christmas Dinner Time. The train offers a four-course dinner and travels leisurely through urban East Chattanooga. You can enjoy your meal in a beautifully restored vintage dining car amid Christmas decorations and a lovely atmosphere.

During Christmas in Chatanooga, you will also be able to experience the Holiday Lighted Boat Parade. You can watch this festive event along the Chatanooga Riverfront. The boats are all lit up and in the Christmas spirit for the season and watching the boats float by is a fun event during an evening in the city. If you are visiting the city with kids, a stop by the Gingerbread Workshop at the Creative Discovery Museum is a must! Enjoy making sweet gingerbread houses with icing and candy decorations, drink some hot chocolate and enjoy the holiday at this Chatanooga museum!
Visit Winterfest
This annual festival is a must-do during Christmas in Tennessee. More than five million lights are used to decorate the town and turn it into a winter wonderland for visitors to the mountain town of Pigeon Forge. There are many intriguing places throughout the city to see the stunning lights displays.

A must-see during Winterfest is The Island in Pigeon Forge. You can see millions of lights, thousands of ornaments, appearances by Mrs. and Mr. Claus, carolers, and more. The best way to see Christmas lights is on the Winterfest Driving Tour of Lights. The tour begins at the north end of the parkway and allows you to see not only millions of lights but also native wildlife on the door. You can see black bears, foxes, and other native critters on your drive. You may also catch a glimpse of the Great Smoky Mountain Wheel which towers at 200 -foot-tall and is covered in tons of sparkly Christmas lights!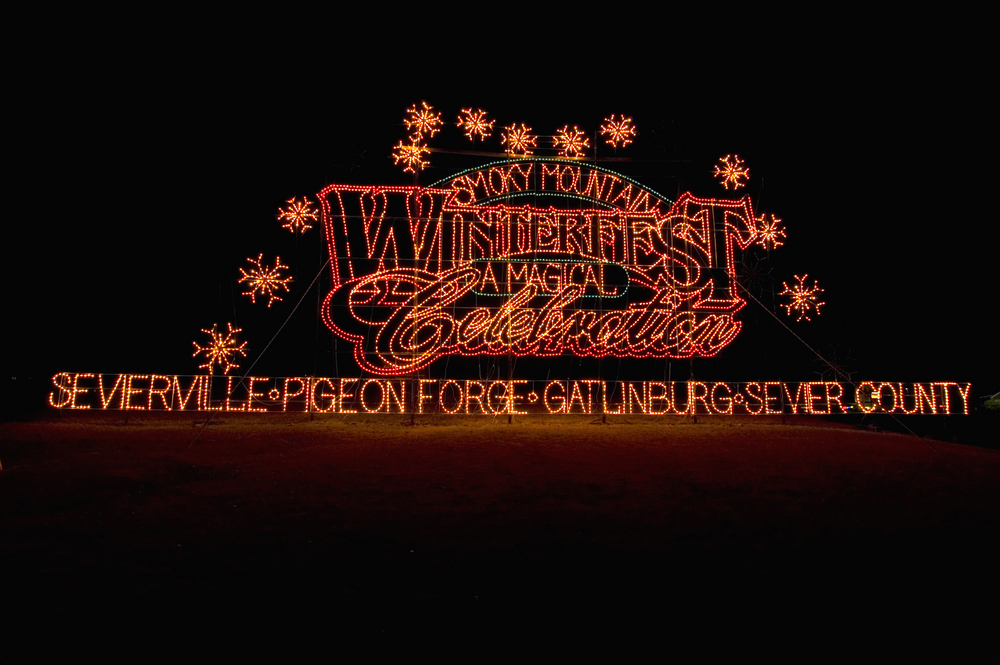 Go Ice Skating
Is ice skating what you thinking of when you are planning for Christmas in Tennessee? Ice skating can be fun any time of year, but it's extra special during the holiday season when you are surrounded by twinkly lights, festive decor, and Christmas music. There is a fun setting where you can ice skate during the Christmas season in Tennessee.

Gaylord Opryland in Nashville offers ice skating during the holiday season at their 9,000 square-foot skating rink. The rink is outdoor and made with real ice. Plus, if you don't know how to skate, lessons are available! The Wilderness at the Smokies also has an outdoor skating rink. This rink opens in November and stays open through the holidays until the beginning of January.

Lastly, you can also find ice skating at the Tennessee visitor favorite, Ober Gatlinburg. Their ice arena is indoors and is the centerpiece of their enclosed mall. Although the arena is open year-round, it's a particularly wonderful experience during Christmas time!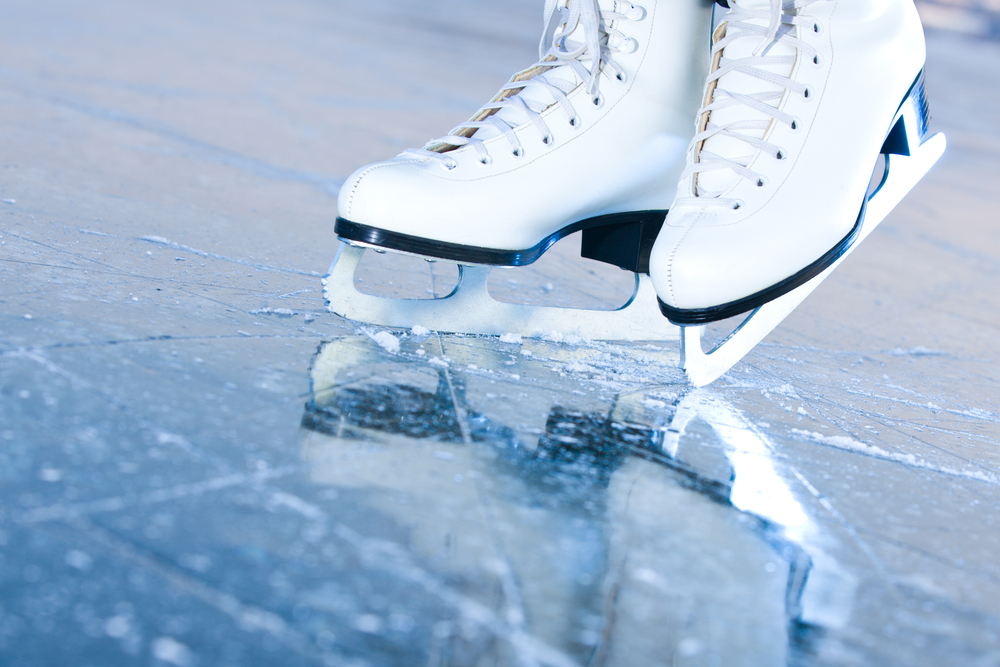 With all of the holiday joy that can be found during Christmas in Tennessee, it can be hard to decide which events and attractions to see! Whether you go Christmas lights hopping, on the hunt for delicious holiday treats, or if you are feeling more adventurous and want to participate in snow sports, you will find a lot of fun and exciting experiences! Which of these cool things to do in Tennessee at Christmas time will you try out this year?